March 7 - 13, 2021: Issue 486

Lynleigh Greig: 2021 Pittwater Woman Of The Year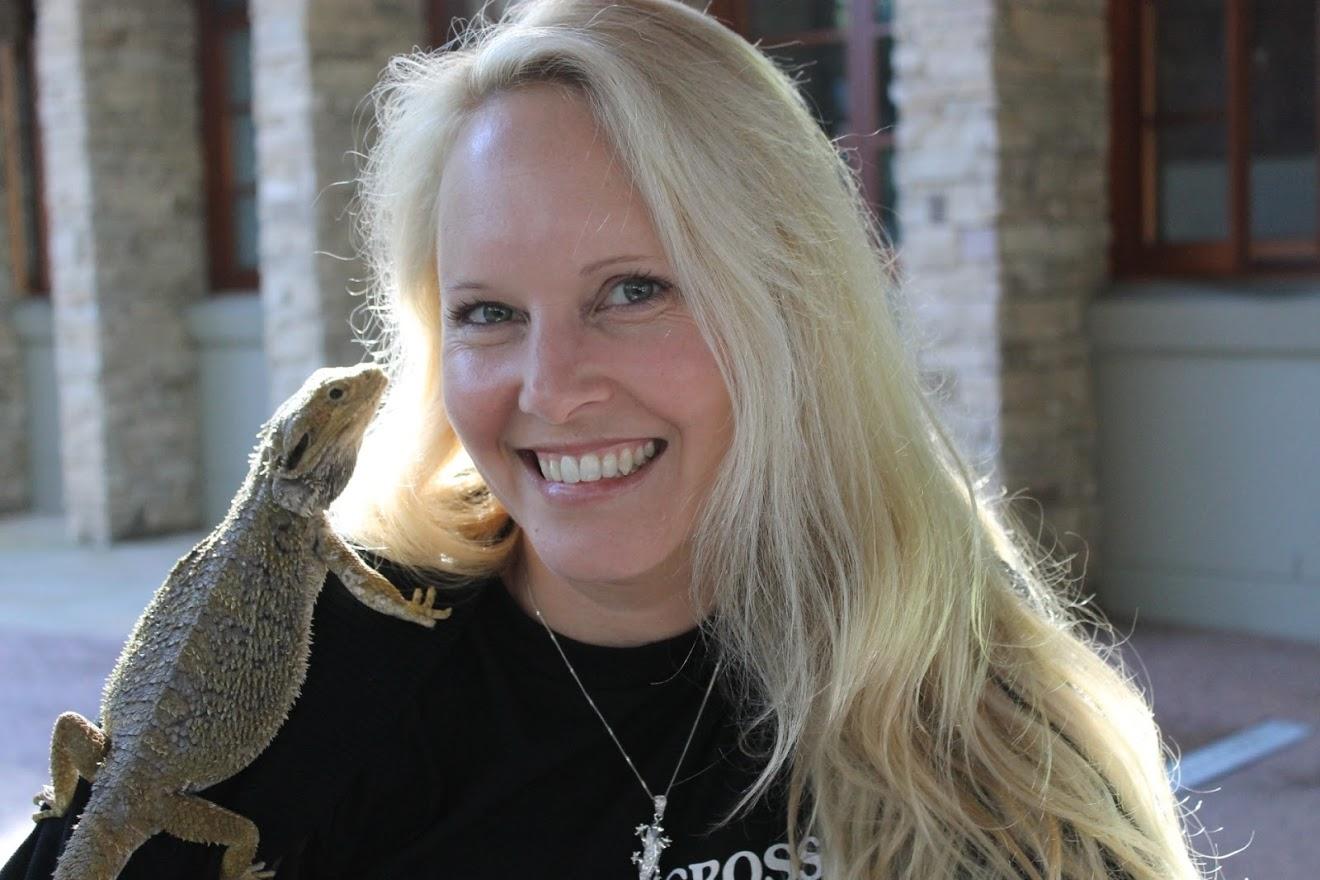 Lynleigh with Harley the dragon in 2013, who is now a very old boy. A J Guesdon photo
On Wednesday March 3rd Member for Pittwater Rob Stokes announced wildlife rescuer Lynleigh Greig as the 2021 Pittwater Woman of the Year.
The award was announced at the annual Zonta International Women's Day Breakfast, at Royal Prince Alfred Yacht Club, and recognises outstanding achievements of local women and their valuable contribution to the Pittwater community.
Over the past 10 years Lynleigh has volunteered countless hours supporting injured and vulnerable wildlife, including during the 2019/20 catastrophic bushfires across NSW. Lynleigh has also been instrumental in establishing Sydney Wildlife Rescue's mobile care unit, which provides deployable treatment in emergency situations.
"Lynleigh is a passionate advocate for our native wildlife and is widely regarded for her fearlessness and expert knowledge," Rob Stokes said.
"Many locals have called upon Lynleigh when faced with snakes, possums, lizards and other types of uninvited wildlife in their homes.
"Lynleigh has an encyclopaedic knowledge of wildlife and has an enviable ability to calmly wrangle, rescue and relocate those creatures that make many of us squirm.
"In a community like ours that's fortunate to be surrounded by bushland and national parks – wildlife volunteers like Lynleigh are invaluable.
"Lynleigh's enthusiasm, knowledge and approachability is evident to everyone that's sought her assistance and seen her at work.
"The role Lynleigh and other volunteers performed in the aftermath of the fires was particularly important and has directly benefited our state's wildlife recovery.
"This award is a fitting recognition of Lynleigh's enormous efforts and ongoing contribution to our community," Rob Stokes said.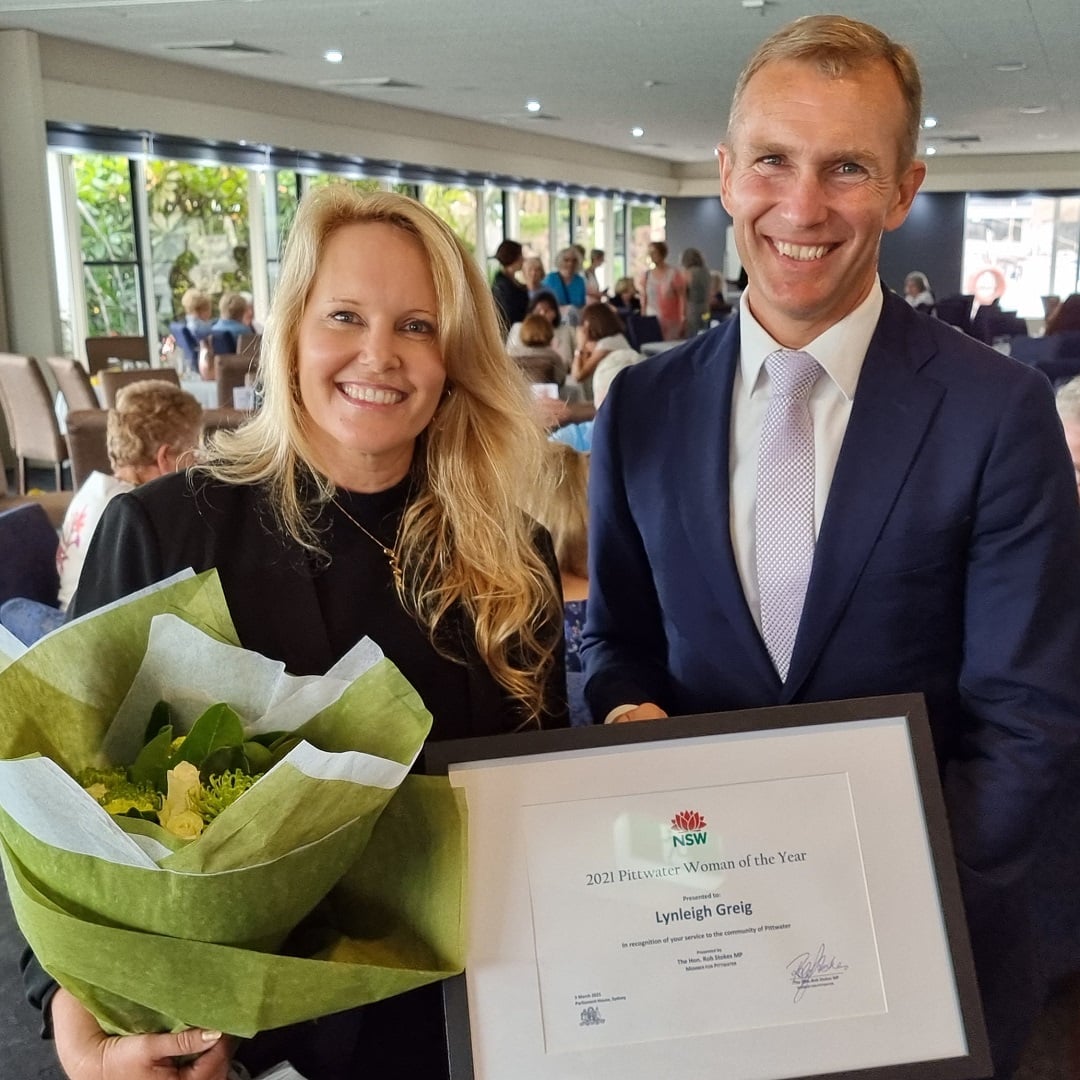 Lynleigh and Rob Stokes, MP for Pittwater
Many long-term Readers will have read some of the articles and reports Lynleigh writes for Pittwater Online News over the years. Every form of wildlife that can be found here has featured at one time or another. More than that, Lynleigh has also run timely information for when snakes emerge, or when newly fledged birds may be found out of nests. Lynleigh's information on how to check the pouches of mothers of wildlife hit by cars on our roads for young frequently is revisited.
Lynleigh's work as a volunteer wildlife rescuer goes beyond sharing her knowledge and experiences though. She is in demand speaker at schools and for local organisations, gets her hands in the dirt to help maintain facilities at the Sydney Wildlife Waratah Park Rehabilitation centre, trained to become a reptile handler, trained to become on of those licensed to dart macropods as part of rescues, has been and continues to be an articulate speaker when media focus on the plight of our wildlife comes into focus, particularly during the 2019/2020 bushfires, then throws on a spiffy dress to host fundraisers to support the work of wildlife carers; the medicines needed, the facilities that need an upgrade or even to be built.
One of the larger projects, launched with fellow Sydney Wildlife volunteer Joan Reid, was to buy and fit out a Mobile Wildlife Clinic. Lynleigh, supported by a great group of Sydney Wildlife volunteers and ringing in some 'names' ran a series of Galas and Garden events at the home of long-term supporters, Sue and Peter Glasson, until that goal was reached.
In the Spring of 2019, Lynleigh sent in a report about fitting out the van. Then came the fireball Summer of 2019-2020 and the horrific impact this had on our wildlife in the firegrounds.
On Saturday January 11th 2020 the Sydney Wildlife Mobile Care Unit drove down Booralie Rd in Terrey Hills bound for the South Coast to provide veterinary assistance to fire-affected and burnt wildlife.
This was the van's 'maiden voyage' so it was very special for the wildlife carers and veterinarians travelling with them to enjoy some community spirit with a great send off. There was a convoy as along with the van, 6 volunteer veterinarians, 3 volunteer rescuers, 3 kangaroo joeys and a few media crews went with them. The wonderful veterinarians volunteering on this trip were Dr Margot Horder, Dr Caroline Woods and Dr Nandita Kataria - all from Collaroy Plateau Veterinary Hospital; Dr Izi Sladakovic from NVS/AVES in Terrey Hills; Dr Kathleen Graham from Kellyville Veterinary Clinic; and Dr John Thirlwell and Kimberley Moore from Belrose Veterinary Hospital. Full report in: Sydney Wildlife Mobile Clinic's Inaugural Run Into The New South Wales Firegrounds Has Been Supported By The World's Leading Wildlife Organisations and Carers: January 2020
The emotional impact on all the wildlife carers the team went to help, along with that team itself, was devastating. The physical strain, which went on for months, is hard to understand for those outside of this field.
Becoming a wildlife carer is a little alike becoming a new mum with 2am and 5am and 11pm feeds - only this goes on for as long as you are caring for an animal, and in the Greig household, sometimes there are a variety of 'critters' that need attending to - dressing wounds, giving medicines, feeding. It's a 24 hours 7 days a week job. If you want time off you have to find someone who can step in and undertake that work load.
Then there's those that don't make it, or make it and then pass away unexpectedly. Lynleigh's report on the much loved Cloudy still brings many to the point of anger over how careless human beings are around other animals while others are simply reduced to tears, over and over.
It's not for the faint hearted - you have be strong willed, resilient, determined, and ultimately, have a very big hearted.

Pittwater Online News spoke to one of our longest serving 'columnists' after her award this week - one of the few instances we have had to ask the questions for quite some time.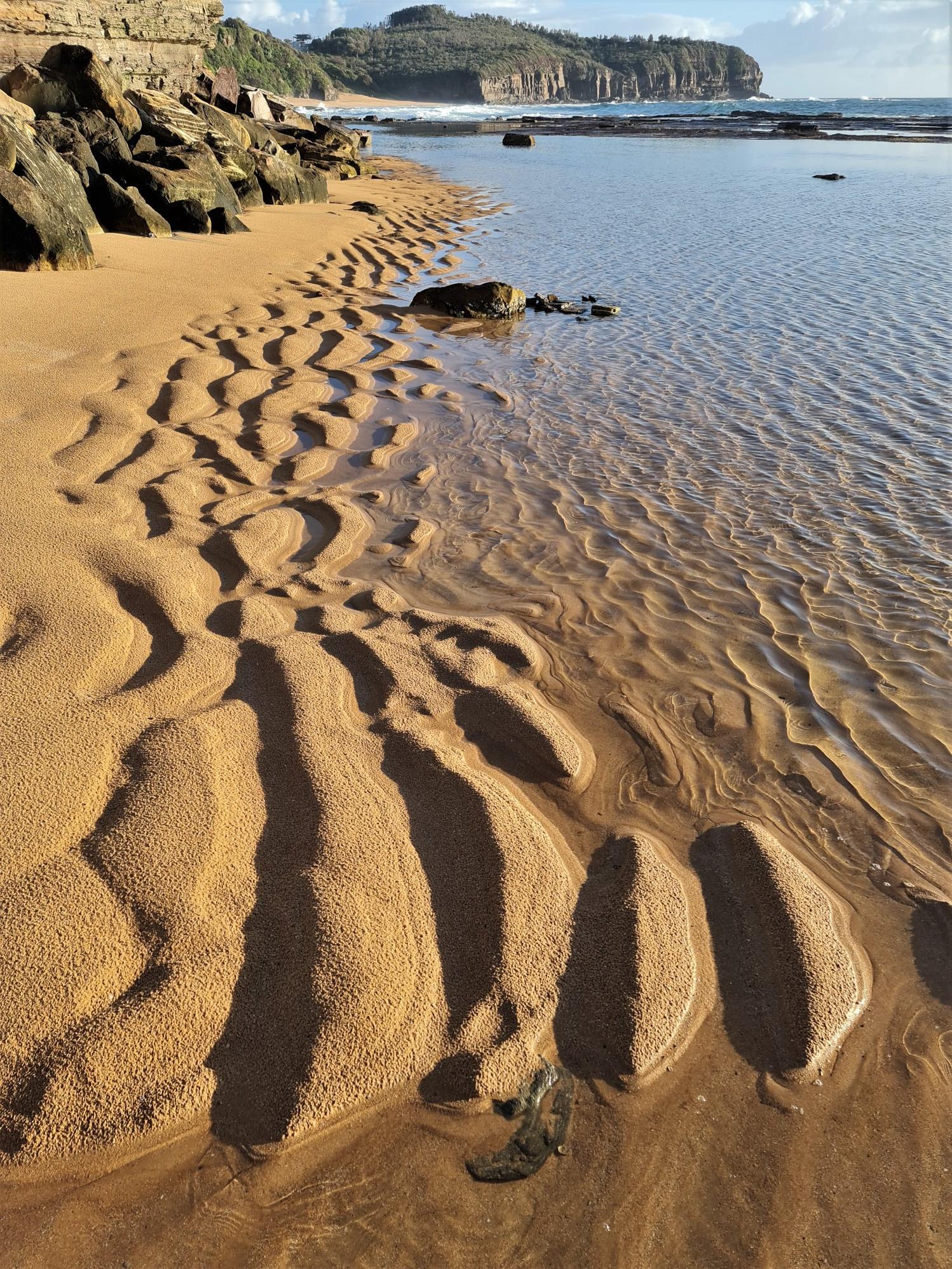 Turimetta View from North Narrabeen - photo by Joe Mills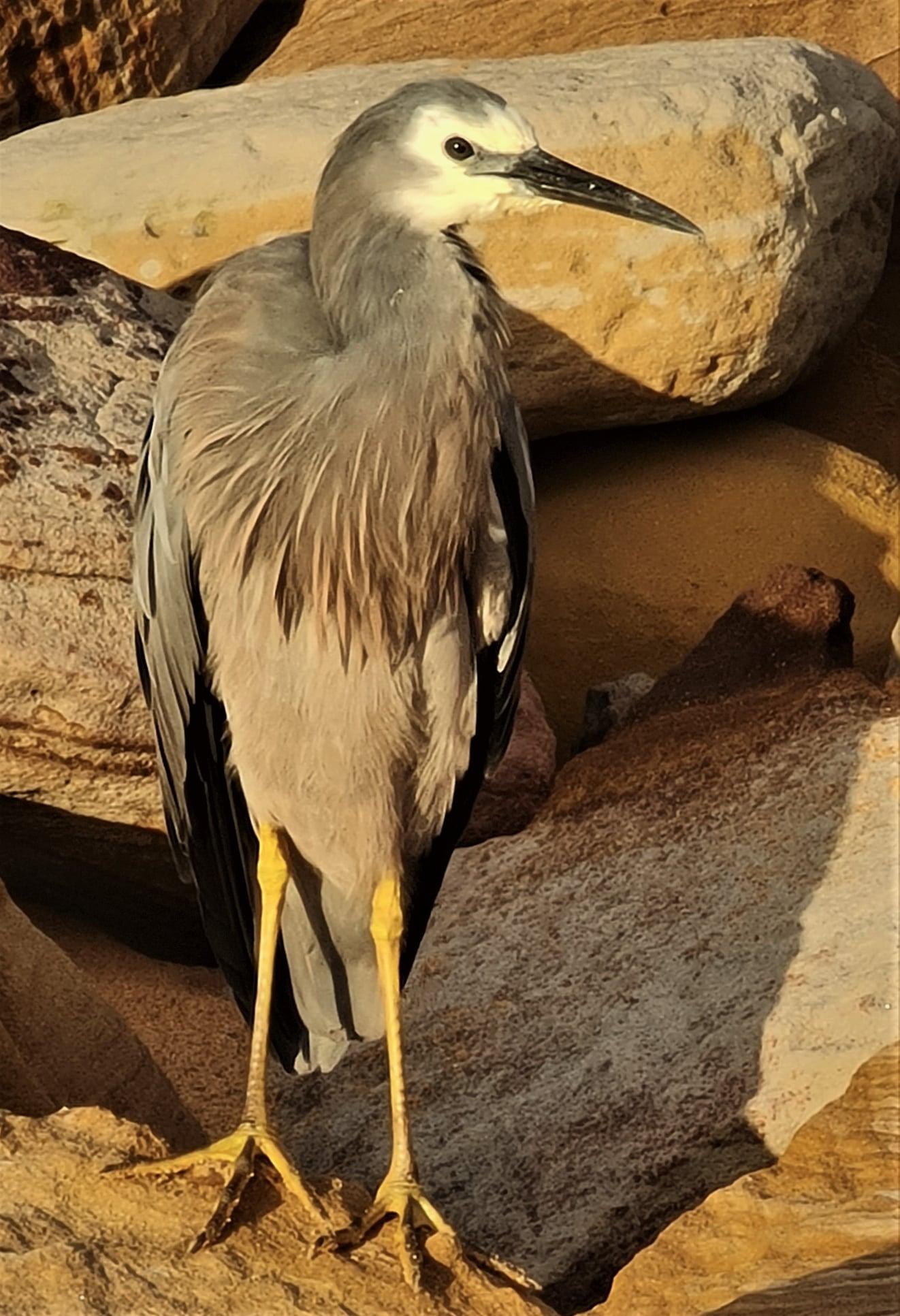 White-faced Heron on Turimetta Beach - photo by Joe Mills
Past Features Archives (pre 2014)
Pittwater Online News was selected for preservation by the State Library of New South Wales and National Library of Australia. This title is scheduled to be re-archived regularly.
Archived Issues (2014 on) may be accessed here: pandora.nla.gov.au/tep/143700