February 3 - 9, 2019: Issue 392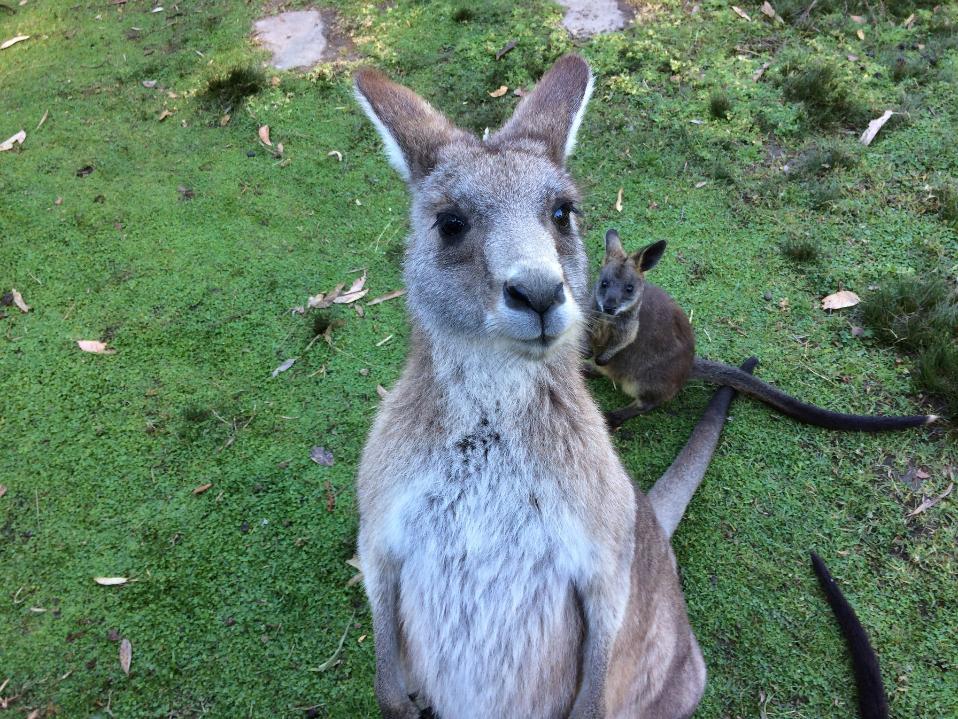 Cloudy
You know you're famous when you've been interviewed by the BBC, Nine News and Channel 7; have graced the front page of the newspaper not once, but twice; have met celebrities like Merrick & Rosso, Lisa Oldfield and the Snake Boss (aka Julia Baker); have done countless photo-shoots and appeared in adverts; and people come from far and wide to meet you and have their picture taken with you.
Cloudy wasn't just a media darling, though; he was also a surrogate dad to a constant stream of young boys and girls who watched and emulated him until they were ready to face the big wide world independently.
But just who was Cloudy?
Based on his above credentials, it may surprise you to know that Cloudy wasn't a George Clooney clone or an award-winning philanthropist…
Cloudy was an Eastern Grey Kangaroo.
But he wasn't your average run-of-the-mill kangaroo hopping around in the Aussie bush.
He was an exceptionally special kangaroo.
Cloudy had a very rough start to life. He was found in the pouch of his dead mum and whisked away by a member of the public to become a mascot on a French reality TV show being filmed in Sydney at the time. The poor little joey wasn't receiving the correct care or nutritional needs for a wild animal and was being exposed to constant stress on the set of the 'Big-Brother-style' reality TV show. (We only found out his history much later and informed National Parks and RSPCA.)
When Cloudy became very ill on-set, he was dropped to a veterinarian who examined him and then contacted Sydney Wildlife for a volunteer carer.
Joan - the manager for our Sydney Wildlife Rehabilitation Facility - came to the rescue. For his welfare, she had to implement some serious changes. She ensured that he was secured in a warm pouch (being snug in a pouch mitigates their stress) and fed the correct formula for marsupials (animals with pouches). Under her expert care, Cloudy became healthy and strong. However, his 'special' nature became apparent fairly early in his joey years. Even Joan's children remarked that Cloudy 'didn't seem quite right'…
We can only assume that in the original incident in which he was orphaned and starved, Cloudy sustained some brain damage. Whilst this disability did nothing to dampen his joie de vivre, it would mean that he was not destined for release back into the wild.
Joan had to make a decision about whether or not he was able to become an educational animal and 'role-model' for other joeys coming through the Wildlife Rehabilitation Facility (also known as Waratah Park). Luckily Cloudy was the right roo for the job and he became an ambassador for his species in an educational capacity until he was old enough to be a foster parent to the younger joeys coming through the 'dehumanisation program'.
Cloudy kangaroo made Waratah Park feel like a home. Everyone that came into contact with him fell instantly in love and he was adored by a legion of fans. At Waratah Park Working Bees he would patiently sit and eat his pellets whilst Joan gave an educational talk about macropods (wallabies and kangaroos) and their idiosyncrasies. He would happily pose for photos and would then bounce off majestically to the 'oohs and ahhs' of the Working Bee onlookers.
No matter how big he got, he would always see Joan as his mum. They had a very special bond.
He also formed a relationship with our wonderful local veterinarians. They looked forward to Cloudy's visits when he was a joey but as he grew and became a resident at Waratah Park, they would have to make house-calls to see their rather large 40kg patient. The love between patient and veterinarians grew over the years. But it was Cloudy's final visit that broke everyone's hearts.
After many happy and healthy years at Waratah Park and after mentoring scores of joeys to become independent kangaroos, Cloudy fell unexpectedly ill. His final visit to the vet clinic would also be the last time he would see his beloved Mum.
Walking through the gates to Waratah Park will never be as joyous without our Cloudy…
You were greatly loved and you will be forever remembered by the footprints you left behind.
By Lynleigh Greig
Sydney Wildlife
Sydney Wildlife is an Australian organisation run 100% by volunteers. Across this big city, Sydney Wildlife volunteers rescue native Australian animals including many Wallabies and other native wildlife.
To assist in the rehabilitation of these native animals, Sydney Wildlife has built and is continuing to expand a rehabilitation facility at Waratah Park.
If you would like to make a donation to the Waratah Park project, please follow the link: https://www.globalgiving.org/projects...
To find out more about Sydney Wildlife, and how you can help too, visit: http://www.sydneywildlife.org.au/
Music: Calm After the Storm - by The Common Linnets - Visit: https://www.youtube.com/watch?v=hkrF8...
Final sequence filmed by Nicole Wedlock