November 22 - 28, 2020: Issue 475

Dog Owner Fined For Attack On Seal At Long Reef – NSW Land & Environment Court's Head Judge Quashes Dogs Being On-Leash Or Off-Leash On Station Beach, Barrenjoey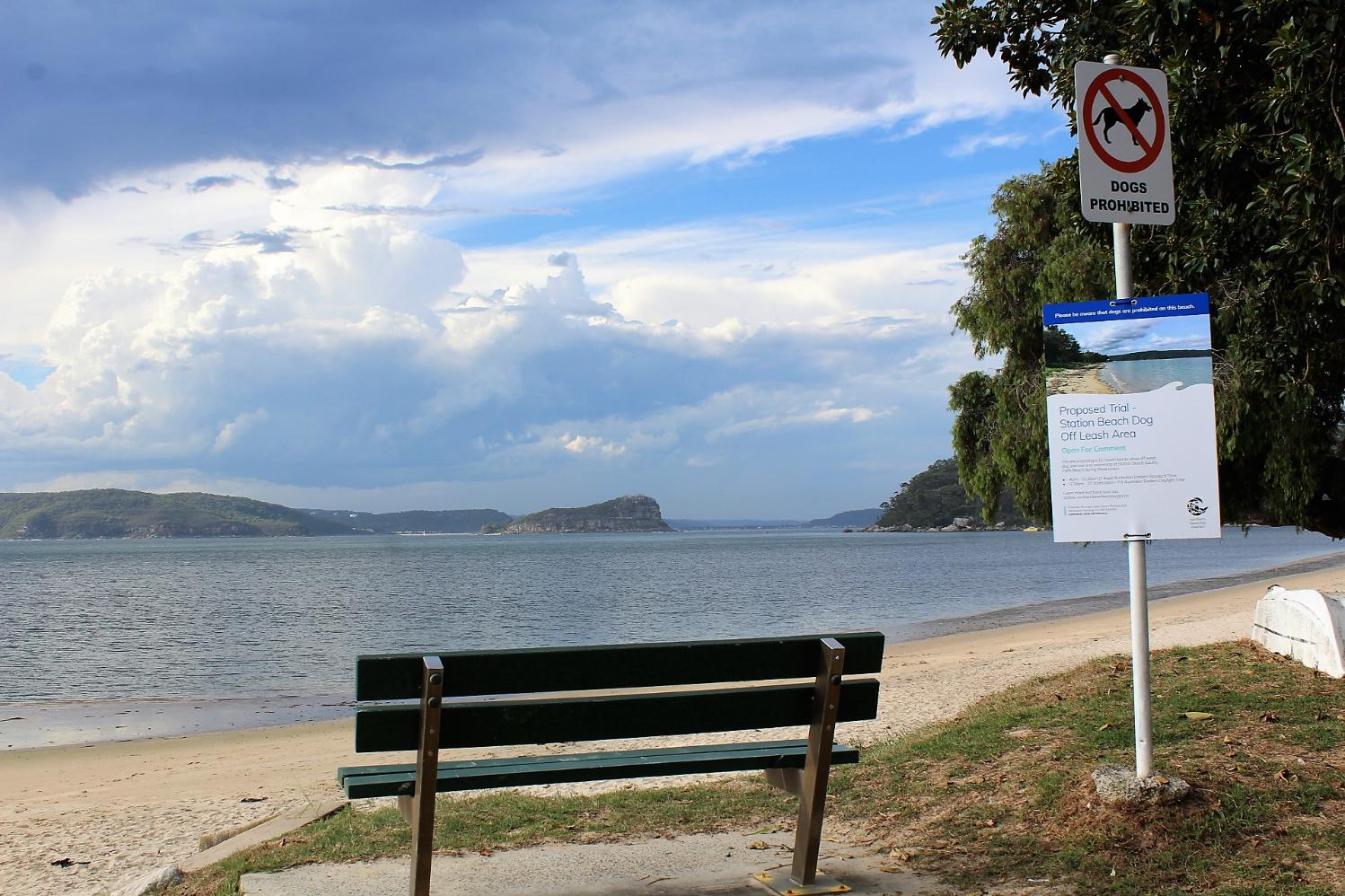 Council has announced this week that a 47-year-old Dee Why man has been fined $1320 for allegedly allowing his off-leash dog to attack an Australian fur seal in the Long Reef Aquatic Reserve, a no dogs area.
Photos of the attack, forwarded to Pittwater Online by a witness, and posted by Pittwater Online News on its Facebook platform page and in a subsequent report run in Issue 473, helped identify the dog's owner.
NPWS Manager Sydney North, Chad Weston, said this week "The National Parks and Wildlife Service is also investigating as people getting closer than 40 metres to seals on land can be fined up to $3300.''
All Australian marine mammals are protected under NSW laws.
All dogs are protected too, from cruelty and irresponsible dog ownership.
The seal incident is the second dog fight event to be sent into Pittwater Online this week. Reports from witnesses state that an altercation took place between two male dog-owners on Station Beach, Palm Beach, on Thursday November 12th in which a man with a dog off-leash and a man with a dog on-leash devolved into violence over one requesting the other to put his dog on a leash as it was lunging at and on his own. Those present had to pull the two apart as ''the fight went on and on'', one witness stating the two adult men ended up on the ground, with one bleeding.
On contacting the Northern Beaches PAC for confirmation, the police said in a statement;
''About 5.45pm on Thursday 12 November 2020, two men were walking their dogs on Station Beach, Palm Beach, when they were involved in an altercation and one of the men, aged 67, was allegedly assaulted.
Officers from Northern Beaches Police Area Command were notified and have commenced an investigation.''
This dog fight follows on from another earlier this year in which a gentleman north of The Boathouse on Station Beach was attacked by an off-leash dog, resulting in chunks of skin being torn from his arm.
On Friday, November 20th, the Land and Environment court case brought against Council by a Palm Beach residents organisation regarding the Station Beach dogs on the beach 'trial' received a judgement by the Hon. Justice Preston that confirmed what Council's own REF, contracted for and drafted and then made available to residents after the initial consultation, had pointed out in black and white.
The Hon. Justice Preston's ruling quashes both on-leash and off-leash dogs being on this beach.
The Hon. Justice Preston is the Chief Judge of the Land and Environment Court in New South Wales.
In response to the judgement the resident's organisation said in a statement;
''The Palm Beach Protection Group today welcomed the decision by the NSW Land and Environment Court that Northern Beaches Council failed to adequately consider the environmental impacts of off-leash and on-leash dogs on Station Beach.
In Hon Justice B.J. Preston's decision, handed down today, the NSW Land and Environment Court has declared the Council's decisions of 27 August 2019 and 17 December 2019, which purported to authorise an off-leash dog trial for 12 months on Station Beach and, by the December decision, purported to permit dogs on-leash on Station Beach, invalid and has quashed those decisions.
The Court's decision validates the Palm Beach Protection Group's claim that in making its decisions for on-leash and off-leash dog access to Station Beach, the Northern Beaches Council had failed in its duty to consider to the fullest extent possible the environmental impact of the activity. Justice Preston plainly stated in his decision that "allowing dogs on-leash at Station Beach… is likely to significantly affect the environment," further noting that the Council's decisions were inconsistent with the protective and mitigative measures stated in the Review of Environmental Factors (REF). The decision further notes that there is "no evidence that dogs on-leash will have less impact than dogs off-leash", refuting Council's assertion that a dog on-leash is a mitigation measure.
Station Beach is home to the largest seagrass community in the Pittwater estuary, which includes the threatened Posidonia australis seagrass population that nurtures a diverse habitat of marine life, including the threatened White's seahorse.
The Palm Beach Protection Group has long argued that the fragile nature of Station Beach means it is unsuitable for dog use due to the likelihood of significant environmental harm.
Today's Court ruling highlights how Council failed to conduct satisfactory environmental assessments on their on-leash and off-leash decisions by not undertaking an Environmental Impact Statement (EIS) for both activities. The Court notes that the Council failed completely to assess any environmental risks for the on-leash activity on Station Beach. ''
In his ruling, the Hon. Justice B.J. Preston said:
"I find on the evidence that the Council, in its consideration of the activity of allowing dogs on Station Beach, did not examine or take into account to the fullest extent possible all matters affecting or likely to affect the environment by reason of the activity".
As part of the decision, Justice Preston has deferred making any prohibitory or mandatory injunctions until the Palm Beach Protection Group and Northern Beaches Council have had an opportunity to put on written submissions and address the Court orally (if required). These submissions will be filed over the coming weeks.
Given Station Beach's environmental sensitivities, the Palm Beach Protection Group has stated it will continue in its quest to protect and preserve Station Beach for future generations.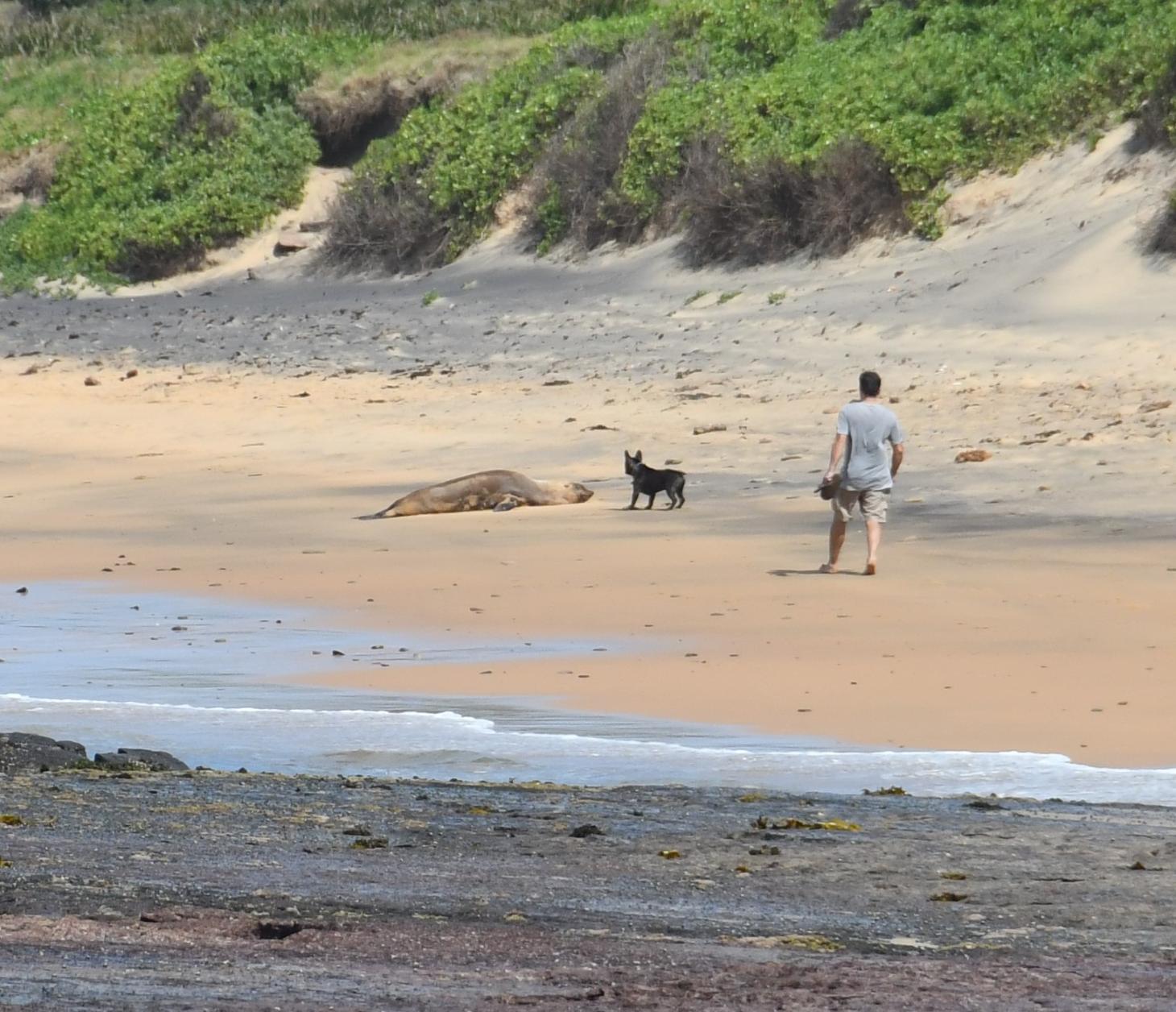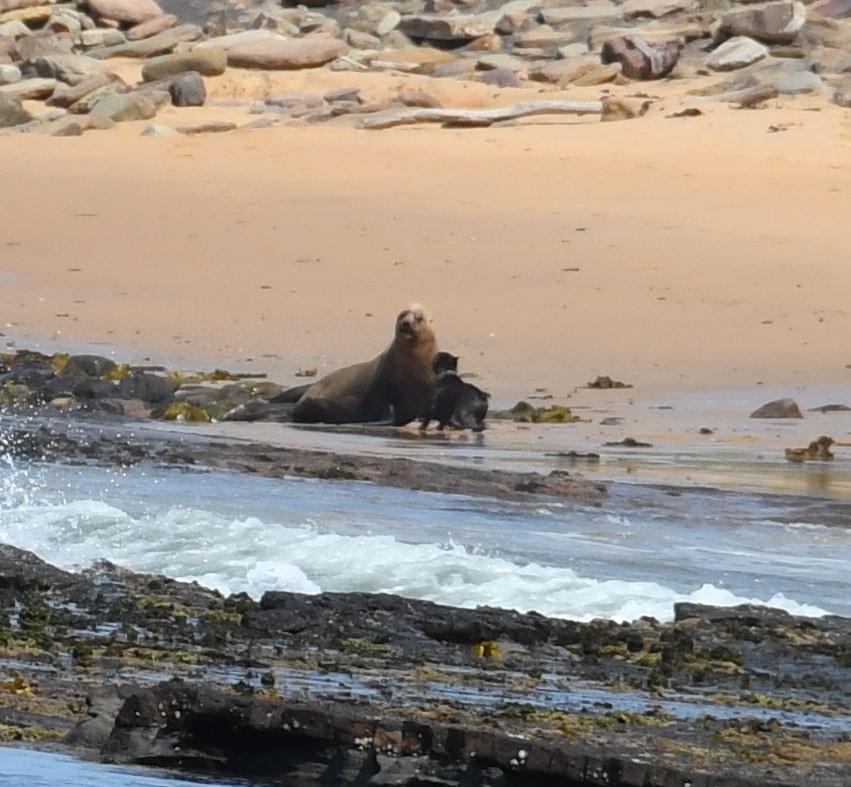 From Issue 473 - images supplied.
Avalon Beach SLSC Aiming To Have First Carbon Neutral Clubhouse In Australia: Christmas 2020 Silent Auction Launches This Week To Fund Saving Lives + Making Blue Skies Greener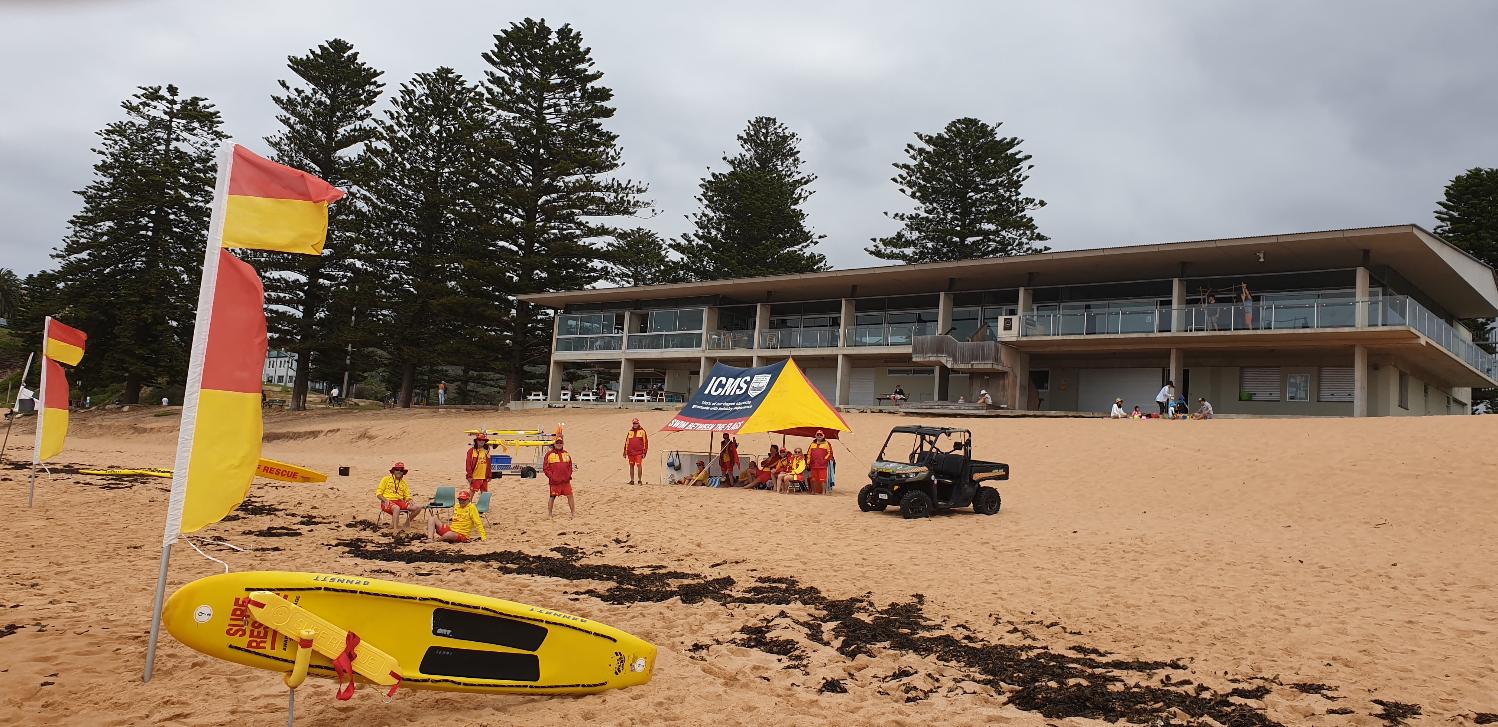 Avalon Beach SLSC Members on Patrol yesterday, Saturday November 20th, 2020 - photo by Roger Sayers, Life Member
For many years, the locals of Avalon Beach and surrounding suburbs have enjoyed the annual community event, Carols on the Beach run by the Avalon Beach SLSC. Sadly COVID restrictions for 2020 meant early cancellation of the event was necessary due to planning logistics and uncertainty.
Instead, as a boost in the arm for the community and the surf club, this year Avalon Beach SLSC is launching a Christmas Silent Auction to help the community fill their stockings with amazing items while supporting so many of the hardworking businesses of the Peninsula.
Funds normally raised through the popular Carols event are directed towards the purchase and maintenance of life saving equipment and vital training, conducted through this surf club year round. However, the club is also aiming to raise enough funds to become the first carbon neutral surf club in Australia.
Award winning Architect Richard Cole, a former President of the club and the gentleman whose plans realised the construction of the community facility currently used by surf club members and residents, explained on Saturday that a 5 kilowatt system was installed as part of the new building's construction, and now the members are aiming to install a 32 kilowatt system in 2021.
Some funding is already in place with a generous donation from McGrath Pittwater who have committed ten thousand dollars towards the carbon neutral project and the club has secured a five thousand dollar grant from the Northern Beaches Council towards the project as well.
Despite a challenging year for many small and large businesses, the business community of Avalon and the northern beaches peninsula have been incredible in throwing their full support behind the Christmas Silent Auction initiative, donating a fantastic array of experiences, vouchers and products. This has been backed by long standing supporters of the Club and platinum sponsors, McGrath Pittwater.
More items are being added all the time as contributions are offered, but at the time of going to press the following list of Christmas cheer will be on offer when the auction goes live from the 26th of November to 13 December:
Zephyr Charters, the beautiful Avalon based charter service, which hosted Bono and Noel Gallagher last year, have donated an amazing prize.
Fashion, home and lifestyle auction items include representation from Newport based Pony Rider, ARTCLUB, PE Nation (with founder, Claire Tregoning based in Avalon), a beautiful gift box from MamaPapa, Avalon based Nash + Banks, Wandering Sol and Knox + Cox candles amongst many other great contributions.
Dining and catering support from many of the Peninsula's favourite places to eat, drink, and to book catering, including Sunset Diner of Avalon, Nourished of Avalon, the RMYC, Lovat of Newport, The Boathouse Group, Palmy Platters, Le Petite Marche of Newport, Bundlfresh of Mona Vale, Prawn Pod of Bayview and Alma of Avalon.
Health, wellness and experiences generous donations include classes and support from Avalon's Balanced Studio, F45 Avalon, Cosmic Rose massage of Newport, Pittwater Sailing and a 2 hour Surfing Experience with legend Tom Carroll. Bet that one 'goes through the roof'!
After an exhausting 2020 for many, don't miss your chance to book in some R&R on a beautiful weekend out of town with a 2 night stay at the stunning Rae's at Wategos also up for grabs.
Remember, more items are being added all the time... And these are all an opportunity to feel good while doing good ....
The silent auction will go live this Thursday, November 26 and it will wrap on December 13th 2020. Auction bids will only be permitted within that period.
For updated details, including the website address for bids, please visit: https://avalonbeachslsc.com.au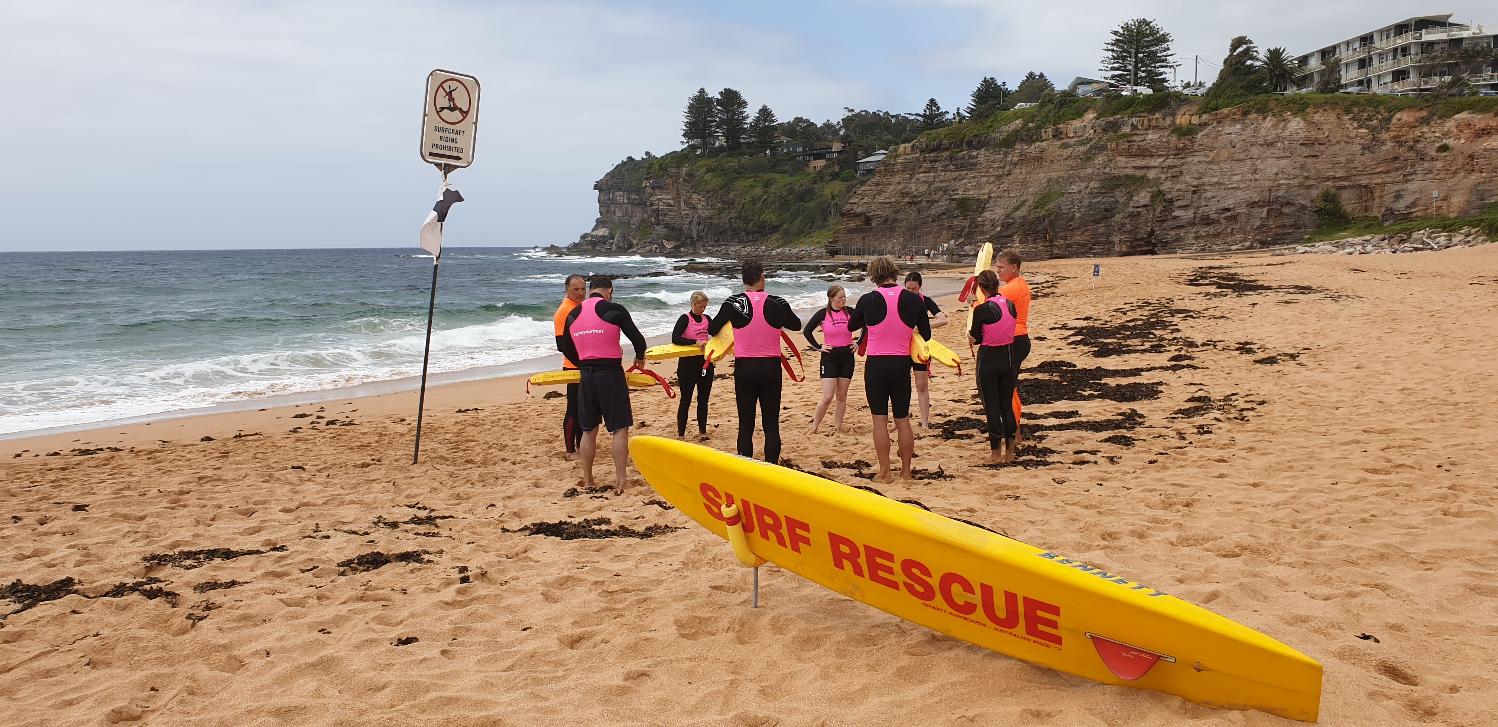 Avalon Beach SLSC Bronze Medaillion Training on the beach, Saturday November 20th, 2020 - photo by Roger Sayers, Life Member
'Tis The Season To Support Local Artists
The Fascinating Story Of Australia's First Children's Author
The identity of the author of Australia's first book for children, 'A Mother's Offering to her Children', written in 1841, has long been a mystery. Known only by the description 'a Lady Long Resident in New South Wales', the author was the subject of much speculation.
In 1980, after a decade of sleuthing, legendary bibliographer Marcie Muir gave her a name: Charlotte Waring Atkinson.
But another 40 years was to pass before the full story of this fascinating woman would be uncovered by Charlotte's own descendants.
Northern Beaches authors and sisters, Kate Forsyth and Belinda Murrell, tell the story of their great-great-great-great grandmother in their new book, Searching for Charlotte, The Fascinating Story of Australia's first Children's Author, published by The National Library of Australia.
Kate and Belinda talk about their "detective" work uncovering the truth about Charlotte, in the latest episode of By the Book on community radio station Radio Northern Beaches.
The sisters are award-winning writers for children. Kate also specialises in historical fiction for adults (The Wild Girl, Bitter Greens, Beauty in Thorns), while Belinda has a loyal fan base among younger readers (Lulu Bell, The Sun Sword, The Timeslip Series).
In their conversation with By the Book host Brydie Wright, Kate and Belinda discuss what would have motivated Charlotte to write the book; describe the strength of spirit that pushed the English-born Charlotte through tough times in the Australian colonies; and detail Charlotte's social connections with early feminist author Mary Wollstonecraft (mother of Frankenstein's Mary Shelley) and distant cousin, Charles Darwin.
Using primary source and early biographical material, their book reveals Charlotte's extraordinary struggles as a pioneering woman, and her hard-fought victory against a patriarchal legal system, defeating a violent husband in a custody battle for her children.
For Kate, Charlotte "passed down a legacy of strength and determination and belief in the right of women to have a voice and tell their own story." Belinda agrees, adding that her ancestor's story shows how tough colonial life was for women and noting how important it is that those stories are brought to life for modern readers.
You can listen to Brydie's conversation with Kate and Belinda on By the Book on Tuesday 24 November at 9am, on Radio Northern Beaches 88.7/90.3FM (stream via www.rnb.org.au).
By the Book is a weekly radio show about what's happening in the world of kids' books on the Northern Beaches, with lots of news, reviews and great interviews with local identities.
You can also catch Brydie's interviews via podcast at www.mixcloud.com/brydiewright.
Photo L to R: Kate Forsyth and Belinda Murrell
The Private Sessions 2020-2021
It's no secret that our Australian Musicians have been hit hard by the loss of work this year. One way you can help out is to employ them for private events in your own home. Simply ask about availability and give a local a go. These photos are of Past Artists of the Month and Pittwater Musicians Chris Raggatt and Kelvin Anton, who represented Australia in the 2017 International Blues Challenge in Memphis, and played here yesterday for a staff members birthday celebrations. Remember to keep your audience small, via Covid Safety requirements, and have a great Private Session to support our local creatives!
Photos by A J Guesdon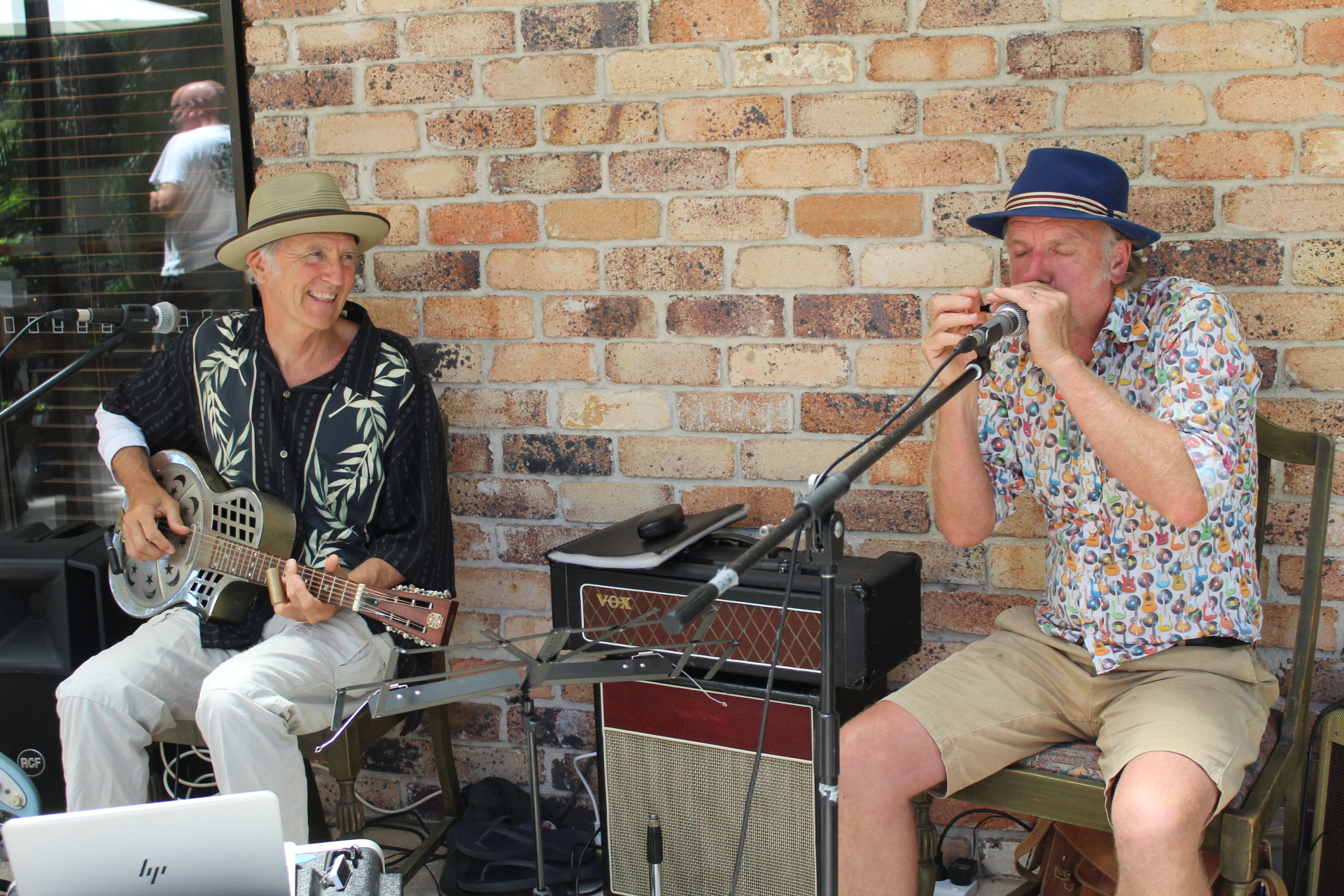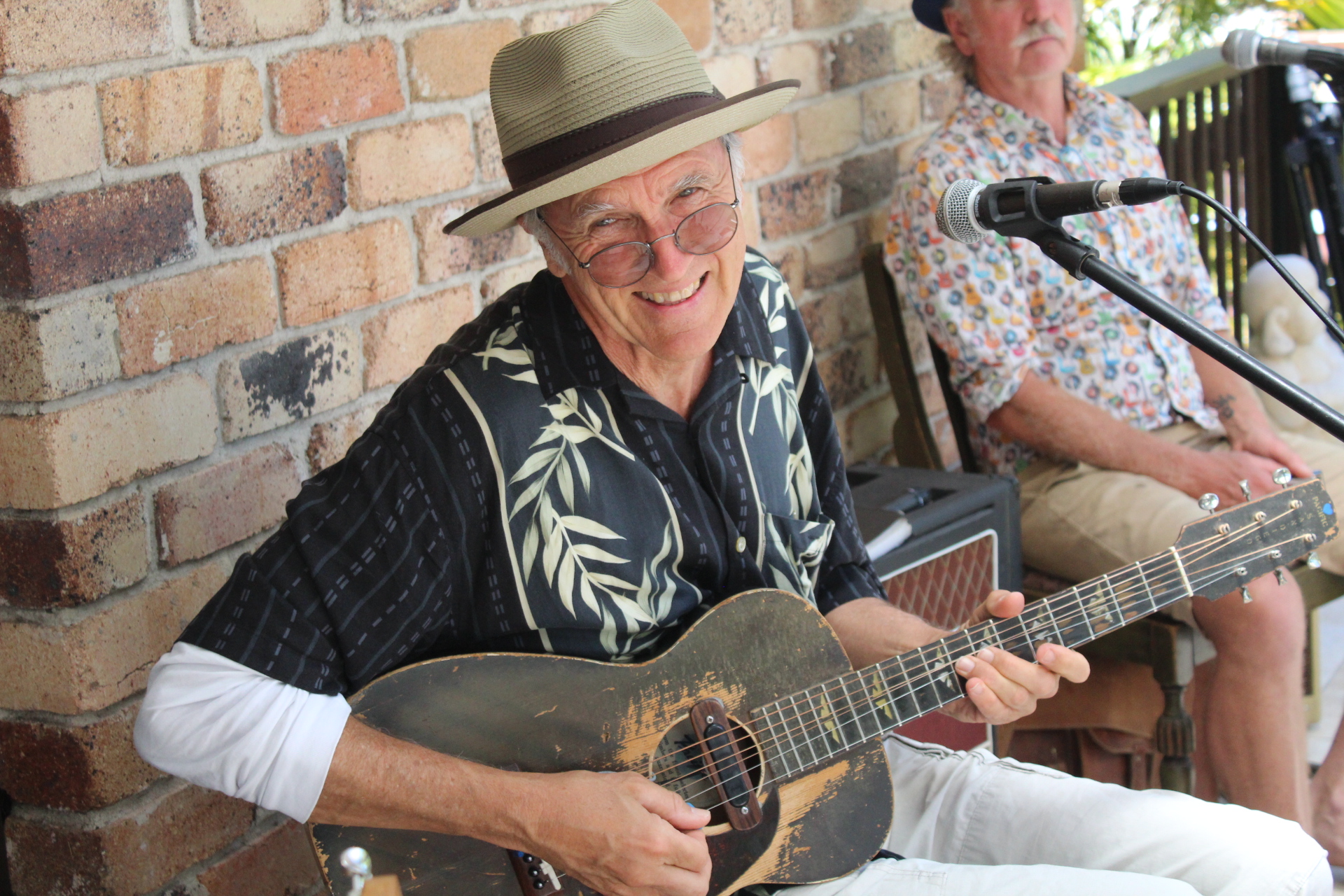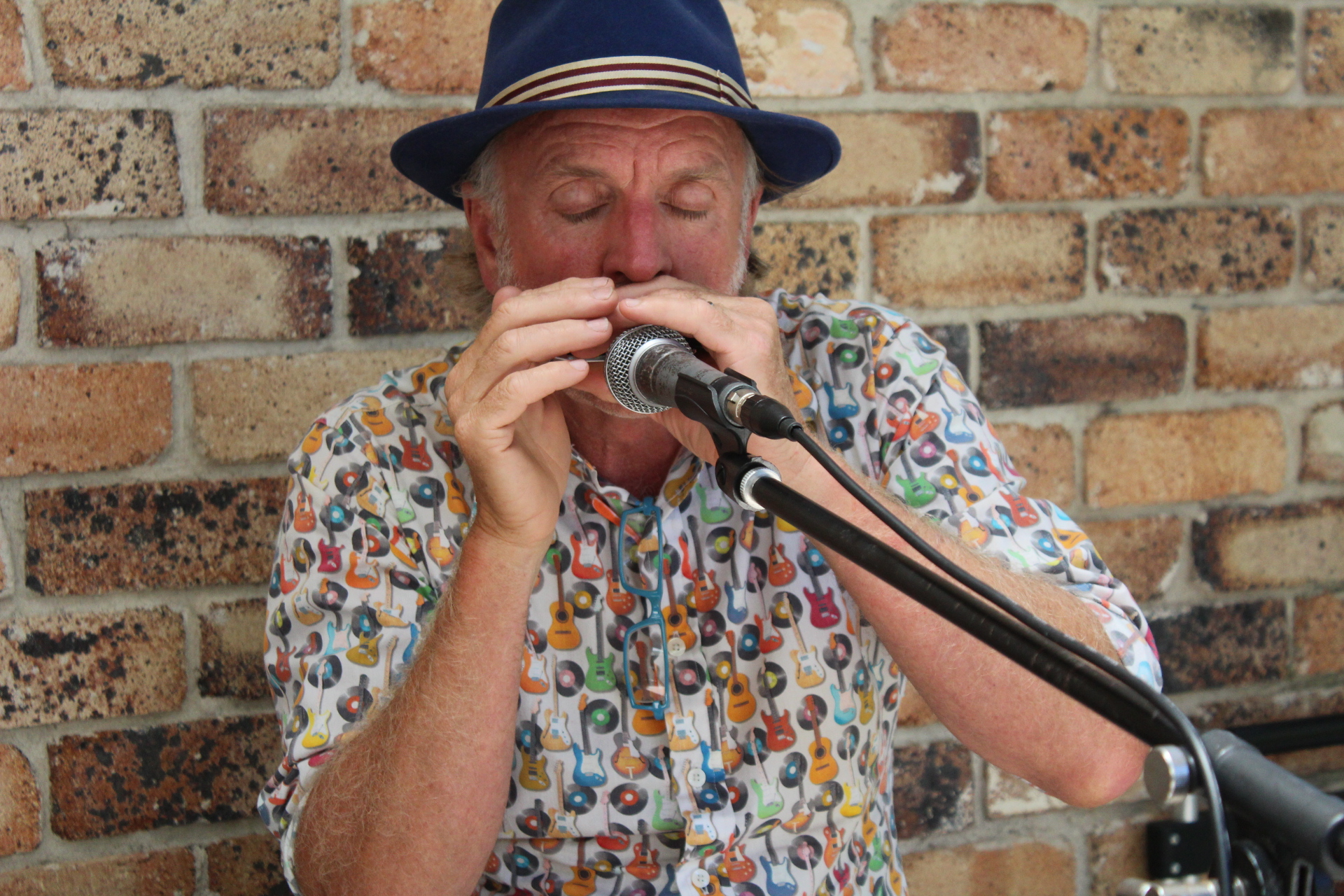 Northern Beaches Surfers Reign Supreme At The Inaugural Port Macquarie Open: Cedar Wins Again + Cooper Chapman 1st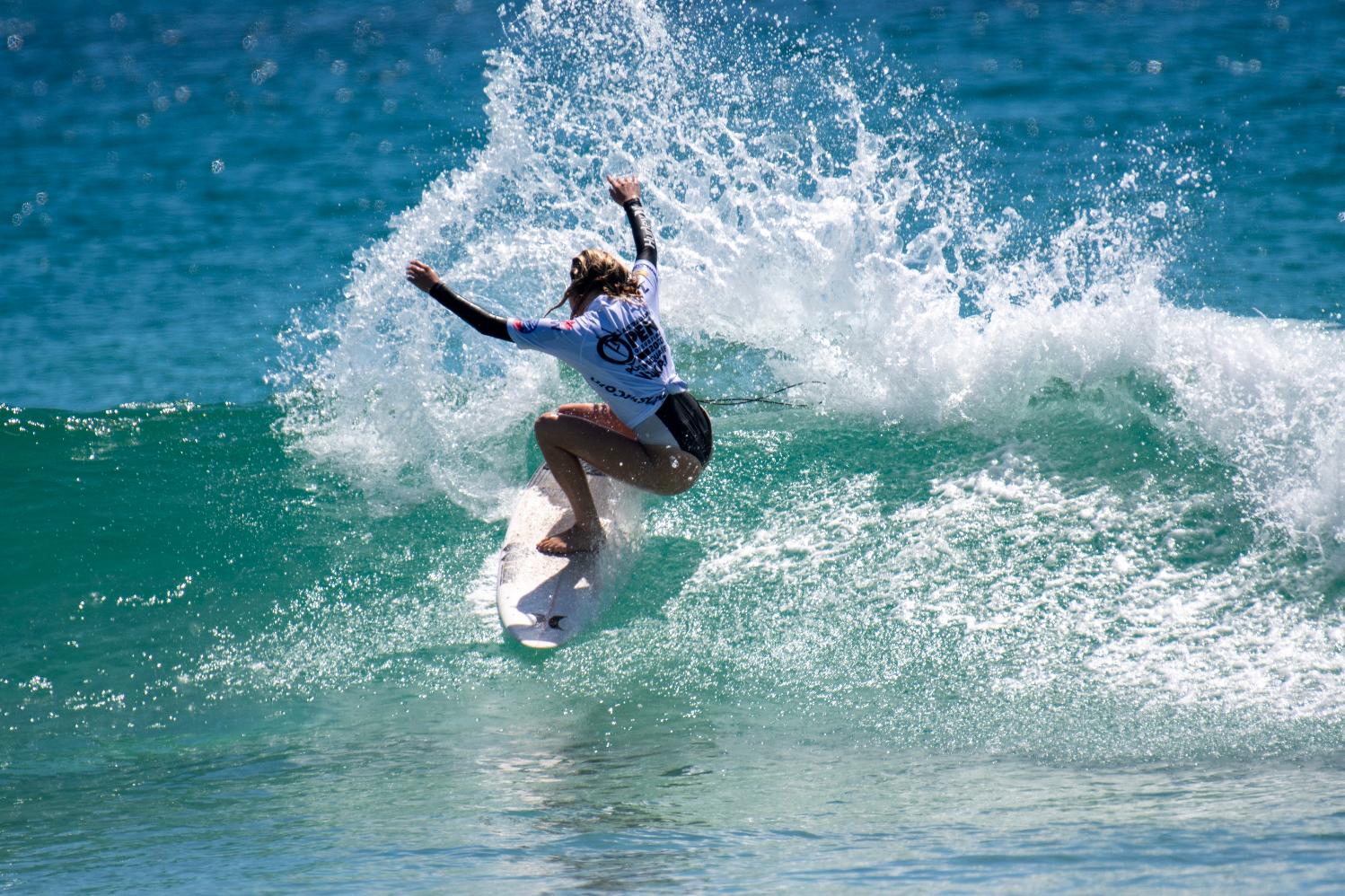 Cedar Leigh-Jones - photo by Ethan Smith/Surfing NSW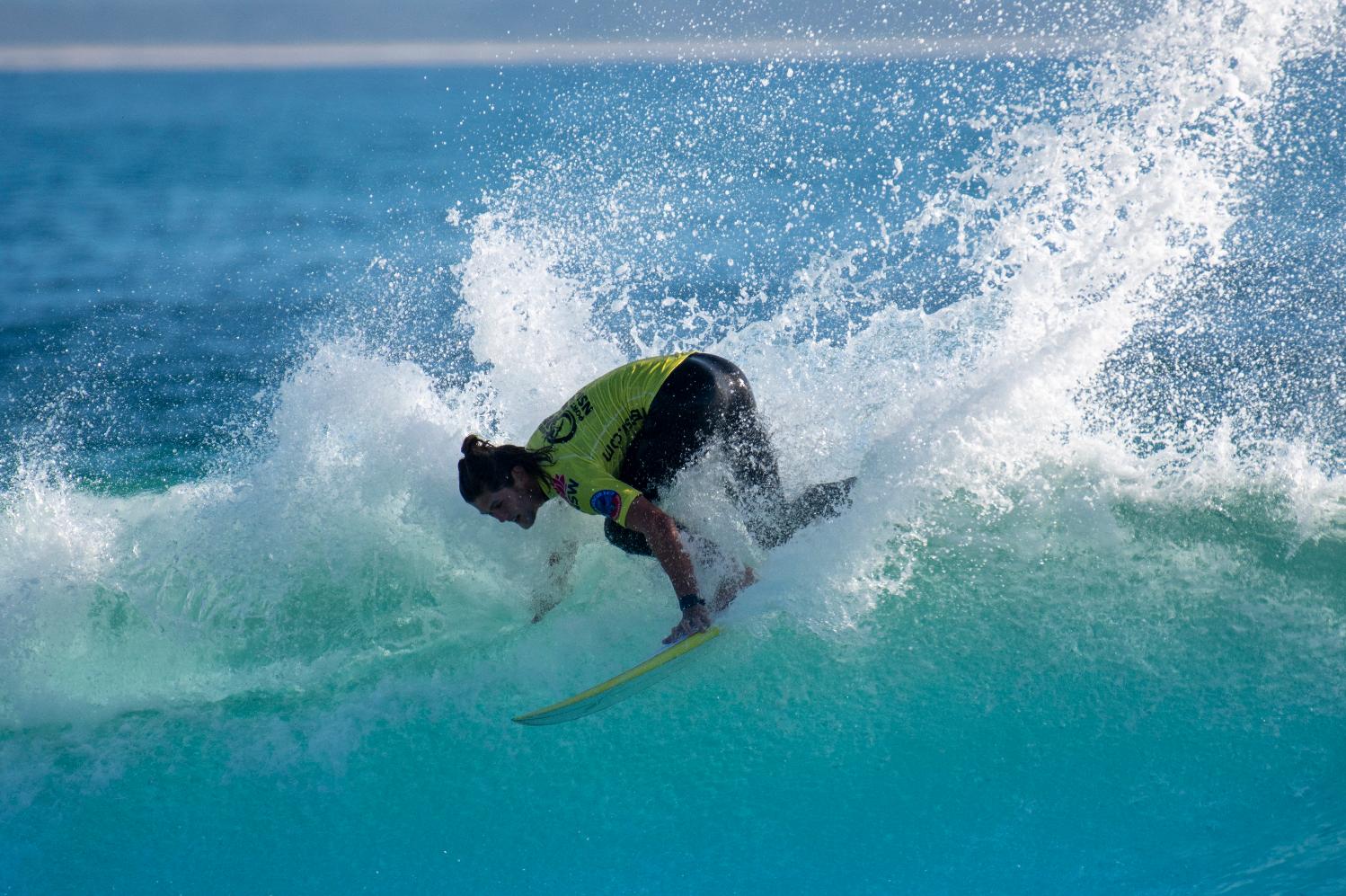 Cooper Chapman - photo by Ethan Smith/Surfing NSW
TOWN BEACH, PORT MACQUARIE
Sunday, 15 November 2020
Report by Surfing NSW
Northern Beaches duo Cooper Chapman (Narrabeen, NSW) and Cedar Leigh-Jones (Avalon, NSW) have taken out the inaugural Port Macquarie Open – stop four on the 2020 Australian Open of Surfing series after a handful of action-packed heats in playful two-foot conditions at Town Beach.
Cedar Leigh-Jones (Avalon, NSW) claimed her second Australian Open of Surfing series event in a week, claiming the Open Women's division. Leigh-Jones put on a stellar display of surfing over the course of the final, finding a handful of long running and punchy righthanders that allowed for a multitude of impressive snaps and carves. Leigh-Jones finished the final with a decent 14.67 two-wave heat total to claim the win ahead of runner-up Molly Picklum (Shelly Beach, NSW) by a narrow 0.24 margin.
"This feels unbelievable. It doesn't feel real to win two events in a row," said Cedar Leigh-Jones. "I knew it was going to be a really tough final against Molly, my sister [Bohdi] and Rosie, so I had to really use priority to my advantage and make my waves count. Thankfully I was able to keep a lead over those guys and hold onto the win."
Cooper Chapman (Narrabeen, NSW) notched up an impressive victory in the Men's division thanks to a light-footed approach that allowed him to fly over dead sections with ease and flow. Chapman linked together a chain of beautiful snaps to get the victory with an impressive 15.33 two-wave heat total to sneak ahead of fellow Narrabeen surfer Dylan Moffat who claimed second place. Fellow finalists Sheldon Simkus (Tweed Heads, NSW) and Chris Zaffis (Angourie, NSW) both put on valiant performances but were unable to find the high-scores needed to usurp Chapman from the top spot.
"It's been a long time between drinks for me and winning an event," said Chapman. "I just wanted to try and stay busy over the course of the final and get those waves that ran right along the bank and fortunately I got a few early in the heat. I got a little nervous when Dylan got a wave in the final minute, but thankfully it went my way."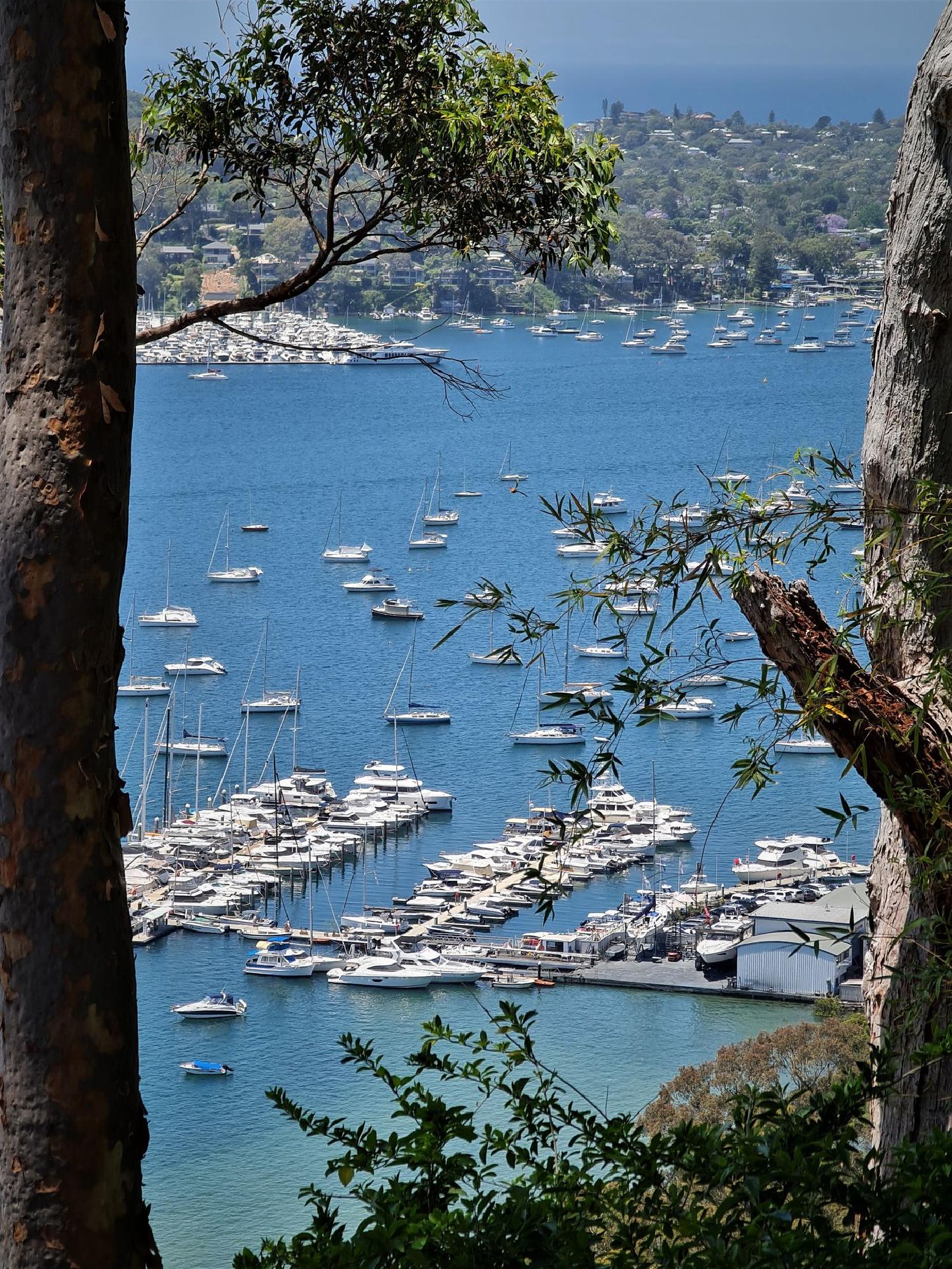 View over Church Point-Bayview from on high - photo by Joe Mills, November 20, 2020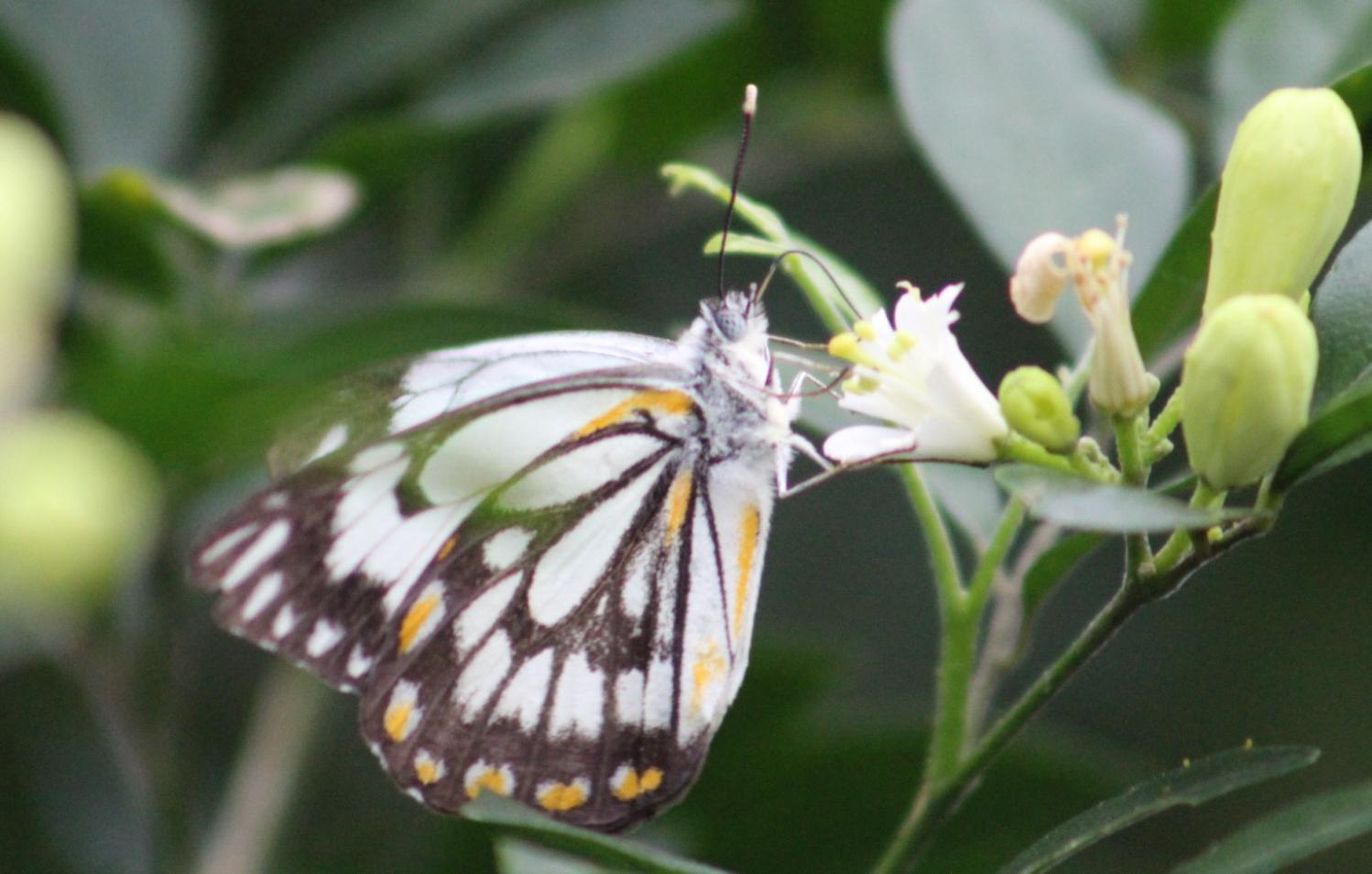 Caper White Butterfly, Belenois java, in Pittwater this week - photo by A J Guesdon
Past Features Archives (pre 2014)
Pittwater Online News was selected for preservation by the State Library of New South Wales and National Library of Australia. This title is scheduled to be re-archived regularly.
Archived Issues (2014 on) may be accessed here: pandora.nla.gov.au/tep/143700