October 18 - 24, 2020: Issue 470

Social Stressors Impact On Our Environment: Wallaby Hit On Caleyi Trail By Mountain Bike Rider, Birds Being Killed On Eve Of National Bird Week 2020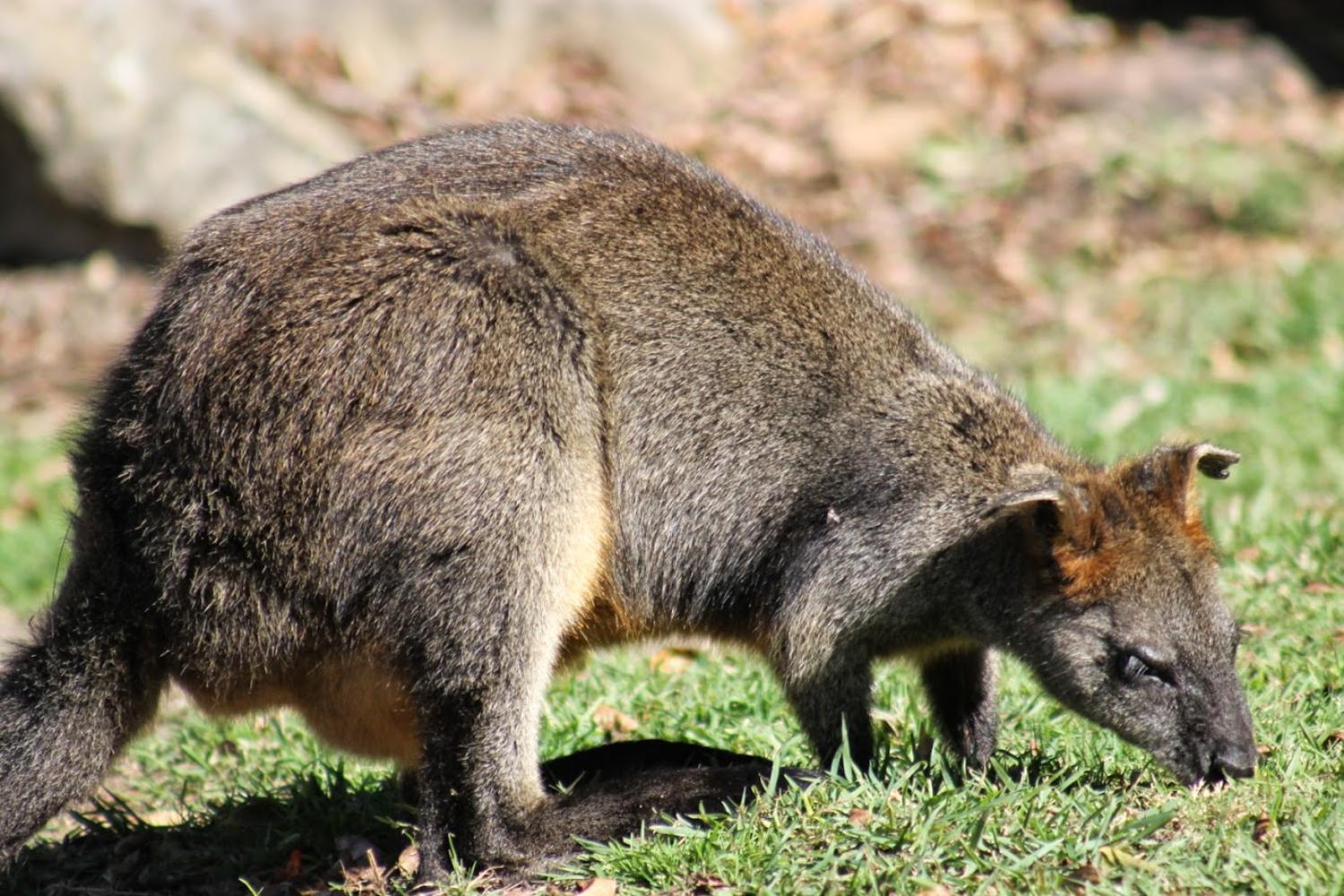 A video posted August 5th 2020 on a website called 'Trail Forks' with a webpage dedicated to 'Deep Creek' and titled 'Submission to Friday Fails' shows a mountain bike rider colliding with a wallaby that had been sitting quietly in the morning sun. The rider was dislodged – no account of what happened to the wallaby or whether help was sought for what would certainly be injuries and shock was posted
The trail is named by the sites' members 'Lower Bahai DH', and is the Caleyi Track from Ingleside down to Narrabeen, through the Garigal National Park where it connects to council reserves behind Elanora Heights, and where signs advising of this not being an area for mountain bike or trail bike riding have been vandalised.
According to the 'Deep Creek' webpage there are 38 'trails' and have been 101 rides taken by proponents in the past week along with, in red, '' This region is Unsanctioned, Ride at your own Risk!''. The 'Lower Bahai' trail records 10 rides this week and 122 over the past 6 months.
In the past fortnight Readers have forwarded photos showing evidence of the destruction of birds, destruction of sacred sites, a dog off-leash chasing and badly mauling a bird in front of a family, with the owner shrugging and walking away, wheelbarrows and tools stored at Ingleside to cut more tracks, the new tracks themselves, and a fire site along the Chiltern Track at Ingleside that is being used regularly.
As requested, the photos have also been forwarded to National Parks and Wildlife and Council.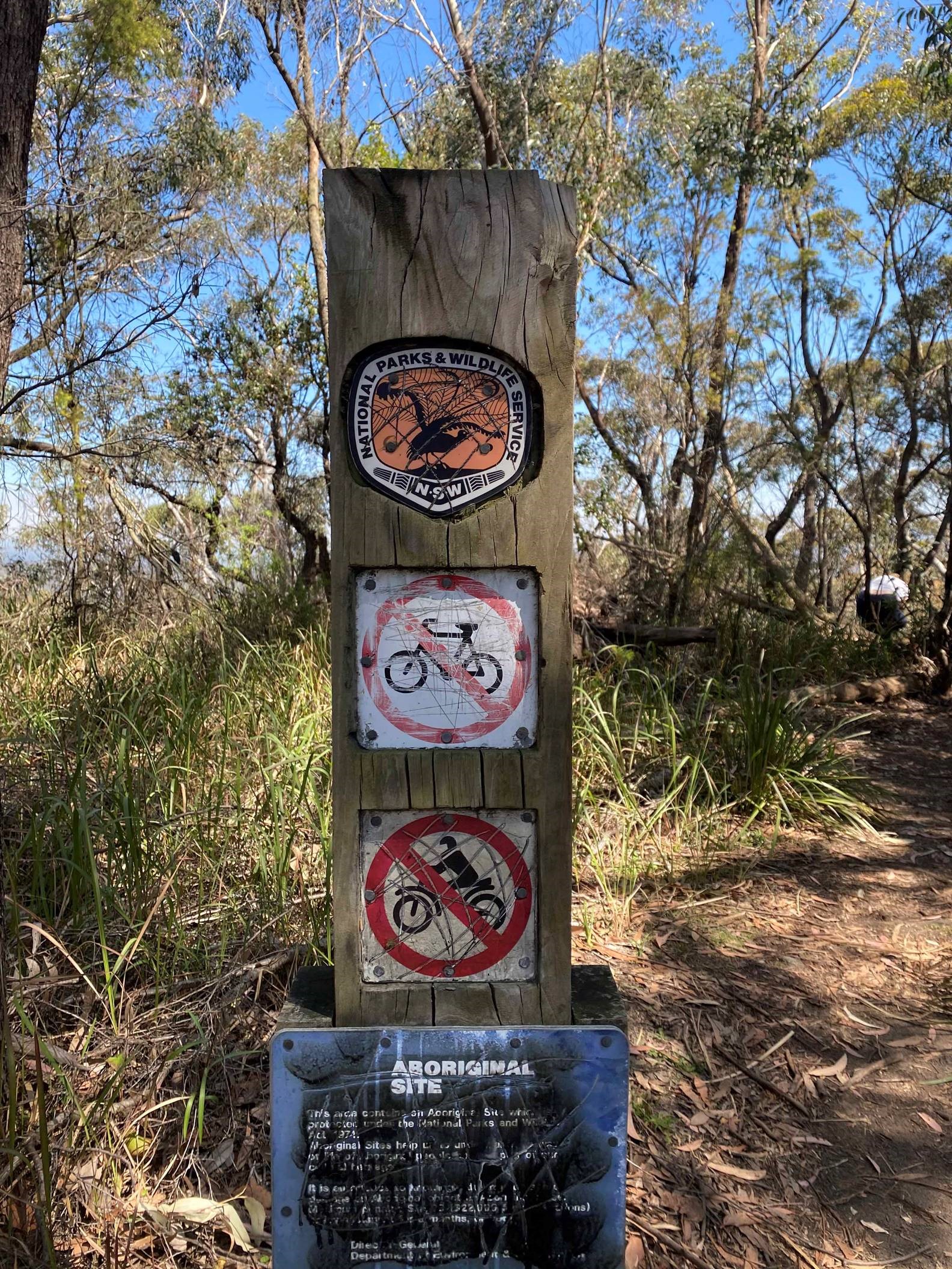 Garigal NP - Ingleside/Mona Vale road end - photo supplied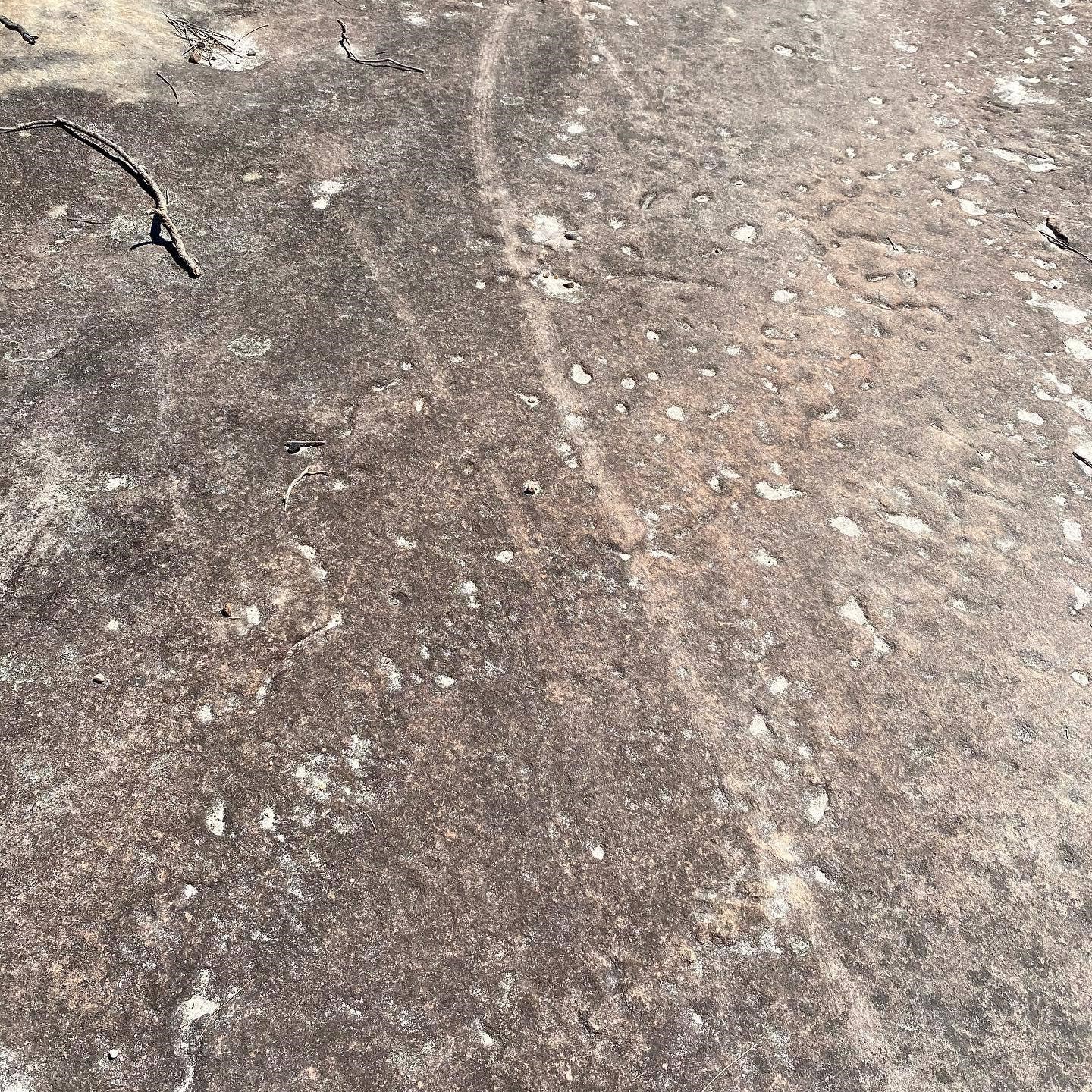 Garigal NP - Ingleside/Mona Vale road end; sacred site with bike wheel markings - photo supplied
Garigal NP - Ingleside/Mona Vale road end; break treads still evident - photo supplied

The main 'Trail Forks' page for 'Deep Creek' states that the 'Garigal Gorillas Mountain Bike Club' are the local supporters of this. However, a spokesperson for the group told Pittwater Online News this week that they are vehemently opposed to any destruction of sacred sites, definitely opposed to anyone cutting illegal trails in council reserves and national parks, and, when put in contact with members of the Aboriginal Support Group Manly-Warringah-Pittwater, immediately agreed to involve their membership in a Walk-Talk through these areas with ASGMWP elders. The 'GG's, along with ASGMWP, hope that sharing knowledge of why these places are protected may filter out to those eager to boast online about riding over and vandalising them, destroying the bush, or hurting the wildlife that actually lives there.
Residents have also reported dogs off-leash on every beach with one councillor, when asking for volunteers via social media for the Council's Covid-Safe beach summer patrols, receiving the quick retort that volunteering for a dog patrol to keep the dogs off the beaches, and away from people and wildlife, would receive a speedier and larger response.
'' The Council have paid little attention to dogs on beaches, most days you'll find multiple dogs on the beaches, often unleashed.''
Further north, at Avalon, someone has been shooting cockatoos around the Palmgrove road area, with injuries so severe they need to be euthanised and the Police now seeking the killer. At Careel Bay a nest of four Lapwing plover chicks was reduced to one overnight, and then none, with one resident stating Council mowed the area of the nest site, while people are seen each and every hour running their dogs off-leash on the playing fields – one woman was witnessed on Friday running with three dogs accompanying her heedless morning 'jog' around the soccer fields while a Pacific black duck pair were running to the road verge to escape.
Understanding what is involved in caring for wildlife, that which can be saved after it has been attacked by off-leash dogs where they should not be, could help in these instances as well.
One example for two blue tongue lizards currently in care in our area due to dog attacks has been outlined by a volunteer;
''A wildlife carer (and a helper) are flushing the bites three or four times a day for one. The other one two times a day. Giving subcut treatments pain relief twice daily and antibiotics every three days. Ointments, creams are applied twice daily. We feed one AD. The wounds are nasty. We use F10 to clean after each treatment. We wash all towels after each treatment. We just purchased new vivariums to house them. We replace all paper each day. We feed/offer them pinkies and fruit. The medicines we need to claim back, the food we don't claim but can claim half cost of pinkies except husband buys and forgets to get a receipt. We can get $10 from office but we were buying it. Cages: I have had a lot donated but we did buy useful ones. Didn't claim as we all look at that as part of helping. Our time is given, transport, petrol, equipment, protective clothing is up to us. AD is dog supplement. Pinkies are frozen mice. All meds are usually supplied. The medical equipment is sourced by donations to medi divert or is purchased by us.''
CEO, Ray Brownlee has stated, in response to the forwarded report of the family who witnessed the duck being chased and mauled at Narrabeen; ''Northern Beaches Council aims to balance the needs of dog owners with the interests and safety of the broader community, as well as protecting local fauna.
However, we take all dog attacks very seriously.
Where dogs are permitted, we remind their owners to ensure their pets are under effective control at all times.
If an area is not marked as an unleashed area, then dogs must be on a lead. However, there are certain areas where dogs are prohibited at all times.
Council rangers are investigating a dog attack on a duck at Middle Creek, where dogs are permitted but must be restrained.
Parts of Deep Creek Reserve are designated as a Wildlife Protection Area (WPA). This includes all bushland south of the creek where dogs or cats are not permitted.
Council's website has recently been amended to clarify this information.''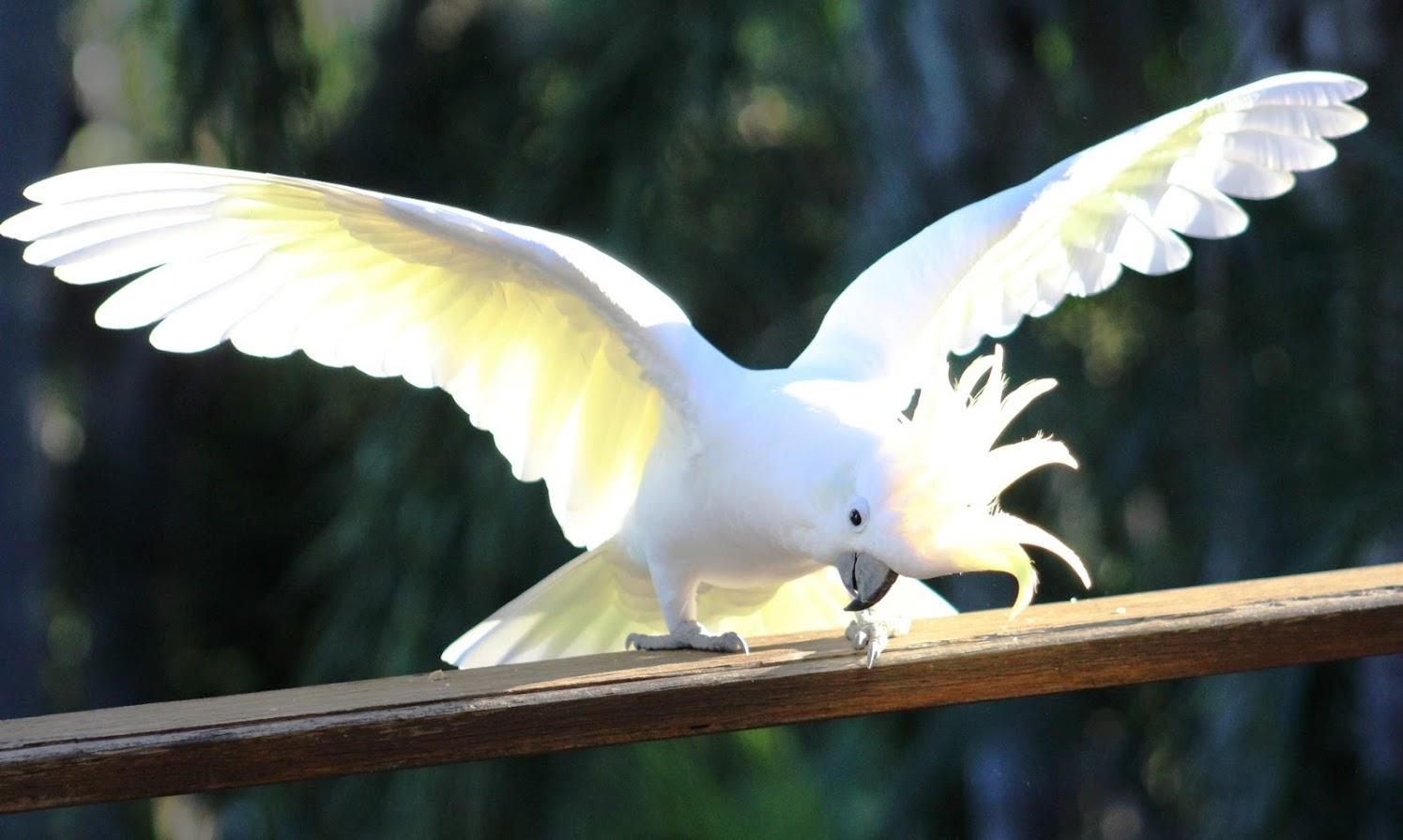 Jason 'For The Beaches' Falinski Moves To End Uncertainty Of Oil Or Gas Rigs Off Our Beaches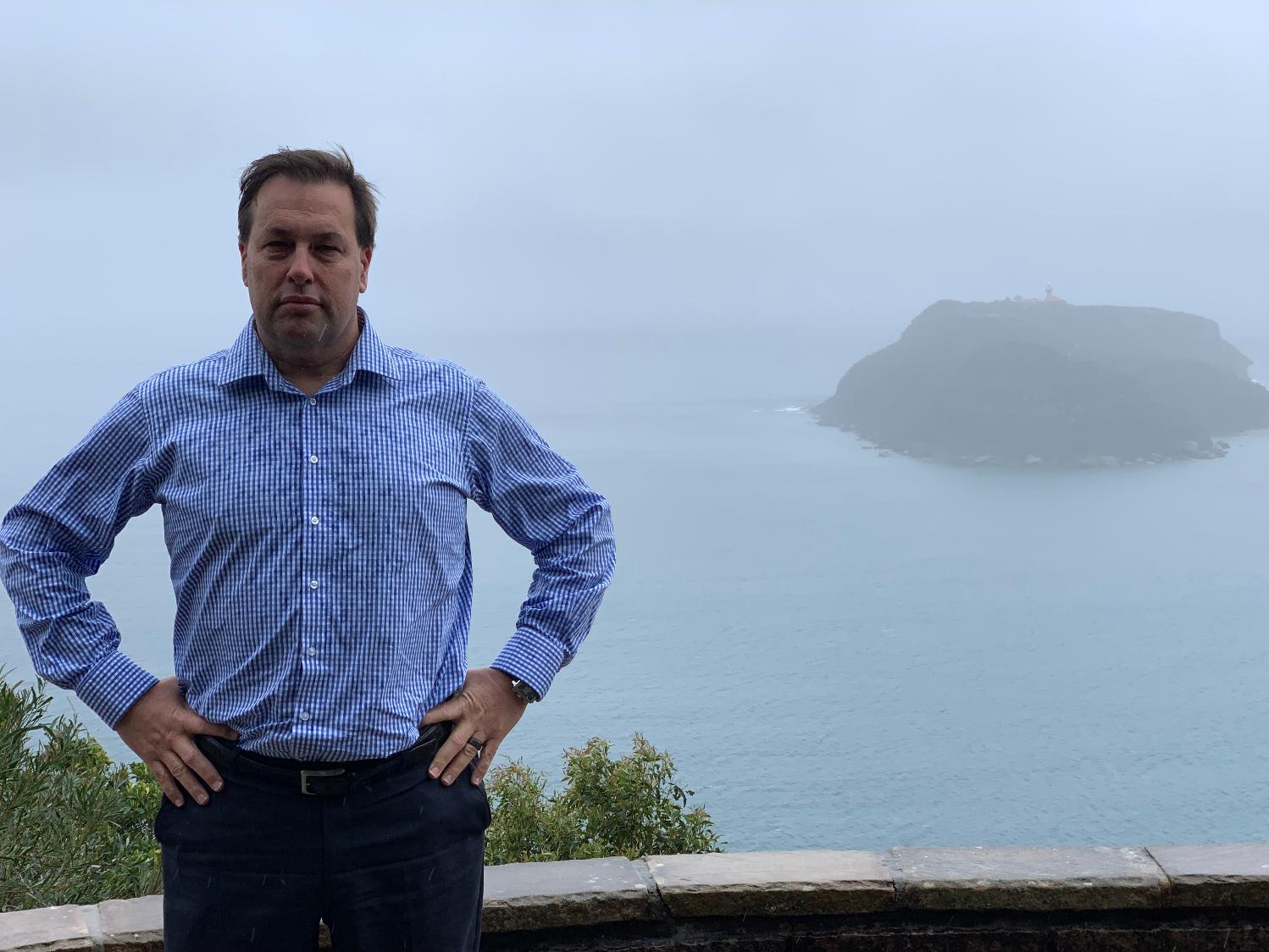 Jason Falinski, MP for Mackellar, at West Head on Friday, October 16th, 2020
When Pittwater Online spoke to MP for Mackellar for
Oceans Day 2020
(June 8th), which had a theme of '
Our Oceans, Our Future
', Mr. Falinski
stated,
"It is our responsibility here on the Northern Beaches to protect our beautiful beaches and waterways. From Palm Beach down to Manly the Pacific Ocean provides us with a big part of our lifestyle."

"I want to also use this day to reaffirm my commitment in opposing any drilling off the coast of the Northern Beaches."
Since then Mr. Falinski has been actively speaking with residents, scholars and shore based community groups and organisations right along the peninsula with the result being that the Sydney coastline is going to the top of the agenda for Parliament's next sitting. Two Sydney Members of the Federal Parliament will move to oppose drilling for oil and gas off the coast of Sydney.
It is the most definitive action taken on the issue to date.
The motion is being moved by Member for Mackellar, Jason Falinski MP and seconded by Member for Wentworth, Dave Sharma MP.
The motion has cemented Mr Falinski's long-term opposition to the Petroleum Exploration Permit – 11 (PEP-11).
"Since being elected in 2016, I have fought against this licence of behalf of my community." Mr Falinski told Pittwater Online this week.
"I grew up here, the local environment is very important to me and I will keep fighting to protect it."
The PEP-11 licence has been held by a number of energy companies since it was granted a number of years ago. Various exploration actions have been undertaken, the last one about three years ago. Mr Falinski has said "Even the most generous reading of the actions of the current holders of the PEP-11 Licence since then would lead a reasonable person to conclude that there is nothing there."
"The results of that testing were clearly disappointing."
"It is no longer fair for this licence to be continuously renewed, creating uncertainty for the community."
The PEP-11 Licence now hangs over the heads of my community like Damocles Sword."
Mr Falinski has written to the Minister for Resources, the Hon Keith Pitt MP, urging him to deny any further extensions to the PEP 11 licence.
Mr Sharma, who seconded the motion, highlighted the need to ensure the Sydney coastline is maintained for future generations.
"Sydney has one of the world's most beautiful natural coastlines. We are both beneficiaries and trustees of this magnificent natural asset — and must do all we can to protect it for future generations." Mr Sharma said.
"PEP-11 should not be renewed. Oil and gas exploration should not be taking place adjacent to one of the most densely populated coastlines in the world".
The motion will be in the House of Representatives at 10:30am on Monday and Mr. Falinski will speak first.

The Motion:
NOTICE OF MOTION

MEMBER FOR MACKELLAR: I give notice that on the next day of sitting I shall move that this House:

(1) Recognises the Coalition Government's commitment to protecting Australia's marine environment including the Great Barrier Reef through:

(a) The Reef 2050 Long-Term Sustainability Plan;

(b) The $1.2 billion investment to ensure the health of the Reef; and

(c) The $100 million Environment Restoration Fund which supports cleaner oceans and waterways.

(2) Opposes oil or gas drilling off the coast of Sydney, including:

(a) Recognises that through Advent Energy's own admission on 29 December 2010, the exploratory well had failed to find gas; and

(b) Not renewing the Petroleum Exploration Permit 11 (PEP-11) licence;

(3) Notes the importance of Sydney's coastline and waterways to the ecosystem as well as tourism and investment.
You can watch and hear via this link: https://www.aph.gov.au/news_and_events/watch_parliament
NSW's Best Groms Light Up Cronulla: Surfing October 2020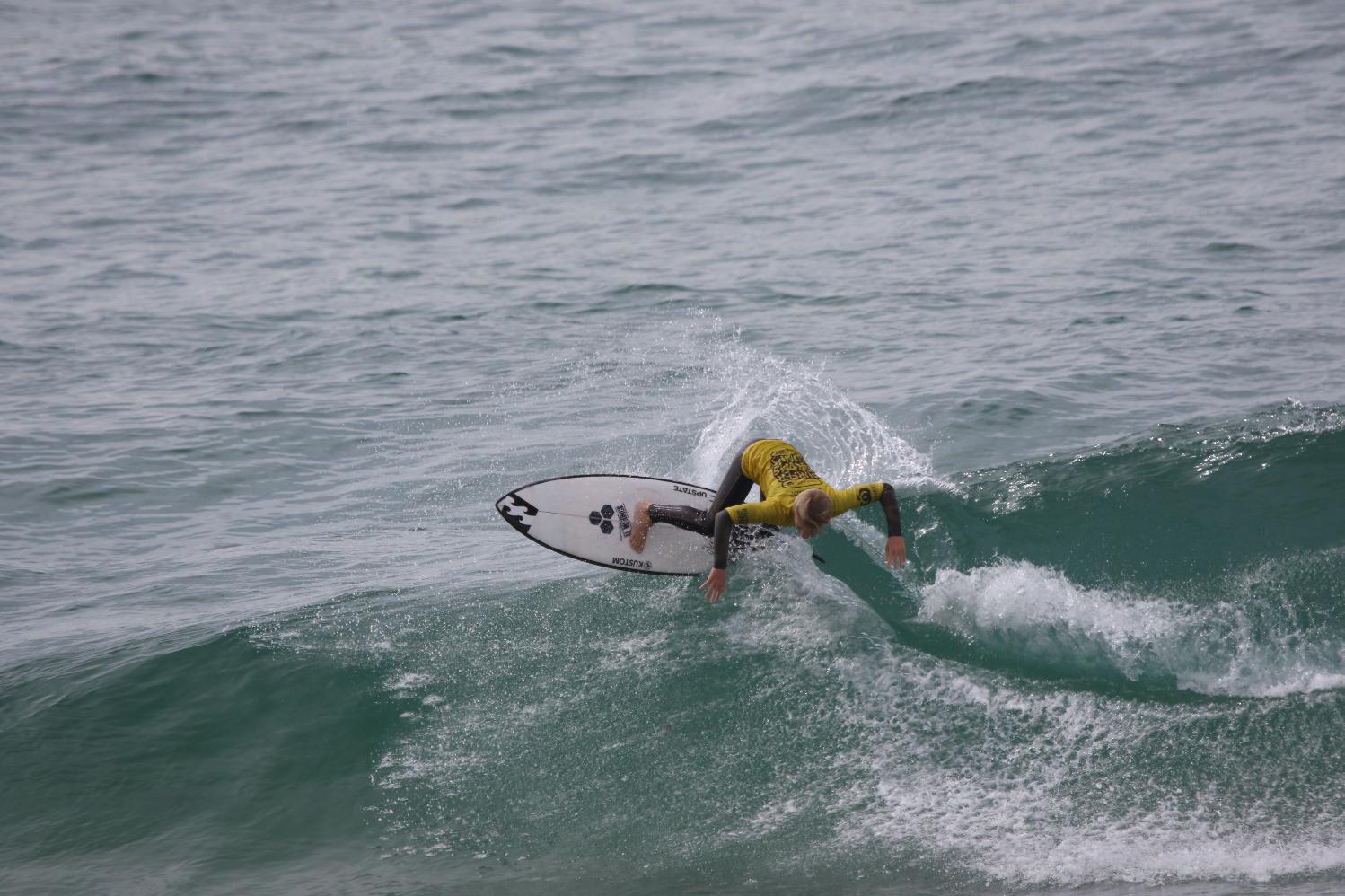 Rene Galloway - photo by Josh Brown/Surfing NSW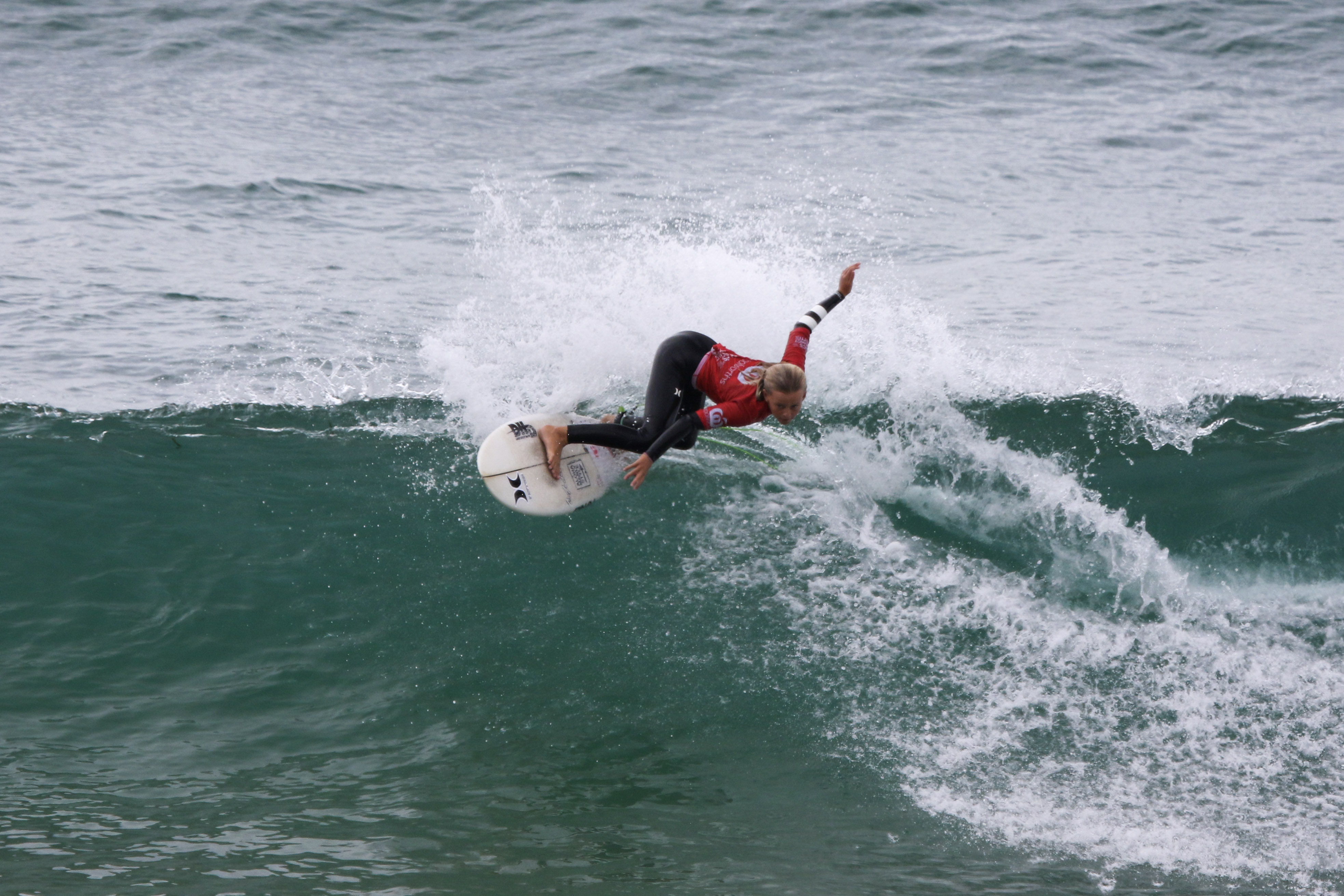 Ruby Trew - photo by Josh Brown/Surfing NSW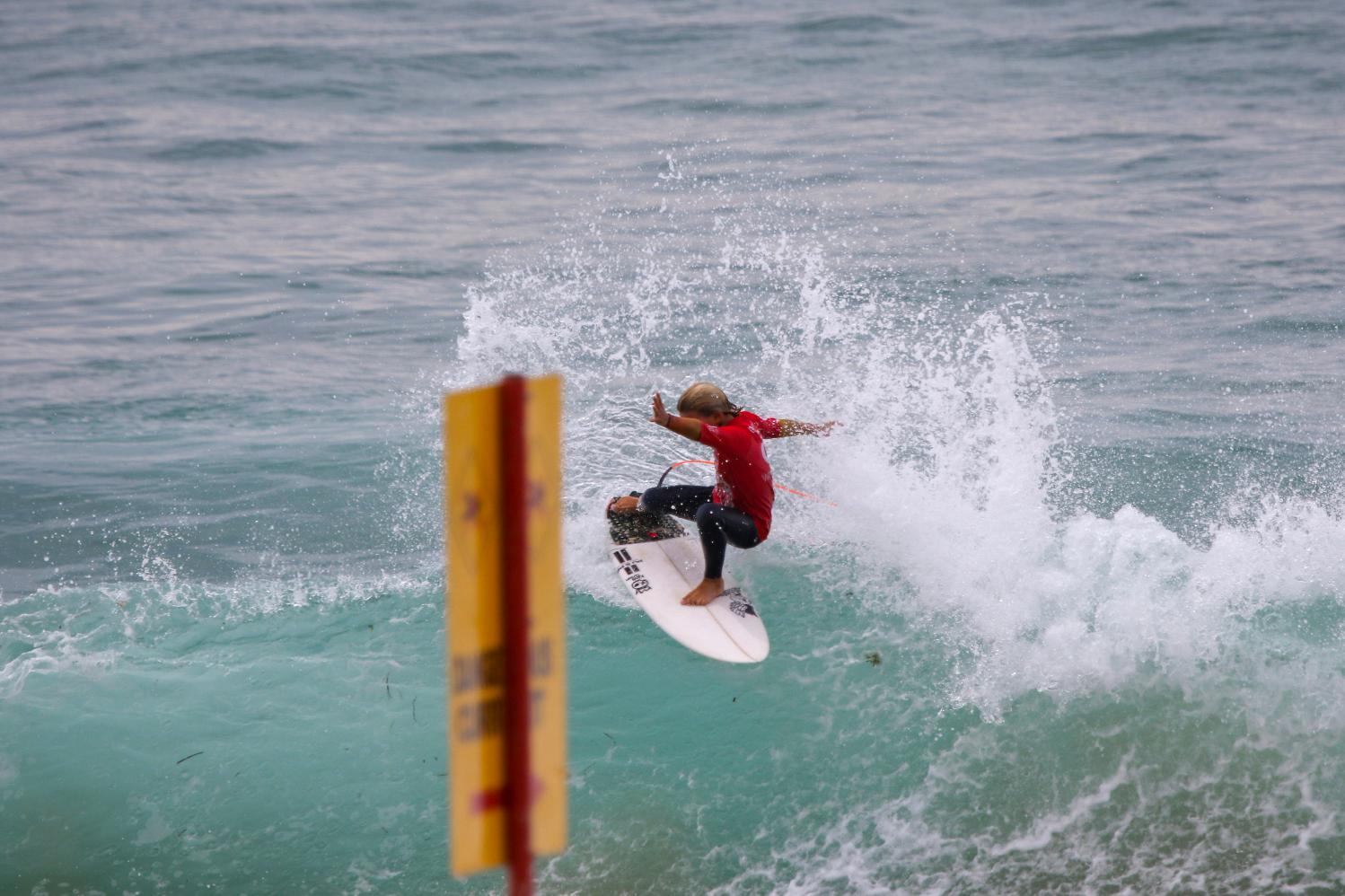 Locana Cullen - photo by Josh Brown/Surfing NSW

Woolworths Surfer Groms Comp Wraps Up With A Bang At Cronulla
Sunday October 18, 2020
Report by Surfing NSW
The final day of the final NSW based Woolworths Surfer Groms Comps pres. by Pic's Peanut Butter for 2020 wrapped up at Cronulla today with competitors being greeted by playful two-foot peaks.
In what was his final Woolworths Surfer Groms Comps pres. by Pic's Peanut Butter competition, Fletcher Kelleher (Freshwater) finished with a huge win over local competitor Kash Brown (Cronulla) in the Under-14 Boys. Kelleher saved his best performance for last, nailing a gigantic 18.50 two-wave heat total to take a convincing win in the final. Kelleher's scoreline consisted of two near-perfect scores in excess of 9.00 that allowed the talented goofy-footer to gain the upper hand and claim the victory.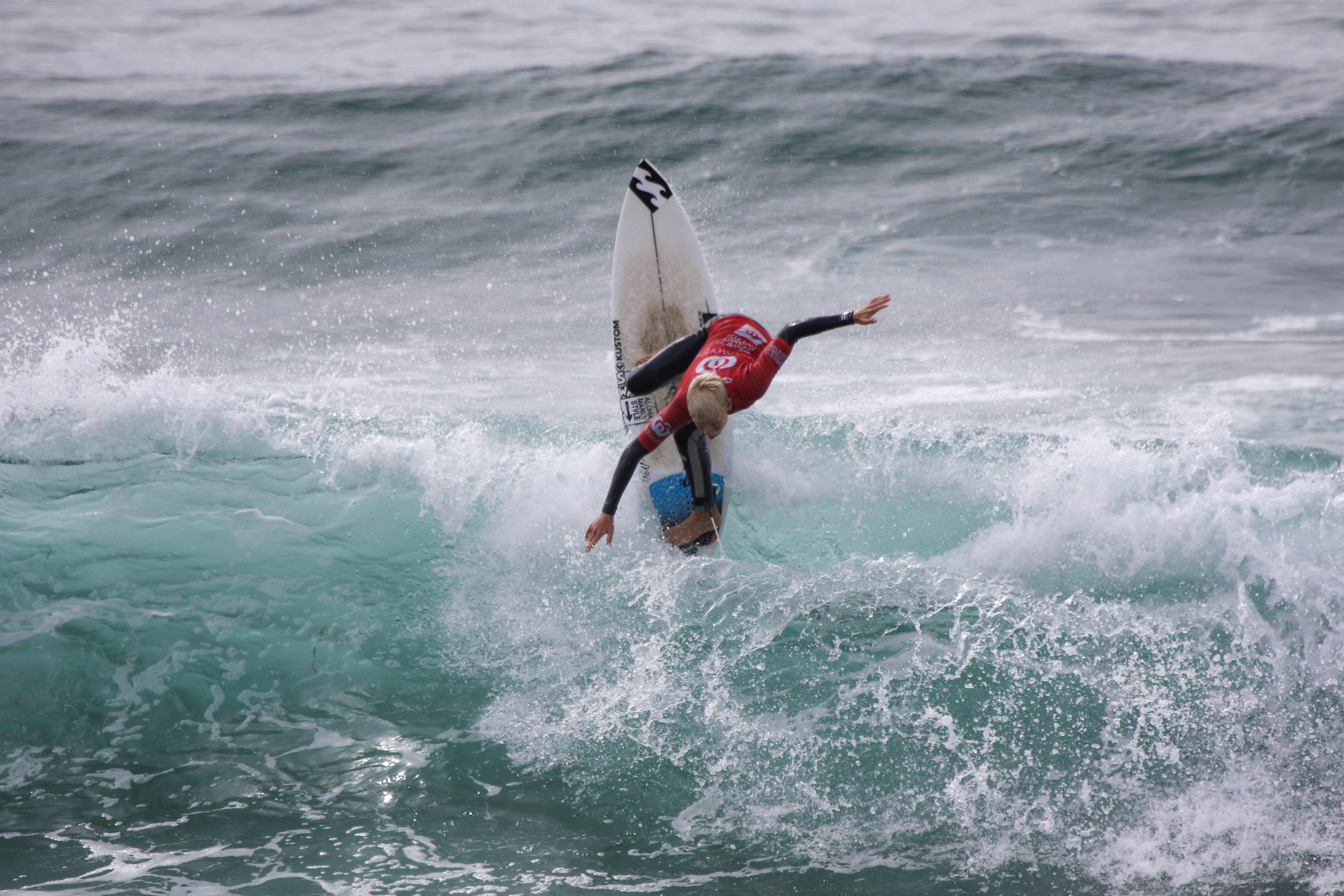 Fletcher Kelleher - photo by Josh Brown/Surfing NSW

Following a similar trajectory to Kelleher, fellow North Steyne Boardriders Club member Ruby Trew (Curl Curl) claimed an impressive victory in the Under-14 Girls. Trew notched up a solid 16.07 two-wave total to take the win, thanks to a series of impressive snaps and carves.
Rene Galloway (Newport) ensured another title would be heading north of the Sydney Harbour bridge, taking out the Under-12 Boys division. Galloway posted a decent 15.33 two-wave heat total and showed he'd be a name to look out for when the series returned in 2021.
The Under-12 and Under-10 Girls division were taken out by surfers from the Kiama region with Lani Cairncross (Kiama) and Kendall Payne (Gerringong) claiming each respective division with impressive scores across dual finals.
Locana Cullen (Avalon) claimed his second Woolworths Surfer Groms Comp event for 2020, taking out the Under-10 Boys. The northern beaches surfer put on a stellar performance against day one standout Jaggar Phillips (Maroubra) to take a win with a respectable 13.93 total.
The elite event saw male and female surfers competing in four different age divisions, starting at Under-8's right through to the Under-14's.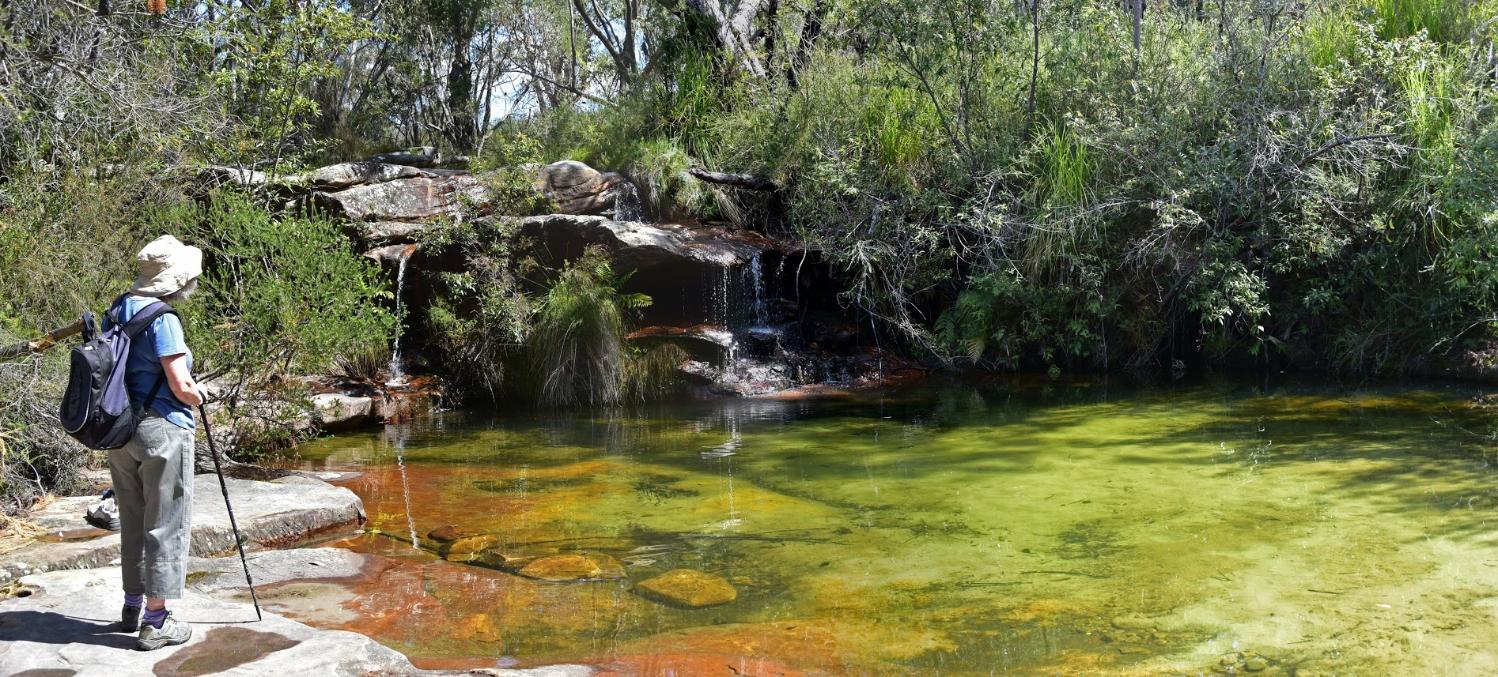 Lovett Bay Pools (above Lovett Bay Falls) by Kevin Murray - more in this week's Pictorial.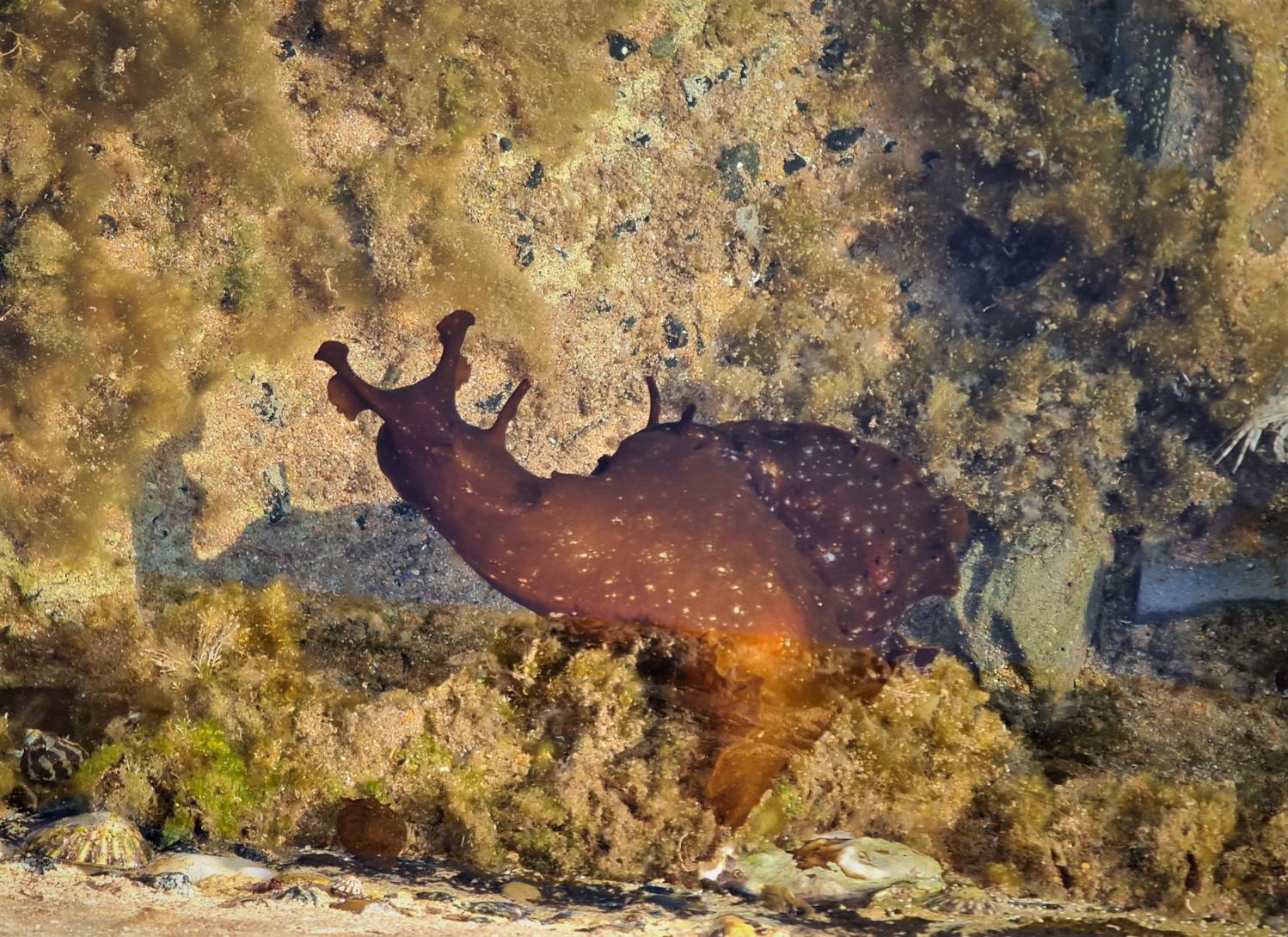 Sea Snail in Narrabeen Rock Pool this week, October 2020 - photo by
Joe Mills
Past Features Archives (pre 2014)
Pittwater Online News was selected for preservation by the State Library of New South Wales and National Library of Australia. This title is scheduled to be re-archived regularly.
Archived Issues (2014 on) may be accessed here: pandora.nla.gov.au/tep/143700