August 23 - 29, 2020: Issue 463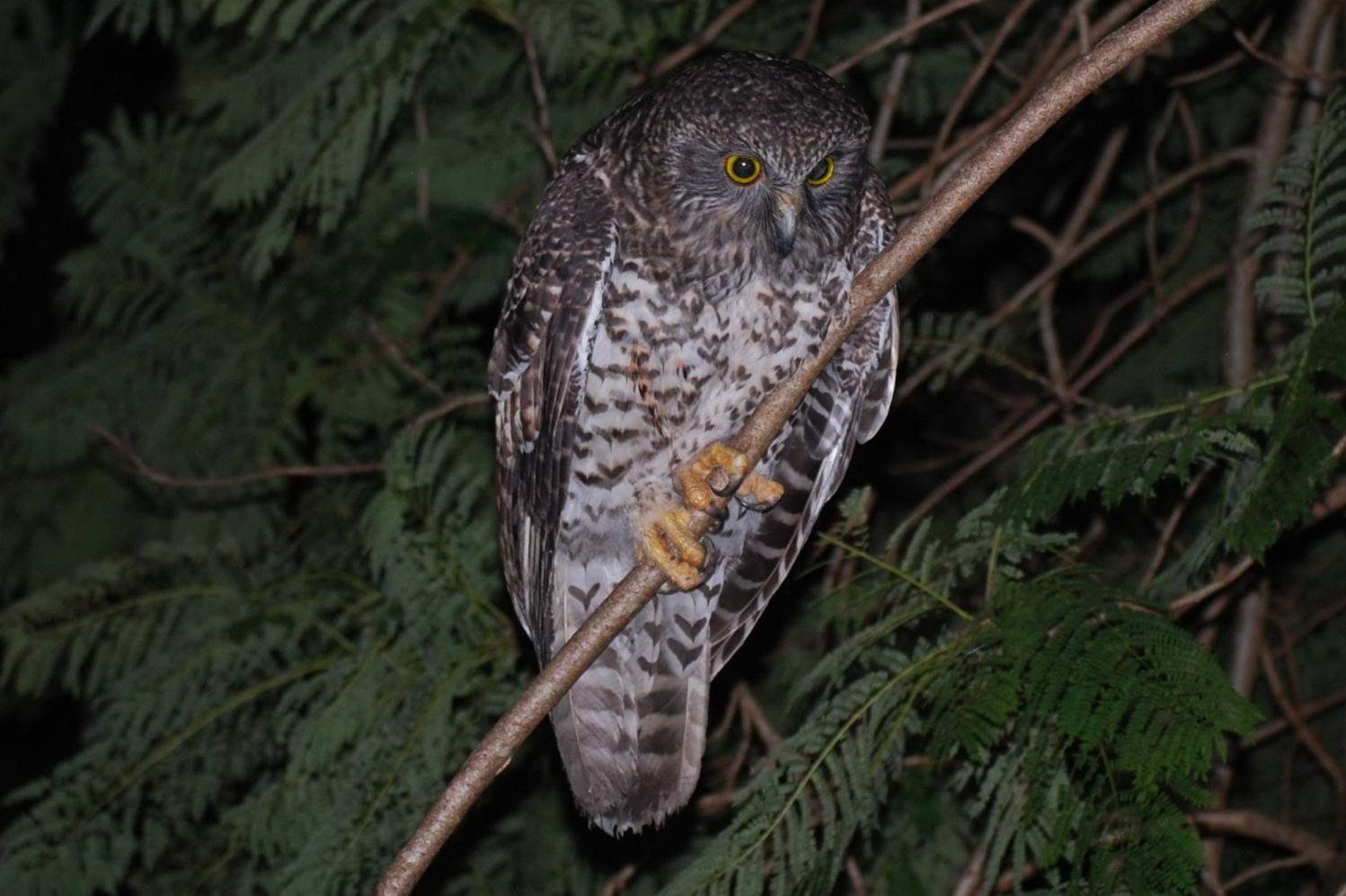 Powerful Owl - photo by Paul Wheeler
News that bad land management in the Northern Beaches LGA had caused one Powerful Owl family to abandon the nest hollow, (on Friday June 26th) along with the chicks that would have been inside the hollow, underlines how precious every patch of green in our area is.

This pair are known to have chicks at this time of year (Winter is breeding season for Powerful Owls) and the site is in Pittwater.

Although Council officers ordered a stop work, the contractors ceased then returned the very next day to complete their razing of the site.

Last week the gentleman who photographed and reported on this pair in Powerful owls: the reason to protect remnant bushland in our cities recorded haunting audio of the female booming away from the nest tree, looking for her lost babies.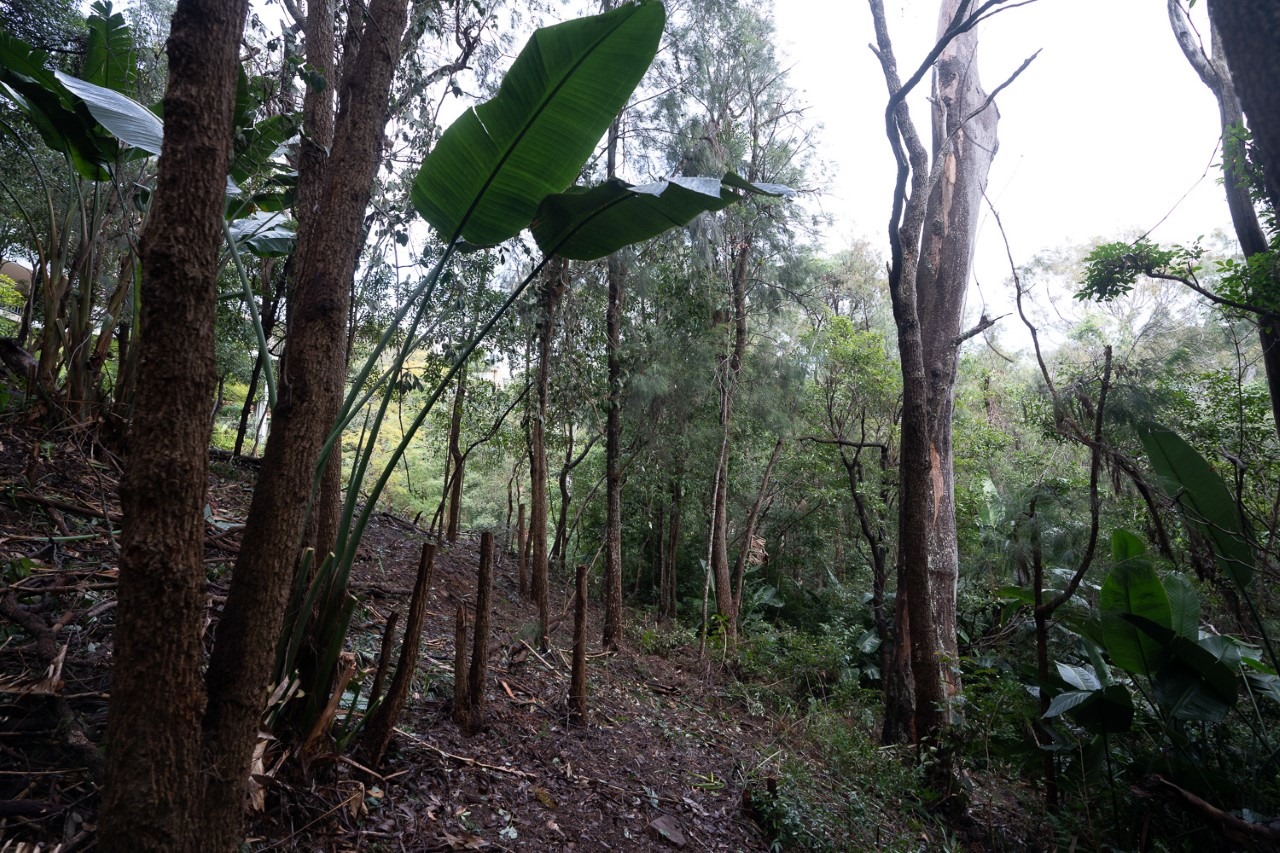 The Council Reserve cleared by contractors employed by private landowners - photo supplied
There are 30 registered with Council Powerful Owl sites across the northern beaches and it has been suggested a process whereby landowners are notified they are have bought into a sensitive area with vulnerable species present form part of Council's processes. This site was cleared not only of weeds but native plant species and all understorey as well parts of the community owned reserve adjacent to it.
If you are noticing the loss of your resident POs through fire, nest site vegetation removal, dog-walking, bike riding or visitation/photography, you are not alone. This season the Powerful Owl Project have already recorded three owl families moving away from nest trees in response to these activities. In one case the first nesting was early enough that the owls have made a second attempt at breeding, but for our Pittwater owl family there will be no chicks that survive this year - just the sound of their distressed mother calling for her babies, killed at an estimated two weeks of age.
These owls are facing a great hardship on the northern beaches, their habitat is increasingly under threat due to developments - Powerful Owls nest in large tree hollows (at least 0.5 m deep), in large eucalypts (diameter at breast height of 80-240 cm) that are at least 100 years old - car strikes are leading causes of mortality for these birds (with estimates in Sydney of 12% of the population dying each year this way), or even the burnoffs that occur during the breeding and fledging months will cause these owls to panic and abandon nesting trees and young.
That's why it's vital that those little green spaces, often inaccessible to all except those who live in the houses adjoining them, are maintained.
At the moment the Powerful Owl Project needs residents to report sightings/hearings of the owls, even if they are older records. This last part of the breeding season should be filled with noisy calling, which will go on until December.
Send an email to powerfulowl@birdlife.org.au with your location (street address or GPS location), an attached photo or call recording (if you have it), details of when you saw or heard the bird, and anything interesting you noticed about where it was or what it was doing (e.g. holding prey, perched on a tree branch).
The Powerful Owl Project was instigated by a northern beaches resident, Kristen Hardy – so it's one we should all be proud of and do our utmost to support and further the scope of.
Dr Rod Kavanagh had been keeping records on Powerful Owl nests throughout Sydney for over 25 years. In 2009, unknown to Rod, an inspired young music teacher by the name of Kristen Hardy had begun investigating the occurrence of Powerful Owls in the northern beaches of Sydney following a chance meeting with a juvenile Powerful Owl.
The eventual coming together of Rod and Kristen created 'The Powerful Owl Project'. Through Rod's involvement with BirdLife Southern NSW, the project was adopted by BirdLife Australia through its urban bird conservation program, Birds In Backyards (BIBY).
So, this is one of our local volunteer organisations that has spread across the range of the powerful owl thanks to Kristen, Dr. Kavanagh, BirdLife Australia and the dedication of Dr. Beth Mott, Powerful Owl Project Officer (NSW) for BirdLife Australia.
There are currently 30 registered Powerful Owl sites in our area – but how many are there?
Find out more, including how to know 'What's that Owl?' in a very special Profile of the Week.
Streets As Shared Spaces Funding Secured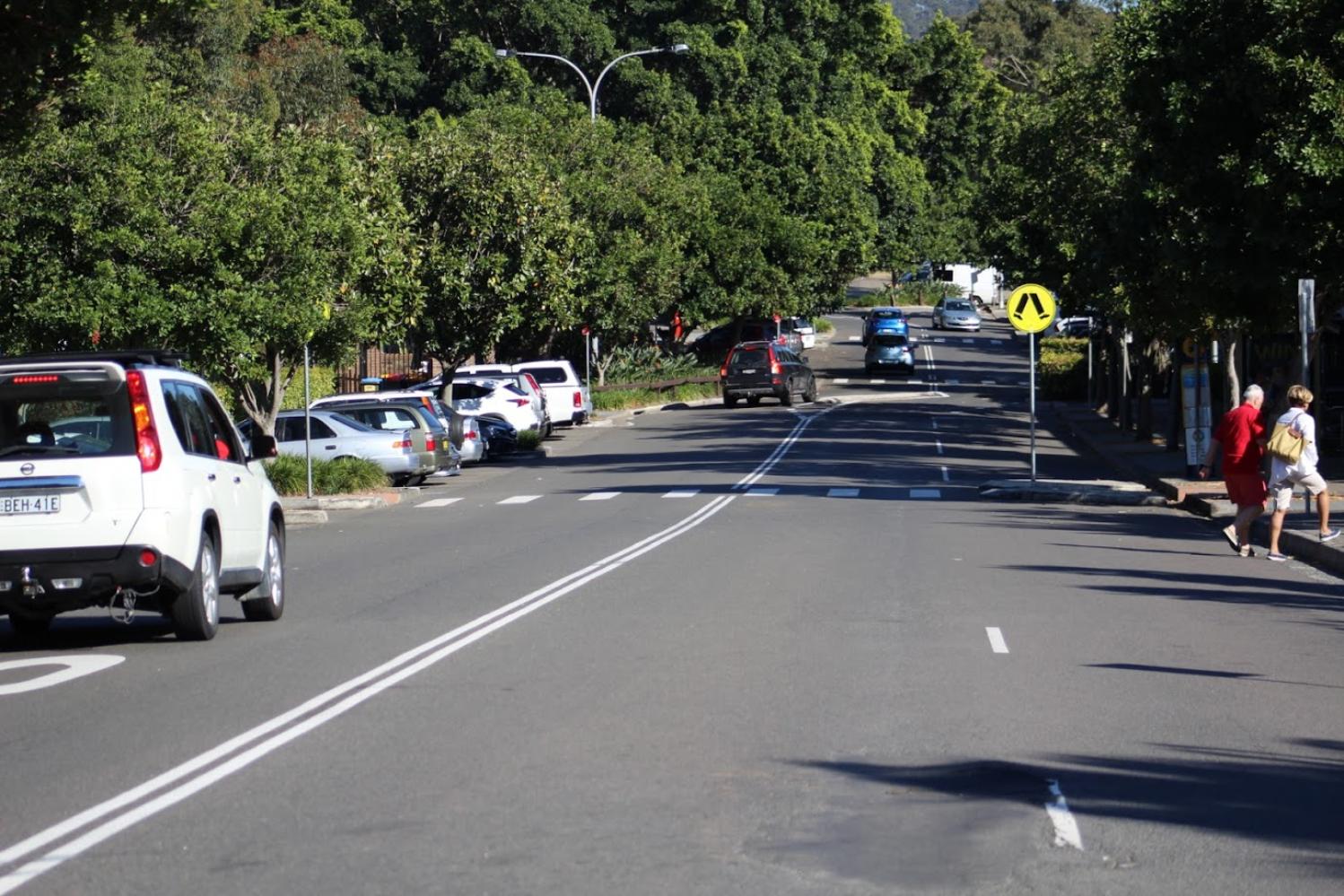 Park Street, Mona Vale - photo by A J Guesdon.
The NSW Government announced the successful funding recipients under the $15 million Streets as Shared Spaces program on Tuesday August 18th.
Minister for Planning and Public Spaces Rob Stokes said the funds will help 27 regional councils and 14 councils across Greater Sydney deliver temporary street transformations, such as cycleways, pop-up parklets and improved lighting.
"It's fantastic to see so many councils eager to provide new and improved public spaces for their communities, encouraging active transport and beautifying their streetscapes," Mr Stokes said.
"These projects will transform neighbourhoods across the State, making it easier for people to walk or ride to local shops and services by creating safe, attractive and accessible streets and public spaces."
The Streets as Shared Spaces program provides funding for councils to support the delivery of short-term improvements to local streets and public spaces through pop-ups and pilots that encourage social distancing and improve the attractiveness of our neighbourhoods.
There are two types of project grants under the program: Quick Response Demonstration Projects valued at up to $100,000 per project, to be delivered within three months of approval, and Pilot Projects valued at up to $1 million per project to be delivered within one year of approval.
The full list of 48 successful proposals is available to read through visiting: www.dpie.nsw.gov.au/streetsgrants
In our area $975, 000 was secured for two projects:
Activate Manly Bilgola

- Activate Manly Bilgola seeks to improve and activate the connections around town centres and beaches in the area. Two areas are covered by this program of works: The Serpentine in Bilgola Beach and a Darley Road-Corso-Whistler Street-Kangaroo Lane connection in Manly. Funding amount: $875,000

Beaches Eat.Play.Stay - Northern Beaches

; Reallocation of streets with temporary road closures in four areas across one weekend per month, to support increased walking, cycling, local artists, musicians activation spaces. Funding amount: $100,000
The four areas that will have full or part road closures to provide streets for people to facilitate walking and bike riding to and around the area are Tania Park at Balgowlah (named after Tania Verstak, a winner of the 1962 Miss International Beauty pageant who was brought up locally) Dee Why, Mona Vale and Newport - where events such as Mona Vale's Night Markets, Autumn Festival and Food and Wine and Sustainable festivals at Winnererremy Bay have taken place, while Newport's Sculpture Trail and Newport SLSC's Barefoot Ball and Sandcastles events in previous years, utilised the whole retail area and green park surrounds to offer a variety of art and entertainment as well as great food for visitors.
Council will consult further with the community prior to embarking on any work on these projects - but it looks and sounds like some extra opportunities for a bit of relief and brightness is heading along the beaches before Christmas!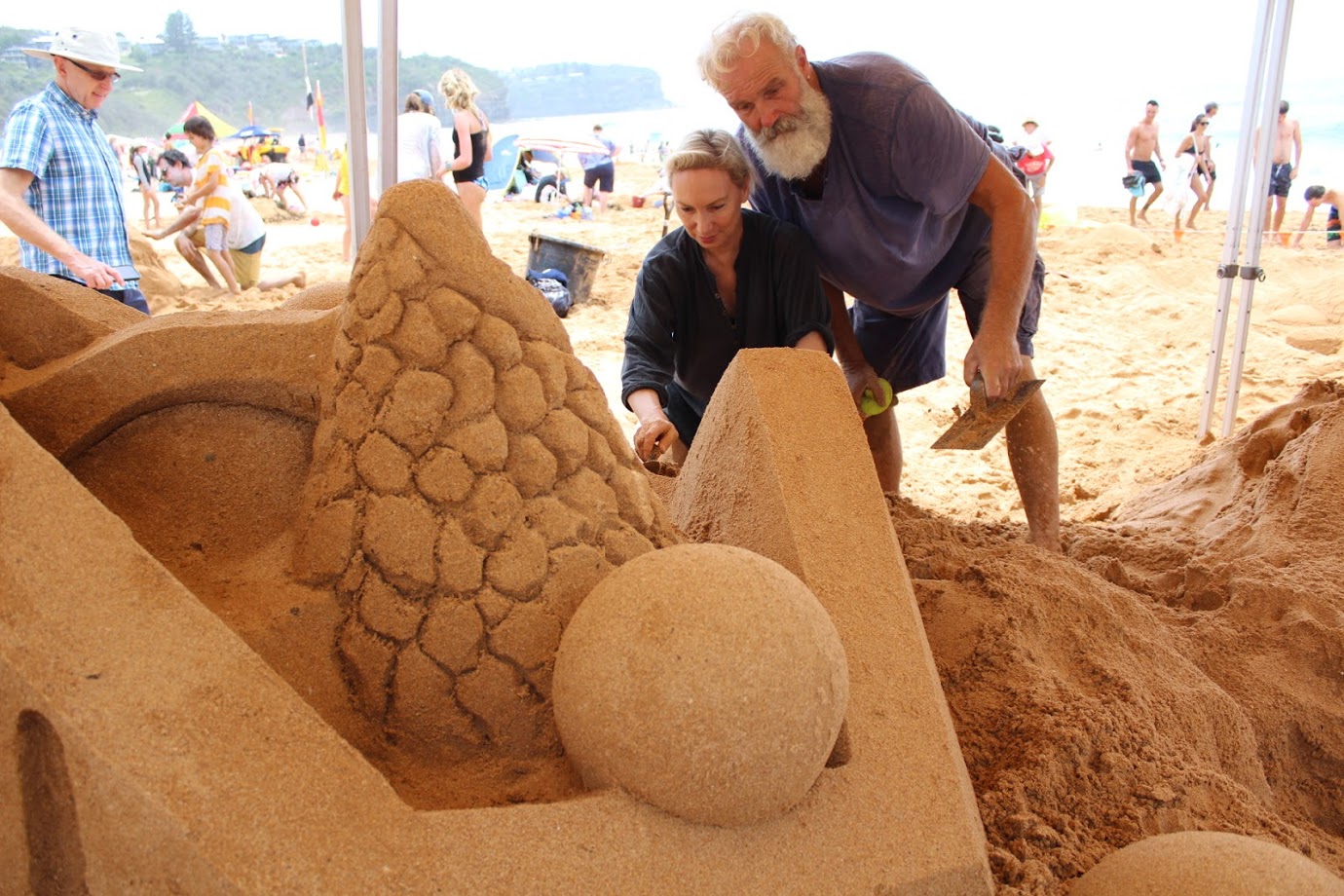 Newport SLSC hosted the Barefoot Ball and Sandcastle comp. in 2017 to raise funds for Cystic Fibrosis NSW and the surf club - photo by A J Guesdon
NSW DPI's Shark Meshing 2019/20 Performance Report Released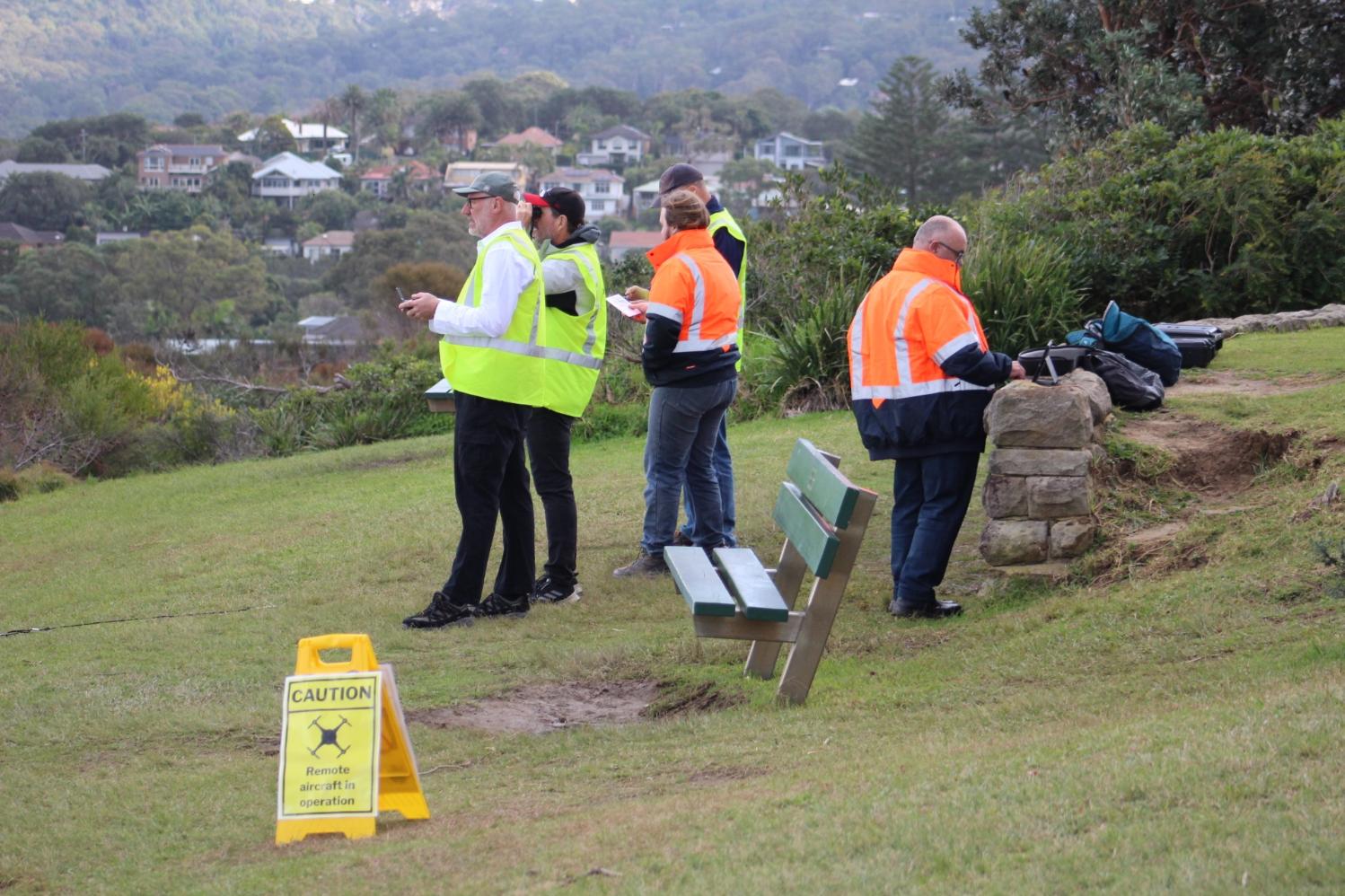 Drone Pilot training at North Mona Vale headland during June 2020 - photo by A J Guesdon.
Key points:
one critically endangered Greynurse shark was killed at the Bilgola Beach net during the 2019/20 SMP, another was found alive at Whale Beach and released
a total of 18 non-target hammerhead species of sharks were caught in nets off our beaches during the 2019/20 SMP - only one was found alive and released
two green turtles were found dead during the 2019/20 SMP - both at Narrabeen
two nets, at

Queenscliff and Harbord beaches,

reported missing after severe weather conditions in early February 2020 were not recovered

two drones will be employed by Surf Life Saving NSW for surveillance during the upcoming 2020/21 SMP
The NSW Government's Shark Meshing (Bather Protection) Program includes 51 beaches between Newcastle and Wollongong. These beaches are netted by contractors using specially designed meshing nets to reduce the chances of shark encounters. The nets do not create a total barrier between swimmers and sharks, they are designed to intercept sharks near meshed beaches, which reduces the chance of a shark interaction.
While the nets cannot provide a guarantee that a shark interaction will never happen, the government believes they have been effective in greatly reducing the potential number of interactions.
The NSW Department of Primary Industries (DPI), a division within NSW Trade & Investment, manages the NSW Shark Meshing (Bather Protection) Program. The program is a public safety measure introduced in 1937 to reduce the risk of shark attack at the State's most popular public bathing beaches.
Under the current program, there are 51 beaches between Wollongong and Newcastle that are netted by contractors using specially designed meshing nets to reduce the chances of shark encounters. The nets are 'sunk nets', set below the surface in about 10 to 12 metres of water, within 500 metres of the shore. The nets are fitted with acoustic warning devices to alert dolphins and whales.
Winter In Pittwater Is Becoming Spring 2020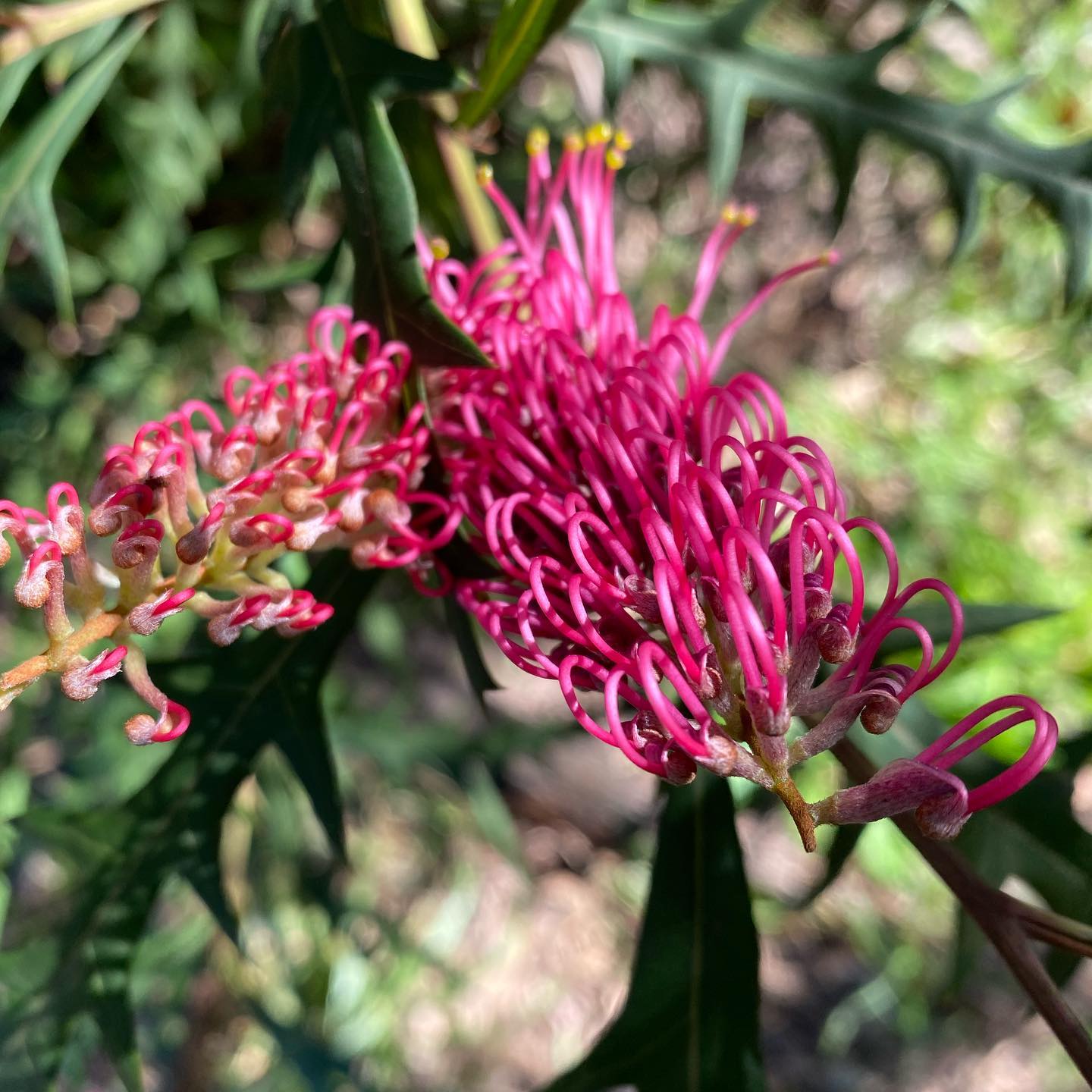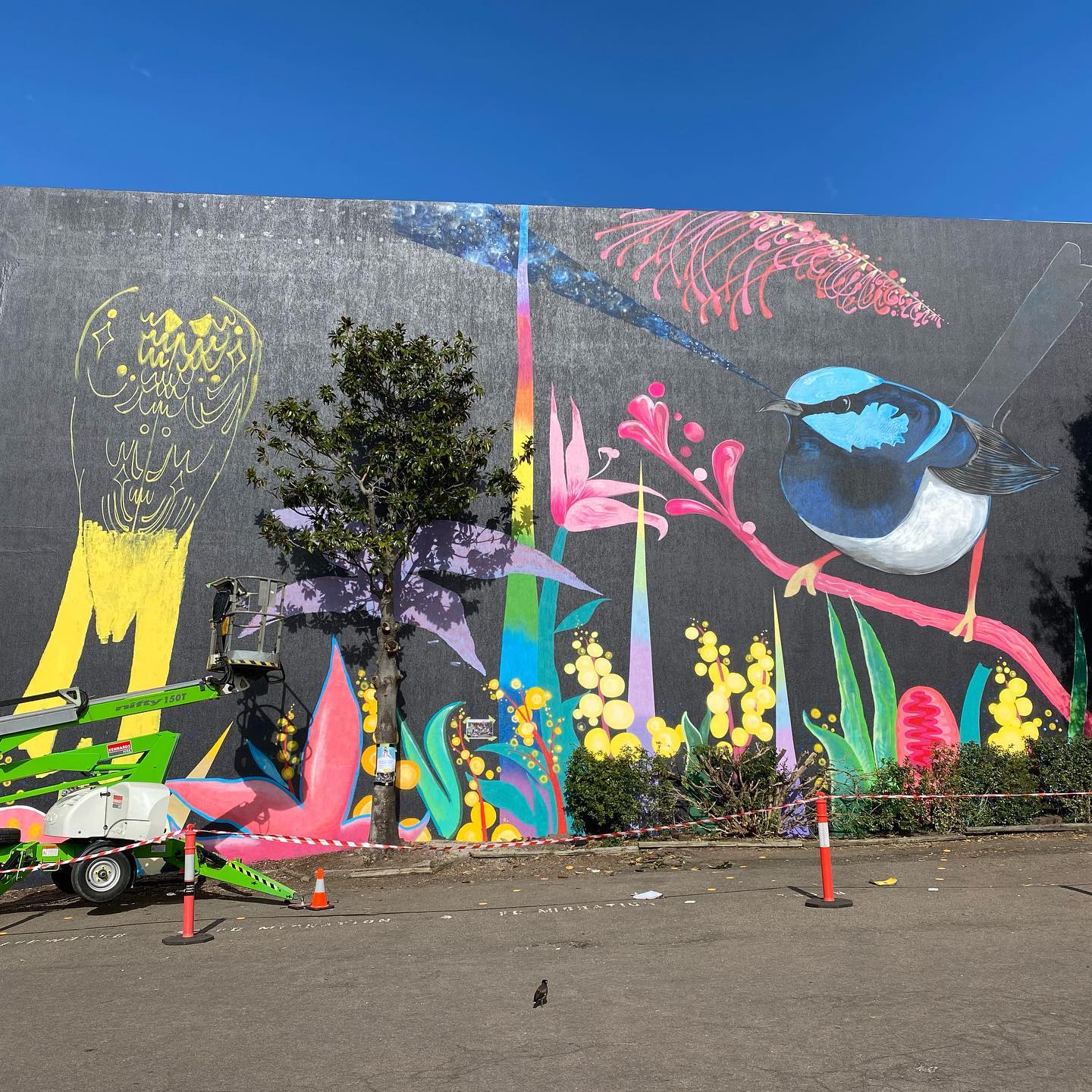 Mural taking shape at Mona Vale - photo by Selena Griffith.
Two students from Pittwater High School have been assisting with this mural community project. It Features a Fairy Wren, Wattle, Grevillea and other local plant species.

Past Features Archives (pre 2014)
Pittwater Online News was selected for preservation by the State Library of New South Wales and National Library of Australia. This title is scheduled to be re-archived regularly.
Archived Issues (2014 on) may be accessed here: pandora.nla.gov.au/tep/143700