March 1 - 7, 2020: Issue 440

Hospital Inquiry Report Released: Recommends Looking After The People – Not The Profiteers + Ceasing Demolition Of MVH + Returning An Emergency Department To Mona Vale Hospital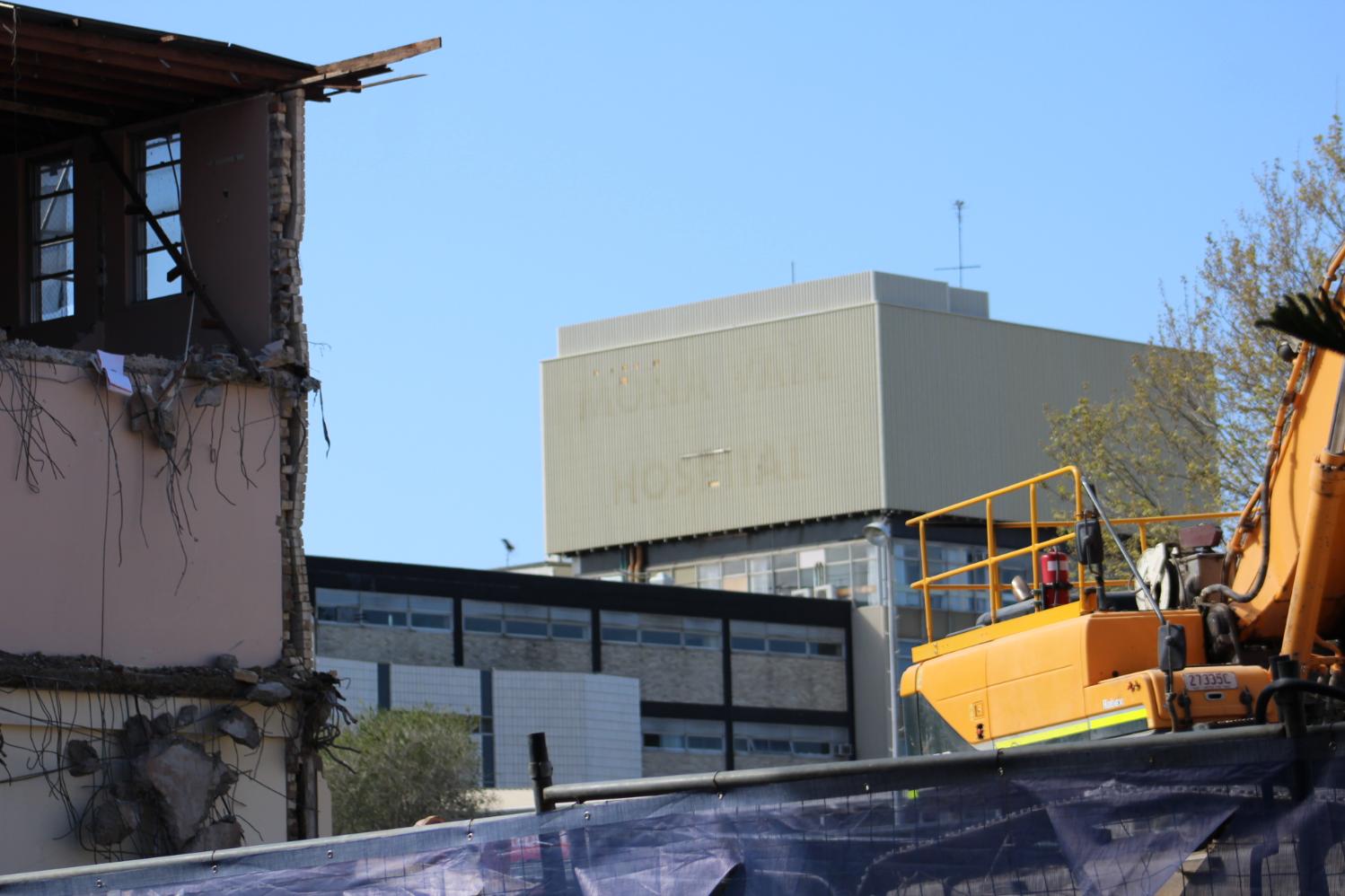 An Upper House committee has released its report on the Northern Beaches Hospital on Thursday 27th of February this week. The inquiry was established in June 2019 after the hospital experienced serious problems upon opening in October 2018. The hospital is operated by Healthscope Ltd under a public private partnership with NSW Health.
'The citizens of New South Wales have a strong public health system. It is their public health system. They know it, are proud of it and do not want it weakened or undermined in any way. It has been inherited from the hard work of previous generations and there is an unequivocal desire to pass it on to the next, as good as it was received, if not better. At the very heart of it are our public hospitals,' said the Committee Chair, Mr Greg Donnelly MLC.
'Sixteen months since the hospital opened, it is now achieving performance standards and results that the committee hopes and expects will continue, and be improved upon into the future. The residents of the Northern Beaches deserve no less. While there are 'big picture' lessons flowing from the inquiry, it was always about the health and medical care needs of the Northern Beaches community, and our recommendations are squarely focused to that end.'
The report, Operation and management of the Northern Beaches Hospital, lists 23 Recommendations. Of these 6 relate to Mona Vale Hospital and include a Recommendation that the NSW Government take immediate steps to engage directly with Northern Beaches state Members of Parliament, community leaders and other stakeholders to investigate the ways and means to restore a public level 3 emergency department to the Mona Vale Hospital as soon as possible.
The report recommends NSW Health undertake an audit on the complete range of medical and health services on the Mona Vale Hospital site to confirm that what is currently available accords precisely with what has been produced in both written and electronic form and is in the public domain. Further, that information regarding the services be continuously updated as the services develop and evolve.
Also listed is that the NSW Government ensure that the land on which the Mona Vale and Manly Hospitals sit always remain in public hands for health and medical related activities, and that 99 year or other similar long term leasing arrangements not be entered into for the sites.

Importantly to those now watching the still young by hospital buildings elsewhere being destroyed, the report recommends that the NSW Government cease demolition of the Mona Vale Hospital main building after asbestos removal is complete and retain this public asset for future use. Further, that NSW Health and the North Sydney Local Health District, on an ongoing basis, positively consider opportunities to expand both the range and availability of medical and health services that are offered at the Mona Vale Hospital.
And that the Northern Sydney Local Health District monitor over time the effectiveness of both the Northern Beaches Hospital and the Mona Vale Hospital in meeting the health needs of the communities they serve, including for emergency care. Further, that it establish a mechanism, beyond the current limited Bureau of Health Information data published quarterly, for ongoing reporting to communities, for the purposes of transparency, engagement and building trust.
Also among the Recommendations is that Healthscope ensure that appropriate signage is erected at the Northern Beaches Hospital's points of admission which notifies patients of their right to treatment as a public patient at no cost, and that NSW Health better support non acute care and address the need for outpatient services at the Northern Beaches Hospital by reinstating previously available public specialist clinics, with priority given to cardiology and neurology, by enhancing paediatric outpatient services, by addressing the long existing gaps in gastroenterology, ophthalmology and orthopaedic outpatient services and ensuring outpatient services for public patients are bulk billed.
NSW Surf Life Saving Championships 2020:
The Age Championships (U9 - U14) Long Weekend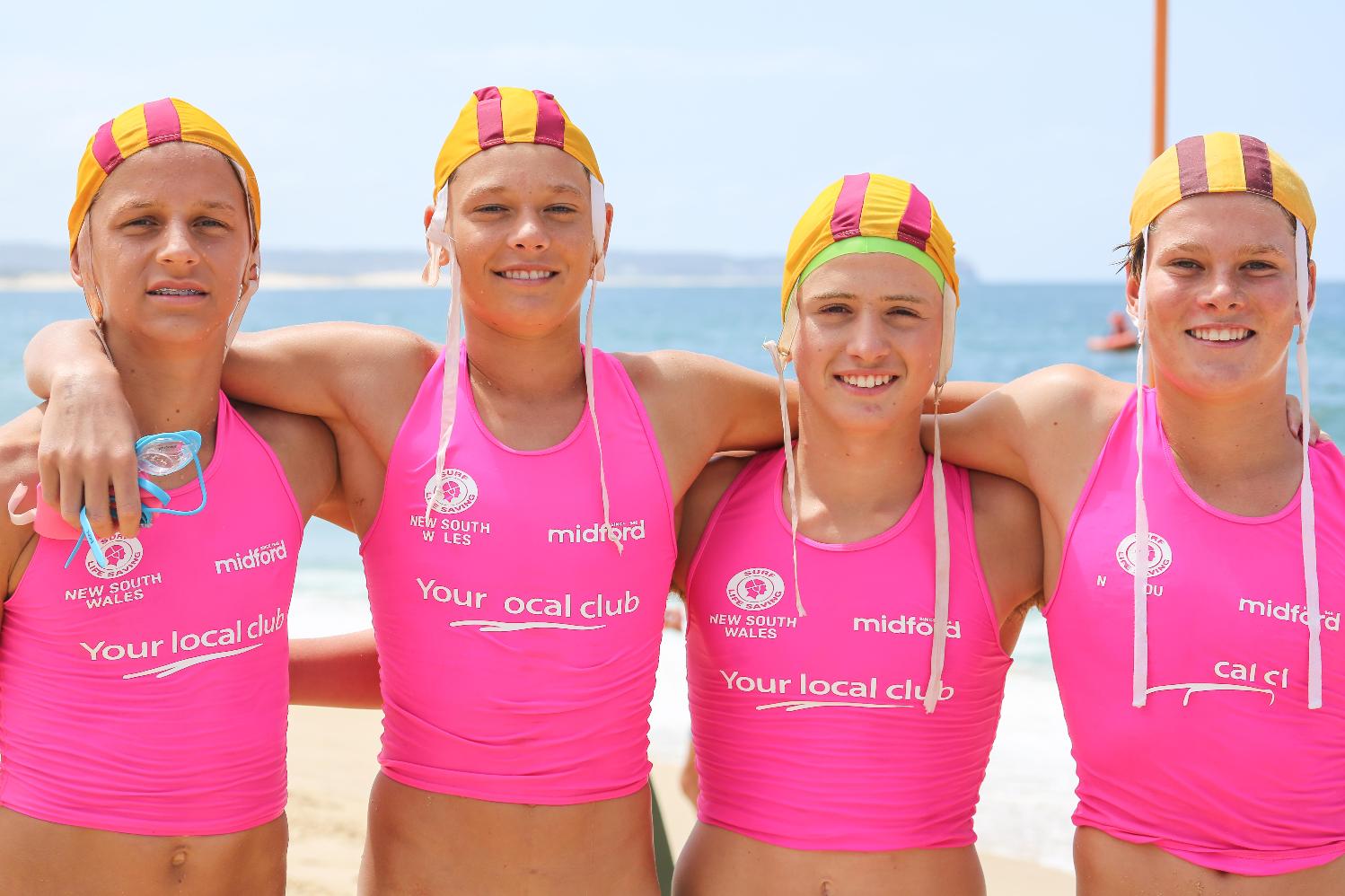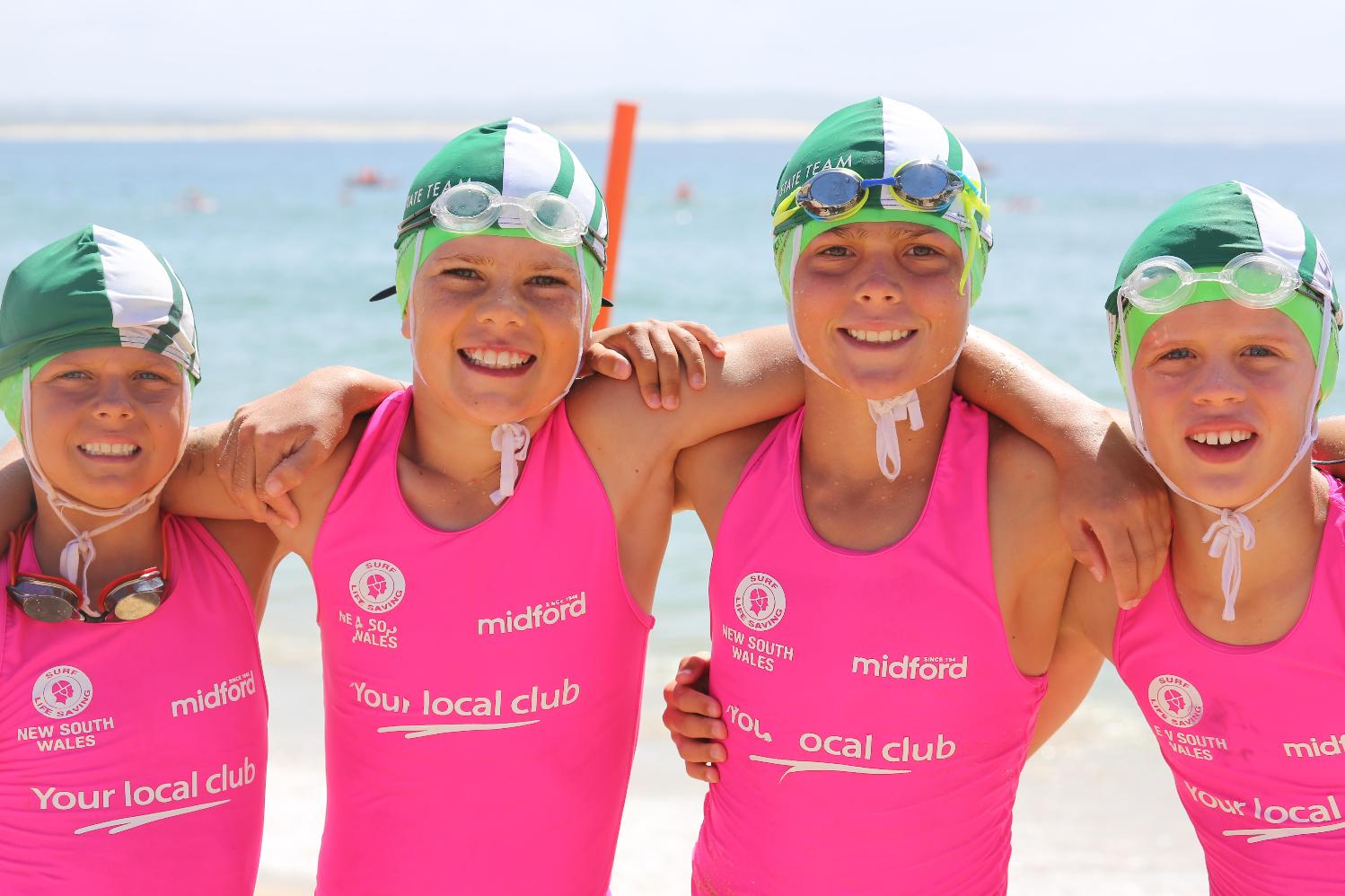 Newport and Mona Vale SLSC's are getting points all over the place in the 2020 Edition of the Surf Life Saving NSW State Age Championships - photos courtesy SLS NSW
The NSW Surf Life Saving State Championships 2020 kicked off last weekend, 22 - 23 February, with the Lifesaving Events (Champion Lifesaver Patrol Competition) and continued on Friday February 28th with the first day of the Age Championships.
The event is the State's premier junior surf event and is being hosted again by Swansea Belmont SLSC on Blacksmiths Beach at Lake Macquarie. This year's combined Age, Masters and Opens State Championship events will draw around 6,000 competitors from all over NSW, along with 600 volunteer officials and up to 15,000 family and spectators. The Age Championships runs from Friday 28 February until Sunday 1 March with the event being live-streamed for the first time on Saturday and Sunday.
The Open First Aid Events are also included this weekend, with Results in so far showing Newport SLSC's Team A of Linda Leck and Lily Tancred has secured gold in the U19 Division while Manly LSC's Team A of Jasmine Costello and Camilla Wacher won the gold in the U17's. Newport SLSC Team A, Samuel Capell and James Simmonds, added an extra 2 points to Newport's tally by placing 5th in the U17's and Manly LSC added extra points in the U19's with Manly LSC Team B, Jasmine Costello and Camilla Wacher once again, scoring the silver while teammates Lauren Costello and Jessica Shaw placed 6th, adding 6 points overall to Manlys' tally.
The previous weekend Newports' Phoebe Savage won silver in the open event at the State Championships for Lifesaving at Blacksmiths Beach. Phoebe was competing against Nutri-Grain ironwoman and Umina SLSC member Jemma Smith in Champion Lifesaver.
There have been a few golds for Avalon Beach SLSC, Bilgola is on the board with points too, as are Newport and Mona Vale SLSC's - however the BIG news on the beach yesterday was how well North Curl Curl SLSC is doing.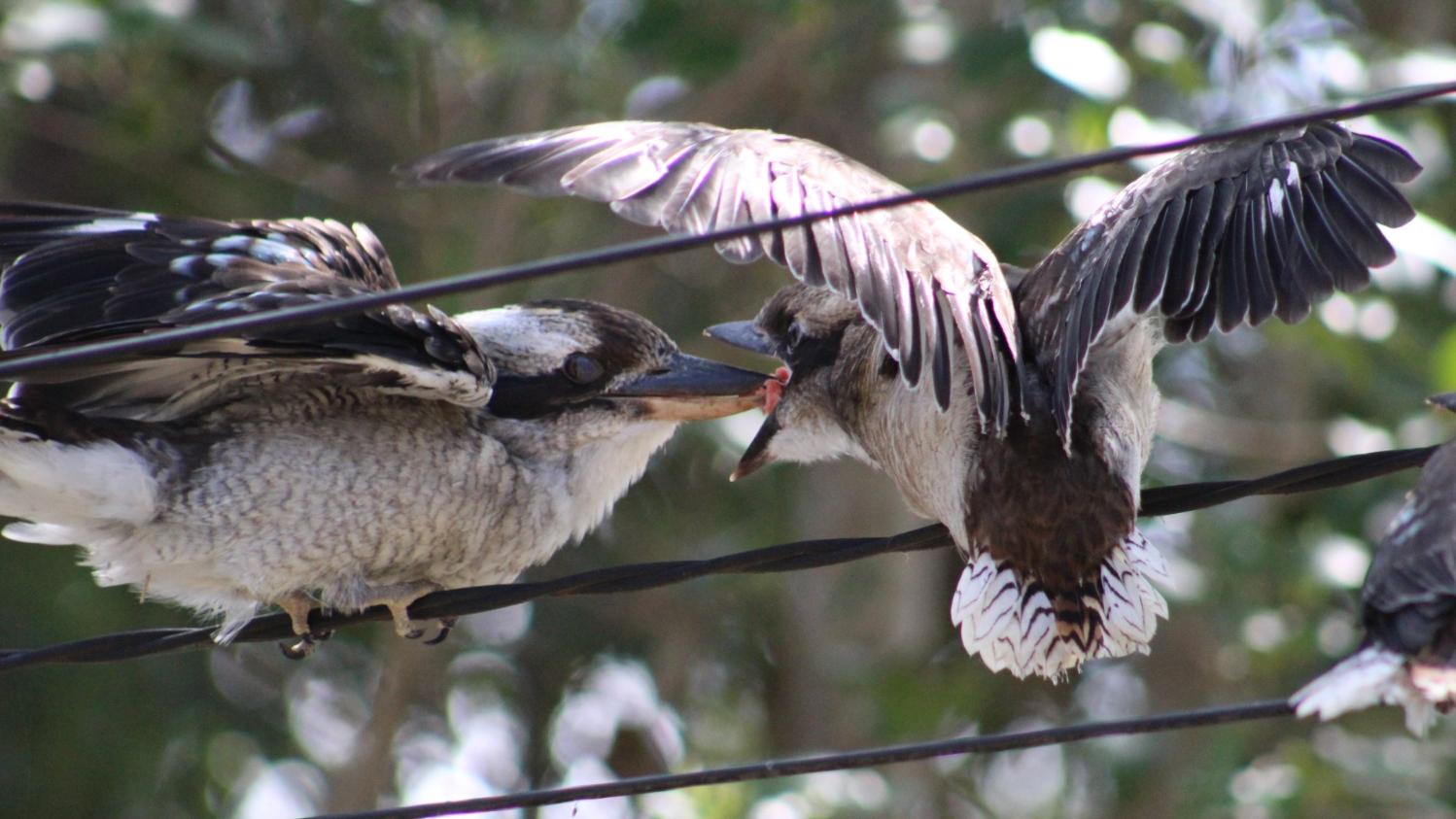 Late Summer and early Autumn are a time when many a local garden is filled with the raucous sounds of fledgling birds calling out for food. This week two new kookaburra fledglings, photographed at Careel Bay, have been making themselves heard. This particular family has been a resident of Pittwater Spotted Gums for at least 20 years and generations of young birds have been seen during those decades. The whole extended family group has been finding bugs and feeding the two youngsters. They are a great reminder of how parents and sometimes siblings will fight for every mouthful to help youngsters grow big and strong.
Although it is not recommended to feed wild birds as they become dependant and lose their ability to forage in the wild, a neighbour had put out a small amount of mincemeat for the family - this is not the best food for meat-eating birds as the mince can get stuck on their beaks and cause infections - experts state dried dog biscuits are better, if you must feed them, better yet plant out your garden with bird-attracting shrubs and trees or look after the dirt so it gets filled with what they like to eat. This particular family of kookaburras will perch on a low branch of one eucalypt when we're gardening, ready to swoop down over the shoulder and grab any insects dislodged during digging. That certainly wakes you up!
Watching them this week, and their precarious balancing on wires, or being quite at home on a slim tree branch, has been a delight for residents and visitors alike.
The fledling kookaburras are among a host of birds spotted being fed - everything from new Magpies to Rainbow Lorikeets is making its way out of the cosy nests provided, some of which have been captured this week for your pictorial enjoyment.
Visit HERE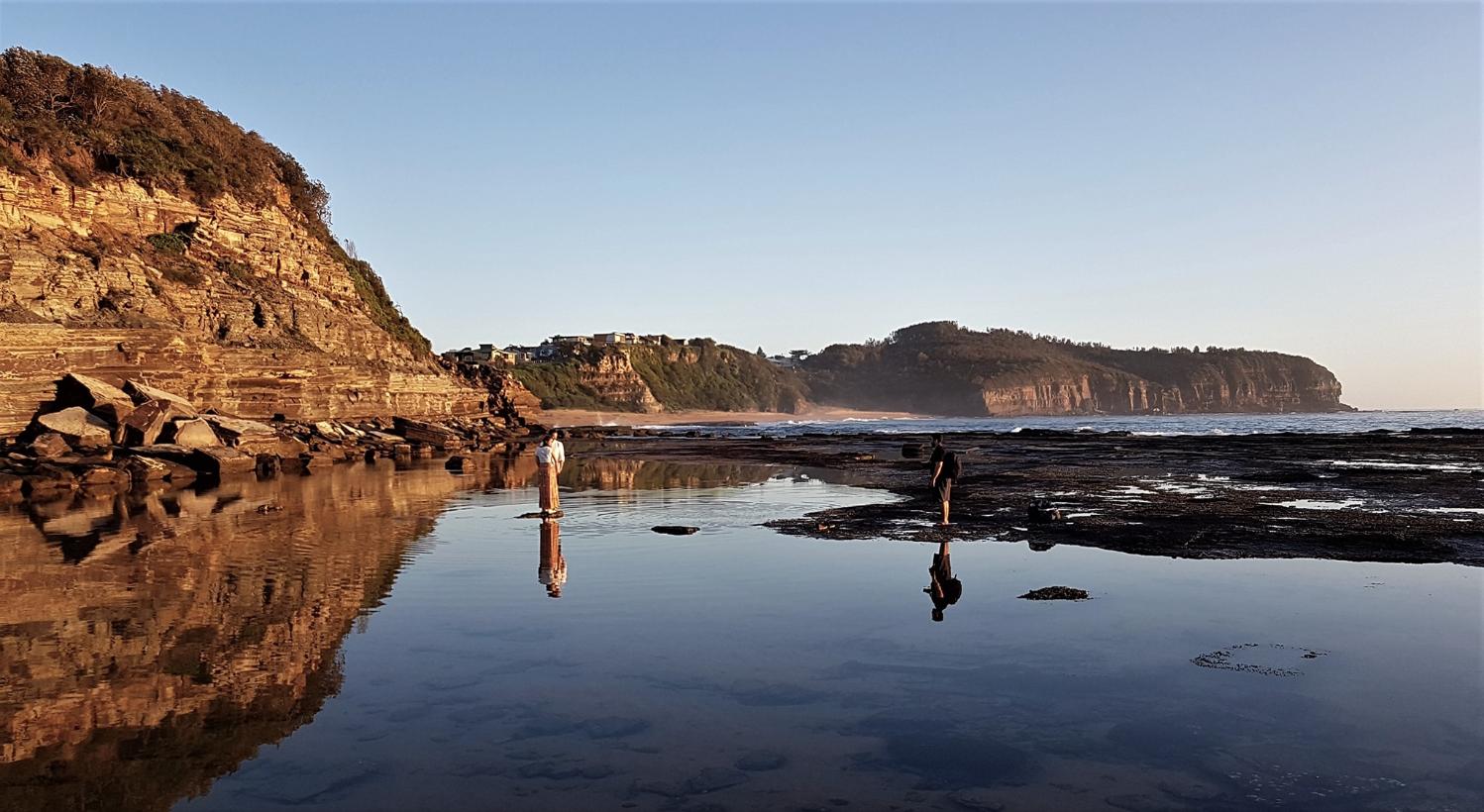 Photo shoot last Tuesday morning, February 25th, 2020 at the tidal flats near Narrabeen Head Rock Pool. Perfect morning, very little wind. Photo by Joe Mills