March 1 - 7, 2020: Issue 440
NSW Surf Life Saving Championships 2020:
The Age Championships (U9 - U14) Long Weekend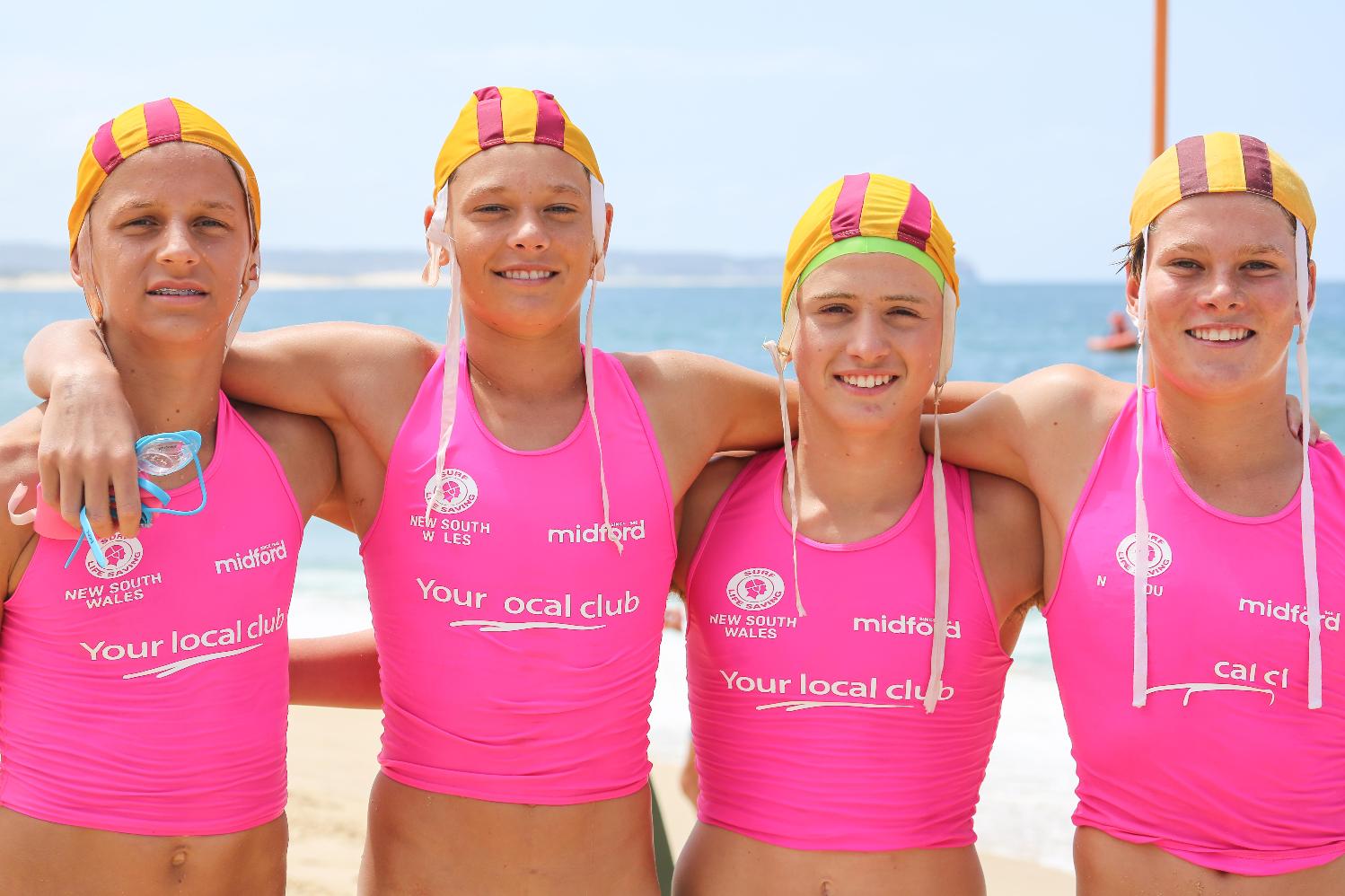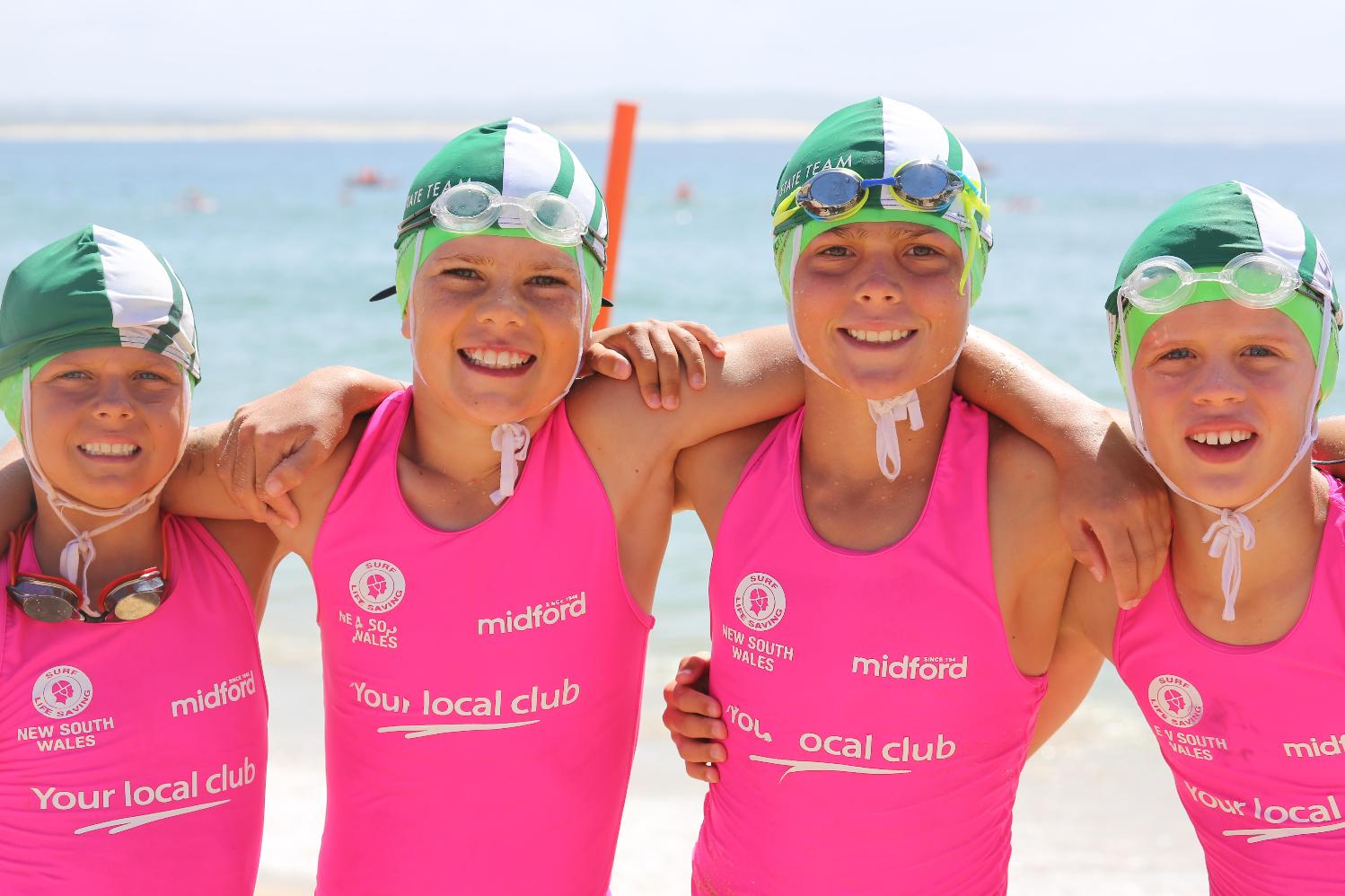 Newport and Mona Vale SLSC's are getting points all over the place in the 2020 Edition of the Surf Life Saving NSW State Age Championships - photos courteys SLS NSW
The NSW Surf Life Saving State Championships 2020 kicked off last weekend, 22 - 23 February, with the Lifesaving Events (Champion Lifesaver Patrol Competition) and continued on Friday February 28th with the first day of the Age Championships.
The event is the State's premier junior surf event and is being hosted again by Swansea Belmont SLSC on Blacksmiths Beach at Lake Macquarie. This year's combined Age, Masters and Opens State Championship events will draw around 6,000 competitors from all over NSW, along with 600 volunteer officials and up to 15,000 family and spectators. The Age Championships runs from Friday 28 February until Sunday 1 March with the event being live-streamed for the first time on Saturday and Sunday.
The Open First Aid Events are also included this weekend, with Results in so far showing Newport SLSC's Team A of Linda Leck and Lily Tancred has secured gold in the U19 Division while Manly LSC's Team A of Jasmine Costello and Camilla Wacher won the gold in the U17's. Newport SLSC Team A, Samuel Capell and James Simmonds, added an extra 2 points to Newport's tally by placing 5th in the U17's and Manly LSC added extra points in the U19's with Manly LSC Team B, Jasmine Costello and Camilla Wacher once again, scoring the silver while teammates Lauren Costello and Jessica Shaw placed 6th, adding 6 points overall to Manlys' tally.
The previous weekend Newports' Phoebe Savage won silver in the open event at the State Championships for Lifesaving at Blacksmiths Beach. Phoebe was competing against Nutri-Grain ironwoman and Umina SLSC member Jemma Smith in Champion Lifesaver.
"Jemma is just awesome and raises the calibre of this event," Phoebe said. "I was happy with my 'resus' component and our races were quite close. It was exciting," Phoebe said.
Phoebe was also a member of the Newport team that finished second to Freshwater in the Open Patrol Competition. "It means we automatically qualify for the Aussies," she said.
Another silver medallist in Champion Lifesaver for Newport was Rebecca Capell. She was pipped on a countback in the 40 years-plus by Umina's Kerry Armstrong who just happens to be Jemma Smith's mum.
"They were absolutely fantastic results for Phoebe and Rebecca," said Newport's CTO Guyren Smith.
Guyren won gold in his age group of Champion Lifesaver last year but this year was disappointed with his bronze. "A mistake in theory cost me," Guyren said.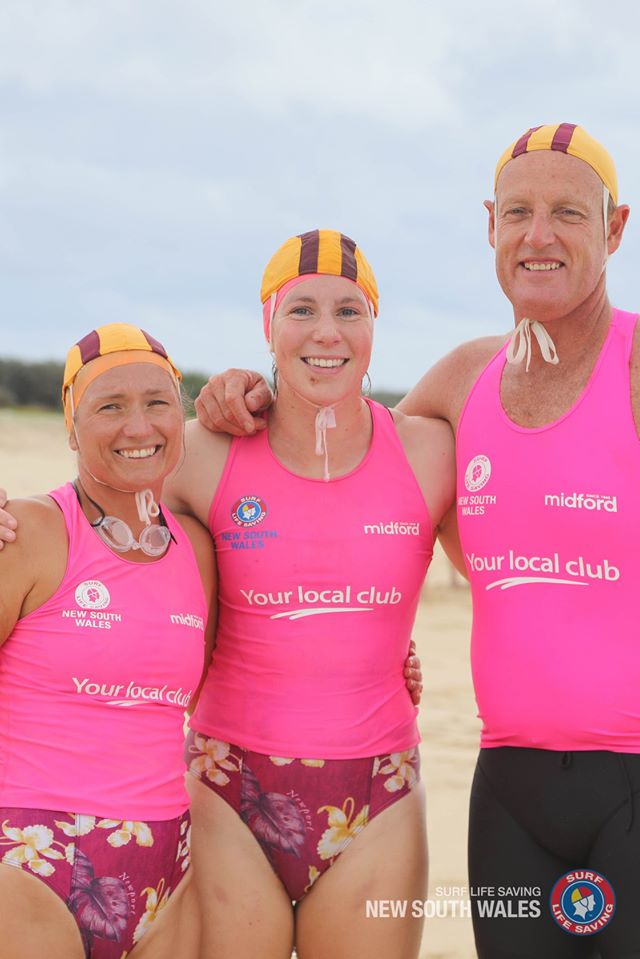 Photo: Phoebe Savage (middle) with Rebecca Capell (left) and Guyren Smith. Picture courtesy SLSNSW.
On Friday a school of younger fish took to the water or flew over the sand. From the Sydney Northern Beaches Branch 15 clubs and 513 members are taking part in the 2020 Age Championships: Manly, North Curl Curl, Collaroy, Mona Vale, North Steyne, Newport, Avalon Beach, Freshwater, North Narrabeen, Queenscliff, Dee Why, Warriewood, Long Reef, Bilgola, and Narrabeen Beach.
A scan of the Results in so far shows Avalon Beach SLSC's Ava Roberts has won gold in the U14 Beach Flags while Avalon SLSC's Jasmin Robinson has also taken out gold in the U14 two kilometre beach run. Avalon Beach SLSC's Beach Relay team in the U14 Division, Evie Bates, Ruby Keating, Ava Roberts and Jasmin Robinson, also added some more points for their team.
Still on the sand, Madison Perry has put points against Bilgola SLSC's name by placing 4th in U13 one kilometre beach run.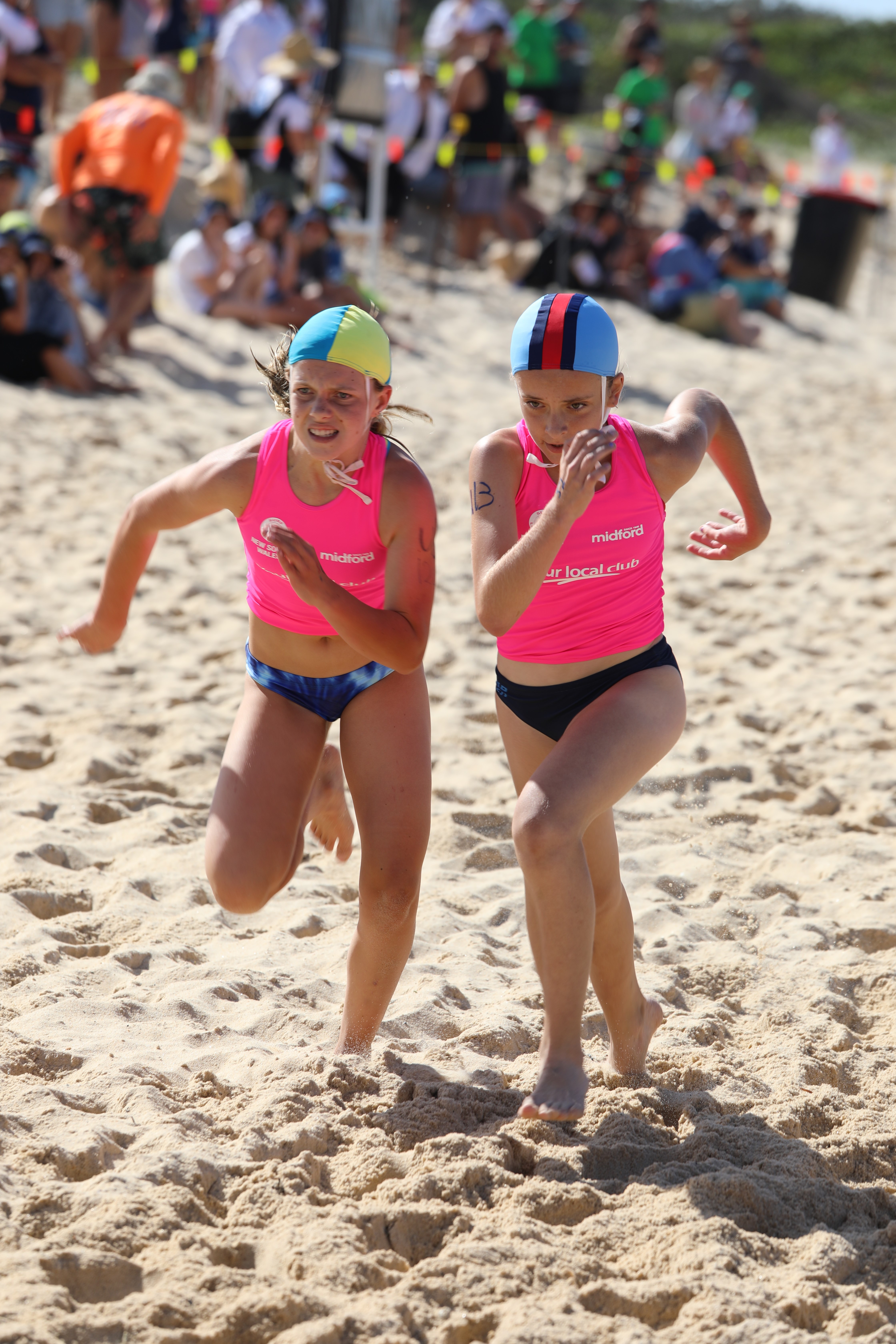 The list gets a bit longer for the Newport and Mona Vale as these clubs get stronger and stronger in surf sports.
For Newport:
Gold in the U/14 Male Surf Team of Joshua Kerr, Conner Maggs, Lex Raffles and Levi Smith,
a 6th and another point added to the teams tally in the U/12 Male Surf Team for Newport's Team A in this age Division of Henri Blackley, Niall Jaffrey, Noah Maggs and Harrison Woodrow,
bronze in the U/14 Male Board Rescue, Joshua Kerr and Conner Maggs once again,
bronze in the U/12 Male Board Rescue, Noah Maggs and Harrison Woodrow,
silver in the U/14 Male Board Relay; Joshua Kerr, Conner Maggs and Lex Raffles,
another point tacked on in the U/12 Male Board Relay; Niall Jaffrey, Noah Maggs and Harrison Woodrow,
two points added in by Sadie Maggs in the U/10 Female Surf Race,
silver won by the U/11 Female Surf Team; Charli Barbour, Abigail Cappel, Arabella Handley and Alannah Paul,
another point won by the U/10 Female Surf Team; Taylah Flynn, Sadie Maggs, Skye Rylands and Matilda Young,
gold won by Sadie Maggs in the U/10 Female Board Race - Dee Why SLSC's Lisa Derz scored the bronze in the same event,
more points added for a 5th in the U/11 Female Board Relay; Charli Barbour, Abigail Capell and Alannah Paul, and
silver in the U/10 Female Board Relay; the Sadie Maggs, Skye Rylands and Matilda Young cohort once again.
Mona Vale SLSC's list, so far, in the Age Championships is:
bronze for Tobias Woolnough and three points added by Thomas Shrivell in the 2020 edition of the U/10 Male Surf Race,
silver in the U/10 Male Surf Team; Thomas Shrivell, Thomas Tyson, Hugh Webster and Tobias Woolnough,
2 points added by Harrison Dene and Sean Kuziora in the U/13 Male Board Rescue,
brone in the U/10 Male Board Relay; Thomas Tyson, Hugh Webster and Tobias Woolnough,
two points won by Macy Beuzeville, Indianna Cameron, Grace Davies and Molly Shrivell in the U/12 Female Surf Team
a silver medal for Macy Beuzeville and Indianna Cameron in the U/12 Female Board Rescue
three more points added to Mona Vale's name by Macy Beuzeville, Indianna Cameron and Grace Davies in the U/12 Female Board Relay
three points again, this time won in the U/10 Female Board Relay by Ruby Davies, Caitlin Rich and Jacana Symonds,
and yet another three points courtesy of Indianna Cameron in the U12 Female 1 klm Beach Run
Mona Vale was actually placed 10th overall after the first day of events on Friday 28th of February. Freshwater, Collaroy, in fact, all the local Branch clubs youngsters have been doing themselves and their team mates proud. The BIG story in Age Championships yesterday, Saturday the 29th of February, was North Curl Curl's stellar results fest - as this Surf Life Saving New South wales report tells it:
NORTH CURL CURL ON TOP AT STATE CHAMPS
Saturday, February 29th, 2020:
Perfect conditions greeted more than 2700 junior competitors at Blacksmiths Beach on Day Two of the 2020 NSW Surf Life Saving Championships, proudly supported by Your local club.
With temperatures in the mid-20s, a gentle onshore breeze and a four-foot swell, conditions for young competitors could not have been better for both water and sand events – giving all participants the opportunity to perform at their best.
North Curl Curl and Wanda SLSCs from Sydney were the surprises of the day, as they racked up point after point to finish first and second respectively. This is a considerable improvement for both clubs on their 2019 performance.
For host club Swansea Belmont is was a case of déjà vu as they held onto third place until the very end of the day, when Coogee made a late charge to finish just behind Wanda.
Team Manager at Wanda SLSC, Brooke Thatcher said the secret of their improvement was lots of hard work, lots of training, eating right and the commitment of the kids and the passion they have for their club, sport and each other. But the club has also focused on their beach events with the input of some new coaching talent.
"A couple of seasons ago we got some new coaches to build up our strength in beach events. We're usually strong in the water because of all the clubs in Bate Bay, we have the roughest surf so our kids are naturally strong in the water - and we have some good competitors. But we noticed that we had to pick up in beach so we focused on that, brought the crew in and we've improved our beach results already," said Brooke Thatcher.
Head Junior Coach of Nippers at North Curl Curl SLSC Michael Clues said the reason their club had improved so much on last year was because of the commitment of parents and the focus on building the club's culture and camaraderie.
"Saturday at State is our most important day. Today is all about teams day so the culture of the club is a priority. At the end of the day the priorities are; the club is first, team second and individual third," said Michael Clues.
"We all want them to get medals, but medals are a by-product of kids having fun. If they're having fun at training and they're coming back to carnivals, then we're winning there already," he said.
It's clear that both North Curl Curl and Wanda and teams have been putting in the hard yards, from a training perspective, in the weeks leading up to competition.
"In the lead up to state we have training every day for a different discipline. The board and the water team train four times a week plus Nippers on a Sunday. And our beach team trains three times a week plus a Sunday during Nippers to build the beach team and culture," Brook Thatcher said.
She conceded the Wanda team was nervous leading into the final events on Day Three. However, she said they have some kids who are competing very strongly in the U11s who might help win them enough points to stay on the podium.
"I think we have a good chance to stay in the top three - but there are a lot of beach sprint finals tomorrow," Brook Thatcher concluded.
This year North Curl Curl fielded a team of about 70 kids out of a Nippers group of 600. Wanda has almost 140 kids competing at this year's event out of a field of 480 Nippers.
With another full day of finals on Sunday and the point score at the top so close, it's still anyone's race.
The U11 Female Surf Team winners from Wanda said that their race strategy was to go fast, try to be first to the can and have fun. Team member Sienna Mead said that their race strategy was to stay together and work together as a team. She said that their training secret was to "train hard".
Although they performed very strongly in team swim events, taking out several first-places, current title holder, Cooks Hill SLSC couldn't hold off other rivals to retain their place at the top of the ladder, finishing in fifth spot.
The U14 Female Surf Team winners from Cooks Hill SLSC, said that the reason their club performs well in water events is because they train hard and as "one community".
"We swim train six times a week in the pool plus three board sessions," said Imogen Egan.
As far as their training diet is concerned, the girls said that they had a secret weapon - eating lollies before an event. Red frogs and snakes are a team favourite!
The junior events at the 2020 NSW Surf Life Saving Championships conclude Sunday with all the finals, including Ironperson and Relays, along with the spectacle of the March Past parade.
Results Highlights
North Curl Curl SLSC:
U9 Male Board Race - Reuben Te Pania.
U9 Female Surf Race – Jocelyne Melbourn.
U9 Female Board Relay - Evie Davis, Jocelyne Melbourn and Emma Windsham.
U9 Female Surf Team - Evie Davis, Grace Lawry, Jocelyne Melbourn and Emma Windsham.
U11 Male Board Relay - Mitchell Bradley, Tyler Brown and Danny King.
U12 Female Board Relay - Zara Kasprowicz, Jaya Lilienthal and Pipi Te Pania.
U12 Female Surf Team - Zara Kasprowicz, Jaya Lilienthal, Andie Milligan and Pipi Te Pania.
U12 Male Surf Team - Sam Davis, Luke Higgs, William Jeffrey and Saxon Wood.
U13 Male Surf Team - Zak Barrett, Luke Higgs, Braith Howison and Sean Law.
U13 Female Board Rescue - Olivia Clues and Dominique Melbourn.
U13 Female Board Relay - Olivia Clues, Ruby Lovell and Dominique Melbourn.
U13 Female Surf Team - Olivia Clues, Zara Kasprowicz, Ruby Lovell and Dominique Melbourn.
U14 Male Board Rescue - Braden Crichton-Browne and Kai Lilienthal.
U14 Female Board Relay - Georgina Prowse, Elise Wallace and Ashleigh Windsham.
Wanda SLSC:
U9 Male Surf Team - Max Bowmer, Kobi Mead, James Seidel and Blake Spaul.
U9 Male Board Relay - Max Bowmer, Kobi Mead and James Seidel.
U11 Female Surf Team – Poppy Hulbert, Isla New, Charlotte Ollivier and Jade Seidel.
U12 Male Board Rescue - Ziggy Lester and Dane Sutton.
U12 Male Board Relay - Joe Doran, Ziggy Lester and Dane Sutton.
Day Two Top 10

North Curl Curl SLSC 146
Wanda SLSC 129
Coogee SLSC 124
Swansea Belmont SLSC 105
Cooks Hill SLSC 103
North Cronulla SLSC 99
South Maroubra SLSC 81
Elouera SLSC 65
North Bondi SLSC 60
Cronulla SLSC 47
North Curl Curl Nippers Crowned State Champions
Sunday March 1st, 2020
By Surf Life Saving New South Wales
In another day of perfect race conditions on Blacksmiths Beach, North Curl Curl hung onto the top spot to take out the 2020 NSW Age Surf Life Saving Championships, by a comfortable margin of 70 points over second-placed Coogee.
Cooks Hill continued its strong performance to claim third place on the podium, although it was unable to retain its junior championship title from 2019. Host club Swansea Belmont narrowly missed out on a podium finish, trailing Cooks Hill by just nine points.
However, it was North Curl Curl's massive win today - and their considerable improvement on their seventh place in 2019 - that had everyone talking. It was a remarkable effort considering they fielded a modest team of around 80 competitors.
North Curl Curl Team Coach, Michael Clues, said that after yesterday's incredible teams day, all the kids were on a high and he was confident of picking up points in the water – particularly in the U12s and U13s. Although he didn't expect to be ahead of Wanda at the end of the competition.
"The result is a bit surreal to be honest. Our goal at the start of today was just to stay in the top five and to try and get 170 points. And that would have been exceptional for us with around 80 kids," said Michael Clues.
"The result is huge, but as I say, it's the kids. It's a cliché but it's a huge club effort," said Clues.
When asked how the club had improved so significantly in just 12 months, Clues said the secret was to make training enjoyable for the kids and to have a great coaching team behind them.
"We haven't done too much differently. The more fun we make it, the more kids keep coming back. We make it fun but if they make a mistake at training, I make them buy me a snake! Maybe that's it," said Michael Clues with a smile.
"But seriously, we have a fantastic coaching group. I've got Sean Davis, who is former Australian Captain and former Swansea Belmont competitor, Andrew Dennehy who's a Manly lifeguard and Alex Oaks who's come on board this year – he's exceptional. And Tony William's awesome legacy."
Michael Clues said that while there had been some fresh competitor talent coming into the club in the past 12 months, the club's focus was nurturing their existing competitors.
"We don't seek new kids but we don't turn anyone away either. You've got to nurture what you've got and I'm proud to say that 90% of what we've got is local talent. Not too many kids have come on board from other clubs."
Sydney club Coogee, which fielded a team of 130 athletes, improved on their strong performance in Saturday's team events, and third place overall last year, to take-out second place in the overall point score after a blistering weekend on the beach track.
Coogee's Sand Coach Renee Gibbs, said that the secret to Coogee's strong performance was passion.
"I think it's the engagement of kids and families and making kids feel special and valued. And seeing themselves progress and develop, it brings them back every year and they want more," said Renee Gibbs.
"Yes, we train four to five times a week, but we focus on the kids having a good time and building them up and feeling like one, big family. And a lot of our success comes from that – they want to work hard and they want the results," said Gibbs said.
Coogee Competition Coordinator, Michael Cavanagh, said that Coogee, which has one of the biggest Nippers programs in the country, has a team of 200 kids in training and a great program that they've built on.
"Every year we build our point score by identifying areas we need to work on. It's a bit like squeezing a lemon - trying to get the absolute most out of the program. We've got a great sand program and a terrific R&R program that continues to deliver us points. And we picked up points in the 1km Beach Run too," said Michael Cavanagh.
"But the water area was the one area that was holding us back. And we've put a lot of investment into developing that program. Not financial investment but time. Blood sweat and tears," Cavanagh concluded.
For the Hunter region and the host club, the outstanding performance of Swansea Belmont's Zara Foran was a highlight. In her last junior championships, she won all her individual events (swim, board, ironperson) and was integral to the team win in the U14 mixed Cameron relay.
In the U14 Ironman, there were few who were surprised by the decisive win by Conner Maggs from Newport. The favourite for the prestigious title came home strongly in the easy conditions.
It's clear that both North Curl Curl and Coogee have had an upward trajectory over the past few years of competition. But when asked what the future holds for North Curl Curl - and if they'd be able to replicate the same performance next year - Michael Clues was circumspect, saying that staying on top of the podium was a big ask - but that there was more talent coming through in the U13s and U14s.
"Someone brought to my attention yesterday that every girls board relay got a medal. So irrespective of where they came, they have something to be proud of - and it's all points. And then today was just ridiculous in the individual events. There's no doubt that we're very, very female-strong."
This year was the second time that a dedicated Inclusive events program was run as part of the Championships. Around 35 Nippers with a disability competed for fun and medals, double the number of last year. Clubs from around the state who conduct Inclusive Nippers programs were represented.
The Championships continue on Wednesday with the Masters Championships and then again on Friday with the Opens weekend. The NSW Surf Life Saving Championships are proudly supported by Your local club and Lake Macquarie City Council.

Top 10 – Overall Pointscore
North Curl Curl 289
Coogee 219
Cooks Hill 184
Swansea Belmont 175
Wanda 159
South Maroubra 130
North Cronulla 126
North Bondi 101
Elouera 90
Newport 81
12 Manly LSC 74
14 Freshwater SLSC 64
18 Mona Vale SLSC 41
21 Queenscliff SLSC 29
26 Avalon Beach SLSC 19
31 Collaroy SLSC 13
32 Dee Why SLSC 12
38 Long Reef SLSC Inc 4
39 North Steyne SLSC Inc. 3
39 Bilgola SLSC 3
Some Happy Snaps: Courtesy Of Surf Life Saving NSW