January 19 - 25, 2020: Issue 434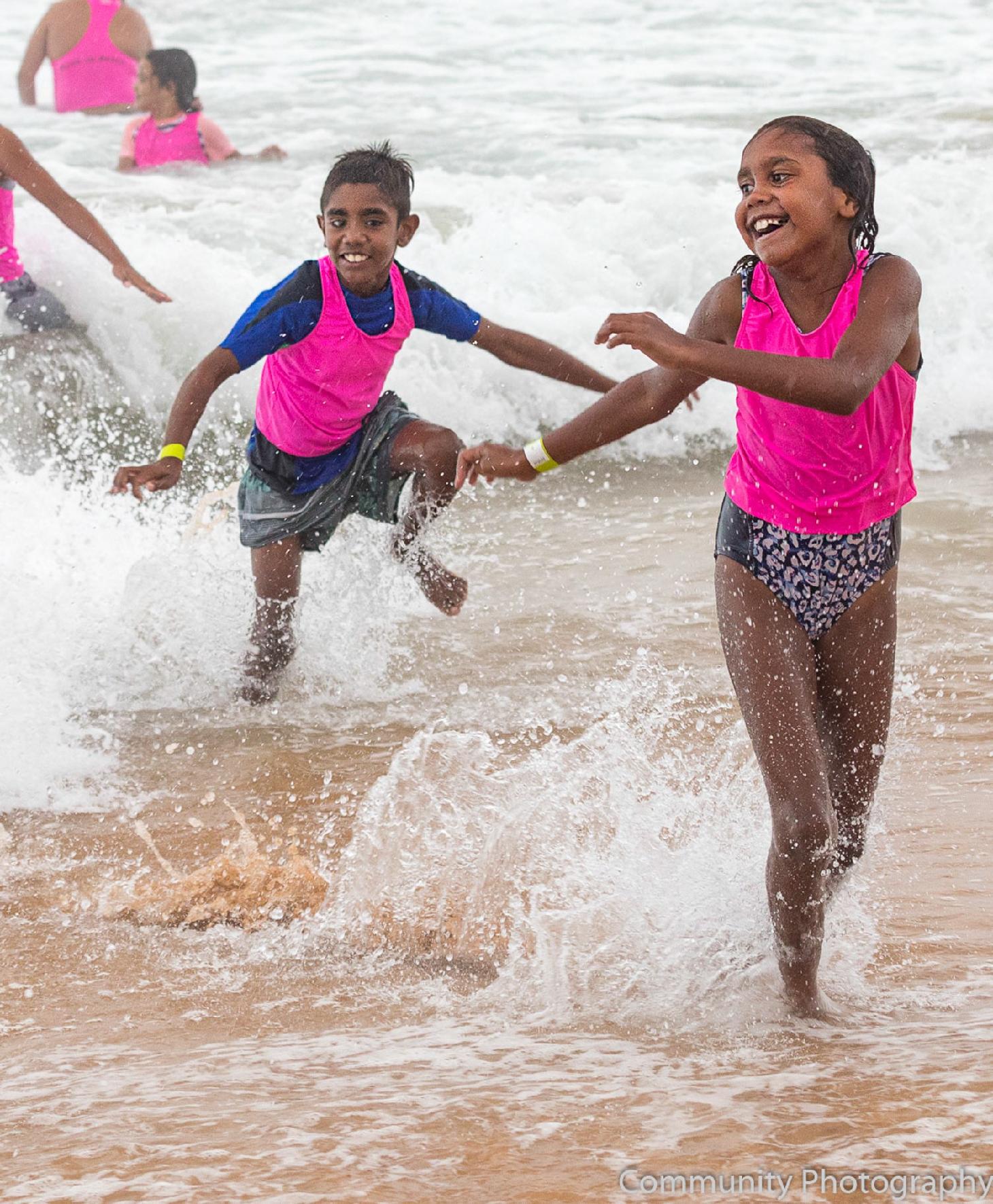 Photo by Maryan Heffernan, Community Photography
While spending a day at the beach is part and parcel of Australian culture for so many; around 40 indigenous kids from Brewarrina, Bourke, Weilmoringle, and Goodooga far North West NSW are set to experience the ocean for the very first time!
From Friday 17th to the 20th January, the youngsters aged from 7 to 15, are discovering all that the beach has to offer at South Narrabeen; ably assisted by surf life savers and nippers from South Narrabeen Surf Club with support from North Narrabeen, Narrabeen and Collaroy Surf Clubs. As well as competing in classic Nippers events and learning water safety, Manly Surf School will give the kids surfing lessons.
The initiative is part of the Bush to Beach programme, which was founded in 2006, gives indigenous kids a unique opportunity to learn and explore Sydney's beach culture. Made possible entirely by volunteer efforts, donations and sponsorship, the visit to South Narrabeen Surf Club will see around 1,000 meals being served and around 1,000 hours of voluntary work provided.
"The trip is a reward for school attendance and an opportunity for the kids to see that there is another world outside their own community and help develop confidence and self-esteem" said Bush to Beach founder Jack Cannons AM
"Brewarrina and its surrounding areas, including, Weilmoringle, Bourke, Goodooga and other far West NSW towns are disadvantaged by location, droughts, floods and the extreme heat. Its worth noting that Brewarrina and surrounding areas currently do not have drinking water. The trip away provides the children with a special opportunity to explore new places, while learning valuable skills. The educational component of the trip teaches the kids water safety, CPR, basic first aid while making new friends among families from Sydney's Northern Beaches."Jack added.
The Aboriginal Support Group Manly Warringah Pittwater have been fundraising to buy water and then transport it to the town.
Pittwater Swim Series 2020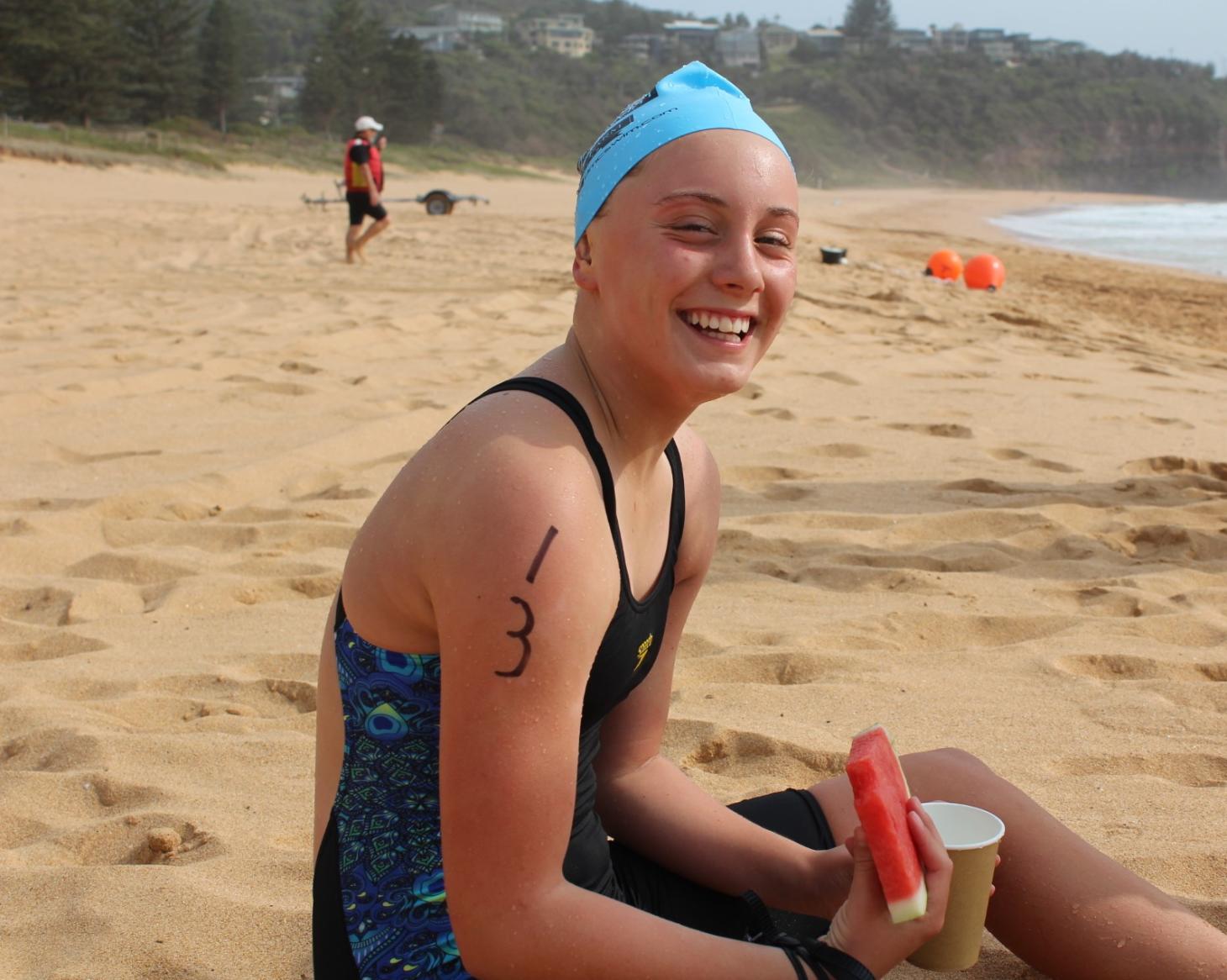 Krystal Elliott took part in Newport's Pool to Peak 400m swim finishing in 6 minutes, 20 seconds in the 10-12 years Age Division - A J Guesdon photo.
Newport's Pool to Peak series of swims kicked off the 2020 Pittwater Swim Series with Bilgola following suit in fine style the Sunday after. Today it's turn of Mona Vale SLSC, while next Sunday, January 26th it's time to go for a Big Swim!
Then, before it gets too cool, it will be time to consider taking up Avalon Beach SLSC's 'Round the Bends' Challenge.
On the beach at Newport this year was the lovely Michelle Myers, one of the Pittwater Online Profiles coming up in 2020, who was bookshelved by two nice gentlemen visiting here from the good old US of A and doing their first Aussie Ocean Swim even though one was flying out home just after the swim.
Michelle explained that she met Peter Crosby (from NYC) and Ken Parstenek (San Francisco) at the Modern Elder Academy in Mexico this time last year.
"The bonds we formed saw them come all the way to Australia to reconnect with me where we decided that the Newport Pool to Peak was a perfect Modern Elder experience to share together….So much fun!" Michelle explained this week.
They certainly look like they're having fun.
Funds raised through the Pittwater Swim Series go to your Pittwater Surf Clubs to help them save lives on our beaches, so come on Pittwater - dive on in!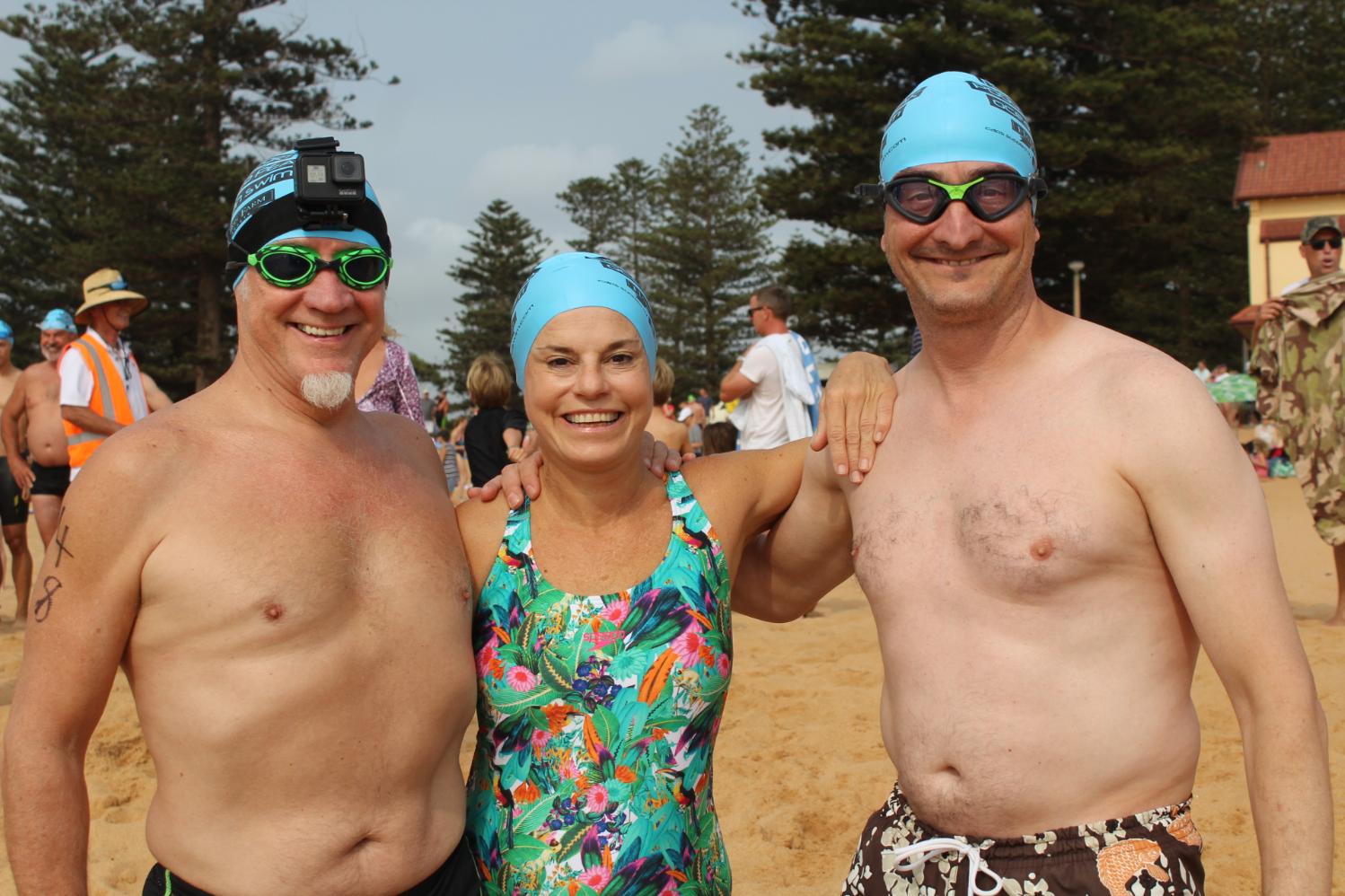 The Terrifc Trio! - A J Guesdon photo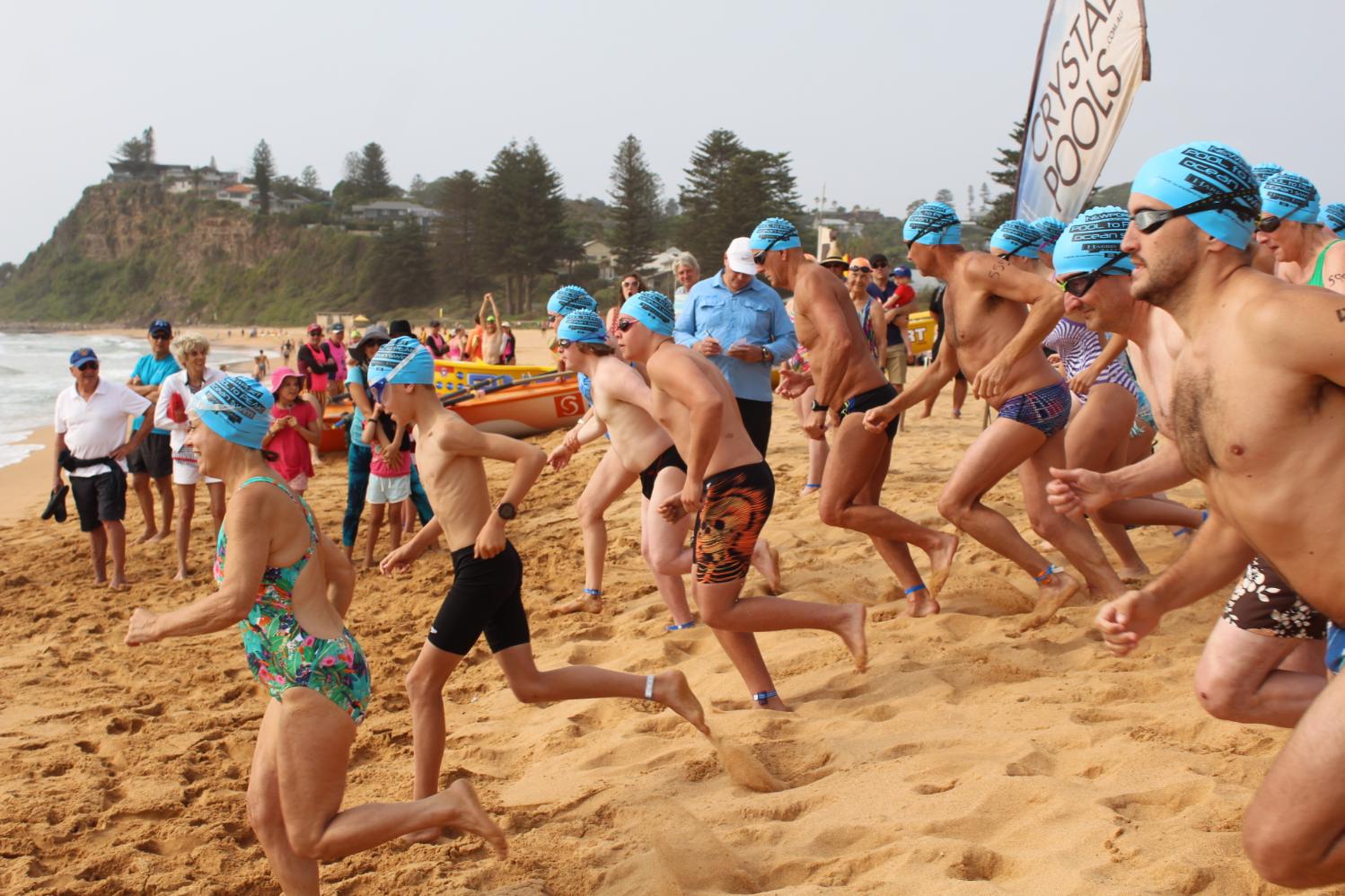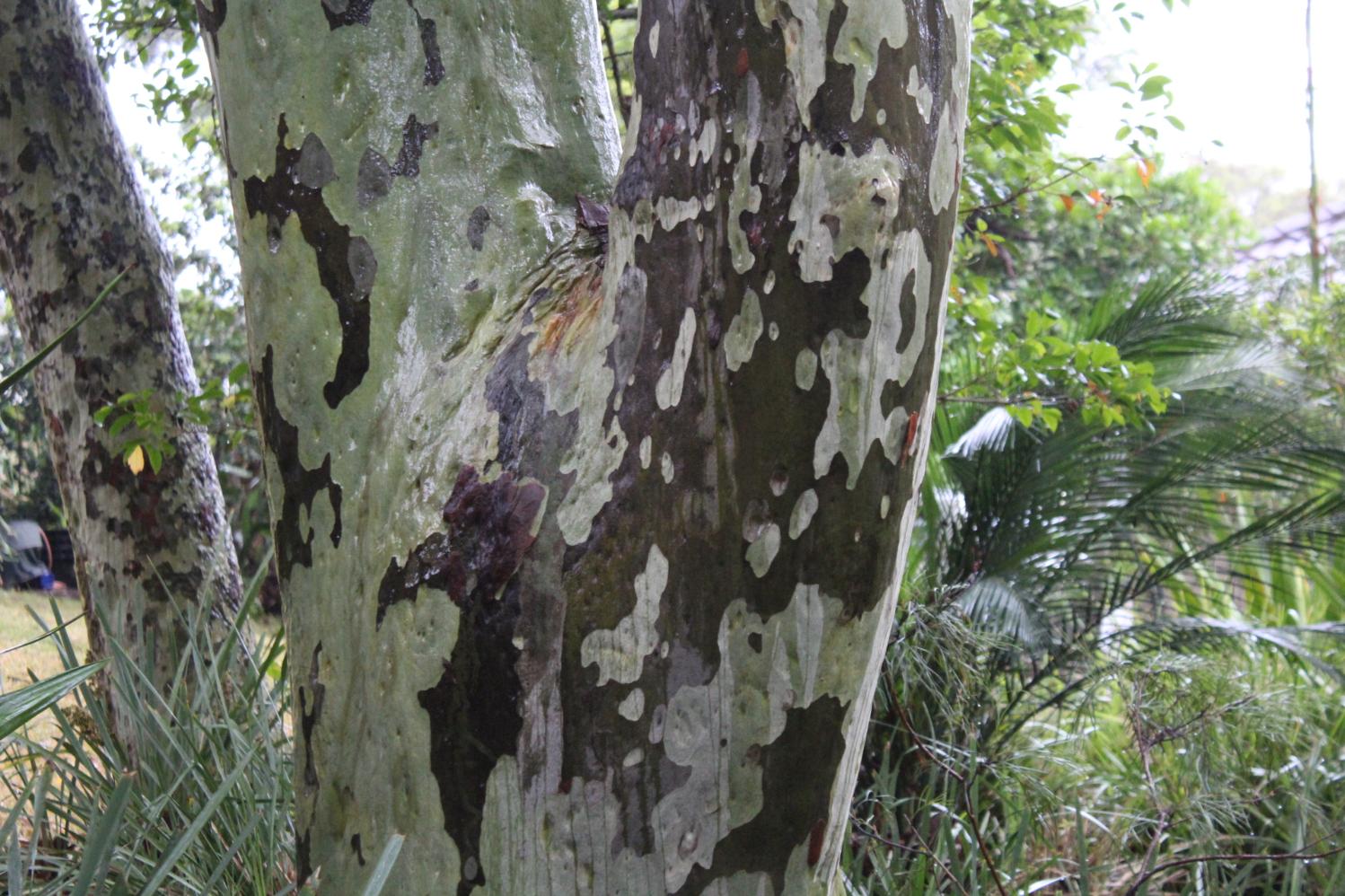 Pittwater's Spotted Gums - 'rain trees' finally getting a good drink - January 17th and 18th - photo A J Guesdon
Past Features Archives (pre 2014)
Pittwater Online News was selected for preservation by the State Library of New South Wales and National Library of Australia. This title is scheduled to be re-archived regularly.
Archived Issues (2014 on) may be accessed here: pandora.nla.gov.au/tep/143700