March 3 - 9, 2019: Issue 395

A Sea Of Nippers Hit 2019 State Championships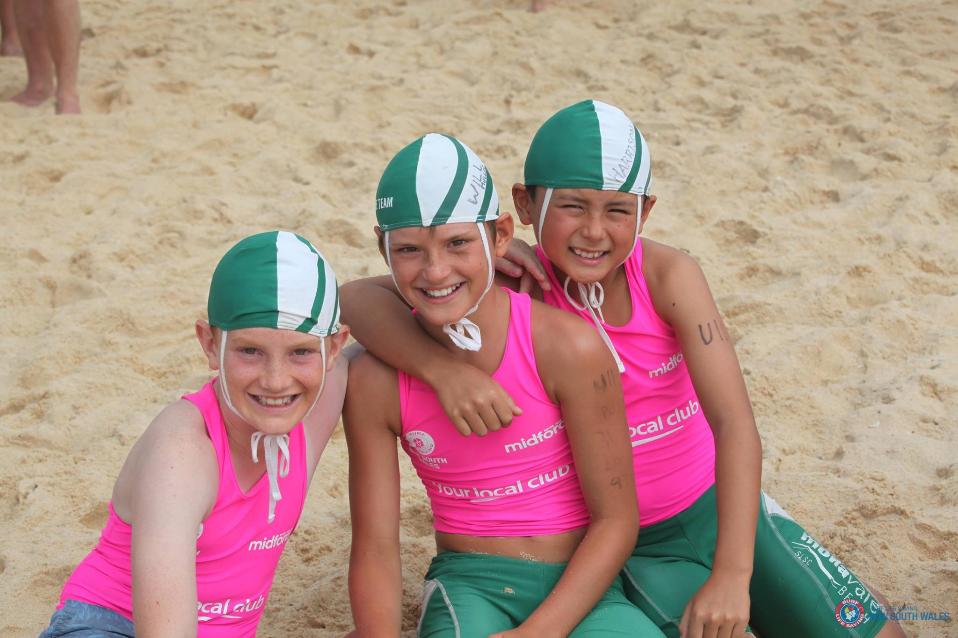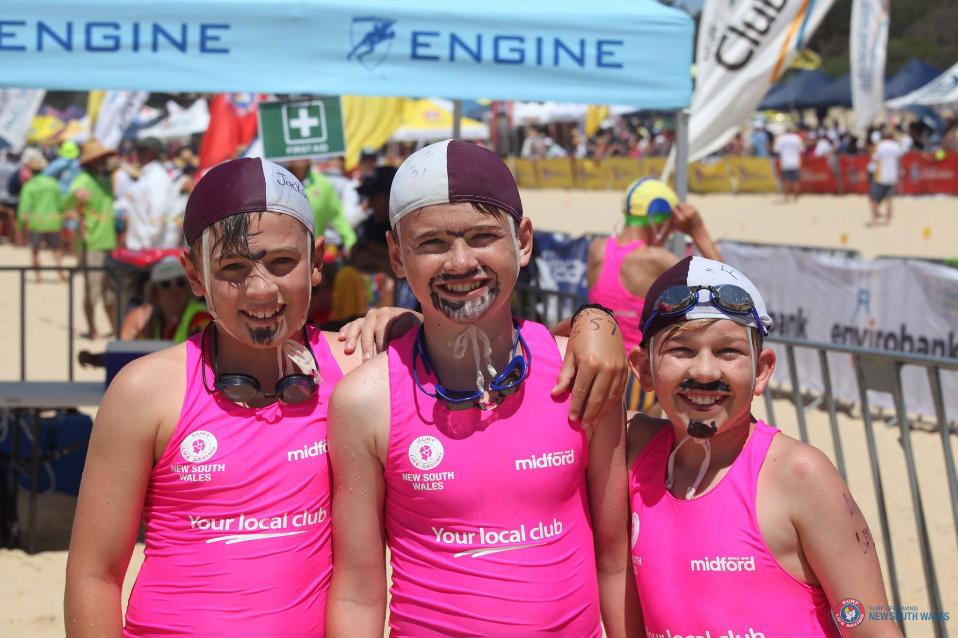 By Surf Life Saving NSW

Near perfect conditions greeted the more than 2500 Nippers competing at the 2019 NSW Surf Life Saving Championships, proudly supported by Your local club.
Day One of the event, hosted by Swansea Belmont SLSC, saw a packed beach and a mix of successes in the water and on the beach. With only a handful of events going through to finals, it was the host club on top of the pointscore, followed by southern Sydney clubs Wanda, Cronulla and South Maroubra.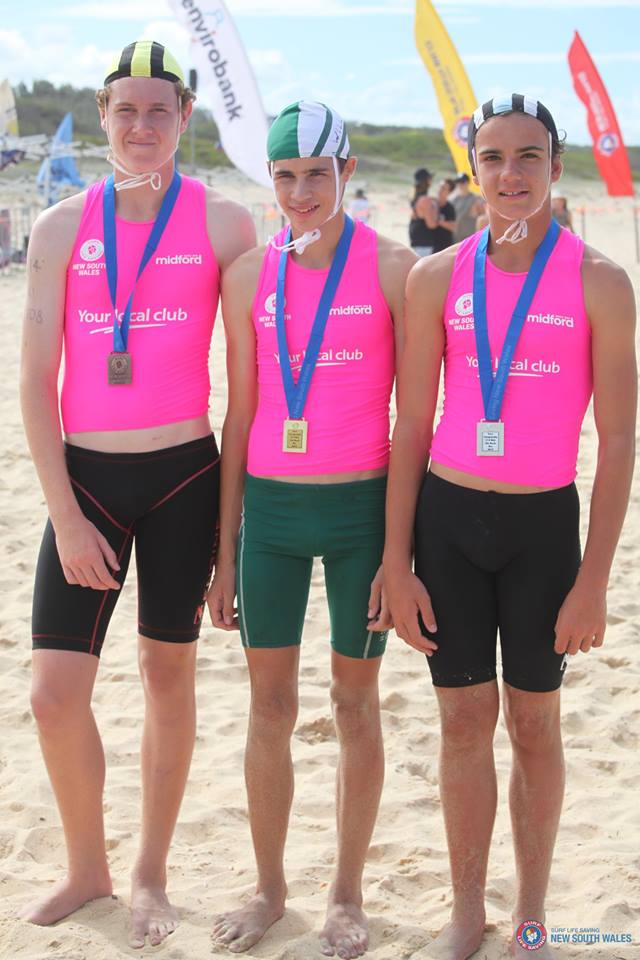 Centre: William Collinson, Mona Vale SLSC - 1st U14 Male 2 klm Beach Run

Good results for the Swansea Belmont Nippers included Samuel Govender in the U11 Beach Flags, Ryder Griffith in the U12 1km Beach Run and Nate Ward in the U11 Beach Run.
Day 2 of the 2019 NSW Surf Life Saving Age Championships proudly supported by Your local club. The Morris boys from Newport Surf Life Saving Club took out the State Title in U14 Board Relay and Board Rescue this morning.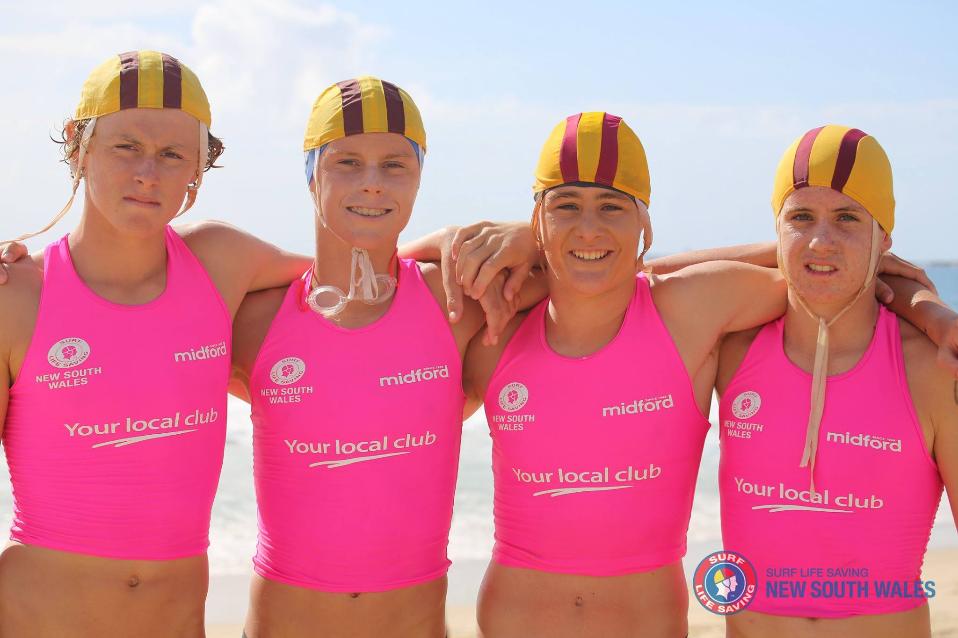 Balloons Are The Number 1 Marine Debris Risk Of Mortality For Our Seabirds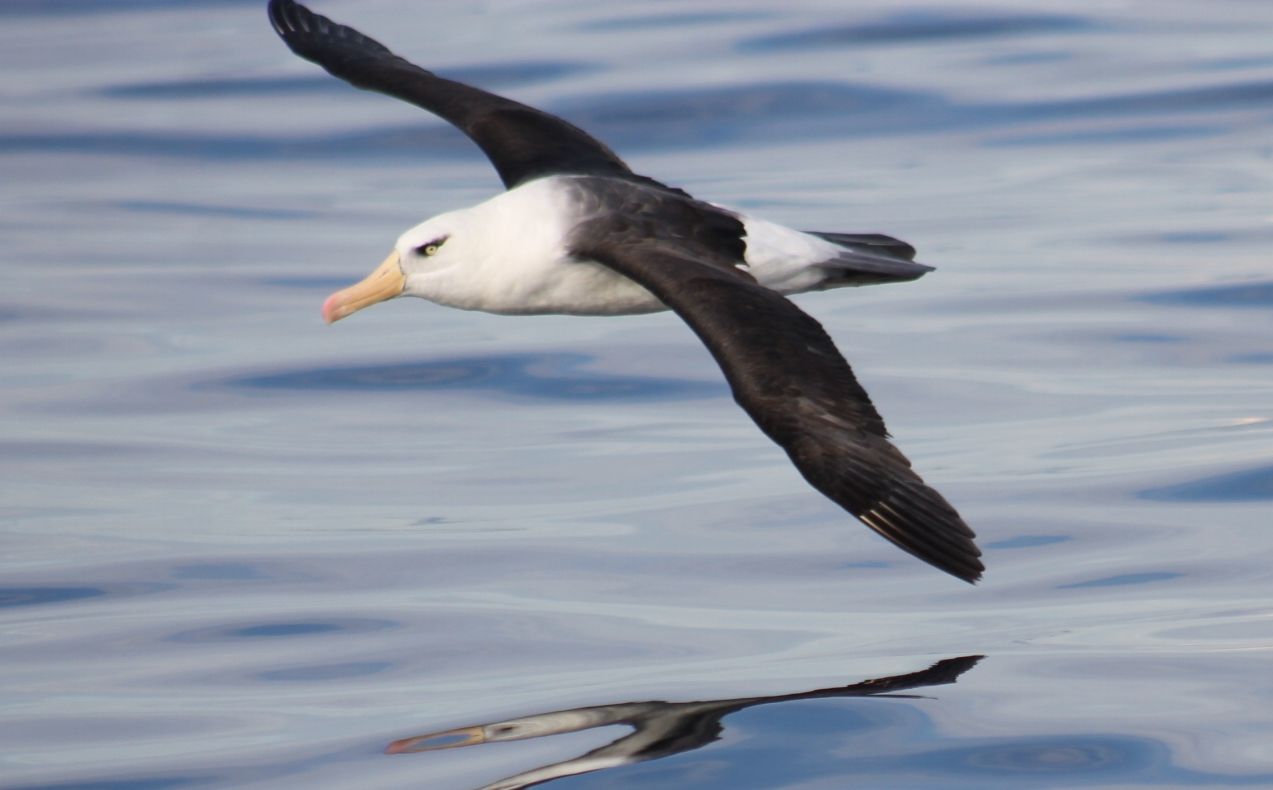 Black-browed Albatross (Thalassarche melanophrys) - picture by A J Guesdon, 2015 Visit: Sea Birds off the Pittwater Coast: Albatross, Gannet, Skau
March 1, 2019: University of Tasmania
A new study has found that balloons are the highest-risk plastic debris item for seabirds -- 32 times more likely to kill than ingesting hard plastics. Researchers looked at the cause of death of 1733 seabirds from 51 species and found that one in three of the birds had ingested marine debris.
The data showed that a seabird ingesting a single piece of plastic had a 20 per cent chance of mortality, rising to 50 per cent for nine items and 100 per cent for 93 items.
Led by IMAS-CSIRO PhD student Lauren Roman and published in the journal Scientific Reports, the study found that although hard plastic accounts for the vast majority of debris ingested it is far less likely to kill than soft plastics such as balloons.
"Marine debris ingestion is now a globally recognised threat," Ms Roman said.
"However, the relationship between the amount or type of debris that a seabird ingests and mortality remains poorly understood.
"Among the birds we studied the leading cause of death was blockage of the gastrointestinal tract, followed by infections or other complications caused by gastrointestinal obstructions.
"Although soft plastics accounted for just 5 per cent of the items ingested they were responsible for more than 40 per cent of the mortalities.
"Balloons or balloon fragments were the marine debris most likely to cause mortality, and they killed almost one in five of the seabirds that ingested them.
"As similar research into plastic ingestion by sea turtles has found, it appears that while hard plastic fragments may pass quickly through the gut, soft plastics are more likely to become compacted and cause fatal obstructions," Ms Roman said.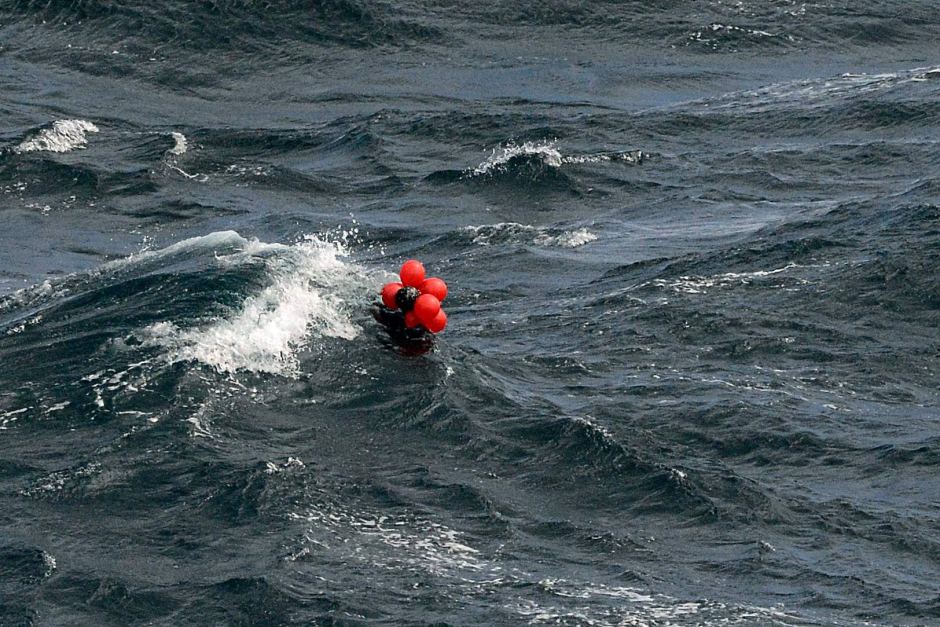 Researchers on the RV Investigator came across the party balloons still inflated and tied together. Supplied: Eric Woehler/ Birdlife Tasmania

CSIRO co-author Dr Chris Wilcox said the approach taken in the study was first developed for turtles before being applied to seabirds.
"These two applications are the first time there has been a robust estimate of the impact of plastic ingestion on free living marine species," Dr Wilcox said.
Sydney Harbour Regatta 2019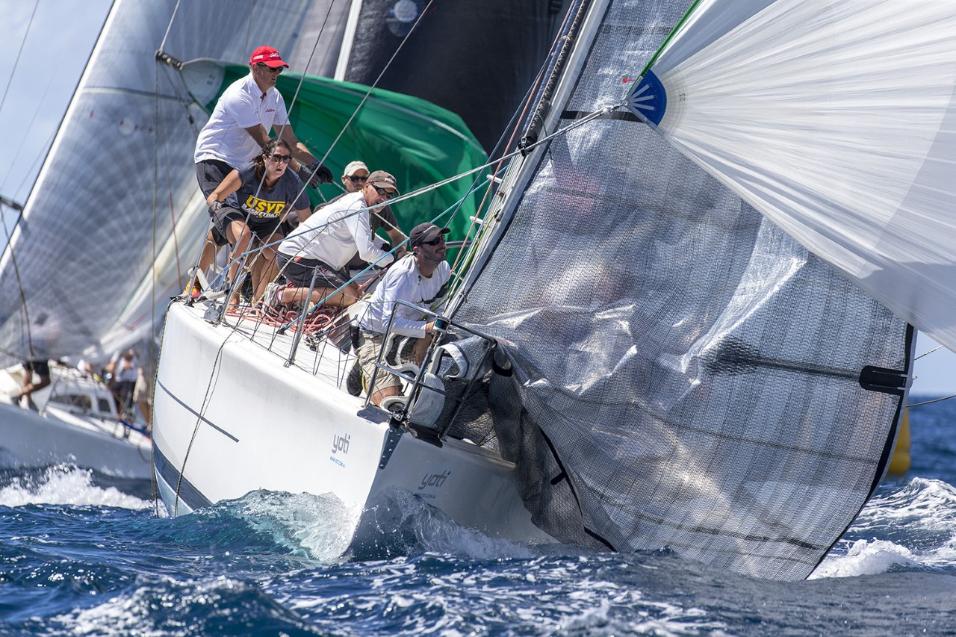 Quick kite sets and headsail drops - Andrea Francolini photo, Sydney 38 AUS Champs 2019
Sydney Harbour Regatta: Conspiracy In Form At Sydney 38 Australian Championship
March 1st, 2019
Peter Byford and David Hudson have come out the cream of the crop on Day 1 of the Yoti Sydney 38 Championship at the Sydney Harbour Regatta, hosted by Middle Harbour Yacht Club (MHYC), sailing Conspiracy to two wins from three races for an early lead this afternoon.
The reigning NSW champions and third placegetters at the 2018 Australian Championship, Byford and Hudson are making no bones about their desire to ramp it up a notch this year, despite a larger field than last time around.
However, the Pittwater pair by no means had it all their own way, they lead by one point from Alan and Tom Quick, recently crowned Farr 40 NSW champions. The CYCA father and son may have switched one-design classes, but they arrived fully cocked and loaded with The Goat, scoring a pair of third places and a win for second place overall.
Conspiracy though, also won Boat of the Day, and proudly flew that flag, co-owner, David Hudson said.
The day of racing, Hudson said, "Wasn't too bad. We had from 8-12 knots. It was good constant racing on a reasonably flat sea. It was close and competitive. We'll have to stay on our toes, as we've got The Goat on our tails. We haven't raced against them before; they did a good job today."
Hudson said they were pleased with their starts and crew performance: "It all went well. No stuff ups, no accidents, good competitive racing. And I have to say that the new people in the class acquitted themselves well."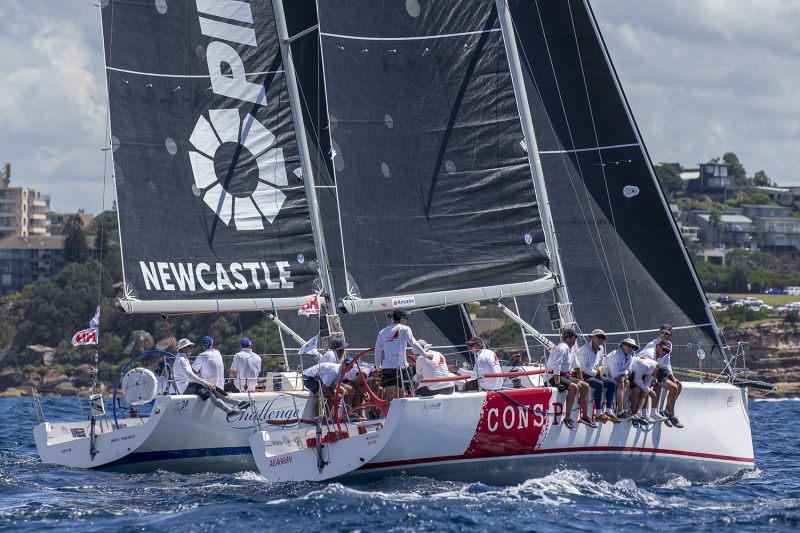 Conspiracy and Challenge toe to toe - Andrea Francolini photo, Sydney 38 AUS Champs 2019

Tom Quick agreed: "It's a great fleet of amateur and professional sailors, like the Farr 40 class."
With guru David Chapman calling the shots "and he's doing main as well," Quick said, The Goat crew went in with heads down and tails up, as some got their heads out of the Farr 40 and into the Sydney 38 – very different boats.
"It's been five years since we sailed a Sydney 38 - so it was a bit different coming back – but it was good. We're enjoying the boat. It was a nice range of wind – perfect really. We had only one problem; getting a jib up in Race 3 when we were leading. But we got around mark and got it up and still won - no other dramas.
"We chartered The Goat. We have a mix of crew; one from The Goat and some youth sailors from France, the CYCA and one from Lightspeed (the MC38), Zak Quinlan. He'll go back to them for the rest of the regatta, so today was good practice for him."
Quick added, "Seems Conspiracy is the boat to beat, but consistency is the key and will be the decider, as it always is in one-design racing. We still have six races to go."
Sailing windward/leeward courses on the Manly Circle, Conspiracy pipped Challenge (second at the NSW Championship), Greg Croak's NSW Central Coast entry, by 27 seconds in the opening race. The Goat took third place, a further 15 seconds in arrears.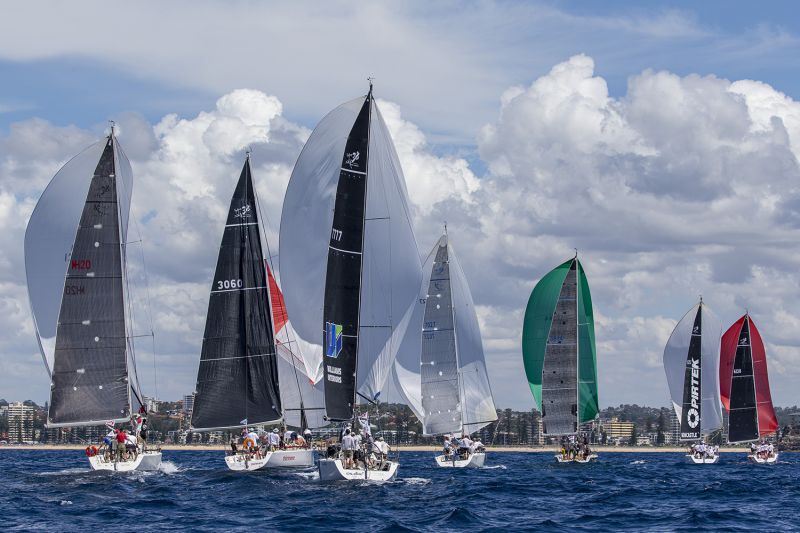 Downhill in the moderate breeze - Andrea Francolini photo, Sydney 38 AUS Champs 2019
Epic Racing And A Changing Of The Guard At The International 5.5 Metre Australian Championships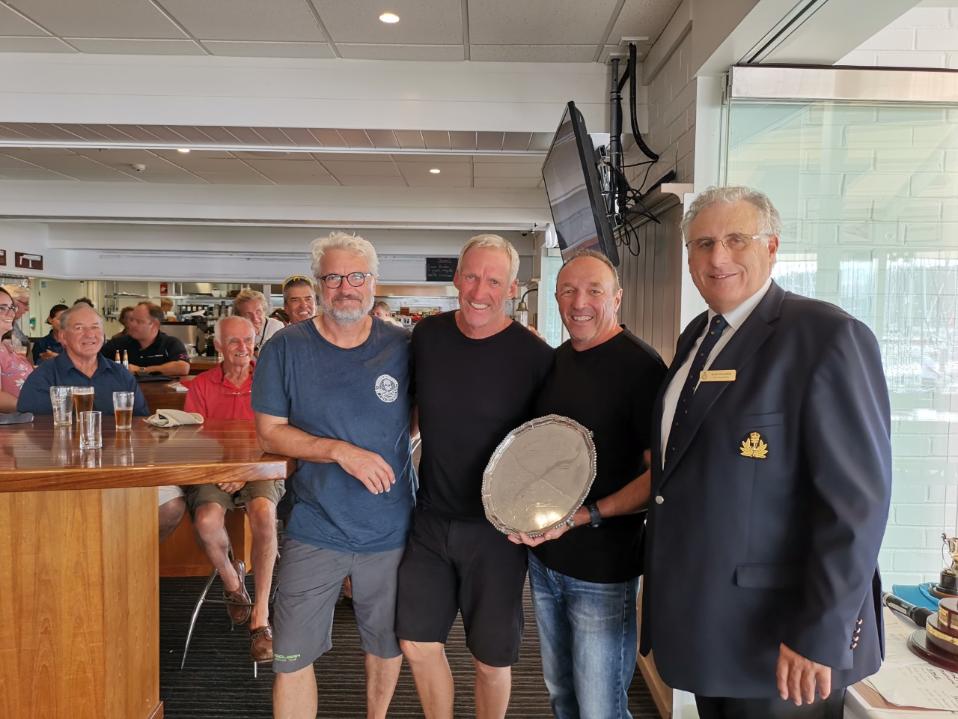 Ron Palmer, Vice Commodore RPAYC presents RPAYC's John Bacon and his team on-board Ku-ring-gai
Sunday 24th to Tuesday 26th February, 2019

Hosted by Royal Prince Alfred Yacht Club
With the impeding 5.5m World Championships to be held in the Palm Beach Circle in January 2020 hosted by the Royal Prince Alfred Yacht Club, Newport, more and more Fives are being bought and renovated and joining the Australian fleet. This year's 5.5m Championship therefore saw 8 local competitors with one brave visitor; Haydn Skelton in his 1967 Classic Crest racing with his Dad and single-handedly braving the inclement weather to sail for 9 hours in 3 metre seas from Cronulla to join the event.
The 'Fives' are a seventy year old, ex Olympic class where Bill Northam won the first Australian Olympic Gold in 1964 in 'Barranjoey'. All the fleet rate the same under the 5.5m formula and race together. 'Fives' are a development class, each boat is unique and the newer boats tend to be faster than the older boats. Accordingly the class has 3 sub divisions to recognise age and give encouragement to the older boats; Classics (1949-1969), Evolutions (1970-1993) and Moderns (1994 to Present).
Nine races were scheduled over the 3 days. Sunday dawned with a SE forecast 18-20kts. This made for exciting sailing with a challenging, gusty, inconsistently, oscillating wind where getting the shifts right paid dividends. One of the newest members of the fleet, the experienced M38, Melges 24 and 20 sailor John Bacon showed the old hands how to do it. John's recently renovated 2000 Modern Wilke boat Ku-Ring-Gai dominated the day with 3 wins. Really indicating changing of the guard was starting, with this renovated Modern showing the older boats the capability of a well sailed Modern 5.5m. Martin Cross's 1973 Evolution Antares revelled in the windy conditions and ended the day on 8 points with close behind another new member of the class Chris Hancock, with his beautifully recently restored 1978 Evolution Rhapsody which was the 1981 World Championship Winner, on 9 points.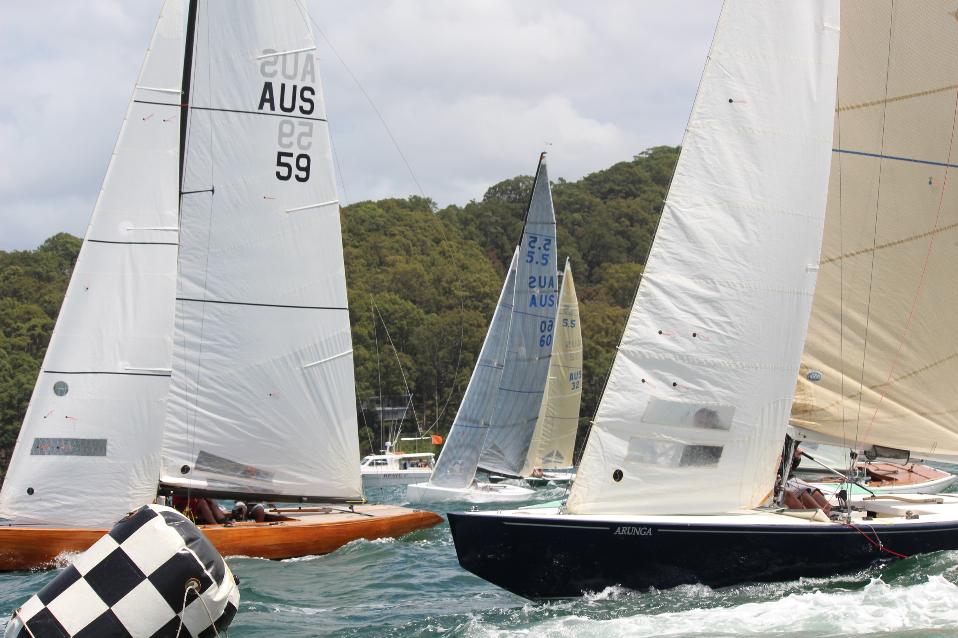 2019 NSW Surf Life Saving Championships Kicks Off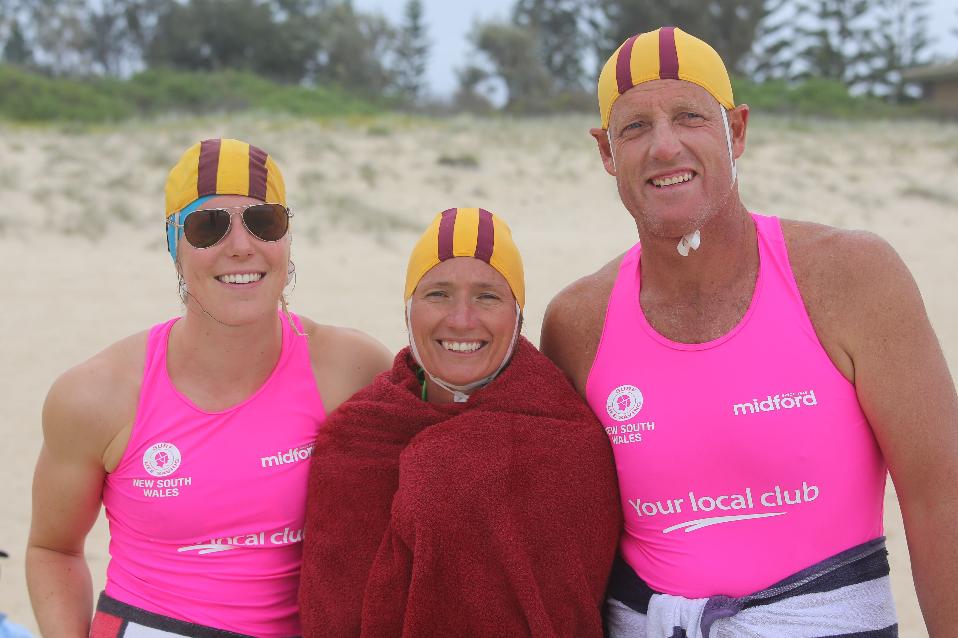 FIRST STATE TITLES AWARDED IN TRICKY CONDITIONS​
Tuesday 26 February 2019 - By Surf Life Saving NSW
The 2019 NSW Surf Life Saving Championships proudly supported by Your local club Patrol Competition and Champion Lifesaver kicked off 10 big days of events at Swansea Belmont SLSC.
Adrienne Lowe (Dee Why SLSC) has been an official for over 10 years and was the sectional referee at the weekend's event, "I think that the lifesaving events are great because they relate heavily to what happens on the beach and are really beneficial for our members. It's such a rewarding event to be part of."
The Patrol Competition was first up on Saturday. Known as one of the most highly technical events, it's been developed to challenge its competitor's understanding of core lifesaving skills.
Freshwater SLSC took out their third straight Open title and the first gold medal of State Champs, with Bronte SLSC taking silver and Newport SLSC bronze.
Julia Baker from the winning Freshwater team said, "The conditions were challenging with big waves making the water sections tough for all four teams. It's a fun event and we were really happy with how we competed.
"Our hard work paid off thanks to Lindsay Davis, our coach. She's been involved for years and has put so much time and effort into our team training us up to three times a week.
"It was really nice to go in and do our best and get rewarded with the State Title. The top three teams qualify for the Australian Titles and last year we got a bronze, but this year we're going for the gold."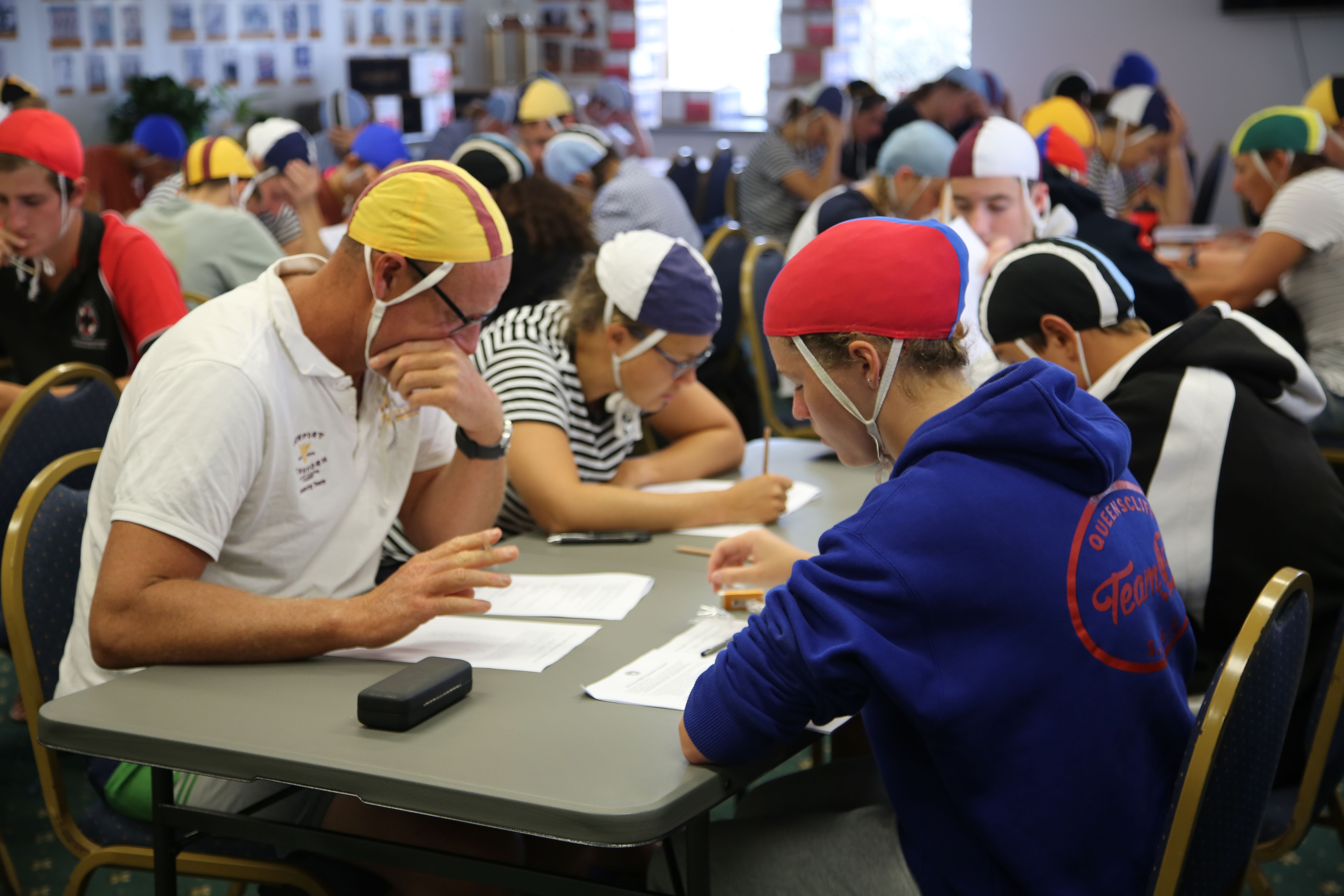 On Sunday the events continued with the Champion Lifesaver event. It is a cumulative point based competition for individuals (both male and female) in the U15, 17, 19, Open, 30-39 and 40+ Age groups.
The 2019 NSW Surf Life Saving Championships proudly supported by Your local club continues this weekend at Swansea Belmont SLSC with the Juniors and Inclusive events and from 6-10 March with Masters and Opens. You can watch all the action from the event live on SLSNSW Facebook on 2-3 March.
2019 Mothernest Great Lakes Pro.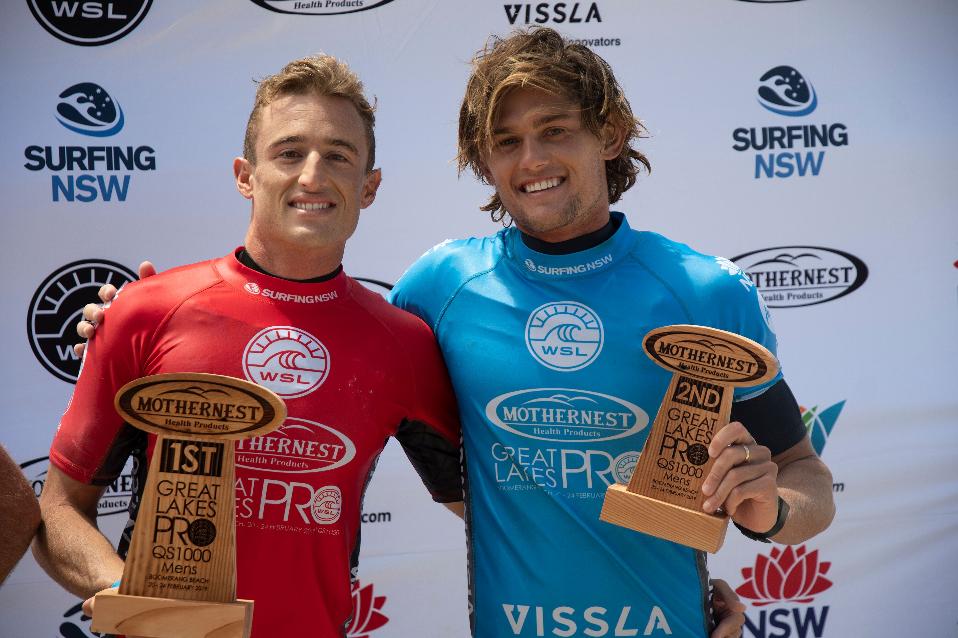 Matt Banting (Port Macquarie, NSW) has claimed his first WSL QS victory since 2014, taking out childhood friend, rival and fellow unsponsored surfer Cooper Chapman (Narrabeen, NSW). Photo by Ethan Smith / Surfing NSW
MATT BANTING RETURNS TO THE PODIUM, TAKING OUT THE 2019 MOTHERNEST GREAT LAKES PRO.
TUNCURRY BEACH, GREAT LAKES
Sunday, February 24, 2019
Matt Banting (Port Macquarie, NSW) has claimed his first World Surf League (WSL) Qualifying Series (QS) victory since 2014, taking out childhood friend, rival and fellow unsponsored surfer Cooper Chapman (Narrabeen, NSW) in the final of the 2019 Mothernest Great Lakes Pro.
Banting put on a solid clinic of surfing over the duration of the event, however the natural-footer hit his stride in the final posting two excellent scores, a 9.00 and an 8.00 to amass a giant 17.00 two-wave heat total. The win at Tuncurry puts Banting's qualification campaign into full-swing as he comes into the Vissla Central Coast Pro, Burton Automotive Pro and the Vissla Sydney Surf Pro at Manly.
"Cooper and I have had a rivalry since we were in the Under-12s and Under-14s, so we're always super eager and keen to beat each other," said Banting. "After a four-or-five year hiatus from winning, I came into January 1st 2019 and said to myself that it's game on. It feels like a few of the sacrifices of turning down parties and the opportunity to go out is beginning to pay off. To also get pumping surf for the duration of the event makes it so much sweeter. I feel like I can go into the QS3000 and the QS6000 events now knowing that I can do better."
Despite runner-up Cooper Chapman's start in the 2019 Mothernest Great Lakes Pro being in doubt only two days ago due to illness, the northern beaches native rose above the aches and pains to seal a spot into the final alongside Banting. Chapman's goal of claiming his maiden QS victory was ultimately derailed, but nevertheless, the natural-footer is leaving the Great Lakes with his head held high.
"This was a great event and the surf was pumping the whole time, so it was nice to get a few wins and get the ball rolling on 2019," said Chapman. "It was nice to share a final with Matty as it's been a while since we had one together, so hopefully we can begin to steamroll into the rest of the year. I think we both showed our maturity in this event being one and two seed and hopefully, we can both build on it."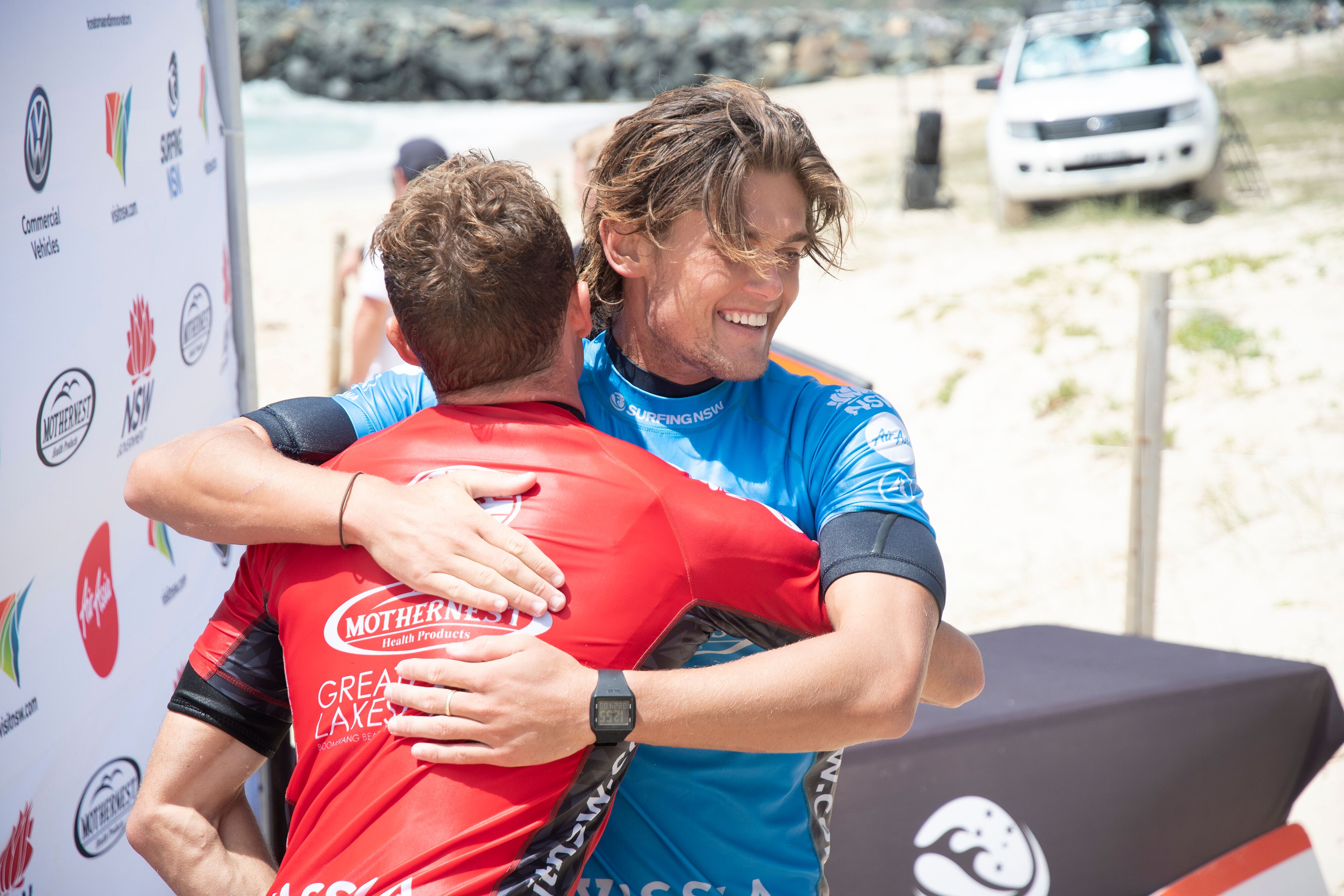 The AirAsia Wave Of The Day was awarded to Chapman for his dominant performance throughout the event.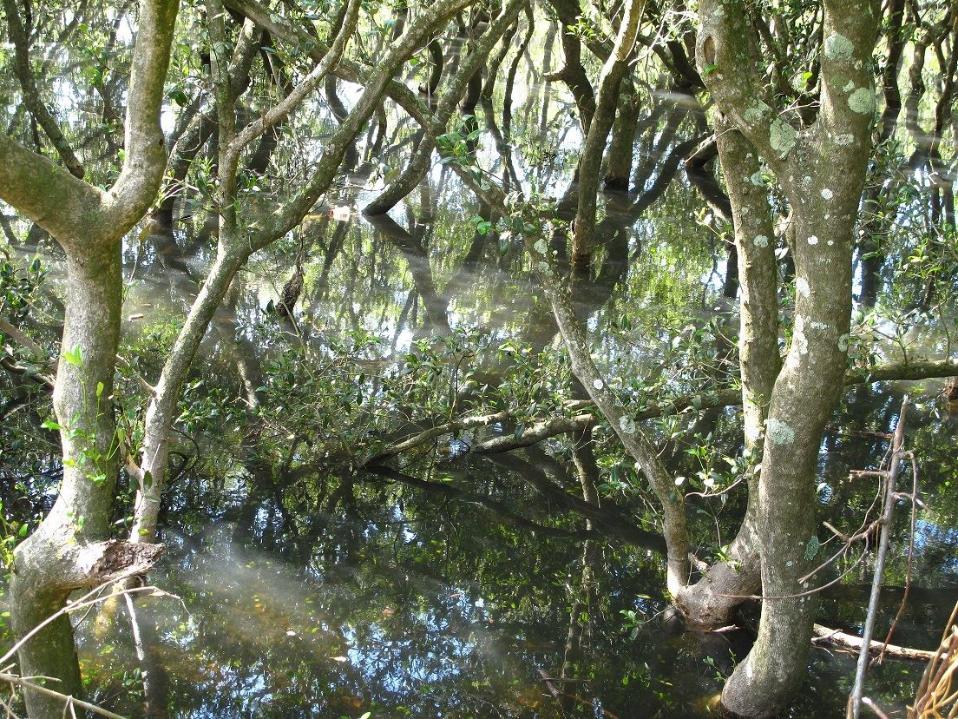 Careel Bay mangrove forest at high tide, rich habitat for fish, crabs and many other invertebrates, and the tiny Mangrove Warbler bird. Grey Mangroves, Avicennia marina, breathe through special roots at low tide, tolerate salt and secrete it on their leaves. Photo by and courtesy PNHA
Past Features Archives (pre 2014)
Pittwater Online News was selected for preservation by the State Library of New South Wales and National Library of Australia. This title is scheduled to be re-archived regularly.
Archived Issues (2014 on) may be accessed here: pandora.nla.gov.au/tep/143700