February 10 - 16, 2019: Issue 393

Palm Beach Protection Group Launch Supporters Invited: Saturday Feb.16th
Residents Are Saying 'NO' To Off-Leash Dogs In Station Beach Eco-System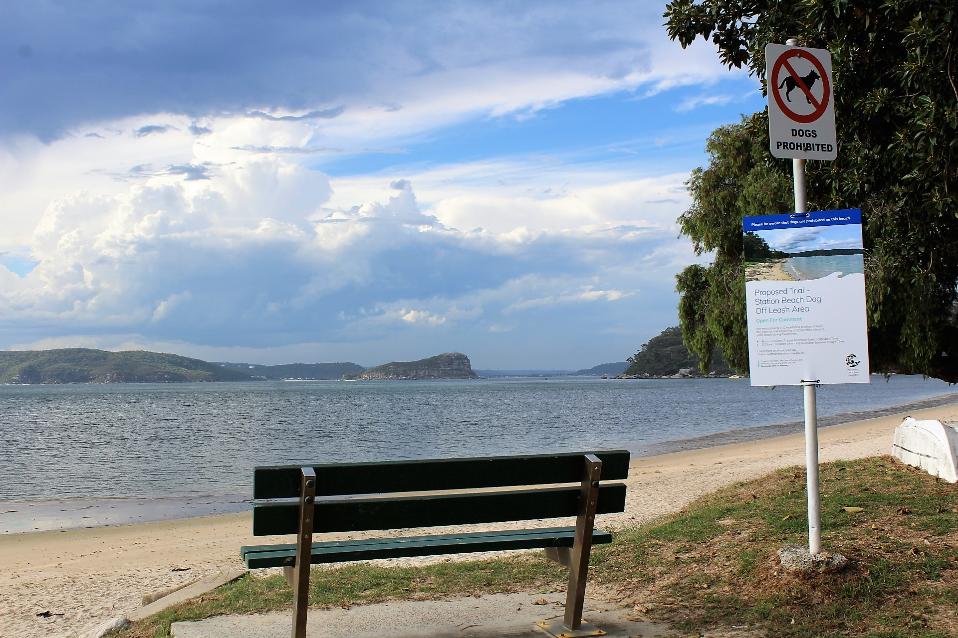 Although a Trial has not commenced, nor consultation period finished, residents of Waratah street, the Palm Beach street fronting the southern end of Station Beach on the Pittwater estuary, as well as from surrounding streets, report over 50 off-leash dogs have been on the 'no dogs' beach, every single day, from 6 am and all day long – and especially on weekends, throughout December and January.
One resident witnessed a lady with six off-leash dogs barking in her car drive up just after dawn and let them all go. -
Dawn is when wildlife is either waking up or going to bed if nocturnal.
Waratah street has become a traffic jam, with no suitable parking on the once quiet street or the adjacent Barrenjoey road.
Residents are finding dog faeces being left on the sand with one gentleman, on being approached, replying that he was not going to clean it up as 'the tide will wash it out'.
Native birds are being chased by dogs and bitten. The small blue Soldier crabs that come out at dawn and dusk are being killed. The seagrass meadows are being torn up.
Other people who used to frequent the beach with their little children are now going elsewhere, with one resident witnessing a family taking their toddlers down for their usual 7 a.m. swim being literally chased from the beach by dogs.
Small children have been rushed at by large dogs, and jumped on – more than a few times now.
Two women in the water swimming were also approached by a pair of chocolate Labradors swimming out and onto them.
"Their owner did nothing to stop them and didn't seem to think this was a problem." a resident stated.
Dogs are also reported to be outside the 'trial area' at all times – going beyond the Beach House structure towards the dunes and headland where other fauna lives, as well as to the southern extremity of the beach.
...
"We're all dog lovers. Unfortunately we're seeing dogs running into private property and onto the golf course, dogs almost being killed running into the roads and owners who seem oblivious of how to look after them or shrugging it off as though that's acceptable behaviour." another resident stated
"We're scared one of them will cause a car accident or a dog or a dog owner will be killed." another added
Station Beach is the only remaining Pittwater estuarine beach on the eastern seaboard without structures along its perimeter. Thousands of visitors and residents enjoy the stroll along the 'Summer Bay' beach leading into Barrenjoey Headland National Park or being able to access a safe-water beach for youngsters year round, especially during the warmer months.
That has not been the case this Summer.
At a meeting on Friday February 8th residents shared what they have experienced and witnessed since the 'consultation' commenced.
The upshot of their discussion is the Palm Beach Protection Group will be launched this week – on Saturday February 16th, at 10 a.m., on Station Beach.
"The unintended consequence of allowing so many uncontrolled dogs into just one small area, as has been found elsewhere, is these places are turned into 'dog faeces pots'. People end up getting sick visiting them or in this case, going into the water. There are, on record, instances of people getting infections, bad ones, from this kind of degradation of an area.
A website has been set up by The Palm Beach Protection Group for more information, as well as a Facebook page.
"We encourage supporters who want to protect the pristine eco-system of Palm Beach to join us at Station Beach, on the Pittwater side of Palm Beach at 10am on Saturday 16 February."

The light-blue soldier crab, Mictyris longicarpus

Community Adamant: We Need Level 3 Services At Mona Vale Hospital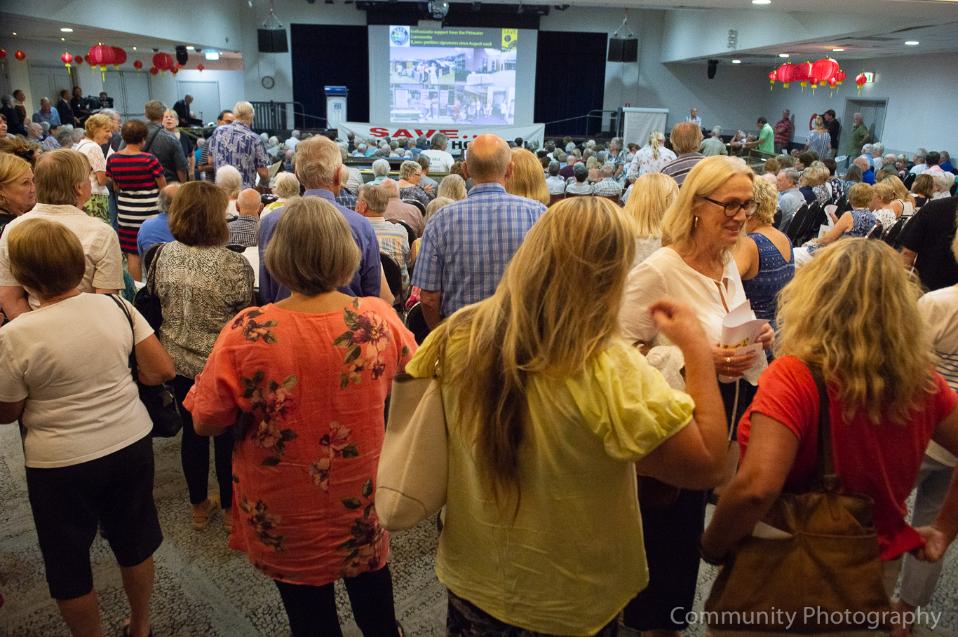 The 600 or more residents attending the public meeting organised by the Save Mona Vale Hospital committee on Tuesday February 5th cheered loudest every time a speaker stated the community wanted Mona Vale Hospital to be returned to, or upgraded to at least a Level 3 hospital.
The meeting heard from Pittwater MP Rob Stokes, Royal Prince Alfred Associate Professor of Surgery Richard West, NSW Nurses and Midwives Association spokesman Dennis Ravlich, local actor Chris Sadrinna – whose child was turned away from Mona Vale Urgent Care Centre in December with a severe infection - and SMVH chairman Parry Thomas.

Future Of Streamwatch In Pittwater And Across Sydney In Doubt: Funding Ceases In June 2019 - Petition By Volunteers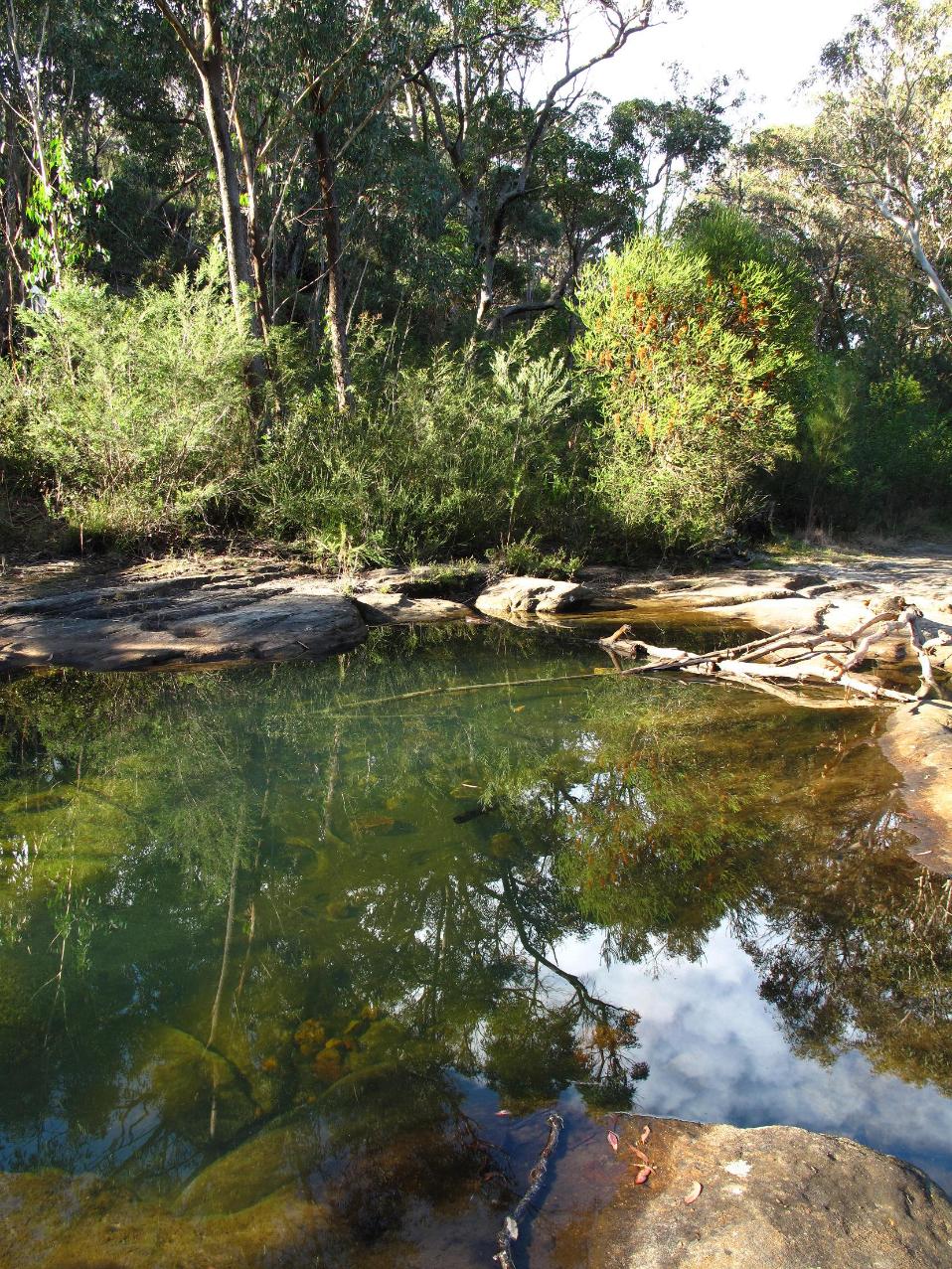 The Ducks Ponds on McCarrs Creek - This is a "gold standard" creek for the Streamwatch people in Pittwater.
Local Streamwatch volunteers have contacted Pittwater Online News this week with the worrying news that the Program may be in jeopardy. Sydney Water has committed to continue its funding to the Australian Museum, which runs the program, only until June 2019.
It is believed the Steamwatch program costs about $100,000 a year to run.
The Streamwatch is a Citizen Science program which started in 1990, covering the Sydney and Blue Mountains Region. Over 200 trained volunteers in 53 groups monitor around 160 sites. Streamwatch monitors freshwater creeks. Sites are sampled each month and includes, a general observation of the site, water temperature, pH, turbidity, tests for dissolved oxygen and phosphates. Because the volunteers are regular visitors to the site and they are aware of any changes that take place, good or bad and the appropriate action can be taken.
Twice a year, sites are sampled as part of The National Waterbug Blitz supported by The Waterbug App for aquatic macroinvertebrates (waterbugs) these are good indicators of ecosystem health. The presence of the nymphs of Ephemeroptera (Mayflies), Plectopera (Stonefies) and Tricoptera (Caddis Flies) indicate very good quality water. Whereas Odonata (Dragonflies and Damselflies) Coleoptera (Beetle larvae) Diptera (Flies) and Hemiptera (true Bugs) can tolerate poorer quality water.
The data from these tests show long term regional trends, some good where vegetation restoration has occurred and the reduction of phosphate levels has dropped since the removal of phosphates from detergents, some not so good like the reduced water quality after urban development and the use of concrete to line creeks. Looking to the future, Streamwatch can help monitor the effect of urban development, climate change and the presence of invasive species.
Streamwatch in Pittwater.
There are 4 active groups monitoring 8 sites. Never Fail Falls at Terry Hills, Kedron Reserve, Katandra Reserve, Wirreanda Creek, McCarrs Creek, 2 sites on Mullet Creek and Careel Creek Avalon.
Volunteers in Pittwater and across Sydney are concerned if the program lapses pollutants entering these waterways will not be known about or monitored and improvements in the areas adjacent and the water quality will not occur.
An Australian Museum spokesperson has said the museum is committed to identifying a new organisation to take over operation of the project by July 2019. To date no new home for the program has been announced.

In the meantime the volunteers have launched an online petition calling for support so the vital program is maintained. The petition, which may be signed HERE, reads;
Why does the Berejiklian government say the health of our waterways is critical but cause the Sydney Streamwatch Program to close in June 2019?

Streamwatch volunteers monitor our waterways and deliver scientifically accurate data on water quality and biology, mentor students, alert authorities on pollution, collect litter, provide biosecurity surveillance and local stewardship

Streamwatch is an incredibly cost effective program funded by Sydney Water since 1990 and managed by the Australian Museum since 2013.

The EPA and other government agencies face many challenges in ensuring our waterways and beaches are clean and this iconic citizen science program strengthens their work.

Please tell Premier Berejiklian that Streamwatch must continue with a bipartisan commitment to ongoing funding from all political parties.
The Australian Museum will not be able to continue with the project without funding. In addition, Streamwatch is no longer a strategic long-term fit for the Australian Museum given the museum is not involved in water quality issues and is shifting towards hosting larger exhibitions and more in-house education activities. In July 2018 NSW Minister for the Arts Don Harwin and Treasurer Dominic Perrottet announced the Australian Museum will receive $50 million to expand its touring exhibition halls.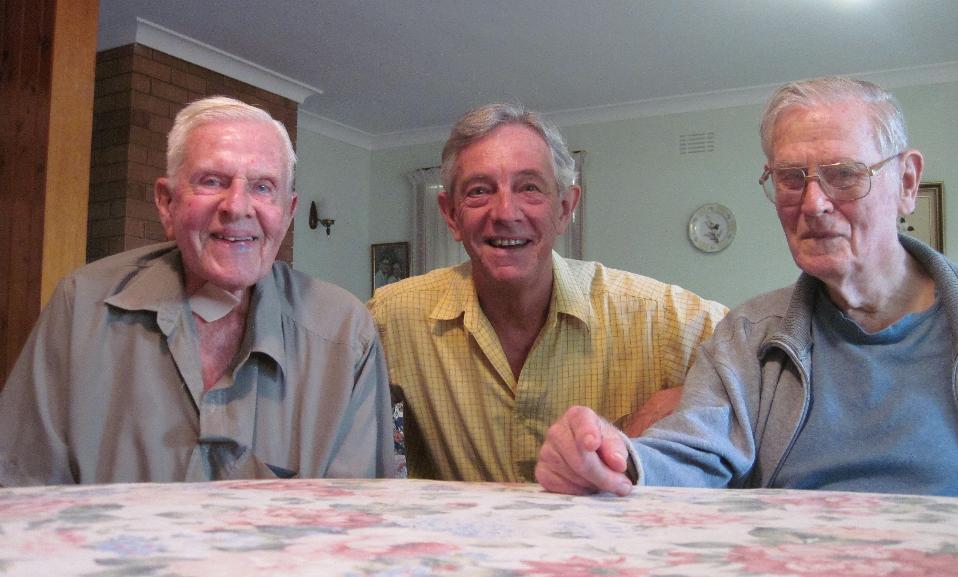 Summer is...
three favourite and revered local Historians getting together for a catch-up - The Hon. James (Jim) Macken, Geoff Searl OAM and George Champion OAM. All sharp as a tack still!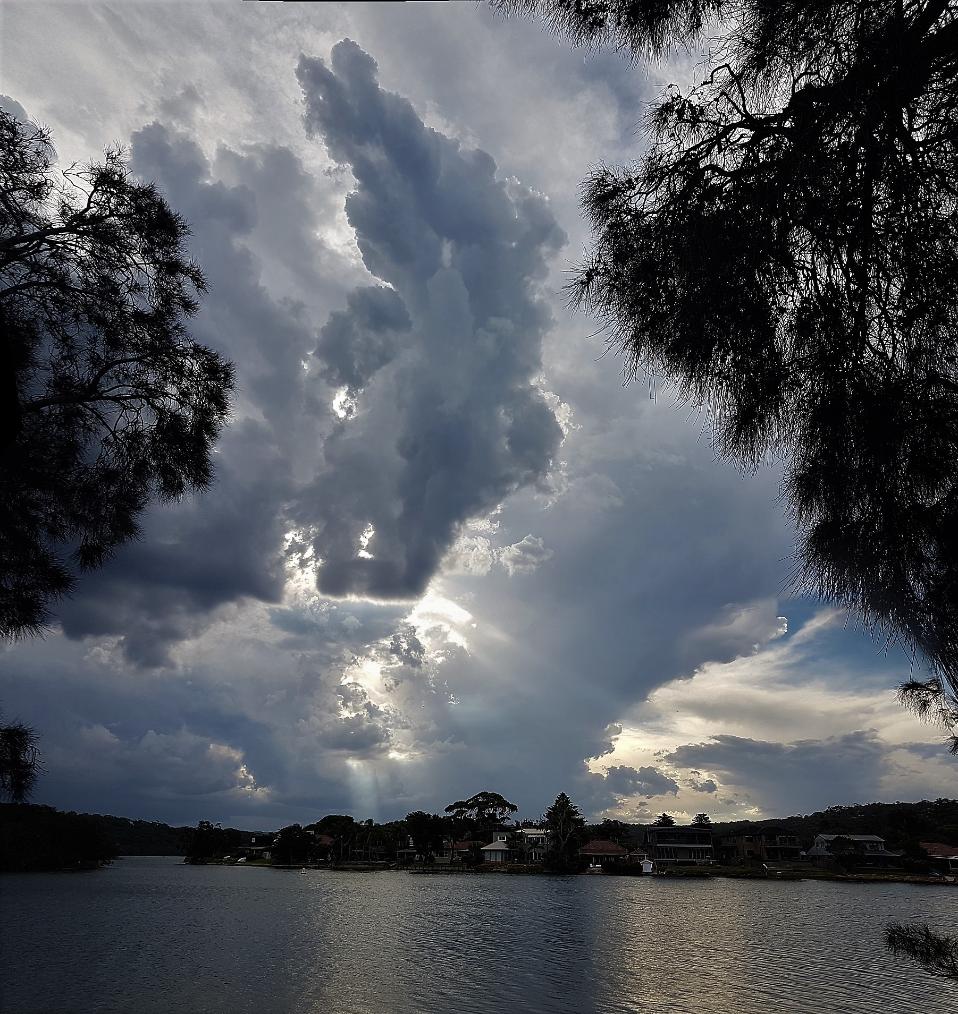 Summer is...
southerly busters and storms cooling down the end of hot humid days - and capturing it - like in this great photo by Joe Mills - "This is looking west over Lake Narrabeen about 6 pm, just before the big storm hit." Joe said.
Past Features Archives (pre 2014)
Pittwater Online News was selected for preservation by the State Library of New South Wales and National Library of Australia. This title is scheduled to be re-archived regularly.
Archived Issues (2014 on) may be accessed here: pandora.nla.gov.au/tep/143700