November 5- 11, 2017: Issue 336

Newport SLSC's Jake Lynch Awarded Surf Sports Athlete Of The Year At The National Surf Life Saving Awards Of Excellence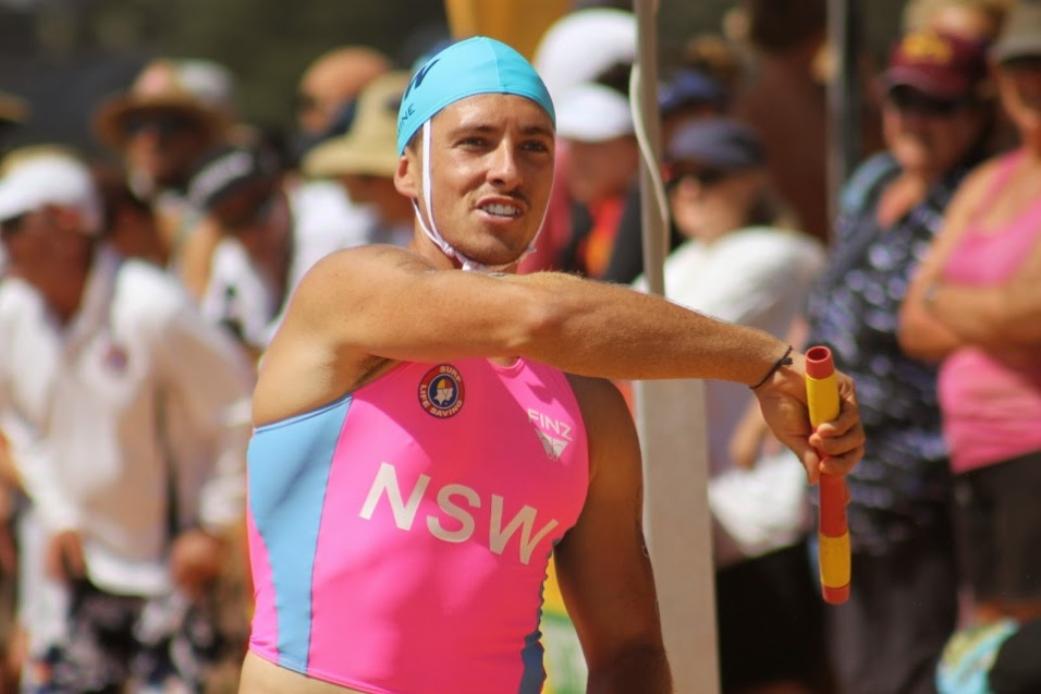 SLSA 2017 National Awards Of Excellence
Over 300 surf lifesavers and dignified guests descended upon the Art Gallery of New South Wales tonight to honour Surf Life Saving's most distinguished and bravest members at the 2017 Surf Life Saving Australia Awards of Excellence.
Surf Lifesaver Scott Summers from Sunshine Beach Surf Life Saving Club (QLD) received the prestigious DHL Surf Lifesaver of the Year award.
Scott is an exceptional frontline lifesaver who has a clear focus on developing both his club and regions capabilities, holding a number of roles including Director of Lifesaving, Gear and Equipment officer IRB officer, and club supervisor.
Numerous awards were presented throughout the evening recognising achievements in surf sports, education, training, rescues of merit, hall of fame and life member inductions and the prestigious annual awards.
Venus Bay Surf Life Saving Club (VIC) won the DHL Club of the Year award, and Max Pettigrove from the Sunshine Coast Lifeguard Service was named DHL Lifeguard of the Year.
With demonstrated dedication to the Grange Surf Life Saving Club (SA), Caroline Kearney took out the DHL Volunteer of the Year award for her commitment to member recruitment and retention, coaching, junior development and succession planning.
After an outstanding season Jake Lynch of the Newport Surf Life Saving Club (NSW) was appointed surf sport athlete of the year. Jake won double gold in sprints and flags for the Australian Life Saving Team, and has done extensive work coaching at club level, and attending state development camps.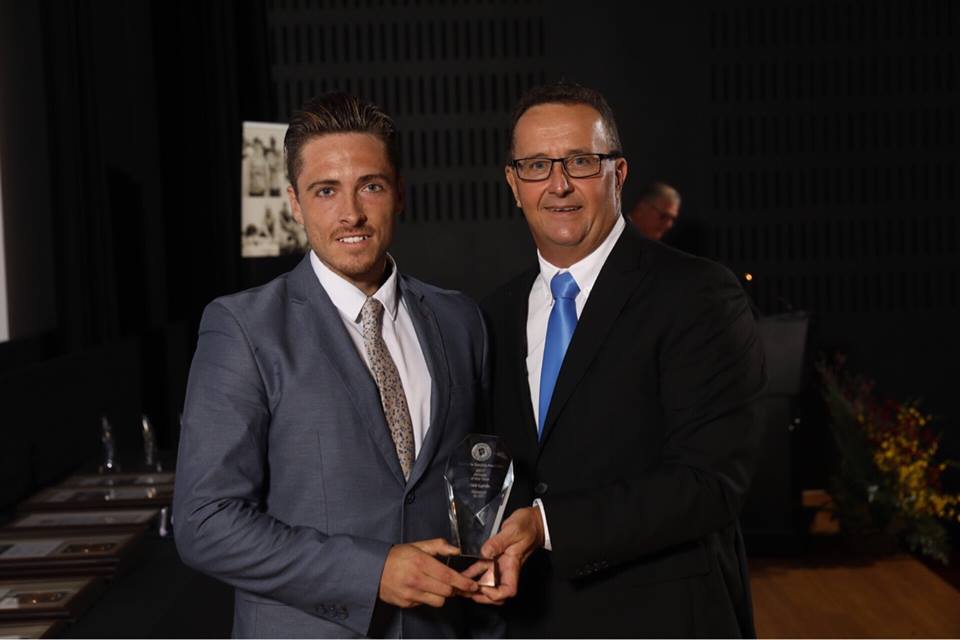 Photo courtesy SLSA
Surf Life Saving Australia President, Graham Ford AM delivered a moving tribute to the valuable contribution surf lifesavers give back to the community.
"The Awards of Excellence is a about recognising the achievements, the contributions and the commitment surf lifesavers, volunteers, coaches, trainers and athletes make to the Australian communities," he said.
"All the nominees, and winners this evening have shown an extraordinary dedication and commitment to volunteering. That's why we are able to exist and to fulfil our purpose to save lives, create great Australians and build better communities."
Surf Life Saving's night of nights also recognised surf lifesavers who performed significant rescues of outstanding courage and bravery. A total of 19 Meritorious Awards were presented, including the highest level of merit, awarded to 13-year-old Jayke Menefy who rescued a man while on holiday with his parents on the Sunshine Coast.
The award winners on the night were:
DHL Surf Lifesaver of the Year
Scott Summers, Sunshine Beach SLSC, QLD
DHL Club of the Year
Venus Bay SLSC, VIC
DHL Lifeguard of the Year
Max Pettigrove, Sunshine Coast Lifeguard Service, QLD
DHL Volunteer of the Year
Caroline Kearney, Grange SLSC, SA
Trainer of the Year
Rachel Englund, Carlton Park SLSC, TAS
Assessor of the Year
Stephanie Reindel, Bonbeach LSC, VIC
Athlete of the Year
Jake Lynch, Newport SLSC, NSW
Surf Sports Coach of the Year
Jock Campbell, Wanda SLSC, NSW
Official of the Year
Carolyn Wilson, Secret Harbour SLSC, WA
Youth Athlete of the Year
Jemma Smith, Umina SLSC, NSW
Community Education Program of the Year
Combined Nipper Seahorse Program, QLD
Bilgola SLSC's 'Billy Boat Carnival' 2017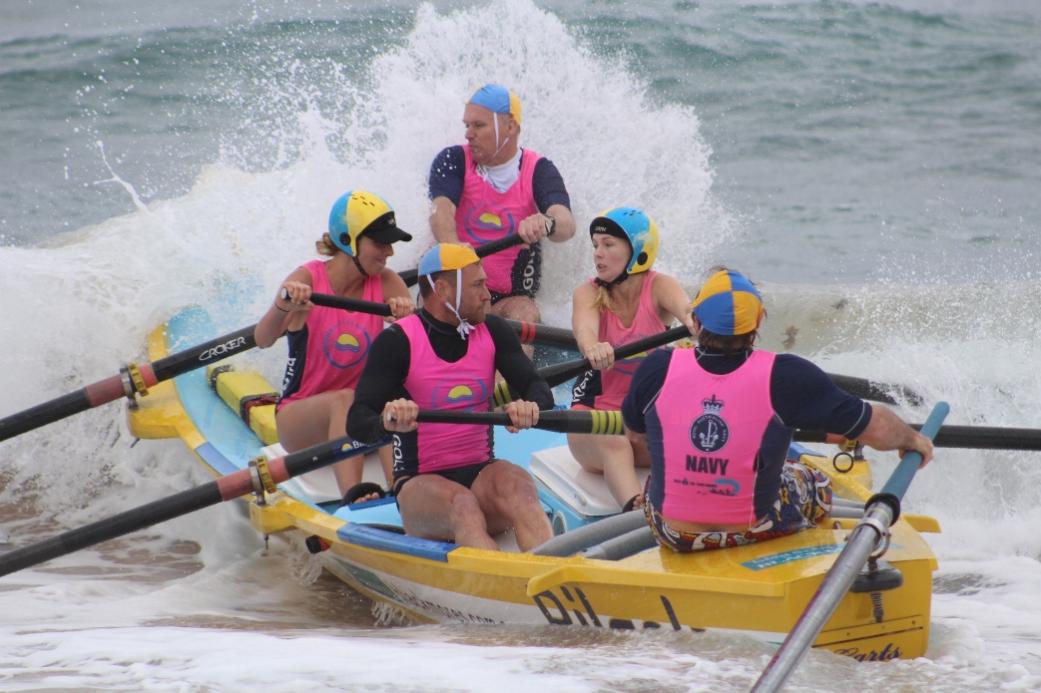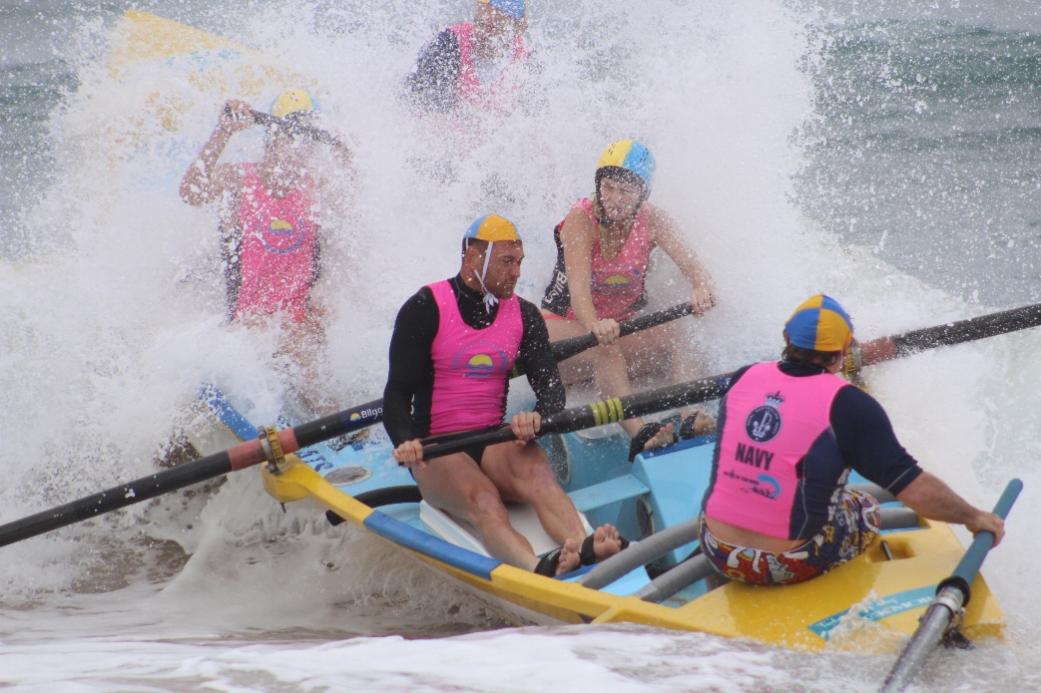 It was a cold wet first paddle-out for surfboat crews on Saturday November 4th but that didn't stop clubs from Manly to Palm Beach and even rowers from North Bondi SLSC make the best of challenging conditions at Bilgola in Round One of the 2017-2018 SLS SNB Premiership.
The crews were ably supported on the sand by the best and most passionate officials in the Surf Life Saving Sydney Northern Beaches Branch, with Zom providing great commentary.
Nick Sampson, one of the great rowers at Avalon Beach SLSC was on hand, despite a snapped ACL, helping out as you may have to keep a boatie out of the boat on

occasion

, but you won't keep them away form the action.
Also present were the fans of the surf boats, including photographers such as Bill Sheridan and Paul Lemlin, whose spectacular shots celebrate as much capture these iconic boats catching a shoot or making wings of water around their bows as they meet, rise and go over a wave when heading out to the cans.
There were a few spills as rowers and sweeps shook off the last of the Winter lull, a great number of younger members gearing themselves up for their first competitive rows and a lifetime in one of the best water sports there is, some great waves caught, or skillfully recovered from and a nice casual chance to catch up with friends on the sand in between heats.
As always it's the teamwork within a club and the teamwork where clubs combine that stands out at any surf boat carnival - something you have to get on the beach and amongst to really appreciate.
Round 2 will be hosted by Newport SLSC on Saturday November 18th, Round 3 by Warriewood SLSC on December 1st.
Next Saturday, November 11th, the first of this Season's Ocean Thunder events kicks off at Dee Why with the followup on December 9th - showing there's going to be a lot of surf boat action and opportunities to see these great lifesavers in the lead into Christmas and after New Years, January's great Manly Boat Carnival, the ASRL Boat Carnival at Freshwater before February's Branch Championships - this year at Collaroy.
Results of the Finals at Bilgola and some pictures of 2017's Billy Boat Carnival run
HERE
.
Australian Sailing Awards 2017: The Winners
Also: Australian Sailing Hall Of Fame Inducts Olympians, Paralympians, America's Cup Champions And Ocean Racers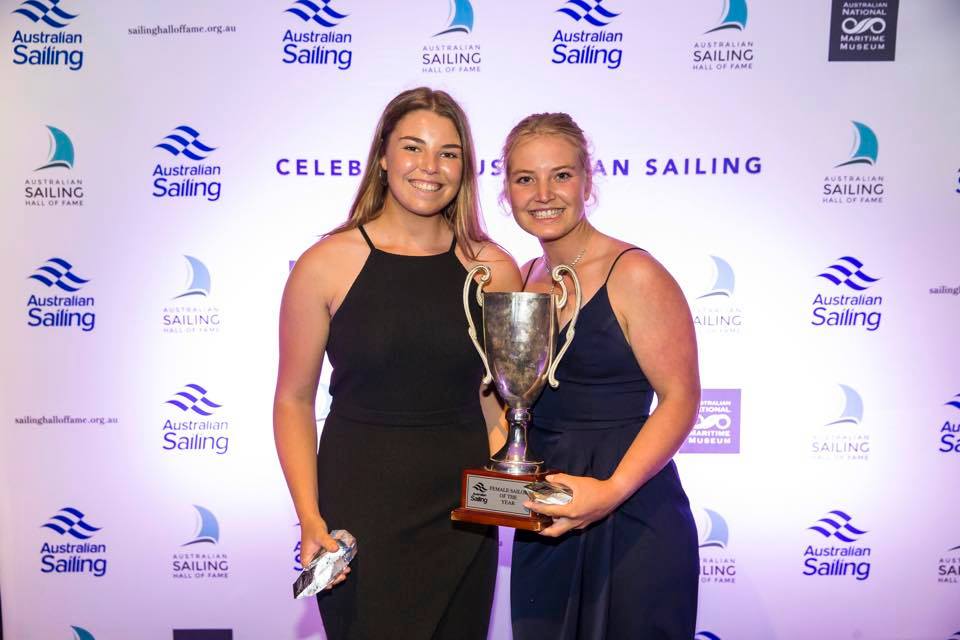 Annie and Tash win Australian Sailing's Female Sailor of the Year - photo by Andrea Francolini
Awards Show Australian Sailing's Diverse Strength
America's Cup-winning skipper Glenn Ashby and rising RPAYC stars Natasha Bryant and Annie Wilmot were named the nation's top sailors for 2017 at the Australian Sailing Awards in Sydney on Friday night.
Ashby was crowned Male Sailor of the Year and Natasha and Annie won Female Sailor of the Year at a festive ceremony which celebrated Australian Sailing's diverse strengths.
The awards were held in conjunction with Australian Sailing's inaugural Hall of Fame Inductions, which includes such Pittwater legends as Kay Cottee, the Team of Australia II, Daniel Fitzgibbon OAM and Liesl Tesch AM, and
Victor Kovalenko OAM, the brilliant coach who has inspired and guided local Olympic medal winners
.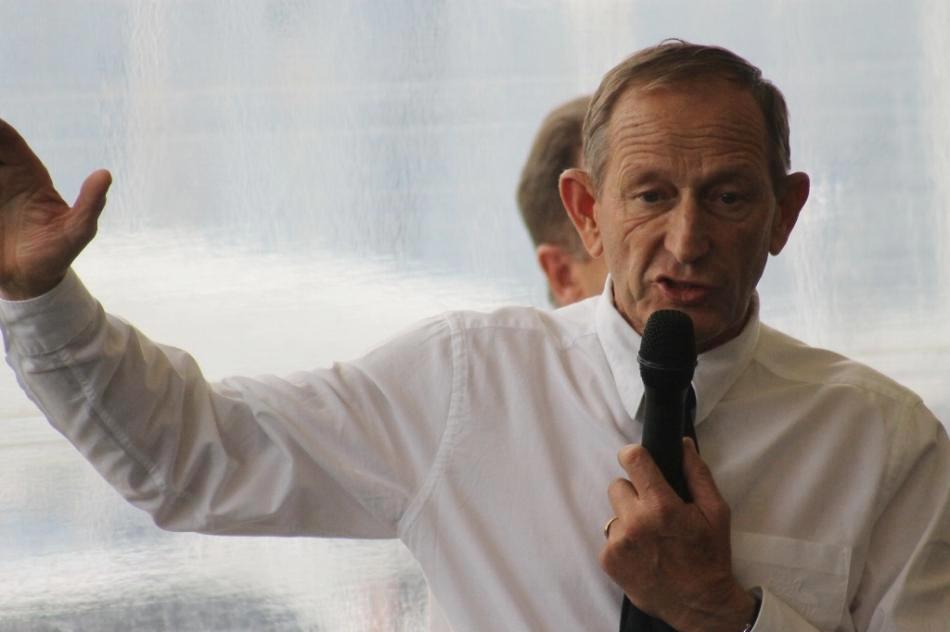 Ashby was rewarded for his expertise in guiding Emirates Team New Zealand to a comprehensive 7-1 series win over Oracle Team USA in the 35th America's Cup, in Bermuda in June. It was the latest and perhaps greatest of Ashby's illustrious achievements, which include a silver medal at the 2008 Olympic Games and 15 World Championships across three multi-hull classes.
"It's been a fantastic evening here in Sydney and I'm very humbled and honoured to receive the Australian Sailing Male Sailor of the Year," Ashby said.
"There was a fantastic array of nominees. It's been a big year in Australian sailing and it's been very nice to catch up with a lot of friends and our sailing community."
Ashby was last month named as one of four finalists in the prestigious Rolex World Sailor of the Year, which will be announced at the World Sailing Awards Ceremony in Puerto Vallarta, Mexico, on Tuesday.
Bryant and Wilmot have it all ahead of them, but they were recognised for their outstanding performance in
winning the Youth World Sailing Championship
in the 29er class
in New Zealand last December
. In a remarkable display of dedication to representing Australia at a higher level, the duo later declared they would not defend their world title in China this year and moved into the Olympic class 49er in order to focus on securing a coveted place on the Australian Sailing Team for the Tokyo 2020 Games.
"We're really honoured to be receiving this award and we'd really like to thank [2016 Olympic silver medallist] Lisa Darmanin for all that she's done for us and all her mentoring," Bryant said.
Wilmot thanked the many people she said had supported the pair, including their families and coach, Traks Gordon.
"Tonight has been amazing, being in this room with all these legends, it's just so inspiring for the young generation out there," she added.
The Royal Prince Alfred Yacht Club's Thomas Spithill has been named Coach of the Year continuing his winning streak from the top award at the YNSW awards. Tom was recognised for this dedication to the sport of sailing across all aspects of coaching, learn to sail, development, performance and especially for introducing and integrating non sailors into the sport, through his support of Soldier On, the Invictus Games and many other community groups.
A number of local sailing legends have also been inducted into the Australian Sailing-Australian Maritime Museum Sailing Hall of Fame.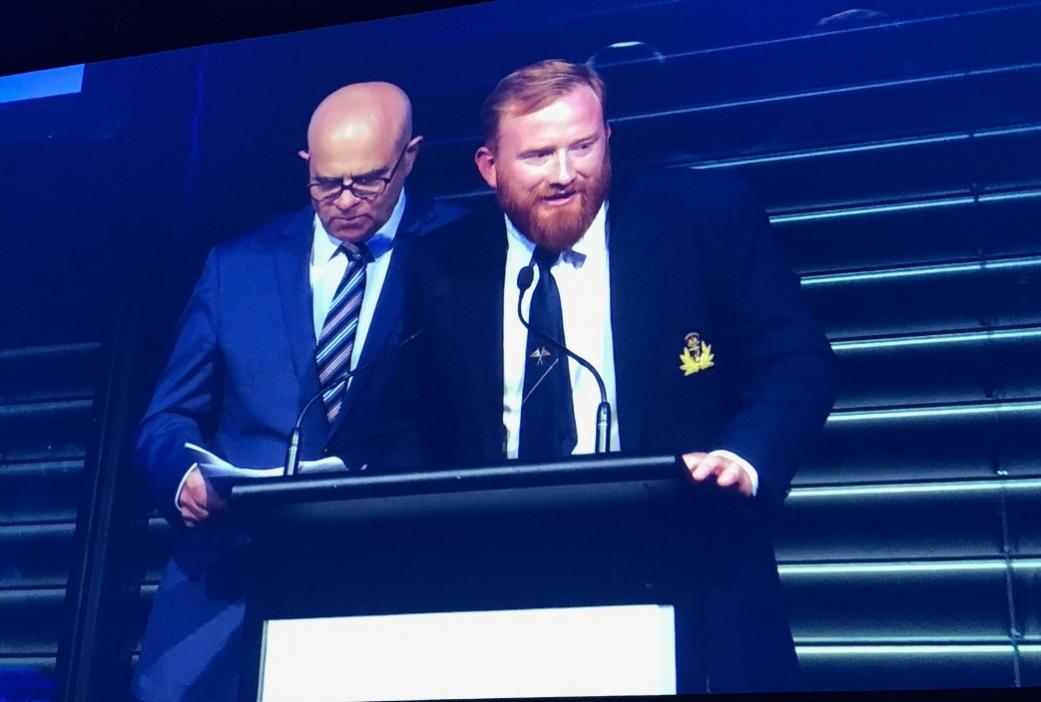 Thomas Spithill at Friday November 3rd's Australian Sailing Awards 2017 - photo courtesy RPAYC
Local Surfers Flying High in the 2017 Port Stephens Toyota NSW Pro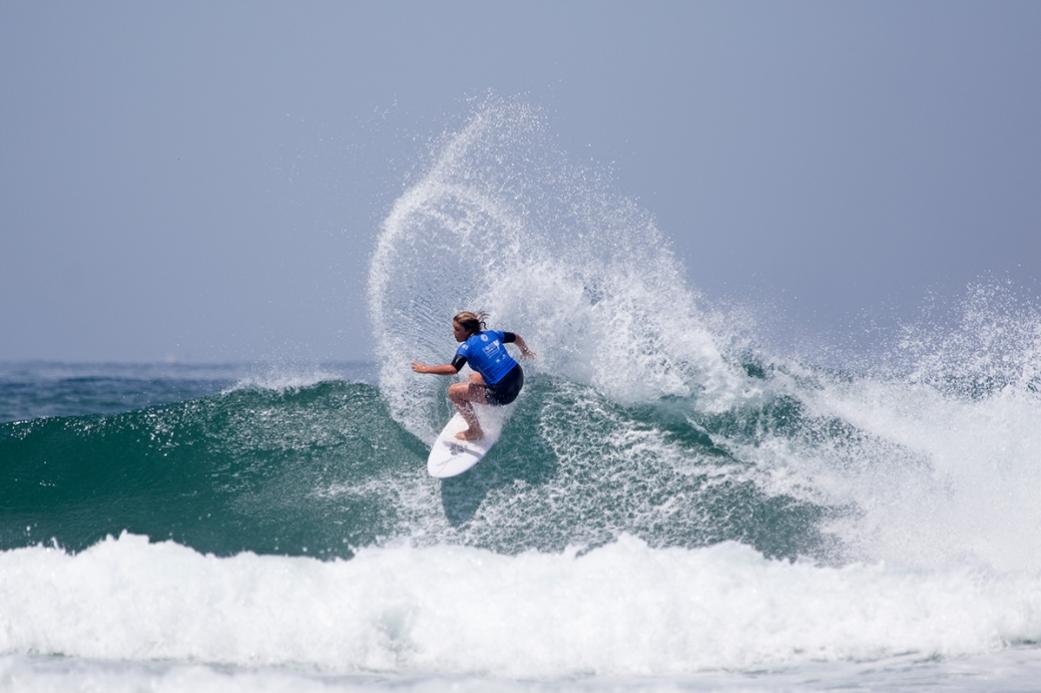 Bungan's Holly Wawn in Action on Day 2 of the Port Stephens Pro. - photo by Ethan Smith/Surfing NSW
The final event of the World Surf League (WSL) Women's Qualifying Series (QS), the Port Stephens Toyota NSW Pro Women's QS6,000 kicked off on Thursday, November 2nd.
World Surf League Deputy Commissioner Jess Miley-Dyer was once a member of the Championship Tour and knows firsthand the dedication and hard work that is involved in qualifying. The former World Junior Champion is keeping a close eye on this major event and who will push deep into the draw and onto next year's 'Dream Tour.'
"This is the last event on the QS calendar so it's super important in terms of points and last-ditch qualification efforts," Miley Dyer said. "There's a few surfers who have their career on the line, so for them, this is going to be a very stressful week. We also have the opportunity to witness new Australian talent come through the ranks on the world stage at the beginning of their careers."
With the top six from the QS rankings elevating to the CT, there are a number of scenarios and situations that need to play out for each competitor hoping to make the jump. With a small amount of points separating the top 20, there's a number of surfers with a shot at elevation.
"As always, the talent pool on the women's side is excellent and I'm excited to see who get's the final slots for the 2018 CT," Miley-Dyer continued. "The last qualifying spot seems to be quite open at this point, and there are a few women like Paige Hareb, Macy Callaghan and Philippa Anderson on the cusp of getting it. It should be an exciting battle and I can't wait to see who will get it done."
Since taking out the World Junior Championship in Kiama earlier this year, 17-year-old Macy Callaghan has had her attention focused on one thing, qualifying for the CT. After a third-place finish last week in Japan, the Central Coast standout has moved to 10th on the QS rankings and is one solid result away from achieving her dreams.
"I'm trying not to think about rankings or any of that coming into this event," Callaghan said. "It is still in the back of my mind because of all of the talk and hype but I'm trying to ignore it and just focus on the event. I know that this event was close to being cancelled so the fact that all of the partners teamed up to save this event is amazing. All of that effort and hard work is so good for women's surfing – we're all so thankful."
The most impressive performance of the event so far came on Day 2 in heat three of round four when Bungan's Holly Wawn took to the water. Wawn surfed out of her skin posting a two-wave heat total of 17.50 for her super powerful forehand attack. After recently returning from an injury, Wawn is stoked to get a solid start to the event.
"That was really fun out there," Wawn said. "I haven't had the best year competitively so it's nice to get a solid heat win. I had a pretty quick recovery physically from my injury but it has taken a little longer to ease back into competition. I'm hoping the waves stay like this for my next heat."
While the women surfed on the northernmost bank at Birubi on Friday, a group of Australia's best male competitors were doing battle just down the beach for the Port Stephens Toyota NSW Pro pres. by Newcastle Airport Men's QS1,000.
Joining the Men's QS1,000 and Women's QS6,000 components of the event will be the Port Stephens Women's Challenge and the PRD Port Stephens and Kaos Surf Cadet Cup. Both events will give amateur women and promising junior stars the opportunity to rub shoulders with some of the biggest names in women's surfing. Divisions in the PRD Port Stephens and Kaos Surf Cadet Cup comprise of Under 16 Boys and Girls, Under 14 Boys and Girls, Under 12 Boys and Girls and Under 10 Boys and Girls.
In addition to the action in the water, Surfing NSW have undertaken a range of local engagements for the Port Stephens community, ranging from Indigenous surfing lessons, boardriders activations and allowing local students to gain work experience on site.
Check out Day 1, 2, and 3 Reports from Surfing NSW HERE, combined with some spectacular photography of brilliant surfing.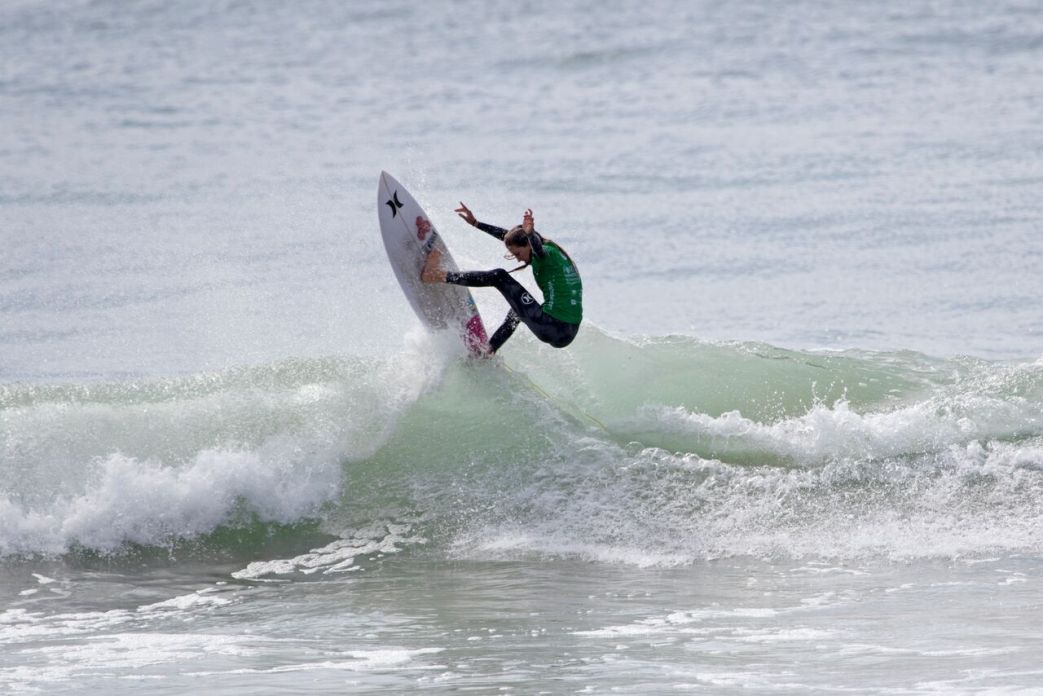 Avalon's Cedar Leigh Jones is one of the youngest competitors -
photo by Ethan Smith/Surfing NSW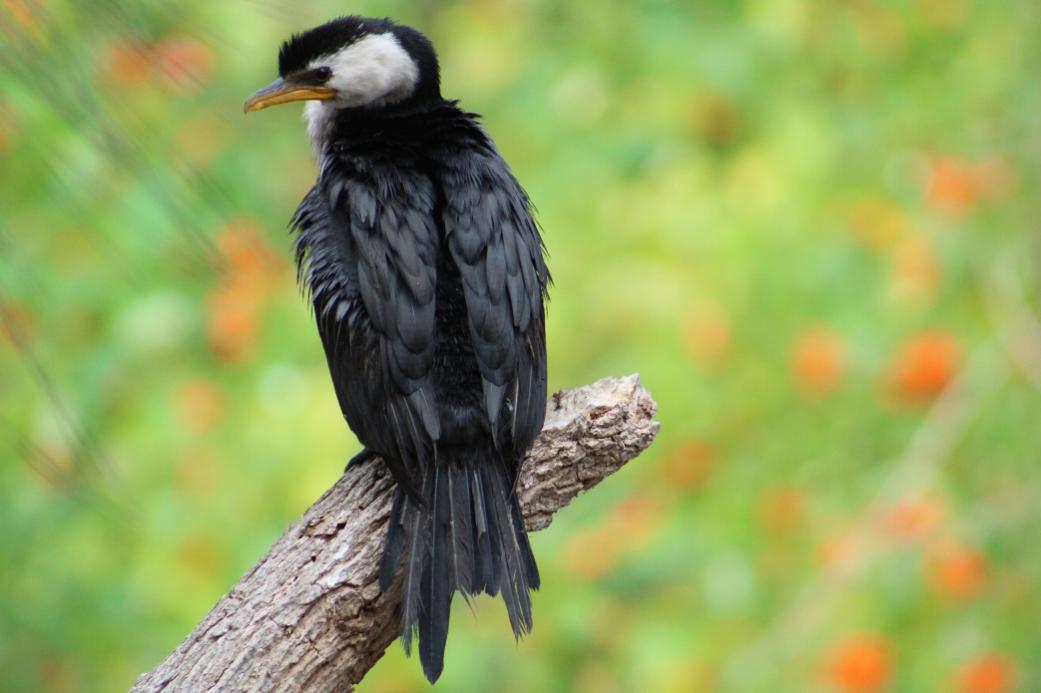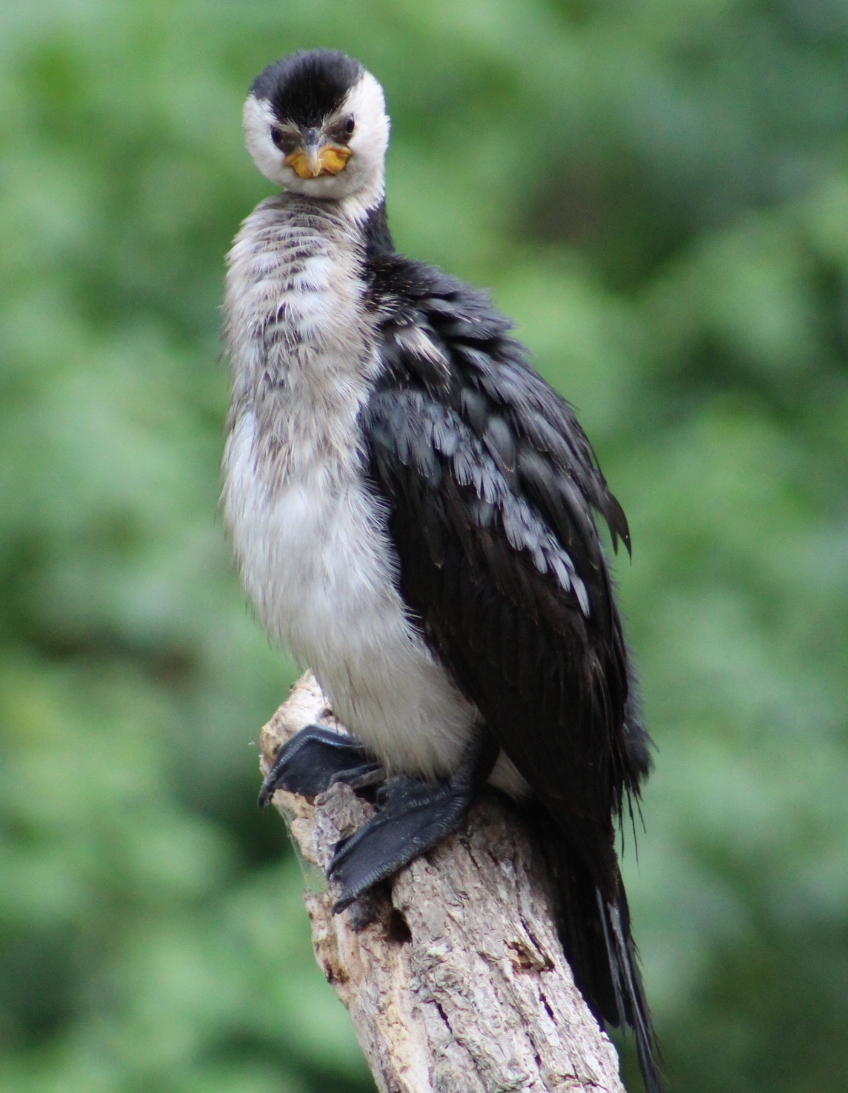 Little Pied Cormorant, little shag or kawaupaka (Microcarbo melanoleucos) in Careel Creek this week - AJG pics.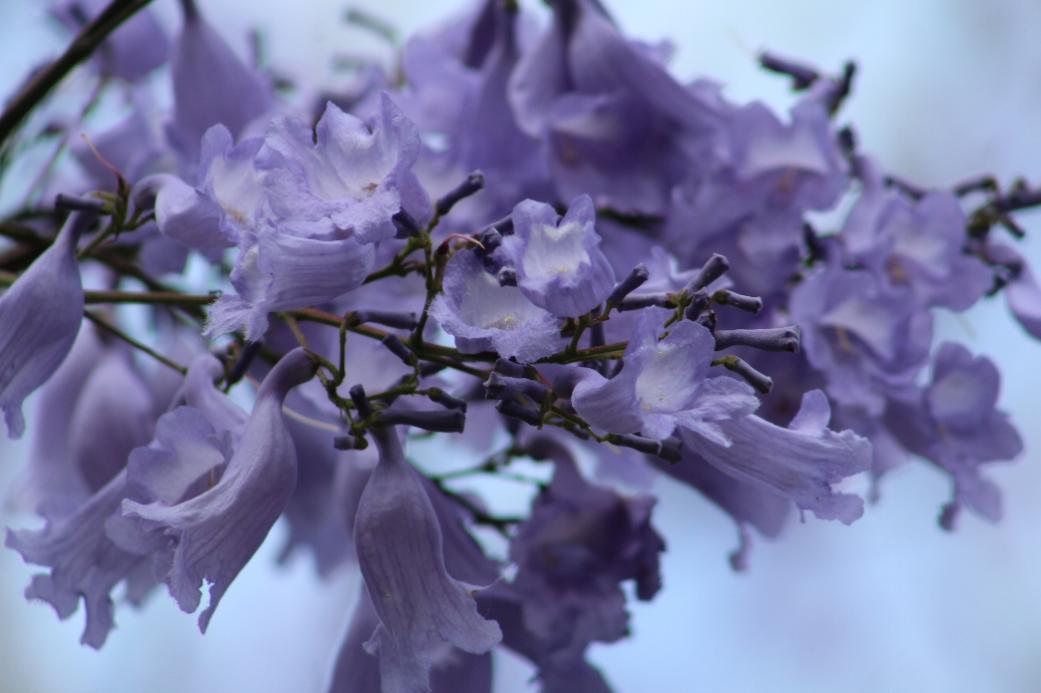 That October-November flush of Jacaranda purple carpets is above our heads and under our feet at present
Past Features Archives (pre 2014)
Pittwater Online News was selected for preservation by the State Library of New South Wales and National Library of Australia. This title is scheduled to be re-archived regularly.
Archived Issues (2014 on) may be accessed here: pandora.nla.gov.au/tep/143700