July 10 - 16, 2016: Issue 271
October 1968: Bilgola Pool Cliff Face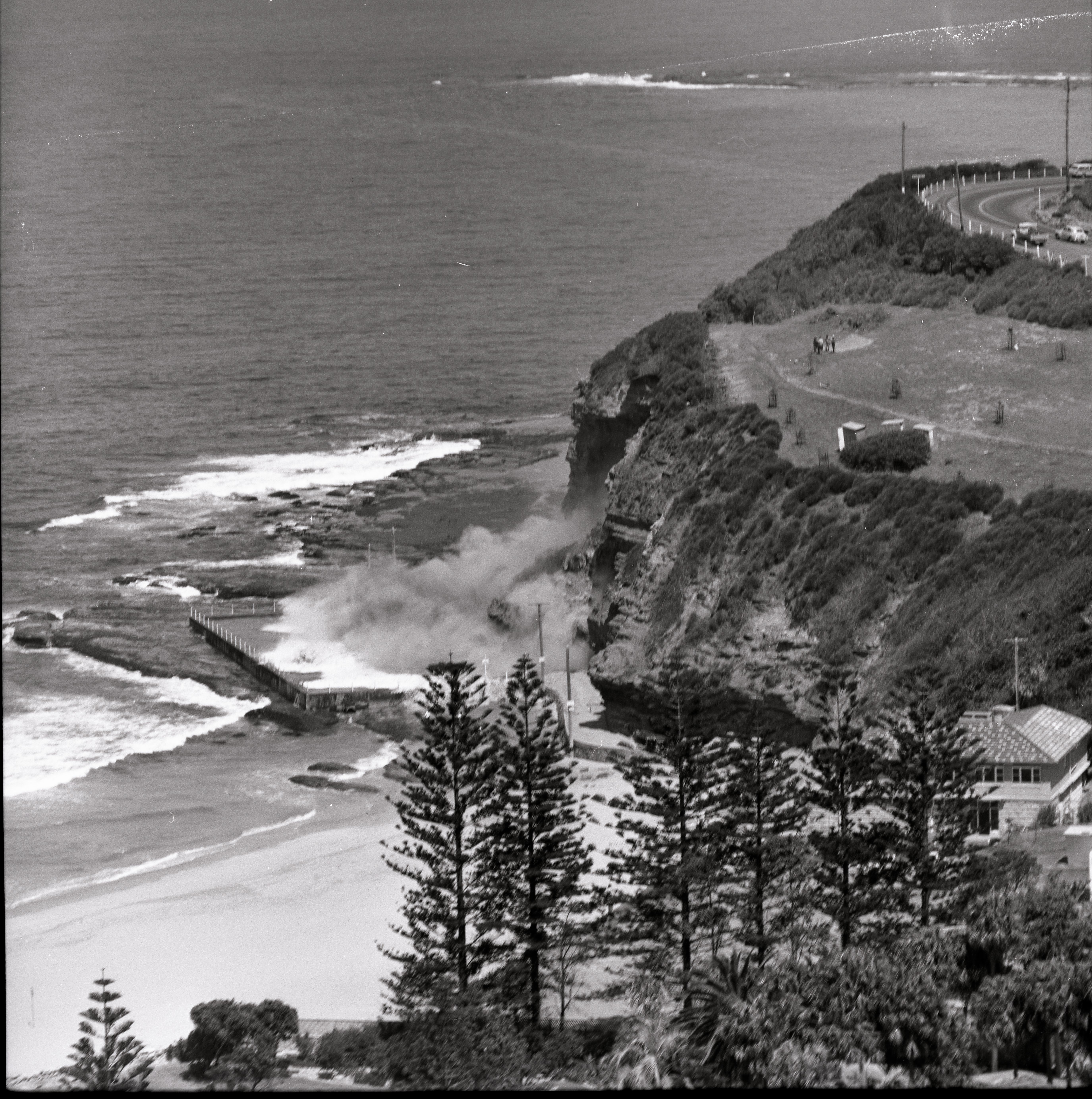 Above and below: Bilgola Beach Pool safety Works, October 1968 - photos b John W. Stone.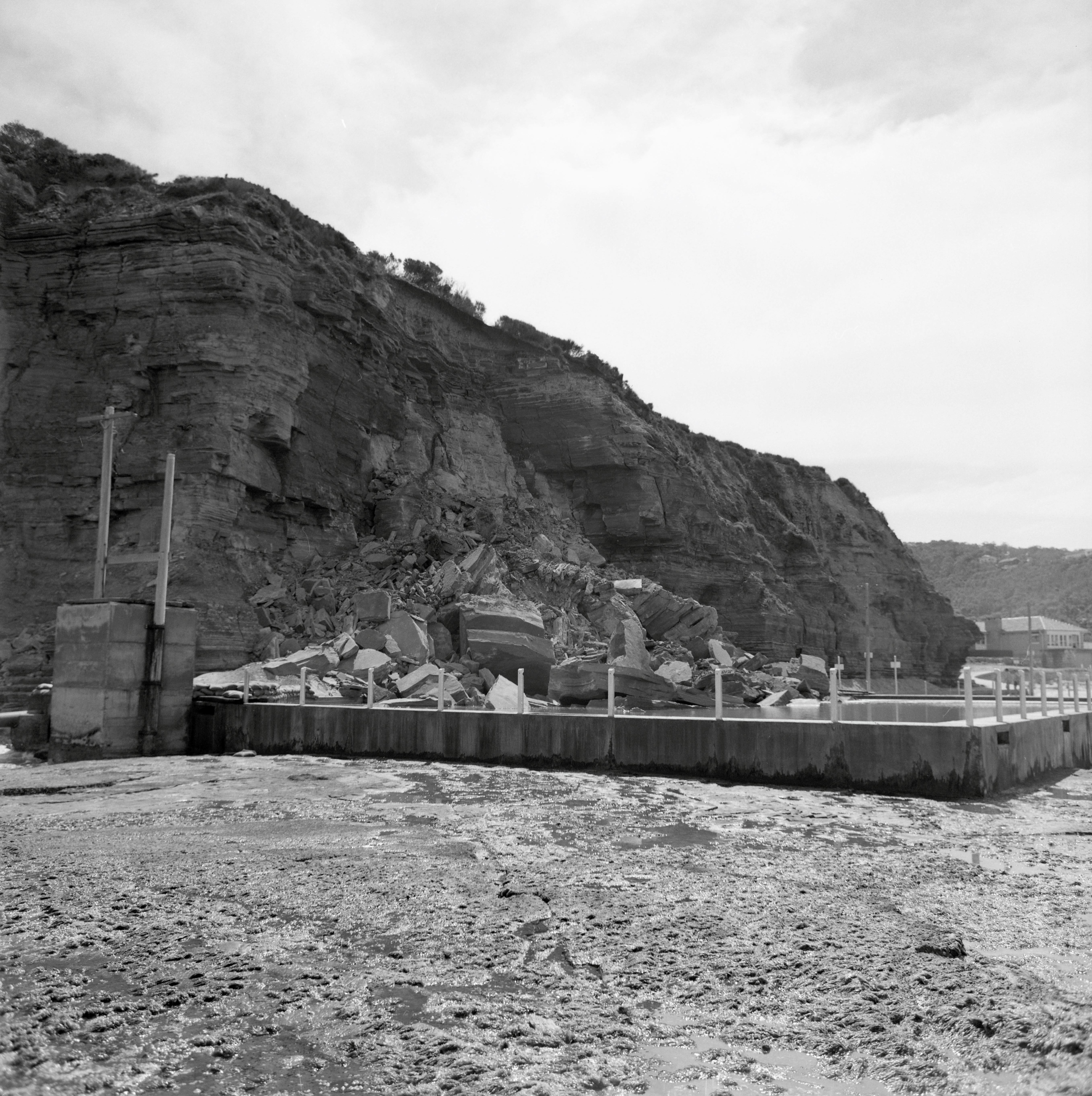 Our Profile of the Week for this Issue is John W. Stone, the gentleman who opened John Stone Photo & Record Centre in Avalon Beach in the mid-1960's and was
the
photographer for our area through the then weekly newspaper
Pittwater News
as well as the man who photographed babies at Mona Vale Hospital, Graduating Nurses, football matches, Surf Life Saving carnivals, ANZAC Day Marches and Services, wonderful landscapes - you name it, he probably took the photograph you saw or can still see of this.
Above are two from a series John took of safety works at Bilgola pool in October 1968, the top one in this set appeared in the now defunct Pittwater News. The article accompanying this states, "One of the blasts fired at Bilgola Beach last week dislodged about 3000 tons of rock that was dangerously overhanging the Bilgola swimming pool. Altogether 21 explosive charges were fired to shift the rock..."
Below is one of John's own personal favourites from among all those he took - this appeared in the May 12th, 1966 Issue of Pittwater News and shows Cadets from Pittwater High School forming the Guard of Honour at that year's ANZAC Day Commemoration Service, surrounded by local Returned Service people, with the much younger Guide Hall and a bushier Central Road in the background.
Has photography been a life-long passion for John Stone? - You bet it has!
This week, one of our greatest living treasures
HERE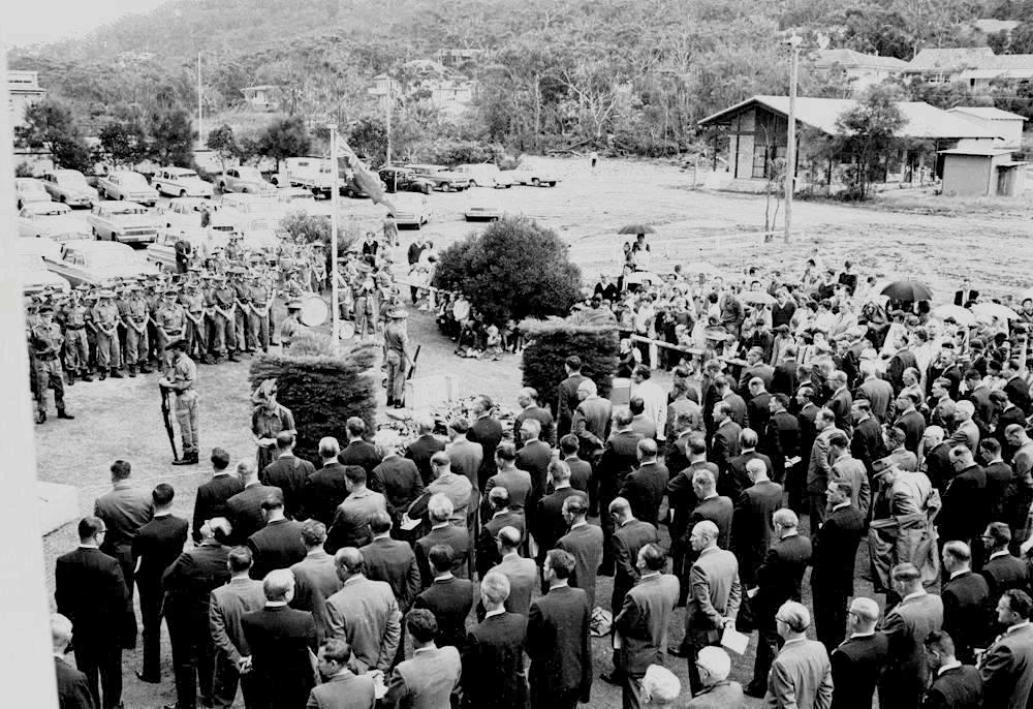 ANZAC Day Service at Avalon Beach RSL Cenotaph, April 25th 1966- photo by John W. Stone.
Unleashed Dogs In Wildlife Areas: Owners Clearly Don't Care Who They Scare
White-faced Heron in Careel Creek as three unleashed dogs and owner walk past
As you watch this white-faced heron, photographed Thursday morning, July 7th, you will notice it sees something going from right to left behind the bird-photographer, whom it's not too worried about, and edges itself further up the trunk of the tree it's standing on to get away from this something.
What this bird is seeing is three dogs off the leash and clearly is scared and attempting to put more distance between them. The owner of this three clearly didn't care that the bird was being scared by her canine companions and although they may be passive gentle dogs who would never chase a bird, the bird's reaction indicates that another 'wisdom' has been learnt by the feathered creatures who live here.
Even if you choose to disregard the signs everywhere indicating you must leash your dog, and the fact that it is law that dogs must be leashed in these areas when walking beside creeks, or kept out of them altogether when they are sanctuaries adjacent to the estuary, surely dog-walkers must realise their five minute jaunt for their furred lovelies is going through another's home. Perhaps they could consider how they would feel if an animal known to frighten dogs was given free reign to have a five minute jaunt through their dog's backyard or home.
Would you be so blasé and uncaring then?
Once at the end of the track beside the creek the owner decided to put one dog back on its lead before starting down the 'yellow brick road' into Avalon, but unfortunately another dog owner, with her dog off it's lead, was entering this path behind Barrenjoey High School to give her dog five minutes free reign in terrorising yet another creature in its home because she clearly didn't give a damn either.
Having witnessed one owner urging his Alsatian to go into the creek and chase birds, laughing while it did, or two other dogs in the creek chasing ducks, with no owners in sight for this two dog hunt pack, people may wonder if ours is the last generation to see these other residents of Pittwater living among us.
RPAYC Sailors: Win Place In 2016 Australian Sailing Youth Team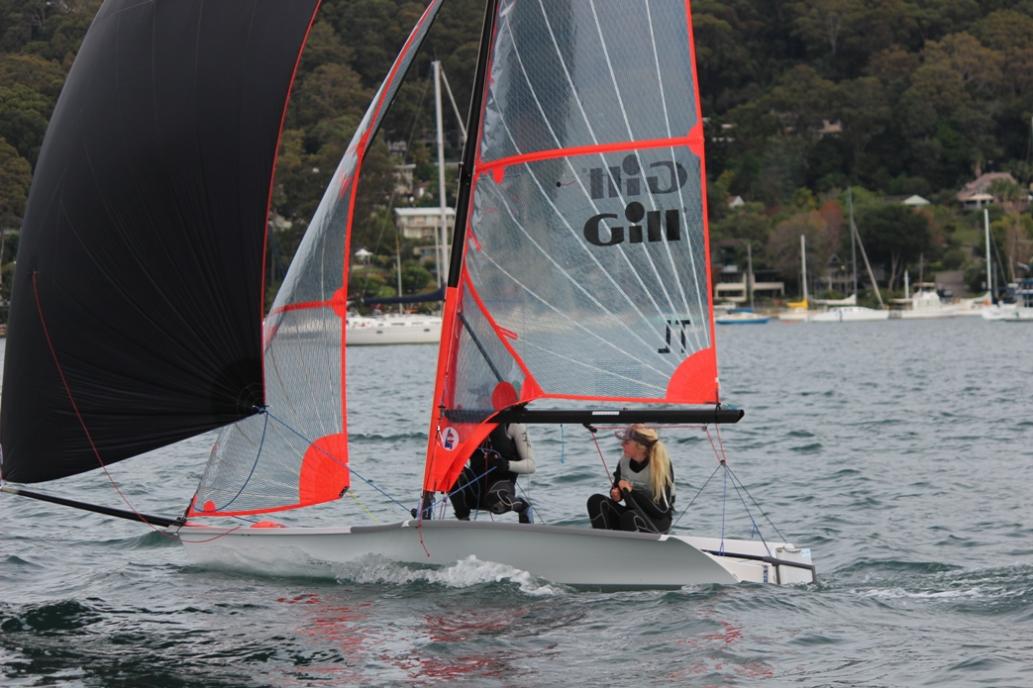 Natasha Bryant and Annie Wilmot on Pittwater - photo courtesy RPAYC
Australian Sailing announced the 2016 Australian Sailing Youth Team, who will represent their country at the 2016 Youth Sailing World Championship from 14-20 December at Torbay Sailing Club in Auckland on Thursday, July 7th.
Among the great young sailors listed are RPAYC and Objective Australia Youth Sailors Natasha Bryant and Annie Wilmot who will compete in the 29er Girls Skiff class.
In January this year this dynamic duo won the All-Girls 29er in the
2016 Australian Youth Championships
for the second year in a row and finished second overall in that class, giving the boys a good run for the whole regatta.
In 2015 the girls placed 4th in the
29er Women's Open World Championships
in Pwlheli, Wales
. With mentors such as Jason Waterhouse,
Olympics 2016 sailor,
and Traks Gordon as well as the great team at RPAYC supporting them, these young ladies will be the ones to watch!
The team members are:
Girls single-handed (Laser Radial): Zoe Thomson of Royal Freshwater Bay Sailing Club and Fremantle Sailing Club, WA
Boys single-handed (Laser Radial): Finn Alexander of Double Bay Sailing Club, NSW
Girls Windsurfer (RSX): Courtney Schoutrop of Royal Queensland Yacht Squadron, QLD
Boys Windsurfer (RSX): Alex Halank of Georges River Sailing Club, NSW
Mixed multihull (Nacra 15): Kyle Fortier and Bonnie Butler of Vincentia Sailing Club, NSW
Boys double-handed (420): Nicholas Sharman of Mornington Yacht Club and James Grogan of Black Rock Yacht Club, VIC
Girls double-handed (420): Sophie McIntosh of Gosford Sailing Club and Emily Summerell of Gosford Sailing Club, NSW
Boy's skiff (29er): John Cooley of Woollahra Sailing Club and Simon Hoffman of Belmont 16 Foot Sailing Club, NSW
Girl's skiff (29er): Natasha Bryant and Annie Wilmot of Royal Prince Alfred Yacht Club, NSW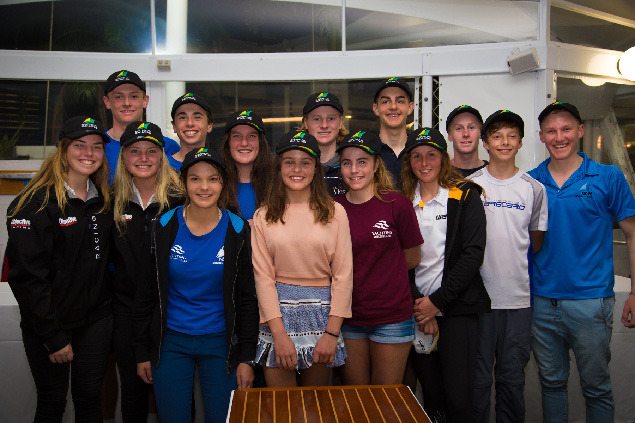 Australian Youth Sailing Team 2016 - photo by Beau Outteridge

The group who have qualified are all 'first-timers' at the Youth Sailing World Championship, and will be vying to defend the Nations Trophy, which was won by the Aussies in 2015 in Langkawi, Malaysia.
The team is still to be ratified by the Australian Sailing Board.

NSW IRB 2016 Championships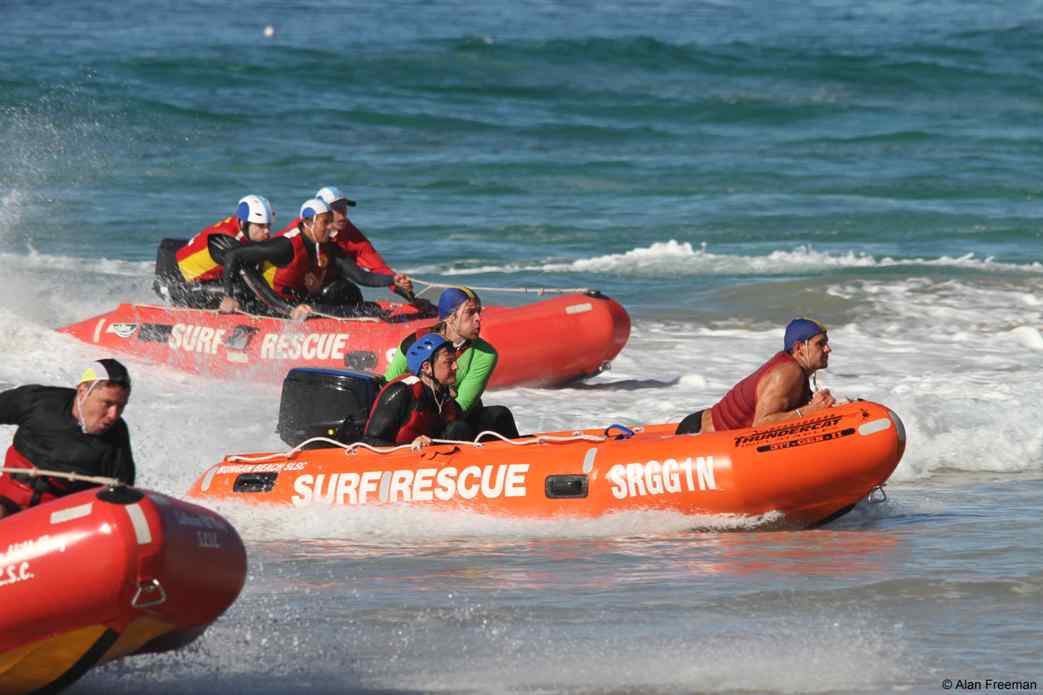 Bungan Beach SLSC IRB Team in action - photo by Alan Freeman
Pittwater IRB Teams Among The Medals At NSW IRB 2016 Championships
Another successful weekend of IRB racing at the NSW State IRB championships for Newport SLSC who walked away with a few medals!
- 3rd in the 35+ tube rescue (Matthew Edwards, Guyren Smith and Keelan Smith)
-2nd in the Novice Mass Rescue (Keelan Smith, Matthew Edwards, Siobhan Cooper, Melisse Cooper)
- 3rd in the Novice Rescue (Keelan Smith, Matthew Edwards, Melisse Cooper) Plus 5 teams making finals!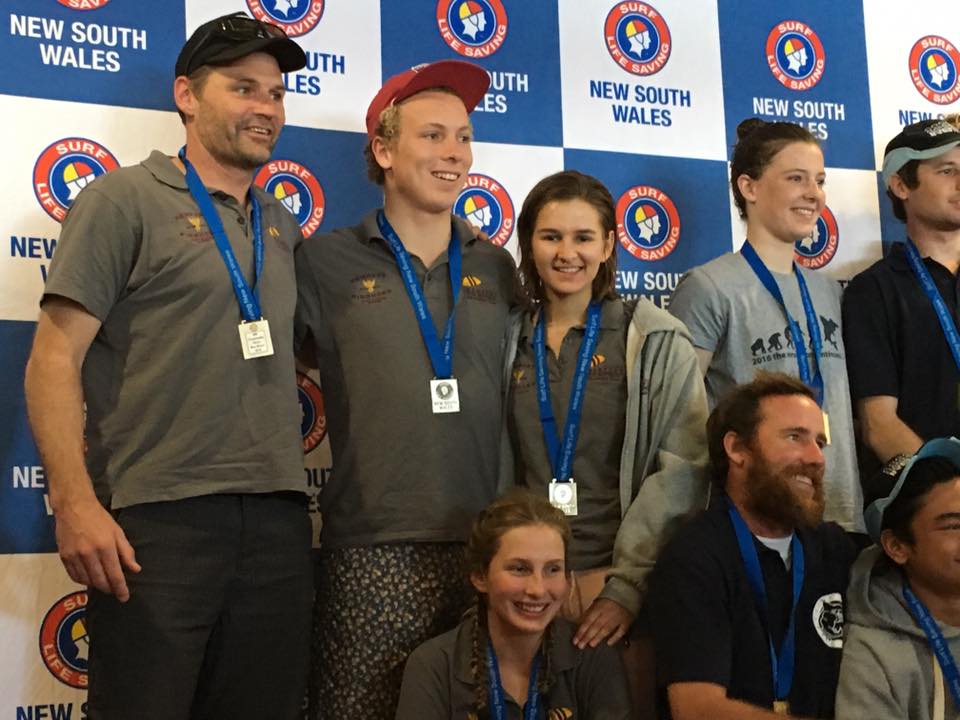 Newport SLSC - 2nd in the Novice Mass Rescue
Bungan Beach SLSC, finishing 8th in the top 10 this year, had some great results too
They won 2nd in Under 23 Mixed Tube IRB Bungan Beach SLSC Inc Stacey with the crew of Kyle Bermingham, Amber Clark and Aidan Clark. Bungan also finished 4th in Under 23 Mixed Rescue, Team Stacey again, and then won a further 2 points, finishing 5th in the Under 23 Mixed Teams IRB. Team Flying Bunghole, crew: Kyle Bermingham, Joshua Bryden, Amber Clark, Aidan Clark, Matthew Crago, and Nicholas Fewtrell.
Congratulations to members of Avalon Beach SLSC as well, Matt Mayall and Blake Taggart with patients Amelia Barber and Melissa Hall, who came 3rd in the SLSNSW State Inflatable Rescue Boat Championships at Mollymook in the Under 23 Mass Rescue event.
Avalon Beach SLSC's team had some great results with Todd Barber and Zac Dale coming Fourth in the Novice Rescue event, and in the 35+ teams event, Pete Carter Jason Dale, Alan Moran, Alan Mahn also came 4th in a very close finish. Great work by all.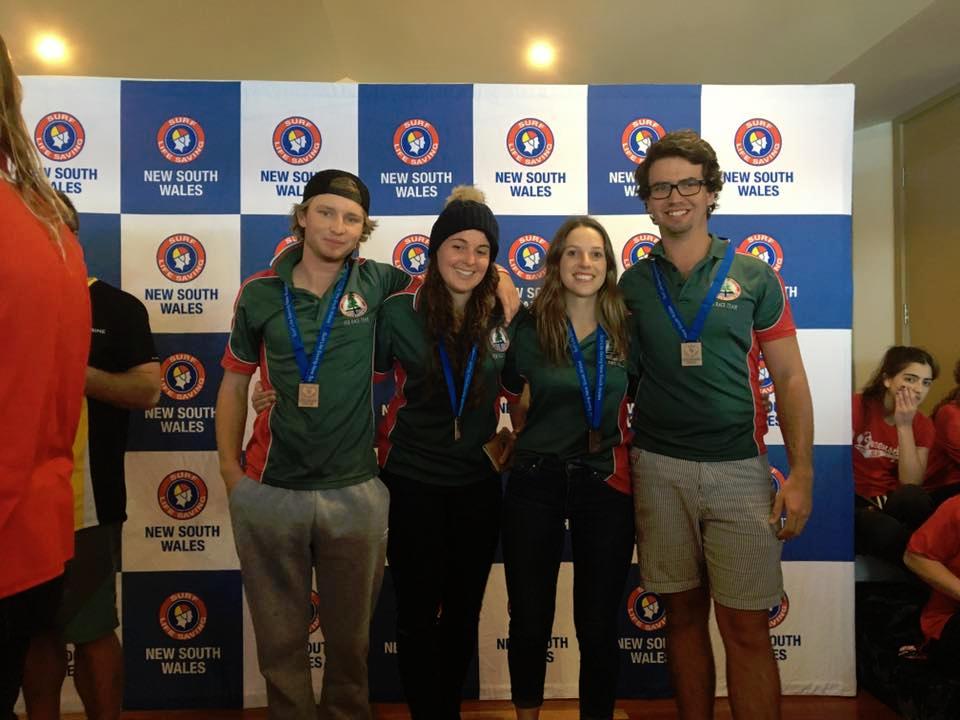 Avalon Beach SLSC - Bronze in the Under 23 Mass Rescue
Winter In Pittwater: 2016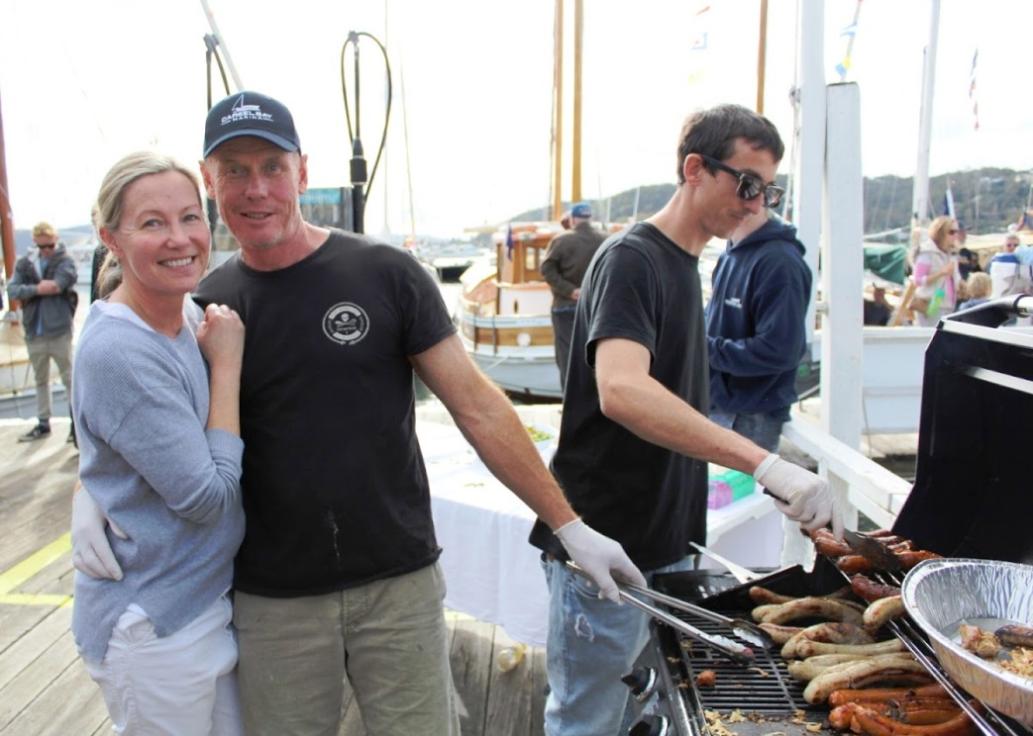 Anne-Marie and Gordon "Bluey" Woolcott, Careel Bay Marina proprietors, and crew, served up Gourmet Sausage and Salad rolls at the Inaugural Careel Bay Marine Winter Festival - July 9th, 2016.

The inaugural 'Winter Festival' at Careel Bay Marina (Saturday July 9th, 2016)featured 25 classic wooden yachts and cruisers – 17 tied up to the wharf and 8 on moorings offshore. Visitors were welcomed by a beautiful wooden skiff on entering the premises.
The car parking area was turned into a mini aquatics market place with great nautical antiques and collectibles, Artists showing Marine Art Sculptures (John Woulfe), beautiful photographs by Rita Kluge and even handmade cray pots!
Children were kept well entertained by Maria from 'Silly Cheeks' with face painting, balloon twisting and hula-hooping, while on the marina's large deck great food could be eaten while listening to some excellent live music and basking in this sheltered nook's Winter sunshine.
One attendee stated afterwards 'Best boatie winter festival I have ever been to. 5 stars!'
Others raved about what a great learning experience the Careel Bay Marina Winter Festival was for children, especially with a gentle soul like Ray Gascoigne on hand to share salty tales of yore and explain the Art of Building Ships in Bottles.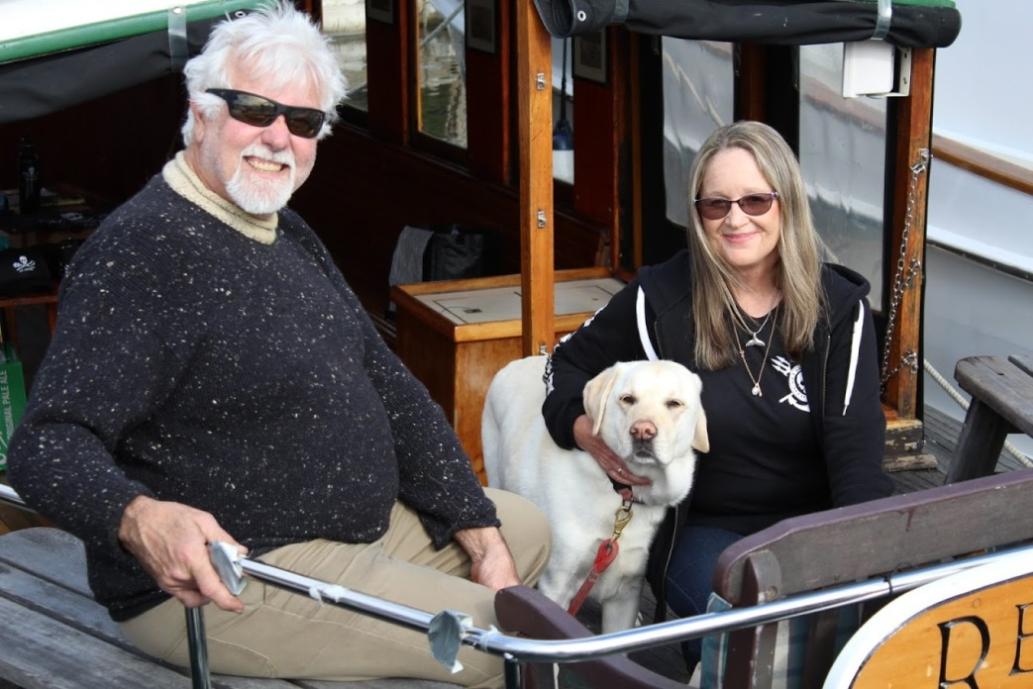 MV Reliance – built 1919 (Pittwater Ferries) owners Mark, Tess and Jools Farrell, Sea Shepherd champions.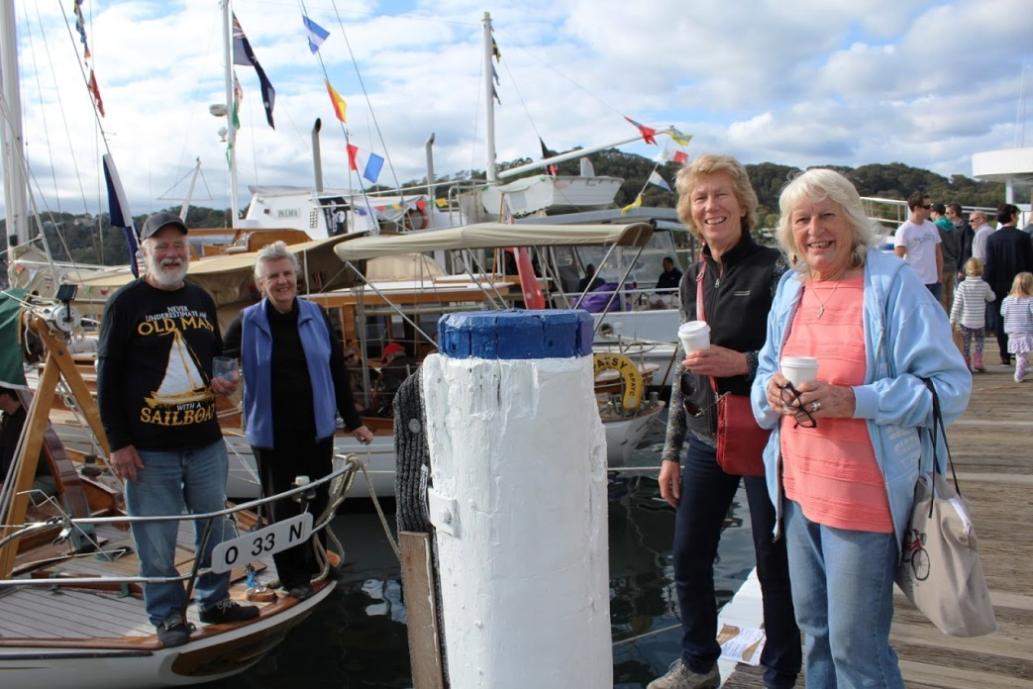 Utiekah II - built 1911 (RMYC) owners Peter and Felisa Kershaw pictured here with Palm Beach Mermaids Viktorija MacDonnell and Beryl Driver.
Past Features Archives (pre 2014)
Pittwater Online News was selected for preservation by the State Library of New South Wales and National Library of Australia. This title is scheduled to be re-archived regularly.
Archived Issues (2014 on) may be accessed here: pandora.nla.gov.au/tep/143700