May 28 - June 3, 2023: Issue 585
From the Council Chamber - May 23, 2023
By Pittwater Greens Councillor Miranda Korzy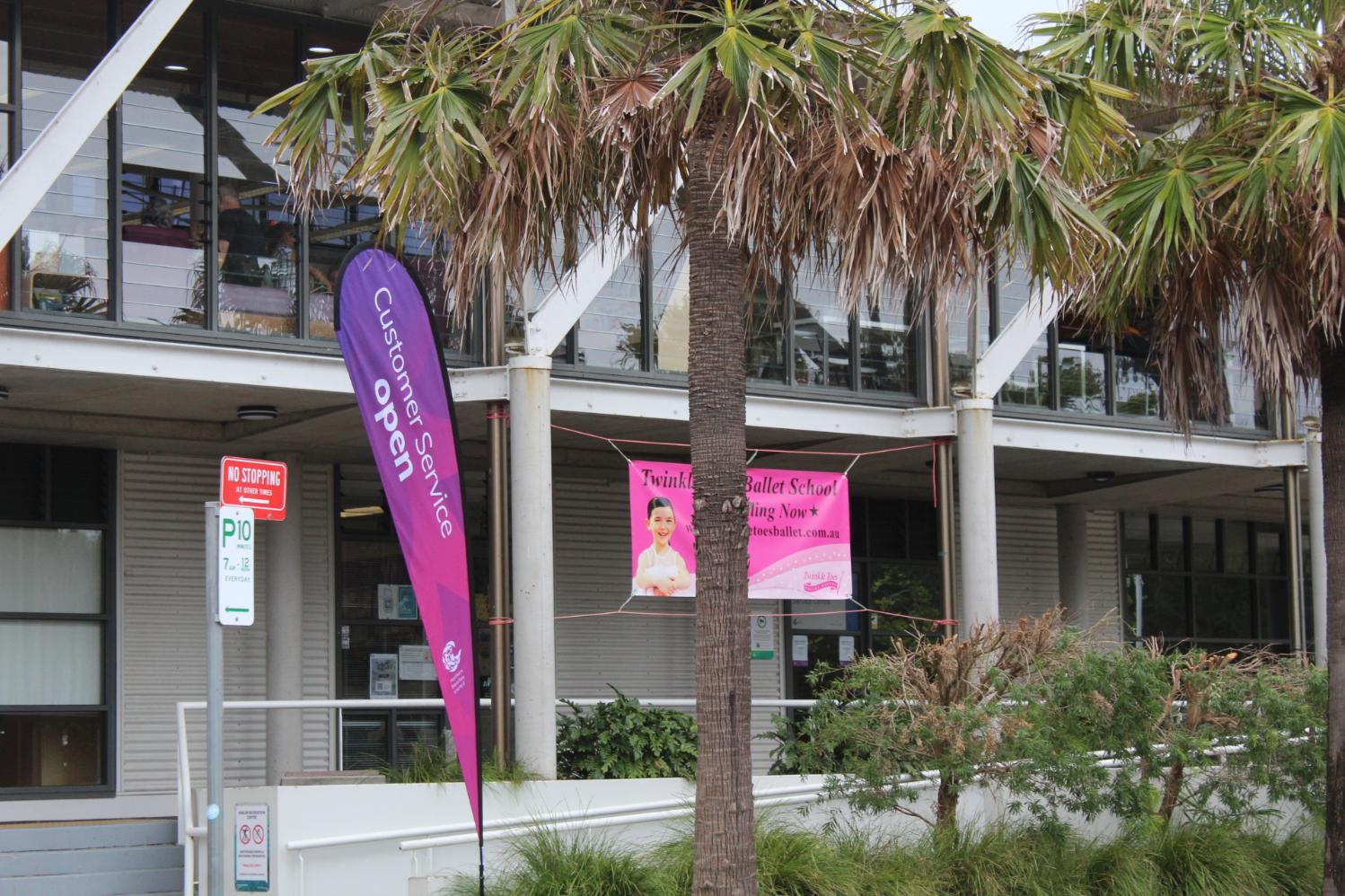 Avalon Beach Council Customer Service Centre signage, February 8, 2023.
Controversial issues on a bumper agenda for the council meeting confronted councillors last week, including the closure of the Avalon Council customer service centre (deferred), the closure of Manly's Hop, Skip and Jump bus service (rejected) and a proposal to abandon a public forum about 4G and 5G (also rejected). A new compliance policy was put forward and will soon go on public exhibition - so watch out for this on the council's Have Your Say website. After a five year wait, staff finally brought forward a revised Tree Canopy Plan - also going on exhibition soon, fingers crossed - and I hope the passage of my Weeds motion will help lead to better control of these invasive plants in our bush reserves and on local sand dunes. A return to citizenship ceremonies at Newport could be on the books and planning for a swimming centre in Pittwater begun, following votes at the meeting. But first, we have a new Deputy Mayor!
New Deputy Mayor elected for the Northern Beaches
Congratulations to new Northern Beaches Council Deputy Mayor Dave Walton!
Mr Walton was elected at Tuesday night's council meeting, replacing Sue Heins who was voted in as Mayor at the extraordinary meeting the previous week. Ms Heins in turn replaced Michael Regan, who resigned as mayor (but not from council) after winning the seat of Wakehurst at the state election.
I have no doubt Mr Walton, a Liberal Councillor, will be a great deputy, just as Ms Heins is proving a conscientious and consultative Mayor. Although we come from opposite ends of the political spectrum, I respect Mr Walton's governance expertise. A former Northern Beaches police area commander, he also has more than 20 years' experience on NSW government and commercial boards. He's also a business graduate and undertook the Corporate Governance Program at the Harvard Business School in the United States.
As the only other candidate, I gained the votes of Greens Councillor Kristyn Glanville and Narrabeen Independent Vince De Luca - with all other councillors voting for Mr Walton. Pittwater has never held the position of Mayor or Deputy on the council, the only ward not to have done so.
Mr Walton and Ms Heins, from Your Northern Beaches, both represent Curl Curl Ward - reinforcing the council's focus on the southern end of the Local Government Area.
4G and 5G Community Forum Backed by Council
Councillors reaffirmed their commitment to a forum addressing community concerns about 4G and 5G infrastructure at Tuesday's meeting.
A proposal was submitted by staff to abandon the planned forum to which stakeholders had been invited, including: the Australian Radiation Protection and Nuclear Safety Agency (ARPANSA); the International Commission on Non-Ionizing Radiation Protection (ICNIRP); Telstra; and Optus.
However, staff reported that ARPANSA, the Australian Government's primary authority on radiation protection and nuclear safety, had declined to participate, while Optus and Telstra had not responded.
Pittwater Environmental Heritage group spokesperson Anna Maria Monticelli spoke against the proposal, saying there was great concern in the community about the new technology.
Councillors had passed a motion in November 2021 for a public forum to discuss health issues surrounding 5G technology, "yet now we find it trying to back out of its commitment", Ms Monticelli said.
"Health issues (and) 5G is a constant topic in the community," Ms Monticelli told the meeting in a public address.
"The telecommunication tower in Boanbong Rd, Palm Beach, is a case in point. Within close proximity to this tower there are 10 cases I know of with residents suffering from cancer."
The fact that industry groups and public safety watchdogs were not prepared to front an open forum raised questions for me. I moved an amendment enabling the forum to go ahead but with scientific experts who could provide independent information, rather than stakeholders being invited to speak.
Mr Walton, the new Deputy Mayor and Mr De Luca observed that ARPANSA had a duty to protect the community and described past problems with it recognising council input.
Mr De Luca then moved that Council write to the federal MPs for Mackellar and Waringah, asking them to amend relevant legislation to ensure greater community and local government involvement in determining applications for telecommunications infrastructure.
The council will also report our concerns to the MPs that ARPANSA has not properly responded to Council and the community's request for the forum and ask they address this.
The new proposals, voted on point by point (known as in seriatim), passed with a strong majority - Ms Heins voting against one point and Manly Your Northern Beaches Councillor Sarah Grattan abstaining on another.
Avalon Customer Contact Centre
Avalon's council customer centre will live to see another day, after a vote to close it was deferred until a new Pittwater Councillor is in place.
Staff are once again calling for closure of the customer service centre on the grounds that it doesn't serve enough residents: the statistics say it averages only 13 visits per day.
However, as we heard at the December council meeting, while the centre staff are not serving visitors, they are answering calls and solving residents' problems on the phone - that is, the Council Customer Service Line.
Running costs for the centre are $270,000, the majority of which goes on staff costs, council executives say. Yet, they told us at the December meeting that no staff would lose their jobs if the centre closes - so savings would be limited.
New Pittwater Councillor to be revealed on June 20, 2023
Pittwater is currently represented by only two councillors, after Rory Amon resigned his post at the extraordinary council meeting of May 16 following his election as the Pittwater MP.
The NSW Electoral Commission has advised staff that it will carry out a countback of votes from the December 2021 local government election - to identify the next eligible candidate.
Countback information will be available on its website with the result available on June 20.
Hop, Skip and Jump Bus will continue to run
Another community service to survive the meeting was Manly's Hop, Skip and Jump bus, facing a motion for its cancellation from June 30, put forward by Frenchs Forest Your Northern Beaches Councillor Jose Menano-Peres.
I'm going to spend some time relaying this debate, though it doesn't directly affect Pittwater Ward, because of its implications for council services and the role residents played in saving their buses - not to mention their councillors!
The free service, which has operated for 20 years, covers four routes via Manly, Fairlight, Balgowlah, Balgowlah Heights, Clontarf and Seaforth, Monday to Friday and three routes on weekends. In the past, Manly Council requested a gold coin donation, but that has gone by the wayside since Covid, with fewer passengers carrying cash.
The buses have been under threat since last June, when an earlier motion from Mr Menano-Peres called for the buses to be run on a cost-neutral basis. That motion was defeated but in a follow up briefing to councillors in April, staff said that cutting the service to one main route would cost $335,000, saving $440,000. Completely scrapping the service would save $776,000.
Mr Menano-Peres' said in his latest motion that $1.661 million was allocated towards the service in the draft budget for the 2023/24 financial year. The latest available utilisation figures, of 151,054 from 2021/22, indicated the cost for each passenger per trip would be $10.99, he said.
However, councillors received dozens of emails from Manly residents during the previous week or so, imploring us to continue the service. Elderly residents told how they relied on the service for local shopping and doctors visits, while parents described how the service was important for their young children travelling around the area before and after school. Former Manly Greens Councillor Cathy Griffin wrote that the service was "the glue that binds the Manly community".
At the meeting Manly Councillors Sarah Grattan (Your Northern Beaches), Georgia Ryburn (Liberal) and Candy Bingham (Good for Manly) mounted a passionate and strongly reasoned defence of the service, based on statistics provided by staff. Ms Grattan said that in fact, the cost of the service would be about $776,000 and the cost of each trip would be more like $4.07 per passenger, $2.51 on the main route clockwise around Manly. On pre-Covid usage figures of more than 300,000 passengers, the cost would drop to $1.72 per passenger per trip.
Meanwhile, Manly was the most densely populated area of the Northern Beaches, with hilly terrain, limited parking, poorly serviced by public transport and two million tourists per year.
"This is not a short term physical decision - it's the lifeblood of Manly," she told the meeting.
Ms Ryburn also spoke against the motion, saying Manly Ward pays $19 million more in rates per year than Frenchs Forest Ward.
Ms Bingham described the service as a "community on wheels", and compared the costs per ride to the council subsidies for those in the Pittwater Ward - where she said staff figures showed each garbage collection from Scotland Island cost council more than $1,000 in subsidies per resident and each of the 12,000 games played at Avalon Golf Course per year is subsidised by $25 from council.
Frenchs Forest Councillor Stuart Sprott told the meeting that: "Not all services we provide make money. In fact, many of them don't."
I echoed his comments, saying that council services should be based on need and I would like to see a similar service considered for Mr Menano-Peres' own Frenchs Forest Ward, where public transport is very poor.
An amendment to retain the service was proposed by Ms Grattan, noting that:
A. "The operating cost budgeted for FY23/24 for the Hop, Skip, Jump bus service is $0.76 million.
B. Four buses, upgraded for accessibility, are required at a total capital cost of $885,000, of which $605,000 has been set aside in the plant reserve.
C. Considering the latest available utilisation figures (to March 2023) of 191,000, the cost per passenger / trip to our ratepayers is $4.07.
D. No public consultation has been undertaken regarding any changes to, or cancellation of, the Hop, Skip, Jump bus service.
The amendment was accepted as the motion and passed by all councillors except Mr Menano-Peres.
Compliance policy going on public consultation
Got a gripe about council compliance? Residents will be able to review and comment on the council's latest draft compliance policy, after it was unanimously approved at Tuesday's council meeting.
The policy, up for its three-yearly review, provides a guide for investigating residents' concerns related to public safety, environmental harm, or unauthorised development.
A number of new sections are outlined in the council papers, including how customer concerns are managed, a risk based approach on how issues are triaged (with matters identified as greatest risk taking priority), and discretion in determining whether to take action. An expanded section on private certifiers has also been incorporated, with information on reporting concerns about private certifiers.
Mr De Luca asked who had been consulted in the development of the policy, to which staff responded that it had been workshopped with the environmental compliance team, before going out on public exhibition.
Staff stated in their report that: "The current policy has operated effectively since its adoption, however the current review and internal consultation has identified opportunities to further refine the content of the policy to make it more concise, with repetitive or irrelevant content removed."
I challenged this statement, saying there is significant anger in the community about compliance failures in areas such as inappropriate development, tree protection and dogs on beaches. I'm also unclear, I said, as to whether it's a result of the current policy, a lack of funding or short staffing.
Ms Glanville described the weakness of enforcement measures related to the policy.
"For many, the threat of compliance action is a cost of doing business," she told the meeting.
Watch out for the policy on council's Have Your Say section of the website.
Building and Development Compliance report suggests increasing Private Certifiers Powers
Meanwhile, a report from staff on building and compliance - following a motion at the March meeting calling for an investigation into the operation of the private certification scheme and compliance within the community - was also presented to councillors at the meeting.
The numbers of compliance queries between 2020 and 2023 were revealed in the report, with those for the Building Compliance section totalling 410, Bushland 570, Tree Services 769, and Coast and Catchment 257.
Over the same period, 50 infringements were issued, with a total value of $144,000.
And for anyone in any doubt as to why compliance can appear so ineffectual, the report notes the Building Control team has only six full-time compliance officers who investigate approximately 2,800 matters a year.
For investigations into unauthorised tree and vegetation removal, there is currently only one officer at any time, "who can have up to 100 active investigations to manage", the report said.
The motion that had been moved in March by Ms Glanville, an environment and planning lawyer, was a response to the widespread anger across the LGA expressed by residents about issues such as inappropriate development and illegal tree removal.
"I thank staff for the report and their initiative in raising issues that I had not asked for," she told the meeting.
However, she said there were some aspects of which she wasn't completely convinced, including conflicts of interest.
One of the staff proposals was a recommendation to the NSW government for changes to the Environmental Planning and Assessment Act to give private certifiers enforcement powers.
Staff argued that this could end scenarios in which a private certifier recommended a client ask for retrospective approval for work from the council, rather than asking for the work to be removed or demolished.
A large number of councillors felt, like me, that this would not remedy the underlying problem of a conflict of interest - where a certifier would be expected to enforce rules with someone who is paying them.
In response to the original motion, staff had proposed writing to the NSW government and a range of other interested parties, to recommend this and a number of other less controversial measures.
However, I successfully moved an amendment that the letters not be sent until the issues could be discussed at a councillor briefing about compliance issues on June 6. All councillors then voted for the motion, except Narrabeen YNB Councillor Ruth Robins, who was absent.
Stand by for more action regarding compliance, with a services review of this area also coming up soon …
Eco Schools Grants
Congratulations to Dee Why Public School and Arranounbai School, winners of this year's Eco School grants from council.
The grants, which were approved unanimously at the council meeting, allocate a maximum of $2,000 per school (or a total of $10,000) across 5 streams, namely: bush regeneration; carbon reduction; waste reduction; sustainability education; water reuse and reduction.
Dee Why Public School was awarded $2,000 for a Closed Loop Orchard Project, while Arranounbai School will receive $1,902 for a Bush Tucker Native Garden project.
Councillors and staff were disappointed by the small number of applications this year - with only the two schools applying - meaning that $6,098 remains. This will be directed to the Greener Communities group program and used for resourcing and updating equipment to support school excursions and activities with school-aged children.
However, staff will also survey schools to discover the reasons for the low number of applications.
Tree Canopy Plan to go on public exhibition - again!
A new draft of the council's Tree Canopy Plan will finally go on exhibition after being presented at Tuesday's night's meeting.
The motion calling for the plan was originally moved by Frenchs Forest Liberal Councillor Stuart Sprott in 2017, with the draft going on public exhibition in 2018. The life of this plan was meant to be five years, however it received heavy criticism from local ecologists, bushcarers and experts in tree preservation.
I have been calling for the revised plan to be brought to council since early last year - so was delighted to see it in this month's agenda.
However, a cursory reading of the document led me to the following reservations about the draft, which I noted at the meeting. First of all, the plan focuses on trees on public land, but we need to encourage the community to retain canopy on private land - which across Australia, including the Northern Beaches, is where the greatest tree loss is occurring.
This is particularly important with the draft's proposal for an Iconic (otherwise known as Significant) Tree Register. I welcome the proposal for the register, but in Pittwater and other parts of the LGA we have magnificent mature trees in our backyards that deserve recognition. Other councils include private trees in their registers.
The National Trust provides a list of criteria for Significant Trees which the draft implicitly recognises in its proposal for an Iconic Tree register as follows: scientific, social, historic or aesthetic significance.
Currently the document's section regarding Changes in Tree Canopy reads like a PR piece on council's tree management. However, we have figures indicating tree loss across the LGA has been close to 30,000 specimens since the inauguration of the NBC (excluding those cut down under the 10/50 clearing laws), so I would like to see this included in the plan.
Finally, I believe the plan needs an explicit reference to "Developing a succession planting plan", given that many of our mature trees may be 150 or more years old and approaching the end of their lives, while new seedlings struggle to escape lawn mowers in grass.
Mr Sprott thanked staff for the plan, and also noted concerns about lack of attention to trees on private land. "Everyone knows that if trees could vote, I would be Mayor," he said.
Mr De Luca touched on this theme too, saying that we need to be vigilant about trees on private land and developers removing them.
The draft was accepted unanimously.
Boost to Weed Control and Support for Bushcare Volunteers on its way
For those struggling to work out if a plant in their garden is a weed or not, council passed my motion on Tuesday for better public information to identify weeds and a report into how to prevent their sale and engage more bushcarers.
Volunteer bushcarers often tell me about weeds proliferating in parks, reserves and dunes across the LGA. In April, one wrote to councillors, complaining about the neglect of a previously well maintained bushcare site at Mona Vale Dunes. Volunteers had weeded and regenerated the site, but since then, it had returned to its previous state of infestation, leaving them wondering at the futility of their work.
The motion was largely written by Northern Beaches Greens convenor Evan Turner, in consultation with Pittwater Natural Heritage Association (PNHA) members and Conservation and Land Management experts. PNHA secretary and veteran bush regenerator Marita Macrae addressed the meeting about the extent of the weed problem, and local ecologist Jayden Walsh discussed the broader implications for the environment.
Originally, the motion noted the massive ecological and economic cost associated with the proliferation of weed species in the Northern Beaches Local Government Area. To combat this it proposed building community awareness of weed species to curb their proliferation in residential gardens; and encouraging community involvement in bushcare. (This earlier section was dropped to incorporate an amendment.)
Developing a comprehensive and accessible new section of the council website, detailing all local priority weeds, was the first measure proposed. Secondly, a public education campaign about weed control, for example on social media, with pamphlets and fridge magnets to help build community awareness.
The motion also called for a report within four months into opportunities for engaging more bushcare volunteers, especially young people, and particularly high school students, to increase the volunteer base and enable transfer of important local knowledge from older and more experienced volunteers.
Recommendations for ways Council could discourage the sale of weeds species by local plant nurseries and community markets, and consideration of the weed potential of native plant species and ways to control their spread, were also key points.
Ms Grattan moved an amendment that I was happy to accept into the motion, that basically rearranged some points and added a clause: that staff re-assess the timing and prioritisations of service reviews and the possible inclusion of "weed control and management" amongst them.
Mr Glanville and Mr De Luca both mentioned that council has a legal duty to manage biosecurity risks such as weeds.
"This is not optional - we need to be better at exploring how we can manage weeds," Ms Glanville said.
"The entire area is plagued by weeds," Mr De Luca said.
"Residents point out the danger of vermin and foxes running around in them."
"I do think it's time we prioritise this issue."
Ms Heins said bushcarers did amazing work.
"After two years of lockdowns and (wet) weather it must have been absolutely heartbreaking, then add in the bike tracks," she said.
"We must do as much as we can… I hope we get more bushcare volunteers out of this as well."
I thanked the 350-plus volunteer bushcarers who work at over 50 different sites throughout the Northern Beaches, conserving and regenerating publicly owned bushland.
The environment is the number one priority of all Northern Beaches residents and our bushcarers help ensure the survival of our precious vegetation and habitat, I said.
The proliferation of weeds on the Northern Beaches is also a significant cost to the council. In the current financial year, we budgeted $5 million for bush regeneration - on top of more than 6,000 volunteer hours.
"It would benefit us and the environment if we better supported our volunteers, many in their 70s with professional expertise, and engage new recruits who could learn from them," I told the meeting.
"Young people have expressed a wish, via the Youth Voice Action Plan, to join community activities with older residents. Some local schools have run bushcare programs for school sport and many support Duke of Ed programs with a volunteering element. These could be great avenues for mentoring and building the ranks of volunteers.
"The proliferation of weeds in private gardens throughout the Northern Beaches is also a significant issue that often results in spread to council-managed areas. Many of these weeds are sold to and cultivated by residents, for example, Prickly Pear.
"In the past, Prickly Pear escaped from gardens, colonising parts of Bangalley Headland at Avalon, and the cliffs between Dee Why and North Curl Curl. Yet with the current fashion for architectural plants, we see Prickly Pear returning to private gardens and outside local businesses."
"Various plant species, native to NSW but not the Northern Beaches, also have invasive potential and are creating major issues in local ecosystems whilst requiring council funding to control.
"Tuckeroos, for example, were planted as street trees in Pittwater but are now spread by birds and multiplying in local reserves. These species should not be planted by council on public land and we should discourage the sale and cultivation of these as for other weed species."
The motion passed unanimously.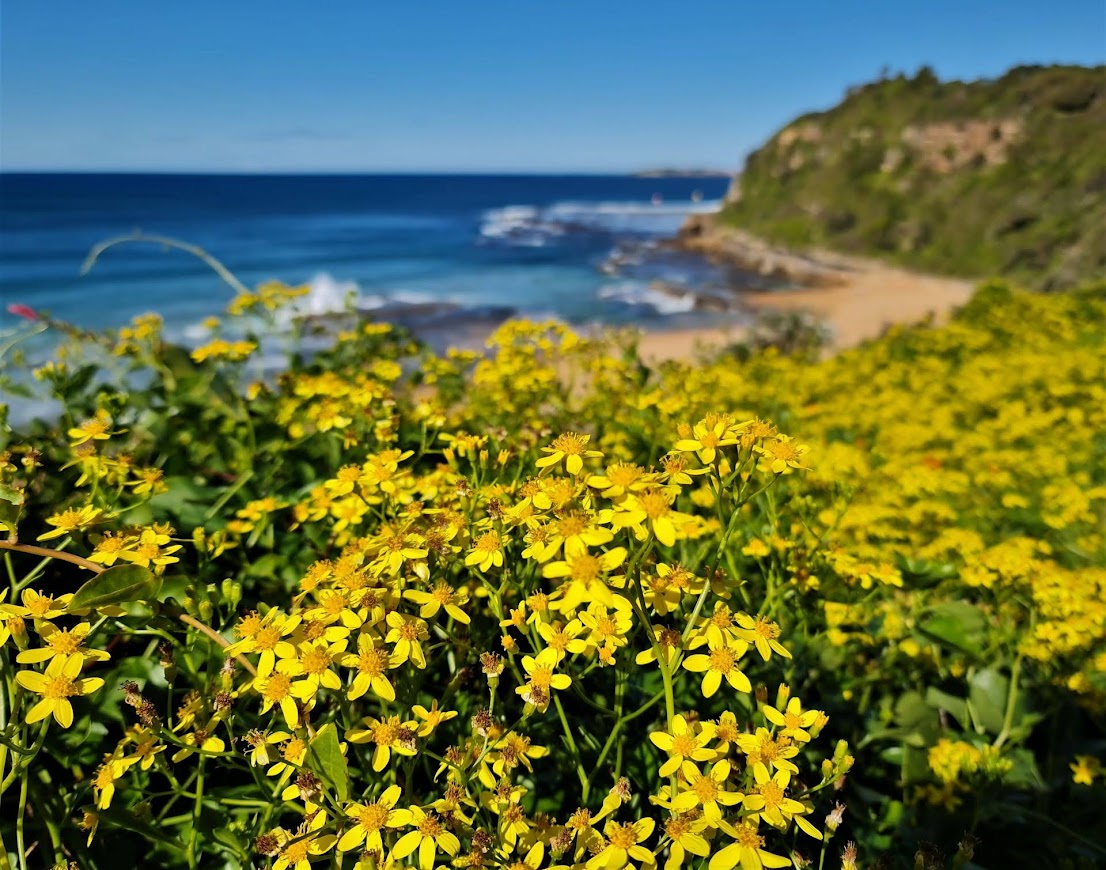 Just a little bit of Senecio angulatus in flower on May 21st 2023 at Turimetta. Also known as creeping groundsel and Cape ivy, is a succulent flowering plant in the family Asteraceae that is native to South Africa. Cape ivy is a scrambling herb that becomes an aggressive weed once established, making it an invasive species. Senecio angulatus is a significant environmental weed in Victoria and an emerging environmental weed in South Australia, Tasmania, New South Wales and Western Australia. Photo: Joe Mills

Citizenship Ceremonies - will they return to Newport?
Citizenship ceremonies could make a return to Newport on January 26 next year, following a motion to council, originally proposed by former Pittwater Councillor Rory Amon.
Currently, citizenship ceremonies are held only at Glen St Theatre, at Belrose.
Pittwater Your Northern Beaches Councillor Michael Gencher moved the motion, with Manly Liberal Georgia Ryburn seconding it.
Mr Gencher told the meeting: "I love a citizenship ceremony" and that it was 32 years since his own. (He migrated to Australia from Canada.)
"One of the things that I loved is that it was done in my community with my friends," he said.
"I love the current ones at Glen Street but there's something lovely about a familiar local village ceremony."
The Newport Beach citizenship ceremonies were "perceived to have been special" to Pittwater, he said.
Ms Ryburn also said she supported the point of the motion, "to celebrate Aussies and Aussies on the beach".
I moved an amendment that the mention of "Australia Day" be replaced with "Invasion Day", but Mr Menano-Peres said the government doesn't officially recognise Invasion Day. The Mayor then ruled the amendment out on a Point of Order.
I then moved a second amendment, that:
1.Council officers prepare a proposal for trialling a citizenship ceremony in Newport in 2024.
2.Council staff investigate options for citizenship ceremonies in all wards at appropriate venues for significant dates throughout the year and if a local Aboriginal resident could be invited to carry out an acknowledgement of country at citizenship ceremonies.
3. The proposal be brought to Council's August 2023 meeting for further consideration.
However, most councillors were opposed to the amendment, with only me and Ms Glanville supporting it.
The original motion then passed with the support of me, Mr Walton, Mr Gencher, Ms Heins, Mr De Luca, Mr Sprott, Narrabeen Liberal Councillor Bianca Crvelin and Ms Ryburn. I voted for it because I believe most Pittwater residents would like to see the return of citizenship ceremonies to Newport, although I would not attend one on January 26 because it is offensive to many First Nations people.
Against the motion were Ms Glanville, Ms Bingham, Mr Regan, Ms Robins, Mr Menano-Pires and Ms Grattan. Whilst I'm pretty sure Ms Glanville voted against the motion because of its association with Invasion Day, some others like Mr Regan are likely to have been opposed to decentralising the ceremony.
Swimming Centre proposed for Pittwater
Local swimmers will be invited to join a working group to identify a location for a Pittwater aquatic centre, following a vote by councillors at last week's council meeting.
Former Pittwater Councillor Rory Amon, before his move to the NSW Parliament, submitted a motion for the Council to form a "Learn2Swim working group", consisting of Pittwater Ward Councillors, relevant members of staff and Learn2Swim providers.
Mr Gencher moved the motion, which I seconded. He explained that Pitwater has a shortage of swimming pools where children can learn to swim.
However, as I told the meeting, many residents have been calling for a public swimming centre in Pittwater for at least 20 years, including the Avalon Bilgola Swimming Club, so I moved an amendment to broaden the scope of the motion as follows:
Council form a swimming centre working group, consisting of Pittwater Ward Councillors and relevant members of staff.
Council invite swimming clubs and residents who are regular swimmers to participate in the working group.
The working group settle its Terms of Reference at its first meeting, including giving consideration to possible sites for a public Aquatic Centre in the Pittwater Ward and facilities including for swimming lessons, squad training, water aerobics, seniors' swim meets and general recreation.
Mr Gencher was happy to adopt my amendment into the motion, suggesting the inclusion of swimming schools into the list of those to be invited to join the working group. Mr De Luca's recommendation to include Warringah Amateur Swimming Association was also accepted.
The motion was supported by all councillors except the new Mayor.