February 10 - 16, 2019: Issue 393
Friendly's MO to GO! in 2019 world's greatest shave - the 21st year
You read it here first folks!
Brian Friend OAM is raising funds for the Worlds Greatest Shave and that Mo will GO on Friday March 15th at the Avalon Beach Community Centre (front steps) at 6 p.m.
In this exclusive interview we delve into the deep thoughts that have led to one of Pittwater's favourite coach and referee of knee-high rugby players deciding to, after many decades of avoiding it, shave off that upper lip hair verandah!
No more will his every word be festooned with 'blurrgh' through being spoken via that broom of hair. No more will photos of him with a hairy grin appear in this magazine - at least not this footy season!
"Under pressure from my 2 eight (8) year old granddaughters I am saying good bye to the old MO that has adorned my face for the past 43 years. " Friendly explained this week.
"I was asked for a 'password' by this organisation and I replied 'Against my will'. "
I will be supporting the Leukemia Foundation for research into cancer of the blood which has now reared it's ugly head in my family.
On the 15th March, 2019 I will be unveiling the upper lip with the help of these two fine young ladies under the 'guidance' on one Kylie Leach (hairdresser and charity legend)."
In 2019, the Leukaemia Foundation will celebrate 21 years of the World's Greatest Shave campaign. The World's Greatest Shave began back in 1998 and is now one of Australia's biggest and most loved fundraising events.
More than 2 million Aussies have taken part over the past two decades, with an estimated 37,5000 kilograms of hair removed!
People of all ages will shave, colour, or wax the hair on their head, chest or face – supported all the way by proud family, friends, colleagues and classmates
Some will have a personal connection to blood cancer, while others take part simply to have fun, tick a bucket list box and raise money for a good cause.
Did you know?
More than 12,000 Australians will develop leukaemia, lymphoma or myeloma this year – or 35 people every day.
Blood cancer claims the lives of more Australians than breast cancer and melanoma.
Leukaemia, lymphoma and myeloma are types of blood cancer. They can develop in anyone, at any time at any age.
Money raised from World's Greatest Shave funds blood cancer research and free support through the Leukaemia Foundation.
The Leukaemia Foundation is the only Australia-wide charity dedicated to the care and cure of people with leukaemia, lymphoma, myeloma and related blood disorders.
That's why so many people are as passionate as us about this campaign... and why your support is so vital.
Our exclusive interview with Friendly on all things Mo gives great insight into the male institution known as The Friendly Type 1A (or even A1) Mo*:
When did you first decide to grow a mo – was it in the 1970s'?
I commenced it's life as a mouldy old, half hairy item the protruded from under my nose (which I might add had been broken twice in footy).

Is this the same continuous Mo from that first one?
Yep, but varied in colour depending on what it's occupation and age is. (pipe smoking : Yellow....Beer drinking : frothy....eating curry :red.)

Upkeep – how much grooming is required to maintain a mo?
Trimming, washing, snipping any thing to keep me handsome.

Have you had another version of a Mo – a longer or shorter one perhaps?
It was like an old RAF (Royal Air Force) Mo where the ends were a bit curly but I looked like an old chimney sweep.

Has your Mo ever gotten in the way of an opposition player during Masters Rugby League?
Only when I have given him a gob full. I do like to give opposition players a dose of the 'tom tits' and the Mo get pouted.

Have you ever considered twirling your mo? Maybe putting a bit of a hair lengthener in there and getting it permed?
Over my dead body. The short and curlies belong to Robyn.

What do you think will be the benefits of being Mo-less? (apart from wife and grandchildren getting mo-less kisses)
No bastard will recognise me and I can do 'armed hold ups' and not get be a suspect.

Do you think, once it has gone, you will try to grow it back again?
Friggin oath, I have a character to maintain....it has been my 'signature face for 43 years' END OF STORY.

For the record - some 'before' photos: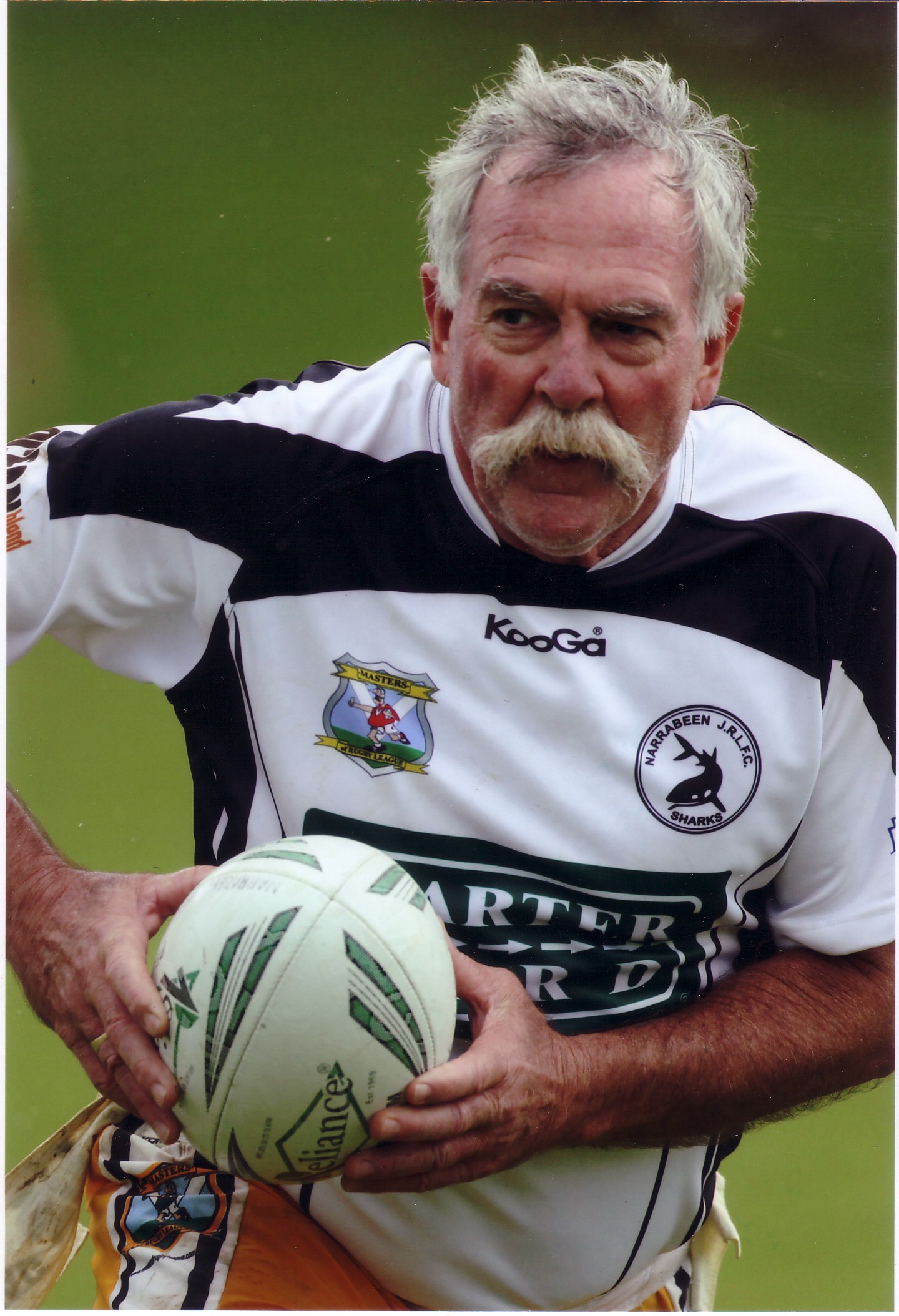 A Masters Rugby champion - 2010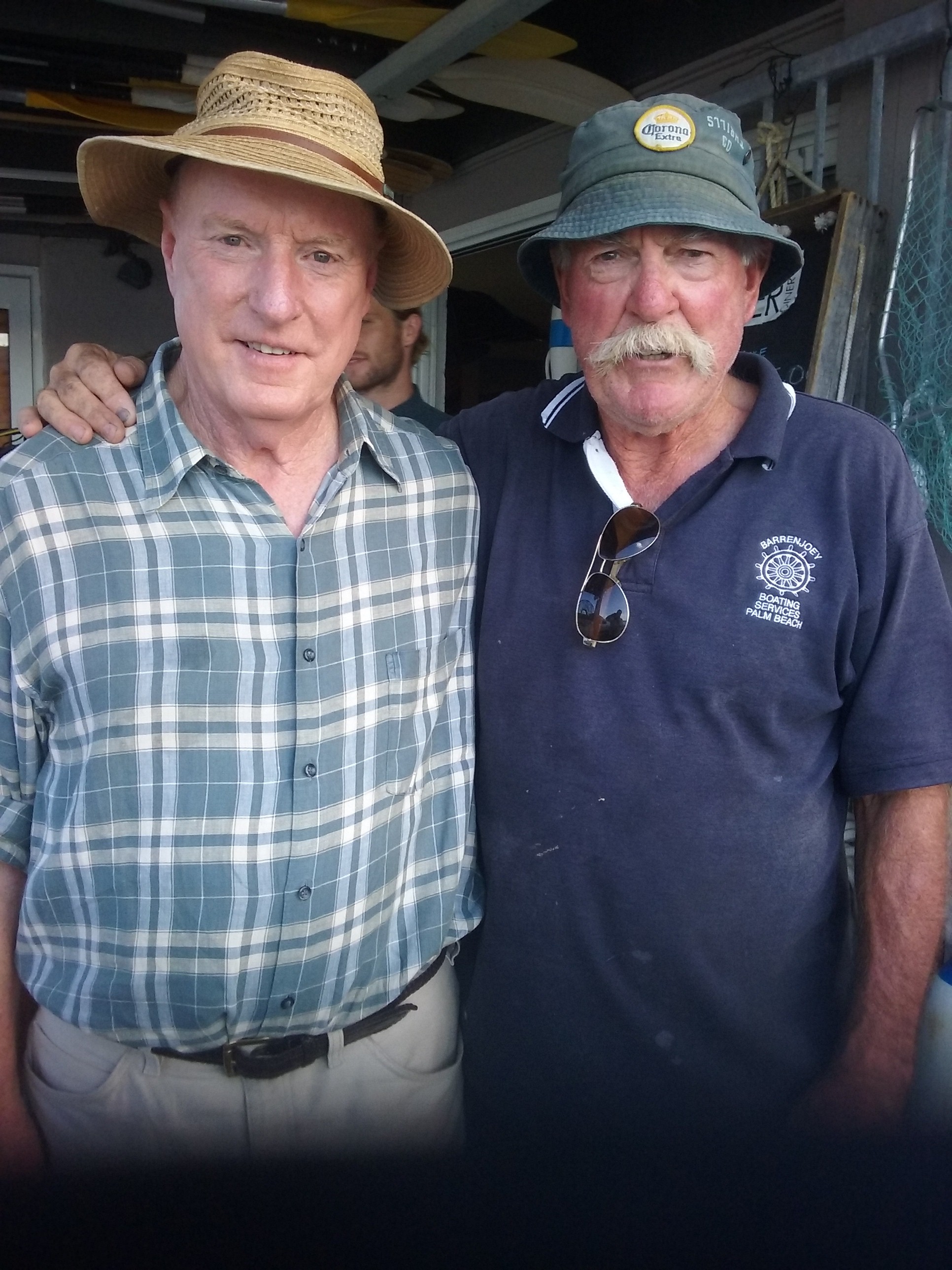 With 'Alf' from Home & Away at Barrenjoey Boating Services, Palm Beach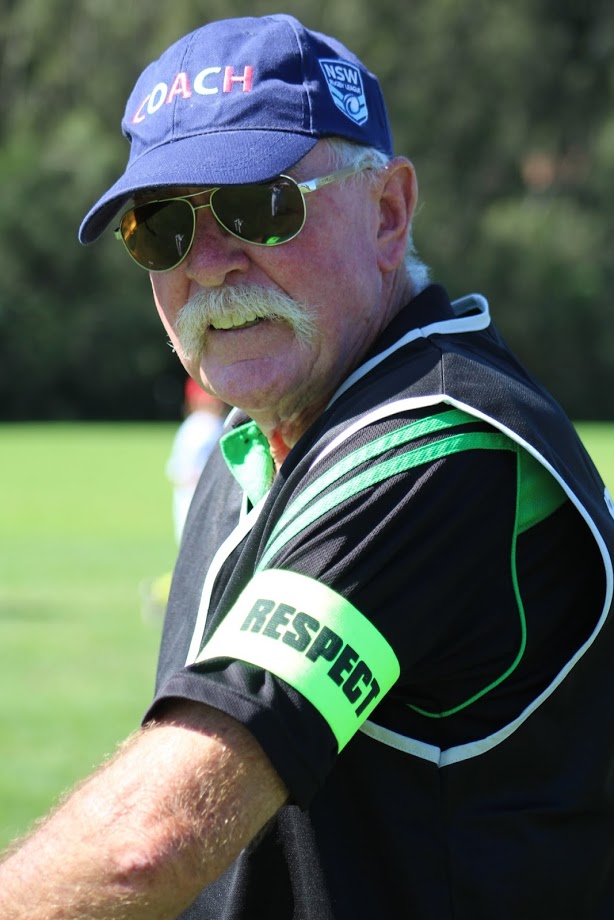 The Coach - the Ref - Avalon Bulldogs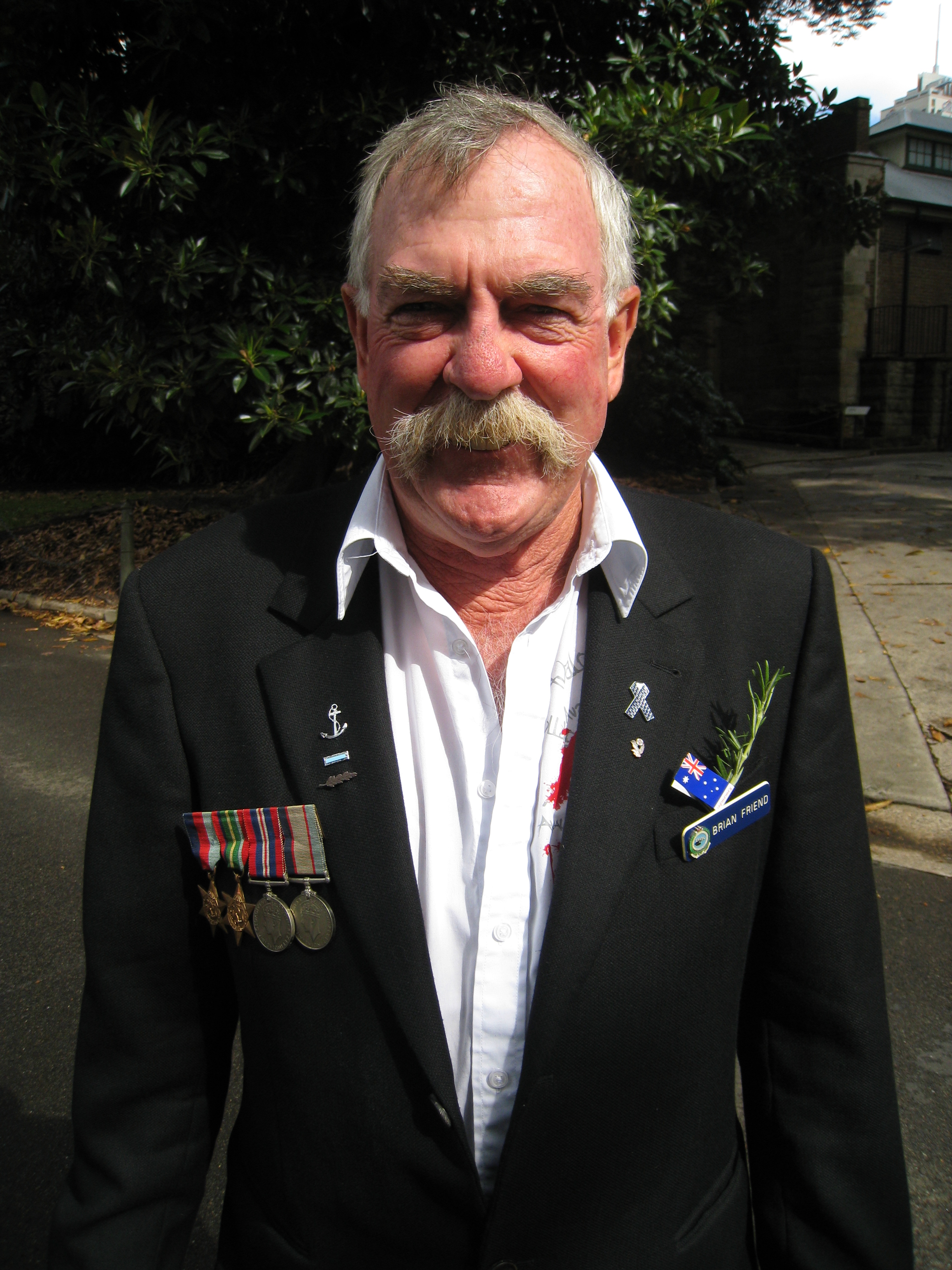 ANZAC Day Services

Witnesses Welcome!
Some MO History*
*The word "moustache" is French, and is derived from the Italian moustacio (fourteenth century), dialectal mostaccio (16th century), from Medieval Latin moustaccium (eighth century), Medieval Greek μουστάκιον (moustakion), attested in the ninth century, which ultimately originates as a diminutive of Hellenistic Greek (mustax, mustak-), meaning "upper lip" or "facial hair", probably derived from Hellenistic Greek (mullon), "lip".
Moustaches worn by men in Western militaries trace their origins back to the 18th century Hungarian hussar cavalry units, which, in combination with their pronounced uniforms, were meant to strike fear into enemies. The moustache soon spread to other European light cavalry units including the 10th Light Dragoons, which became the 10th Royal Hussars in 1806. A moustache in the 19th century signified the difference between soldier and civilian, and was also a popular fashion among the aristocracy. Moustache popularity in the 19th century peaked in the 1880s and 1890s coinciding with a popularity in the military virtues of the day.
A traditional Indian belief is that a man's facial hair is a sign of his virility. This caused a problem during the time of British Raj in the 19th Century and, as a result, Indian moustaches had a profound effect on British facial hair. The British Army, who were clean shaven until that time, had difficulty maintaining authority among the Indian soldiers, who saw their officers' lack of a moustache, beard and sideburns as a lack of manliness. Eventually British officers began to cultivate moustaches and other facial hair to gain the respect of their troops. The trend of sporting a moustache spread quickly through the army and then back home amongst the general British civilian population.
Shaving with stone razors was technologically possible from Neolithic times. A mustache is depicted on a statue of the 4th Dynasty Egyptian prince Rahotep (c. 2550 BC). Another ancient portrait showing a shaved man with a moustache is an ancient Iranian (Scythian) horseman from 300 BC.
Styles
The World Beard and Moustache Championships 2007 had six sub-categories for moustaches:
Dalí – narrow, long points bent or curved steeply upward; areas past the corner of the mouth must be shaved. Artificial styling aids needed. Named after Salvador Dalí.
English moustache – narrow, beginning at the middle of the upper lip the whiskers are very long and pulled to the side, slightly curled; the ends are pointed slightly upward; areas past the corner of the mouth usually shaved. Artificial styling may be needed.
Freestyle – All moustaches that do not match other classes. The hairs are allowed to start growing from up to a maximum of 1.5 cm beyond the end of the upper lip. Aids are allowed.
Hungarian – Big and bushy, beginning from the middle of the upper lip and pulled to the side. The hairs are allowed to start growing from up to a maximum of 1.5 cm beyond the end of the upper lip.
Imperial – whiskers growing from both the upper lip and cheeks, curled upward (distinct from the royale, or impériale)
Natural – Moustache may be styled without aids.
Other types of moustache include:
Chevron – covering the area between the nose and the upper lip, out to the edges of the upper lip but no further. Popular in 1970s and 1980s American and British culture (Ron Jeremy, Richard Petty, Freddie Mercury, Bruce Forsyth and Tom Selleck are noted for their chevrons).
Fu Manchu – long, downward pointing ends, generally beyond the chin.
Handlebar – bushy, with small upward pointing ends. See baseball pitcher Rollie Fingers.
Horseshoe – Often confused with the Handlebar Moustache, the horseshoe was possibly popularised by modern cowboys and consists of a full moustache with vertical extensions from the corners of the lips down to the jawline and resembling an upside-down horseshoe. Also known as "biker moustache". Worn by Hulk Hogan and Bill Kelliher.
Pancho Villa – similar to the Fu Manchu but thicker; also known as a "droopy moustache". Also similar to the Horseshoe. A Pancho Villa is much longer and bushier than the moustache normally worn by the historical Pancho Villa.
Pencil moustache – narrow, straight and thin as if drawn on by a pencil, closely clipped, outlining the upper lip, with a wide shaven gap between the nose and moustache. Popular in the 1940s, and particularly associated with Clark Gable. More recently, it has been recognised as the moustache of choice for the fictional character Gomez Addams in the 1990s series of films based on The Addams Family. Also known as a Mouth-brow, and worn by Vincent Price, John Waters, Little Richard, Sean Penn and Chris Cornell.
Toothbrush – thick, but shaved except for about an inch (2.5 cm) in the centre; associated with Charlie Chaplin, Oliver Hardy and Michael Jordan in his commercials for Hanes.
Walrus – bushy, hanging down over the lips, often entirely covering the mouth. Worn by Mark Twain, Richard Brautigan, John R. Bolton, Wilford Brimley, Friedrich Nietzsche, Jeff "Skunk" Baxter and Jamie Hyneman.
According to a study performed by Nigel Barber, results have shown a strong correlation between a good marriage market for women and an increased number of moustaches worn by the male population. By comparing the number of males pictured in Illustrated London News sporting a moustache against the ratio of single women to single men, the similar trends in the two over the years would suggest that these two factors are correlated. Barber suggests that this correlation may be due to the fact that men with moustaches are perceived to be more attractive, industrious, creative, masculine, dominant and mature by both men and women, as supported by the research conducted by Hellström and Tekle.

From Wikipedaia