Inbox and Environment News: Issue 426
October 27 - November 2, 2019: Issue 426
500,000 Prawns Stocked Into Narrabeen Lagoon!
October 26, 2019: NSW DPI
Half a million juvenile eastern king prawns have been stocked into Narrabeen Lagoon, on Sydney's Northern Beaches. These prawns will reach catchable size over the coming summer holidays and into 2020.
This latest stocking will hopefully result in great prawning opportunities in the Lagoon over coming months.
As locals no doubt know, the Lagoon is currently closed, a situation which tends to improve prawning as the tasty little crustaceans can't escape out to sea!
Recreational fishers can use a hand-held dip or scoop net to target prawns in Narrabeen Lagoon - drag nets or push/scissor nets are prohibited in these waters.
A daily limit of 10 litres of prawns applies in NSW.
This Narrabeen Lagoon prawn stocking is a great example of your fishing licence at work!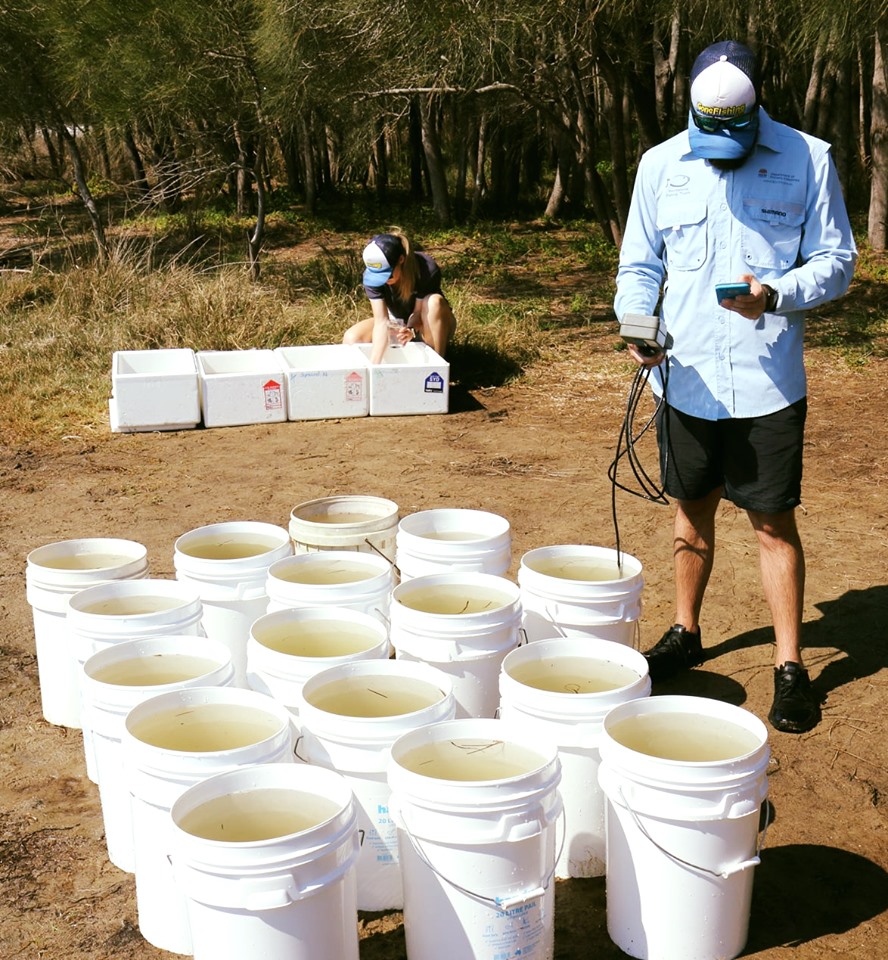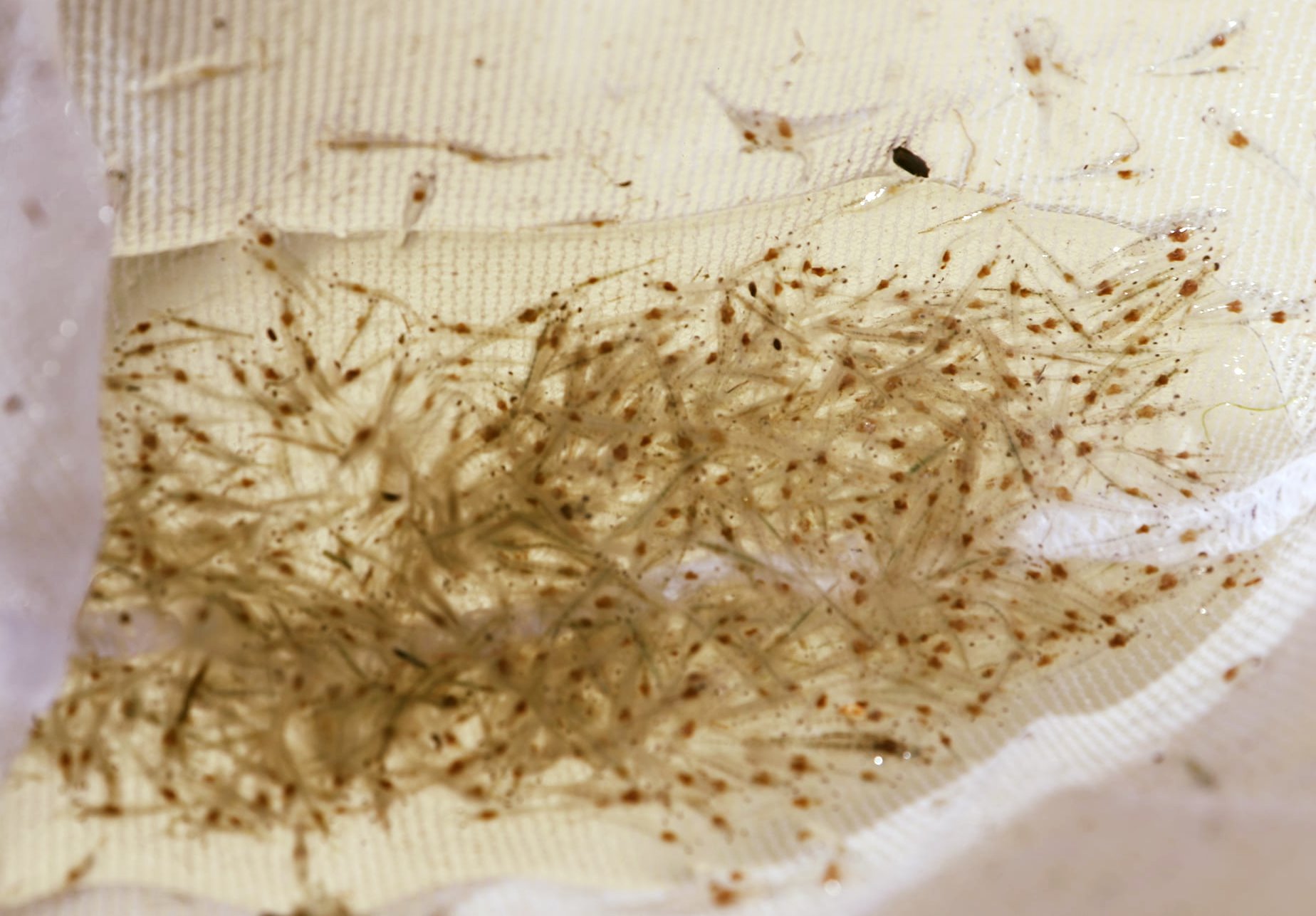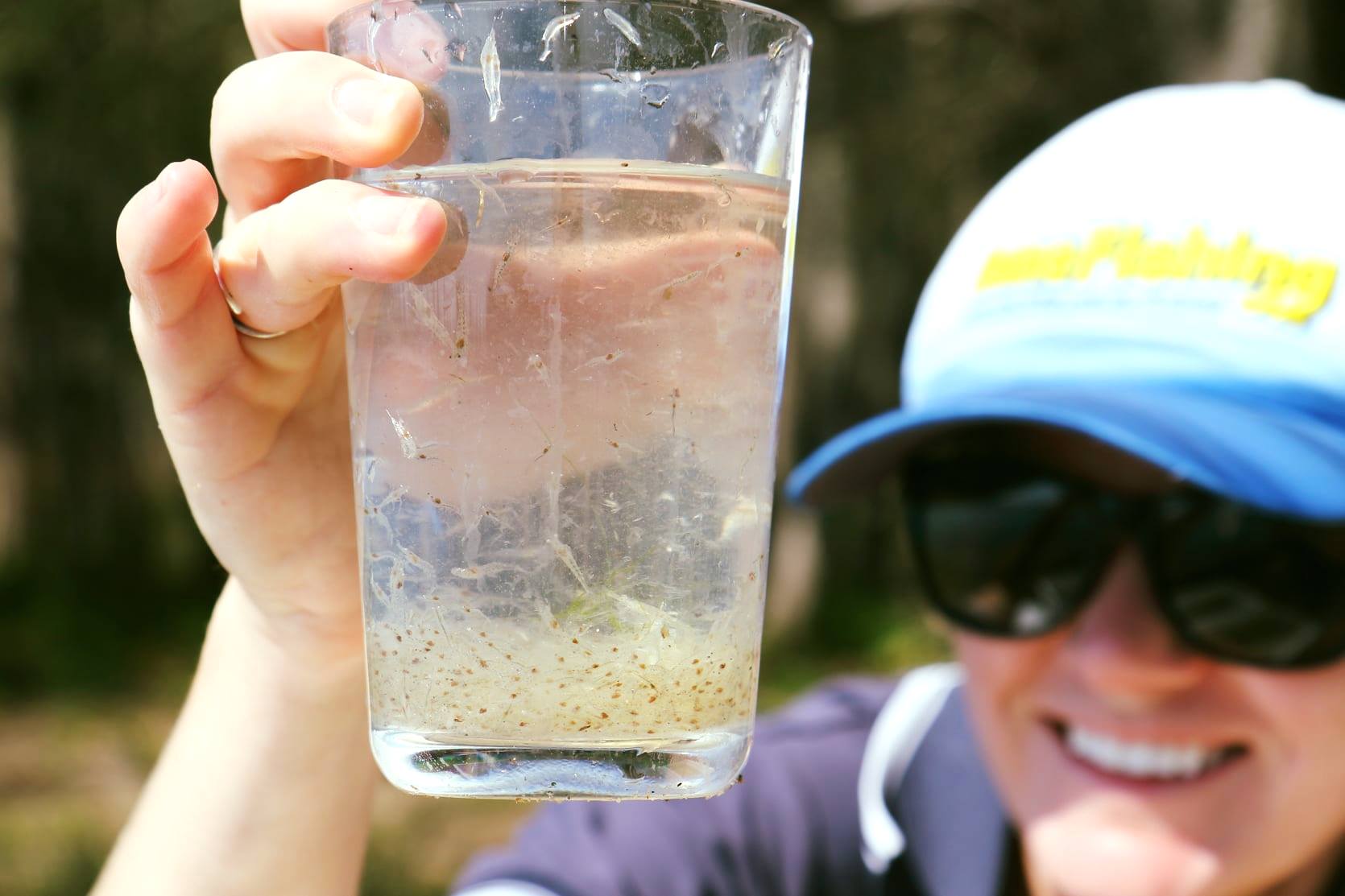 Citizen Scientists Butterfly Project
October 26, 2019: Threatened Species Commissioner ·
This week, a new citizen science initiative took flight (pun intended).
Butterflies Australia allows amateur butterfly-watchers to record and upload sightings across Australia. The project aims to track and conserve the insects by creating a database of sightings.
One of the biggest problems facing butterflies is a lack of scientific data. On the Atlas of Living Australia, there are currently less than 250,000 records for butterflies, compared to 40 million for birds. The information gathered will give scientists crucial information that will help at-risk species.
There are about 440 butterfly species in Australia – but there could be more! Researchers are optimistic that the app will help identify new species.
If you're out in nature this weekend, I recommend downloading the app and get spotting. Butterflies are a great species to target, as they're active during the day, and often large and beautifully coloured. The app also includes a nifty field guide to help identify species – so you can learn more about the butterflies you find.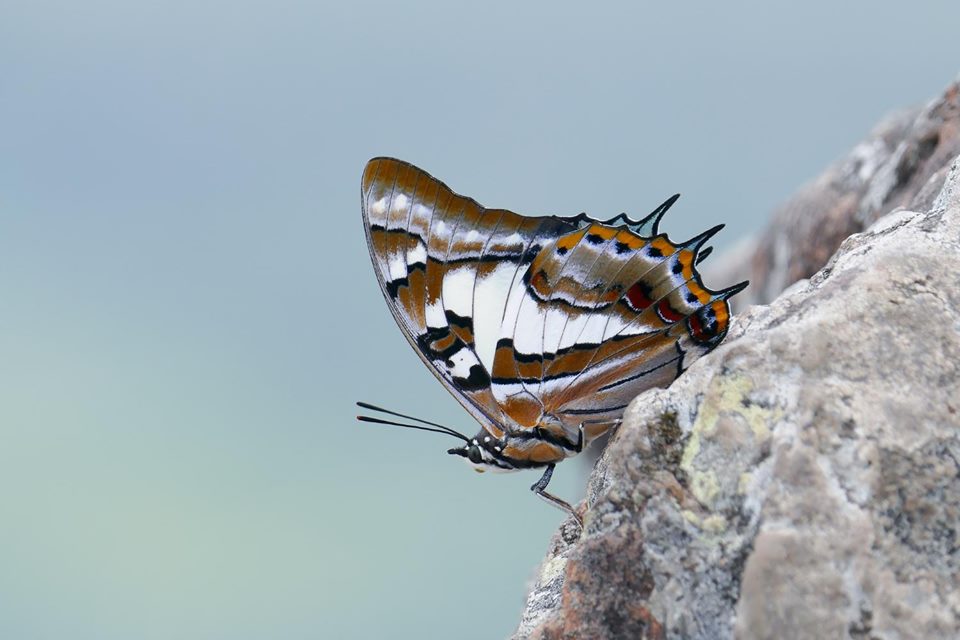 Photo: Tailed Emperor - by Chris Sanderson.
Australian Pollinator Week 10-17 November
By: Fiona Chambers, CEO, Wheen Bee Foundation
Calling all Citizen Scientists. We need your help!
The anecdotal 'Windscreen Test', how often you need to clear bugs from your car's windscreen when travelling, suggests we are experiencing declines in insect numbers in Australia. But we simply don't have data to quantify changing insect numbers, and that is why we need your help!
Two recently published long term studies over 3-4 decades from Germany and Puerto Rico recorded drastic reductions in insect biomass within protected areas over 75%. These results featured in a January 2019 Foresight Brief by UN Environment- 011 Early Warning, Emerging Issues and Futures. The German study was also featured an Australian edition of ABC Foreign Correspondent – Insectaggedon, on 15 October 2019.
Insects are one of the pillars of our ecosystems, providing essential ecosystem services through pollination, nutrient cycling and in the food chains of birds and other insectivores.
Australia has around 2,000 native bee species that are important pollinators. There are also a couple of thousand species of butterfly, wasp, fly moth, beetle, thrip and ant species, some of which are documented pollinators. With so little information available about many insects in Australia, citizen science project 'Wild Pollinator Count' was established by researchers. The project helps gather information on the ecology of insects by recording what flowers are visited by potential pollinators and where they are found.
'Pollinator insects are great for inquiry-based learning' says Karen Retra, native bee naturalist and co-founder of the Wild Pollinator Count. 'It encourages participants to become familiar with the diversity of insects and their roles. By comparing results on different plants and in different locations, we're seeking to better understand which flowers are visited by which insects, which flowers host particular types of insects and which plants have the broadest range of insect types'.
The information collected helps inform how we can improve our environment by planting to support a greater abundance and diversity of wild pollinators.
The next Wild Pollinator Count coincides with Australian Pollinator Week 10-17 November.
Click here
for more information about the Wild Pollinator Count. For additional activities and event ideas to celebrate Australian Pollinator Week
click here
.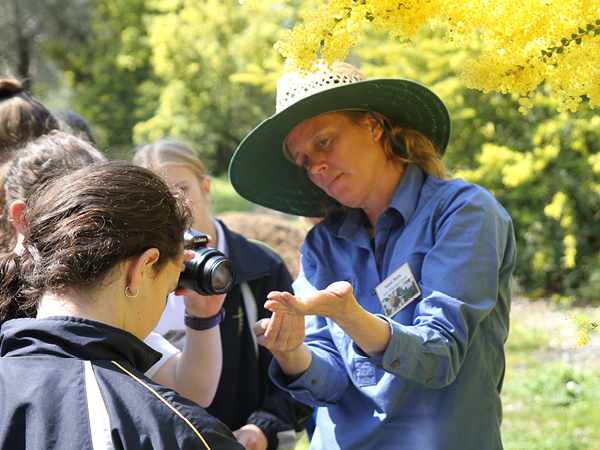 Credit: Wild Pollinator Count
47 Experts Urge NSW Government To Defend NSW Law And Climate
Thursday October 24, 2019
47 scientists and experts have signed an open letter urging the NSW Government not to overrule NSW laws that require climate change impacts to be considered in the assessment of new coal mines.
The NSW Government is reportedly set to legislate restrictions on its own Independent Planning Commission preventing it from considering downstream greenhouse gas pollution (Scope 3 emissions) in major development decisions. Scope 3 emissions from burning coal are by far the largest source of greenhouse gases from coal mined in NSW.
The Government has also launched a review that will consider axing the Independent Planning Commission, increasing the power of politicians to approve coal mines and other controversial developments.
Prominent signatories of the open letter include: Nobel Prize winner Professor Peter Doherty AC , leading climate scientists including Professor Will Steffen, head of the climate team at ANU, Professor Katrin Meissner, Director of the Climate Change Research Centre at UNSW, Professor Andy Pitman, Director of the ARC Centre of Excellence for Climate Extremes at UNSW. It also includes many of Australia's leading scientists from other key disciplines including, health, economics, energy, and finance, including Professor Hilary Bambrick, Professor John Quiggin, and Dr Liz Hanna.
Emissions from burning coal (Scope 3 emissions) are by far the largest source of greenhouse gas from coal mined in NSW.
An important legal decision in the NSW Land and Environment Court found that the full impact of coal mines on climate change, including emissions from burning the coal must be considered in assessing new coal mines. It also rejected many long standing arguments by the coal industry for avoiding considering these emissions.
The coal lobby has run a relentless campaign against this legal precedent, including unprecedented and misleading attacks on the state's Independent Planning Commission.
It has been reported that the NSW Government will cave in to pressure from the coal lobby and change the law to prevent emissions from the burning of coal being considered in the assessment of new coal mines.
"Allowing new coal mines in NSW is incompatible with the NSW Government's climate policy of net zero emissions by 2050," said Richie Merzian, Climate & Energy Program Director at the Australia Institute.
"'The NSW Government should strengthen planning rules to limit new coal mines whilst supporting regional communities to diversify their economies and seize new job opportunities in renewable energy and other industries.
"The impacts of climate change are made worse by emissions from coal mined in NSW. These mines add around 500 million tonnes of greenhouse gases to the atmosphere every year, almost as much as Australia's entire domestic emissions," Mr Merzian said.
"It is absolutely clear from any assessment of what is required to meet the Paris climate targets -- to which Australia is a signatory -- that no new fossil fuel developments can be allowed. This means no new coal mines in Australia, or elsewhere,"
said Professor Will Steffen, head of the climate team at ANU.
"In fact, our challenge is to phase out existing fossil fuel facilities over the next couple of decades, with just transition plans in place to support workers and communities affected," Mr Steffen said.
"Human-induced climate change is the greatest threat to our national security and future prosperity. It intensifies drought, floods and bushfires and is becoming the key driver of our climate and weather. Scope 3 emissions are the greatest contributing factor. It is absolute hypocrisy to exclude them from government and planning decision-making with much hand-wringing, prayers and crocodile tears over the drought, floods and bushfires they are causing,"
said Ian Dunlop, former Chairman of the Australian Coal Association, Former senior executive of Royal Dutch Shell.
"Taking scope 3 emissions into account when considering fossil fuel investments and approvals is critical in the drive to decarbonise energy here in Australia and within the countries to which we export,"
said Greg Bourne, Councilllor at the Climate Council and former regional president BP Australasia.
"Progressively companies and countries are tightening up on supply chain that have serious externalities. Just as Australia cannot export toxic waste overseas and can no longer dump plastic waste into external markets, Australia is now coming under increasing pressure to clean up its fossil fuel act."
"Investments in activities that create emissions here and overseas cannot be given a free ride in the hope that NSW and Australia will pick up the tab for those emissions by pressurising other sectors of the economy or taxpayers in general to underwrite private profits," Mr Bourne said.
The open letter co-ordinated and published by the Australia Institute Climate & Energy Program and complete list of signatories is reproduced in full below,
or viewed as a PDF here
.
________
NSW Government Must Defend Law And Climate From Coal Industry Attacks
An open letter to the Government of New South Wales
Allowing new coal mines in NSW is incompatible with the NSW Government's commendable climate policy aimed at achieving net-zero emissions by 2050. It is also incompatible with reaching targets required to avoid the worst impacts of climate change agreed to under the Paris Agreement.
We strongly urge the NSW Government not to cave in to pressure from coal lobbyists to overrule NSW laws that require the full climate impact to be considered in the assessment of new coal mines. These include the important legal precedent of the Land and Environment Court in the Rocky Hill case, and State Environmental Planning Policy requirements to consider emissions from burning coal mined in NSW (Scope 3 emissions), which are the main source of emissions from coal mined in NSW.
We also strongly urge the Government to defend its own Independent Planning Commission against unwarranted and misleading attacks.
NSW is already experiencing serious impacts of climate change including increasing extreme heat and longer, hotter fire seasons. The hotter conditions and more extreme heatwaves driven by climate change are worsening the impacts of drought. These impacts of climate change are being made worse by emissions from coal mined in NSW. These mines add around 500 million tonnes of greenhouse gases to the atmosphere every year, almost as much as Australia's entire domestic emissions.
Professor Peter Doherty AC
-
Nobel Prize in Physiology or Medicine 1996; Australian of the Year 1997; Laureate Professor,
Professor Tim Flannery
-
Councillor, Climate Council; Australian of the Year 2007; Sustainability, Melb;
Professor Lesley Hughes
-
Distingushed Professor of Biology Macquarie University; Climate Council Councillor
Professor Hilary Bambrick
-
Head of School, Public Health and Social Work, Queensland University of Technology
Professor Tilman Ruff AO
-
Nossal Institute for Global Health, School of Population and Global Health, University of Melbourne
Dr Peter Tait
-
Convener Ecology and Environment Group, Public Health Association of Australia
Associate Professor Shauna Murray
-
Climate Change Cluster (C3), University of Technology, Sydney
Professor Rob Moodie AM
-
Deputy Head and Professor of Public Health, Melbourne School of Population and Global Health
Professor Mark Wahlqvist AO
-
Emeritus Professor, former Professor and Head of Medicine at Prince Henry's Hospital and Monash Medical Centre
Professor John Quiggin
-
VC Senior Research Fellow, School of Economics, University of Queensland
Adjunct Professor Shilu Tong
-
Adjunct Professor, School of Public Health and Social Work
Institute of Health and Biomedical Innovation
Queensland University of Technology
Professor Rick Cavicchioli
-
School of Biotechnology and Biomolecular Sciences
UNSW
Professor Will Steffen
-
Emeritus Professor, Australian National University and Councillor, Climate Council of Australia.
Tim Forcey
-
Energy consultant, former AEMO Gas Principal, International Gas Industry Engineer Exxon, Esso BHP
Associate Professor Peter Sainsbury
-
Sydney Medical School, University of Notre Dame
Ian Dunlop
-
Former senior executive Royal Dutch Shell; former
Chairman of the Australian Coal Association; former
CEO of the Australian Institute of Company Directors;
chairman the original Australian Government Greenhouse
Office Experts Group on Emissions Trading
Professor John Church
-
Climate Change Research Centre, University of New South Wales
Professor Steven Sherwood
-
ARC Laureate Fellow, ARC Centre of Excellence for Climate System Science and ARC Centre of Excellence for Climate Extremes, UNSW Climate Change Research Centre
Professor Michael Ashley -
Professor of Astrophysics, University of New South Wales
Adjunct Professor Howard Bamsey AM
-
Honorary Professor, School of Regulation and Global Governance – RegNet, Australian National University
Professor Ian Lowe AO FTSE
-
Emeritus Professor, Science, Technology and Society, Griffith University
Dr Hugh Saddler
-
Honorary Associate Professor, Crawford School of Public Policy, Australian National University
Dr Brett Murphy
-
Senior Research Fellow, Research Institute for the Environment and Livelihoods, Charles Darwin University
Fiona Armstrong
-
Founder and Executive Director, Climate and Health Alliance, Board Member, Global Climate and Health Alliance
Professor Peter Dart
-
Honorary Associate Professor, School of Agriculture and Food Sciences University of Queensland
Dr David Holmes
-
Director, Monash Climate Change Communication Research Hub, Monash University
Dr Martin Rice
-
Head of Research, The Climate Council of Australia, Honorary Associate, Department of Environmental Sciences, Macquarie University
Professor John Wiseman
-
Prof Research Fellow, Melbourne Sustainable Society Institute, Energy Transition Research Hub and Climate and Energy College, The University of Melbourne
Dr David Shearman AM
-
Emeritus Professor of Medicine, University of Adelaide
Professor Andy Pitman
-
Director of the ARC Centre of Excellence for Climate Extremes, University of New South Wales
Ben Oquist
-
Executive Director, The Australia Institute
Richie Merzian
-
Climate & Energy Program Director, The Australia Institute
Dr Liz Hanna
-
Chair, Environmental Health Working Group, World Federation of Public Health Associations
Dr Bill Hare
-
CEO and Managing Director/ Senior Scientist, Climate Analytics
Associate Professor Gavin Mudd
-
Environmental Engineering, School of Engineering, RMIT University
Professor Philip Jennings
-
Emeritus Professor of Physics and Energy Studies, Murdoch University
Professor Katrin Meissner
-
Director, Climate Change Research Centre, University of New South Wales
Professor Hans Lambers
-
Emeritus Professor at The University of West Australia; Adjunct Professor at Curtin University, Distinguished Professor at China Agricultural University, Beijing, China
Tim Buckley
-
Director of Energy Finance Studies, Australasia, Institute for Energy Economics and Financial Analysis,
Bruce Robertson
-
Investment Analyst, Institute for Energy Economics and Financial Analysis
Professor Matthew England
-
Scientia Professor, Climate Change Research Centre, University of New South Wales
Professor Jeremy Moss
-
Professor of Political Philosophy, Director, Practical Justice Initiative, University of New South Wales
Professor Robert Brooks
-
Scientia Professor, School of Biological, Earth and Environmental Sciences, University of New South Wales.
Greg Mullins AO
-
Former Commissioner, Fire and Rescue NSW
Professor Karen Hussey
-
Director, Centre for Policy Futures, University of Queensland
Greg Bourne
-
Councillor, the Climate Council, Former Regional President BP Australasia
Dr John Van Der Kallen
-
Rheumatologist, Conjoint Lecturer, School of Medicine and Public Health, University of Newcastle
ICAC Inquiry Into Lobbying Shows Serious Gaps In Transparency
On Thursday
October 24, 2019
Planning Minister Rob Stokes introduced a bill into Parliament on Thursday to stop consent conditions relating to global greenhouse gas emissions from export coal being imposed on NSW mining projects.
Mr Stokes said the bill would clarify "that development consent conditions can only be imposed if they relate to impacts occurring within Australia or its external territories."
"This [bill] will prevent consent authorities from imposing conditions seeking to control, for example, downstream greenhouse gas emission or other climate change impacts occurring outside Australia as a consequence of development that is carried out outside Australia," he said.
"Increasing uncertainty on how scope three emissions are treated ... has become a significant barrier to investment ... and a real threat to jobs and the economy, particularly in regional NSW," its CEO Stephen Galilee said this week.

Mr. Galilee appeared before the ICAC Inquiry into
Lobbying and the NSW public sector - the regulation of lobbying, access and influence in NSW
(
Operation Eclipse
) on Monday October 21st where he explained t
he N
SW Minerals Council lobbies on behalf of members.
During the proceedings Mr. Chen asked him if he was aware of two NSW Planning Dept. Documents,
Engaging with Lobbyists and Business Contacts - Policy
, dated November 2017 and
Engaging with Lobbyists and Business Contacts - Procedure, same date and asked if h
as it ever been brought to his attention that there needs to be a specific form completed in any requests that a body might make of the Department to meet with it. Mr Galilee admitted he was not and had never seen these documents before.
Mr Galilee stated the
NSW Minerals Council employees and himself
have regular meetings with departmental officials across agencies on a range of portfolio issues. Mr Galilee also stated they (NSW Minerals Council) also have a regular engagement with the Deputy Premier in his capacity as Minister
for Resources and other ministers as part of their role as advocates for their members interests.
The Lobbyist Contact Register records meetings between the Department and Third Party Lobbyists and is kept in accordance with the Engaging with Lobbyists and Business Contacts Policy and Procedure.




All contact with registered lobbyists is recorded

using the Lobbyist and Business Contact Meeting Request Form and is published on the Register, which is publicly available through the Department's website.




The Register is maintained in accordance with the Policy and Procedure, which provide a transparent and accessible system for lobbyists and business contacts.
A perusal of that
Register
shows it was last updated in August 2019 and prior to that the last listing is from January 2019. No meetings are listed for
the NSW Minerals Council.
On Monday Mr. Galilee stated at the ICAC Inquiry that the NSW Minerals Council had
been involved in ongoing and extensive advocacy, seeking changes to
The Environmental Planning and Assessment Act.
The NSW Minerals Council is the leading industry association representing the state's minerals industry...


the NSW Minerals Council works closely with government

, industry groups and business and community leaders to foster a sustainable mining industry in NSW
The ICAC is conducting a new investigation into the regulation of lobbying, access and influence in NSW. The investigation is examining whether enhancements to the Lobbying of Government Officials Act 2011 may be required, as well as the broader approach to addressing risks associated with lobbying and influencing practices.
Like the Commission's previous examination of lobbying practices in 2010 (Operation Halifax), this investigation is not concerned with examining whether any particular individual may have engaged in corrupt conduct, but rather seeks to examine particular aspects of lobbying activities and the corruption risks involved in the lobbying of public authorities and officials. The public inquiry is being held as part of the investigation in August and October 2019. The inquiry follows a discussion paper, Enhancing the democratic role of direct lobbying in NSW, which addressed principles of transparency, integrity and fairness concerning or associated with lobbying practices in NSW.
On Tuesday, October 22nd, the NSW Nature Conservation Council condemned the NSW Government's plans to forbid planning authorities considering the full climate impacts of coal mines and gas projects.
"The government is effectively banning planning bodies from considering the biggest environmental challenge of our age," NCC Chief Executive Chris Gambian said.
"The state government has cravenly capitulated to pressure from the Minerals Council, raising serious questions about who controls planning policy in NSW.
"Minister Rob Stokes announced a review into the Independent Planning Commission just days ago and has already undermined it with proposed legislation.
"For the past 12 years NSW has had a planning policy to consider the climate damage of coal produced in this state.
"It is reckless and irresponsible to gut this policy when dangerous climate change is on our doorstep with fish kills and more extreme heatwaves and bushfires every summer.
"Courts and planning authorities have been trying to deal with climate change because the government has utterly failed.
"Now the government is tying planning authorities' hands and undermine the science-based, responsible decision making the people of NSW want.
"No wonder people are marching in the streets for urgent action on climate." Mr.
Gambian said
Bilgola Beach Clean Up
Hosted by Northern Beaches Clean Up Crew
Sunday, October 27, 2019 at 10 AM – 12:30 PM
Come and join us for our October clean up at Bilgola Beach. See meeting point in the event. We have gloves, bags and buckets and we try to pick up as much litter as we can before it hits the ocean.
Northern Beaches Clean Up Crew meets the last Sunday of every month to clean up a beach or lagoon on Sydney's northern beaches.
Northern Beaches Clean Up Crew is a friendly group of people and everyone is welcome to this family friendly event. (just leave your political messages at home so everyone feels welcome) It's a nice community - make some new friends and do a good deed for the planet at the same time.
Parking on the streets close by. Message us
here
if you are lost. All welcome - the more the merrier. Please invite your friends too. No need to bring anything but a smile. We often go for coffee afterwards too. It's a nice way to meet other friendly local people.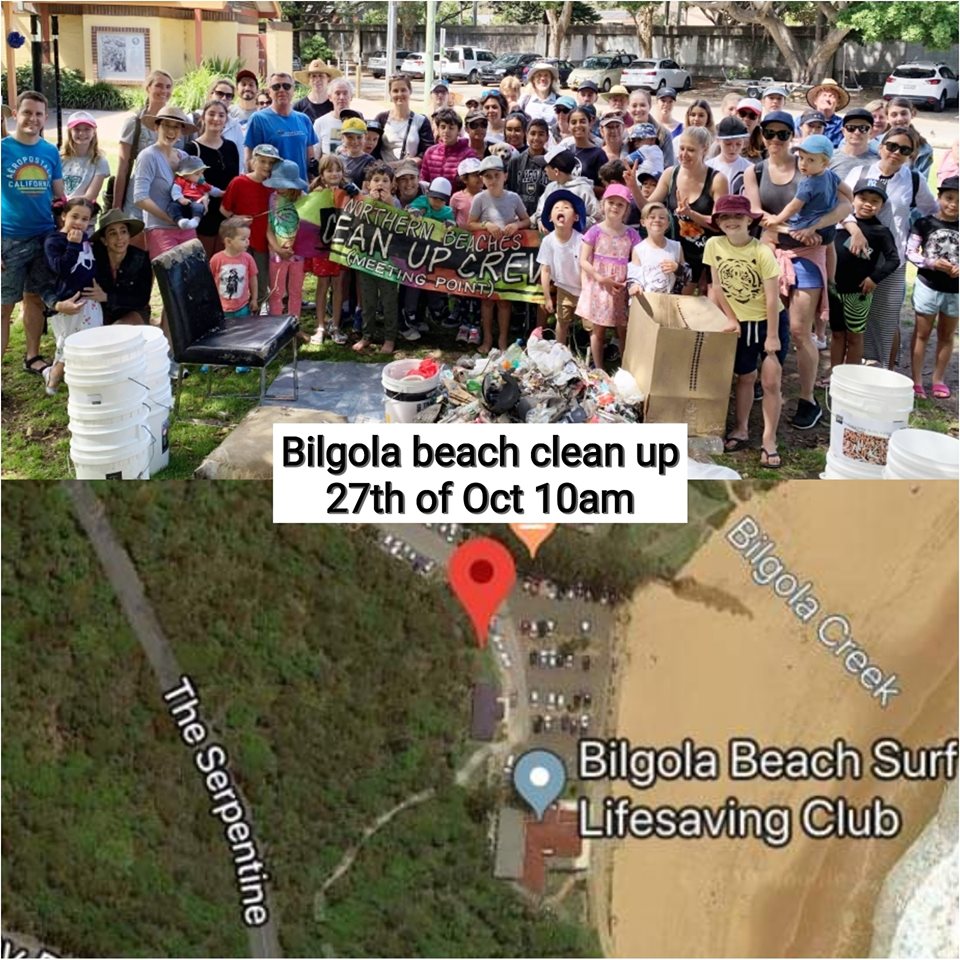 Floating Landcare Wins 2019 NSW Landcare Award
Announced on Wednesday October 23rd at the NSW Landcare Awards at Broken Hill Civic Centre, where Landcare champions from across NSW came together to celebrate impressive achievements in the Landcare community.
Hosted by Chris McCulloch, Business Partner for Landcare at Local Land Services, the awards celebrate incredible efforts to protect NSW land, water and biodiversity.
Last night's ceremony saw award winners from diverse categories, including farming, Coastcare and Indigenous land management, announced by representatives of award sponsors and NSW Landcare community champions/stalwarts.
Stephanie Cameron, Chair of Landcare NSW together with Richard Bull, Chair of Local Land Services paid tribute to award finalists and champions.
"The Landcare Awards Gala Event in Broken Hill is a great celebration of Landcare in NSW. The awards recognise individuals, groups and partnerships across the state as well as, and most importantly, First Nations custodians caring for country," Mr Bull said.
"On behalf of the Landcare NSW community, I congratulate all the nominees and recipients of the awards. Landcare is about communities working together to create positive outcomes for the environment and the agricultural landscape across NSW. It has never been more important that we continue to support and recognise the dedication and commitment of our Landcarers and recognise their tremendous efforts," said Mrs Cameron.
Grand champions of the NSW National Award categories will go on to represent the whole NSW Landcare Community at the 2020 National Landcare Awards in Sydney.
Landcare Australia CEO, Dr Shane Norrish, commended recipients of the NSW Landcare Awards on their outstanding accomplishments.
"It's an honour to be able to recognise the great work being carried out by our Landcare champions in NSW," Dr Norrish said.
"The Landcare Awards program provides landcarers the ideal opportunity to get together and celebrate the individual and collective achievements of landcare in the community.
He added: "Landcarers across Australia deserve to be acknowledged and we're looking forward to seeing NSW winners represent their community at the National Landcare Awards next year"
2019 NSW Landcare Award winners:
Australian Government Individual Landcarer Award – Nerida Croker
Australian Government Partnerships for Landcare Award – Floating Landcare
Australian Government Landcare Farming Award – Amarula Dorpers
Australian Government Innovation in Agriculture Award – Land to Market
Virgin Coastcare Award – Take 3 Ltd
Australian Community Media Landcare Community Group Award – Martindale Creek Catchment Landcare Inc
Woolworths Junior Landcare Team Award – Megalong Valley Public
Indigenous Land Management Award – Aunty Francis Bodkin
Austcover Young Landcare Leadership Award – Richie Benson
If you enjoy working with others, travelling by water, and have a yearning for adventure with an environmental twist Floating Landcare is for you.
The Floating Landcare Program provides community volunteers with a unique wilderness land management experience right on the edge of Sydney. The program involves taking volunteers by boat to water access only bushland sites on the Pittwater estuary, Hawkesbury River estuary and Brisbane Waters. Volunteers undertake bush regeneration to eradicate invasive weed species from hotspots in the native bushland, foreshore litter collection to reduce the impact of marine debris on mangrove and saltmarsh communities and marine wildlife.
All training and tools are provided, as well as lunch and/or morning tea.
Floating Landcare is a project coordinated by Greater Sydney Local Land Services, in partnership with Northern Beaches, Hornsby and Central Coast Councils, National Parks and Wildlife Service, with funding from Landcare Australia
You can get involved by contacting Rebecca Mooy, Senior Land Services Officer via email
floatinglandcare@gmail.com
for more information.
Coming up for the rest of 2019:
Saturday 23rd November 2019
Flannel Flower Beach, Ku-ring-gai Chase National Park
and
Saturday 7th December 2019
Lion Island Nature Reserve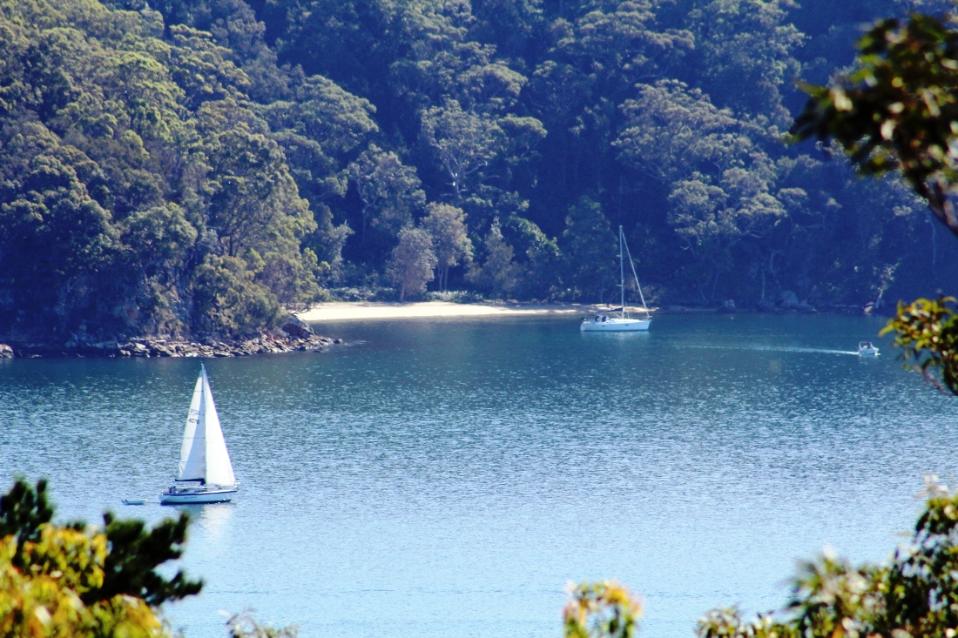 Photo: Portuguese Beach, Pittwater in May 2018 - photo by AJG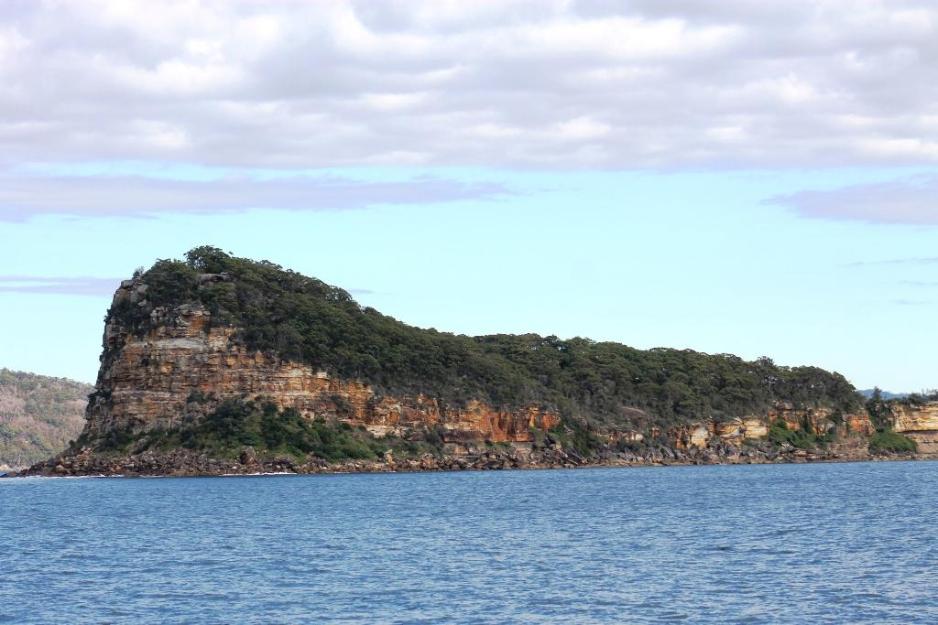 Photo: Lion Island - photo by AJG
Bushcare In Pittwater
For further information or to confirm the meeting details for below groups, please contact Council's Bushcare Officer on 9970 1367
BUSHCARE SCHEDULES
Where we work Which day What time
Avalon
Angophora Reserve 3rd Sunday 8:30 - 11:30am
Avalon Dunes 1st Sunday 8:30 - 11:30am
Avalon Golf Course 2nd Wednesday 3 - 5:30pm
Careel Creek 4th Saturday 8:30 - 11:30am
Toongari Reserve 3rd Saturday 9 - 12noon (8 - 11am in summer)
Bangalley Headland 2nd Sunday 9 to 12noon
Bayview
Winnererremy Bay 4th Sunday 9 to 12noon
Bilgola
North Bilgola Beach 3rd Monday 9 - 12noon
Algona Reserve 1st Saturday 9 - 12noon
Plateau Park 1st Friday 8:30 - 11:30am
Church Point
Browns Bay Reserve 1st Tuesday 9 - 12noon
McCarrs Creek Reserve Contact Bushcare Officer To be confirmed
Clareville
Old Wharf Reserve 3rd Saturday 8 - 11am
Elanora
Kundibah Reserve 4th Sunday 8:30 - 11:30am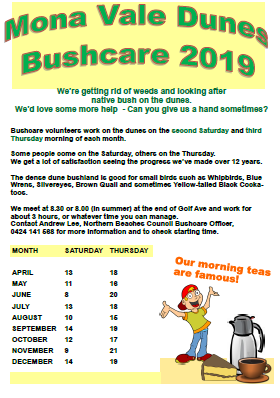 Mona Vale
Mona Vale Beach Basin 1st Saturday 8 - 11am
Mona Vale Dunes 2nd Saturday+3rd Thursday 8:30 - 11:30am
Newport
Bungan Beach 4th Sunday 9 - 12noon
Crescent Reserve 3rd Sunday 9 - 12noon
North Newport Beach 4th Saturday 8:30 - 11:30am
Porter Reserve 2nd Saturday 8 - 11am
North Narrabeen
Irrawong Reserve 2nd Saturday 2 - 5pm
Palm Beach
North Palm Beach Dunes 3rd Saturday 9 - 12noon
Scotland Island
Catherine Park 2nd Sunday 10 - 12:30pm
Elizabeth Park 1st Saturday 9 - 12noon
Pathilda Reserve 3rd Saturday 9 - 12noon
Warriewood
Warriewood Wetlands 1st Sunday 8:30 - 11:30am
Whale Beach
Norma Park 1st Friday 9 - 12noon
Western Foreshores
Coopers Point, Elvina Bay 2nd Sunday 10 - 1pm
Rocky Point, Elvina Bay 1st Monday 9 - 12noon
Desert Birds Head For The Coast
As the drought continues to tighten the screws on many parts of Australia, there are few forms of life that are unaffected — farmers and their livestock and crops are just a badly off as the bush and the wildlife that lives in it.
For the wildlife, it is often a case of try to escape the drought or perish, and many inland birds have chosen the former option, fleeing towards the coast.
The result is a plethora of interesting birds turning up in unexpected places, particularly in South Australia, Victoria and New South Wales. It's proving to be a boon for birdwatchers.
Crimson Chats seem to be the biggest indicator of the severity of the drought. They usually live in the bluebush and saltbush plains of the inland and readily cope with harsh conditions. Each year, a few are likely to wander, but this year, large numbers have been seen well outside their usual range. In the Wimmera district of western Victoria, for example, hundreds of Crimson Chats have been seen on some roadsides, foraging beside canola crops, sometimes with a few Orange Chats in tow. They've also been spotted in southern South Australia at Port Wakefield on the northern shores of Gulf St Vincent and at nearby Balaklava, and across northern and north-eastern Victoria and adjacent parts of southern New South Wales, as well as in the Southern and Central Tablelands and the Upper Hunter.
Droves of White-winged Trillers and Rufous Songlarks have delighted birders from Adelaide across to the shores of Port Phillip Bay, to suburban Sydney and the Mid North Coast of New South Wales, while a few Red-backed Kingfishers have been seen on the outskirts of Adelaide and in the Barossa Valley, and in Central Victoria and south-eastern Queensland too.
Last year, it was Black Honeyeaters that irrupted deep into Victoria and southern South Australia, and they're back again, along with some Pied Honeyeaters as well.
Although some of these species turn up occasionally in these regions, they're seldom as abundant as this year's unprecedented numbers, nor as widespread.
With so many different and unusual birds visiting southern, south-eastern and eastern Australia, they present a rare opportunity for birdwatchers, but don't forget the reason they're here…
Photos: Female white-winged triller and a very well-camouflaged chick and Rufous Songlark - will any of these be recorded in local Pittwater Back Yard Bird Counts this week?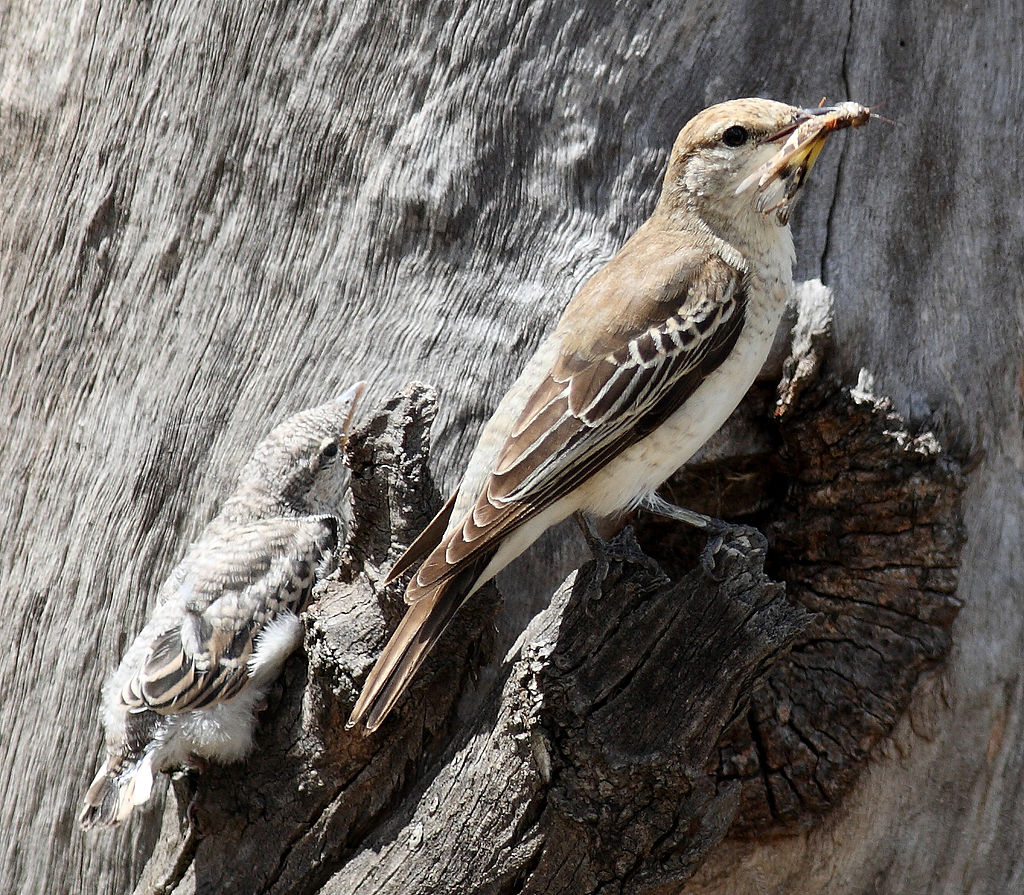 Female white-winged triller and a very well-camouflaged chick - photo by Mderkool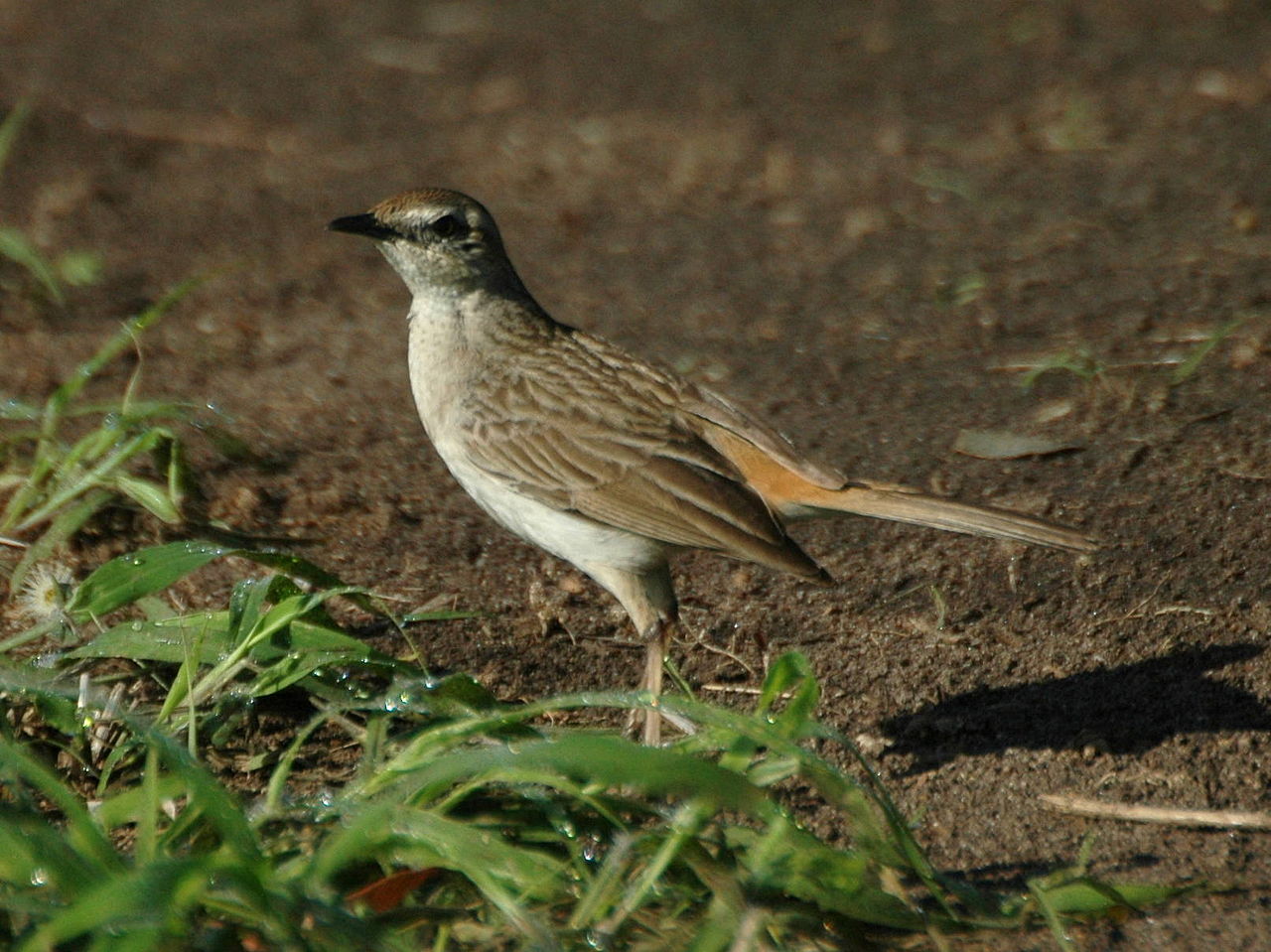 Rufous Songlark - photo by Aviceda

Funding Awarded To Councils For Coastal Planning
October 22nd, 2019: NSW Dept. of Environment
More than $300,000 has been awarded to five coastal councils across the State to undertake planning in coastal and estuarine areas.
Minister for Local Government Shelley Hancock said the funding is being provided to assist councils prepare plans to set out long-term strategies for the coordinated management of our coastal environment.
"The planning stream of the Coastal and Estuary Grants Program is the first step in the process of supporting local government to understand their complex coastal and estuarine environments," Mrs Hancock said.
Projects funded include:
Kempsey Shire Council: $55,000 - Macleay River, Killick Creek and Korogoro Creek coastal management program stage 2 investigations
Kempsey Shire Council: $20,000 - Saltwater Creek coastal management program stage 1 scoping study

Northern Beaches Council: $65,000 - open coast and lagoons scoping study

Northern Beaches Council: $50,000 - coastal zone emergency action sub plan

Coffs Harbour City Council: $30,000 - scoping study of Willis, Woolgoolga, Darkum and Hearnes estuaries
Coffs Harbour City Council: $40,000 – Arrawarra Creek, Corindi River and Pipe Clay Lake coastal management program
Central Coast Council: $35,000 - scoping study for the coastal management program of open coast and coastal lagoons and
Rous County Council: $50,000 - Richmond River coastal management program stage 1 scoping study.
Funding is being made available under the 2018-19 Coastal and Estuary Grants Program – planning stream.
Councils are encouraged to apply for funding at any time during the financial year to undertake planning and studies.
Northern Beaches Council Grants are for:
Northern Beaches Council coastal zone emergency action subplan
This project aims to improve Council preparedness and response to coastal storms through the preparation of a coastal zone emergency action subplan (CZEAS) for the Northern Beaches.
The CZEAS will outline the roles and responsibilities of Northern Beaches Council and other public authorities in response to emergencies immediately preceding or during periods of beach erosion, coastal inundation and cliff instability that occur through storm activity or an extreme or irregular event.
Northern Beaches Council open coast and lagoons scoping study
This project will develop a scoping study for Northern Beaches open coast and lagoons, as the first step towards development of coastal management programs (CMPs). A review of current coastal management arrangements will determine gaps, develop the scope and priorities.
This scoping study will cover; strategic context, CMP scope, first-pass risk assessment, a stakeholder and community engagement strategy, preliminary business case, studies needed for stages 2 and 3 and a time frame and cost for moving forward to prepare one or more CMP.
Australian Engineers Declare Climate And Biodiversity Emergency
Movement Declaration : The impending climate breakdown and biodiversity loss are the two most serious issues of our time. Australian Engineers Declare are determined to address this.
Engineering activities are connected with over 65% of Australia's Direct Greenhouse Gas Emissions.1
As such, engineering teams have a responsibility to actively support the transition of our economy towards a low carbon future. This begins with honestly and loudly declaring a climate and biodiversity emergency.
Meeting the needs of our society without breaching the earth's ecological boundaries demands a paradigm shift in our activities and our behaviours. Together with our clients, we will need to design and implement systems, infrastructure and technologies that can contribute to constantly regenerating and self-sustaining economic and ecological systems.
The research and technology exist for us to begin that transformation now, but we need to work together.
Recognising this, we commit to strengthening our work practices to create systems, infrastructure, technology and products that have a positive impact on the world around us. Our profession is respected for its problem solving abilities. It is time for us to take a stronger
leadership role in addressing our world's most pressing problems.
We will seek to:
– Evaluate all new projects against the environmental necessity to mitigate climate breakdown, and encourage our clients to adopt this approach.




– Advocate for faster change in our industry towards regenerative design practices, that respect ecological limits whilst enabling socially just access to resources and services, and a higher governmental funding priority to support this.




– Advocate for and undertake 21st century economic assessments that take a whole-of-system, whole-of-life approach, and take into account the implications of expanding beyond ecological ceilings and failing to meet fundamental human rights and social justice obligations.




– Join with other professions and work with government to develop a stronger and more comprehensive whole-of-government response to the climate emergency.




– Collaborate with policy makers and planners, contractors and clients to further these broad outcomes.




– Learn from and collaborate with First Nations to adopt work practices that are respectful, culturally sensitive and regenerative.




– Upgrade existing infrastructure and technology for extended use when the opportunity arises for carbon emissions reduction.




– Accelerate the shift to circular economy principles (e.g. minimise wasteful use of resources) and low embodied carbon materials in all our work.




– Implement climate change and biodiversity mitigation principles.




– Raise awareness of the climate and biodiversity emergencies and the urgent need for action in our organisations and networks.




– Track and share stories of success as individuals and companies make climate positive choices, building pride and solidarity in the engineering sector and our role in delivering a healthy planet.




– Share knowledge and research to that end, on an open source basis.
We acknowledge that First Nations peoples have long espoused the cultural, social, economic and environmental benefits embedded in the holistic relationship of Caring for Country. We respect and embrace this perspective.
1. Australian Government Department of the Environment and Energy, National Inventory by Economic Sector 2017, p3. 65.6% is a sum of the 'Electricity, Gas and Water', Mining and 'Services, Construction and Transport' categories.
Tarkine Logging Protest Grows
Tasmania police were called in to arrest a protestor tree-sitting in order to protect the Tarkine rainforest at Sumac Ridge south of Smithton today.
The Bob Brown Foundation says that it has had a camp protecting the
Sumac Ridge
forest for three years. Following the arrest of tree-sitter Josh Nichols on Sumac Ridge last Friday, the forest vigil camp had been re-established this morning. Andy Szollosi, stayed on his treetop platform as police moved everyone from the area. Mr Szollosi was then arrested.
Tasmania's state forest authority, renamed Sustainable Timbers Tasmania, plans an immediate start on a logging road along the ridge to log the rainforest containing tall flowering eucalypts for Malaysian logging company Ta Ann and the woodchip market. After logging, the forest remnants will be fire-bombed at public expense despite the forests being as carbon-dense as those in the Amazon and containing rare and endangered wildlife.
"This is a watershed moment in Tasmanian forest history," Bob Brown said in Hobart today.
"The Tarkine contains the largest temperate rainforest in Australia. Everyone thought it was protected by Liberal PM John Howard's famous forest agreement with the Tasmanian government in 2004. But now the chainsaws are being ordered back in by a subsequent Tasmanian Liberal government which is subsidising the destruction. We are not going to stand aside and allow this environmental crime to unfold in 2019."
Bob Brown, who was in the forest last Friday, said he will be back on Sumac Ridge in coming days.
"Now is the time for all good people to come to the defence of the rainforests and wildlife. This is part of the global rainforest end years. Either we make a stand in wealthy Australia to stop this completely unwarranted and needless destruction or the game is up for the world's future environmental security. We cannot ask people elsewhere to do what we aren't prepared to do ourselves. This is part of the human-created crisis of existence for life on Earth. I salute those who have moved out of their comfort zone to face arrest rather than, through inaction, aid and abet this ecocide in Tasmania." Mr. Brown said.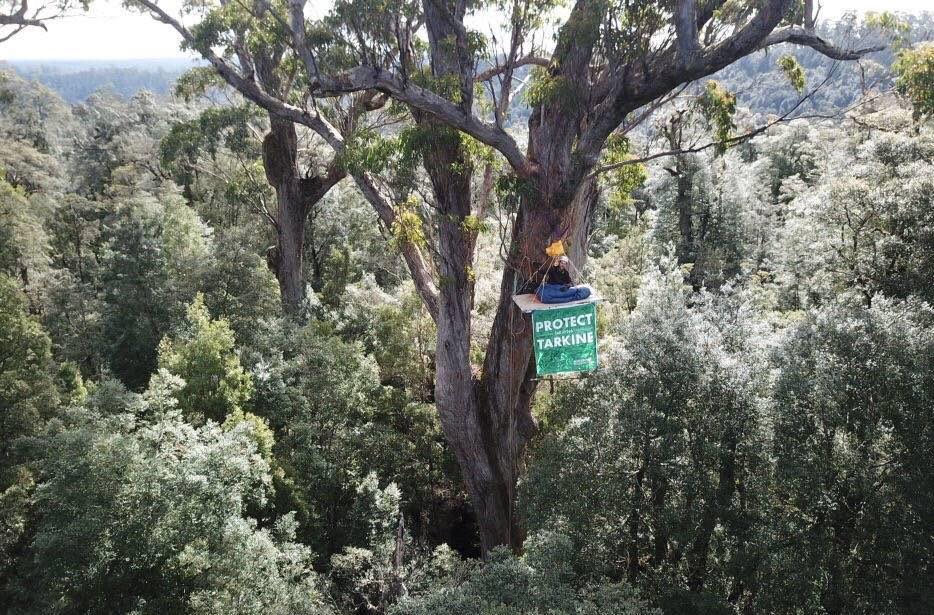 Andy Szollosi in his tree, later arrested - photo supplied
Bellingen Community Mass Protest Against Kalang Logging
On Saturday October 19th hundreds of residents took to the small town streets of Bellingen to protest plans to log compartments that abut the headwaters of the Kalang River. The Bellingen Environment Centre and supporters state that the majority of the Bellingen Kalang communities are totally against the proposal to log the precious headwater catchment forests of the Kalang Valley.
"This industrial scale logging will seriously impact on the water quality and security of Kalang through runoff of sediment and inevitable degradation of feeder creeks and streams. Mature trees act as water storage units and as pumps, releasing water into catchments at a steady and consistent rate, ensuring consistent supply.
It will also threaten the incredible biodiversity of our beautiful valley
. We are currently experiencing one of the worst droughts since records began. Logging any sensitive catchment such as the Kalang should not even be on the agenda."
Their state representative, Member for Oxley, Melinda Pavey, in a supposed ''response to the community'' outrage has two sentences that have been printed by Belligen's
Courier Sun
that state:
I am aware of the proposed timber harvesting program in the Kalang River area by the NSW Forestry Corporation.




Comprehensive information about this matter is available at: https://www.forestrycorporation.com.au/old11992200/our-forests/kalang-river-catchment This website also contains several videos where university-trained, professional forestry scientists explain their processes and protocols.
Forests that are suitable for timber production are divided into compartments and we generally expect to carry out a carefully planned operation to harvest the mature timber in each suitable compartment every 20 years or so before leaving the entire area to regrow naturally over another 20 or more years.
Those marching on Saturday had a statement for their MP in return: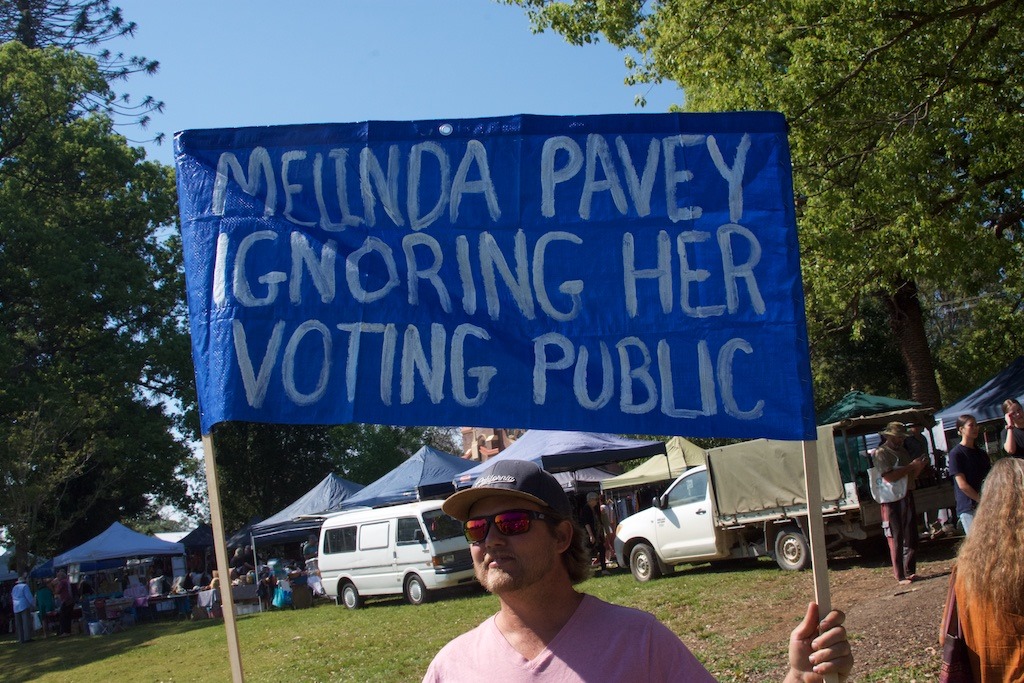 photo - Bobbi Marchini, October 19, from Kalang River Forest Alliance Facebook page
By Tuesday Bellingen residents report that the
Forestry Corporation have postponed their operation at the Headwaters and have moved down the road to High Value Koala Habitat being logged by the Corporation at Sunny Corner. That area had been blockaded by residents in 2018 due to the presence of koalas.
"We provided Forestry Corporation with evidence of the koalas," BEC spokesperson Ashley Love said then. "Their response was to create a 'koala high use buffer' of two hectares."
Ashley pointed out that a female koala has a home range of about 10 hectares.
"There are favourite trees that she goes to time and again. Even if logging leaves an area of two hectares, they'll be surrounded by devastation, and then the whole area will be burnt."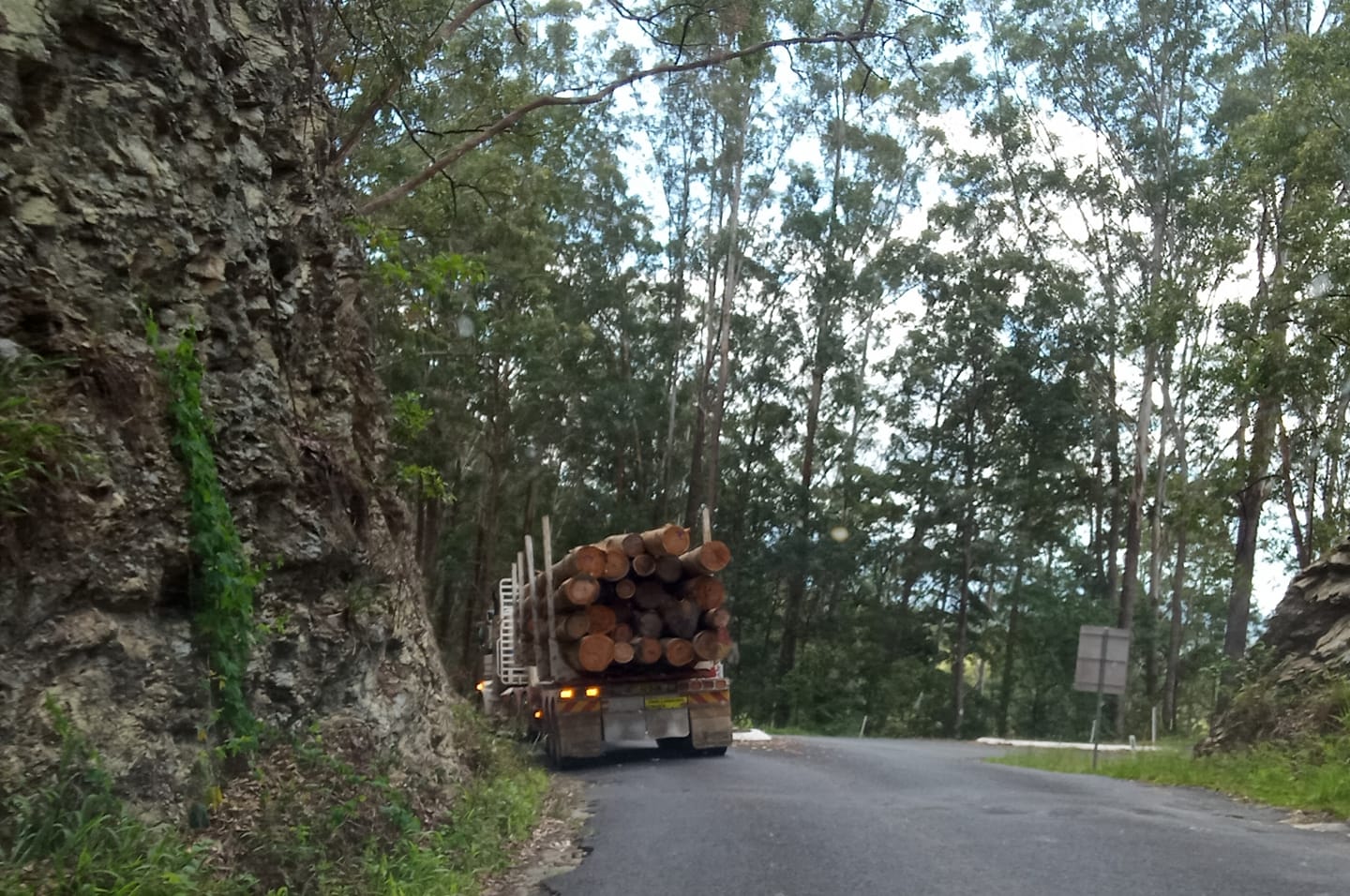 Sunny Corner logs being trucked off for woodchips on Tuesday., October 22nd, 2019 -
Photo:
Kuya James,
from Kalang River Forest Alliance facebook page
State Govt entered into 20-year contracts via the Forestry Department to provide particular quotas of our native hardwoood forests to timber corporations, in particular Boral. However, these quotas are not sustainable – that is, there is much more timber being cut from our public forests than can be sustainably regrown.

So the biggest problem is that contracts have been signed with private corporations for the provision of timber from publicly-owned native forests that doesn't actually exist.

So it is just quotas. And hence, the movement into regions like the Kalang headwaters, which simply should be left alone.
It is also critically important to consider that Forestry Corporation native forest logging division operates at a massive financial loss to taxpayers. The Forestry Corporation relies on the huge profits made from the logging of softwood (pine) plantations to offset these losses. And all the while we all pay.
Cr Dominic King (Mayor of Bellingen Shire Council) says people took to the streets in a bid to have the area protected. The community wishes to pursue eco-tourism in the area and the preservation of the wildlife and its habitat is paramount to that future aim.

Betrayal of Community Consultation

Forestry Corporation has betrayed our community consultation process and has rejected the

concerns and requests put forward. In relation to forests in the Bellingen and Kalang valleys the

community asked for no clearfelling, to use selective logging methods to preserve the delicate

ecosystem. It requested bigger buffer zones for our waterways, and additional wildlife corridors to

protect habitat for threatened native wildlife. It asked for buffer zones to protect neighbouring families

from clearfelling. It asked for no chemicals to manage weeds, knowing that if they replanted the

Blackbutt crop promptly after harvesting, chemicals would not be needed. Blackbutt is the dominant

tree in the Tarkeeth plantations. It is extremely fast growing and does not require fertiliser.




All of these

requests were denied. Clear felling itself, creates a weed problem, adding to the non-sustainable

chemical dependent monoculture plantations that are currently being managed.




For example, In March 2018, 50 Bellingen families, mainly residents of Fernmount, wrote to Forestry

Corporation seeking minor modifications to clearfell-burning and b-double haulage operations, to

minimise adverse impacts on the community, and reduce risks to the health, safety and property. The

noise, dust and smoke pollution affect some residents very badly. (In 2016, Forestry Corporation's

senior manager Dean Kearney informed residents that operations would continue for up to a decade).




Residents asked Forestry Corporation:

— To immediately and permanently discontinue post-harvest fires in Tarkeeth State Forest and

employ safe methods to reduce and utilise wood residue, for example: mulching, chipping,

pulping, salvage, collection of firewood, cease the felling of immature trees.

— That Sweedmans Lane (a 1-kilometre laneway designated for B-double haulage) be resurfaced

with bitumen to bring an end to the severe dust pollution, frequent roadworks, and sudden road

closures that are having a severe adverse impact on families living in Sweedmans Lane and

residents who depend on the road for access.

— That Forestry Corporation adopts standard working hours for ALL future harvesting and

haulage operations in Tarkeeth State Forest.

— For Forestry Corporation to constructively engage with our Tarkeeth Forest Neighbour

Stakeholder Forum, and genuinely address our concerns.
After a few months Forestry Corporation wrote to all the families, saying NO to every request, and

refusing to engage with the forest neighbour forum.
Another 20 years of local endangered species having their home and selves wiped out to
fulfil
contracts that cannot be fulfilled, for woodchipping of those trees, and the loss of yet more much needed habitat trees and changing wording so areas previous not available can be made available, bodes well for an announcement from that same state government this week for grants to reduce climate change. Perhaps all those in Bellingen need to apply to plant yet more trees - hopefully in ground that won't then be excised from under them
.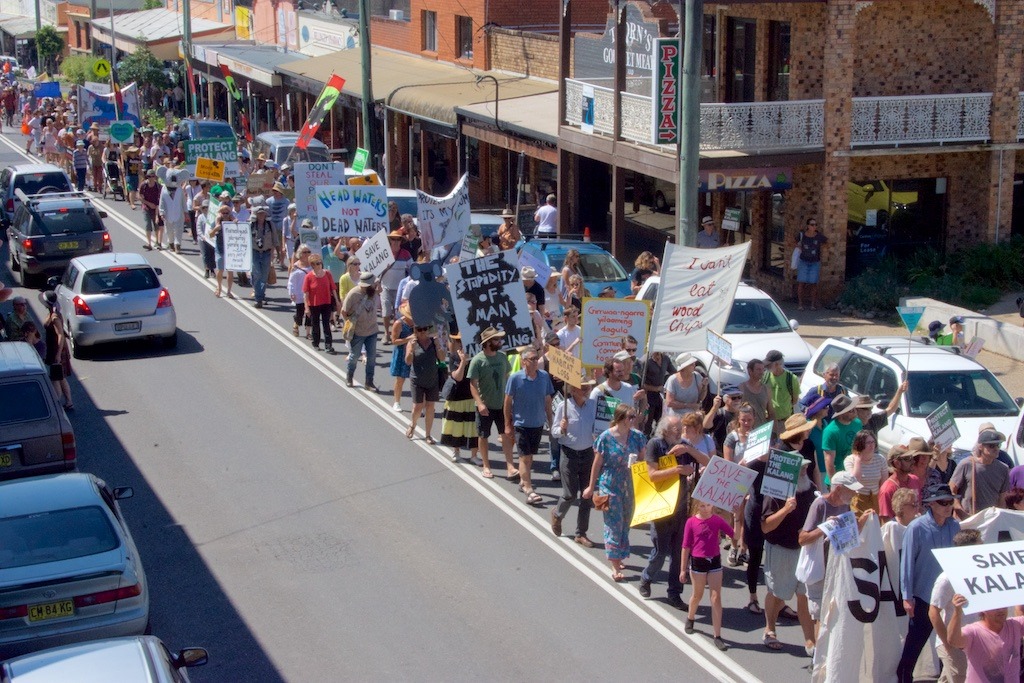 Grants Available To Reduce Climate Change Impacts
NSW communities are invited to apply for grants that will assist them reduce climate change impacts such as heatwaves, bush fires or floods.
The Increasing Resilience to Climate Change (IRCC) community grants program is providing $600,000 in the first round of grants. Grants between $10,000 and $30,000 are available for individual projects.
Community groups can partner with local councils in their applications for funding under the IRCC.
The grants are funded through the Climate Change Fund, which allows the NSW Government to better support the community in its response to the effects of climate change.
Environment Minister Matt Kean said these grants will help local communities plan, coordinate and take action to increase their resilience and adapt.
"IRCC grant funding has already benefited Western Sydney Regional Organisation of Councils for a cool suburbs rating tool and Bega Valley Shire Council to upgrade community halls to be more climate-resilient during extreme heat events," Mr Kean said.
Apply for round one funding by 31 January 2020
HERE
2019 Green Globe Award Finalists Announced
The finalists are in for the 20th anniversary of NSW's premier environmental awards - the NSW Government's annual Green Globe Awards.
Environment Minister Matt Kean said for 20 years, the Green Globe Awards have been recognising and celebrating outstanding people and projects that are forging the way to build a more sustainable and resilient NSW for everyone.
"These people have demonstrated a commitment to protecting what we have for our future generations and we want to see more of it," said Mr Kean.
A record 50 finalists were selected from over 180 nominations representing a diverse range of sectors from across the State and spanning all age groups.
"This year's awards honour ground-breaking pioneers and emerging leaders, demonstrating outstanding commitment and innovation in sustainability and environmental protection.
To mark the 20-year anniversary, Lifetime Achievement Awards were also introduced for individuals and organisations.
Nominees of the Lifetime Achievement Award include Natalie Issacs, founder of '1 Million Women' inspiring women to take action on climate change by being responsible consumers, Scientia Professor Veena Sahajwalla, inventor of 'green steel' and marine conservation movement, Take 3 for the Sea.
"The Green Globe Awards will continue to highlight the amazing work happening around NSW to transform our communities, through the help of our young people, into more sustainable places for us to enjoy," Mr Kean said.
Winners will be announced on 27 November 2019, with awards from 14 categories to be presented at the Taronga Centre including the Premier's Award for Environmental Excellence and the Regional Sustainability Award.
Finalists in the 2019 Green Globe Awards
City of Sydney – Green Square Town Centre
Lendlease – Barangaroo South
Local Government Super – Local Government Super Property Portfolio
University of Wollongong – Team UOW, Desert Rose – A House for Life
Wollongong City Council – Council Aiming for the 6 Green Stars
Business Leadership Award
Energy Culture
Ferrero Australia – Partnering for a Sustainable Supply Chain
Investa – Australia's 1st Sustainability Tenant Toolkit
Sprout Stack – Environmentally Righteous Produce
Climate Change Leadership Award
Australian Energy Foundation – Our Energy Future
Keith Tulloch Wine – Sustainable Agribusiness – Carbon Neutral
Sydney Metro – A Resilient Revolution in Transport
Waverley, Woollahra and Randwick Councils – Solar my School Program
Community Leadership Award
Green Connect – More Jobs, Less Waste, Fair Food
Hovells Creek Landcare Group
OzFish Unlimited
Pingala – Building Fairer Energy
Downer EDI – Reconophalt
Solar Analytics – Solar Analytics Smart Monitoring
Sprout Stack – The Future of Veggie Production
Waverley, Woollahra and Randwick Councils – Solar my School Program
Lifetime Achievement Award for Individuals
Bruce Precious
Kim McKay AO – Australian Museum
Natalie Isaacs – 1 Million Women
Scientia Professor Veena Sahajwalla FTSE FAA – UNSW Sydney
Lifetime Achievement Award for Organisations
De Bortoli Wines –- 14 years of achievements
Petersham Bowling Club
Take 3 for the Sea
Tweed Shire Council
Natural Environment Award
Fujitsu Australia – Digital Owl – Detecting endangered species with technology
Hovells Creek Landcare Group
K2W Link – K2W – A Corridor of Effort
Public Sector Leadership Award
Parkes Shire Council – Forging a Sustainable Water Servicing Future
Sydney Metro
Sydney Opera House – Tubowgule – 'where the knowledge waters meet'
Taronga Conservation Society Australia–- Treading Lightly for the Wild!
Waverley, Woollahra and Randwick Councils – Solar my School Program
Resource Efficiency Award
Cross Connections Consulting – Plastic Police
Downer EDI – Reconophalt
Secret Sounds – Splendour in the Grass
Taronga Conservation Society Australia – Treading Efficiently – For the Wild!
Sustainability Champion Award
April Crawford-Smith, Pingala and The Valley Centre
Brody Smith, Kua
Clare Press
Diane Duffy, St George Girls High School
Sara Rickards, Futuregiving
Young Sustainability Champion Award
Campbell Harvey, Australian Islamic College of Sydney
Hannah Yuan, St George Girls High School
Shalise Leesfield, Shalise's Ocean Support
Murray-Darling Basin Community Survey
The Independent Panel for the assessment of social and economic conditions in the Murray-Darling Basin is seeking to understand the lived experience of communities across the Basin.
You are invited to participate in this survey by Wednesday 30 October 2019
.
Read more and have your say here:
Snowy 2.0 Environmental Impact Statement
The Snowy Monaro community in particular is encouraged to have their say on the Snowy 2.0 Environmental Impact Statement.
The Department of Planning Industry and Environment will hold a public information session on Thursday, October 17, 6-8 pm, at Monaro Car Club, Cooma.
Have your say by 6 November 2019.
Read more and have your say here:
Aussie Bread Tags Collection Points
Collecting bread tags enables us to provide wheelchairs that change the life of disabled people in need, as well as keeping the tags out of landfill to help to preserve the environment.
Bread Tags for Wheelchairs was started in South Africa in 2006 by Mary Honeybun. It is a community program where individuals and organisations collect bread tags, which are sold to recyclers. The money raised pays for wheelchairs for the less fortunate which are purchased through a local pharmacy. Currently about 500kg of bread tags are collected a month in South Africa, funding 2-3 wheelchairs.
We have been collecting bread tags nationally in Australia since September 2018 and now have more than 100 collection points across the country. In February 2019 we started local recycling through Transmutation - Reduce, Reuse and Recycle in Robe, SA, where our tags are recycled into products such as door knobs and bowls. Tags from some states are still sent to South Africa where a plastics company called Zibo recycles them into seedling trays.
These humble bits of polystyrene can make a real difference so get your friends, family, school, workplace and church involved. Ask school tuck shops and boarding school kitchens, child care centres, aged care facilities, hospitals, cafes and fast food outlets to collect for you - they get through a lot of bread!
All the information and signage for collecting or setting up a public collection point is
on our website
.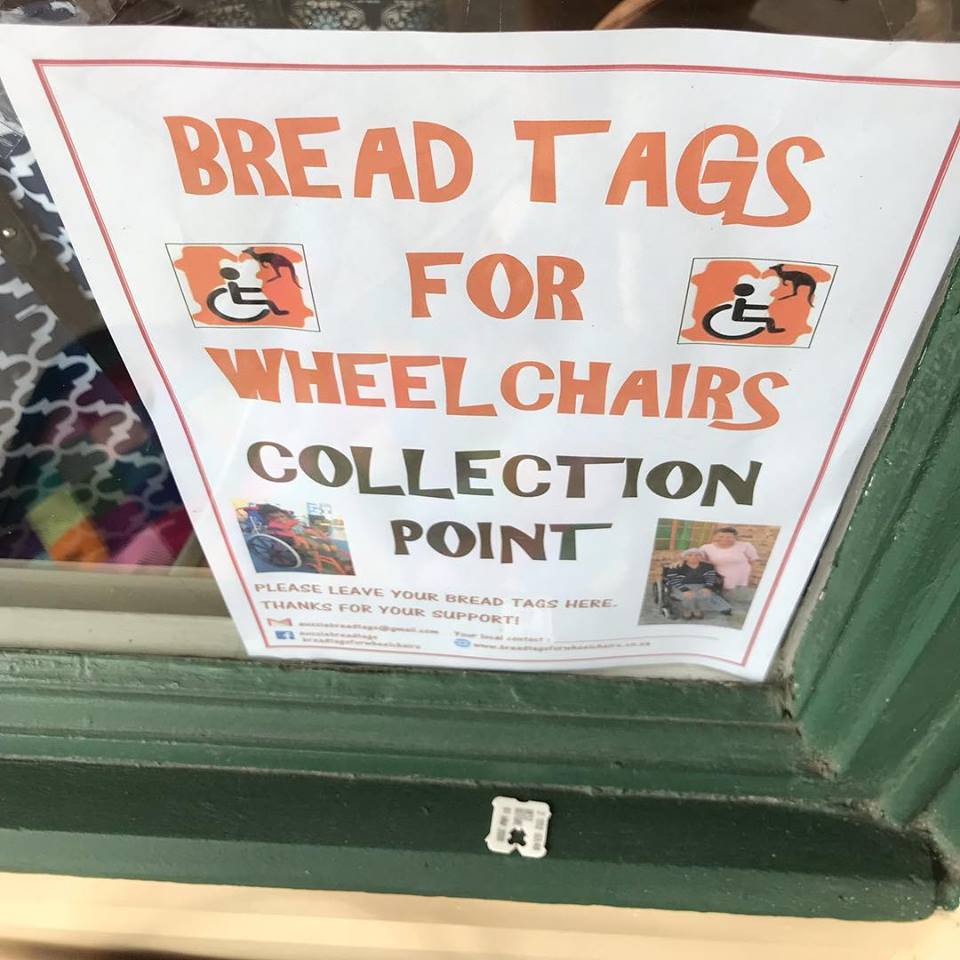 Bathroom Bugs
Although the bathroom is considered one of those places that are clean and tidy, tidier than your room for instance, they are often one of those rooms where many little and big bugs have a happy and long life (for insects).
Tiny little ants that you can see around the nail brush, collecting 'food' for some tiny ants nest far from the bathroom sink, moths called in by the light left on with
beautifully
bright wings,
huntsman
spiders that come inside just before it rains and daddy-long-legs colonising a corner will all be found in your bathroom, happily watching you dance around in the shower or waiting for you to splish splash a bit more water over the bathtub edge so they can have a drink.
During any one week their march through that room adds up to a good count of everything small that scarpers, flies and crawls.
Below are just two examples of what we found in our bathroom (or just outside in another room within the house) this week. The one at the base is an Assassin Bug while the other bright blue one looks like it belongs to the Lacewing family and is a cicada relative.
For those who would like to know more about the insects they see around their home and in the garden, CSIRO's
What Bug Is That?
provides identification keys and information to the 600+ insect families of Australia. Visit:
http://anic.ento.csiro.au/insectfamilies/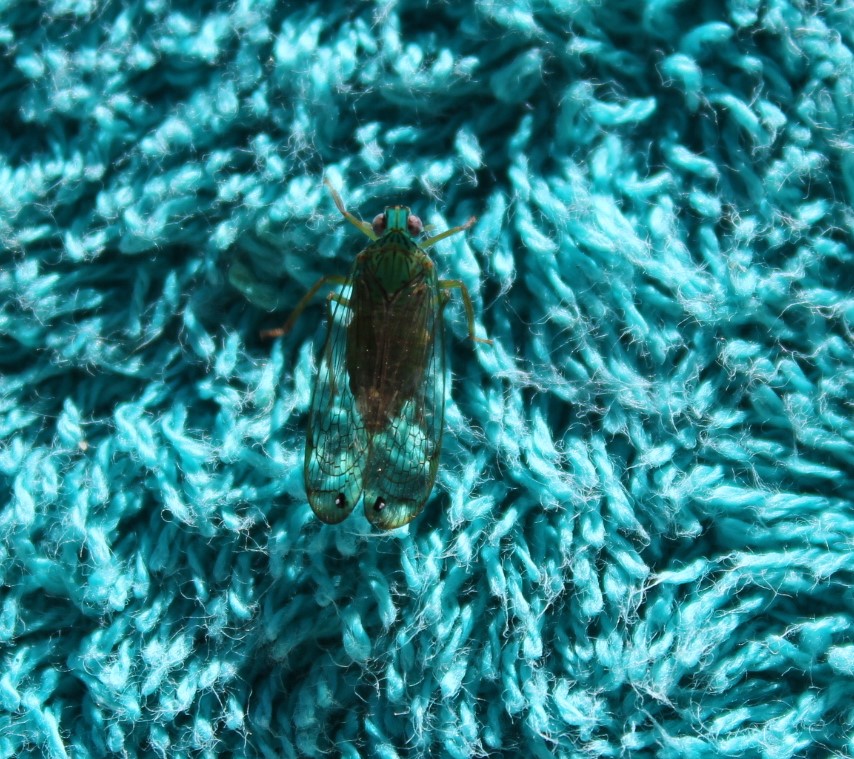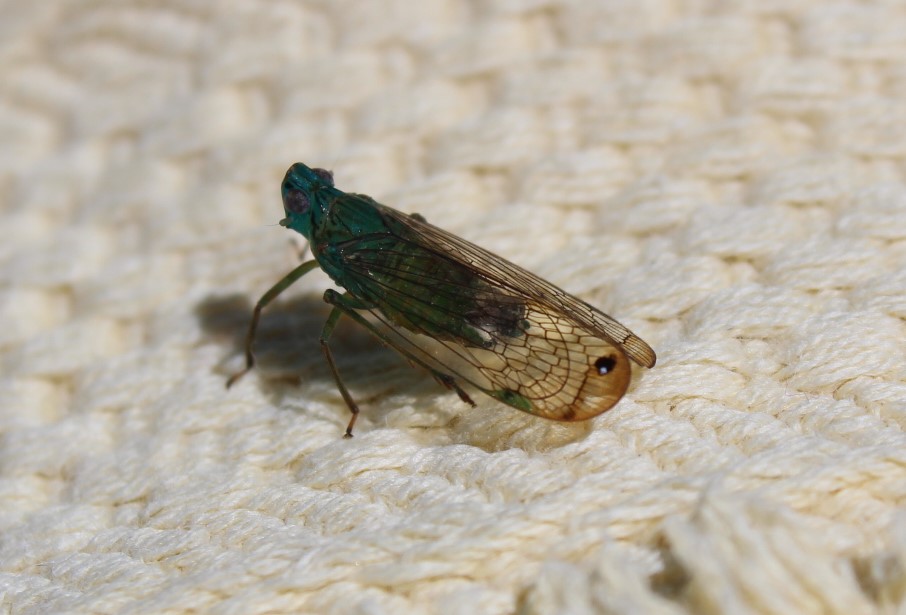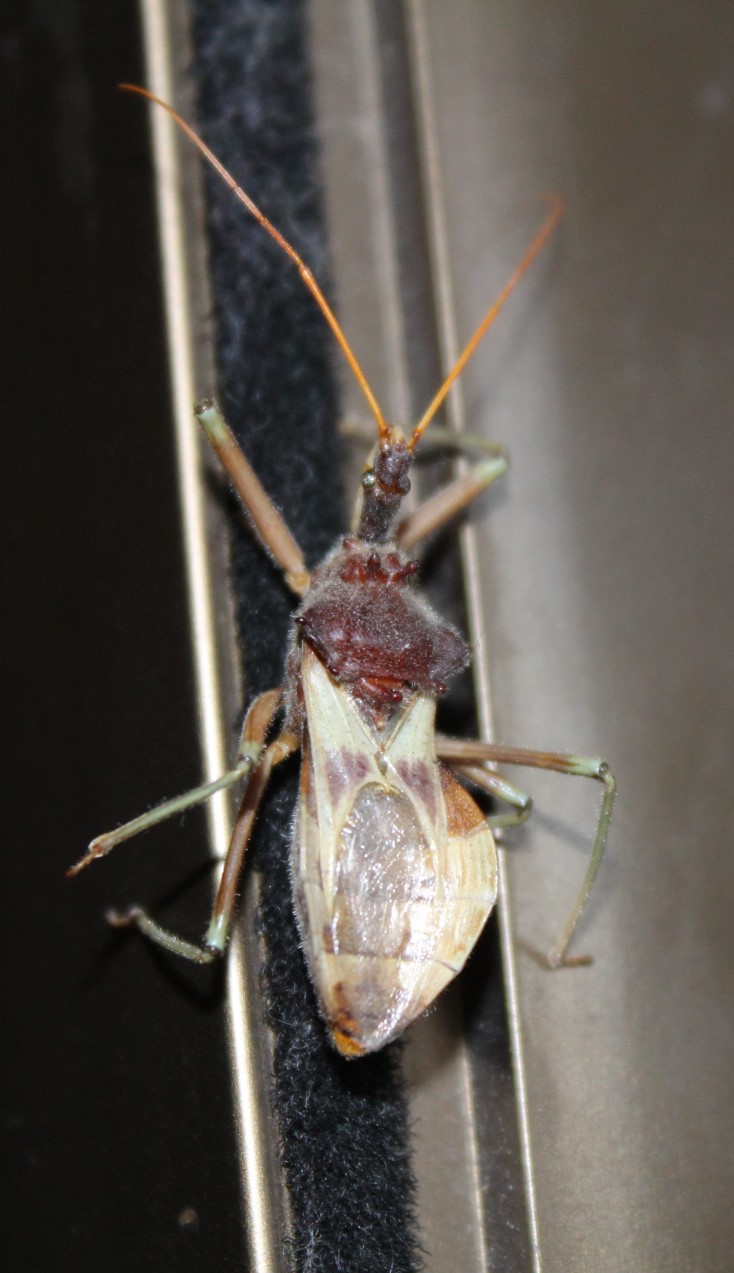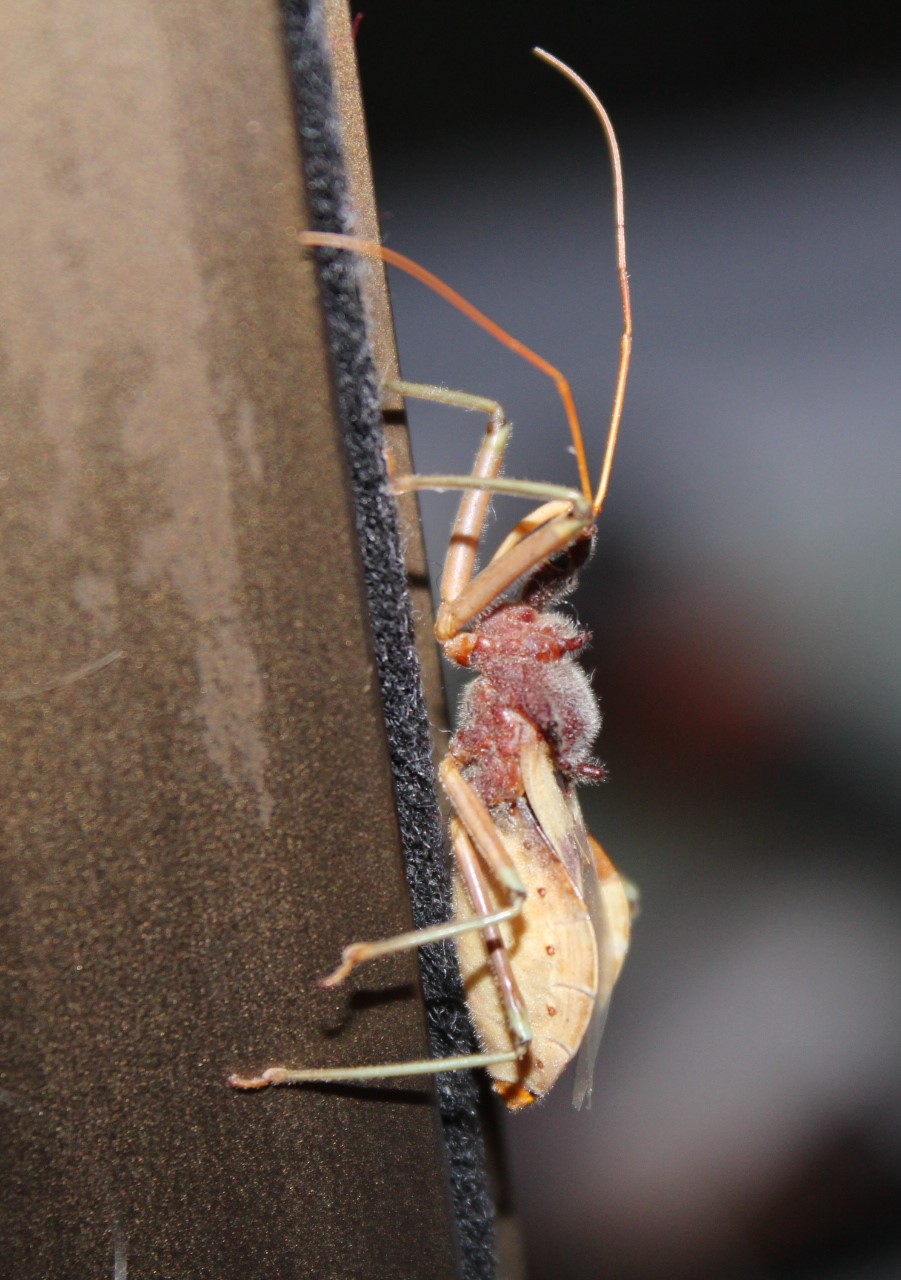 Local Surfers In Woolworths Australian Junior Surfing Team For Vissla ISA World Junior Surfing Championship
The Woolworths Australian Junior Surfing Team's 2019 Vissla ISA World Junior Surfing Championship campaign is set to get underway at Huntington Beach tomorrow USA time.
The group will be aiming for a strong performance result whilst embodying the Aussie spirit Surfing Australia's national teams are famous for.
Kate Wilcomes, the Woolworths Australian Junior Surfing Team Coach said:
"This team is made of some of Australia's most exciting Surfing talent. It's a great opportunity for each athlete to test themselves and perform against some of the most exciting juniors in the world. Mike McAuliffe (Australian Team Coach) and I look forward to bringing this group together under the pride of the Aussie flag and we'll support each of them to realise their potential, in what is a world class competition."
The event has awarded Gold Medals that launched the careers of numerous Australian stars including Stephanie Gilmore, Julian Wilson, Owen Wright, Tyler Wright, Laura Never and Sally Fitzgibbons.
Surfing Australia's National High Performance Director Kim Crane said:
"Six of our current 2019 World Championship Tour surfers competed for Team Australia recently at the ISA World Surfing Games Open event. During that trip, I listened to many of these senior experienced athletes reflect positively whilst sharing stories and photos with each other of their ISA World Surfing Games Junior teams from the past. It reminded me not only of the great strength of Surfing's pathway, but also how experiences like these shape the progressions, partnerships and friendships of our athletes. We wish the support staff and athletes well and know they will make us all proud."
The Woolworths Australian Junior Surfing Team:
Micah Margieson (NSW)
Jamie Thomson (NSW)
Harry Phillips (NSW)
Nyxie Ryan (NSW)
Holly Williams (QLD)
Tru Starling (NSW)
Cedar Leigh-Jones (NSW)
Ellia Smith (QLD)
Sage Goldsbury (VIC)
Joel Vaughan (NSW)
Mike Clayton-Brown (NSW)
Zeb Stokes (QLD)
Athletes were selected from their strong results in the 2018 Surf Dive N' Ski Australian Junior Surfing Titles. The ISA Vissla World Junior Surfing Championships will be held at Huntington Beach California and begin on 27th October 2019.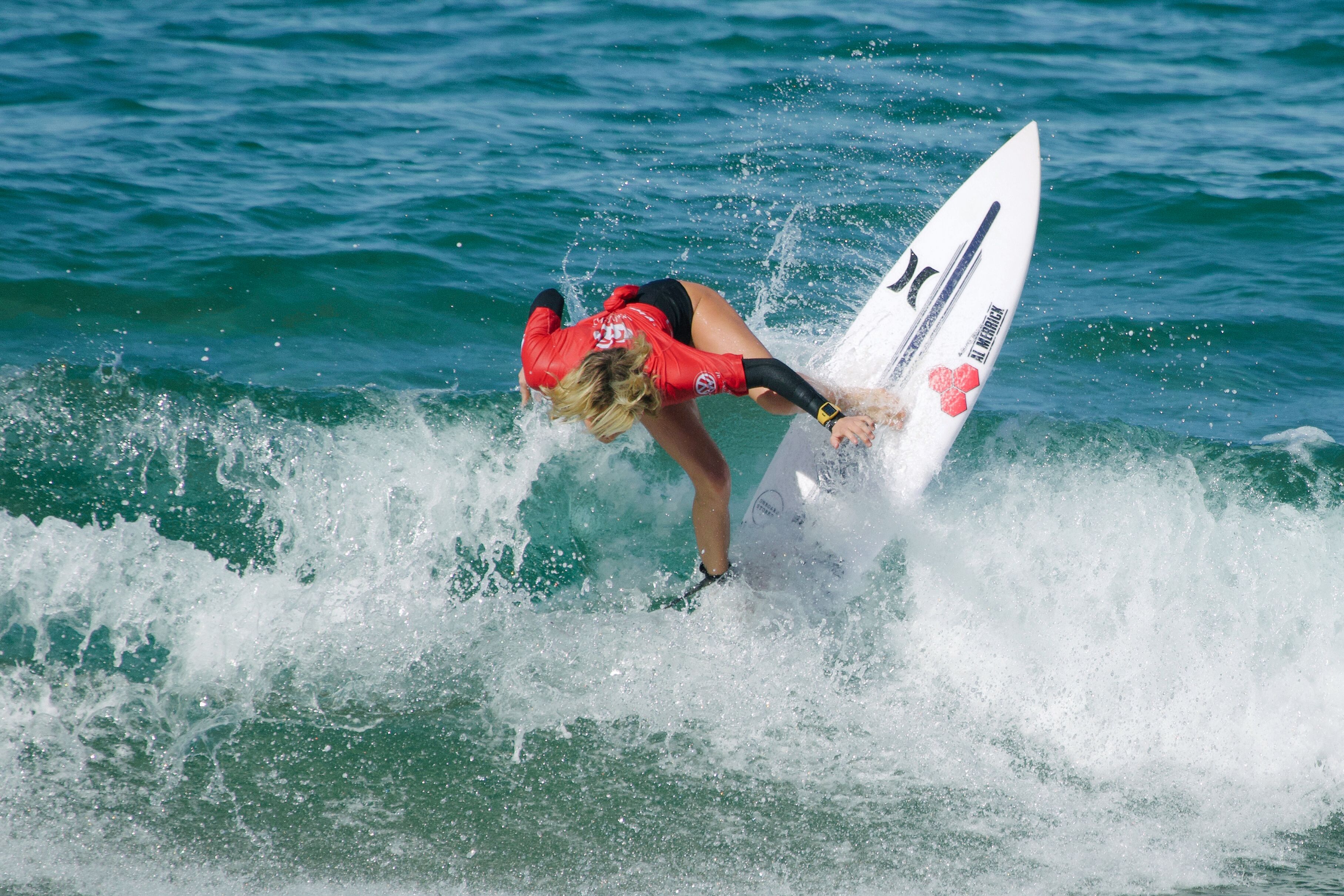 Cedar Leigh-Jones - photo by Georde Grigor / Surfing NSW
The Surfing Australia High Performance Program's purpose is to support our Australian athletes to become the world's best surfers and people. The ISA Vissla World Junior Surfing Championships are a great opportunity for our talented athletes to learn, perform internationally, progress their skills, grow personally and consolidate new friendships and networks.
The performance-focused culture Surfing Australia aims to create within Team Australia, is something that will stay with them throughout their entire careers.
The Woolworths Australian Junior Surfing Team is proudly supported by the Australian Institute of Sport (AIS) and Hydralyte Sports.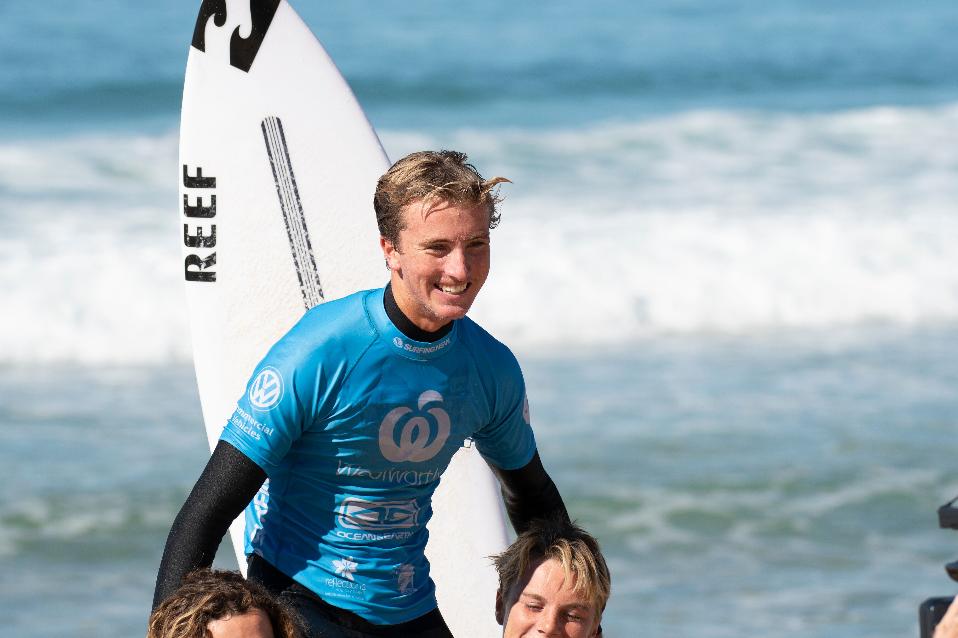 North Narrabeen's Jamie Thomson - photo by Ethan Smith/Surfing NSW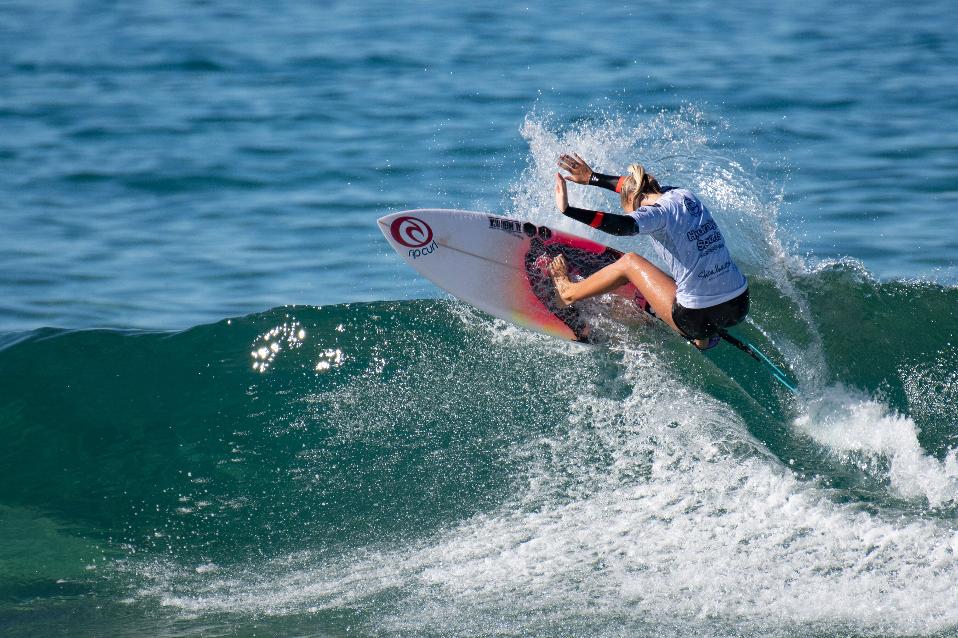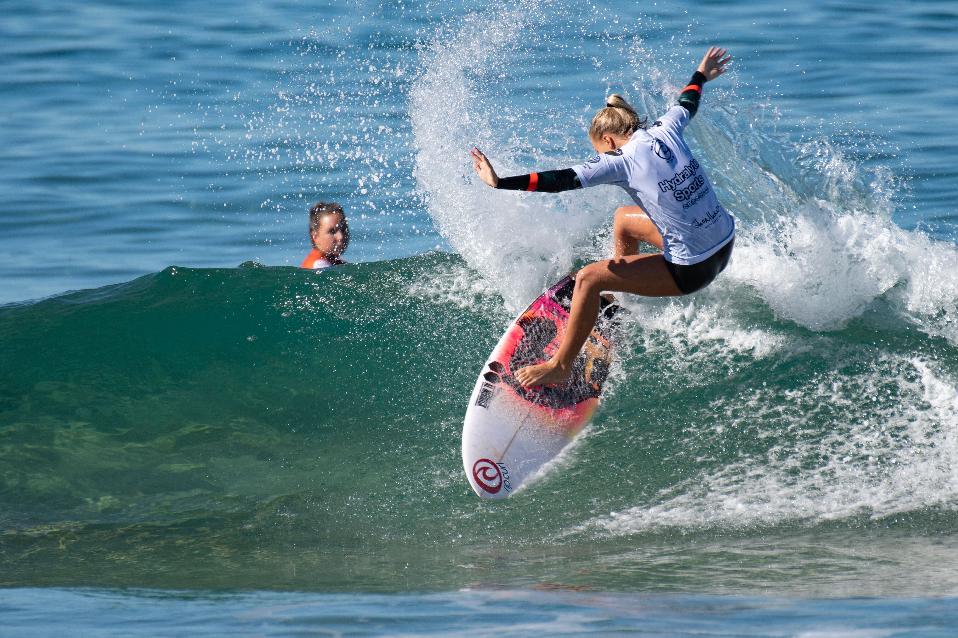 Narrabeen's Tru Starling, Day 2 of Hydralyte Sports Shoalhaven Pro Junior 2019 - photos by Ethan Smith/Surfing NSW
Australian Pollinator Week 10-17 November
By: Fiona Chambers, CEO, Wheen Bee Foundation
Calling all Citizen Scientists. We need your help!
The anecdotal 'Windscreen Test', how often you need to clear bugs from your car's windscreen when travelling, suggests we are experiencing declines in insect numbers in Australia. But we simply don't have data to quantify changing insect numbers, and that is why we need your help!
Two recently published long term studies over 3-4 decades from Germany and Puerto Rico recorded drastic reductions in insect biomass within protected areas over 75%. These results featured in a January 2019 Foresight Brief by UN Environment- 011 Early Warning, Emerging Issues and Futures. The German study was also featured an Australian edition of ABC Foreign Correspondent – Insectaggedon, on 15 October 2019.
Insects are one of the pillars of our ecosystems, providing essential ecosystem services through pollination, nutrient cycling and in the food chains of birds and other insectivores.
Australia has around 2,000 native bee species that are important pollinators. There are also a couple of thousand species of butterfly, wasp, fly moth, beetle, thrip and ant species, some of which are documented pollinators. With so little information available about many insects in Australia, citizen science project 'Wild Pollinator Count' was established by researchers. The project helps gather information on the ecology of insects by recording what flowers are visited by potential pollinators and where they are found.
'Pollinator insects are great for inquiry-based learning' says Karen Retra, native bee naturalist and co-founder of the Wild Pollinator Count. 'It encourages participants to become familiar with the diversity of insects and their roles. By comparing results on different plants and in different locations, we're seeking to better understand which flowers are visited by which insects, which flowers host particular types of insects and which plants have the broadest range of insect types'.
The information collected helps inform how we can improve our environment by planting to support a greater abundance and diversity of wild pollinators.
The next Wild Pollinator Count coincides with Australian Pollinator Week 10-17 November.
Click here
for more information about the Wild Pollinator Count. For additional activities and event ideas to celebrate Australian Pollinator Week
click here
.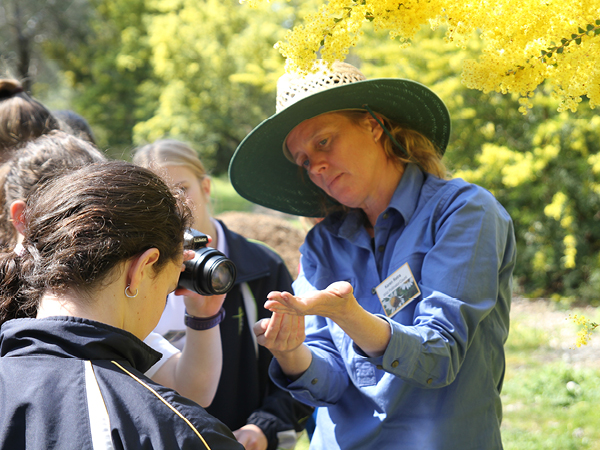 Credit: Wild Pollinator Count
Spark Tank: Watch Young People Win Cash & Expert Support For Their Ideas!
Come watch local young people present their pitch to a panel of successful entrepreneurs for the chance to win over $4000 dollars and ten weeks of professional start-up support and business coaching!
This Spark Tank event enables young people to bring their business and community ideas to life. They form teams and include at least one person they know that is going through a hard time. Working together they create a business pitch for the Spark Tank event.
Cheer on your favourites at this free event and watch as big ideas become reality in front of your eyes!
The six finalist teams that will be making their business pitch at our Spark Tank Event in Avalon on October 29 are:
Pitches in age category one (8-16 year olds) are:
Austin & Lucas: E-waste recycling
Chloe & Tegan: Youth Therapist app
Alex & Luka: Project AL, Active Life for youth app
Pitches in age category two (17-23 year olds) are:
Rebecca, Nicolas & Jack: Future Tech: STEM program for young people on the autism spectrum
Jvon & Aethan: Vertical micro-green farms
Ethan & Hayley: Sand Bar Project, advising youth on the negative effects of using alcohol and drugs
Delicious home baked cookies, cakes and beverages will be available for a gold coin donation to add to your enjoyment!
FAQs
Do I have to bring my printed ticket to the event?
No, we will have your name at the door.
Where is the Rec Center Annexe?
It is the separate small building at the rear of the park next to the main Avalon Rec Centre. Some people know it as the old scout hall.
Date And Time:
Tue, October 29, 2019,
7:00 PM – 10:00 PM AEDT
Location:
Avalon Recreation Centre Annexe,
59a Old Barrenjoey Rd,
Avalon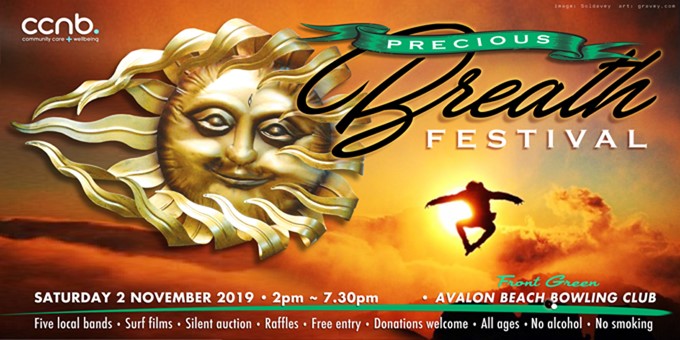 The Precious Breath Festival - a FREE mental health youth event - will be held on Saturday 2 November at Avalon Bowlo from 2pm - 7.30pm.
There will be five bands playing live, plus three epic surf films on the big screen.
Come along and hear Cooper Chapman, Matthew Caruana and Newbie Redding speak about their mental health journeys.
Organisations that will be there on the day are CCNB, Lifeline Northern Beaches, One Eighty Inc., Walk 'n' Talk For Life, Man Anchor, AA, Waves of Wellness Foundation, Northern Beaches Rotaract, Avalon Youth Hub, Gotcha4Life, and Making Meditation Mainstream.
It's an all-ages, and a no alcohol, drugs or smoking event outside on the bowling green.
Davistown Putt Putt Regatta And Wooden Boat Festival 2019: 20th Year Anniversary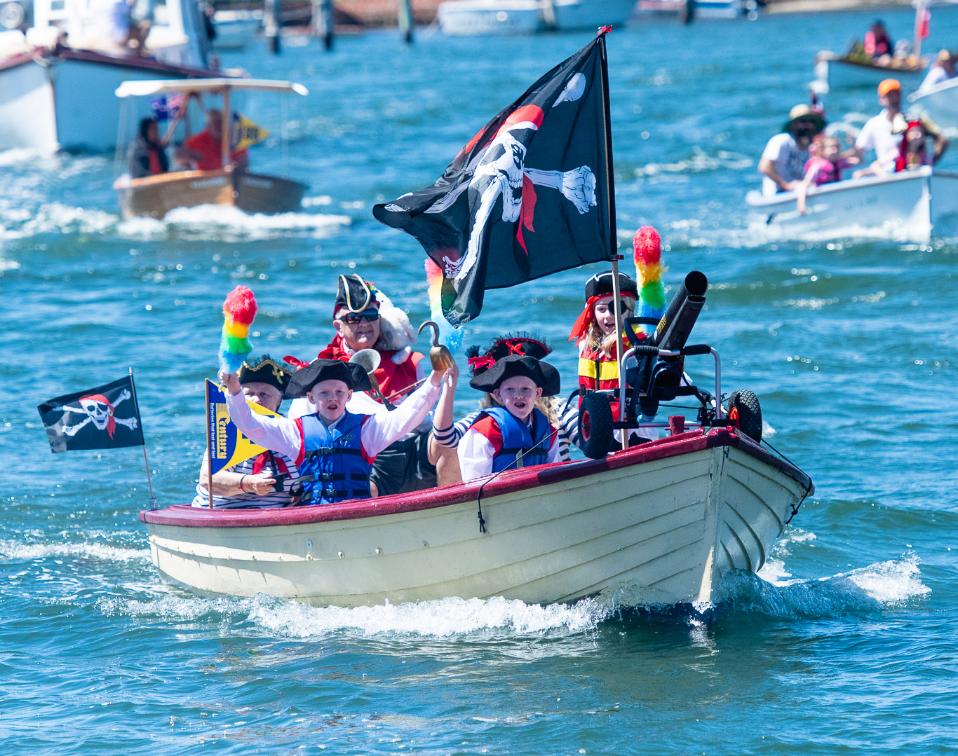 On Sunday October 20th Michael Mannington (Community Photography and Pittwater Online News) attended the 20 Year Anniversary of the Davistown Putt Putt Regatta and Wooden Boat Festival.
The genesis of the Regatta was the social and competitive gathering of "Putt Putts", as they are now known, by the early builders, residents and boating enthusiasts of the district. Regattas were often held at Davistown in the early 1900's. Challenges between boat owners/builders were designed to determine who had the fastest putt-putt, or who could row the quickest. Pittwater residents were competitors in these early Central Coast Regattas, while our Offshore Community STILL holds an annual Putt Putt Regatta around or just after the Australia Day celebrations annually.
Basics The Ingredients For Student Success
October 22, 2019
: The Hon. Gladys Berejiklian, Premier of NSW
The curriculum for students across NSW is set for its first major shakeup in over a generation with a renewed focus on Maths, English and Science following the release of the interim curriculum review today.
Premier Gladys Berejiklian welcomed the interim curriculum review and said the report's emphasis on fundamentals aligns with the government's commitment to equip our young people with the tools they need thrive in life after school.
"In addition to English, students need to have strong foundations in maths, science, technology and engineering to ensure they are prepared for jobs of the future," Ms Berejiklian said.
"Focusing the curriculum onto our STEM subjects while decluttering the wider curriculum will allow students and teachers to learn in depth not breadth.
"We are building a curriculum in consultation with stakeholders that is smart, flexible and able to prepare NSW school students for whatever career they choose in the future.
Education Minister Sarah Mitchell said the draft curriculum review has indicated 'significant change' is required to the NSW curriculum.
"This is the first review of the curriculum to be done in 30 years. It's a great opportunity for us to reflect on the future of education in NSW and make changes to meet the needs of today's society," Ms Mitchell said.
"Students need to be equipped with strong literacy and numeracy foundations to succeed in the 21st Century."
"We want a curriculum that leaves no student behind while stimulating students who are advancing faster than others."
In 2018, the NSW Government commissioned Professor Geoff Masters to review the entire school curriculum from Kindergarten to Year 12.
Parents, teachers, students and the public can have a say on the Interim Curriculum Review via the NSW Curriculum Review website. Consultation closes on 13 December 2019.
The interim report's key recommendations are:
A stronger emphasis on STEM subjects;
Reducing the amount of content in the curriculum so students have time to build in depth subject knowledge and develop the skills needed to apply knowledge in the real world;
Flexible progression that uses levels of attainment to organise syllabuses so students are recognised and challenged according to where they are on the continuum of learning.
New Curriculum Making It Easier For Students To Take Up A Trade
October 23, 2019: The Hon. Gladys Berejiklian, Premier of NSW
School leavers will benefit from an accelerated pathway from Year 12 to TAFE NSW with the NSW Government announcing a new program to incentivise study at TAFE.
Premier Gladys Berejiklian and Minister for Skills and Tertiary Education Geoff Lee said the program will to make it more attractive for high school students to take up a trade or apprenticeship by allowing students to receive recognition for what they have already learnt at school.
Today's announcement follows the Government's release of the interim curriculum review which indicated there needs to be greater focus on embedding trade education within senior years of the curriculum. The review also noted the need for greater collaboration between schools, vocational education providers, universities and industry.
"We are focused on preparing young people for the jobs of the future," Ms Berejiklian said.
"This announcement will allow school leavers to build skills across emerging industries such as advanced manufacturing, technology and engineering.
"We want universities and VET to be thought of in the same sentence for young people looking to prepare themselves for the high value jobs of the future."
Mr Lee said that around a quarter of students who start a bachelor degree but drop out of university could be better suited to attending TAFE.
"We are incentivising high-achieving HSC students into our vocational education sector by giving them a head-start at TAFE NSW," Mr Lee said.
"We will do this by mapping HSC units to vocational competencies and allowing eligible students to proceed straight to assessments.
"Educational research identifies that some students are feeling pressured to go to university, regardless of whether it's the best option for their future careers."
HSC subjects that could qualify for these new TAFE pathways include mathematics, engineering studies, industrial technology and, software design and development.
Maths To Be Compulsory For Students
October 24, 2019
: The Hon. Gladys Berejiklian, Premier of NSW
Maths will be compulsory for all students in the revised NSW curriculum to ensure students are prepared for the jobs of the future.
Premier Gladys Berejiklian said the NSW Government is working to make maths compulsory from Kindergarten to Year 12 to ensure students have the numeracy skills required to succeed in today's society.
"We promised to take the curriculum back to the basics and today we are taking the first steps to deliver on that commitment by prioritising maths," Ms Berejiklian said.
"My vision is for every child in NSW to have the necessary maths skills to succeed in life, whether that's managing home budgets or preparing them for the jobs of the future in science, technology and engineering."
Earlier this week the interim report into the NSW Curriculum Review was released signalling the start of the biggest shakeup to the NSW curriculum in over 30 years.
Minister for Education Sarah Mitchell said the NSW Liberals & Nationals Government is getting on with the job of delivering Australia's best education system, providing NSW students with the academic foundations and critical thinking to thrive in a competitive, globalised workforce.
"Whether you are a carpenter or a software engineer, maths is a companion for life, we want to make sure that the new curriculum provides a level of maths concepts that will help every NSW student succeed in life after school," Ms Mitchell said.
"Parents have a reasonable expectation that their children are mathematically literate when they finish school in year 12.
"The interim report on the Curriculum Review has indicated that it is time for significant changes and we want maths to be a part of that."
The NSW Government will begin consultation with education stakeholders over how maths can be incorporated into every single year of a child's educational journey – from kindergarten to the end of the HSC.
Monstrous Galaxy From Dawn Of The Universe Accidentally Discovered
Astronomers accidentally discovered the footprints of a monster galaxy in the early universe that has never been seen before. Like a cosmic Yeti, the scientific community generally regarded these galaxies as folklore, given the lack of evidence of their existence, but astronomers in the United States and Australia managed to snap a picture of the beast for the first time.
Published in the Astrophysical Journal, the discovery provides new insights into the first growing steps of some of the biggest galaxies in the universe.
University of Arizona astronomer Christina Williams, lead author of the study, noticed a faint light blob in new sensitive observations using the Atacama Large Millimeter Array, or ALMA, a collection of 66 radio telescopes high in the Chilean mountains. Strangely enough, the shimmering seemed to be coming out of nowhere, like a ghostly footstep in a vast dark wilderness.
"It was very mysterious because the light seemed not to be linked to any known galaxy at all," said Williams, a National Science Foundation postdoctoral fellow at the Steward Observatory. "When I saw this galaxy was invisible at any other wavelength, I got really excited because it meant that it was probably really far away and hidden by clouds of dust."
The researchers estimate that the signal came from so far away that it took 12.5 billion years to reach Earth, therefore giving us a view of the universe in its infancy. They think the observed emission is caused by the warm glow of dust particles heated by stars forming deep inside a young galaxy. The giant clouds of dust conceal the light of the stars themselves, rendering the galaxy completely invisible.
Study co-author Ivo Labbé, of the Swinburne University of Technology, Melbourne, Australia, said: "We figured out that the galaxy is actually a massive monster galaxy with as many stars as our Milky Way, but brimming with activity, forming new stars at 100 times the rate of our own galaxy."
The discovery may solve a long-standing question in astronomy, the authors said. Recent studies found that some of the biggest galaxies in the young universe grew up and came of age extremely quickly, a result that is not understood theoretically. Massive mature galaxies are seen when the universe was only a cosmic toddler at 10% of its current age. Even more puzzling is that these mature galaxies appear to come out of nowhere: astronomers never seem to catch them while they are forming.
Smaller galaxies have been seen in the early universe with the Hubble Space Telescope, but such creatures are not growing fast enough to solve the puzzle. Other monster galaxies have also been previously reported, but those sightings have been far too rare for a satisfying explanation.
"Our hidden monster galaxy has precisely the right ingredients to be that missing link," Williams explains, "because they are probably a lot more common."
An open question is exactly how many of them there are. The observations for the current study were made in a tiny part of the sky, less than 1/100th the disc of the full moon. Like the Yeti, finding footprints of the mythical creature in a tiny strip of wilderness would either be a sign of incredible luck or a sign that monsters are literally lurking everywhere.
Williams said researchers are eagerly awaiting the March 2021 scheduled launch of NASA's James Webb Space Telescope to investigate these objects in more detail.
"JWST will be able to look through the dust veil so we can learn how big these galaxies really are and how fast they are growing, to better understand why models fail in explaining them."
But for now the monsters are out there, shrouded in dust and a lot of mystery.
Christina C. Williams, Ivo Labbe, Justin Spilker, Mauro Stefanon, Joel Leja, Katherine Whitaker, Rachel Bezanson, Desika Narayanan, Pascal Oesch, Benjamin Weiner.
Discovery of a Dark, Massive, ALMA-only Galaxy at z ∼ 5–6 in a Tiny 3 mm Survey
. The Astrophysical Journal, 2019; 884 (2): 154 DOI: 10.3847/1538-4357/ab44aa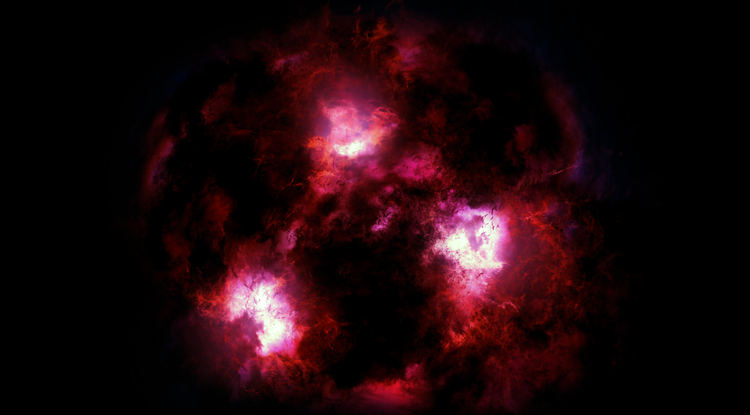 An artist's impression of what a massive galaxy in the early universe might look like. The galaxy is undergoing an explosion of star formation, lighting up the gas surrounding the galaxy. Thick clouds of dust obscure most of the light, causing the galaxy to look dim and disorganised, very different from galaxies seen today. (Image: James Josephides/Christina Williams/Ivo Labbe)
Vitamin D Deficiency Is Associated With Poor Muscle Function In Adults Aged 60+
New research from Trinity College Dublin shows that vitamin D deficiency is an important determinant of poor skeletal muscle function in adults aged 60 years and over.
Maintaining skeletal muscle function throughout life is a crucial component of successful ageing, in promoting independence, mobility, quality of life and reducing falls and frailty. While resistance exercise is known to preserve muscle function, there is growing evidence that adequate vitamin D status may also be protective. The paper was recently published in the international journal Clinical Interventions in Ageing.
Key Findings:
The prevalence of muscle weakness was twice as high among older adults with vitamin D deficiency (40.4%) compared with vitamin D adequacy (21.6%).
Similarly, impaired 'muscle performance' was 3 times higher in older adults with vitamin D deficiency (25.2%) compared with vitamin D adequacy (7.9%).
Based on more complex statistical analysis, the study showed that vitamin D deficiency significantly increased the likelihood of impaired muscle strength and performance.
The study confirmed the associated benefits of physical activity. Older adults partaking in regular moderate physical activity had significantly lower likelihood of poor muscle strength and physical performance.
In summary, vitamin D deficiency was associated with impaired muscle strength and performance in a large study of community-dwelling older people.
It is generally accepted that vitamin D deficiency (at the 25(OH)D <30 nmol/L cut-off) should be reversed to prevent bone disease, this strategy may also protect skeletal muscle function in ageing.
The findings are based on the analysis of data from 4157 community-dwelling adults aged 60 years and over, from the English Longitudinal Study of Aging (ELSA). Two validated measures of muscle function were assessed, namely hand grip strength and the Short Physical Performance Battery (SPPB). Serum vitamin D was measured [25-hydroxyvitamin D] with a concentration <30 nmol/L classed as vitamin D deficient, the cut-off known to be associated with bone disease.
Maria O'Sullivan, Associate Professor in Nutrition at Trinity College Dublin said: "Our results show that vitamin D deficiency increased the likelihood of poor muscle function in older adults and confirms the protective effect of physical activity. Maintaining muscle function is incredibly important, and often overlooked, in promoting healthy ageing. Addressing this through multimodal approaches that incorporate physical activity, reversing vitamin D deficiency and other modifiable diet and lifestyle components require further investigation."
Dr Niamh Aspell, first author of the study said: "Overall our findings add weight to the evidence in favour of public health strategies to eliminate vitamin D deficiency in older populations. Future research, however, should identify and focus on older adults with vitamin D deficiency and aim to better understand if reversing this deficiency improves skeletal muscle function."
Dr Eamon Laird, Co-Author and Trinity Research Fellow added that "Vitamin D deficiency and physical activity are modifiable factors. Some countries, for example Finland, have successful implemented a vitamin D food fortification policy which has all but eliminated deficiency in the population. Such a policy could similarly be implemented in the UK and Ireland for older populations."
Niamh Aspell, Eamon Laird, Martin Healy, Brian Lawlor, Maria O'Sullivan.
Vitamin D Deficiency Is Associated With Impaired Muscle Strength And Physical Performance In Community-Dwelling Older Adults: Findings From The English Longitudinal Study Of Ageing
.

Clinical Interventions in Aging, 2019; Volume 14: 1751 DOI: 10.2147/CIA.S222143
Driverless Cars Could Lead To More Traffic Congestion
October 23, 2019: University of Adelaide
New research from the University of Adelaide has predicted that driverless cars could worsen traffic congestion in the coming decades, partly because of drivers' attitudes to the emerging technology and a lack of willingness to share their rides.
Using the City of Adelaide in Australia as a test model, researchers surveyed more than 500 commuters, including a mix of those who travel to work by car and public transport, and modelled the potential impacts. The results are now published in the journal Urban Policy and Research.
"Autonomous or driverless vehicles are likely to have profound effects on cities. Being able to understand their impact will help to shape how our communities respond to the challenges and opportunities ahead," says study co-author Dr Raul Barreto, from the University of Adelaide's School of Economics.
This multidisciplinary research -- conducted by the University's School of Architecture and Built Environment, School of Economics, and the Australian Institute for Machine Learning, in collaboration with researchers from the City of Adelaide -- investigated commuters' views on autonomous vehicle ownership and use, vehicle sharing, and their attachment to conventional vehicles.
The research team then explored potential vehicle flow, with a mix of autonomous and conventional vehicles, and land use change in the Adelaide CBD under different scenarios.
"Our findings show that Adelaide has the potential to significantly reduce the number of vehicles on the roads and improve traffic flows, however these benefits may not be achieved in the near to medium term for many reasons," Dr Barreto says.
"The key factors affecting the transition to autonomous vehicles are commuter attitudes to car ownership and wanting to drive themselves, rather than have technology do it for them, as well as the price of new technology, and consumer attitudes to car sharing.
"Our evidence suggests that as riders switch to autonomous vehicles, there will be an adverse impact on public transport. With most commuters not interested in ride sharing, this could increase peak period vehicle flows, which is likely to increase traffic congestion over the next 30 years or so.
"Under both scenarios we tested, the number of vehicles overall will eventually drop. However, total vehicle trips may increase, and some of the predicted benefits of autonomous vehicles may not eventuate until a lengthy transition period is complete.
"Our findings have policy implications for how the transition to autonomous vehicles is managed, not just within the City of Adelaide but for other cities around the world," Dr Barreto says.
Jon Kellett, Raul Barreto, Anton Van Den Hengel, Nik Vogiatzis.
How Might Autonomous Vehicles Impact the City? The Case of Commuting to Central Adelaide.
Urban Policy and Research, 2019; 1 DOI:
10.1080/08111146.2019.1674646
Simple Test Predicts Dangerous Pregnancy Disorder
October 23, 2019: Edith Cowan University
Australian researchers have developed a way to predict the onset of a deadly pregnancy condition that kills 76,000 women and half a million babies each year, mostly in developing countries.
Researchers from Edith Cowan University in Perth, Western Australia, have developed a simple, low-cost way to predict preeclampsia, one of the leading causes of maternal-fetal mortality worldwide.
Preeclampsia can cause devastating complications for women and babies, including brain and liver injury in mothers and premature birth.
Survey gives early warning
ECU researchers assessed the health status of 593 pregnant Ghanaian women using the Suboptimal Health Questionnaire.
The Suboptimal Health Questionnaire was developed in 2009 by Professor Wei Wang from ECU's School of Health and Medical Sciences. Combining scores for fatigue, heart health, digestion, immunity and mental health, the questionnaire provides an overall 'suboptimal health score' that can help predict chronic diseases.
Professor Wang's PhD candidate Enoch Anto found that 61 per cent of women who scored high on the questionnaire went on to develop preeclampsia, compared with just 17 per cent of women who scored low.
When these results were combined with blood tests that measured women's calcium and magnesium levels, the researchers were able to accurately predict the development of preeclampsia in almost 80 per cent of cases.
Mr Anto said preeclampsia was very treatable once identified, so providing an early warning could save thousands of lives.
"In developing nations, preeclampsia is a leading cause of death for both mothers and babies. In Ghana, it's responsible for 18 per cent of maternal deaths," Mr Anto said.
"But it can be treated using medication that lowers blood pressure once diagnosed.
"Both blood tests for magnesium and calcium and the Suboptimal Health Questionnaire are inexpensive, making this ideally suited to the developing world where preeclampsia causes the most suffering."
Enoch Odame Anto, Peter Roberts, David Coall, Cornelius Archer Turpin, Eric Adua, Youxin Wang, Wei Wang.
Integration of suboptimal health status evaluation as a criterion for prediction of preeclampsia is strongly recommended for healthcare management in pregnancy: a prospective cohort study in a Ghanaian population.
EPMA Journal, 2019; 10 (3): 211 DOI:
10.1007/s13167-019-00183-0
Embracing Sustainable Practices Would Help Some Winery Tasting Rooms Stand Out
Wineries in the mid-Atlantic region should consider recycling and encouraging their customers to bring bottles to their tasting rooms for refilling to distinguish their businesses from so many others, according to a team of wine-marketing researchers who surveyed consumers.
With competition to attract visitors stiff and still growing among the hundreds of wineries in the region, connecting a winery's brand to sustainable practices would attract more visitors to its tasting room, according to Kathleen Kelley, professor of horticultural marketing and business management in Penn State's College of Agricultural Sciences. The strategy, researchers believe, would especially appeal to environmentally conscious younger customers.
"We see that millennials seem to be more concerned with the environment, so a way for wineries to stand out from the crowd with younger wine consumers is to encourage recycling bottles and perhaps offer refillable growlers," she said. "The question is, how do we motivate people to return to wine-tasting rooms? Using recyclable containers is one way."
The purpose of the research, recently published in the British Food Journal, was to investigate consumers' wine preferences, recycling attitudes and behaviours, and socio-demographic data in an effort to build market-segment profiles of those willing to bring wine bottles back to wine-tasting rooms to be recycled. The study also looked at consumer attitudes toward glass-alternative packaging and various cork-alternative bottle closures.
To learn consumer preferences, researchers administered a detailed online survey to 714 wine consumers residing in the mid-Atlantic region -- Pennsylvania, New York and New Jersey -- and the researchers analysed their responses using a special method that allowed market segments to be identified. About 85% of survey participants indicated that they were willing to bring empty wine bottles to a winery for recycling.
Collectively, 77% of participants were members of just three of the eight market segments developed, with 90% percent of participants in those segments willing to bring empty wine bottles to a winery tasting room to be recycled. These three segments were comprised of millennials, born between 1980 and 1994; members of Generation X, born between 1965 and 1979; and Baby Boomers, born between 1944 and 1964.
"We know from all the available data that tasting-room traffic is still very important to wineries, even though there are so many other outlets where consumers can buy wine," Kelley said. "Consumers still seek the experience of visiting a winery tasting room, and it drives sales. A winery being seen as sustainable offers consumers a reason to visit more frequently."
Over time, younger consumers as they age become increasingly important to businesses such as winery tasting rooms. Although baby boomers and Gen Xers have more discretionary income to spend because they are older and presumably better established, Kelley noted that millennials are making up a fast-growing portion of tasting-room traffic.
And while so-called generational marketing is wise, in this case it would be foolish to believe that only individuals in the younger group care about sustainability or that only people in the older group can afford to buy wine, Kelley pointed out. And a sustainability-linked image is not for all wineries. Still, she suggested, mid-Atlantic winemakers should consider their younger customers' behaviour and purchasing habits.
"We are finding that younger millennials give more thought and pay more attention to experiences rather than products," she explained, so wineries should consider appealing to these patrons' environmentalism and preference for sustainability in tasting rooms and operations.
"Our data indicates that recycling is a key issue that will motivate many consumers who are likely to travel to winery tasting rooms, so recycling wine bottles or allowing them to refill their growlers with a certain varietal in a promotional offer makes good business sense," she said.
"We can describe that consumer both in their demographics and their behaviors, and that allows the winery tasting rooms to develop promotional materials and offer experiences and products to appeal to these consumers."
In a follow-up study related to marketing sustainability in mid-Atlantic region winemaking, Kelley's research group is surveying consumers about whether they would be willing to pay a bit more for wine produced from grapes grown sustainably with cover crops as a way to control weeds and insects.
Also involved in the research were Jeffrey Hyde and Jennifer Zelinskie, Penn State; Johan Bruwer, University of South Australia; Denise Gardner, Denise Gardner Winemaking; Ramu Govindasamy, Rutgers University; and Bradley Rickard, Cornell University.
Kathleen Kelley, Johan Bruwer, Jennifer Zelinskie, Denise Gardner, Ramu Govindasamy, Jeffrey Hyde, Bradley Rickard.
Wine consumers' willingness to adopt environmentally friendly packaging practices at tasting rooms.
British Food Journal, 2019; ahead-of-print (ahead-of-print) DOI:
10.1108/BFJ-04-2019-0229
Mapping International Drug Use Through The World's Largest Wastewater Study
October 23, 2019: University of South Australia
A seven-year project monitoring illicit drug use in 37 countries via wastewater samples shows that cocaine use was skyrocketing in Europe in 2017 and Australia had a serious problem with methamphetamine.
In a paper released today in Addiction, researchers from 41 international institutions released their findings after analysing sewage samples from 60 million people between 2011 and 2017, the largest wastewater-based study undertaken in the world.
University of South Australia chemist Dr Richard Bade -- one of the lead authors -- says Adelaide, Canberra and Toowoomba were the three Australian cities monitored among 120 cities worldwide.
In 2017, Adelaide's wastewater was monitored for a week, revealing between 507 and 659 milligrams of methamphetamine per 1000 people each day. In contrast, both Canberra and Toowoomba recorded levels of between 271-331 milligrams of methamphetamine.
Canberra and Toowoomba were also monitored in 2014 and 2015, showing a 170 per cent increase in methamphetamine use in both cities in a three-year period. Adelaide was only monitored once.
Historically, Adelaide and Perth have had the highest levels of methamphetamine in Australia. However, since the data in this paper was collected, through sustained targeted campaigns, authorities have succeeded in reducing the rate of use in Adelaide by almost half.
Researchers mapped the global use of four illicit drugs in their study -- amphetamine, methamphetamine (also known as 'ice'), ecstasy and cocaine -- but the first three years were confined to European cities while from 2014 onwards, cities in Australia, New Zealand, Colombia, Martinique, Canada, the US, South Korea and Israel were monitored.
The results showed a worrying trend of drug use across the world:
From 2011-2017, cocaine levels were highest in London, Bristol, Amsterdam, Zurich. Geneva, St Gallen and Antwerp, with levels of between 600-900 mg/1000 people per day recorded. Overall, cocaine use increased by nearly 13 per cent over five years.
Amphetamine loads were highest in Belgium, The Netherlands, and across northern European countries, including Swedish cities and Reykjavik in Iceland.
The amount of methamphetamine (ice) excreted in Australasia and North America was huge, far exceeding levels in eastern Europe, which was at the time still considered high with average levels more than 150 mg/1000 people per day. Adelaide in contrast recorded levels above 600mg.
The Netherlands recorded the highest mass loads of ecstasy over the seven years of the study, although increases were also reported in cities like Helsinki, Oslo, Amsterdam, Brussels and Barcelona.
The cities with the highest overall drug levels in Europe include Antwerp, Amsterdam, Zurich, London and Barcelona, while at the other end of the scale, cities in Greece, Portugal, Finland, Poland and Sweden have the lowest rates of drug use.
Outside Europe, Medellin (Colombia), Adelaide and the US city of Seattle all recorded relatively high drug levels, although Medellin's figures were mainly due to cocaine while Adelaide and Seattle have very high levels of methamphetamine. The study showed an 85 per cent increase in methamphetamine seizures in Europe between 2012 and 2016, from 13,000 to 24,000. Figures from Australia are not available.
Dr Bade, an analytical chemist in UniSA's School of Pharmacy and Medical Sciences, says methamphetamine use is linked to several health conditions, including mental disorders, elevated heart rates and domestic violence.
"It's important we determine the scale of the illicit drug market so that countries can work out the best way to tackle a $100 billion industry, which is contributing to the global burden of disease and affecting the economic development of many countries," he says.
The University of South Australia and University of Queensland were the only Australian institutions involved in the study, led by the SCORE group (Sewage analysis CORe group Europe).
Iria González‐Mariño, Jose Antonio Baz‐Lomba, Nikiforos A. Alygizakis, Maria Jesús Andrés‐Costa, Richard Bade, Leon P. Barron, Frederic Been, Jean‐Daniel Berset, Lubertus Bijlsma, Igor Bodík, Asher Brenner, Andreas L. Brock, Daniel A. Burgard, Erika Castrignanò, Christophoros E. Christophoridis, Adrian Covaci, Pim Voogt, Damien A. Devault, Mário J. Dias, Erik Emke, Despo Fatta‐Kassinos, Ganna Fedorova, Konstantinos Fytianos, Cobus Gerber, Roman Grabic, Stefan Grüner, Teemu Gunnar, Evroula Hapeshi, Ester Heath, Björn Helm, Félix Hernández, Aino Kankaanpaa, Sara Karolak, Barbara Kasprzyk‐Hordern, Ivona Krizman‐Matasic, Foon Yin Lai, Wojciech Lechowicz, Alvaro Lopes, Miren López de Alda, Ester López‐García, Arndís S. C. Löve, Nicola Mastroianni, Gillian L. McEneff, Rosa Montes, Kelly Munro, Thomas Nefau, Herbert Oberacher, Jake W. O'Brien, Kristin Olafsdottir, Yolanda Picó, Benedek G. Plósz, Fabio Polesel, Cristina Postigo, José Benito Quintana, Pedram Ramin, Malcolm J. Reid, Jack Rice, Rosario Rodil, Ivan Senta, Susana M. Simões, Maja M. Sremacki, Katarzyna Styszko, Senka Terzic, Nikolaos S. Thomaidis, Kevin V. Thomas, Ben J. Tscharke, Alexander L. N. Nuijs, Viviane Yargeau, Ettore Zuccato, Sara Castiglioni, Christoph Ort.
Spatio‐temporal assessment of illicit drug use at large scale: evidence from 7 years of international wastewater monitoring.
Addiction, 2019; DOI:
10.1111/add.14767
Fish Pass 'Hot Genes' Onto Their Grandchildren
October 23, 2019: ARC Centre of Excellence for Coral Reef Studies
Fish that are able to adjust to warming waters may pass heat-tolerant genes not just onto their children, but their grandchildren too.
Dr Jennifer Donelson is an Australian Research Council (ARC) Future Fellow at the ARC Centre of Excellence for Coral Reef Studies at James Cook University (Coral CoE at JCU). She is speaking at the 2019 Coral Reef Futures Symposium in Sydney, today.
Dr Donelson's research explores the ability of fish to acclimate to future warming. So far, her work has focused on two generations of fish: parents and their offspring. Her next chapter of work digs deeper and brings in a third generation.
"Ocean warming of one to three degrees Celsius has a negative effect on coral reef fish," Dr Donelson said.
"Traits such as growth, reproduction, aerobic capacity (the ability to deliver energy to the muscles), and sex determination are all affected."
"So, the projected warming under climate change could have severe effects on coral reef fish populations."
Dr Donelson says fish that grow in warmer conditions from early life can improve their thermal performance "a little."
"But the real improvements happen when their parents have experienced warm ocean conditions too."
Exposing the parents to higher water temperatures appears to signal which genes to switch on, or off. This alteration of genes in the offspring is 'acclimation', and acts as a buffer against increasingly warming waters.
Dr Donelson found that both the rate and magnitude of warming can produce different results.
"With only a 1.5 degrees Celsius increase, fish were able to fully restore the negative effects of warming on their physiology and reproduction in two generations," she said.
"With a greater increase in warming, fish really began to struggle. While they were able to restore aerobic capacity, they ceased to reproduce after two generations. Obviously, that's a terminal impact."
"When fish experienced only a 1.5C increase in each generation (totalling +3C in two generations), they restored aerobic capacity and partially restored reproductive ability."
Dr Donelson is now testing if an improved tolerance to warmer waters still holds after the offspring generation go back to cooler conditions.
"This new chapter of work will also focus on the traits and genes of three generations," she said. "And how their early-life conditions affect their grandkids."
"In a warming world, there are clear limits to what fish can cope with. My research is getting us closer to identifying the mechanisms that help some acclimatise to modest amounts of heating."
The ARC Future Fellows are awarded to outstanding mid-career researchers to undertake research in areas of national priority.
Dr Donelson's work will provide significant benefits to Australian and international communities that rely on fish for nutrition, as well as economic and social values.
Dr Jennifer Donelson presents 'You can't escape your past: how thermal experience of previous generations affect current generation performance' at 11:15 am on Thursday 24 October at the 2019 Coral Reef Futures Symposium at the Australian National Maritime Museum in Sydney.
The symposium also features a free public forum, 'What Every Australian Should Know About Climate Change'. A panel of four world-renowned experts discuss climate change and renewable energy. They will then answer questions from the audience.
A Roadmap To Make The Land Sector Carbon Neutral By 2040
October 23, 2019: International Institute for Applied Systems Analysis
Land is critical to human livelihoods and wellbeing, while actions related to land use also play an important role in the climate system. IIASA researchers contributed to the development of a new roadmap outlining actions on deforestation, restoration, and carbon cuts that could lead to the land sector becoming carbon neutral by 2040 and a net carbon sink by 2050.
A study published in Nature Climate Change, unveils a land sector roadmap laying out critical actions on forests, farming, and food systems the world should take to veer away from spiking global temperatures. The study is the most comprehensive exploration of the contribution of land to the 1.5°C target to date, and the first of its kind to offer a point-by-point identification of specific land use actions, their related geographies, and implementation pathways to reduce land use emissions by 50% per decade between 2020 and 2050. The actions outlined will also contribute to climate adaptation and the achievement of the UN Sustainable Development Goals (SDGs).
IIASA researchers took the lead on the technical aspects of the study, which employed integrated assessment models, and assessed 24 land management practices that offer the most mitigation potential along with other social and environmental benefits. The international team of researchers mapped out priority actions countries could take to zero out emissions from the land sector by 2040 to limit global temperatures from spiking beyond 1.5°C. The six priority actions outlined in the study include reducing deforestation, peatland drainage and burning, and mangrove conversion by 70% by 2030; restoring forests, drained peatlands, and coastal mangroves; improving forest management and agroforestry; enhancing soil carbon sequestration in agriculture across all agricultural countries; reducing consumer food waste in developed and emerging countries; and shifting one in five people to primarily plant-based diets by 2030.
The analysis indicates that sustainable land management through these actions could contribute 30% of the mitigation needed to achieve the goal of keeping temperatures below 1.5°C as set out in the Paris Agreement. This is on top of the 30% of carbon emissions that land already sequesters naturally. The authors however note that the window of opportunity is getting smaller and the longer we delay action, the lower our chances will be to achieve the Paris Agreement goals, and the higher the burden we put on our natural and food systems.
"The roadmap foresees a phased approach where first actions to avoid emissions are prioritized. This means concentrating on avoiding deforestation in hotspot geographies such as Brazil and Indonesia. More high-tech options on carbon removal from the atmosphere need to be tested and piloted today. However, large scale deployment is not expected to happen within the next decade given current realities of the international climate policy regime," explains IIASA Ecosystems Services and Management (ESM) Program researcher Michael Obersteiner, one of the study authors.
According to study lead author Stephanie Roe, an alumna of the IIASA Young Scientists Summer Program (YSSP) and an environmental scientist at the University of Virginia, keeping the planet under 2°C will require us to halve emissions every decade, and also remove a huge amount of CO2 already in the atmosphere.
"Restoring forests, peatlands, wetlands and agricultural soils is immediately viable, proven at scale, and provides many other benefits compared to other climate solutions. However, we will also need to develop and pilot additional negative emissions technologies -- like direct air capture and low-impact bioenergy with carbon capture and storage (BECCS) -- to sustainably remove more carbon from the atmosphere in the future. Otherwise, we will rely more and more on our natural systems. The land can and already does a lot, but it can't do it all. Research and investment in negative emissions technologies today will be critical for assisting in their sustainable deployment in the future," she says.
If countries were to implement the roadmap, the land sector could become carbon neutral by 2040 and a net carbon sink by 2050. The land sector currently emits about 11 GtCO2e per year (about 25% of global emissions). With this roadmap, it will be a net carbon sink of about three GtCO2 per year by 2050. Together, these actions would mitigate 15 GtCO2e per year -- about 50% from reducing emissions and 50% from additional carbon uptake by land. While the authors emphasize that countries worldwide can contribute to better land management, they conclude that actions in the US, the EU, Canada, China, Russia, Australia, Argentina, India, Brazil, and other tropical countries are particularly important due to their large mitigation potentials.
"This study does a great job in reconciling global climate stabilization pathways with bottom-up mitigation potential assessments to develop an actionable roadmap for the land use sector to become carbon neutral by 2040," concludes coauthor Stefan Frank, who is also a researcher in the IIASA ESM Program.
Going beyond similar climate roadmaps focused strictly on climate benefits, the study identifies actions that deliver wins beyond greenhouse gas emissions cuts and removals, while building on and updating the IPCC land report, which argued that forest destruction, bad farming practices and unsustainable diets, in addition to fossil fuels, must be tackled together to avoid climate chaos. Several of the authors who worked on developing the roadmap were IPCC land report contributors.
Stephanie Roe, Charlotte Streck, Michael Obersteiner, Stefan Frank, Bronson Griscom, Laurent Drouet, Oliver Fricko, Mykola Gusti, Nancy Harris, Tomoko Hasegawa, Zeke Hausfather, Petr Havlík, Jo House, Gert-Jan Nabuurs, Alexander Popp, María José Sanz Sánchez, Jonathan Sanderman, Pete Smith, Elke Stehfest, Deborah Lawrence.
Contribution of the land sector to a 1.5 °C world.
Nature Climate Change, 2019; DOI:
10.1038/s41558-019-0591-9