April 25 - May 1, 2021: Issue 491
Food for life: Farming's past and future on the Northern Beaches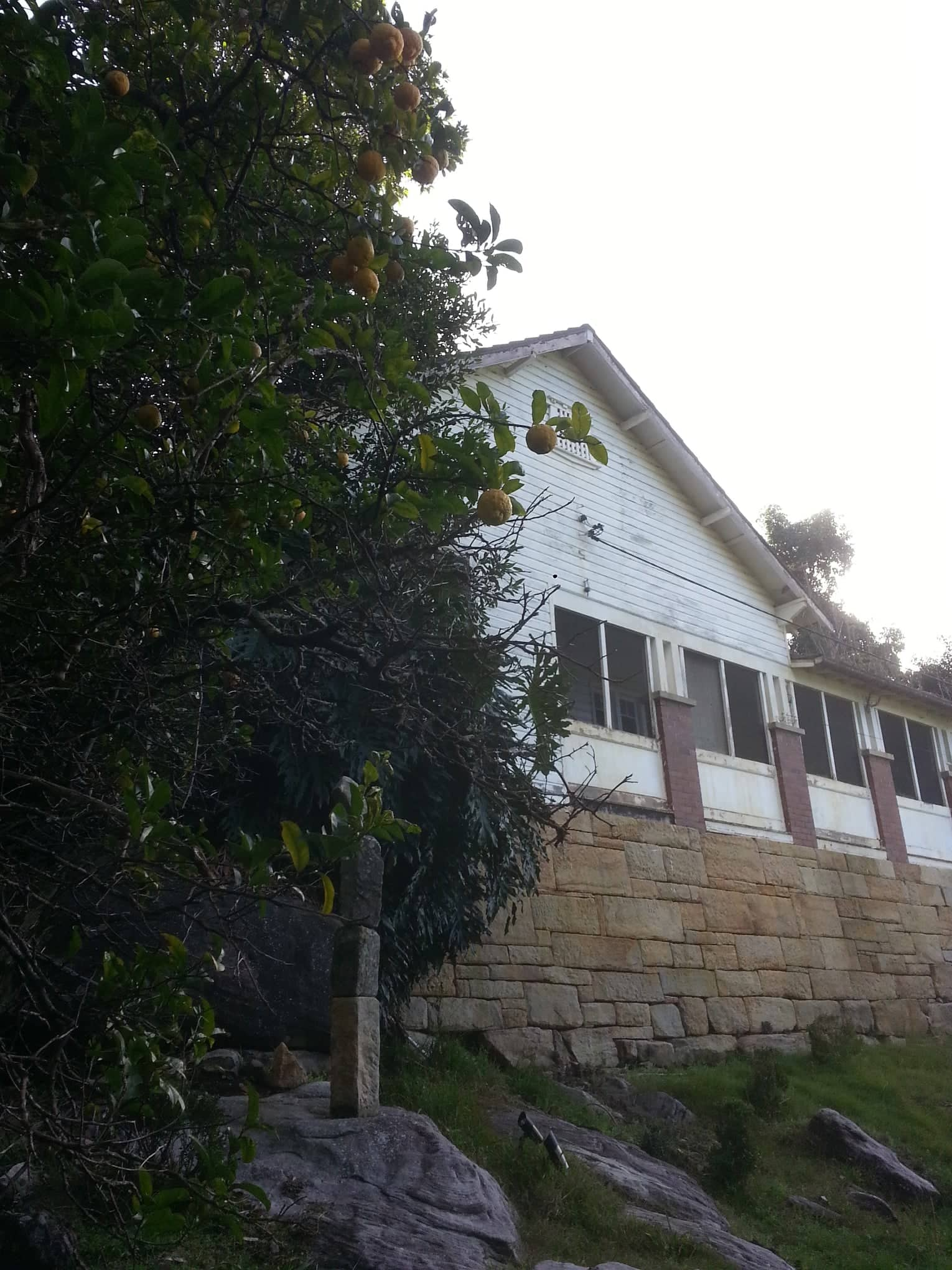 Oaklands, front façade and showing sandstone base, as it was prior to 2017 and yard - Kristin Zindel photo
The Coast
Radio Northern Beaches
There's very little food production on the Northern Beaches of Sydney and most of our food travels long distances to reach our dinner plates.
The latest season of Radio Northern Beaches' show The Coast begins with a two-part program that explores food sustainability and community and backyard farming.
In episode one, host Wendy Frew goes back to the days when Warriewood was the major tomato growing area supplying Sydney and the suburb was known as the "Crystal Valley" because of its many glass houses.
Former tomato farmer Mat Slavic describes how his family started farming there in the 1930s.
"It was an easy, free life and there was good money in those days from tomatoes," Mat says in a 1984 interview replayed in this episode, courtesy of the Northern Beaches Library.
But it was hard work at certain times of the farming calendar. "Spraying, picking, watering … I used to work all hours of the day and night," says Mat.
Today, the glasshouses are all gone and the area's farming history can only be glimpsed in Warriewood's street names – Orchard St, Garden St, Vineyard St – and in the Oaklands homestead tucked into bush at Warriewood.
Kristin Zindel, who lived in the Oaklands property until 2017, is leading the charge to save the 1920s farmhouse from demolition.
The house, which sits on five hectares, was bought in 2015 by developers who want to build multiple residential dwellings on the land.
"I think the house should be retained because it's a good piece of Northern Beaches history," Kristin told The Coast. "Its unique, you don't see houses like this on the Northern Beaches now."
Northern Beaches Council's Heritage department recently concluded the building should not be demolished because, it "is considered to be a good example of an original farmhouse in Warriewood, a style of dwelling that is now rare in the area".
Council has asked the developer to make the property weather tight and secure.
Commercial-scale farming is unlikely to return to the Northern Beaches but food researcher at Macquarie University, Liz Morgan, told The Coast that the COVID-19 pandemic had revealed Australia's otherwise hidden food insecurity – even on the Northern Beaches.
Australia is technically "food secure" because the country produces more than enough food to feed the population and it is a net exporter of food.
"But this balance is changing really fast," says Liz. "We are importing more fresh food and more processed food, and our food manufacturing businesses are going under. And we have drought fire and flood affecting our food production capability."
But she says new food networks and organisations aimed at ensuring our food chains aren't disrupted and that people in need are supported, have emerged from our response to the pandemic.
Liz says there is value in small-scale farming, including community gardening and backyard veggie patches.
"For a whole host of reasons, [small-scale farming] is more resilient and more sustainable. One of the problems with broad-scale farming is the lack of diversity, and the wide-spread use of fertilisers and pesticides, which has become harder to source during the pandemic," she says.
"If food is grown more locally it gets to you quicker; food looses an awful lot of its nutrition as it goes through the supply chain."
The first half of this two-part program about food was broadcast on Radio Northern Beaches on Friday, 23 April and can be listened to at any time here: https://www.mixcloud.com/TheCoastRNB/
In the second half of, which will be broadcast on 30 April, Wendy talks to an amazing gardener in Elanora Heights who manages to feed her family almost entirely from her backyard produce. Wendy also talks to a researcher cum food activist who is helping create important corridors for our pollinators.
The Coast is a weekly show about the environment and sustainability broadcast on Radio Northern Beaches (88.7 / 90.3 FM) on Fridays at 11am, and hosted by journalist Wendy Frew.
You can find more details about the show at https://www.facebook.com/thecoastrnb.
Wendy is always looking for new issues about the environment and sustainability on the Northern Beaches. You can contact her at thecoastrnb@gmail.com.
A general view of the acres of glasshouses at Mona Vale and Warriewood, just north of Sydney. The glasshouses are used for the production of early tomatoes. With a north-easterly aspect the glasshouses are concentrated in a small area near the ocean which can be seen in the back ground. (See Story, Page 37.)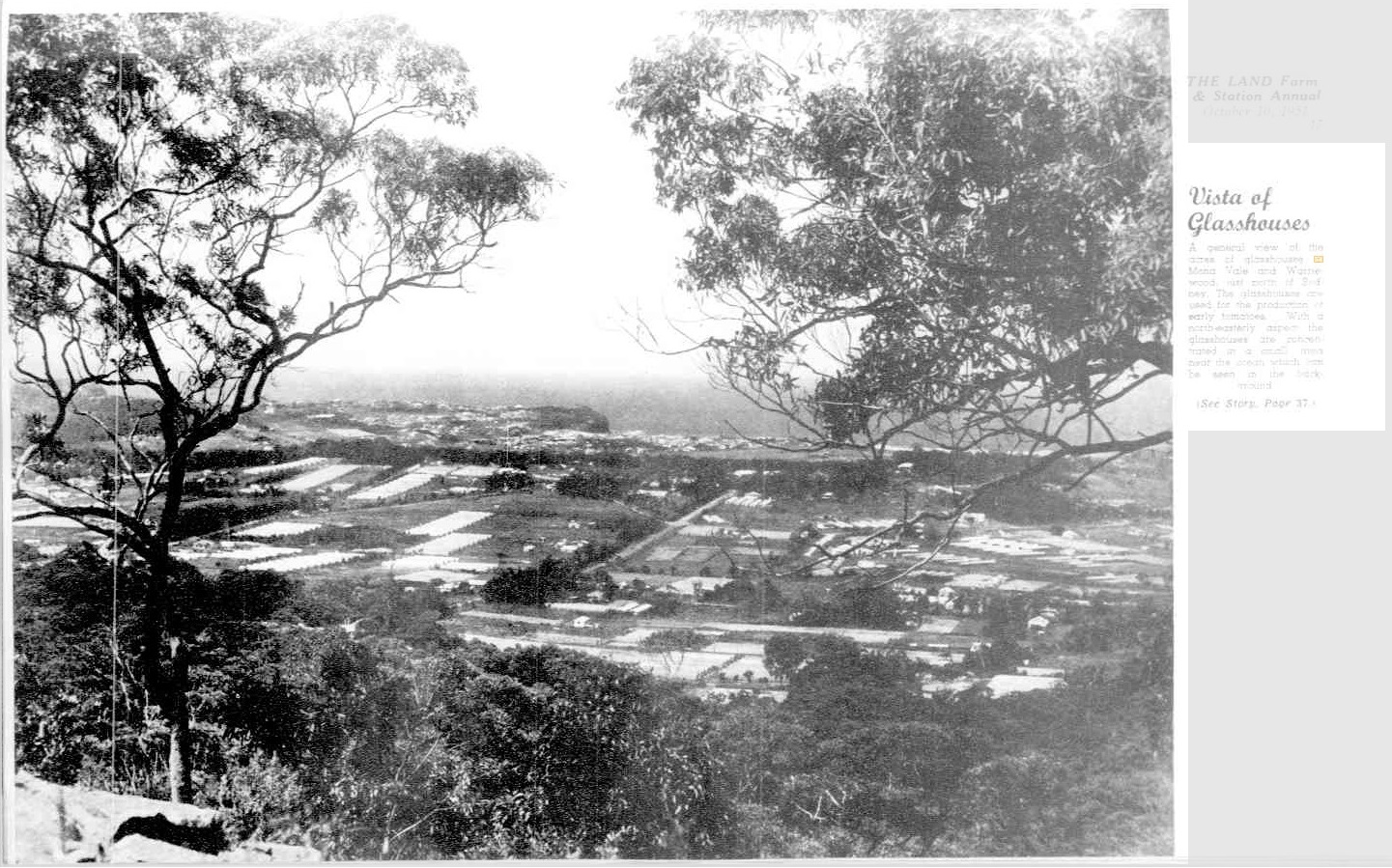 Glasshouse Tomatoes – Development of Important Industry in Coastal Strip by H. A. McCallum
THE major industry to-day on that scenic and fertile coastal strip lying north of Manly in N.S.W., and embracing chiefly the fast-developing, hail-free, frost-free districts of Warriewood and Mona Vale, is glass-house tomato culture.
A little more than 20 years ago, there was not one glass-house in the whole of that area. To-day, there are upwards of 2,500, providing a lucrative outlet for a band of energetic and efficient producers.
The romance. of the rise and astonishing development of this industry is one of the most fascinating in the agronomic history of the County of Cumberland. And it all had its genesis in the mind and brain of an extremely capable and far-seeing field officer of the N.S.W. Department of Agriculture, now living retired on the heights of Collaroy plateau, overlooking the scene of his early labors.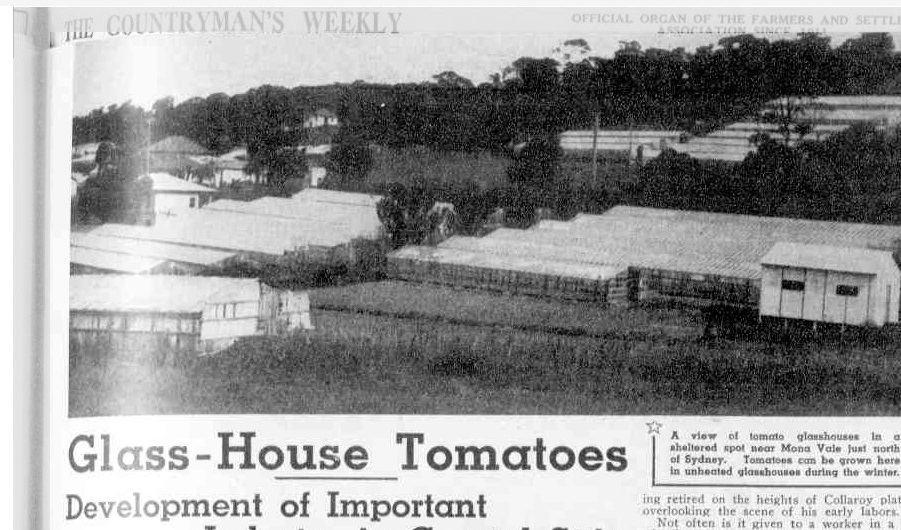 A view of tomato glasshouses In a sheltered spot near Mona Vale just north of Sydney. Tomatoes can be grown here in unheated glasshouses during the winter.
Not often is it given to a worker in a field of primary production to see his project take shape, develop and ultimately become an unqualified success. But that is exactly what has happened in the case of Mr. A. J. Pinn, whose name will always be held in grateful memory by those of the early glass-house pioneers who survive.
BACK in the thirties, Mr Pinn was casually informed by an acquaintance that tomatoes were being grown successfully in low unheated glass-houses just outside Adelaide. Mr. Pinn made inquiries from Mr. D. Kelly, at that time an executive officer of the South Australian organisation equivalent to the N.S.W. Agricultural Bureau. As a result of information obtained, Mr. Pinn visited Adelaide and gathered at first hand all the available data.
Mr, Pinn then prepared plans and specifications for suitable glass-houses, wrote a treatise on the technique of glass-house production, addressed the annual conference of the N.S.W. Agricultural Bureau at Hawkesbury Agricultural College on the subject, and published all the information at his disposal for the benefit of those anxious to start in the then new industry.
The first glass-house of the type recommended by Mr. Pinn was erected at Warriewood, which soon became the centre of the young and thriving industry. It became apparent, however, that some form of heating would give greater security to growers on the higher land, further back from the coast. To test the matter for himself, Mr. Pinn built a small glass-house alongside his residence at Gordon, and there tested out his theories.
It was not long before he discovered that the small unheated glass-house required a variety of tomato which would set fruit under cooler conditions than was necessary for the more widely-known and better-shaped varieties.
It was ultimately found that South Australian Dwarf Red measured up to this requirement, but that for high quality fruit: larger houses and heating were necessary in many cases. It was not long before a number of growers concentrated on these. Today, Vetamojd and Potentate are among the most popular varieties, but Red Cloud, Grosse Lisse. and other new varieties are expected to come into their own.
AFTER Mr. Pinn had been transferred to other Departmental duties, Mr. John Douglas, now director of rural broadcasts for the A.B.C., who had been his assistant in the vegetable section of the Department, took up the oversight of glass-house production. He was responsible for the development of the larger type heated houses to be seen to-day.
Ever since, Mr. Douglas has maintained his interest in glass-house tomato culture, and today his heated houses at Harbord are among the best in the State, and his crops amongst the finest. In his 120 feet by 24 feet glass-houses, more than 1,000 plants in each are now covered in fruit, the lower hands having had their fruit set by the use of a hormone spray.
From the time the fruit sets until it is ready for harvest, there is one long round of preventive measures to beat off mildew, grey mould, blight, wilts and other diseases to which the glass-house tomato is prone.
Before planting, soil is sterilised, the equivalent of tear gas being jetted four to six inches deep, to ward off any possible disease. Sprays are kept in constant use to combat mites and thrips. Irrigation is applied as required, and blood and bone and sulphate of ammonia worked into the soil that has been enriched with well-rotted animal or poultry manure.
All this is typical of the methods used in the heated houses from planting time to harvest.
But to-day, emphasis round Warriewood and Mona Vale is on cold houses, for the simple reason that they arc cheaper to construct, the overhead is not so great, and the absence of frosts lessens the risk of crop losses. The standard cold glass-house is usually about 96 feet by 14 feet, but there are quite a few of the newer types with varying sizes up to 112 feet by 14 feet.
The disease and insect pest problems are. much the same with these as with the hot houses. The number of cold glass-houses on the farmlets varies according to the labor available or likely to be available. They range in number from half a dozen up to more than 20.
Usually the houses are kept in the one position for anything from five to eight years, then moved to new sites, while the old ones are sown to a rotation of crops to restore soil fertility. In some cases where soil sterilisation and annual incorporation of animal manure are regularly and skilfully carried out, the one site has done duty for anything up to 20 years.
In all glass-houses, hot or cold, the vines (single stemmed, no branches being permitted) are trained up to the roof about nine to ten feet on strands of rope unwound from stout hawsers discarded by shipping firms.
The cost to-day of a properly equipped hot house measuring, say, 100 feet by 30, would easily exceed £1,000, whereas a standard cold house, 96 feet by 14 feet, could be built for approximately £200, and even for less, if the grower were content to do the job himself. A Yugoslav recently erected one on his property in the record time of four days, and at a cost well under 50 per cent, below a contractor's quote.
Fortunately for the industry round Warriewood and Mona Vale, hail is not a problem, otherwise there would never have been any glass-house industry there; but twice in the last few years gales have wrecked a number of these structures. Some 200 or more were severely damaged during a recent heavy blow.
Harvesting of the tomatoes starts about mid August with the earliest crops, and continues without a break till the end of the year, or even a little later in some instances. After this the inrush of the cultural field crops makes further harvesting of the glass-house products uneconomic.
Returns naturally vary from glass-house to glass-house, according, as a general rule, to the efficiency of the grower and the care bestowed on his plants. The gross yield would average approximately 100 cases from the 600 trees in the standard house, and price realisations are round 30/- to 35/- a case for early good quality tomatoes.
There have been instances of 200 cases and more being taken from one house, and up to £2 a case paid for the early consignments. Glass-House Tomatoes (
1951, October 10
).
The Land
(Sydney, NSW : 1911 - 1954), p. 41. Retrieved from
http://nla.gov.au/nla.news-article112493040