October 29 - November 4, 2017: Issue 335
Highly Esteemed Bush Care Officer Leaving Northern Beaches for Northern Rivers
Helena Dewis Leaving Northern Beaches Bushcare For Northern Rivers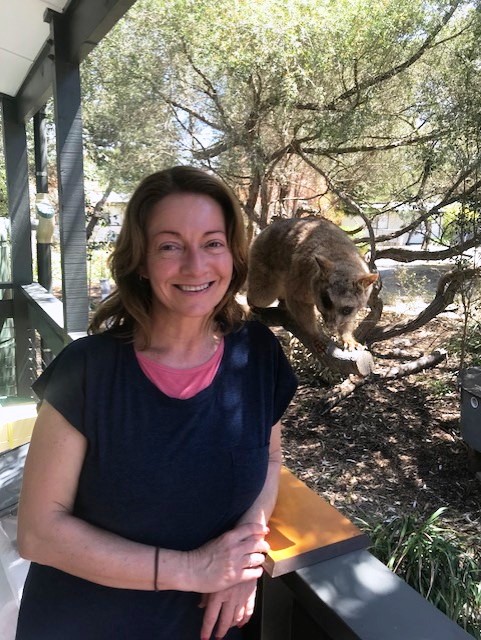 Helena Dewis, the lady who has been so successful at making bushcare here something we all enjoy contributing to, is moving on to a new position in the Northern Rivers region.
Helena Dewiss is taking up a new job with the Conservation Volunteers of Australia, the group responsible for the Eastern Curlew project, in Northern Rivers region (formerly Wetlands Care Australia).
There she will be helping farmers to understand and implement more sustainable practices and hopes to have bushcare volunteers from here visit to learn about larger scale Wetlands Restoration projects
She also hopes to develop a program suited to people suffering from Mental Health issues in the Northern Rivers region to engage in bushcare and the benefits that derive from reconnecting to the great outdoors during times of stress.
Under this lady Pittwater's Bushcare volunteers groups grew to become the largest on the Northern Beaches and Helena has left our bushcare program with things in place, such as each group now having a supervisor, so things will continue on her departure.
Helena says Pete Seigler, who once held a similar position, is great - as are two others now taking on her work.
"I will be leaving the Northern Beaches for the well-watered pastures of the Northern Rivers region next week. I've loved working with you all to protect our gorgeous bushland and beaches. Your commitment to, and passion for the local environment has been absolutely inspiring and I really will miss the camaraderie, the morning tea competitions and bake-offs and most importantly, the opportunities to learn from you." Helena said this week.
"I will be taking on a role that aims to engage rural landholders amongst other conservation projects and leave knowing that the Northern Beaches Bushcare program will go from strength to strength under the guidance of the awesome Bushcare team that is Michael, Catriona and Peter.
It's been a privilege.
Thanks everyone for your amazing efforts and continued support!
I hope to see you again down the tracks :)."
Moving to the Northern Rivers area will be a returning home for Helena who went to university at Lismore and has many friends and five godchildren in the area.
"This position was just too good to turn down." Helena explained, "It combines so many of my interests and even though it may be a pay cut, it offers me a chance to do something really good."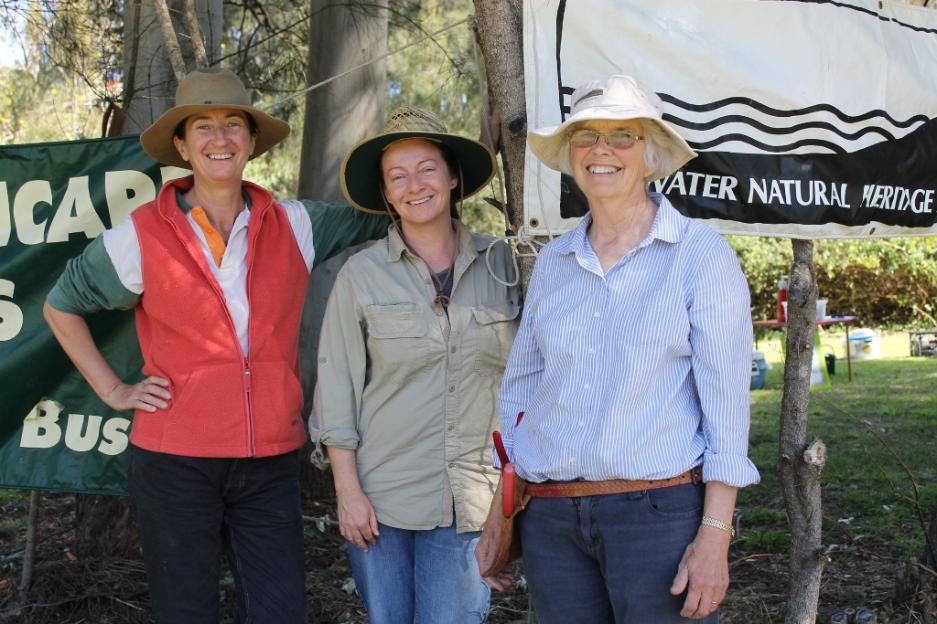 Pam Bateman, Noxious Weed Officer with Council (2013), Helena Dewis, Bushcare Officer -
Council
, Marita Macrae - Pittwater Natural Heritage Association. Picture by A J Guesdon, 2013 -
Asparagus Fern Out Day At Careel Bay
.
Conservation Volunteers Australia
is Australasia's leading conservation volunteer organisation. Founded in 1982, they offer conservation programs across Australia which enable volunteers to protect, preserve and restore the Australian environment. Projects take place in urban, regional and remote areas, and include tree planting, seed collection, weed control, flora and fauna surveys, building tracks and trails, fencing, and heritage restoration.
Some of Conservation Volunteers Australia's outstanding achievements in 2016 included planting over 1,000,000 trees, carrying out 5,000 environmental surveys, and collecting over 2 tonnes of native seeds.
Just a few upcoming examples;
Lismore River Festival and Carp Muster
Lismore, NSW
22nd November to 2nd December 2017
Departs from:
53 Tamar Street (access via Holden Lane) Ballina 2478 NSW - P
h: 02 66816169
Departure time: 8 AM
Lismore River Festival and Carp Muster will an exciting day for all with plenty to experience. We will provide educational stalls, food vendors, prizes and much more!
More here
Restoring Native Fish Habitat on Mullet Creek
Brownsville, November 2nd
Mullet Creek is a small but important trubutrary to Lake Illawarra, the largest and most diverse Lake in our region, just 15 minutes south of Wollongong. We will be aiming to regenerate an area of creekside vegetation, with invasive species control and planting to occur in William Beach Memorial Park. This location offers accessible tasks along the creekside, with the success of previous works on show to help complete the picture.
Bartolo Reserve - Saving a Sanctuary
Agnes Banks, Nov 2nd and 5 other dates
Bartolo Reserve is one of Western Sydneys newest Nature Reserves and connects some of the best Cumberland Plain remnants in the region. As a vital link it has become home to a mob of Kangaroos and a refuge for very rare and threatened species of flora and fauna.
Tracking Wollondilly's Koalas
Wollondilly, Nov 3rd and 5 other dates
From Campbelltown to the Southern Highlands, Sydney's South-West is home to nationally important populations of koalas virtually on the city's doorstep and these populations are under serious threat from development & the effects of suburban sprawl.
Over the past year and a half Conservation Volunteers Australia have helped local councils to collect critical data on the local koala populations, as well as restore key koala habitat within the Wingecarribee and Campbelltown LGAs.
Now, join CVA in the next phase of this exciting program as we move onto the Wollondilly Shire and help us replicate this effort to conserve the elusive koalas of this region.
Bushcare Here
Please join our resident Bushcare Volunteers and enjoy a couple of hours doing something wonderful for our local environment. Wear enclosed shoes/boots, a hat, sunglasses, and comfortable protective clothing e.g. long trousers and long sleeved shirt. Bring an extra bottle of water and Council will provide tools, training, and a fabulous morning or afternoon tea :-).
If you're planning to join a Bushcare group for the first time, intend to join a different Bushcare session, or are just concerned about the weather, please contact the relevant Bushcare supervisor listed in the contacts below.
meet at Reserve entrance on Pittwater Road opposite Bayview Place, Bayview
9:00 am - 12:00 pm.
Contact: Pam Bateman 0401 994 509
meet at Reserve entrance at the end of Wyanga Avenue, Elanora Heights
8:30 - 11:30 am.
Contact: Elise Connolly 0431 198 568
• Wakehurst Public School/Duffys Forest
meet at the School's front office to sign in
1:00 - 3:00 pm.
Contact: Linda Rowley 0410 868 182
Bushcare Kayak - Narrabeen Lagoon
Limited places available, be quick!
North Sydney Council Bushcare volunteers are joining forces with Northern Beaches Council Bushland staff and volunteers to tackle the weeds at Jamieson Park. Starting with a warm-up paddle on Narrabeen Lagoon, the team will then get stuck into Bushcare and enjoy a BBQ lunch after the hard work is done. Kayaks, tools and equipment provided. Wear sun protection, long sleeved shirt, long pants and a hat, and bring a bottle of drinking water.
Date: Sunday 26 November 2017
Time: 10am to 2pm
Where: Narrabeen Lagoon (meet at Jamieson Park car park area)
There is plenty of parking available at Jamieson Park car park, Narrabeen.
Bushcare in Pittwater
For further information or to confirm the meeting details for below groups, please contact Council's Bushcare Officer on 9970 1367
BUSHCARE SCHEDULES
Where we work Which day What time
Avalon
Angophora Reserve 3rd Sunday 8:30 - 11:30am
Avalon Dunes 1st Sunday 8:30 - 11:30am
Avalon Golf Course 2nd Wednesday 3 - 5:30pm
Careel Creek 4th Saturday 8:30 - 11:30am
Toongari Reserve 3rd Saturday 9 - 12noon (8 - 11am in summer)
Bangalley Headland 2nd Sunday 9 to 12noon
Bayview
Winnererremy Bay 4th Sunday 9 to 12noon
Bilgola
North Bilgola Beach 3rd Monday 9 - 12noon
Algona Reserve 1st Saturday 9 - 12noon
Plateau Park 1st Friday 8:30 - 11:30am
Church Point
Browns Bay Reserve 1st Tuesday 9 - 12noon
McCarrs Creek Reserve Contact Bushcare Officer To be confirmed
Clareville
Old Wharf Reserve 3rd Saturday 8 - 11am
Elanora
Kundibah Reserve 4th Sunday 8:30 - 11:30am
Mona Vale
Mona Vale Beach Basin 1st Saturday 8 - 11am
Mona Vale Dunes 2nd Saturday+3rd Thursday 8:30 - 11:30am
Newport
Bungan Beach 4th Sunday 9 - 12noon
Crescent Reserve 3rd Sunday 9 - 12noon
North Newport Beach 4th Saturday 8:30 - 11:30am
Porter Reserve 2nd Saturday 8 - 11am
North Narrabeen
Irrawong Reserve 2nd Saturday 2 - 5pm
Palm Beach
North Palm Beach Dunes 3rd Saturday 9 - 12noon
Scotland Island
Catherine Park 2nd Sunday 10 - 12:30pm
Elizabeth Park 1st Saturday 9 - 12noon
Pathilda Reserve 3rd Saturday 9 - 12noon
Warriewood
Warriewood Wetlands 1st Sunday 8:30 - 11:30am
Whale Beach
Norma Park 1st Friday 9 - 12noon
Western Foreshores
Coopers Point, Elvina Bay 2nd Sunday 10 - 1pm
Rocky Point, Elvina Bay 1st Monday 9 - 12noon
Greater Sydney Local Land Service Mini-Grants Now Open
Mini grants program 2017-18
Are you part of a community group or not for profit organisation (including schools) that is planning an educational event or developing an educational resource for the local community?
Grants of between $500 and $1500 are available to improve skills and or promote the conservation and sustainable management of natural resources that meet National Landcare Programme objectives.
Activities that aim to build community awareness, participation, skills and knowledge in caring for their environment, including Aboriginal knowledge and participation can include:
community events




running of field days, workshops and courses




educational signage




production and distribution of educational resources such as fact sheets and booklets




small scale demonstration style on-ground works that have an education focus.



Complete the
online form
. Please note this form doesn't allow you to save and resume part way through and so please be prepared to complete the entire form in one sitting.
For further information or to discuss a proposal contact Maree Whelan in the Wyong office on 02 4355 8201.
This project is supported by Greater Sydney Local Land Services through funding from the Australian Government's National Landcare Programme.