August 25 - 31, 2013: Issue 125
Asparagus Fern Out Day at Careel Bay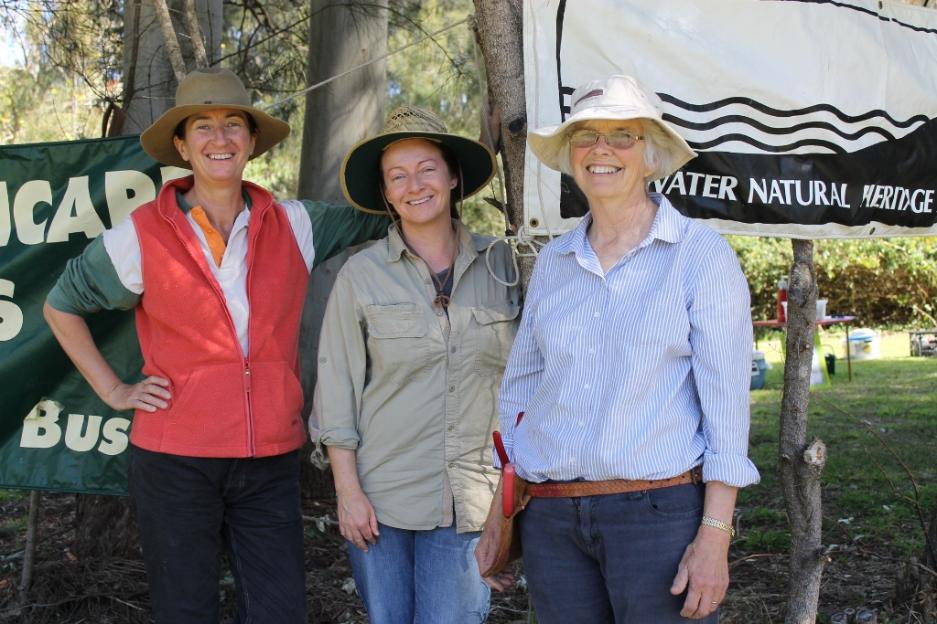 Pam Bateman, Noxious Weed Officer with Pittwater Council, Helena Dewis, Bushcare Officer Pittwater Coucnil, Marita Macrae - Pittwater Natural Heritage Association. Picture by A J Guesdon.
ASPARAGUS FERN OUT DAY – Careel Bay, 24th of August, 2013
Pittwater Council and the Pittwater Natural Heritage Association held one of their many bushcare sessions on the noxious weed, asparagus fern, at Careel Bay on Saturday afternoon. This plant is showing its winter-spring red berries at present, and these may be eaten by birds and spread its choking on our bushland and gardens even further. To get rid of it from your own garden or join one of the many bushcare groups in Pittwater to help them and yourself in eliminating weeds from our play reserves and bush areas, will stop its spread.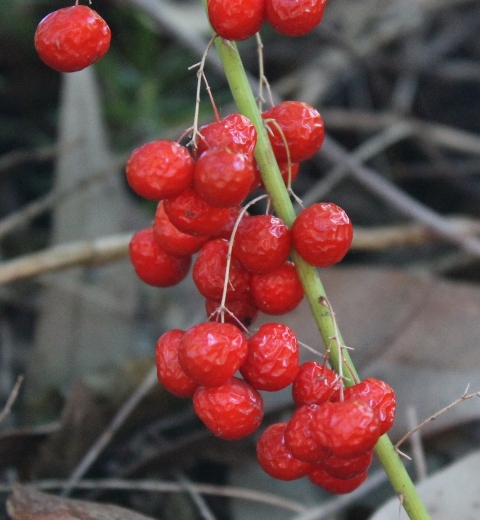 Like many plants now officially listed as weeds, asparagus fern was originally introduced to Australia as an ornamental plant well over 100 years ago with one variety used as a fashionable stem trail in everything from wedding bouquets to being a potted plant in regional shows garden competitions. Asparagus fern is now a serious weed of bushland and rainforests, covering many areas where native plants once flourished. An invasive root system means this plant will spread if not checked and total removal is recommended if you wish to see Native plants and animals return to the areas it has infested.
Caring for our bushland is one of the many ways you can contribute to and engage in community and Pittwater need all the hands she can get to return and keep our reserves of bush as we'd rather have them.
In Pittwater we have sand dune environments, wetland estuary environments, and remnants of bushland that remain attractive as a place to exhale simply because so many of us give time and energy to eradicating this weed or inhibiting its spread. To be able to picnic on ground where this spiky weed will not spoil your day out can only be a good thing and as ticks seem to thrive in the areas this weed prevails, getting it out of your garden may cut down on bites from this parasite as we head into summer.
Enviroweek commences today, and the Coastal Environment Centre is hosting the Youth Environment Congress the following week, September 3-5.
As Pittwater Council's Natural Environment and Education Manager, Mark Beharrell said during the week this event brings together the community to conserve their environment.
"Residents can help remove this noxious weed, restore the area around Careel Creek and allow native plants in the area to regenerate," he said.
Mr Beharrell said the yearly event always drew a committed crowd, with last year's event having over 40 participants. This year numbers were down a little due to other working bees in the area but those who did attend still managed to make inroads on Careel Bay's asparagus fern. A sausage sizzle, a cooling breeze and great company made a few hours of toil a worthwhile endeavour.
The Council is being supported in its campaign against asparagus fern by a Caring For Our Country Grant through the Hawkesbury Nepean Catchment Management Authority and by the Pittwater Natural Heritage Association. Pittwater Council provides training, tools, gloves and afternoon or morning tea for its bushcare volunteers. Participants are asked to wear sturdy covered shoes, a hat, long sleeves and bring a drink with them.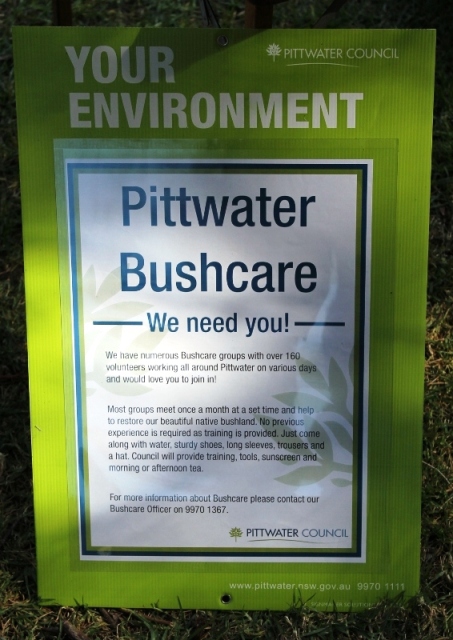 For further information about Pittwater's many Bushcare Groupsplease call Council's Bushcare Officer on 9970 1367 or emailhelena_dewis@pittwater.nsw.gov.au
You can also see how easy it is to remove this prickly usurper in Pittwater resident's John and Lyn Illingsworth's 'Asparaus Fern removal' video below.
Or Manually:
The growing points of Asparagus Fern must be removed below the surface. The numerous water tubers can be left in the ground, as they contain no food and the plant cannot reproduce from them.
Wear thick gloves. With secateurs cut off stems about 20cm above soil level and bag. Don't cut too low or you may lose sight of where the crown is.
Larger berries will ripen if left lying on the ground.
Check where stems join crown.
Use knife, peter lever or mattock to cut around crown to sever roots and water tubers. These may be left in place. Lift out crown, checking it is entire and bag.
Follow up: seed lasts a few years in the soil, so you need to watch out for seedlings. Use a knife to ease these out - usually the whole plant will come up easily. Seedlings may sprout where you have removed larger mature plants.
Enviroweek News is on both Youth and Children's pages this week.
The Youth environmental congress "Youth Leading the World"is coming to the Northern Beaches again. Run by non-profit organisation OzGREEN in partnership with Pittwater and Warringah Council, the congress will be held at the Coastal Environment Centre, Narrabeen, 3 - 5 September 2013, 9am to 3pm. Young people aged 12 to 25 years are invited to attend the interactive, hands-on congress for free. Just bring along a keen interest in environmental and social issues and the passion to make a difference. Now in its fifth year, "Youth Leading the World" is run simultaneously in over 90 locations in Australia and overseas, connected by digital media.
Participants will explore local and global environmental challenges; measure and understand their own eco-footprint; and work on action plans for more sustainable living at home, at school and in their community. For more information contact Ann-Charlott Paduch, OzGREEN Northern Beaches coordinator, atapaduch@ozgreen.org.au or 0439 981 035 and visit www.ozgreen.org.au.
Asparagus Fern – from Trove
ASPARAGUS FERN. ''Asparagus' (Mile-End) -writes: — 'Can you help me out with my asparagus fern? It is growing all along the front verandah, but has not been trained up too evenly being too thick in places and too thin in others. It is right up to the roof and hanging over, 'and is probably 10 years old. Could it be cut back within 3 or 4 ft. of the ground? If this would not hurt the fern it would then be possible to put wire 'netting to train it more evenly. What, then, would be the best to do where the ferns are crowded? Can tbe roots be divided and transplanted? At present it is covered with berries, but not showing much new growth. Thanking you in anticipation for your valuable advice.
'To 'Asparagus,' — The best thing you can do is to cut the plant back right to the ground. It will not hurt the plant at all and you will get fresh growth right from the bottom. ' IF you cut back to4 ft. from the ground you will still have a lot of old tangled stems.— 'Greenleaf.' ASPARAGUS FERN. (1913, August 16). The Mail (Adelaide, SA : 1912 - 1954), p. 11. Retrieved from http://nla.gov.au/nla.news-article63803685
Class C—Pot Plants. Prize 2s 6d One fern, Miss Hodge: One asparagus fern, Miss Hodge. Class C—Pot Plants. (1904, November 5). The Wyalong Advocate and Mining, Agricultural and Pastoral Gazette (NSW : 1900 - 1928), p. 2. Retrieved from http://nla.gov.au/nla.news-article108535471
One asparagus fern, Miss Connie Bubeck 1, H. C. Just 2. CLASS G. POT PLANTS. (1900, November 24). Sunbury News(Vic. : 1900 - 1910), p. 3. Retrieved from http://nla.gov.au/nla.news-article66880916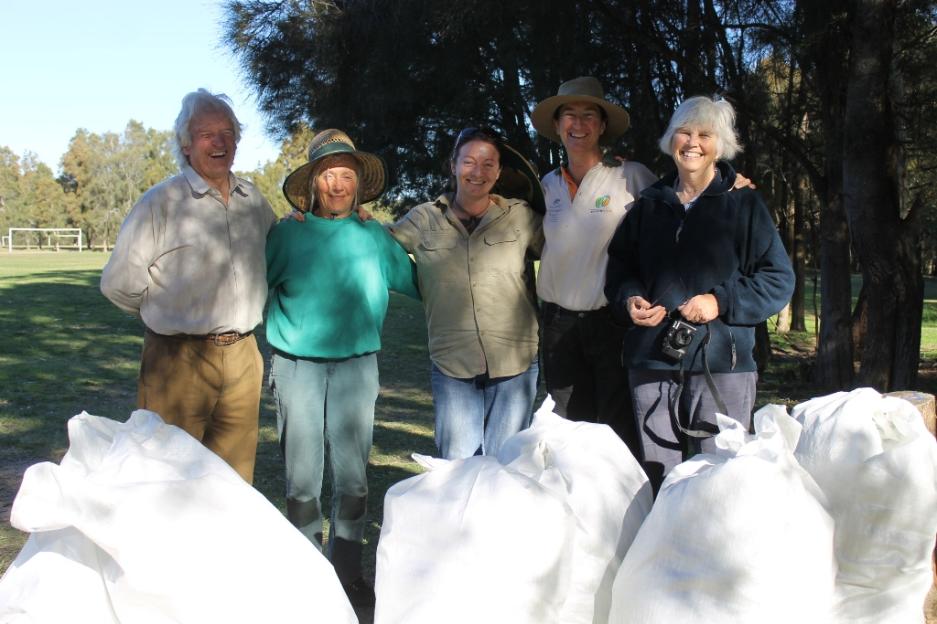 John Jenkins, Margaret Richardson, Pam Bateman, Helena Dewiss and Marita Macrae. Picture by A J Guesdon.