July 5 - 18, 2020: Issue 457
End of Strange and Tragic Season for NSW Surf Lifesavers​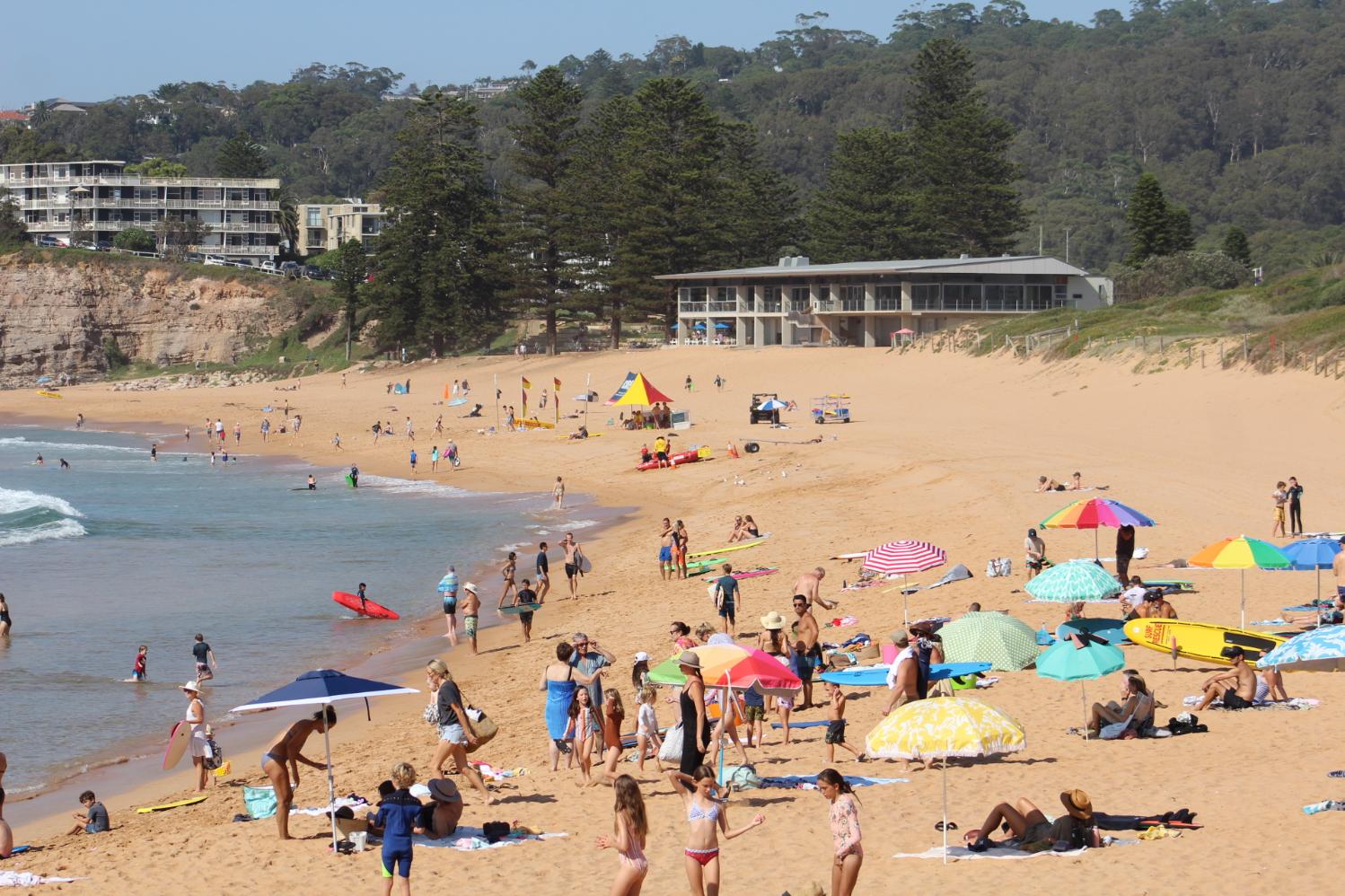 July 2nd, 2020
By Surf Life Saving NSW
Despite the NSW bushfire crisis reducing summer beach attendance and the COVID-19 pandemic bringing an early end to the 2019/20 patrol season, there were a higher than average number of coastal drownings during one of the most unusual patrol seasons on record.
The 2019/20 Surf Life Saving patrol season was unprecedented in many ways. It will be remembered for the way volunteer surf lifesavers worked alongside other emergency service personnel in response to both the NSW bushfire crisis and the widespread beach closures, caused by the Coronavirus pandemic, which ended the patrol season four weeks early. Tragically, the 2019/20 patrol season will also be remembered for a higher than average number of coastal drownings.
Although the NSW bushfires and the COVID-19 pandemic reduced overall beach attendance during the 2019/20 season by 21 percent, more than 20,000 surf lifesavers across NSW performed 2,499 rescues, 6,023 first-aid treatments and 192,471 preventative actions - an impressive 20 percent increase on the five-year average. This was achieved despite there being fewer patrol days during the season.
Tragically, the increase in preventative actions at patrolled locations did not reduce the total number of drownings on the NSW coastline - outside patrolled areas. With 42 coastal drownings, the 2019/20 figures are above the 10-year average of 40 fatalities. Sadly, the impact of the COVID-19 pandemic and the summer bushfires on reducing beach attendance has had little or no impact on reducing the number of deaths on the NSW coastline.
Unusually, boating-related coastal drownings were the most common this season. There were more than double the number of boating-related coastal drownings when compared to the 10-year average. Currently, 27 percent of NSW coastal drownings relate to boating activities.
Swimming-related drownings were the second most common after boating fatalities. However, they were down this season by 10 percent compared to the 10-year average. Historically, swimming has been the activity that leads to most coastal drownings, so the reduction is good news for surf lifesavers who target swimmers as a key demographic in coastal safety messaging.
Emergency support operations were increased during the COVID-19 lockdown and call-out teams across NSW have been kept busy despite the patrol season concluding and the widespread beach closures. There was no reduction in the number of call-outs during the 2019/20 season - despite the reduction in beach attendance. There were approximately 600 emergency call-outs which demonstrates that the number of support operations responses are not directly linked to beach attendance figures. Rather, activities like boating and rock-fishing in less populated areas are the activities that lead to the most requests for emergency assistance.
Rock fishing continues to be Australia's most dangerous sport and this season's statistics show there has been no decline in coastal drownings related to this activity, with eight fatalities in the last 12 months - equal to the 10 year average. Shockingly, 81 percent of people who lost their lives rock fishing this season were not wearing a life jacket. It is unknown whether a further 14 percent of people who drowned were wearing a life jacket or not. A mere five percent of people who drowned were confirmed to have been wearing a life jacket.
There were a number of significant rescues this season that involved Surf Life Saving NSW volunteers going above and beyond to save lives. Many of these incidents and rescues occurred outside patrol hours and in challenging conditions.
The Surf Life Saving Sydney Branch, which includes some of NSW's busiest beaches, once again had the highest number of drownings with nine fatalities during the 2019/20 season. However, this was down from 11 fatalities last year.
The Sydney Branch had the largest number of rescues by volunteer lifesavers with a total of 927 - followed by the Central Coast Branch with 567. Bondi Beach had the most rescues with a total of 271. The next closest was Umina Beach on the NSW Central Coast with 113 rescues.
Surf Life Saving NSW President George Shales said that volunteers throughout the state had worked tirelessly during the season which was evidenced by the increase in preventative actions compared with last season.
"Clearly our vigilance is paying off and there were a number of life saving rescues, including resuscitations, that ended positively. We're proud of our volunteers who respond so professionally to these incidents – many of them outside volunteer patrol hours," said George Shales.
The North Coast recorded the second highest number of coastal drownings with six fatalities during the 2019/20 season. Again, this is lower than last year's figure of seven fatalities and may relate to the increase in preventative actions in driving the total number of coastal drownings down in that area.
There were numerous standout Rescue of the Month awards presented to lifesavers who went above and beyond to save lives during the 2019/20 season. Four of these awards were for mass rescues which were performed outside patrol hours or at unpatrolled locations.
Significantly, two of these mass rescues were performed by junior lifesavers, or Nippers. Once again this demonstrates the impact Surf Life Saving training has in saving lives on the NSW coastline – even outside the flags. The award-winning mass rescues occurred at Bronte Beach, Redhead Beach, Seven Mile Beach and Wooyung Beach.
Of particular note this season is the way Surf Life Saving NSW embraced its new role as an emergency service. Our volunteer surf lifesavers responded, this time out of the water, during the NSW bushfire crisis in January, sheltering over 10,000 people as the bushfires descended on Bermagui, Broulee and Batemans Bay on the state's Far South Coast. Furthermore, surf clubs and volunteer surf lifesavers pulled out all stops to support communities in the aftermath of the bushfires, support which continues now. Many surf clubs became important hubs for the distribution of food and clothing to members of the community who had lost everything. This exemplifies our vision of surf clubs being not just surf lifesaving clubs but community hubs.
Once again SLSNSW's innovative UAV (drone) programs, operating in separate partnerships with the NSW Department of Primary Industries and Westpac, proved to be invaluable in search and rescue operations and marine creature monitoring. UAVs are quickly becoming an essential tool in Surf Life Saving operations and this year more than 100 pilots were trained by SLSNSW bringing the total number of trained pilots in NSW to 450. This resulted in a doubling of the total flights compared to last year – up from 7,500 to 16,821.

A world-first scientific trial using artificial intelligence (AI) to help Surf Life Saving UAV drone pilots identify shark species was conducted during the 2019/20 season. Surf Life Saving NSW, in partnership with the NSW Department of Primary and Industries (DPI) and Macquarie University, conducted shark spotting trials, using AI technology at five NSW beaches - Kingscliff, Byron Bay, Lennox Head, Ballina and Evans Head.
Surf Life Saving NSW CEO Steven Pearce acknowledged the important work volunteer surf lifesavers across NSW do in protecting the Australian community in sometimes extraordinarily adverse conditions.
"This season surf lifesavers raised the bar in terms of their response in emergency and crisis situations. Nothing could have prepared our members for the ferocity of the bushfires on the NSW Far South Coast. However, our members responded quickly and calmly during the crisis demonstrating how important our movement is in protecting lives and supporting communities. Their response was nothing short of exemplary and the positive feedback from communities impacted by the bushfires has been overwhelming," said Steven Pearce.
"Tragically, total coastal drownings this season are up on the 10-year average. We can't stress enough the importance of taking responsibility for yourself when visiting the coast. Please stop and think before putting yourself, your friends and family and our volunteer emergency personnel in danger," Pearce concluded.
Surf Life Saving NSW Director of Lifesaving, Joel Wiseman said that in addition to beach patrols and the bushfire crisis response, SLSNSW's Support Operations emergency callout teams continued to respond to coastal emergencies.
"Throughout the COVID-19 period of social distancing restrictions, our volunteers were as busy as ever. I continue to be impressed by every club in our state and the incredible work and time their members contribute to save lives," Joel Wiseman said.
With the Surf Life Saving patrol season ended and no beach patrols scheduled until the red and yellow flags are raised again in September, lifesavers advise taking caution when visiting the beach.
"Although the red and yellow flags are not flying on most beaches at this time, lifeguards remain on patrol at some locations, including Main Beach, Byron Bay and One Mile Beach, Port Stephens. Plus, our Surf Life Saving Support Operations teams remain on standby to respond to emergency incidents along the NSW coastline," Wiseman concluded.
Visit www.beachsafe.org.au for patrolled locations and beach conditions. NSW surf lifesavers will return to the beaches from Saturday 26 September 2020.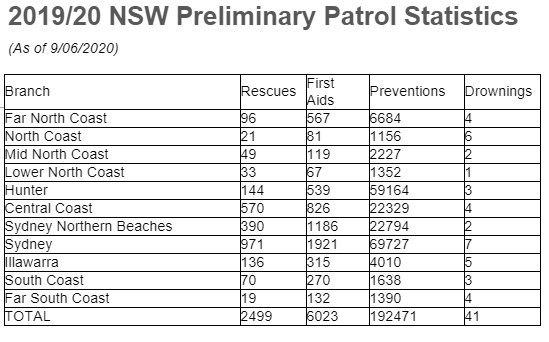 *2019/20 Patrol season ran between Saturday 27 September 2019 through to Friday 27 March 2020. The patrol season ended four weeks early due to the COVID-19 pandemic.
Further: