March 27 - April 2, 2022: Issue 532

Early Autumn Mix 2022: People - Sports - Environment

Scamps Camp - Experience Manly Launched - Maureen Boyle OAM Elevated To 'Legend Status' In Netball NSW Hall Of Fame - RPAYC Final Autumn Twilight Sail 2021/2022 - St Patricks Day Theme - OK Dinghy Australian Champion - Newport Breakers Rugby Club At Rat Park - Ocean Thunder Surf Boat Series - Turtle Saved At Newport - Narrabeen - Turimetta - Warriewood - Jellyfish In Narrabeen Rockpool - Avalon Moon - Jewel Bugs at Avalon Dunes - Irrawong Reserve Flooded Track
Photos by Joe Mills, Adriaan van der Wallen, Selena Griffith, Marita Macrae and others
Scamps Camp
A Participant says; ''Out and about helping Independent candidate Dr Sophie Scamps become MP for Mackellar. Every Tuesday morning we meet near Newport bowling club and walk up Newport hill waving to peak hour traffic folks. We get many friendly toots and waves. ''
March 22, 2022. Photo supplied.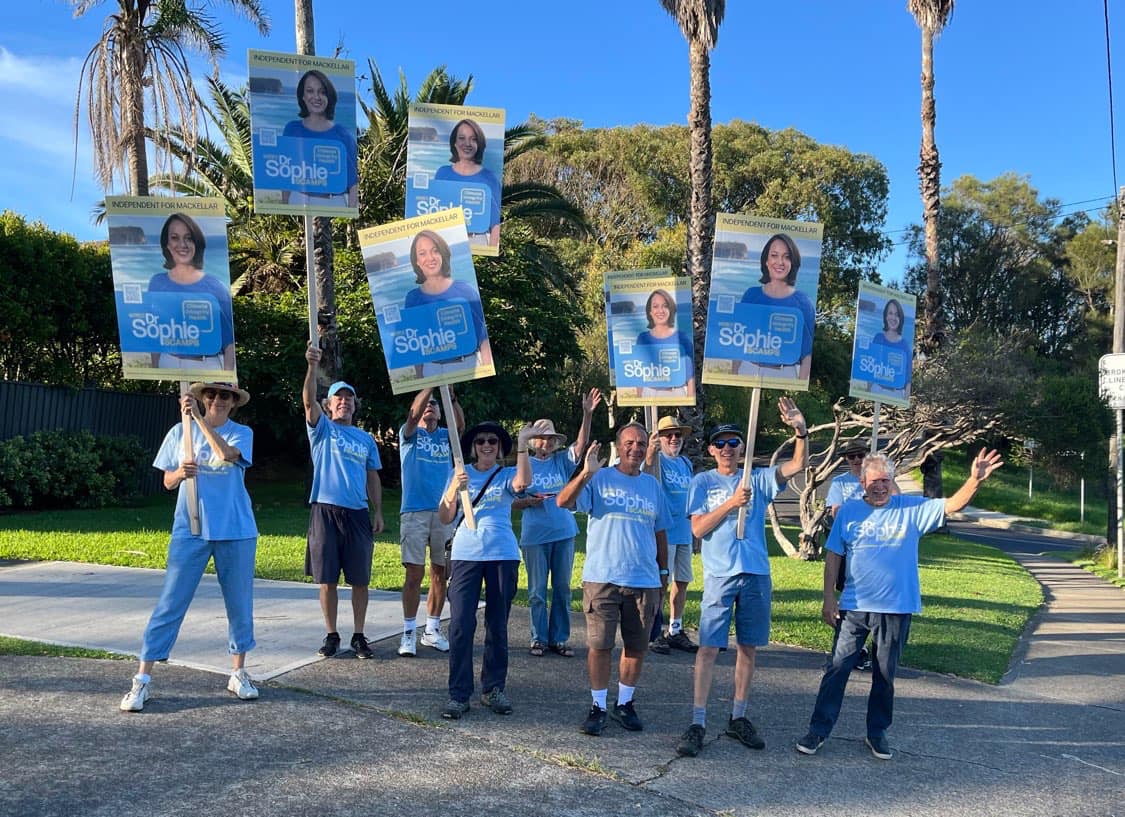 ''Here we are about to walk around Narrabeen Lagoon recently. We need Independent Dr Sophie in Mackellar and leading Australia on Climate Change, Integrity and proper public health management.''
March 6, 2022. Photo supplied.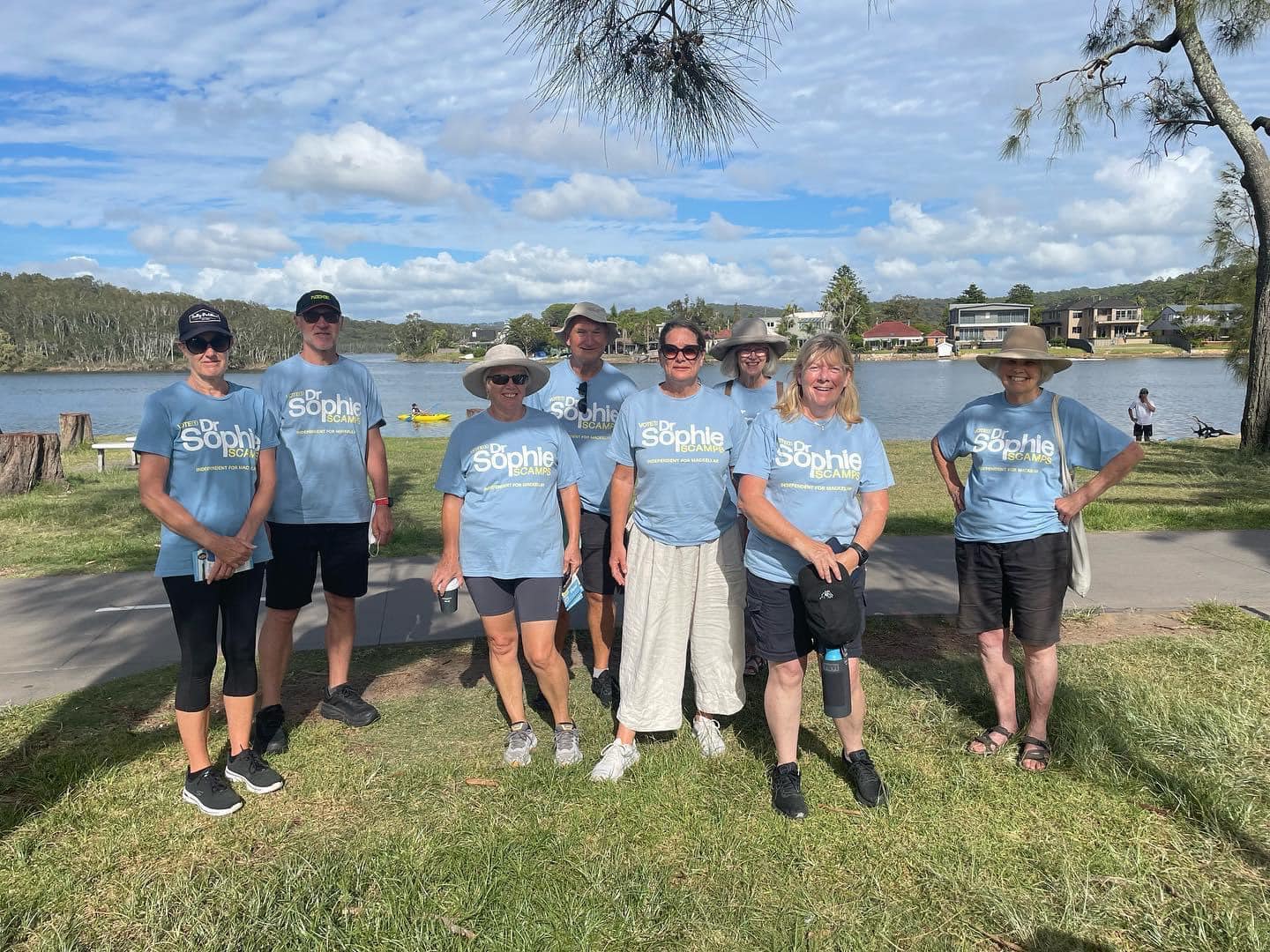 Experience Manly Launched
Experience Manly is a local independent not-for-profit tourism organisation dedicated to the strategic recovery and growth of Manly's tourism economy. Through collaborations and access to local, state and federal tourism funding schemes, Experience Manly will aid in core initiatives around Tourism, The Arts, Culture, Business and Community Support.
Experience Manly will be a dedicated voice and advocate for Manly, and its community, in driving new initiatives and bolstering Manly's core brand.
Last week we hosted our official Experience Manly launch event to start our journey in supporting the growth of Manly's tourism economy. We were joined by some special guests including local MP & Minister for Environment & Heritage James Griffin MP, Federal Member for Warringah Zali Steggall, Michael Regan Northern Beaches Mayor, Deputy Mayor Candy Bingham, Councillors Sarah Grattan & Georgia Ryburn, State Tourism Agency Destination NSW, Manly Business Chamber, local business leaders & community members to celebrate the future of the not-for-profit and the resilience the local community has shown across the last 3 years.
Together, with the support of the community, we will work towards reigniting & strengthening Manly's key objectives across tourism, arts, culture & community.
Congratulations to the group's founding members, Chairman Matt Clifton, Managing Director of MJC Group & Foralus Group of Companies, Charlotte Rimmer, Managing Director of Aide de MD & President of Manly Business Chamber, Tracey Mietzke, Community Engagement Manager at Athas Group and Chamber VP and Michael Betteridge, GM Tourism Development for NRMA.
Find out more at: www.experiencemanly.com.au
Photos: Experience Manly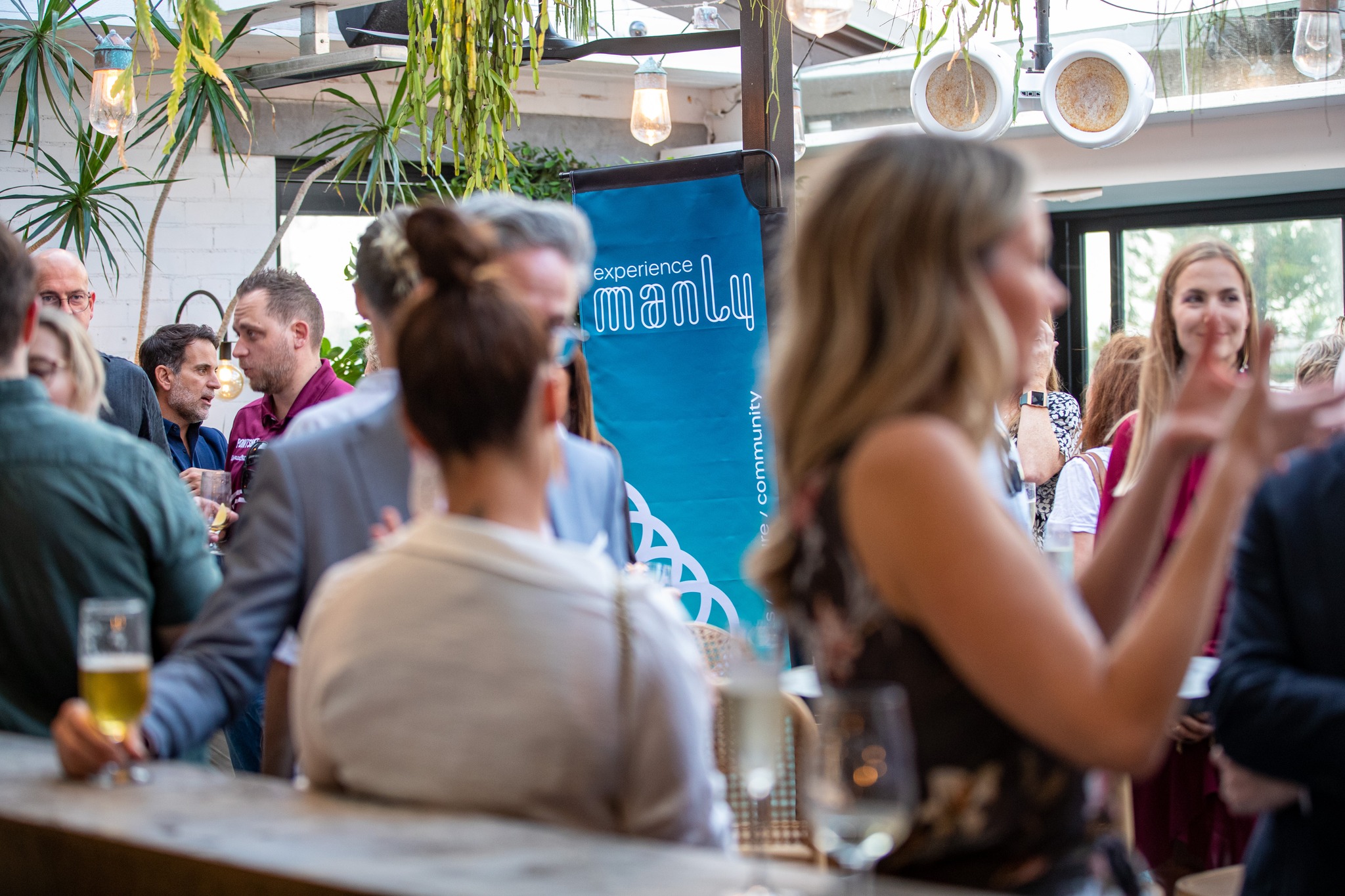 Maureen Boyle OAM Elevated To 'Legend Status' In Netball NSW Hall Of Fame
March 19, 2022:
The Manly Warringah Netball Association and the community tender a big congratulations to Maureen Boyle OAM, Manly Netball, Netball NSW, Netball Australia and International Netball Federation Life Member, who was elevated to "Legend Status" in the Netball NSW Hall of Fame at the Netball NSW AGM today.
Through the Hall of Fame, Netball NSW recognises the champions of the game, those who personify the spirit, excellence and skill required to reach the pinnacle of our sport. These individuals are considered to be the "best of the best"; those who have given to the game beyond expectation, and who through their dedication and ability have achieved at the highest level.
We thank our Hall of Fame Inductees for everything they have done and continue to give to our game. We are proud that they are part of our netball family, we are proud of their achievements and we are proud of the manner in which they have represented our game.
In 2011, for the first time, members were inducted in two classifications – Player and General. The General Classification recognises inductees who have given in the administration, coaching, umpiring and officials areas of our sport. In 2015, a Legend Status was introduced for existing Hall of Fame Inductees to be elevated; NSW netball stalwart Anne Sargeant OAM was the first recipient. In 2016, Netball NSW introduced a Heritage category to pay tribute to artefacts which have significant historical value for the organisation.
MAUREEN BOYLE OAM
Netball NSW Hall of Fame Inductee 2007: Maureen Boyle's umpiring career began at the age of 12 and spans 30 years. Hailing from New South Wales (NSW) and Manly-Warringah Netball Association, Maureen earned her C badge in 1968 and elevated to an 'AA badge' by 1977, making her one of the youngest umpires to receive this accolade.
The 1998 Kuala Lumpur Commonwealth Games, numerous international Test Matches and four World Championships (1987, 1991, 1995, 1999), are a snapshot of the elite netball matches which Maureen has officiated.
Maureen has won numerous awards including the NSW Sports Federation Official of the Year (1996), the inaugural International Federation of Netball Associations, an Order of Australia medal for services to netball (2004) and the prestigious Anne Clark Service Award (1999).
In NSW, Maureen was appointed to the role of Director of Umpiring (1986–1990) and during this time developed and implemented the first junior umpiring program and a range of coaching manuals and visual materials. These pioneering programs are the backbone of the umpiring programs today.
Maureen retired from umpiring in 2000, but continues to play a key role in the development of umpires and umpiring in Australia and internationally. Whether she is working with a junior umpire at the grassroots or developing one of Australia's elite national pool of umpires, Maureen always display the same high level of interest, enthusiasm and passion for the game.
Mr JAMES GRIFFIN (Manly MP, Minister for Environment and Heritage) stated in a Private Members Statement in the NSW Parliament on Wednesday March 23rd;
''I give very big and hearty congratulations to Maureen Boyle, OAM, who was elevated to legend status in the Netball NSW Hall of Fame at its recent annual general meeting. Manly Warringah Netball Association has been part of our community for more than 57 years. Maureen Boyle started her netball career with the Dee Why Swans netball club some years ago. At 12 years of age she made history by being awarded the umpiring C Badge, which is usually given only after 16 years of age. Between 1982 and 1987 she served on the executive committee of Manly Warringah Netball Association as umpires convenor. Between 1986 and 1990 Maureen was director of umpiring for Netball NSW. She was named the NSW Sports Federation official of the year in 1996. Maureen received her OAM in 2004, for services to the community.
Maureen has officiated 168 international netball matches and was ranked as the world's number one netball umpire. Maureen has umpired at the world championships around the globe on numerous occasions. Maureen's extensive résumé includes the international umpires' award and being umpire of the Australian team and a former member and chairperson of the international rules committee. She has been awarded life membership of the International Federation of Netball Associations, Netball Australia and Netball NSW and, of course, Manly Warringah Netball Association. Maureen received the Netball NSW Anne Clark Service Award. She has been named the Warringah Council Australian of the Year. She was appointed a life member and patron of Manly Warringah Netball Association in 2018 and, as I said, was recently awarded legend status in the Netball NSW hall of fame. Anne Sargeant remarks of Maureen that her legacy to umpiring is incredible. Maureen continues to provide support and mentorship to umpires around the world and gives umpiring seminars across Australia. Maureen is still involved locally as Manly Warringah Netball Association's high-performance umpire coach. She continues to serve the netball community from grassroots to the elite level.
Many members in this place are very aware of the many volunteer hours it takes to make a sporting and community club run well. To that end I congratulate the 2022 executive team of the Manly Warringah Netball Association: Colette Longley, the president; Cathy Hurditch, the secretary; Nicole Carter, the vice-president; Reyner Stephens, the treasurer; Robyn Armsworth-Brack, the competition secretary; Natalie Harrison, the coaches convenor; Karen Hayes, the representative convenor; and Lisa Davison, the umpires convenor. I heartily thank all of them. It has been a challenging couple of years for community and grassroots sports organisations across the State. I congratulate Maureen Boyle, OAM, on her elevation to legend status in the Netball NSW hall of fame and for a job well done. May she continue umpiring for many years to come.''
Photos: Manly Warringah Netball Association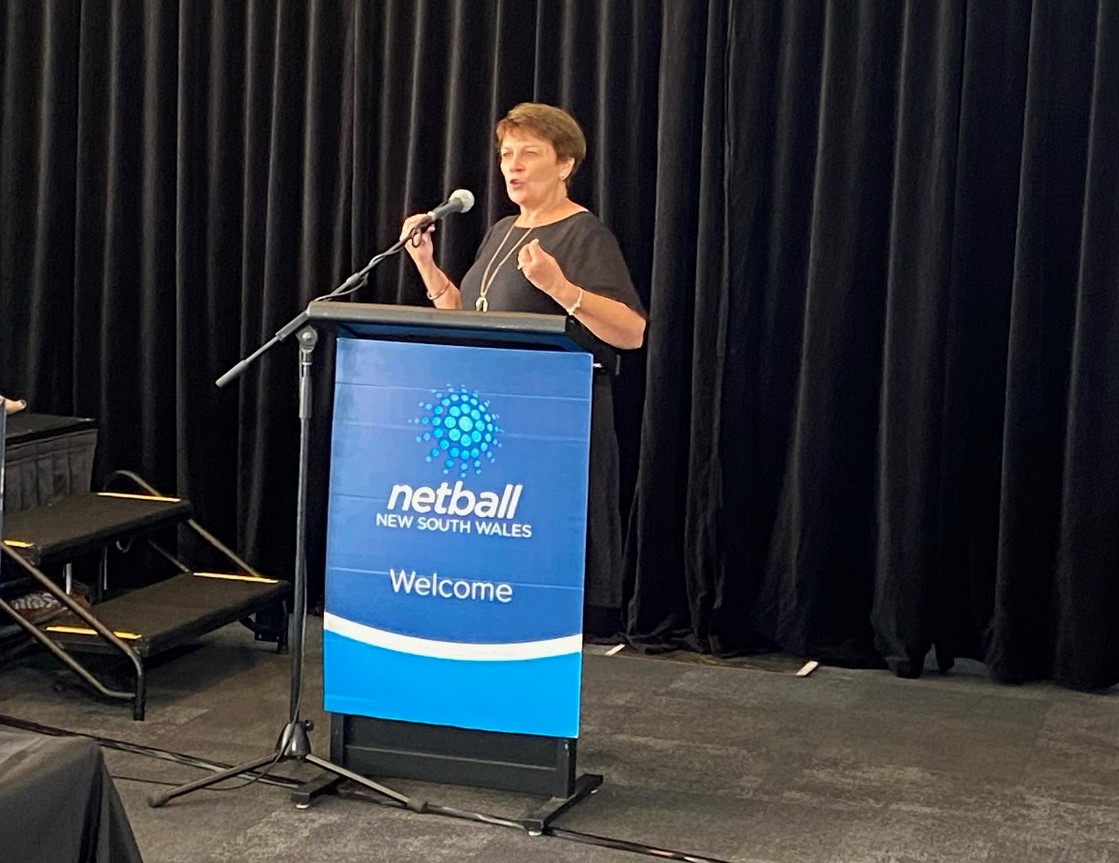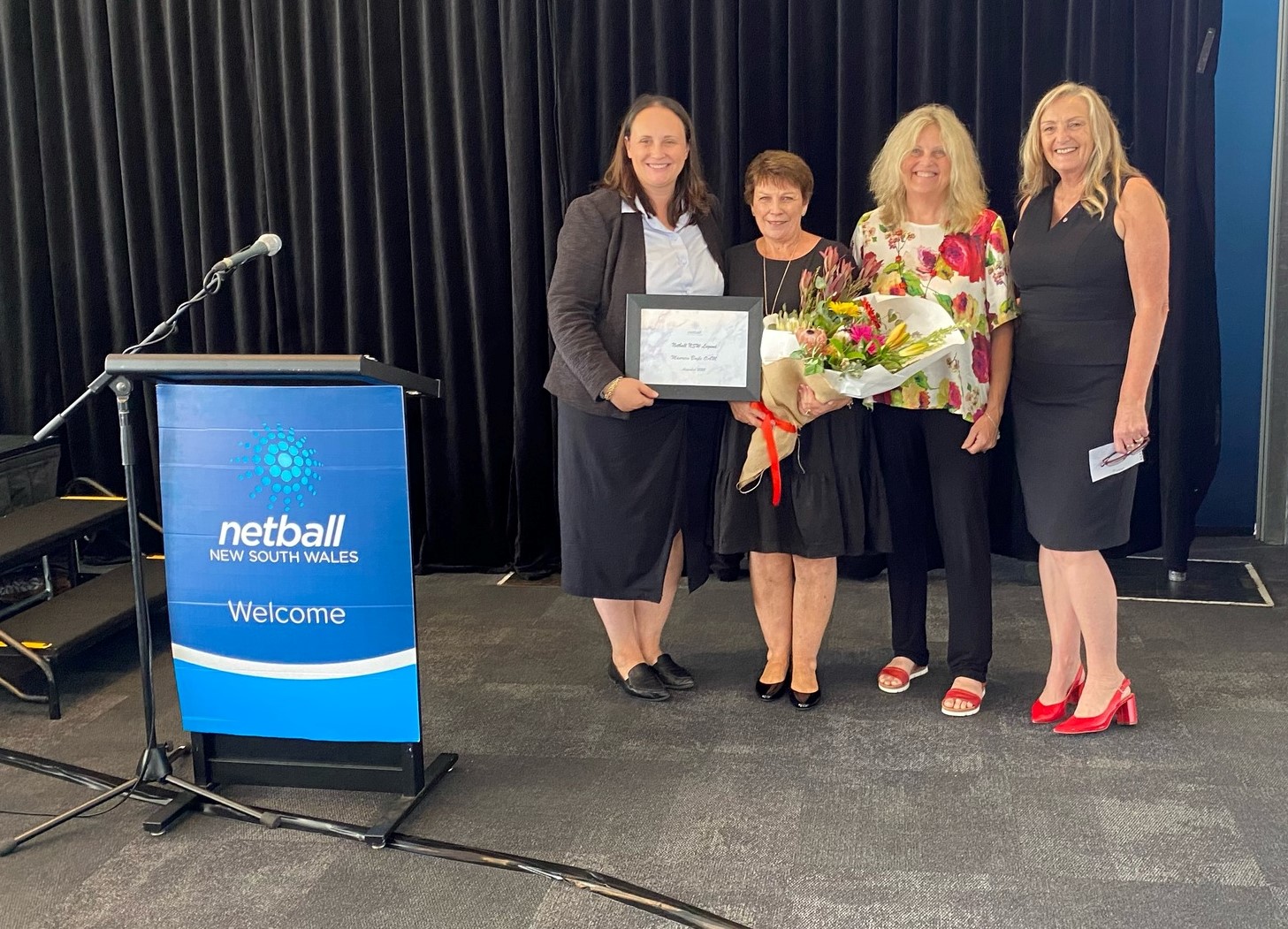 RPAYC Final Autumn Twilight Sail 2021/2022 - St Patricks Day Theme
The RPAYC had a great turnout for the final twilight of the 21/22 Season on March 17th, St. Patrick's Day. Congratulations to all of the podium placegetters in the Thursday Autumn Twilight Series. There were some great St Patricks Day outfits on show as well and live music back at the club.
PHS Winners
Div 1: Windy Too - Carl Russett
Div 2: Puff - Scott Robertson
Div 3: Venue - Brian Ellis
Div 4: Isabella - John Nolan
Photos: RPAYC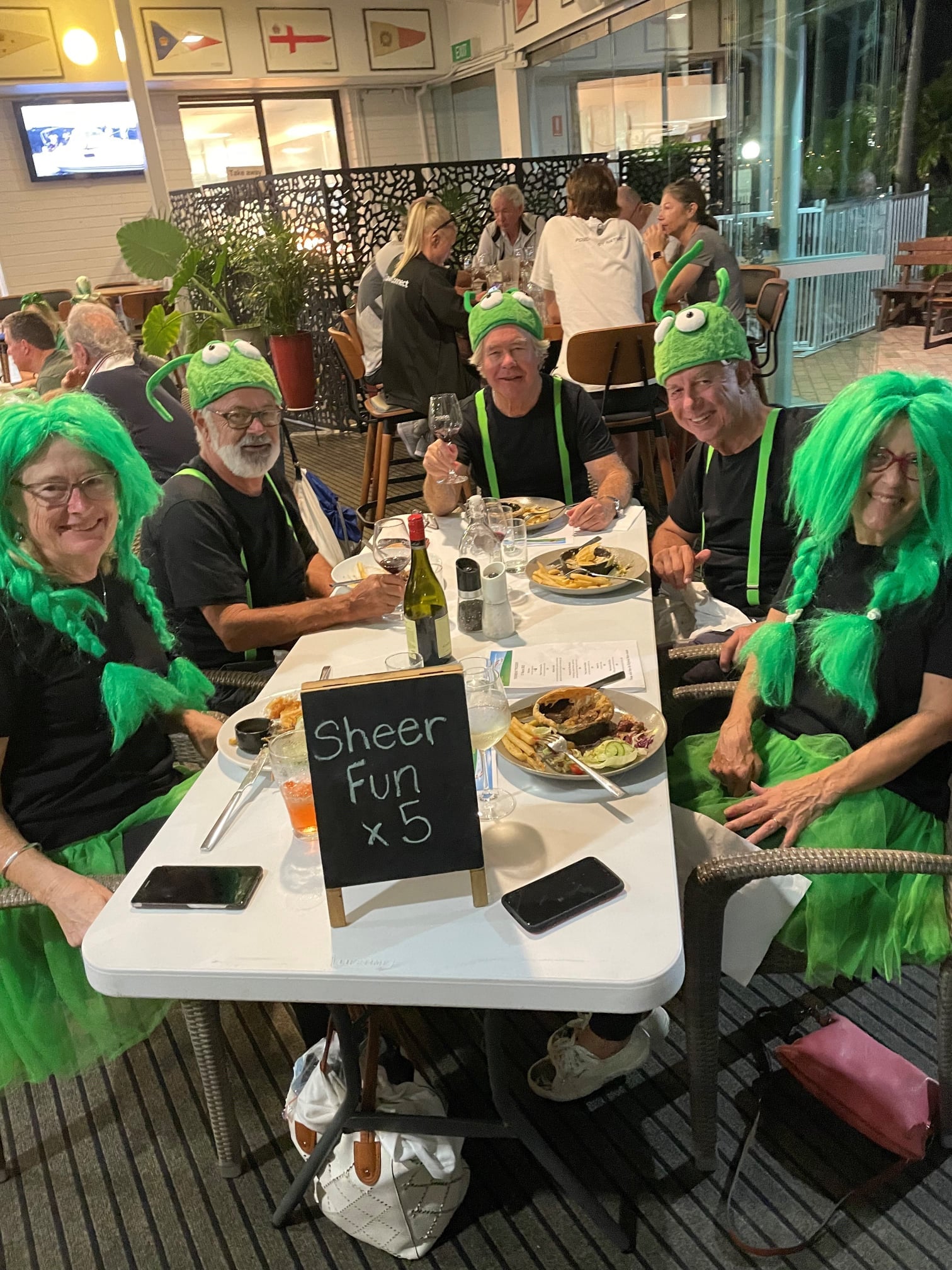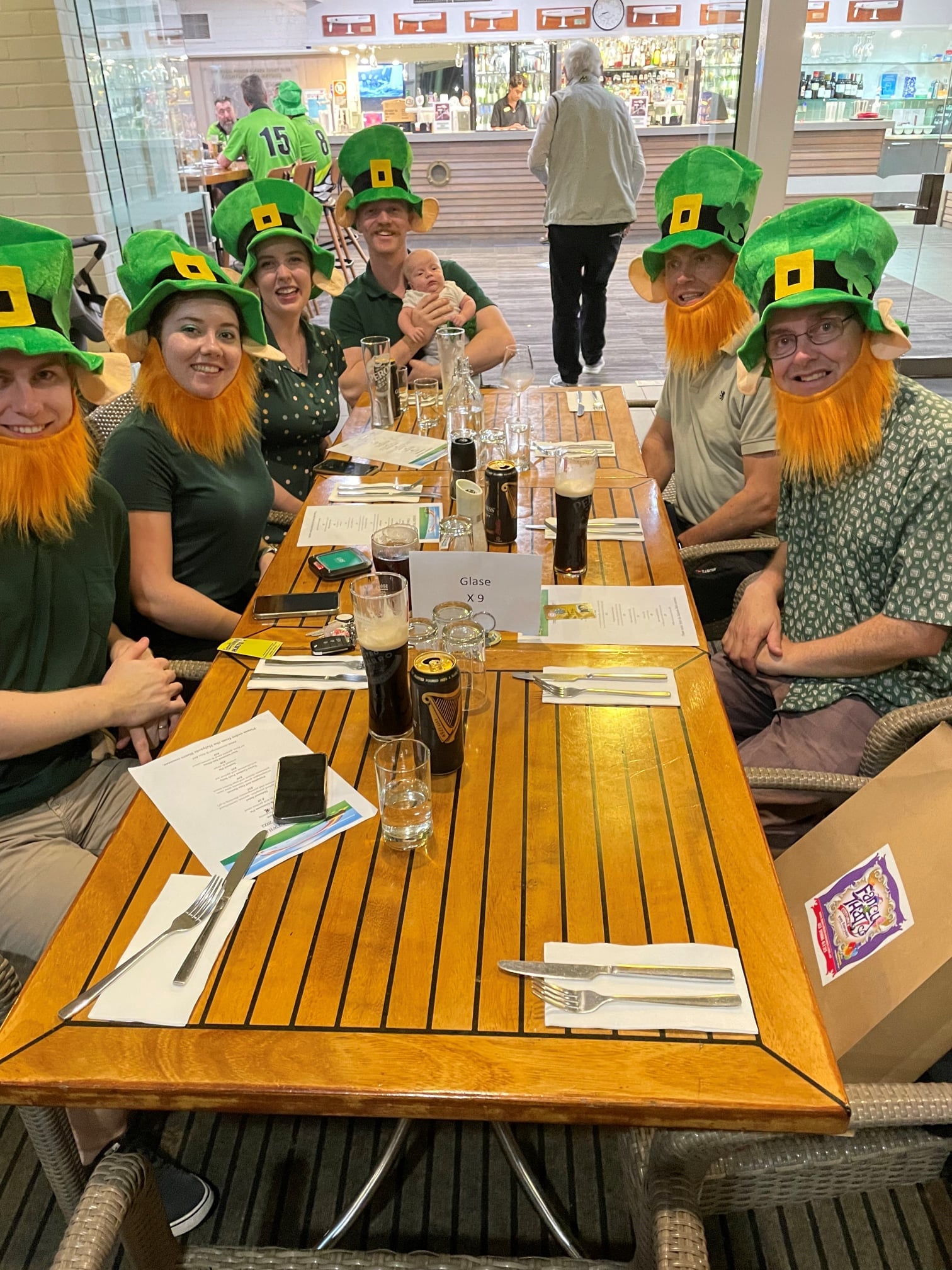 OK Dinghy Australian Champion
Congratulations to RPAYC Centreboard sailing member Alexander Bijkerk who won the NBSailsports 2022 International OK Dinghy Australian Championships sailed out of Woollahra Sailing Club with a clear 9 point lead over 2nd place. During the 8 race series Alexander only once finished outside the top 3 in a fleet of 33 boats. Fellow RPAYC sailor Mark Phillips finished in a strong 5th place. The regatta was held March 15 - 18, 2022.
View the full results at: https://www.woollahrasailingclub.org.au/series/5065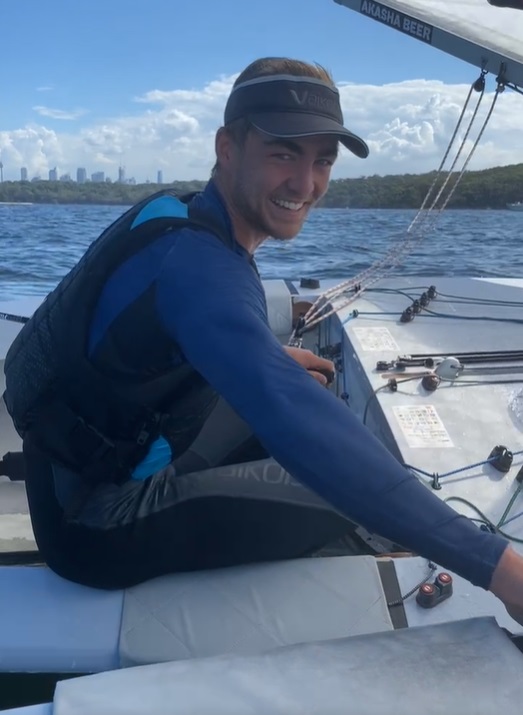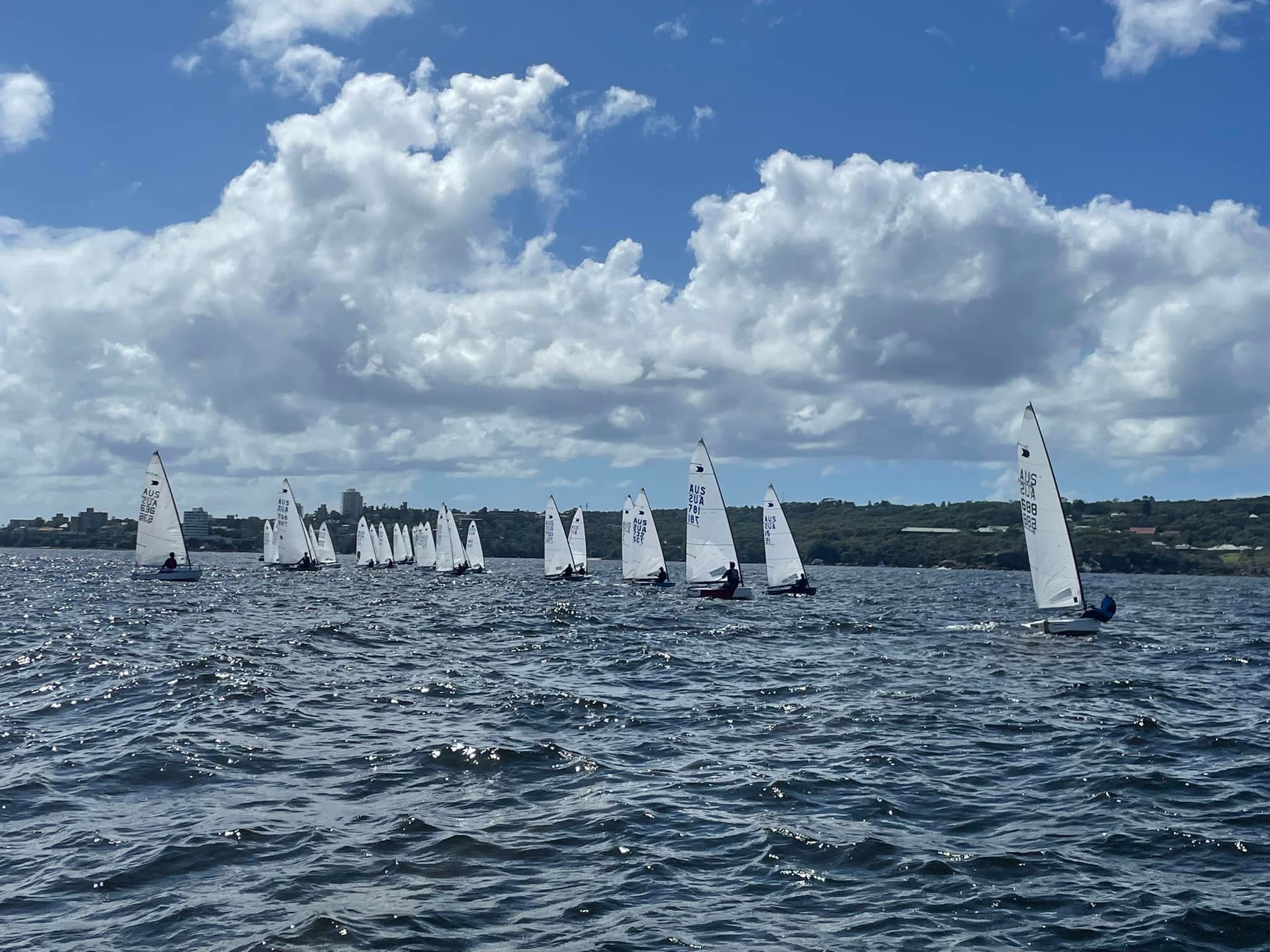 Newport Breakers Rugby Club At Rat Park, Warriewood
March 26, 2022
The Newport Breakers Rugby Club new look Colts team had a trial hit out today against a Warringah Colts team. Great to have rugby kicking off again and to see the Newport playing stocks continuing to produce.
Photos: Matt Wellings, Newport Breakers Rugby Club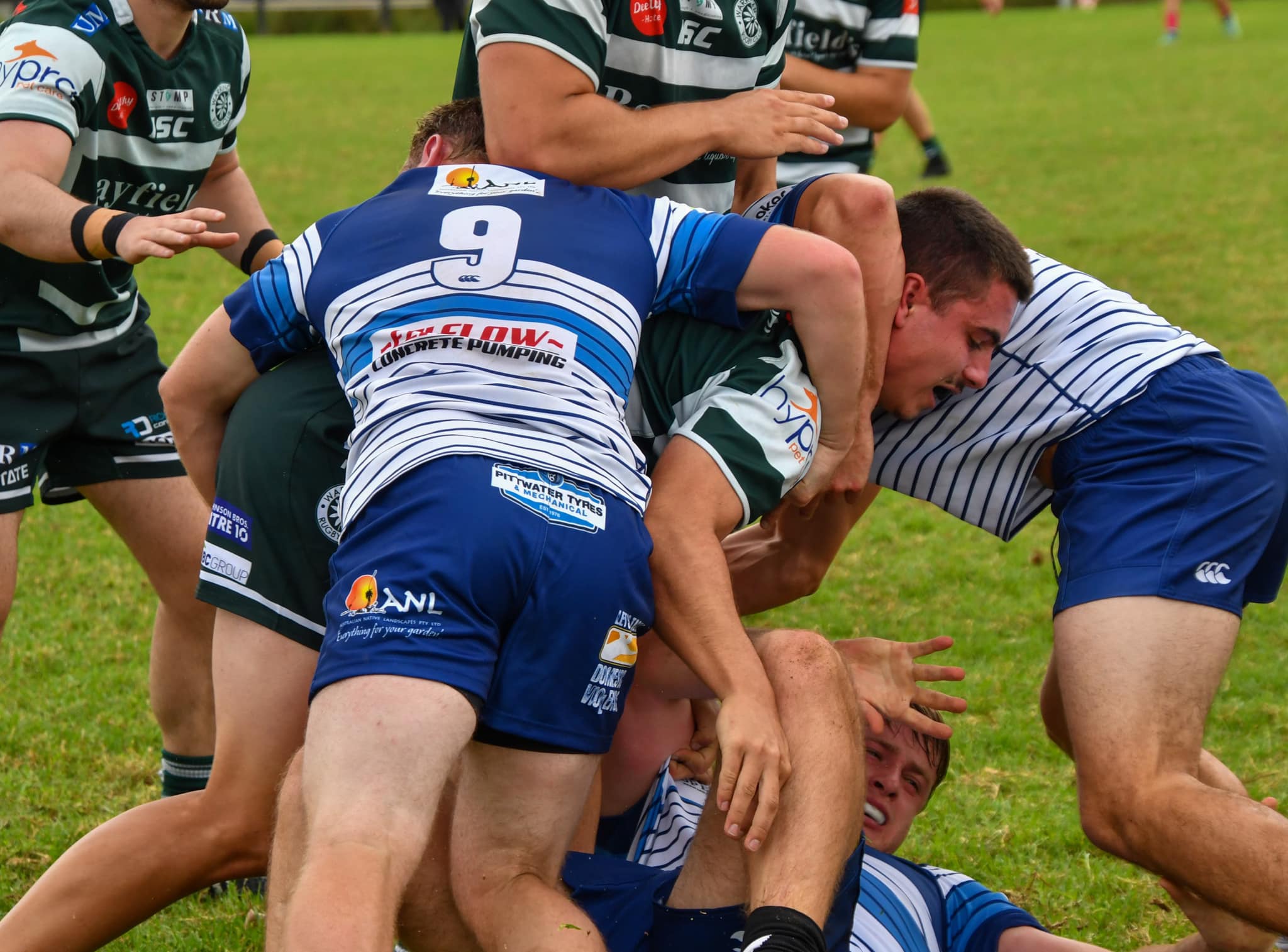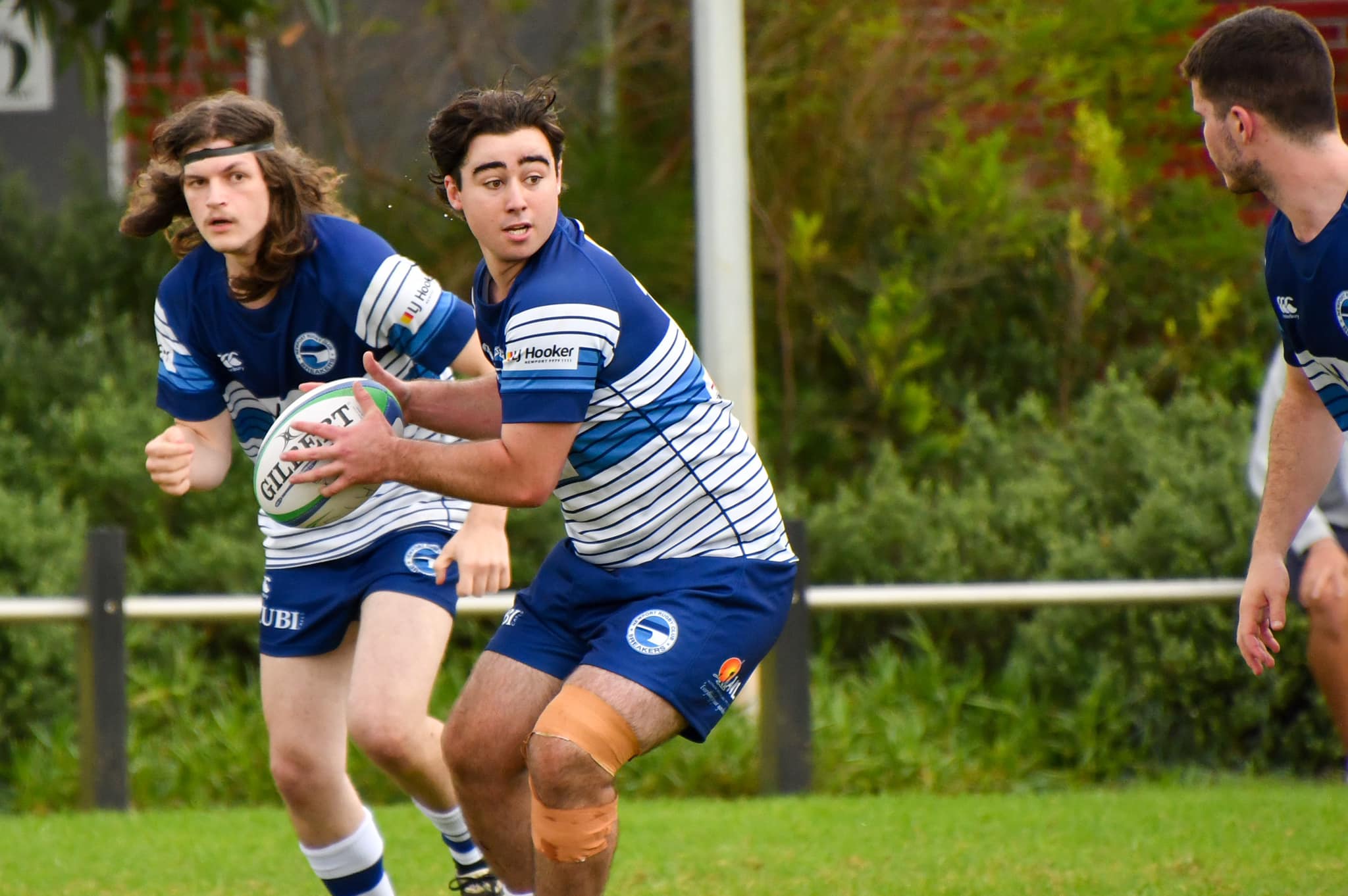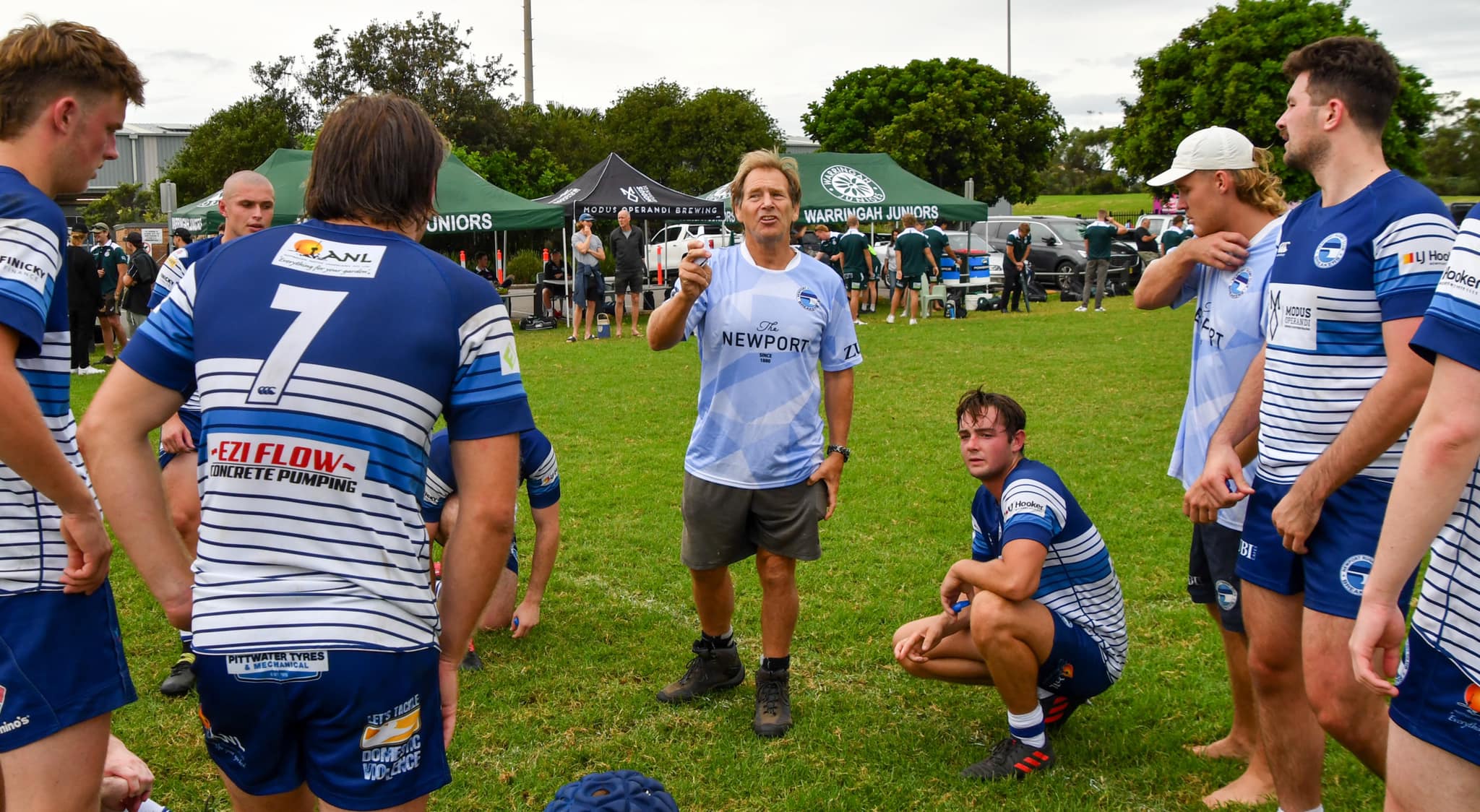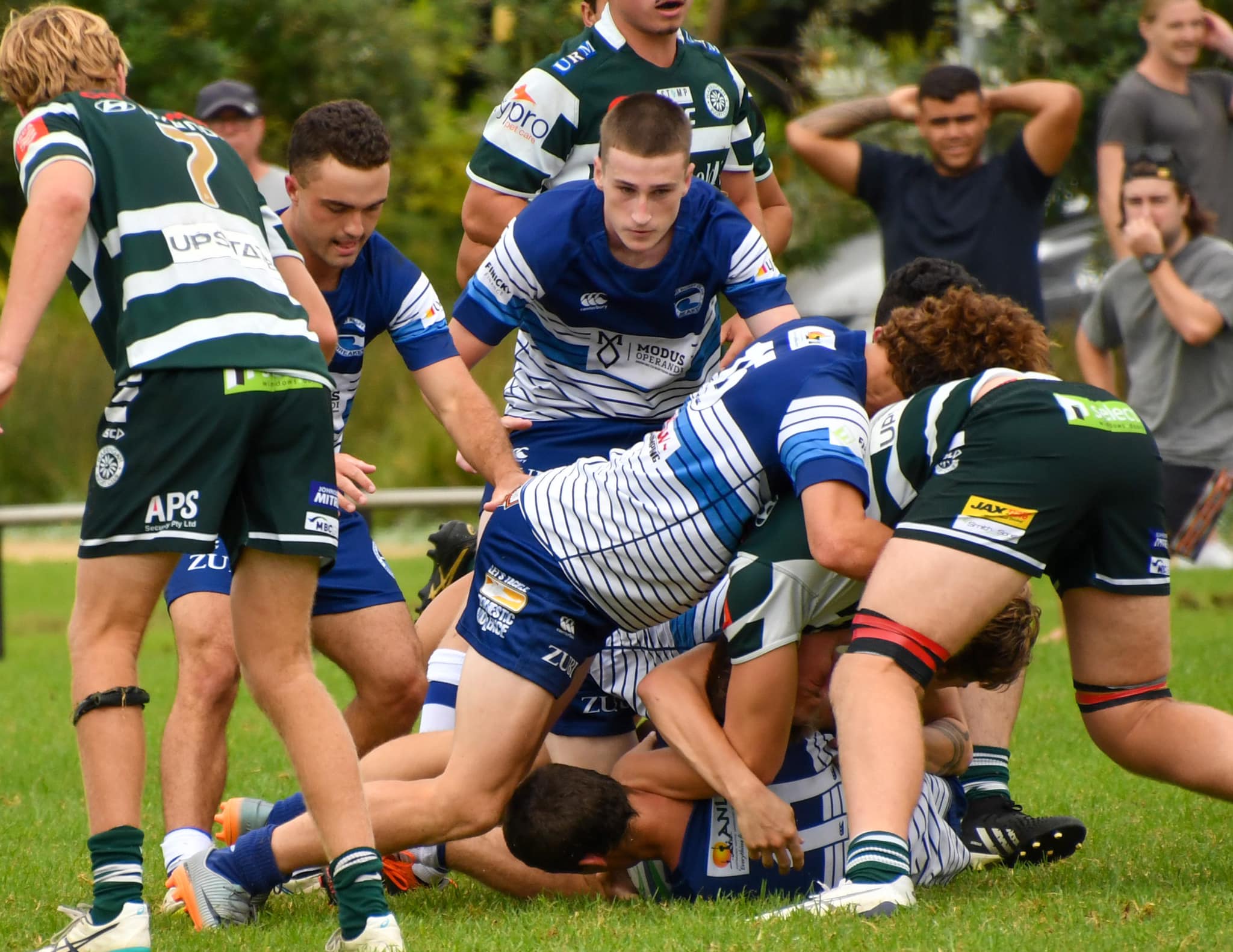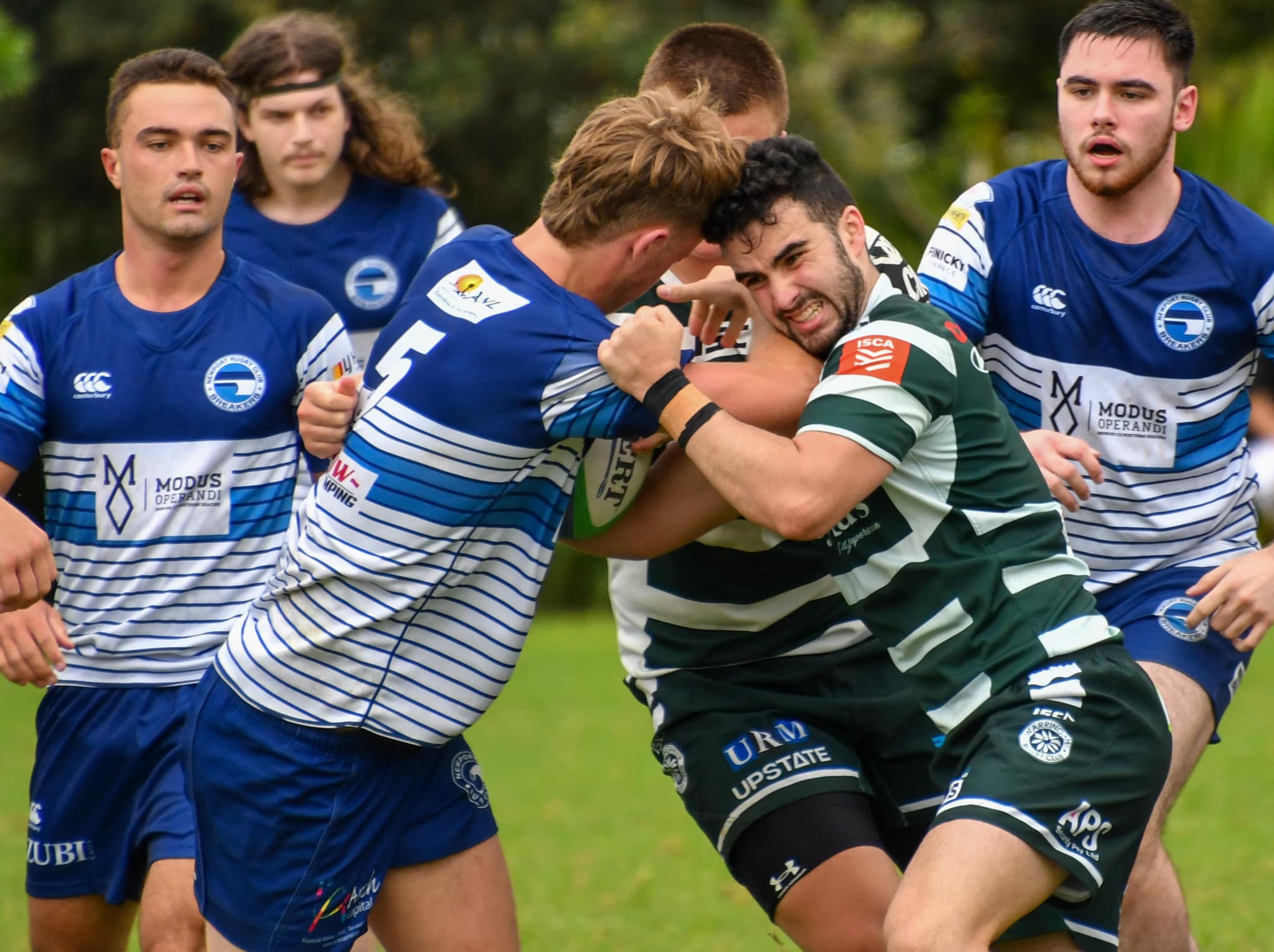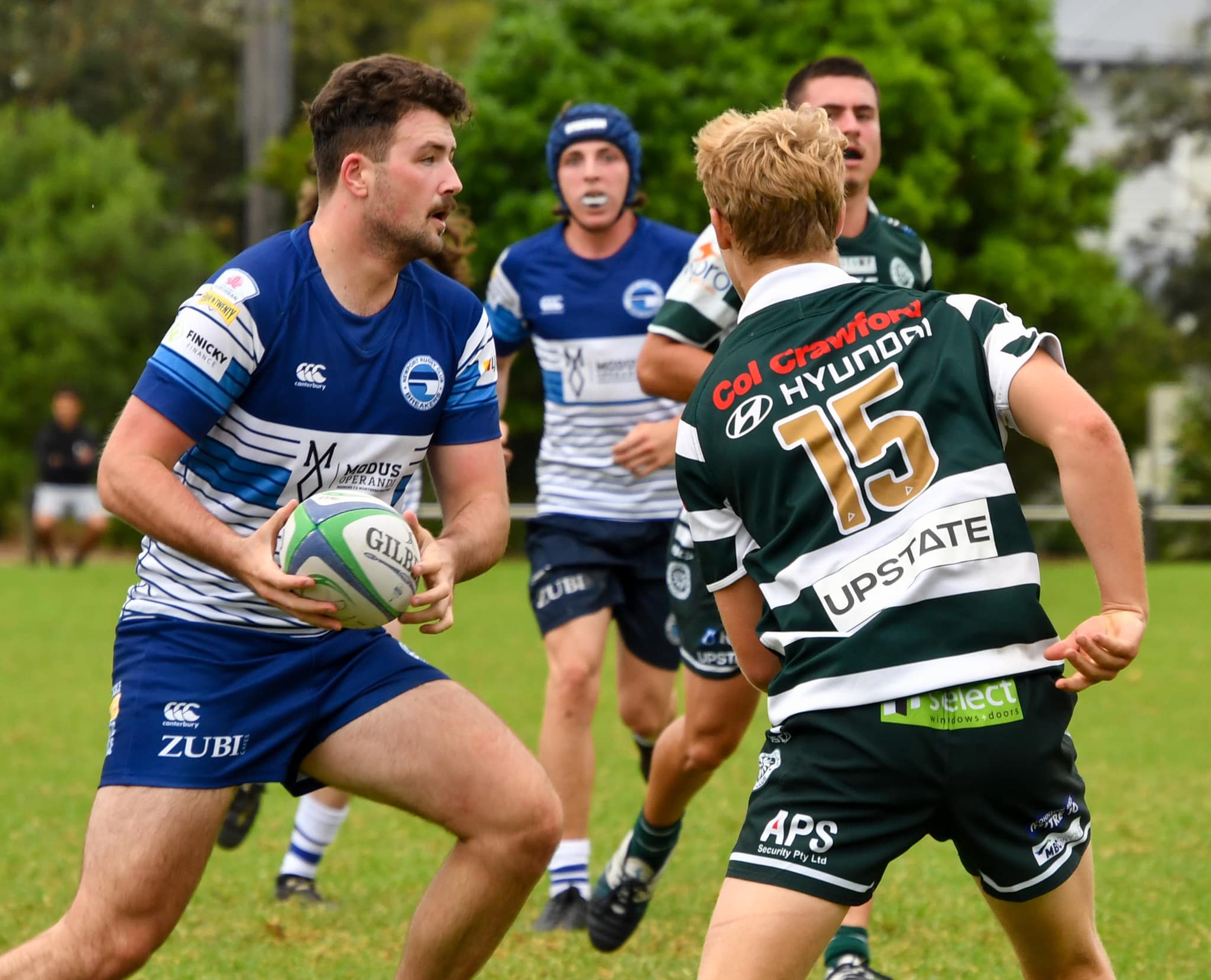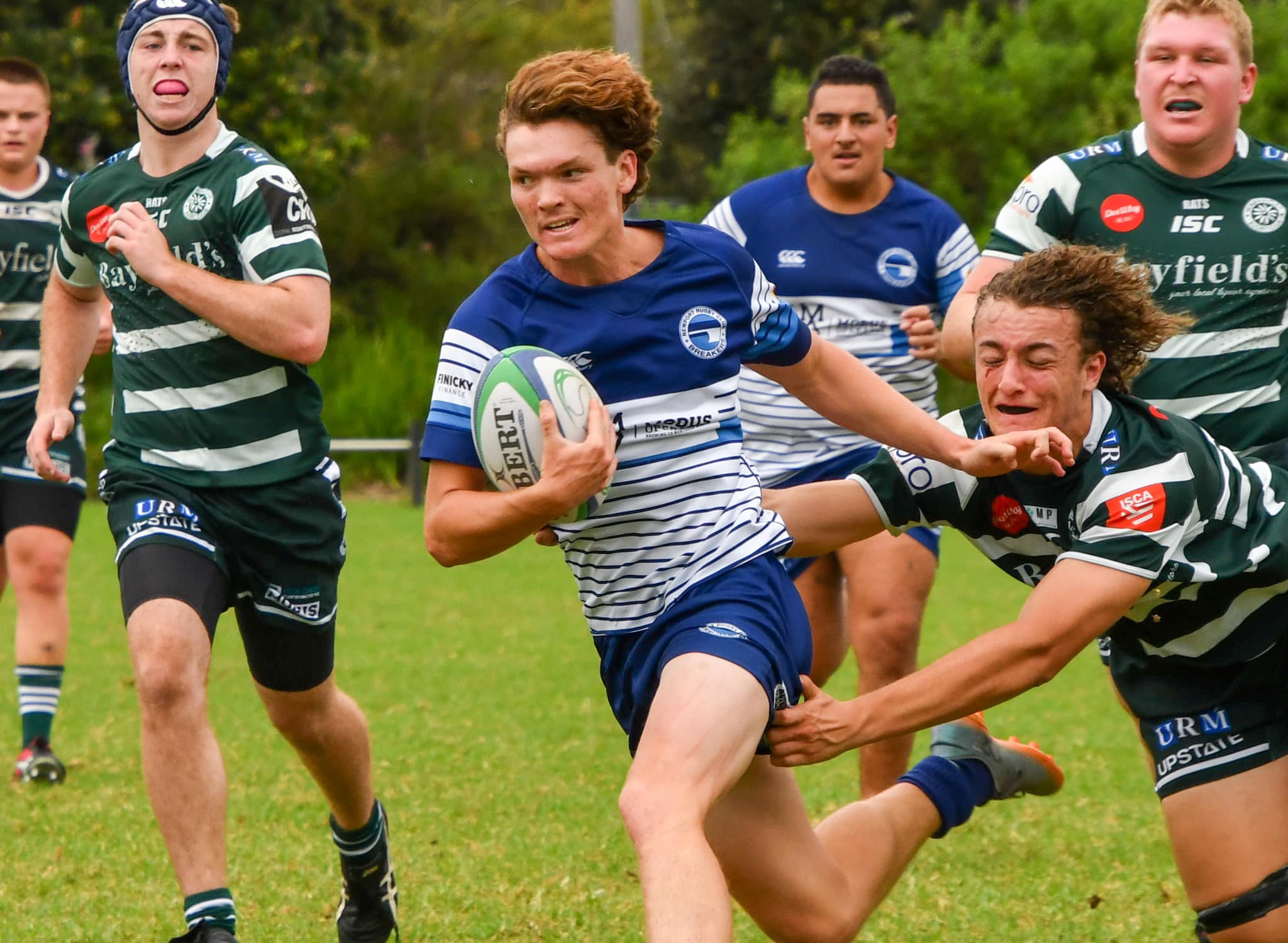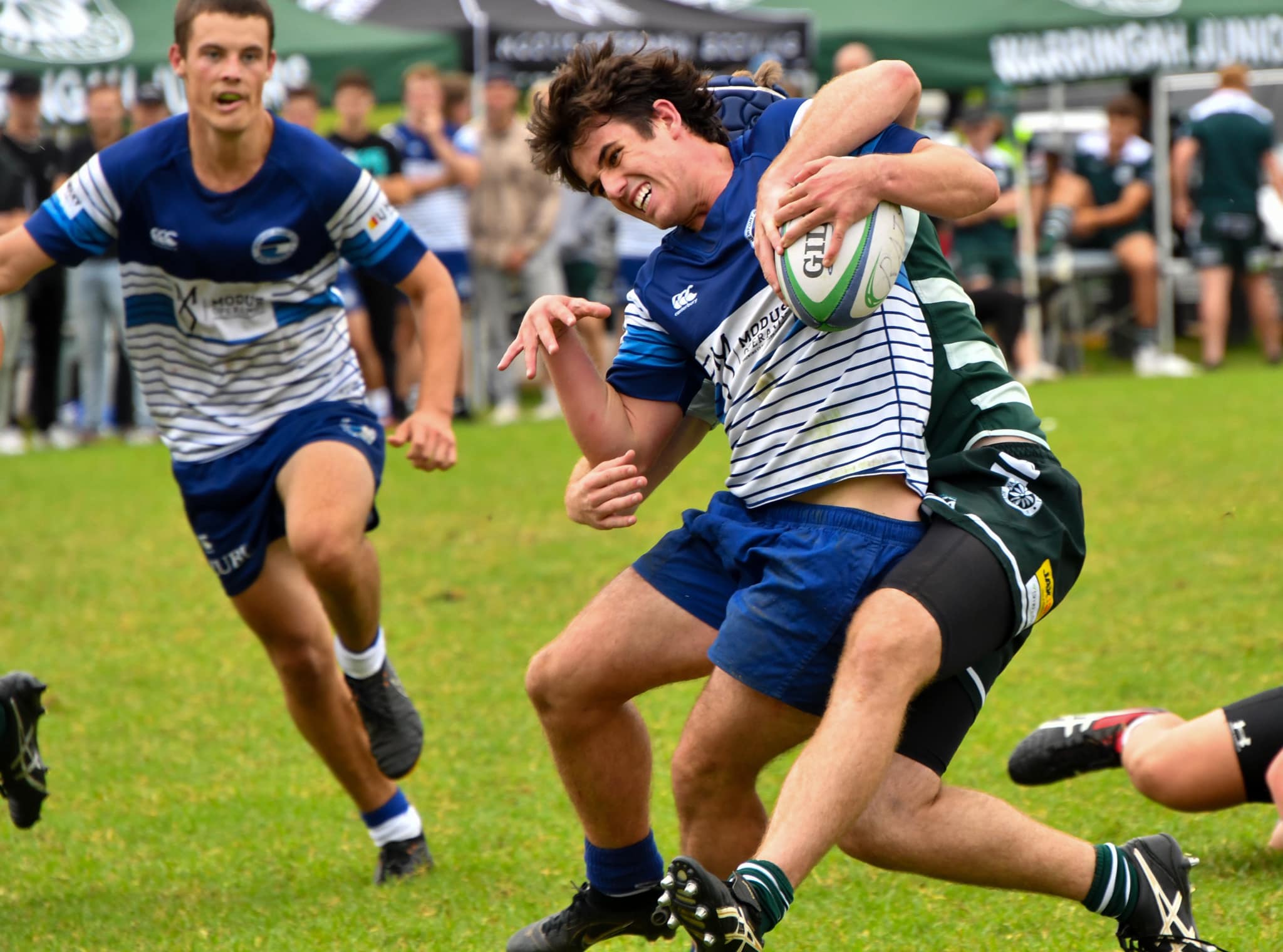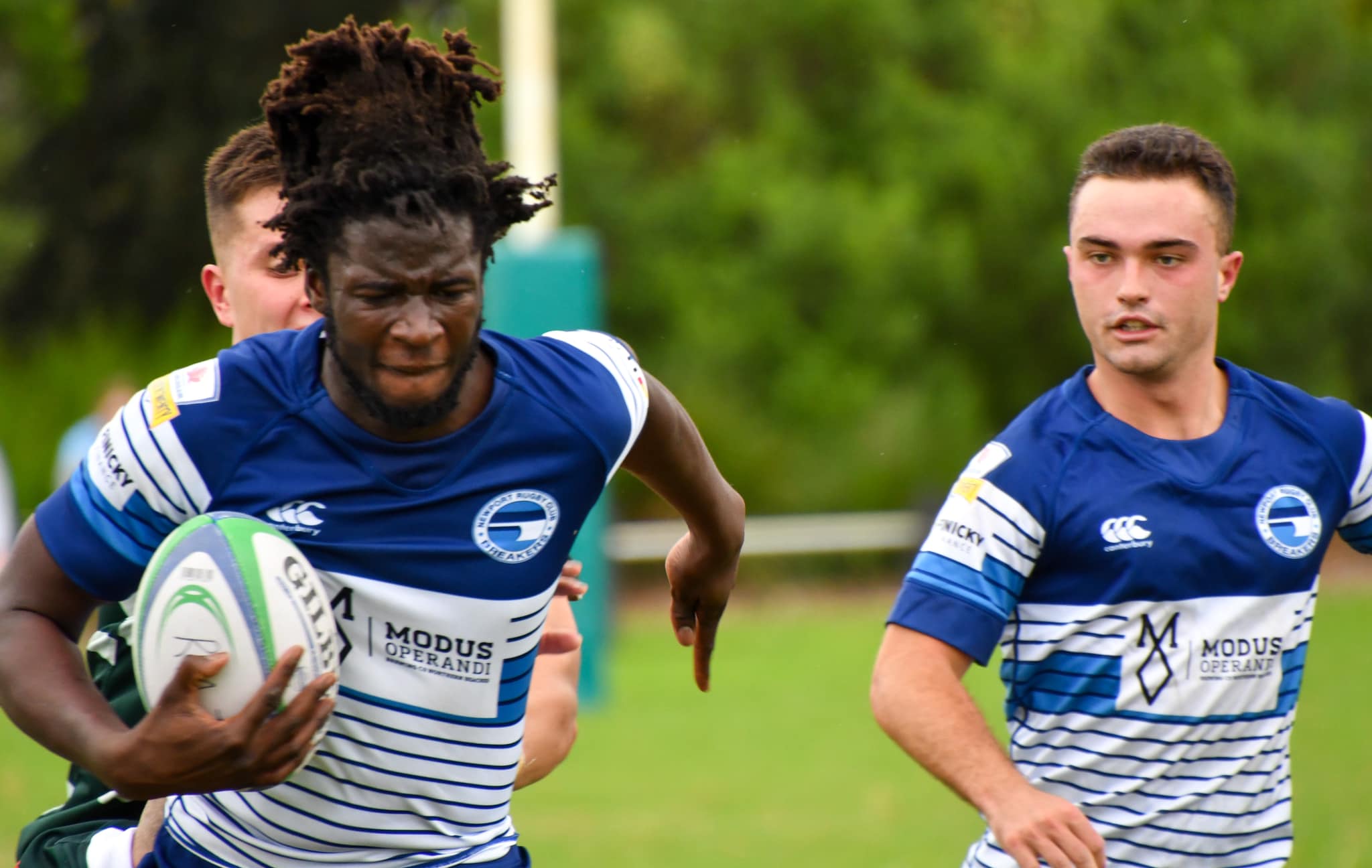 Ocean Thunder Surf Boat Series
March 20, 2022
SLSA Ocean Thunder Surf Boat Series 2021/2022 concluded last night with a final presentation where the mens & womens series champions were crowned. Mens series champions Kennards Hire - Mermaid Beach and Womens series champions - VMD Packaging - North Cronulla .
Thank you each and every competitor. It was a series with some twists, turns and obstacles ! Best of luck and safe travels to all In your Aussies 2022 campaign
from Zacca and the Ocean Thunder Event Team.
SLSA Ocean Thunder Surf Boat Series 2021/2022 event 4 held March 19-20 on Dee Why/Long Reef beaches
Mens Winners
1st Kennards Hire - Mermaid Beach In the first ever double header event ….
2nd Dial Before You Dig - Batemans Bay (Innes)
3rd Sheldon - Newport
4th Dial Before You Dig - North Cronulla (McDonald)
5th GJ Gardner Homes - Batemans Bay (Collins)
6th The Beach Club - Collaroy (Pebbles)
Women's winners
1st The Beach Club - Collaroy
2nd VMD Packaging - North Cronulla
3rd Hula Beach - Lorne
4th GJ Gardner Homes - North Narrabeen
Photos from Event 4 by Malcolm Trees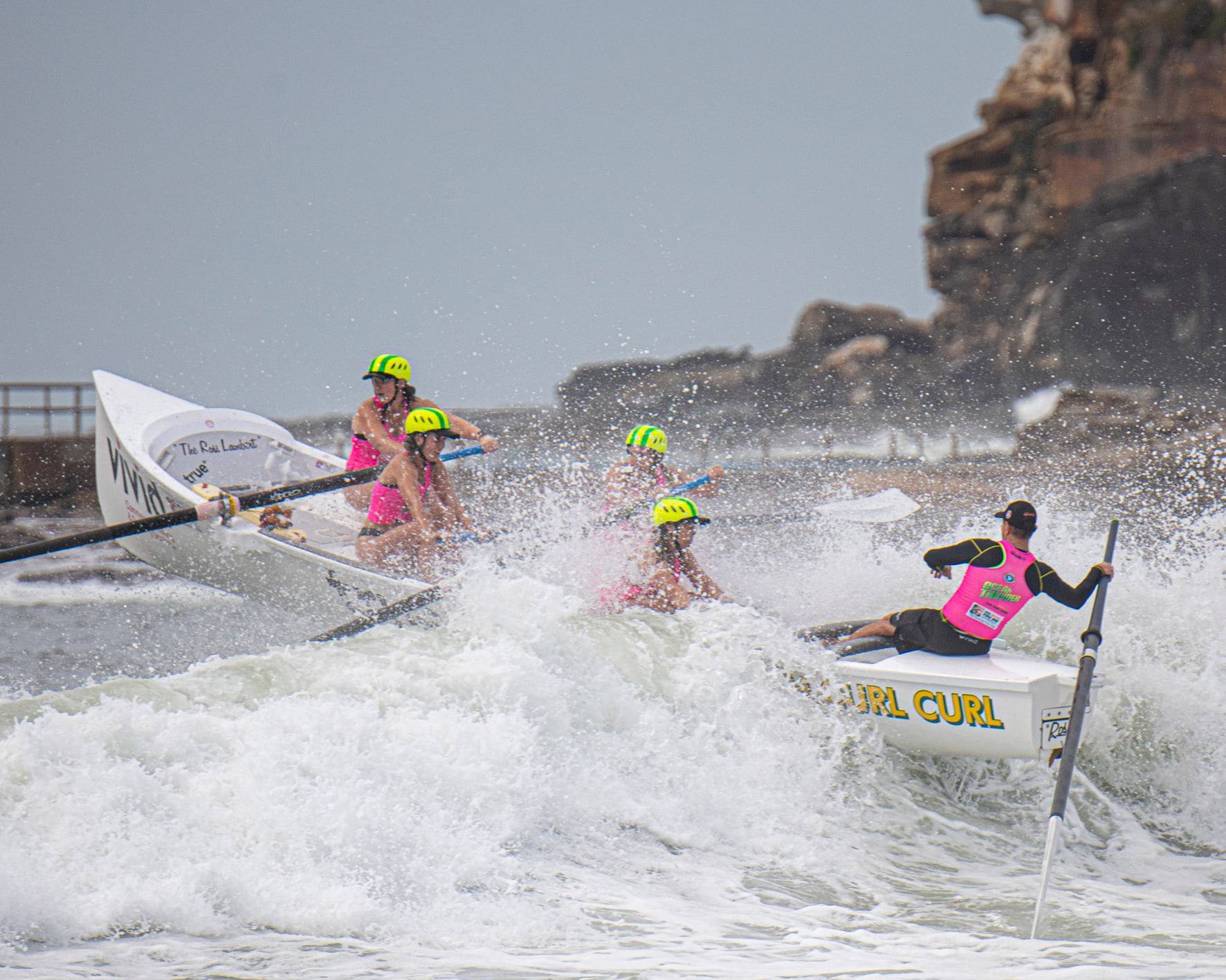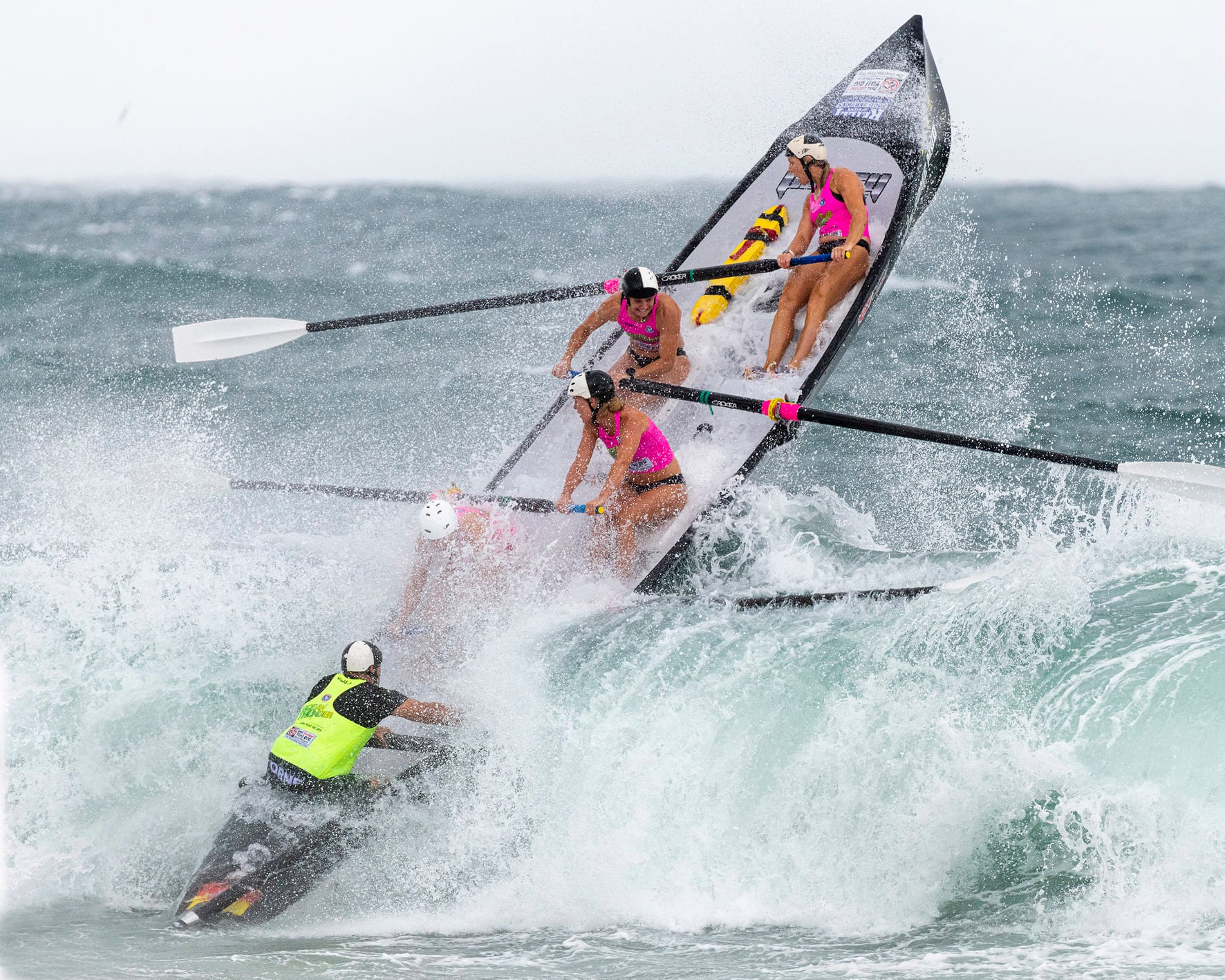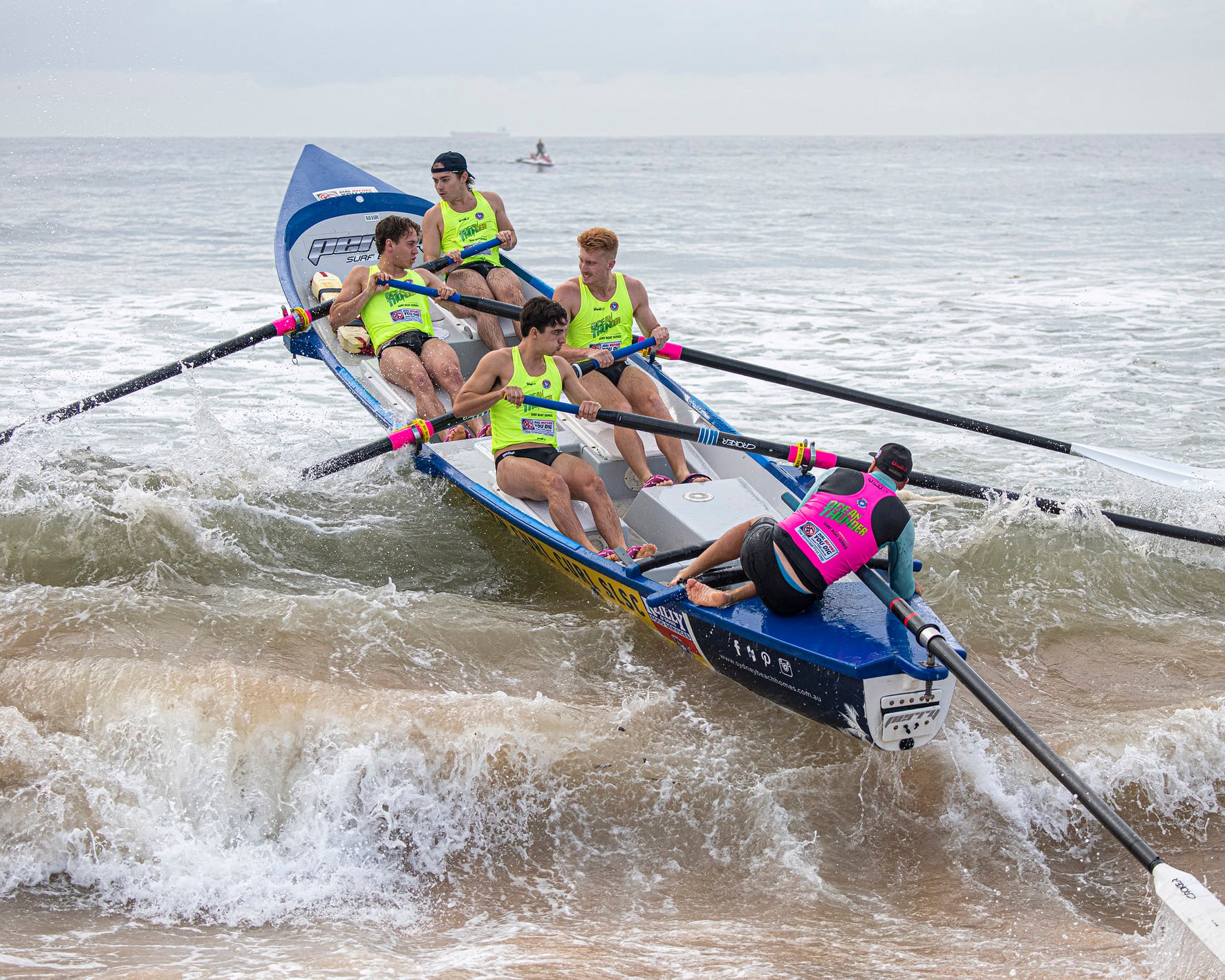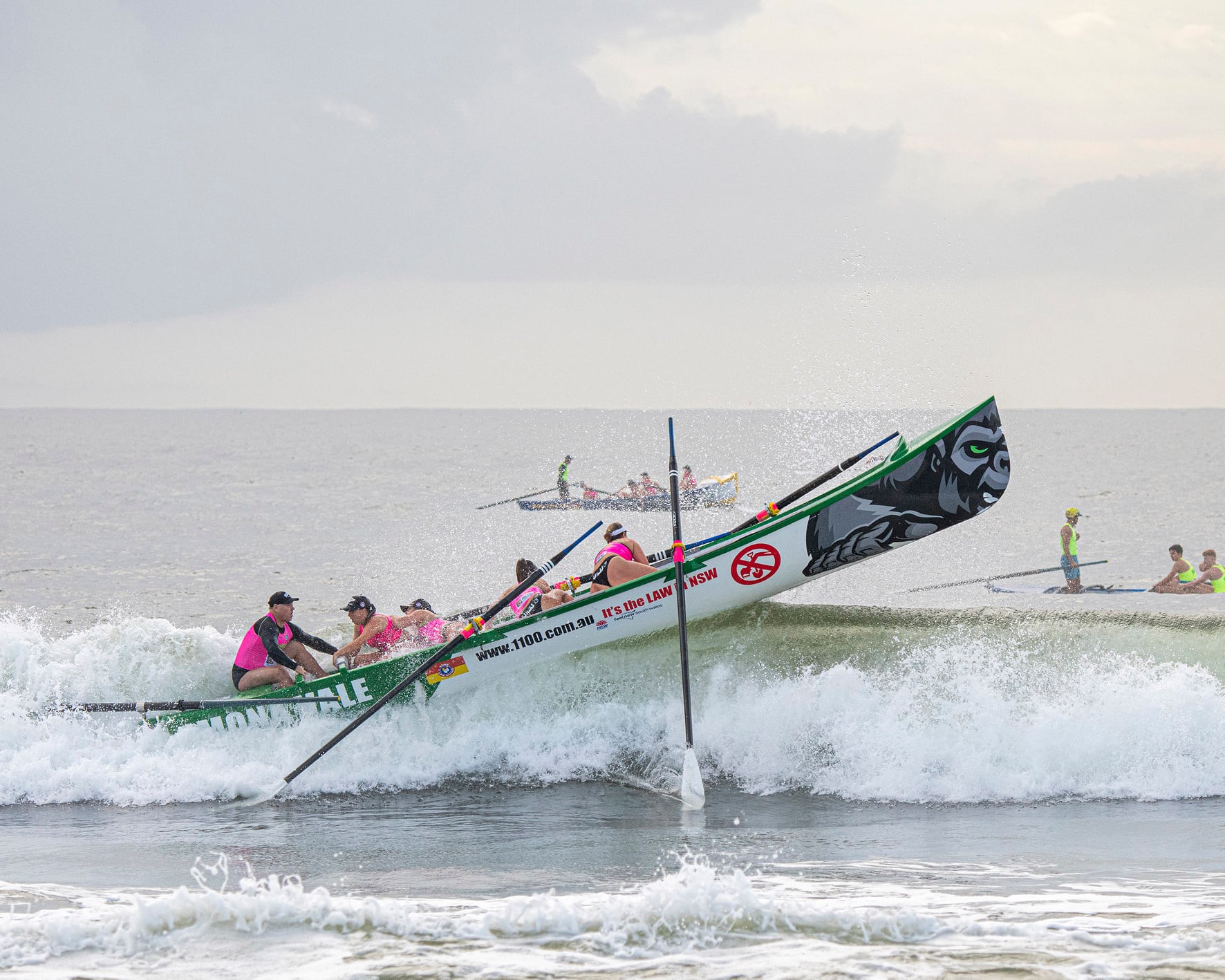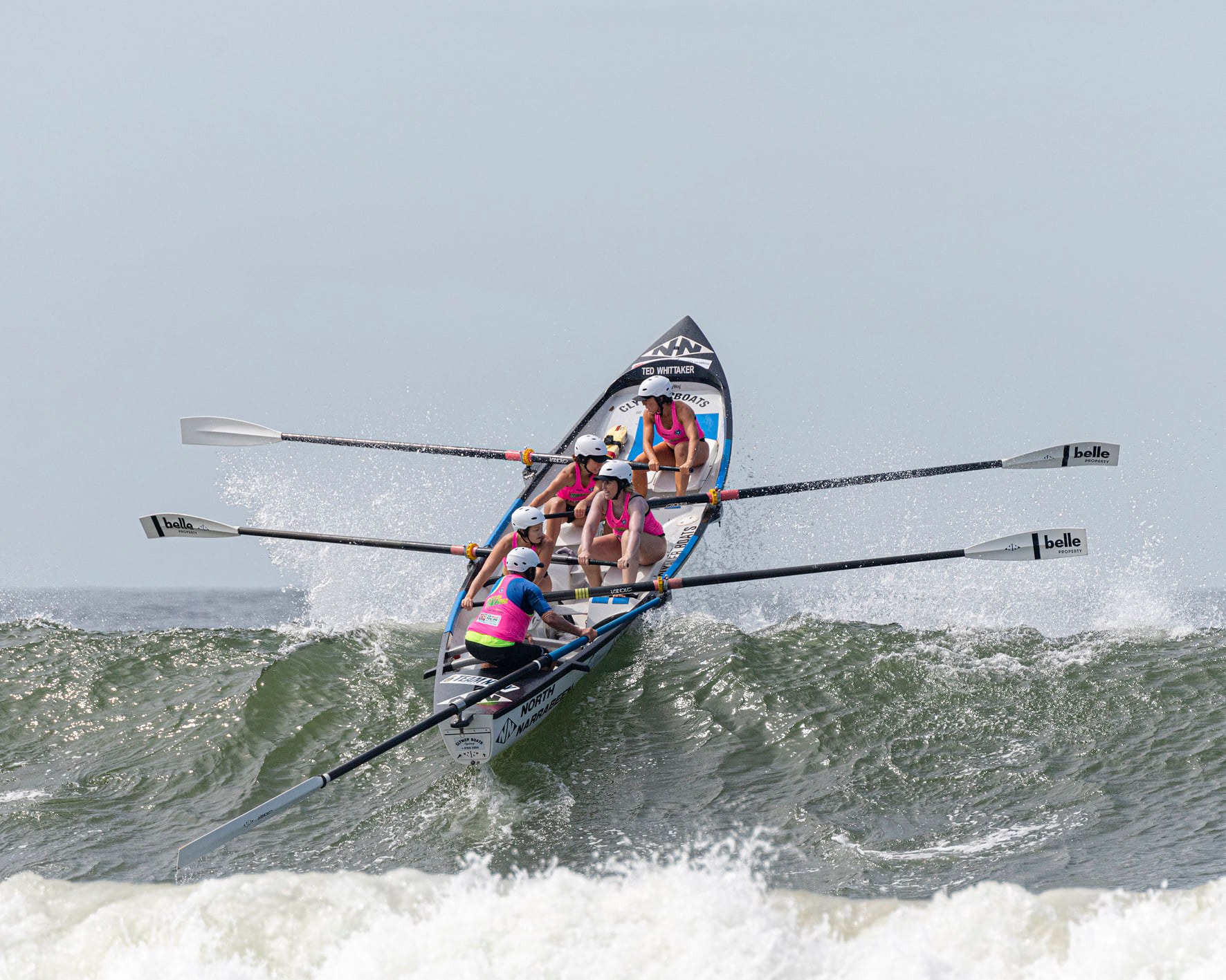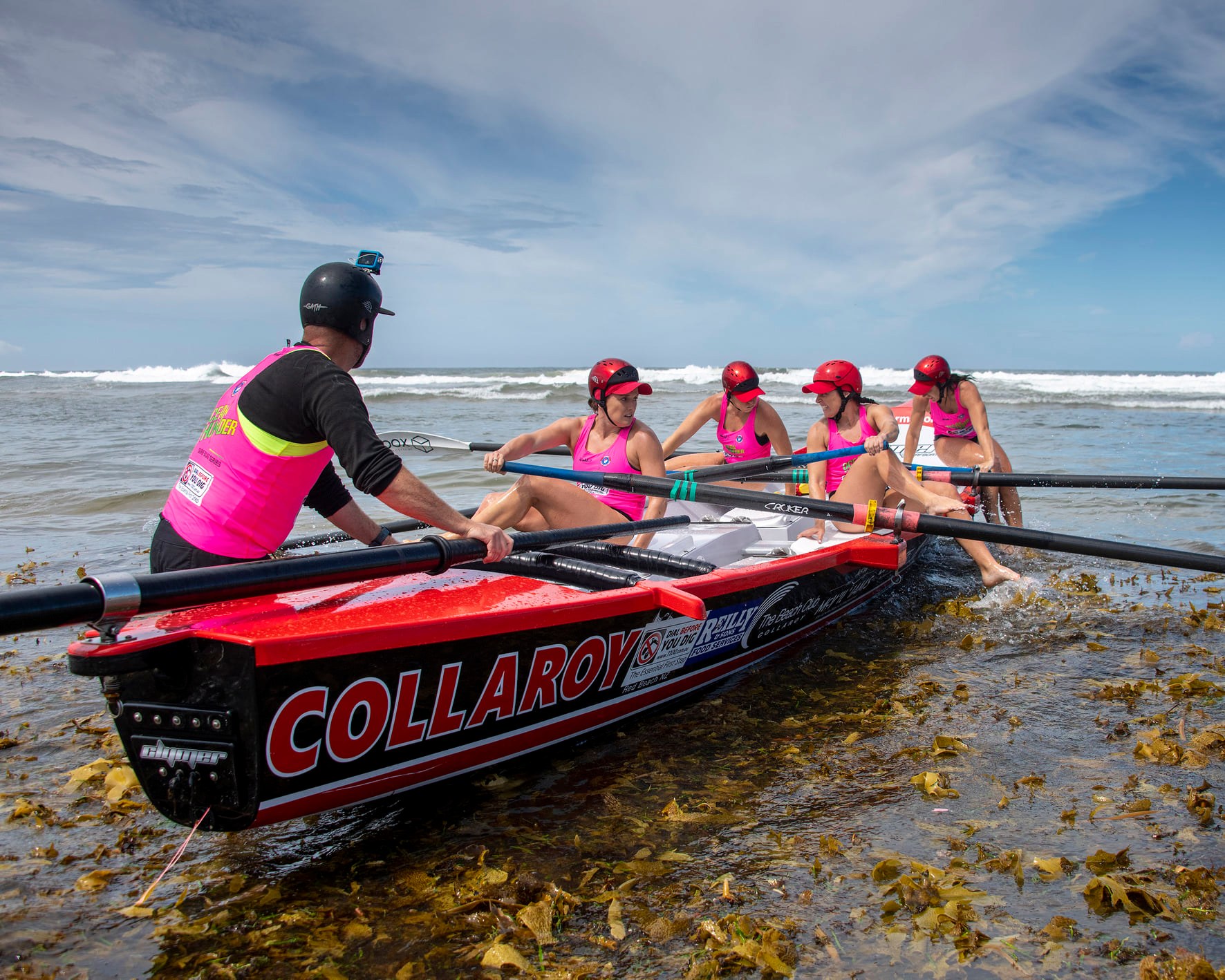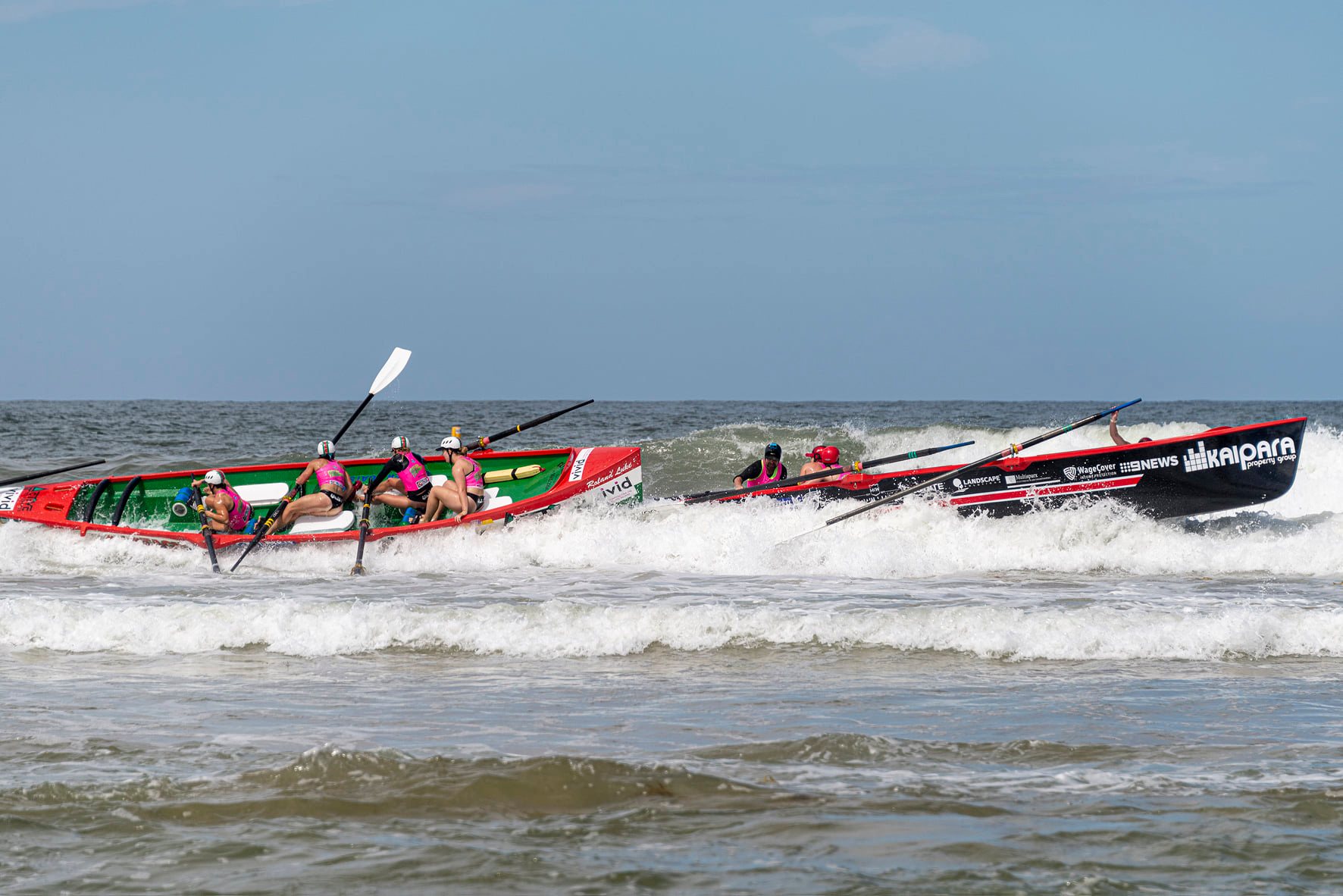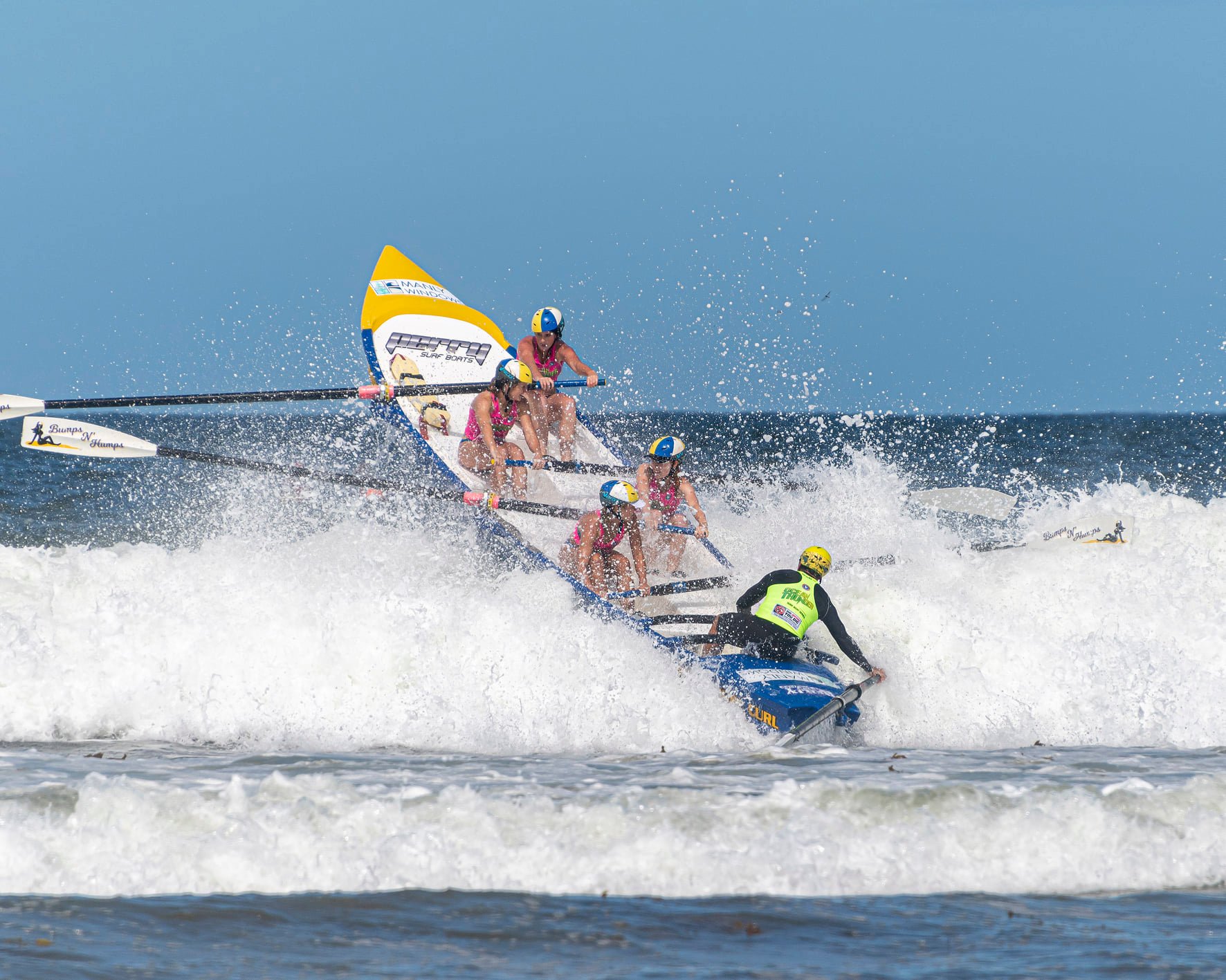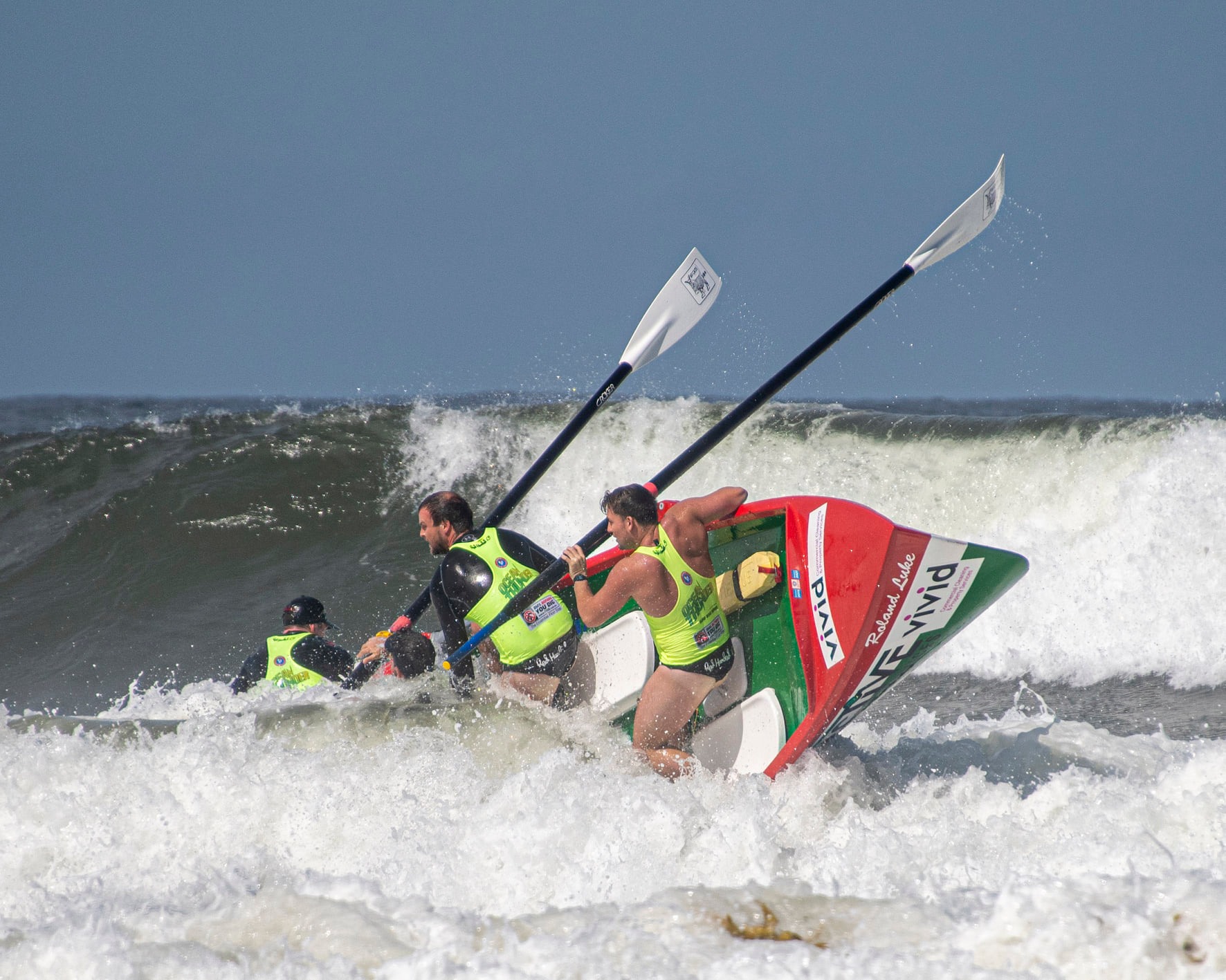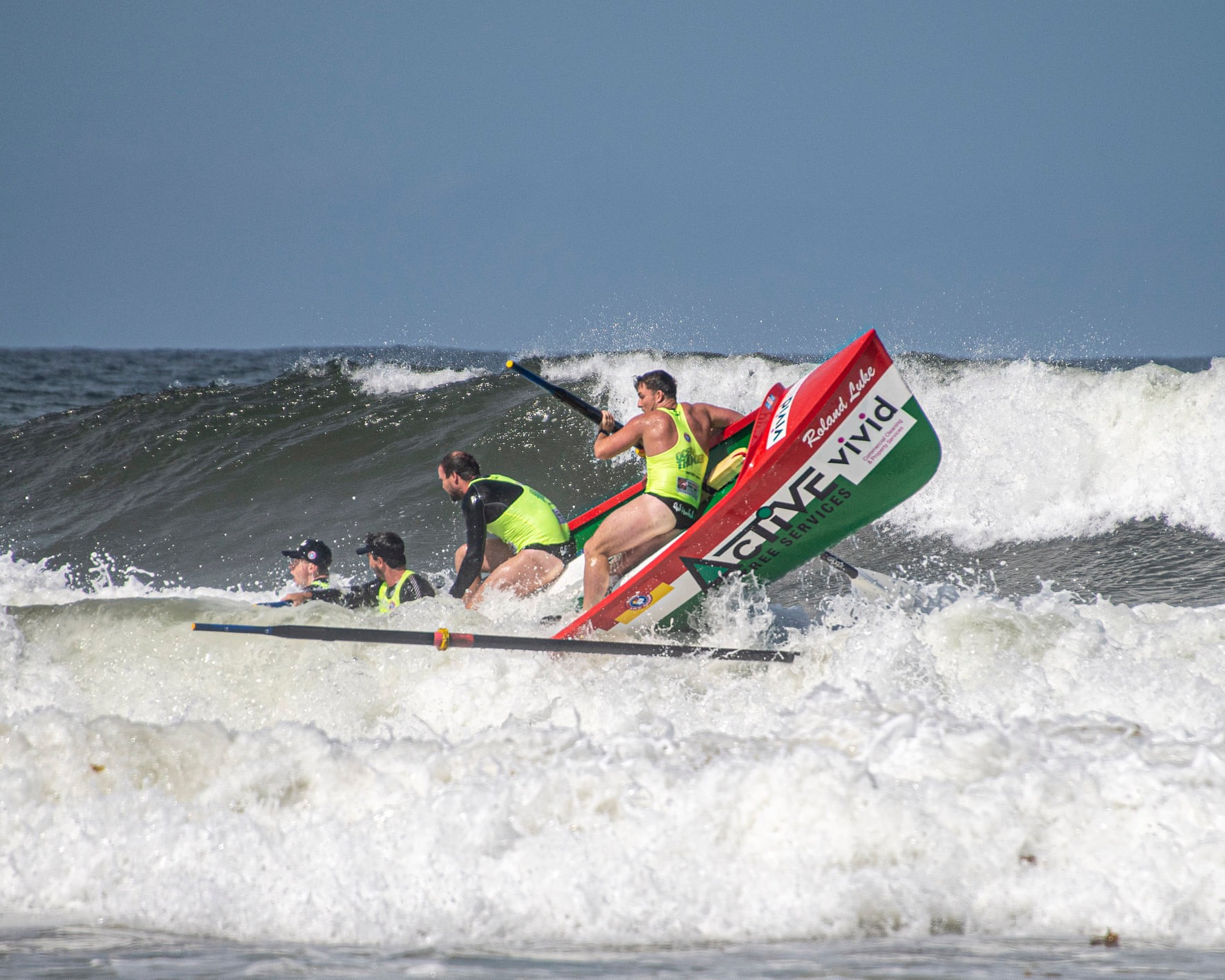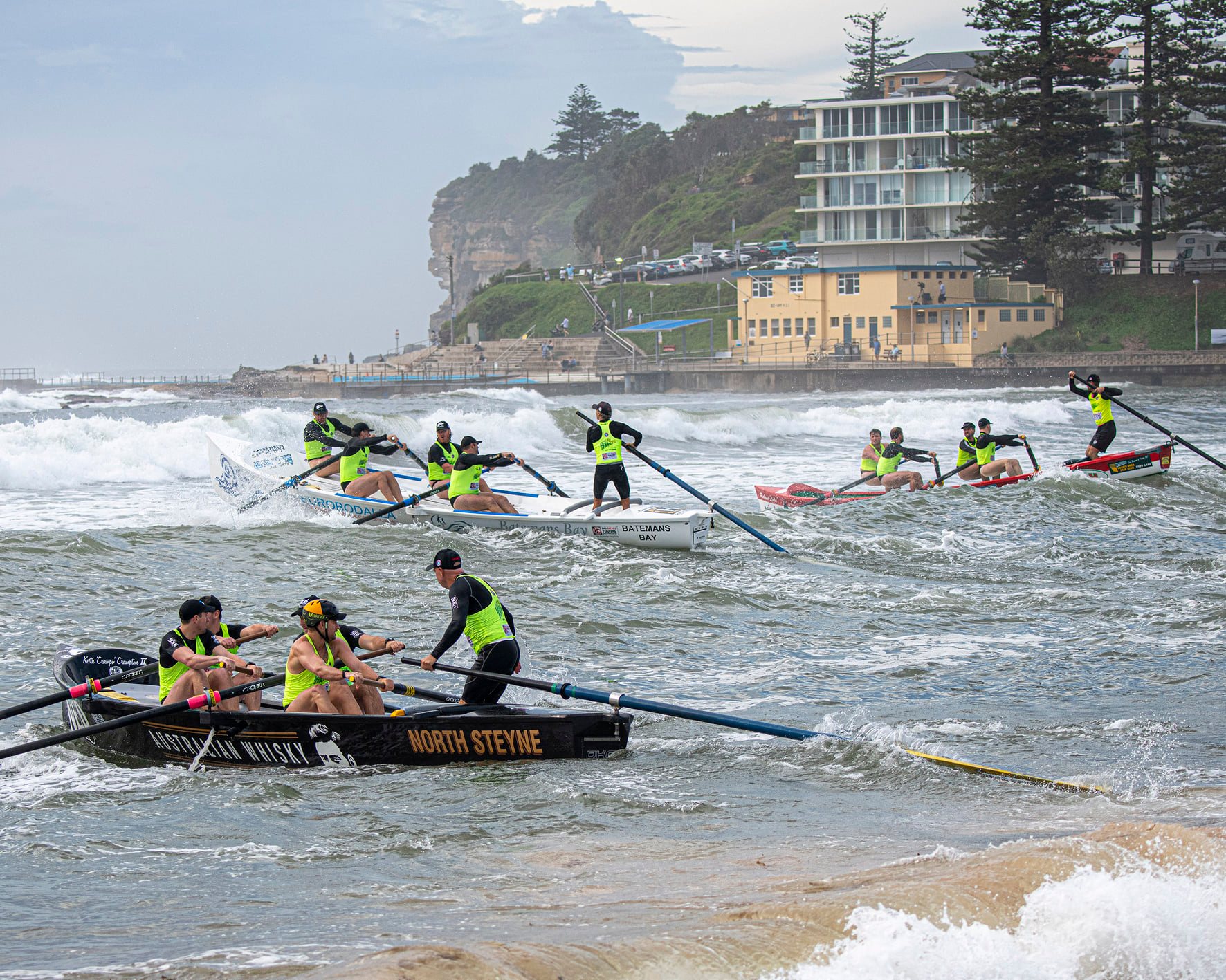 Turtle Saved At Newport
March 26, 2022
Good news; on a rainy morning with lifesavers successfully freeing a giant Leatherback Sea Turtle from the nets at Newport Beach. Weighing between 300-400kg, the IRB crew said the distressed animal was as wide as the boat itself. Supervising the rescue, a Sea Life Sydney Aquarium marine biologist said the animal would not have survived if it wasn't for the actions of the patrol team.
This is the second large leatherback caught in the Newport net in recent years, with one cut free in 2019.
The largest living turtle is the leatherback sea turtle (Dermochelys coriacea), reaching a maximum total length of 3 m (9.8 ft) and a weight of 932 kg (2,055 lb). A leatherback sea turtle that washed up on a beach in Wales in the UK in 1988 was the largest sea turtle ever recorded at a massive 2,019 pounds and was estimated to be around 100 years old. Australia's Environment Protection and Biodiversity Conservation Act 1999 lists D. coriacea as vulnerable, while New South Wales lists it as endangered.

Light pollution is a serious threat to sea turtle hatchlings which have a strong attraction to light. Human-generated light from streetlights and buildings causes hatchlings to become disoriented, crawling toward the light and away from the beach. Hatchlings are attracted to light because the lightest area on a natural beach is the horizon over the ocean, the darkest area is the dunes or forest. On Florida's Atlantic coast, some beaches with high turtle nesting density have lost thousands of hatchlings due to artificial light.
Many turtles die from malabsorption and intestinal blockage following the ingestion of balloons and plastic bags which resemble their jellyfish prey.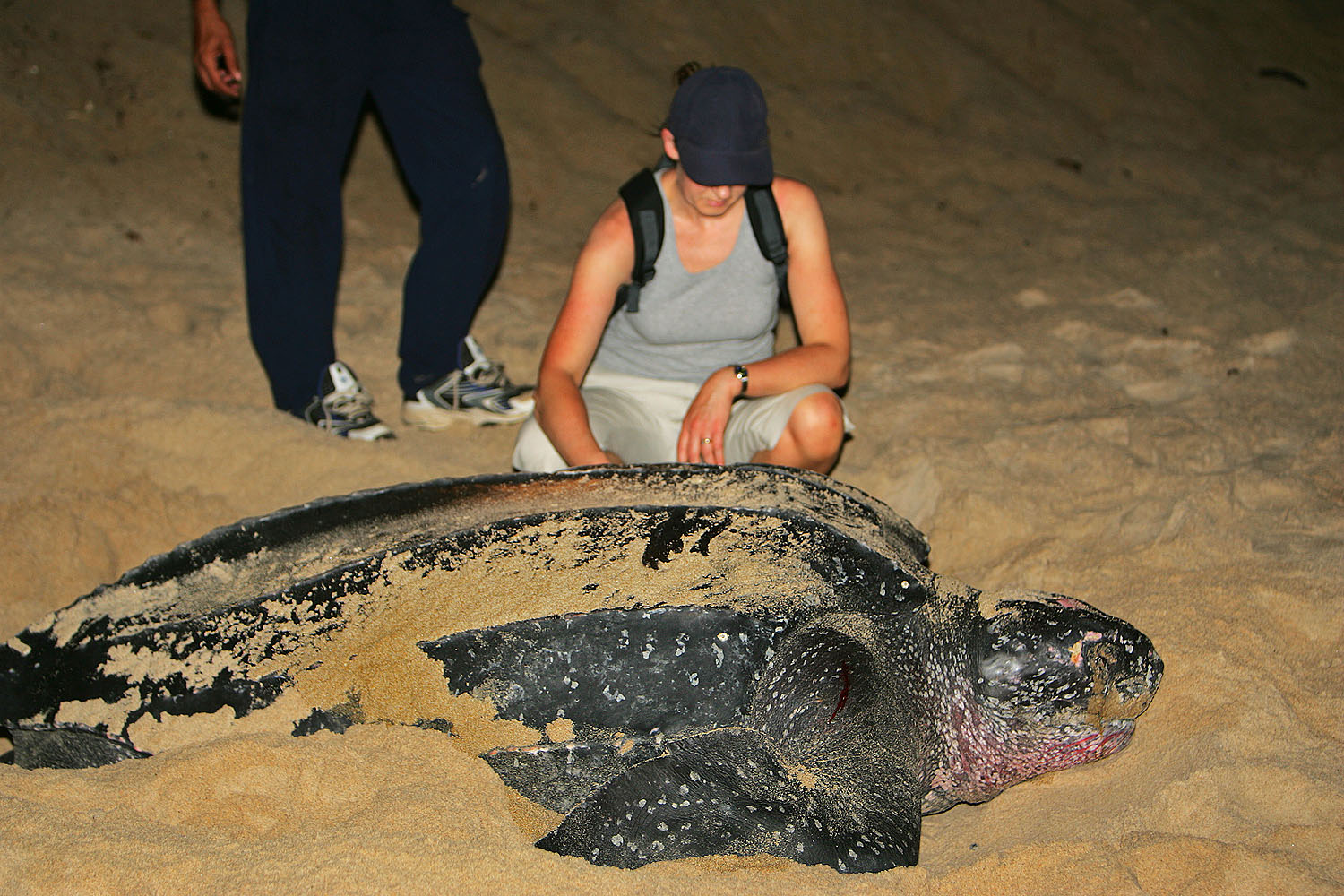 Size of leatherback compared to human. Photo: Steve Garvie from Dunfermline, Fife, Scotland
Steve: ''Marian sits beside this massive female Leatherback to demonstrate it's size. The turtle was radio-tagged after laying (image taken on Matura beach, Trinidad). I have a fascination with these charismatic chelonians.: they are huge, supremely designed, very endangered AND are part of Scotland's Wildlife Heritage! Every year small numbers of large Leatherbacks visit the Celtic Sea to feed on the bloom of Jellyfish. To read more about these fascinating creatures follow this link: www.pbase.com/rainbirder/trinidad_leatherbacks ''
Narrabeen - Turimetta - Warriewood
Photos taken March 23-25, 2022 by Joe Mills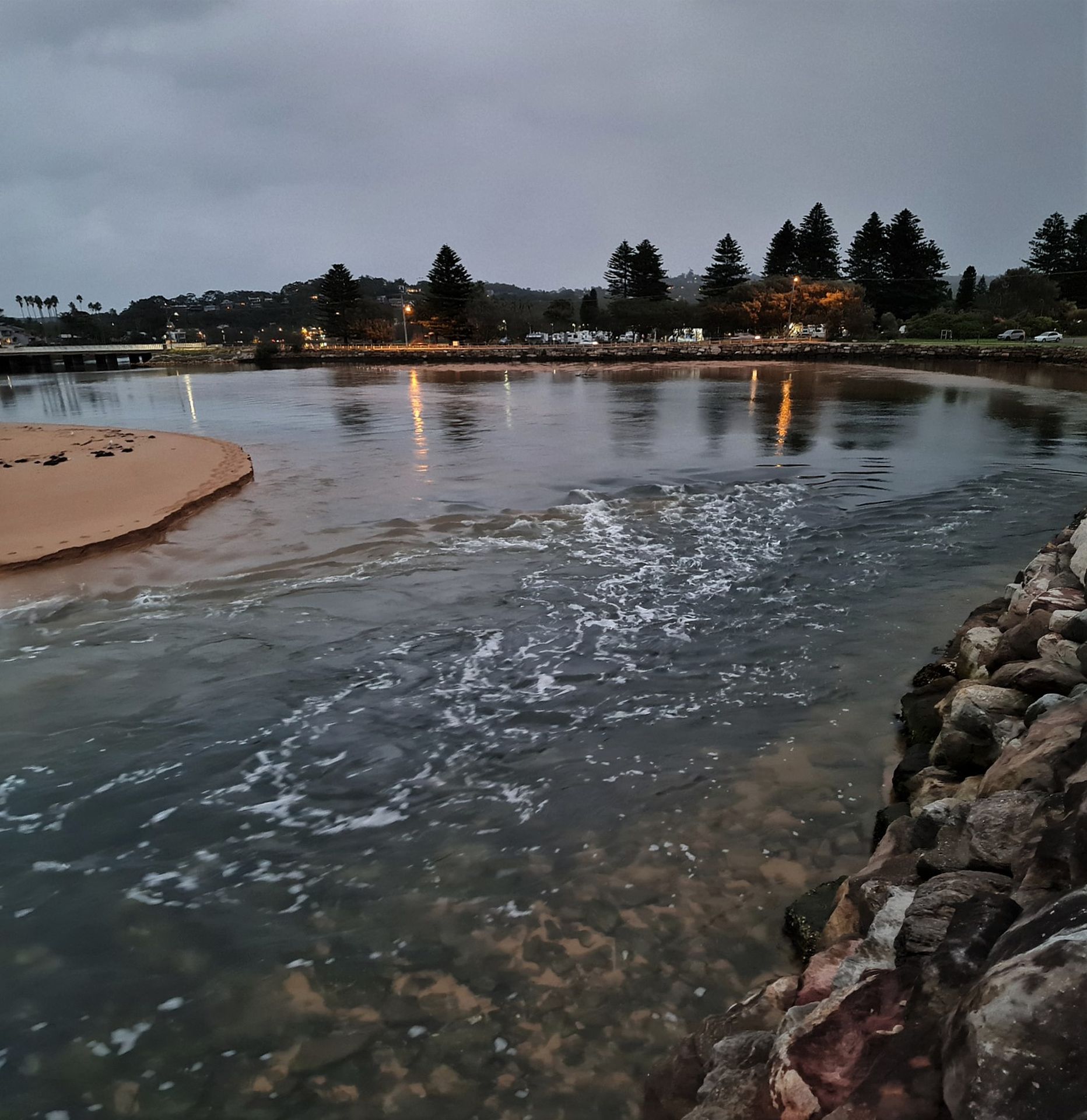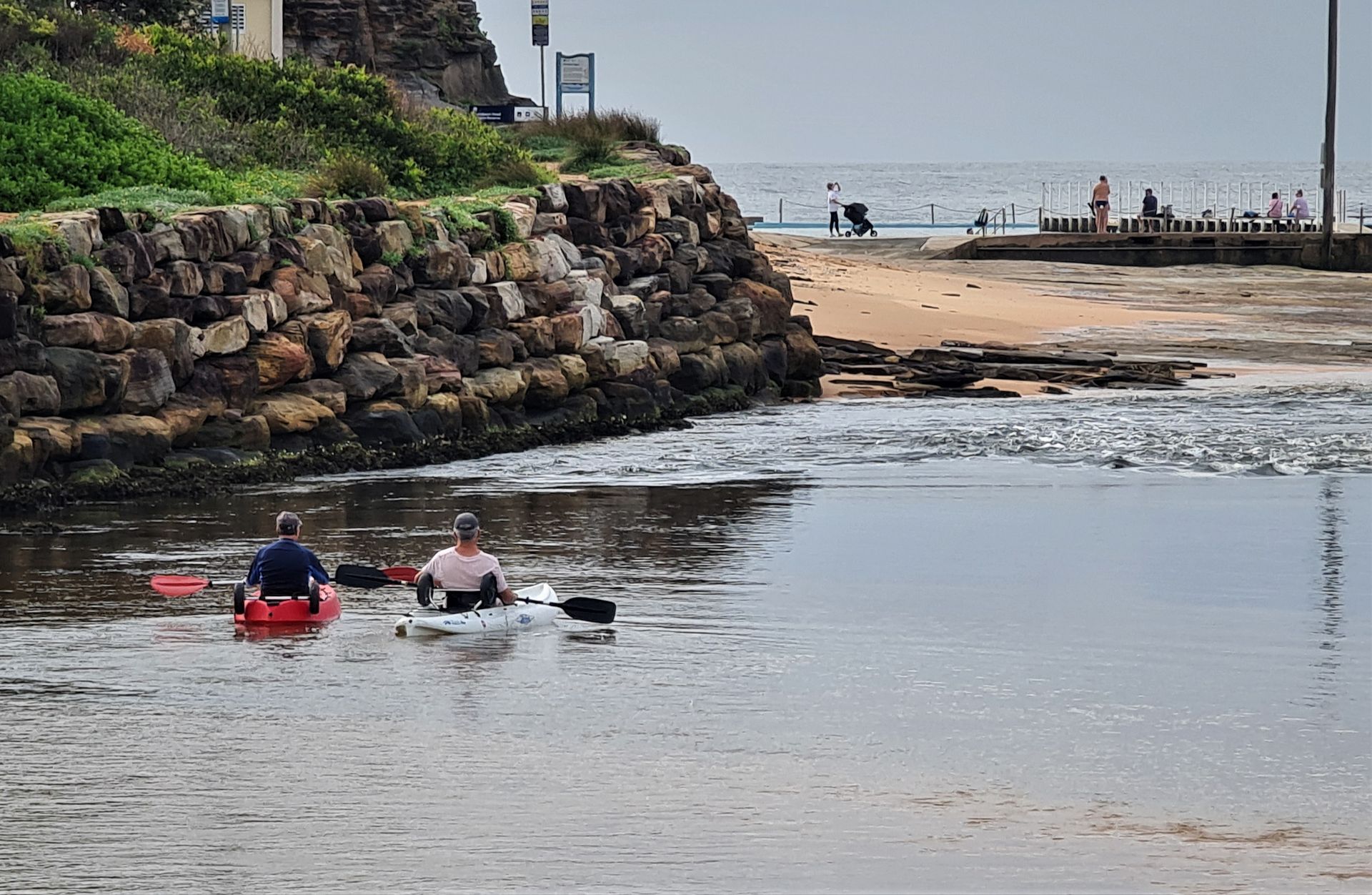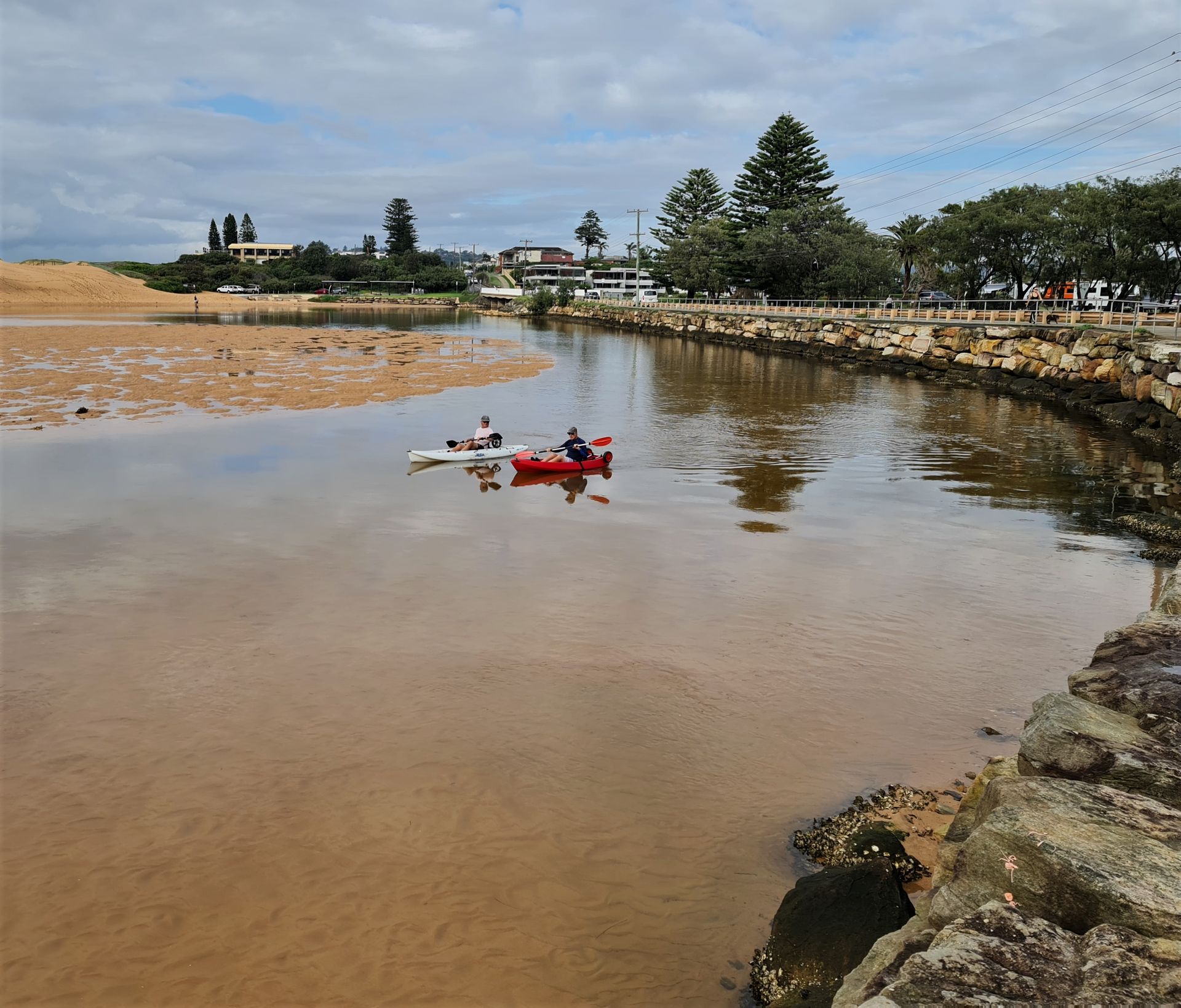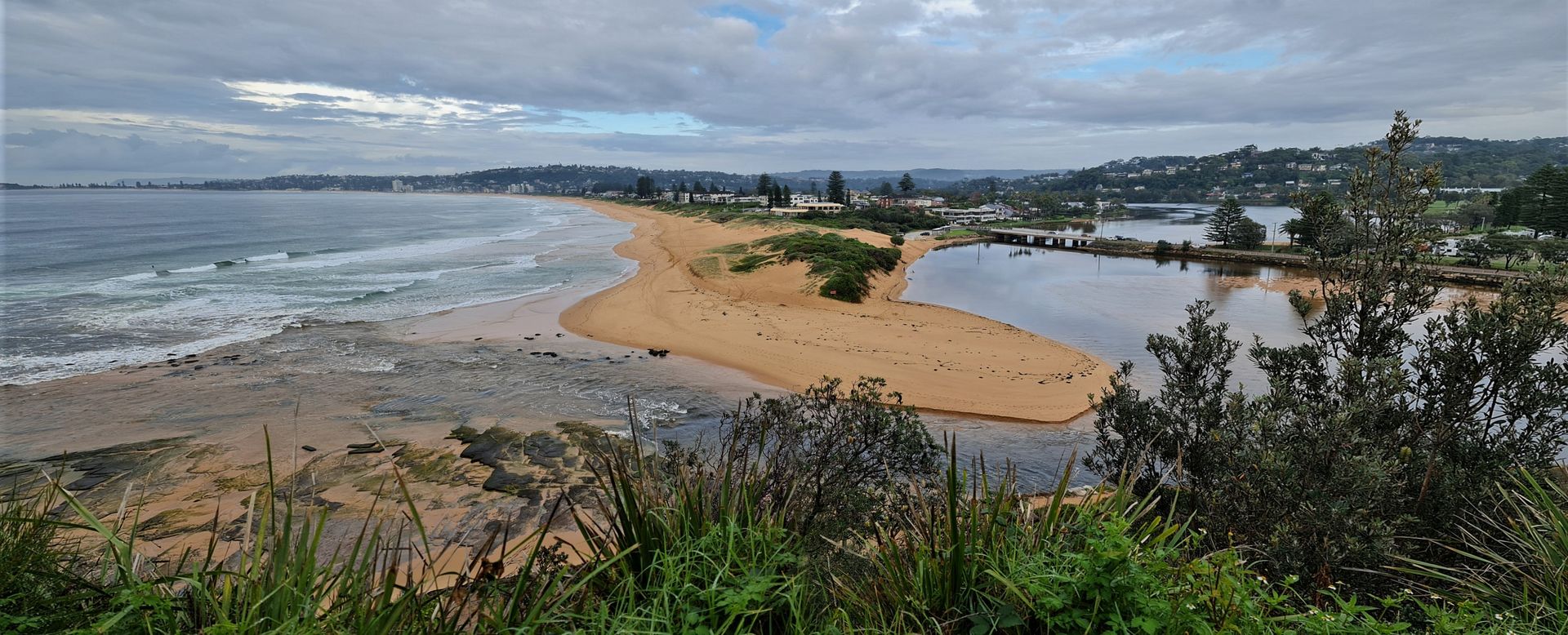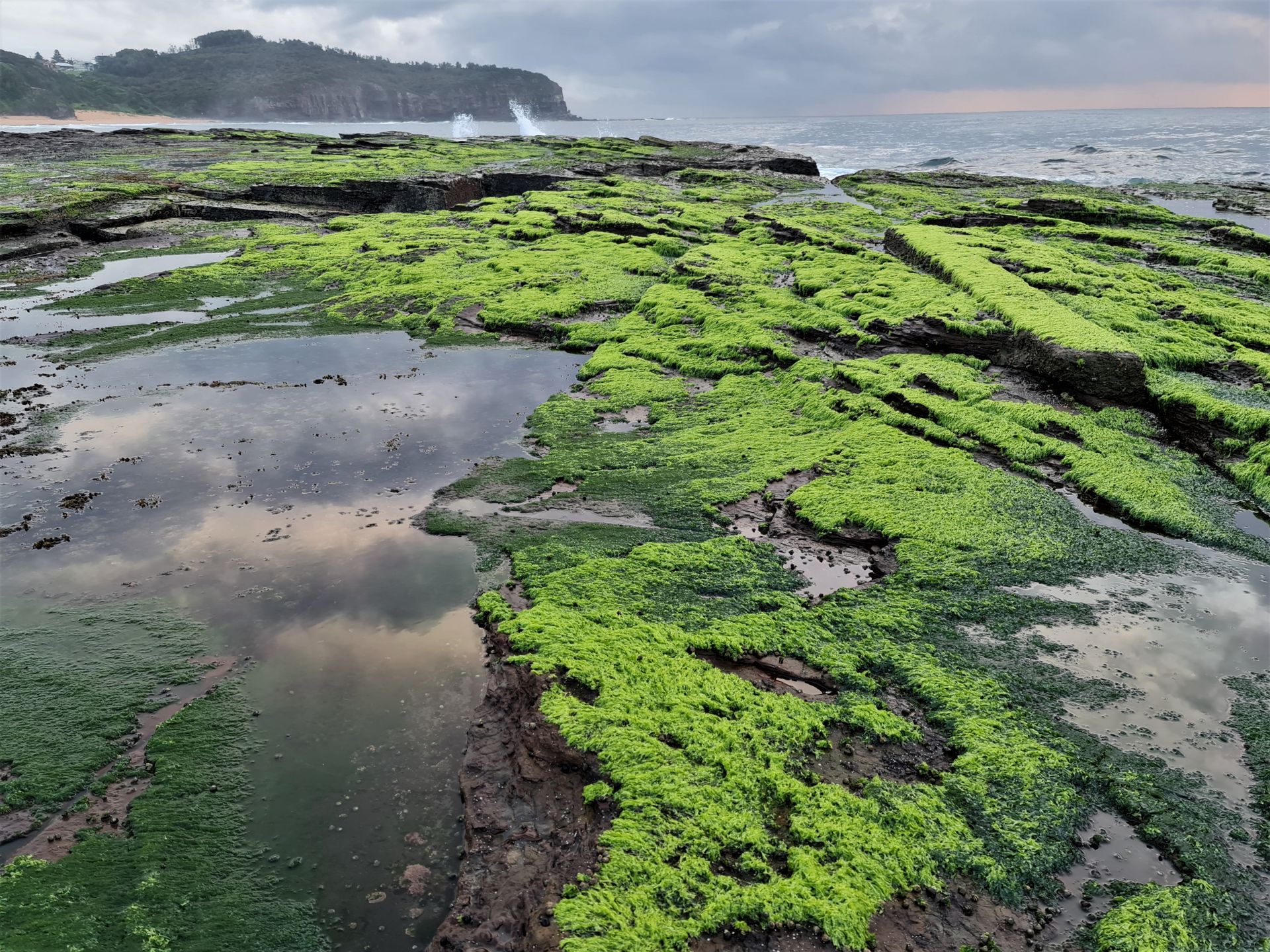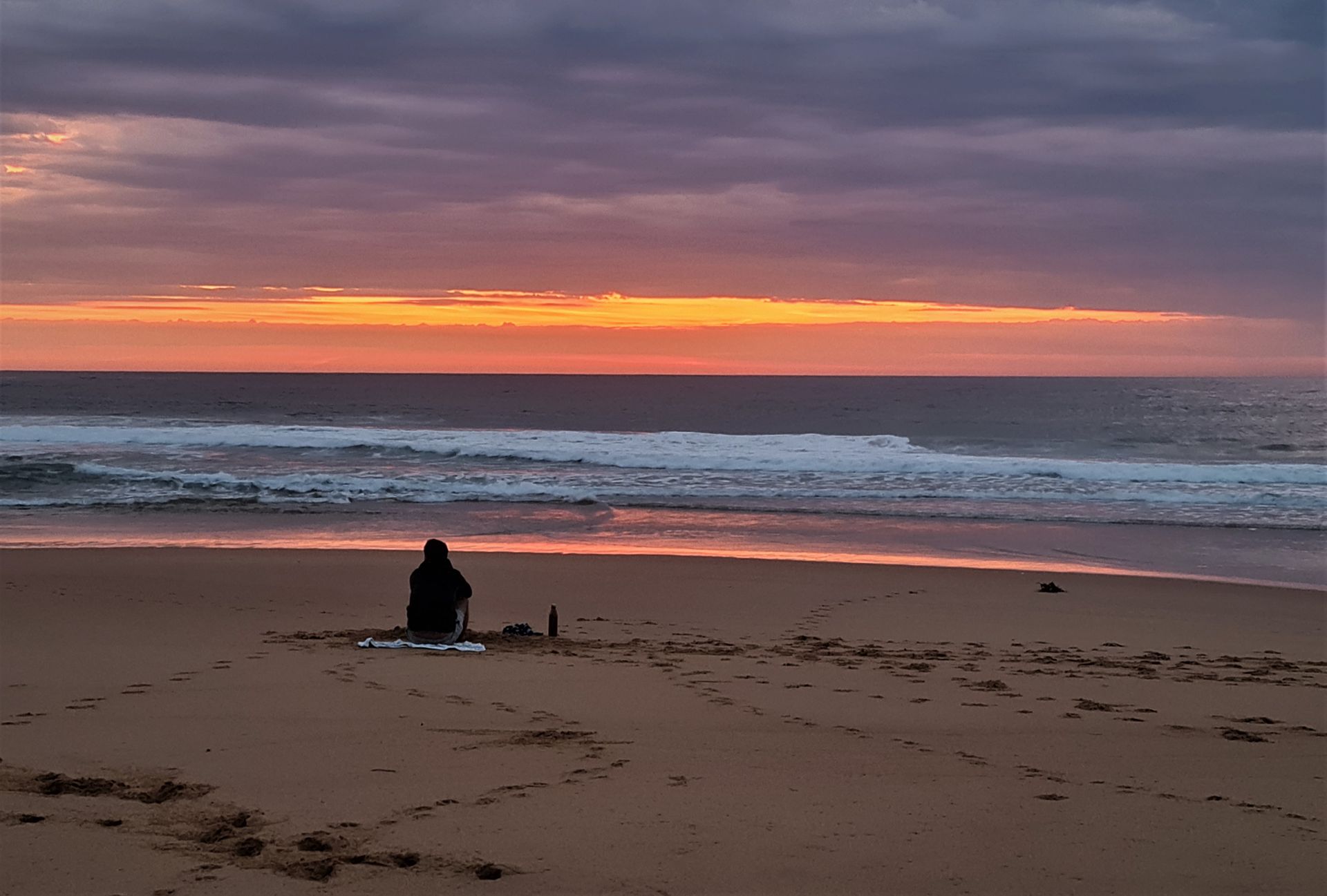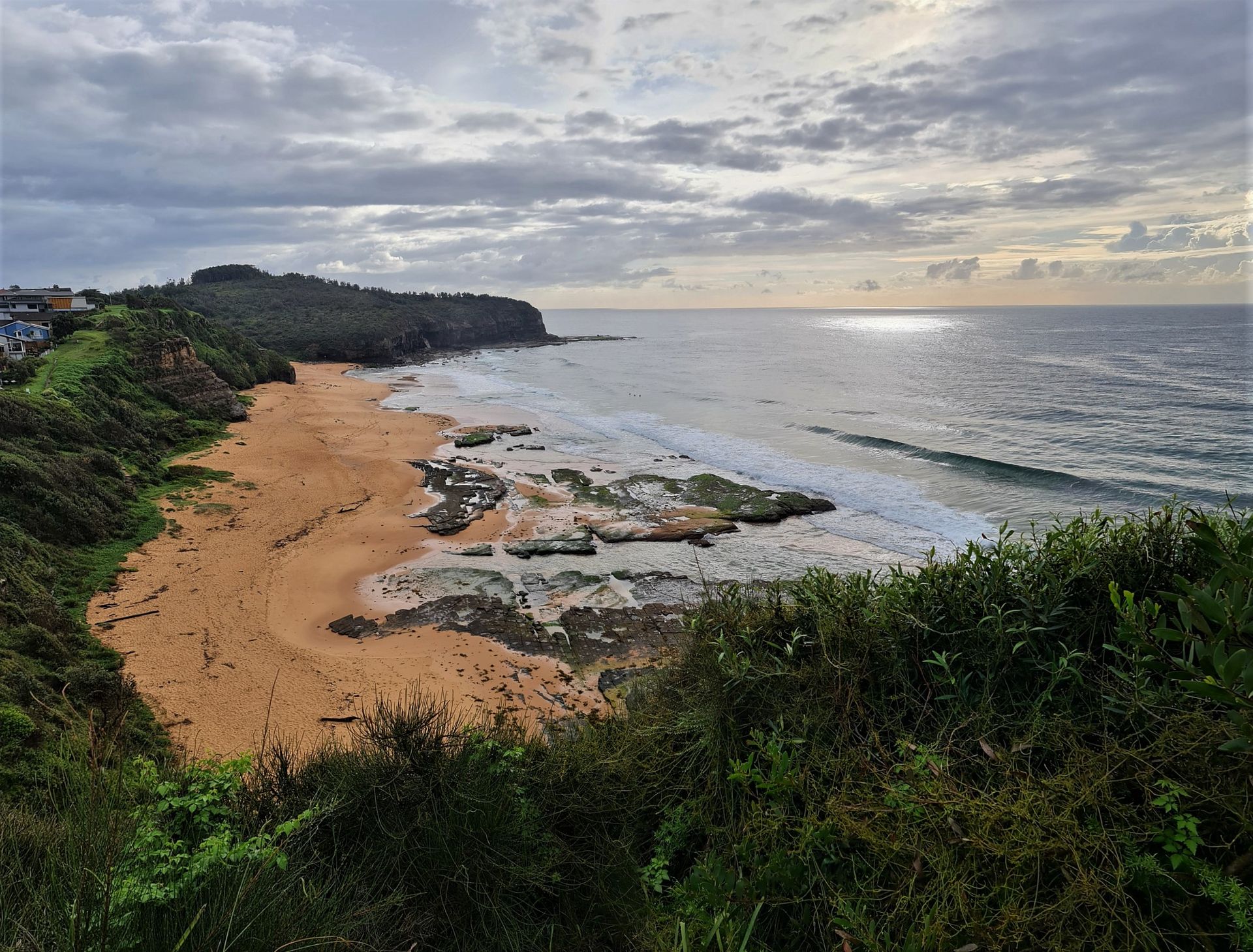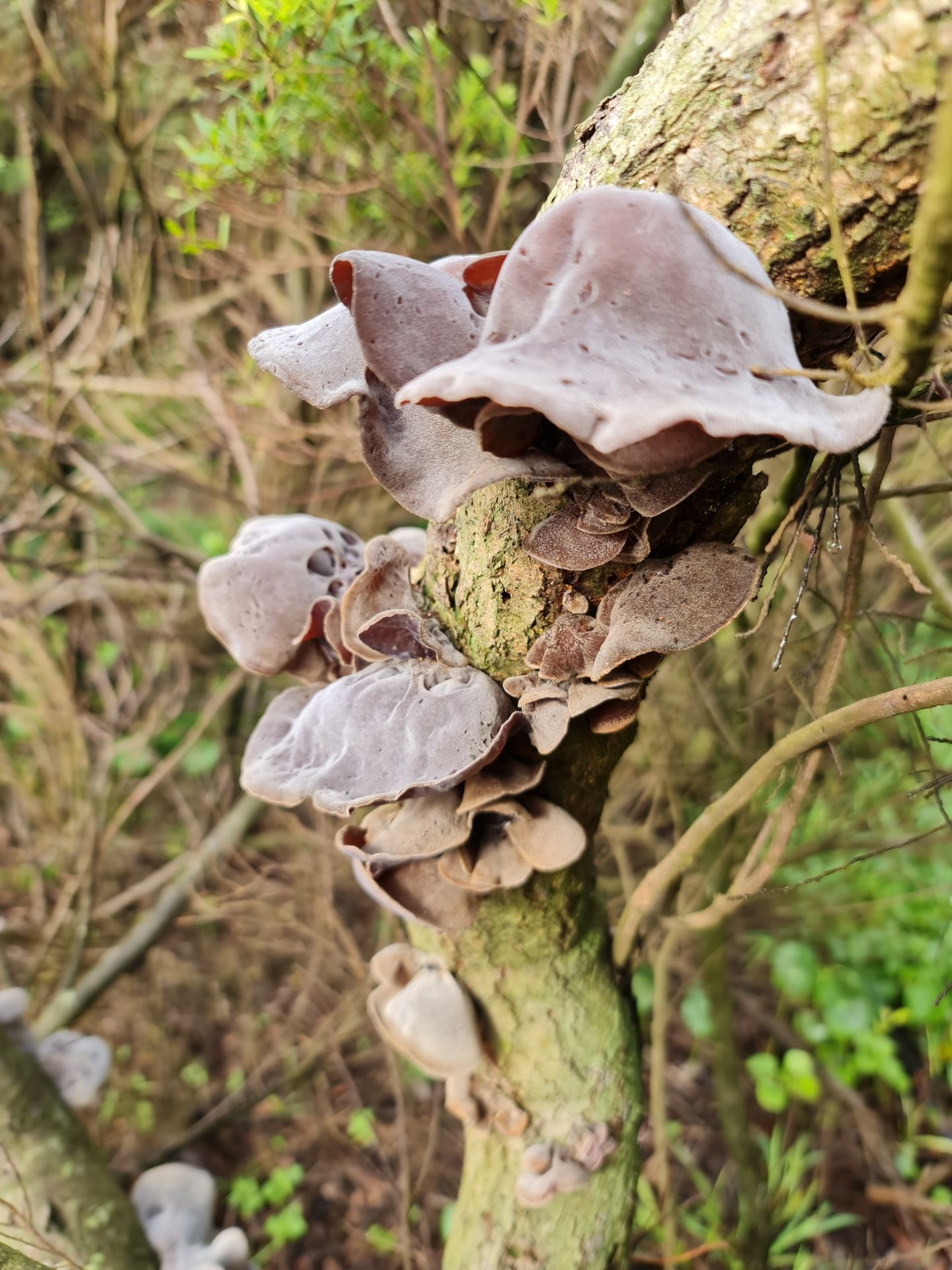 Jellyfish In Narrabeen Rockpool
March 20, 2022 - photos by Selena Griffith. NB: don't touch these, they can give you a sting.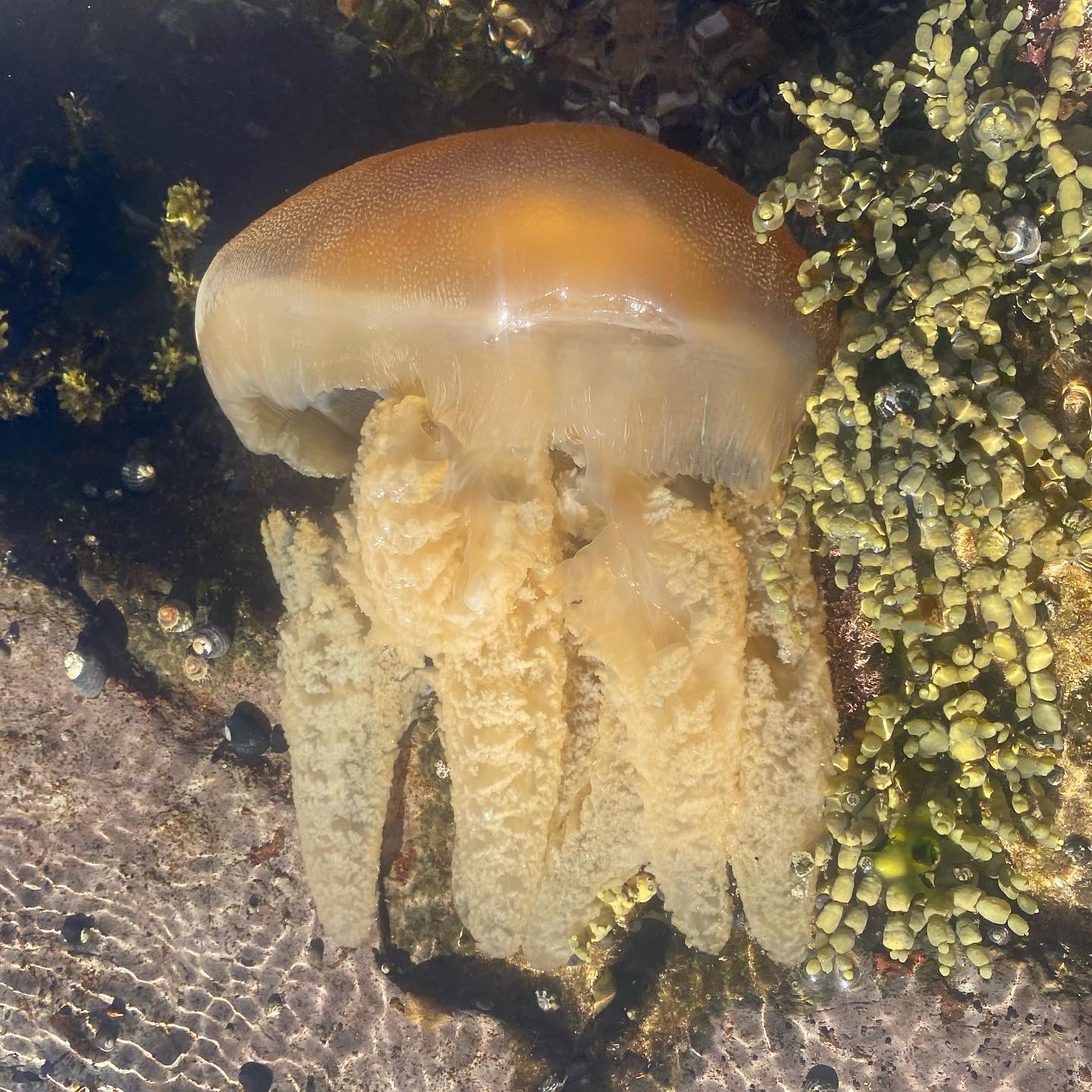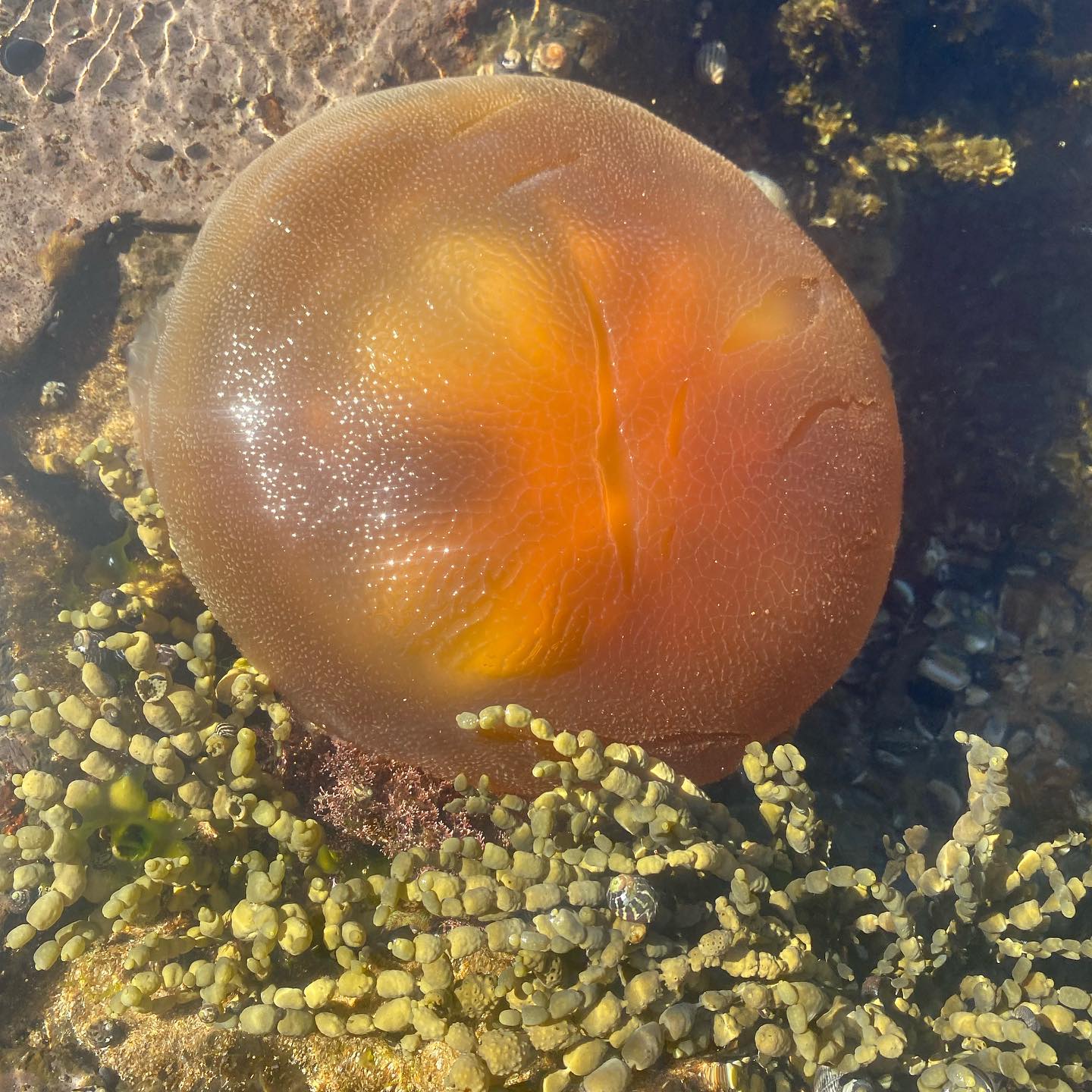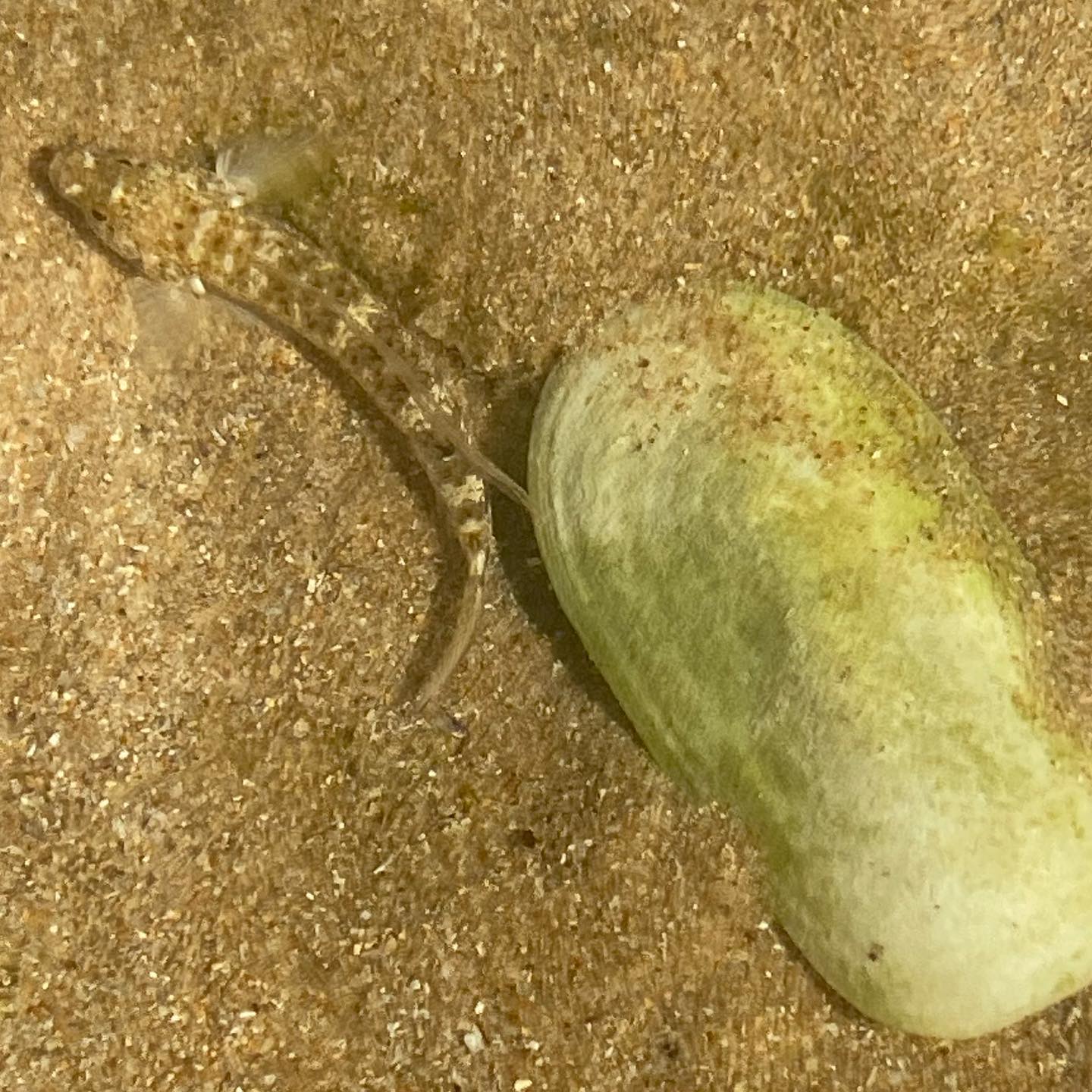 This little Puffer Fish cruised by in the Narrabeen Rock Pool in the shallow water near the pool wall.
March 18, 2022 - photo by Joe Mills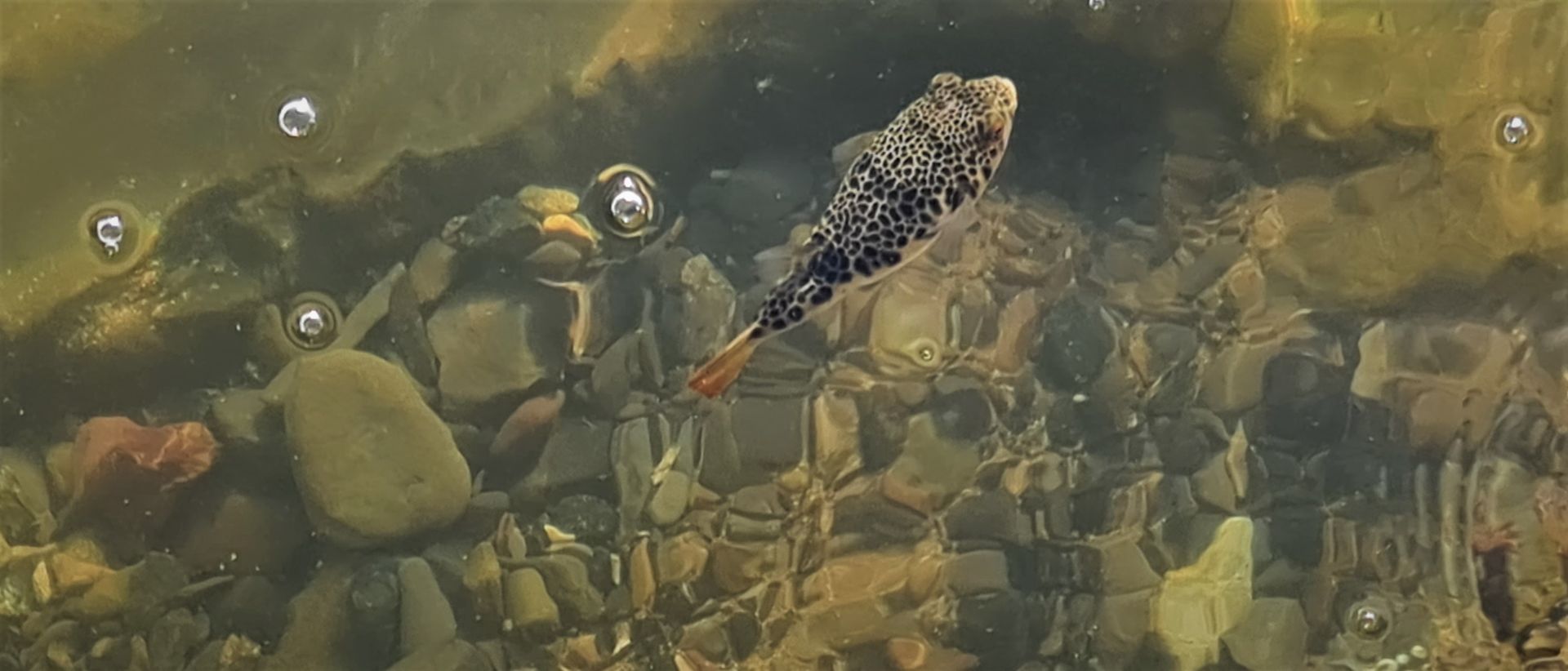 Avalon Moon; So Nice To See This Again(And The Sky After Weeks Of Rains)
March 15, 2022 - photo by Adriaan van der Wallen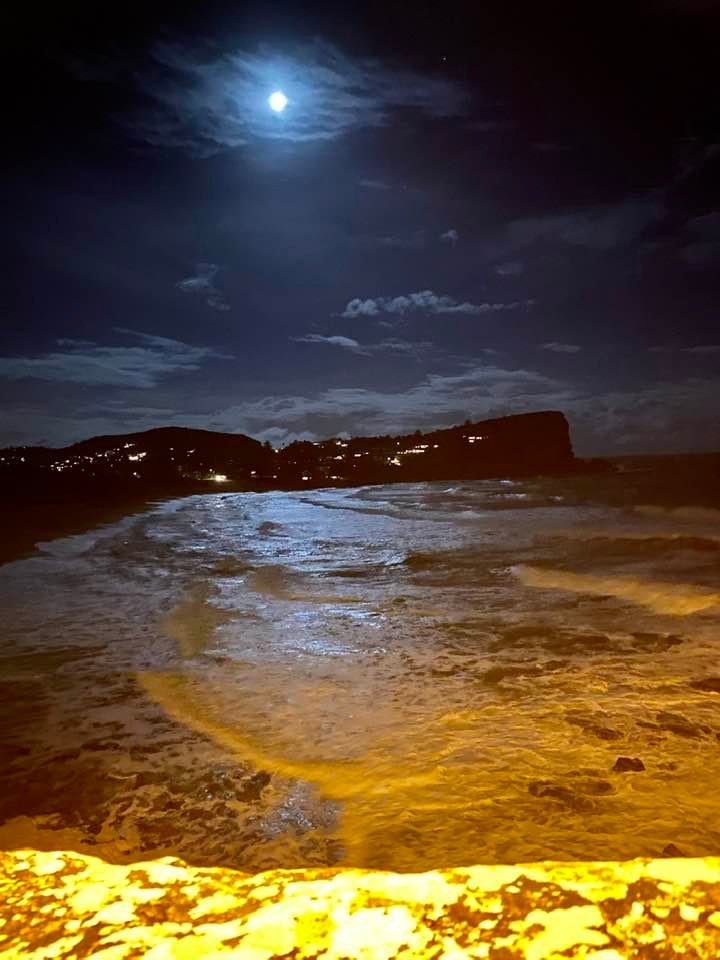 Colourful juvenile jewel bugs on Breynia oblongifolia, but they don't seem to be eating the foliage. On Avalon Dunes.
Photo Marita Macrae.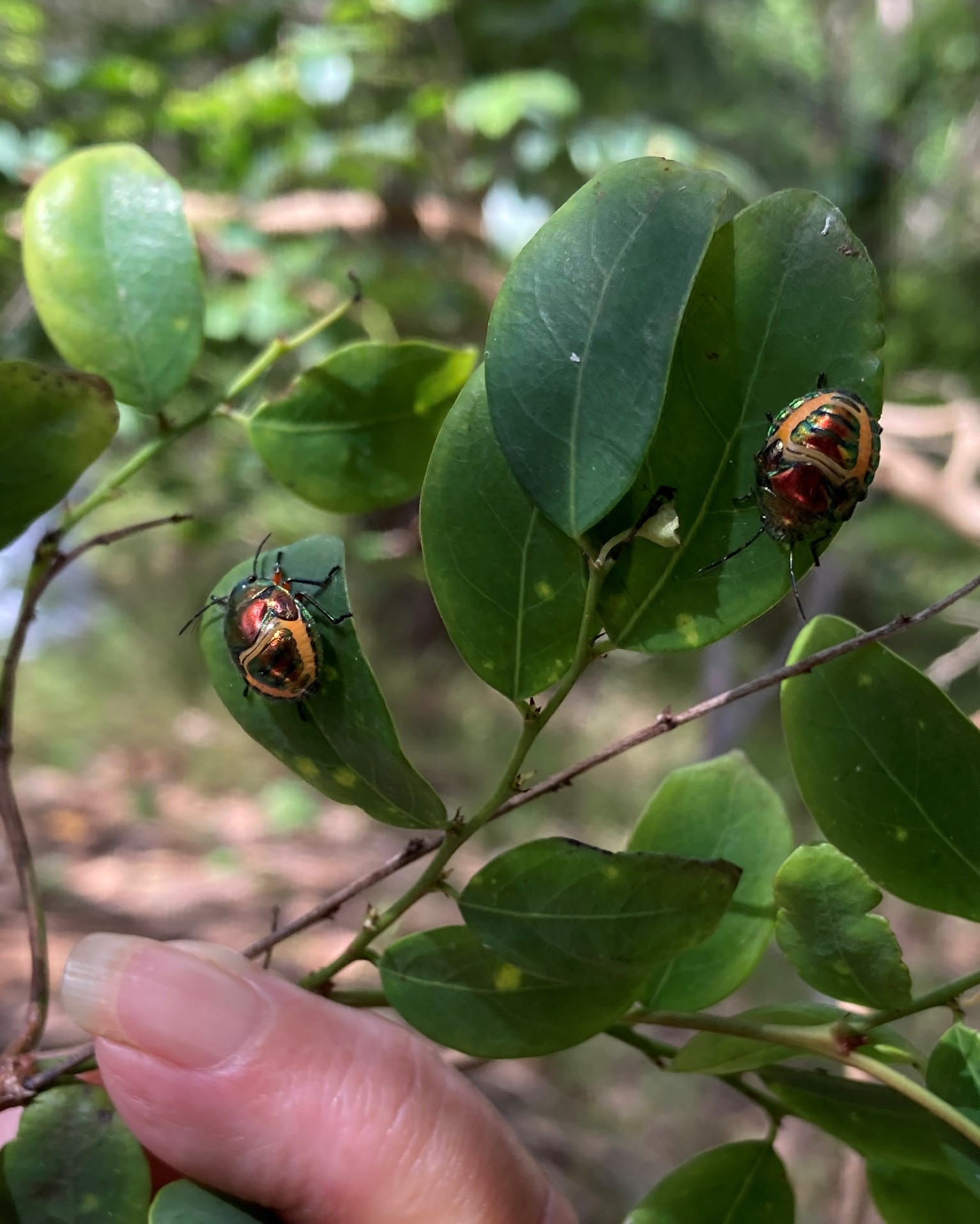 Irrawong Reserve Flooded Track
March 7, 2022 - Photos by Joe Mills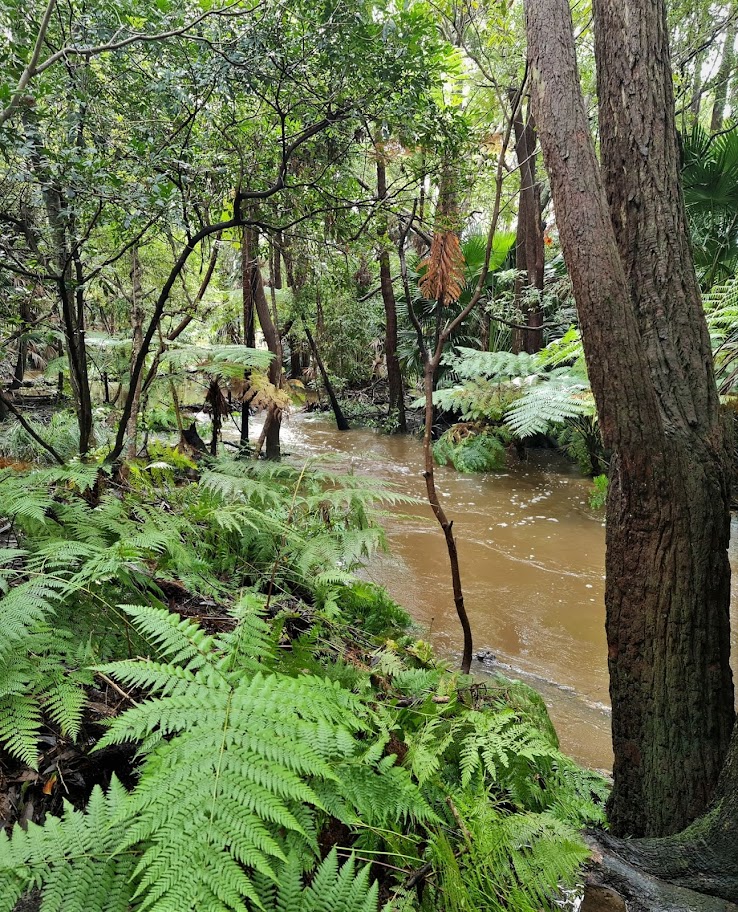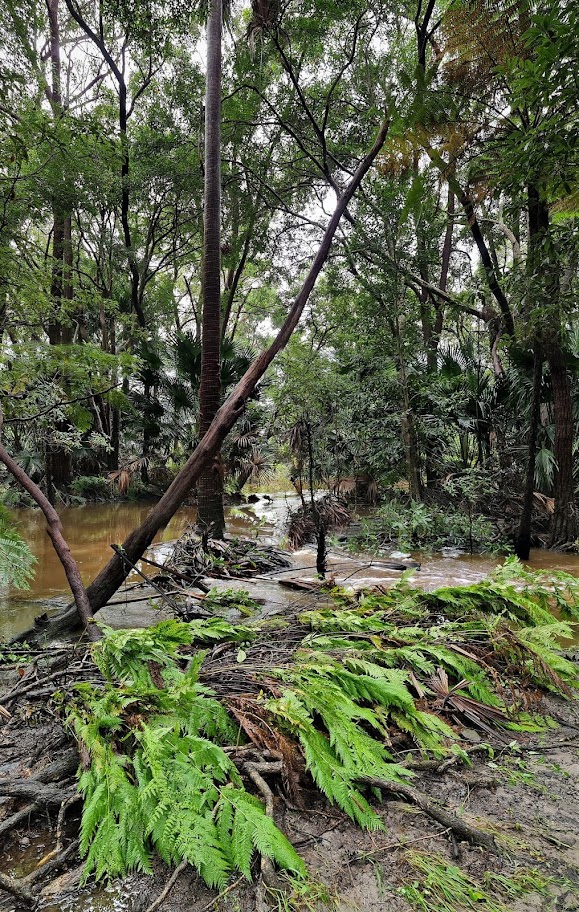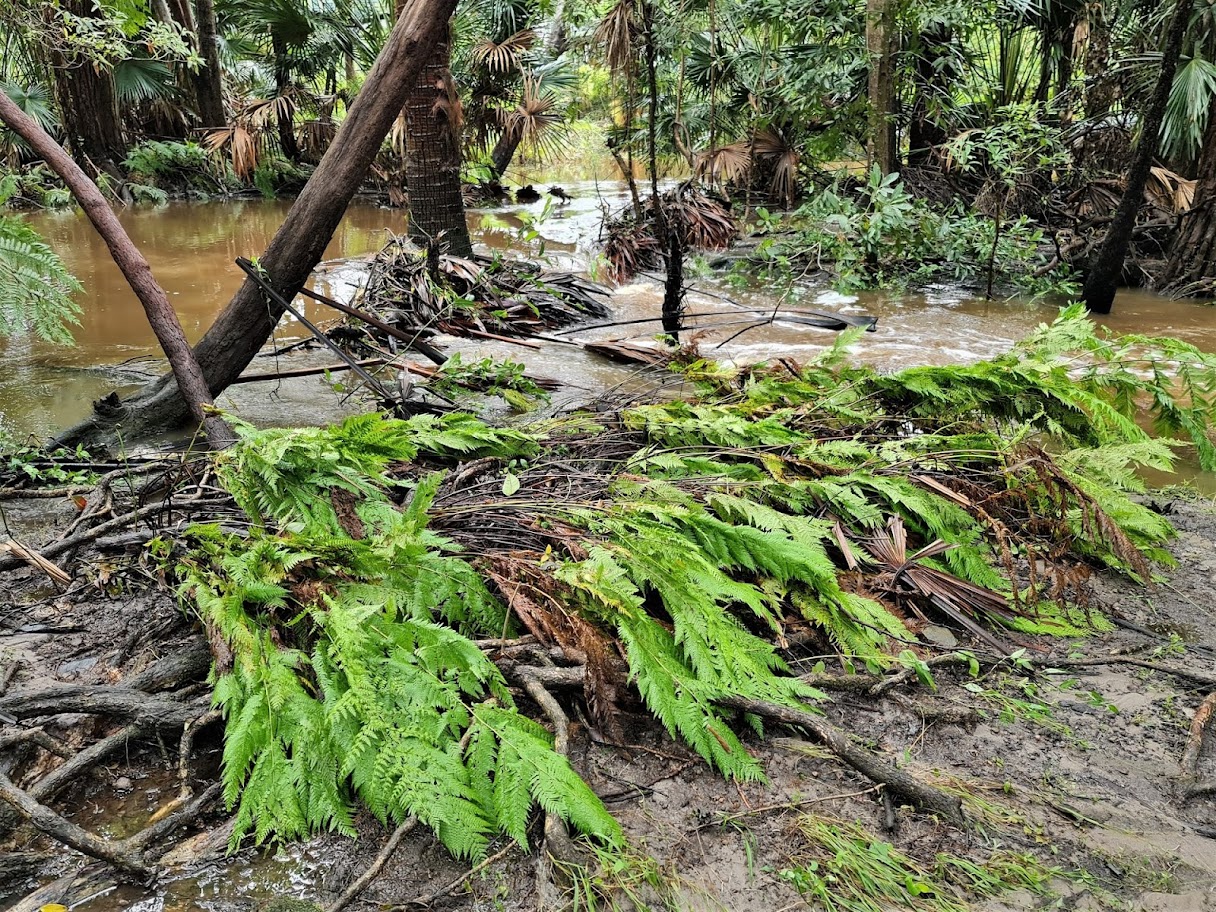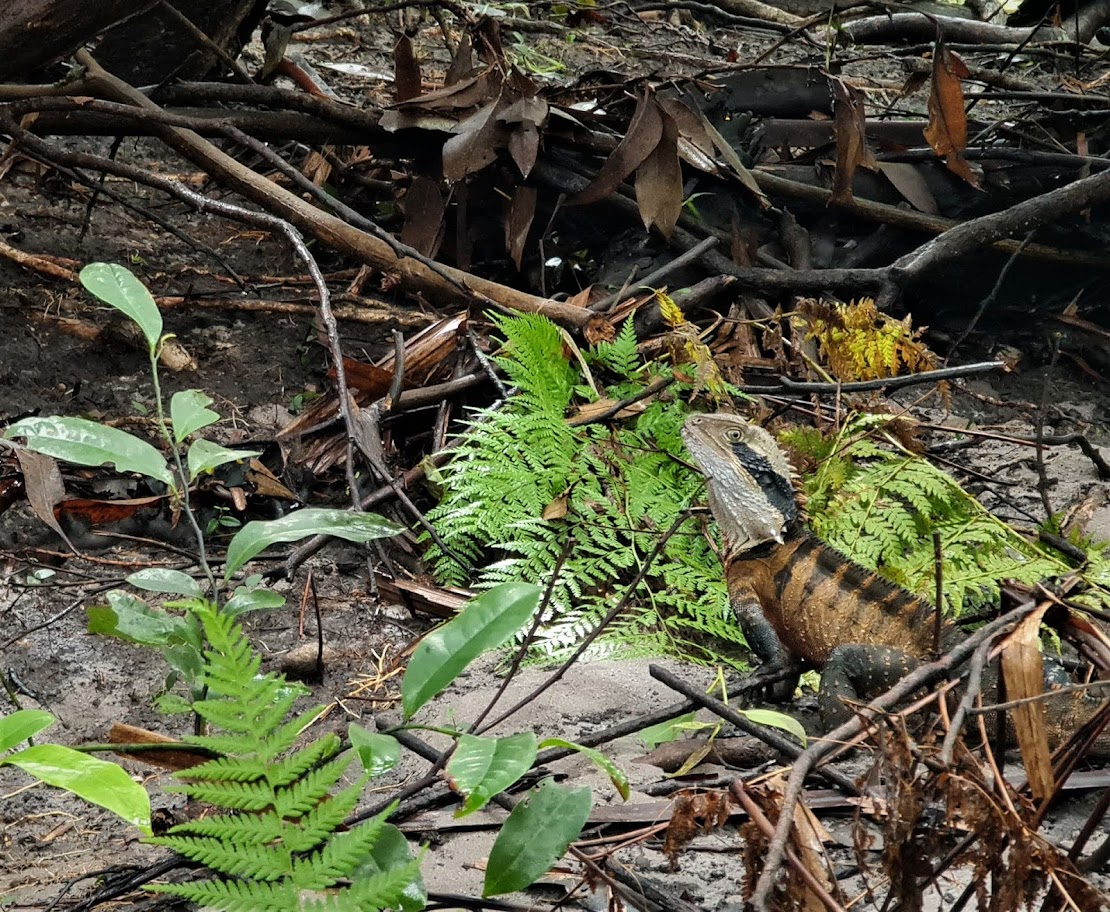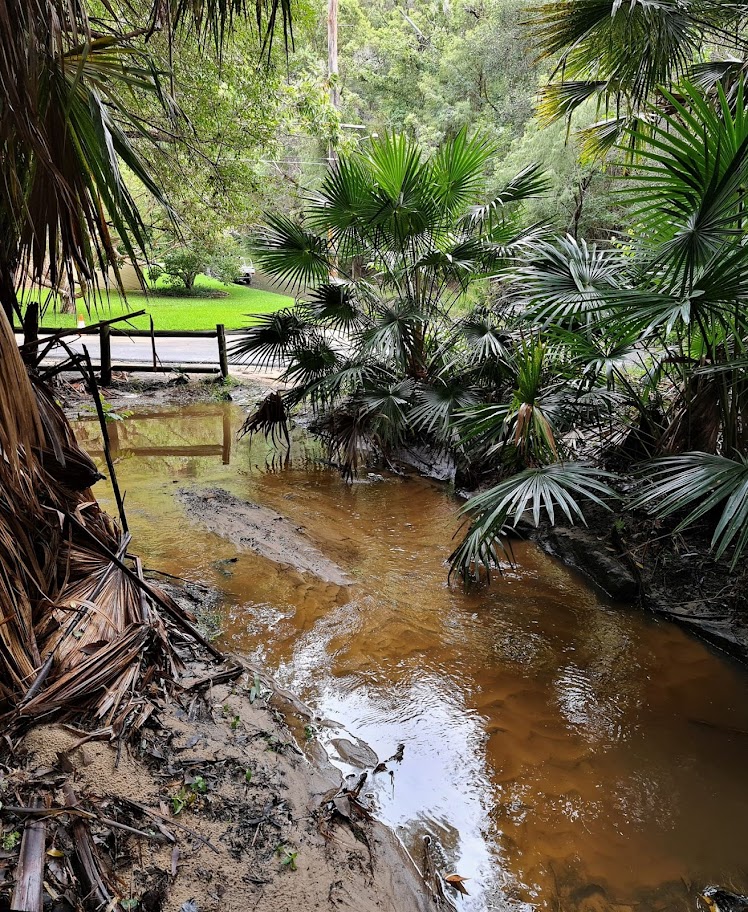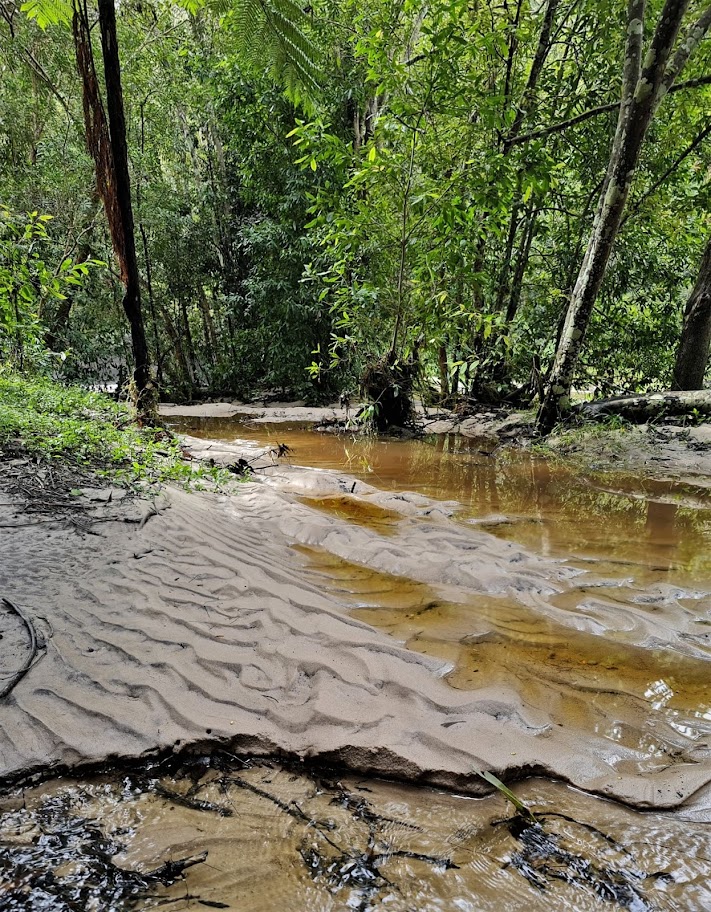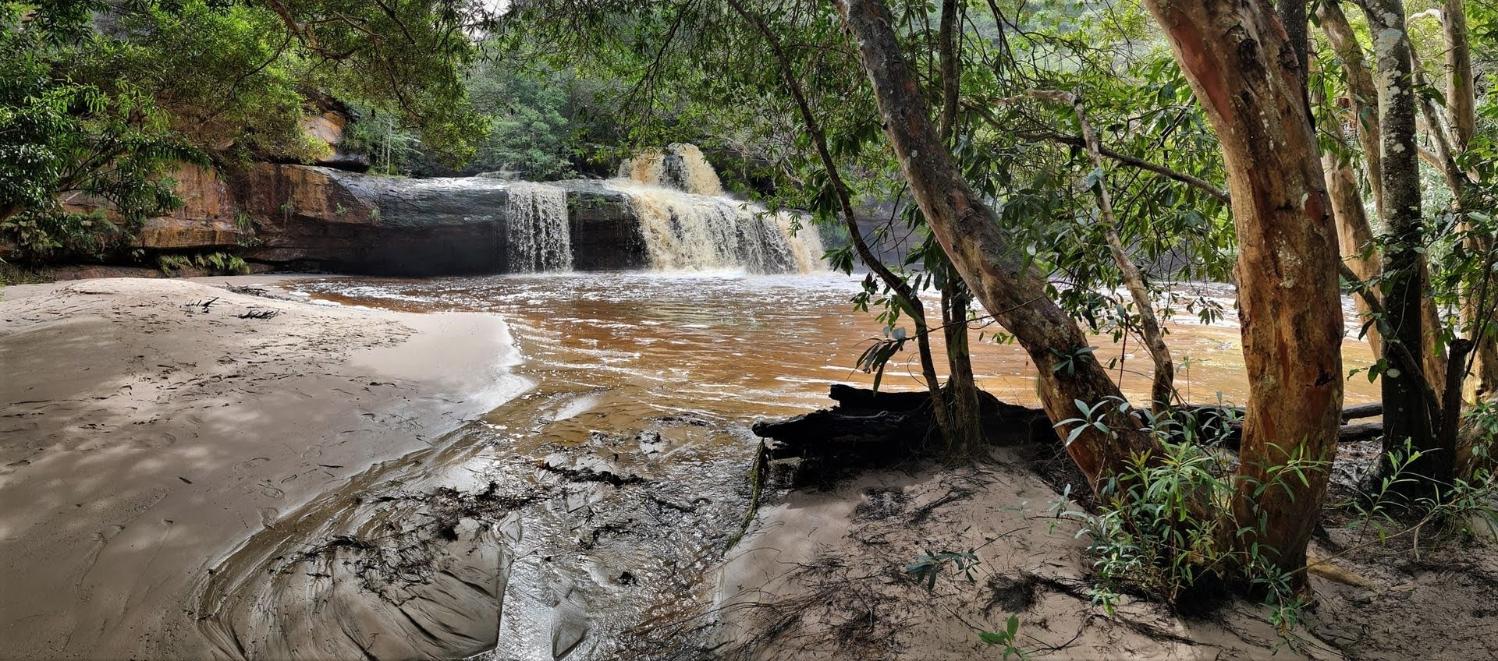 Irrawong Reserve Flooded Track; March 7, 2022 - Photo by Joe Mills