November 24 - 30, 2019: Issue 430
Bus Drivers Call on Commuters to Join City Rally to Keep Buses Public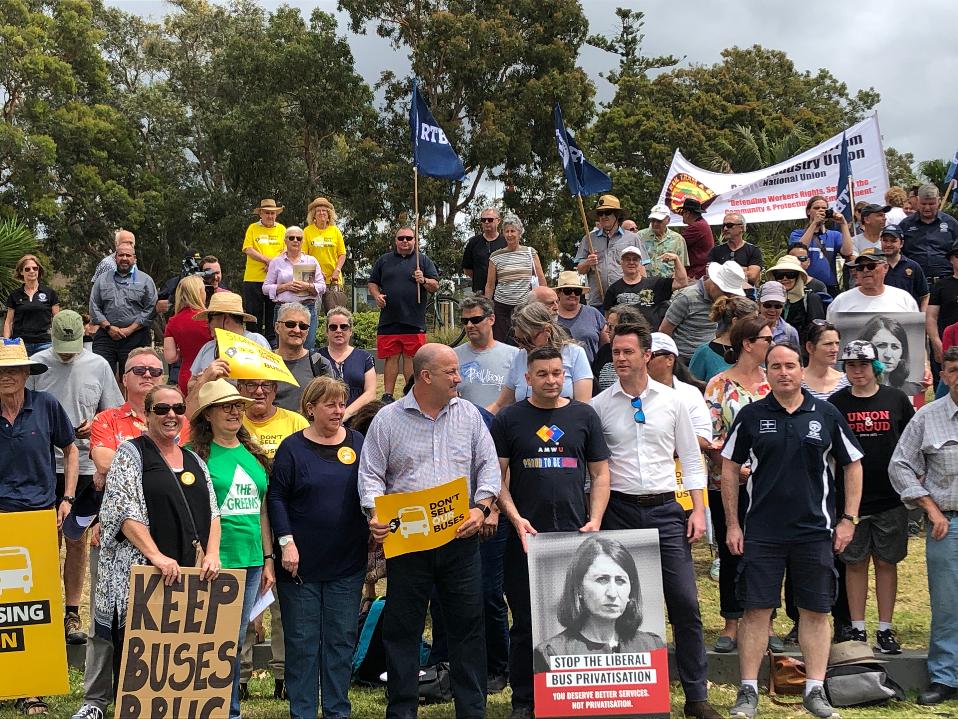 Mona Vale Protest Meeting against the privitisation of public buses - photo supplied
Bus drivers are calling on Northern Beaches commuters to join a rally near the NSW Parliament early next month to demand the state government halt privatisation of the areas' only form of public transport.

The government last month announced its plan to privatise all Sydney's remaining public bus services – on the Northern Beaches, in the north-western suburbs, lower North Shore and eastern suburbs.
Rail, Tram and Bus Union official David Babineau said the community was invited to the rally in Martin Place on Monday December 2, at 12pm, to keep bus services public.
"Members of all the unions representing affected workers, commuters and other members of the general public will be gathering in Martin Place to try to get the message across to the NSW government that they are responsible to the general public for what they do," Mr Babineau told Pittwater Online News.
Mr Babineau, who is secretary of the RTBU's NSW Tram and Bus division, said privatisation would lead to fewer buses and bus stops as well as longer journey times.
"The people of the Northern Beaches have one mode of public transport and once it's gone it's not going to come back in the way you've got it now," he said.
The state government had not carried out consultations before the decision was made and this was a chance for members of the community to have their voices heard.
The RTBU and NSW Labor state that Premier Gladys Berejiklian has broken an election promise that there would be no further privatisations.
However, NSW Transport Minister Andrew Constance has countered that the model being adopted is "franchising".
Labor Transport spokesman Chris Minns told a rally in Mona Vale Village Park last week that the NSW government had used a range of other terms in Parliament for privatisation, including "outsourcing", "third party resource initiatives" and "the golden key to unlock NSW".
"This is just a semantic argument to try to tell you that they're not doing what we all know they're doing: privatising your assets," Mr Minns told the Mona Vale gathering of people.
Privatisation of buses in the inner west had not led to an improvement in services, rather after 15 months the operator had not met a single target for running times.
"This is not based on customers, is not based on commuters, is not based on the experience of people getting to and from work – it's a sick ideology," Mr Minns said.
Unions NSW secretary Mark Morey, who also attended the Mona Vale rally on November 16 organised by the bus drivers' union, said to stop privatisations unions needed support from the public.
"It cannot be just left to one or two bus drivers. It has to be a community campaign," Mr Morey told the rally.
"We have to draw a line in the sand and say: 'We have had enough'."
He encouraged "everyone who catches a bus" to collect signatures from 10 neighbours on the drivers' petition to keep buses public and to write to local MPs such as Rob Stokes in Pittwater.
Also at the Mona Vale rally, Northern Beaches Greens convenor Miranda Korzy said that transport services could thrive in public hands, when operated by an effective and well-funded public sector.
For that reason, the Greens had introduced a bill into the Upper House of the NSW Parliament the previous week, calling on the government to immediately halt the privatisation of all remaining bus services in NSW.
"What's significant about it is that this bill passed with support from all the parties and MPs in the Upper House except the Coalition," Ms Korzy told the crowd.
"It shows (the government) that, with a slim majority in the Lower House, the vast majority of the community wants to retain our buses in public hands."
The petition was provided to Pittwater Online with a request to make it available to readers. It is loaded below for those who wish to download it, print it and collect signatures - as some residents are already doing.