Artists Of The Month May 2019:
Danielle Ryan & James Sherwood - The Map To Paradise
"The Possibility Of Change Rests On Our Own Ability To Believe That We Can Do It."
In 2016 Pittwater Online News ran information about Curl Curl duo Danielle Ryan and James Sherwood raising funds to make the documentary The Map to Paradise.
By January 2017 they were halfway towards their target. In January 2017 Pittwater Online ran some Information about the Mother Ocean Art Exhibition at Curl Curl's Warringah Creative Space as part of the fundraising. In June 2017 Danielle and James were attending the United Nations Ocean Conference in New York as part of the work while previous film The Last Sea Treasure was being screened at Palm Beach as part of local World Ocean Day events with legendary Valerie Taylor attending.
By August 2017 Danielle Ryan & James Sherwood, Co-Directors of The Map to Paradise could say that 'Filming is 90 percent complete and we have begun editing the material for The Map to Paradise (film)'.
They have travelled to Antarctica, Palau, the Philippines, Greece, Monterey Bay on the Californian coast and our own Great Barrier Reef in making The Map to Paradise.
Their most recent update, April 23rd, 2019 is:
So much good news to share!
Posted by Danielle Ryan and James Sherwood (Creator)
Look at what you have helped to achieve...
1. Hollywood Actor Martin Sheen has come on board as an Executive Producer. He is an Ambassador of the documentary! Read the exciting news here.

2. Australia's leading entertainment reporter Richard Wilkinson rated The Map to Paradise 4 out of 5 stars last month. Watch and share the review here.

3. The film did its World Premiere at the Santa Barbara International Film Festival in California, alongside other huge environmental films, such as Shark Water Extinction and Anthropocene.

4. The film will have played at almost 50 screenings before Australia's national elections on the 18 May 2019. (An artificial deadline which we have aspired towards for years).

5. Composer Daniel Clive McCallum has also share his magical music score on Spotify and iTunes. Listen to it for free here!

6. Artist Jaimee Paul has been painting the b-roll from the film for an Exhibition called Bigger Than Us, launching 25th of May - 16 June at Sydney Road Art Gallery. More details here.

7. We have also created a free workshop titled 'Protecting the Sea - Science, Environmental Law & Campaigns', co-hosted with the University of Technology Sydney's Sustainable Environment Centre & the Environmental Defenders Office (NSW). The goal is to help empower individuals to step up and protect nature in their backyard! Happening May 22nd - Join here.

This list is pretty impressive for a very tiny indie film crew on a low budget, so we are feeling very proud. Thanks for being a part of this David & Goliath journey!!

If you have not received your reward, please get in contact with us.

From

The Map to Paradise Crew

xx
This is not a film all about what's going wrong in our environment - this is about what can go right and may inspire you to keep that course towards ensuring The Map to Paradise becomes more visible and travelled by more and more.
Visually glorious, Danielle and James have sought a way to bring together real individuals speaking truths about how they have worked in protecting the ocean. That of Prince Albert II of Monaco and his family stands out as his father helped to establish the first international sanctuary on the high seas – something believed to be impossible at the time. The story of Apo Island is famous in marine science textbooks as the first successful community-led marine sanctuary in the world.
Real Stories - real life - real change!
A local screening is happening at Collaroy on May 15th - a FREE Workshop is happening at the UTS on May 22nd - details and links run below.
About the Creators
Danielle Ryan is a director, producer, writer and editor. She first undertook documentary, film and publishing (in magazines, books and journals) internships at high school and at university. However, she felt the idea of documentary filmmaking was a pipe dream, until her introduction to broadcast began at Nine Network Australia where she trained with the news desks. In 2011, she convinced film and post-production expert, James Sherwood, to join her on her adventure, leading the way as a journalist and producer to secure a story about child labour in Nicaragua, which aired on Dateline SBS. The duo has won eight film festival awards for categories such as best underwater world film, best environmental journalism, audience choice, and a Sylvia Earle Ocean Conservation Award. Danielle was also a Youth Ambassador at the IUCN World Parks Congress (2014) where she was given the mission to reconnect young people with nature.
Danielle and James have made many short social impact films about the the land and the sea, travelling around Australia from the dry red earth of the Northern Territory to the crystal blue seas of the Coral Sea. She has a degree in creative writing and a master of international relations at Macquarie University, and has also studied editing and filming for broadcast in Canberra and New York at technical colleges. She and Co-Director James Sherwood are life partners, living here. They share a deep connection with the sea.
Co-Directors Danielle Ryan and James Sherwood in the Philippines - photo©Bluebottle-Films

James Sherwood is a director, cinematographer and editor, who grew up in the film and television industry with the dream to become an underwater cinematographer. He has a Bachelor of Marine Science from James Cook University, holds a PADI Divemaster certificate, and has spent years making short conservation documentaries about the land and the sea, such as 'The Last Sea Treasure', 'My Saltwater Sanctuary', 'A Journey through the Eyes of the Reef' and 'Saltwater Secrets', which have played at grassroots screenings with the support of NGOs Australia-wide. James first started his career at the Sydney-based production house Zspace. He has worked on a variety of works involving documentaries, commercials, music videos, promotional packages and other content for all the major Australian broadcast networks. From the moment James learned about the scientific movement to protect the ocean at university, he became hooked on this topic. He believes that it has the potential to restore underwater ecosystems and to create a better existence for humankind.
Also involved in the project are:
Daniel Clive McCallum, an Emmy Award-winning composer based in Los Angeles. He holds many accolades for projects in film, advertisement, and concert music. Born in Australia, Daniel grew up surfing and developed a profound love for the sea. He also studied music from an early age. By the time he was 13, Daniel left normal high school to further his musical education at the Sydney Conservatorium of Music. He graduated in 2007 and was awarded a full scholarship to study composition at the Royal Academy of Music in London. In 2012, Daniel was hired straight out of university by Howard Shore to work on the feature film The Hobbit: An Unexpected Journey. At the end of 2012, Daniel moved to Los Angeles to work as a freelance composer & orchestrator. Most recently, Daniel orchestrated the worldwide theme to the 2016 Rio Summer Olympic Games, which earned him his Emmy Award. Two separate film scores orchestrated by Daniel won best original score and best original song at the 2016 Goya Awards in Spain (known informally as "the Spanish Oscars").

Anna Outridge, an illustrator and animator. In 2015 she graduated from Parsons the New School of Design with a BFA in Illustration. Her thesis film, a stop-motion short called Elliot Trix, was accepted in various film festivals around the world. Since graduating she has been a full time Creative at a New York based production company called Visual Country, where she has worked on various short form animation projects for clients, such as Google, Netflix, Zola and Polo Ralph Lauren. After spending 6 years in New York, Anna currently resides in her hometown of Newcastle, Australia. Growing up close to the ocean, it has always been a big part of her life, she is passionate about protecting it and is excited to be involved in The Map to Paradise project.

Mia Grimaldi, an Australian artist and illustrator based in Sydney. She started out drawing fashion figures and interior spaces thanks to her fashion studies in New York, but now has developed a new love of drawing sea life thanks to being part of the Map to Paradise team. Mia is very excited to be part of such a special project. She works in the fashion industry, having worked for Australian retailers Pink Zebra, David Jones, and presently at Scentre Group. Most recently, one of her fashion drawings was displayed on a big mural at Westfield Shopping centre in Sydney City, Australia. She holds a Bachelor of Arts (Theatre and Film) from the University of New South Wales, and has an ASS degree in Interior Design at Parsons School of Design in New York City - her favourite city on earth! After finishing at Parsons, Mia completed design internships at Playboy Enterprises Inc in New York City in their hospitality concepts department, along with design internships at Jed Johnson Associates and Michael Korins Studio.

Alice Forrest, is a conservationist, marine biologist and wildlife campaigner. She has previously worked with Bluebottle Films on marine sanctuary and land-clearing campaigns in NSW and is excited to be working with them again as an Impact Campaigner. Her passion for the natural word and the creatures who inhabit it has led to a career as a scientist (BSc Biodiversity and Conservation, Bachelor of Marine Science with Honours) and scientific communicator, as well as a community organiser and activist. She believes that change comes from positivity, hope and connection, along with the knowledge and tools to make a difference. Alice is happiest when interacting with wildlife, and passionate about protecting what she loves. With this in mind, she has worked extensively in marine conservation (both fieldwork and campaigning) over the past decade. Alice is also a PADI Divemaster and SSI Freediver and has worked extensively in the marine tourism industry sharing her love of the ocean with others, as well as researching and working on community solutions for plastic pollution, winning several conservation awards for her work.

And so - drum roll....
From Executive Producer Martin Sheen, THE MAP TO PARADISE is an adventure-filled and spectacularly gorgeous tale about the birth of the global movement to protect the sea. From underwater worlds of ice to glistening coral sanctuaries, discover what it takes to build a movement and to create positive change.
Filmed across six continents, the filmmakers have set out to challenge the mainstream narrative of hard-hitting environmental documentaries with a "doom and gloom" message, and replace it with one of hope and courage. Along the way, we meet a prince, a president, a pirate, and also an island chief — among others — who are all playing a role in the quest to save the planet.
Mixing colourful character-driven stories and hand-rendered animations, THE MAP TO PARADISE is a rare urgent environmental wake-up call that retains a sense of awe and wonder for the kind of beauty that is still possible.
Featuring Prince Albert II of Monaco, President of Palau Tommy Remengesau, National Geographic Explorer Enric Sala, and Sea Shepherd's Captain Paul Watson, with original music by Emmy award-winning composer Daniel Clive McCallum.
Visit themaptoparadise.com/blog to learn more about the places and characters in The Map to Paradise documentary.
Instagram/Facebook @themaptoparadise
Sydney Screenings:
PADDINGTON
Saturday, May 11, 2019: 4:00pm – 6:15pm
PALACE CHAUVEL CINEMAS - Tickets
NEWTOWN
Monday, May 13, 2019: 6:30pm – 8:55pm
DENDY CINEMAS NEWTOWN - Tickets
COLLAROY + Q&A
Wednesday, May 15, 2019: 6:30pm – 9:00pm
UNITED CINEMAS COLLAROY - Tickets
CO-HOSTED BY SYDNEY ROAD GALLERY, SEAFORTH in preparation for the launch of the 'Bigger Than Us - Jaimee Paul - Exhibition', opening MAY 23rd, featuring b-roll from THE MAP TO PARADISE.
BIGGER THAN US
When Art And Film Collide
When: 23rd May - 16th June 2019
Please Join Us On Saturday The 25th May From 3pm - 6pm. Drinks And Nibbles
Times: Thursday - Saturday 10am - 4pm & Sunday 9am - 12pm
Location: Sydney Road Gallery, 563 Sydney Road, Seaforth
WORKSHOP
Wednesday, May 22, 2019: 4:00pm – 8:00pm
UNIVERSITY OF TECHNOLOGY SYDNEY
Cost - FREE, but you must register. Limited tickets available.

Co-hosted with the Centre for Environmental Sustainability, University of Technology Sydney, & the Environmental Defenders Office (NSW).
*If you arrive late, you can still enter and sit down at the start of each new session. Schedule TBC - including various sessions about marine science, environmental law & campaigning.
Workshop leaders - Professor of Marine Ecology David Booth, University of Technology Sydney; Jemilah Hallinan, Outreach Director, Environmental Defenders Office (NSW); & Co-Director of The Map to Paradise Danielle Ryan.
About the workshop
No matter who you are, there is a role for you to play in the movement to protect nature. Join us for an evening of discovery and exploration around the topic of 'how to protect the sea' with a shared vision to restore our beautiful underwater paradise and to keep places wild. Gain some insights into the role of marine science and environmental law in the quest to protect the sea. Also, meet some local ocean campaigners and come together to brainstorm solutions and strategies to take back to your workplace or community.
As Italian Marine Biologist, Giuseppe Notarbartolo di Sciara, says in The Map to Paradise, "The laws are a human convention. It's not a natural thing. It's not an asteroid about to hit the Earth, or climate changing, or things like that. It's just agreements among people, and those can be changed."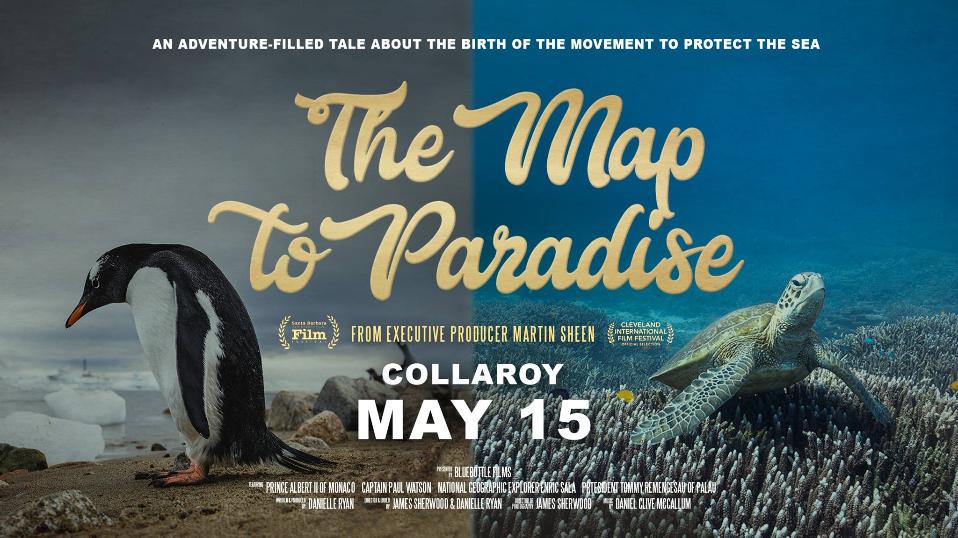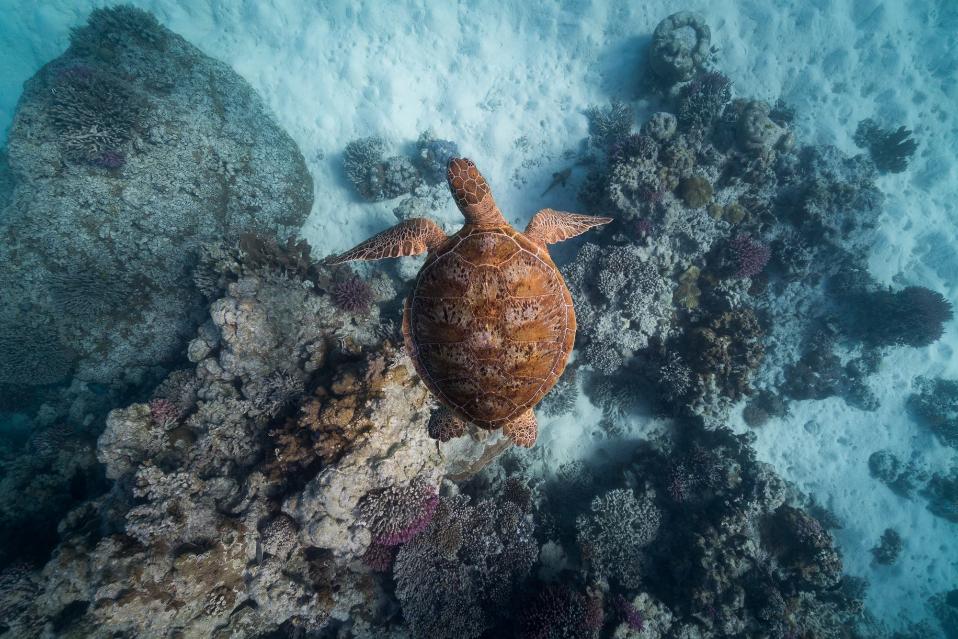 Photo by James Sherwood - ©Bluebottle-Films