April 16 - 22, 2023: Issue 579
council proposal to install soft-fall rubber + synthetic grass at Dee Why Beach Playground for very young children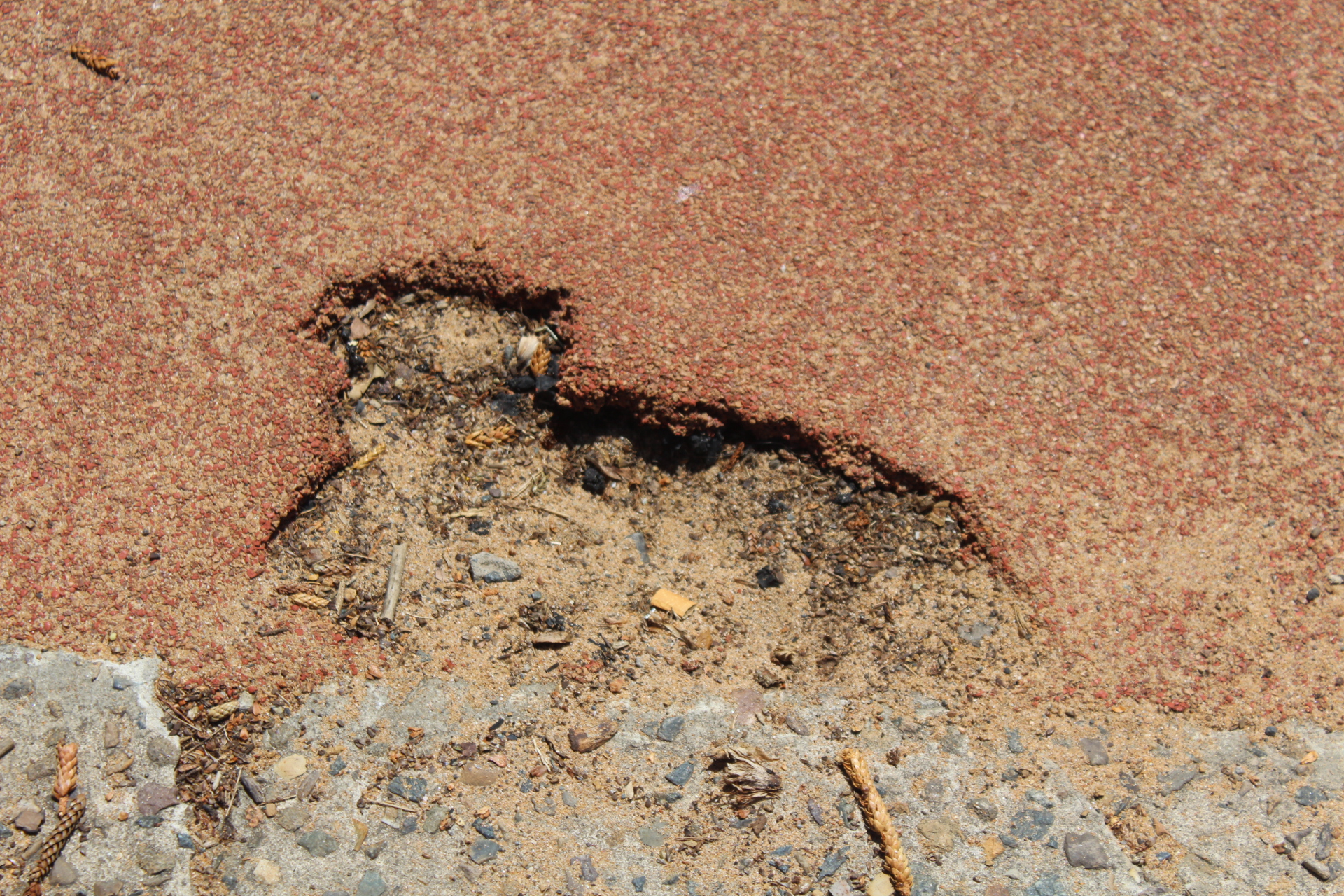 Newport Beach softfall rubber in November 2022 - a year and a half on from installation
In January 2023
Pittwater Online News
reported on the
deterioration of soft-fall rubber newly installed at the Newport Beach
outdoor Youth Space.
In late March 2021 construction had commenced for this play space and was quickly completed with concrete, a new outdoor gym, half basketball court and handball court installed by May 2021.
By November 2022 it was evident that the 'soft-fall' area, a synthetic pad installed as part of the gym equipment underlay, was deteriorating - this has since enlarged.
Toxic pollutants and plastics introduced into the beach environment is the result of this deterioration.
Paradoxically, the enlarging pit is catching the 'soft' in the natural beach sand that comprises Newport Beach.
On April 4th 2023 the Council opened invitations for feedback a proposal for Michaela Howie Playground, at Dee Why Beach, that will introduce, through over 75% of that playground, rubber softfall surfacing and more synthetic grass surfacing into a sensitive environment beside water.
Coloured concrete paths to weave between the same are also proposed.
The proposal is open for feedback until May 7th 2023 at: yoursay.northernbeaches.nsw.gov.au/michaela-howie-playground-renewal
The timing, although just over 4 weeks, effectively cancels out just over 3 weeks of that as it has been made available as residents head into the Easter break, Autumn School Holidays and Anzac Day services. With many returning to work or school on April 26th, that leaves 1 week and 3 days to provide 'feedback' on the plan.
In 2021 AUSMAP, the nation-wide citizen science initiative, surveying Australian beaches for microplastic pollution, led by notables such as Jeff Angel, Director of the Boomerang Alliance of 47 allied groups and Total Environment Centre, Marine Scientist Dr Blewitt, Program Director of AUSMAP, with over 30 years' experience, with a passion for education, research and conservation, and Dr Scott Wilson, Senior Lecturer in the Centre for Energy and Environmental Contaminants and the Department of Environmental Sciences at Macquarie University who for the last 10 years he has researched the impacts of plastics and marine debris in aquatic environments both in Australia and internationally, released the research, 'Rubber Crumb Loss Assessment From Play Areas In The Great Barrier Reef Catchment'.
As a result of the findings from this study, the main recommendation is that rubber crumb-based soft fall play areas should be avoided near sensitive environments, particularly close to waterways.

Many play areas have soft fall surfaces made of recycled rubber tyres applied as small pieces of crumb (1-5 mm in size). The development of the use of rubber crumb in playgrounds and synthetic sports fields has been partially as a result of the promotion of the Tyre Stewardship Scheme. This scheme aims to provide a pathway for the use of the end-of-life tyres that considers environmental, health and safety impacts. Rubber crumb and the chemicals associated with these (e.g. metals, PAHs, tyre antidegradants), however, have been found in international studies to leach into waterways and cause harm to aquatic life. Limited information exists on the potential loss and impacts associated with local sites and with the Great Barrier Reef considered a sensitive ecosystem, a focus on this region was considered a priority.
AUSMAP has been working on rubber crumb research in collaboration with ReefClean to document rubber crumb loss from play areas in the GBR catchment. Results indicate that rubber crumb playgrounds release an estimated 1.2 million crumbs into the immediate environment (within four meters of these sites) on average.
These findings were of concern considering the proximity of the test sites to the Great Barrier Reef catchment.
Further, preliminary research suggests tyre chemicals may have toxic health effects on both marine and human life.
That report, 'Rubber Crumb Loss Assessment From Play Areas In The Great Barrier Reef Catchment', is available for download here: www.ausmap.org/post/rubber-crumb-research-released
On January 31st 2023 the ABC reported that work to remove the soft fall surface material at a popular Bargara playground, east of Bundaberg, has renewed concerns about the safety of the recycled rubber material used nationwide.
University of Queensland research fellow Cassandra Rauert told the ABC "We still have no idea about the human effects of either breathing in these small tyre particles and chemicals," she said.
"There's been a recent study which shows that these chemicals are in human urine, which means that we are being exposed, so we're probably breathing in tiny particles and then these chemicals are getting into our bodies.''
Tangaroa Blue Foundation chief executive Heidi Tait said, "It just seems that this product is being laid out left, right and centre in your play areas around Australia and we have not seen one park that hasn't seen this kind of degradation,"
"When you've got kids playing on it and inhaling, you know, the dust or the small crumb particles as they come up, or they press their hands on it and lick their hand, it's concerning."
"We just don't know what is in it or what that transfer is like."
In America city after city is banning the use of synthetic turf or rubber (soft fall) due to the chemical components in these poisoning the environment or the heat they create where installed. A report by 9 News in February 2022 found one field in Sydney reaches up to 88C despite the weather at the time only being 28C.
In the US ground-up tyres used in synthetic turf or rubber 'soft fall' can contain heavy metals, benzene, VOCs and other carcinogens that can present a health threat. The material emits high levels of methane, a potent greenhouse gas, and sheds microplastics and other chemicals into waterways.
This 'soft fall' materials are installed as squash and tennis courts or as the base of children's playgrounds.
The same product of ground up tyres is also being sold in Australia and recommended by installers for use as 'rubber flooring' in children's playgrounds 'to keep them safe'.
In Australia, passenger vehicle tyres contain approximately 16% natural rubber, 30% synthetic rubber, 23% carbon black, 16% metal and 6% textile.
In January 2022 University of Queensland scientists published 'Concentrations of Tire Additive Chemicals and Tire Road Wear Particles in an Australian Urban Tributary'. They had taken water samples from the middle of Cubberla Creek beside Brisbane's M5 motorway after four storms in late 2020 and found the tyre-derived compound 6PPD-quinone. This same substance has been linked to massive die-offs of coho salmon across the U.S. West Coast.
The levels of 6PPD-quinone in the creek, which feeds into the Brisbane River, peaked at concentrations comparable to those found to be killing Seattle's salmon. As much as 700kg of tiny tyre particles, up to 0.2mm wide and some much smaller, were estimated to wash off the roads and into the catchment after each storm.
Around Australia councils are pulling up this soft fall rubber and synthetic grass from their playgrounds and making commitments to not use such products any longer.
The cost of the Michaela Howie Playground is being funded through the Council's capital works and renewal budgets. The project is aimed at children aged 0 to 8 years of age.
Council's webpage for the proposal states ''The play space theme will pay homage to its location incorporating design elements inspired by the beach and the natural coastal environment.''

The proposal's plan drawing is open for feedback until May 7th 2023 at: yoursay.northernbeaches.nsw.gov.au/michaela-howie-playground-renewal