January 22 - 28, 2023: Issue 568
Newly Installed Synthetic 'soft' pad At Newport Beach Outdoor Youth Space Already Deteriorating: the holes in choosing a poison over the natural more apparent in 2023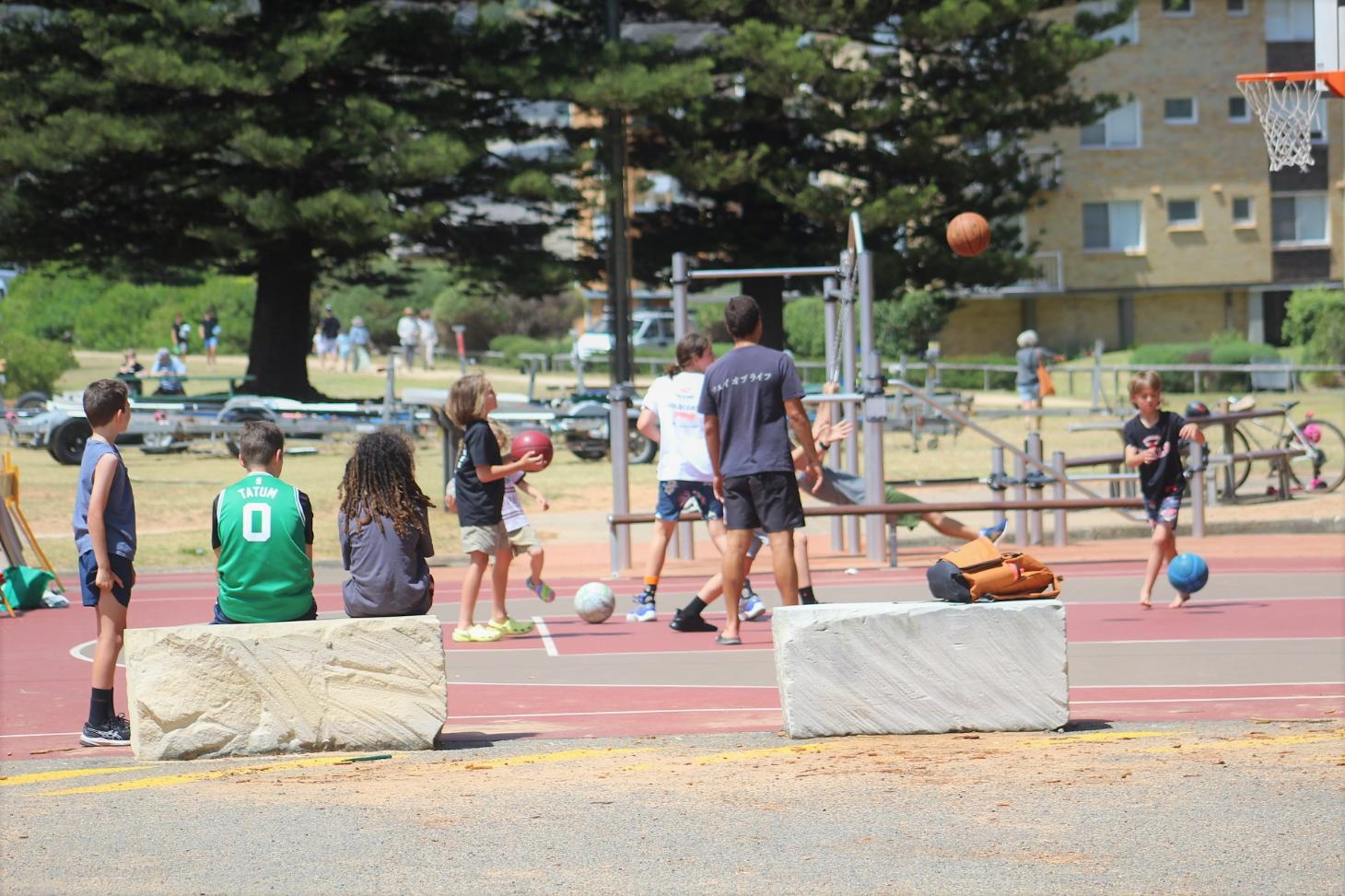 In December 2019 the council stated it was 'looking at an opportunity to modify a part of the Newport Beach car park (adjacent to the Newport Surf Life Saving Club) to potentially provide a new outdoor space for our youth.'

By March 2020 the council had feedback from residents which included main themes of:
alternative location

natural materials

anti-social behaviour
impact to the surf life saving club
other elements not included in the design (i.e. lighting, netball court, table tennis table).
By December 2020 council announced they had a revised plan. However using natural materials was ignored, as was an alternative location.
In late March 2021 construction had commenced and was quickly completed with concrete, a new outdoor gym, half basketball court and handball court installed by May 2021.
By November 2022 it was evident that the 'soft-fall' area, a synthetic pad installed as part of the gym equipment underlay, was deteriorating - this has since enlarged.
Toxic pollutants and plastics introduced into the beach environment is the result of this deterioration.
Paradoxically, the enlarging pit is catching the 'soft' in the natural beach sand that comprises Newport Beach.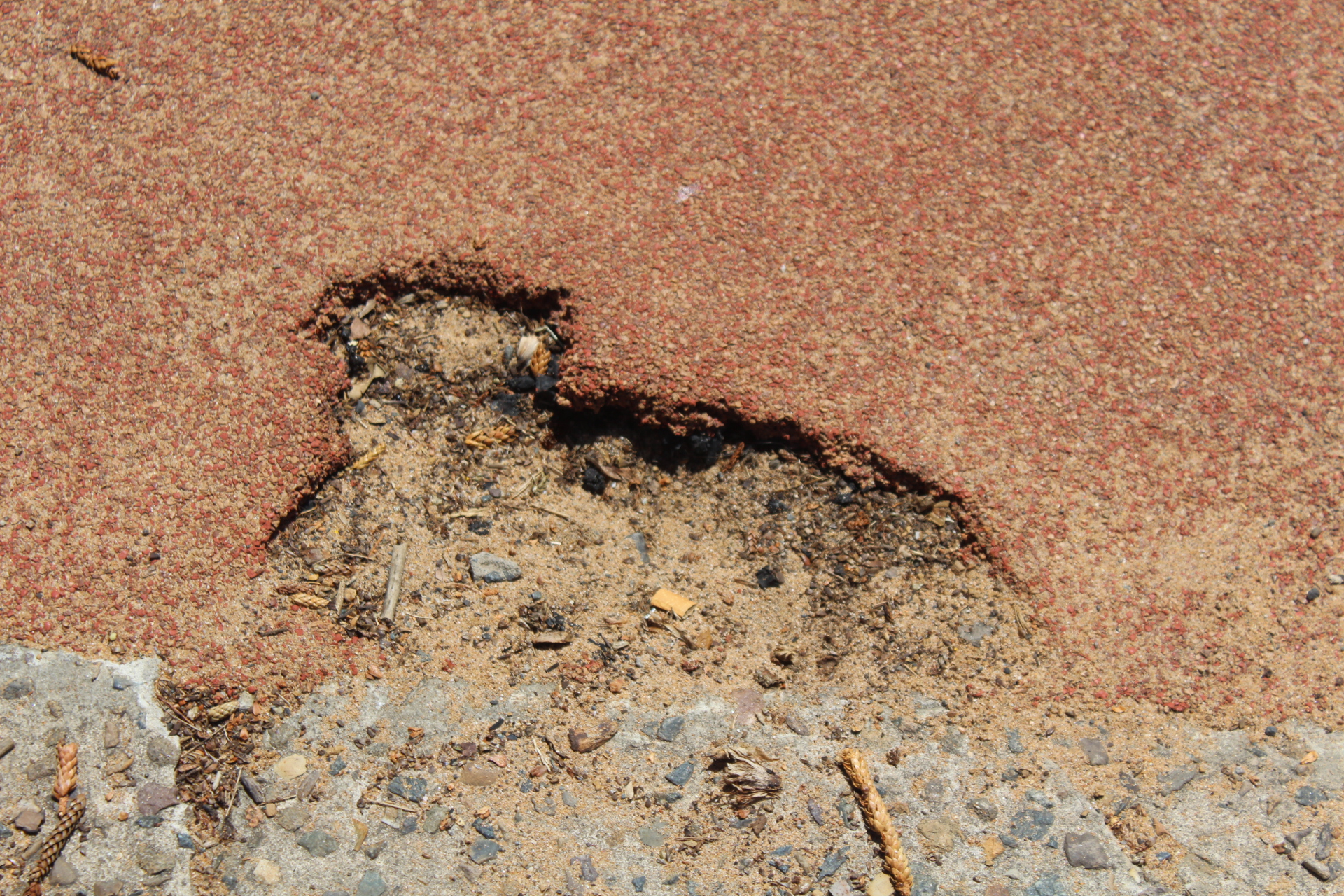 November 2022 a year and a half on from installation
In 2021 a concerned resident contact Pittwater Online about the council's plans to install synthetic turf next to another area beside a waterway after the failure of a synthetic turf installation at Forestville.
Melwood Oval at Forestville has had a synthetic field installed and during heavy rains Julia Walsh witnessed "pulverised rubber" washing off and down pathways.
"It's not just the plastics that you can see, it's the plastics you can't see," Julia stated in 2021.
"The biggest concern is that we're putting these fields in water catchment zones."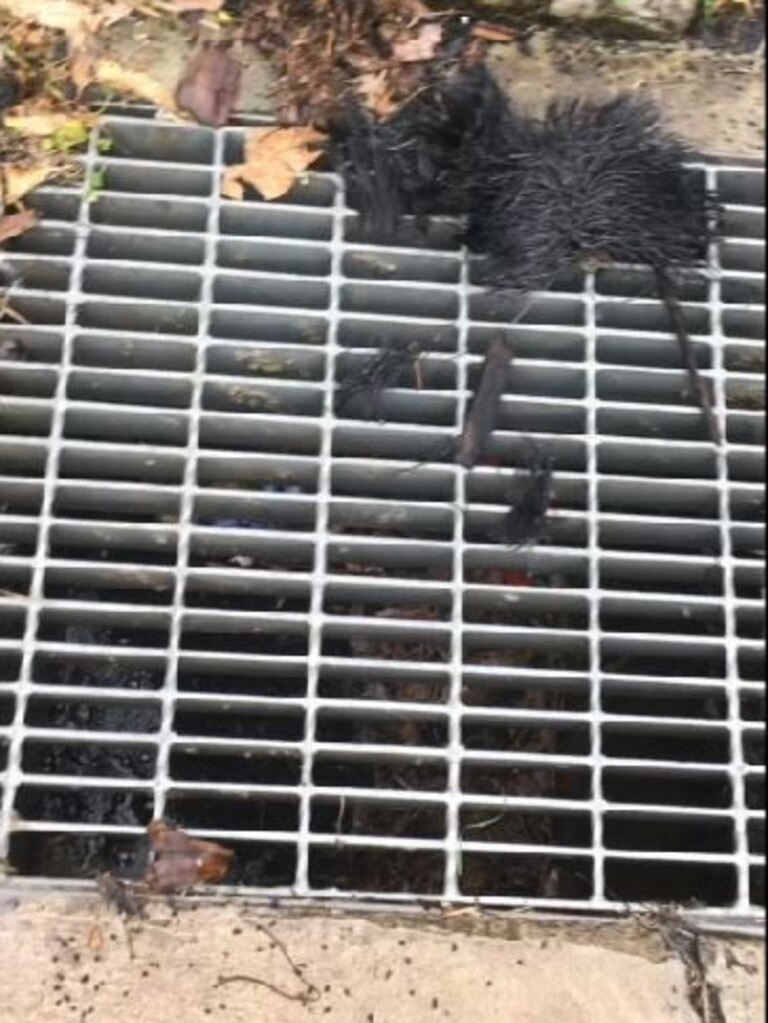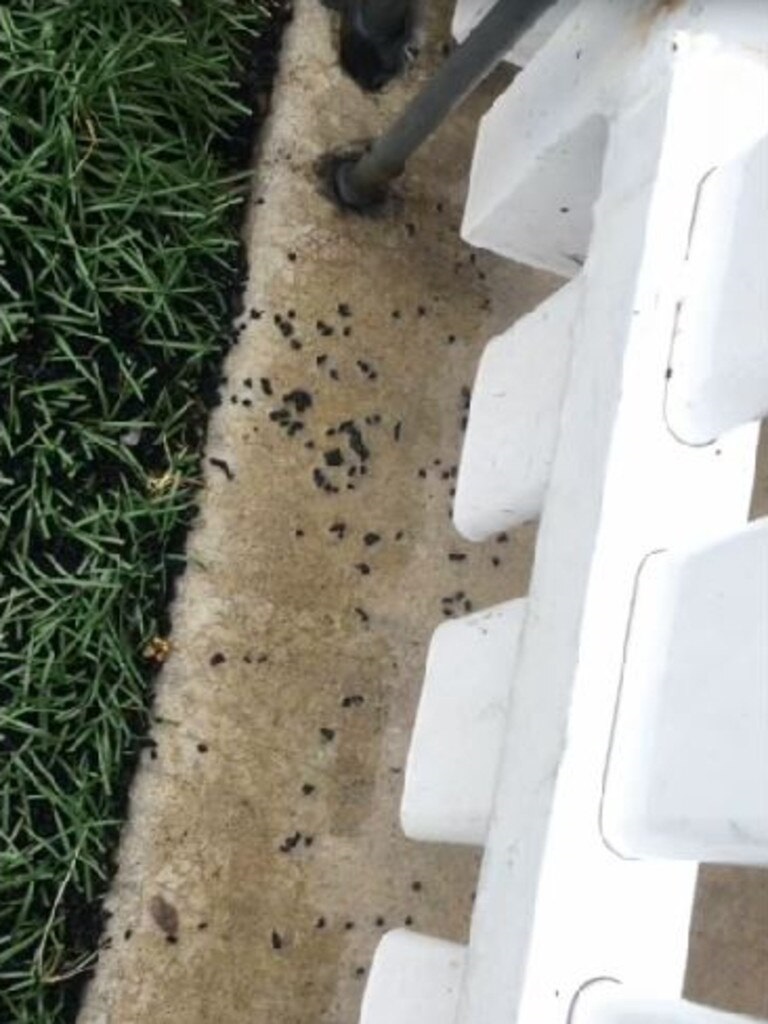 Melwood Oval - synthetic field fragmenting. Images: supplied.
At the March 2021 council meeting, councillors Stuart Sprott and Roslyn Harrison called for council to halt approvals of synthetic fields pending a NSW Government investigation into sustainable alternatives, which was called for by then Planning Minister Rob Stokes. Their response was not supported by other councillors.

The Independent review into the design, use and impacts of synthetic turf in public open spaces by the NSW Chief Scientist and Engineer tabled an initial report in February 2022, with the final report due mid-year. This has not as yet been made public if it has been completed. The February 2022 interim report may be accessed at: www.chiefscientist.nsw.gov.au/independent-reports/synthetic-turf-in-public-spaces
On December 22nd 2022 the NSW Department of Planning and Environment stated it 'is working closely with councils, industry and government agencies to create guidelines to assist decision making on the use of synthetic turf, which will be released in 2023.'
Julia Walsh sent in a video update on one of the grassed areas for which synthetic fields is proposed, alongside Manly Creek, taken after rains in February-March 2022.
Millers Reserve at Manly Vale is among seven greenspaces across the LGA that will be "upgraded" to a synthetic surface, with a $203,000 tender already awarded for the works. Millers Reserve is located beside Manly Creek, which flows to Manly Dam, and Ms Walsh is concerned about run-off there.
Seven new synthetic ovals are planned for our area, including one being touted for Careel Bay, which floods during rain events with refuse carried into the wetlands alongside these. Careel Bay is a Wildlife Preservation Area (WPA) due to its importance to resident wildlife as well as migratory birds, many of which are endangered species.
Pittwater Council installed a watering system at the 'mini soccer' fields to keep the grass green at the Careel Bay playing fields just prior to being amalgamated into the NBC LGA. This system has not been seen in operation during drier periods since.
Football players across the state like synthetic surfaces as these are always available and not susceptible to the dry times that make much used surfaces dust bowls, or the mud that can come with too much rain.
However, the synthetic fields not only permanently eliminate these green spaces as habitat for birds and other wildlife foraging, they heat up areas and when deteriorating, pollute environment and are ingested by species living in these environments.
There are also problems during flood events, as seen in these images: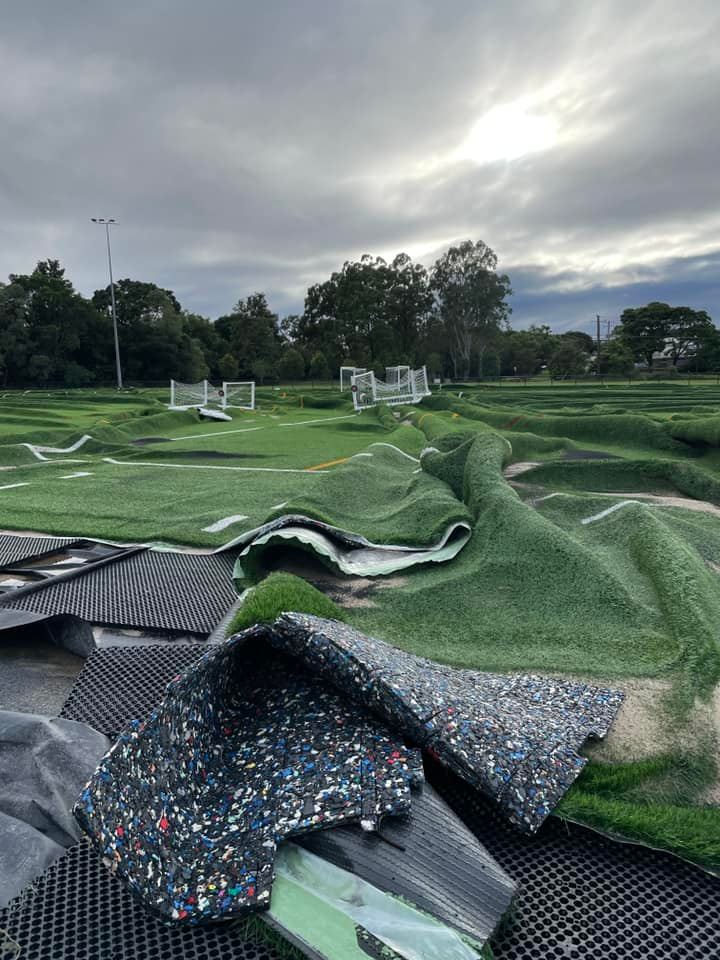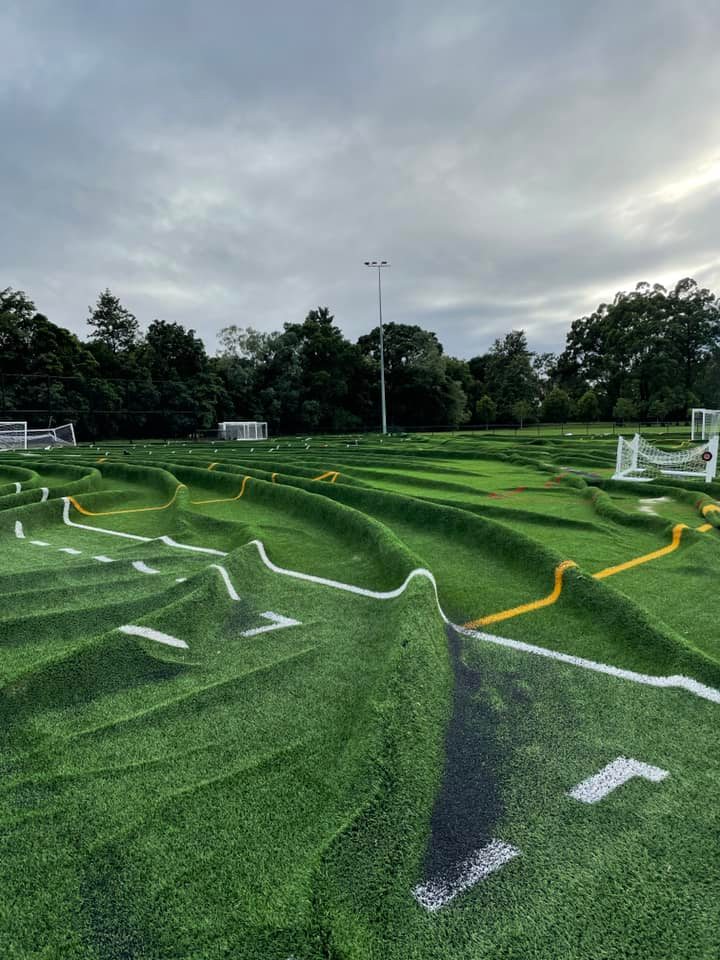 Mitchelton football field No 2 in Everton Park Brisbane after rains there - February 28, 2022. The rest of their fields are grassed areas and these were quickly restored/cleaned to allow commencement of their Season in March. From the Mitchelton football Club Facebook page.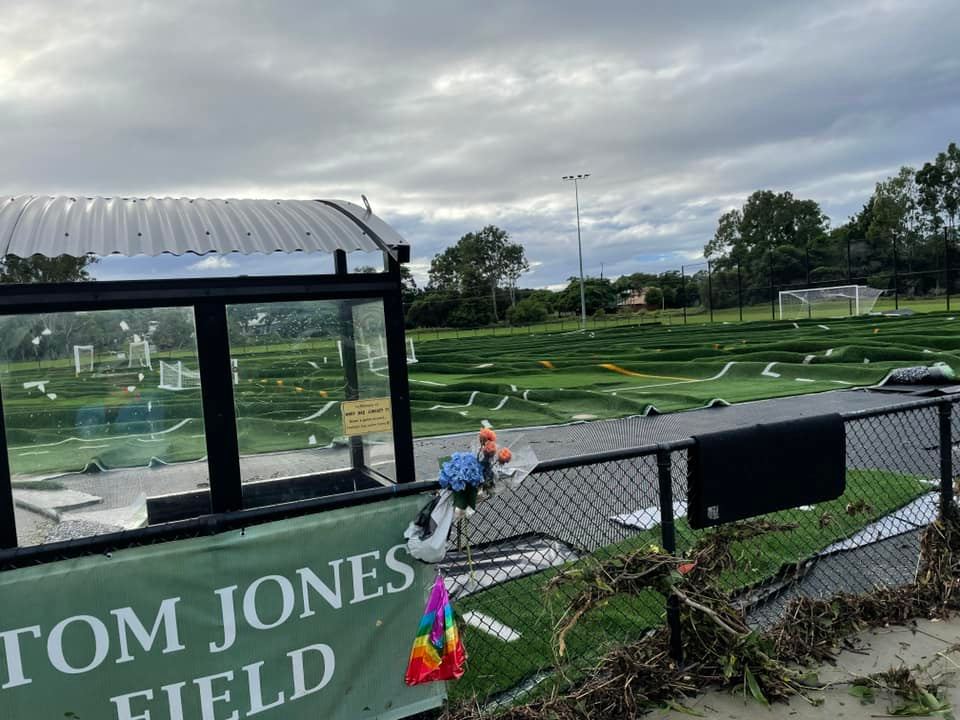 Mitchelton football field No 2 in Brisbane after rains there - February 28, 2022. From the Mitchelton football Club Facebook page.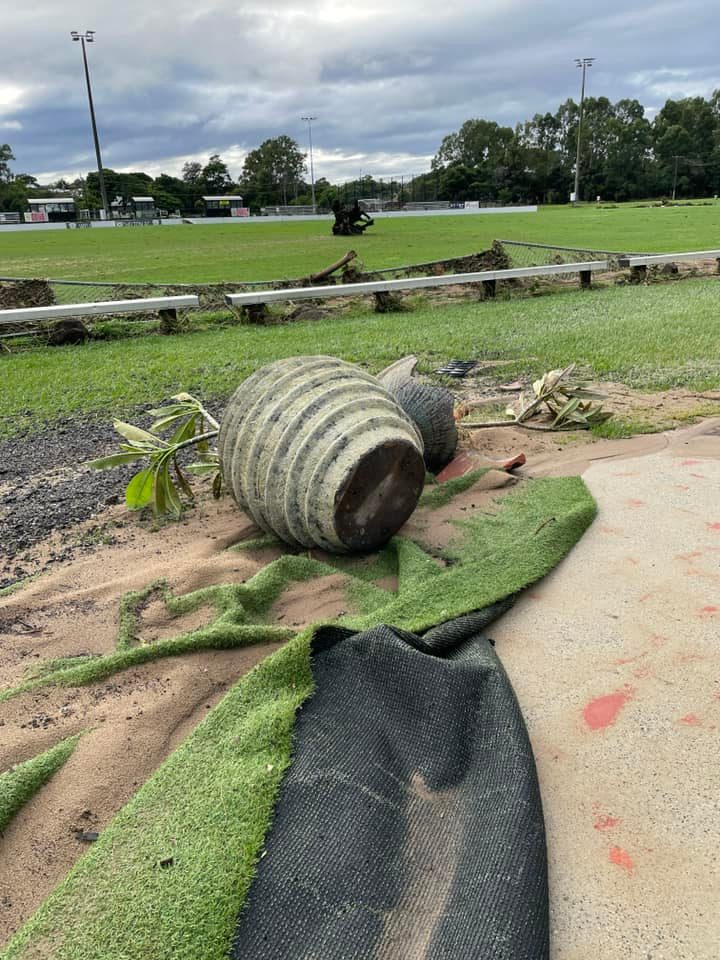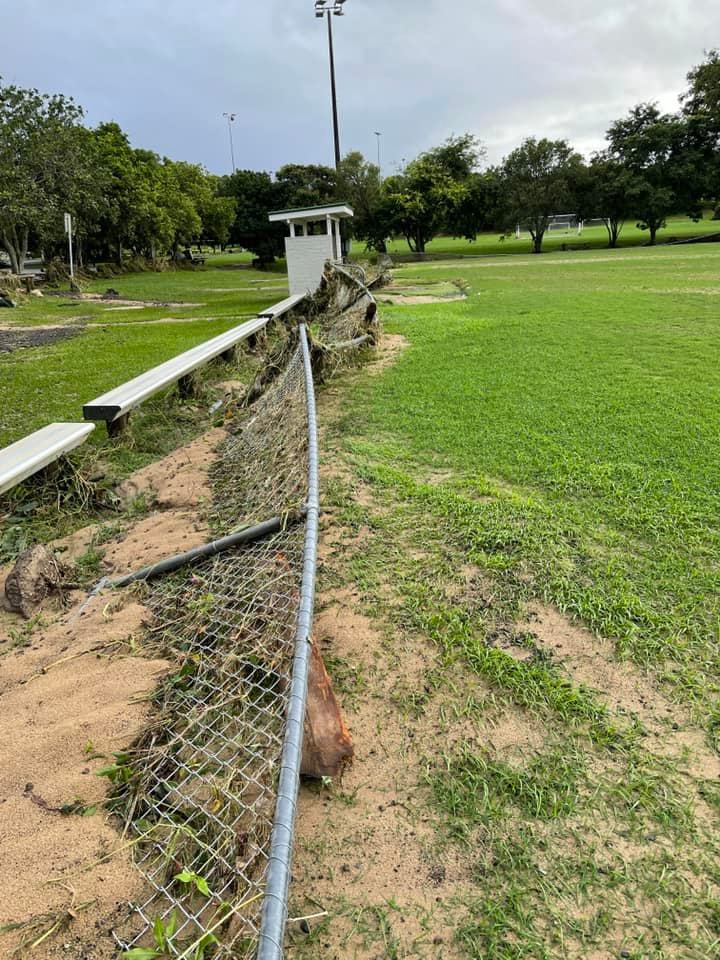 Mitchelton football club - Fields 1, 3-4 in Brisbane after rains there, and perimeter's - February 28, 2022. From the Mitchelton football Club Facebook page.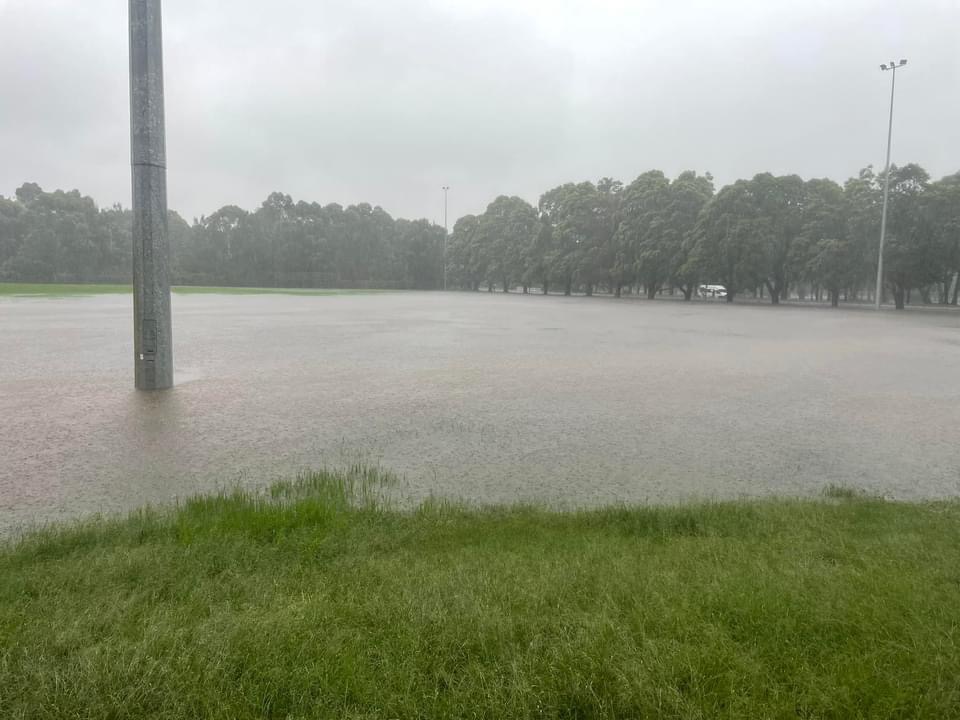 Millers Reserve submerged by water after the heavy rains, March 2022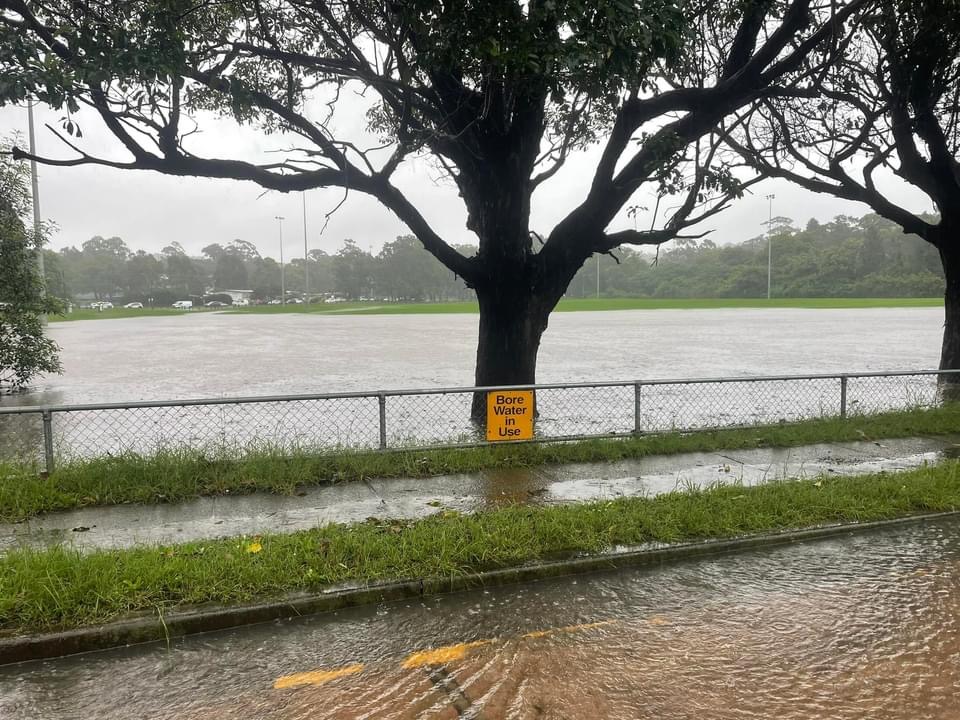 Millers Reserve submerged by water after the heavy rains, March 2022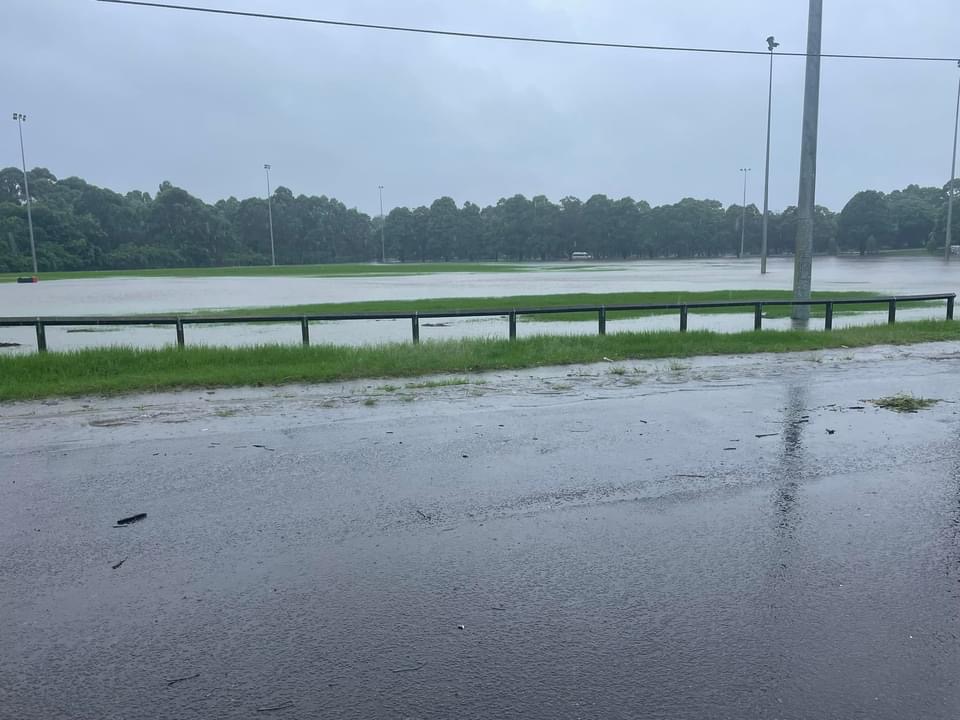 Millers Reserve submerged by water after the heavy rains, March 2022

More on this once the final report is released. Julia's latest video runs below.
Reinstalled Synthetic Field At Cromer Costs 1.3 Million - Field 2 1.45 Million
In May 2022 the council announced the re-opening of Cromer Park's field 1 at a cost of 1.3 million dollars.
The first installation of synthetic turf on field 1 was officially opened on July 1st 2012.
In 2022 cork has been used for the infill, instead of rubber, to reduce the urban heat island effect and provide cooler conditions for players on hot days.
There is also more storage for six-a-side goals, an additional pump to recycle water draining from the field and boot scrapers at every entrance to mitigate the infill from leaving the ground.
This project received a $814,442 grant from the NSW Government's Office of Sport Greater Cities Sport Facility Fund 2021.
Part of the project cost included exporting the old surface to Denmark for recycling.
In April 2018 the council announced the conversion of field 2 at Cromer Park to a synthetic field at a cost of $1.45 million. This was finished six months later.
There are 122 sportsfields in the NBC LGA. Grassed sportsfields are mowed every week from September to March and as required during the cooler months from April to August.
Councils Operational Expenditure for
all
Maintenance and Servicing, which would include mowing of grass fields
,
was $5,590, 000 in 2019/2020, $6,103,000 in 2020/21, was forecast to be $5,158,000 in 2021/22 and had 5,216,000 budgeted for 2022/23 at that stage.
User Charges and Fees apply for all sportsfields.
The Sportsfield renewal program had $1,100,000 allocated in the 2022/23 Draft budget.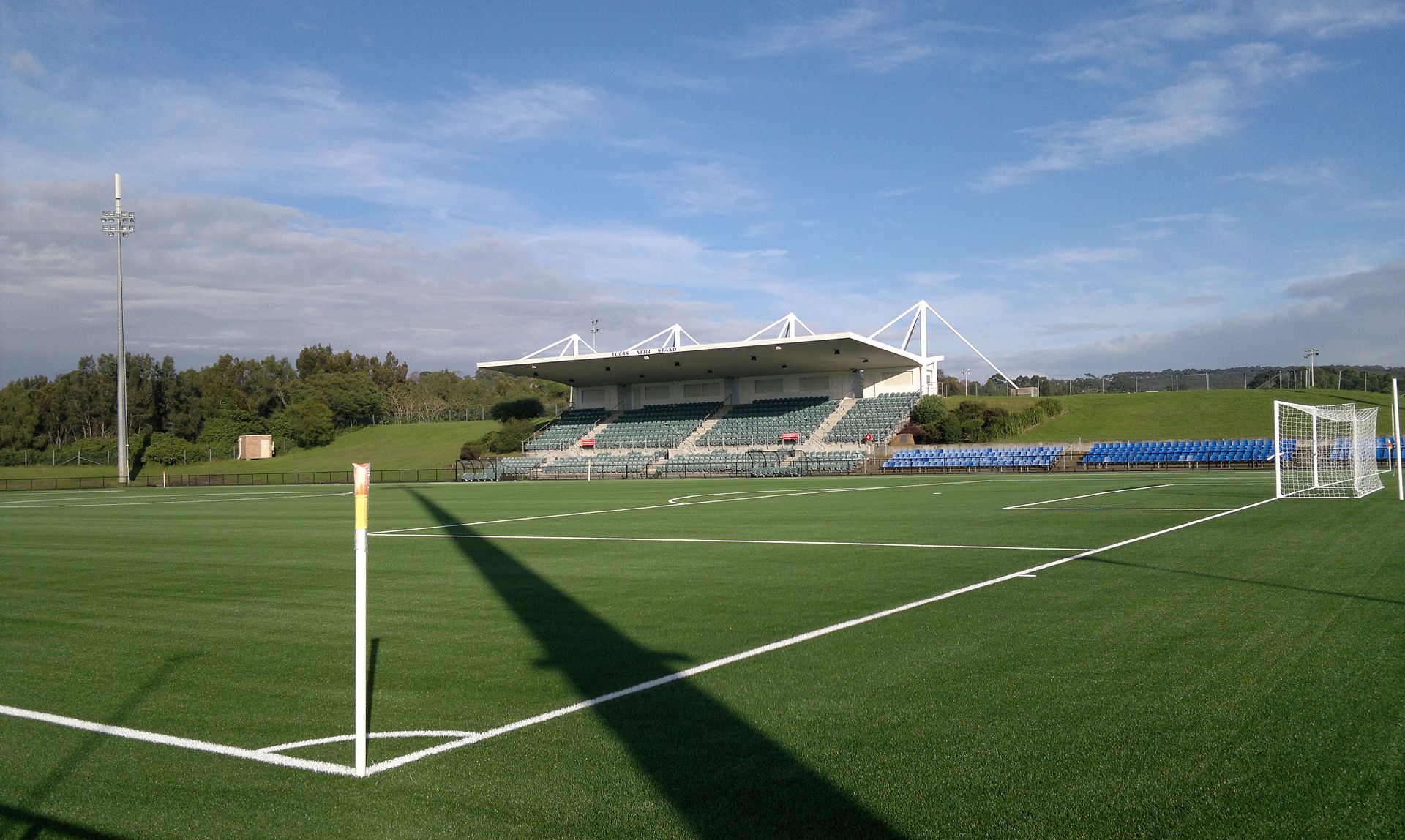 Cromer Park Synthetic Playing Surface completed. Photo June 2012 by CamV8
On Thursday January 19 2023 NSW Minister for Sport Alister Henskens announced more than $3.1 million will be invested in projects and programs to ensure the FIFA Women's World Cup 2023TM leaves a lasting legacy for football across the State.
"Having the World Cup on home soil is a once-in-a-lifetime opportunity that will inspire young girls and boys to lace up the boots and emulate their football heroes," Mr Henskens said.
"With six months to go before the tournament kicks off, there is already an enormous buzz around football and this program will help local clubs capitalise on excitement by running programs that will boost participation in the sport.
"It will also deliver funding to improve infrastructure, creating more modern and accessible facilities for communities across NSW."
Examples of eligible project types and project components included are listed as:
New or upgraded

synthetic

or turf pitches, including improvements to pitch drainage, irrigation or resurfacing.
Amenity buildings such as kiosks, club rooms, gender neutral change rooms, grandstands, seating, lighting, shade/shelter, or storage spaces that are universally designed.
Staged components of a larger facility development are eligible, providing the stage being applied for meets the fund eligibility criteria.
A Participation Stream forms part of the NSW Football Legacy Fund - Infrastructure Fund.
Synthetic Turf Health - Environment Hazards: EC To Implement Ban On Microplastic Infill For Synthetic Turf Systems
In America city after city is banning the use of synthetic turf or rubber (soft fall) due to the chemical components in these poisoning the environment or the heat they create where installed. A report by 9 News in February 2022 found one field in Sydney reaches up to 88C despite the weather at the time only being 28C.
In the US ground-up tyres used in synthetic turf or rubber 'soft fall' can contain heavy metals, benzene, VOCs and other carcinogens that can present a health threat. The material emits high levels of methane, a potent greenhouse gas, and sheds microplastics and other chemicals into waterways.
This 'soft fall' materials are installed as squash and tennis courts or as the base of children's playgrounds.
The same product of ground up tyres is also being sold in Australia and recommended by installers for use as 'rubber flooring' in children's playgrounds 'to keep them safe'.
In Australia, passenger vehicle tyres contain approximately 16% natural rubber, 30% synthetic rubber, 23% carbon black, 16% metal and 6% textile.
In January 2022 University of Queensland scientists published 'Concentrations of Tire Additive Chemicals and Tire Road Wear Particles in an Australian Urban Tributary'. They had taken water samples from the middle of Cubberla Creek beside Brisbane's M5 motorway after four storms in late 2020 and found the tyre-derived compound 6PPD-quinone. This same substance has been linked to massive die-offs of coho salmon across the U.S. West Coast.
The levels of 6PPD-quinone in the creek, which feeds into the Brisbane River, peaked at concentrations comparable to those found to be killing Seattle's salmon. As much as 700kg of tiny tyre particles, up to 0.2mm wide and some much smaller, were estimated to wash off the roads and into the catchment after each storm.
Study lead author, Dr Rauert said they found elevated levels of the chemical for two days after storms.
"The aquatic species living there are going to be exposed [to the chemical] over this period. The amount of tyre wear we found was also very surprising.
"We have no idea of the effect of these particles or if fish are ingesting them. There are so many unknowns in this field. We should be worried, but we need to know more."
Dr Rauert and colleagues were planning to take samples at other sites throughout Queensland. That research was published in December 2022 as 'Tyre additive chemicals, tyre road wear particles and high production polymers in surface water at 5 urban centres in Queensland, Australia'
Abstract for Concentrations of Tire Additive Chemicals and Tire Road Wear Particles in an Australian Urban Tributary
Tire road wear particles (TRWPs) are one of the largest sources of microplastics to the urban environment with recent concerns as they also provide a pathway for additive chemicals to leach into the environment. Stormwater is a major source of TRWPs and associated additives to urban surface water, with additives including the antioxidant derivative N-(1,3-dimethylbutyl)-N′-phenyl-p-phenylenediamine-quinone (6PPD-quinone) demonstrating links to aquatic toxicity at environmentally relevant concentrations. The present study used complementary analysis methods to quantify both TRWPs and a suite of known tire additive chemicals (including 6PPD-quinone) to an urban tributary in Australia during severe storm events. Concentrations of additives increased more than 40 times during storms, with a maximum concentration of 2760 ng/L for ∑15additives, 88 ng/L for 6PPD-quinone, and a similar profile observed in each storm. TRWPs were detected during storm peaks with a maximum concentration between 6.4 and 18 mg/L, and concentrations of TRWPs and all additives were highly correlated. Contaminant mass loads to this catchment were estimated as up to 100 g/storm for ∑15additives, 3 g/storm for 6PPD-quinone, and between 252 and 730 kg of TRWPs/storm. While 6PPD-quinone concentrations in this catchment were lower than previous studies, elevated concentrations post storm suggest prolonged aquatic exposure. [1.]
Abstract from Tyre additive chemicals, tyre road wear particles and high production polymers in surface water at 5 urban centres in Queensland, Australia
Plastics pollution is a global issue impacting every part of our environment. Tyre road wear particle (TRWP) plastics pollution is thought to be one of the largest pollution sources in urban environments. These plastics are also of concern due to the presence of additive chemicals, incorporated during manufacture, that can be released into the surrounding environment. This study aimed to provide information on concentrations of a range of anthropogenic plastics related pollutants in the Australian environment through a scoping study of surface water in 5 key urban centres around Queensland, Australia. Samples were analysed for a suite of 15 common tyre additive chemicals, TRWPs and 6 common high production polymers, and included the new transformation product of concern 6PPD-quinone which has recent reports of causing mass mortality events in certain aquatic species. The additives were ubiquitously detected (2.9-1440 ng/L) with 6PPD-quinone concentrations lower than in previous studies (<0.05-24 ng/L) and TRWPs detected at 18 of the 21 sites (<MDL to between 690 and 1990 μg/L). Of the high production polymers, polyethylene and polypropylene were detected at the highest concentrations (16-1750 and <0.7-37 μg/L respectively) with profiles highly variable between sites. A traffic related additive profile was determined at 7 sites, which all had nearby traffic related sources. Concentrations of additive chemicals were significantly correlated with average daily traffic volumes (p = 0.006), although concentrations of TRWPs were not correlated. Generally, concentrations were in line with or lower than concentrations in other geographical regions, although it is noted samples were collected during the dry season and further sampling during the tropical wet season would be of interest. [2.]
In September 2022 the European Commission (EC) recommendations for restrictions for the placing of intentionally added microplastics onto the European market (Annex XVII REACH1) recommended a ban on the future sale of microplastic infill for synthetic turf systems as the most effective way to reduce microplastic emissions.
The EC's findings follow research published earlier in 2022 that, for the first time, detected microplastic pollution in human blood, with scientists from the Vrije Universiteit Amsterdam in the Netherlands finding the tiny particles in almost 80% of people tested.
The impact of microplastic pollution in on the body's health is as yet unknown, but researchers found microplastics cause damage to human cells in the laboratory. The effect of microplastics on wildlife has been well documented; a decline in feeding behaviour and fertility, a slow and painful death - even worms change their behaviour when microplastics are present in soil, leading to deterioration of the same and all dependent on it, all that grows from soil.
While the EC legislation will only apply to member nations in Europe, it is expected to impact the use of recycled rubber and plastic as an infill in synthetic sports and playgrounds worldwide.
The deterioration of the recently installed synthetic turf safety surface at Newport Beach show appropriate siting should be considered for these products. If residents prefer their children to fall onto soft sand and grass, and respond in feedback that 'natural' materials be used, they realise or know which may be better for their health, for the environment, for keeping the place cooler and their children safer.
The use of synthetic materials that need to be renewed or reinstalled is expensive. The growing evidence presented through research of the impact on people's health, the environment they live in and the flora and fauna also present, appends another costing in discussions of the use of, and siting for products such as cement and synthetic turf or rubber 'soft-fall' matting in public spaces, especially if this is made from old tyres.
Newport's Outdoor Youth Space is popular with youngsters and oldsters, a great facility for these 'us too' residents and a credit to the work council has accomplished. The few holes now apparent, in the view of what is already here due to our careless disregard for the environment, and the hole now visible in one of the materials used, could easily be mitigated. More trees and less concrete and sandstone blocks would cool it down, more grass and sand to remove the poisons and keep the 'soft' safety element in would fit back in with the natural whole cycles.
There's a hole in the bucket...

Rauert, Cassandra; Charlton, Nathan; Okoffo, Elvis D.; Stanton, Ryan S.; Agua, Alon R.; Pirrung, Michael C.; et al. (2022):

Concentrations of Tire Additive Chemicals and Tire Road Wear Particles in an Australian Urban Tributary.

ACS Publications. Collection. https://doi.org/10.1021/acs.est.1c07451
Rauert C, Vardy S, Daniell B, Charlton N, Thomas KV.

Tyre additive chemicals, tyre road wear particles and high production polymers in surface water at 5 urban centres in Queensland, Australia.

Sci Total Environ. 2022 Dec 15;852:158468. doi: 10.1016/j.scitotenv.2022.158468. Epub 2022 Sep 6. PMID: 36075411. DOI: 10.1016/j.scitotenv.2022.158468