January 30 - February 5, 2022: Issue 524
Council recognises extraordinary contributions to community in australia day 2022 awards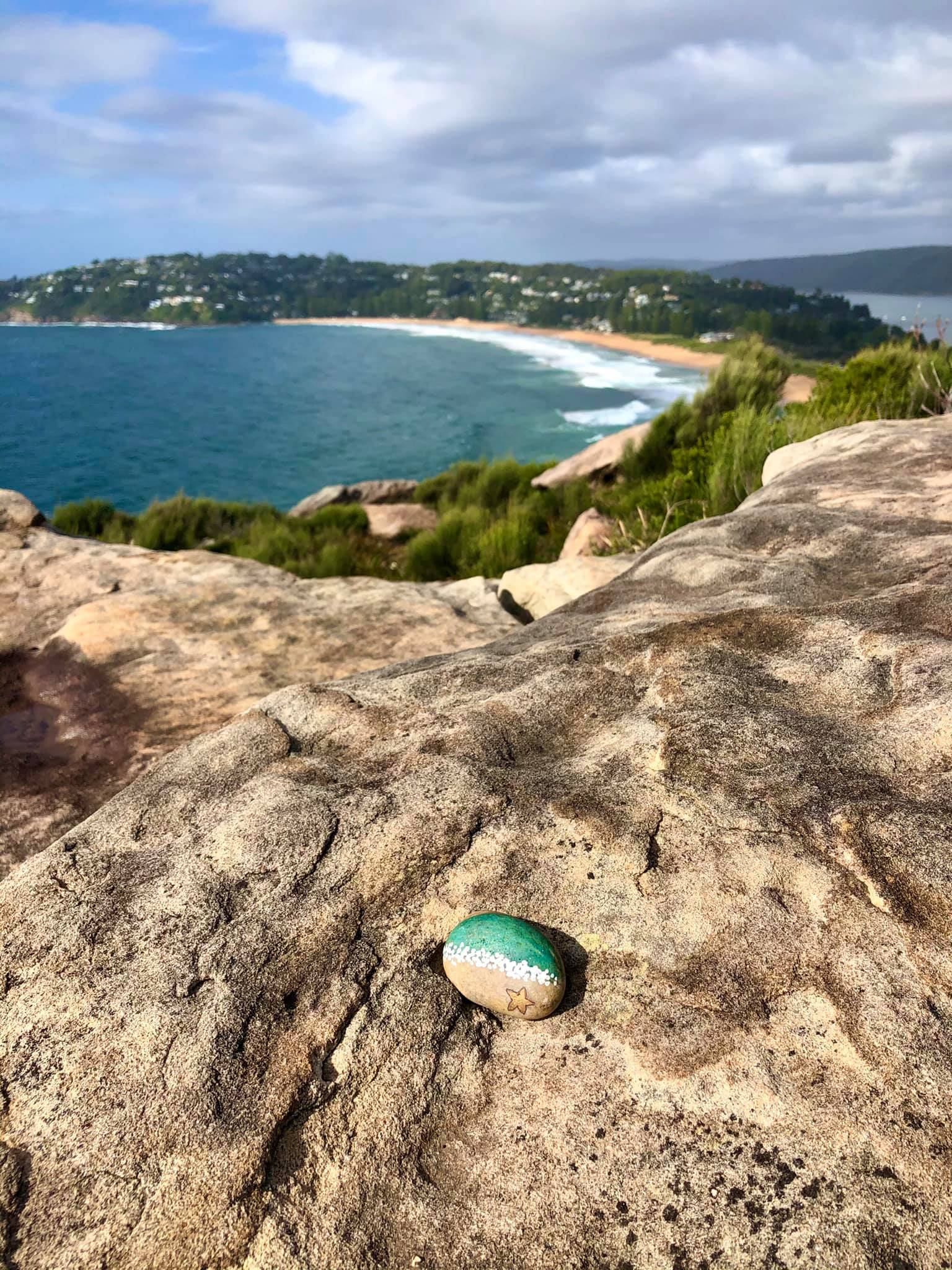 Barrenjoey Headland Dropped Rock by Amanda, February 2021
Warriewood's Sarah Downes has been recognised for her uplifting Northern Beaches Secret Rocks Group at this year's Council Australia Day Awards, taking out the Community Event of the Year award.
During the July 2021 lockdown Pittwater Online News ran the group as a Profile of the Week feature as a timely way to bring a smile to local faces and expanding its membership by thousands overnight. Currently the group has over six thousand members.
Sarah explained then that she started the Facebook group in May 2017 with the first rock hidden that said ''Oh Happy Day!''.
''I started the group to help foster a sense of community by sharing random messages of positivity that could be found anywhere along our beautiful Northern Beaches. Anyone can join by finding a rock, painting rocks or hiding rocks. Messages painted on the rocks can be in many forms; artwork, messages of gratitude, affirmations, encouragement, offers of hope etc. I wanted it to be a spontaneous find, like a gift from the universe for anyone that came upon a rock. '' Sarah explained.

Nominated by group member Maria Elena Villarraga Salcedo, Sarah characteristically posted that this award recognised everyone in the group;
''Big Australia Day Honours to our Amazing Group! Community Event of the Year!!! Well done one and all - it was our magic rocking community that made this possible. Let's rock on in 2022!!''
Sarah's idea stems from The Kindness Rocks Project, founded by Megan Murphy in the US, which is based on the profound truth that one message at the right moment can change someone's day, their outlook, and, potentially, their whole life.
''I like to think of Northern Beaches Secret Rocks as part of a big Kindness Ripple effect in our area and around the world. Sometimes it is just one kind word or happening that can change someone's day. A rock can have a nourishing effect on anyone who comes upon it. And often one kindness can lead to more, and that is the ripple effect. Like when you toss a rock sideways into a lake and the ripples that rock sends out as it skips merrily along the surface... these are the ripples I mean. I would like to encourage anyone to paint a rock, share a thought or word of encouragement and know they have a chance of nourishing another person's life as they journey through their day. ''
During a challenging period when we need these great messages the Northern Beaches Secret Rocks NBSR certainly delivered and continues to.
You can find out more and see these brilliant art works at the Northern Beaches Secret Rocks NBSR Facebook page at: https://www.facebook.com/groups/1552698581430500/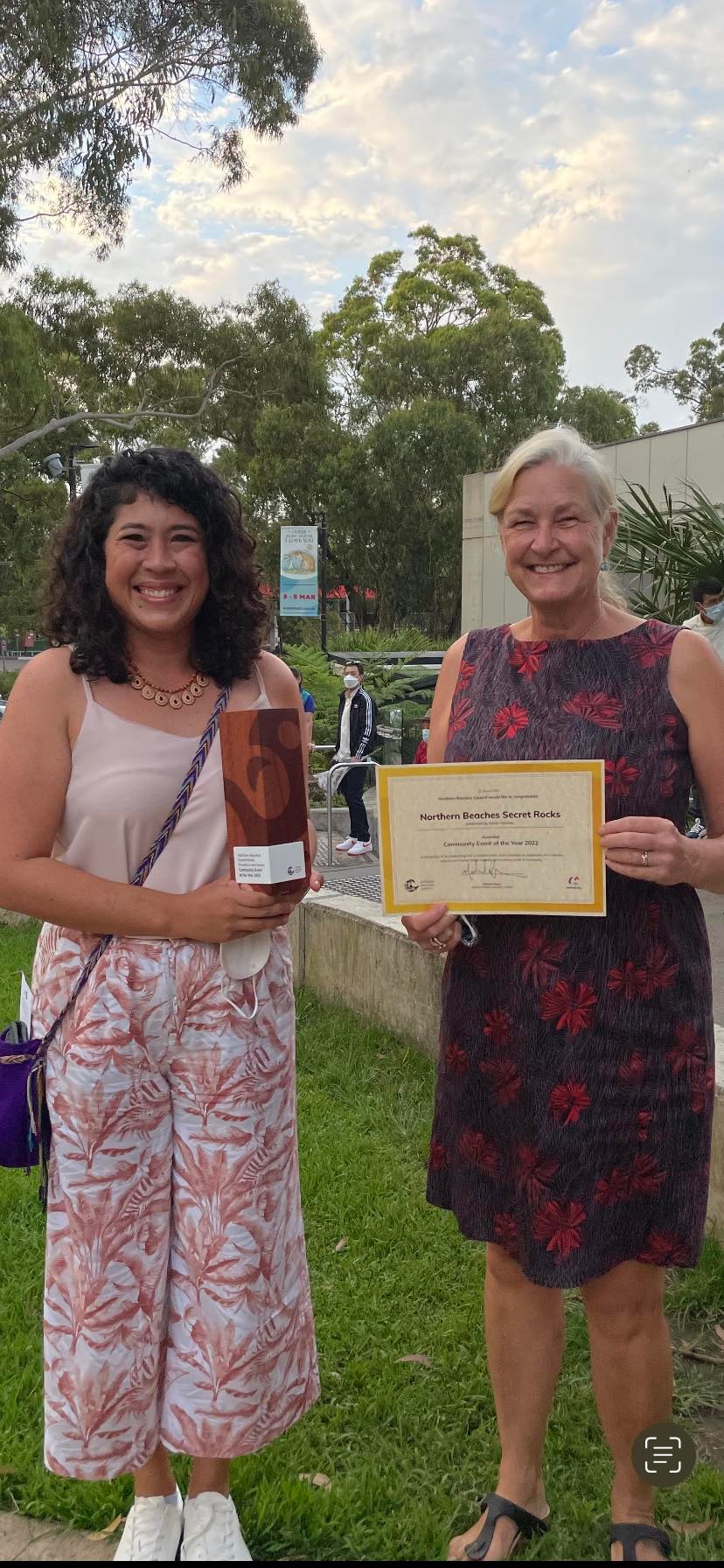 Maria and Sarah with the Award
Council's citation states;
Northern Beaches Secret Rocks created by Sarah Downes encourages people to paint, drop and hide rocks for other people to find during their walks. The rocks can be painted by anyone with any design, and the finder can keep them or re-hide them for others to find. The activity has a minimal environmental impact, is accessible to people of all ages and abilities, and is particularly popular with children. It provides a new opportunity for people to be creative, practice mindfulness, and stay physically active. The activity creates connection, a sense of community, and a reason to keep physically active especially during lockdown. Sarah also created a Facebook group and writes daily words of encouragement bringing joy to its members which is evident through the posts on the page.
There were also a number of Pittwater residents recognised among the Outstanding Community Service Awards. The Outstanding Community Service Award recognises individuals who have substantially helped to improve the quality of life of members of their community.
These included:
Judith Malcolm of Newport – PDHPE teacher and volunteer for 12 years coaching touch football for the NSW and Australian Touch / Targeted Sports Narrabeen Sports High and head coach/trainer for Bilgola Surf Life Saving Club for over 10 years.
Mike Pawley of North Narrabeen – founder and owner of Mike Pawley Sports since 1980. He also dedicates his spare time running cricket coaching clinics for kids and has donated sporting goods and financial assistance to local sporting associations and schools. He started the 'Happy Days Cambodian Village School' charity in 2012 as well.
Jessica Twells of Elanora Heights – volunteer Junior Leader with Elanora Girl Guides for four years recently receiving the Queens Guide Award as well as teaching other guides Auslan.

Also listed were:
Ruth Austin of Freshwater – For over 37 years she has been volunteering with numerous community groups including Harbord Community Library, Dee Why Lifeline Op Shop, Freshwater Uniting Church, and Meals on Wheels.
Paul Cannings of Frenchs Forest – volunteer for the Amateur Beekeepers Association NSW and Permaculture Northern Beaches.
Sandra Gillett of Dee Why – has worked and volunteered for Cubby House Toy Library for the past 30 years.
Adam Hennessey of Manly – founded the North Steyne Boardriders Club in 1998 and has been President for the past 25 years as well as many other roles at Manly Cove Rugby League and Surfing NSW.
David Hickey of Allambie Heights – volunteer with numerous community organisations including Lifeline, Manly Warringah Pittwater Community Aid, a Justice of the Peace, and founder of Manly Dam Memorial Park Remembrance Trust.
Stephen Jennison of Narraweena – volunteer with Warringah Archers for more than 40 years as well as his involvement with Archery NSW and Archery Australia.
Frank Pikardt of Frenchs Forest – Teacher and Principal for over 45 years at various local high schools advocating that 'girls can do anything and is passionate about indigenous awareness ensuring Aboriginal experience are in the curriculum.
Katryna Robinson of Forestville – founder of Every Little Bit Helps (ELBH) in 2013 which collects and distributes over 70,000 personal hygiene care packs to the homeless, victims of domestic violence, asylum seekers, community centres, and at-risk youth across Australia.
Sonam Wangmo – For 24 years she has been a volunteer and community support person for the Tibetan community on the Northern Beaches, helping them find employment and giving guidance to those who have survived trauma and suffering.
Elliot Williams of Belrose – Among several roles he has been a volunteer with St John Ambulance for 22 years dedicating over 10,000 hours of service and outstanding leadership during the recent bushfires, floods, and COVID-19 pandemic. He is also an intensive care Nurse at Royal North Shore Hospital.
There were also the following recognitions:
Citizen of the Year: Bobby Lehane of Freshwater who started the Rock the Pool 2021 Swimathon initiative to raise mental health awareness and much-needed funds for Lifeline Northern Beaches. He completed 100 swims in 100 days between January and June 2021 swimming every ocean rock pool from Yamba to Eden covering 250 kilometres or the equivalent of swimming the Bass Strait. He has raised more than $100,000 for Lifeline Northern Beaches helping with essential services such as the crisis telephone and text lines which has enabled them to answer 3,576 crisis calls which would otherwise not be possible.
Senior Citizen of the Year: Terry le Roux of Balgowlah has played a significant role in several resident/community groups using his professional experience and passion for the environment to represent residents on many issues. He has been a community voice on the proposed Beaches Link Tunnel, Forty Baskets tidal pool remediation and rebuild, installation of a gross pollutant trap and landscaping in Jackson Street Balgowlah, remediation of North Harbour Reserve, BMX damage to the Baringa Bush Community Garden, preservation of the Clarence Street Bridge, and the Save Manly Oval Alliance.
Young Citizen of the Year: Molly Parker of Balgowlah has dedicated over 500 hours of her time to Surf Lifesaving in various roles. In the last 12 months, she has been the Vice-Captain on patrol at North Steyne Surf Lifesaving Club and become one of five female jet ski operators on the Northern Beaches. She is also one of the only female UAV/drone operators on the Beaches and was the first female IRB/Rescue Boat Captain at North Steyne SLSC. Molly also volunteers on the after-hours call-out team and working as State Duty Officer at the Surf Life Saving Support Operations Centre, where she is in charge of critical incidents and corresponds with the Westpac helicopter, liaises with NSW Police, Ambulance, and Fire and Rescue.
Sportsperson of the Year: Patrick Wood of Collaroy Plateau was selected to play for the Sydney FC Academy at the age of 14. In 2020 at 18 years old, he received a scholarship to play with Sydney FC in the A-League Men's team. Patrick now plays as a Striker for Sydney FC A-League Men. He received the Under 20's Player of the Year award in 2021, with the team being grand finalists. He is a proud and honoured member of the 2021 Olyroos Under 23's Australian team, that competed in the Asian Federation Cup (AFC) Qualifiers in Tajikistan. He scored the goal that secured the Olyroos a spot in the AFC. Beyond his sporting achievements, Patrick coaches and the U/16 1'S Collaroy Cromer Strikers Team and assists with grade selections for the club each season. Currently, he is the Assistant Coach for the U/18's Collaroy Cromer Strikers Team.
Mayor Michael Regan said our community is full of outstanding contributors and it is wonderful to honour the award recipients in this year's Australia Day Awards.
"Despite all the challenges we have faced over the last 12 months, there are plenty of examples of amazing contributions to our community.
"While none of the recipients seek recognition or praise, this is a great opportunity for us as a community to acknowledge their great contributions as we celebrate Australia Day.
"There is no denying we have some extraordinary people on the Northern Beaches. Year after year I am blown away by the talented and dedicated people that surround us.
"It's such a privilege to meet these amazing people and on behalf of the community, we thank you for your outstanding work and achievements. We all know the Northern Beaches is a great place to live, but it is people like you who make it even better.
"Congratulations to the nineteen overall recipients and all the nominees – keep up the fantastic work!" Mr. Regan said.
The awards were presented by the Mayor on Tuesday January 25th at the Glen Street Theatre.