July 18 - 24, 2021: Issue 502

Northern Beaches Secret Rocks - NBSR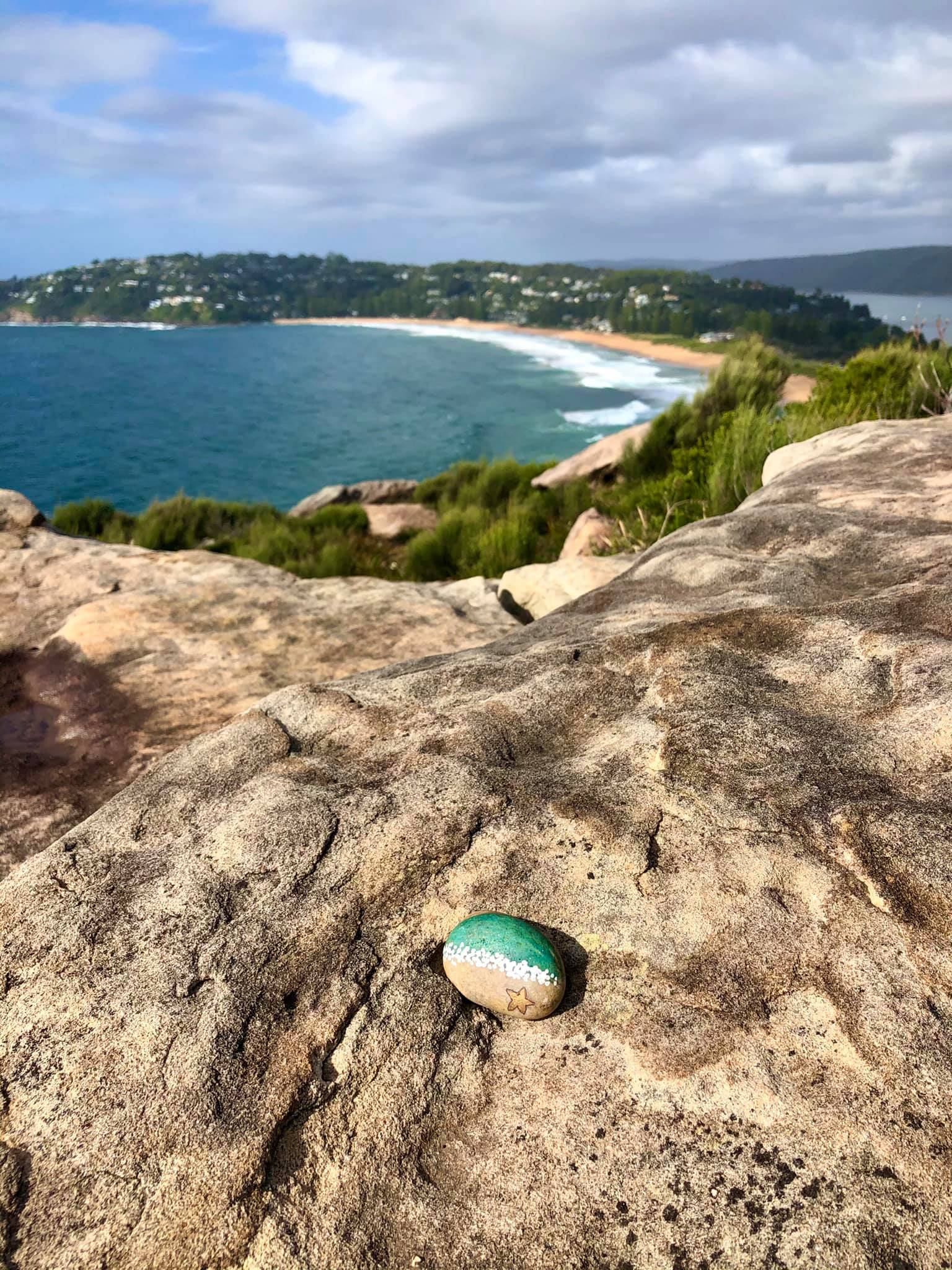 Barrenjoey Headland Dropped Rock by Amanda, February 2021
Northern Beaches Secret Rocks NBSR Facebook page at: https://www.facebook.com/groups/1552698581430500/
Ever thought about joining a ROCK group? Here's your chance!
Northern Beaches Secret Rocks was created to bring people together with fun and encouraging messages shared on rocks, art on rocks or art and messages together!
Their wish is that those who encounter these rocks will be touched in a special way perhaps by love, hope, gratitude, or any positive emotion.
Sarah Downes, founder of the group, shares some insights this week.
When did Northern Beaches Secret Rocks commence?
I started the Facebook group in May 2017 with the first rock hidden that said ''Oh Happy Day!''. We hit our 1000th member 4 years later... a slow steady growth in our group.
Why did this group form?
I started the group to help foster a sense of community by sharing random messages of positivity that could be found anywhere along our beautiful Northern Beaches. Anyone can join by finding a rock, painting rocks or hiding rocks. Messages painted on the rocks can be in many forms; artwork, messages of gratitude, affirmations, encouragement, offers of hope etc. I wanted it to be a spontaneous find, like a gift from the universe for anyone that came upon a rock.
Where did the idea come from?
I got the idea from The Kindness Rocks Project, founded by Megan Murphy in the US, which is based on the profound truth that one message at the right moment can change someone's day, their outlook, and, potentially, their whole life.
What are people putting on the rocks?
Some ideas people have painted range from ladybugs, bees, fish, VW Combi Vans, words such as hope, love, peace, sayings like 'When it rains look for rainbows, when it is dark, look for stars'
Where can they be found?
In general our rocks have been hidden along the Coastal walkway, bike trails, playgrounds etc. We try to avoid hiding them inside stores or cafes... rocking is a great outdoor experience in general.
Superhero rocks about to drop around Warriewood. Keep an eye out! Makes home-schooling art time pretty easy! - Nathan, July 13, 2021

Is there any intention to have an Art Exhibition ? – some of these rocks would certainly be worth seeing.
No haven't considered that -- the rocks are often posted on the group either before they are hidden, or after they are found... and there is a lot of appreciation for the creations on there. Perhaps in the future we could have a giant rock day at a park somewhere - where people could paint rocks, share the experience and perhaps have a display there as well.
Rocking has become a great family pastime during lockdown --- at home, they can paint rocks together... then go out and hide them for others to come upon. It is a hobby for all ages and talent levels.. Some of the most beautiful rocks are painted by children.... My all time favourite is Arabella's sloth, painted during a rock workshop. A work straight from the heart as she loved sloths!
I like to think of Northern Beaches Secret Rocks as part of a big Kindness Ripple effect in our area and around the world. Sometimes it is just one kind word or happening that can change someone's day. A rock can have a nourishing effect on anyone who comes upon it. And often one kindness can lead to more, and that is the ripple effect. Like when you toss a rock sideways into a lake and the ripples that rock sends out as it skips merrily along the surface... these are the ripples I mean. I would like to encourage anyone to paint a rock, share a thought or word of encouragement and know they have a chance of nourishing another person's life as they journey through their day.
Lots of details are on the rock group Facebook page ....Northern Beaches Secret Rocks - which pens or paint to use, how to seal the rocks etc etc. We encourage anyone to join the rocking fun! Our rock group is one of many in Australia and around the world.
Rock on all!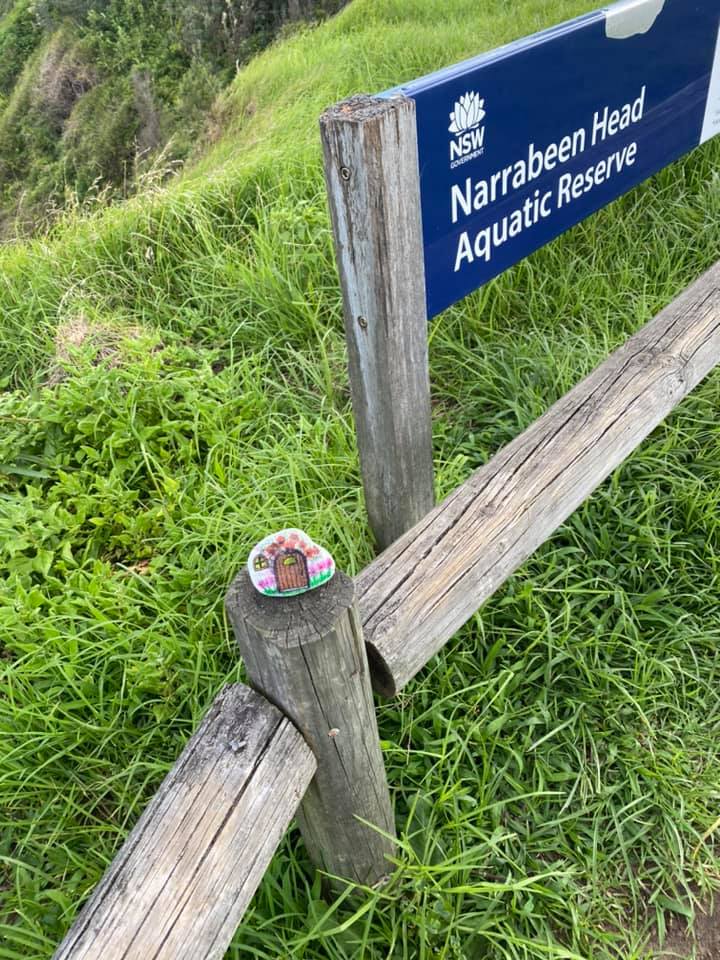 Narrabeen Head rock by Kylie
Some ideas:
If you come across our special rocks, you may do any one of the following or something you think up! ** special note --- your first find is always a keeper if you wish it to be --- that is an unwritten rule in the rock world
1) Let the message on the rock move you and leave it where you found it.
2) Pick up the rock and move it to another location.
3) Keep the rock .
4) Give the rock to someone you think would benefit from the message.
5) post a photo and message on #NBSR so that others and perhaps the artist can enjoy your find as well. ( rock painters love to hear the story behind the find :) )
Please hide all rocks outdoors.
Please write on bottom or side of your rock #NBSR on FB. This will direct the finder of the rock to our FB group where they can find out more about Northern Beaches Secret Rocks and see some great photos and stories of how rock hiding and discovery can bring us all together as a community.
Use paints that will withstand weather. Posca pens are so easy to use and work on rocks beautifully. Any acrylic paint will also be great. If you can seal your rock after painting it will last longer --- eg Jo Sonja Clear Varnish, clear nail polish or Mod Podge will all work.
TAKE A PIC AND POST IT TO OUR FB GROUP AND SHARE YOUR STORY FOR US ALL TO ENJOY!!!
Please no advertising in this group.
Children will be participating in this positive and uplifting community activity so please, no inappropriate paintings or negative comments.
"Sometimes you find a rock. Sometimes the rock finds you!"
Let a rock make your day!
Some Of The Great Rocks Shown On The FB NBSR Page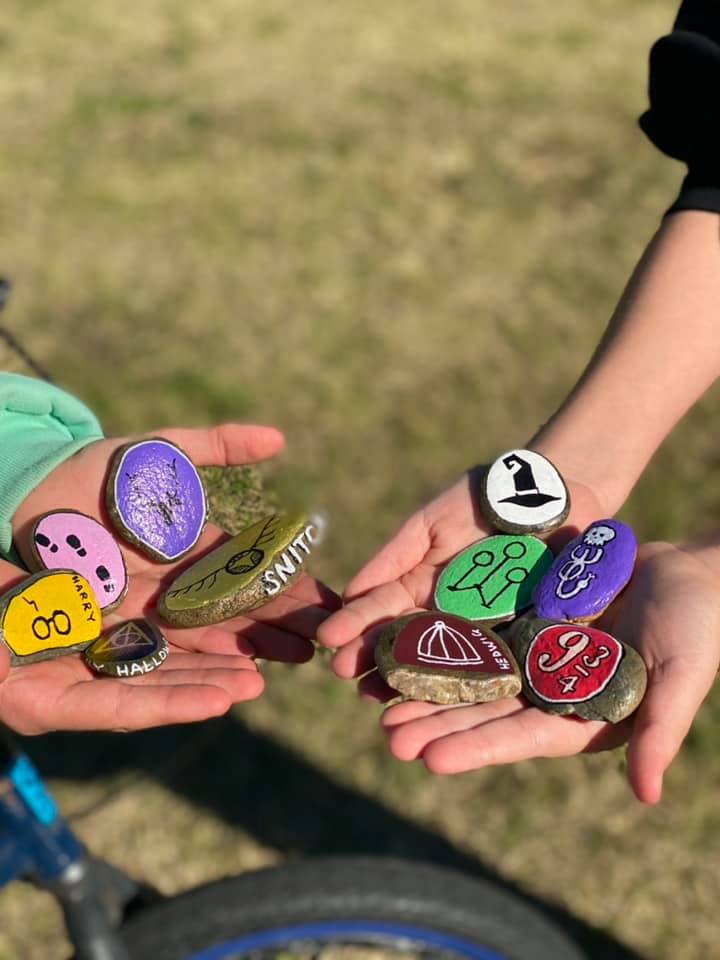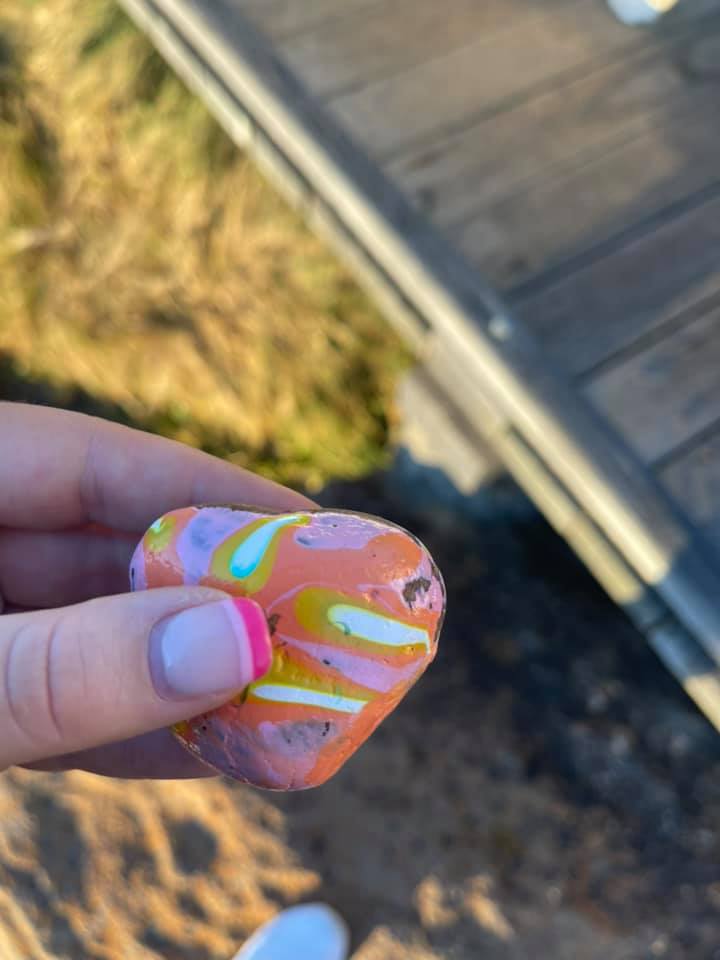 Dropped around Flying Fox - Nathan, July 16, 2021 Found and rehid this one at Curl Curl boardwalk - Jonte, July 16, 2021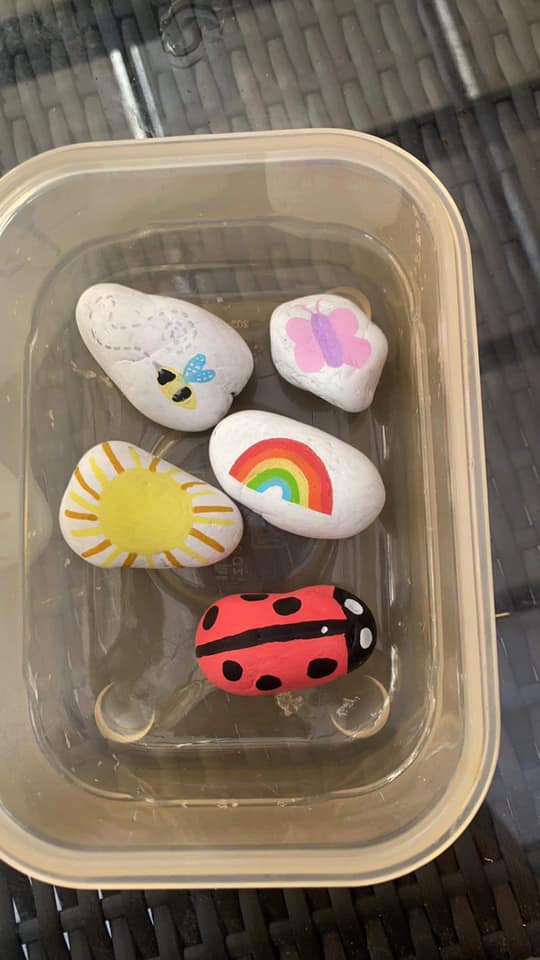 Hid a couple around Shearwater that i made today! hope you enjoy - Mikala, July 15, 2021 Miss M was very excited to find this rock in a tree in Arnott Cr. Thank you. She has painted 4 rocks to hide this afternoon. - Wynne, July 15, 2021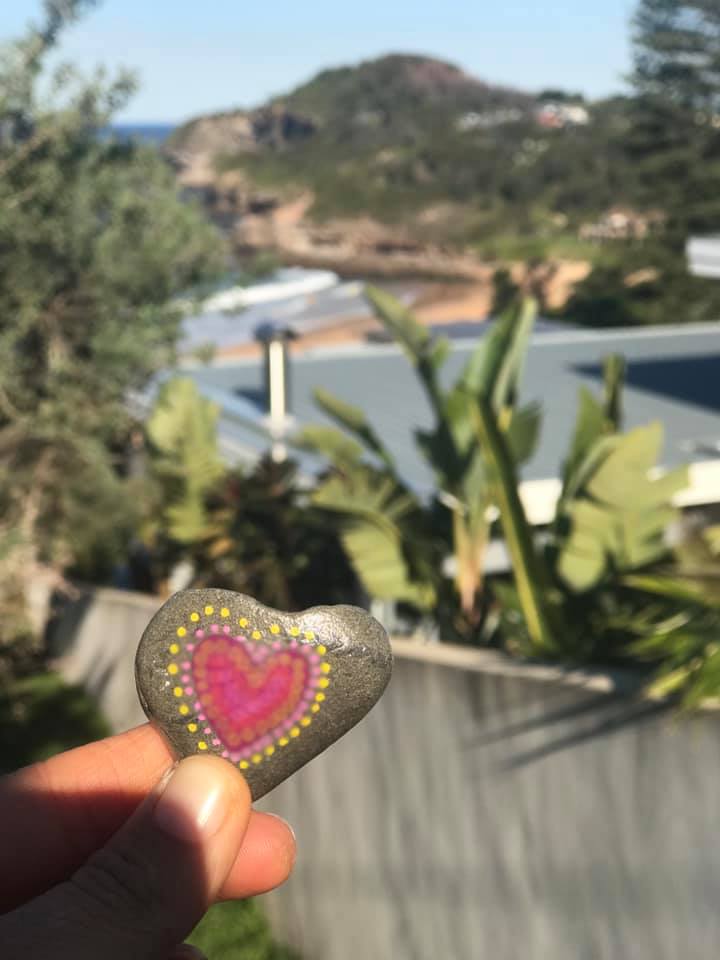 Found this one today in Warriewood beach!! Made me smile and happy and actually my day too!! I give it to a person who needs more luck and something that takes care of her, than me at the moment. I'll create one soon too, so I can give this smile that I had when I found it to someone else - thanks!! - Anka, August 2019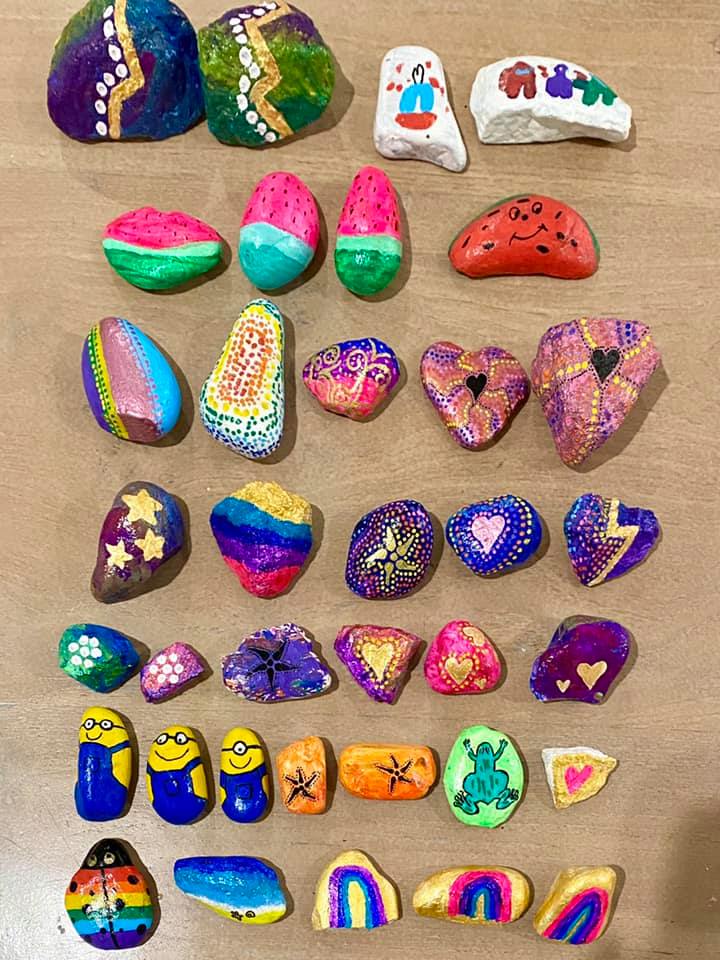 We've got some rocks to drop tomorrow! The 3 little minions are looking for their new home! Kara, July 15, 2021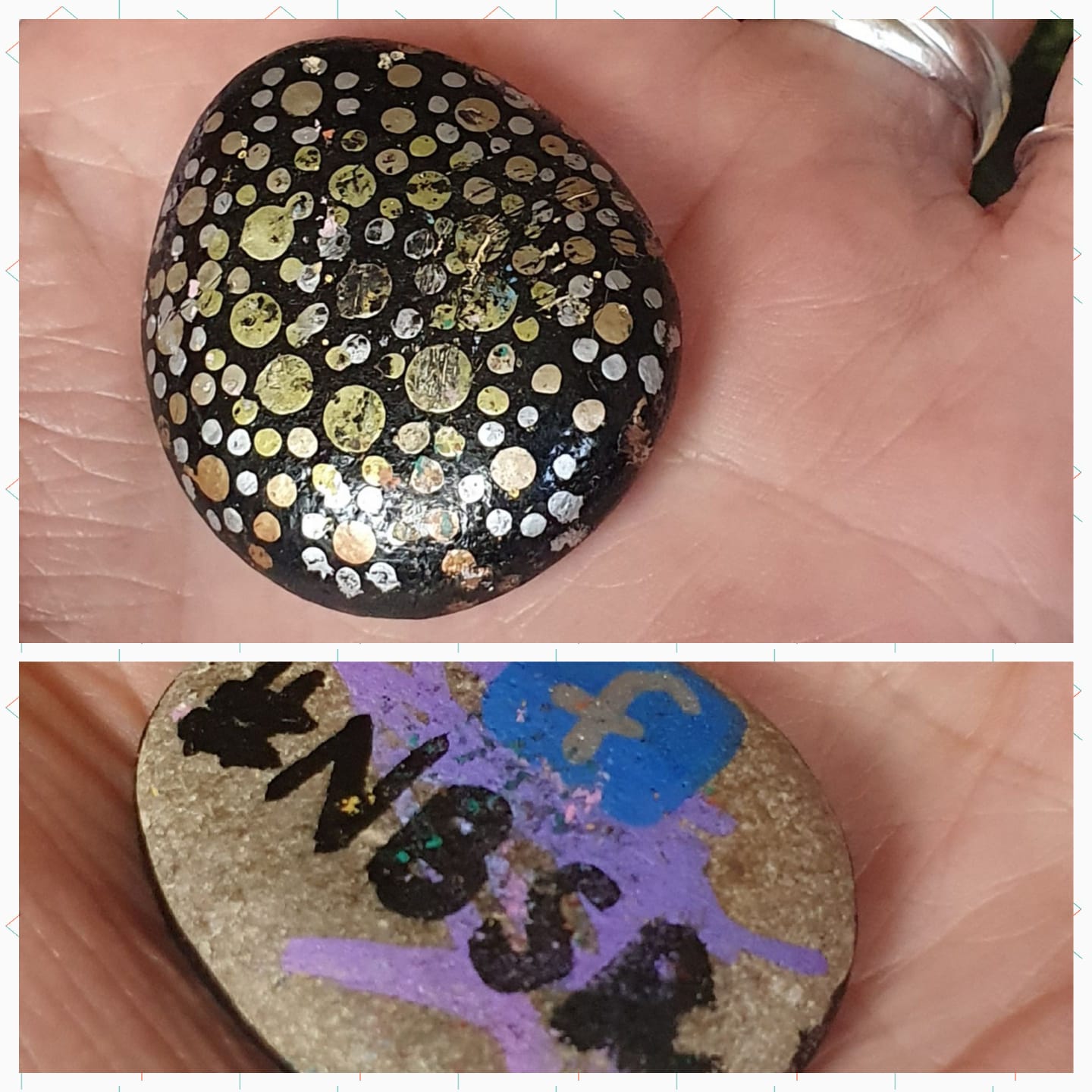 Found at Long Reef on Mother's Day, yesterday. It made my day - Thank you!, Mandy, May 10, 2021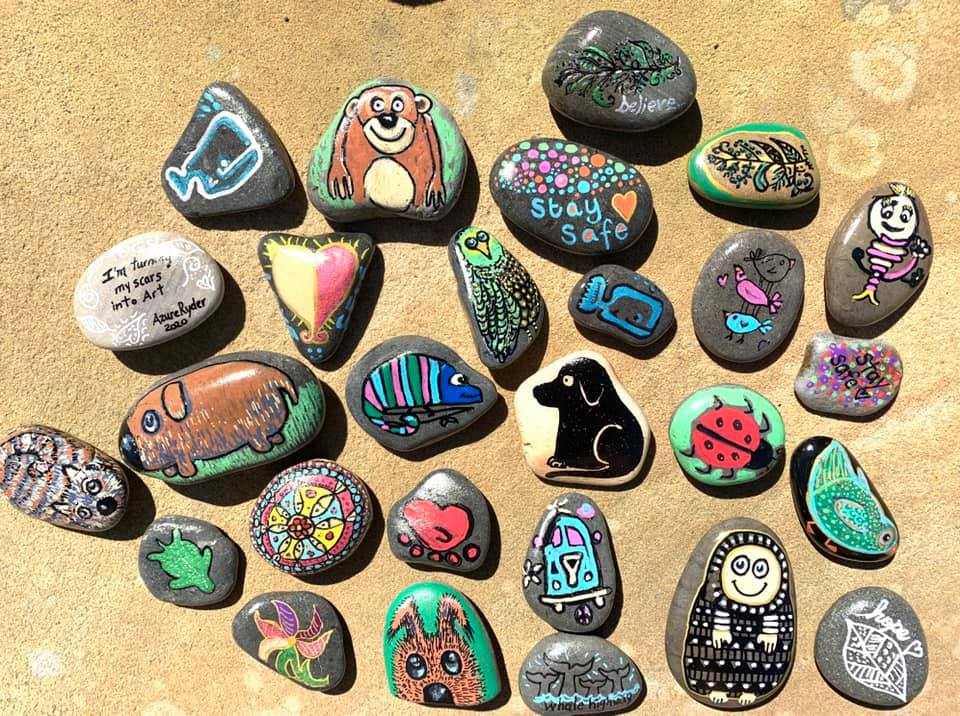 Great rock painting session at Book Club weekend! Keep an eye out round the Beaches for the appearance of some of these beauties. Rock on!, Sarah Downes, September 2020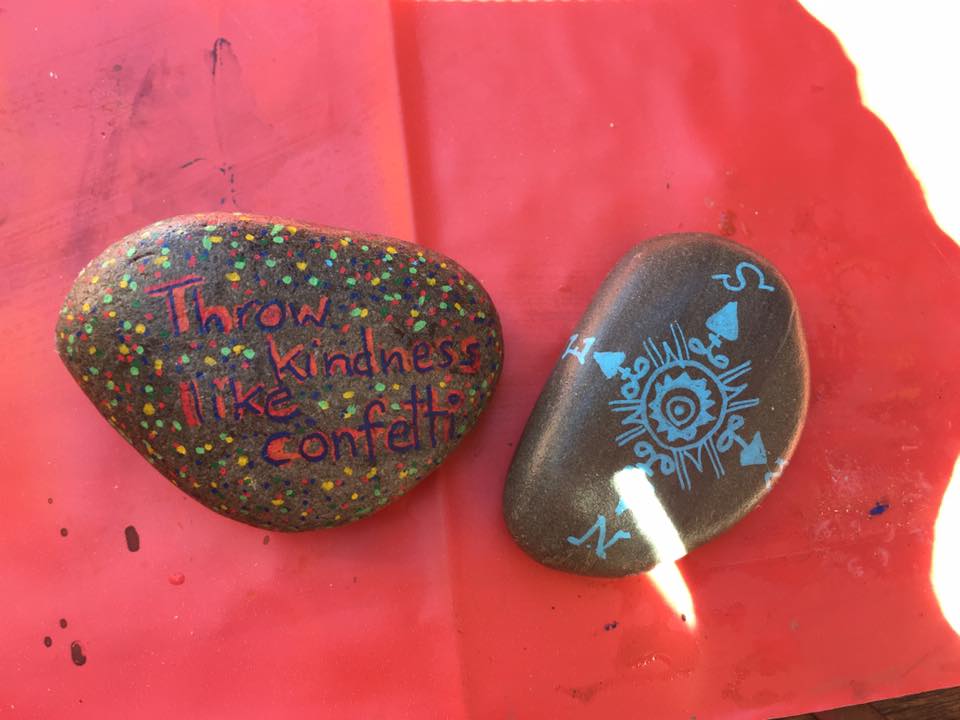 What an awesome idea! My girls were thrilled to find these at Bilarong reserve. They haven't stopped talking about it... so much so that we found some rocks of our own today and spent the afternoon painting and decorating them... pics to follow before we drop them. Kara, September 2017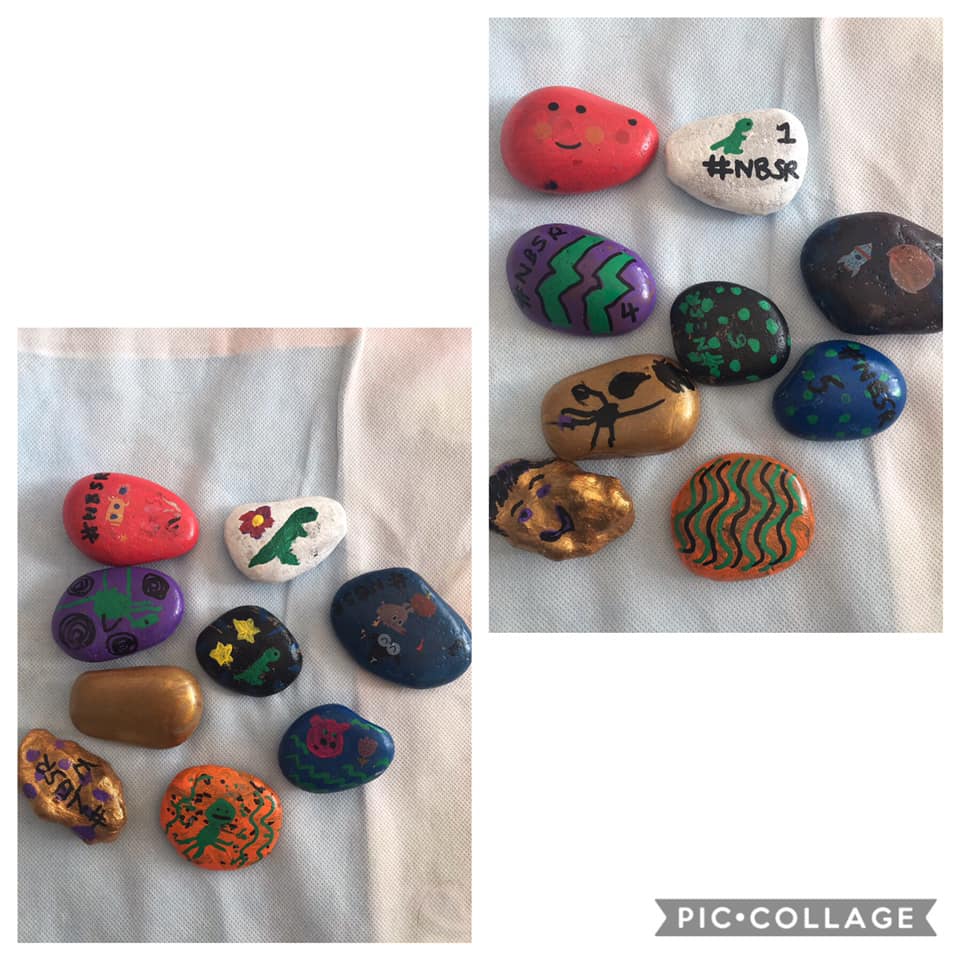 Dropped off today in Avalon between skate park and North Avalon beach. Emma, October 2019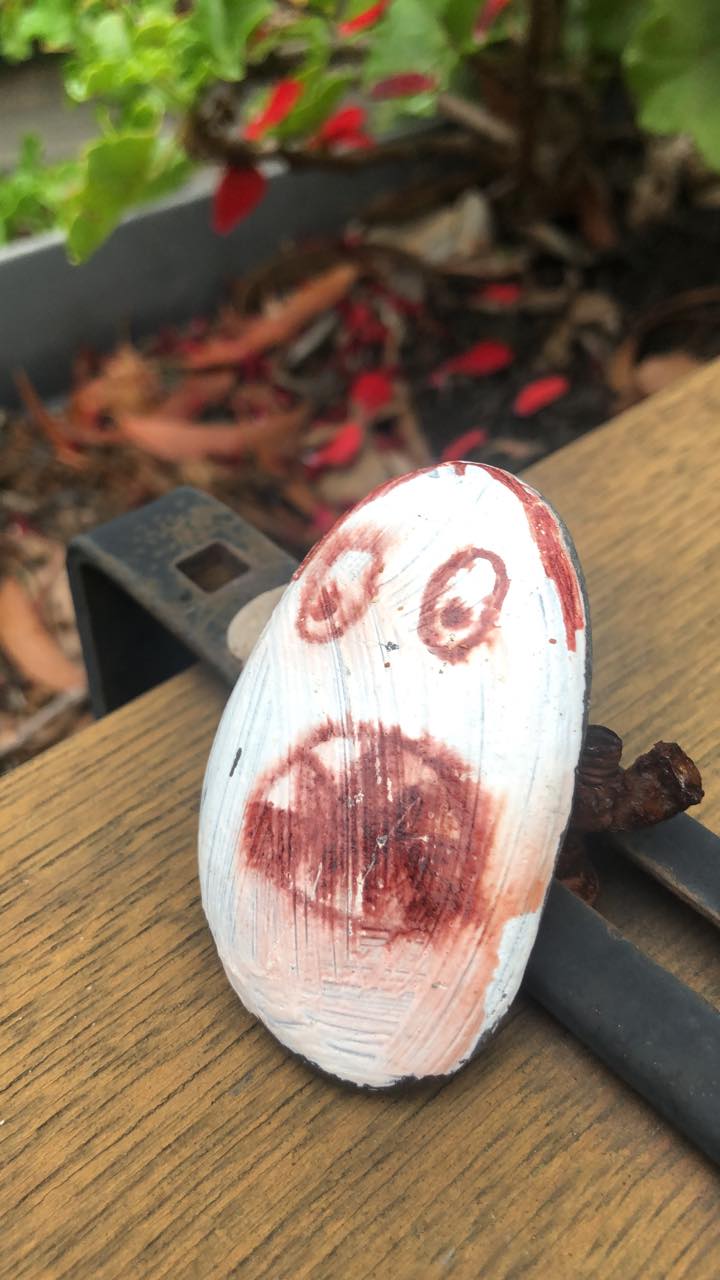 Found on Mona Vale Beach .. will be dropping it off again around Newport school - Lenka, February 2021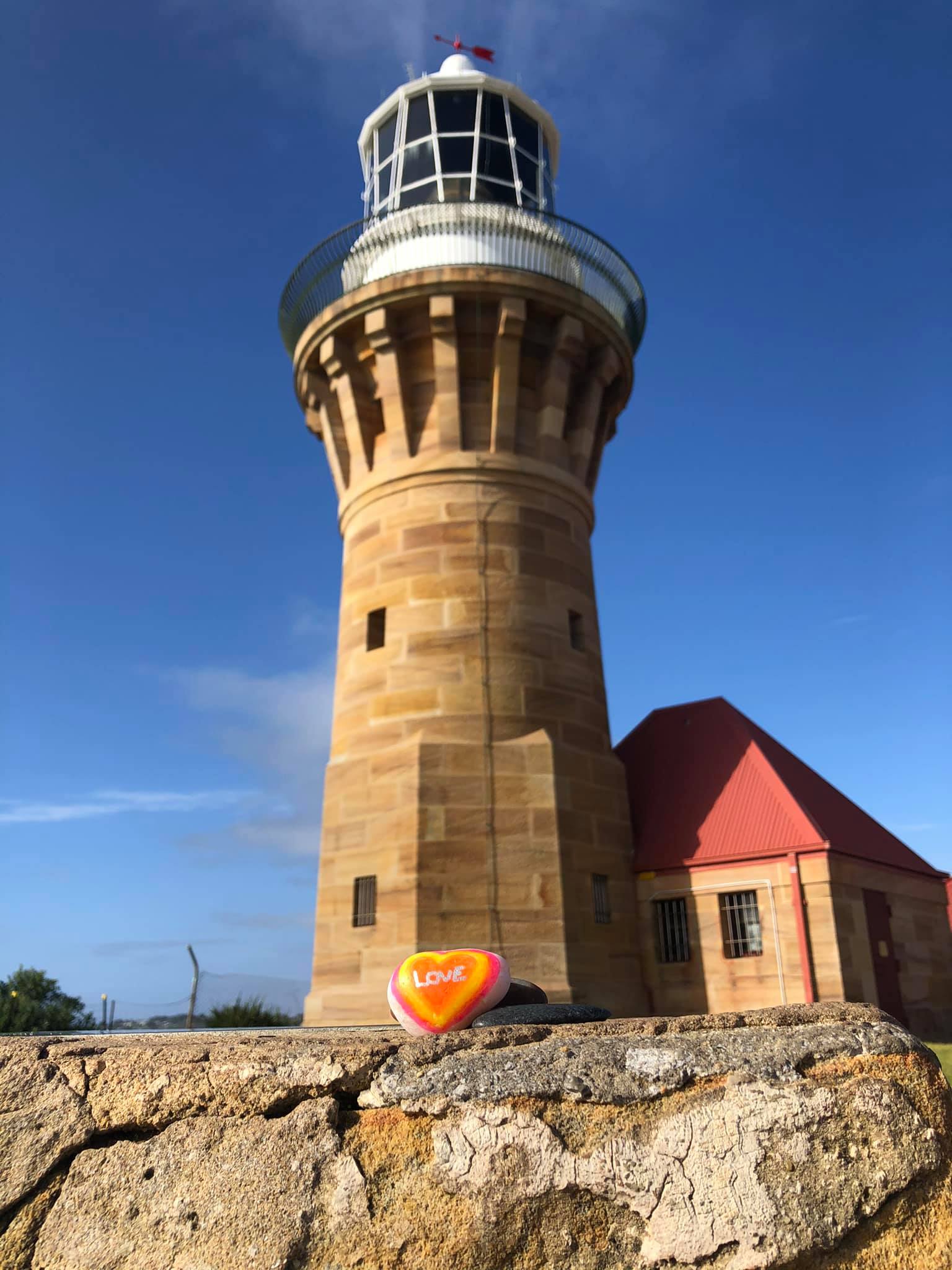 Barrenjoey Lighthouse dropped rocks by Amanda, February 2021