August 14 - 20, 2022: Issue 550
Communities call on state government to put 'local' back into councils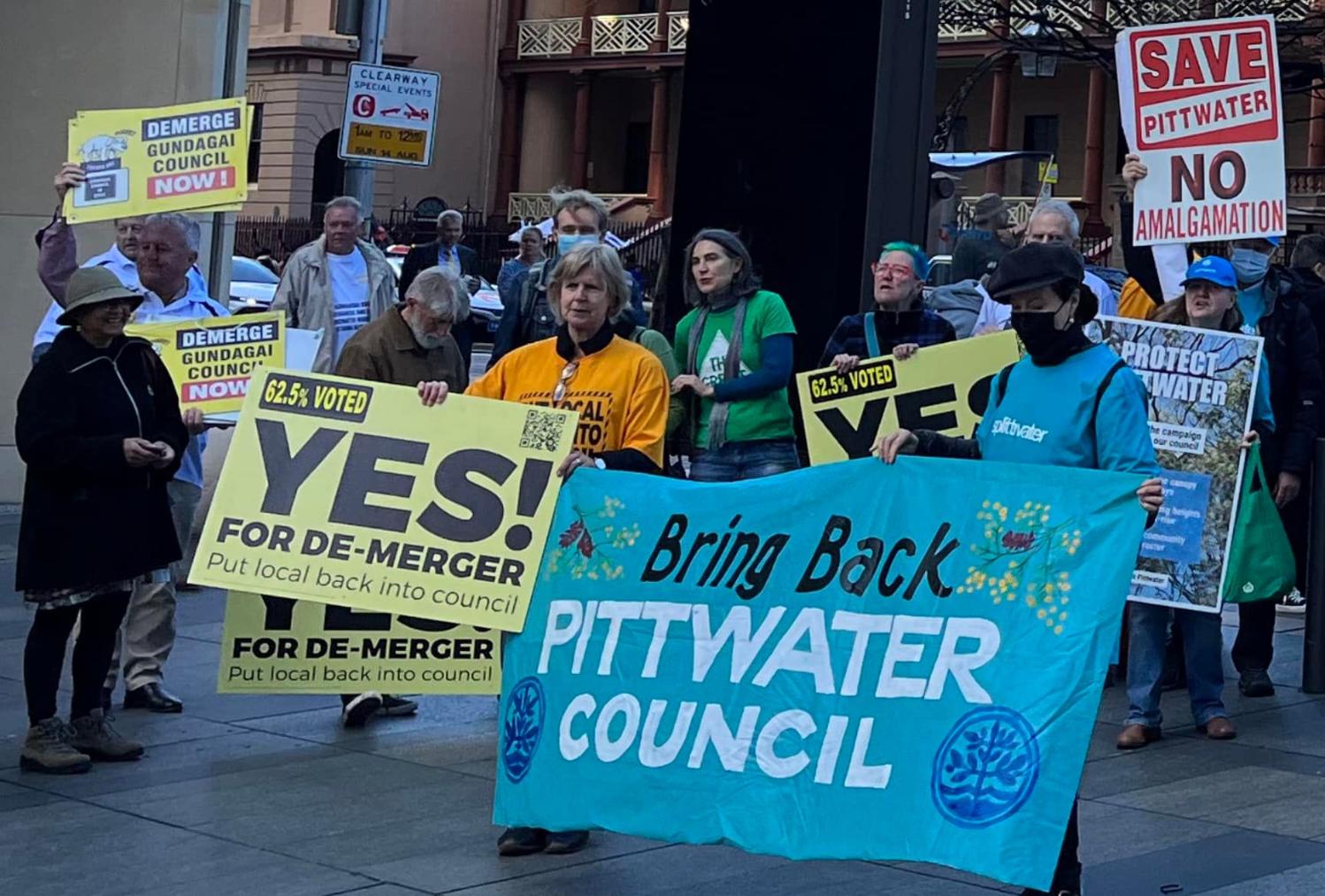 WARNING: Coarse language from Robert Borsak
Communities from across NSW converged on NSW Parliament this week, calling for plebiscites to allow them to decide the fate of their merged councils.
Pittwater residents, including members of Save Our Councils and Protect Pittwater, joined Tuesday's lunchtime rally on Macquarie St, which was organised by the statewide group, Demerger NSW Alliance (DNA), and Inner West's Residents for Deamalgamation (RFD).
In an address to the rally, NSW Labor Local Government spokesman Greg Warren restated his party's position at the 2019 state election.
"A Labor government will not forcibly merge or forcibly demerge any council in NSW," Mr Warren told the crowd of about 100 protesters.
"We will allow referendums so that communities can have their say.
"And if those communities decide through referendum to demerge or merge, so be it."
Labor Local Government spokesman Greg Warren. Photo: Peter Boyle

His message was supported by Shooters, Fishers and Farmers MP Robert Borsak and Greens MP Jamie Parker, who had been scheduled to speak but was in Covid isolation.
Mr Borsak said his party was committed to bringing a bill to Parliament to "get this sorted", although he didn't think it would be possible by the end of the current Parliamentary year.
He noted that there had been no government review of the 2016 amalgamations because he said the state government did not want to reveal the disaster it had created.
"It wasn't even a brain fart from (former NSW premier Mike) Baird (who instigated the council mergers)," he said.
"It was a diabolical plan. That's what it was. For their developer mates."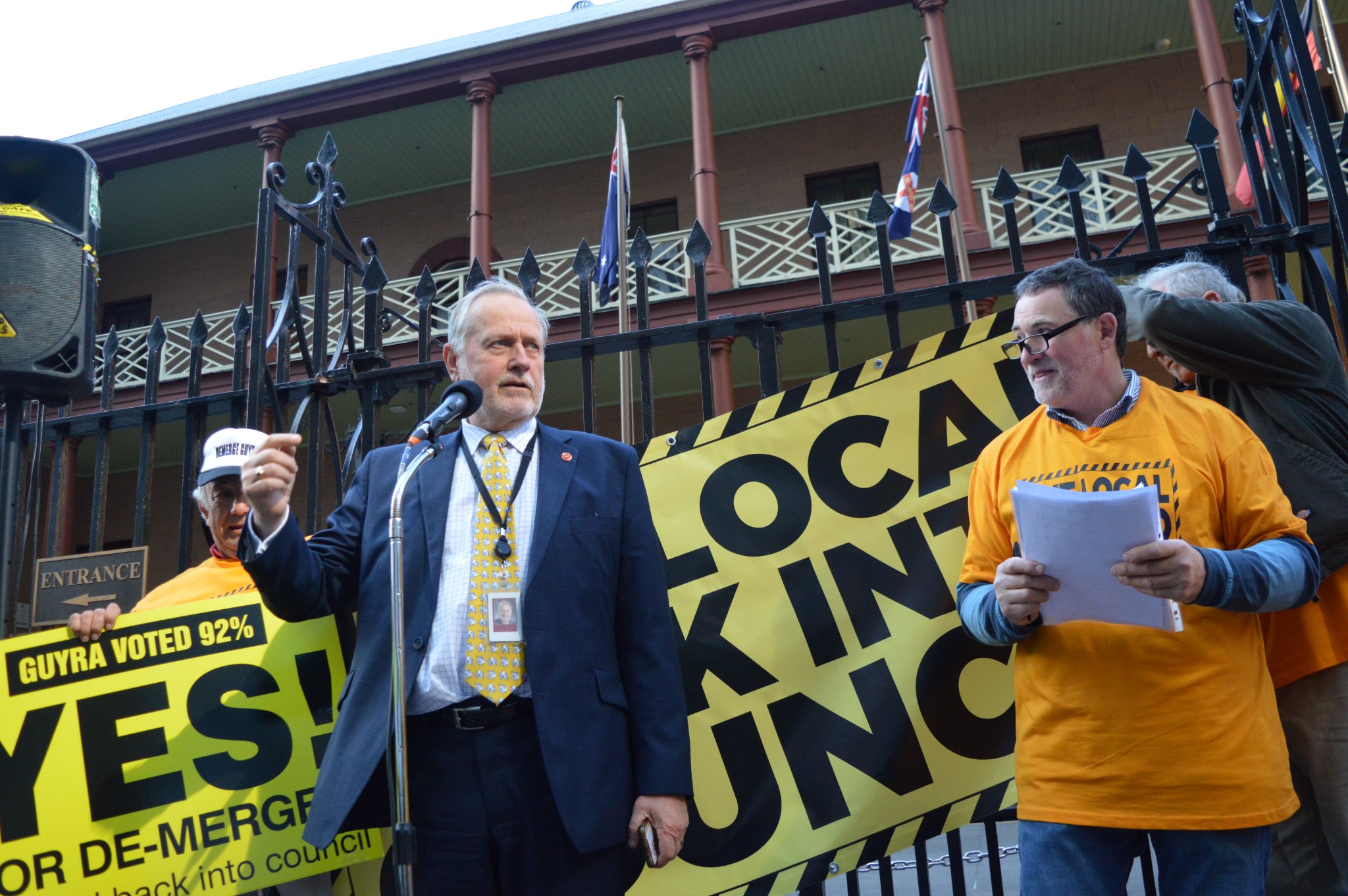 Shooters, Fishers and Farmers MP Robert Borsak. Photo: Peter Boyle

MPs, councillors, former councillors and other residents from across the state - including Cootamundra-Gundagai, Guyra, Hilltops, Bombala, Tumbarumba, Inner West, Canterbury Bankstown and the Central Coast - also joined the rally.
Former Pittwater Councillor Sue Young, who is a member of DNA and deputy president of Save Our Councils, warned the NSW government must act on demerger calls before next year's state poll or it would become an election issue.
"I call on the present government: you've got a chance now to show these communities that if their residents want to deamalgamate, that they should be given a binding poll," Ms Young told the rally.
"Not like in the Inner West, where 62 per cent of people from each of the former local government areas, the majority, wanted to demerge, and now they're mucking around with business cases.
"This is about the community. The community is more than just about money.
"Apart from a binding poll, the poll must be held in each of the former council areas because as some of you would know, we from Pittwater are outnumbered by the former Warringah Council.
"No matter what a poll for the new Northern Beaches Council would do, we would be outnumbered."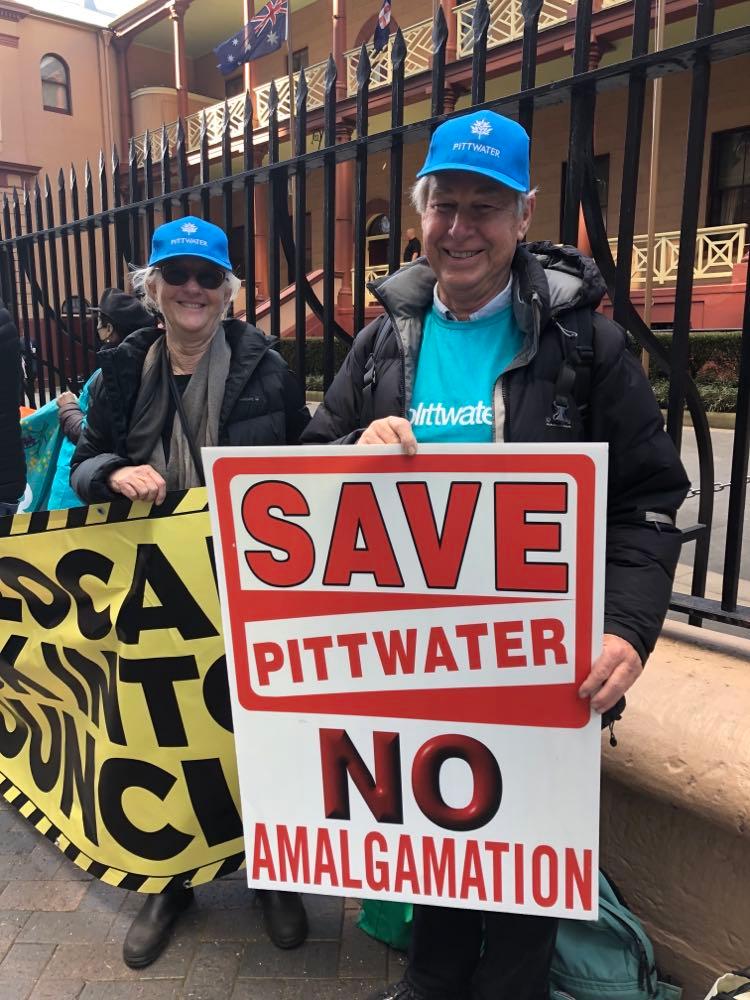 Sue and Tony Young at the Rally
Photo: Peter Boyle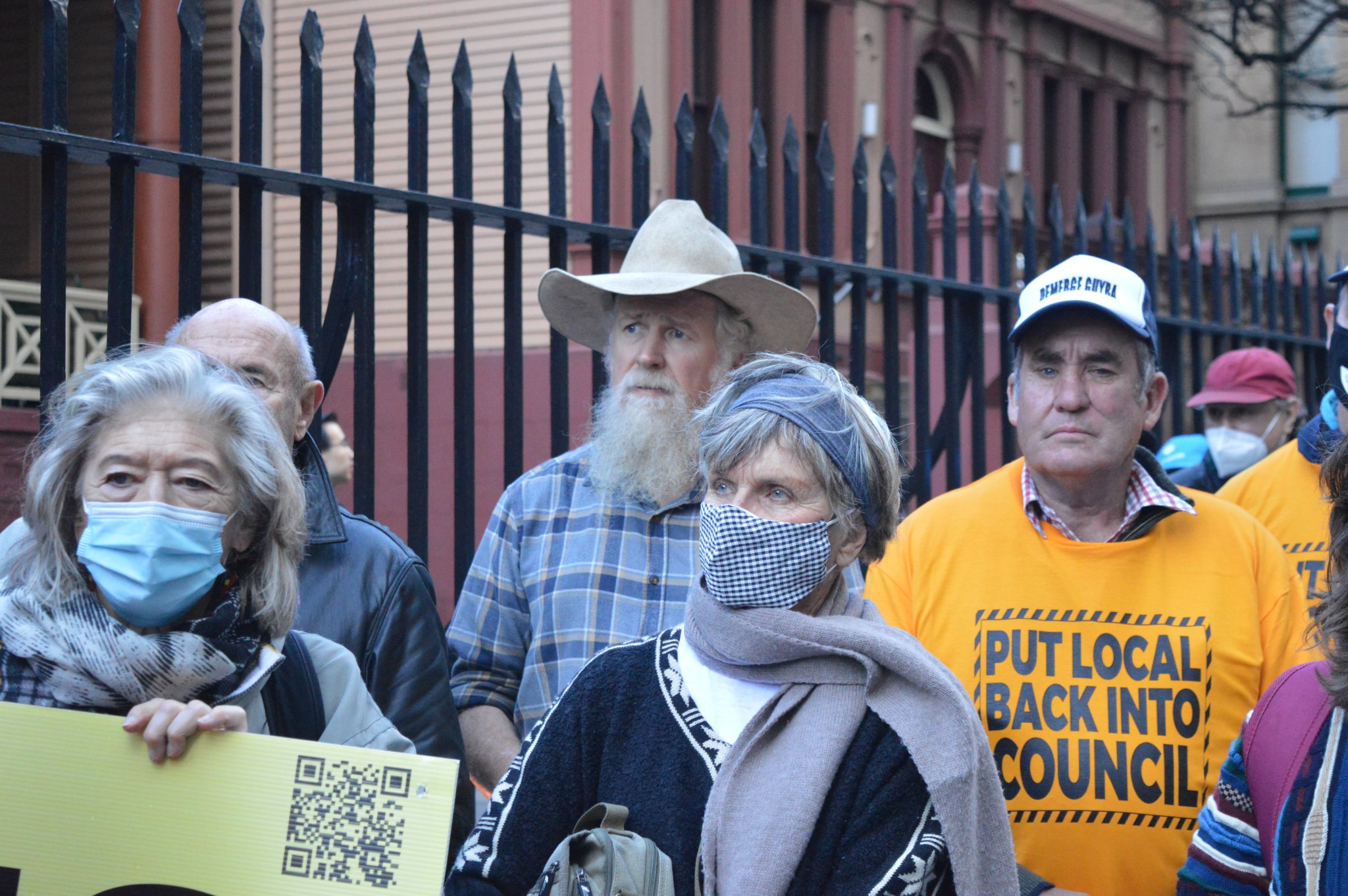 Photo: Peter Boyle

At last December's council election, Inner West Council held a non-binding poll in which residents voted to demerge the existing Council and return to the three former Councils of Ashfield, Leichhardt and Marrickville. The result was carried with 62.5 per cent in favour, in a poll with 80.7 per cent turnout.
The council is now preparing a business case to deamalgamate for the NSW Minister for Local Government, who will decide on the outcome.
In regional areas, on July 28, NSW Local Government Minister Wendy Tuckerman announced that she had received a report from the NSW Boundaries Commission on the proposed demerger of the Cootamundra-Gundagai Regional Council.
The majority recommendation of the report was that the CGRC should be demerged, however, Ms Tuckerman must now consider the report and the NSW government respond within 28 days of the report's release. It is not bound by the findings of the report.
An earlier demerger proposal put forward by the Cootamundra-Gundagai community was rejected by the Boundaries Commission last year, whilst it supported one for the Snowy Valleys communities. However, then Local Government Minister Shelley Hancock rejected both proposals.
And Canterbury-Bankstown Council also voted two weeks ago to prepare a business case to de-amalgamate.
DNA coordinator Grantley Ingram told the rally that his former council, Bombala, in southern NSW, had held $10 million cash in the bank, no debt and "a community that knew where we belonged".
"Since I last spoke to you (at a rally last year), the Snowy Monaro Regional Council are preparing to introduce an increase in rates of over 105 per cent … and we simply cannot afford to pay that," Mr Ingram said.
"I say this to those in the House behind us: do not think that this will go away.
"Do not take your local communities for granted.
"We will fight this to the March state election, don't worry about that. Ignore us at your peril."
NBC Pittwater Ward councillor Miranda Korzy attended the rally and afterwards said Pittwater residents must be given a choice to demerge from Northern Beaches Council.
"My time on council has only reinforced my view that amalgamations eroded local democracy," Ms Korzy told Pittwater Online News.
"We were never given a vote on amalgamating - despite 89 per cent of residents wanting to retain Pittwater Council - and we now have only three representatives, who can be outvoted by the rest of the council.
"I'm committed to doing my best for Pittwater on the current council, but the Greens believe the NSW government should offer residents of forcibly merged councils a binding referendum on deamalgamation."