March 1 - 7, 2020: Issue 440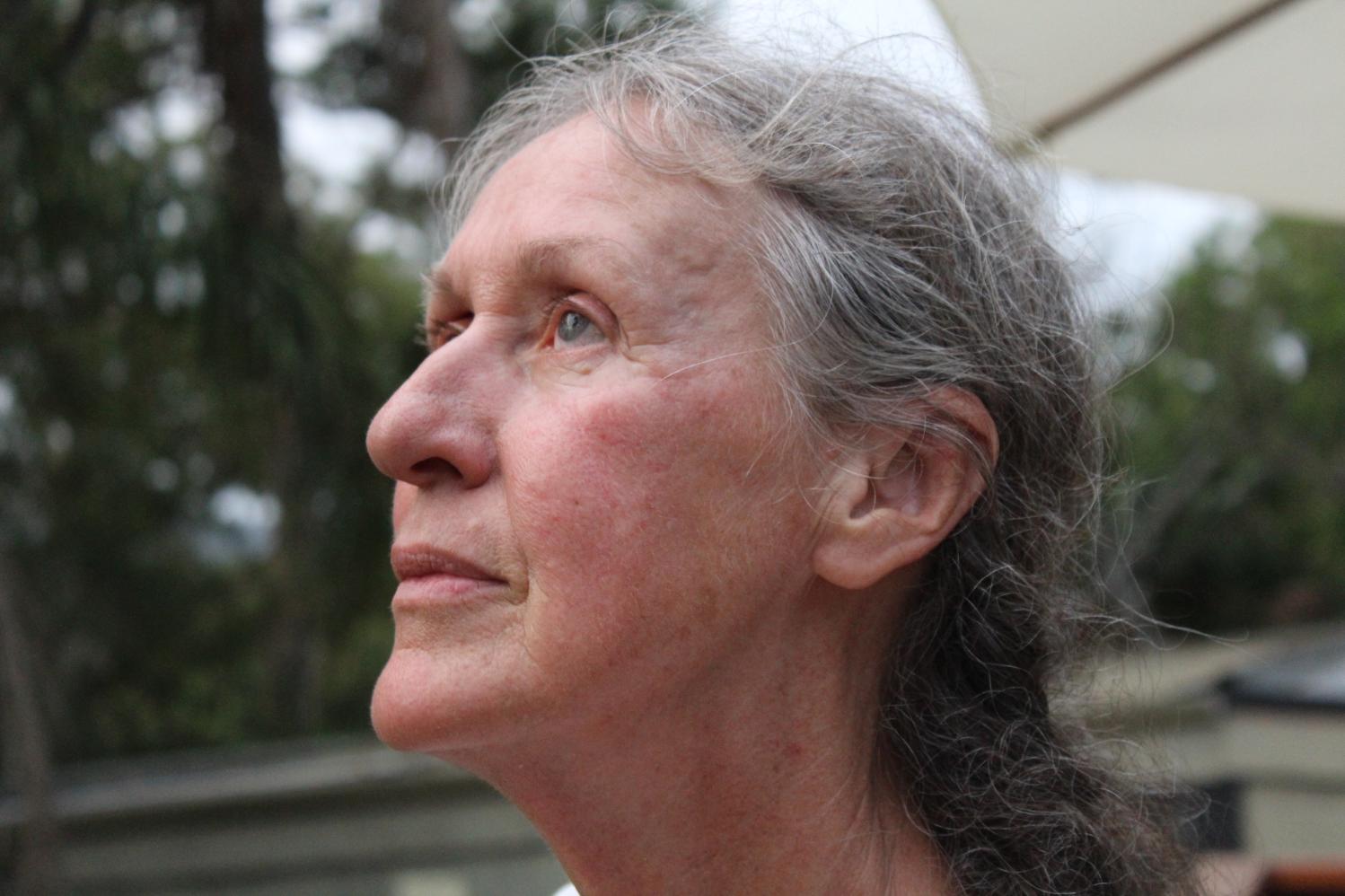 Sydney Art Space – an art school in Mona Vale, offers art classes for adults, teens and children and is the inspiration of multi-form artist and educator Christine Simpson. The vision of creating an arts education environment has now come to fruition and the art school provides quality art courses, quality art tutors and diverse and interesting art events and creative workshops.
Being principal educator at The Shed Sculpture Studio for over 12 years, with a Diploma in Education, and the completion of a Master of Fine Art and Master of Studio Art at Sydney University's Sydney College of the Arts, Christine Simpson's acquired arts practice-education knowledge has led to the reality of opening and delivering this quality arts teaching facility.
Sydney Art Space gives people of all ages and stages the ability to develop and enhance their creativity and confidence by learning real skills to begin and/or grow their arts practice in a fun, safe, nurturing and non-competitive learning environment. Small art class sizes enable individual attention and the opportunity to belong to a caring creative community. Whether it be sculpture, drawing, painting, weaving, printmaking, carving, creative writing, children's art and their School Holiday Art Programs there is something for everyone to get inspired and be creative.
Sydney Art Space
64 Darley Street, Mona Vale
Website: www.sydneyartspace.com
Christine Simpson website: www.christinesimpson.com.au
Sydney Art Space Director Christine Simpson also teaches Drawing Fundamentals at the Art Gallery of NSW, while visitors to the Newport Sculpture Trail will remember her curating that a few years ago, as well as setting up a great program of events. This week a chat with the Artist of the Month for March 2020, Christine Simpson.
Where were you born?
I'm a born and bred Sydney girl. From the south eastern suburbs, Rabbitohs territory.
I grew up in Little Bay, near La Perouse, and went to school at Matraville High School which in those days was called The Matraville High School, we had a very good Principal.
What did you do for fun while growing up?
We were always out and about, we had a fantastic coastline to explore, it was quite wild, and still is quite wild down that way. Groups of us would go off on adventures – it was that sort of childhood where you were home for dinner. So we would be down to the beach, I've always been a saltwater person and we've always been close to the sea. There was so many places along the coastline down there to explore.
I also played a lot of sport.
Which was your favourite sport?
I played Netball and Tennis, but Netball was my main sport.
Did you go onto study after leaving High School?
Yes. I had an interesting time and because of my sporty childhood, I got a scholarship to go to Uni to do my Diploma of Education for Physical Education. At that stage it was 32 dollars a week, which was a lot of money. I took that opportunity and ended up travelling to the Northern Shore – that scholarship was with UTS which was then Ku-ring-Gai College, at Lindfield. So now I was travelling from Little Bay to Lindfield, two hours there, two hours back.
I had a lovely time, it was very social and great fun and probably the right time for me to be having that sort of lifestyle as I was quite a serious kid really.
When I got to the end of doing all of that I thought 'I don't really think this is my vocation'.
Nevertheless I taught for a couple of years, taking a posting. After this I was able to do one more 12 months stint and then take off for 2 years without pay. Which is what I did – I shot through and went overseas, intent on having an adventure. I knew by then I wasn't cut out to be out on ovals, pretty much yelling at children. I know there's much more finesse to teaching than that but also knew that this path was not right, for me.
I went overseas, travelling for two and a half years. I worked in England for a while too.
One of the first things I did as a teenager, when I had saved my pocket money, was to buy a sewing machine. I was 15 at the time. I made all my own clothes and loved doing that. They were all pretty random affairs but it was really creative and fun.
When I got to England, after travelling around Europe for the first 7 months, the first thing I bought?; a sewing machine, as all backpackers do – Not! It's kind of a heavy item for backpacking…
At any rate, I ended up in this share house in Wilsdon Green with a whole lot of other Aussies and a couple of Kiwis, so I had a place to park my sewing machine.
I started whipping up clothes again and wearing all sots of wonderful arrangements around London town. It was really then that I tweaked that I was making things and was quite driven to make things. The penny still didn't really drop as I hadn't come from that sort of family life with an artistic family background and certainly no one had been to Uni., I think I was the first. Ours was a very practical post-Depression household; so everything was frugal and you were careful to not be wasteful. My parents were generous people, there was always a great meal on the table, but it was a waste not upbringing, and great training really for life as an Artist because that's how you need to be to survive; frugality and being mindful of how you are living your life.
I think it was a bit of a shock for my parents when they saw I was not going to settle into Teaching, had chosen to go travelling; I was based in England for the year and a half I was travelling around Europe and then ended up in Canada, based in Banff while there as well as the Rocky Mountains for about six or seven months.
I came home via the Cook Islands.
Did you explore any of the Art Galleries or Museums while there?
I did, we went to the Louvre and other places to look at what was there, but it certainly wasn't equating it to a vocation then. I've always been eclectic and so it was my eclectic nature being interested in lots of things that drew me to looking and seeing, cultural as well as otherwise.
Certainly I recall what I saw – by the time I was in Barcelona it was Gaudi's Architecture, which was just so unreal – I was seeing amazing things all over the place; monumental structures and then quaint beautiful dwellings. So all of that was imprinting itself, but I hadn't really worked it out – it's been a very convoluted path.
A lot of processing had to happen.
It wasn't really until I got back to Sydney and went to what is now the National Art School, the Eastern Suburbs TAFE, and went into Fashion, into clothes. That seemed to be the constant – clothes, making clothes. I started off doing that, to get a Degree in that and doing pattern making and all associated learning.
What sort of garments were you making?
They were all very arty – I was really interested in the structure, in the architecture of clothing – which is kind of telling really as what had developed. Prints were never huge on the agenda – I loved Dior, all those structural components, the cantilevering out from the waist – I had all of this wonder for that.
I remember early in my travels I met some Scottish people who all worked for the BBC and were all very creative people. I was very drawn to them and fascinated by their lifestyle. There was one woman in the group who had this just amazing wardrobe and looked like something I'd never seen before – they were Glaswegian people and this was the whole Annie Lennox era. It was quite amazing for me to see someone dressed that way and living this lifestyle that was very foreign to what I had come from.
It was very exciting, and wonderful. I remember going back to my sewing machine in London and emulating her for a bit and whipping up garments that felt in tune with that whole Lennox era.
So the learning more about how to make the clothing when I came back to Sydney led to me starting to sell clothing.
A place came up in Clovelly, a shopfront with dwellings above, and I decided to embark on this crazy career as a Fashion Designer. This was around 1988, 1989. And so I opened a clothing store in Clovelly, as you do, on the corner of Arden street and Clovelly road.
There was a three bedroom flat up above and friends that I'd travelled with moved in – we had a tiny little courtyard out the back; it was really groovy and funky and fun. Clovelly beach was just down the road, and Bondi and Tamarama. I was always drawn to the graveyard – that fantastic Bronte-Bondi link is an amazing place and I would often do long walks through there.
And so I ended up with a clothing label called 'Arnem Myth' as I was already, even then, heavily into Aboriginal stories and lore. I was very interested in their Dreamtime and their way of living. I'd also gone to school with lots of Aboriginal kids at La Perouse, where there was an aboriginal colony. All the mystery and the parables of their stories had always held a great interest for me.
These are all ways to live your life, they are moral codes.
I dropped the 'h' so it wouldn't be as it shouldn't be, but the clothing label and range stemmed from those earlier connections to those stories and the mysteriousness of creation. They were all very creative pieces, one-offs that you wouldn't see again. Of course, that was not ever going to pay the rent and had to change – and I had that business for 12 years.
That's a long time in any fashion business – did you develop what you were making?
I did. I ended up with ranges – they're called 'stories'. So you would have all these storyboards and different garments with each story that you're collating into a range. And each Season. You worked ahead of each Season by about six months.
By serendipitous circumstance my next door neighbour was into make-up, so there was a whole side-business next door to me and they ended up becoming all the machinists – through them I met all these people in the rag trade; pattern makers and cutters and associated works. I'm just sad that I didn't stay at East Sydney TAFE to finish my pattern-making. Even so it just evolved and just kept going – it went on and on and on and I ended up with another store in Neutral Bay, so we ended up with two stores.
What was really interesting, and very important for my learning, was that along the way I got really focused on paying the rent and concerning myself with having that happen rather than the creative output into the clothing. What I discovered was that that robs you of your creativity. What I was doing was Commercial Art really; if you're commercially driven as an Artist you are making for a specific market and to attract people on a specific level. It's a very different worlds to making art for art's sake. It really is.
I found it was disastrous. It bleeds you dry.
You are so focused and worried about trying to get over that line of making money to survive that what was there goes – this was a very important lesson for me.
The label went on for 12 years and then I partnered with someone. He had gone into business and his arm of the business was down in Melbourne. I ended up backwards and forwards to Melbourne and then I decided the time was right and I would go down and live with him in Melbourne.
I couldn't move the actual business per sae and so moved myself and found other makers down there at Prahran and was making my ranges from their place and looking to wholesale rather than having another shop.
That continued until I had my children. I realised that physically, mentally and emotionally I couldn't do the whole lot; there was so much to do within the business all the time and being a young mum on top of that – it was game over for the minute and I put the business into hiatus.
I had two children 15 months apart, so it was a very full on time. I actually felt that all my creativity had left me. I felt like it had gone.
What I didn't realise, and I equate it with breastfeeding, with all your internal juices going into this other being, that you are focused on nurturing and that this too is part of creativity, of expressing that. I didn't realise this until my youngest boy was around 10 months old. I'll never forget that moment - had the double stroller – we were going down to the park and I'd stopped breastfeeding him by that stage, and we walked into this park at the back of Richmond in Melbourne and all the colours in the park came back.
I was walking along, I think it was the Springtime, and I was looking around, and all the colours came back – it was like a Spring in my creative being. I'll never forget it – it was like I was on some hallucinogenic, it was that strong – a vibrant, instant and constant connection.
I thought 'what the hell is going on?' – and slowly realised it was just coming back, my body was simply regenerating to being itself; it was feeding itself again rather than focused on feeding the babies.
It grew from there and then my husband found a pottery course, RMIT after hours. I think he thought I was going to go crazy at this stage and wanted to do something. He booked me in and I went and I just loved it.
Did you ask him 'why pottery'?
No – I think it was just one of those serendipitous things – it wasn't pottery on the wheel – it was hand-building, kind of sculpting, clay building. There I was, enjoying this, and I think it was a five week course a lovely man was conducting once a week, on an evening, for five weeks. On the second or third week he had to go away and this older woman came to replace him. She was an Artist and had been a practicing Artist for all of her adult life.
Anyway, she was quietly watching me slapping clay together, whipping something up, and she sat down next to me- and she was really a quite person, a gentle person, and she said to me 'how long have you been doing this?', to which I replied 'I've only just started', and 'I'm so excited'.
She said 'yes', and 'I'm going to tell you a secret…' and I said 'what?' and she said 'you're going to do this now until the day you die'.
I said 'really?' and she said 'yes'.
I thought 'that's amazing!'
But what she actually done was she had given me permission to do what I was doing, and that was the first real time that I realised 'oh my gosh, I think I'm made this way' .. 'I'm driven to make things with my hands'.
I then realised that over time, all the clothing was all sculpture – it was all 3D. it was amazing, all that time, and then the switch finally was put on. Prior to that I thought 'I'm a business person – I have shops, I produce a product and I'm worried about paying the rent'. Even though all the while I was always thinking 'what actually am I and what am I actually doing?' It was so strange, it was like living under a gauze – what I'd been doing was practical, I would 'get by' and survive but it wasn't 'art' and this went back to how I'd been brought up; to be practical, to make sure you could pay the rent – but it wasn't art, no one did Art, no one survived by Art, unless they're that 1% that are successful – just 1%.
But at any rate, that's what got it all started and rolling. That few words and that, finally, realising I make things, with my hands. That is part of me, of what I am. So I was very thankful for that and things went on from there.
In what way?
The kids were about 2 and 3 by then and I wanted to come back to Sydney and I thought, if I could, that I would very much like to go to the National Art School. But I wanted to come home, and my husband is a Sydney person too; so women, babies, before they go to school we want to get settled somewhere – with women, they want to go home – well that's what happened to me at any rate.
We moved into a place at Cremorne, on the border of Mosman, and ended up buying a place at Cremorne. My husband had moved his role within his business back to Sydney. I applied to the National Art School and I got in. I then realised my children were just too young and it would create havoc with what was required from the degree, it was just too selfish and 'bad luck, it's not the right time – you have chosen to have children and you have to be responsible for that' this is what I believed and still do.
Then I was doing a run past a shop one morning and saw a sign in the window which read 'Sculpture Classes at Naremburn'. I ended up starting over there with a Sculpture teacher, who was then going away so she directed those taking her class to Tom Bass.
Tom Bass is a pretty big figure in Australian Sculpture and then had his sculpture school at Erskineville. I ended up with him which worked really well because it was part-time and could choose what sessions I would attend and that worked around the children; dropping them off and picking them up from pre-school a couple of days a week – the days I then could do the sculpture classes.
He was a very tempestuous man, a great Artist, and deeply profound for me – he was my Master I think; he gave me so much. I learnt really traditional skills from him, learnt so much about the figure and about the language of form. I was a duck to water; 'it felt just normal for me' – it was bizarre.
I'd been there a few years, would have been about 35 by then, and said to him; 'why has it taken me so long to work this out?'. He said 'you be thankful that you've worked it out at all because most people don't. Get on with it.'
So that was permission again, even though it was really gruff and to the point, it was still permission, again, and affirmation, and again from someone with a lot of weight, someone who lived as a working Artist.
I thought, 'ok, I'm going to follow this path – this is my path.'
I gave myself permission to be that creative person, but it had taken until I was 35 – and along this interesting and convoluted path, even if it was always heading in that one direction.
How did it develop?
We then moved again, this time to Ingleside to a property that had a ramshackle dwelling at the back of it, near the bush. That dwelling became my first Teaching Studio., this was around 1997.
How do you switch from being a Teacher to an Artist?
I think that's been my blessing, in having had that earlier experience as a Teacher. I actually like educating and am very comfortable teaching people. I like helping people and nurturing them – so it was a very natural fit for me to have that and that extension into this becoming my livelihood alongside my Practice – they went very well together. They balanced each other, gave me the social capacity too – when you're an Artist it's a lonely life; you spend so much time alone, creating, so contact with others, in that same practice, is invaluable.
What were you teaching at Ingleside?
Sculpture predominantly; so Sculpture Life Class – traditional, atelier, with the model, and then workshop – so people were working on their own projects. Then I got a couple of commissions – one big one with Macquarie Park Cemetery.
What was that one?
Major works in Bronze for Ascension Hill. I did the whole Jesus Ascending story which included a whole processional pathway leading up to Jesus Ascending. I did a triple halo. They provided a Brief – 'Jesus Ascending' and they wanted a biblical story and so I based my research on providing all the parables associated with that. This was quite a traditional work.
This project took nearly two years, and all the while I was teaching, providing for my practice, helping with the family. But really, in fairness, if we had lived off my wage, we would have been doing it extremely tough. There was not a lot of money in it and there still isn't.
But of course that's not why you do it and it did pay for my practice – and the other part of my working life, of course, was in domestic service to my family.
The work did contribute to my independence as a practicing artist though, and helped create a community. By not pursuing those large commissions you are fiscally more challenged but are then are more free to pursue doing your own art work, and whatever that brings.
What was the first big work you did that was based solely on what you wanted to create?
The biggest one I did for others was that one at Macquarie Park – that was a huge job. I had done smaller private ones for others prior to then, which were again fairly traditional figurative works.
At the end of that process it felt also a bit like the making a range to pay the rent , that feeling that I had had before. I thought 'ooh – be careful – you could continue along this path and find big commissions, but that is not your artwork.' So that was the biggest lesson, with all the same feelings again. I knew if I pursued that path I would not be able to fulfill my own art practice.
I realised then that my greatest sadness with my art life was that I did not go to Art School and why I say that is because I didn't get the opportunity to meet my peers. I didn't get that opportunity to have those conversations and connections in my formative years.
I was still working in my own business and so not cross-pollinating to find those others and have those conversations. I realised I really needed to go back and learn more and didn't think it would work as an undergraduate, it had gone too far for that.
I ended up getting into Sydney University's Sydney College of the Arts on a Master of Studio Arts, which was a smaller Masters, and from that I could step into a Master of Fine Arts, which was the very competitive one to get into. I thought 'great, now I will meet my peers' – which was not quite correct, because everyone was working, they'd already gone through and got their Arts Degree and were out working, or burrowed in their studios doing projects.
You do meet each other at Lectures, and there were some supervisors there that really created a platform for their candidates to meet and have that cross-pollination. I didn't have that experience, although I had good supervisors, and that remains my one regret through the whole post grad experience.
I've collaborated, the Japanese sound artist I worked with most recently has been one of those fortuitous circumstances. So I've been fortunate to have that cross-pollination through a couple of collaborations.
Let's talk about the most recent Sculptures by the Sea and that collaboration with Hirofumi Uchino – which was sculpture conjoined to sound – how did that evolve?
Hirofumi is a Japanese sound and noise Artist that I've collaborated with for the past two years now. We met through a Residency Program I was running through Sydney Art Space. Another Artist had come out from Africa and needed welding help and I'd sent him to a welding friend of mine in Warriewood and then I was down there checking out what he was doing and then this Japanese Artists had visited too – he was living nearby, and we met that way.
We got to talking and I realised what he was doing was really interesting – it just resonated with me; I loved that whole experimental sound and noise scene. I thought it would be great to incorporate Hiro's skills with my practice because my artwork is centred around vibrational energy, that's what is happening within the works and what they produce.
Collaboration: Christine Simpson & Hirofumi Uchino
Emergent
Materials: stainless steel, aluminium mesh, auto UV resistant paint
(240cm height, 220cm width, 400cm depth)
"We both like to work site specifically, finding things on site that we can relate to, tapping into the vibrational energy and the things that are there to create a harmonious union and entity empathetic to that situation."
Emergent is a site specific sculpture with sound, intended for the acacia trees in Marks Park. The key concept for this artwork was that it related to the coastal environment of Bondi and that it was a collaboration between the artists and nature at this site and the artwork behaved as if it might be communicating with the trees.
Originally we hoped that the sound component of the artwork could be thrown from a distance into the sculptural form, but after our first site meeting it became clear that the sound needed to be housed in the artwork and could only amplify within the parameters of the sculpture. We considered recording the trees' internal sounds with microphones.
Christine recently went on a trek to the Larapinta outside of Alice Springs and at one canyon, if you put your ear to the trees, you could hear them drinking water! It would be really cool if we could record the sounds of the acacia trees in Marks Park. If we can't detect any sound from the trees we plan to pick up sounds from the sculpture as it is suspended throughout the trunk and branches of the acacia trees.
The sculpture itself will be made to wrap, twist, and shimmer to create a moire-like affect making the form appear to morph and emerge through the trees, becoming at once one with them and yet having its own existence.
We started with an idea of combining sculpture and sound to represent some sort of vibrational energy field coming from the trees in Marks Park. We then started drawing some ideas and selected one for our application to be in Sculpture by the Sea, Bondi.
When we were selected to be in the exhibition we realised that the artwork needed to have a much more sturdy form to handle the situation where people tried to climb on the sculpture. We decided to use a stainless steel frame and bind the external planes of the sculpture with aluminium mesh. We plan to paint the sculpture so it appears like a sort of rainbow body floating through and around the acacia trees.
We both like to work site specifically, finding things on the site that we can relate to, tapping into the vibrational energy and the things that are there to create a harmonious union and entity empathetic to that situation. Our inspiration comes from energy, nature, built environments and the cosmos.
Artists Statement from Sculpture by the Sea, Bondi 2019 Artists and their Artworks, Page 6, at https://sculpturebythesea.com/wp-content/uploads/2019/08/B19-Artist-and-their-Artworks.pdf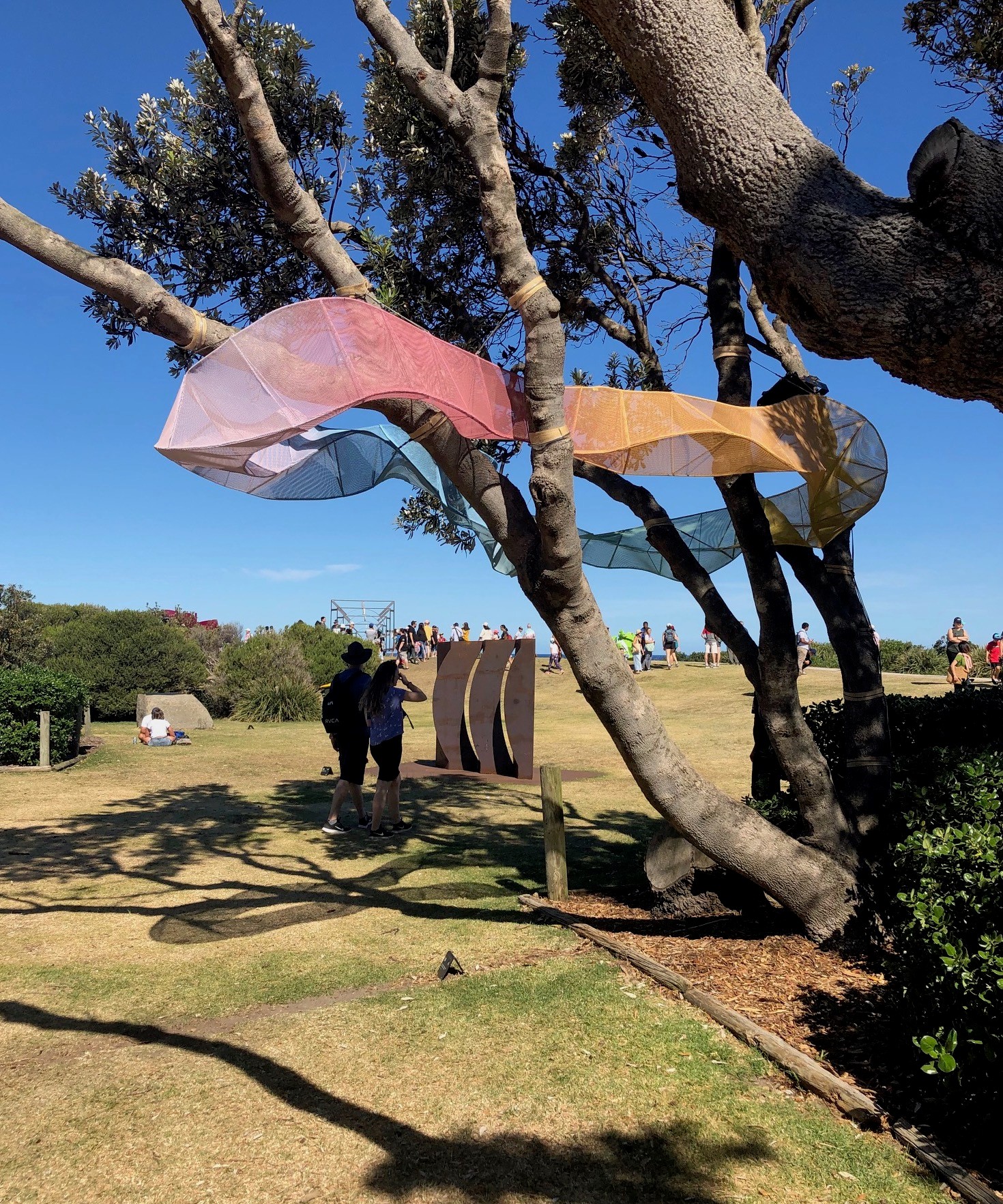 'Emergent' in place at the 2019 Sculptures by the Sea at Bondi
This was the first time that I had been working with a peer and so you're working on a level that in many ways is another way of communicating – his English isn't that fantastic, but it's still pretty good – and I have no Japanese. But this showed that there are many unspoken things, that as peers, you just get. You just read each other – what all Artists have is a strong sense of intuition.
So the intuitive side of your being is switched on and you're communicating on all these unsaid levels, and to have that is just wonderful.
And what an amazing thing to have happening in Warriewood and Ingleside?!
Yes, in Warriewood valley! In an industrial site, in a welding shop!
You had school students visiting that site as part of Sculptures by the Sea – to find out more about 'Emergent'?
Yes – there's a whole set of Programs worked out as part of Sculptures by the Sea educational unit. When I spoke with the kids we talked about Form and energy fields and patterns running through space. They were then directed in and got to draw a random ribbon like pattern themselves that they found interesting. They then turned that into a single 3D wire sculpture. We then used the aluminium mesh that we'd used to skin the sculpture, Emergent, as a flattened wire ribbon that then became this bigger 3D movement through space.
So that was their process, which was really quite interesting, and some of them did some fantastic stuff.
We also did a few Artists Talks relating to the sound and how the sound developed.
So we made the form, which came from one of my drawings, and I then wrote a Haiku for that work. Hiro then transposed that into Morse Code, and then from the actual Coding he then transposed that into a soundscape. He then bled that through the sculpture itself – so he installed a directional speaker and it went down through the work and onto the ground so that when you stood under the sculpture you were bathed in this – immersed in this sonic and sculptural experience.
And that is what I mean by that intuitive process – you're feeling it and then it just develops.
Christine wrote the following "haiku"* poem responding to the form
"bending through branches,
Twisting and turning colours
Release my spirit"
*("haiku" is a very short form of Japanese poetry in three phrases)
The Sydney Art Space – you moved out of Ingleside and set up in Mona Vale?
Yes, for various reasons. I and the family moved out of the beautiful house at Ingleside with the great studio in the bush and went to Narrabeen. I was homeless in terms of my studio there. I set up a makeshift space in the carport at Narrabeen but I couldn't teach from there.
Then one of my now Tutors, also one of my ex-students, had set up her studio and spaces at the back of Warriewood and she said I could come to her as a stopgap while I was figuring out what I was going to do.
I did that for nearly two years, which was very generous and kind of her – obviously she was recompensed but it was still a very kind thing for her to do and it gave me that confidence that what I was doing was workable. For some of that two years I was wondering whether it was time to walk away from it all. At the end of that two years, and we were having our End of Year Exhibition at Avalon – I knew it was time to make a few decisions. I knew I couldn't continue at Warriewood – I had to either find an alternative or leave it all behind and go and get a day job and a wage, and do my practice in what time was left each week. Or, I go and find a premises for an Art School, get out in the big world and set it all up and do the classes from there – do all those things which make it a real concern.
I thought 'ok, at the Exhibition, if I have no one, no new people, who approach me to start classes next year,' and I put my number at 5. So if I didn't get 5 new people enrolling I would go and get another part-time job and close the school, and continue with the practice in the carport.
And at the Exhibition, I had 7 people who wanted to commence learning.
I went 'ok, time to get real about finding a place'.
I found a place at Seaforth which was just really wrong – and then a student who had been with me for 12 years, said very quietly, 'you know Christine, my friends own a property in Mona Vale and their tenants have just moved out – I think it would make a really good Art School.'
I looked at her and thought 'I have to go check it out' – for her to actually say that, it was serious.
I went down, to Darley street, and I'm there at the original care-takers cottage for Taronga Park Zoo, and I'm looking through and I think 'oh my gosh – this is it – it is right on the money'.
But on the money, the rent! So I took it, just as a leap of faith, and was treading water for nearly a year trying to figure out how I could make it work. Then I realised I could actually split the area into two sections and find someone to rent one side and I'd just keep the main studio through the middle and the courtyard out the back. That is what came to pass.
With me making that decision to split the premises in half and condensing the art space into one working studio room – that week - a phone call came from one of my ex-students, a publisher who asked 'do you know of any cheap office rooms for rent within Mona Vale because I'm downsizing my business?'.
I said 'yes, yes I do – I think you should come down here now.'
He took the back half, and then my girlfriend, who wanted to be in business and have an Art Gallery and sell things and set up Fair Trade etc. she came too and decided to set up as well and now we have this community – Rex has since retired and Victoria has taken that whole section and also has studio space out the back – and now, we have been there five years.
At the 2019 End of Year Exhibition the level of works coming out of the Sydney Art Space was just phenomenal – how does that happen?
Many of those students have been with me for many years. My LifeClass, the core group, have been sculpting with me for 14 years.
So you have this whole community and then you have people who want to begin each year as well, new people – some who like it and some who find it's not their cup of tea. But you have this core group that have followed through, and they've developed- and some of them, just amazing – Cathy Cull for instance, her work is just amazing, just beautiful. What's really cool is they are all different – even though they've all got the same pose, the same model, they're all different – they have all got their own style – I really love that about teaching; it's always really cool to see how that evolves. I'm also very thankful as well for those people who have supported what I'm doing for many years, [you know who you are !].
Where have you found the Tutors who also give classes at the Sydney art Space?
They have come from all walks of life, all work in their own arts practice, and all have come along just at the right time. Some are Painters and once again there, Painters are different from Sculptors, so the conversations you have may be different from those you would have with Sculptors. But it works and I've decided to just run with that – it works, it has worked now for five years – that may seem really naive but it works – so I'm just going to continue to run with it and let it evolve. Even now I don't really see the Sydney Art Space as a business, I see it as a great big Art Work and an Art Community that just keeps evolving.
Did you set out to create a community?
All I knew was that I liked educating and I like helping people and I like nurturing. I like empowering people – I enjoy that immensely – that's what feels good, and feels true for me. So in that regard it's natural, it's not like hard work; I work hard but I'm enjoying it.
You can't replace that kind of connection and learning with technology – it remains something that is very human.
I remember something that Abraham Lincoln said along the lines of making sure what you do, whatever it is, that you do it well and do it in such a way that it can't be replaced. He also said "The best way to predict your future is to create it."
So if you have done your homework, and do your work, and follow your vocation, then you will always have provision for your practice. I knew that was my role as an Arts educator – and also that it does feed your arts practice – whatever you do, try to do it well.
Getting back to your own practice – do you have any works that you do want to create next?
At the moment I'm getting over a massive year – 2019 was just full on– and I've moved again – to Scotland Island. I do have a small studio space there, but to manhandle anything large or bulky over there is a major exercise. I've decided that the Scotland Island space is a place of respite for me but also a place to honour my practice through Drawing and smaller sculptural works.
Another thing that has recently happened is this beautiful man came into the Sydney Art School who had pursued his Art after Retirement and had accrued all these materials. He bestowed these onto the art space and me – so all these beautiful drawing books, various paraphernalia, but mainly to do with Drawing, that's synchronicity.
Right at the end of the year another lady visited whose mother had just passed away – her mother had been an Artist who was into Painting and Drawing. She gave me all of her materials and said 'I think that you will use them well.'
Both experiences were very humbling and I knew I had to Honour that and go about my business and every day to honour that by carving out time for my arts practice and just see where it takes me. Drawing is the foundation to everything – so that's what's happening, and I don't know what will happen – but once again I'm just going to follow it, let it evolve, and just keep following through.
I like that – I tend to not want to know about what's too far down the track – I want to be doing it now.
Who have been your major influences in your work?
Interestingly a Japanese Sculptor called Isamu Noguchi – he was major for me. I'm now collaborating with a Japanese Artist - which I find kind of interesting. I think I may be a bit of a minimalist and have some kind of a Japanese connection– there's something going on.
So Noguchi was a big influence – Agnes Martin, she was an American Painter – I'm actually drawn to quite a few Painters but she once again is a big one for me…
Why?
Vibrational energy once more, colour fields – and she talks about the mind and composition in the mind and how that works. If you as the Artist have created a composition and it doesn't please your mind, and she's referring to your creative mind here, not your thinking mind, if it doesn't please you and doesn't work for that deeply embedded mind, it won't actually ever please anyone.
To actually find that compositional component that pleases the artists' mind – you are actually making something that's very scarce and that's really true to your inner being. It may not please everyone but if it rings true with you then there are others who are drawn to what you are doing. This is the journey that you are undertaking – in that true calling – so let that happen.
She also talked about the Commercial Artist as doing things on a very different level, as it is consciously appealing to people's sensitivities.
This way of making art is subconscious really – it's this deeper inner inner mind – and you must let that happen.
If you understand that you are on this true path, and it's almost like a monk's path in a way, and feels like the Tai Ching in some ways – you will find that you have to give some things up. You will find, if you undertake this journey, that there are things that are right for the inner mind and there are other things that are not – and you must recognise those and give up what is not right to have that equilibrium and then must embrace what is right. So there is a lot of giving up that has to happen as you evolve and develop that sensitivity. And that is the path I am on.
Of what you have created what have you been most happy with so far?
I made a major work for my Masters, my MSA, which is called 'Carbon Waves III' – it is all these car air filters. When a creation is really working for me I become extremely calm at the end of it. Everything quietens, everything becomes very calm.
Matisse talks about this with his Drawing practice and his Painting practice – he wanted to make Art that was very calming for the soul. So that was interesting to me as another aside and another analogy. For me, at the end of it all or when it's all really working, I fell becalmed, or calmed by it – what it is that has actually manifested in front of you.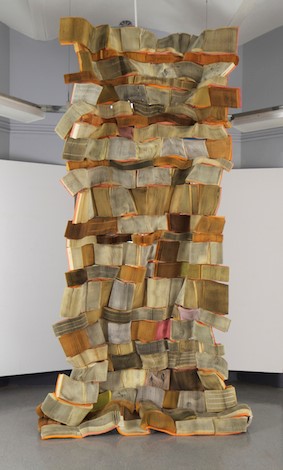 'Carbon Waves III'

Where did the idea come from?
Energy – and that was about carbon – and about heat. That work was completed about 10 years ago now – and felt resolved, through that calmness. It was also largely an environmental response as well – so it was a vibrational energy field and an environmental work as well – about heat and 'hello, here we are'.
I did a series of works about the Murray-Darling River, which was over a decade ago. That was about drought and about scarcity of water and the fact that the Darling River, where it conjoins the Murray ends very soon going back up the river – it appears to be another river coming in but there is nothing there – it was so distressing when I drove back up and realised how quickly it all petered out.
I made that work over a decade ago and it ended up in a collaboration with a dance company down in Canberra called 'River' – so that was another environmental piece again about energy and flow, but water based. Once again I felt very calm when I finished those works, but also in distress because I look at those works now and think 'nothing has changed'.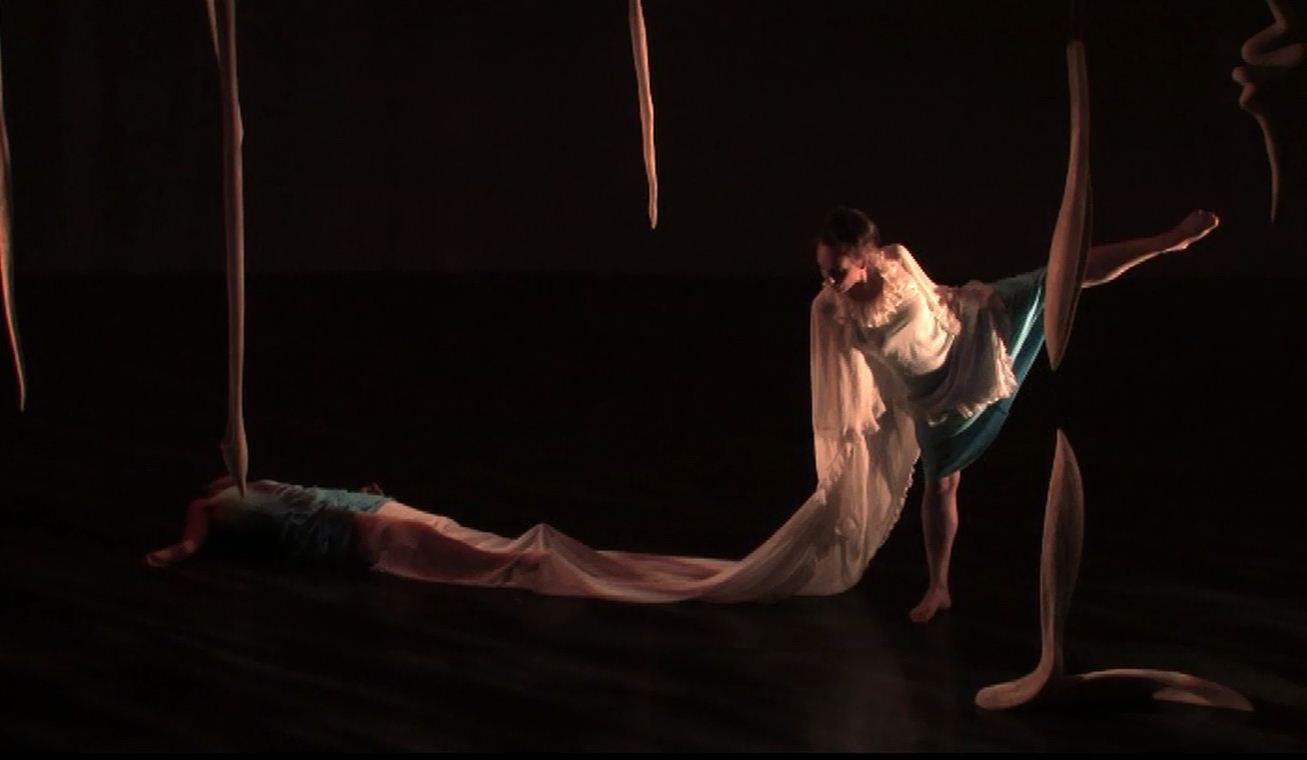 Dance collaboration 'Rivers Don't Run' with Mirramu Dance Company, Canberra, 2008
So even though those works are 12 and 10 years ago they still ring true – there's still a scarcity of water, and more heat, and so they are still coming into their own with what's happening now.
The work for Bondi last year, I felt calm – and I felt there was this ethereal feeling coming from the work that wasn't necessarily about the environment, but it was about communicating with trees, and about communicating with the coastal environment at Bondi.
That is also about what's happening as much as honouring what I've been given, in my path, and where I'm at. But from that artwork at Bondi I also think there's something more connected with trees coming– so we will see what happens there.
Interestingly I had an educational session up at Kinma school in 2018, at one of their tinkering days, and I was offering a sculptural exercise. One of the guys there, also offering something for their tinkering day, had all these plants that he had hooked up to sensors – so the leaves would all be vibrating and the children could feel this. There is vibrational energy coming from plants – if you walk into a room this will stop for a while – for around 20 seconds – and then ever so quietly, they will begin again, this time incorporating you into this.
I thought 'oh, I want to go to his session!'
I remembered that when we were putting together the work for Bondi – it just resonated with me; all this unseen energy that's happening with plants all around us, all the time. They're sussing us out all the time.
The work at Bondi was wrapping around and through these acacia trees. I thought 'there's a series coming and I think it will all be about some sort of tree conversation' – and is suspect it will largely be trees that are living on Scotland Island.
There's something about that, about movement triggering a reaction and that energetic field that's running through the earth and yet creating something that is form-like yet not quite. So I think Bondi is a progression of all those things, and other progressions will come from that.
The North Sydney Art Prize work we did was like that too. That was another collaboration with Hiro in 2019, entitled Henka – he composed a soundscape using the sound within the site where the sculpture was housed and we encapsulated that within the sculpture so it was throwing itself back out again. The work was a bit like a chrysalis – it had this semi opaque quality so you could sort of see into it, so a kind of form but not set, not solid.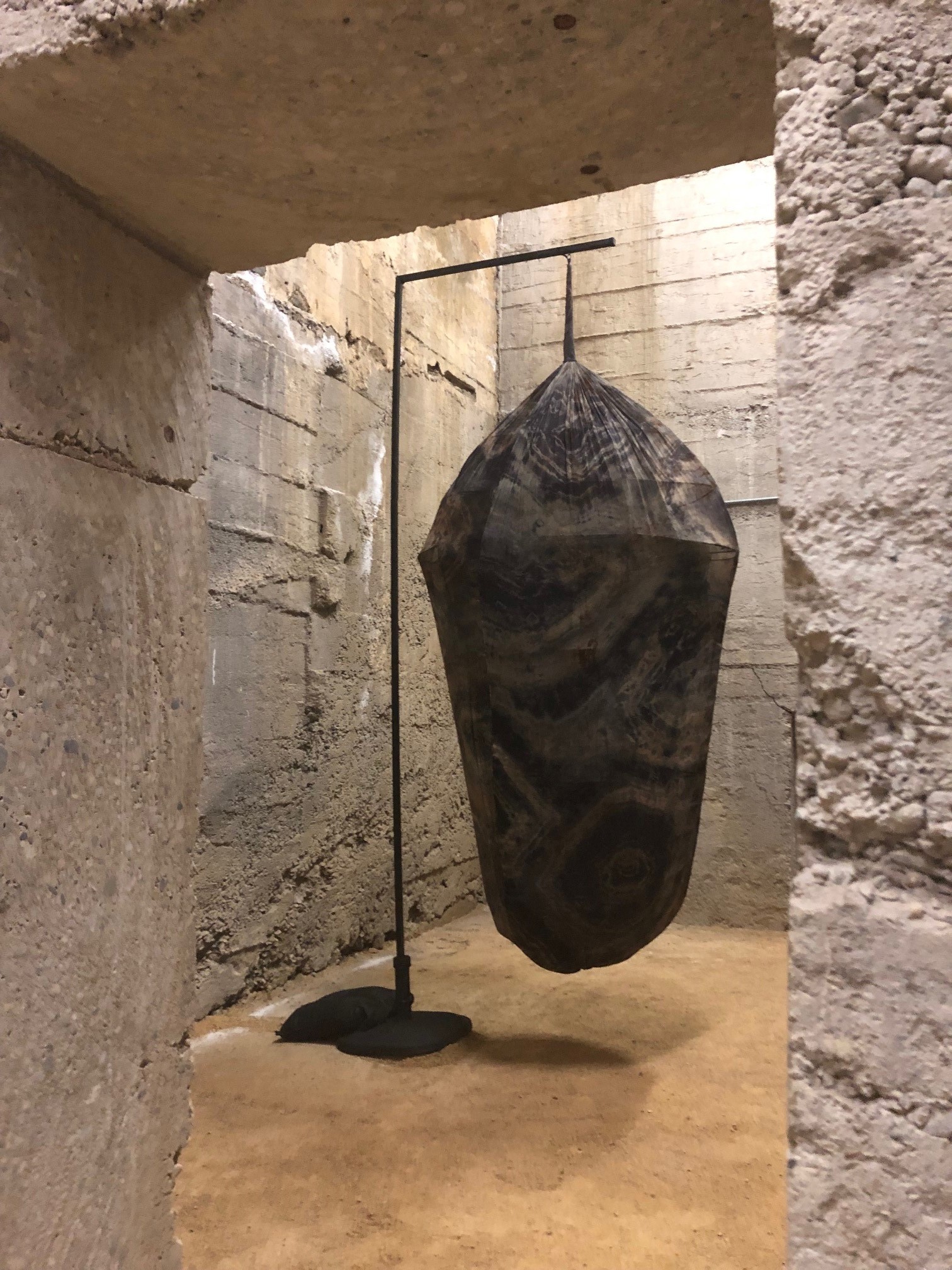 Christine Simpson, and sound and performance artist Hirofumi Uchino have been collaborating since 2018 and were finalists for the North Sydney Art Prize 2019 with their artwork Henka.

This led to Bondi, which was the same path – this was a form, but it wasn't quite solid - it had this shifting trajectory and produced this shape-shifting quality and sensation yet it wasn't kinetic either.
I think that's really interesting, that problem to solve; making a work that is a form that doesn't actually appear to be moving but actually is moving, through space. That's something that turns me on – figuring out how to do that.
Where do you see yourself 10 years from now?
I think I will still be educating – Tom Bass educated until he was 92. I look at that and think 'I kind of like that' – so I don't think I'll be retiring. That will feed the work and hopefully I'll be able to give more through my own experiences.
I figured that out when I was up at Ingleside – 'don't be concerned about being known'. If you can go out unheralded, that's completely cool. As long as you can live and make your work and be on this fascinating journey that is forever unfolding; that's worthwhile.
I don't know what that will lead to, but I'm very happy to continue the journey.
What are your favourite places in Pittwater and why?
Turimetta Beach – because it's wild, and I feel a very strong Aboriginal presence there.
Also the end of Warriewood Beach, there's a powerful presence there and a sandstone edifice at the end of that headland that feels like a very strong Aboriginal marker – to me – and extremely potent and intact in its energy. I can't tell you why, but it's a very strong pure energy to me, and that is what it speaks of. That's a very important place for me.
Mackerel Beach, again because it feels like a powerful place – I think it's a female place. There's a section of Mackerel beach where there are all these sandstone forms that have survived the markings of time, and they are female.. I always feel very calm when I'm at Mackerel – and the hamlet of people there, it's like a Narnia to me; this mystical, magical forcefield and place. That is still in place,still intact.
What is your motto for life or a favourite phrase you try to live by?
My affirmation for this year is 'Clarity and Commitment' so that's what I'll be following for 2020'. In 2019 it was 'self-care' and 'be organised' – but for 2020 it's 'Clarity and Commitment' – so I'll be sticking to that this year.
Christine Simpson - Works So Far
Tertiary Education
1981 Diploma of Teaching, UTS, Sydney
2011 Master of Studio Arts, Sydney University, Sydney College of the Arts
2014 Master of Fine Arts, Major: Sculpture, Performance and Installation: Sydney University, Sydney College of the Arts
Group Exhibitions
2019 Homing Tree, Home Affairs, Finalist, Manly Art Gallery and Museum
2019 Emergent, Finalist, Sculpture by the Sea Bondi
2019 Henka, Finalist, North Sydney Art Prize
2018 Constant Craving: Desire. Solitude. Acceptance. Preservation, Eramboo Artist Environment, Sydney
2018 Earth Areola, FIDEM Canada
2017 Newport Sculpture Trailblazers, Newport Beach NSW
2017 Vital Push: Empty Vessel Offering, Regard Gallery, Darlington, Sydney
2017 The Last Camplight, Lake Light Sculpture, Jindabyne
2017 Uluru Meditation with Didgeridoo, FIDEM China
2016 Inter-Discourse: The Architecture of the Senses, Collaboration, NORTH contemporary Art Space, sydney
2015 Singing Light on Water, Audio-visual installation, The Beams Festival, Chippendale, Sydney
2015 Phenomemobilia-Chippendale, collaboration, MOP Gallery, Sydney
2015 The Murmurings of White Trash, North Sydney Art Prize, The Coal Loader, Sydney
2015 Metaphysical 1, Salamanca Arts Centre, Hobart, Tasmania
2014 Long Days Journey and Metaphysical 1, Verge Awards, Shortlisted Finalist, Verge Gallery, Sydney
2014 The Metaphysical Experience of Being at Sea, Art and About, Sydney City Council
2014 Long Days Journey, UWS Sculpture Award and Exhibition, Sydney
2013 Vibration 16 and Colour by Numbers, Art in Odd Places, Sydney
2013 Aural Energy Field, HIDDEN Rookwood Cemetery, Sydney
2012 Elemental, Delmar Gallery, Trinity College, Sydney
2012 Antipodean Waves, Glasgow University, Scotland: Fidem XXXII.
2012 Carbon Waves III, SCA, University of Sydney, Laneways: environs Callan Park.
2012 Carbon Waves III, Verge Gallery, Sydney University: SCA Greatest Hits, Sydney
2011 Carbon Waves II, Verge Gallery, Sydney University: Open Call, Sydney
2010 Earth Story, Sydney Opera House, Avant Group, Sydney
2009 Earth Story, Tampere Art Museum, Finland: FidemXXXI
2008 Contemporary Medallic Art from Australia, Medalia Gallery, New York
2007 Mourning Pieces, Warringah Council Water Festival, Sculptural Icon from the Rivers Series: Ripple, Sydney
2008-05 Exploring Dimensions, Song of the Swan,Taylor Galleries, Sydney
2006-02 Under Six Inches, Defiance Gallery, Sydney,
Solo Exhibitions
2017 Noise Pagoda: Recent Works on Paper, Manly Arts Festival, Sydney
2010 Rivers, Manly Art Gallery and Museum, Sydney
2007 Hope Pieces for the Murray-Darling Basin, Factory 49, Marrickville, Sydney
2006 Mourning Pieces, Factory 49, Marrickville, Sydney.
Publications
2014 Long Days Journey, Exhibition Notes and Transcript, Kate-Louise Williams
2012, SCA Greatest Hits: Carbon Waves III, Exhibition Critique and Archive, Verge Gallery
2011 Open Call, Exhibition Notes, Meredith Frances Lynch
2009 Fidem XXXI, Tampere, Finland, pg 37
2009 River, Canberra Times November 22nd, Arts Report, Aaron Ridgway
2007 Hope Pieces, Exhibition Notes, Isolde Ira Pozelaite-Davis AM
2006 Mourning Pieces, Exhibition Notes, Isolde Ira Pozelaite-Davis AM
Collaborations
2019 Emergent, Sculpture by the Sea Bondi with Hirofumi Uchino
2019 Henka, North Sydney Art Prize, with Hirofumi Uchino
2014 Metaphysical 1,audio/visual collaboration with Cade Turner, Art and About Sydney, 2014
2008 River, Collaboration, Mirramu Dance Company, Performance, The Street Theatre, Canberra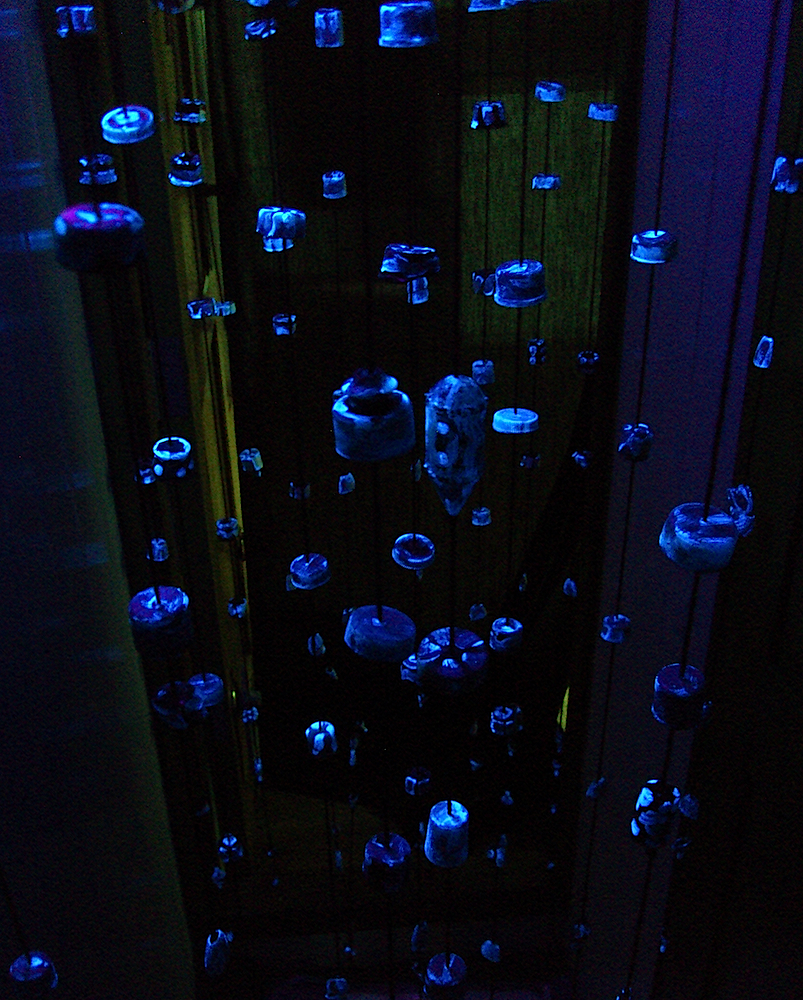 Wastewater 2014 The Metaphysical Experience of Being at Sea

Commissions
2014 Reabsorbing the Made, Enliven, Pittwater Council, Sydney
2013 Sculpture of Thanks to the Governor of NSW, Marie Bashir; Bronze, Legacy NSW.
2010-09 Jesus Ascending, Ascension Hill; Major works in Bronze, Macquarie Park Cemetery and Crematorium, Sydney.
LIVE SCULPTURE INSTALLATION – CHRISTINE SIMPSON
Join artist Christine Simpson at Newport Anglican Church as she creates Altar Ego, a lawn mosaic using shells on Saturday 28th October, 2017 from 10am – 1pm. Christine will set aside a lawn section for children/families to create their own design too. If you have lots of shells at home please bring them along :)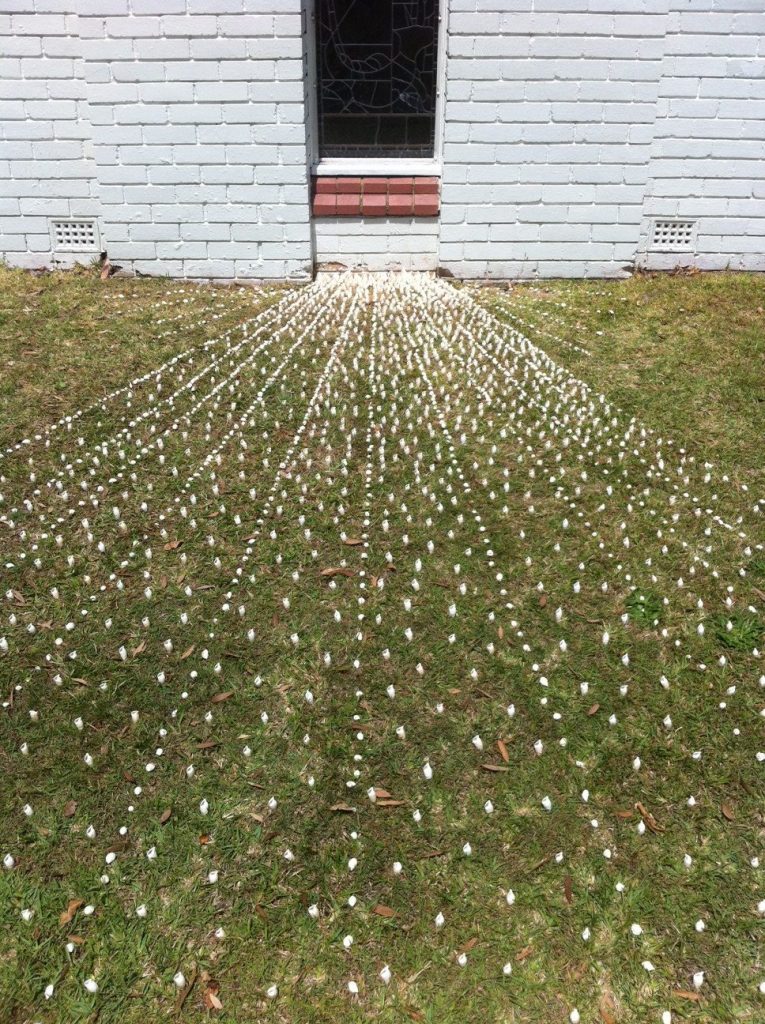 Altar Ego