October 14 - 20, 2018: Issue 379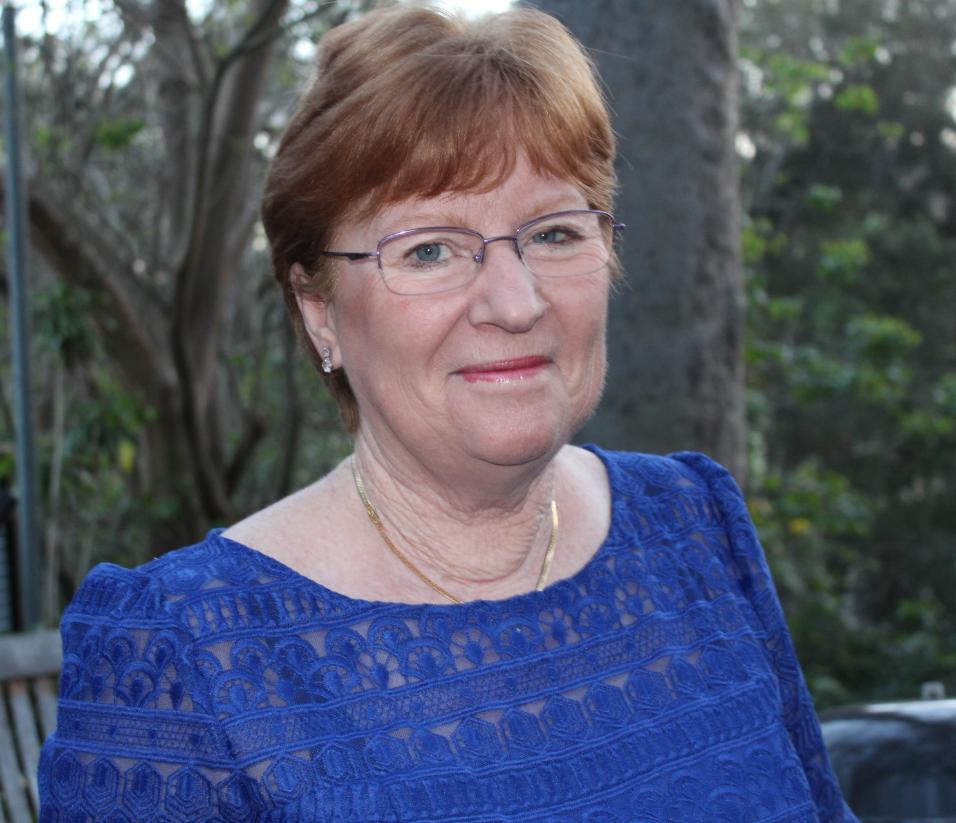 A few weeks back Pittwater Online News was fortunate to run a small insight into Adam Crowley, a former Barrenjoey High school student with a great work and fun ethic who has continued to pursue more knowledge in his chosen field.
The year 2018 Barrenjoey High School 50th celebrations, including the Gold Ball held at the school on September 30th, brought his mum, Carolyn Tucker back to Avalon as hers was the first class at the then new school and Carolyn was a member of the first graduating class. This presented an opportunity to gain a few further insights into the school and the Avalon Beach of Carolyns' earlier years, having moved here when she was just two years of age.
Our thanks to Adam and Carolyn for their generous sharing of information and images that allow this generation to see what happened prior to their arrival and for us 'oldies' to remember summers past.
Where and when were you born?
My father Colin Gee was originally from Sydney. He started his working life as a Bio-Chemist but decided this was not for him and joined the Air Force in 1950 and moved to Sale to the Air Force base in Victoria. Dad spent some time overseas in 1952 during the occupation of Japan and later in Korea. My sister Debbie and I were both born in Sale, we're only a year apart.
In 1957 dad left the Air Force and joined Qantas at which time we moved to Avalon Beach – I was two by then and my sister was 1.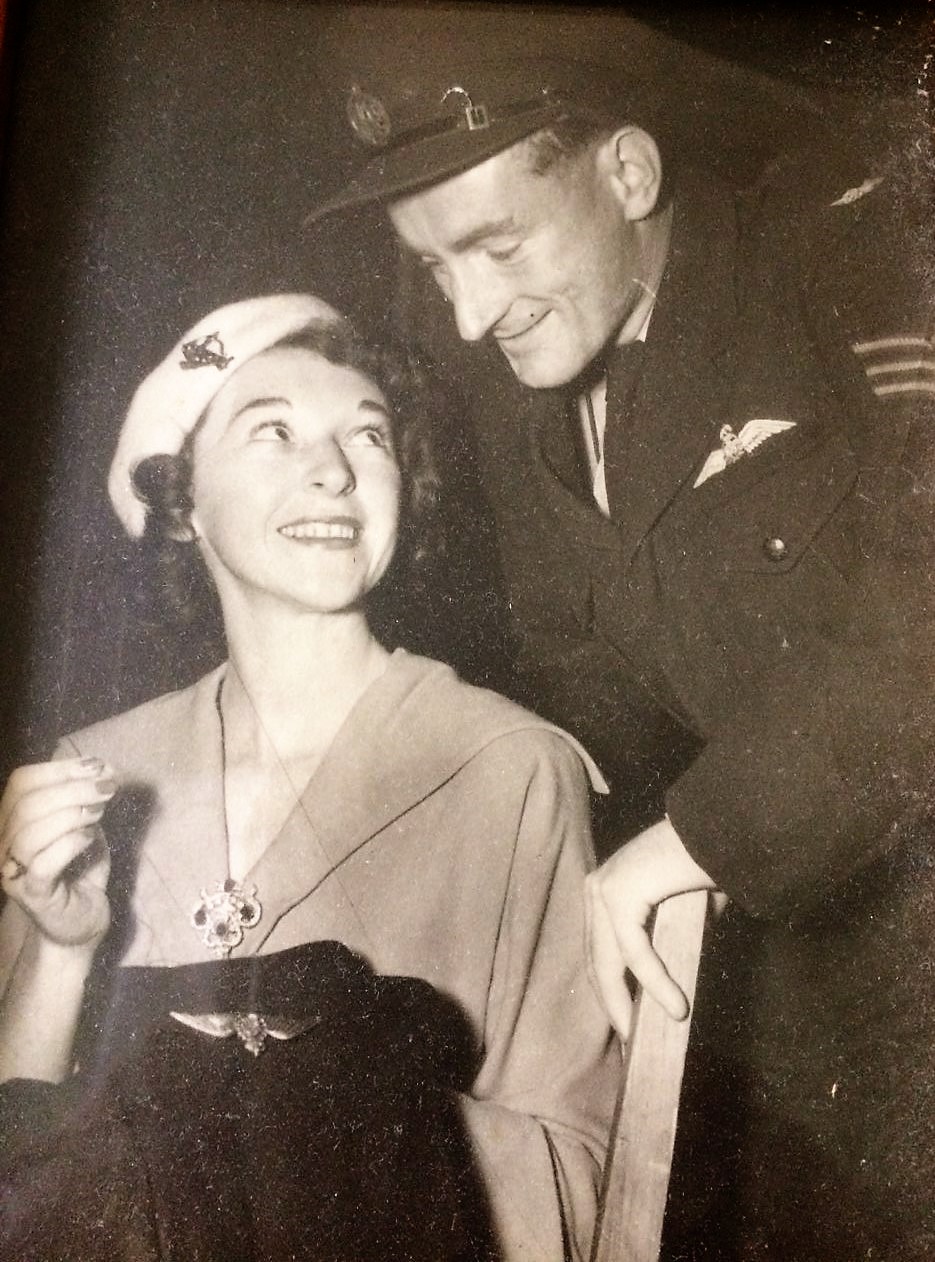 Madeline and Colin Gee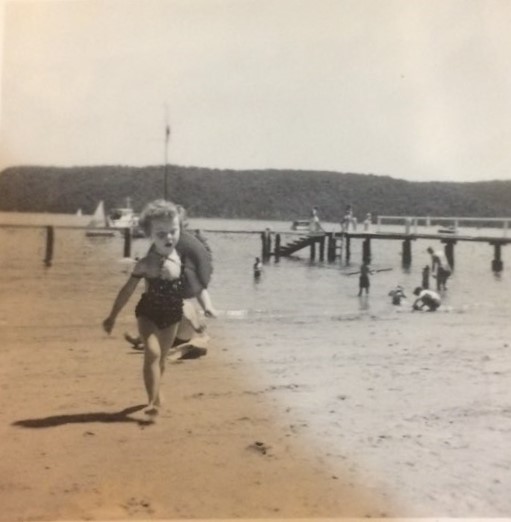 Carolyn at Paradise Beach in 1958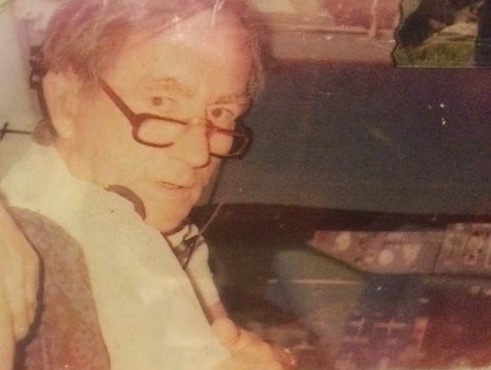 Colin Gee in 747 cockpit - 1984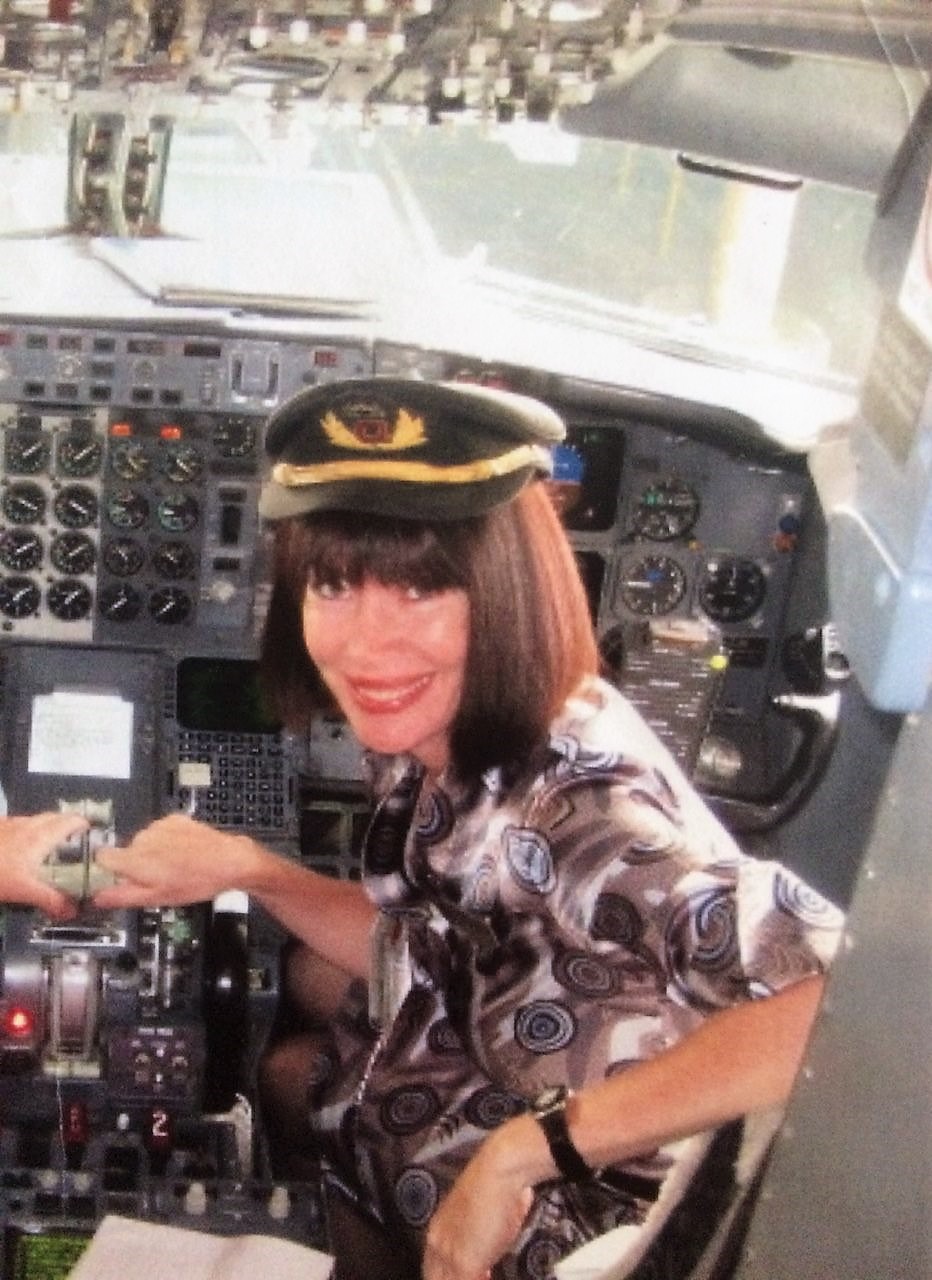 Dianna Morton, Carolyn and Debbie's sister, also worked at Qantas - here she is in the cockpit of a Qantas plane.
Where in Avalon Beach were you?
Originally Mum and Dad purchased a small house in Elvina Avenue. Then we moved to Elaine Avenue and were there when my brother Michael was born in 1960. From there Dad was posted overseas to London and we were over there during the 1960's for four or five years. While over there my youngest sister Dianna was born in 1965.
Do you have any early memories of here?
I do vaguely remember going to Palm Beach Kindergarten and Avalon Primary School before we left for London. In Adam's Profile you mentioned the Introduction of the Wyndham Scheme. Avalon Primary School was always well known for being innovative and we were the first to try the Cuisenaire rods, the mathematical aids, and used during kindergarten and first grade. So Avalon has always been good at being the first to try new methods. Mum (Madeline Gee) worked on a part time basis in the local supermarket which was on Old Barrenjoey Road opposite where the picture theatre is now. This used to be the main street of Avalon. When Woolworths came to Avalon in the 1970's it was located in Avalon Parade opposite the Johnson Bros Hardware. I do remember my sister Debbie worked there as a checkout chick for a period of time.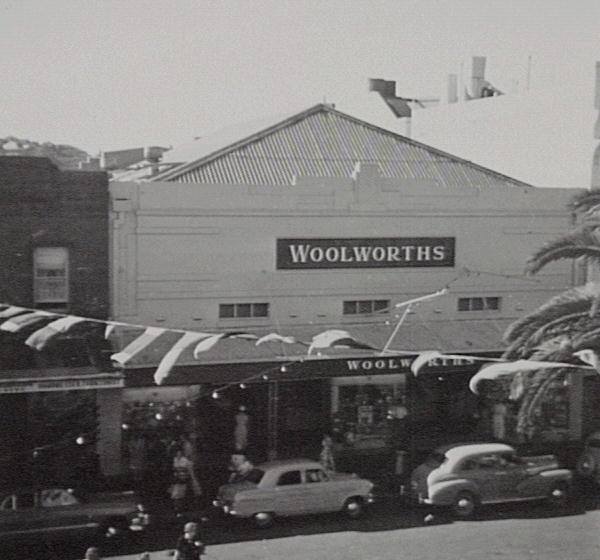 Woolworths in Avalon Parade (per Pittwater Council History Unit at Mona Vale Library)
Video of Avalon circa 1958 (below)- Geoff Searl, President of Avalon Beach Historical Society tells us you can see 'Dunn's Supermarket that eventually became Herforts's Pharmacy'.
Where did you live when you came back from London?
We moved to Dolphin Crescent and then my father got a posting over to Tahiti. When we came back from there Mum and Dad bought a block of land in Ruskin Rowe and we actually lived there in a little shack on the block and mum and dad lived in a caravan on site whilst they built the house which from memory took about a year.
Mum was into sports and used to play tennis with Beryl Driver, 50 years ago mind, and she also belonged to Bayview Golf Club. It's nice to see Beryl is still around.
What was Ruskin Rowe like then?
Pretty much the same as it is now although when we drove down there the other day we couldn't believe how much the trees there have grown, and along the whole north shore for that matter. As I now live in Queensland and there's not so many trees, it could be that, but I really noticed all the trees on the golf courses too. Ruskin Rowe today is really beautiful and made me wish my parents had never sold that place.
They sold Ruskin Rowe in the late 1970's and moved to the Gold Coast.
You were in the first intake at Barrenjoey High School?
Yes, I was. I remember I could ride my bike to school. This wasn't a very big class that first year. Half the students came from Newport and the others came from Avalon primary, which I found a bit challenging as there were now a lot more students to get to know.
What were your favourite subjects and who were your favourite teachers?
I really liked Science and our teacher for that, Mr. Greaves, was at the 50th Reunion held at the school. At English I was only so-so – I was only an average student, not that bright in my own opinion. My Dad was very good at Maths and his grandchildren seemed to have picked up the Maths gene. My niece Caitlin McGregor is currently studying Pure Maths in Canberra.
I did like Sport and did try out for a few things in that. My best friend at that time was Sylvia Capel who was tall and very good at Athletics. She became the New South Wales State High Jumper. She was also a very good hockey player, in fact very good at everything. I would try out for everything so I could get in and go to the carnivals with her and see her compete.
Sylvia lives at Cromer now and is semi-retired but it is worth mentioning that she became the Director of Palm Beach Kindergarten for many years.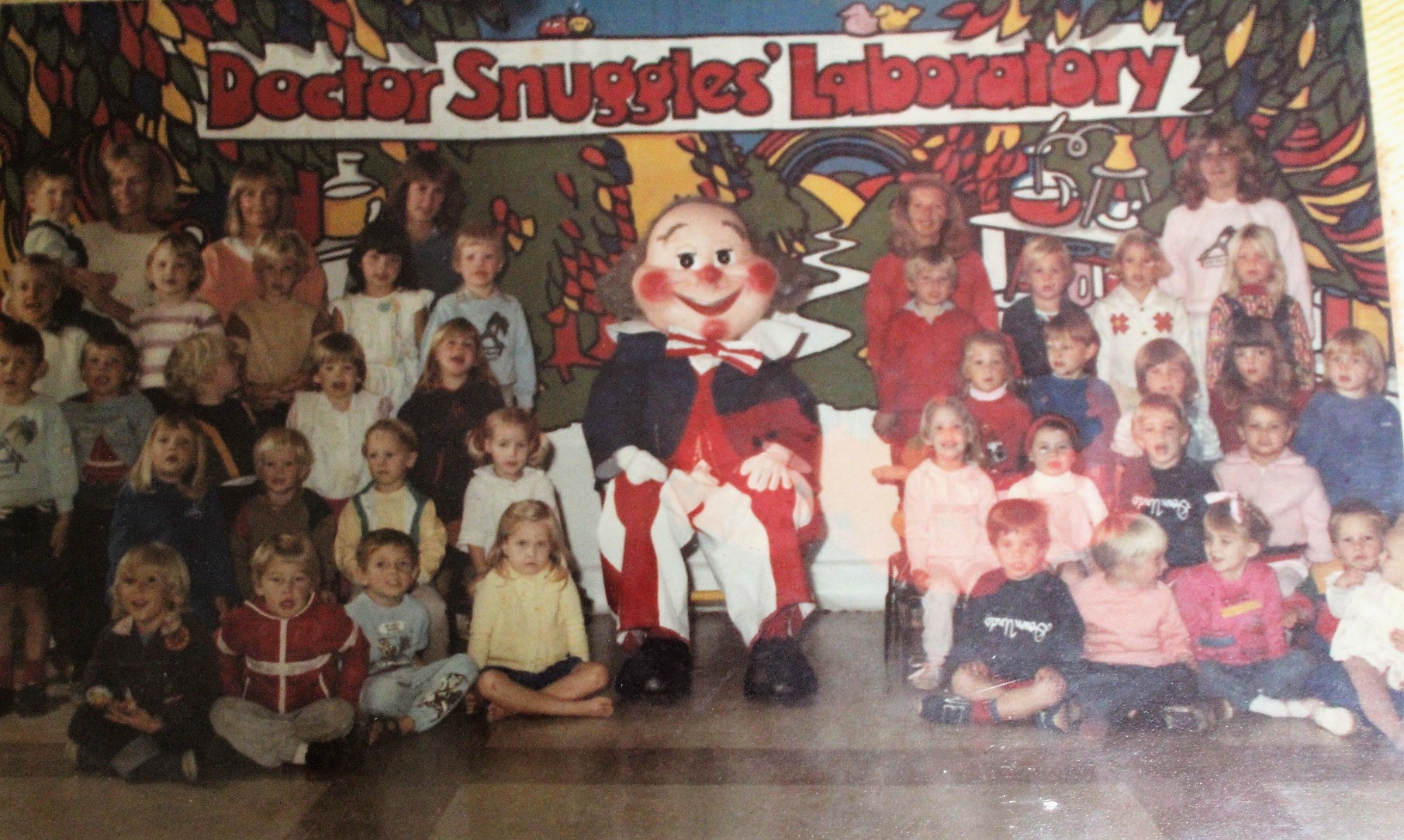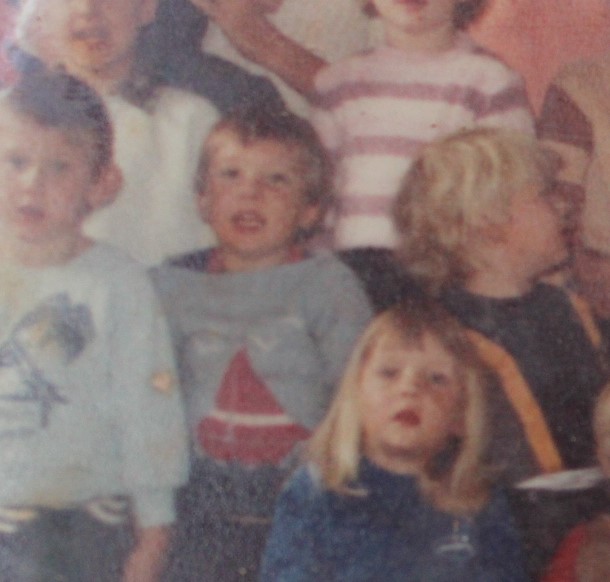 Sylvia at PB Kindy - Adam has red sailboat on his jumper.
My sister and I learned to play tennis probably from about the age of 10 and we played in competitions on Saturday afternoons as we got older.
I remember our graduation (from BHS), which was quite formal and held down at the Royal Motor Yacht Club and that was nice.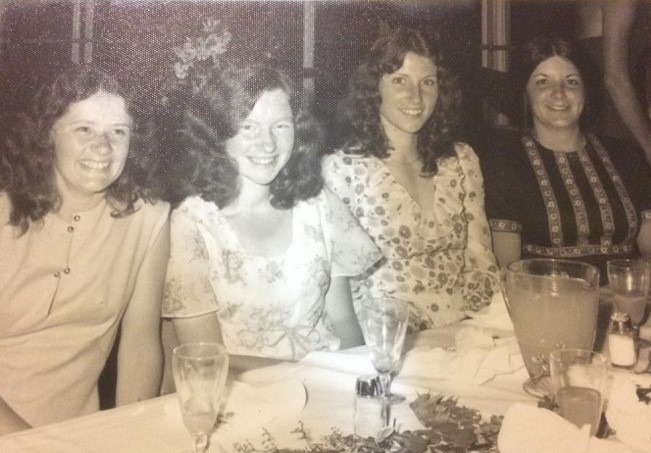 Carolyn at school formal - 1973
Did the school utilise the proximity to the beach and have activities associated with that?
Oh yes, most of the guys were going surfing. I wasn't that interested myself. I like to go in for a swim – I was not one to sit in the sun gaining a tan. They'd be over at the beach every opportunity they could, to look at the waves and get back to school in time for the next class. Some would be hiding in the sandhills smoking.
What did you do after graduating?
I went to Brookvale TAFE and did a year long Secretarial Course, as a lot of girls did then I suppose. Because Dad was a Qantas pilot my sister and I were very lucky and were able to do a trip around the world for 12 months, in our early twenties as a working holiday. We travelled through Indonesia and all round Europe. We had many adventures.
After I returned I went on to work as a Receptionist at Royal North Shore Hospital and also did some work at Avalon RSL and met Michael Crowley. We did a 12 month trip around Europe too, travelling in a Combi Van. When we returned to Australia he got a job selling real estate in Avalon. He owned a house in Whale Beach road and we were living there when we had Adam.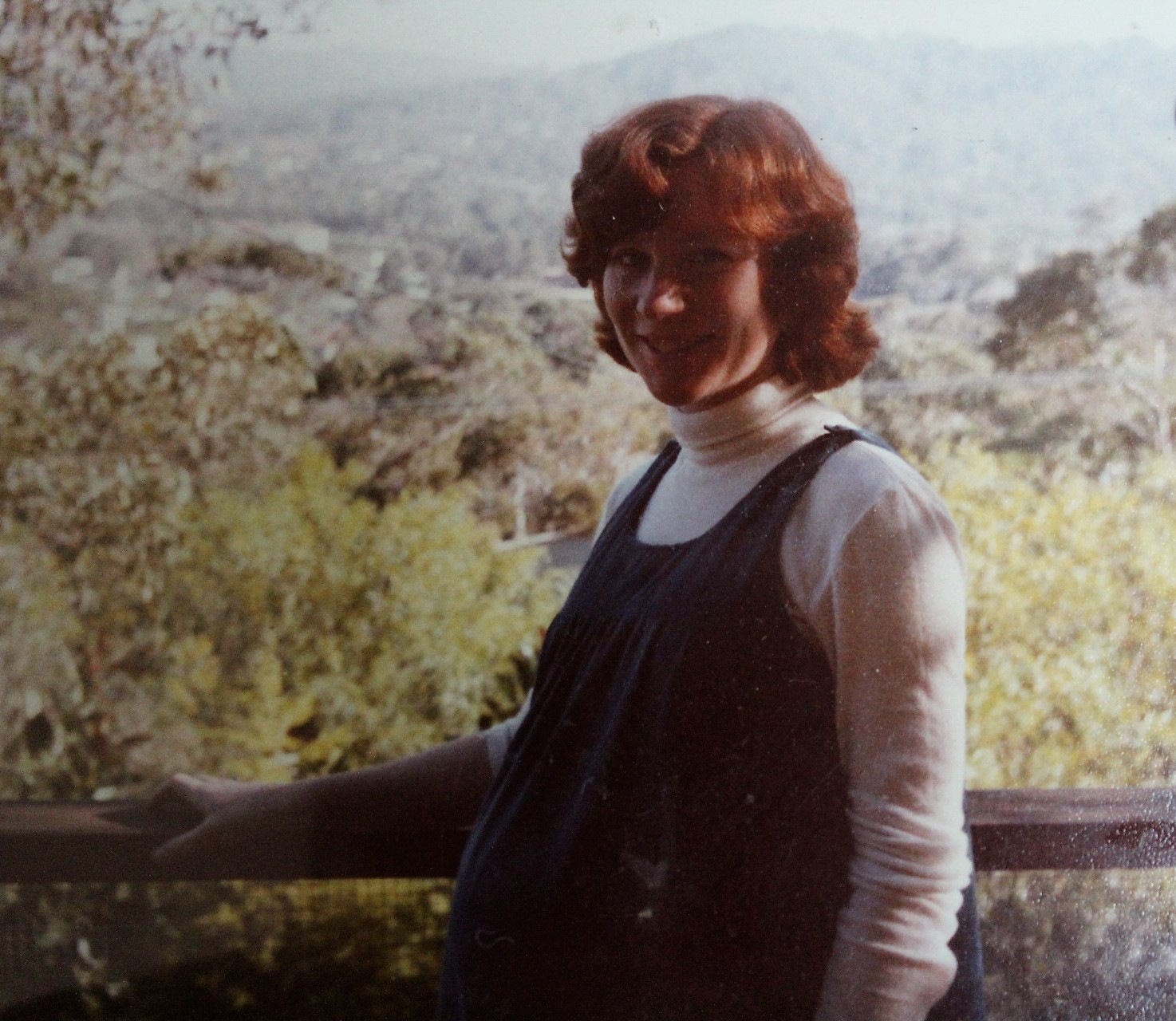 Carolyn at Whale Beach Road home - Adam almost visible. Photo courtesy Adam Crowley and his mum's photo album for each child.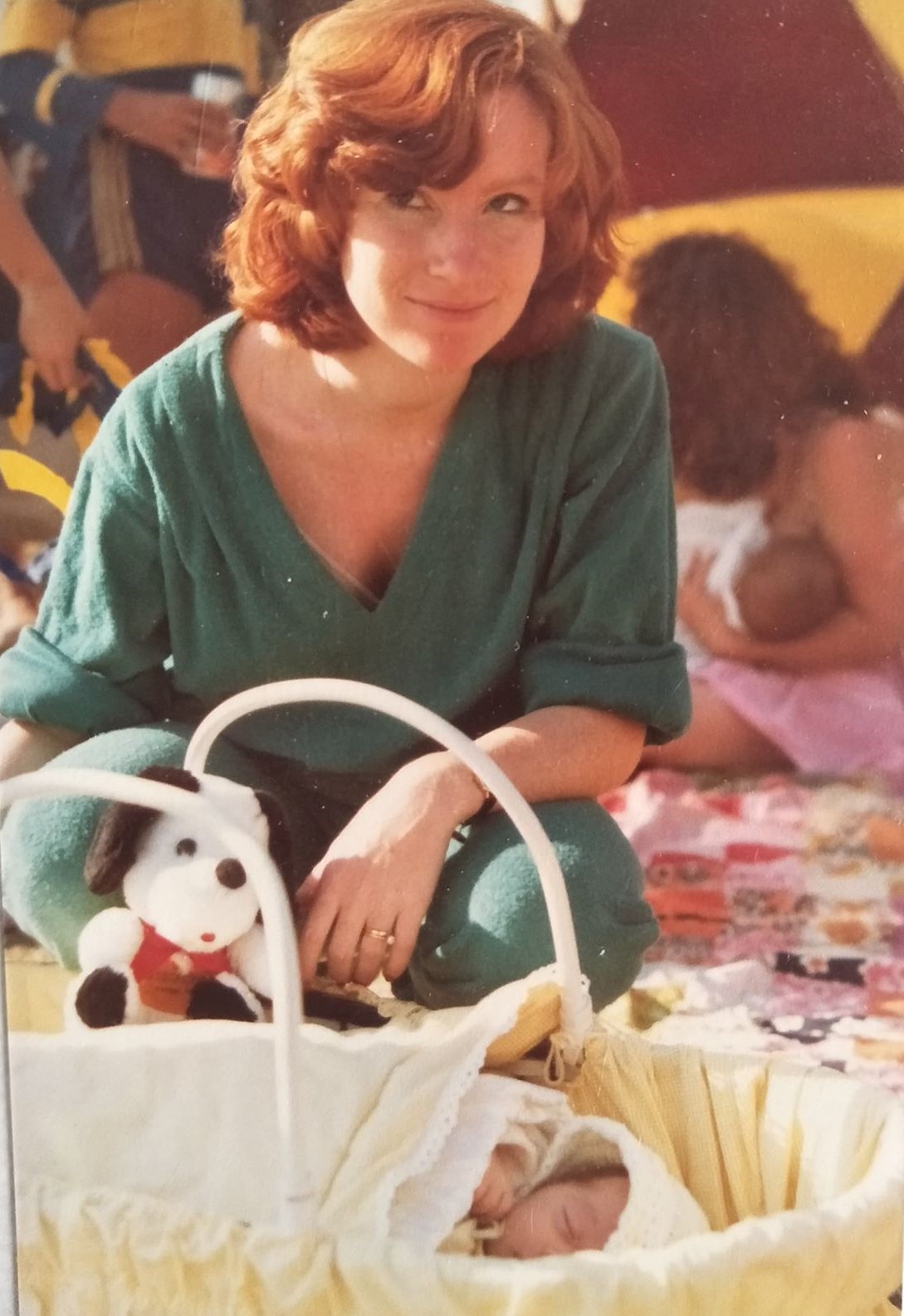 New mum and new bub - 1980
We then bought a block of land up at Palm Beach in Canara Place and built our first home together there. Our other children Lisa and David came along while we were at Palm Beach.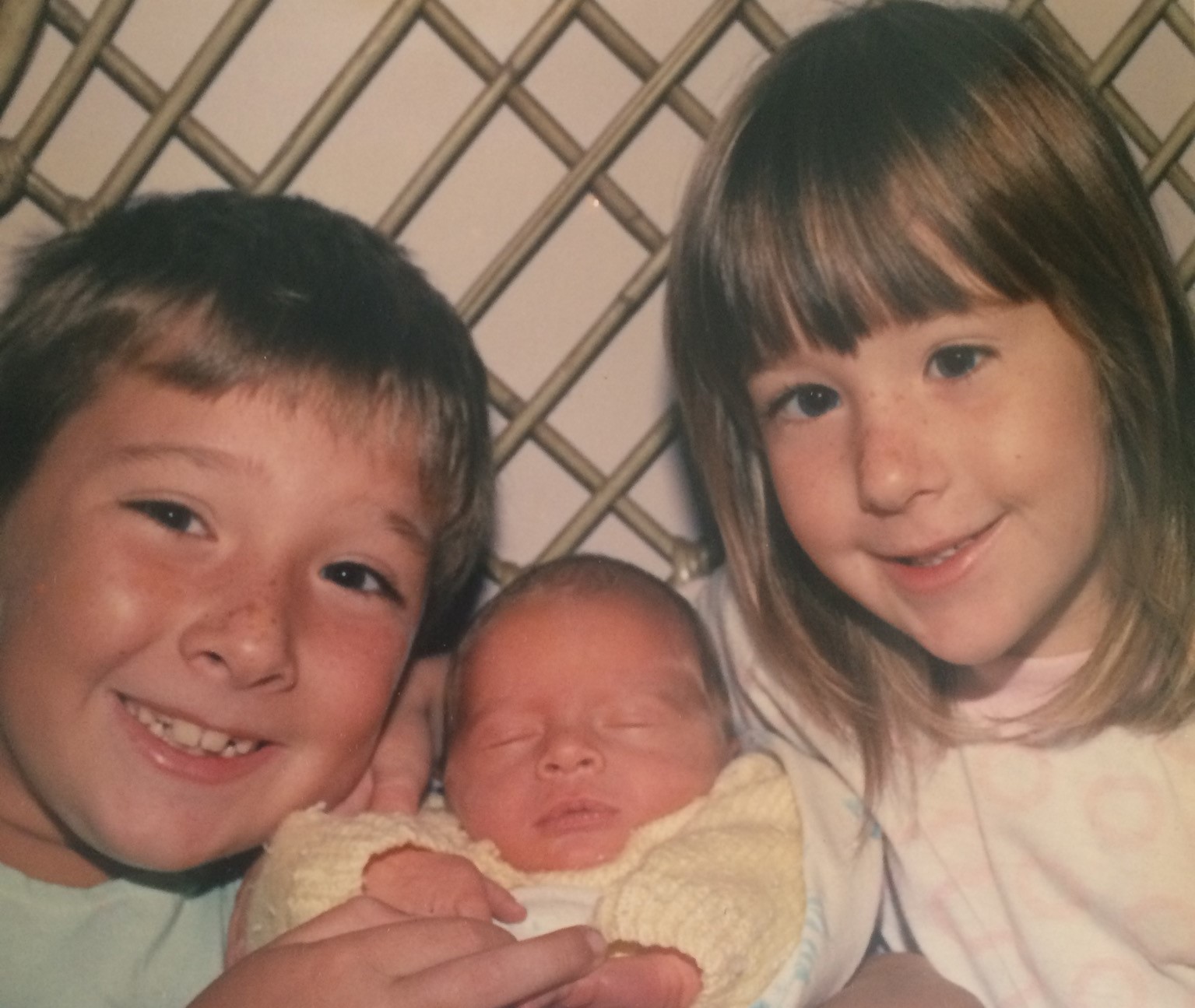 Adam and Lisa with brand new brother David
While we were living in Palm Beach I joined the Palm Beach Golf Club and learned to play golf – I love that golf course. It is so picturesque on the peninsular between the ocean and Pittwater – how lucky we still have this.
When the children were young I did to part time work at Moby Dicks Surf Club. I probably worked there for over 10 years. We had a great French Chef and it was a very busy place from Friday to Sunday night. In the 80's bands would come and play. I can recall that Tommy Emmanuel played there. We catered for quite a few functions and weddings.
Today I continue to work in Administration with TAFE Queensland. I do this mainly to be able to continue to travel - I have discovered cruising, another great way to see the world, and I still have a bucket list of places yet to visit. I'm lucky I can still work and am able to do that.
Having lived in London and Tahiti and having those comparisons, what was the best part about growing up in a place like Avalon?
I realised the other day when we came back to attend the 50th Reunion that it's a pity that we moved away as there is a beautiful small community here. At one stage I moved to Bribie Island and that was similar; a small community where everyone is very community-minded and everyone knew each other – not in the being annoying term but in terms of caring about each other. I think Avalon has got that community-feel.
It was like that when I was growing up in Avalon too. I remember during the 1970's the Lions Club would bring Aboriginal children down to the beach. The Lions Club would arrange Billets for them. If you go back through the ABC archives and find the programme that was called A Big Country you can see more about this. My family was one of those families and we sponsored a child to come down and live with us for a year and attend Barrenjoey High School. His name was Dallas.
This shows the community spirit that we had then – that went on for a few years with some kids coming down to spend a few weeks by the sea too. I miss Avalon Beach itself but not the traffic.
While I was here for the School Re-Union we drove around a bit to revisit old places and although it wasn't actual beach weather yet we did notice how crowded everything is now, which I don't think I could handle. The traffic and parking seems to be a major problem. That would be the major change between the Avalon I knew and how it is now – I can't imagine what it would be like going to work from there now, it was bad enough and long enough 30 years ago.
When I first met Adam's father he used to work as a cars salesman at St. Leonards and would travel up the Wakehurst Parkway to get there, which took an hour then. I can't imagine how long it would take now.
What did you do for fun while your children were growing up?
Michael was a bit of a workaholic and would work 6 days a week and any spare time he had would be spent in the surf. The kids were really into their sports and both the boys were really good at soccer and David was quite good at golf too. I taught them to fish and Adam still loves his fishing today. We used to and fish off Palm Beach wharf. We would go across to The Basin for picnics. I was an adventurous mother in some ways I guess, we never sat at home on the weekends watching TV. We'd go on little adventures.
I'd take them down to North Palm Beach a lot and they'd play in the sandhills and make their own fun. I wanted to teach them to be very independent and they all are – they can all cook and know how to make their own fun following what they like doing. We don't have Daylight Savings up here in Queensland which I do miss. Just about every day in summer when the kids got home from school we would be down to Palm Beach sometimes to 7 at night. I remember it was sometimes very difficult to drag the kids out of the Ocean.
I remember one time I went on an adventure to West Head with a girlfriend and we did a big bush walk which took us down to bottom of the cliffs. I also used to like trains and took them everywhere. I recall taking them on one trip up to Katoomba one weekend and staying at a lovely old pub up there. So yes, I liked taking them on little adventures everywhere to see other places, to go on little treks through the bush close to home too.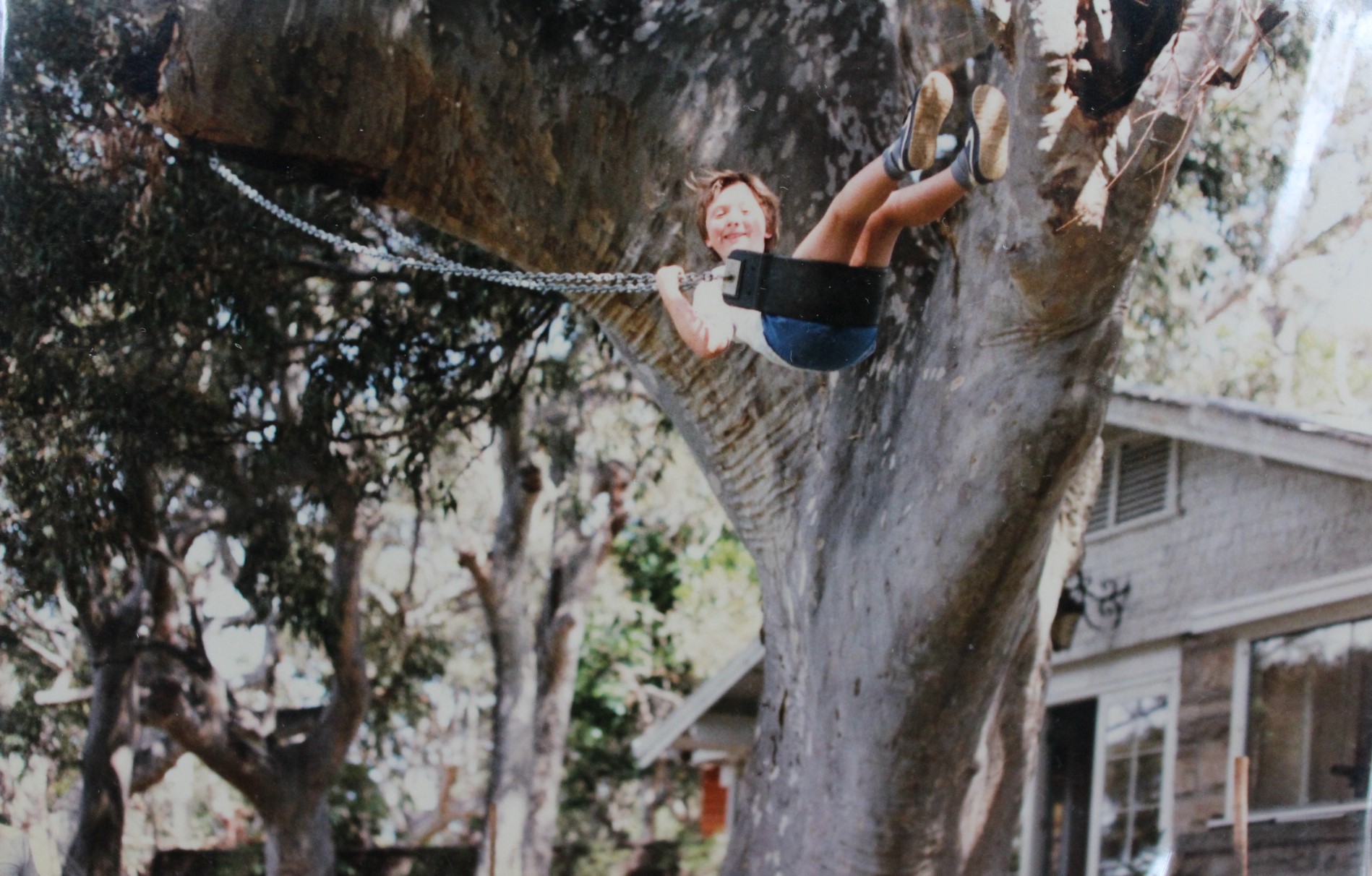 Adam having fun - this tree is still standing at corner of Palm Beach and Pacific roads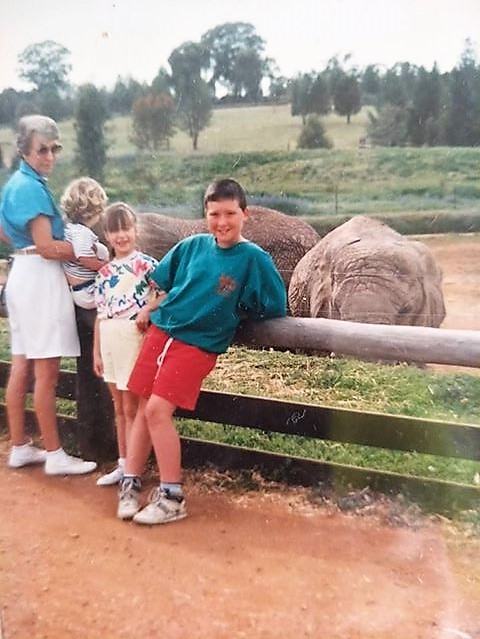 Carolyn's children with her mum Mrs. Gee at Western Plains Zoo.
I can see they all still have that adventurous spirit– they all like being outdoors and participating in life. They are in some ways quite spoiled I think; we were always out and about exploring together, doing things and brought up so close to the beach.
What was the 50th like?
Well they had a great band but unfortunately the music was so loud all night that you couldn't have a conversation. I ended up with a sore throat. Even during dinner I couldn't talk to the person opposite me because you had to shout and yell and it was too hard. My year had a luncheon on the next day which I unfortunately couldn't go to so I really didn't get to find out what anybody was now up to. There were about 30 former students from my year so that was great to see so many faces after so long.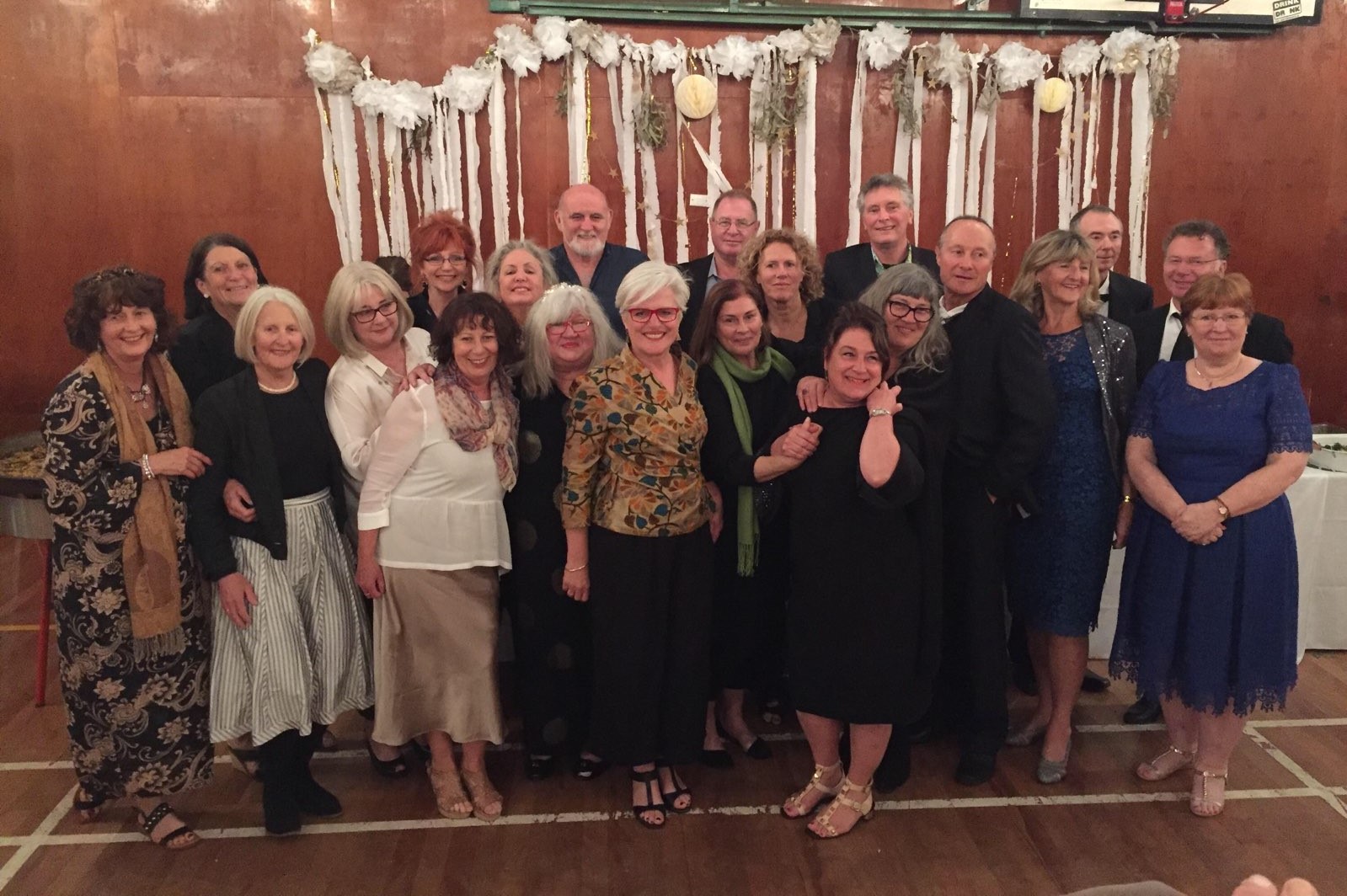 Carolyn's old classmates at the BHS Golden Ball - photo courtesy Carolyn
What are your favourite places in Pittwater and why?
I moved to the Central Coast and the kids used to come across on the ferry and I'd meet them at Patonga. On our recent visit we actually went to Patonga to have fish and chips and found that the whole place has been changed and a monopoly seems to be in place – the pub has shut, the fish and chips shop has shut, so we ended up driving to Umina to have something to eat – but I loved Patonga then, it was beautiful, a great part of Broken Bay and connected to Pittwater via the ferries still.
I love The Basin. I also had a girlfriend who lived at Coasters Retreat – Barbara Berrell, her daughter Annie Berrell I think still lives on the north shore. Her house was gorgeous.
Palm Beach too obviously; my children and I had a great time there and they went to Palm Beach Kindergarten like I did, only a generation on.
What is your 'motto for life' or a favourite phrase you try to live by?
See as much of the world as possible.
I think every Australian has to leave the country to see how lucky we are to live here in such a beautiful part of the world. We really have nothing to complain about. It's only through travelling and coming home that you can appreciate that. There are some wonderful places you may visit overseas, and I have a passion for travelling, but Australia is something quite unique and special. We are very lucky to live here. Carpe Diem – Live for today.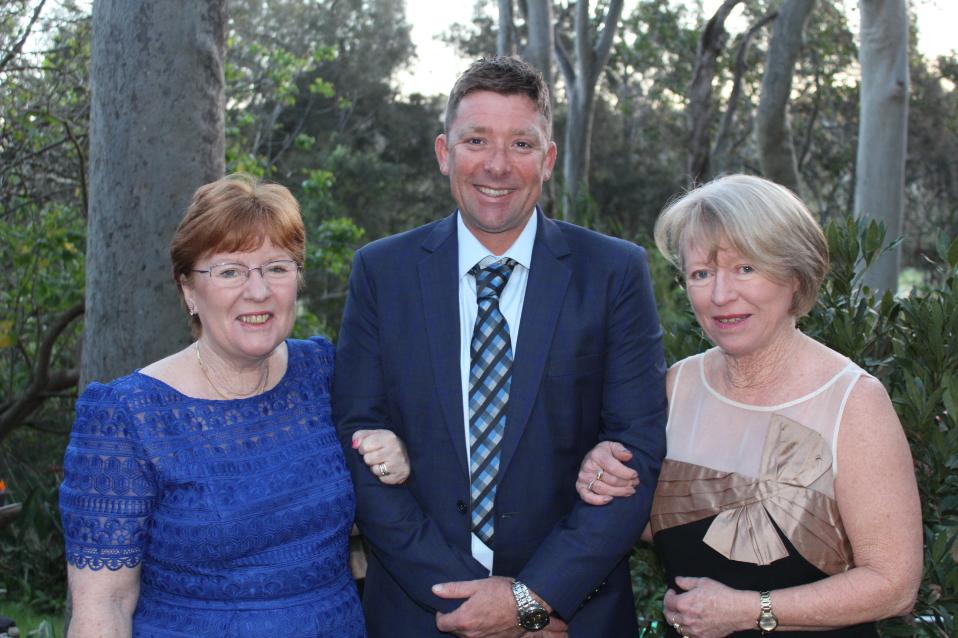 L to R: Carolyn Tucker (nee Gee), mum of Adam Crowley and sister/aunt Debbie McGregor (nee Gee).