September 16 - 22, 2018: Issue 376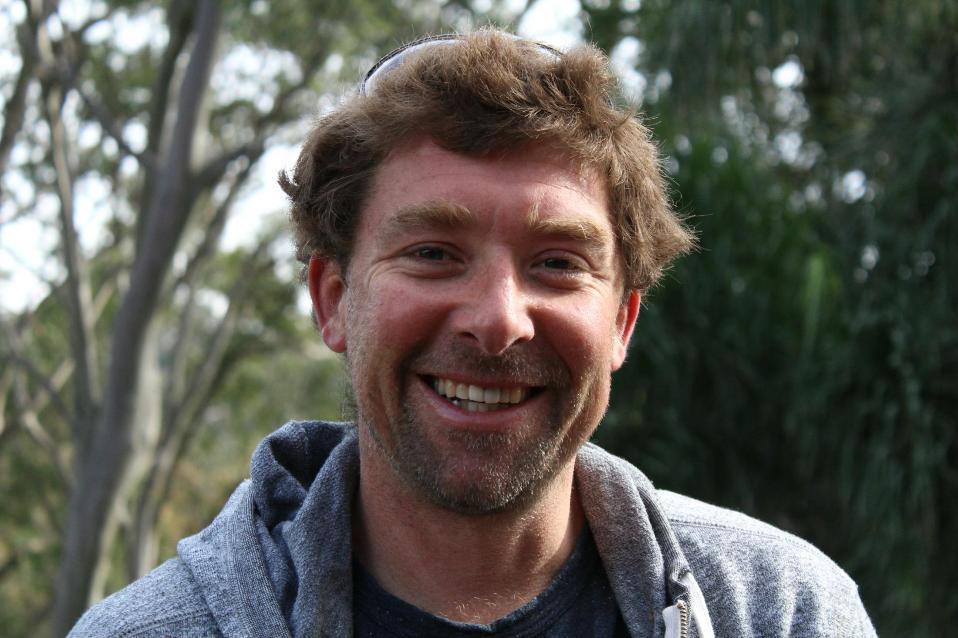 Sir Harold Wyndham CBE (27 June 1903 – 22 April 1988) was Director-General of Education in New South Wales between 1952 and 1968. In 1954 Dr. Wyndham was appointed to chair a committee tasked to completely review the Secondary education system in New South Wales and make recommendations for improvements. The committee's report, popularly referred to as "The Wyndham Report", was presented to the Minister in October 1957 and gave rise to the Public Education Act of 1961 which was brought into effect in 1962. Key amongst the changes was the objective of presenting all students with the opportunity to experience a wide range of subjects, including visual arts, industrial arts, music and drama, and a wide range of languages. The Five-year Secondary School system was abandoned in favour of adding another year to the course, with major state-wide external examinations at the end of the Tenth (School Certificate) and the twelfth (Higher School Certificate) year of schooling.
What this really meant was "The Wyndham Scheme" created changes to the curriculum which had a more student-centred approach.
When Dr Wyndham was appointed as Director-General of Education there were 455,000 students in the NSW Education system, of whom 100,000 were in Secondary schools. By 1968 there were over 244,000 students in secondary school of whom 64% could be expected to complete the then brand new Higher School Certificate.
The NSW Government Architect's Branch met this demand by innovating new designs for high schools which could be built quickly and cheaply. These included the so-called 'doughnut schools', designed by Michael Dysart.
'The Dysart schools from this period were innovative in two main ways. As with leading European and North American architects who designed innovative schools in the period such as Arne Jacobsen, Hans Scharoun, Denys Lasdun and Caudill Rowlett Scott (CRS), Dysart moved away from simple linear blocks or finger planned schools, which were typical in the postwar years. In their place he employed a series of square doughnuts in a sort of pinwheel configuration around a large central space. He usually placed a rostrum and bell tower – which sometimes also doubled as an incinerator – in that central space, which could then be used as an all-of-school gathering area. The scheme did away with indoor hallways and replaced them with covered walkways and cloisters. The second innovation was a novel construction process which enabled the erection of a structurally independent roof very early in the process. This allowed work to go on regardless of weather and proved to be a significant efficiency. By these means Dysart provided a new sense of refuge and place definition in the school environment while also devising an efficient system for delivering school buildings. While there was a general move towards 'demonumentalizing' school buildings in the post-war decades, the Dysart-designed schools introduced a different set of spatial relationships, one which recalled the deeper traditions of communities of learning.' - First published in Architecture Bulletin Nov/Dec 2012.
Some of the first Dysart schools were built at Turramurra, Ryde and Pendle Hill. One Dysart doughnut school was also built in Pittwater and originally referred to as Avalon High School during Tender/build stages. We now know this school as Barrenjoey High School.
The first intake was in 1968.
This year BHS has been celebrating its 50th year with a range of good fun stuff including a Colour Run/Obstacle Course, a Winter Night Market and on September 29th, a Golden Ball. All ex-students, staff, parents and members of the Barrenjoey community are invited to celebrate. Ticket sales close on September 20th. Get yours here.
The style of the structure built for the students is reflected in the school's inner spirit and place in the community as another 'heart' if you like. A sense of community, a progressive outlook from the first intake to the subjects students may choose today or the way current issues faced by students, parents and teachers are addressed is a many gathered as one equation. That inner quality will soon produce another extension in building form as the Barrenjoey Community Performance is realised as this too will showcase individual voices within the school and within the community and their interconnections.
Barrenjoey promotes a vision of providing a school experience where Respect, Effort and Challenge are highly valued - in fact that's the school's motto. Students respect the subjects they study, the content, teachers, environment and themselves, where effort is expected, valued, recognised and celebrated and where students are enabled to realise the worth in challenging themselves to 'be the best they can be'.
Although the school has a vast number of notable alumni across Arts, Science and Sports and every other field of human endeavour, it is the simply great human beings with great attitude that emerge from this school that best serve as its 'dream come true'. These are individuals that stand upright, care about the place around them, the people in it and are aware of how we are all interlinked – connected.
This week an ex BHS Student who is still excelling and seizing opportunities presented to him to 'be the best he can be' in every pursuit that is part of his individual nature:
Where and when were you born?
At Mona Vale Hospital in 1980.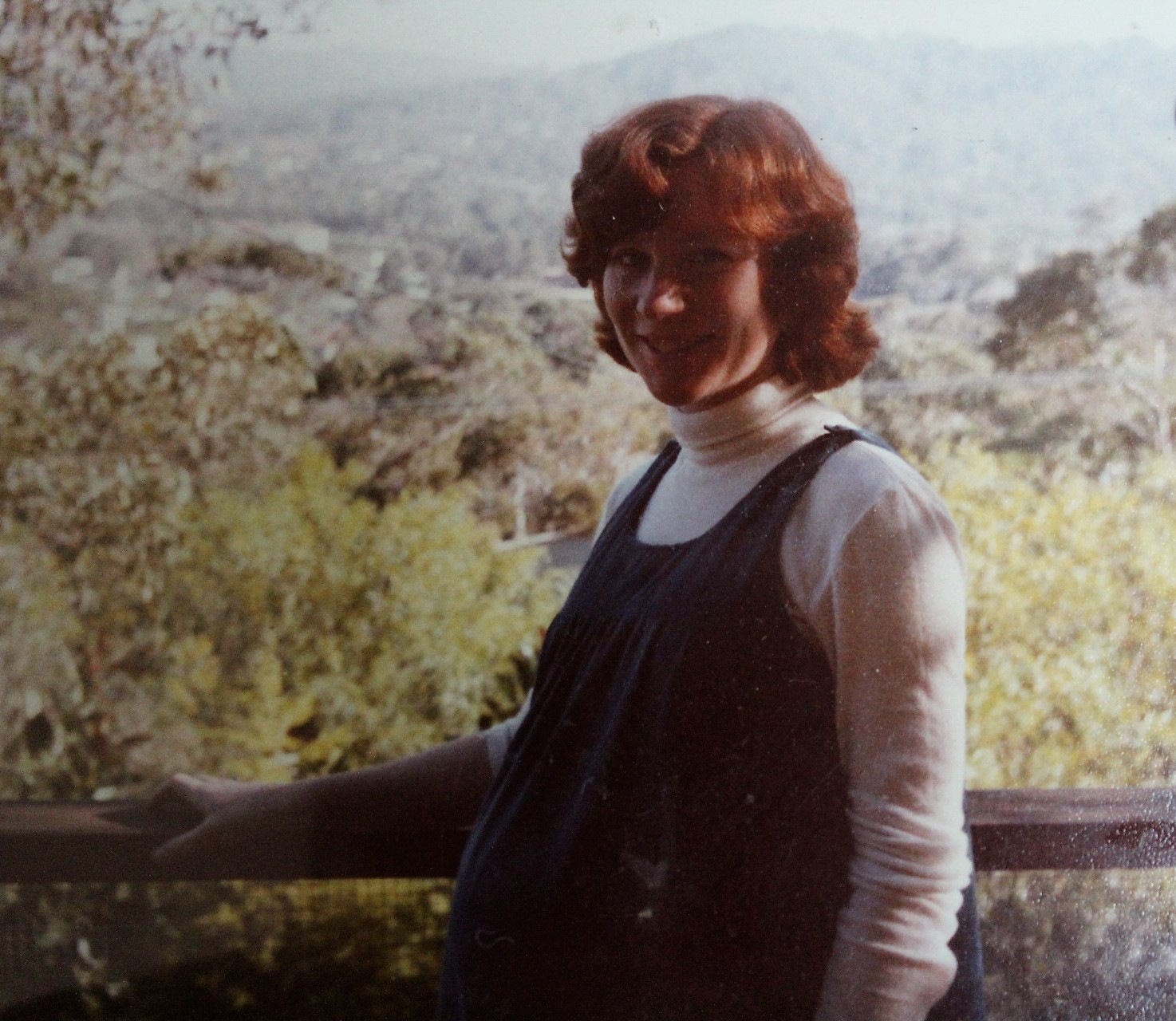 Carolyn at Whale Beach Road home - Adam almost visible. Photo courtesy Adam Crowley and his mum's photo album for each child.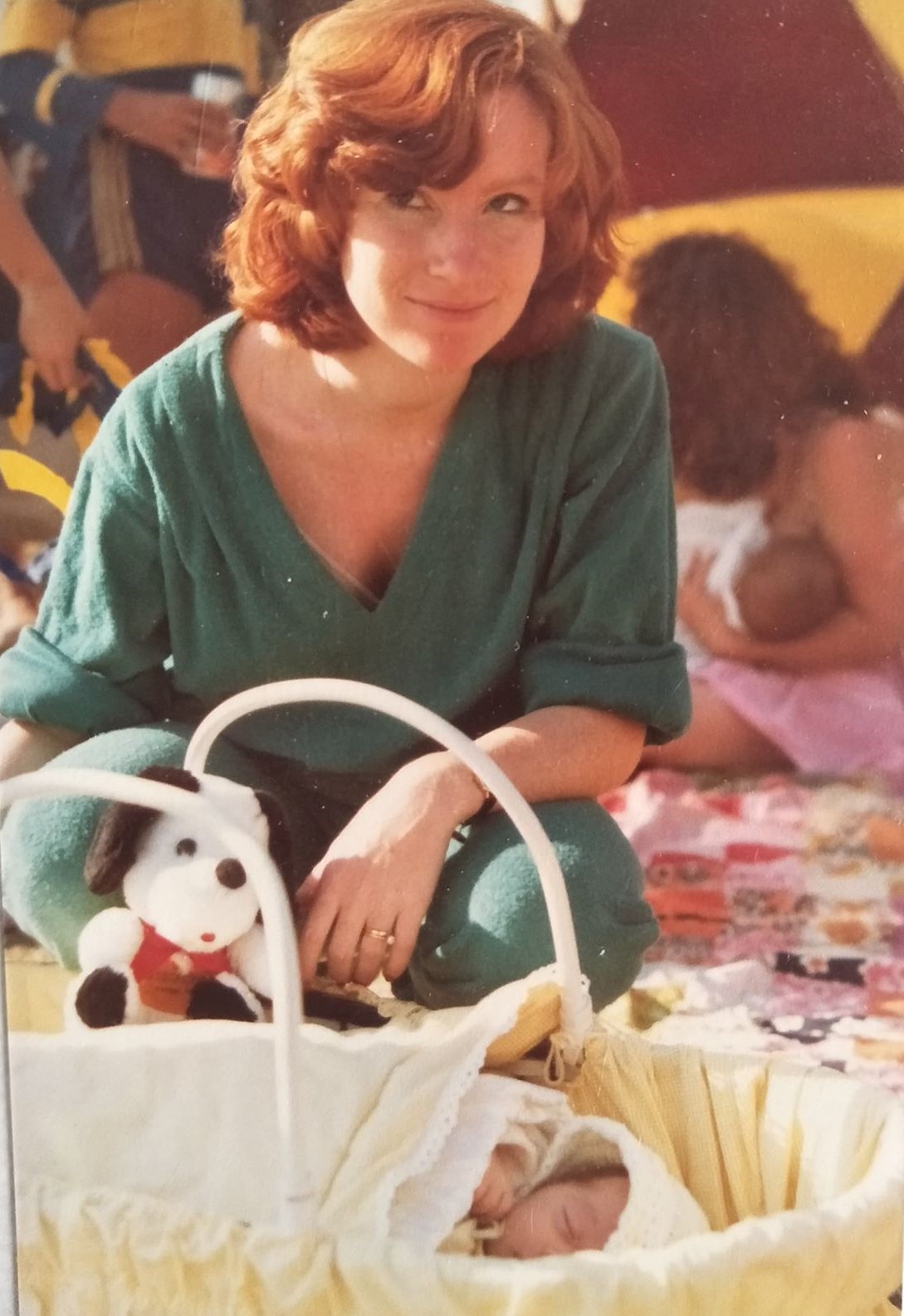 New mum and new bub - 1980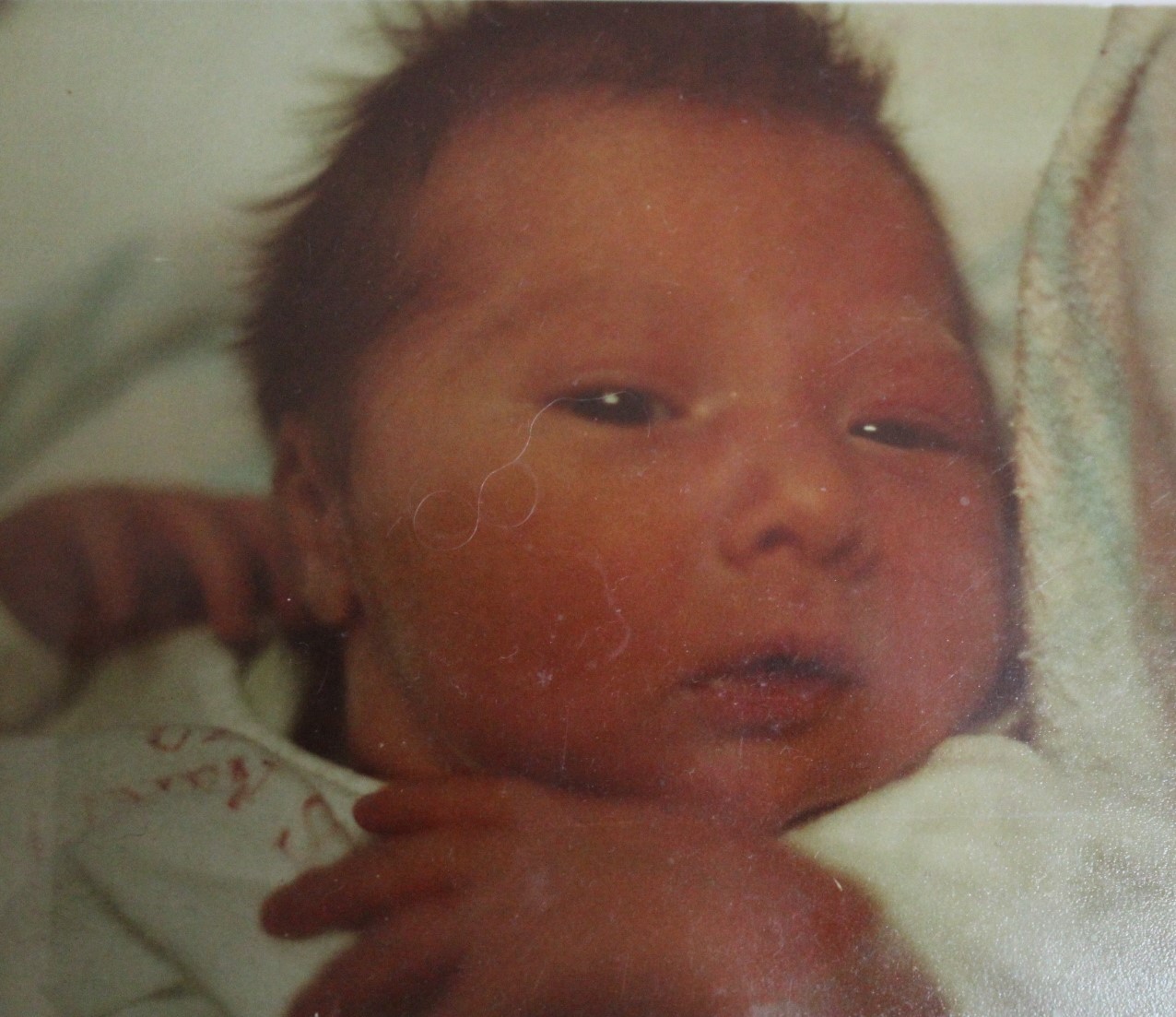 Adam's first week.
Where did you grow up?
In Avalon and Palm Beach.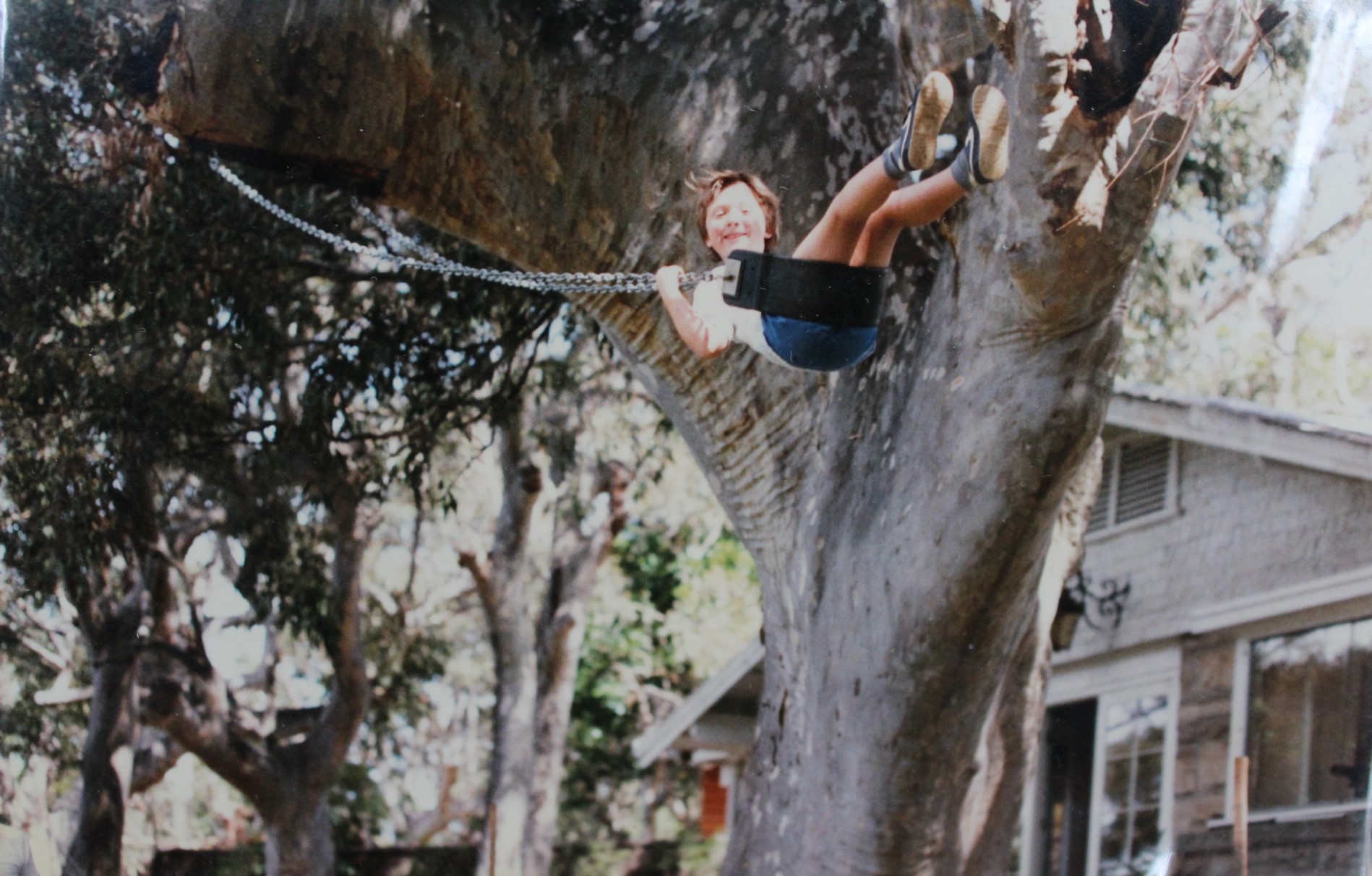 Having fun at Palm Beach - this tree and home, at the corner of Palm Beach Road and Pacific road, are both still standing
What did you do for fun?
All sorts of stuff, lots of water sports being on the beach all the time of course. I did Nippers as a kid at Avalon Beach SLSC, played soccer during the colder months through Avalon Soccer Club at Careel Bay, swimming at Bilgola Beach in the pool out from the surf club there.
I went surfing a lot too of course, would be up at the crack of dawn at anywhere from Palm Beach to Bilgola – there's some great waves right along that stretch.
Which schools did you attend?
I started out at Palm Beach kindergarten, then Avalon Primary. After there I went to St. Augustine's at Brookvale for a while but then changed in Year 8 to Barrenjoey and completed Year 12 in 1998.
Good school?
Yes. In Year 10 we had the choice of being supported in selecting what we might like to do in the future; where we should aim with marks at school whether we wanted to attend a university or go into some other field. I had a passion to travel the world to go skiing of course, and go surfing, things like that. To support that I thought it would be a good idea to become a chef.
When I was at Barrenjoey High School instead of going to sport each week you had the opportunity of going to TAFE. I started going to Brookvale TAFE while still at BHS so I could get a Cookery Certificate that might help me secure an apprenticeship to become a chef. I also worked while still at school to save money working in different cafes and burger shops around Palm Beach, places like Barrenjoey House.
When I left school a friend of my father who had a big building company offered to train me in that field. I started as a Builder's Labourer learning all the different aspects of construction and remember putting on a roof, or the proper way to paint, how to build frames for walls, all sorts of stuff – these were large scale works.
I also continued with the cooking while doing that, working in cooking as well as doing the study to get my qualifications and ticket. It was pretty full on.
I wasn't surfing as much, that's for sure. When I wasn't working, day and night, I was out partying, spending the money.
So you didn't end up travelling?
I've ended up travelling the whole East Coast of Australia and surfed nearly every single break – there's so many great beaches and great waves – but I did this over a few years instead. I've also been overseas too.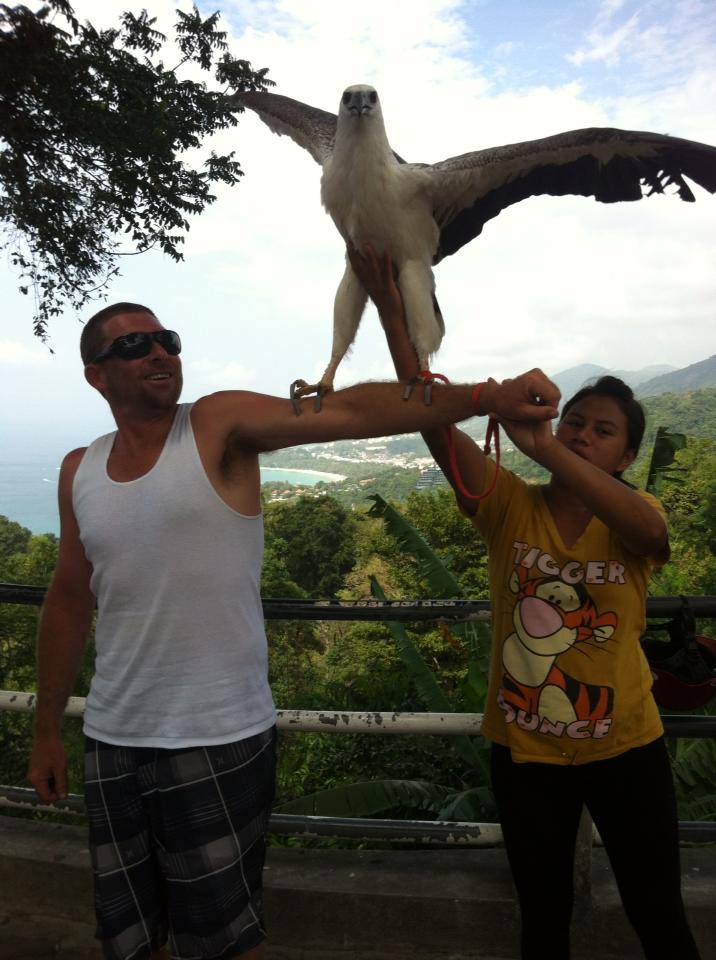 Adam in Thailand
I started doing seasonal work, so would be down in the Snowy Mountains during the Winter Season doing kitchen based work. At one stage I was working at Falls Creek driving the oversnow at night while cooking during the day. These were varied hours jobs so they added up to 8 hours a day but were scheduled so I got to ski during the day. The place where I was cooking was out on the edge of the mountains, so I could ski just after sunrise – a beautiful time of the day to be on the snow.
During the Summer I would work on motor yachts and would be the only crew aboard or among a larger crew. That work entailed cooking, cleaning and driving, maintenance. This was on Sydney Harbour as well as on Pittwater, I did this for 10 years – Winter in the mountains, Summer on the water.
You just won a gold recognition in a decades old traditional race - what competition were you in?
There's a weekly ski race they hold for the people who are staying at Charlotte Pass. This is a slalom race where they set up flags and gates and you have to ski between them, there's 12 to 15 in total. The fastest ski instructor sets the time, which is around 22.4 seconds. My time was 24.6, which was only two seconds behind the ski instructor. I came second overall with the bloke in front of me beating my time by a few milliseconds.
I think the skis they used may have given them a bit of an edge as they had race skis whereas mine were made for Japanese powder. That and, in the ski instructor's case of being on the snow the whole season while I had only been there for two days prior to the race, meant a 2nd for me, but still the gold.
How did it feel to get the gold?
Pretty cool. I've done this race a few times when younger and growing up skiing there. I had only ever won bronze and silver before and now I have a gold. The last time I actually skied in this race was around 20 years ago, so times have changed.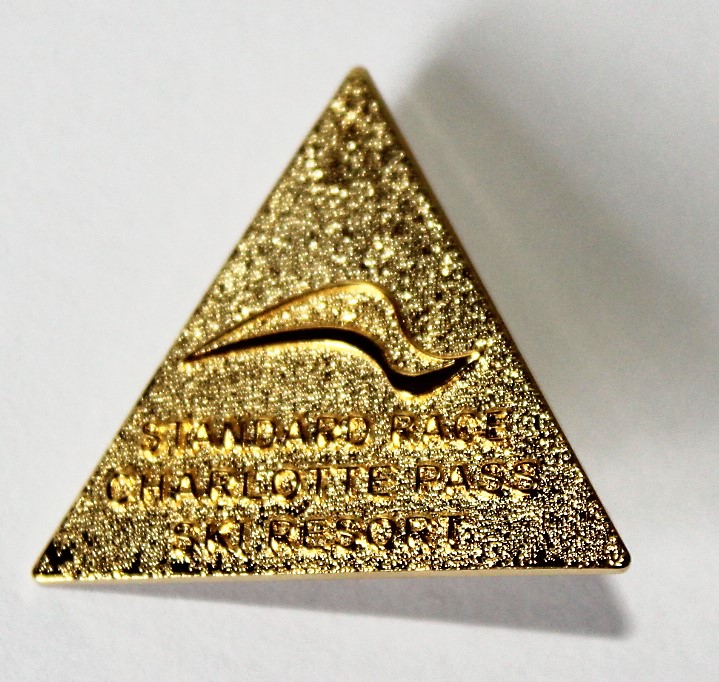 The Gold Standard Race Charlotte Pass Resort pin
Do you go down every year?
Yes. I also worked there for ten seasons and so got to ski every day, for 90 days of every year.
Why do you like the snow so much?
It's just unreal. There's nice fresh air, it's healthy, clean, in a beautiful place and just the love of skiing, it's unreal, a great healthy sport. Racing down the hill at high speeds is an amazing sensation.
Have you ever broken a leg?
I've injured myself a few times, but nothing major. The worst accident I've had was on a snowmobile. Being down there for the season I once got into a little bit of trouble.
Which is your favourite snowfield?
That would be hard to choose really, they all have their different positives and characteristics. Thredbo has some of the longest runs with a top to bottom run but can be variable due to snow conditions – you need a good fall to make them nice. They are also quite narrow runs so within half an hour of the runs opening they can get quite chopped up through use and this creates moguls and slush. If you can get it when it has just opened up and the snow is fresh, or just after a good snowfall, or just after it's been groomed, then it's lots of fun.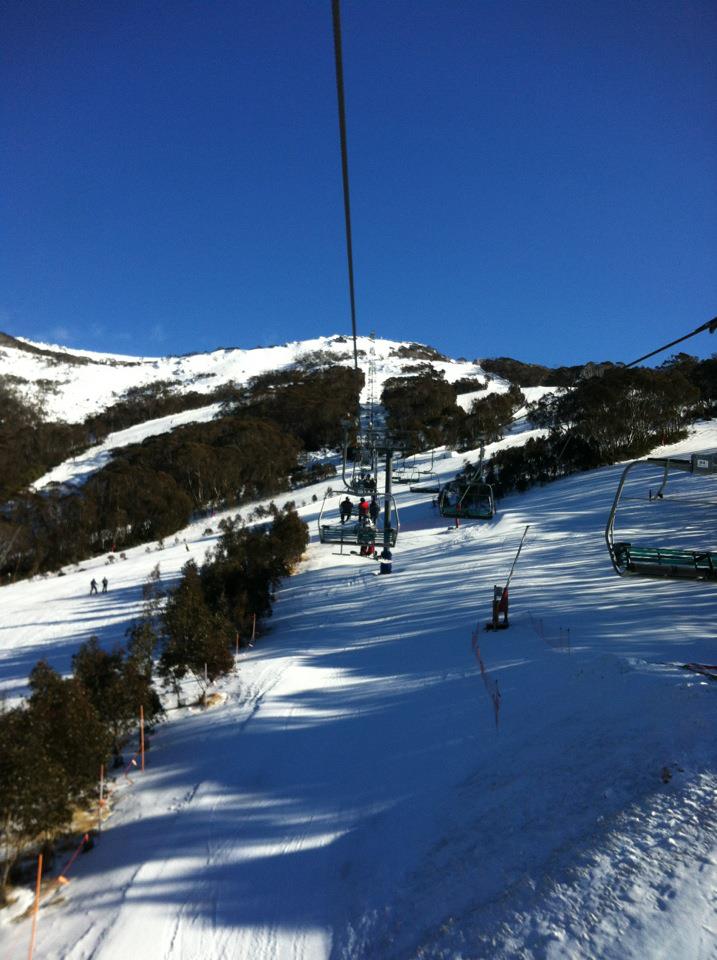 Nice day at Thredbo! — at Thredbo Chairlift. Adams' caption and photo

Perisher has a different terrain. These are shorter runs, not by much, but the place is set out over a wider amount of fields so there's lots of runs everywhere. Perisher is very popular too and so can get quite crowded.
Charlotte Pass is different again. I grew up skiing there as a kid so it's like another home to me. Charlotte Pass has a nice community vibe about it and a beautiful village too. It may not have the most advanced terrain and longest runs but you can access these straight off the back and into the back country.
Have you done any cross-country skiing?
Only in the pub to pub race, which runs from Smiggins to Perisher, and a bit of an adventure for those who go in. There's a vast difference between cross-country skiing and the downhill form. I stick to the downhill.
When not taking a break down the snow you work as a Tree Lopper now – how did that happen?
In between what I call my seasonal jobs I would do some labouring work. Initially this was some gardening and associated jobs for mates who had Tree Lopping businesses such as simply dragging branches to trucks and cleaning up. I decided after a decade of doing the seasonal work that I wasn't really going anywhere, just partying and playing. In 2010 I bit the bullet and decided I needed to do a complete change and thought I'd do a 'tree change'. This was something I'd always been involved in from a young age anyway – mowing lawns for pocket money, working with plants, being around great trees when in the mountains, doing extra labouring work in and around gardens and trees and flowers – it just seemed obvious and a natural progression of what was there from early on anyway and something that had always been around me and that I'd been involved in.
To take the next step I began a course learning how to use chainsaws correctly. My boss at that time recommended I do the Certificate II in Arboriculture. This was great fun, I was learning so much and a round a great bunch of fellows while doing it. I used to be scared of heights and climbing tall tress but with the new technology and the techniques you're taught that has been overcome to a large extent. I'm now even taking advantage of being up that high by getting panorama photographs of views only the birds get.
It's also great to learn so much about trees, they're an amazing plant.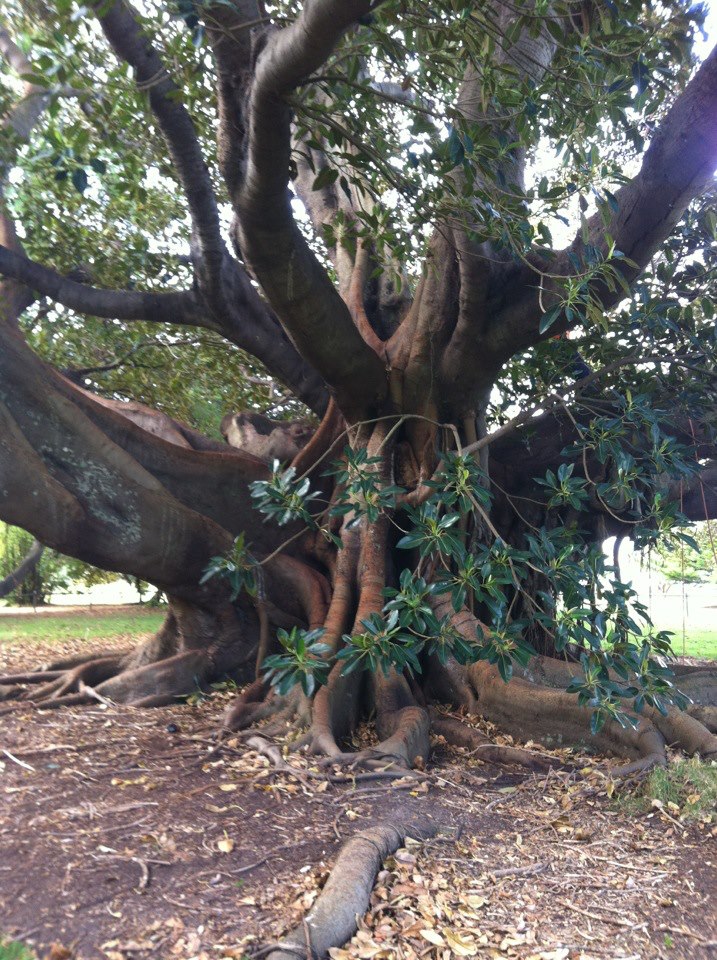 Children's fig at Farm Cove. Worlds coolest tree — at The Royal Botanic Garden, Sydney. - Adams' caption and photo

You have continued though and have commenced a new course a few weeks back?
Yes. The next step now is to get a Diploma Level V in Arboriculture and for this I'm travelling to Melbourne two days once a month for two years to complete the studies.
What will that qualify you for?
An arborist is a professional in the field of arboriculture which is the study for the caring of trees, shrubs and perennial plants. In real terms an arborist or tree surgeons maintain what is defined as the urban forest. This involves pruning and removal of trees in confined spaces (suburbia). It can also be identifying trees which are sick and recommending methods that may save them.
The other aspect of this is that Councils in New South Wales in the past only required a Certificate III to submit arborist reports for recommendations on trees, but are now asking for a consulting arborist with a Diploma. This is where the industry is starting to divide with some arborists in Sydney choosing to specialise in arborist reports and others the work of pruning or removing trees.
Due to my passion for trees I want to learn more about them and what keeps them healthy and part of our urban landscape.
You have persistently chosen to learn something new for a while now – why is that?
To find out more about what I'm interested in as much as get the qualifications that will allow me to use or implement that knowledge in my work. I think we're all always learning more and to be able to get that through a structured form geared to support you to use that in practical ways is something everyone can choose to go for, whatever age they are, and for however long they're wanting to progress in an interest, whether for work and career or anything else. It's something that was introduced to me while still at school and has set me up for life I reckon.
So what do you do now for fun when not working and studying?
I love going fishing around Pittwater and also on the ocean side. I have my little secret spots.
What are your favourite places in Pittwater and why?
Too many places, it's all great. There is this little bay though. At Morning Bay, right up that bay there's this little channel that narrows in around 100 metres and then opens out a little – it's really peaceful in there, you feel like you're in the middle of nowhere and it's just beautiful.
What is your motto for life or a favourite phrase that you try to live by?
Keep healthy, keep happy and go for it – do what you want to do!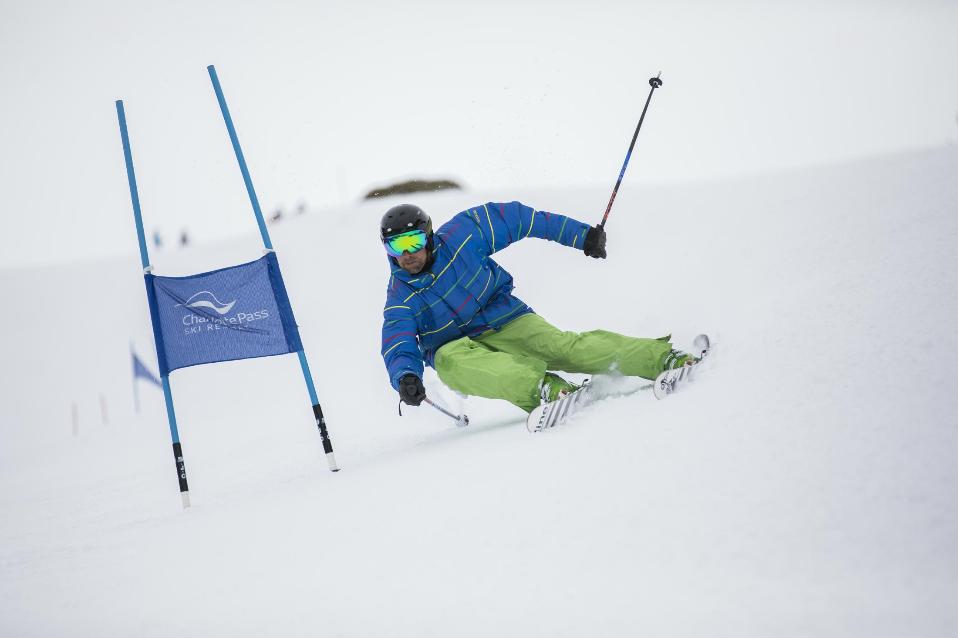 Adam getting the GOLD at Charlotte Pass - Photograph by Susie Burgher, Snow Chutes Photography.

Mount Perisher, August 2018 - Adams' photo
Some BHS Notes
NOTIFICATION OF RESUMPTION OF LAND UNDER
THE PUBLIC WORKS ACT, 1912, AS AMENDED
IT is hereby notified and declared by His Excellency the Governor, acting with the advice of the Executive Council, that so much of the land described in the Schedule hereto as is Crown land is hereby appropriated, and so much of the said land as is private property is hereby resumed, under the Public Works Act, 1912, as amended, for the following public purpose, namely, a High School at AVALON, and that the said land is vested in the Minister for Education as Constructing Authority on behalf of Her Majesty the Queen.
Dated this twenty-second day of June, one thousand nine hundred and sixty-six.
A. R. CUTLER, Governor. By His Excellency's Command,
C. B. CUTLER, Minister for Education.
The Schedule
All that piece or parcel of land situate in the Shire of Warringah, parish of Narrabeen and county of Cumberland, being lots 1 and 2, section 4, Deposited Plan 13,811, and being also the whole of the land comprised in Certificates of Title, volume 9,994, folios 134 and 135,—having an area of 2 roods 11 perches or thereabouts and said to be in the possession of Avalon Developments Pty Ltd and Northbridge Constructions Pty Ltd. NOTIFICATION OF RESUMPTION OF LAND UNDER THE PUBLIC WORKS ACT, 1912, AS AMENDED (1966, July 8). Government Gazette of the State of New South Wales (Sydney, NSW : 1901 - 2001), p. 2703. Retrieved from http://nla.gov.au/nla.news-article220022810
Department of Public Works—Tenders for Works

TENDERS will be received up to 2 p.m. on the dates specified for the undermentioned works. Envelopes containing tenders must be addressed to the President, Tender Board, Department of Public Works, Box 44, G.P.O., Sydney, and have legibly endorsed upon the face thereof the name of the work for which the tender is submitted. The Government does not bind itself to accept the lowest or any tender. Specifications and plans for all works may be seen in Contractor's Room, Department of Public Works, Sydney, in addition to the other places mentioned. Plans and specifications for works other than architectural works and building engineering services and excluding also those plans and specifications issued in respect of quotations and minor contracts, issued from the Postal and Contractor's Room of the Department, must be purchased at the rates of 50c for the plan with a maximum of $8.40 and $1 for the specification. Where the total cost of the plans and specifications is more than $1 and provided the plans and specifications are returned to the Department prior to the closing date in good order and condition a refund of the purchase money may be made:
Avalon High School—Stage I. (Bills of Quantity, $8 each.) Avalon High School—Electrical Services. (Sub-contract.) Department of Public Works—Tenders for Works (1966, November 4). Government Gazette of the State of New South Wales (Sydney, NSW : 1901 - 2001), p. 4524. Retrieved from http://nla.gov.au/nla.news-article220020370
NOTIFICATION OF RESUMPTION OF LAND UNDER
THE PUBLIC WORKS ACT, 1912, AS AMENDED
IT is hereby notified and declared by His Excellency the Governor, acting with the advice of the Executive Council, that so much of the land described in the Schedule hereto as is crown land is hereby appropriated, and so much of the said land as is private property is hereby resumed, under the Public Works Act, 1912, as amended, for the following public purpose, namely a High School at AVALON, and that the said land is vested in the Minister for Education as Constructing Authority on behalf of Her Majesty the Queen.
Dated this sixth day of December, one thousand nine hundred and sixty-seven.
A. R. CUTLER, Governor. By His Excellency's Command,
C. B. CUTLER, Minister for Education.
The Schedule
All that piece or parcel of land situated in the Shire of Warringah, Parish of Narrabeen and County of Cumberland, being lot 3, section 4, Deposited Plan 13811, containing an area of 1 rood 0 ¾ perches or thereabouts and said to be in the possession of the Department of Education.
NOTIFICATION OF RESUMPTION OF LAND UNDER THE PUBLIC WORKS ACT, 1912, AS AMENDED (1967, December 22). Government Gazette of the State of New South Wales (Sydney, NSW : 1901 - 2001), p. 4846. Retrieved from http://nla.gov.au/nla.news-article220059551
Kulka : Barrenjoey High School magazine – 1971
Joey : Barrenjoey High School magazine - 1978