December 11 2022 - January 14 2023: Issue 566
Residents, Business Owners, Pittwater Councillor call for halt to Avalon Shared Space works: Flooding caused - APA states it is 'extremely disappointed'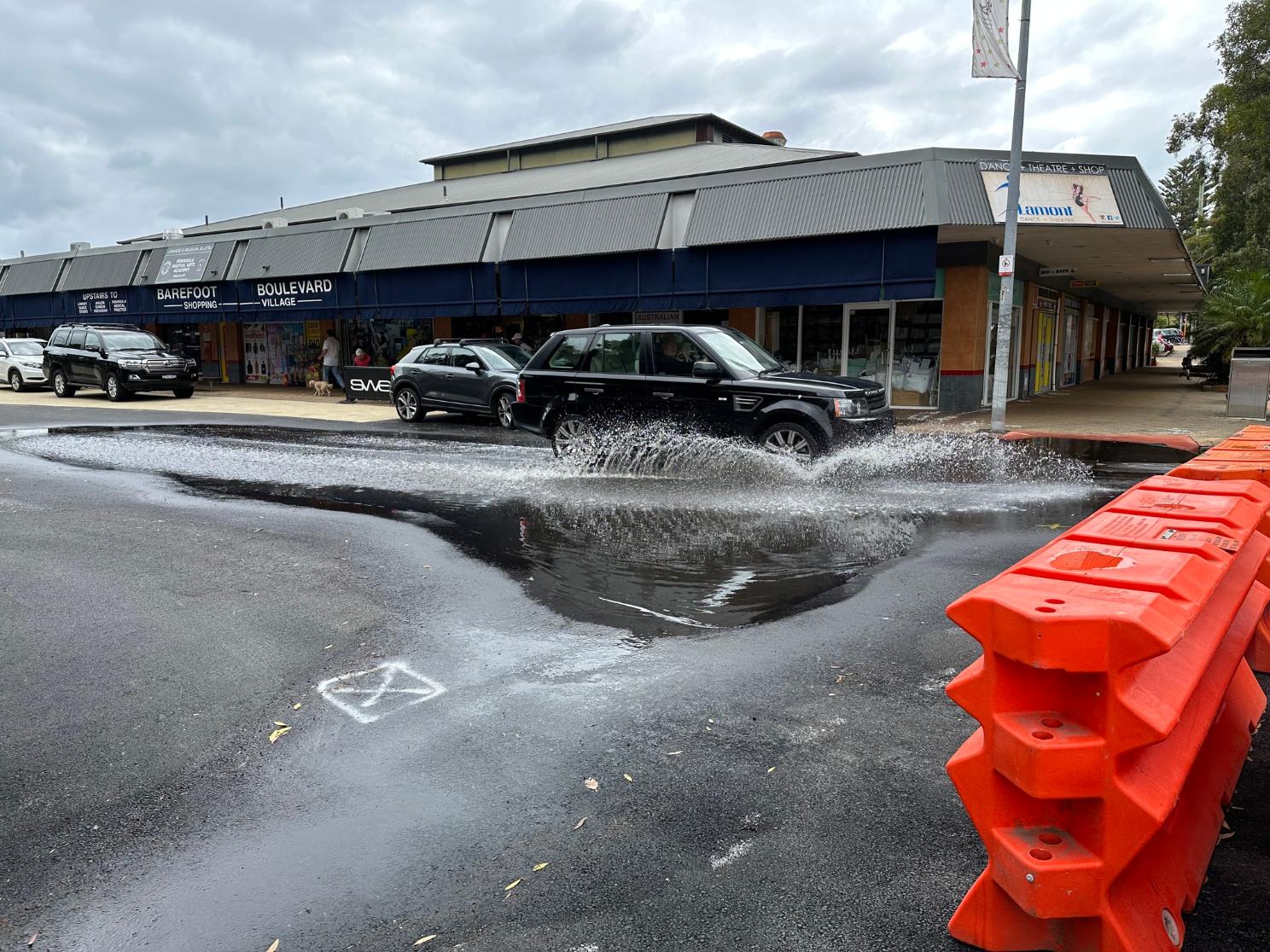 Residents, Business owners, the Avalon Preservation Association and Pittwater Councillor Miranda Korzy have called for a halt to the Avalon Shared Space works due to the impact these have had on the community and businesses adjacent to the works.
In its Monday December 19th Bulletin APA stated;
Delays in commencement of construction of the One Way Shared Zone has resulted in significant disruption to Avalon

Village. The delay has meant construction work has been pushed into the busy Christmas holiday period. Retailers are

angry. Drivers are angry. Residents are confused. In an effort to have this work completed expeditiously the re-established Avalon Chamber of Commerce has been in direct contact with Council CEO Ray Brownlee.

Despite early assurances that the number of contractors would be increased and work finished quickly Council recently had to update the schedule again. The bulk of the works were to be completed by 14th December. As of 15th December this current deadline has also not been met.

The following Works have now been deferred until February:
south eastern footpath upgrade;
formalisation of eastern crossing;
shade structures in Old Barrenjoey Road.
Despite our best efforts, APA have not been given any indication of when the surface in the Shared Zone will be coloured to delineate the difference between the Pedestrian Only areas and the 10kph Shared Zone of Pedestrians and Cars. No date has been given for the installation of planters and planting.

APA is extremely disappointed with the delays in construction and, the trial has not yet begun!''
On Tuesday December 20th Councillor Miranda Korzy stated
''I'm calling for a halt to work on Avalon's shared zone.
I have just asked the council's CEO to immediately halt work on the Avalon shared roadway project and to carry out an emergency assessment of it and emergency measures to decrease the flood risk - increased by the road works - to businesses in Old Barrenjoey Road. This should include provision of sandbags until the work is done.
I believe the project has been marred by multiple problems, including several requiring remediation and revisions, that have caused enormous inconvenience to Avalon residents, businesses and visitors.
Some of these include:
Disastrous timing - meaning that work has impacted on the Christmas trading period in Avalon. The project was not finished let alone bedded down before traffic increased from holiday visitors. This has undermined residents' confidence in the council.

Inadequate publicity and signage at the beginning of the road works - given they took many residents by surprise. Small signs, on posts near pedestrian crossings, were not seen by most people - especially when they slid to the ground.

Lack of traffic controllers when the northbound lane on Old Barrenjoey Road was first closed and during roadworks and work on pedestrian crossings, leading to traffic chaos. I also saw for myself children, after leaving school at 3.30pm, crossing the road in amongst the confusion.

Large queues of traffic forming on Avalon Parade, past the Bowling Green Lane Car Park particularly at peak times - such as school drop off and pick up.

Moving of a bus stop to Barrenjoey Road with a traffic island in front of it and in close proximity to the driveway of the Shell petrol station. This encouraged school students to cross in front of buses with cars unable to see them, and poor visibility for motorists leaving the Avalon Beach Surf Life Saving Club (which is almost directly across the road).

To fix this problem, the bus stop was moved again in front of the traffic island.

Installation of pedestrian ramps that are too steep for pedestrians using walkers on Avalon Parade and Old Barrenjoey Road. Staff have told me that the one ones on Avalon Parade are compliant with road standards, however, I've seen an elderly woman crossing the road there, with her walker running away from her as she negotiated the slope and she then got stuck at the ramp at the other side - and had to be helped by two other people to walk up to the footpath.

Visibility at the relocated pedestrian crossing on the northern side of Avalon Pde, near Barefoot Boulevarde, is restricted by plants so that pedestrians can still be seen choosing to cross at the corner where the old crossing was located.

Mistakes with laying bitumen on Old Barrenjoey Road, that led to flooding over the footpath and close to shop entrances.

Delays to remediation of the roadway caused by unavailability of a machinery to do the work.

New laying of bitumen on Old Barrenjoey Road has resulted in flooding of the roadway and inundation of a pedestrian ramp over the past weekend and today.
I have had a phone call today from a resident who said he had seen a disabled person trying to cross at the pedestrian ramp on the north-east corner of Old Barrenjoey Rd and Avalon Pde get stuck in the water - and was then helped by another person with a disability to get out.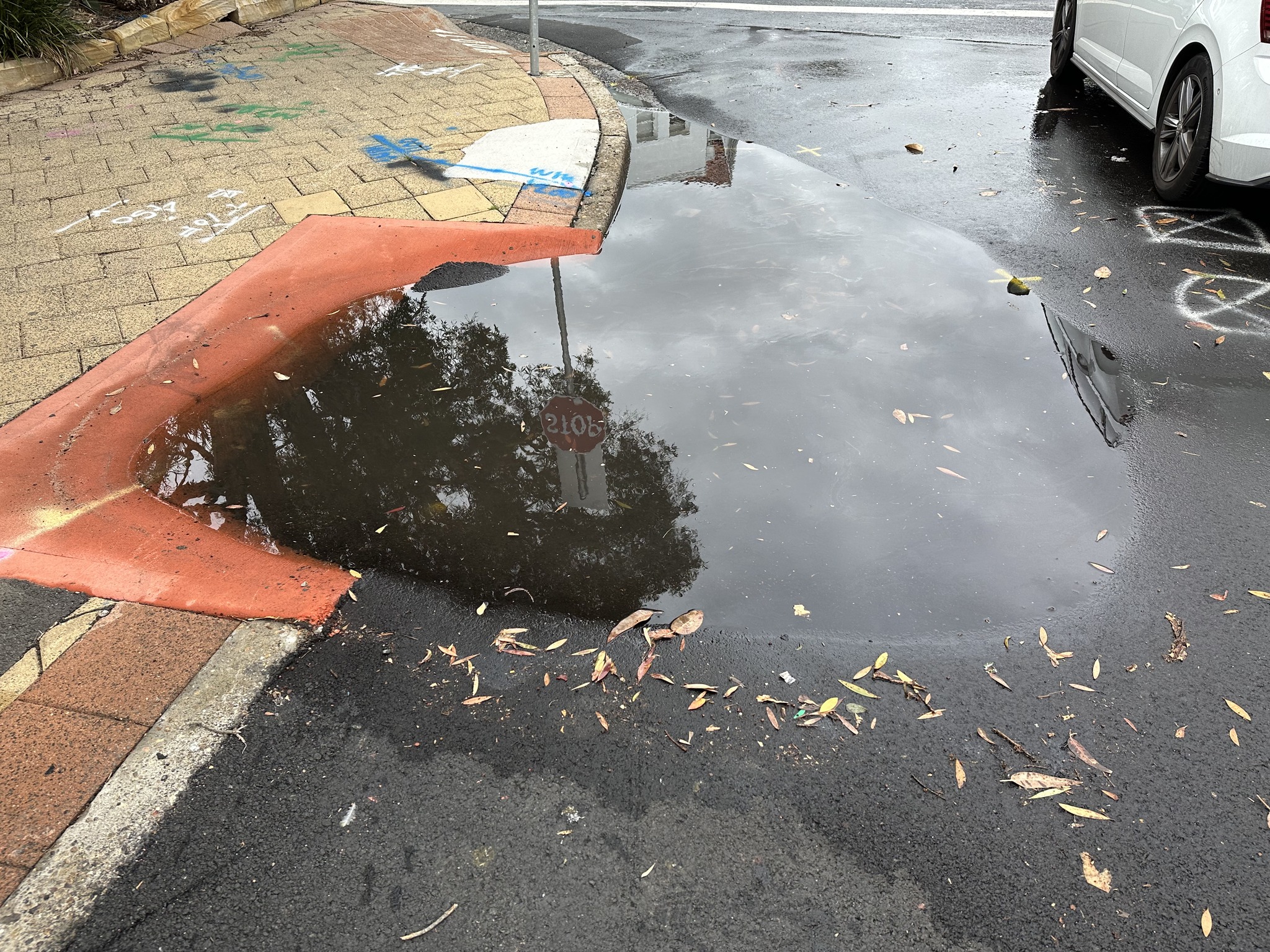 Throughout this work and while these problems continue, Sydney Water has also been digging up the roads in the centre of Avalon village. They have also sprayed paint across the footpaths in multiple colours which is still there.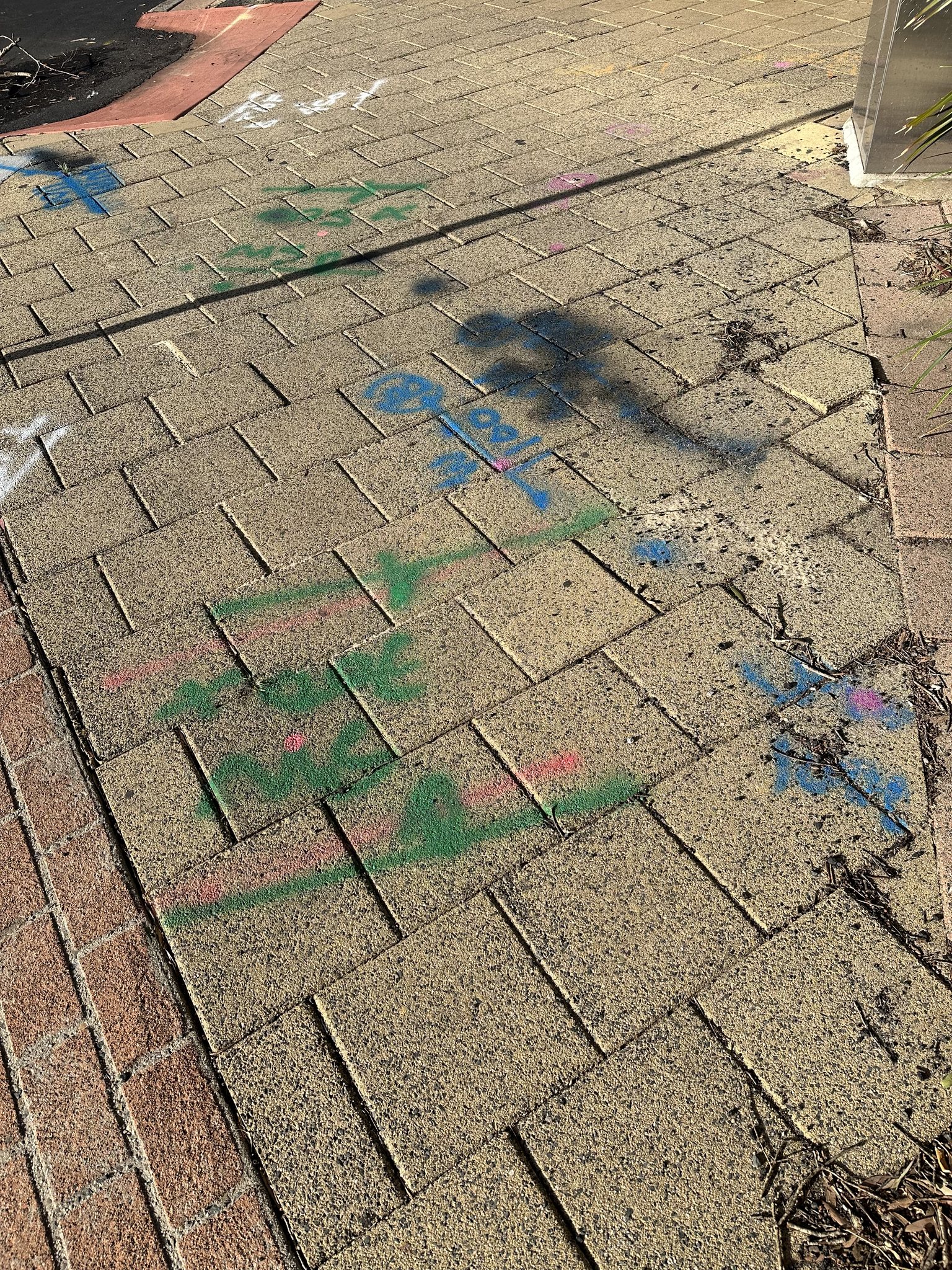 A section of the council carpark next to Woolworths Avalon store was closed off during the work, at a time that the village has lost in excess of nine parking spaces due to the work.
Similarly, Woolworths closed off the footpath at both ends of its shop two weeks ago, during the day, to work on their eaves - blocking access to pedestrians during the period before school started, so that children and parents were forced into the path of traffic in the carpark during the busy period.
The local business chamber, via councillors, requested all work stop by December 13, in preparation for Avalon's pre-Christmas late night shopping night on December 15. Pittwater councillors, however, emphasised to staff that we needed work to reduce the increased risk of flooding to shops as quickly as possible.
Work was scheduled to be carried out between 10pm and 5am - to avoid disrupting businesses, especially cafes and restaurants. Councillors have asked on multiple occasions for this to be enforced with contractors. However, work has started before 10pm on multiple nights.
Having spoken to the business chamber and business owners, they are nervous that with further rain their premises will be flooded.
Throughout December, the start of Avalon's peak trading period, the village has looked like a construction zone and residents have avoided it because of the traffic problems.
Given this extensive list of issues, I'm now requesting that:
1. Work be halted and an emergency assessment be carried out of the design, planning process, and compliance with agreed schedules, including start and finish times.
2. Emergency measures be taken to prevent flooding occurring in business premises in Old Barrenjoey Road. ''
In Streets As Shared Spaces Work To Pause In Time For Thursday Night Xmas Shopping by Miranda Korzy, Pittwater Greens Councillor, Ms Korzy went to the work site late into the evening as the night works were in progress. The workers explained a milling machine works gouges into the road surface to provide a channel for drainage.
However, this has not been successful at this location, with pooling where vehicles pass and flooding now impacting on the businesses adjacent to the Shared Space section.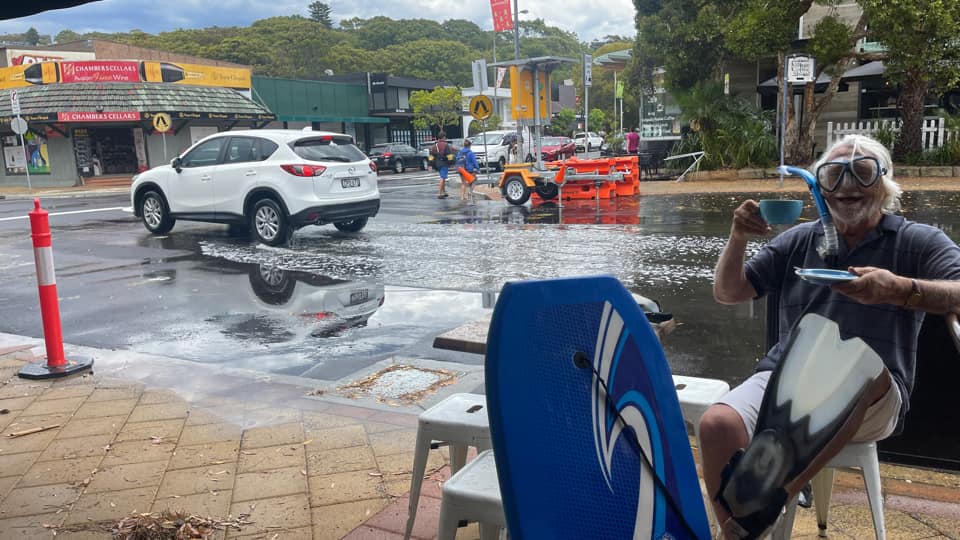 Avalon Beach Shared Space after Monday's downpour. Photo: RA

The section has always been prone to flooding, as instanced since the commencement of the Avalon Beach subdivisions under A J Small, who donated what became Dunbar Park to Warringah Shire Council on the proviso that the flooding was fixed with adequate drainage.
This photo was taken in 1974 by John Stone and shows the same location where the two footpaths were recently "joined" between Stapleton Arcade and Ecodownunder at 2/74 Old Barrenjoey Rd.
Drainage remediation was undertaken after this photo was taken.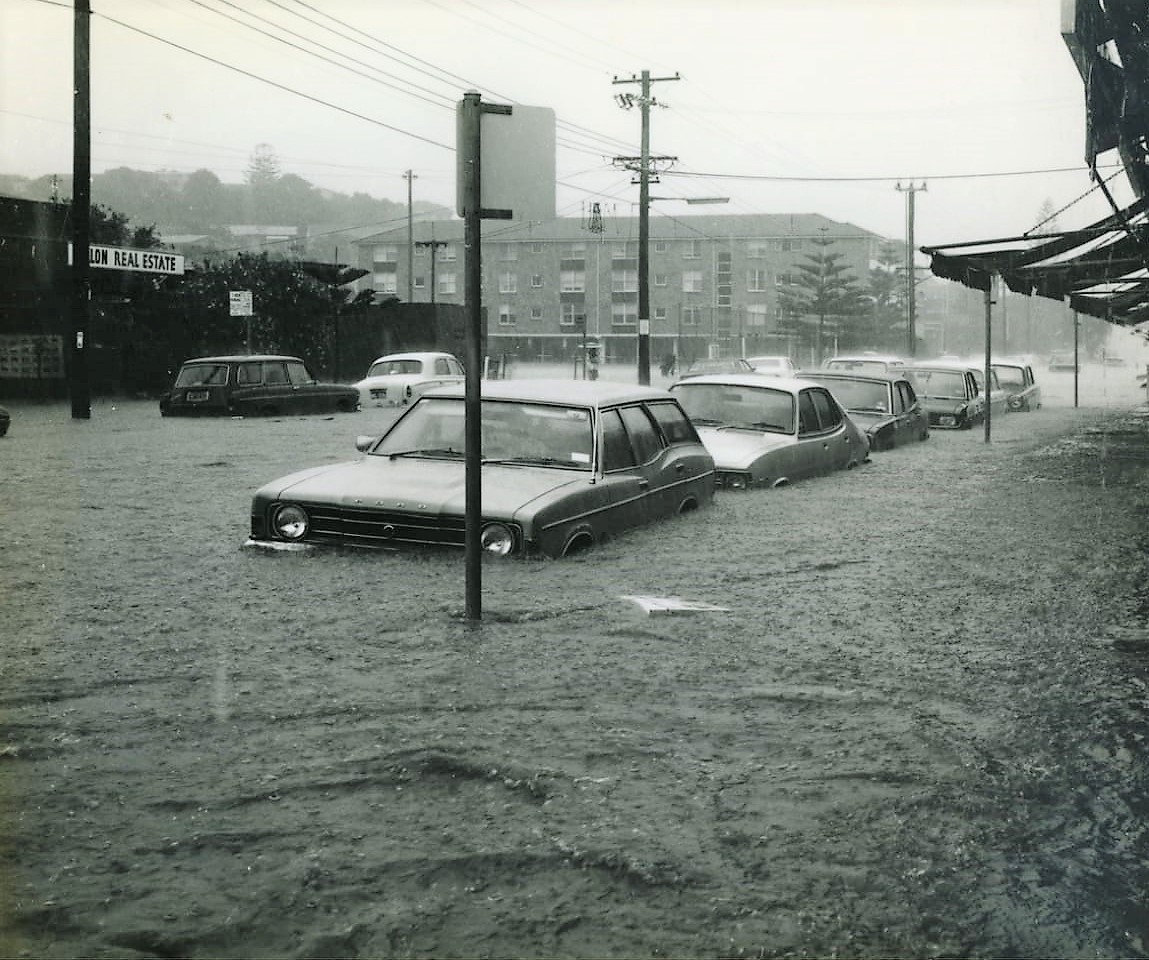 Photo courtesy ABHS
''Thirty or forty sandbags were still sitting in that environment after the downpour on Monday December 12 around 11.15am.'' the APA states.
On May 4th 2022 The Hon. Rob Stokes, MP for Pittwater, announced funding for a pedestrian shared space trial within the Avalon village.
The NSW Government allocated $500,000 to support Northern Beaches Council's proposal for a shared pedestrian and vehicle zone at the northern end of Old Barrenjoey Road (between Avalon Parade and the Woolworths car park).
The Council has stated that part of these funds are to take out what is installed should a six month trial prove to be a failure. However a similar pilot scheme along the Dee Why beachfront was extended by the Northern Beaches Council for 12 months in May 2022, despite the objections of adjacent business owners.
That 'trial' has been operating since August 2021 and includes the implementation of one-way traffic flow and combining the existing two bike lanes to a side by side two-way cycleway on The Strand to enable an extended pedestrian boardwalk and outdoor dining.

The Council has stated the Strand trial will now continue until April 2023.

On Tuesday morning, December 20th, a resident forwarded the following photo showing the street furniture is now in place and the gutter/shared space still runs flush to the pavement: