January 22 - 28 2023: Issue 568
Bilgola SLSC's 2023 Ocean Swim – The 'Billy' Laps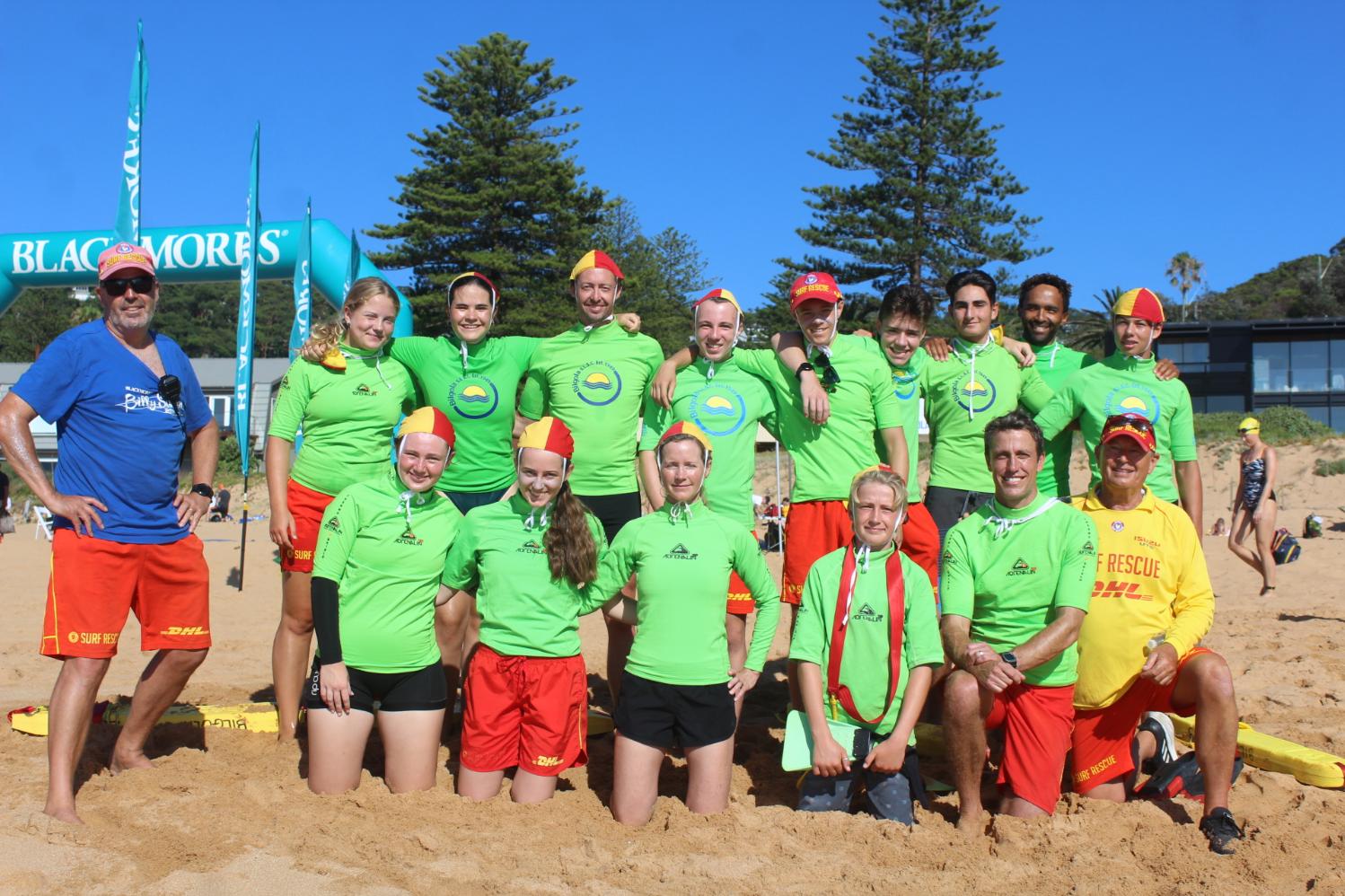 The Blackmores Billy Swim, affectionately known as the 'Billy', has two different swims starting an hour apart, 500m and 1.5km. This was the second in the 2023 Pittwater Ocean Swims Series and with a brilliant Summer's day, a low tide and brilliantly clear water, conditions could not have been better.
Prior to the shorter Bilgola Ocean Swim taking place President of Bilgola SLSC Peter Fenley presented Club Patron John Brogden with a $500 donation to Lifeline on behalf of the club.
Mr. Brogden's wife Lucy is an active patrolling member at Bilgola. The Brogdens are also known for their invaluable help with BBQ Sundays, another vital Bilgola Surf Club fundraising activity and one the whole family gets involved in.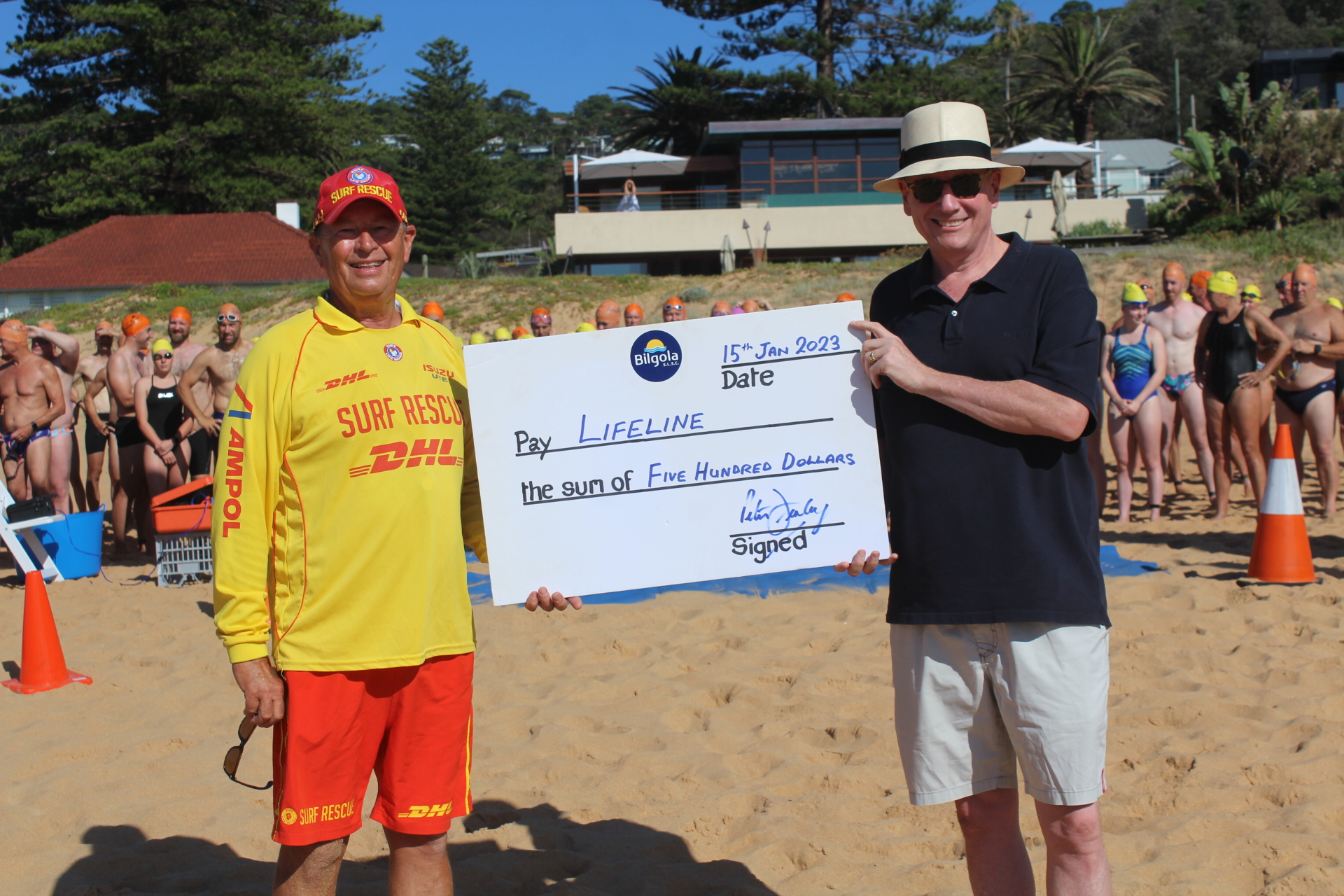 The Former Lifeline Australia Chair and current Lifeline Australia Patron, stated in his Message for the 2022 Lifeline annual report that 2022 had been their busiest year ever.
''As the pandemic turned our world upside down, Lifeline's incredible Crisis Supporters have offered rays of hope to more than one million Australians who would otherwise face their darkest moments alone.

Many of the people calling us are finding themselves reaching out for help for the first time in their lives. And our calls have never been higher. Many years ago we thought this was a bad thing. In 2022 we realise that the more people who call us, the fewer have suffered in silence.

Australians are still dealing with grief, loss and disruption from the 2019/2020 bushfires, COVID lockdowns and floods. Many are still struggling with their mental health, relationships, and income loss. We're still picking up the pieces, and we will be for some time. It is an honour to be Lifeline's Patron. It comforts me immensely to know that whatever the reason, Lifeline is there keeping people safe day and night, every day of every year.'' - John Brogden AM
With many surf club members returning to their first full Season since lockdowns, which commenced right here in Pittwater as the 'Avalon cluster' in December 2020 and persisted in various ways and lengths of time until the staged rolling back phases of February 2022, and the cancellation of the last two Billy Swims due to a safety call on water conditions and a lockdown, the beach was busy on January 15th for the return of this favourite swim for many.
Blackmores' Chief Operations Officer Andrew Fuary was Starter for the races. Blackmore's is one of the great local sponsors that supports the activities of Bilgola SLSC throughout their season.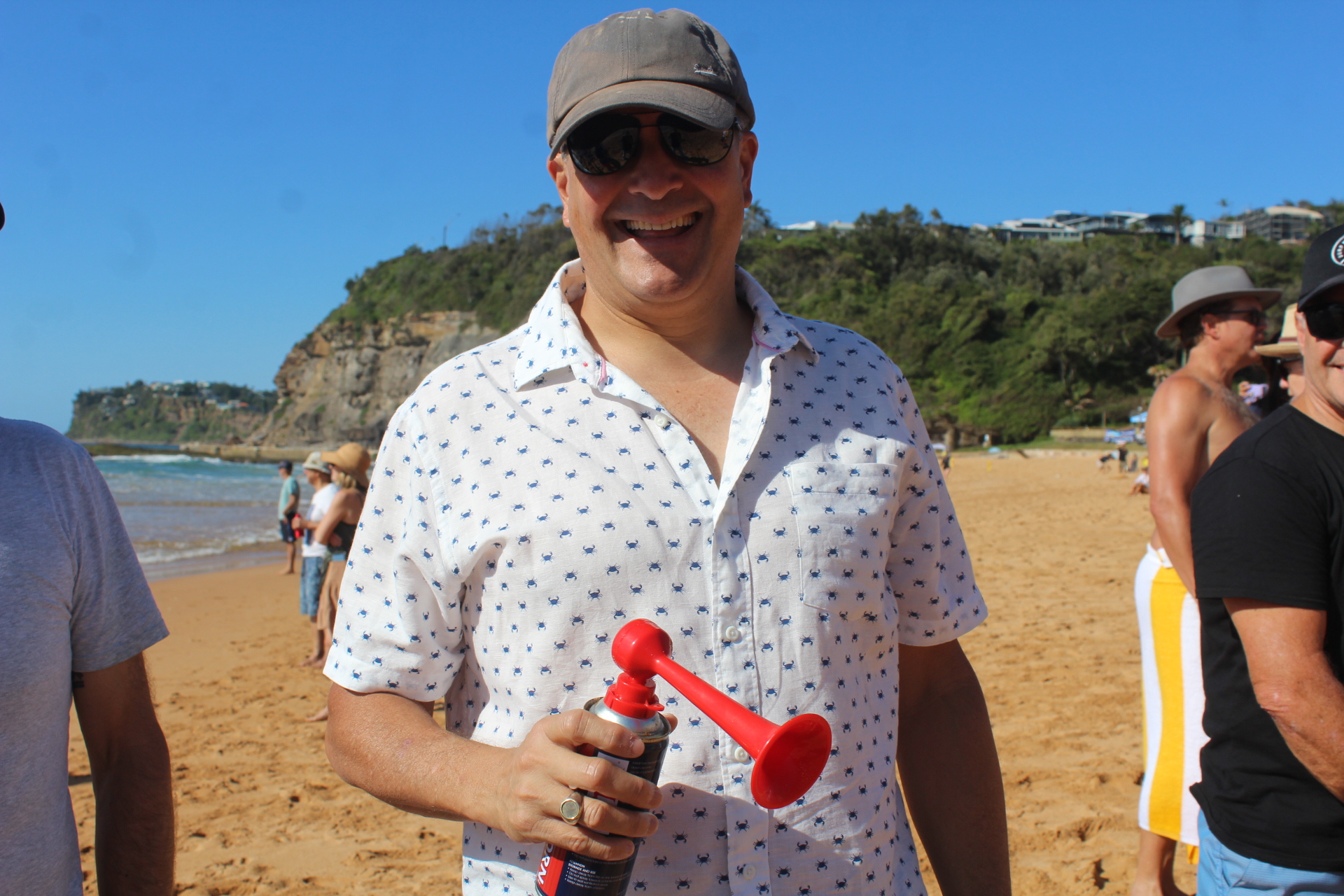 Avalon Beach swimmer Krystal Elliott was on the sand again, as she had been the week before at the Newport Pool to Peak, supported by her family. The Elliott family is off south again as Krystal does as many Ocean Swims as she can during the Season. Krystal always finishes strongly near the front of the pack.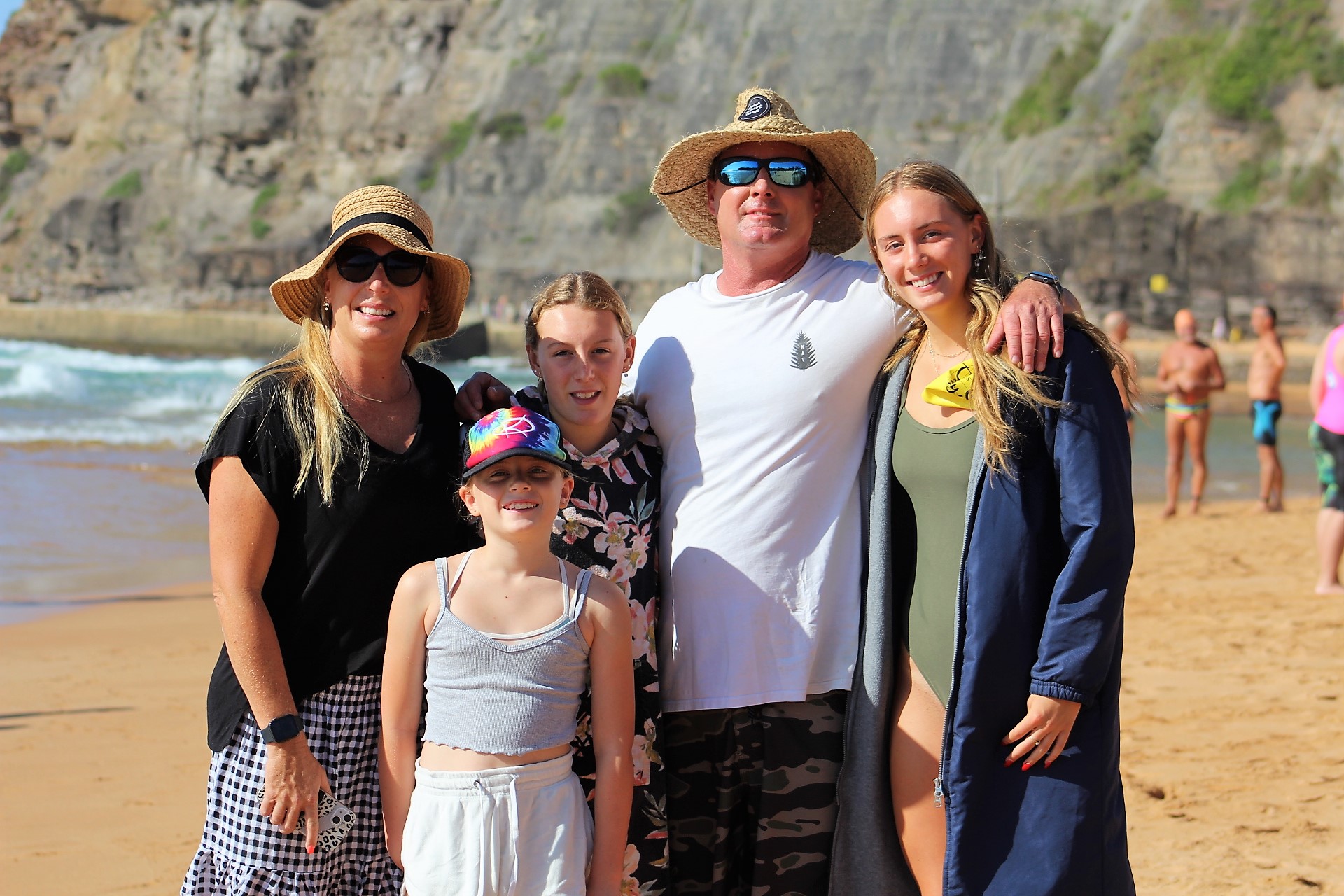 Virginia Head, 81 years young and with strokes overcome, was a highlight for all. The epitome of the water baby, Virginia has been involved in teaching swimming for decades, always amongst it during the Lion Island Challenge paddles, and loves dragonboat racing as well. In 2015 she competed in the IDBF's 2015 World Championships held in her home country of Canada and returned to Sydney with three silver medals. Virginia has been an Avalon Beach SLSC member since 2004.
Diedre Cordener, waiting for Virginia on the sand after completing her swim in the shorter Billy lap, credits Virginia with being the person who got her into ocean swimming.
''I met her through swimming at Bilgola pool. She then introduced me to kayaking as well.'' Diedre explained.
''Soon after that she tried to get me to go into the Hawkesbury Classic, that 111 km paddle from Windsor to Brooklyn!.''
Virginia Head is a legend of Pittwater.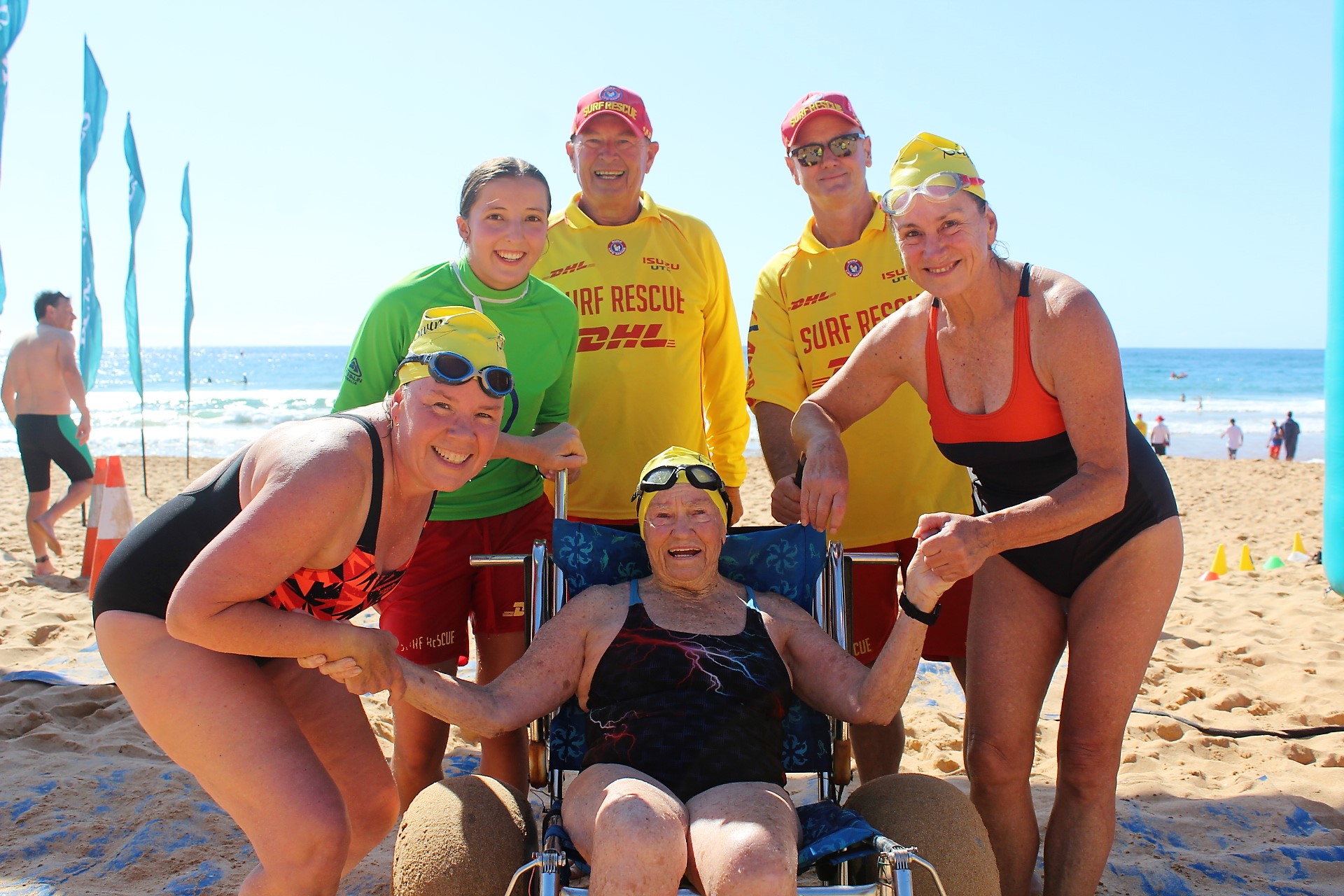 Virginia and friends!
Male winner of both the 500 and 1500m was Zachary Wasley. Female winner of both the 500 and 1500m Billy Swim was Lexi Harrison.
Lexi, from Bilgola Plateau, was first in the 2020 500m and went on to complete the double by also being the first woman out of the water in the 1500M that year too.
A member of the Narrabeen Swimming Club (NBSC), founded in 1977 by Forbes Carlile with the aim of helping member swimmers 'being the best that they could be', Lexi competes in freestyle, backstroke and medley events in State and Australian Championships. Lexi was also part of the 2018 Surf Life Saving NSW U18 Pool Rescue Development team to compete at the New Zealand Pool Rescue Championships.
Other local girls as happy in the water as out are President of Mona Vale SLSC Paula Tocquer who, along with MVSLSC swim team member at Newport the Sunday before, Harriet Strudwick, and a third Mona Vale SLSC lady, also completed the Billy Swim in fine fashion.
The Warriewood To Mona Vale Swim (& Family Swim) takes place today, Sunday January 22nd 2023 - The Mona Vale Ocean Swim is a two swim event. The first of the swims is the 1km Janice Mason Family Fun Swim at Mona Vale, a relaxed and enjoyable swim for the whole family named to honour a beloved MVSLSC Member who passed away in 2020.
Janice competed as a Master athlete for the club, was a much-loved P.E teacher, clubbie and Dawnbuster swimmer. Described as a phenomenal athlete by her peers, and succeeded at whatever sport she turned her hand to, winning multiple medals at Branch, State and Aussies level. Janice had been a member at MVSLSC since 1989, fulfilling the roles of chief instructor and race secretary.
Following that, the longer of the two swims, the Don Jenkins Memorial Swim, takes swimmers on a 2.26km journey from Warriewood Beach to the Mona Vale Basin.
The Warriewood to Mona Vale swim was first held during the 1977-78 season with 20 swimmers, and it is now named after the founder of the swim, Mona Vale Life Member Don 'Doc' Jenkins. It is recognised as one of the first organised Ocean Swims in Australia.
Another of the first of Australia's Ocean Swims is The Big Swim: Palm to Whale Beach on Sunday January 29th 2023 - The Big Swim from Palm Beach to Whale Beach is one of the premier events on the ocean swim calendar. The 2.8km point-to-point ocean swim started in 1974 with just shy of 40 competitors; but today, around 2000 competitors take part.
Starting on the northernmost beach on the peninsula, this ocean swim offers two different swim distances; the Palm Beach Little Big Swim which is a 1km ocean swim and the main event, the 'Big Swim' a 2.5km ocean swimming epic.
The final Ocean Swim in the 2023 Pittwater Ocean Swims Series calendar is the The 'Round the Bends' swim or the Newport To Avalon Swim (& Surf Swim) on March 13th 2023.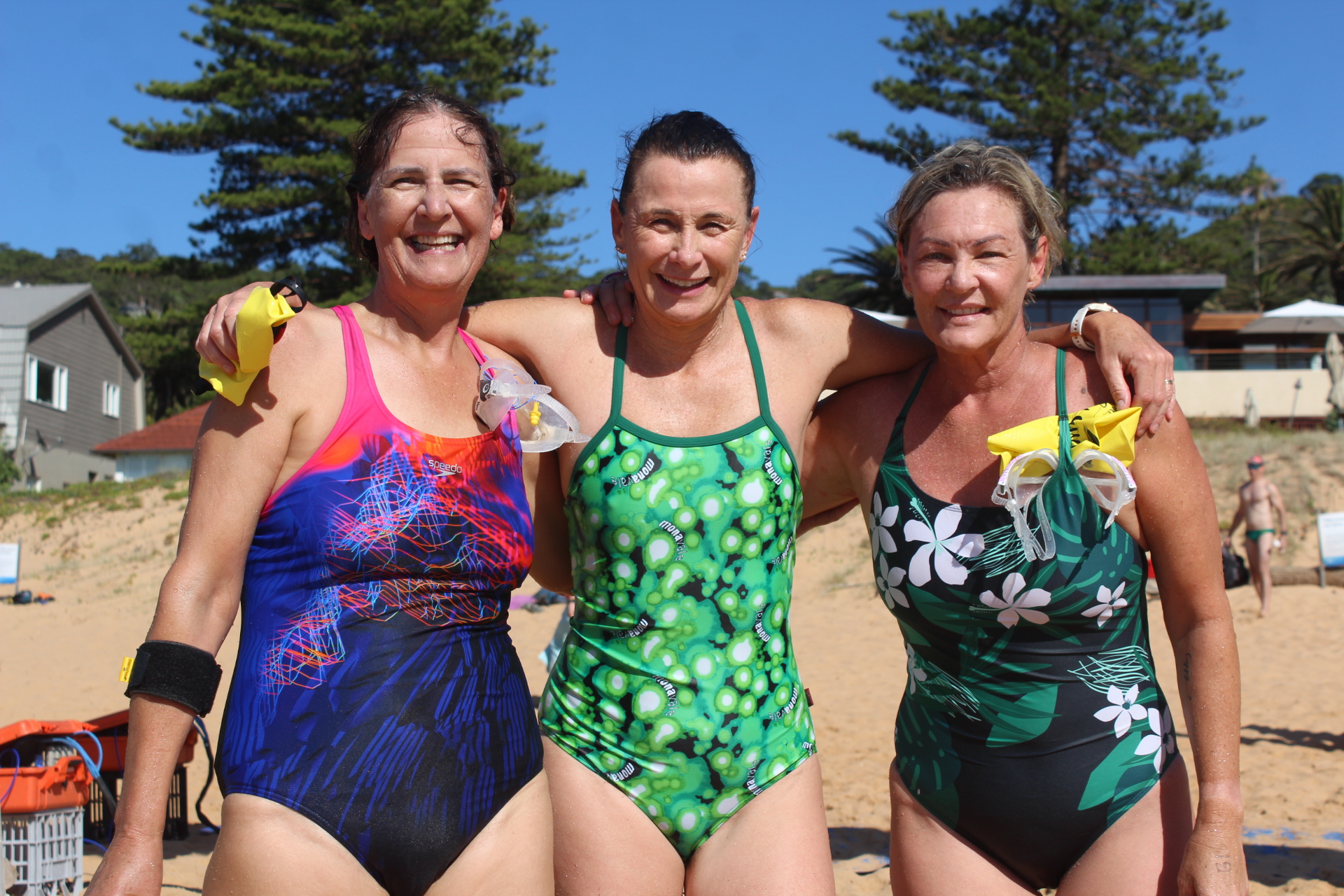 The Mona Vale SLSC 'we're diving in' Ocean Swims ladies team
The swimmers were supported by local Pittwater Ward Councillors Miranda Korzy and Rory Amon, and Pittwater MP Rob Stokes.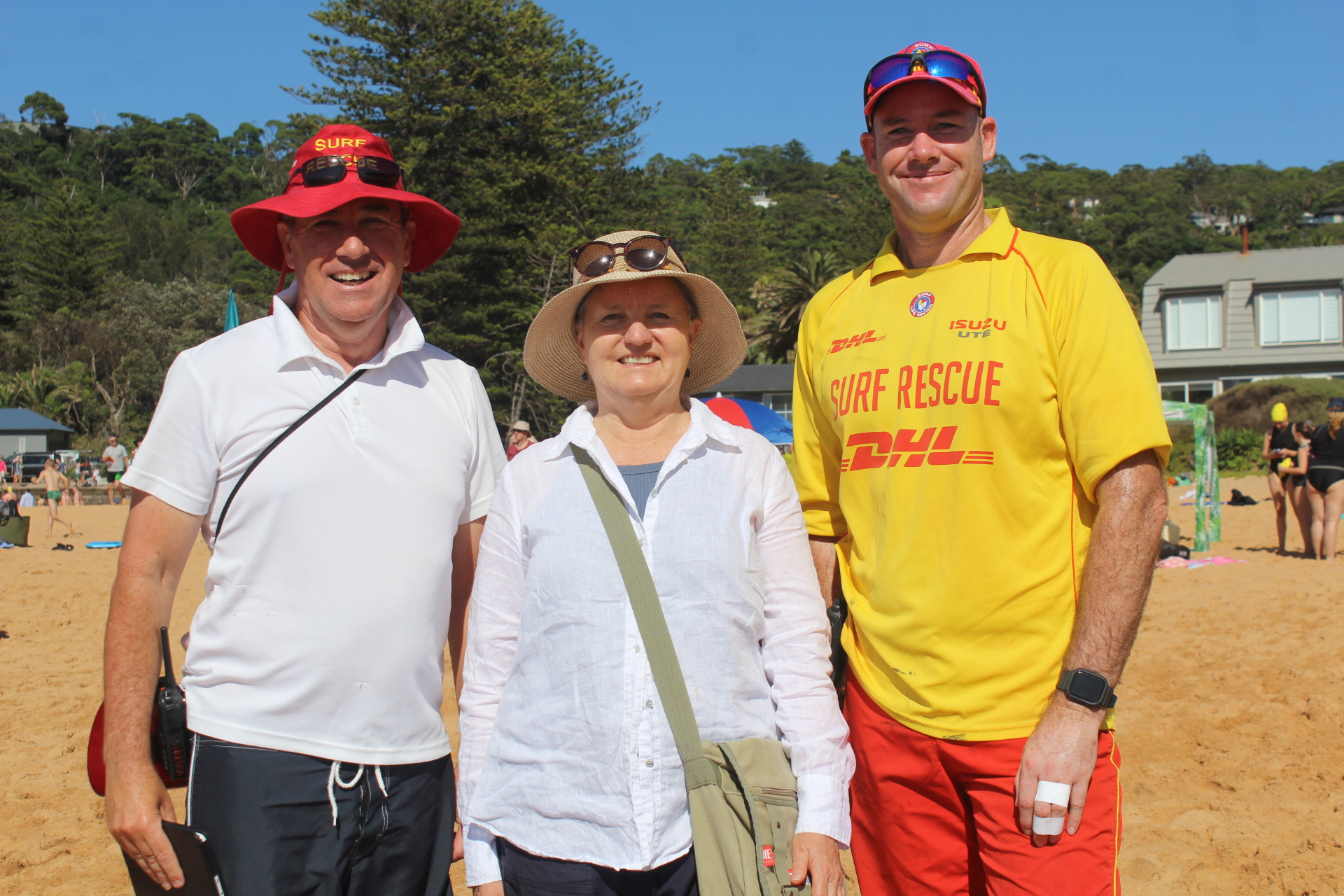 Cr. Miranda Korzy with Bilgola SLSC volunteers at the Billy Swim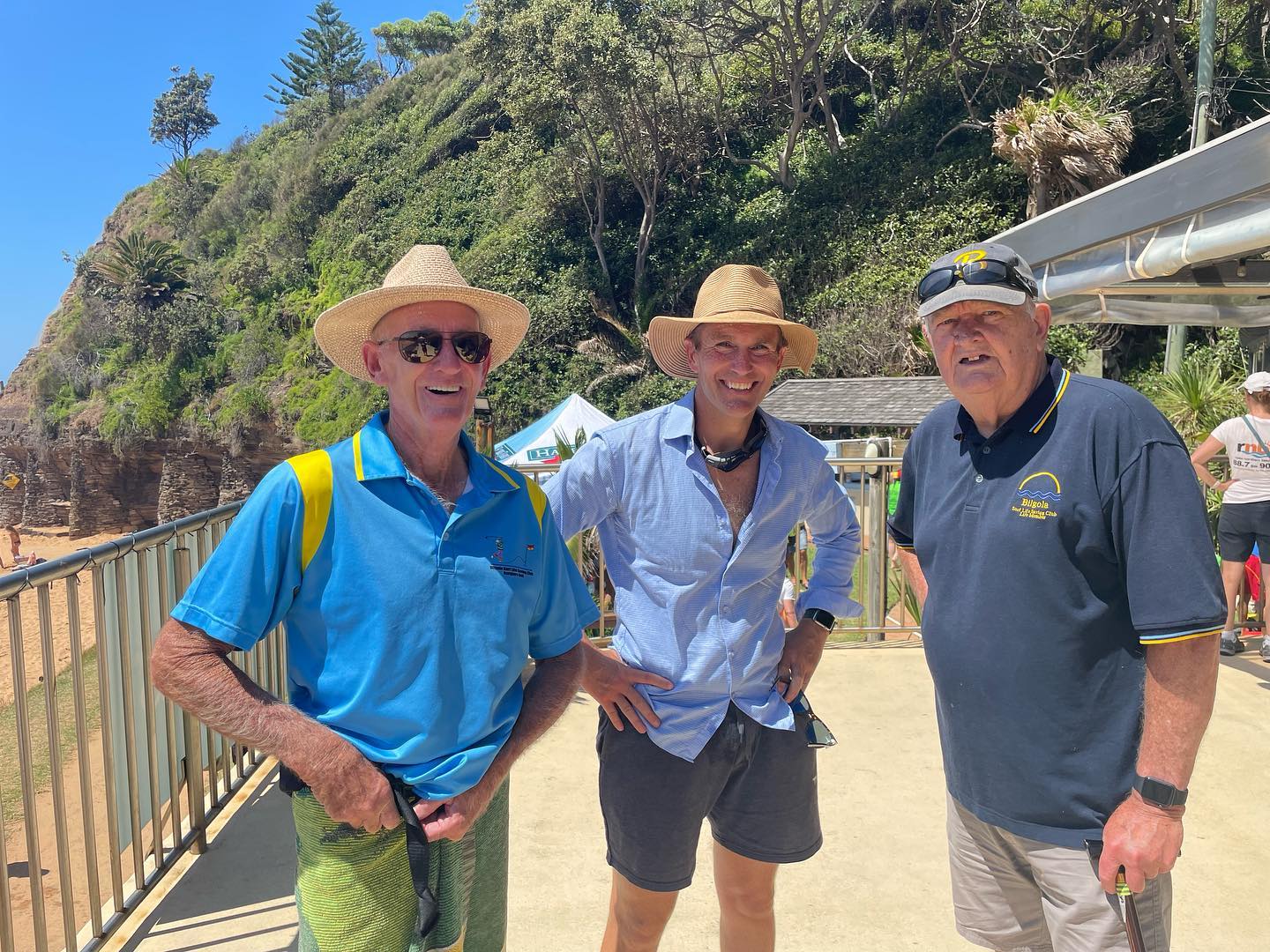 Pittwater MP Rob Stokes with Bilgola Life Members Graham Foranand Bob Machar. Photo Bilgola SLSC
Bilgola SLSC Member David Madew, who is also part of the Pittwater Ocean Swim Series committee, said of this year's swim,
"The weather for our Swim was superb - sunny, light winds, medium swell and low tides - we couldn't have asked for better.
People responded to this with over 60 people registering on the day, alongside already registered swimmers, making a total of about 470 entries for our Swim - in my time as Swim Director, the biggest crowd that we've had.
It wasn't just the entrants who responded - our club members were incredible in stepping up to volunteer in every role needed - from water safety to registration, buoy placement to VIP liaisons - all were picked up and done with cheerfulness and dedication that I was proud of.
This is a high point of the summer season for the club as it is a great 'coming together ' of club members to reconnect for the back half of the season. Secondly, it is a great fund-raiser for the club, probably our single biggest fund-raiser. Every cent of the profit made from the Swim goes to surf lifesaving equipment that is then put on the beach to protect both locals and visitors.
Overall, we were incredibly pleased with the day - the coming together of our major sponsor Blackmores - who have been committed to Bilgola Surf Club for 16 seasons now - our members and our swimmers, made it just about the perfect day."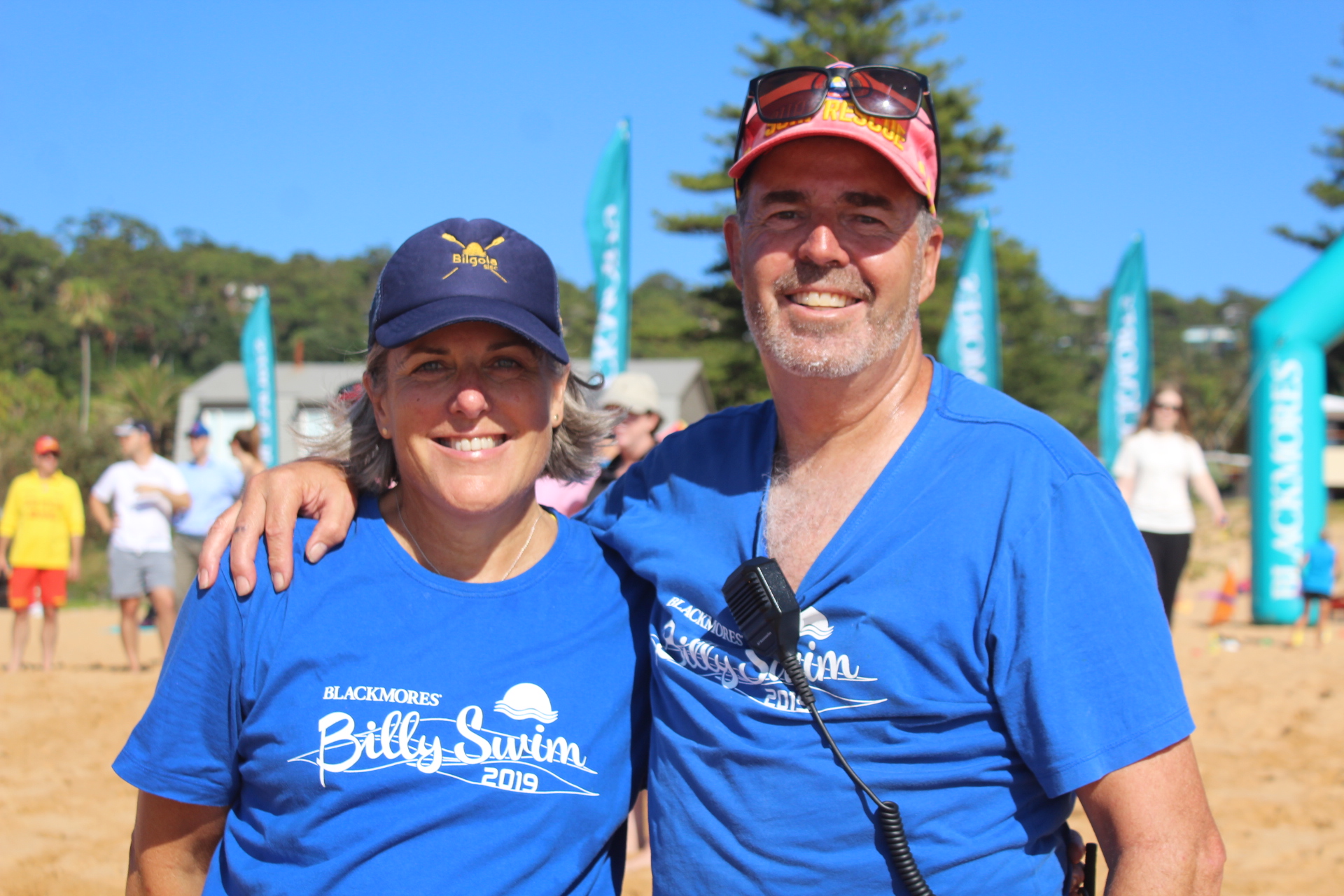 David and Romilly Madew - both on the beach at Bilgola's Billy Swim every year
Timing results at: www.multisportaustralia.com.au/races/bilgola-ocean-swim-2023
A few more photos from this year's Billy Ocean Swim below.