September 4 - 10, 2022: Issue 553

Avalon Quilters 2022 Exhibition Of Members Work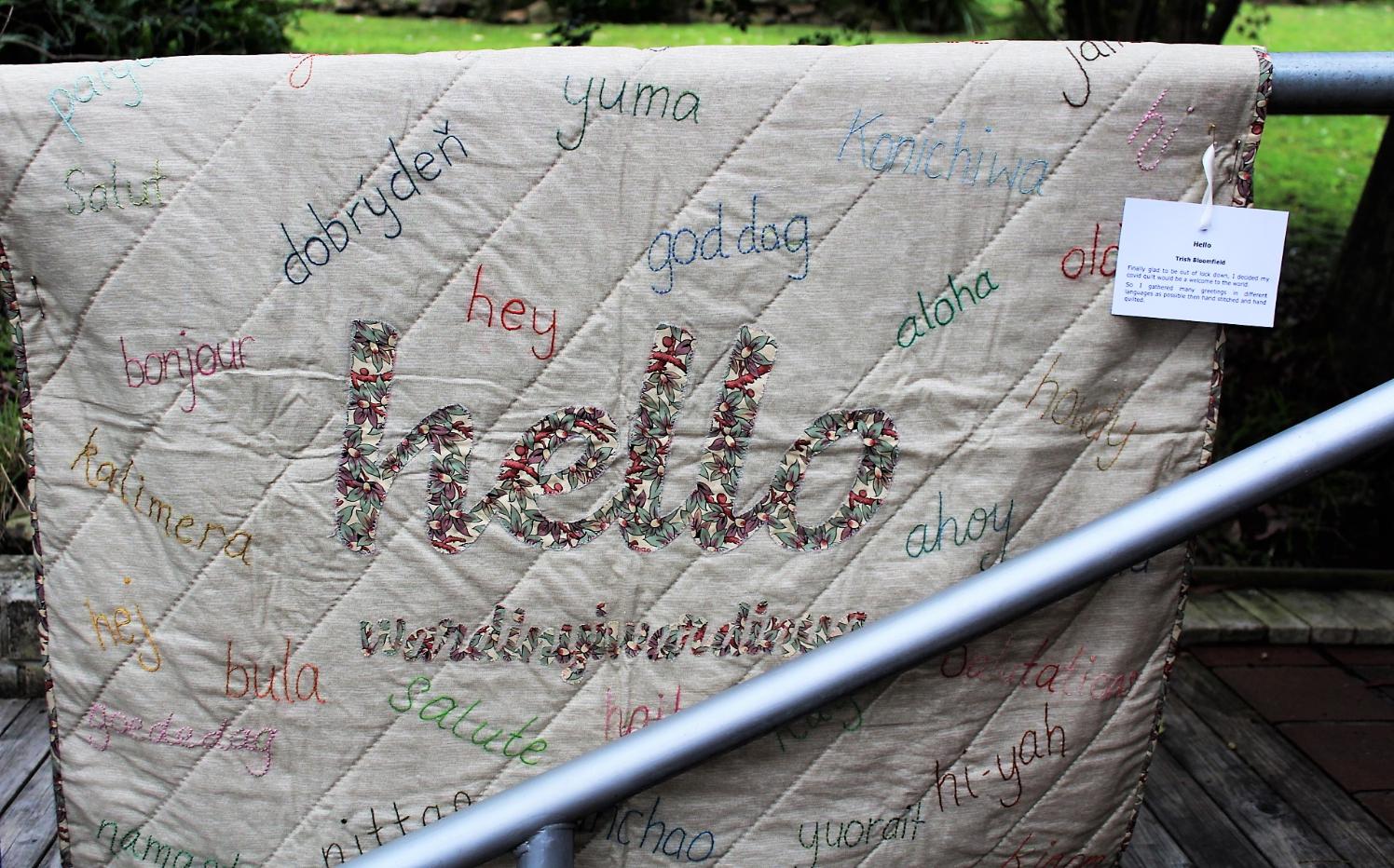 Quilt named: 'Hello' by Trish Bloomfield; ' Finally glad to be out of lockdown, I decided my covid quilt would be a welcome ot the world. So I gathered as many greetings in different languages as possible then hand stitched and hand quilted.'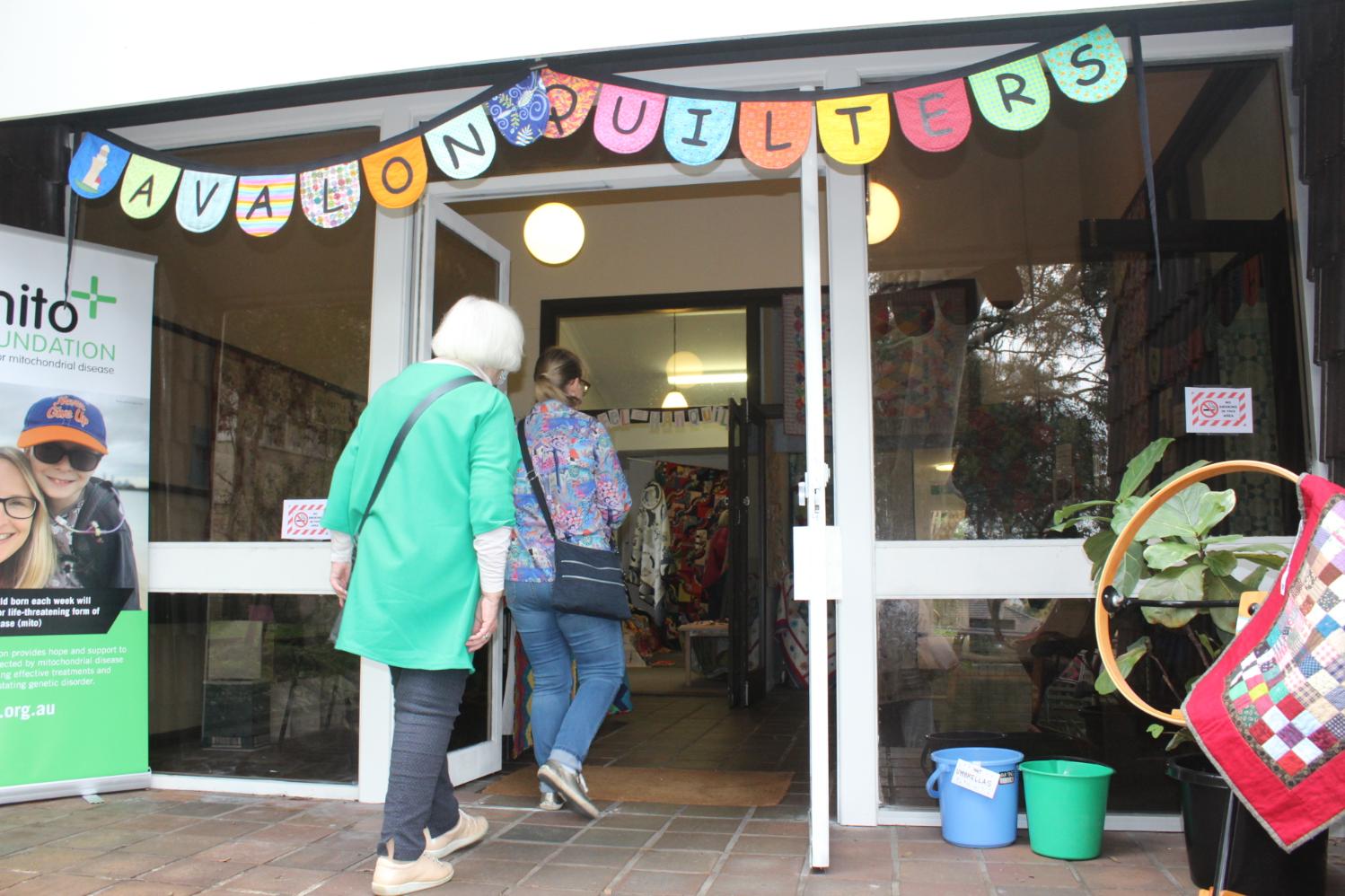 The 2022 Exhibition of Members Work by the Avalon Quilters, September 2nd and 3rd, showcased an amazing display of quilts made by members in Traditional and Contemporary designs. Every available space was filled with colour, even as you walked into the Avalon Uniting Church you were greeted with lovely displays that brought a smile.
The members started 'mucking in' on Thursday at 8am and finished at 8pm with the setup – 12 hours of work that showed, no pun intended.
First past the entrance foyer were quilts by visiting Improvisational Contemporary quilt specialist Jessica Wheelahan (@birdie_beetle) – this amazing one is 'Great Southern Land' and features in a book Jessica has penned.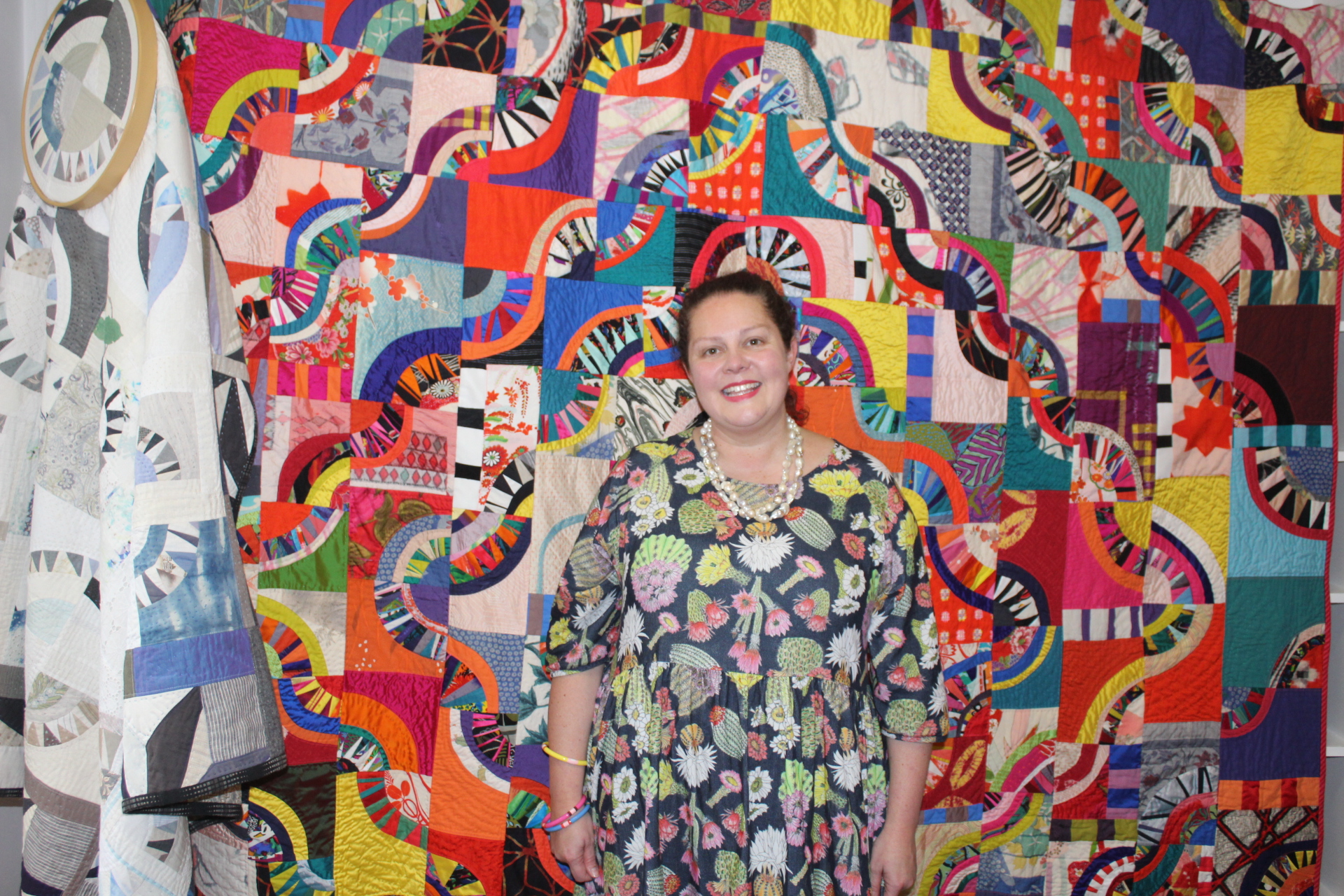 Jessica with 'Great Southern Land'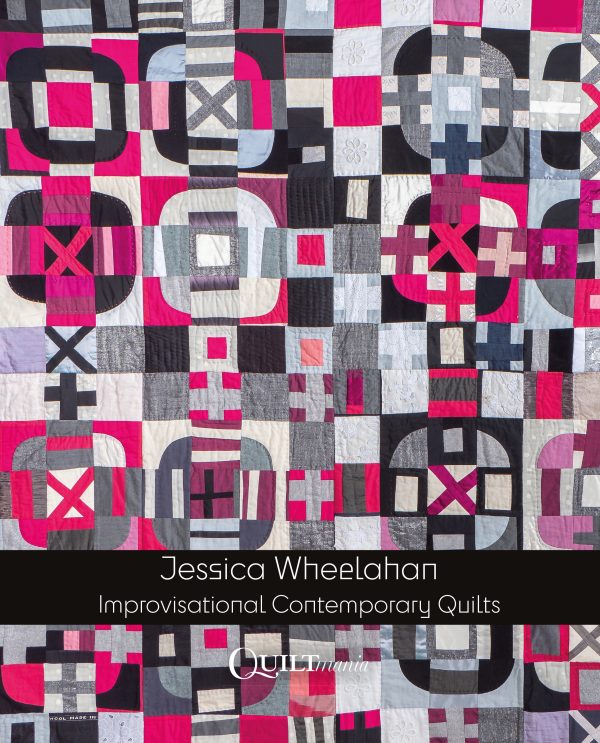 IMPROVISATIONAL CONTEMPORARY QUILTS – JESSICA WHEELAHAN
296 pages; 23 patterns entirely detailed and explained, a large chapter about the numerous techniques used and tons of wonderful pictures to guide you! Bi-lingual book: French and English. Get it here
A work in progress is 'Kodachrome' inspired by family slide nights.
Jessica Wheelahan has been making quilts for 15 years, although she commenced sewing as a young girl.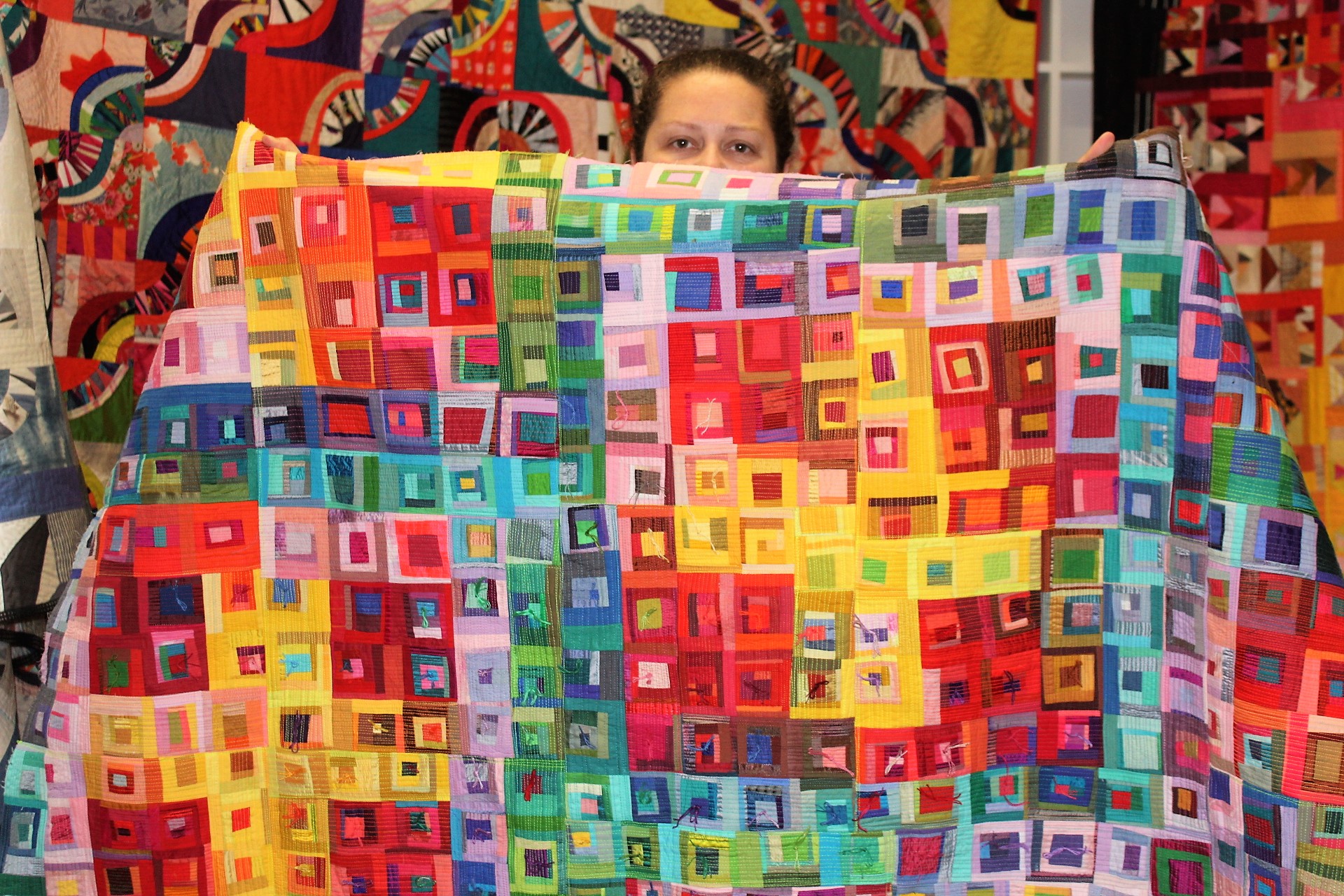 'Kodachrome'

Every quilt on display had a story of connection to places, people and time.
Denise Skinner's 'From One Generation To The Next' displays three generations of her family's handiwork – her own, her mothers' and her grandmothers. The embroidery has all been made by either her grandmother, her mother or herself, her own contributions from an early age, and includes her school learned making of 'bobbin lace'. Bobbin lace is a lace textile made by braiding and twisting lengths of thread, which are wound on bobbins to manage them. As the work progresses, the weaving is held in place with pins set in a lace pillow, the placement of the pins usually determined by a pattern or pricking pinned on the pillow.
A will of 1493 by the Milanese Sforza family mentions lace created with twelve bobbins. There are two books that represent the early known pattern descriptions for bobbin lace, Le Pompe from Venice and Nüw Modelbuch from Zürich. Bobbin lace evolved from passementerie or braid-making in 16th-century Italy. Genoa was famous for its braids, hence it is not surprising to find bobbin lace developed in the city. It traveled along with the Spanish troops through Europe. Coarse passements of gold and silver-wrapped threads or coloured silks gradually became finer, and later bleached linen yarn was used to make both braids and edgings.
Some skilled lace makers work to re-create older lace patterns based on the period portraiture and extant lace samples. On paintings that have sufficient detail, entire pieces can be reconstructed by lacemakers who understand the early structural techniques and detail.
Although this is knowledge and skill is not taught nowadays, it still lives in Avalon Quilters members.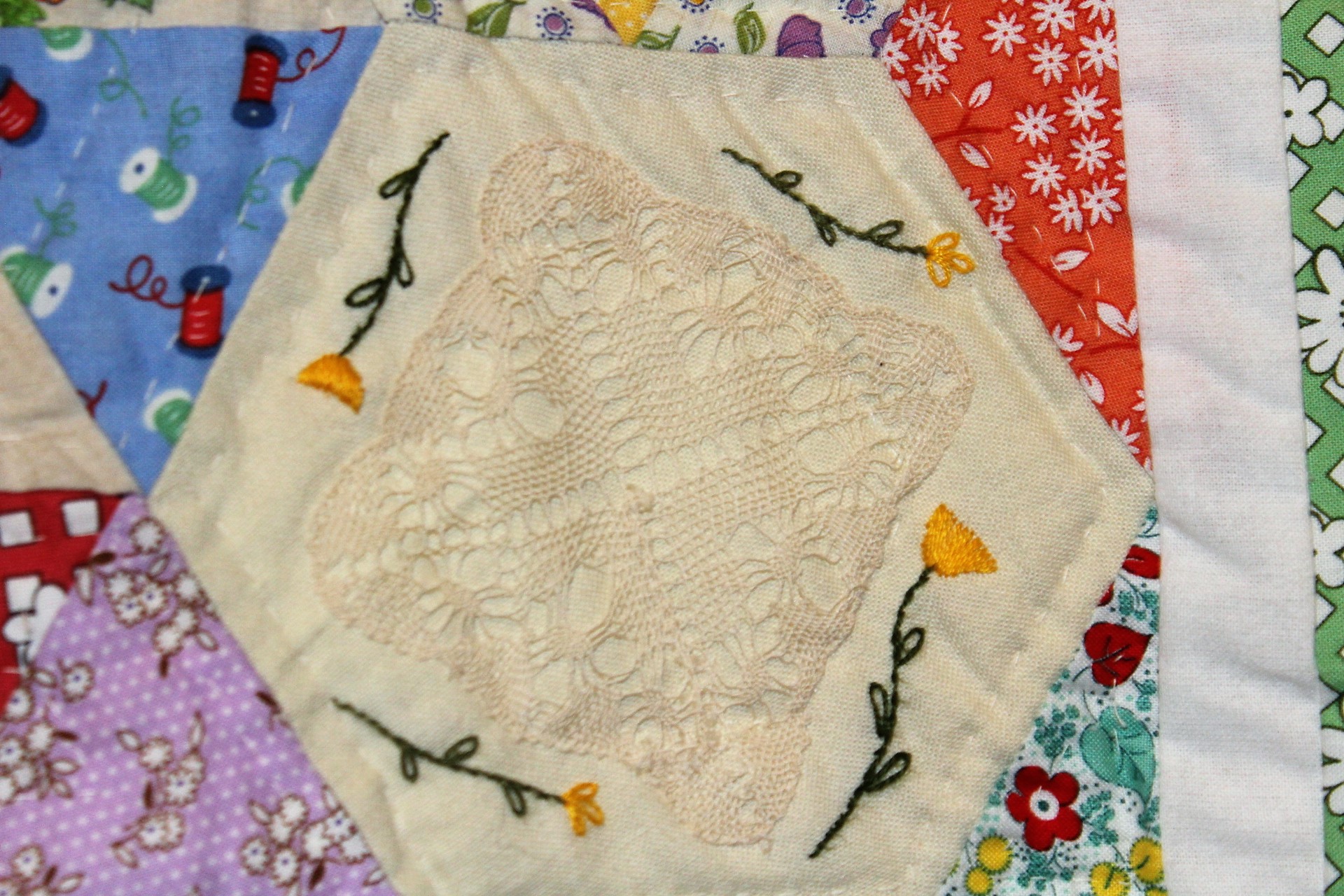 Denise's bobbin lace section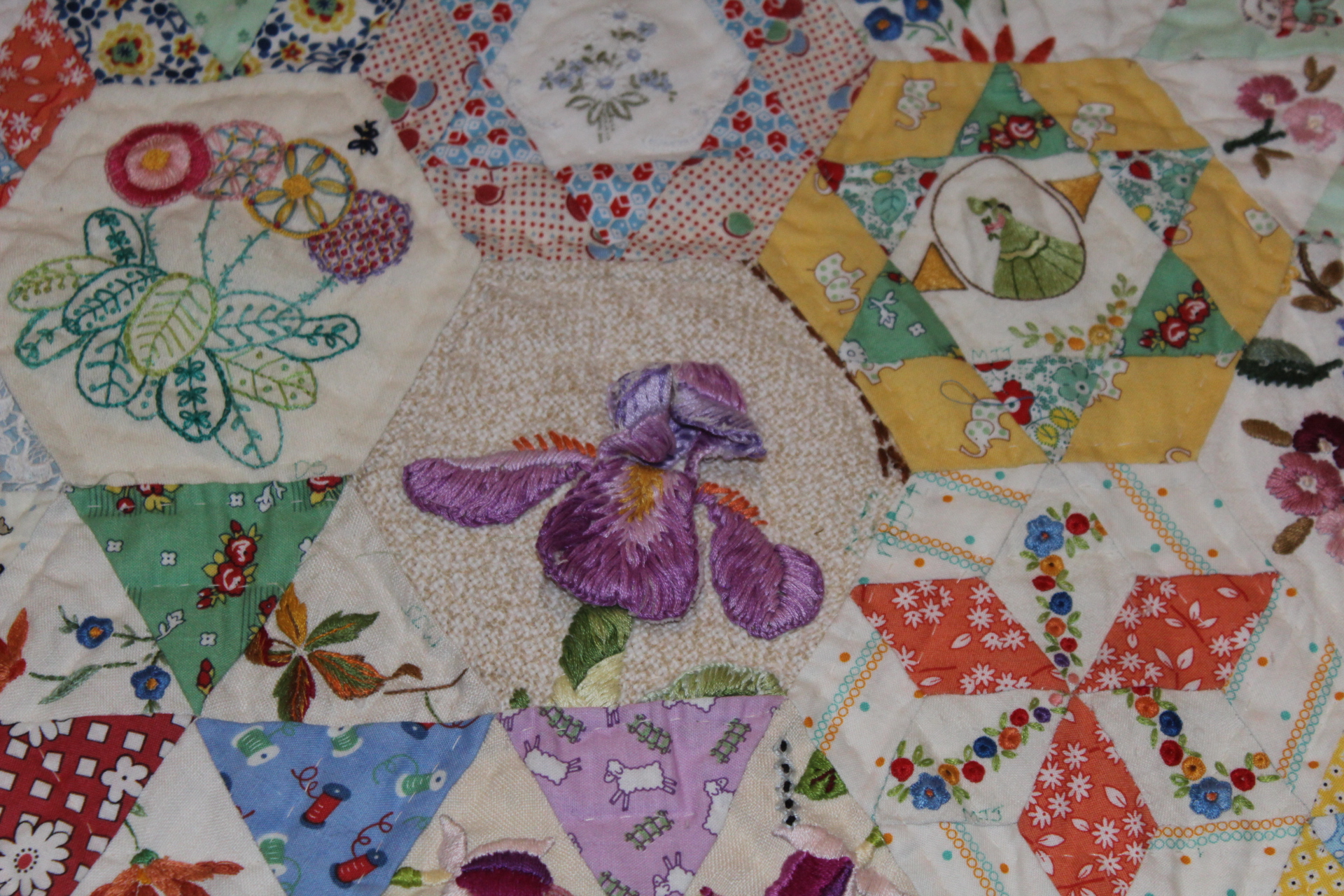 Her Grandmothers embroidery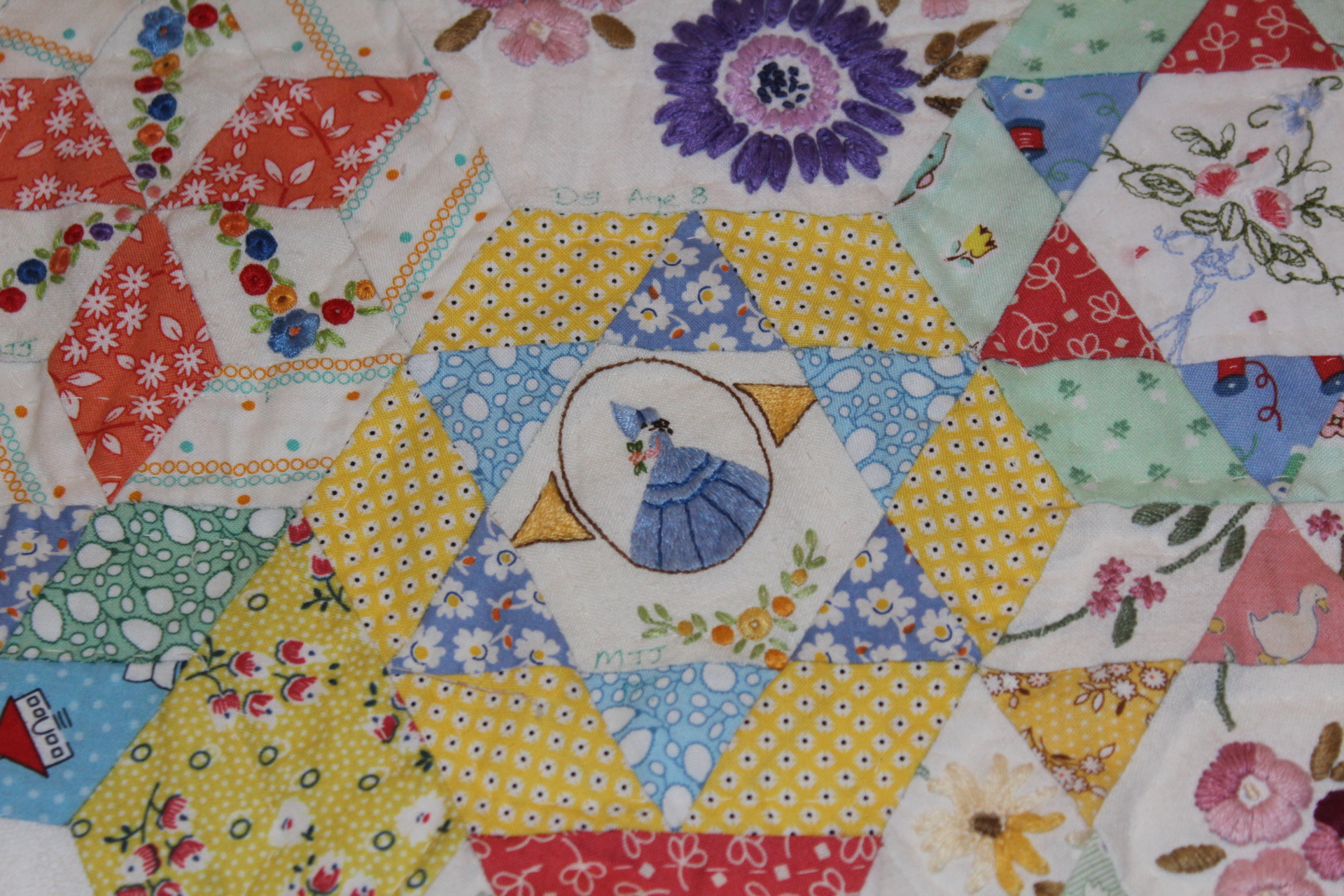 Her Mum's embroidery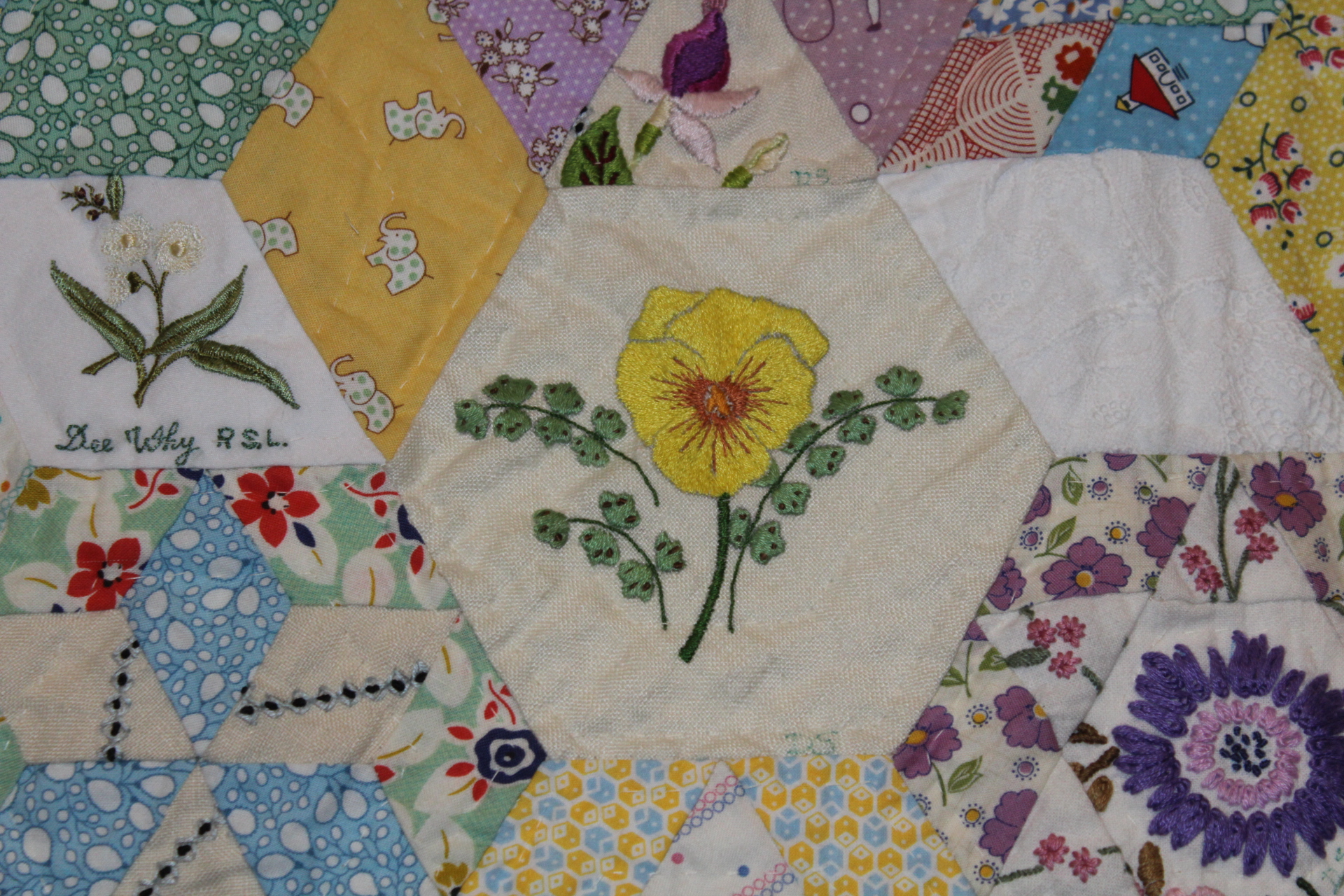 Denise's embroidery
The embroideries that form part of 'From One Generation To The Next' were made by all three generations, as has the tatting, while the lace handkerchiefs were all Denise's mothers dainty items. Lace on the outer corners is from her own and her mother's wedding dress while the 1930's fabric used in the design represents the decade her mum was born.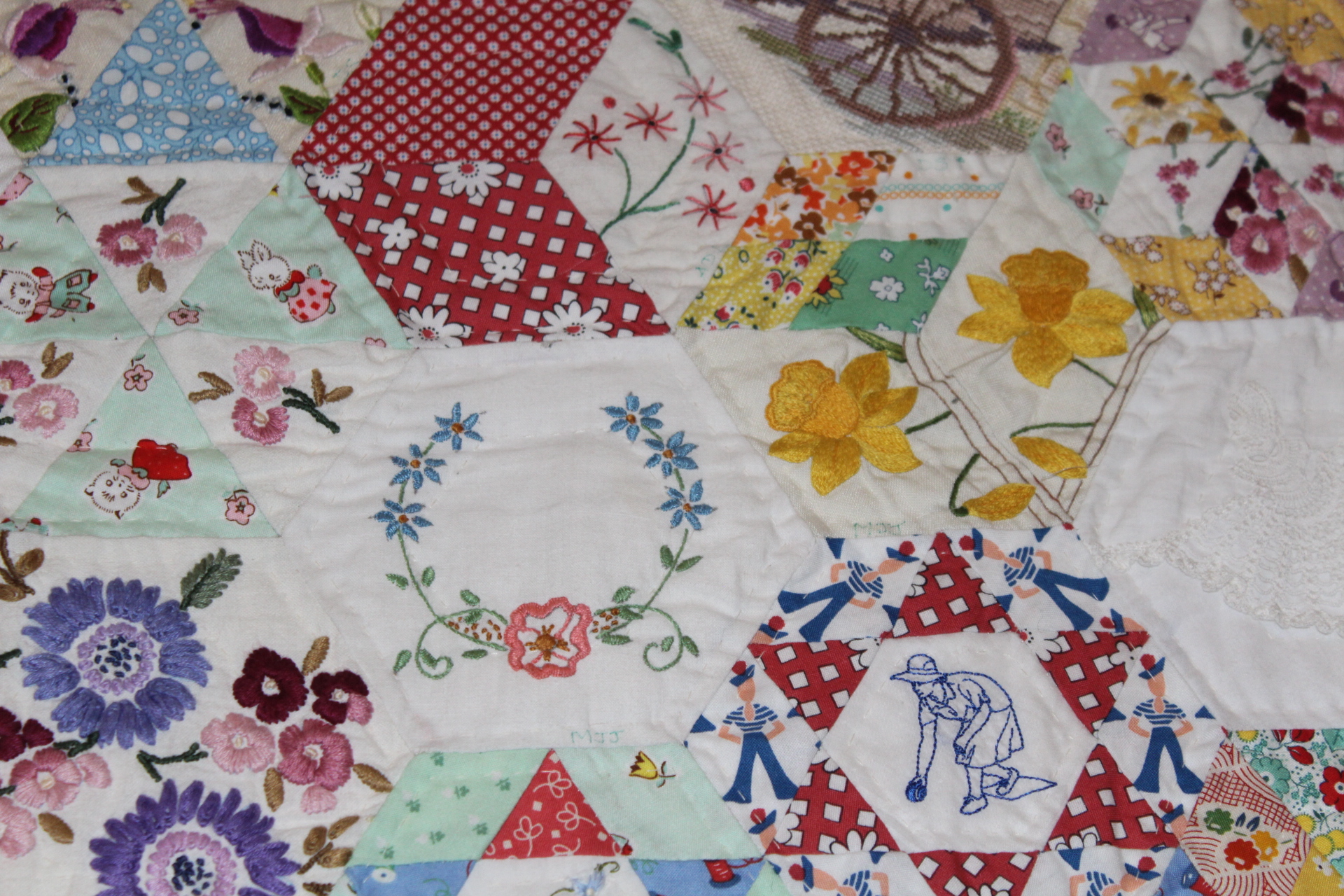 Denise's mum's handkerchief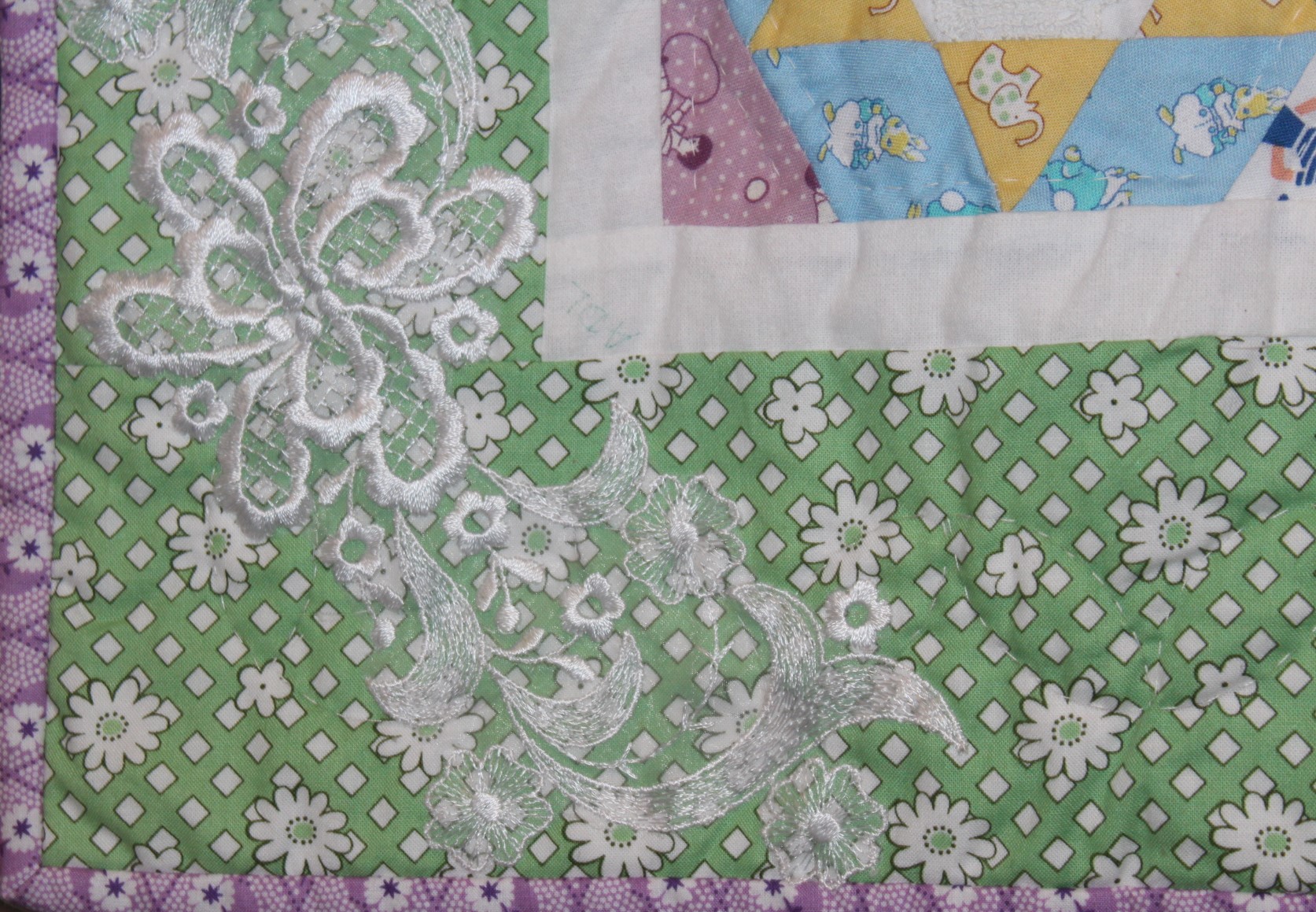 Denise's mum's wedding dress lace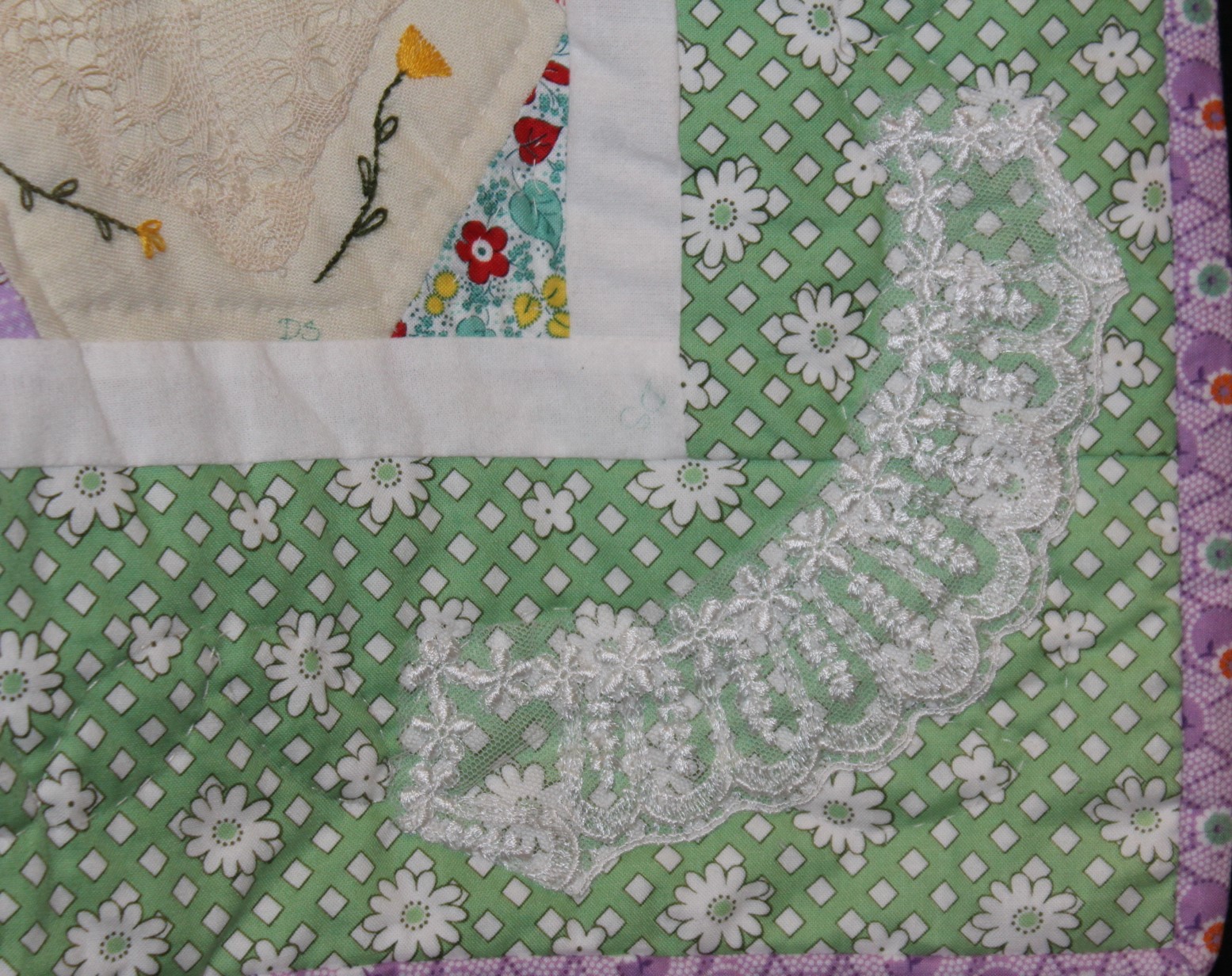 Denise's wedding dress lace
Denise made two of these, one for her sister and one for herself – and yes, both have daughters who will one day inherit these precious and irreplaceable quilts.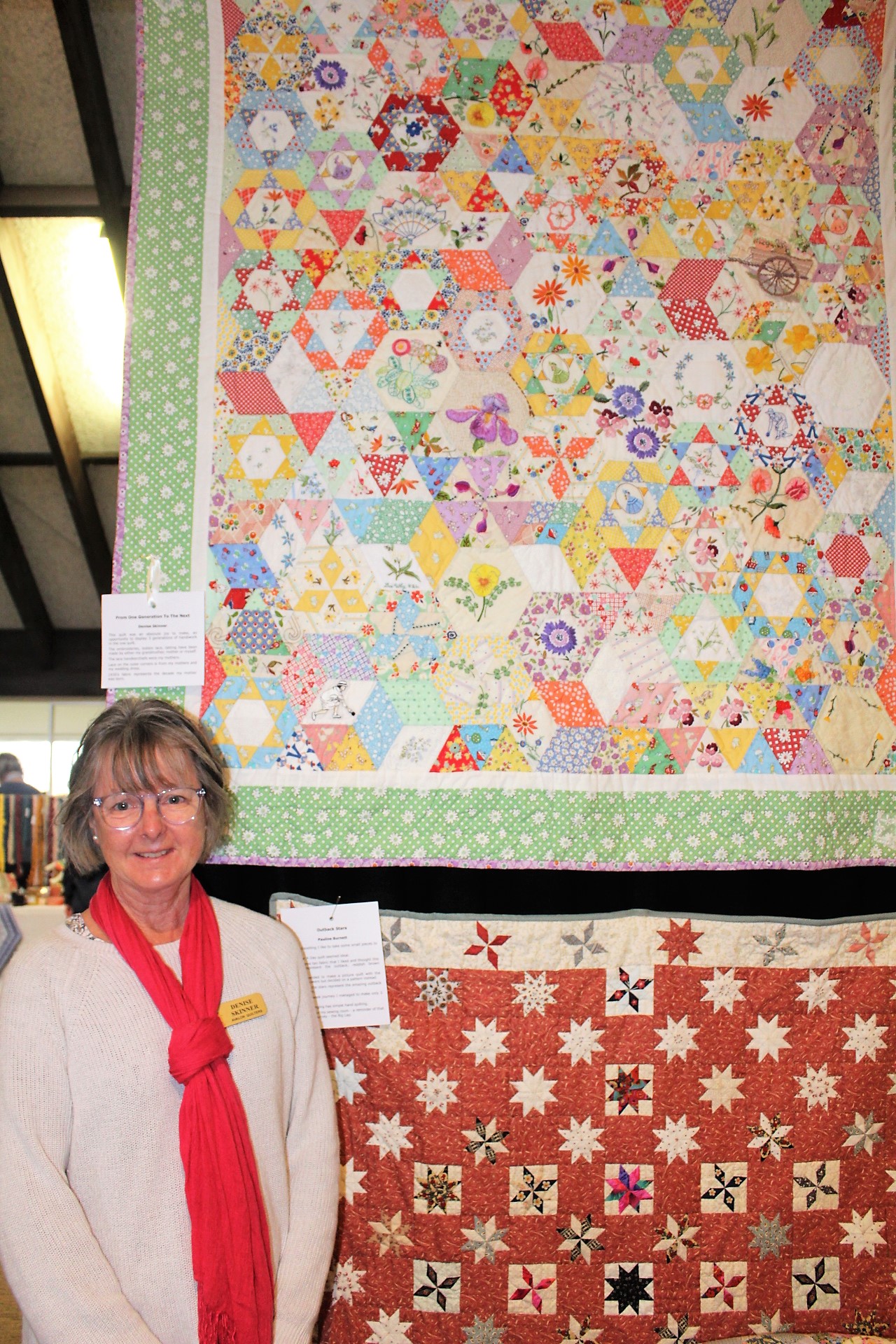 Denise Skinner with her 'From One Generation To The Next' (top)

Another especial one was Avalon Quilters president Anne Spencer's 'Dragonflies'. Anne explained the quilt dragonfly pattern came from a dear friend Libby Stewart, who is still missed too much.
The quilt reminds, like a message and presence of Libby, that we all are alike dragonflies.
A dragonfly is a symbol of Christianity. It is born underwater and lives in the dark before rising up to the light. When it first emerges, it is colourless and transparent, but when sunlight hits its body, it becomes beautiful, colourful, and magical.
Thus, light transforms the dragonfly. This is symbolic to Christians in the way they can all become transformed and colourful when the light of Lord shines upon them.
"I can still only see a dragonfly, its wings as thin and light as silk… But on the wings of this dragonfly, I take off and fly… It is our bodies these borrowed vehicles of flesh and bone, that weigh us down." – Daniela I Norris
"You are the light of the world. A city on a hill cannot be hidden. Neither do people light a lamp and hide it under the bowl.

Instead, they put it on a stand so its light can be shone upon everybody so that the light can shine and illuminate everyone.

In the same way, let your light shine upon men. Let them see and praise your good deeds. You, in turn, praise the Father in heaven."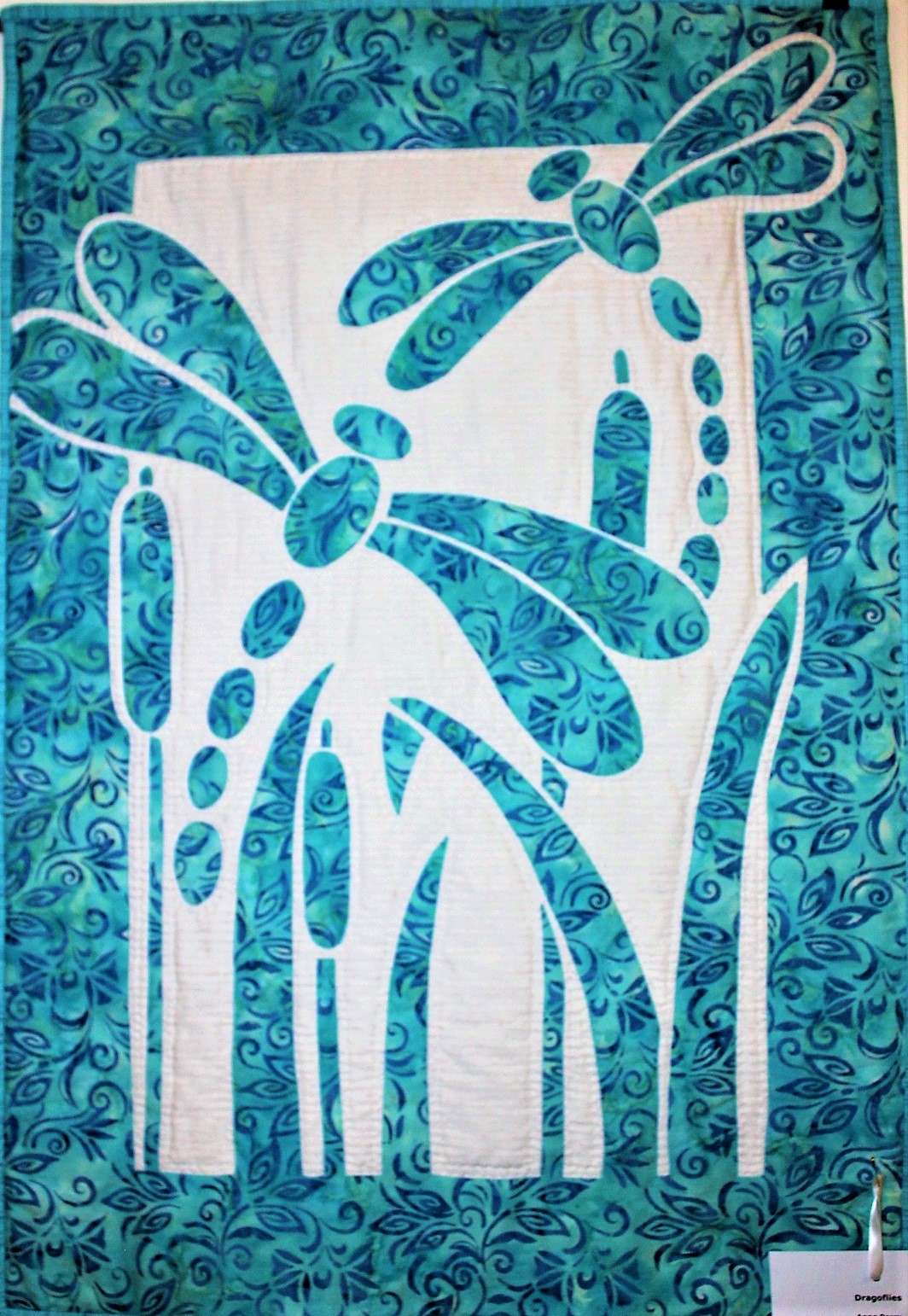 As always, the Avalon Quilters Exhibitions of Members Work are to raise funds for Australian Mitochondrial Disease Foundation. Tickets for the raffle quilts were selling like hotcakes for this year's raffle quilts. When you consider some of these creations take months and years to complete, the $2 per ticket is obviously a bargain for a chance to own one of these.
The Founders of the Australian Mitochondrial Disease Foundation are local residents Margie and Dr Doug Lingard, who formed the foundation after the loss of their own children to this horrific disease.
Margie was visiting the 2022 'show' when we arrived and marvelled at the brilliant range of skills on display.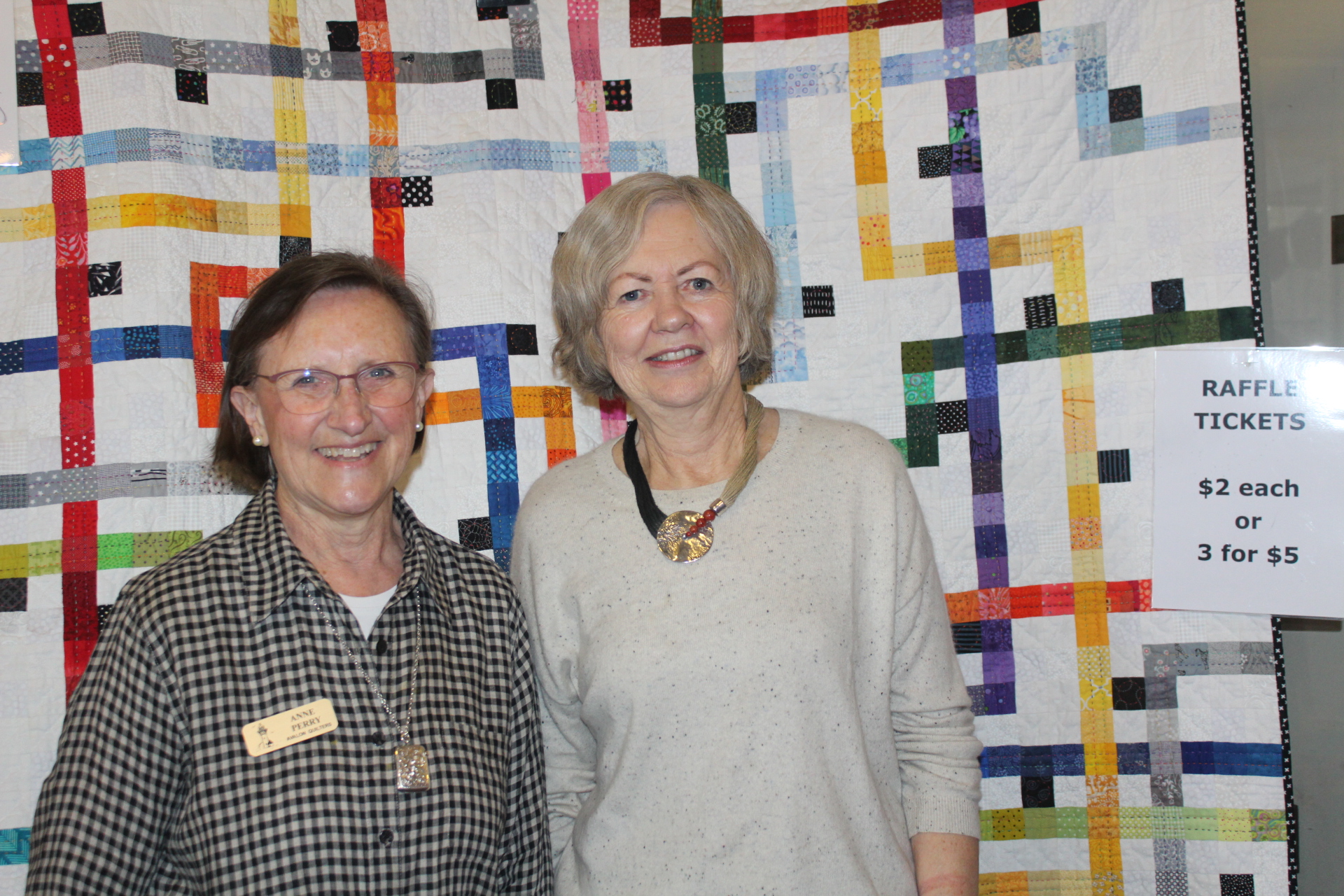 Avalon Quilters president Anne Spencer and Margie Lingard at the 2022 Exhibition of Members Work.
Margie continues her work as Chairman of fundraising for the Mito Foundation Australia – The Bloody Long Walk that began as a stroll from Palm Beach to Manly is now an Australian-wide event, with walks taking place in each state.
The Mito Foundation supports people affected by mitochondrial disease (mito), funds essential research into the prevention, diagnosis, treatment and cures of mitochondrial disorders, and increases awareness and education about this devastating disease.
Below run some pictures of this year's quilts - as you will read, some of these were completed during the past two years of Covid lockdowns. The skills and old and continued methods of making these from many kinds of threads and cloths is breath-taking and functional ART.
For the thousands of quilters around NSW, Australia and the world, who look out for these pretty poor photographs each time it's our privilege to run an Avalon Quilters Exhibition of Members Work celebration, and for those who could not get there, a few for you:
More in: Avalon Quilters 2022 Exhibition Of Members Work Will Present Over 80 Quilts - the precursor for the 2022 show.