March 31 - April 6, 2019: Issue 399

Avalon Craft Cottage: 50th Year Anniversary Celebrations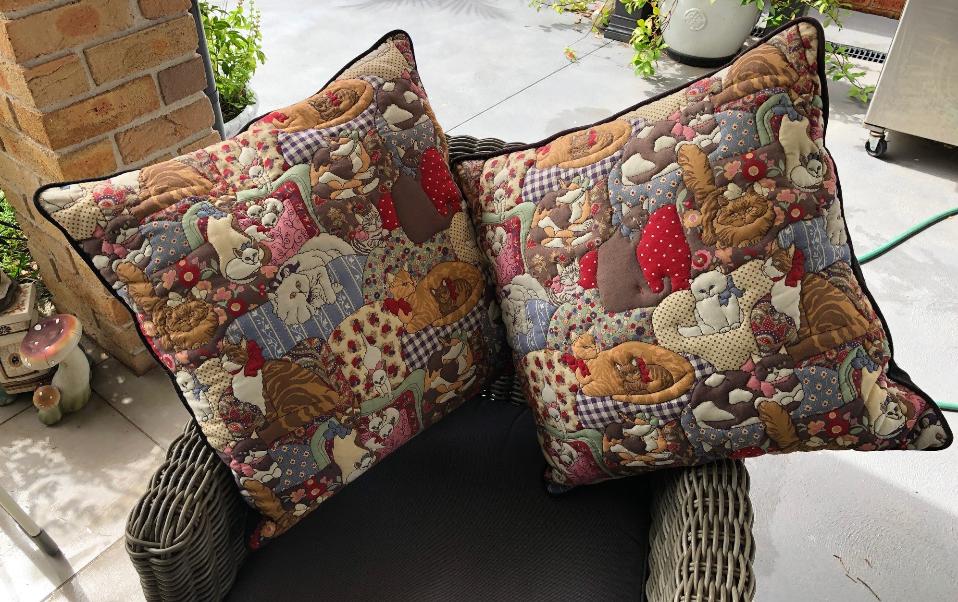 Website: avaloncraftcottage.com.au
On Facebook: www.facebook.com/avaloncraftcottage
Avalon Craft Cottage members are celebrating the 50th Birthday of the Craft Cottage this year, which is a huge milestone for a local craft group.
Those cat cushions above were bought over 25 years ago now, when the Avalon Craft Cottage had its home in Old Barrenjoey road. Made by Ann Bovell, they took around six weeks each to make - we had to keep going back to check if a new one was in. They still look great though, a testament to her hard work and how some things are made to last and stay beautiful.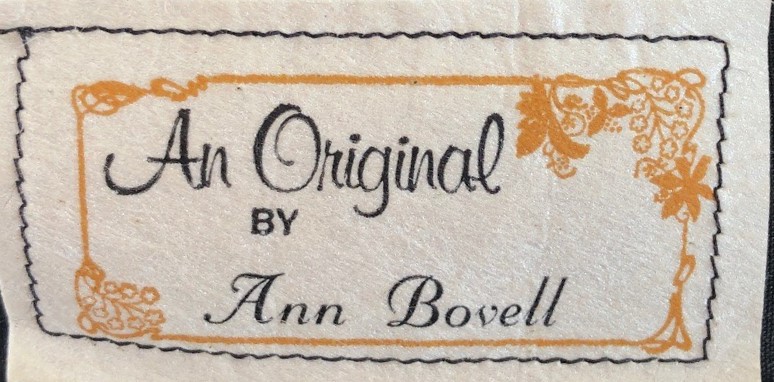 Avalon Craft Cottage began in 1969 in a little shop beside what was then the Chelsea Tea House. Everything you could possibly imagine was available - we bought hand knitted booties when brand new children were born, pure linen tea towels embroidered with native flowers that are ten miles above anything mass produced.
There were beautifully glazed ceramics, sketches and paintings, filigree jewellery, delicate handkerchiefs with fine lace edges, potpurri, hand made cards and a wealth of Australiana products, luminous wooden bowls that shone, even the pot of honey, now and again, when that was in season.
Regular customers will remember 'our lady' who stood at the gate welcoming everyone to our shop. Since then 'the lady' has travelled to Wollombi, was in storage for a while, and for the past few years has stood outside our shows at the Avalon Recreation Centre.
She was starting to look quite aged and rather in need of a face-lift, so artist Christine Hill FASMA, whose wonderful marine paintings you could ocaisionally buy on the cottage, came to the rescue. After a quick trip to Chris's new studio in Thirroul a wonderfully renewed and remodelled lady emerged in 2015 … the ACC own thoroughly modern Millie, clad in the very latest 60's style, and good for another 20 yrs!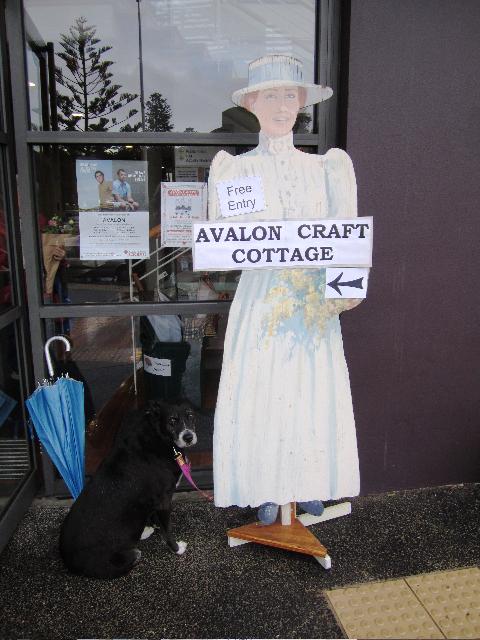 old Millie new Millie
In 2011 the Mona Vale Hospital Auxiliary became the 'charity of choice' for the Avalon Craft Cottage members during their annual 'Back to Avalon' show and has been a successful fund-raising venture each year since.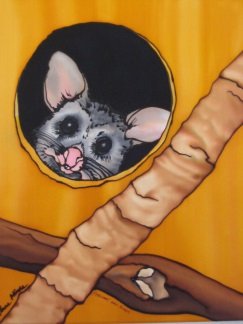 They also acquired a motif in a rather cute possum - made by a member of course:
The Back to Avalon Show, usually just before Christmas each year so people can find something that extra bit special for loved ones, has had a few themes too; 2012's 'By the Sea Challenge' brought some wonderful items within reach of we who are thick of thumb and poor of threading needle, and whose knitting looks alike something a kitten has played with - and no kitten in sight!
Half a century on the group is still as active as ever and still producing the high quality craftwork that the members are known for - only now they take the cottage to you in a variety of stalls in locations and at times that you know you may find that second of a set you want (without having to pop back in and ask - has he/she made another one yet?).
Many of the members have been with the group for 20, 30, 40 years…. and one of the original founding members, Jenny Fraser, is still with the group. Her work is still beautiful, she's just not as prolific as before.
The Avalon Craft Cottage has a very strict quality control, so that you know that everything that is on display is well-made and of the highest quality.
The Craft Cottage members will be celebrating with a big party in October to celebrate the opening day of the shop, but in the meantime this year they have six great stalls which the members are all working hard towards.
The first of these stalls will be at Warriewood Square, where they open on Monday, 1st April
"We look forward to catching up with as many of our customers as possible." Avalon Craft Cottage president Maureen Dracy-Smith told us this week
"We will be right outside K-Mart, and will be there all week. There will be hundreds of beautifully hand-crafted gifts and homewares on display, and we would love you to call in, have a look, and chat to the clever members who have made all the items on display.
Have a look at our Facebook page for up-to-date photos of many of the items on show."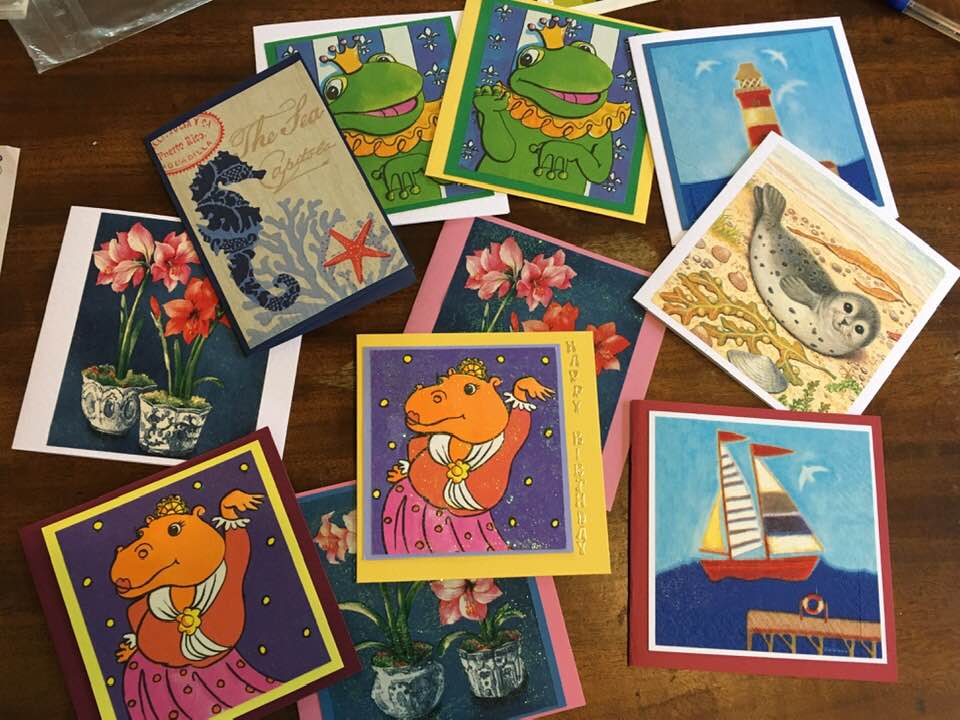 Greeting cards by Maureen (make sure you ask her how she makes these - !)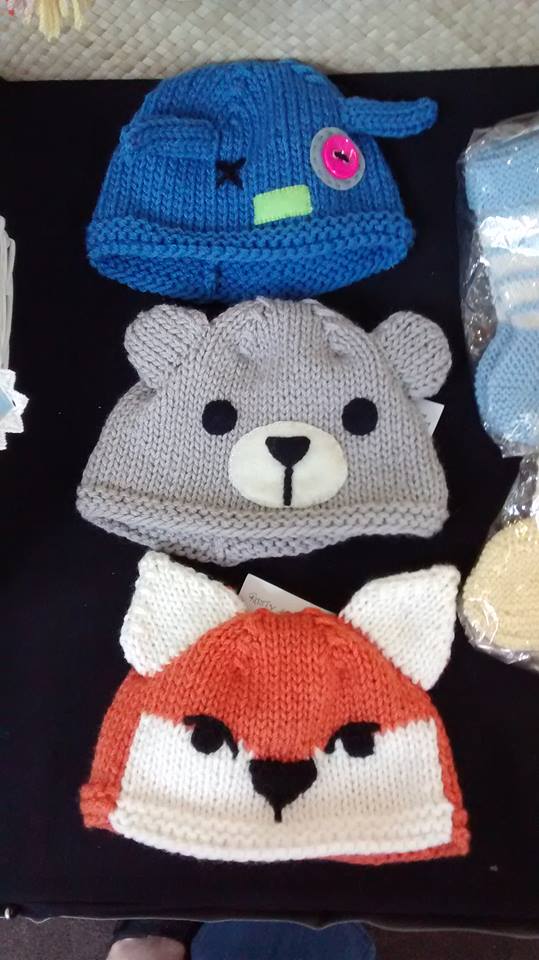 In April we will be at:
Warriewood Square (outside Kmart)
Monday 1st to Sunday 7th April
St Ives Shopping Village (downstairs outside Priceline)
Monday 29th April to Sunday 5th May
Later in the year:
Warriewood 29th July to 4th August
St Ives 2nd to 8th September
Warriewood 21st to 27th October
St Ives 11th to 17th November
Avalon Craft Cottage members make Crafts in these mediums:
Australiana
Babies & Children
Cards & Papercraft
Christmas
Embroidery
Folk & Decorative Arts
Miscellaneous
Sewing & Patchwork
Wood
To see more of these under each category visit their website.
Having enjoyed their wonderful work for so long Pittwater Online is running an example of what you may find as our April 2019 Artists of the Month as these are items that are made to last for a lifetime - those cat cushions took around six weeks each to make, if I recall correctly - the poor ladies must have grown tired of my head popping in to say 'is it here yet?'
But then one day the second was, finally.
The Avalon Craft Cottage remains, 50 years on, the place where skilled artisans offer something wonderful.
Something wearable
Something giveable
Something to keep
Congratulations ACC Members - you continue to do the world of true craftsmanship proud.
Can't wait for that party.....
2012 'By The Sea' Challenge Items -
Photographs By Michael Mannington