August 2 - 8, 2020: Issue 460
Avalon Beach SLSC's 95th AGM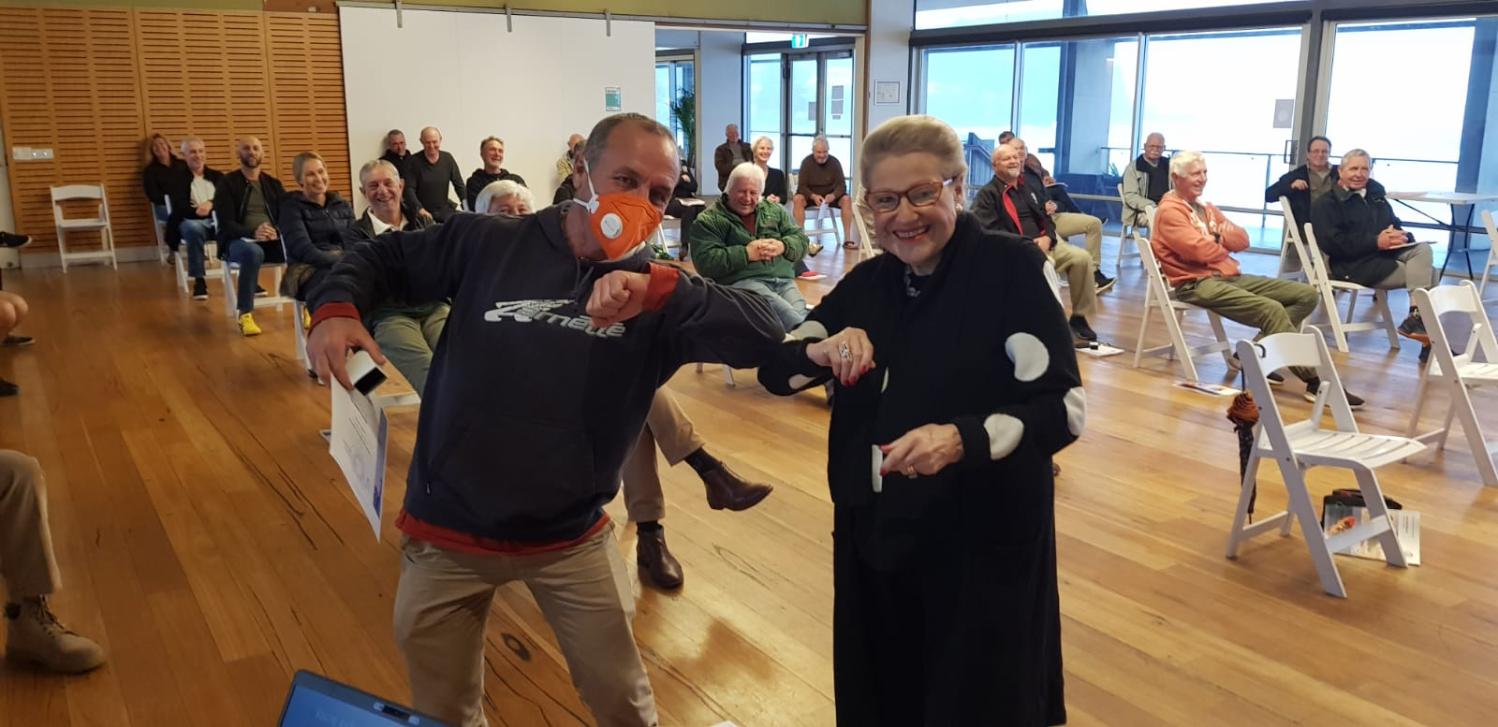 The Hon. Bronwyn Bishop presented Service awards - photo by Terry Barber
The 95th AGM of Avalon Beach SLSC was another first for the club, consisting of a hybrid meeting of several members attending the COVID Safe surf club facilities in person, and others watching via Zoom.
Guests included Club Patron Bronwyn Bishop AO and Northern Beaches Councillor Ian White in person, while Rob Stokes State Member for Pittwater, Jason Falinski Federal Member for Mackellar, George Shales President SLSNSW and Tracey Holmes President SLSNB joined the meeting via Zoom, with live crosses to them.
President Ashley Cardiff outlined the club's 2019-20 record of successes achieved despite the most trying of circumstances, with the season being cut short due to COVID 19. The most important results were no lives lost in patrol hours, 15 rescues and 659 preventative actions.
Training continued until the early close of the season and 101 new awards were gained by members, to provide and improve surf lifesaving skills. Several Gold, Silver and Bronze medals were won in competition at State level. Competition is important to ensure fitness, skills and teamwork to perform rescues, and provides a framework for building camaraderie in the context of enjoyment and having fun.
Our Annual Surf Swims could not be held this year due to COVID concerns and IRB competition was cut short before the State carnival was to be held. No Australian Surf Lifesaving Titles were held this year.
Community events that the club was able to hold prior to COVID restrictions included the celebrations for the 50th Anniversary of the IRB and the introduction of malibu surfboards, Christmas Carols at the Beach, the Bushfire Appeal initiated by Life Member Loiuse Lindop, the Lion Island Challenge and the 24 Hour Row for mental health .
These and other significant activities such as Mike Stanley Jones International surf lifesaving exchange to Japan sponsored by SLSA, the club's Singapore training initiative, and Christine Hoption OAM's Life Membership of Surf Life Saving Australia are contained in the Annual Report, which is publicly available via the surf club homepage here: https://avalonbeachslsc.com.au/club-documents/
Club Patron Bronwyn Bishop AO congratulated the club on its achievements and praised the club for its initiatives.
Noting that we are living in a very difficult time with severe global economic impacts, she said that the spirit that binds surf lifesaving together is more important than ever. In such trying circumstances surf clubs can give a sense of meaning to young people. The Annual Report photos of young people enjoying themselves "makes your heart sing".
"Surf club qualities of initiative, self reliance, camaraderie and skills will be so important in the future and the surf club's role in the community will be vital to help rebuild our country".
Ian White noted that in the year starting with January bushfires, February Storms, floods and then March COVID, there has been relentless pressure on some people's mental health. He said Avalon Beach SLSC is the lighthouse club for young people's mental health.
Member for Pittwater Rob Stokes congratulated Bronwyn Bishop on receiving the country's "highest award", which was "pretty impressive" for the Club to have her as a Patron. He also congratulated the women who are active in the club.
George Shales congratulated the club on its initiative during the bushfires and said SLSNSW is providing $1.2 million to aid NSW surf club members who may be experiencing financial difficulties and unable to join, and help clubs retain members.
Tracey Holmes applauded club members' assistance in Branch roles and the club's participation in community events.
Jason Falinski, self isolating, quipped that he might need to call on outgoing Treasurer Bernadette Mackay's financial management assistance later in the year, given the club's positive financial results achieved despite the current downturn.
Upcoming events:
Rob Stokes and Jason Falinski are "in training" for August's 24 Hour row for mental health
the Club's Call Out Team are finalists for Surf LifeSaving NSW's Awards of Excellence in August
the start of the season is 10 weeks away
the club bar is open Friday nights and Sunday afternoons as a COVID Compliant Venue with strict protocols, from this weekend onward
By Roger Sayers
Life Member
Avalon Beach SLSC
Avalon Beach February 1st, 2020 - photo by A J Guesdon.