October 23 - 29, 2016: Issue 286
Avalon Beach RSL Club's Pikachu Triumph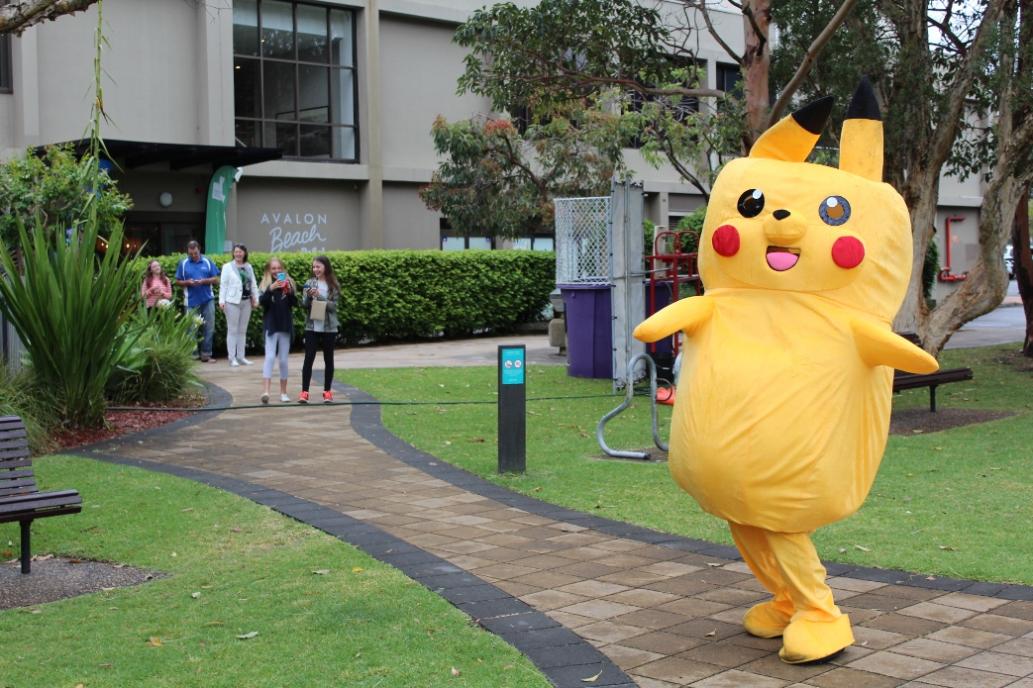 Avalon Beach RSL Club's Dare the Boss: Pikachu Challenge 2016
Angus Rimmer, General Manager of Avalon Beach RSL Club has completed the "Dare The Boss" challenge set for him by fellow staff members. The Dare the Boss Challenge is a fundraising idea for the Children's Cancer Institute where a boss can be challenged to do something they dislike, fear, has an element of 'squirm' or they would avoid if possible.
Challenges such as spider encounters, ten plates of cold broccoli for ten days in a row, listening to a recording of Frozen's 'Let it Go' sung/bellowed by your children every single waking moment for a month, or wearing a costume of one of their favourite, not yours, characters, are all up for grabs.
After two hours and 13 073 steps, Angus, or Pikachu as he preferred to be known when on this run, but not ever after, .... and that's ever ever ever, completed the challenge set him early Saturday afternoon, October 22nd.
Along the way his support team captured many a fine moment, including the youngsters and their parents who wanted a photo with the bright yellow electric mouse, the gruelling climb up Newport hill and even a small rest on a park bench at Bilgola Beach.
Katie Lewis, Assistant General Manager at the club, and Avalon Beach RSL Sub-Branch member Lynn Murphy accompanied the Pikachu Angus all along the route – at one stage they can be seen pushing him up those rather challenging steps from Bilgola.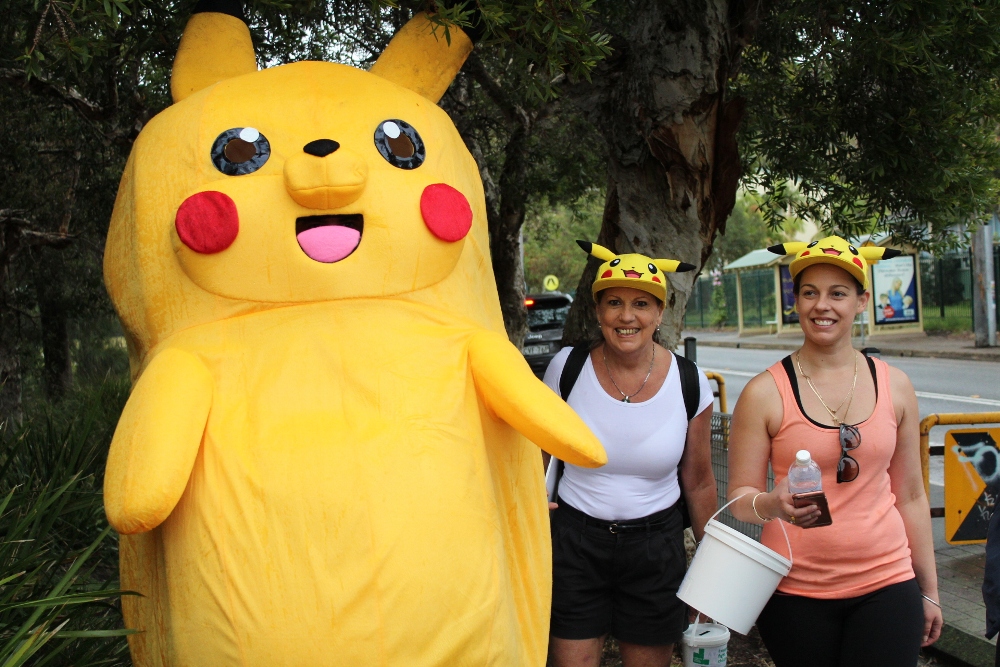 The Children's Cancer Institute laboratories are part of the world-renowned Lowy Cancer Research Centre at the UNSW, one of the largest dedicated research centres in the southern hemisphere. This is the only independent medical research institute in Australia wholly dedicated to putting an end to childhood cancer.

Angus did his walk-run-let's rest for a bit - from Mona Vale to Avalon Beach RSL Club, around 7 kilometres in a full Pikachu costume in thankfully cooler weather than that he trained in during the week.
Not satisfied with having completed the run in this heavy costume in good time he then did a victory lap of Dunbar Park.
The team also set up a dunk tank at the 2015 People's Choice Club of the Year so people could dare their mates to raise more funds for the Children's Cancer Institute. Avalon Beach RSL staff, members, directors and guests were on hand to think about venturing a warm pink toe into the iced waters.
As we went to press the Dare the Boss Avalon Beach RSL Pikachu challenge had raised just over half of their goal amount, not counting that collected today.
You can still chip in to get them 'over the line' at: donate.ccia.org.au/my-fundraising/678/avalon-beach-rsl-club-undefined-undefined
For those who blink blankly at their grandchildren, and even grown up children, Pikachu are a species of Pokémon, fictional creatures that appear in an assortment of video games, animated television shows and movies, trading card games, and comic books licensed by The Pokémon Company, a Japanese corporation. Artist Atsuko Nishida is credited as the main person behind Pikachu's design, which was later finalised by artist Ken Sugimori. According to series producer Satoshi Tajiri, the name is derived from a combination of two Japanese sounds: pika, a sound an electric spark makes, and chu, a sound a mouse makes.
Developed by Game Freak and published by Nintendo, the Pokémon series began in Japan in 1996, and features several species of creatures called "Pokémon" that players, called "trainers", are encouraged to capture, train, and use to battle other players' Pokémon or interact with the game's world. Pikachu was one of several different Pokémon designs conceived by Game Freak's character development team. [1.]

Most recently the world has taken to playing Pokémon Go, a free-to-play, location-based augmented reality game where players use a mobile device's GPS capability to locate, capture, battle, and train virtual creatures, called Pokémon, who appear on the screen as if they were in the same real-world location as the player.
Some even claim this version of the popular game is promoting exercise and 'being outdoors' for video game players who have become notoriously indoor non-exercising people. Bonus!
Fortunately none tried to capture Angus along his route, although one little boy apparently was prepared to try to somewhere around Newport.
Well done Angus, Katie and Lynn – although you may still be resting up today, your efforts have shone some light on a challenge the Children's Cancer Institute is determined to overcome and ensured their great work can continue.
Cameron Bayfield, part of the Children's Cancer Institute team, informs us the McGrath real estate agents on the peninsula will be rising to a Dare the Boss Challenge to raise funds for more research at Dee Why Hotel in early November - that one may prove just as interesting as it involves the element of fear rather than that of overcoming something you find annoying, as seems to be the case with the Pikachu triumph.
The Dare the Boss Challenge aims to raise 200 thousand this year and is well on the way to reaching that with $155, 186 raised so far.
The Pikachu Angus coming down the home straight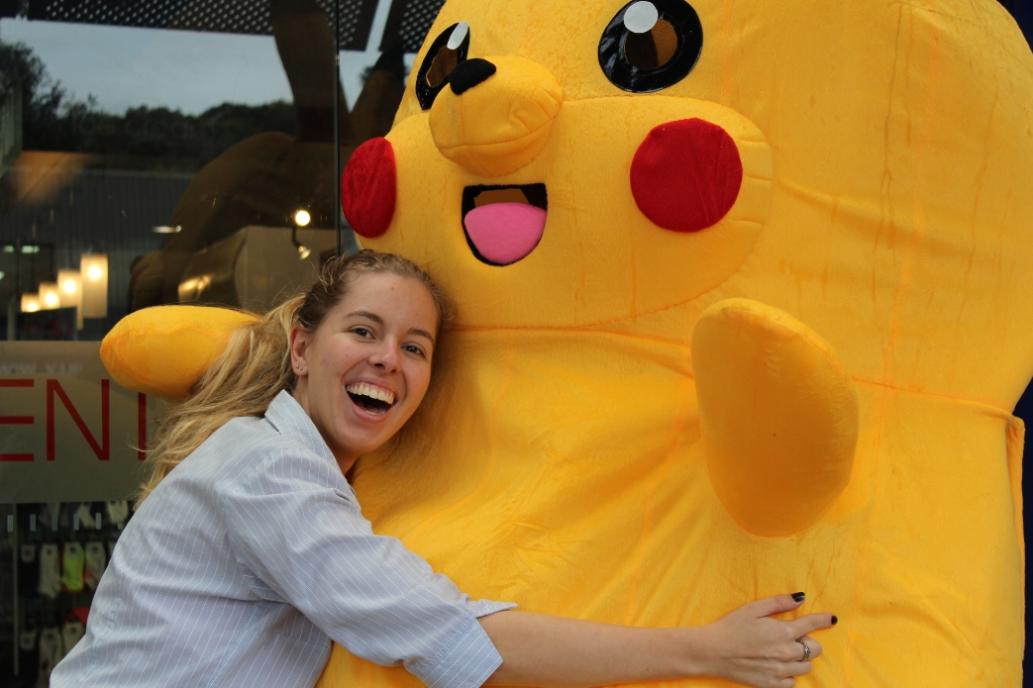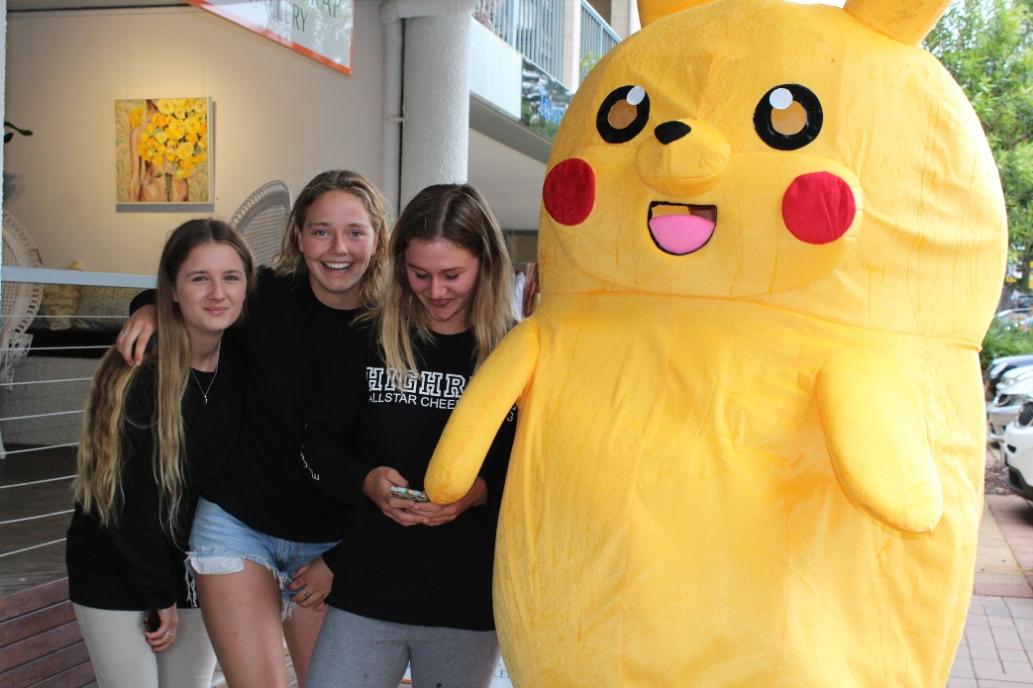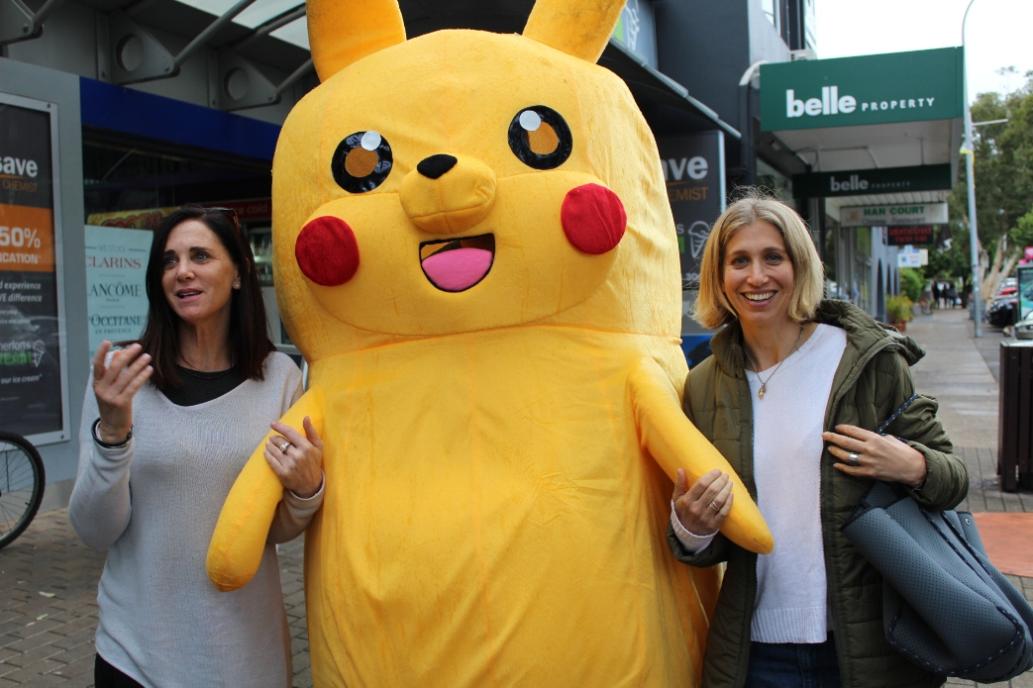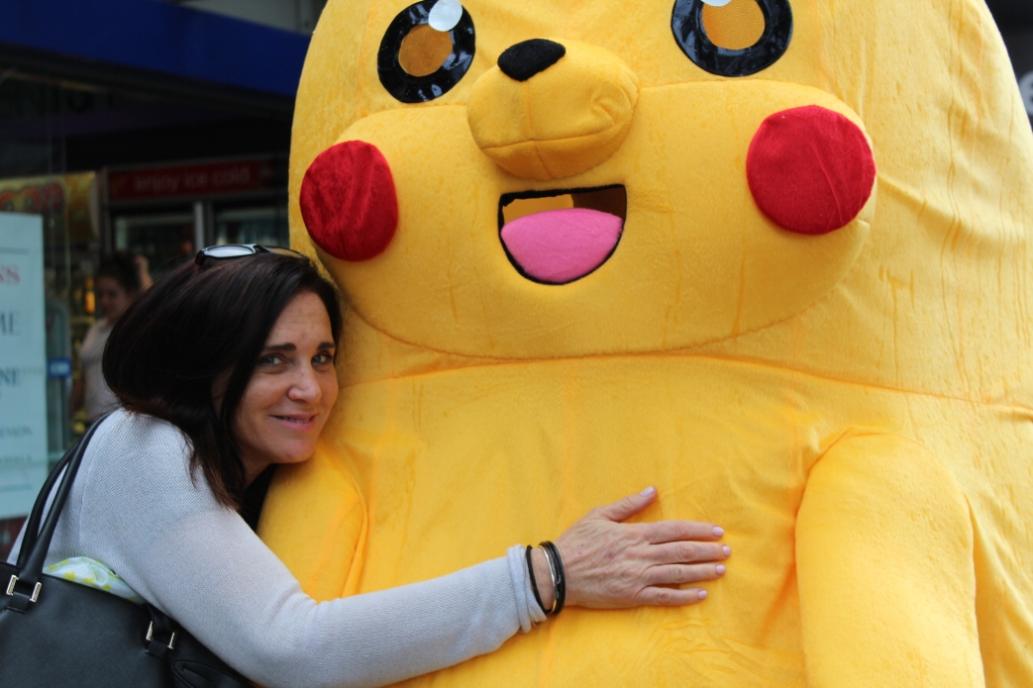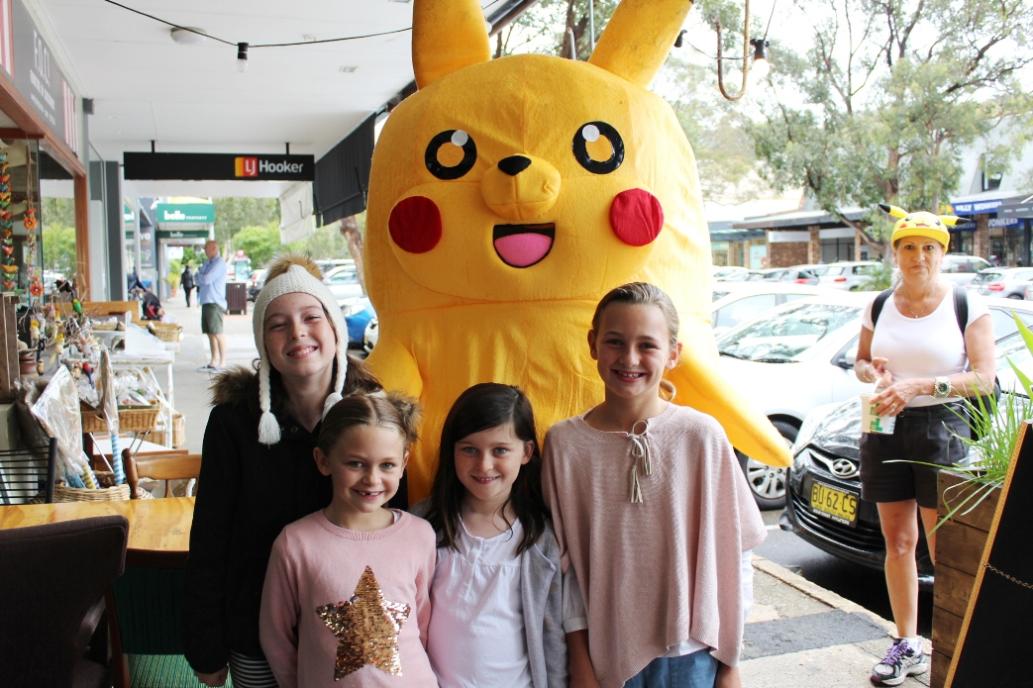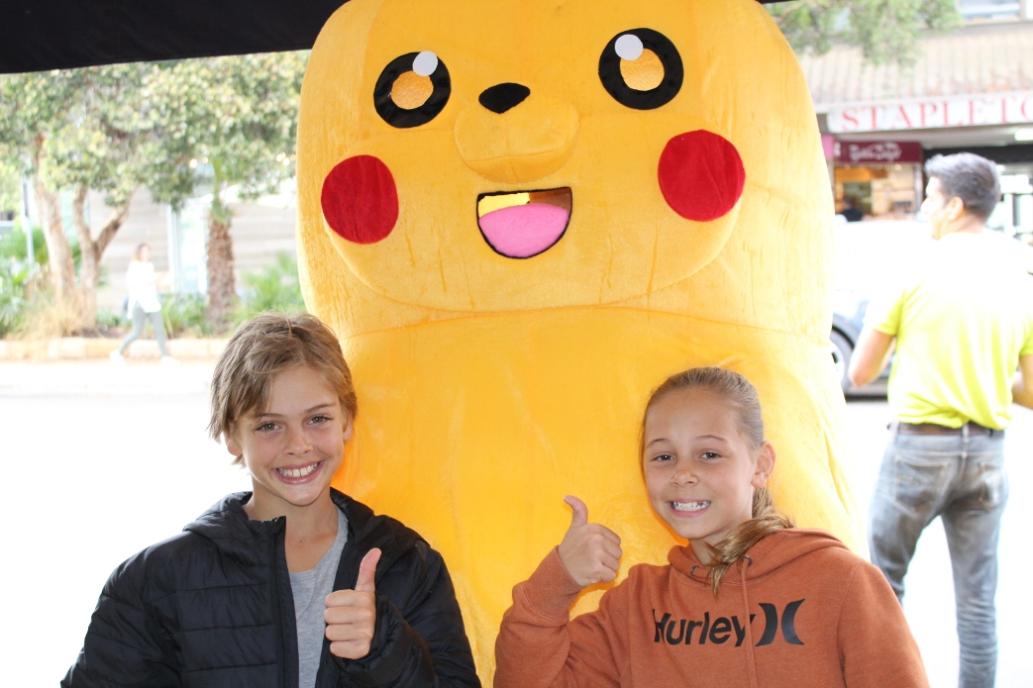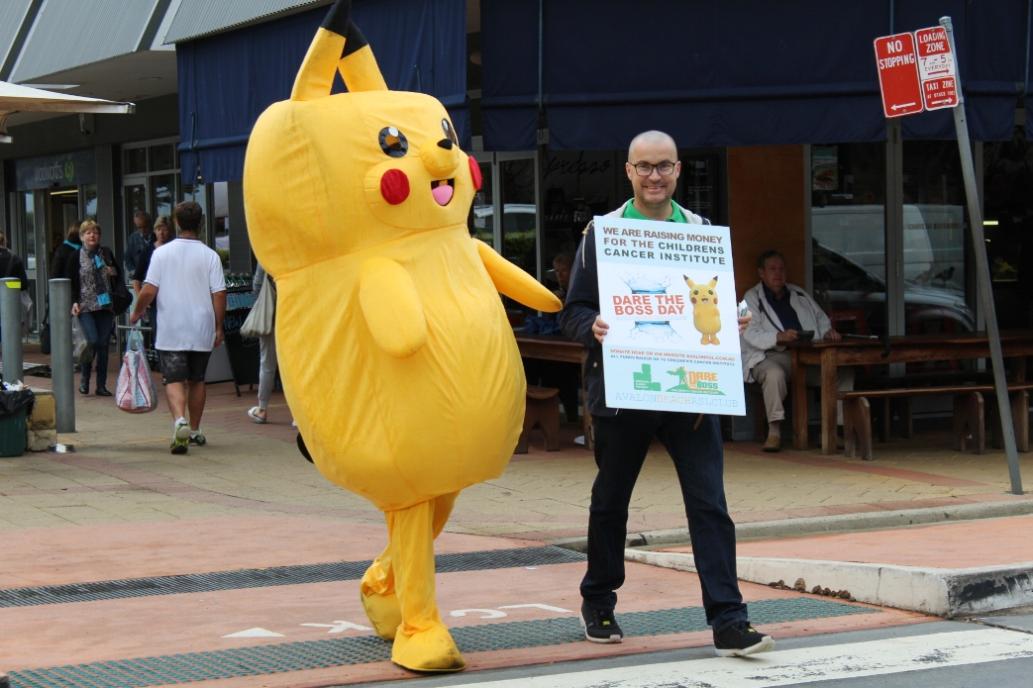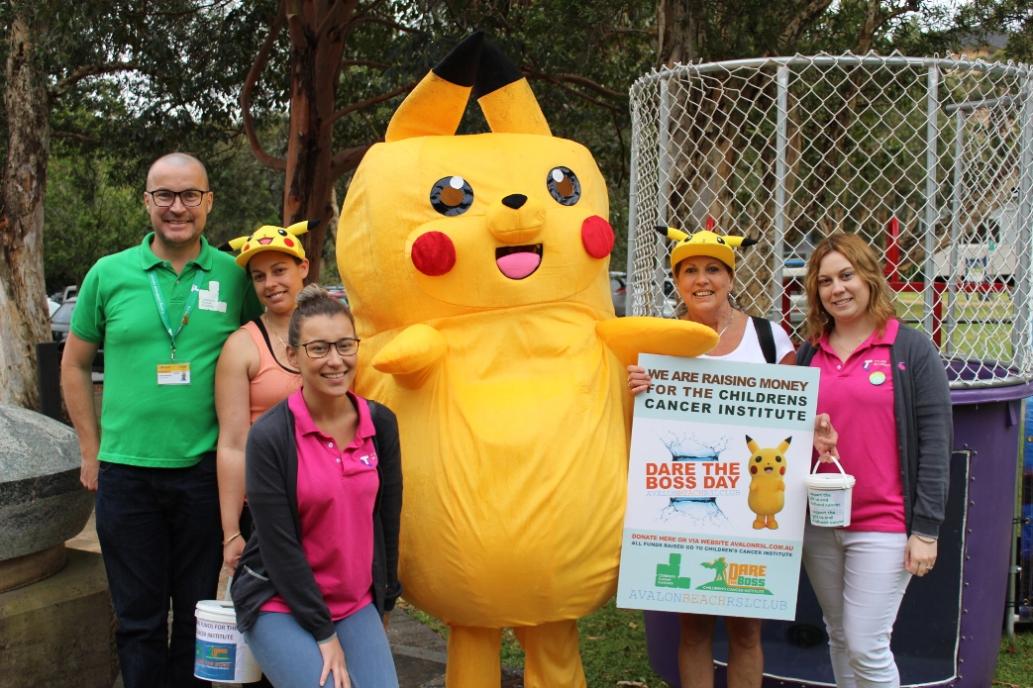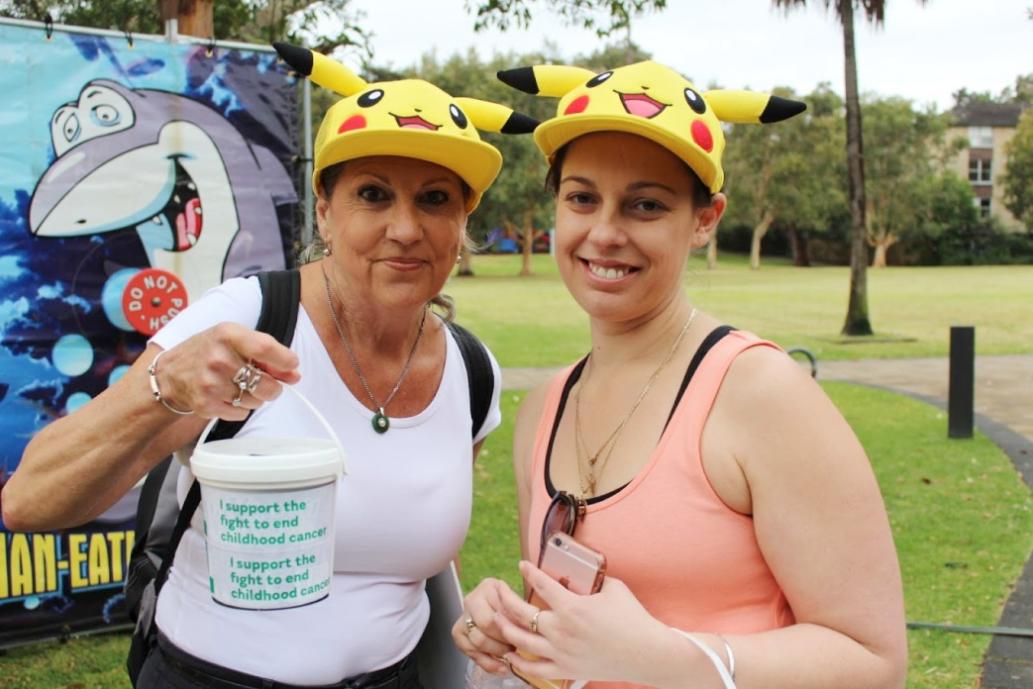 Report and Pictures by A J Guesdon, 2016.