February 28 - March 6, 2021: Issue 485
Avalon Place Plan Open for Feedback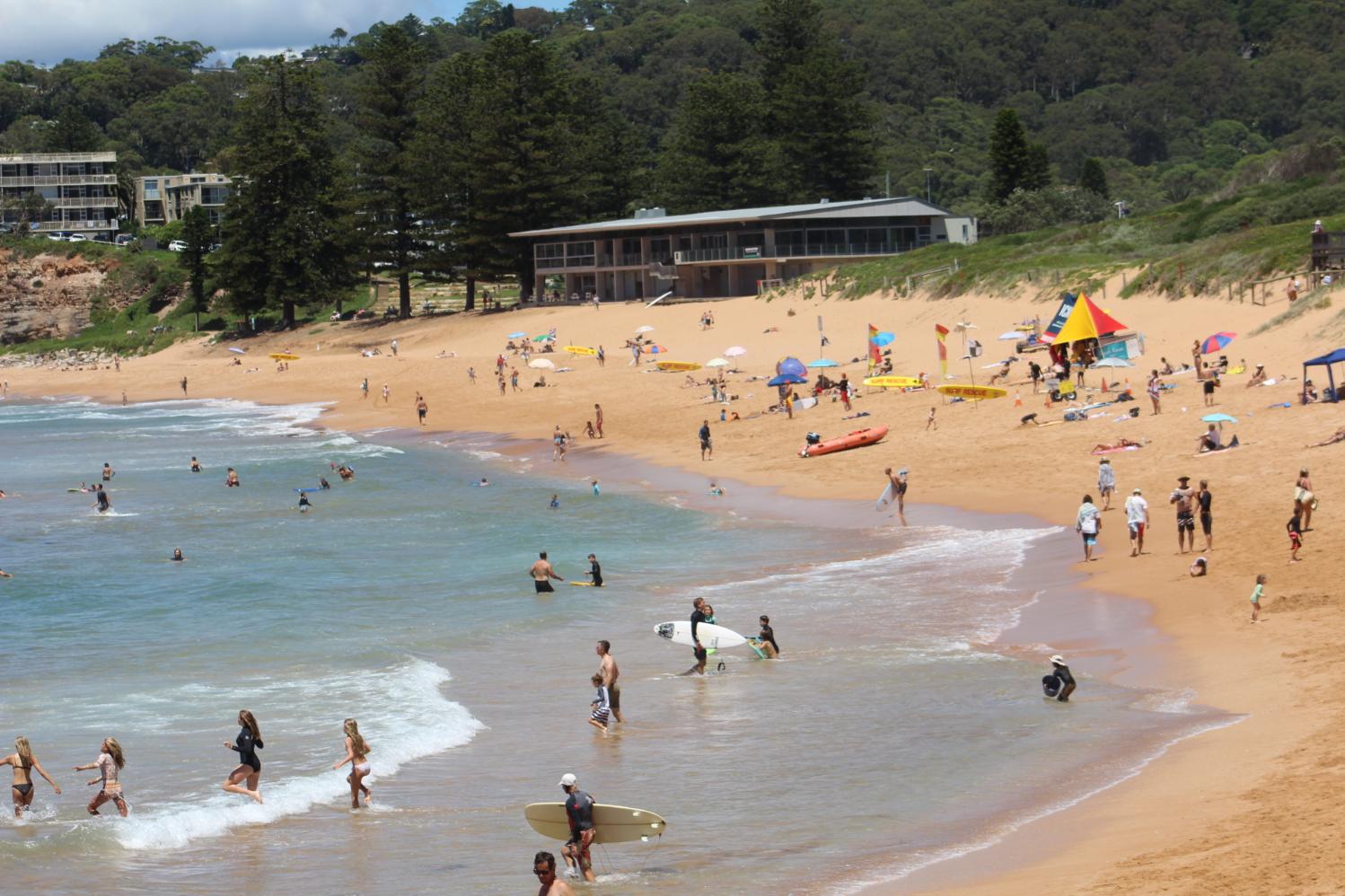 Council's Local Housing Strategy, extended in feedback until March 7th, and as required by the State Government under the Greater Sydney Commission plans to meet projected future housing needs, provides context for the now open for comment Avalon Place Plan.
Council recently published 'Myth-busting the Local Housing Strategy', that lists Council's initial responses to some of the issues that have been raised so far.
Recently Council closed submissions for the Destination Northern Beaches draft plan, which is Council's five-year strategic plan for future growth in our visitor economy. This also feeds into context for the Avalon Place Plan.
Council's documents explains that ''the DMP supports Council's desire to create a vibrant local economy and will respond directly to the Northern Beaches Community Strategic Plan 2018-2028 goal 'to enhance and extend opportunities for a sustainable tourist economy throughout the Council area.'
It also responds to a requirement of the Greater Sydney Commission's North District Plan to prepare plans for tourism and visitation.
Council states it is committed to developing a best-practice framework that has sound strategic alignment to Destination NSW's State-wide Destination Management Plan (Feb 2019), NSW Government's Visitor Economy Industry Action Plan 2030 …''
Council's Northern Beaches Public Space Vision and Design Guidelines (draft) are also part of that bigger required response picture and were placed on public exhibition from October to November 2020 and will form part of what's discussed at the March 2021 Council Meeting according to that webpage.
They are all part of one bigger picture – or vision.
The My Place: Avalon draft Avalon Beach Place Plan stated aims are to
enhance community spaces and streets
create active and lively places to meet, gather and relax
improve connections for pedestrians, cyclists and cars
provide new facilities for young people.
Submissions close Sunday 16 May 2021, leaving plenty of time to go through the details. Documents are available at: yoursay.northernbeaches.nsw.gov.au/avalon
This consultation signals that Council have commenced what they are calling 'My Place', a place planning approach to planning, design and management of local town centres. Avalon Beach is the first to undergo the 'My Place' planning process, so is relevant to all our Readers from outside Pittwater too.
There are three main elements presented in the Draft Plan
The Village Hub
Coastal Fringe
Southern Gateway
The Avalon Preservation Association (APA) has the following comments to offer;
Avalon Preservation Association has been involved throughout NBC's Community Reference Group process in the development of this Plan and previously.

While we have been disappointed at the level of stakeholder participation we are pleased to see the draft plan now going on public exhibition to May 16.

We are also pleased that this will include an alternate cycle plan for the Avalon area which was prepared by APA and supported by the Palm Beach/Whale Beach and Clareville /Bilgola resident groups.

We have pressed for major works, including new paving and street lighting, to be given priority and urge everyone to consider their preferences for what should be done and when.

We do not support the terracing of the South Avalon headland behind the bus stop and believe this should remain a natural grassy slope also, excluding a concrete path as part of the Coastal Walkway.

As part of the trial of a pedestrian friendly area in Old Barrenjoey Road near the Recreation Centre we are pressing for the entry to the carpark to be moved to alongside the present exit to improve traffic flow and the safety of pedestrians.

We encourage everyone to get involved as it is a unique opportunity to create and to keep the type of village area we want.

The APA (Avalon Preservation Assoc.), CABPRA (Clareville/Bilgola Plateau Residents Assoc.) and PBWBA (Palm Beach/Whale Beach Assoc.) have recently met at length to discuss the current proposed NBC Avalon Bike Plan, pertaining to Avalon Beach village (as mapped out within the proposed Northern Beaches Bike Plan).

As the three major residents' groups, whose members rely on Avalon village, we strongly believe that the current NBC proposed bike plan has significant drawbacks and would like to suggest a viable alternative. All three groups are very supportive of cycling, but none support the NBC bike plan in its current form ie. constructing a separated bike path on Old Barrenjoey Road and Avalon Parade, and the necessity of bikes using the four way central intersection.

We feel the NBC bike plan is problematic as it adds more fast moving traffic to already existing intersection issues. It is well documented that bike lanes speed up traffic and give an expectation of priority to road users. It has always been a goal of planning for Avalon to give priority to pedestrians and this must be maintained. It is also environmentally insensitive with regard to removing street trees, excessively expensive, and it takes the focus away from our informal, pedestrian-oriented village, especially in light of NBC's encouragement for restaurants to extend dining opportunities onto footpaths due to Covid. It is also unnecessarily complex and overly engineered.

We submit below our preferred alternative proposal, which is fully supported by our three associations. It utilises the Avalon laneways to feed bike riders from the main pathways on the outskirts of Avalon and funnels them through Avalon village to the shops, or to Avalon Public School. This alternative plan optimises the under-utilised laneways, features reduced speed limits and, unlike the current NBC plan, requires little in the way of major roadworks, tree removals or parking changes, to achieve a safer, cheaper and more pedestrian/cyclist-friendly outcome.
Those PDF's are loaded below for the residents and APA, CAPBRA and PBWBA members. Simply click on them and read or 'save as' on your own device.
The Village Hub
The Avalon Place Plan Draft lists in dot points many aspects that have already been successfully enhancing the enjoyment and vitality of the commercial centre for years – arts programs and arts events, market days, street music, street hosted dining experiences.
It is the intersection design that will interest most. Here it is proposed to turn this into a temporary one way south bound shared zone of Old Barrenjoey Road north (between Avalon Parade and the entrance to the supermarket car park) and to establish that for a trial period (minimum of six months).
The document states that during pop up consults 28% of the community feedback received strongly supported a pedestrian plaza for this space, followed by a shared zone getting 18%. As there are a number of traffic movement and distribution challenges for the road network associated with a pedestrian plaza the preference from a traffic perspective is a shared zone.
At the intersection, and surrounds, improvements proposed include a lower speed for vehicles as well as traffic calming methods. The design drawing also shows removal of car parks and a shift to east for one of the crossings and the widening of some footpaths: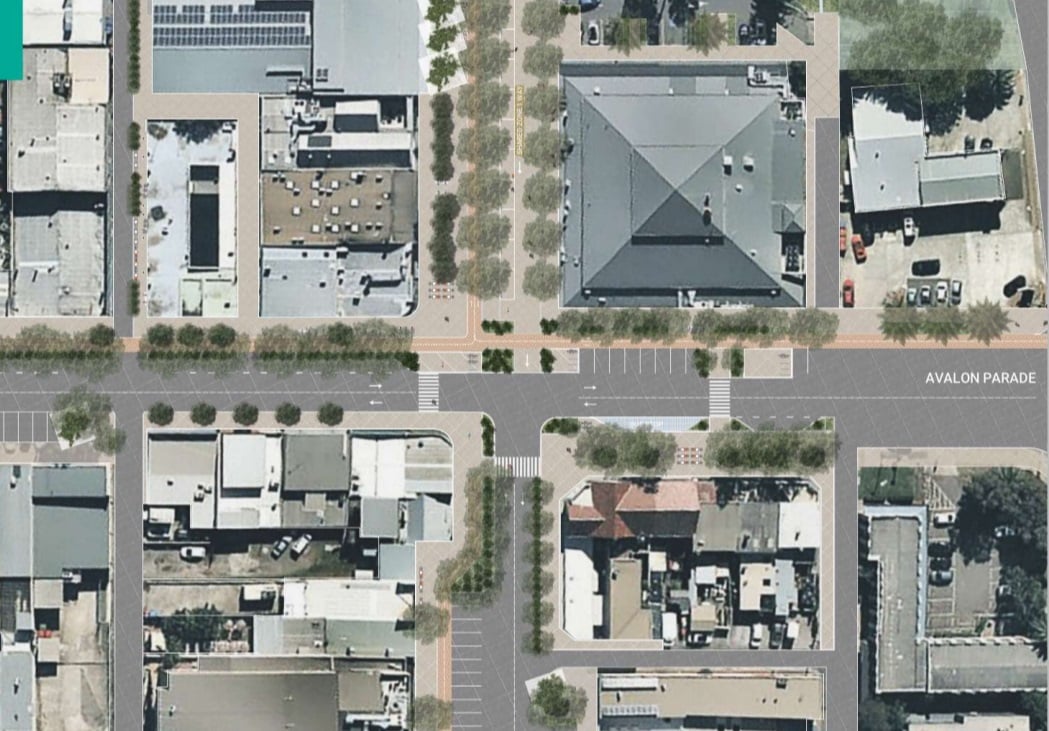 For Dunbar Park there are proposals to erect a shelter for shade and weather protection which could also be used as an arts and performance venue, to take down the fence between the Avalon Rec. Centres' rear outdoor area and the green space and to redesign Patterson Lane. That is slated for a 3-5 years timeframe from acceptance of the Draft and costed at 'High ($500,001 - $5,000,000)'.
The Draft Village Hub Actions List includes:
Implement the recommendations of the Avalon Beach Parking Study including an integrated signage plan, simplified of parking controls and the relocation of long-stay parking spaces.
Establish a framework to collaborate with Transport for NSW to optimise public transport routes and improve amenity and frequency of services.
Renew and construct new footpaths and create wide pavements that link activity areas, transport and beach, as recognised by the Avalon Pedestrian Accessibility and Mobility Plan (PAMP) and Walk Northern Beaches.
Create a low-vehicle speed pedestrian environment throughout Avalon Beach Village by using urban design and traffic calming methods incorporating formal bike paths within the Village.
Stage the upgrade to the intersection of Old Barrenjoey Road and Avalon Parade including trial of a temporary one-way shared zone to inform permanent road and streetscape improvements.
Incorporate a cycleway along Old Barrenjoey Road and Avalon Parade and provide bicycle facilities throughout the Village
The public transport routes being optimised, improved, and made more frequent ceased when those doing the Bilgola Plateau loop, or to and around Clareville or from North Avalon into town were cancelled; December 20th, 2020. Keoride is great for some but has added inconvenience and cost to student and worker commuting and works against the GSC 'work within 30 minutes from home' principle. Readers have suggested a form of inter-community bus along the lines of those currently utilised by Avalon Beach and Palm Beach RSL shuttles to reinstatre these connections and replace was has been lost.
Part of the GSC plan is also to reduce urban heat within suburbs. Too much concrete and hard surfaces will work against this aim. The Avalon Place Plan Draft speaks of planting more trees, echoing the 2018 announcement by Council to install over 100,000 trees on council property as part of its Urban Tree Canopy Plan, stating those endemic to Avalon will be chosen in the Avalon Draft Plan.
Those chosen previously are currently lifting the pavements in place. Those that would not recreate this problem due to shallow root systems may not provide the safety required or the green buffer that would reduce the heat installing hard surfaces as a shared space or numerous wider paths will create. None of the plant species proposed is listed. Those endemic to Avalon, however, can be seen in Stapleton Park, which, according to experts, is closest to what this area looked like prior to European colonists arriving.
Coastal Fringe
As can be read above from APA, or heard being stated empathically among anyone speaking about it, terracing the south green embankment is already an unpopular idea. Residents prefer soft natural open lines to their green spaces and reject uniformity in most guises - these ubiquitous rectangular sandstone blocks that have been popping up like mushrooms, unannounced/consulted are just out of place in an area treasured for its flows of green into blue into green again as sculpted by nature. The low fences that also stopped 'hoons' damaging grassed areas were more in keeping with this 'place'.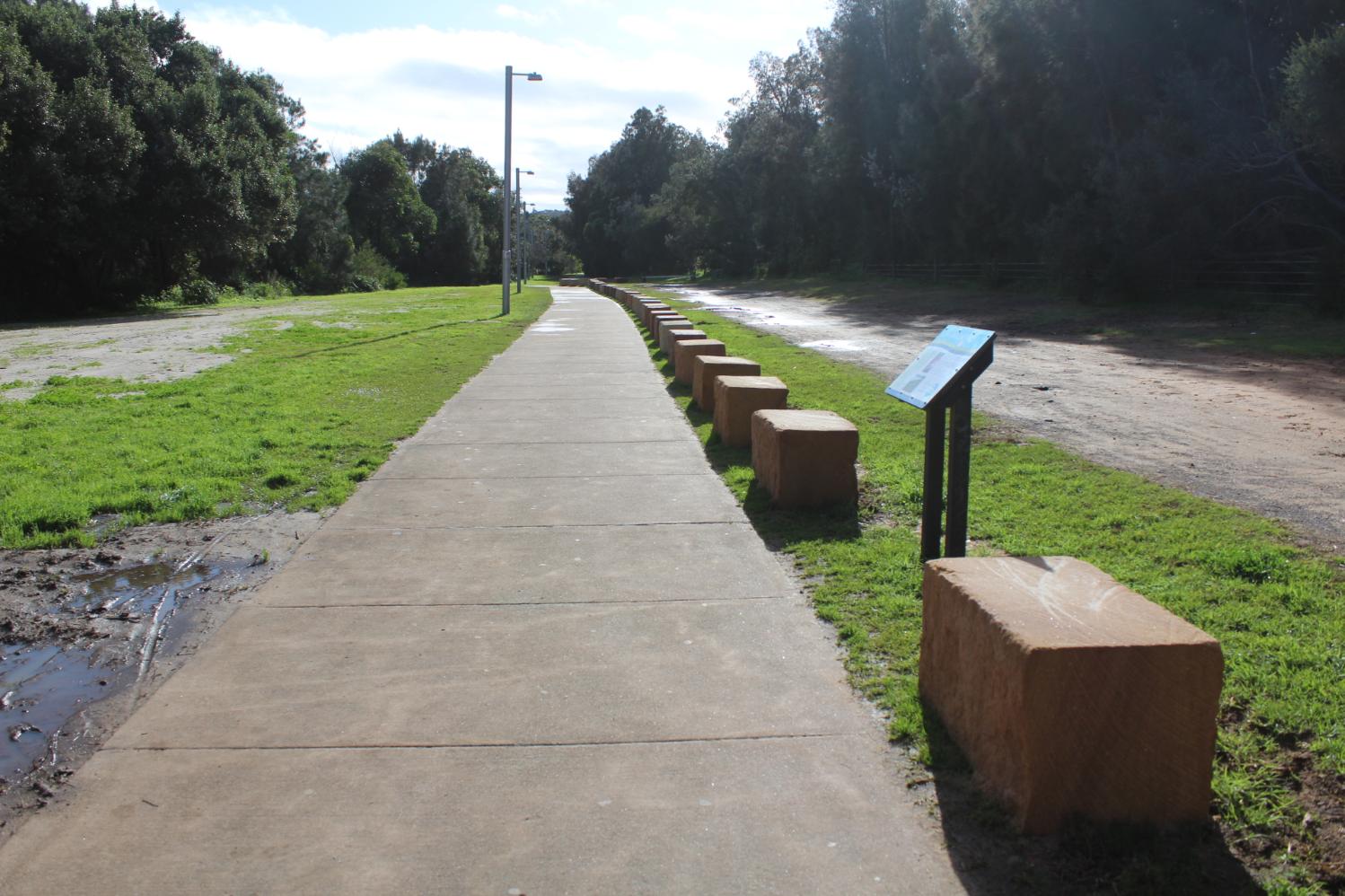 Design elements planned for North Avalon Beach include removing the fencing along the northern boundary of the car park so the tennis courts and community garden are part of the whole, adding more seats composed from off-form concrete and hardwood, a viewing platform, and some tables and chairs for Des Creagh Reserve.
These works are slated into the 3-5 years and 5-10 years bracket for commencement and funding as they have projected costings in the High ($500,001 - $5,000,000) and Significant ($5,000,001 upwards) bracket.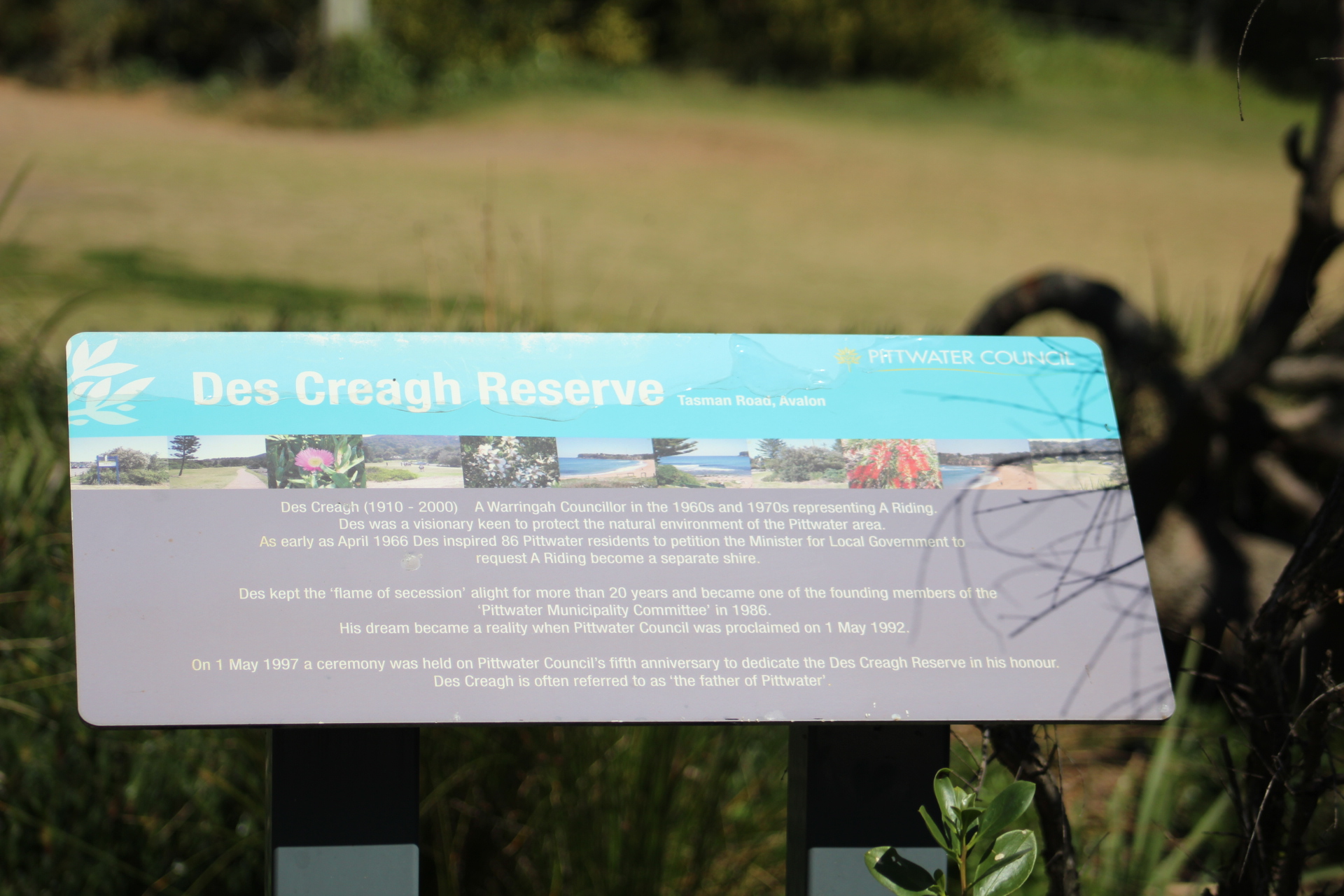 There is also a proposal to investigate opportunities to naturalise Careel Creek and stormwater drainage systems within and surrounding the village centre.
Careel creek can cause inundation still in the commercial centre. Formerly these areas were historically known as 'Priest's Flat' and have been described in the earliest annals of visitors as a 'low swampy area' that extended from the base of the golf course hill to the verges of Careel Bay proper. That underlying structure and soil is still present. Those who lived here in the 1950's recall 'floods' along the Careel creek thoroughfare carrying camping gear from the then present campsite behind the dunes into Careel Bay itself.
The Topography of the Avalon-Clareville-Careel Bay valley is characterised by steep slopes to the south, northwest, and east of Careel Bay, leading down to the valley floor. Returning or optimising these flows of water through and over the terrain could even lend itself to not only a restoration of what was once here and optimised environment health, but could be harvested and used on playing fields or community gardens during dry seasons, just as we use rainwater tanks for or own gardens.
Similarly the creek that once used to run down from the Whale Beach-Careel-Bangalley head into and along Burrawong road at North Avalon/Careel Bay is another example. Although now encased in concrete, and causing flooding at Careel Bay shops every time we get more than a smattering of rain, it is channelled to flow out into the bay, bypassing the soccer fields and Hitchcock Park, both of which get that lovely yellow tinge of dead grass during hot Summers.
Southern Gateway
The Draft Plan here is to explore opportunities to incorporate additional active recreational facilities into the area, work with the local community to design a distinctive southern gateway statement, incorporate wayfinding, develop a local storytelling trail that links with the Coast Walk Public Art Trail and celebrates the heritage, creativity and community of Avalon Beach, explore opportunities to build on the Avalon Workshop in relation to local arts and culture, work with local property owners to develop temporary furniture and uses on prominent sites and vacant land, install a 'small-scale creative solution on hand rails' on eastern side of the roundabout to celebrate arrival to Avalon Beach, and to create an off-road bicycle facility for youngsters on the section of open space opposite Avalon Public School.
No dimensions are provided for this off-road bike facility on the space now used by the school for sports, but the design concept drawing indicates at least two thirds of this area may be needed.
Meanwhile, at the Avalon Beach skate park, fantastic stunts on bikes are being performed by youngsters.
Missing from the Plan are the western, Clareville, side and the North-western Careel Bay precinct connections, historically the original 'Coastal ways' along with their links to West Pittwater and Newport, and to where the yachts clubs are and the hotel. These 'connections' are also part of the valley and Avalon Beach community and belong in any storytelling trail.
Those out at dawn or soon after on a weekend will also see large groups of cyclists whizzing their way north to Palm Beach or coming back down Whale Beach road to return south - some groups choose later time slots for their runs. Imagine a 'tour de Pittwater' for them that includes the challenging hills on the estuary side and a pathway on these routes that will keep them safer, without the 'traffic calming' humps currently frustrating those car owners who reside at Church Point and out towards Brown's Bay.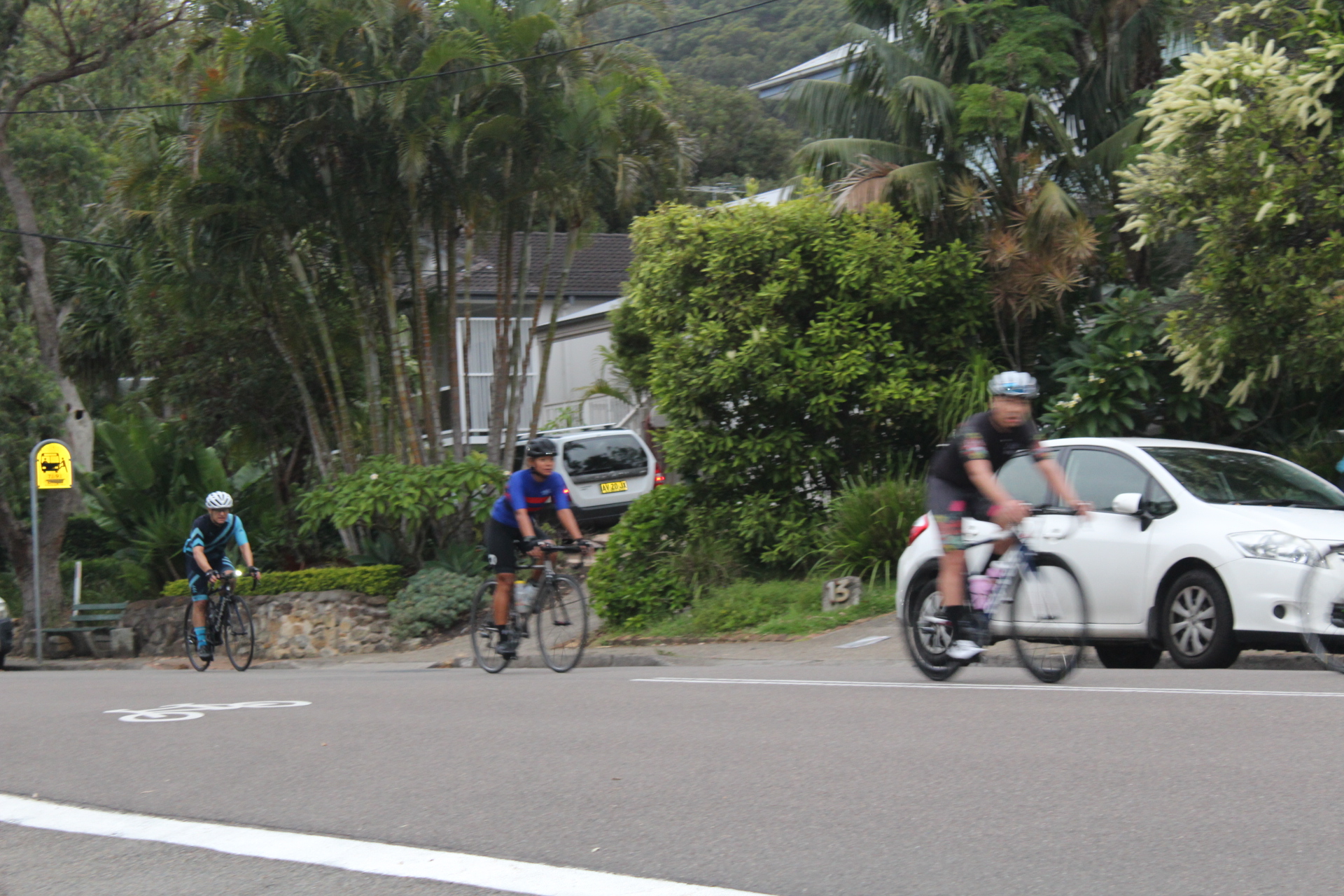 Last cyclists of a group of approx. 30 riders coming down Whale Beach Road, 7.30 am, Saturday February 27th, 2021
Realisation/Timing/Funding
The document proposes to do that which has been done before in the 1-2 years once a final Draft is adopted; markets, buskers, the film festival, an app for a 'walkabout' alike that launched by Pittwater Council. Physical changes that are proposed to be installed you will see first are recycling bins that have local artists work on them, redesigning Dunbar Park playground to incorporate nature play, to commission an art installation on rock pool safety fencing, plant more vegetation and to commence the aforementioned staged six month trial. It is also proposed to prepare urban design guidelines and controls for the village centre that 'reflect the unique and distinctive character of the locality, embrace sustainability concepts, exemplary and biophilic design'.
In a 1-3years timeframe it is proposed to create the off-road bicycle facility, review and amend the Dunbar Park Plan of Management and the Ocean Beaches Plan of Management so they will support the actions outlined in the Plan, review the Development Control Plan to ensure sustainability outcomes, including green architecture and Biophilic design, provide lighting in the village and Dunbar park areas and commence the renewal and construction of new footpaths.
The Avalon Beach Place Action Plan recommendations all require a source of funding. While the Council/Ratepayer is ultimately responsible for funding this Plan, there are varied methods of funding available that that Draft states may be considered. These include:
1. Council
capital Works Program
Section 7.12 contributions
grant applications (State/Federal government)
2. Public/private partnership
3. Crowdfunding
As can be read above, the APA were disappointed at the level of stakeholder participation, so taking an opportunity to provide your feedback before that period ends, May 16th, 2021, would be welcomed by these resident's organisations. If you live in Avalon, Whale or Palm Beach, Clareville, Careel Bay, Bilgola Plateau or the Newport verges, or even just visit here, have a say - you are a stakeholder too.
The webpage also invites you to make a submission on there itself - asking you if you support a)the draft Avalon Beach Place Plan, b)the proposed shared zone on Old Barrenjoey Road and c)the proposed bike path/cycleway designs?
If you have 'feedback' on the other elements mentioned, as your own priorities, or their timing, if you prefer APA's plan for a bike path design, it may be helpful to do your own dot points and upload that document to that webpage.