May 31 - June 6, 2020: Issue 452
Australian Surfing Awards 2020
Winners Crowned - Jodie Cooper Becomes 42nd Inductee Into Hall of Fame
Local Surfer Rob Bain Announced as Peter Troy Award Winner
Hosted by surf media icons, Ronnie and Vaughan Blakey, the thirty-sixth Australian Surfing Awards Incorporating The Hall of Fame went to air on Sunday, May 24th on Channel 9 in an exciting digital format as a special episode of 'The Hold Down'.
Under current conditions, this allowed us to still celebrate the amazing achievements of our nominees & winners in an exciting new format the public could enjoy from the comfort of their own living rooms.
Ronnie and Vaughan honoured the best of the best over the past twelve months across thirteen award categories, adding to the excitement of our biggest gong, the announcement of Jodie Cooper as our latest Hall of Fame inductee.
Jodie has been called the best woman surfer not to win a world title, but this seems like faint praise for a person of her epic calibre. The super-powerful natural-foot was a stylish, dangerous presence throughout the '80s and the first part of the '90s on the then-ASP World Tour, dominating Hawaiian events with deep carving turns and great big-surf instincts.
Jodie particularly shone in Hawaiian surf, where her go-for-broke energy and flair made her almost unbeatable for long periods. She rekindled the North Shore as the performance pinnacle for women pros with a breakthrough win at Haleiwa in 1985, followed by repeated wins at Sunset Beach, and finally a two-year domination of Hawaiian events in 1992 and '93.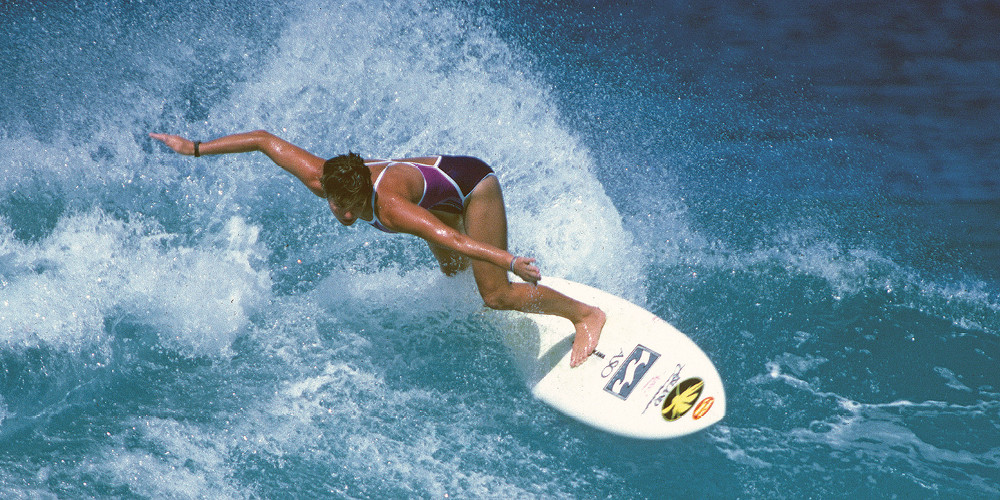 Jodie in action while on the Tour
In recent years, Cooper has been part of the coaching staff for the Australian Junior Team contesting the ISA World Junior Championships and has been active as a commentator on various surfing events.
Steph Gilmore (who was a special guest on the show) and Jack Robinson took out the Female and Male Surfer of The Year Awards.
Northern Beaches surfer Rob Bain was announced as the winner of the Peter Troy Lifestyle Award, presented to the person who has given his or her life over to surfing, and in doing so has enriched the lives of other Australian surfers over time.
In April Pittwater Online spoke to Rob about his nomination and announcement as a finalist, and what that meant to him;
''It's an honour of course – you don't realise that your lifestyle and the accumulation of what you have done over the years in so many forms, has done something for others.'' Rob said.
''This has been my life – and I'm quite proud to say that I am a surfer. It was quite difficult when I started to surf and try to make a career out of surfing, people would say to me 'what are you doing – that's not a career, that's surfing – what are you doing for a real job?'. It took a lot of time to break that stigma and although that has happened now, I suppose all of us who have gone through, have contributed to making the sport progress to where it is now. So it's an honour being nominated and I relate it not so much to the competitions I've been in and working in the industry development around that, but in simply being in the ocean and the relief that gives to us all. If I've been able to communicate that, and that always being there, that escape or medicine for anything that ails you – and it's just such a beautiful natural thing to do, then that's great – everything else is irrelevant when you allow yourself to have that bit of relief and escapism from what's happening on land – and you come back into shore better for it.''

Rob Bain, Dave Macaulay and Surfing Australia Chair Layne Beachley just after the trio won the World Masters Championships in their divisions in 2018 - Photo WSL / LAURENT MASUREL
CLICK HERE to watch the 2020 Australian Surfing Awards Incorporating The Hall of Fame including winners pre-recorded speeches.
Again in 2020, entries in the Nikon Surf Video of the Year were of the highest standard with judges working overtime to adjudicate on a top-three finalists list.
WINNERS – 2020 Australian Surfing Awards Incorporating The Hall of Fame:
MALE SURFER OF THE YEAR
Jack Robinson
FEMALE SURFER OF THE YEAR
Stephanie Gilmore
FEMALE RISING STAR
Molly Picklum
MALE RISING STAR
Dakoda Walters
HEAVY WATER AWARD
Russell Bierke
ASB GREATER GOOD AWARD
Peter Owens, Fight For The Bight Alliance
PETER TROY LIFESTYLE AWARD
Rob Bain
COACH OF THE YEAR
Glenn Hall
INNOVATION AWARD
Chris Friend, LiveHeats
SURF CULTURE AWARD
Jed Smith and Vaughan Blakey, "Ain't That Swell" podcast series
SIMON ANDERSON CLUB AWARD
North Shore Boardriders Club
NIKON SURF VIDEO OF THE YEAR
Andrew Kaineder, Flow State
NIKON SURF PHOTO OF THE YEAR
Ren McGann's 'The Right'
The winner of the Nikon Surf Video of the Year Award will receive a Nikon Z 6 kit while the winner of the Nikon Surf Photo of the Year Award will take home a Nikon Z 7. Each will come with a NIKKOR Z 24-70mm f/4 S and FTZ adapter.
World-renowned Surf Journalist Nick Carroll continues in the role of Curator of the Australian Surfing Awards incorporating the Hall of Fame.
The Australian Surfing Awards incorporating the Hall of Fame is proudly presented by Surfrider Foundation and supported by Tourism and Events Queensland, Nikon, nudie, Hyundai, Australasian Surf Business Magazine, 2XP, Griffith University and OnStone.