April 5 - 11, 2020: Issue 445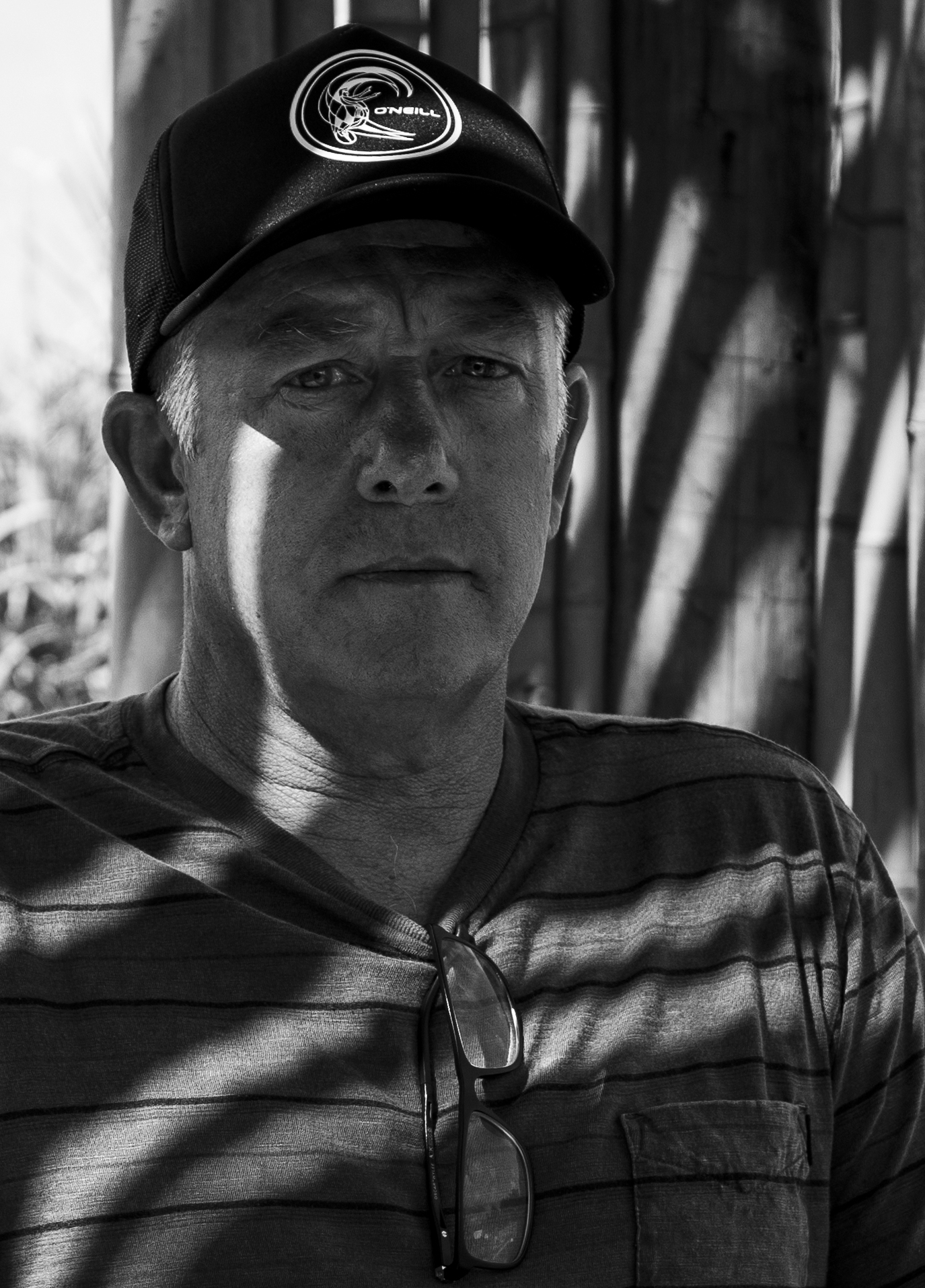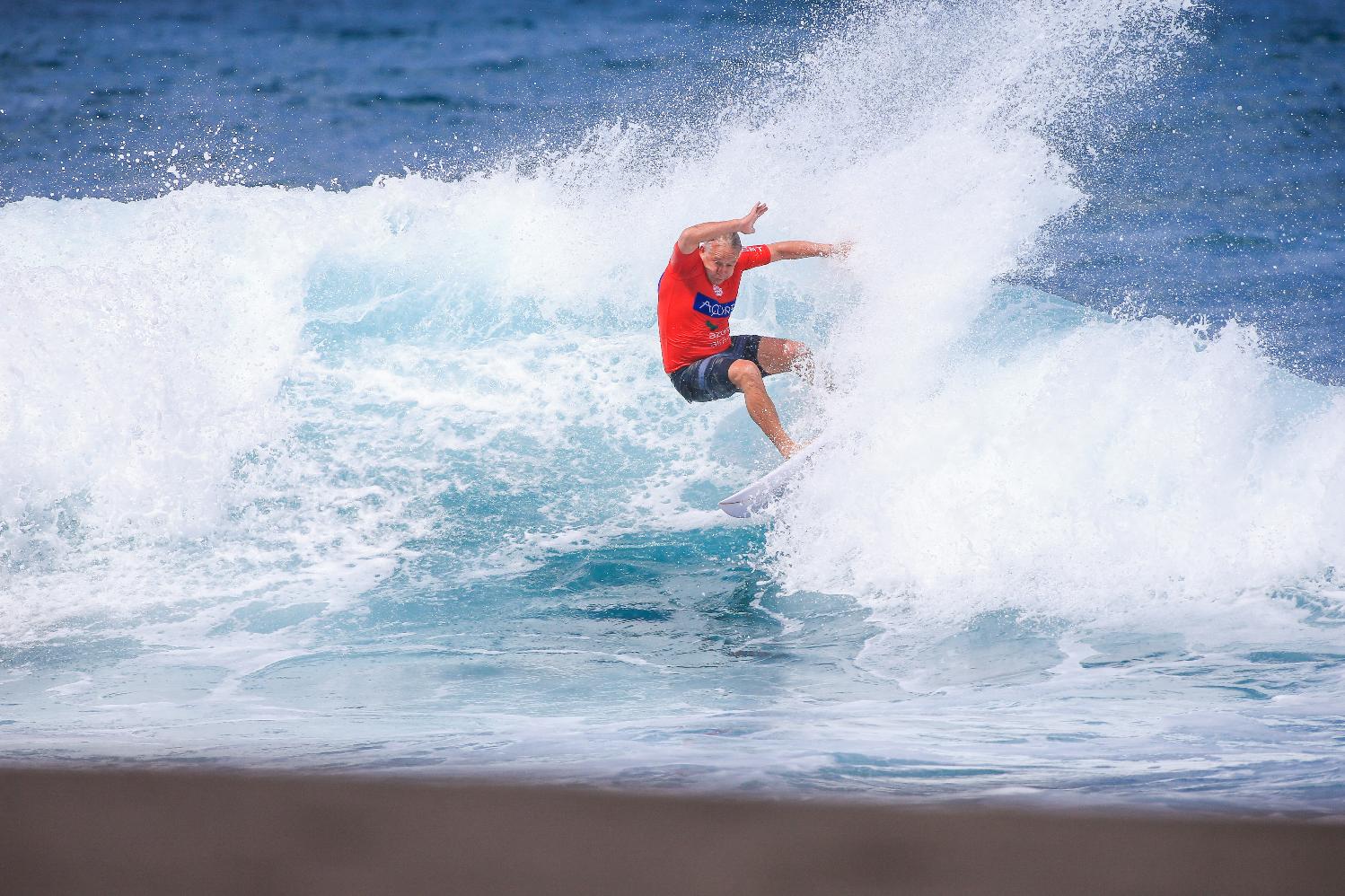 Rob Bain on his way to a World Title in the 2018 Azores Airlines World Masters Championship - Photo WSL / LAURENT MASUREL
Rob Bain has been announced as a
Finalist in the 2020 Australian Surfing Awards
in the Peter Troy Lifestyle Award - which is presented to '
the person who has given his or her life over to surfing, and in doing so has enriched the lives of other Australian surfers over time
'.
A former Championship Tour veteran, and having claimed the first-ever World Title in the Grand Masters division in 2018, Rob has grown up in the water and now has around six decades of catching waves under his belt.
When he won the World Title in 2018 it was the second major professional comp he'd won on his birthday. In 1989, Rob Bain won the first-ever pro surfing contest in Portugal - The Instinct/Boundi Pro against Glen Winton. Then, 28 years later, Mr. Bain clinched the Grand Masters Title on the same day, in the same country, in the Azores Airlines World Masters Championship.
"Life is so weird right now," said Bain after his win. "I won the first pro surfing contest in Portugal on my Birthday almost 30 years ago. It was hard not to think about that today. I was with my girlfriend back then who is now my wife and the mother of my kids.
I was walking down the beach this morning and I took a moment to be by myself and take it all in. I'm actually getting pretty choked up right now. This is special. It's taken a life time of ups and downs but this is a dream come true."
Mr. Bain beat fellow surfer legend Cheyne Horan in the final. The two were actually teammates on the Coca Cola skateboard team when Bain was thirteen and Horan fifteen years old, and were travelling the country giving demonstrations until his father passed away from incurable cancer, an event that produced the same anger and frustration unwinnable battles cause in all of us, and the end result of such grief: indomitable resolve, a decision to make every moment count and go for it.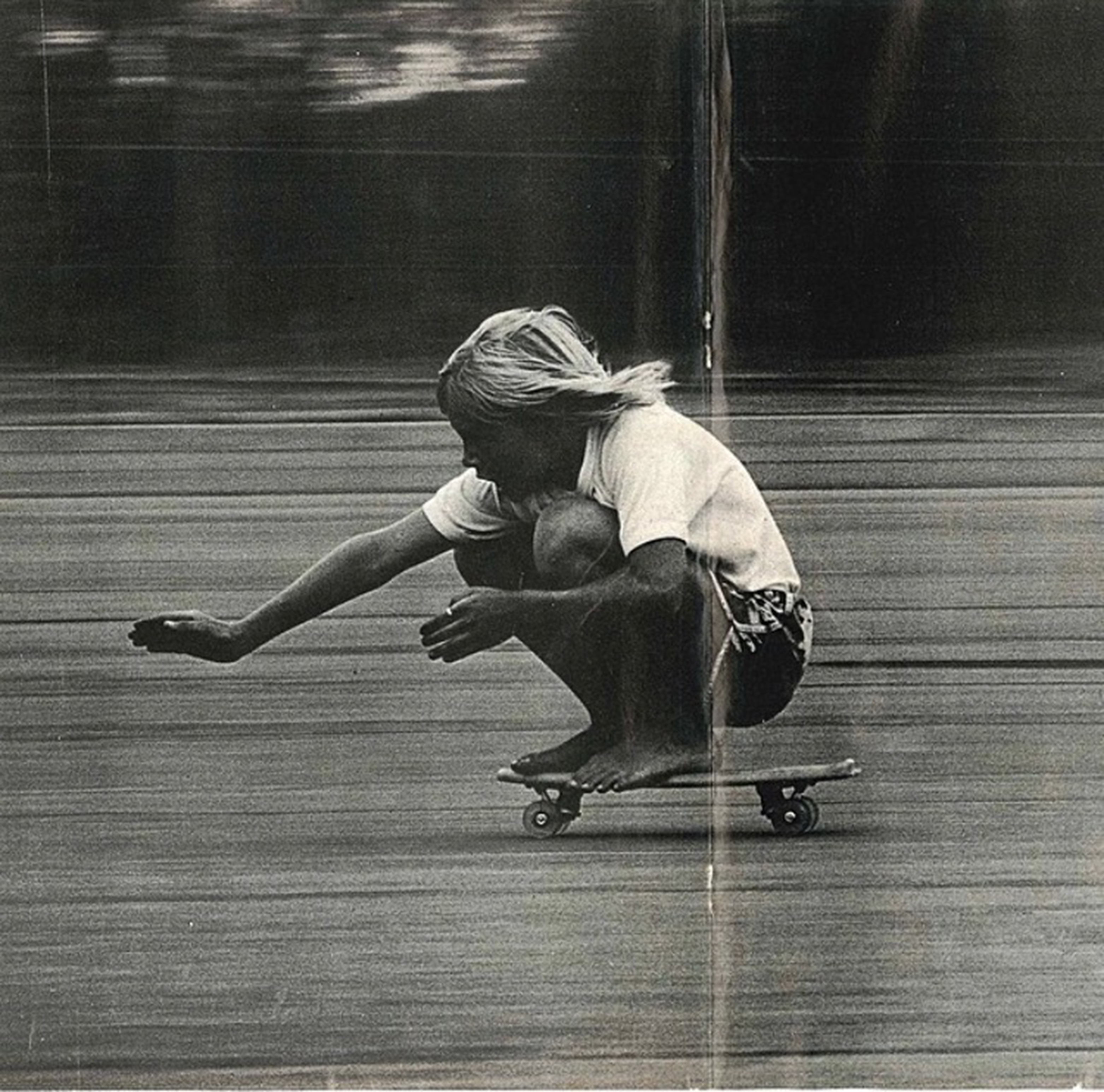 As everyone sang Happy Birthday to 'Bainy' while he stood on the podium as the newly crowned World Grand Master, he summed up that week's sentiments: "Surfing is the greatest sport in the world."
He had similar joy when he won the Coke Classic at North Narrabeen in April 1990 - still among his favourite memories and worth raising a beer to later this month.
Born at Manly Hospital on September 23rd, 1962, Mr. Bain grew up opposite the beach where the first ever World Championship was held in 1964.
Rob finished third in the 1984 Australian National Titles, then turned pro, steadily worked his way up the ratings and became known as the worlds' best in big hollow waves. He consistently finished in the top 10 from 1988 to 1991, winning four world-class events in his career before he retired from the international tour. With children being born he left the CT intent on pursuing his passion for the sea and waves in the industry that supports that, and found ways of doing that through persistence - something that many state marked his years in the Tour:
Aussies dominate
LACANAU BEACH, France: Australian men have dominated the $ 150,000 Lacanau professional surfing contest on the French Mediterranean coast, taking five of the eight quarter-final spots.
Manly's Rob Bain led the Australian charge, followed by North Narrabeen's world champion Damien Hardman, Torquay's Tony Ray, Avoca's Shane Powell and Margaret River's Dave Macaulay.
The women's event was taken out by Florida's Lisa Andersen. She beat world champion Wendy Botha 19.51 to 19.32 in the final. - AAP. Aussies dominate (1992, August 24). The Canberra Times (ACT : 1926 - 1995), p. 24. Retrieved from http://nla.gov.au/nla.news-article137175283
Bain fights big seas for surf crown
BRISBANE: Rob Bain, of Sydney, battled a heavy open ocean swell and a final stacked with big wave experts to win the inaugural $29,000 Carlton Cold Straddie Pro surfing contest yesterday. Heavyweight surfers dominated the booming 2.5m waves at Main Beach, Point Lookout on North Stradbroke Island, with former world champion Barton Lynch second, Todd Holland third and Darren Magee fourth.
Bain, the oldest competitor in the 140-man field at 32, showed that he remains the competitive force he has been for a decade. His persistence in the 35-minute final paid off in his overall wave score.
"It was incredibly demanding, it was more like an ironman event, it was really hard getting back out to the take-off," Bain said.
"Everyone was exhausted after the slog out to get to the final.
"Barton said that we had to keep an eye out for each other, it's possible to drown when you get that tired."
Snapping boards were part of the excitement. Lynch survived his quarter-final despite a broken board but world No 2 Shane Powell bowed out in round four after a 300m swim back to shore. Bain fights big seas for surf crown (1995, March 6). The Canberra Times (ACT : 1926 - 1995), p. 24. Retrieved from http://nla.gov.au/nla.news-article127516247
He's still surfing and even has been known to save a life - in March 2016 coming to the rescue of a woman caught in that notorious Whale Beach rip.
This week a special for those who can't hang around on the sand and in the water too long at present but for whom surfing remains, the greatest sport in the world.
You are from Manly originally?
Yes – I was born in Manly hospital and raised in a block of old flats on the beachfront in the middle of Manly beach for the first 11 or 12 years of my life.
When did you first go surfing?
I started really young. My mum used to be able to watch me from the flat window and tell me when to cross the road to go play in the ocean. I think I was about 2 when I got a plastic zippy board, like those that were popular in the 1960's; so just a toddler and barely walking.
When did you graduate to a larger board?
It wasn't long – I think I was around 6 or so when I progressed to those Styrofoam Coolites and rode those for quite a while. My next door neighbour was a takeaway food shop, but out the back their son, Jack Knight, used to shape fibreglass surfboards. I used to climb over the backyard fence, pinch one of his boards, carry it over on top of my head and would take those boards out into the line-up.
What are the main changes you have seen in the landscape between this end of the peninsula and Manly during that time?
Obviously there's been a lot of development. To me it felt like it was getting more congested and clearly a lot more expensive. One of the reasons I moved further north after growing up in Manly at that time ,was it gave me more opportunities to find good surf and to have a bit more open space around me.
So development is definitely one change. There's also a different kind of people now – unfortunately a lot of people who lived on the northern beaches have been forced out due to rising prices and have moved away – down the coast, the Central Coast. There's nothing particularly wrong with that but where you grow up is also your home, you prefer to stay there if you can, but the northern beaches is an expensive place, as we all know.
What was the first surfing competition you won?
The first big surf contest I won was in Wollongong – it was called the IMB (which was a financial institution) OP (a clothing Brand) Oz – so the IMB OP OZ – I beat the reigning World Champion Tom Curren in the final.
That was big for me because it was a turning point; I was driving an old bombie car, I could hardly afford any money for accommodation. When I won that competition, next morning I was on the Today show on Channel 9 – so it was a real quick shift in what was happening for me so far as trying to make a career out of surfing.
Did you then get sponsorship and money to travel to competitions?
Yes – not a lot of money, it was pretty difficult in the beginning. A whole bunch of us from the northern beaches who were also trying to do it used to band together. We were kind of like backpackers in a way, travelling the world and trying to win each heat so we could get onto the next event.
So it was a beg, borrow and steal situation at the beginning but through time sponsorship came, I started winning more events, more heats and it got that little bit easier as the years went on.
Who was in that 'band of brothers' group?
Damien Hardman from Narrabeen, who went on to win a World Title, Graham Wilson from Avalon, Mike Rommelse, also from Avalon – they're probably three of the main guys I travelled with for a period of time. Mike lives in Indonesia now running a guest house, Graham went on to work as a global licensee manager for different brands and Damien has obviously had a lot of success with his Rip Curl Surf shop business.
What were the highlights for you, apart from winning surfing competitions, of those years on the Tour?
I think with all surfing, travel is the big thing. Because we're always looking, and the addictive thing about surfing is no one wave is the same, and you are always in search of that perfect wave. I think that in itself induces that need to keep searching and to keep travelling.
So those experiences are probably the deepest - things like us surviving a tsunami in 1994 in Indonesia, that's a special memory for us – we call ourselves 'the Tsunami Brothers'.
Getting rescued in big surf at Waimea Bay in Hawaii.
The mateship and the good times – and the perfect wave throughout Indonesia and Fiji and Hawaii – those memories will always stick.
I think competitively the best moment for me was winning the Coke Classic in 1990 at Narrabeen – a friend of mine got married, I was surfing against Damien Hardman in the final, it was the first time my mum had ever seen me compete – so that was pretty special to have my mum there, and my sister, and my future wife Kath, and all my friends there – so that was very special moment for me – and especially as it was covered on the Wide World of Sports by Daryl Eastlake and the likes, that too was pretty cool.
Aussies wipe out the world's best
SYDNEY: While a number of the world's leading surfers were rolled at North Narrabeen yesterday Australians dominated proceedings in the $200,000 Coca-Cola Bottlers Surf Classic.
On Thursday, the tournament favourite Tom Curren surprisingly went down to young Brazilian Fabio Gouveia. Curren, who came into the event after a sequence of three Grand Prix wins — at Santa Cruz, Burleigh Heads and at Bells Beach last weekend — was tipped to make it four in a row.
Yesterday, the defending Coke Classic and reigning world champion Martin Potter, of Britain, went out to 17-year-old rookie Shane Powell, of Avoca. Queensland's Gary Elkerton, the No 4 seed, was a casualty, too, losing to Australian Pro-am champion Merrick Davis, of Harbord.
Seven other Australians qualified for Round 3, among them three former world Association of Surfing' Professionals champions: Tom Carroll (1985 and 1986), of Newport, Damien Hardman (1987), of Narrabeen, and Barton Lynch (1988), of Manly.
They will be joined by fellow Australians Rob Page, of Wollongong, Rob Bain, of Manly, Cheyne Horan, of Palm Beach, and Dave Macaulay, of Margaret River, Western Australia.
Eight overseas surfers progressed, Calitomians Mike Parsons, Richic Collins, Todd Holland and Ted Robinson along with Vetea David (Tahiti), Fabio Gouveia (Brazil) and Derek Ho and Marty Thomas from Hawaii.
In the famed "Narrabeen lefts", goofy-footers' Lynch, Carroll, Bain, Macaulay, Hardman and Ho could all figure prominently.
Although all of today's heats will be intense, most interest will centre on Horan's encounter with Powell, Carroll against Gouveia and the enigmatic Page against Lynch.
The Bain and Collins clash (Aust v US) should be action-packed with both surfers predicting to blast one another off the Narabeen wave face.
The first round of the Pert 2 in 1 women's classic began in small conditions.
Successfully through and meeting in today's four quarter-finals are Kim Mearig (California) against Jodie Cooper (Albany), Pam Burridge (Newport) against Michele Donoghoe (Byron Bay), Wendy Botha (Avalon) against Jenny Gill (Wollongong) and Lisa Andersen (California) against Pauline Menczer (Bondi).
Today's competition starts at 8am with the four quarter-finals of the women followed by Round 3 of the men's, the semi-finals of the Bundaberg Rum Longboard Masters with the final of the women's set for 3.10pm. Aussies wipe out the world's best (1990, April 21). The Canberra Times (ACT : 1926 - 1995), p. 46. Retrieved from http://nla.gov.au/nla.news-article122101791
Although the defending champion didn't win the following year, he did win:
....After three Grand Prix events at Manly, Bells Beach and now North Narrabeen, the ASP World Leader Board shows five Australians and three Americans in the top eight: Rob Bain (Manly) 3142 Damien Hardman (Narrabeen) 3046 Barton Lynch (Manly) 3020 Brad Gerlach (California) 3020 Todd Holland (Florida) 2668 Dave Macaulay (Margaret River, WA) 2434 Tom Carroll (Newport) 2428 and Jeff Booth (California) 2928.
By reaching the quarter-finals of the Coke Classic, Bain captured the prestigious three-event Coca-Cola Australian Grand Slam Surfing Championship, which coupled with his tournament prize money of $4000, took his weekend earnings to $14,000.
In the Bacardi Rum Longboard Masters it was yet another win for reigning "evergreen" World Malibu Champion Nat Young, from Grafton.
It took Young's career Longboard titles to 12 and be pocketed another $5000. He earned the victory the hard way, pulling a muscle on his leg half way through the 30-minute final. ...Gerlach wins classic (1991, April 15). The Canberra Times (ACT : 1926 - 1995), p. 24. Retrieved from http://nla.gov.au/nla.news-article122357134
And this was followed up in 2018 by a World Title:
Winning the World Title – how did that feel?
For me it was such a personal victory – I'd gone so close in so many amateurs and longboards and professional surfing competitions and World ISA Games and had 3rds and 2nds and 5ths and it was kind of like I'd never quite got there – so to have that opportunity to go and claim something was just really personal for me and my family – ultimately, getting it for my family was the most important thing for me.
What was it that clinched – the right wave on the right day or?
I only knew I was in it a week before, so I kind of went into Rocky training mode to drop as many kilos as possible to get in shape, as I was pretty chubby. So I went on this full blown mission for a week and a half.
Once there, I felt as though the waves suited me and I went up there with the mindset of 'I'm going here to get this done for me and my family', and just got it done really.
Rob Bain, Dave Macaulay and Layne Beachley - Photo WSL / LAURENT MASUREL
Rob, you have been announced as a Finalist for The Peter Troy Lifestyle Award which is presented to the person who has given his or her life over to surfing, and in doing so has enriched the lives of other Australian surfers over time. What does that mean to you to be recognised by Surfing Australia and your peers in that way?
It's an honour of course – you don't realise that your lifestyle and the accumulation of what you have done over the years in so many forms, has done something for others. This has been my life – and I'm quite proud to say that I am a surfer. It was quite difficult when I started to surf and try to make a career out of surfing, people would say to me 'what are you doing – that's not a career, that's surfing – what are you doing for a real job?'. It took a lot of time to break that stigma and although that has happened now, I suppose all of us who have gone through, have contributed to making the sport progress to where it is now. So it's an honour being nominated and I relate it not so much to the competitions I've been in and working in the industry development around that, but in simply being in the ocean and the relief that gives to us all. If I've been able to communicate that, and that always being there, that escape or medicine for anything that ails you – and it's just such a beautiful natural thing to do, then that's great – everything else is irrelevant when you allow yourself to have that bit of relief and escapism from what's happening on land – and you come back into shore better for it.
The tsunami of 1994 in Indonesia – was there any warning, what was that like?
We were all asleep in our huts and this is very basic accommodation there and right next to the shoreline. So we were all asleep, it was 2 o'clock in the morning, and the only communication we had back then was like a two-way radio – so there was no communication, no internet then obviously, nothing like that. It was pitch black, no power, and 2 o'clock in the morning it just hit.
Some guys heard it coming and ran back into the jungle. I didn't hear it, there was a few of us that didn't hear it, and we basically were caught up in it and smashed through the back of our huts. My situation was that I was pinned under water.
At first I didn't know what it was, my initial thought was 'tiger' actually. I thought there was a tiger on top of me simply because I couldn't get up, and awoke out of a deep sleep. I then realised I was trapped under a huge weight ( my floor and my hut roof), and then I realised I was actually underwater.
I'm not sure how long I was underwater for – it could have been 30-40 seconds, or a minute, but I had to hold my breath. Luckily the water went over and then receded – and then I could hear the screaming of the people around me in the other huts.
I didn't get dragged out – some guys nearly got dragged out to sea. A friend of mine Simon Law, another pro surfer, he climbed a tree and held on, while other guys just got dragged through the jungle. If you ever go to G-Land you can see that it's basically impenetrable bamboo and really sharp, so I'm really surprised no one in our camp actually died. Unfortunately, in that local area of Grajagan village and around the corner about 280 people did die – it was very sad.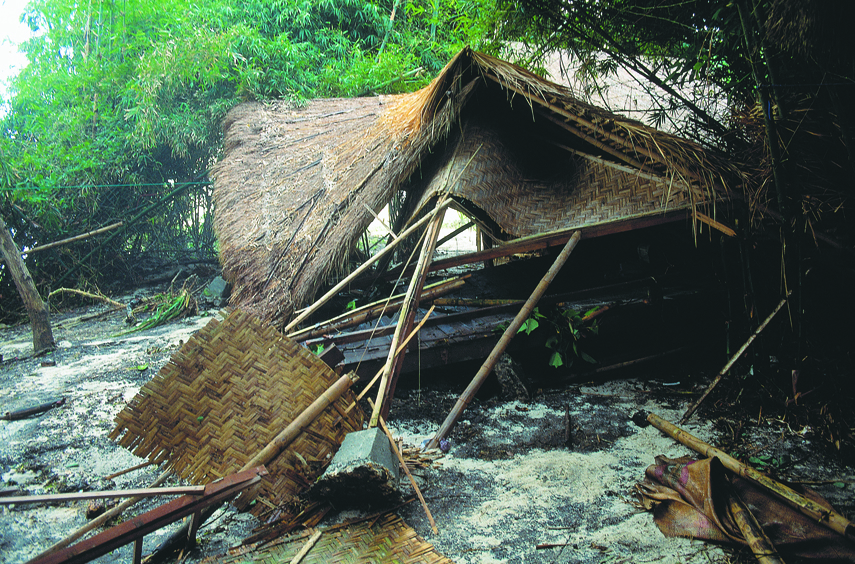 Rob's hut after the tsunami
A surreal experience?
Yes, very surreal, and very strong memories associated with that event. I don't think about it that often but when I do, when you dive deeper into it, it is a quiet surreal and dark, and scary moment.
You also almost lost your life surfing at Avalon Beach in 2009 as well – what happened there?
That was about 10 years ago now. I was surfing with my son at Off Rocks, which is at North Avalon – if you're a goofy foot it's a really fun wave that breaks along the boulder shelf. It's pretty fickle, only works in particular conditions and it was perfect this day, it was beautiful – a Sunday and quite crowded.
I just rode along the wave, on the roof of the wave actually, and landed down in the flats – I looked ahead of me and thought I was in a different part of the reef where it was deeper – and I dove in, without my hands in front of me. Kind of pencil dive.
My head went straight into a boulder – I felt an explosion down my spine.
I fought off going unconscious under the water, could feel a heat going down through my body. As I reached the surface I was very ginger. I reached up to feel what had happened to my head and my hand went inside my head – I had scalped myself. I looked up for help and my wife and our dog was watching and talking with another lady – I didn't even know she was there, she'd just walked across to watch me and Bill surf. I whistled out and she just waved to me, she didn't realise at that time what had happened. She turned and started walking up towards the car park and I started screaming for help.
People came to help me and got me to the beach. My wife had realised what was happening by that stage and came down. Someone put a towel on my head to stem the bleeding and laid me straight on the sand.
It's a long story (heavy sigh) but basically I broke a vertebrate in my neck, my rib and four vertebrate in my thorasic spine, and scalped myself. It was just one of those moments where I thought I was going to die there on the beach and once again, a very surreal moment and very powerful experience for me, my son and my wife.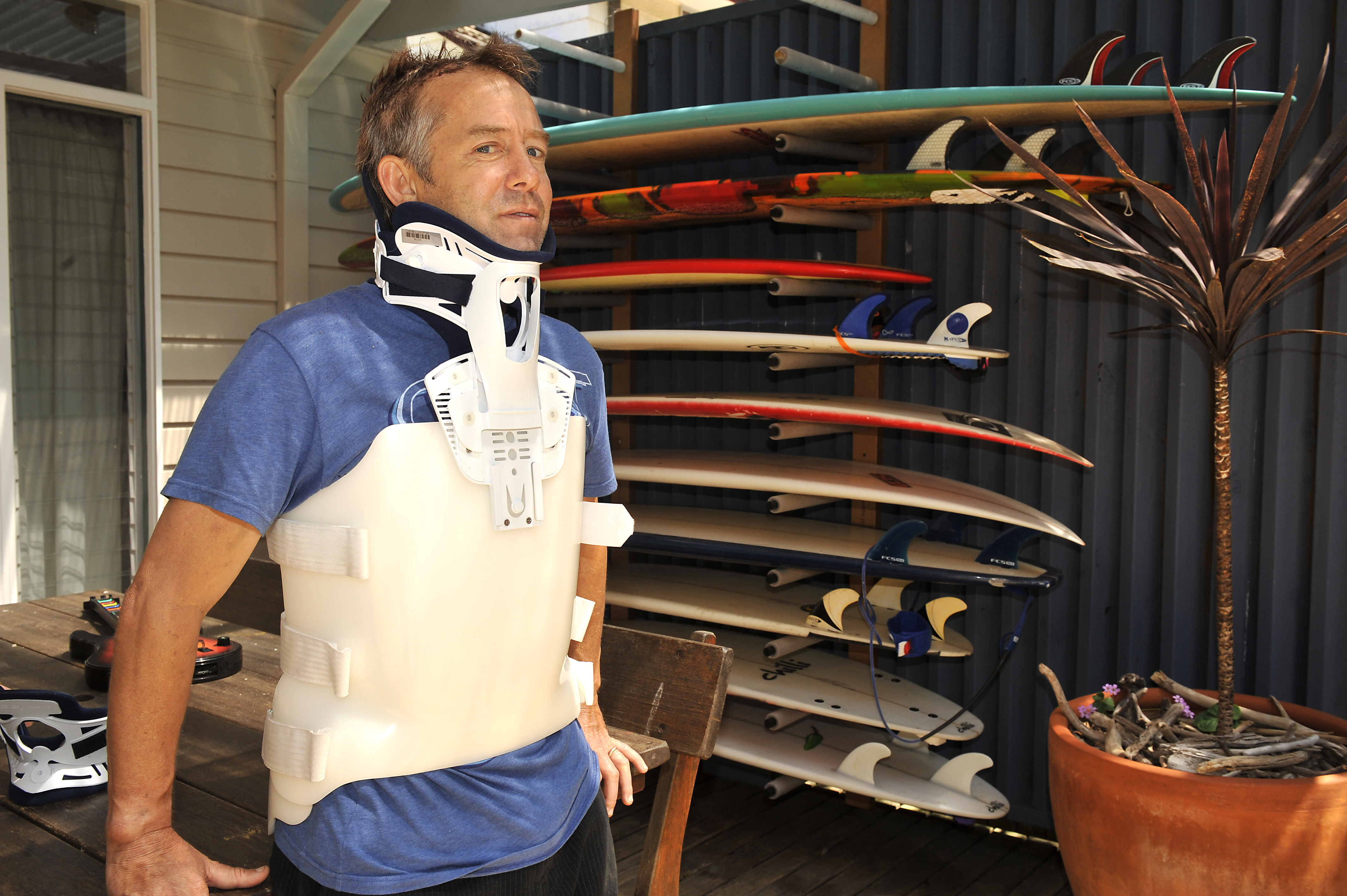 How long did the recovery take and what did you do to get through it – to get to the other side?
I went into Spinal Trauma at the Royal North Shore and they made me a special brace for my neck and body. I had this spinal brace on for about three and a half months. When I was able to take the brace off and go back into the water, gingerly, the first thing I did was swim out with some goggles just to reacquaint myself with the spot. I love this spot, I surf it anytime I can and still love it now – it's my favourite little spot at North Avalon. So I swam out and looked at the reef and tried to figure out where I'd hit my head and took myself through the process of thinking about it – and that's kind of how I got back. I started riding a stand-up paddleboard and then a shorter board and made my way back to a shortboard and back to a similar level to what I was prior to that.
Did you have to steel yourself mentally to go back?
Yes, I think it is more of a mental than a physical thing (to find your way back ) – I was very lucky in that the way my spine broke, and all the places it did break, I was super lucky that it broke straight. Had my neck been bent I think my spinal cord would have been damaged. So I was unlucky that it happened but incredibly lucky in the way that it happened. So because it broke straight and a lot of the damage was in the thoracic spine, which is not a spot that moves a lot, it had the ability to heal and I got stronger through time. I'm not the same, never will be the same, but for me the mental thing, gaining the confidence to go back out; to take a late drop into a heavy wave, or to ride across a rock shelf, those are the kinds of things you need to get over.
That brings up a lifelong passion for the sport of surfing and pursuing that - There's a big shift from being on the Tour to working in the industry – how did you accomplish that?
It was pretty difficult at the beginning. I tried to start a few businesses – and the funny thing was when the tsunami hit I was in the middle of a correspondence marketing course and all my paperwork got dragged through the jungle. I was trying to make steps while still on the Tour because I was having children by that stage and felt I needed to be home with them.
So I bought into a chain of surf shops, I started a surf school, studied marketing – but in the end those things didn't come to fruition fully at that time and I had to go into working in a fulltime sales role with my sponsor Hot Tuna. I then went into advertising sales, then ran a small wetsuit company called Peak Wetsuits, which was based here on the northern beaches.
I then moved into O'Neill and just worked my way up to a global role that came to an end in 2015 when I was made redundant. I went back into the advertising roles and bought into a couple of magazines, possibly a difficult thing to do at the time when so much was going digital, and got a call from O'Neill to come back and so here I am now back at O'Neill as the Marketing Director for South Pacific.
O'Neill is one of the premier developers of new products for the industry – do you still get excited about how they are progressing all aspects of the sport?
Oh yeah - what I love about it is that Jack O'Neill, who started O'Neill back in 1952 and who just passed away recently, he was the pioneer of the whole industry. His simple premise ,was to build something that allowed surfers to stay in the water longer. I think just that premise alone, is really powerful and I believe our brand feeds off that and that's what we try to do, what our key focus is; to make product for the core surfer who wants to go out and perform, to be able to last in the ocean. The good thing about that is, even though selling product in this day and age is probably not the best for the environment and that again is something we're trying to get better at, it is at least that we're trying to get people outdoors and in the environment and doing something their passionate about and that in itself leads to a better frame of mind about saving what we have got.
While on one of the cores of surfing; you're also a member of NASA (North Avalon Surfriders Association) – how important are these grassroots community surfing groups and clubs from your point of view?
I think they're the backbone of Australian surfing – full stop; that's where it starts, and in a way, that's where it ends. There are a number of parts to this – there's the social aspect where there are people in the club that don't necessarily surf but they'll come along and cook the barbecue, or help with the fundraising, or they might be the treasurer of the club. Then you have the active participants; it gives all the young kids at every beach around the country a family outside of their immediate sphere – these clubs give them more friends, more family, camaraderie. They learn lessons through competition and socialising. You can go out and have this illustrious career but in the end you come back to your local carpark, your local beach, and are interacting with people in your local community. I think it's important for the landscape of Australian surfing because really, that's where it started from.
NASA also has a culture of sharing surfing from the past too – the annual Single-fin competition where the youngsters are loaned the old style boards and those who surfed them share stories is pretty powerful too – this generation is hungry to know more about what came before them, to see and try out these styles of moves.
The thing I like about the surfing community is you can have someone in their 70s still getting out there; they're not as wily as they used to be but they're still getting out there – they too are talking to the next generation and even the generation under that – so it's also this really nice way to respect your elders as well and pass on the knowledge. Their knowledge of the times they have spent surfing, their knowledge of the wind, the waves, the seasons – I think that too is the real beauty of the surf community.
It's funny that you've brought up the clubs as I'm actually a Life Member of Queenscliff Boardriders as well – I spent so many years competing for that club.
When I moved north it was kind of like I'd defected! (laughs)
I try and stay in touch with a lot of my buddies at Queenscliff and a lot of my heart is still there, but at the same time this is my home, here in Avalon and I love the community, I love NASA and what the club does for young and old alike.
Do you get involved in the Snowy McAlister Comp. each year?
No, I used to, not so much anymore. My mum was with Snowy coming up to his last days because he was a Manly local and my mum worked at Manly hospital. He was a lovely guy and I have a lot of fond memories about Snowy from the time I was a little kid.
Family is clearly pretty important to you – your girlfriend of then is still your wife of now – how did you two meet?
We met when she was 14 and I was 17 – so we were just kids. We've leant on each other in various ways over the years and it's nice to know we're still together and have brought up three great kids together. They've all gone to the local school – Barrenjoey High – and we all love the water, so we're a good unit.
Limiting it to 3 – what are your favourite waves worldwide?
As a goofy foot all my favourite waves are all going to break left.
There's a wave in the Mentawai islands in Indonesia in West Sumatra called 'The Hole', or I call it 'The Hole', and it's just this incredibly hollow isolated wave. It takes a lot of effort to go there by boat, and normally relatively uncrowded, and it's just an incredibly hollow perfect left-hand reef.
Even superseding The Hole is Cloudbreak in Fiji – and then I would say Off Rocks, at North Avalon. It nearly killed me but it's still one of my favourites.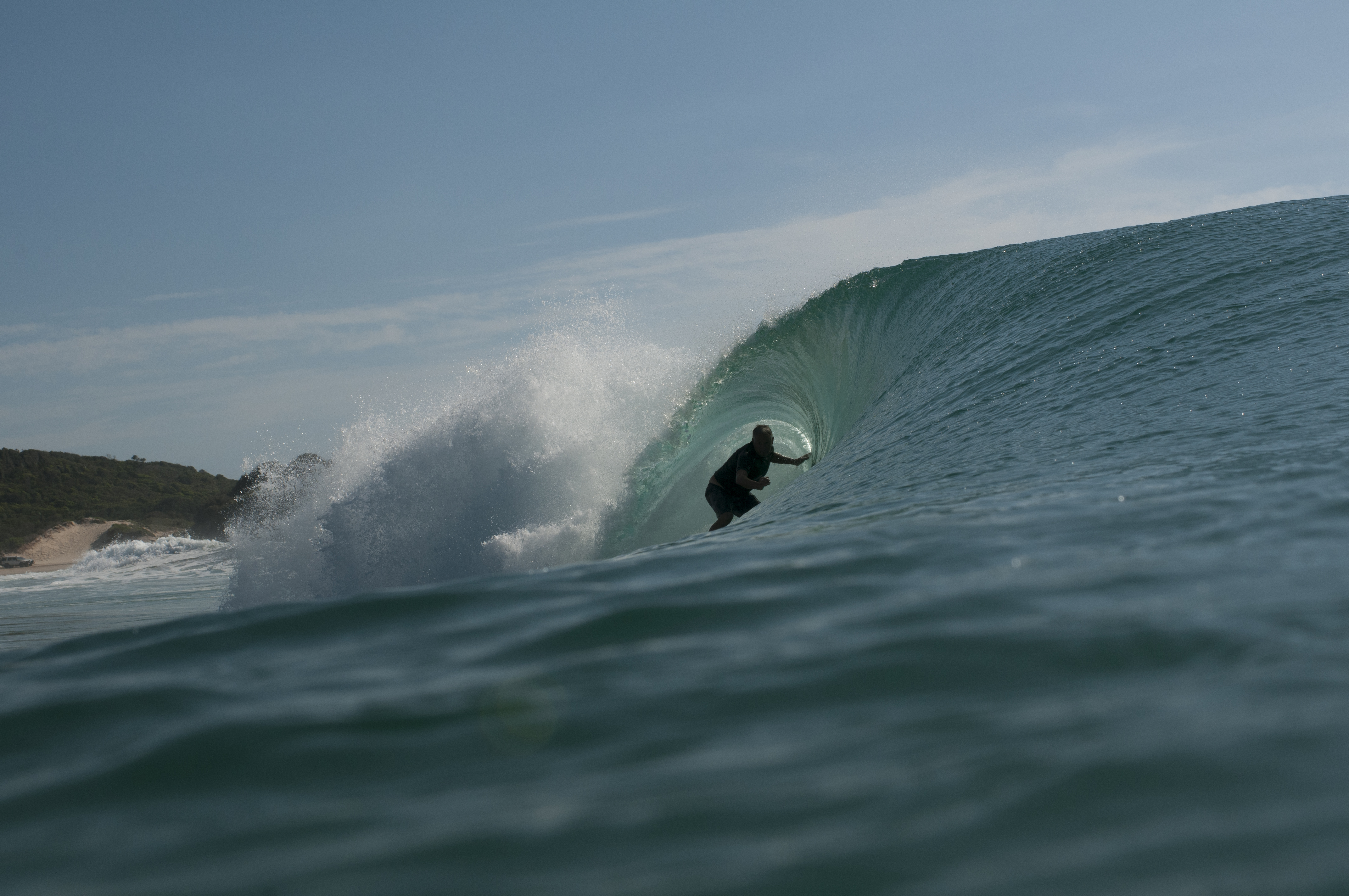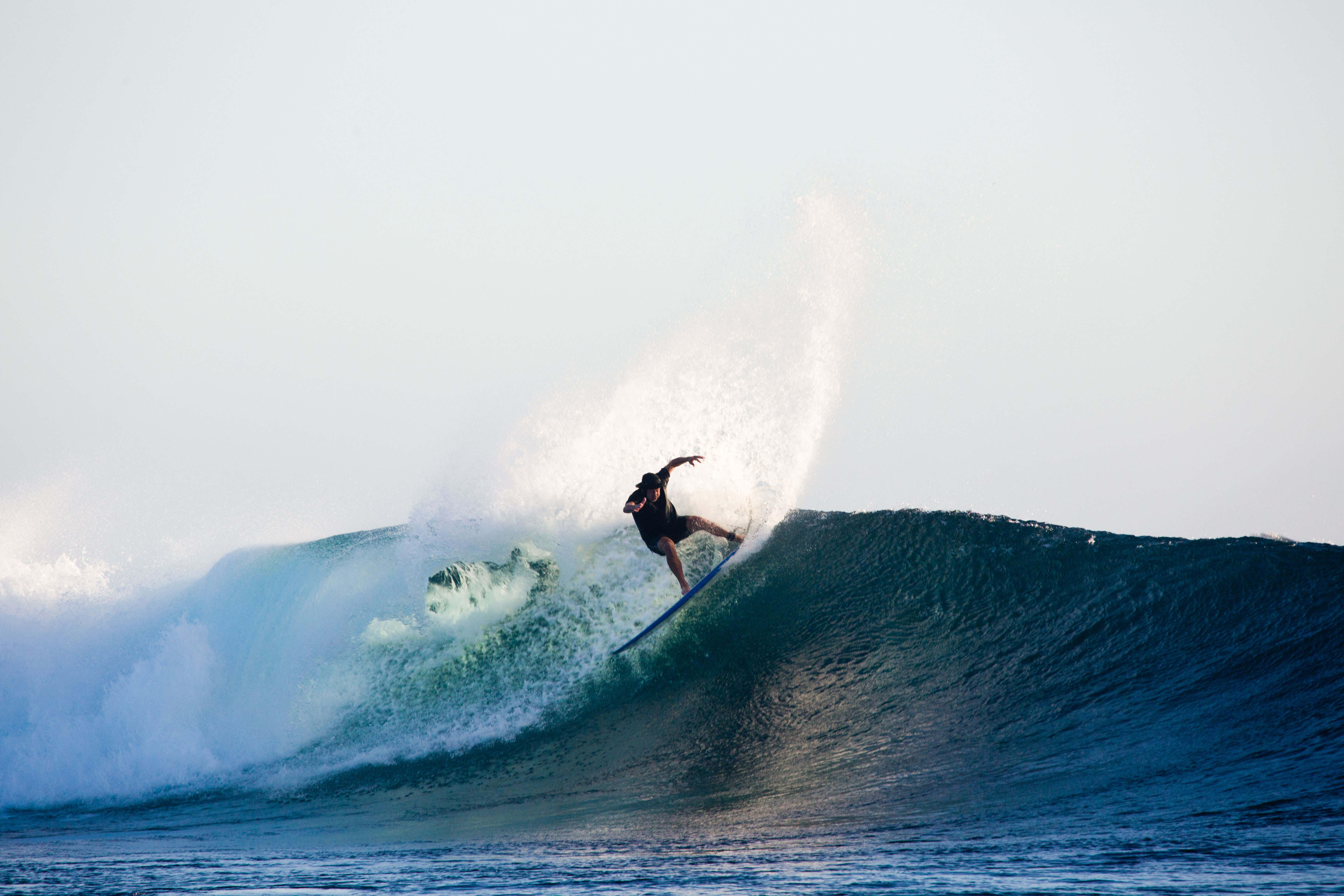 So, apart from Off Rocks, what are your three favourite Australian waves?
Definitely South Coast Pipeline, North Narrabeen and North Avalon's left-handers.
Why is North Narrabeen so special to you?
Well it's associated with my first competitive success in front of mum and I also just really love the wave, it's like a skate park – it's really well groomed. The only thing you need to worry about there is the locals as they will not give you an inch.
What are your favourite places in Pittwater and why?
Well in Pittwater itself it would just be the other side, the Western Shores – those little beaches that are almost a stones' throw away but once you get over there you can look back over to this side and see that's where it's all happening and that's where all the stress is but while over there, you're a million miles from everything and it's easily one of the best places of anywhere in the world.
Another favourite place would be sitting under Barrenjoey Headland – for me being there has some weird earthly feeling which is just so powerful; the magnitude of the headland, the beauty of the water, there's just something about that spot that's really special.
What is your 'motto for life' or a favourite phrase you try to live by?
There's a favourite of mine from Hunter S. Thompson, and I'm saying this even while I have a sore back – '
"Life should not be a journey to the grave with the intention of arriving safely in a pretty and well preserved body, but rather to skid in broadside in a cloud of smoke, thoroughly used up, totally worn out, and loudly proclaiming "Wow! What a Ride!"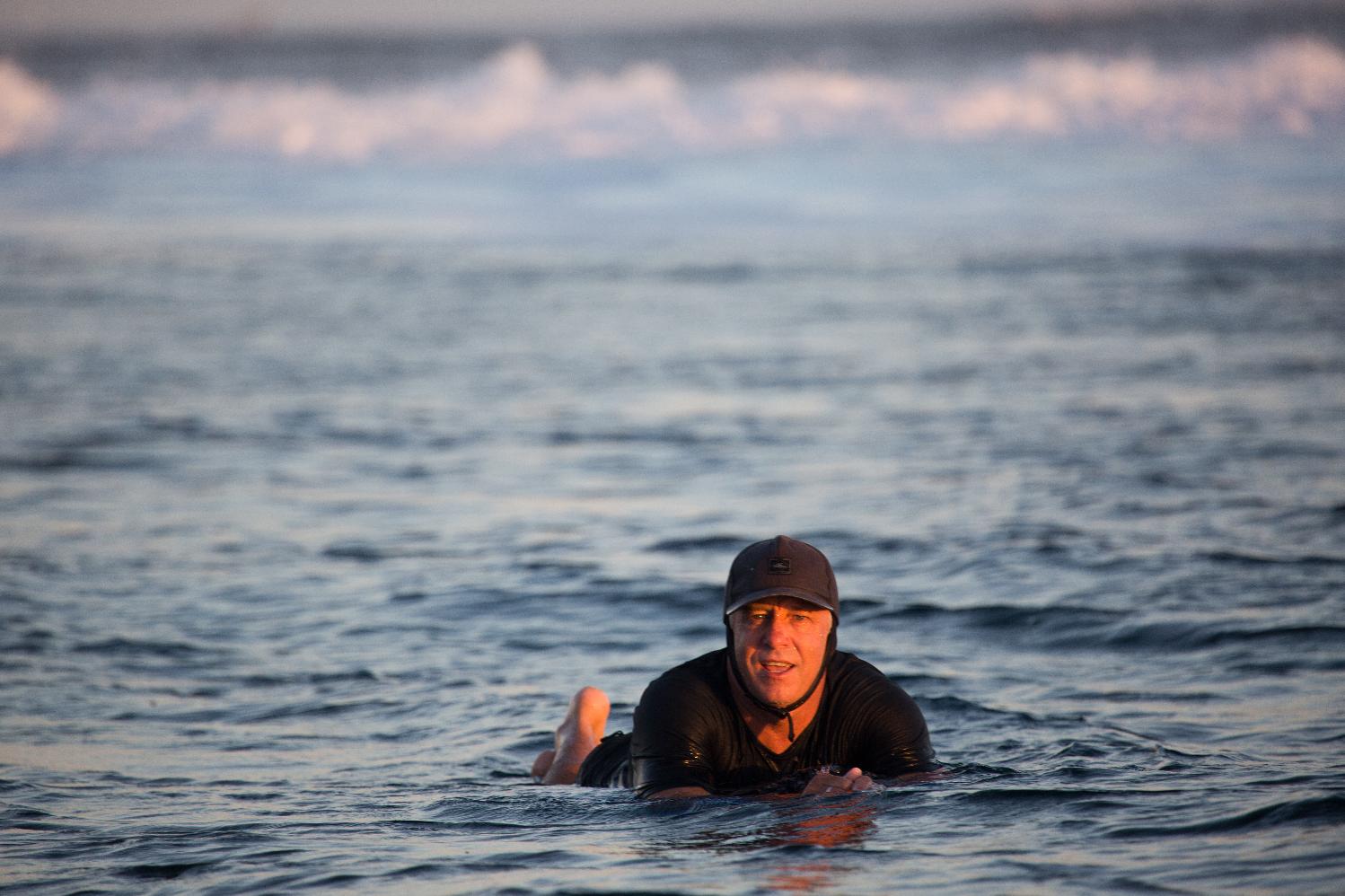 Congratulations Layne, Rob And Dave
Sunday, September 23, 2018

-

Australians Rob Bain, Layne Beachley and Dave Macaulay have won the Azores Airlines World Masters Championship in historic fashion last weekend, claiming victory in the Final bouts against Cheyne Horan (AUS), Rochelle Ballard (HAW) and Shane Beschen (HAW) respectively in the Grand Masters, Women's Masters and Men's Masters divisions held in good three foot surf at praia de Santa Barbara.




A World Surf League (WSL) Specialty Event, the Azores Airlines World Masters Championship was treated to an abundance of swell and great performances by some of the legends of surfing from past generations, culminating with the crowning of the Champions.




AZORES AIRLINES WORLD MASTERS CHAMPIONSHIP FINAL RESULTS:

1 - Dave Macaulay (AUS) 14.43

2 - Shane Beschen (HAW) 11.33

3rd Fabio Gouveia (BRA)

4th Luke Egan (AUS)




AZORES AIRLINES WORLD GRAND MASTERS CHAMPIONSHIP FINAL RESULTS:

1 - Rob Bain (AUS) 17.10

2 - Cheyne Horan (AUS) 9.53

3rd Simon Anderson (AUS)

4th Michale Ho (HAW)

5th Glen Winton (AUS)

6th Hans Hedemann (HAW)




AZORES AIRLINES WORLD WOMEN'S MASTERS CHAMPIONSHIP FINAL RESULTS:

1 - Layne Beachley (AUS) 12.93

2 - Rochelle Ballard (HAW) 10.43

3rd Frieda Zamba (USA)

4th Pauline Menczer (AUS)

5th Pam Burridge and Jodie Cooper (both AUS)




Read Surfing Australia's report

HERE