February 23 - 29, 2020: Issue 439
Australian Surf Rowers League (ASRL) Open 2020 A Success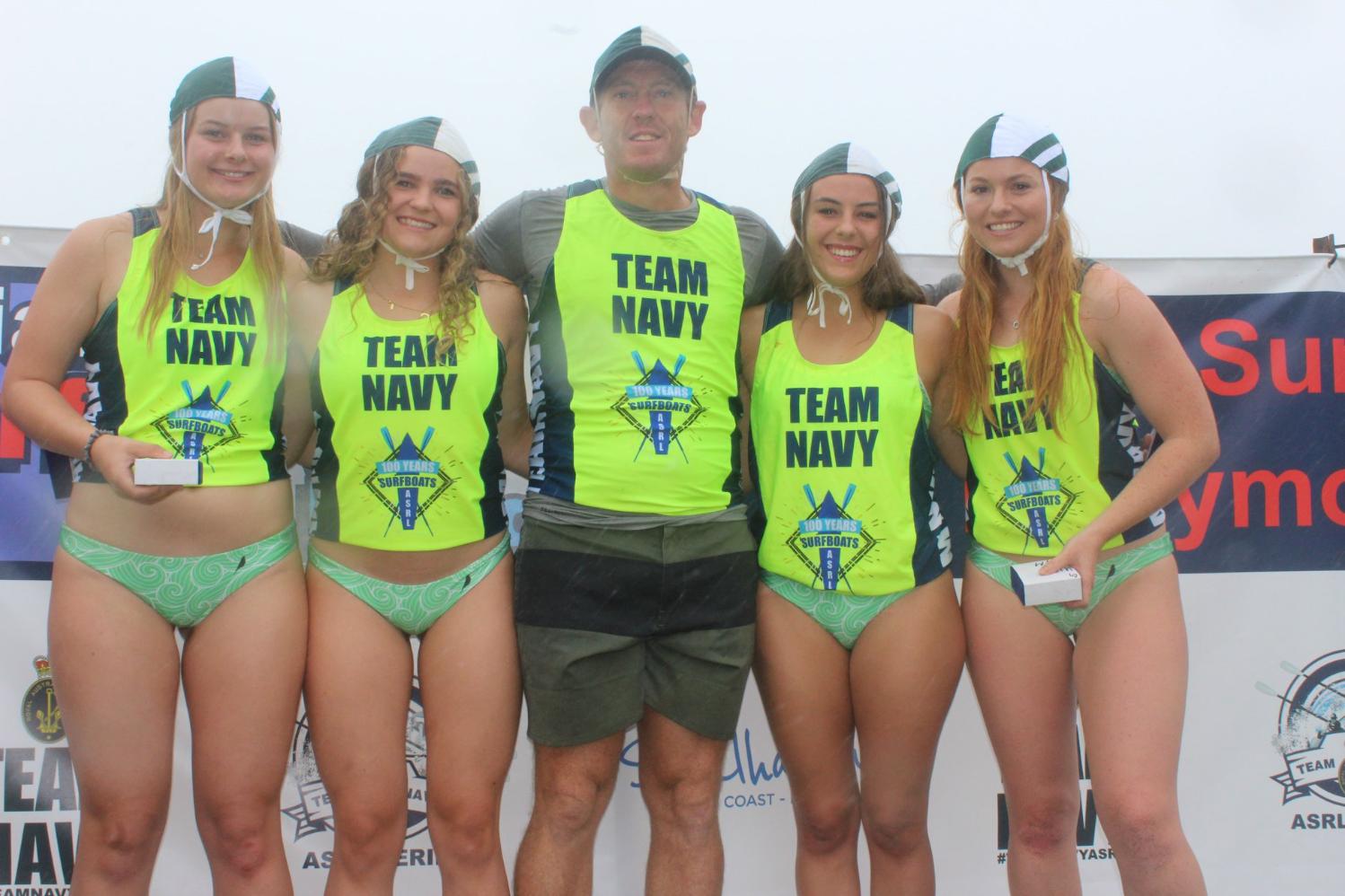 Mona Vale SLSC's Drifters - Gold! - photo by Aaron Tannahill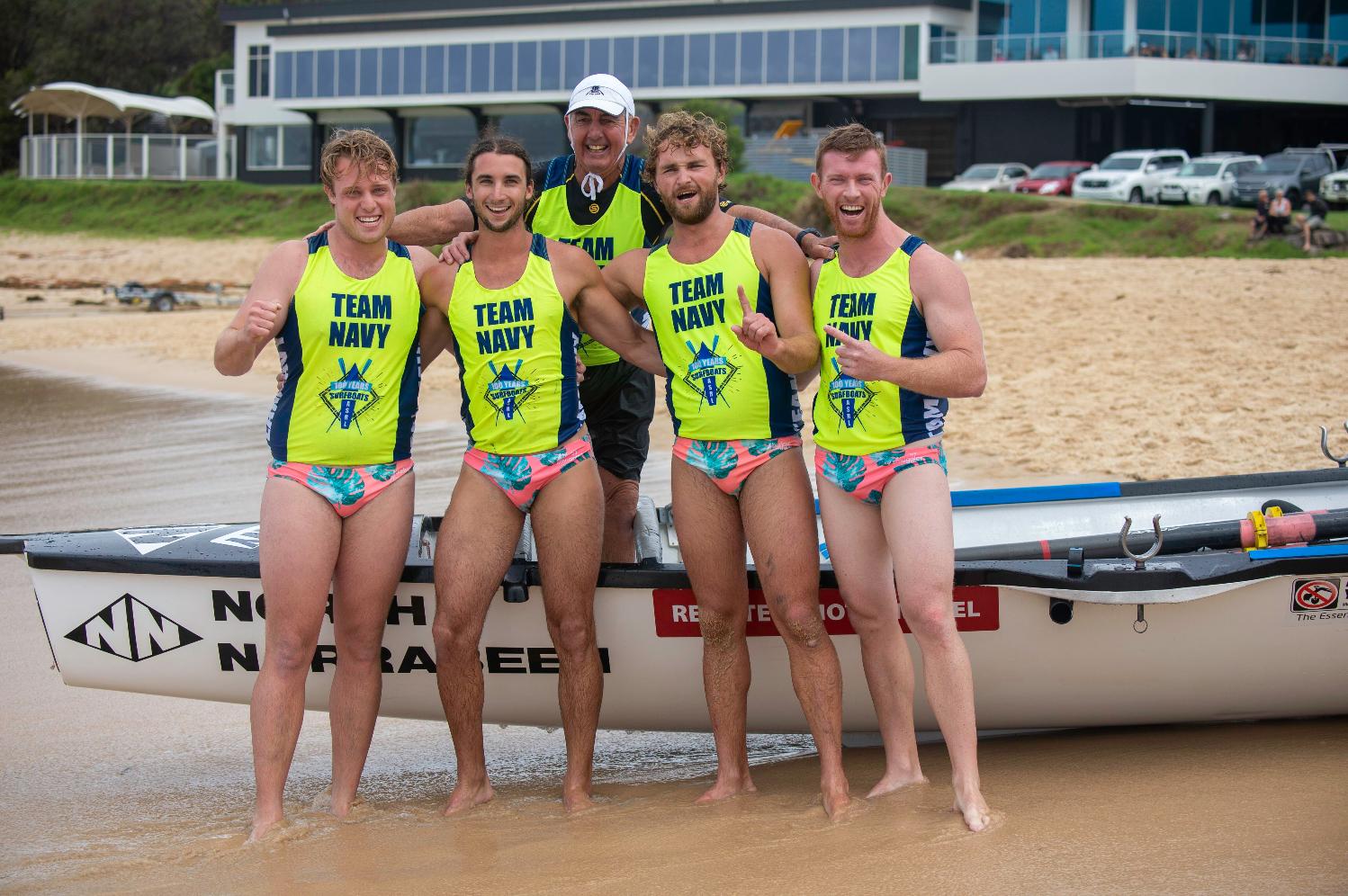 North Narrabeen SLSC's Reserve Male 'Smokos' team - Gold! - photo by Malcolm Trees
The 2020 Australian Surf Rowers League (ASRL) Open took place over the weekend of 14 – 16 February 2020. ASRL President Michael Brooks said that the event was a success and we were extremely proud of bringing the event to Mollymook and the neighbouring region.
"The surf boat community were passionate about coming to this region to compete in a friendly manner and support the community after the devastating fires." Mr Brooks said.
"I am proud to say that the event was a success and I can't thank the local community for their welcoming nature."
With huge swells hitting the original location at Mollymook Beach on Friday, the events were moved for safety to their back-up location and a challenging shore break at Long Beach, just outside of Bateman's Bay on Day 2 - Trans Tasman Test day.
In a dominant display of surf boat prowess, the Aussies won 11 out of 12 races against the Kiwis and retained the Trans-Tasman Trophy for an eighth consecutive year. Australia's U23 crews were also dominant over their rivals with a five to one victory in the Under 23 age group, with South Curl Curl Under 23 crew (The Lamp) taking out their races 3-0.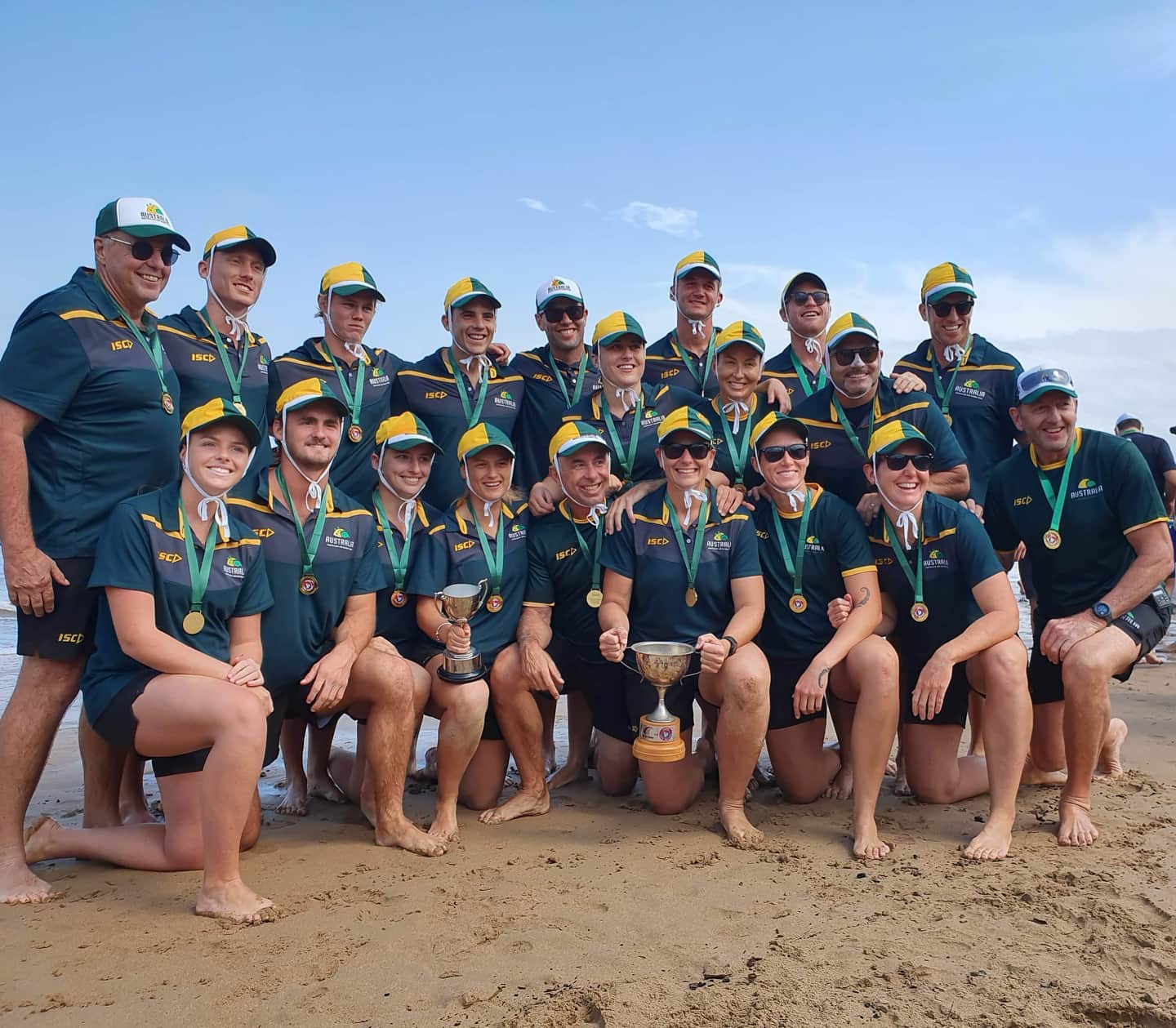 Despite logistical changes the races were able to be broadcast live on the Team Navy ASRL Facebook platform and their YouTube site across the whole of the three day event, allowing those not attending an opportunity to keep up to date with what was going on. A testament to the hard work put in by the organisers.
The 2020 ASRL Open went back to Mollymook on the Sunday with the Interstates competition, postponed on Friday due to conditions, further postponed on the day due to the conditions and timings. An announcement will be made as to rescheduling for the Interstates once that has been worked out.
Five surf boat crews from the SLS Sydney Northern Beaches Branch won their finals at the ASRL Open at Mollymook. The Mona Vale Drifters (Under 19 female), Palm Beach Playboys (Under 23 male), North Narrabeen Smokos (Reserve male - sweep the legendary Don McManus, who has returned to the club he first joined in 1962), South Curl Curl White Bread (Masters 240 Mixed) and the Avalon Beach Antiques (Masters 180 Female) were all successful in securing gold last weekend. Palm Beach also did well in the Under 19's, with the Possums securing a bronze while Queenscliff's Blue Car Keys took the silver and South Curl Curl's Underdogs finished 4th in the same finals.
Surf Life Saving Sydney Northern Beaches Branch Under 23 Newport 'Thunder' won bronze with Palm Beach's Piranhas placing 4th. The Warriewood Rustys secured bronze medals in the 200 Female Masters with the Long Reef Vets taking silver in the 260 Mixed Masters Division.
With 345 crews from Australia and New Zealand competing across Junior, Open, Reserve and Master categories throughout the three days, peninsula crews were up against the best of the best.
"Sydney Northern Beaches ( SNB ) crews, as always, delivered on the big stage in a number of categories" Mr Brooks said this week.
"SNB is the strongest surf boat area in Australia and we are always excited to see what the crews can bring to our events."
The event would not be possible without the ongoing support from Team Navy. Navy's alliance with the ASRL allows surf lifesaving clubs to compete all across Australia and also boosted Navy's profile, helping gain community support.
The ASRL Committee and Carnival Referee Tamara Brawn would like to thank everyone for their support of 2020 ASRL Open. The officials were amazing, the work party excellent and the water safety crew outstanding.
Considered by many to be Australia's premier surf boat event, and bringing over 3000 competitors, supporters and event officials to the region, the 2020 ASRL, despite the challenges conditions brought to bear on the run of races, bringing that family surf boat spirit to the South Coast also brought some much needed smiles.
Below are the results from Saturday and Sunday. Below these some of the spectacular photographs Malcolm Trees took of our local boaties. Malcolm kindly volunteers his time to take these incredible photos and will also be at The Aussies this year - bonus! - thank you very much Malcolm, wonderful images.
Thank you to the following supporters of this event:

Team Navy
Destination NSW
Surf Life Saving Australia
Shoalhaven City Council
Mollymook Surf Life Saving Club Inc.
the Mollymook community
the Long Beach Community
SATURDAY FINALS
U19 FEMALE (note equal 2nd placing)
1 Mona Vale Drifters
2 South Port Stormies
2 City of Perth City Five
4 Somerton Stormers
5 South Curl Curl Bumps and Humps
6 St Kilda Salamanders
U19 MALE
1 Northcliffe Tornadoes
2 Queenscliffe Blue Car Keys
3 Palm Beach (NSW) Possums
4 South Curl Curl Underdogs
5 North Cronulla Bung Holes
6 Currumbin Meerkats
U23 FEMALE
1 North Cronulla Funkys
2 Tallebudgera Tallie Tubbies
3 Newport Thunder
4 Palm Beach (NSW) Piranhas
5 Dicky Beach Tooshies
6 St Kilda Fun Size
SUNDAY FINALS
U23 MALE (note equal 3rd place)
1 Palm Beach (NSW) Playboys
2 North Cronulla Purds
3 North Cottesloe Yeah the Boys
3 Maroochydore Meat Trays
5 South Curl Curl Lamp
6 Elouera Elouera
RESERVE FEMALE
1 Currumbin Concords
2 North Cronulla Funkys
3 Noosa Heads Swallows
4 South Curl Curl Girlies
5 Brighton (SA) Bombshells
6 Noosa Heads Bandits
RESERVE MALE
1 North Narrabeen Smokos
2 Ocean Beach Sailfish
3 North Cronulla Purds Reserves
4 Newport Sailfish
5 North Cottesloe Cowards
6 Bilgola Bends
OPEN FEMALE
1 Northcliff Krankitz
2 Noosa Heads Chums
3 Lorne Edge
4 Avalon Open Women
5 Palm Beach (NSW) Patriots
6 Tugun Venatrix
OPEN MALE
1 Lorne Chops
2 Bulli Team A
3 Corrimal Black
4 Currumbin Gunnars
5 Elouera Wilko
6 St Kilda Angry Otters
MASTERS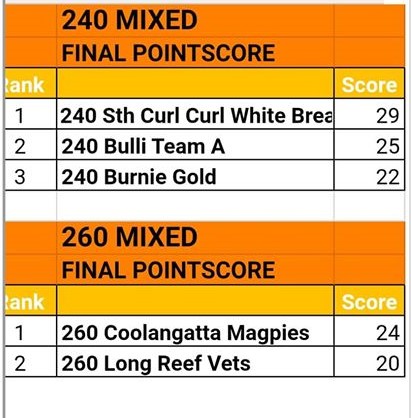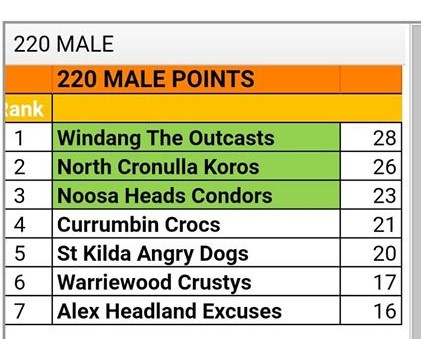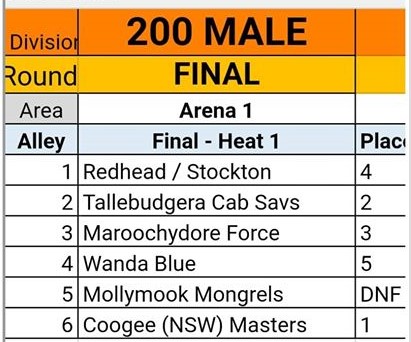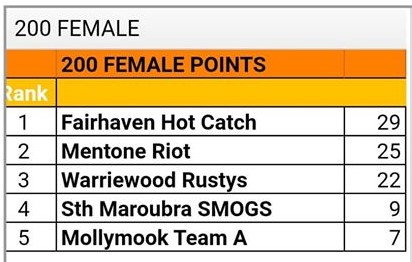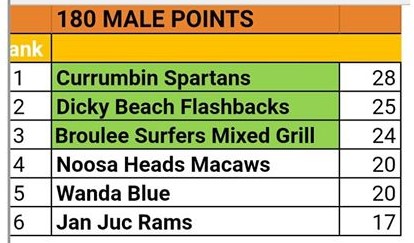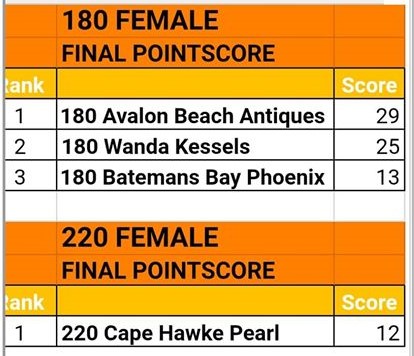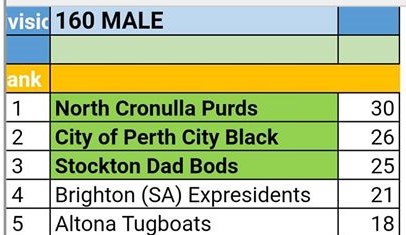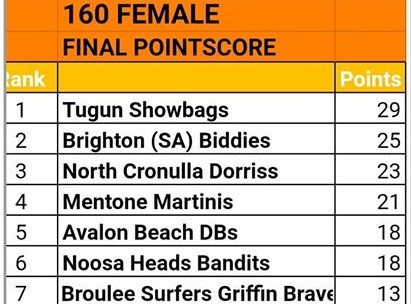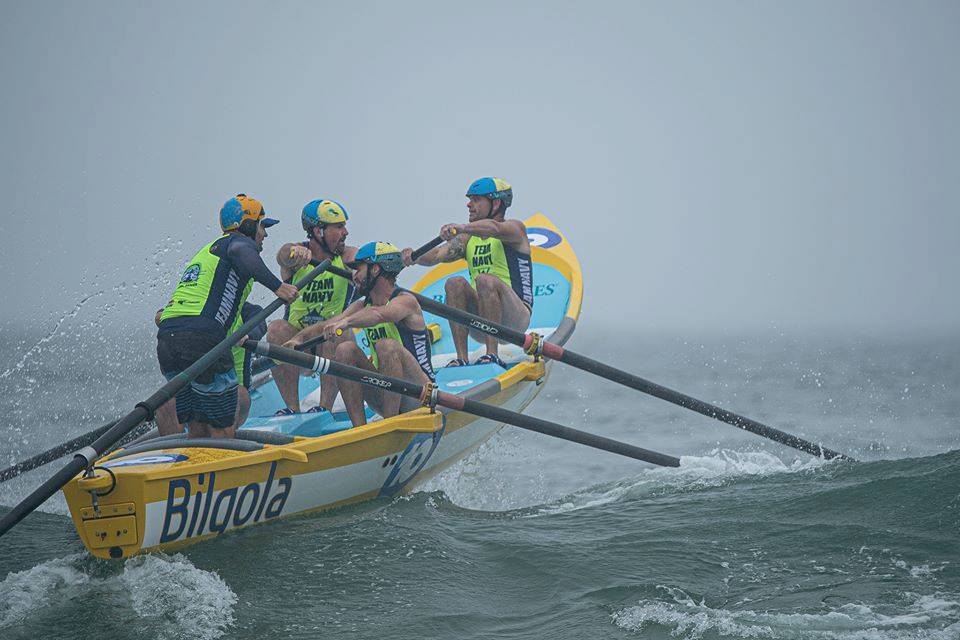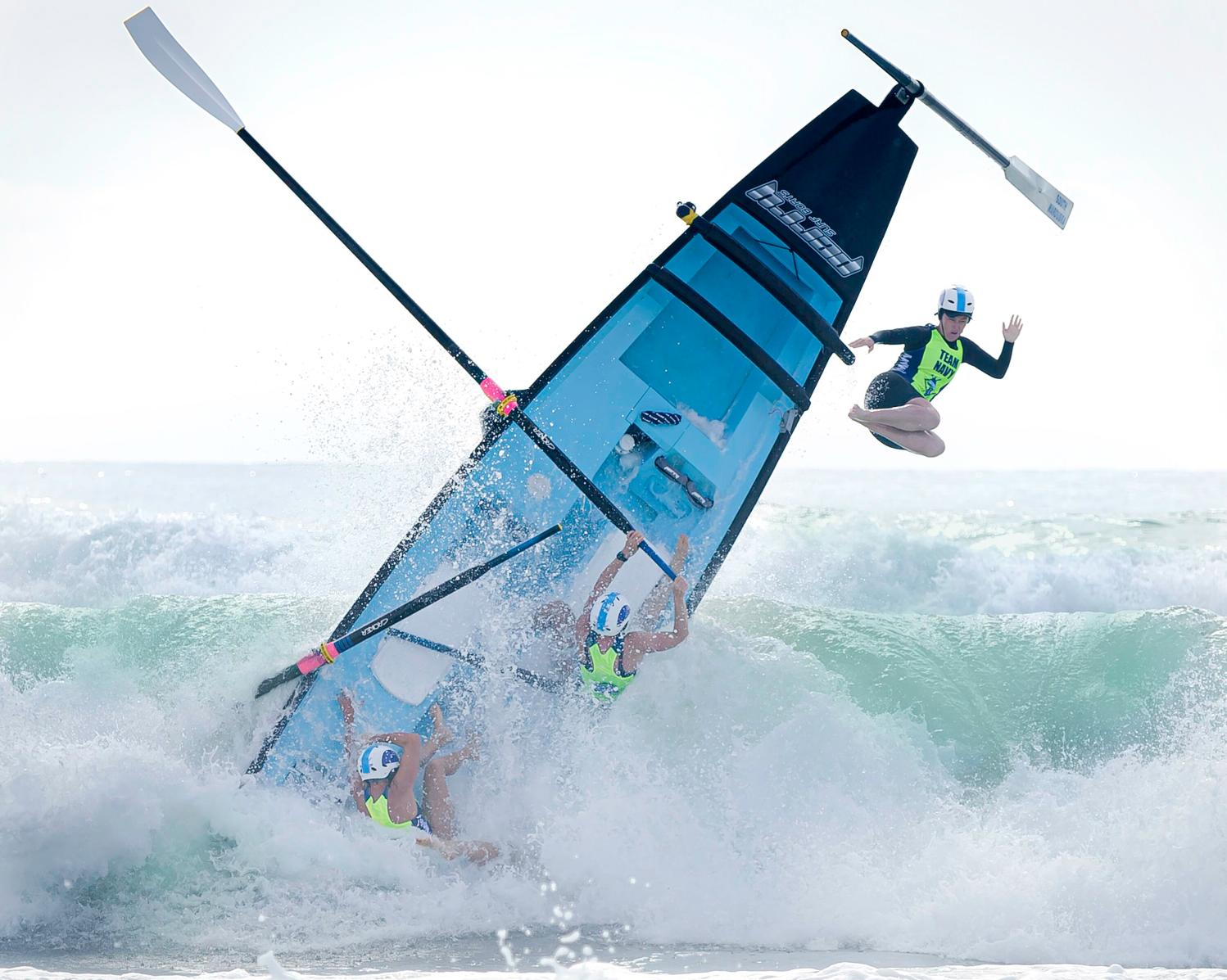 The 200 ladies crew from South Maroubra SLSC on Day 1 - when the wave sucked up under them. All came in ok!