September 11 - 17, 2016: Issue 280

Australian Paralympic Sailing Team
Rio 2016 Paralympic Games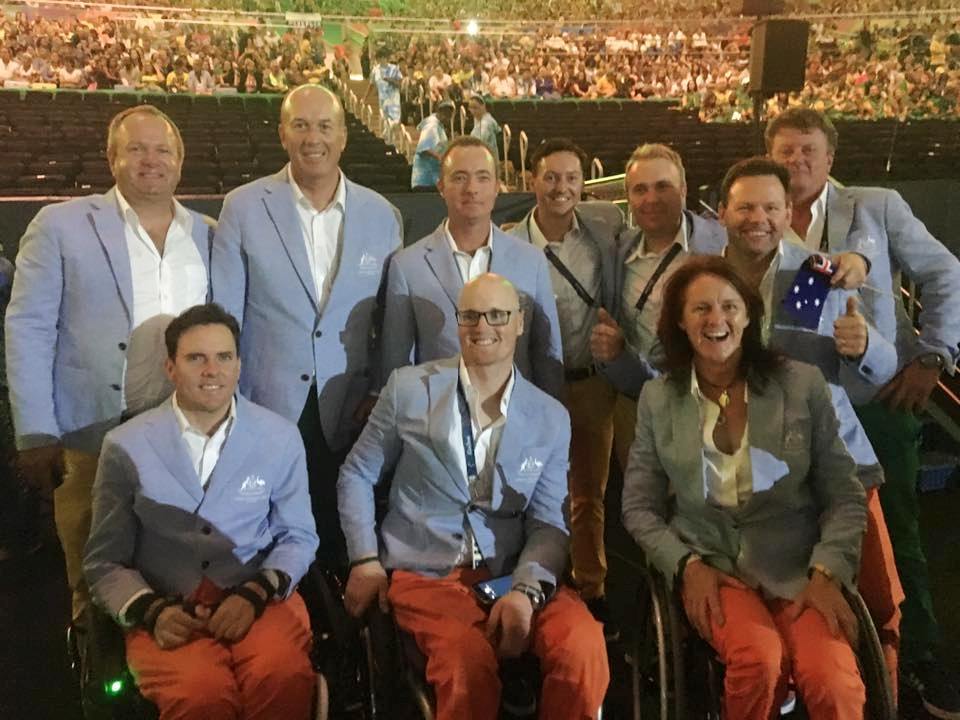 The Australian Paralympic Sailing Team at the Rio 2016 Paralympic Games Opening Ceremony
Rio 2016 Paralympic Games – Australian Sailors
By Stacey French, Australian Sailing Team reporter
The 2016 Paralympic Games began in Rio on Thursday with our Australian Sailors in action early next week.
With a full Australian Sailing Team line-up, our Paralympians will be represented in every class with our SKUD18 team, Daniel Fitzgibbon and Liesl Tesch defending their 2012 London Gold Medal.
Since London, Fitzgibbon and Tesch have been working hard and producing great results, giving them confidence heading into the Paralympic Games.
From Tasmania, 2.4mR sailor Matt Bugg, will be striving for a place on the podium after winning Gold at the Sailing World Cup Hyeres in April this year proving his ability to win in challenging conditions.
In the Sonar class, Colin Harrison, Jonathan Harris and Russell Boaden will be aiming to snare a spot on the podium after finishing fourth at the London Paralympics.
The 2016 Australian Paralympic Sailing Team
Matt Bugg – Linisfarne, TAS
Daniel Fitzgibbon – Mona Vale, NSW
Liesl Tesch – Woy Woy, NSW
Colin Harrison – Victoria Park, WA
Jonathan Harris – Oatley, NSW
Russell Boaden – Hamel WA
A lifetime sailor,
Daniel
had aspirations to compete at an Olympic
Games from a young age. After a fall off a jetty at the age of 21
left him a quadriplegic, Daniel soon returned to sailing with the
goal of competing at the Paralympic Games.
In 2004, he showed his drive and determination to succeed when
he won the IFDS Single-person World Championships. The same
year, he won the Australian Sailor of the Year with a Disability
Award and the 2004 Queensland Sailor of the Year, of which he is
proudest, as he was judged above able-bodied sailors.
Daniel's dream of winning a Paralympic medal came true in
Beijing where together with sailing partner Rachael Cox, they won
silver in the SKUD 18 class. But for Daniel, silver wasn't quite
enough.
Daniel then paired with an unlikely crewmate – five-time
Paralympian and wheelchair basketball champion Liesl Tesch.
Impressed with her form in the 2009 Sydney Hobart Yacht Race,
Daniel convinced Liesl to make the move to sailing, and after less
than a month training together they won their first ever competition
together at the Sailing World Cups in Miami and Weymouth and
two World Championship bronze medals.
The pair went on to take the Gold at the London 2012 Paralympic
Games. Despite tough competition from the US and UK combined
with the tragic passing of Liesl's mother on day one of the Games,
the pair won Australia's first gold medal in the event with a day to
spare thanks to their record low score. Following the Games, he
and Liesl received the APC's Team of the Year award.
Off the water, Daniel has a Bachelor of Science in Construction
Management from QUT and is studying for a Bachelor of Business
in Property Economics.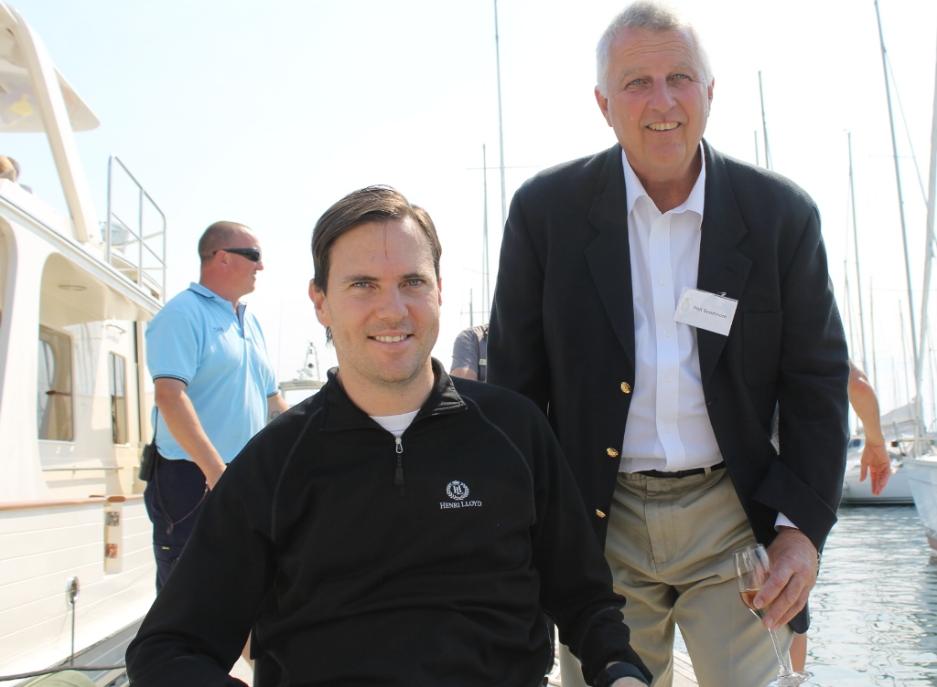 Dan with Phil Smidmore - America's Cup crew winner at RPAYC Open of Sailing Season Day
Liesl Tesch
was one of the most decorated and respected
members of the Australian women's wheelchair basketball team
when in 2011, she changed sports and joined forces with Beijing
2008 Silver medallist Daniel Fitzgibbon in sailing.
From the very beginning, the pair experienced considerable
success, winning their first ever competition in the 2011 World Cup
meets in Miami and Weymouth and followed up with bronze in the
2011 World Championships. Capping an amazing first year of
sailing for Liesl, she and Daniel were named 2011 Australian
Sailors of the Year with a Disability.
The pair claimed bronze at the 2012 World Championships,
followed by gold at the ISAF World Cup. Then in London 2012,
during a whirlwind Games campaign where Liesl tragically lost her
mother following a long illness, the dynamic duo won Australia's
only sailing medal and the first gold since Sydney 2000.
At 19-years-old, Liesl was riding home on her mountain bike when
she somersaulted forward and landed on her bottom, unable to
move. After six weeks in hospital, Liesl eventually regained some
feeling in her legs, and after two months of intensive rehabilitation,
found the ability to stand up once again.
While playing for the wheelchair basketball team, Liesl won Silver
medals at Sydney 2000 and Athens 2004, and bronze at Beijing
2008.
In 2011 she co-founded Sport Matters, a charity that aims to teach
aid organisations how to use sport, and sport organisations how to
use aid and development.
Liesl is also a high school teacher, and is completing a Masters in
Special Education so that she can teach youth with intellectual
disabilities. She loves teaching her students about diversity, using
her Paralympic experience as a case study and is proud to have
won a medal from every Games that her students have been alive.
Matt Bugg
is a qualified chef and has completed a Certificate III in Commercial Cooking at TAFE. At 23 Matt was involved in a snowboarding accident which left him
a paraplegic. Having already been involved in sailing, he set about
becoming the best Para-sailor he could possibly be.
Matt made his debut for Australia at the 2010 World Cup event in
the Netherlands, then won Gold at the 2011 National
Championships. His breakthrough performance came in a
decorated fleet of 16 boats, including three former champions and
two former Paralympians.
By 2012 he was ranked fifth in the world and was prepared to take
on the world's best at the London 2012 Paralympic Games. While
Matt did not medal at London 2012, he continued to train hard with
the goal of achieving a podium finish at Rio 2016.
At the 2014 IFDS World Championships in Halifax, Canada, he
finished fifth. At the same competition, Matt competed with a team
of six Australian sailors defeating Great Britain by one point to be
named the best performing nation across all Paralympic classes,
winning the Nations Cup trophy for the first time.
Matt has had a strong lead up to the Rio 2016 Paralympics. He
won Gold at Sailing World Cup Hyeres in April 2016 against a
quality fleet, then went on to take the bronze at the Delta Lloyd
Regatta, incorporating the Para World Sailing Championships, in
Medemblik in May.
Off the water, Matt is a qualified chef and has completed a
Certificate III in Commercial Cooking at TAFE. Matt views his two
predominant activities in his life – single handed ocean racing and
cooking – as his favourite hobbies, along with wheelchair
basketball, fishing, travelling and reading.
A three-time Paralympian,
Colin Harrison
grew up in the United
Kingdom. He was introduced to sailing as a teenager while at a
youth holiday camp in Northern Wales and quickly immersed
himself in the sport.
After having his right arm amputated after a battle with cancer,
Harrison initially gave up sailing, but found his passion again on a
10m yacht.
He made his debut for Australia at the 2002 IFDS World
Championships in the Netherlands, and went on to compete at the
Athens 2004 Paralympics where his crew finished fifth.
Alongside Stephen Churm and Jonathon Harris in the three
person Sonar class, he recorded encouraging results in the
prelude to the London Games, including a fourth place finish at the
2012 IFDS World Championships in Florida.
In London, competing at his third Paralympics, Colin and his
crewmates were sixth.
At the 2013 and 2014 IFDS World Championships the Australian
Sonar team, now made up of Colin, Jonathon Harris and Russell
Boaden, took bronze and went one better the following year at the
2015 Para World Sailing Championships, winning Silver.
Their journey towards Rio 2016 has been successful with two
World Cup Gold medals in 2015 and a Silver at the start of 2016.
As well as his sailing achievements, Colin has a career in medical
imaging and enjoys playing squash.
Jonathan Harris
started sailing in his teens, but he was 56-years old
when he competed in his first Paralympic Games at London
2012.
Following Australia's success at the London 2012 Games,
Jonathan and the Sonar crew made up of Russell Boaden and
Colin Harrison competed at the IFDS World Championships in
Ireland and came home with their first medal, a bronze. In October
2013, the trio were named as Sailors of the Year with a Disability
at the Yachting Australia awards.
Jonathan was 16-years-old when he was fooling around with
chemicals obtained from his high school science labs. While
screwing a lid on a jar of flash powder, the jar exploded and he
sustained injuries to both of his hands. A self-described "nerd" who
hung around science labs after school, he says there was no one
to blame but himself and is grateful to have come out mostly
unscathed.
Though sailing became slightly more difficult following his
amputation, he continued sailing many different dinghy and
keelboat classes throughout his life.
He has competed in two Sydney to Hobart races (1983 and 1985)
and in 2002 made his debut in the Sonar keelboat for Australia at
the World Championships in Holland.
When the grandfather isn't training, his life still centres around
boats as an importer of luxury catamarans. In addition to his love
for sailing, he enjoys cycling and skiing.
Russell Boaden
started sailing in 2004 when he was 32 years old,
and went on to become a training partner for the Australian
Paralympic Team who were preparing for the Athens 2004
Paralympics.
Two years later he made his debut for Australia, competing at the
2006 World Cup in Rochester, New York, and then in 2007 he
competed at his first IFDS World Championships. The Australian
Sonar Team were eighth.
Along with Colin Harrison and Graeme Martin, Russell competed
at the Beijing 2008 Paralympic Games. The crew finished third to
take home the bronze medal – Russell's career highlight.
Together with Colin Harrison and Jonathon Harris, their
preparation for Rio 2016 has been successful with two World Cup
gold medals in 2015 and a silver at the start of 2016.
When Russell was 22 he was in a motorbike accident that
damaged his brachial plexus – a network of nerves, running from
the spine.
Russell plays social golf and is a chef, getting great enjoyment out
of the artistic side of cooking.
Paralympic Sailing starts on Tuesday 13 September from 2am (AEST)
with
Medal Races scheduled for Sunday 18 September from 1am (AEST)
.
Sailing is scheduled to be broadcast on 7TWO on Saturday 17 September during 'Morning Sessions from Rio Live'.
For more information regarding the broadcast of the Paralympic Games and scheduled sailing events follow these links:
Support our Australian Paralympic Sailors in Rio this September by using the hashtag #GoAusSailors on social media or send a message via the
Australian Paralympic Team website
.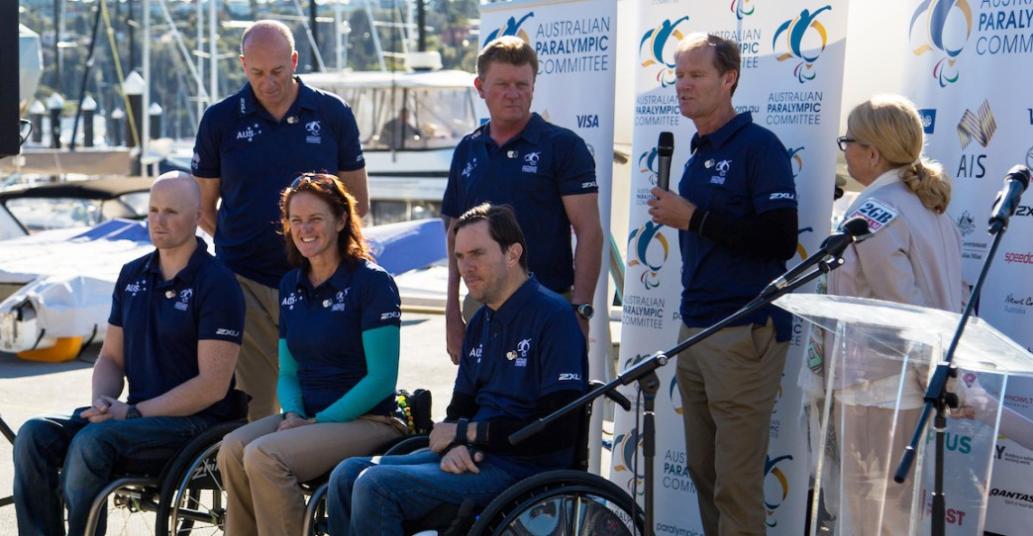 Australia's Paralympic Sailors for Rio announced - July 15, 2016 at Middle Harbour Yacht Club, photo ourtesy Australian Sailing Team
Late Polish Surge Upsets The Order Of The SKUD18
Rio 2016 Paralympic Games
By Richard Aspland - World Sailing

If the Rio 2016 Paralympic Games had come just a few months earlier you could have been forgiven for narrowing the Two-Person Keelboat (SKUD18) fleet down to a two horse race.
Australia and Great Britain have dominated the world championships as far back as 2008, but in May this year the streak was broken.
At the 2016 Para World Sailing Championships in Medemblik, the Netherlands, Poland's Monika Gibes and Piotr Cichocki sailed a consistent regatta to win the title at a canter. They followed that win up quickly, just weeks later at the same venue when they won the SKUD18 competition that was part of the Hansa World Championships.
It could be argued that the Polish team just enjoyed the waters of the Ijsselmeer the most out of the SKUD18 fleet, culminating in their success, but Cichocki is adamant this isn't the case, "The World Championship in Medemblik was just the beginning. It was one part to prepare for Rio. Myself and Monika have done everything to prepare and we are ready to be here and we want to win the gold medal."
If you watched the Olympic Sailing Competition you would have seen that Guanabara Bay can throw up a lot of challenges and is different to the sailing area of the Netherlands, but Cichocki is confident in his sailing ability and looking forward to proving it in Rio, "Sailing is similar everywhere around the world for me. You do have a special wind and current here [in Rio] so it will be a little different, but we are ready for that."
If Gibes and Cichocki are to win they will have to beat the dominant forces in the SKUD18 fleet. Sharing the World Championships between them since 2008, Great Britain's Alexandra Rickham and Niki Birrell and Australia's Daniel Fitzgibbon and Liesl Tesch seemed to have a monopoly on titles, but now that the streak has broken the question in Rio 2016 is, was it a one off or is it the start of other nations rising to claim the title?
The question won't be answered until the final day of racing, but current Paralympic gold medallist, Aussie Fitzgibbon, thinks that the venue will be the biggest obstacle towards his defence, which may not be good news for him, but for the watching public it definitely is, "It's going to be a challenging venue. I've sailed a lot and I feel this is probably the most challenging venue I've ever sailed in. Anyone can win this regatta coming up and that will be great for the viewers."
That is only the opinion of Fitzgibbon, but with a silver from Beijing 2008, where he sailed with Rachael Cox, and the gold at London 2012 with current partner Tesch, surely he knows what he is talking about.
The other world champions and bronze medallists from their home Games of London 2012 gunning for gold are Rickham and Birrell.
Talking about their chances and their closest rivals, Birrell said, "The Australians have done really well this four-year cycle, but I believe on our day if we deliver what we can there is no reason why it can't be gold for us.
"I see everyone as a rival but the Polish team's progress has been really good. But we're not really too worried about what they do, if we can just minimise our own mistakes and go as fast as we can that's it."
Agreeing with her team mate, Rickham knows that it is down to their own abilities and even wonders if fate could take them all the way to Paralympic gold this time around, "We've been at the top end of the fleet for a long while. The way I look at it is we came fifth in Beijing [2008], we came third in London [2012], so clearly the natural progression has to be first this time, doesn't it?"
Elsewhere in the fleet there is USA's Maureen McKinnon who has a Paralympic gold medal in the SKUD18 from the Beijing 2008 Games when she sailed with Nick Scandone. McKinnon is sailing with Ryan Porteous this time around.
Sandra Nap and Rolf Schrama (NED) are always pushing for podium finishes and have the potential to medal in Rio, and you can never rule out a host nation team. In the SKUD18 the home team is former professional footballer, Bruno Landgraf and Marinalva Almeida.
The SKUD18 fleet begin their competition at the Rio 2016 Paralympic Games on Monday 12 September at 13:00 on the Pão de Açucar race area of Guanabara Bay.
The Rio 2016 Paralympic Games will take place between 7-18 September in Rio de Janeiro and the sailing is scheduled to be raced between 12-17 September in Guanabara Bay.
Find information below on how to follow the Rio 2016 Paralympic Sailing Competition.
RIO 2016 PARALYMPIC SAILING COMPETITION
The Rio 2016 Paralympic Sailing Competition will take place at the Marina da Glória, Rio de Janeiro, Brazil and will feature 80 athletes from 23 nations competing across three events. Racing is scheduled to take place from 12-17 September 2016 and the competition format for all events is fleet racing.
ENTRIES
A full list of sailors racing at the Rio 2016 Paralympic Games is available to view here - www.sailing.org/paralympics/rio2016/qualification/sailors.php
LIVE TRACKING
The racing will be available to watch in 2D and 3D via the live tracking. Live tracking will be available when racing commences via -http://www.sailing.org/paralympics/rio2016/multimedia/live-tracking.php#.V9G2ulfwykg
Live Tracking via the Sailviewer-3D Tablet App will be available for devices with 7" or greater screens.
Click here to download the iOS Application - https://itunes.apple.com/us/app/sailviewer-3d/id912801278
Click here to download the Android Application - https://play.google.com/store/apps/details?id=com.stsportservice.sailviewer
COMPETITION STATUS
The Competition Status Screen feeds in straight from the Race Committee boats with the teams inputting data such as race times, course type, the status of each race and the plan moving forward. The competition status screen will be available when racing commences via -http://www.sailing.org/paralympics/rio2016/multimedia/live-tracking.php#.V9G2ulfwykg
SOCIAL MEDIA

Follow the event on World Sailing's social networks:
Facebook - https://www.facebook.com/ISAFWorldSailing
Instagram - https://instagram.com/isafworldsailing/
Twitter - @worldsailing
Snapchat - Follow our Story on Snapchat, search for worldsailing
USEFUL LINKS
World Sailing Paralympic Website - http://www.sailing.org/paralympics/rio2016/home.php
Competition Schedule - http://www.sailing.org/paralympics/rio2016/about/schedule.php
Latest Paralympic Sailing news - http://www.sailing.org/paralympics/rio2016/news/index.php
Online Notice Board - http://www.sailing.org/paralympics/rio2016/onb.php
The Usual Suspects Line Up For 2.4 Norlin OD Glory
By Richard Aspland - World Sailing
The One Person Keelboat (2.4 Norlin OD) always offers up a host of challengers for the overall title for every regatta, and the Rio 2016 Paralympic Games is no different.
If you move around the boat park at the Marina da Gloria it will not be long before you bump in to a 2.4 Norlin OD Paralympic medallist, world champion, Sailing World Cup winner or challenging newcomer.
Always a calm, relaxed and smiling assassin, France's Damien Seguin is gearing up for another tilt at Paralympic gold, a medal he hasn't secured since Athens 2004.
In focus mode, Seguin said, "I feel really good. I'm happy to be here. I'm relaxed. I've checked everything with my boat and I'm ready to go. I've been excited and relaxed for the last month. I know my job and I know what I have to do."
Focus quickly turns to the usual smiling Seguin demeanour when asked whether he would prefer to have a lot of people gunning for gold or just a one on one fight, "For this regatta I would just prefer me to be one of the three on the podium. But seriously, I am a competitor and for around two years we have all known this will be a close regatta."
As a multiple world champion, Seguin knows who his competition will be and he begins to reel off a list of his closest competition, "In 2.4 we have a really good level. Germany. Great Britain. Australia. USA. Norway. And also we can have a big surprise. I know I have done everything possible to be the best, and now we play."
Another multiple world champion in the fleet is Germany's Heiko Kroeger, and it seems that world champions think alike as he eerily produces a carbon copy of his French compatriots list of favourites, "Of course Damien [Seguin], Helena [Lucas], Matt Bugg, Bjornar [Erikstad] and even Dee Smith. Maybe there could also be a big surprise though."
The surprises may come, but as current world champion the big German will have a target on his back as a definite one to watch, but of course, this does not even register in the confident and pragmatic thoughts of Kroeger, "I'm used to coming in to a competition as world champion as I have won a lot of titles, but that just proves to me that I know how to win, so it's good."
Taking the gold medal at London 2012 and still holding the title of current Paralympic champion is Great Britain's Helena Lucas. As the only women in the fleet last time around, she will now be joined by Sweden's Fia Fjelddahl, the youngest sailor in the field at just 17-years-old.
While Lucas has the experience and the titles, Fjelddahl is at her first Paralympic Games, but that doesn't seem to be effecting the young Swede as she simply says, "I'm excited but I am calm."
As a newcomer among seasoned campaigners it could be difficult coming in to such an experienced field at such a tender age, but Fjelddahl doesn't think so, "Sometimes I miss someone that is my age. Sometimes younger people have their jokes and older people have their jokes you know, but everyone in the fleet has been so welcoming."
At a high calibre field at the 2016 Para World Sailing Championships in Medemblik, the Netherlands, Fjelddahl got a race win under her belt, but putting together a consistent run of results for a strong regatta could prove to be tough with the amount of International regatta medallists she will be up against, so what is her personal target for Rio 2016? "I want to have fun and learn a lot. Me and my coach have a had a little joke about me winning, but I want to have the focus to just do what I do best."
As mentioned by Seguin and Kroeger, Lucas will be a contender. She hasn't managed to win a World Championship, but does have the benefit of a Paralympic gold medal winning experience to draw upon. Australia's Matt Bugg has quietly been ticking away over the quad and registered his maiden International regatta win at Sailing World Cup Hyeres earlier in the year. Bjornar Erikstad (NOR) is always pushing for medal contention while Dee Smith's (USA) name has been thrown around among the favourites.
Home nation hopes will be pinned on Nuno Rosa when the 2.4 Norlin OD begin racing at the Rio 2016 Paralympic Games on Monday 12 September at 13:10 on the Pão de Açucar race area of Guanabara Bay.
Extension Of An Ability
By Richard Aspland - World Sailing

A sailor's equipment is the extension of their ability. It is vital that the equipment, their boat, is well maintained, is at the forefront of technology and where there are equipment options, the right choice is made.
But, there are limits to how far sailors can advance their weapon of choice and these are defined in a set of rules that ensure a level playing field for the sailors.
The Equipment Inspection Committee at the Olympic and Paralympic Games have taken a leading role in this and work tirelessly, checking, measuring and weighing the boats at Rio 2016.
Firstly, Dimitris Dimou managed a group of experts at the Olympic Games and now, at the Paralympic Games, John Koopman has taken the baton and is leading a team to ensure fairness.
"We're measuring all of the boats for all three events, the 2.4, SKUD18 and the Sonar. We do it to make sure that all the boats in the event are as equal as possible," explained Koopman.
"We're doing quite a number of measurements on each hull, the appendages, the spars, the sails. The boat is also weighed for total weight with keel, fin and bulb on it. Other dimensions are taken and safety equipment is checked. It's a total measurement."
The Olympic Games featured a wide array of sailing classes - windsurfers, multihulls, dinghies and skiffs. At the Paralympic Games, all of the classes are keelboats and generally bigger with more measurement procedures. Add Paralympic adaptations into the mix, which allow sailors of multiple disabilities to adapt the boat to suit their needs, and the process can be fairly time consuming.
"The SKUD18 has special equipment for the skipper and crew," said Koopman. "The dimensions of the seat are very important. Some of the seating is articulated and can be on hydraulic cylinders or can be tipped from one side to the other. All of the devices are checked that they operate in a proper manner, with proper dimensions and with proper rotations."
Over a three day period, all of the equipment is thoroughly inspected with each boat assigned an hour to go through the process. Whilst it can take the sailors attention away from what they love to do, go sailing, they appreciate the need for the process.
Koopman added, "I think the sailors realise that without it, it would be total chaos and without it they would be at a distinct disadvantage. It's quite well received even though it can be annoying but we make it as painless as possible. You can spend a day doing it but it really is necessary for the game."
Koopman has been working with the competitors leading up to Rio 2016 and has fulfilled the role at a number of recent Para World Sailing Championships but his career and breadth of knowledge spans many years.
"I have been measuring boats now for 48 years. I started out doing mostly ocean racing vessels, cruising club of America, MORC and then in the early 1970s I became the first measurer for the Etchells Class and I measured Stars.
"I've been to five Olympics now. One as a measurement co-ordinator, actually working for the Atlanta Olympic Committee and I've done four Olympics as the measurer for the Star.
"This is my first Paralympics. I really enjoy the competitors. I've done a number of Para World Championships and it's always been very enjoyable and satisfying."
Measurement will conclude on 10 September and then Koopman will oversee the process of post-race inspections throughout the remainder of the event, ensuring the equipment originally registered remains. In addition, if sailors break or damage equipment Koopman will be on hand to approve their replacement.
Rio Welcomes The Paralympic World
September 8th, 2016 - by Australian Paralympic Committee Media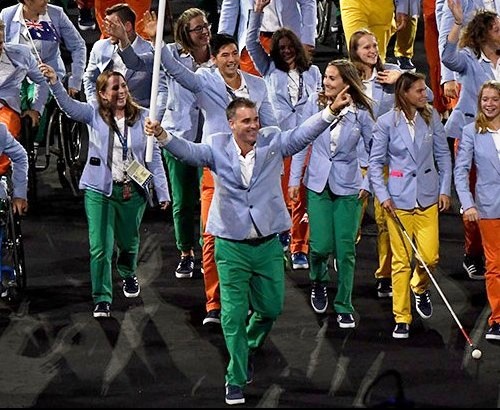 The Rio 2016 Paralympic Games Opening Ceremony started with extreme wheelchair athlete Aaron 'Wheelz' Fotheringham zipping down a 17 metre-long ramp, and ended with Brazilian swimming star Clodoaldo Silva pushing up a ramp to light the Cauldron.
Fotheringham back-flipped through a hoop for his part. And Silva was the last Torch Relay carrier, who was faced with a flight of stairs to get to the Paralympic cauldron. He waited thoughtfully as the steps turned into a zig-zag ramp so he could reach the top.
Both eye-catching moments were book-ended with fireworks as the Games of the 15th Paralympiad were unveiled in Rio de Janeiro.
Australia was the 11th nation of 160 in Rio to parade, cutting quite a picture in their pale blue blazers and ochre, green, or gold pants.
Flag bearer and Australian wheelchair basketball captain Brad Ness led the 177 athletes out along with Australian Paralympic Team officials headed by Chef de Mission Kate McLoughlin.
"What an amazing experience… so proud to represent Australia as Flag Bearer," Ness said later. "Words cannot do it justice."
Australia's Governor-General Sir Peter Cosgrove and Lady Cosgrove were in the stands alongside dignitaries, led by International Paralympic Committee (IPC) President Sir Philip Craven, to welcome the nation's elite athletes with a disability.
As each country emerged, the nation's name was shaped in a jigsaw piece. These were then flipped over to show athlete photos from that country. They were placed on the stadium floor to create a giant pulsating heart.
"Everybody has a heart and Brazilians' hearts never gives up," said Carlos Arthur Nuzman, the Rio Organising Committee president.
Sir Philip told everyone to enjoy the next 11 days as it could change their lives.
"You will witness how Paralympic sport has the ability to inspire an individual, and the outstanding capacity to transform communities, countries and continents," he said.
"In a country which has faced major challenges of late, Paralympians will switch your focus from perceived limitations, to a world full of possibility and endless opportunity. They will surprise you, inspire and excite you, but most of all they will change you.
"Proud Paralympians, you are role models for what the world wants to see in today's sporting heroes. You see obstacles as opportunities, you fight for your rights and here in Rio you have a unique opportunity to make for a more equitable world. Your values tell people what you stand for and most importantly who you are."
Right now 4,350 of the world's best athletes with a disability are here to compete in 22 sports until the Closing Ceremony on Sunday, September 18.
Rio 2016 Opening Ceremony Speech
7 September, 2016 – Sir Philip Craven, IPC President

Boa noite e bem vindos aos Rio a Cidade Maravilhosa e sejam muito bem vindos ao Maracanã.
Welcome to the start of Latin America's first Paralympic Games.
One hundred and ninety four years ago today, Prince Dom Pedro I declared Brazil's independence and tonight marks another new dawn in this country's colourful and proud history.
The Rio 2016 Paralympic Games will bring a new perspective to everyone in this country by showing that the human spirit knows no limits.
Over the next 12 days, through the performances of Paralympians, you will see the true meaning of sport and the true definition of ability.
You will witness how Paralympic sport has the ability to inspire an individual, and the outstanding capacity to transform communities, countries and continents.
In a country which has faced major challenges of late, Paralympians will switch your focus from perceived limitations, to a world full of possibility and endless opportunity. They will surprise you, inspire and excite you, but most of all they will change you.
Proud Paralympians you are role models for what the world wants to see in today's sporting heroes. You see obstacles as opportunities, you fight for your rights and here in Rio you have a unique opportunity to make for a more equitable world. Your values tell people what you stand for and most importantly who you are.
With the eyes of the world upon you, I ask you to send a message to the world through sport. Through your performances tell your story, a narrative of inclusion, a tale of empowerment and a legend that hope will always conquer fear.
Show the world that there is no them, there is only us; a world where people of all abilities, races, nationalities and sexualities can come together as one. We are all part of one world.
Welcome to the 159 participating National Paralympic Committees and most of all show your support to the first ever Independent Paralympic Athletes team featuring two refugee athletes. At a Games full of inspiring stories, yours may well be the most inspiring of all.
Athletes you arrive ready to maximise your abilities and empower others to participate in sport. We have done our best to ensure a level playing field for all; in return I ask you to play fair, abide by the rules and most of all have fun doing what you do best!
You have before you one of the world's most beautiful cities, Rio is powered by its people and the Cariocas know what these Games will do for driving social inclusion.
Special thanks to the Federal Government, every Rio 2016 employee, the great volunteers and International Federations for making these Games possible. Thank you to the IOC for their support.
Finalmente obrigado aos Cariocas e Brasileiros.
[Finally, thank you to the Cariocas and the people of Brazil].
In the last weeks you have shown great desire to make these your Games, the People's Games.
Muito obrigado.
It is now my honour to invite the President of Brazil, Mr. Michel Temer to declare open the Rio 2016 Paralympic Games.