January 29 - February 4 2023: Issue 569

Australia Day 2023 Honours List
The Australia Day 2023 Honours List recognises and celebrates 1,047 recipients, including 736 in the General Division of the Order of Australia and awards for meritorious, distinguished and conspicuous service.
Among these are several residents of our area, including Elvina Bay gentleman Alan Hill, 'For service to conservation and the environment' and Gail Lonnon of Avalon Beach, 'For service to the community of Avalon'.
Message from the Governor-General, His Excellency General the Honourable David Hurley AC DSC (Retd);
"Congratulations to the outstanding Australians recognised in today's Honours List. The recipients have had a significant impact at the local, national and international level and are, quite simply, inspiring," the Governor-General said.
"They go above and beyond, are from all over the country, and contribute every day in every way imaginable. These are the people who see us through good times and bad. They're the first to show up and the last to leave.
"They're almost always humble to a fault but I urge recipients, for today, to put aside that humility - it's important they know how much they are valued."
There are 736 awards in the General Division of the Order of Australia, with 48 per cent for women and 45 per cent for service to local communities.
"It is encouraging to see an increase in diversity in the Order of Australia. Each recipient has something in common – someone nominated them. The Order belongs to each of us and we each have a part to play. The only way a person can be recognised is for someone to nominate them."
Pittwater Online spoke to Alan and Gail after their honours were announced:
Mrs Gail LONNON, Avalon – 86 Years Young: MEDAL (OAM) OF THE ORDER OF AUSTRALIA IN THE GENERAL DIVISION
For service to the community of Avalon.
Avalon Community Library
Roster Secretary, 2006-2019.
Committee Member, since 2001.
Member, since 1987.
Avalon Ladies Probus
Public Officer, since 2018.
Member, since 2017.
NSW Federation of School Community Organisations
President, 1994-1997.
Treasurer, 1992-1994.
Vice-President, 1988-1992.
Executive Committee Member, 1983-1999.
Life Member, 1999.
Community - Other
Founding Member and Teacher, Taronga Zoo Education Centre.
Member, National Trust of Australia (NSW, current).
Member and Life Member, APT Avalon Preservation Trust, current.
Member of the Avalon Beach Historical Society
Former Justice of the Peace, c1970.
Parents and Citizens Association, Barrenjoey High School
Former Vice-President.
Secretary, 1985-1992.
Member, 1984-1995.
Life Member, since 1995.
Parents and Citizens Association, Avalon Public Primary School
Former Secretary.
Secretary, Mothers Club, 1978-1994.
Member, 1978-1988.
Life Member.
Congratulations on your OAM Gail – what does this mean to you?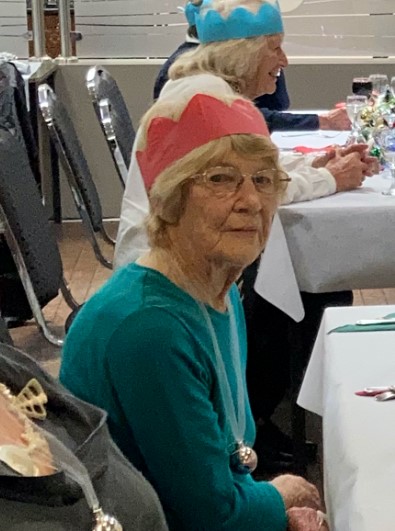 Well, apart from being embarrassed and also very thankful to who nominated me, I think this reflects a lot of the volunteer roles I've undertaken in Avalon P and C and Mothers Clubs for Avalon Primary and Barrenjoey high school. I've spent 25 years advocating for Avalon parents in primary and early childhood settings. Although this is nice there are a lot of people in the Avalon community who do a lot more than I do, and that's why I find it embarrassing.
What is a Mother's Club?
They used to have separate clubs for Infants Department years ago and then they became K to 6 school, and the P and C looked after the whole parents body in the primary school and then of course you have the P and C in the high school. These are a way of connecting and building a support network between mothers, when children are young, and the broader community as their children progress through school.
When my children were older, and even for years afterwards, I spent 25 years working with the Education Department and the Board of Studies and curriculum people and even Ministers. One of the people listed in the recommendation was John Aquilina, who was the Minister of the Department at the time. So most of my work was in that field.
My work in primary education is where the bulk of my volunteer contribution has been done.
You are a Life Member at both Avalon PS and Barrenjoey HS and took on the presidency of the NSW Federation of School Community Organisations for a few years too. You have also helped out at Avalon Community Library, which celebrates its 40th year in 2023?
Yes, I did a very long stint at Avalon Library. I just started out borrowing books and then went on as a volunteer who could issue books and return books. There is only one paid staff member at Avalon Library, all the rest of the staff are volunteers.
I then became their Roster Secretary for about 10 years. But this is all a long time ago you know, I'm 86 now.
Avalon Beach Probus – you're helping out there too?
I've only just recently joined there and am now their Public Officer. This is an appointed role where you collect all the Treasurer's reports and just check that everything is being done properly.
You clearly are quite active even at 86 – is that important?
It certainly is. I think if you don't use it you lose it.
You have done a lot for the community of Avalon Beach for decades – why is community so important to you?
Well that's what a community is, you can't just sit at home and look after yourself, you have to get involved, do a little something, whatever it is. To build community you have to put yourself into community.
What do you love about Avalon?
I'm not so much a beach person, I live in a very treed and bushy part of Avalon. I love the wildlife and I love the trees and I get very distressed when people move into a street and chop down all the trees.
(photo courtesy Geoff and Colette Searl)
Mr Alan Roy HILL, Elvina Bay: MEDAL (OAM) OF THE ORDER OF AUSTRALIA IN THE GENERAL DIVISION
For service to conservation and the environment.
South West Rocks Community Dune Care
Secretary and Treasurer, current.
Founding Member, 1992.
Co-Founder, South West Rocks Bitou Bashers, 1992.
Other
Volunteer, rehabilitated 15 kilometres of the New South Wales coastline.
Established visiting volunteer program with over 500 participants, South West Rocks, since 2007.
Involved with community awareness raising of threats posed to fragile ecosystems.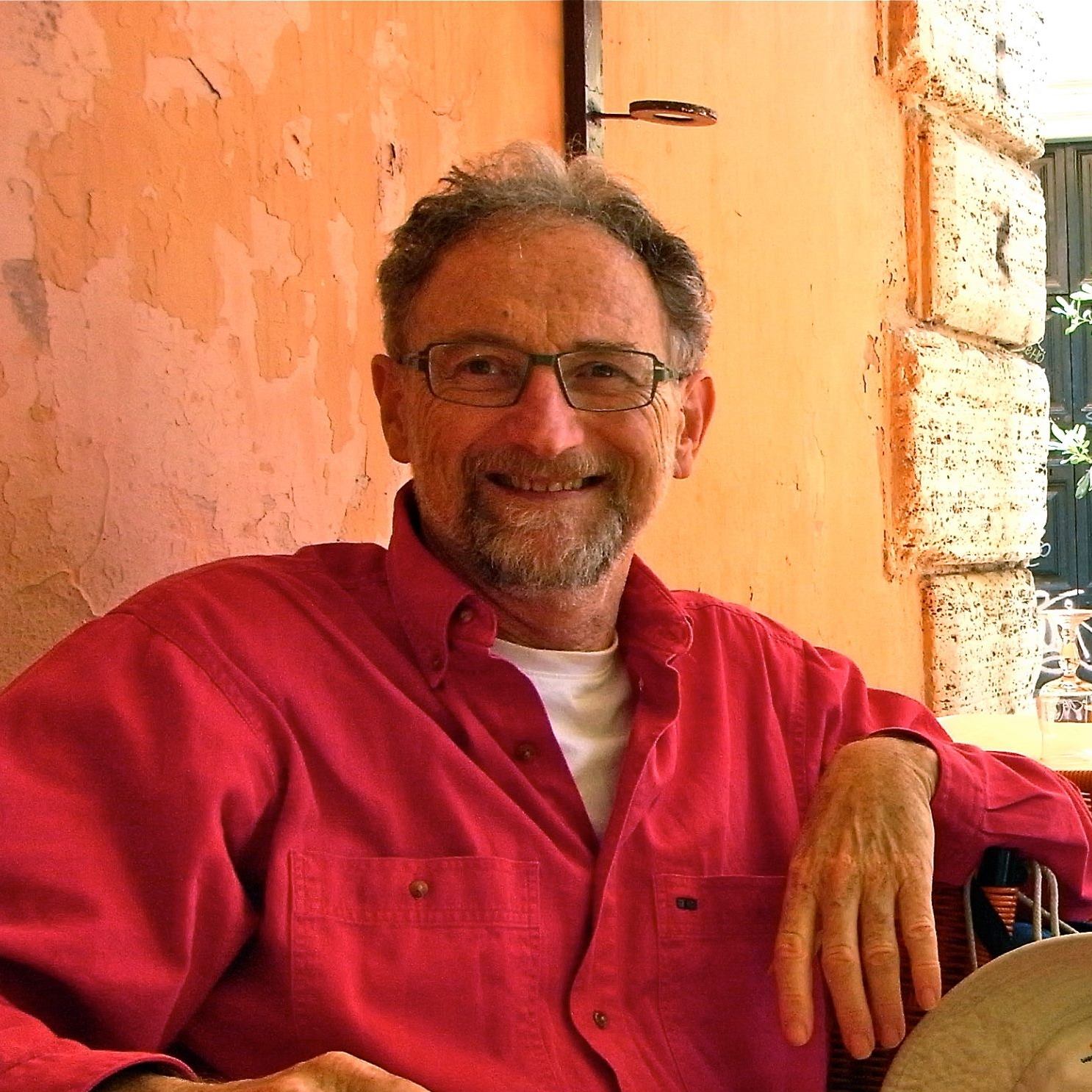 The South West Rocks dune care program – what is this about?
This has been an ongoing project for around 30 years. Over that time we've cleared weeds from about 16 kilometres of the coast, which is about the same distance as from Barrenjoey to Warriewood or Warriewood to North Head to give a local perspective.
I was one of the founding members and am still there, still plugging away at it. I think the group has done around 45, 000 hours of volunteer work over that time.
Bitou bush has also been tackled on some sites in dunes in our area.
It always amazes me the impact people can have. We had huge infestations up there and when you think a little town like South West Rocks can get on top of it, with the population we have here who could get out and do some work and get on top of it here too. It's funny, but some of the people who come up to South West Rocks to work as volunteers are from the Northern Beaches and possibly come up there to help because they're seeing good results.
As a resident of Elvina Bay you have also been a part of the Nesting Boxes program that's been rolled out for years there and at Lovett and Little Lovett bay?
That's right and I'm also involved with some bushcare groups here. I'm only here around a third of the time and the rest I'm at Manly or South West Rocks, so I get around.
Locally I help out with the Rocky Point Bushcare group or the Elvina Bay bushcare group.
In December 2021 we ran a Profile on the South-West Lovett Bay Coastcare Group which had removed 14 ha of highly invasive bamboo, and all residents getting involved there.
Yes, the South-West Lovett Bay Coastcare Group has been outstanding. I think they began trying to get rid of asparagus fern which has been a big problem on Rocky Point, and that's pretty well gone from there. We're now moving into a lot of other areas along the foreshore getting rid of garden escaped weeds we have here.
Garden escaped weeds are becoming a big problem. We're lucky over here than a lot of places along the northern beaches in that we're at the bottom of the slope and the weeds tend to trickle down. This can also cause problems with the water quality and nutrients runoff.
Congratulations on being awarded an OAM Alan, what does this mean to you?
To me it's very much an acknowledgement of the work done through the South West Rocks dune care program by everyone from my perspective – you don't get 45, 000 hours of work done by yourself, it's very much a community effort. Everybody is providing their skills, or doing the work, or providing their financial support or their emotional support. It just happens that I'm the one on the front line more of the time so it's very much a group effort, but I'm the one that gets put up there more often as a spokesperson.
What's the best thing about being in Elvina Bay in Summer?
The community. The community here is just amazing, it's like the perfect family that nobody ever had. The cooperation that occurs, that sense of community that can be so elusive elsewhere we seem to have here in spades.
Do you get on the water?
I have been dragged out on the water on occasion by the Woody Point Yacht Club members, but I'm not a sailor. I swim here every day.
Any messages for the community sir?
I'd like to encourage people top join their local bushcare group. If we can get more people involved we will get better results. If you look around you will see there are weeds and it takes people to get out there and put in a little bit of time and soon it's all done.
_______________________________________________________________
The others named in our area, their citations and overview of works read:
MEDAL (OAM) OF THE ORDER OF AUSTRALIA IN THE GENERAL DIVISION

Mr Gregory Kenneth BOWMAN, Freshwater
For service to the tourism and hospitality industry.
Great Big Events
Founder, Managing and Creative Director, since 1995.
Composer, Medal Ceremonies Music, Sydney 2000 Olympic and Paralympic Games.
Composer, music and fanfares, Sydney Olympic Games 2000: Commonwealth Games in Victoria, Canada 1994; Manchester 2002; Melbourne 2006; Glasgow 2014 and Gold Coast 2018; Commonwealth Heads of Government Meeting (CHOGM) 2011, and European Games, Azerbaijan, 2015.
Executive Producer, Sydney Olympic Games, 1998-2000.
Producer, Corroboree 2000 Sydney Harbour Bridge Walk; Reconciliation Convention Melbourne 1997, and CHOGM, 2002 and 2011.
Executive Producer, Rugby World Cup in Australia 2003, France 2007, New Zealand 2011 and Japan 2019.
Executive Producer, Basketball World Cups Turkey, Spain, China, Australia, ICC Cricket World Cups, Aquatics World Championships, Youth Olympic Games, European Games, Asian Games and Invictus Games.
Producer, Olympic and Paralympic Games, Athens, 2004, Beijing, 2008, London, 2012 and Tokyo, 2020.
Director, Paris 2024 Olympic and Paralympic Games, current.
Education
Teacher, Department of Education New South Wales, 1982-1994.
Mrs Anne HORNE, Warriewood
For service to school sports.
Barker College
Coordinator of Co-Curricular activities, current.
Personal Development, Health and Physical Education (PDHPE) Teacher, current.
Assistant to the Deputy, current.
Head, Girls Boarding, 4 years.
Former Head, Girl's Sport, 10 years.
Independent Sporting Association
Hockey Convenor and Representative Convenor, 1994-1995.
Softball Convenor, 2009-2022, 1996-1998.
Representative Softball Convenor, 2000-2022, 1996-1998.
Softball Selector and Manager, 1996-2022.
New South Wales Combined Independent Schools
Softball Convenor, 2005-2022.
Softball Selector, 2005-2022.
Softball Manager, 2017-2022, 2014-2015; 2003-2006, and 1996-1997.
New South Wales All Schools Assistant Coach and Manager, 2022, 2019, 2016, 2014, and 2004-2011.
Sport: Other
New South Wales Assistant Softball Coach, Pacific School Games, 2017.
New South Wales Delegate, Selection Panel, National School Girls Softball Team, School Sport Australia, 2022, 2020, 2019, and 2016-2017.
Awards and Recognition include:

School Sport Australia Service Award 2019.

Peter Cornish Award, Independent Sporting Association, 2014.
Cathy Parkes Award, New South Wales Combined Independent Schools, 2009
Mr Gary John McKAY MC (Retd), Kiama Downs (former Newport SLSC member)
For service to military history, and to veterans.
Historical Publications
Author, Going Back - Australian Veterans Return to Viet Nam, 2007.
Author, On Patrol With The Australian SAS : Sleeping With Your Ears Open, 2007.
Author, Times of Change - A History of Caloundra City, 2007.
Author, Australia's Battlefields In Viet Nam - A Traveller's Guide, 2003.
Author, Tracy, 2004.
Author, Firefighters, 2002.
Author, Jungle Tracks - Australian Armour in Viet Nam, 2001.
Author, Bullets, Beans and Bandages: Australian's At War In Viet Nam, 1999.
Author, In Good Company: One Man's War In Vietnam, 1998.
Author, Delta Four: Australian Riflemen in Vietnam, 1995.
Author, Vietnam Fragments : an oral history of Australians at war, 1992.
Author, After The Blood Cools: The warrior's dilemma, 2022.
Co-Author, With Healing Hands - The untold story of Australian civilian surgical teams

in Vietnam, 2009.

Co-Author, The Men Who Persevered, 2005.
Co-Author, Viet Nam Shots, 2002.
Co-Author, All Guts and No Glory, 2000.
Contributor, Our Readers love Vietnam Veterans' Stories, Vietnam Veterans'

Federation of Australia, 2021.
Fiction
Author, Dancing in the Daintree, 2020.
Returned and Services League of Australia
President, Kiama-Jamberoo Sub-Branch, current.
Former Vice-President, Kiama-Jamberoo Sub-Branch.
Member for many years and Life Member.
Military History
Tour Leader and Historian, Mat McLachlan Battlefield Tours.
Community
Member, Kiama and District Business Chamber, current.
Former Member, Kiama and Hoi An Committee, Sister Cities Australia.
Former Member, The National Servicemen's Association of Australia.
Chairman, NSW Branch Officer Training Unit Association.
Former President, Golden Oldies Rugby Team.
Former Rower, Newport Surf Lifesaving Club.
Former Player, St Ives Sub-District Rugby Club.
Awards and Recognition include:
Military Cross, 1972.
Australian Active Service Medal 1945-1975 with clasp (Vietnam), 1998.
Vietnam Medal.
Mrs Mary Patricia McKENDRICK
For service to primary education.
John Colet School, Belrose
Primary Mistress, 2010-2017.
Headmistress, 2015-2016, and 1985-1993.
Deputy Headmistress, 2009-2015.
Teacher, 1985-2015
Member, School Board, since 2015, and 1984-1995.
Co-Founder, since 1983.
Mrs Joan Margaret RYAN
For service to the community through a range of organisations.
Manly Women's Bowling Club
President, 2017-2020.
Secretary.
Coach.
Umpire.
Match Committee.
Member, since 2003.
Life Member, 2012.
Club Person of the Year, 2016.
Manly Men's Bowling Club
New South Wales Netball Association
Coach.
Umpire.
Volunteer, 45 Years.
Life Member, 1997.
Marist College Eastwood
Volunteer, Assistant Secretary.
Organiser, Book Hire.
Volunteer, Canteen Duty.
Assistant Swimming Coach.
Bus Driver
Czech Republic Team, Sydney Olympics, 2000.
St Michaels Catholic Church, Elderly people.
Golden Oldies, 2000-2005.
Manly Rugby Club Boys, 2000-2005.
Community Service
Member, Volunteer, Manly Diggers Swimming Club, 1988.
President, Manly Diggers Swimming Club, 1998-2000.
Translator, Malaysian restaurant menu.
Volunteer, St Michaels Church Meadowbank.
Mrs Robyn Margaret TWIGG, Balgowlah
For service to the community through a range of organisations.
Cancer Council NSW
Participant, Hornsby Relay for Life 100km Walk, 2004-2019. 24 hour walker, most

individual laps, highest individual fund raiser.

Committee Member, current.
Volunteer, current.
Community
Volunteer, Daughterly Care, current.
Volunteer Carer, Mentor and Supporter for vulnerable members of the community, over 36 years.
Volunteer, Meals on Wheels, 1995-2013.
Supporter, Effort TZ Orphanage, Arusha, Tanzania, 2008-2013 and Supporter, current.
Volunteer, Handicapped Toy Library, 1986-2000.
Assistant Cub Scout Leader, 1st Pymble Cubs and Scouts, 1995-2005.
Awards and Recognition include:
Recipient, New South Wales Volunteer Award for Service, Handicapped Toy Library.
Recipient, 10 Years of Service Certificate/Award, Scouts New South Wales.
Mr John Desmond WARD, Elanora Heights
For service to the community through a range of organisations.
Narrabeen-Pittwater Branch of the Australian Labor Party
President, since 1997.
Honorary Treasurer, 1987-1996.
Elanora Community Centre
Honorary Treasurer, 1999-2019.
Honorary Secretary, 1989-1999.
Elanora Park Tennis Club
President, 1980.
Honorary Treasurer, 1977-1979, 1981.
Member, 1975-1984.
Royal Life Saving Society of Australia
Member, 1960-2018.
Examiner, 1960-2018.
Founder, Aquatic Club, 1962.
Education
Former Teacher, New South Wales Department of Education.
Life Member, Sydney North Secondary Schools Sports Association.
Life Member, Manly-Warringah Teachers Association.
Life Member, New South Wales Teachers Federation.
Sport
Former Director, Sydney Academy of Sport.
President, Sydney North Secondary School Sports Association, 1991-1999.
Volunteer, Sydney Olympic Games, 1998-2000.
Secretary, Parramatta District Men's Basketball Association, 1966-1972.
State Referee, Sydney basketball Referees Association, 1965-1972.
Umpire, Chequers Netball Club, 1965-1988.
Referee, New South Wales Rugby League, 1966.
Community
Honorary Treasurer, Pittwater Sub-Branch, Returned and Services League of
Australia, 2015-2020.
President, 2nd Narrabeen Scout Group 1973-1977.
Member, Manly-Warringah Environmental Education Association, 1981-1983.
Vice-President, Aboriginal Education Council (NSW) Inc, 1992-2000.
Mrs Pamela Kay WARD, Elanora Heights
For service to the community through a range of organisations.
Australian Labor Party
Secretary, Pittwater-Narrabeen Branch, since 1988.
Secretary, Mackellar Federal Electorate Council, since 2013.
Member, Finance Committee, 2008-2016.
Member, Administrative Committee, since 2012.
Recipient, Mckell Award, 2001.
Education
Former Teacher, New South Wales Department of Education.
Representative, Aboriginal Education Council, NSW Teachers Federation, 1992-1995.
Member, St Anthony's Terrey Hills Social Justice Group.
Advanced Skills Teacher, 1991-1993.
Life Membership, Manly-Warringah Teachers Association, 2017.
Aquatics
Examiner, Royal Life Saving Society Australia, 1968-1994.
Assessor, AUSTSWIM, 2012-2022.
Volunteer, Learn to Swim Program, 2005-2015.
Founder, Aquatic Club, 1962.
Sport
Pioneer Volunteer, Sydney Olympic Games, 1998-2000.
Volunteer, Adidas International Tennis Championships, 2000.
Secretary, Chequers Netball Club, 1982-1988.
Member, Elanora Tennis Club, 1975-2000.
Community
Associate member, Pittwater RSL Sub Branch, 2018-2022.
Vice-President, Aboriginal Education Council, 1995-2000.
Committee Member, Elanora Heights Girl Guides, 1982-1986.
Excellence for Contribution, National Aborigines and Torres Strait Islander Week, 1992.
Pam Ward joined the ALP in 1986, and within 18 months became the Secretary of the Narrabeen-Pittwater Branch and Secretary of Pittwater SEC, positions she holds to this day. Pam has also added Secretary of the Mackellar FEC to her party responsibilities for the past three years and prior to that was the FEC Fundraising Officer. She has also served as Campaign Manager or Assistant Campaign Manager for State and Federal elections over a 20-year period.
Pam has been a Delegate to State ALP Conference for many years and a Delegate to ALP National Conference in 2015. In 2001 she received a McKell Award in recognition of her meritorious service to the ALP.
Pam is an active member of the NSW Teachers Federation and a member of the Social Justice Group at her local Catholic Church.
Pam is a trained Teacher Librarian and holds a Graduate Diploma in Health Education from the University of Sydney. Since retirement from her role as classroom teacher and Acting Deputy Principal at Stewart House, Pam has been employed by the Department of Education as the Teacher-in-Charge of the Northern Beaches Schools in the School Swimming and Water Safety Program. Pam has been serving her community in this way for the past 20 years.
In addition to her role on the NSW Administrative Committee, Pam served on the ALP Finance Committee between 2008 and 2016.
Pam was also the lady behind Clean Up Australia Day 2021 at Bilarong Reserve Narrabeen.
AUSTRALIAN FIRE SERVICE MEDAL (AFSM)
Mr Warren James CREE OAM, Belrose
Mr Warren Cree has a longstanding personal and family commitment to the New South Wales Rural Fire Service (RFS), with his father, mother, brother, wife and children all involved as RFS volunteers and salaried officers.
He followed his father into the Davidson Brigade as soon as he was able at age 16 in 1986. By the age of 18, he was as an active, experienced member and elected Deputy Captain. He served in that capacity for 12 years, attending many fires and other incidents, leading training and engaging the community. He was elected as Senior Deputy Captain in 2000 and as Captain in 2002. Re-elected to that position for five terms until 2007, he was elected as a Deputy Group Captain and then Group Captain in 2020, a position he still holds.
He has earned the trust and gratitude of volunteers and staff in the Northern Beaches District and further afield through his operational, training, community engagement and administrative efforts. He has managed many local fires as Incident Controller, Operations Officer, and Logistics Leader and most recently on multiple deployments during Bushfires 2019-20. He also has been selected as a Strike Team Leader on interstate deployment to Western Australia.
He contributes countless hours to district brigade meetings, Cadets and District training initiatives. An advanced structure firefighting and breathing apparatus principal trainer, he is also particularly committed to volunteer welfare, helping many individuals through difficult times, including after the Black Summer fires. A member of the Northern Beaches District Advisory Committee, Senior Management Team, Bush Fire Management Committee and the Area Command Engagement Group, he promotes the New South Wales RFS at every opportunity and makes himself available for any member around the clock.
Mr Cree's commitment to the RFS, the Northern Beaches District, his fellow volunteers and the community is of the highest standard and makes him a worthy recipient of the Australian Fire Service Medal.
Ms Belinda Gai HOOKER, Beacon Hill

Ms Belinda Hooker was appointed to Fire and Rescue New South Wales (FRNSW) in January 1996 and has made a significant and distinguished career benefiting FRNSW. Her generous nature, passion for decency, equality and dedication directly impact and influences firefighters capabilities and provides a demonstrated example for those who wish to pursue a career within FRNSW.
She has progressed through the FRNSW ranks from recruit to Inspector and has been an example to all firefighters. She is aware of the significance of her achievements and is generous in providing leadership to other female firefighters, both through her direct achievements, and as a mentor to others seeking assistance. She values diversity and inclusion and leads by example within this field. Her leadership and behaviours acknowledge varied views to provide a more beneficial outcome to FRNSW in representing the community that it serves. She believes everyone has the right to feel included in the workplace, and through her involvement in the Women's Inclusive Network and FRNSW Sports Association, her aim is always to be proactive to improve organisational culture.
She has had a diversified career filling several key operational and non-operational roles during her extensive service to the community of New South Wales. She has spent time in education and training, operational safety, capability as a research officer and building fire safety where she was the team leader and research project officer for the cladding task force, enhancing FRNSW building fire safety for the New South Wales Government.
She is an engaged professional with an ability to provide strategic direction in the implementation and delivery of professional development programs in the FRNSW Education and Training Directorate. With exemplified leadership over 70 Officers and 75 Senior Officers have been successful in reaching their potential. She maintains her operational capability and continues to contribute to frontline duties including leading Strike Teams during Bushfires 2019-20 and floods, as a multi operational liaison and strategic safety officer, and during Urban Search and Rescue humanitarian disaster response exercises and incidents.
With a passion and significant experience in Incident Management training, Ms Hooker strives to enhance stakeholder engagement in the Emergency Management Sector and creates multi-agency training opportunities.
AMBULANCE SERVICE MEDAL (ASM)
Dr Gary TALL, Terrey Hills
Dr Gary Tall began his retrieval medicine career in 1993 with the Westpac Lifesaver Rescue Helicopter before joining what later became the New South Wales Ambulance (NSWA) retrieval service at St George Hospital. He became the Medical Director of the Sydney Aeromedical Retrieval Service in 1997 and transitioned the service to the current model of New South Wales Aeromedical and the Aeromedical Control Centre, becoming the Director of Aeromedical Clinical Operations in 2005.
He continues to work as a Senior Staff Specialist with NSWA Aeromedical Retrieval teams, in the Emergency Department and as a Senior State Retrieval Consultant with clinical oversight of critically unwell or injured patients in New South Wales. He has played a critical role in State Emergency Management as the State Medical Controller since 2011 and Acting State Health Services Functional Areas Coordinator since 2018, overseeing state wide responses during the COVID-19 Pandemic, New South Wales Bushfires and New South Wales Flood Emergencies.
Whilst retaining a significant managerial role in NSWA for 18 years, he has maintained active clinical practice in both Emergency Medicine and medical retrieval operations operating across helicopter, road and fixed wing platforms since 1993.
Whilst maintaining a contemporary practical knowledge and technical capability in both Emergency Medicine and Pre-Hospital and Retrieval Medicine Retrieval Medicine (PHARM). His experience and knowledge of both PHARM and Disaster Medicine remains at the leading edge of the PHARM sub-speciality on a state, national and international basis. This has positively reflected on NSWA over the past two decades.
As with many NSWA senior staff he has been recalled to duty at all times and circumstances due to the critical care nature of his work and his expertise. Dr Tall is always available for consultation and advice and is untiring in his support of the New South Wales community and health system in times of need.
Worth noting:
MEDAL (OAM) OF THE ORDER OF AUSTRALIA IN THE GENERAL DIVISION
Mr David PESCUD, NSW
For service to people with disability.
Making Waves Foundation (formerly Sailors with disAbilities).
• Vice-President, until 2020.
• Chief Executive Officer, 1994-2021.
• Founder, 1994.
Other
• Board Member, Friends of Sydney Harbour, since 2014.
• Founding Board Member, Code Read Dyslexia Network Australia, 2016-2018.
• Past Member, The Collective NSW.
• Member, Cruising Yacht Club of Australia.
• Member, Royal Australian Naval Sailing Association.
Sailing Achievements
• Creator, inclusive sailing programs for people with disability, enabling young people and children the opportunity to sail the east coast of Australia.
• Sailed from Sydney to Sydney via Lord Howe Island (World Record holder), 2015.
• Circumnavigated Australia, non-stop and unassisted, with a crew of sailors with disabilities (World Record holder), 2003.
• Skipper, 21 Sydney to Hobarts, and more than 12 Sydney to Gold Coast races.
• Involved with Hamilton Race Weeks; Cruising Yacht Club of Australia Winter Series races; Short Ocean Pointscore; and National Championships.
Awards and Recognition include:
• NSW Lifetime Achievement Award, Australian Sailing, 2022.
• Distinguished Long Service Award, Sports NSW, 2016.
• National Pride of Australia Inspiration Medal, 2014.
• NSW National Disability Service Innovation Award, 2013.
• NSW Maritime Medal, 2006.
• Cook Community and Sports Award, 2003.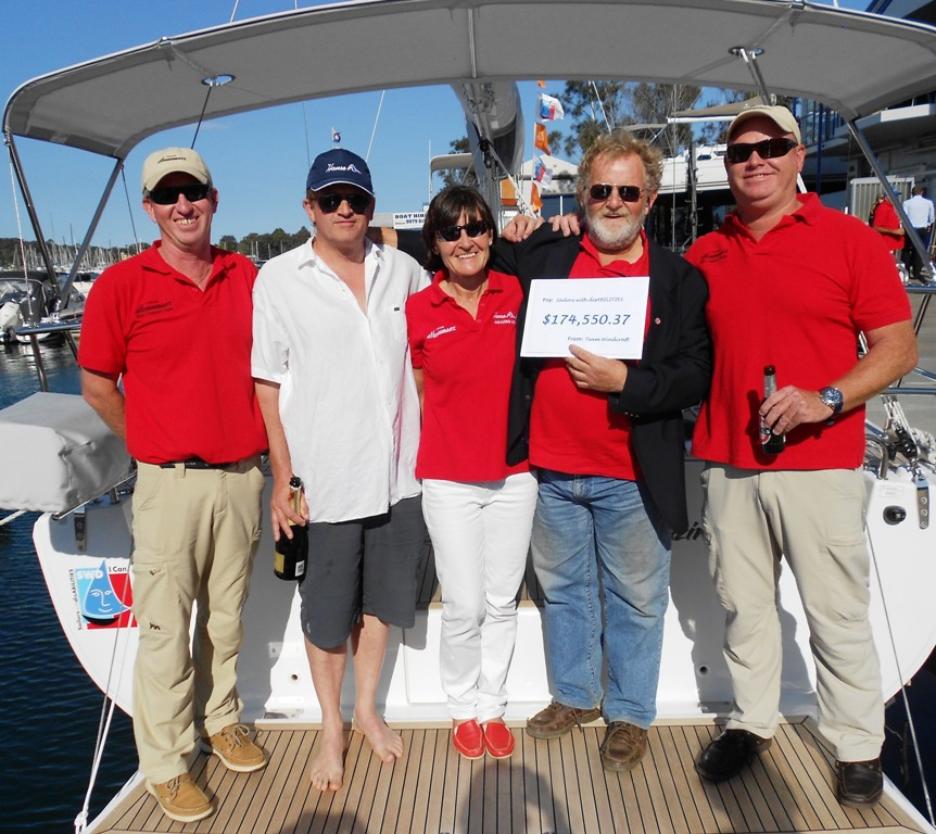 Left to right: Allan Bridge (Windcraft GM) John Scott - (raffle winner) Mary Bickley (Windcraft Bayview), David Pescud (SWD Founder) and Peter Hrones (Windcraft MD) at Bayview in December 2014 -
Windcraft's MD Peter Hrones said he "Felt like Father Christmas" as he handed over the keys of a brand new Hanse 345 yacht to raffle winner John Scott and a cheque for $174,550.37 to David Pescud the founder of Sailors with disAbilities (SWD). This is the second time the Windcraft team have raffled a yacht in support of a much loved Australian charity. Three years ago it was Bear Cottage who benefitted from their support and this year Windcraft chose SWD.
Council's Australia Day 2023 Awards
On behalf of everyone on the northern beaches, council congratulates their Australia Day Award winners and thank them for the outstanding contributions they have made to the community.
The awards were presented at a ceremony presided over by Northern Beaches Mayor Michael Regan at Glen Street Theatre on Wednesday 25 January 2023.
Australia Day 2023 Award winners
Citizen of the Year
Rachael Jackson, Belrose
Rachael has assisted many community groups and managed projects and services for individuals in need. As a member of the Frenchs Forest Lions Club, she has been a key player in organising the Christmas Carols at Lionel Watts Oval for the last six years which raises much-needed funds for local charities. She also instigated the restoration of the bell tower for Dee Why Public School centenary. As a single mum of three children, she is an advocate for those with disabilities, victims of domestic violence and homeless. This passion has led her to raise funds for the renovations at Dalwood Spilstead Centre in Seaforth which provides vital services for vulnerable families.
Senior Citizen of the Year
Judy Elias, Narrabeen
For the last 10 years, Judy has been instrumental in Computerpals for Seniors – a not-for-profit organisation which assists seniors to become proficient with technology. She innovated BriteSparx – an intergenerational program which partners secondary school students with senior learners to train in digital services and Chatterbox – a social program which creates opportunities for group outings. Judy is also a volunteer host on Northern Beaches Radio hosting a technology educations segment.
Young Citizen of the Year
Noah Smith, Bilgola Plateau
Noah is already has a repertoire of achievements to his name. His passion is youth and indigenous issues. For the second year he was selected to be the NSW Youth Parliament Member for Pittwater as the Youth Minister for Aboriginal Affairs. His advocacy work has resulted in being awarded the Youth Parliamentarian of the Year. Also, a member of Bilgola Surf Life Saving Club he has been awarded the Chairman's Award for his contribution to the Nippers program. He is also a member of the Northern Beaches Council's Youth Advisory Group and is on the Student Representative Council at Barrenjoey High School.
Sportsperson of the Year
Evie Saunders, Freshwater
Evie has been sailing since the age of eight for Manly Yacht Club and in recent years became a coach there. Her passion and drive has seen her compete in the Youth World Championships, the Open Women's World Championships various State Championships and she has qualified for the Youth Australian Sailing Team to compete in the Youth World Championships, winning silver. She was the only Australian medallist and the first female to podium at this event in 14 years. Last year she was awarded the Australian and NSW Youth Sailor of the Year. Her current world ranking is 149 in the open category. Her goal is to compete in the Olympics and she is well on her way.
Community Event of the Year
Night at the Barracks
Night at the Barracks presented by Second Sunday was a concert series held over a month (9 Sept – 9 October) at the iconic North Head seeing 19,000 people attend. The event was created during the pandemic by locals, for locals to benefit the wider community with the aim to reinvigorate Manly and the arts industry. Popular Australian artist Jess Mauboy, Symphony Under the Stars, and a performance by Sydney Dance Company were just some of the featured performances.
Outstanding Community Service Awards
There were 10 deserving community members which received an Outstanding Community Service Award.
Andrew Ward, Collaroy Plateau
Founder of Head Above Water an annual 24-hour swim event which raises money for mental illness.
Barbara Harrison, Collaroy
A volunteer for Scouts for 32 years.
Craig Perry, Mona Vale
A dedicated surf lifesaver with Warriewood Surf Life Saving Club for the past 10 years.
Luke Peterson, North Narrabeen
School Captain and member of Northern Beaches Council's Youth Advisory Group.
Mary Jones, Newport
A long time fundraised and advocate of Northern Beaches Prostate Cancer Support Group, and a volunteer with Girl Guides and the American Field Service for 40 years.
Mary Jones
Maureen Eves, Mosman
For 20 years she has supported the Northern Beaches Vision Impaired Group organising activities for them.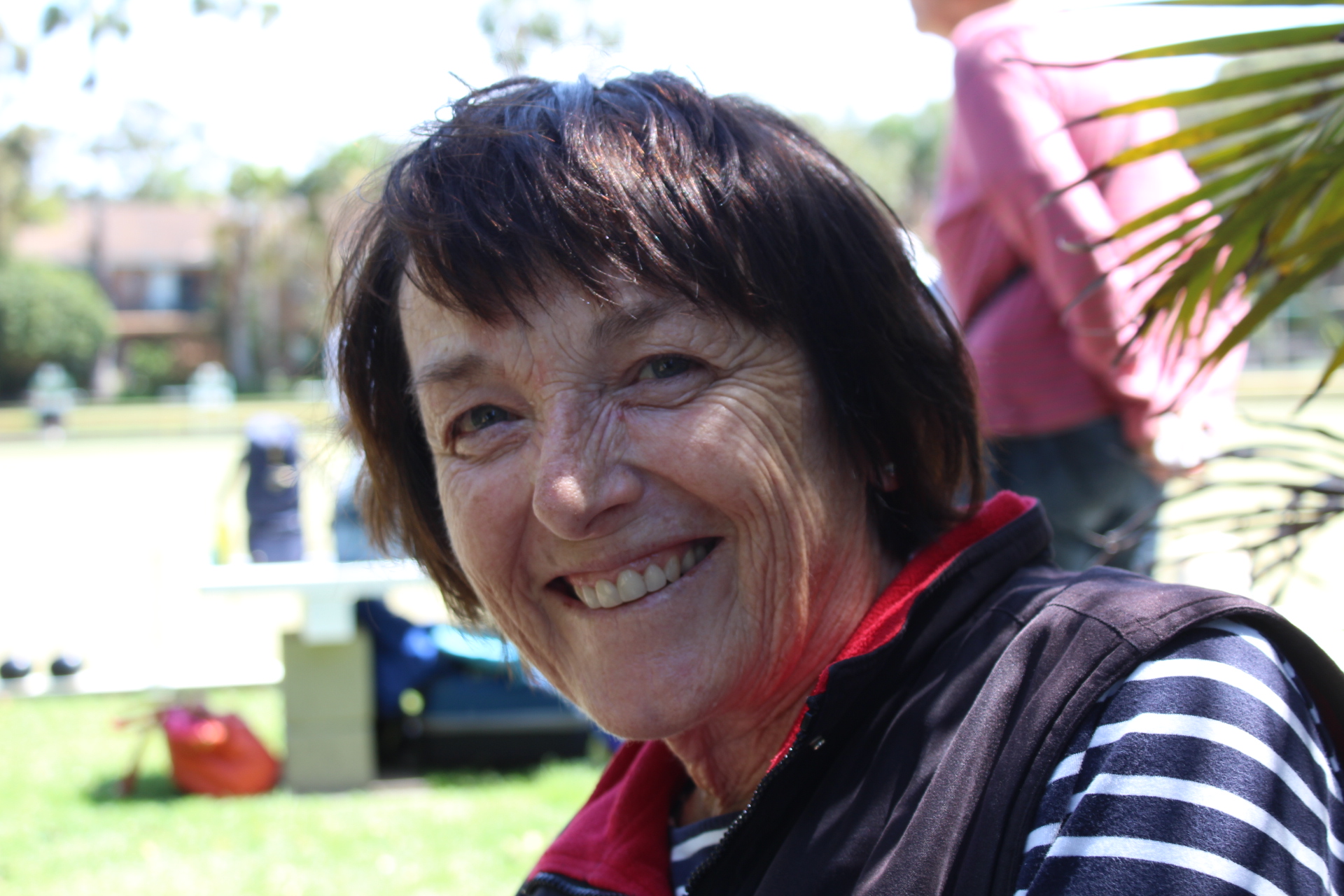 Maureen Eves
Nagi Maehashi, Mona Vale
Founder of RecipeTin Meals, a food charity which donates hundreds of healthy, delicious meals for delivery to vulnerable people in the Northern Beaches community every day.
Penny Philpott, Frenchs Forest
A passionate advocate for the arts across the Northern Beaches as Co-founder of the Forest Youth Theatre, instrumental in establishing Glen Street Theatre, and Vice-President of the Friends of the Manly Art Gallery and Museum.
Sarah Morris, Warriewood
​​​​​​​Co-founder of Acts of Kindness, a community outreach program that collects unsold food and donated goods from local businesses and individuals, to provide food hampers for vulnerable people and families.
Tony Philps, Narrabeen
​​​​​​​A volunteer for various community groups for the past 20 years including Forest Community Men's Shed and Lion's Club Belrose.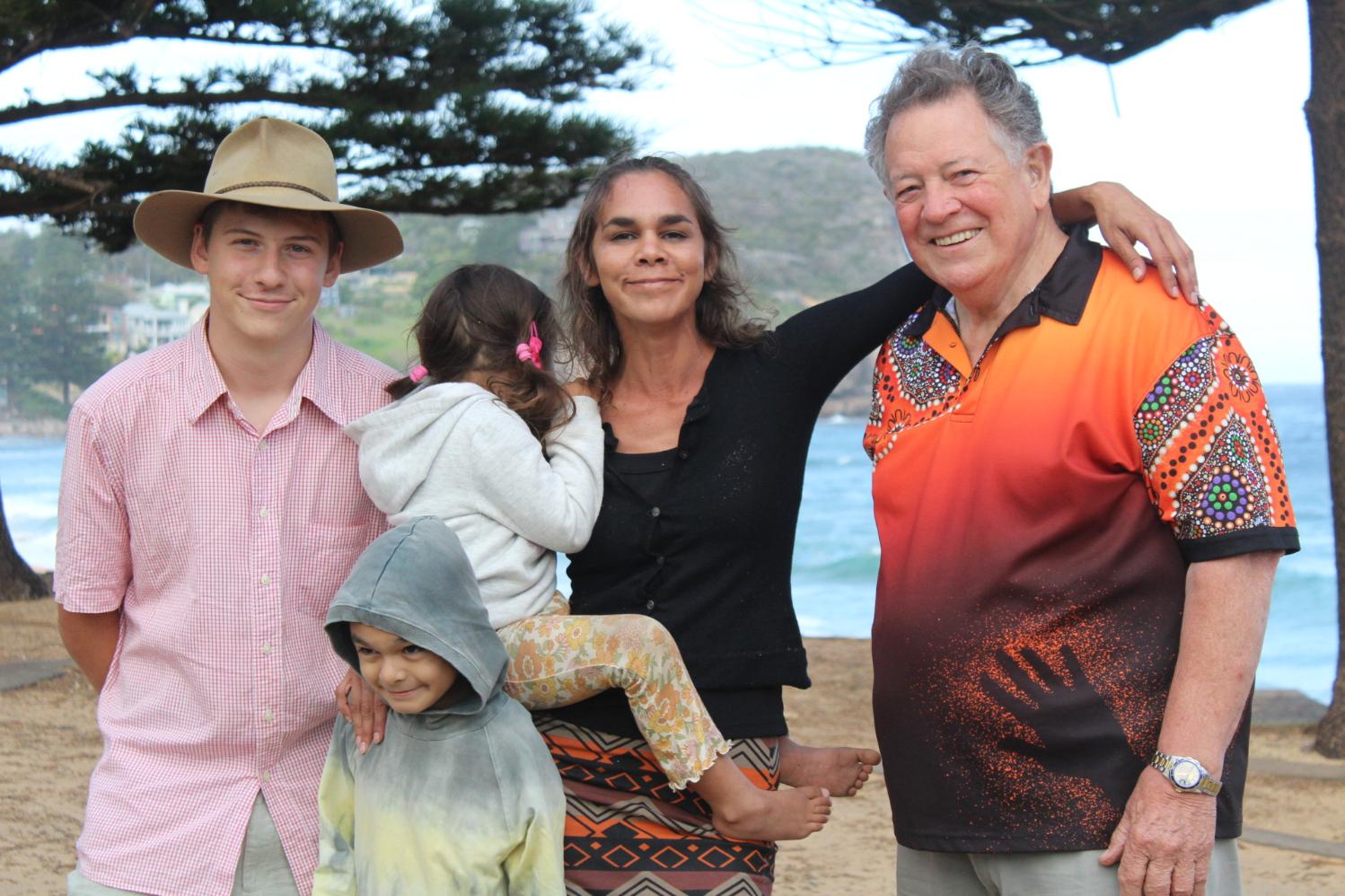 Our Resident Indigenous Guides - Left to right: Young Ciitzen of the Year 2023
Noah Smith
, Corey Kirk and her youngsters, Uncle Neil Evers.
Photo: A J Guesdon.