Artist Of The Month Becomes Art News
During the past 12 years we have run an Artist of the Month page to celebrate and showcase local Artists in all mediums; Painting, Sculpture, Music, Literature, Photography, Theatre and more.
There was always more demand then could be fulfilled by showcasing just one Artist and running all others in the Events page or through Snippets in the Community News or Profile of the Week pages, or as stand alone Features.
Although these options will still remain open to local Creatives, an Art News page dedicated to helping Artists reach their local audience, and including everyone, launches this Spring so you can not only catch-up on what's been happening but also see what's coming up locally or further afield, especially when a local Artist is part of that Event.
If you have something coming up, something to say, or something to showcase, we want to hear from you. What you need to include in your 'package' to make it easier for us to help you:
A biography of yourself: include what you have done before
A portrait (photograph) of yourself
What the Event is: and

when

and

where

it will happen
A sample/s of your work
Once you have those four 'needs' ready, email them to pittwateronlinenews@live.com.au with the heading 'Art News'.
Remember it's always a great idea to give people advance notice of your Exhibition or Event, so once you have firm dates, get in contact.
Pittwater Artists Trail November 5-6 2022 Open Studios Weekend
The Pittwater Artist Trail is an alliance of artists who collectively open their studios to the public. The 2022 trail marks our 12th season.
November 2022 Trail and Map: https://www.pittwaterartiststrail.com/map-links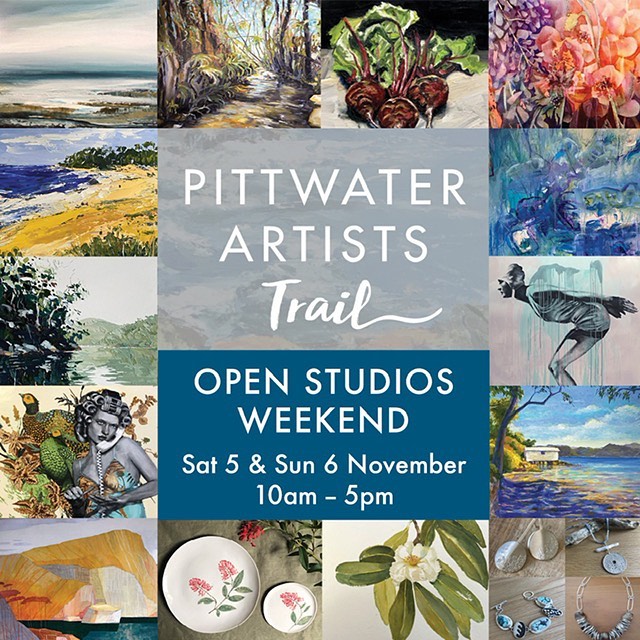 Memories At
DiversARTy Studio And Gallery For Dreams2Live4
5/161 South Creek Road, Cromer (opposite Cromer Campus)
For those who are not in Sydney, the art auction will be live from 4 – 31 October and can be viewed at https://aus.givergy.com/Dreams2Live4ArtExhibition2022
You can help make dreams come true for Australian adults with advanced cancer by bidding on the fabulous array of artwork in the artwork auction and by buying tickets in the Dreams2Live4 Raffle.
Please have a look at the amazing work of the incredible community of artists who have generously given their time and immense creative talent to help raise critical funds for Dreams2Live4.
Every raffle ticket purchased and 50% of each piece of artwork sold will be donated to Dreams2Live4. Funds raised from the auction and the raffle will help make dreams come true for adults aged 17 years+ with metastatic cancer, relapsed lymphoma, relapsed leukaemia and high-grade brain tumours. Each dream granted creates a magical memory for the Dreamer and their support network.
Thank you to diversARTy Studio and Gallery and to all of the amazingly talented and generous artists involved.
Don't miss out on raffle tickets - Dreams2Live4's online raffle will close at 5:00pm on Monday 31 October 2022. It is open to Australian states only, excluding WA. Entries sold online will be included with raffle tickets physically sold at diversARTy studio and gallery throughout the month of October. The winners will be drawn and announced on 31 October and published on Dreams2Live4's website and contacted via phone and email.
You can help make dreams come true by visiting the Dreams2Live4 website and donating here.
How to buy a raffle ticket:
1. Use the top-left menu to view Dreams2Live4 Raffle.
2. To buy ticket(s), simply choose the number of tickets you would like to buy from the drop down box.
3. Register your details and then 'Confirm Your Purchase'.
4. If you have any questions please refer to the FAQs section.
How to bid on artwork and donate to help make a dream come true:
The online artwork auction will close at 5:00pm on Monday 31 October 2022.
Please note that if you are a buyer bidding from outside of the Sydney metropolitan area, shipping costs (including packaging, freight, tracking and insurance) will be incurred at the buyers expense in addition to the purchase price, to allow us to safely transport your artwork. Artwork can be collected by arrangement from the gallery at the close of the auction.
For further information about auction items or delivery please contact tammie@dreams2live4.org.au.
1. Use the top-left menu to View Artwork Auction, access My Bids or Make a Donation.
2. To bid, select an item, enter your amount and then click 'Place Bid'. Use the 'Max Bid' function and the system will bid for you up to the amount entered.
3. Register your details and then 'Confirm Your Bid'.
4. Receive outbid text notifications and bid again!
If you have any questions please refer to the FAQs section.
How to view the art in person:
All artwork can be viewed at diversARTy studio and gallery, located at 5/161 South Creek Road, Cromer from 4 - 31 October.
Gallery opening hours: Tuesday - Friday 9am – 4pm, Saturday 9am – 1pm
From Mackerel. ARTIST – Deborah Burns. MEASUREMENTS; 51CM X 76CM. DESCRIPTION; Acrylic on Canvas

Swift Parrots Sighted At Newport Spring Festival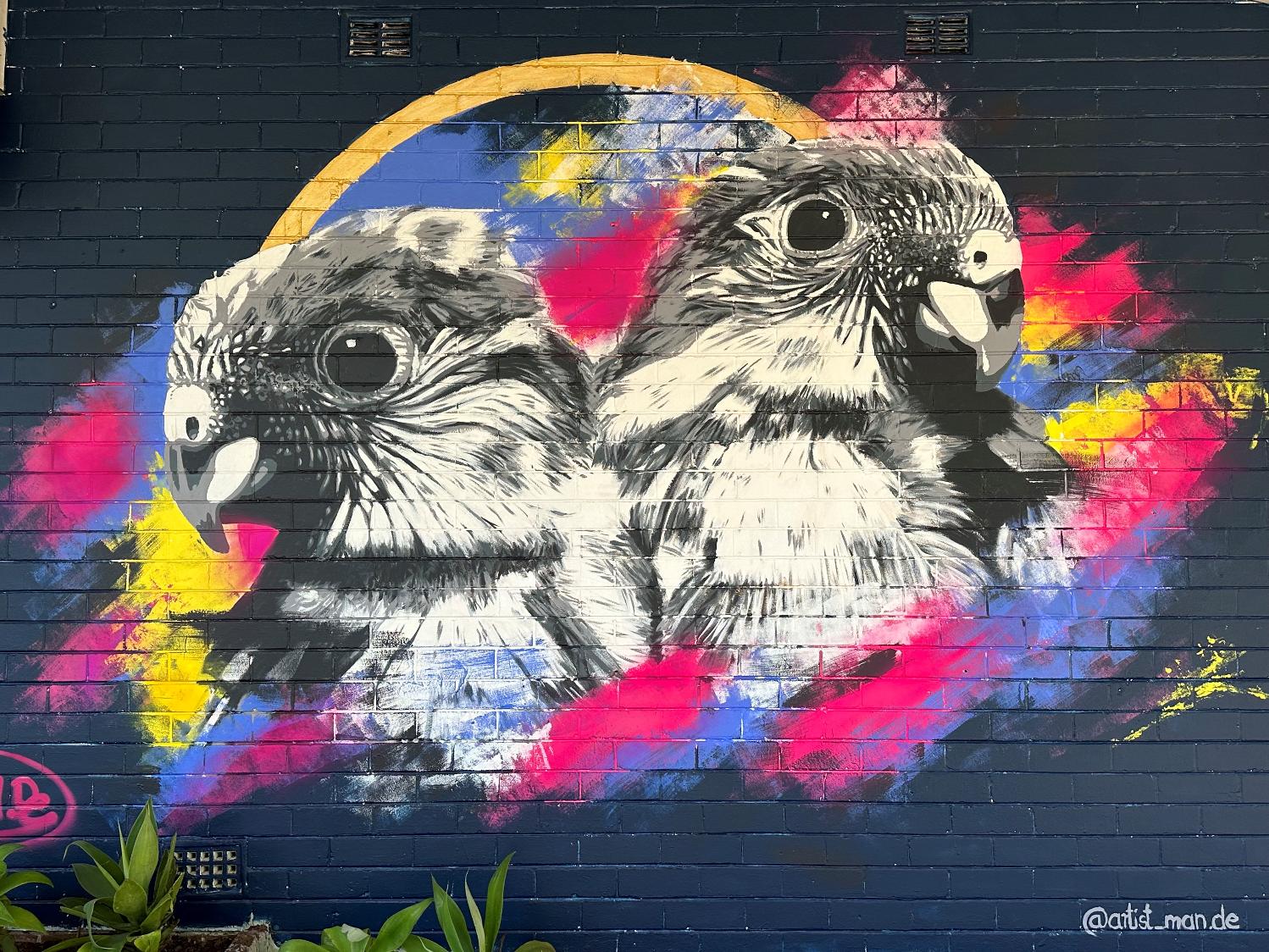 A new mural featuring endangered Swift Parrots formed a beautiful centrepiece at the bustling Newport Spring Celebrations on Robertson Road yesterday.
The mural, painted over two days this week by Katoomba based street artist Mandy Schoene-Salter, who works under the name Man.de, graces the wall of the building on the corner of Barrenjoey Road and Robertson Road.
As she put the final touches to the artwork yesterday afternoon, Man.de said her murals were inspired by native flora and fauna.
"I paint and draw the ones that are on the endangered species list to draw attention to them," she told Pittwater Online News.
Once she had been selected by Northern Beaches Council to create the work, she had gone onto the council website to research wildlife in the area and settled on the Swift Parrot.
The website reveals the colourful bird lives predominantly in Tasmania but visits the Northern Beaches during winter, where it feeds on flowering eucalypts and lerps.
Man.de said she works from photographs but in her own distinctive style, painting the central image in black and white surrounded by splashes of colour as contrast - although she paints wildflowers in colour only.
With walls as her canvas, she uses house paints with some spray paints for "pops of colour".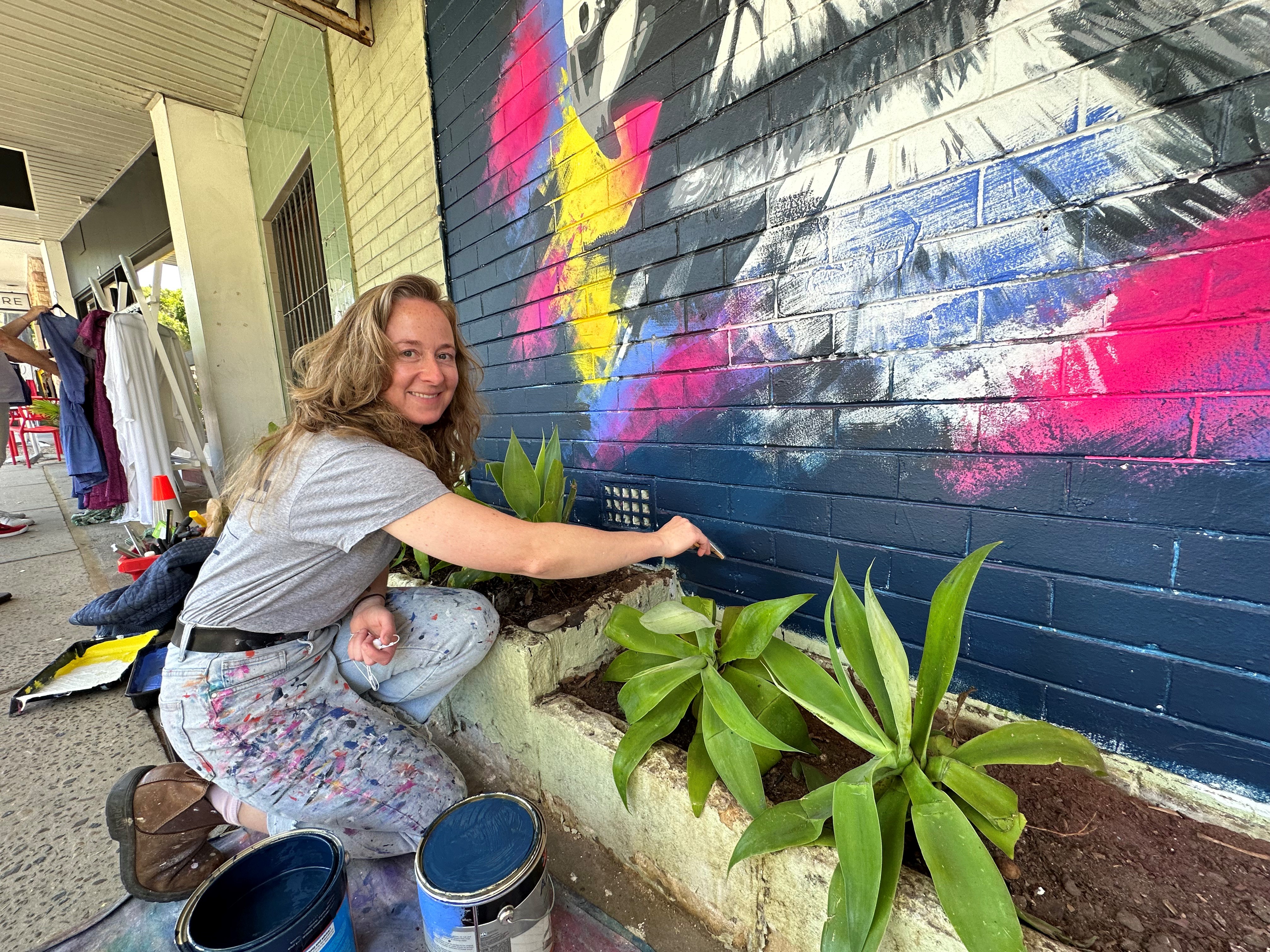 She's philosophical about the temporary nature of the work, which is likely to disappear when an approved development with shop-top housing goes ahead.
"I don't mind because street art has an ephemeral feel to it," she said.
"Once it's painted it's up to the community what happens to it."
The Northern Beaches have played a significant part in Man.de's career. Although she began with introductory painting courses at TAFE, she's largely self-taught and her first public works were "paste ups" outside Manly Art Gallery and Museum.
Then in 2015, at the Avalon Art Carnival, she contributed more paste ups.
"They had an an artist from New York who did a workshop and we had to activate Avalon," she said.
"That sparked it all for me," she said.
Man.de commented on the friendliness of Newport residents over the two days that she was painting. That congenial atmosphere was apparent throughout Newport on the day of the festival.
Robertson Road was closed from 7am to 7pm, with residents and visitors crowding into shops, many with produce flowing onto the street, some offering food and wine tastings.
Many people sat outside cafes and on seating in the street, listening to live music and enjoying the sun, while kids watched a man with a giant wand spreading iridescent bubbles above the crowds.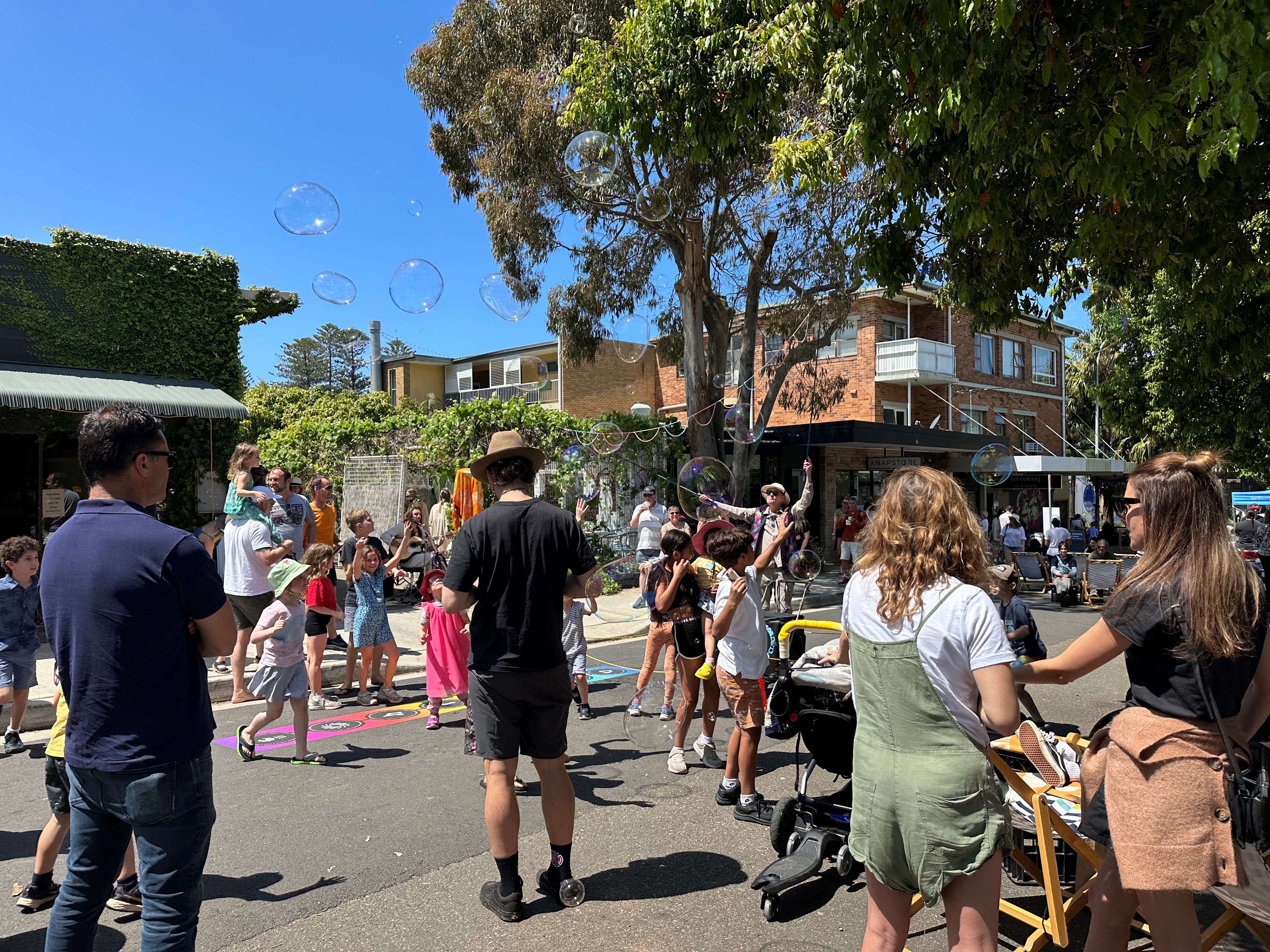 Council officers handed out free native plants, while Terrey Hills Aboriginal run nursery Bush to Beach was in the laneway selling endemic plants.
Shop owners told me they had been busy all day and the event had gone beyond their expectations.
Miranda Korzy, Pittwater Greens Councillor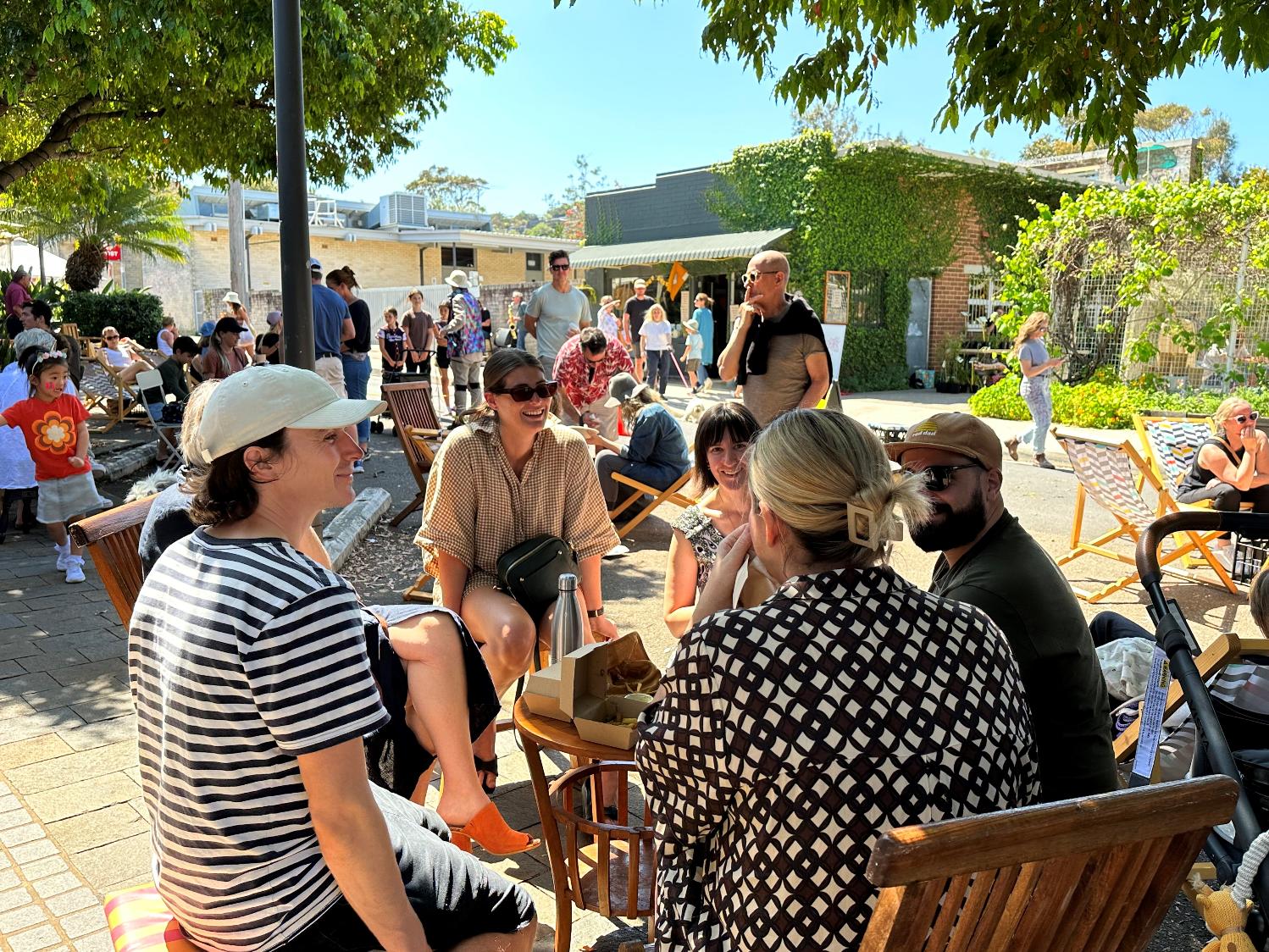 Photos this report: Miranda Korzy.
'Like Walking Into A Crystal': Our First Preview Of The Art Gallery Of NSW's New Sydney Modern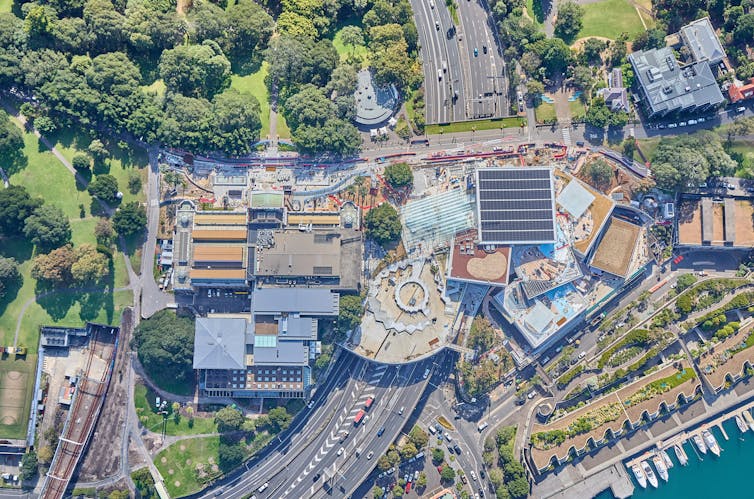 Joanna Mendelssohn
,
The University of Melbourne
In 1972, when the Art Gallery of New South Wales opened its first modern building, it was rightly praised for its innovative design.
Architect Andrew Andersons incorporated the latest aspects of museum architecture. The egg crate ceilings were designed to reduce noise for people walking on its marble floors. There were moveable screens that looked like walls and adjustable light levels for fragile art.
But where the building faced Sydney Harbour, Andersons placed a giant window. The intrusion of reality into art connected visitors to the world outside.
It was revolutionary for the time, a marked contrast to the giant granite box of the National Gallery of Victoria, opening in 1968. The Melbourne building had followed the standard model of museum design of eliminating windows to maximise hanging space.
Just over 50 years later, the Sydney Modern expansion under architecture firm SANAA could be described as putting Andersons' approach on steroids. It will open in December but in recent weeks small groups of visitors have been given preview tours, while installation crews make the finishing touches.
A Gallery For Indigenous Art
The relationship of Sydney Modern to the older building echoes Andersons' uncompromising but sympathetic linking of his 1972 construction to the original Grand Courts designed by Walter Liberty Vernon.
The new link between the two buildings includes an installation honouring the history of Country by Wiradjuri and Kamilaroi artist Jonathan Jones.
This new building is very aware of its physical and spiritual location. It is dominated by the light from its soaring glass walls. The ground floor entrance feels like walking into a crystal.
In a nod to Andersons' first glorious window, the Yiribana gallery of Indigenous art has a window facing the harbour so visitors can see where the Gadigal ancestors first witnessed the arrival of convicts in 1788.
The relocation of Yiribana from the basement of the older building is a physical manifestation of the significant shift in Australia's understanding of its culture.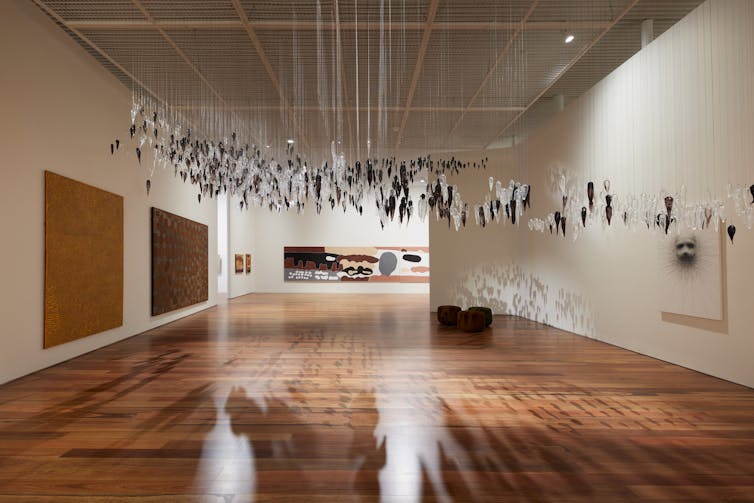 In 1958, the gallery's deputy director Tony Tuckson facilitated collector and surgeon Stuart Scougall's gift of Tiwi Pukumani grave posts. For the first time Indigenous work was shown as art and not anthropological artefact.
In 1972 there was a temporary exhibit of Yirrkala bark paintings and figures, but this was soon replaced with another temporary exhibition.
In late 1973, funding from the arts programs associated with the opening of the Sydney Opera House enabled a permanent installation of Melanesian art, another gift from Scougall. It was accompanied by what the trustees thought would be a temporary exhibition of Aboriginal art.
Tuckson died while the exhibition was being installed and it remained on view, in a dark little space at the bottom of the gallery's marble stairs, until about 1980.
In 1983, Djon Mundine curated a temporary exhibition of bark paintings and the following year was appointed as part-time curator, but there was little official interest in Aboriginal art by the gallery.
The big shift came in 1991 when Hetti Perkins curated another temporary exhibition, this time of previously little-known Aboriginal women artists.
Perkins' achievement was especially appreciated by Mollie Gowing, one of the volunteer guides.
Starting in 1992, Gowing collaborated with Perkins to privately fund the gallery's major collection of contemporary Indigenous art.
In 1994, on the initiative of then NSW Minister for the Arts Peter Collins, the gallery opened Yiribana, its first permanent dedicated exhibition space for Aboriginal and Torres Strait Islander art.
This basement had previously been the offices and working area for the public programs department and was not an especially sympathetic space for art. It was well over a decade before Indigenous art began to be integrated into other exhibits of Australian art.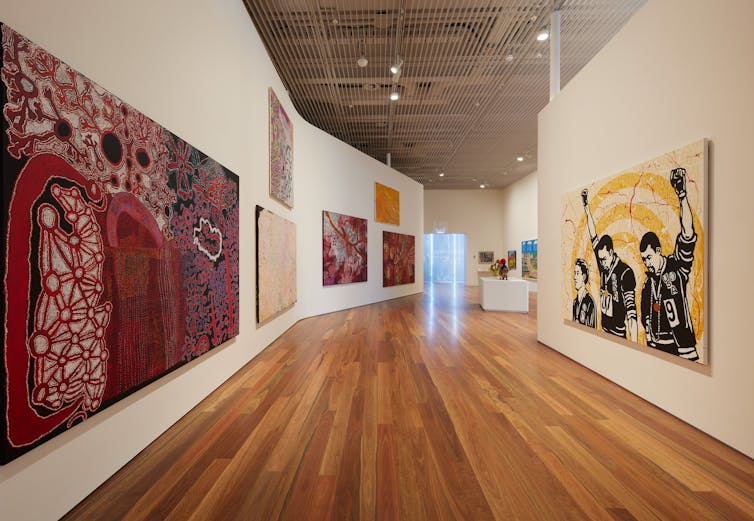 The relocation of Yiribana to Sydney Modern can be seen as the gallery's affirmation of the importance of Indigenous cultures to any understanding of what Australia may be.
Cultural Exchange
In 1972 when the newly opened gallery wanted to show its best art to the world, the main gallery was dominated by art from the United States. All eyes were drawn to Morris Louis' Ayin.
That same space now has work by Sol LeWitt in visual conversation with Emily Kame Kngwarreye and Gloria Tamerre Petyarre.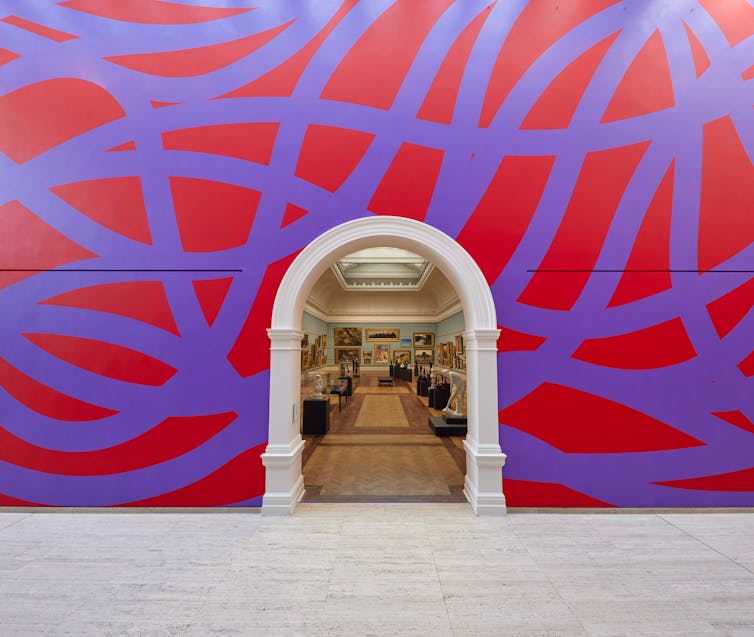 The integration of Australian art with art from the rest of the world is a reflection of historic reality. Last century was a time of mass travel and cultural exchange, when many national barriers were breached, especially in the arts.
Sydney Modern, combined with the reconfiguring of the 20th century exhibits in the older building, is a quiet repudiation of that cultural cringe which persists in seeing Australian culture as some kind of backwater.
Although most of Sydney Modern is filled with light, its most surprising space is buried in dark.
During the second world war, when the navy fleet needed to refuel at Garden Island, the Australian government secretly built a giant underground fuel storage tank, its true depth hidden below the water line.
Now a spiral staircase leads the visitor to the Tank, a magical space of oil-stained columns and echoing sounds. Right now it is empty, but within weeks the Argentine-Peruvian artist, Adrián Villar Rojas will begin to create a new work, The End of Imagination.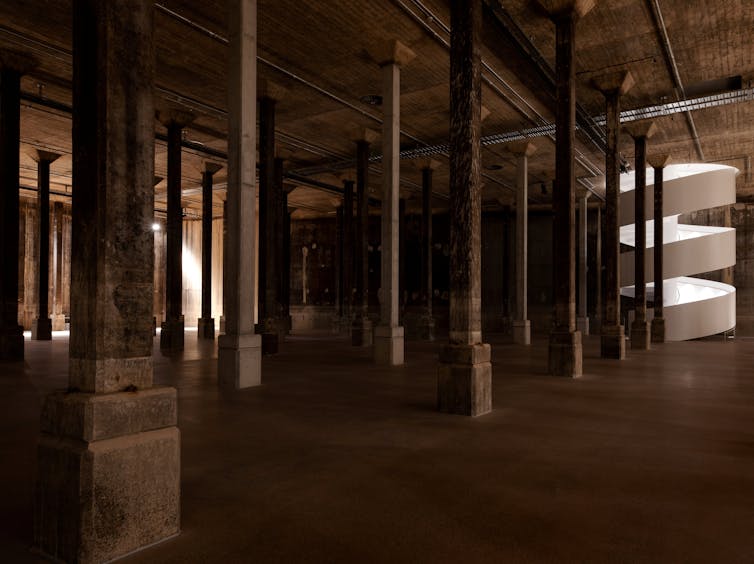 There are two meanings to the title. One suggests imagination is now dead. However, by being placed at the core of such an inspirational space it seems Rojas may be suggesting a culmination of imagination, a questioning of what imagination may be in these days of the Anthropocene.
The work is not yet made. As with the rest of the art that will fill this magical space, we will have to wait and see.

Joanna Mendelssohn, Honorary (Senior Fellow) School of Culture and Communication University of Melbourne. Editor in Chief, Design and Art of Australia Online, The University of Melbourne
This article is republished from The Conversation under a Creative Commons license. Read the original article.
Viewfinder: Photography From The 1970s To Now Opens At The National Library
Heading to or through Canberra over the next few months? This may be worth visiting.
Viewfinder: Photography from the 1970s to Now takes a unique look at the journey of Australian documentary photography, from black and white images to the vibrant high definition images of today.
The 125 images in this exhibition reveal a changing Australia. The lives of migrants, shearers, dancers, miners, gardeners, surfers and knitters are all uniquely captured by celebrated documentary photographers. The exhibition also includes winged angels at Mardi Gras, significant moments in the journey towards reconciliation and COVID protests.
Director-General of the National Library of Australia Dr Marie Louise Ayres FAHA said the exhibition was striking in depicting the lives of different communities.
'This exhibition is all about our communities. It captures significant moments of individuals and groups but also reveals the huge amount of change our society has undergone in the last 50 years. The National Library collects today what will be important tomorrow and this exhibition is a brilliant way for us to showcase the changing lives of all Australians.'
The exhibition includes works by dozens of photographers and the exhibition curator Matthew Jones looked at tens of thousands of images in the National Library's collection when preparing the exhibition and
accompanying book
.
'There are many everyday moments that can be captured with a camera but may not be significant enough to be accessioned into the collections of other libraries or galleries. The beauty of the Library's collections are that they are so wide-ranging, and I hope visitors enjoy viewing these more ephemeral moments.'
'I started working on this exhibition during lockdown and used Trove to research images. Preparing an exhibition in this way made me reflect on how the digital revolution has vastly increased our ability to visually document and see our world.'
Viewfinder: Photography from the 1970s to Now is exclusive to Canberra and opens at the National Library of Australia on Friday 16 September, running until Monday 13 March 2023. Entry is free.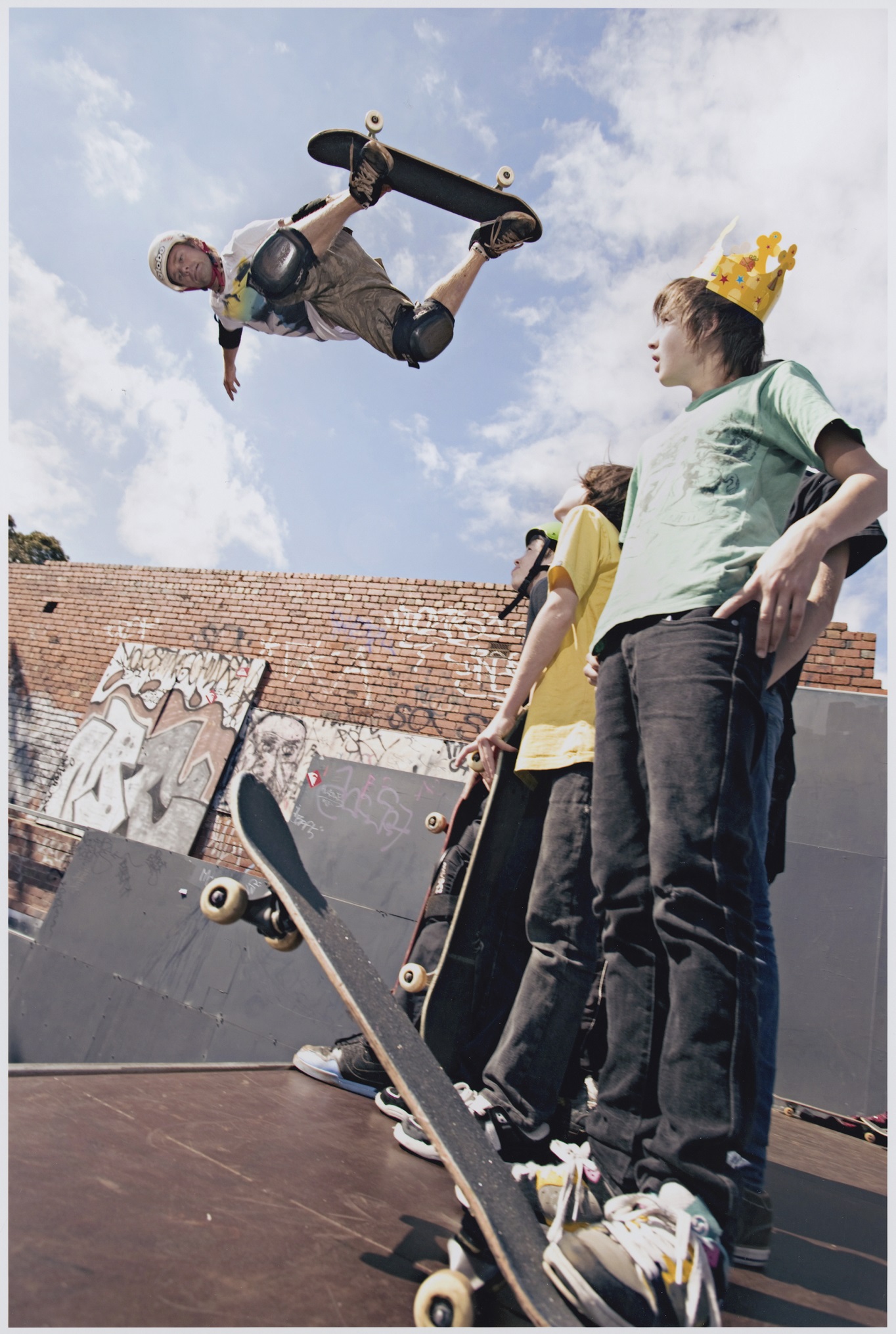 Dave Tacon,
Australian Renton Millar, World Champion Professional Skateboarder, Performs a Method Air Above a Half Pipe Ramp, Before a Crowd of Young Onlookers at Prahran, Victoria, 8 April 2009
,
nla.gov.au/nla.obj-137927722
, courtesy Dave Tacon
Watercolour Foundation With Sandrine Levallois
Onespace Collective
63 Bassett Street, Mona Vale
MONDAY, 10 OCTOBER 2022 FROM 18:00-20:00
This series is designed to introduce you to the fundamentals of watercolour painting. Sandrine will guide you through watercolour techniques and tools with hands-on, fun exploration. You will work toward a project that will develop skills and understanding of the medium.
This is a beginner course or a refresher for the not so "newby".
As always Sandrine aims to encourage a fluid and play like approach to the exercises.
Please note that no material is provided. List on material provided when you book in.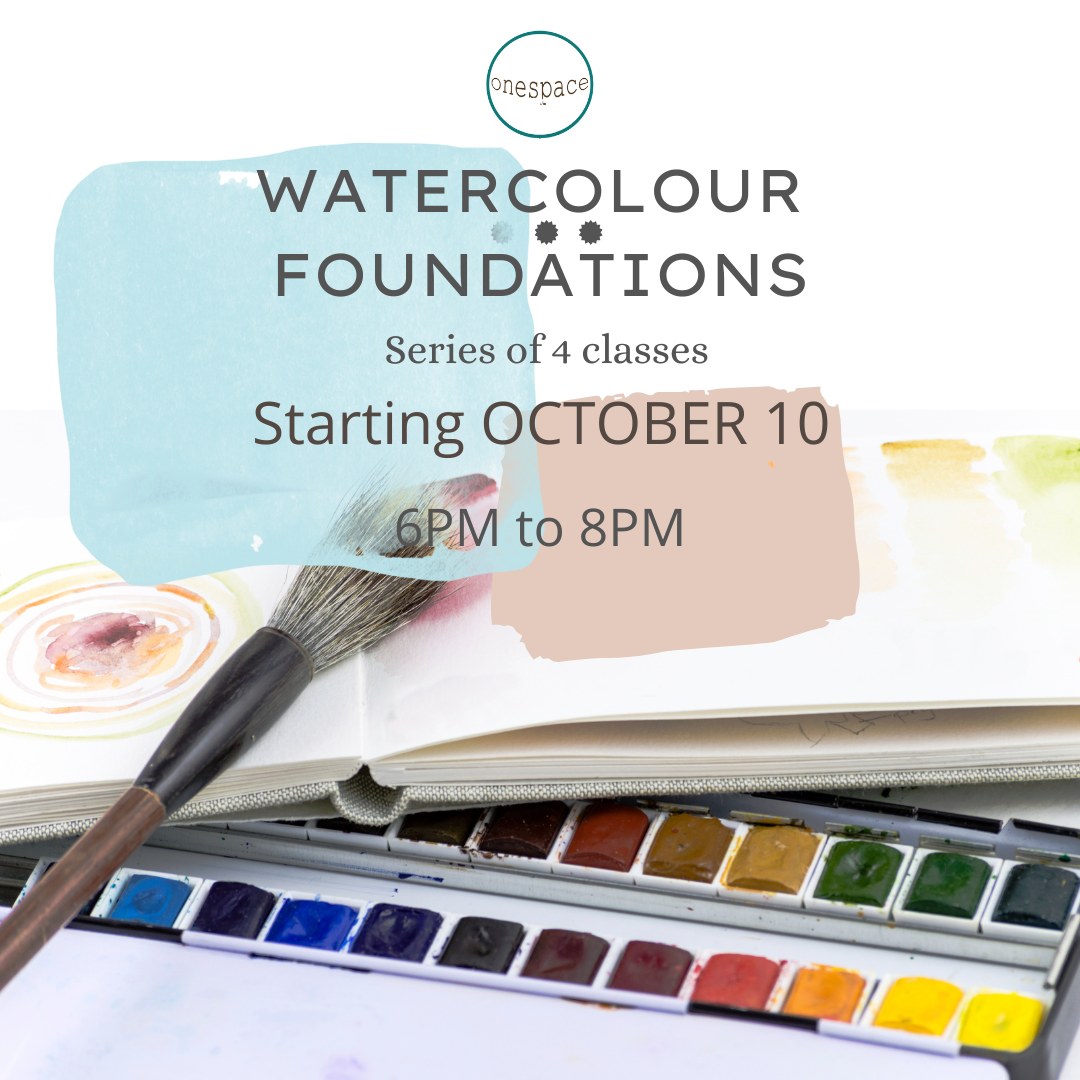 Natural Dyeing Workshop With Olivia Reily
Onespace Collective

SUNDAY, 16 OCTOBER 2022 FROM 11:00-13:30
This is an introductory workshop to natural dyeing with Eucalyptus Bark.
Learn how to prepare and mordant fabric for dyeing and create dye out of eucalyptus bark. You will also learn a variety of shibori* techniques as well as how to colour shift your dye.
Everyone will get to take home their own tote bag and tea towel along with a selection of shibori fabric samples dyed with eucalyptus. The workshop is designed to show you the basics of natural dye in an accessible way so you can continue to explore this wonderful craft at home too.
About Olivia
Olivia is an artist and designer with an illustration and craft based practice. In her work she is interested in telling stories often inspired by nature. She loves sharing craft knowledge with others and teaching both children and adults. She is currently studying a Bachelor of Design in Textiles and Object design at UNSW Art & Design.
*Shibori is a Japanese manual tie-dyeing technique, which produces a number of different patterns on fabric.
About The
Onespace Collective
Onespace Collective is the brain child of husband and wife Scott Moran and Sandrine Levallois.
The space is a fusion of their passion, artistic expression and self-empowerment.
Dedicated to host events, classes and workshops with Soul, Onespace Collective aims to optimize the self.
The concept of Onespace is to create a supportive environment that embraces the multifaceted elements required to be human.
We therefore provide a broad range of activities such as (but not limited to) painting, sculpture, yoga, Qi Gong, meditation, sound journeys, shamanic journeys, art classes, men and women support groups and much more!!
'We want to give back to the community and offer the opportunity for like minded people to share their skill and knowledge.

We are thrilled to humbly contribute to community building by offering a space to gather, connect, dream and create.'
Scott is passionate about mental health and emotional well being and has been working as a Life Line crisis telephone Counsellor for over 15 year. His fascination for the spiritual path lead him to become a meditation facilitator after 20 years of personal practice.
Sandrine, artist and illustrator, is also fascinated by the magical path of other worldly things and incorporates it into her creative process. You can see some of her work on her website sandrinelevallois.com or her instagram.
They are also founding directors of Share the Spark, a not for profit organisation focused on helping youth find the SPARK that leads towards a fulfilling life.
"We recognise that young people today are under increasing amounts of pressure and stress from many different sources. In these circumstances, it is easier to lose your SPARK for life."
Find out more at: onespacecollective.com.au
Sydney Art Space Spring 2022 Program Of Classes
Sydney Art Space is a supportive, nurturing and fun place for adults and children to make different types of art via creative workshops, courses and events.
Sydney Art Space is the inspiration of multi-form artist and educator Christine Simpson who has been providing quality art courses, quality art tutors and diverse and interesting open forums and workshops for the community for the past 8 years. Our art school is located at Onespace, 63 Bassett Street Mona Vale, a sanctuary for adults, teens and children seeking creative respite from a very busy world.
We offer adult art coursework on weekdays, evenings and Saturday afternoons, children's art classes after school, and private HSC tuition Saturday mornings. There are adults, teens and children's holiday art programs along with a variety of creative workshops covering different art practices throughout the year.
We hold an annual student exhibition showcasing work from all our art courses and workshops, in a dedicated exhibition space every January in beautiful Avalon, on the Northern Beaches of Sydney. All the creative efforts of our students are celebrated and the goodwill of belonging to a vibrant and creative community is shared and enjoyed by all.
Creating an art's hub that gives people of all ages and stages, the ability to develop and enhance their creativity and confidence by learning real skills to begin and/or grow their arts practice in a fun, safe, nurturing and non-competitive learning environment is what Sydney Art Space is all about!
Whether you want to:
* engage your child in a quality creative program
* get help with the HSC Body of Work
* begin and explore your journey into creativity
* further your arts practice
* do a Sunday or Weekend Creative Workshop
* book a Sunday morning art party
* or have a social dabble with creativity after work,
Sydney Art Space is the place for you!