May 8 - 14, 2022: Issue 537

Aquatics Mix: Pittwater Challenge 2022 + Australian SKUD18 Champions Crowned In Pittwater + Palm Beach Sailing Club: Sand Point To Patonga Fish And Chip Run 2022 +Peter Loft Marathon 2022: Hosted By The Bayview Yacht Racing Association (BYRA) + Woody Point Yacht Club AGM 2022 + RPAYC's 2022 Youth Development Squads Commence!
Pittwater Challenge 2022
Firstly a huge thank you to all the members who gave their time and enthusiasm to help out on the day. It's such an awesome part of the culture of MWKC, to see everyone working together and giving back to a club, that in turn, provides so much to the paddling fraternity.
The start list showed a vast array of clubs participating; Makai, Shark Island, Wollongong, Newy, Penrith, Cronulla Sutherland, Brisbane Waters, Lane Cove, Burley Griffin, AOCRA, Illawarra, Sydney Harbour Surf Club, Learn to Paddle, and of course MWKC.
Conditions weren't calm, with a fresh SW wind for the early part of the race, that seemed to ease slightly during the event.
We had 20 members race, many for the first time, and some returning to the competitive arena after a lay off. What I found really inspiring was the 10 female paddlers from MWKC who raced.
Judging by the smiling faces post race, people enjoyed their morning. Results can be found on webscorer at https://www.webscorer.com/race?raceid=274822
Thanks once again to Time keeper Luke, who provides an invaluable service.

The Pittwater Challenge is Race 1 of the 2022 PaddleNSW Harbour Racing Series and hosted by the Manly Warringah Kayak Club. Save the date for Race 2, the Iron Cup on Sunday 5 June. Hosted by Pacific Dragons, this race sees the Series return to beautiful Sydney Harbour.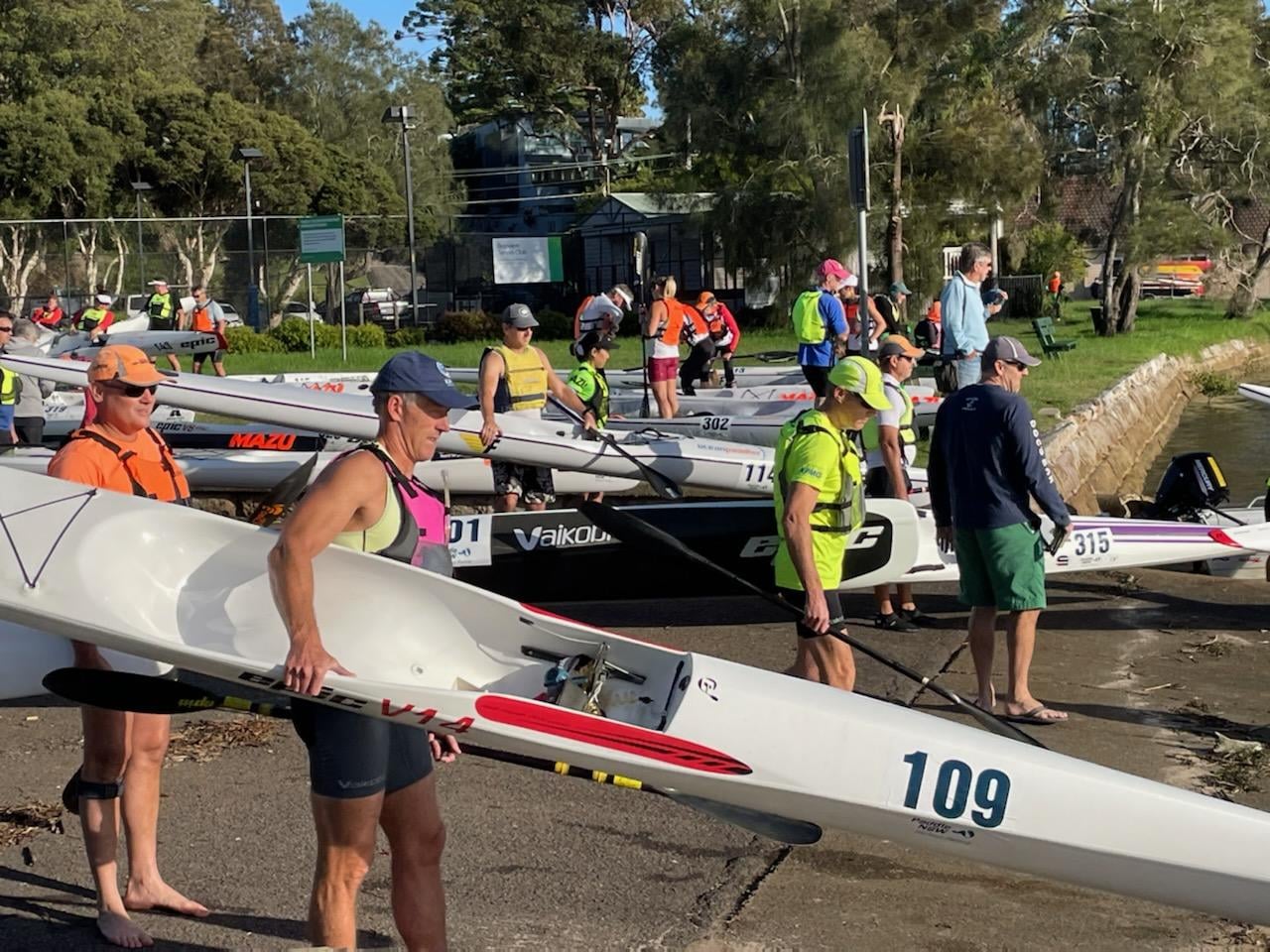 Manly Warringah Kayak Club (MWKC) is situated on the beautiful Narrabeen Lake at Berry Reserve (behind Tram Shed and Ambulance Station). The club has around 240 members of all ages and abilities, from ages 6 to 86 and from paddlers struggling not to fall in to Gold Medal winning Olympians.
We are primarily a racing club and our members enjoy competing in events such as the Paddle NSW Marathon Series, Harbour Series and Sprint Series as well as ultra-marathons like the Hawkesbury Classic and Myall Classic. There are the paddlers who always have a coffee at the local café after a Sunday Race or Club paddle to the time-poor who squeeze in a morning or afternoon training session. Members paddle a variety of boats from stable TK1's and ocean skis through to top of the line K1's and C1's.
Find out more by visiting: mwkc.org.au
Yours in Paddling
Peter Grimes
President, Manly Warringah Kayak Club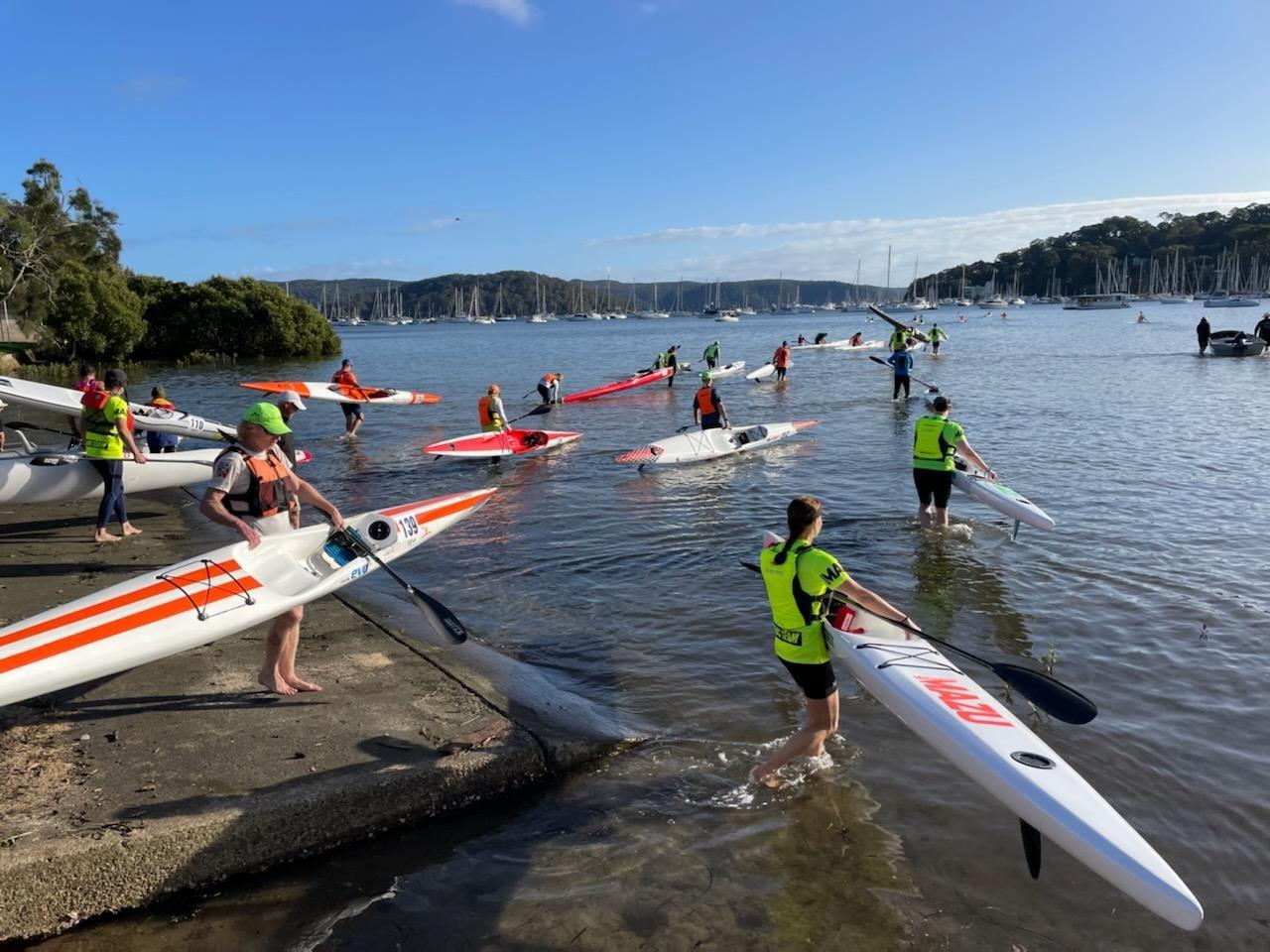 Australian SKUD18 Champions Crowned In Pittwater
Robert Crofts and Grant Alderson from Royal Perth Yacht Club (WA) have won the SKUD 18 Australian Open Championship which concluded Sunday May 1st on Pittwater.
It came down to the final of six races to decide the title, with Crofts and Alderson finishing one point ahead of overnight leaders Neil Rowsthorn and Jack Wallace from Southport Yacht Club (QLD). Greg Hyde and Scott O'Connor from Middle Harbour Yacht Club (NSW) were third overall, two points further back.
All the crews included a para sailor helming and non-disabled forward hand able to use trapeze for this event. The light and variable breezes across the weekend, however, dictated that weight movement needed to be fairly subtle and the ability to make the most of a gentle puff of wind made all the difference. It was as much a mind game.
Australian Sailing Hall Of Famer, Greg Hyde, took two wins across the weekend in his first SKUD 18 regatta and a looked a strong possibility to make the most of the fickle winds. Other than one poor result today, Rowsthorn and Wallace sailed consistently again but a race win eluded them. Crofts and Alderson, having taken and then relinquished the lead in both races on Saturday, claimed two wins today and posted a 2 and 3 to move up from their overnight fourth place.
Crofts made a huge commitment to travel and competition this summer, twice making two-way trips across the Nullabor with boats to compete in the Australian Para Sailing Championships along with the New South Wales, Victorian and Australian Hansa Class Championships in addition to this weekend's regatta. His competition experience and regular training with coach Alderson is paying off.
Royal Prince Alfred Yacht Club were outstanding hosts and their race management team did well to complete a full race program in the challenging conditions.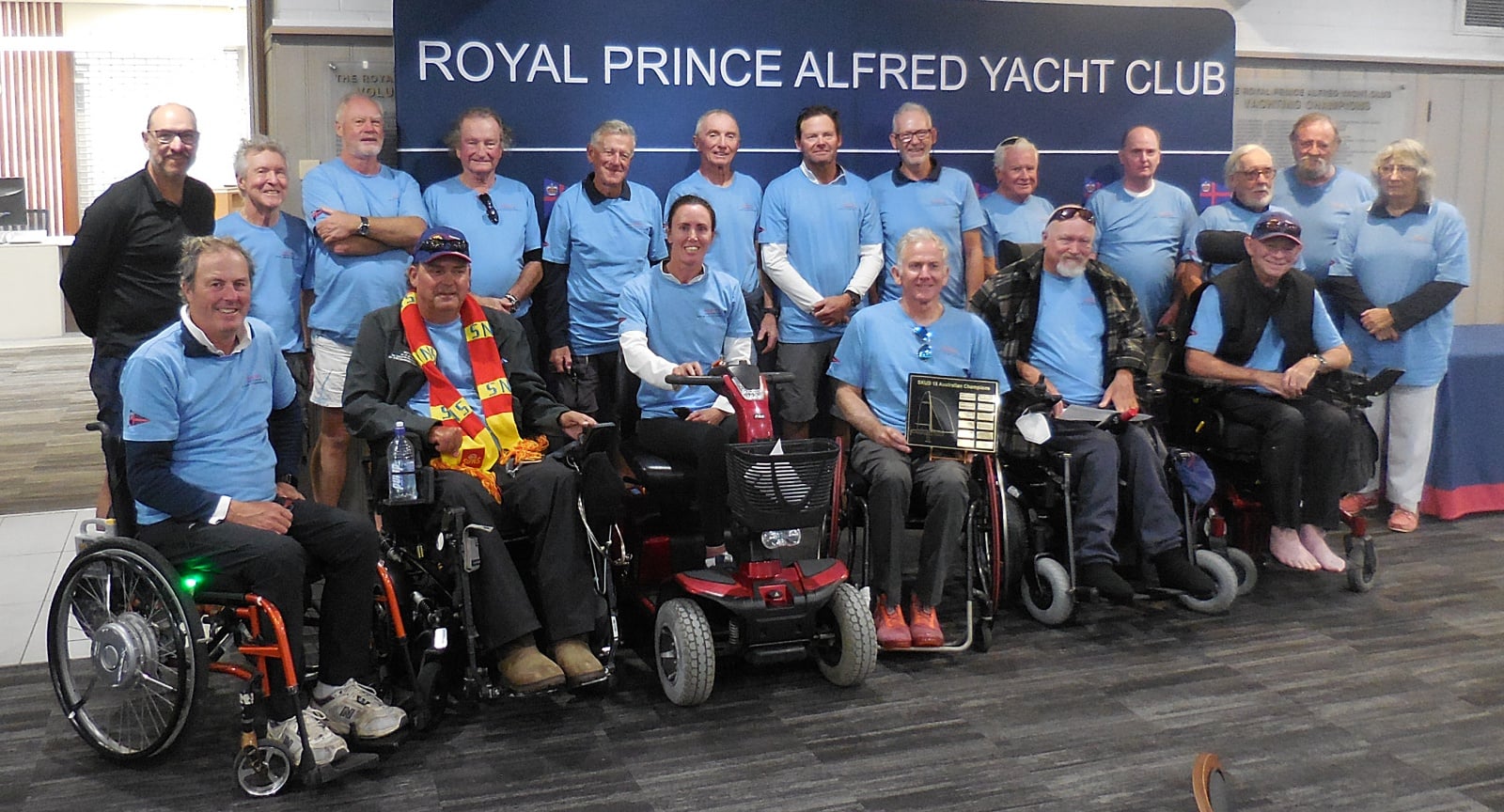 Full results can be viewed at: https://app.sailsys.com.au/club/13/results/series/1480/races
Article Australian HANSA Class Association. Photographs credit: David Staley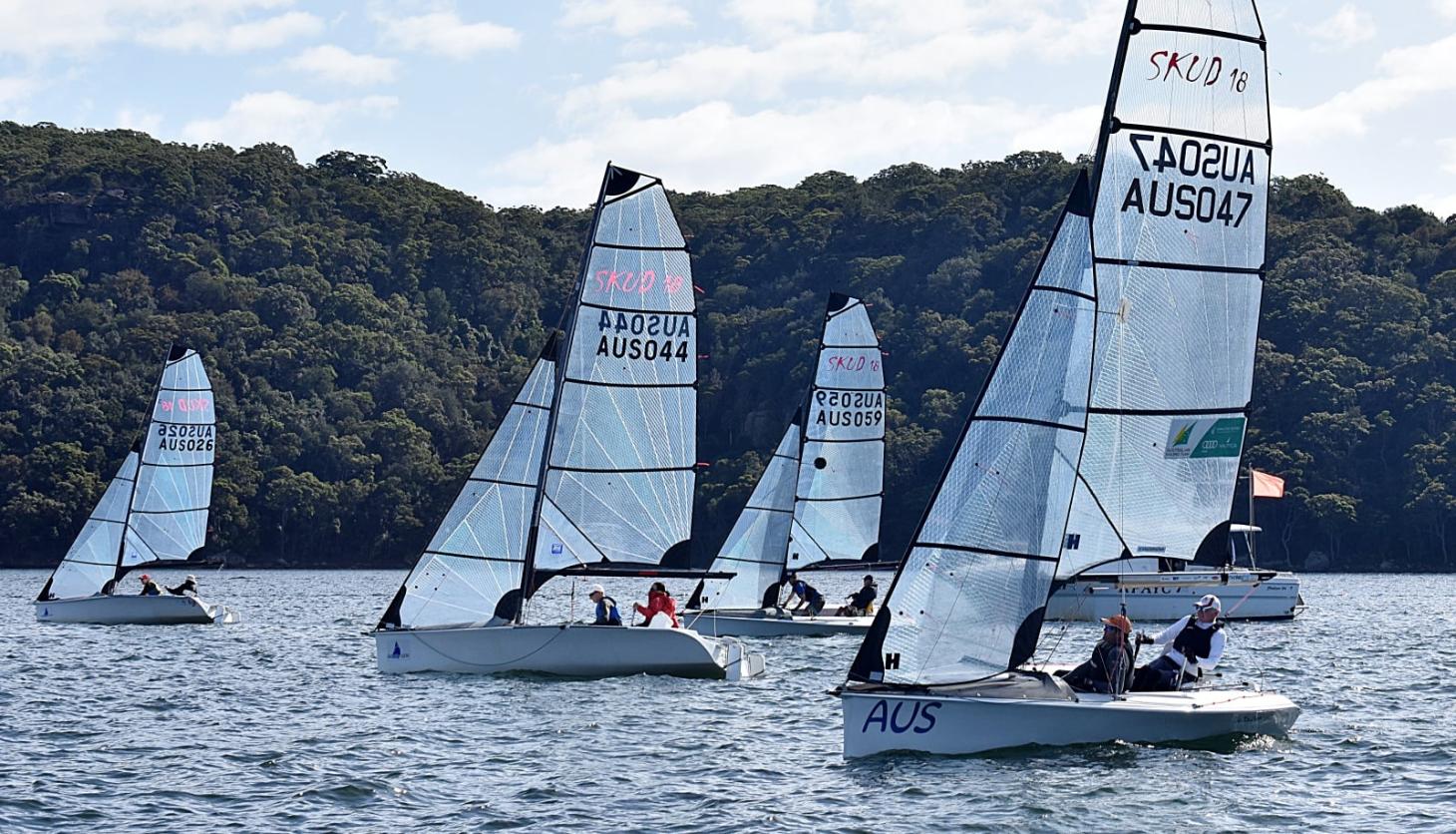 Palm Beach Sailing Club: Sand Point To Patonga Fish And Chip Run 2022
Great turnout on Saturday April 30 for the fish & chip run from Sand Point to Patonga to end our PBSC sailing season. Thanks to John Forbes for letting some sailors sail a few of his Hobie 18's to Patonga. Also thanks to Dave Fisher on the rescue boat looking after all sailors on water. The first boat to hit the beach at Patonga was Tracy and Linda on H18, followed by Forbes family on H18 and Ian and his wife also on H18.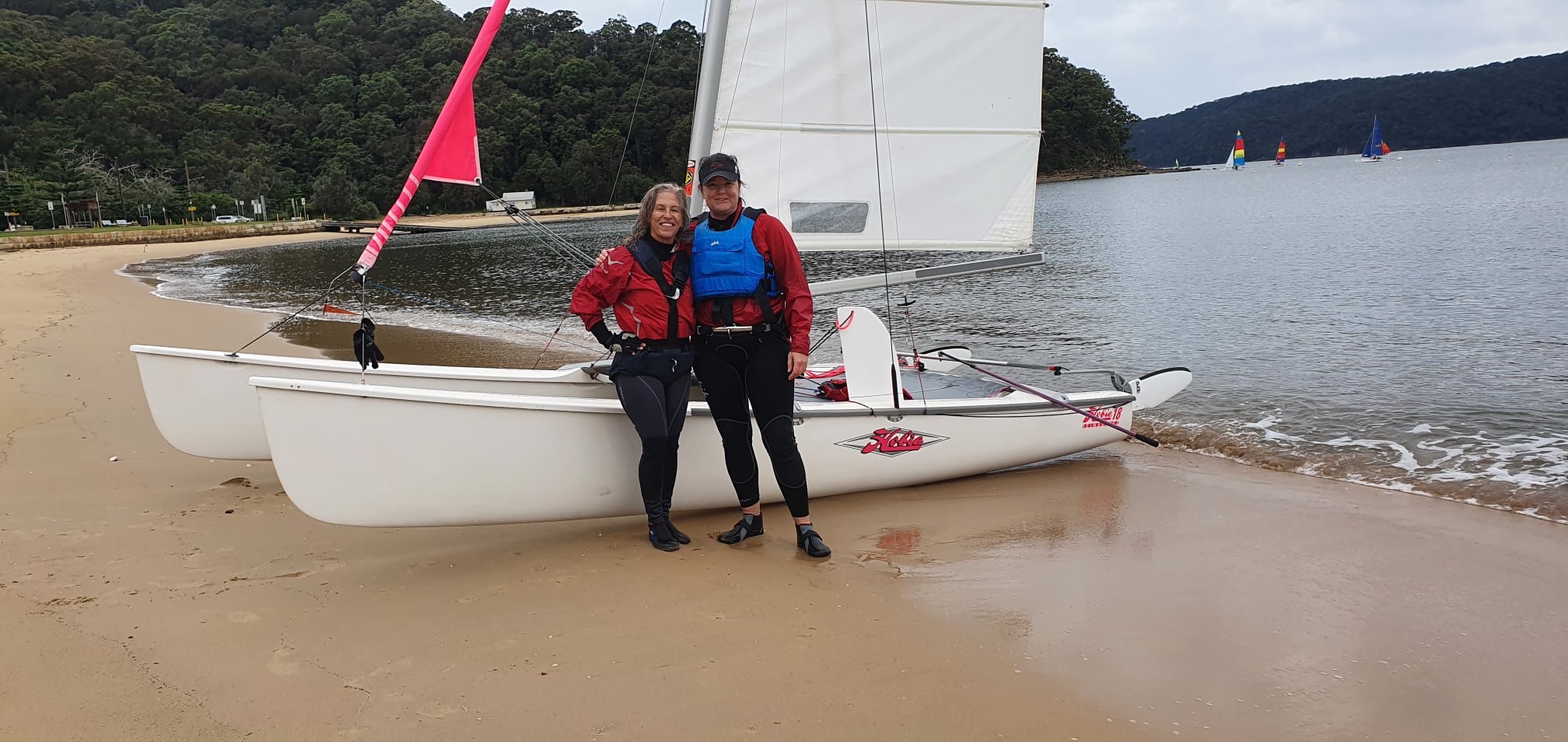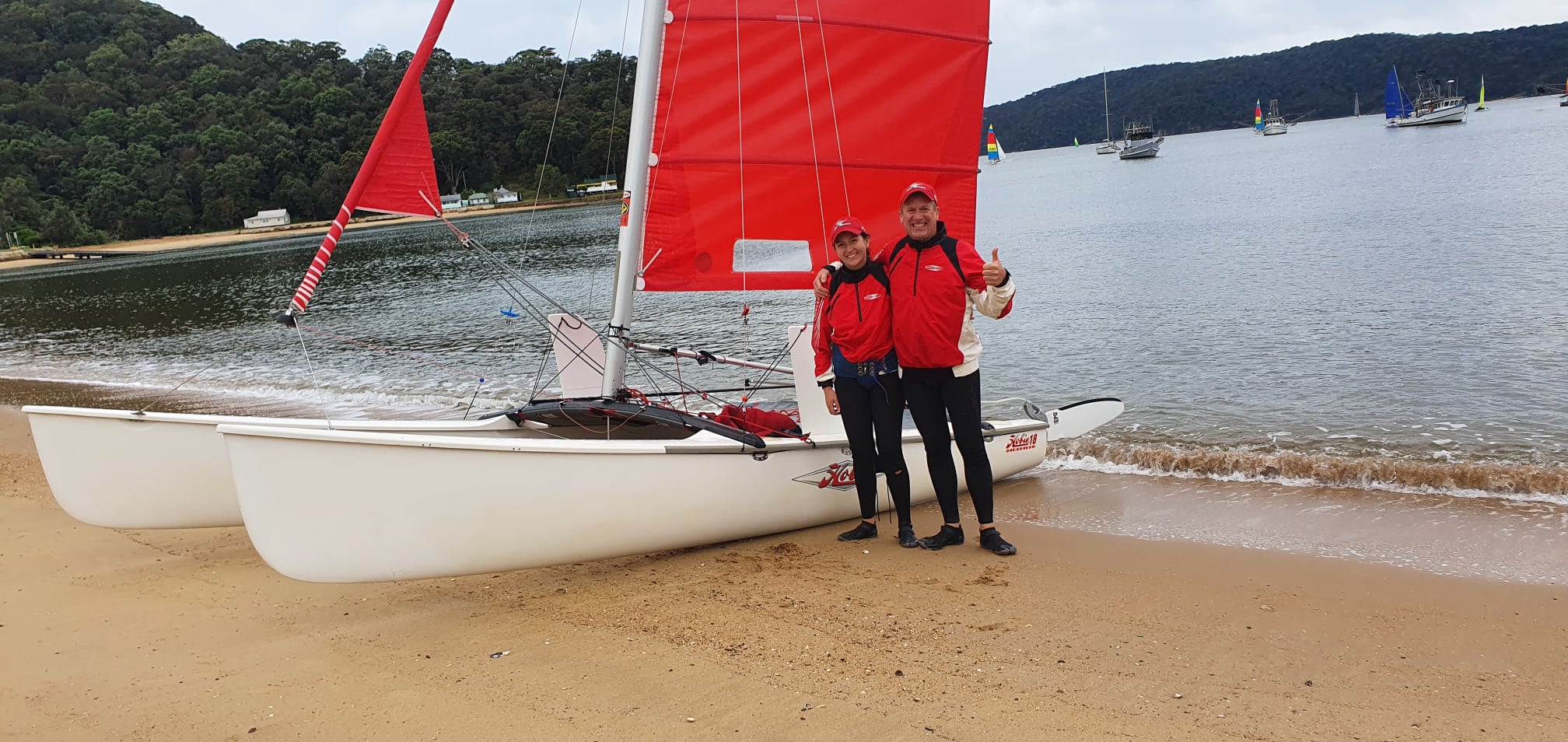 Palm Beach Sailing Club's 2022 Patonga Fish and Chip run - Report and photos: Upu Navu Kila MBE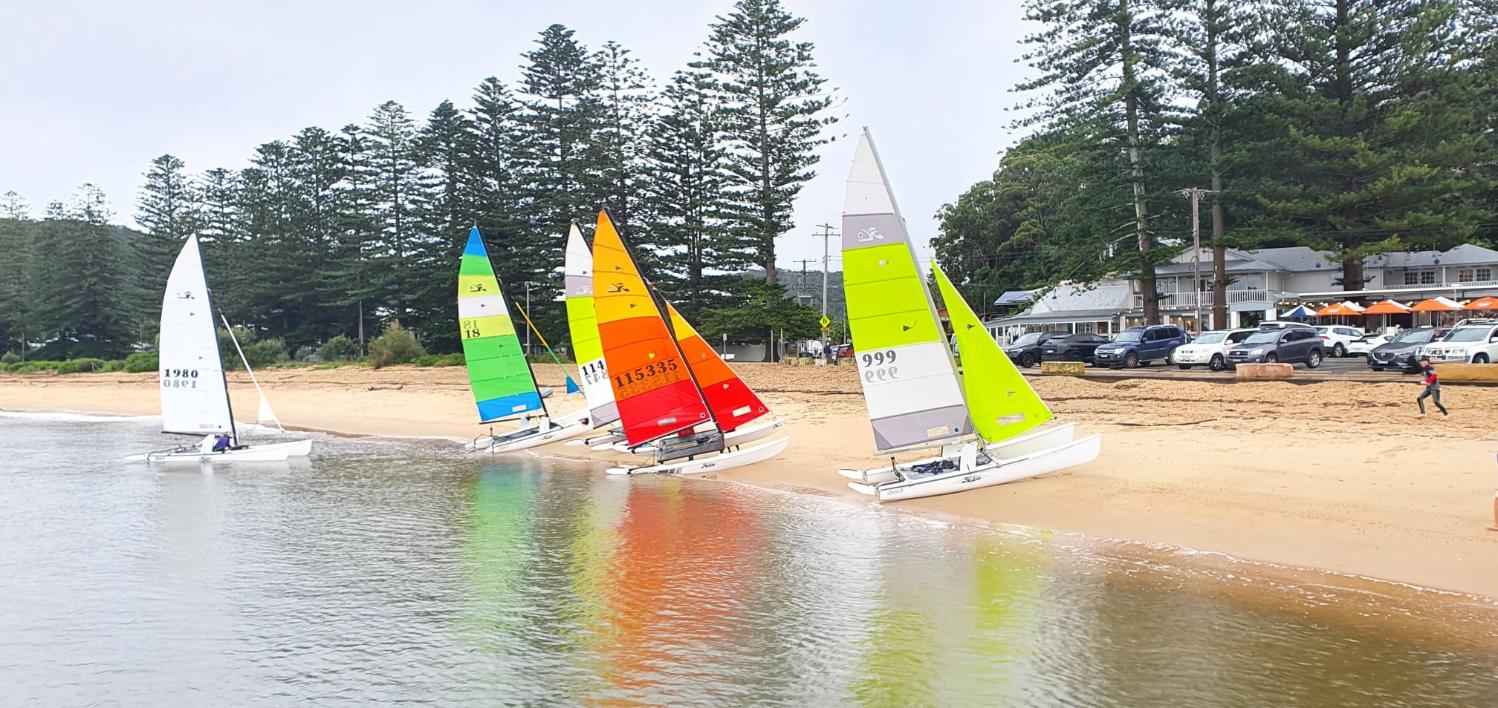 Peter Loft Marathon 2022: Hosted By The Bayview Yacht Racing Association (BYRA)
This year the Peter Loft Marathon was held on the 1st May, 2022. The Marathon takes place on the first Sunday in May annually.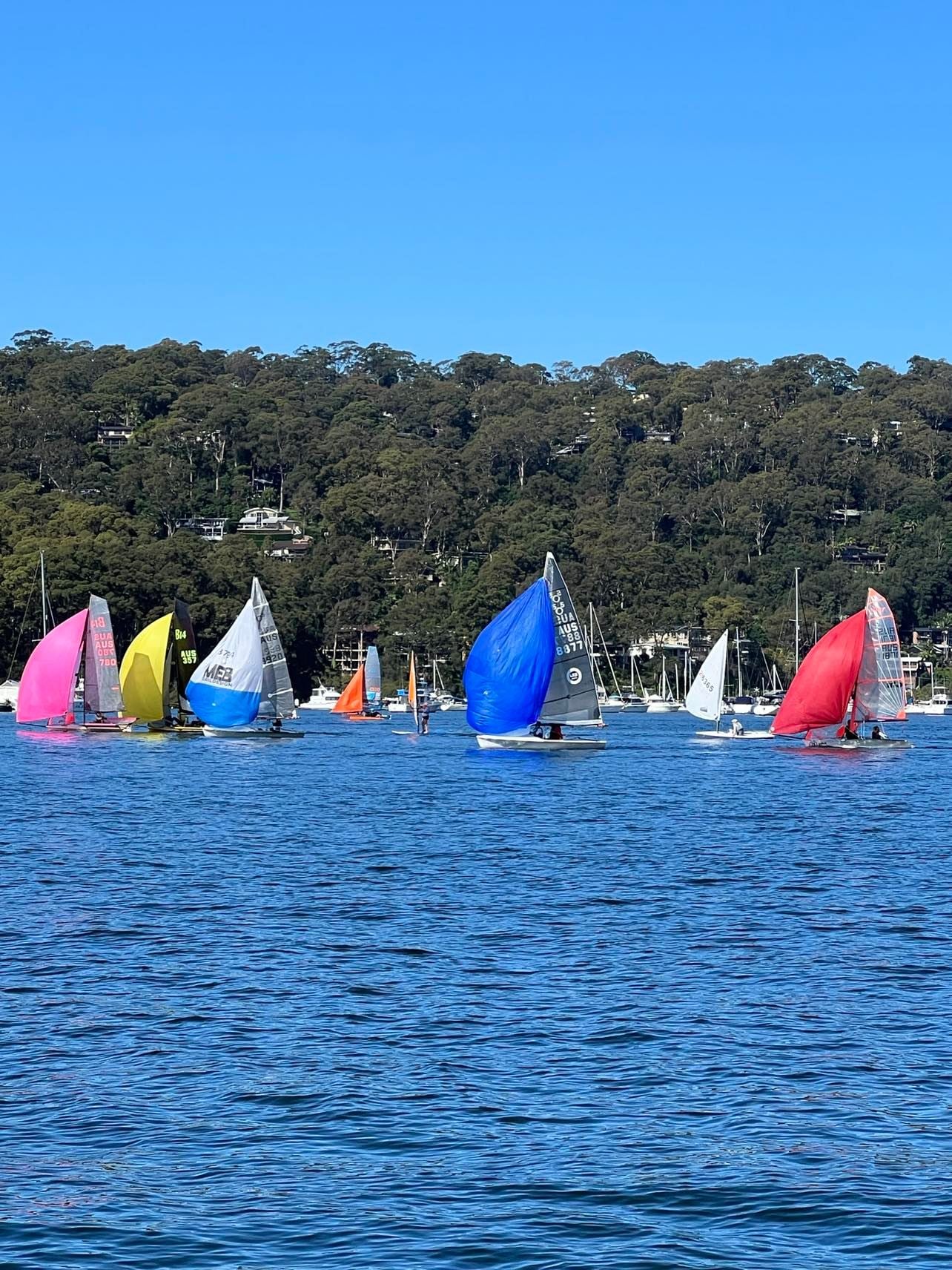 BYRA photo: Peter Loft Marathon 2022
Peter Loft, a talented young sailor and member of BYRA was tragically killed in a plane accident in 1990. He appears on BYRA's honour board multiple times. In the 1986-87 season, Peter was the Manly Junior National Champion. The following season Peter switched to the 420 and proceeded to become the 420 National Champion that year and the next.
In Peter's honour, the Peter Loft Foundation was set up to help young sailors compete in national and international sailing regattas. Since the 1990s the marathon race has become an institution on Pittwater, and thousands of dollars have been passed on to the foundation.
One of the most popular aspects of the race is the Le Mans start. Competitors line up on the beach beside the clubhouse and, on the dropping of the BYRA flag, sprint to their boats to begin. Clearly this gives the less-old sailors an advantage, but history shows that experience soon wins out.
Afterwards a BBQ is held at the clubhouse for participants.
The Bayview Yacht Racing Association
(BYRA) is a sailing club based on Pittwater. We specialise in dinghy sailing and offer learn to sail courses and racing for Lasers, Spirals, Flying Elevens, Manly Juniors, Optimists and other classes. We also offer twilight racing on Pittwater for keel boats.
Start of the 2022 Peter Loft Marathon in marginal conditions.
Shortened course but still a heap of fun in light conditions.
Thanks to Katie Pellew for the clip.
Woody Point Yacht Club AGM 2022
The WPYC AGM was held Saturday April 30 2022, with a fine time had by all.
The WPYC Winter Series commences with Race 1 on Sunday May 22nd 2022.
Trophy Winners 2021/22
SUMMER SERIES - First 'Midnight's Promise' - Peter Graham
SUMMER SERIES - Second 'Wimmera' - Ian Craig
SUMMER SERIES - Third 'Pinta Bay' – Frank Milner
WINTER SERIES - First 'TBA alpha' - Peter Mace
WINTER SERIES - Second 'TBA beta' - Ian James
WINTER SERIES - Third 'Wimmera' - Ian Craig
TWO ISLAND SERIES - First 'Pinta Bay' – Frank Milner
TWO ISLAND SERIES - Second 'Dictator' – Geoff Croshaw
LADIES RACE 'Wetassagain' - Jeanny Orr
FROCKED UP 'Alpha' - Daniel Chomicki
1st ETCHELLS 'Wimmera' - Ian Craig
1st SOLING 'Wild Goats' - Rob McKechnie
1st WOODEN YACHT 'Dragonfly' - Jason Marty
1st GAFFER 'Florrie' - Michael Bell
BEST ON AND OFF THE WATER Jan Scholten
YOUTH ENCOURAGEMENT AWARD Mona Kristevic
BEST CREW 'Response' - Andrew Terrey
MOST IMPROVED 'L'Orient II' - Steven King
GENERAL BELGRANO 'Papillon' - Gary Timm
MOST CONSISTENT WOODEN BOAT 'Waiata II' - Richard Lock
GO FAST TROPHY 'Andromeda II' - Brenden Delaney
INNOVATION AWARD 'Sequel' – Michael Doherty
Winner of the prized Tim Shaw Trophy: 2021/2022 Midnight's Promise Peter Graham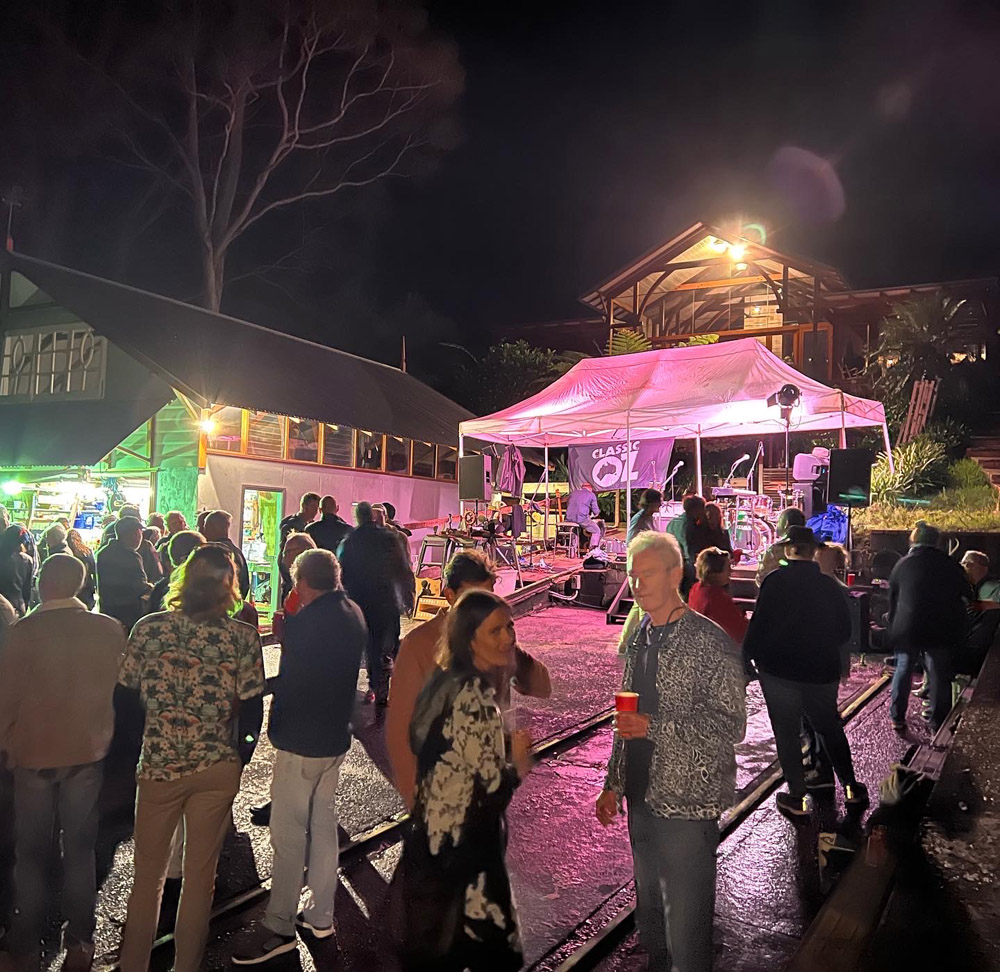 WPYC 2022 AGM. Photos; WPYC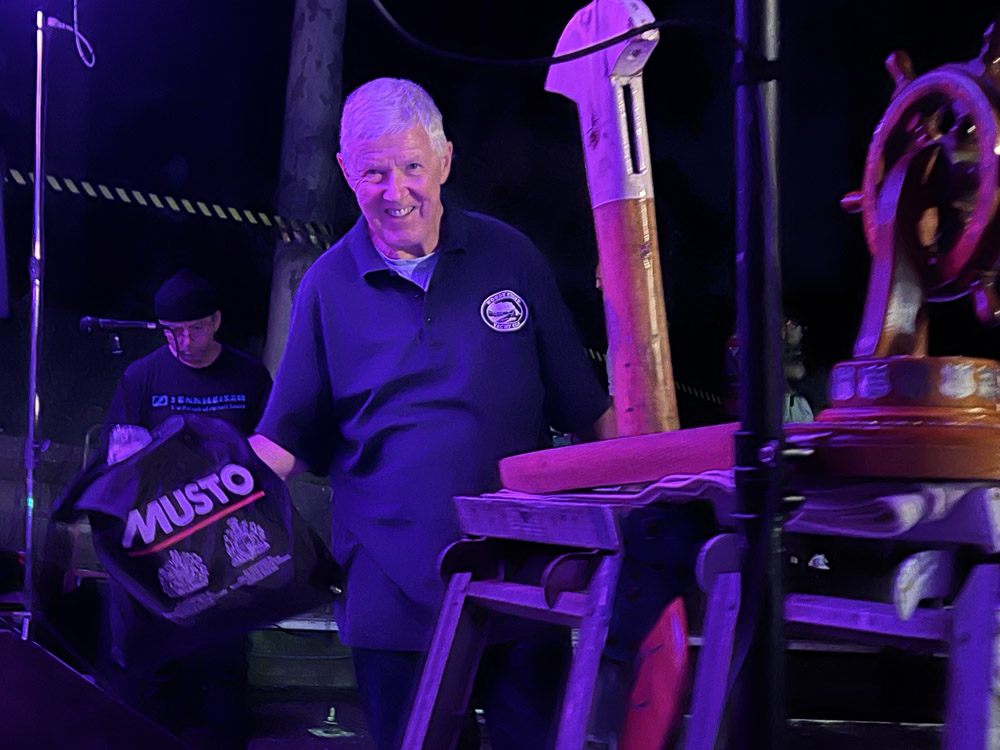 WPYC 2022 AGM. Photos; WPYC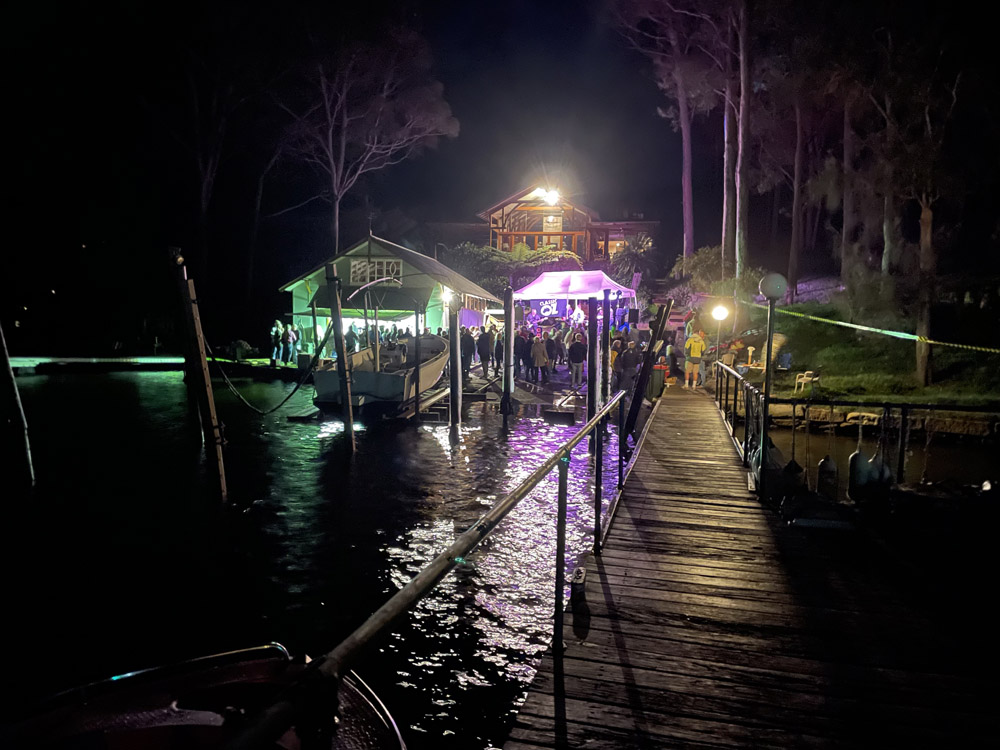 WPYC 2022 AGM. Photos; WPYC

Founding Members of the Woody Point Yacht Club were a dedicated group of social drinkers with a boating problem. Their motivation was and is the enjoyment of the Pittwater and its inhabitants, largely facilitated by craft giving access to the remote foreshores and to the water itself. Suitable craft included tinnies, yachts, putt-putts, work boats, in fact anything that floats – and even some vessels whose buoyancy is questionable.
These craft provide a platform for the many and varied pastimes enjoyed by Members, including fishing, yachting, putt-putt regattas, picnics, parties, breakfasts, etc. The Club does not favour a particular pastime so long as a boat is involved either as a means to an end (i.e. transport, fishing) or an end in itself (i.e. sailing, cruising, just messing).
The Club has a penchant for all things traditional – timber boats in particular – and prefers the simple family orientated atmosphere inherent in our unique community.
The Woody Point fleet in any year is limited by constitution on a first come first served basis and the membership roll opens each year on May 1. Download and complete the Membership Form and, unless previously signed, the Disclaimer and Acknowledgement of Rights Form, scan them and send them to Treasurer Robert woodypyc.treasurer@gmail.com. Banking details for the payment of fees are on the Membership Form.
Please note that the Woody Point Yacht Club Inc. has the discretion to accept or reject any application for membership and the following rules apply to limit the size of new yacht registrations: 'Any new registrations must be no more than 38′ LOA, or 30′ LOA for multihulls, except for timber yachts or yachts registered with the club prior to 1 July 2020.'
More at: https://www.wpyc.com.au/
RPAYC's 2022 Youth Development Squads Commence!
Saturday 30 April was the first training day for the 2022 Youth Development squad programs.
Todays training session was a fantastic start with five of the clubs Elliott 7 fleet taking to the water, showing some huge signs of improvement with symmetrical spinnaker handling.
The Intermediate Youth Development squad has 15 participants this year, many of whom are returning for their second or third year. We are also delighted to welcome some new members to RPAYC to participate!
The senior Youth Development squad has 10 sailors, with many taking the step up from the Intermediate program. It has been a difficult couple of years with many cancelled events, but our current group of sailors are enthusiastic to work together as a team and take on the opportunities ahead of them.
It is to exciting see the depth of talent amongst this years Youth Development squad. It won't be long before the teams will be taking on their first Youth Match Racing events, with the Hardy Cup (RSYS) and HARKEN Youth International Match Racing Cup (RNZYS, Auckland NZ).
RPAYC's Youth Development Program was pioneered in 1993 to help develop and enhance young athlete's sailing skills, as well as providing a pathway for youth sailors between 13-25 years old in Club, National and International events.