August 16 - 22, 2020: Issue 462
An Act of Kindness
by Huang Zhi-Wei aka Reg Wong
Rather than an inconvenience, the Covid-19 lockdown proves to be my overdue sabbatical. It gives me the time to do what I had neglected to do. In my retreat, I pray; in my isolation, I meditate; and, in the silence of my room, I recall memories that continue to warm the cockles of my heart, even at this the autumn of my life. I am reminded of the good fortune that had come my way since I arrived in Australia, how I always landed on my feet, and how I was always extricated out of a sticky wicket by someone obviously looking over my shoulder. Every time I needed rescuing, someone appeared on the scene, as if prompted, to give me that helping hand. Here is one such story from my treasure trove of many kindred stories.
***
It was nearly five o'clock in the afternoon of Holy Thursday. Already the dark of dusk was draping its canopy over the Blue Mountains. Earlier in the day the boarders at St Bernard's College had gone to Katoomba Station to catch their trains bound for their homes in Sydney and other country towns of the state. Still languishing in the school grounds, however, was a 15-year old foreign student. He had neither guardian nor friend who might offer him the much-needed digs for the Easter break. Even if he did know someone in Sydney, he still lacked the fares to go there. I was that student.
Ten weeks earlier I had left my village at the edge of a jungle clearing in the-then Malaya, taken an overnight train to Singapore and then boarded the Dutch cargo ship SS Blue Gorgon to set sail for Fremantle. When it was still operating, this cargo carrier plied the ocean route between these two ports, carrying timber from Singapore to Fremantle and cattle on the return trip. Although not specifically fitted out for ocean-going passengers, the SS Blue Gorgon still had some cabins to offer a no-frills passage to some students who didn't mind travelling rough. I was one of those who took advantage of the offer. To me the sea voyage was simply a means to get to my destination, frills being a luxury I had never known and, obviously, wouldn't miss.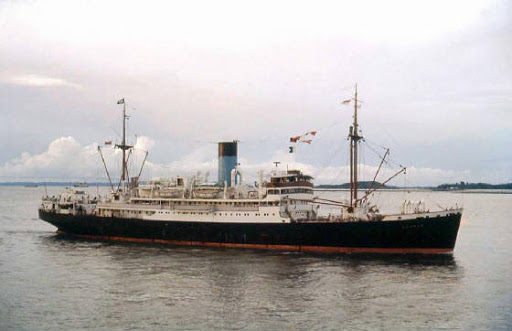 SS Blue Gorgon

To get from Singapore to Fremantle, today's passenger planes routinely cover the distance in just five hours. By contrast, my sea voyage lasted seven days, five of which I spent prostrate in the top bunk of a shared cabin. Not surprisingly, as soon as we entered the Indian Ocean, the six-metre swells tossed the little ship about as if it was a toy, and turned nearly every one of the wet-behind-the-ears travellers green around the gills. On the first night of the voyage, the tiny dining room required three sittings to cater to the students. By the second evening, two tables were ample. I myself prayed for finality to my seasickness and, while I waited for deliverance, the odour of vaporised butter from the galley adjoining my cabin only worsened my nausea.
When I enrolled as a boarder at St Bernard's College in Katoomba, it was my understanding – actually ignorance - I was to remain on the premises from the beginning to the end of the school year. For that reason I had made no provisions, monetary or otherwise, for the Easter break or the autumn, winter and spring holidays. When it became obvious that it was mandatory for every student to vacate the boarding school at these times, I found myself unprepared. That's why I was still in the school quadrangle late on Holy Thursday when every other boarder had already departed.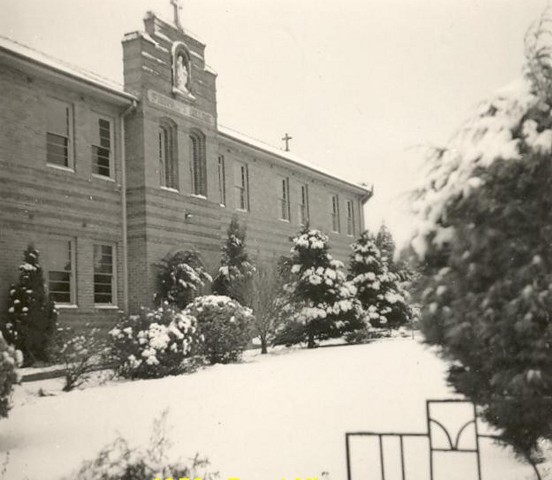 St Bernard's College in Katoomba

On his final rounds to ensure that every boarder had indeed vacated the premises, the headmaster chanced upon me. In spite of the fading light, I could make out the outline of his demeanour. It betrayed disbelief and alarm at the discovery of someone – anyone! – still on college grounds.
"Why…why…are you still here?"
"I am staying at the college, sir," I replied in my best attempt at diction.
"What do you mean you are staying at the college? We are closed for the next four days."
"I have nowhere to go, sir."
"The college is closed for the next four days," he repeated, enunciating every word for emphasis.
He glared intently at me and I looked back at him, my eyes pleading.
"I am sorry. You can't stay here." With that he turned and walked away. Now, with the benefit of hindsight, he wouldn't - couldn't - have abandoned me to my own devises. I was, after all, his charge. And I had nowhere to go. In retrospect, he must have gone away to ponder the quandary which my own predicament had forced upon him but, in my ingenuousness, I was convinced he had just washed his hands of me.
As he faded into the twilight, a sense of resignation came over me. "You are on your own now, old boy," I muttered to myself. Since there was no one to turn to, I reflexively turned to God. Isn't that what we instinctively do when faced with no other alternative? Almost immediately I began to recite a passage I had memorised when I attended a missionary school. "God is faithful … and when you are put to the test, he will give you the strength to endure it and provide you with a way out." Before I could finish this comforting verse, there emerged the figure of a day boy, that of Gerry Valevicius, my classmate. At the sight of his familiar face, a wave of hope and relief washed over me.
"I've come to see if you're still here," he stated, matter-of-factly, as befitting his deadpan manner.
"I have nowhere to go," I said, as if it was not obvious.
"That's what I told mum. She said if I found you still here, I was to bring you home for Easter."
"Home" was the Imperial Guest House on Lurline Street, Katoomba and the owners were the late Eduardo and Hannah-Maria Valevicius, WWII refugees.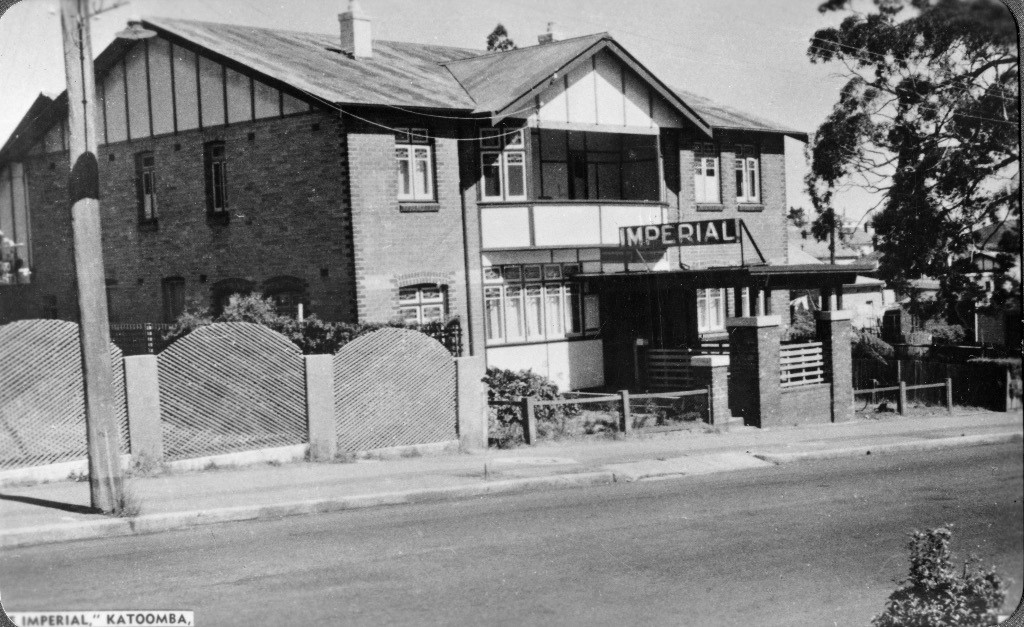 Imperial Guest House on Lurline Street, Katoomba - photo courtesy Blue Mountains Library

***
By their act of kindness, the Valevicius family showed me compassion of the kind that refugees practise spontaneously. I didn't have a name for it at the time but, with my grasp of the local language, I learnt that their hospitality to me was my de facto first Easter egg, gift-wrapped without strings.
Aware of my penury, Mr and Mrs Valevicius wanted no payment for the four days I spent at their Imperial Guest House. During my stay, I met a Mr Frank Lilley from Unanderra who invited me to stay with his family for the winter and spring holidays. From then on, I was always invited to some country home during breaks from school or university. Over the years I have often wondered whether I was just lucky or whether I looked so pitiable that people simply wanted to take me home and feed me. I prefer to think that Australian country folk of yesteryear were simply and naturally welcoming : they lived in a bygone age of hospitality and I in an enviable time when there was no reason for wariness.
Today I am, by choice, an Australian. At Christmas, I am on the lookout for a wistful overseas student who might like to experience some true blue hospitality, even if it's only for a day, as a temporary respite for his homesickness. My siblings in the old home town emulate my behaviour by opening their humble homes. Any Australian, friend or stranger, who visits Malaysia is feted as a guest – as a token payback for my own good fortune. One visitor from Wagga Wagga stayed for four months.
***
I am an ethnic person from a race of ancient people who are laden with many ingrained traditions. For us, filial piety ranks above all else. We honour and revere our forebears in a way that is akin to ancestor worship. Next is graciousness. A gift or an act of kindness received must be reciprocated with one of greater lavishness or value - if the recipient is to avoid loss of face. For a life time I myself had endured loss of face for not having thanked the Valevicius family in the way prescribed by my Confucian background. Not that I didn't want to, but I couldn't find any trace of anyone bearing the Valevicius name in the white pages, yellow pages, or the electoral roll. Regretful of my negligence, I decided that, since I couldn't thank them personally, I could at least write about them, as a posthumous recognition of their kindness to me more than half a century ago.
The story was published by Pittwater Online News at Easter nine years ago and read by a retired university lecturer four months later. He immediately rang his friend in Canberra. "Mike, your family is mentioned in a short story written by a Chinese fellow." Yielding to curiosity, he rang the editor of the magazine to get my contact details. One week later I was in Canberra to meet Mike, my classmate Gerry's half-brother. "You couldn't find any of us because you were searching for Valevicius. We anglicised our family name to Vale about 55 years ago."
***
Four years later, a young lady in Orange was trying to complete the branches of her family tree, but in vain. Every time she searched for information about her paternal grandfather, she faced a complete blank. Compounding her frustration, no one from her fragmented family knew anything about this patriarch. Frustrated, and with no one to turn to, she turned to God, just as I did all those years ago. "God told me to search the internet for information about my grandfather – and that's how I found your story," she told me when we finally connected.
Six months later, Kaitlin Vale and I met in Bathurst, the compromised halfway township between Sydney and Orange. We wept. Between unashamed sobs, I told her about her late grandfather, Gerry, and her late great grandparents, Eduardo and Hannah-Maria Valevicius, who rescued me when I was a stranger in the country and desperate for help.
Kaitlin and I are now in constant touch. Through me, she has connected with her granduncle in Canberra and, through him, many of his nephews and nieces. She sends me a bible verse, sometimes two, every week to keep me "on the rails". Although she had never known her paternal grandfather, she has now found a close-enough substitute - in me. Just like my biological grandchildren, she calls me Pa. And, just like my biological grandchildren, she tells me she loves me – heaps!
So if you are curious as to why I walk with a bounce in my step and wear a perpetual grin on my face, it's because I can't hide my glee. And can you really blame me?