April 15 - 21, 2012: Issue 54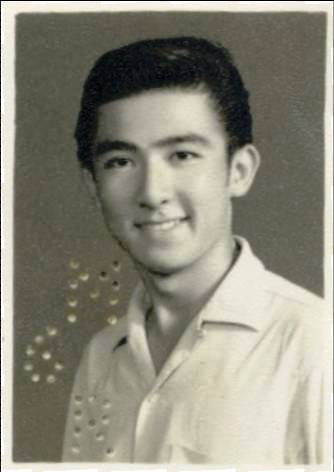 Above: Reg as A New Arrival, passport photograph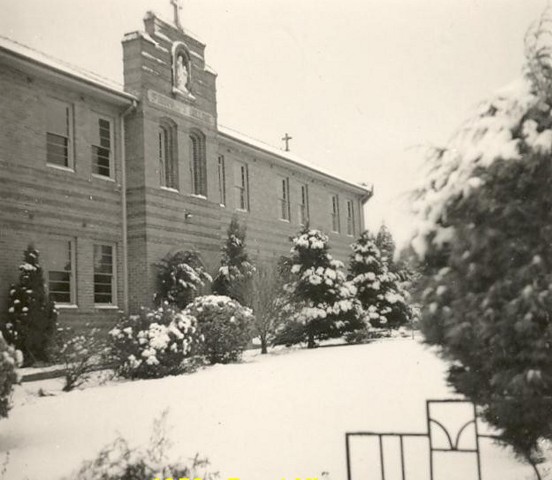 Above: 1954: The St Bernard's College in the snow, courtesy of Michael Burke, from: http://stbernardskatoomba.com/about.htm
Below: The Imperial Guest House, Lurline Street, Katoomba, circa 1946, courtesy the Library of Blue Mountains.
I Remember My First Easter Egg
by Huang Zhi-Wei (aka Reg Wong)


Prologue
Last Wednesday evening at St Joseph's in Narrabeen I attended a work shop facilitated by charismatic American teacher Brother Loughlan Sofield. Mid-way through the course of the workshop, he asked, "Who has experienced ministry and is willing to share?" I responded with my story of half a century ago when I was fresh arrival from Malaya and felt trapped in a boarding school in Katoomba.
* * *
It was already four o'clock in the afternoon of Holy Thursday. All the students had already vacated St Bernard's College, their boarding school, and made their way to Katoomba Station by midday to catch their trains to Sydney or other towns in inland New South Wales for the four-day Easter long weekend. Still languishing in the school grounds, however, was one boy - a fifteen year old overseas student without a guardian or a new friend who might offer him the much-needed digs for the Easter break. Even if he knew someone in Sydney, he still didn't have the train fares for the 96-km journey.
I was that student.
Ten weeks earlier I had left my jungle clearing in Seremban (capital of Negeri Sembilan in the-then Malaya), taken a train bound for Singapore and then boarded the Dutch cargo ship SS Blue Gorgon to set sail for Fremantle. When it was still operating, this cargo ship plied the ocean route between these two ports, carrying timber from Singapore to Fremantle and cattle on the return trip. Although not fitted out to cater to ocean-going passengers, the SS Blue Gorgon had sufficient spare quarters which offered no-frills passage to forty students who didn't mind travelling rough. I took advantage of the offer. To me a passage was a passage, frills being something to which I hadn't grown accustomed.
The sea journey lasted seven days, five of which I spent in the top bunk in my shared cabin. Not surprisingly, the huge seas of the Indian Ocean tossed the little ship about like a toy boat and made nearly every student sea-sick. On the first night of our voyage, the tiny dining room required three sittings to cater to the forty students. By the second day when we entered the Indian Ocean, two tables were more than ample for the students' needs. I myself prayed for a quick end to my suffering and while I waited for deliverance the smell of cooking butter – something which I had never tasted - from the galley adjoining my cabin merely added to my agony.
When I enrolled as a boarder at St Bernard's College, it was my understanding that I was to remain on the premises from the beginning of the school year to the end of the school year. For that reason I had made no provisions, monetary or otherwise, for the Easter break or the June and September holidays. When it became obvious that it was mandatory for every student to vacate the boarding school at these times, I found myself unprepared. That's why I was still on the school grounds late on Holy Thursday even though every student had already left the premises.
On his rounds to ensure every student had indeed left, the headmaster found me. In spite of the fast-fading daylight of The Blue Mountains, I could still make out he was in utter disbelief to find someone – anyone – still on the college grounds.
"Why are you still here?" he asked, urgency pulsating in his voice.
"I am staying at the college, sir," I answered timidly.
"What do you mean you're staying at the college? We are closed for the next four days."
"I have nowhere to go, sir."
"You can't stay. The whole place is closed for the entire long weekend."
We looked intently at each other, engaged in a Mexican standoff without the promise of a resolution.
"I'm sorry. You can't stay here." With that, he turned away. It was clear he had just washed his hands of me.
As he disappeared into the enveloping Blue Mountains mist, there emerged another figure, a large boy. I recognised him straight away. It was Gerry Velavecius, my classmate. I was relieved to see someone I knew.
"I've come to see if you're still here" he said matter-of-factly.
"I have nowhere to go."
"I suspected that. Mum said that if I found you still here I was to bring you home for the weekend."
'Home' was the Imperial Guest House in Lurline Street, Katoomba and the owners were Mr and Mrs Velavecius, World War II refugees.
* * *
Epilogue
By their act of kindness, the Velavecius family showed me concern, gave me care, and displayed compassion to another human being in need - and I experienced ministry, the kind that, perhaps, only refugees practise instinctively. Their hospitality was my first Easter egg, disguised and packaged in the most attractive way.
Mr and Mrs Velavecius would not accept any payment for the four days I was at their guest house. During my stay I met Mr Frank Lilley who invited me to stay with his family for the June and September holidays. From then on, I was always invited to some country home during my holidays from school and from university. Was I merely a lucky boy or are Australian country folk just plain hospitable?
Today I am, by choice, an Australian. At Christmas I am always on the lookout for a few overseas students who might like to feel at home and experience some true-blue hospitality. My siblings who are still in the old home-town emulate my behaviour and maintain an open-door policy : any Australian friend or acquaintance of mine who visits Malaysia is entertained like a long-lost sibling - as a befitting pay-back for my own good fortune. One stayed for four months!