April 15 - 28, 2018: Issue 356
Alyse Saxby Set To Sail At 2018 Special Olympics National Games In Adelaide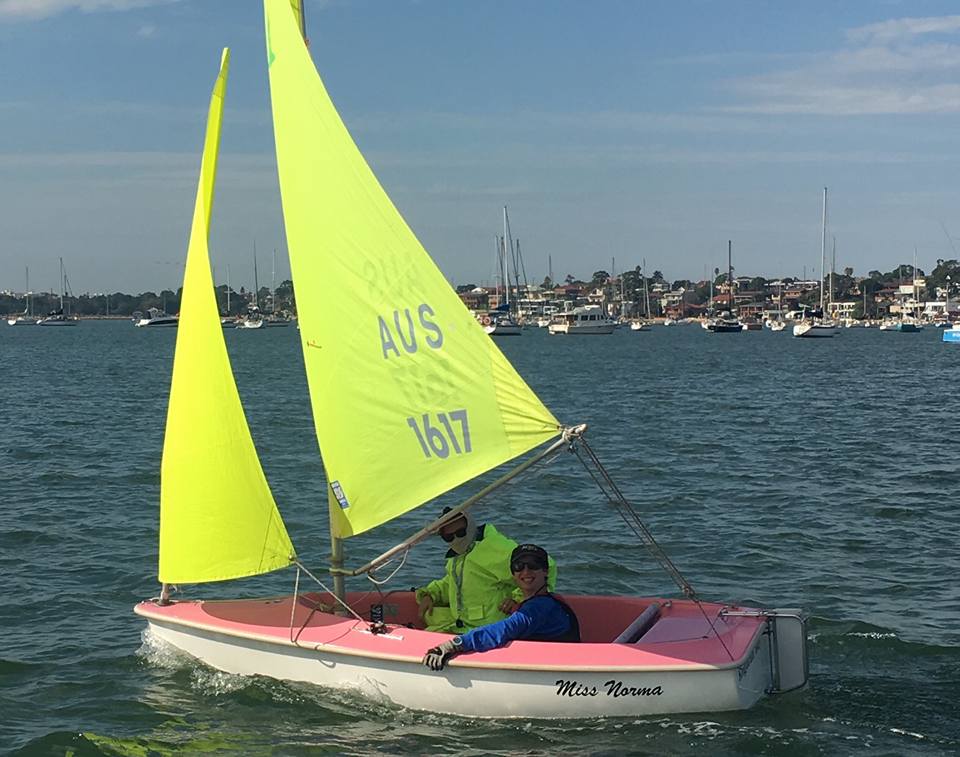 Alyse at the Combined Australian Hansa Class Championships - photo supplied.
While all eyes may have been focussed on the Gold Coast during recent weeks and the Commonwealth Games, a wonderful inclusive sporting event is about to commence in South Australia as the 2018 Special Olympics National Games in Adelaide begin on Monday April 16th and run until the 20th of April.
Local sailor Alyse Saxby will again be sailing in these games, in the 303 Singles and in the Doubles with Melissa Nelson, the lady who was part of the 2015 Gold Medal crew of Saxby-Nelson that secured that podium spot at the 2015 Special Olympic World Games in Los Angeles.
After winning gold in 2011 in Level 2, Alyse bought a spiral sailing dinghy to gain selection in Level 3. Alyse teamed up with Melissa from Port Stephens Sailability and they first travelled to Japan to sail the 303 doubles in the Hiroshima Peace Regatta. In the selection trials in Melbourne the pair won and gained selection for the World Games in Los Angeles and were chosen to contest Level 3 with instructor Chris Ruston on board as coach.

Alyse was selected in the NSW Sailing team to compete against other states for a place in the team to represent Australia for her fourth time at the Special Olympics World Games which will be held in Abu Dhabi in 2019.
The sailing for the Adelaide Games will take place at Adelaide Sailing Club, West Beach.
Over the March-April Easter weekend Alyse had another practice run by being part of the Combined Australian Hansa Class Championships, which were hosted by by Kogarah Bay Sailing Club with Sailability Kogarah Bay.
Although an original Sailability Pittwater girl and now part of the excellent program being run through Sailability Crystal Bay, supported by the Royal Prince Alfred Yacht Club, Alyse sailed under the Port Stephens Sailability moniker for these championships.
The Combined Australian Hansa Class Championships showcased some great talent and bright promise for the World Hansa Class Championships in Japan in October, which Alyse will be going to.
Some 70 sailors from seven states as well as from Japan and New Zealand competed, supported by 36 volunteers from Hansa-associated sailing clubs as well as Sailability members from several states. They sailed on 54 universal-design Hansa sailboats, competing in a spirited manner over the four days 30th March to 2nd April. Competitor's ages ranged from 10 to 85 with a 50/50 gender split.
The championships (incorporating the 2018 NSW Hansa Class Championships) were sailed in four classes: 2.3 Open, 303 Single, 303 Double, Liberty Open. Results here
Pittwater's own Allan Jones competed for Crystal Bay Sailability in the Hansa 2.3 and is now the current State Champion!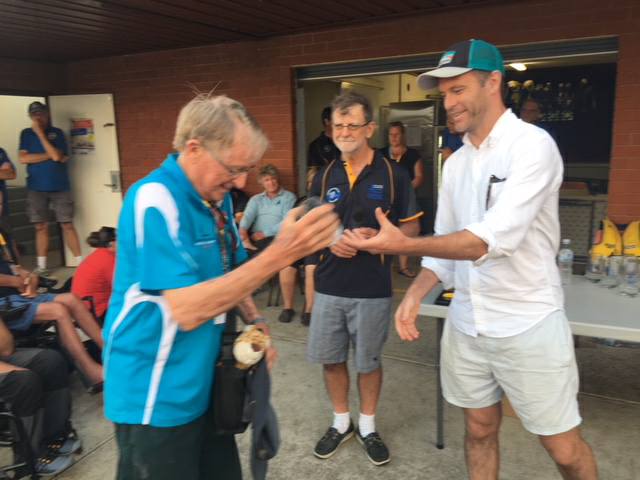 NSW State Member for Kogarah, Chris Minns, doing the honours, presenting award to Allan.

This was the 23rd staging of the event which began in 1995. World Sailing granted class status to the design starting in 2005. The Hansa Class (previously Access Class) is sailed in 35 countries around the world.
"We have been graced with good weather and great people, said Kogarah Bay Sailability coordinator, John Busuttil. "And it has been an honour to host this national event. Kogarah Bay Sailing Club has its own comprehensive Sailability program for which it was awarded 2010 Sydney South Volunteer Team of the Year for their efforts in this activity. We are also keen supporters of Australian Sailing's Tackers program to introduce kids to sailing."
According to the new President of the Australian Hansa Class Association, John Sanderson, "It has been a great year for the Hansa Class, leading up to Hiroshima. We have had a lot of regattas and a lot of training, with striking improvements across the fleet.
"Retiring president, Russell Phillips and secretary Shauna Phillips are to be commended for the six years of diligent service they have provided, putting us in a very solid position.
Hansa sailboats are designed and manufactured at Australian-owned Hansa Sailing Systems, based at Nowra, NSW, and exported around the world. Sailability Australia and the Australian Hansa Class Association share the same general philosophy of introducing sailing to people of all backgrounds, abilities and ages.
The Hansa 303 Class will be sailed for Levels 1, 2 and 4 in the 2018 Adelaide Special Olympics National Games. The Hansa 303 will be sailed for Level 5 mainsail only.
Few sporting events can match the social and emotional impact of the Special Olympics Australia National Games. Every four years, hundreds of athletes with an intellectual disability from all over Australia demonstrate their skills and sportsmanship at the Special Olympics Australia National Games, the flagship event of Special Olympics Australia.
For athletes it's the culmination of years of regular and dedicated training.
For families it inspires hope for a future.
For volunteers it provides a joyous outlet for their generosity.
For supporters it celebrates achievement over adversity.
This Games over 1000 athletes will compete across 11 sports, supported by 900 volunteers.
2018 Games Mascot: Sammy the Sea Lion
Sammy is a large, graceful sea mammal who lives off the south-west coast of Australia, a place where more than 70 per cent of her family also call home. Sea lions are one of the rarest species in the world and Sammy is proud to be part of and represent such a special and inclusive community.
While they might not look it at first glance, sea lions possess natural sporting abilities and Sammy's streamlined body and powerful flippers enable her to glide through the water like a torpedo as well as prop herself up to 'walk' with a spring in her step on land.
For Sammy, playing sport isn't just about the thrill of competing, it's a social activity and Sammy loves spending time with her friends and team mates as well as having her family there on the sidelines to cheer her on. After sport, Sammy enjoys nothing more than floating in the water or sun bathing on the sandy beaches and rocky islands of the South Australian coastline.
Sammy is set to join over 1,000 of her new Special Olympics Australia team mates in Adelaide from 16 – 20 April 2018 and cannot wait to celebrate their successes on a national level.
"Living on the spectacular coastline of South Australia and only a short swim from the beautiful city of Adelaide I am so excited to have the Special Olympics Australia National Games in our backyard this coming April. Happy training and see you at the Games," says Sammy with a smile!
All the staff and members at Royal Motor Yacht Club Broken Bay, where Alyse works, the royal Prince Alfred Yacht Club, Sailability Crystal Bay volunteers and those at Sailability Pittwater, in fact everyone here will be cheering you on Alyse.
Go girl! Do your best and have a great time catching up with old friends and meeting new ones.
Everyone here can keep up to date with the 2018 Special Olympics National Games in Adelaide here - Facebook page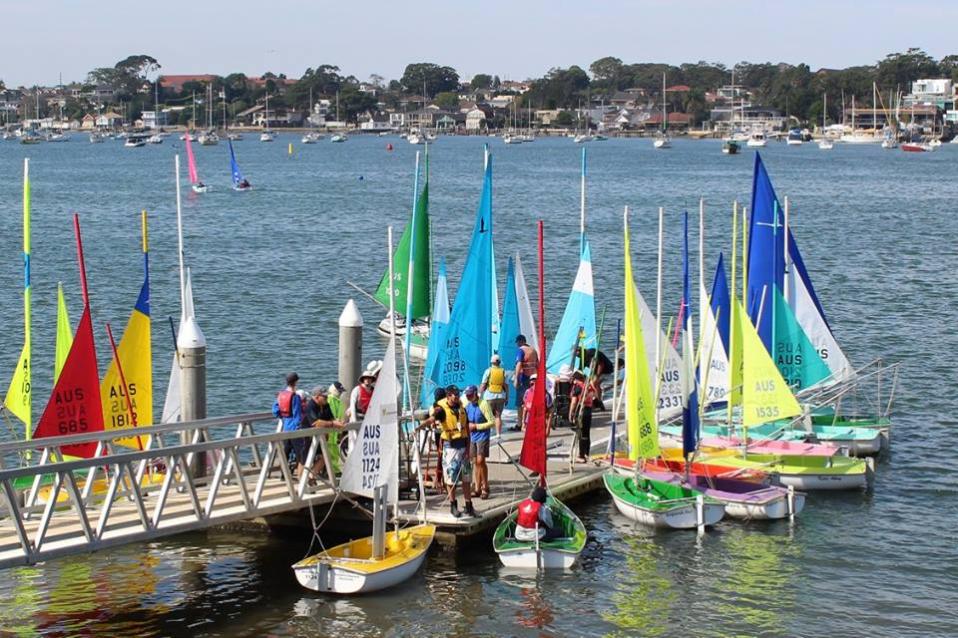 Colourful fleet at the Combined Australian Hansa Class Championships at Kogorah 2018 - photo by Allan Jones