April 29 - May 5, 2018: Issue 357

ANZAC DAY IN PITTWATER 2018
Thousands of residents have attended ANZAC Day Commemorative Services from Narrabeen to Palm Beach this week.
On
Sunday April 22nd

N

arrabeen RSL held their
2018 Narrabeen RSL sub-Branch ANZAC March
and Wreath Laying Ceremony.
Participants assembled in the car park (adjacent to the Narrabeen Terminus). The parade was led by the Manly Warringah Pipe Band and preceded along Pittwater Road to the Narrabeen Cenotaph, at the intersection of Pittwater Road, Ocean Street. The March included Narrabeen RSL
President, Mr Barrie Epps
Vice President Mr Wayne Edwards and
Hon Secretary/Treasurer: Mr John West (PSM),
invited dignitaries, sub-Branch members, Scout and Girl Guides as well as the Narrabeen Youth Club and local schools.
Sunday April 22nd is when
Pittwater RSL Sub-Branch held their annual Sunday before
ANZAC Sunday March.
The March commenced in Vineyard Street Mona Vale with a Commemoration Service and Wreath Laying Ceremony at the Mona Vale War Memorial at 1:00pm.
The March included
President of the Pittwater RSL Sub-branch, Deborah Carter and Senior Vice President, Michael Carrodus,
invited dignitaries, sub-Branch members, Girl Guides as well as the Pittwater RSL Football Club and local schools.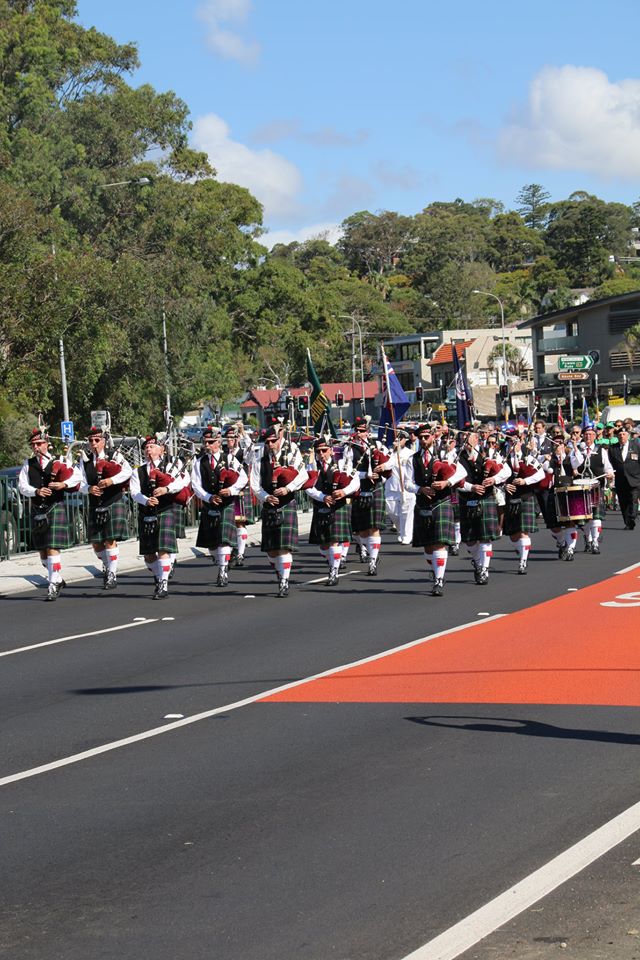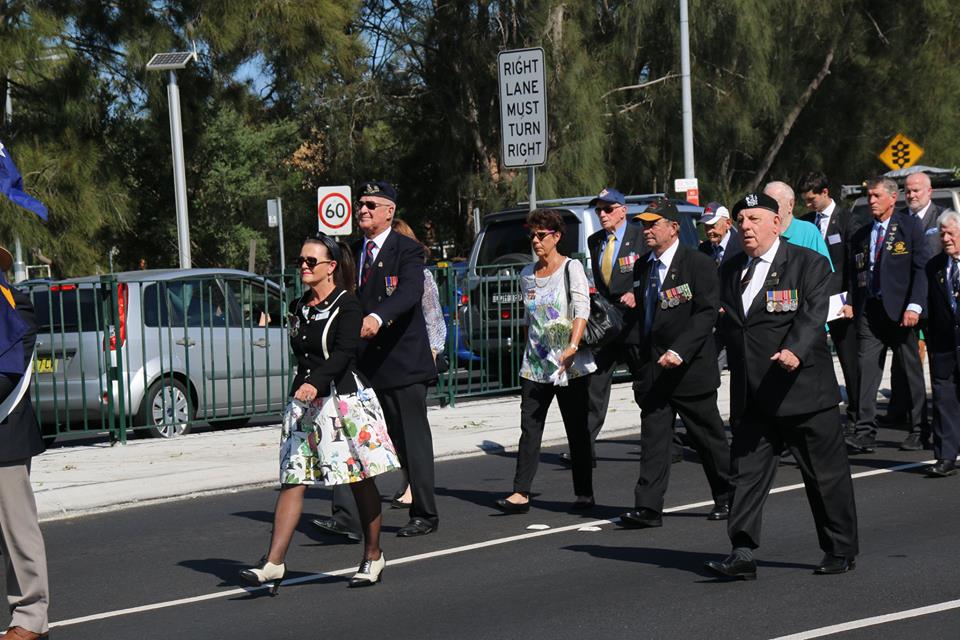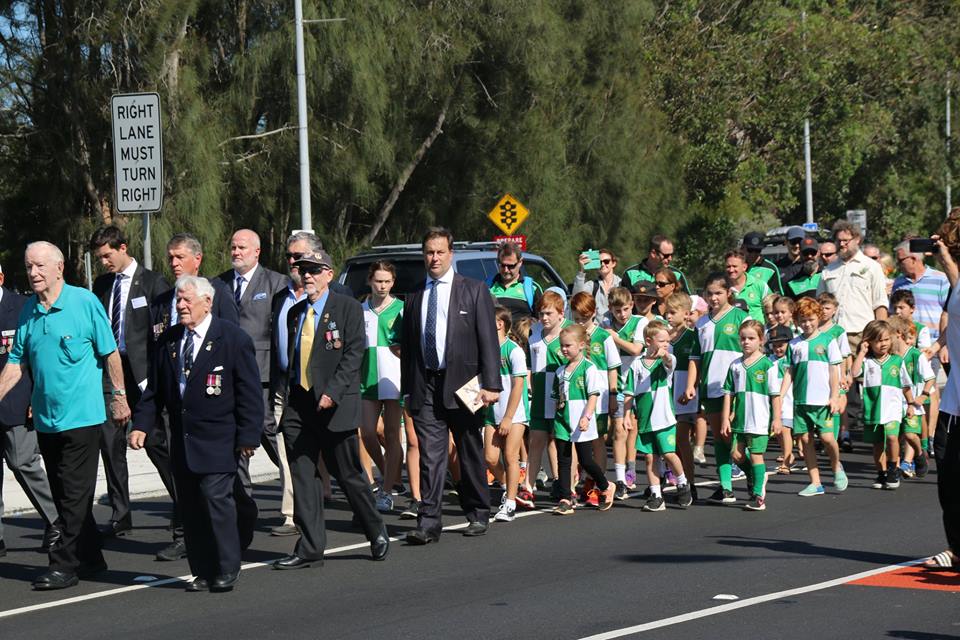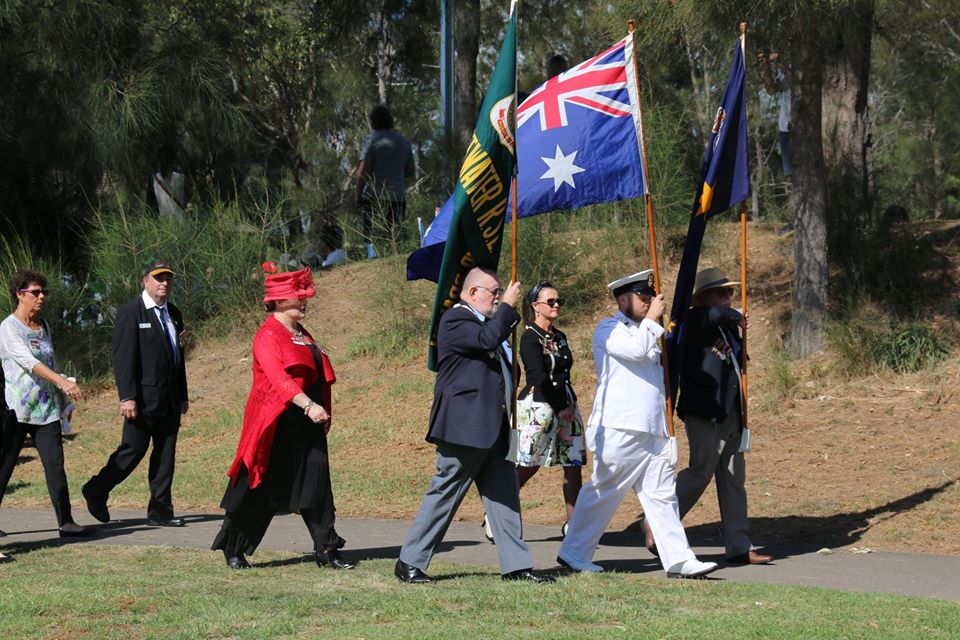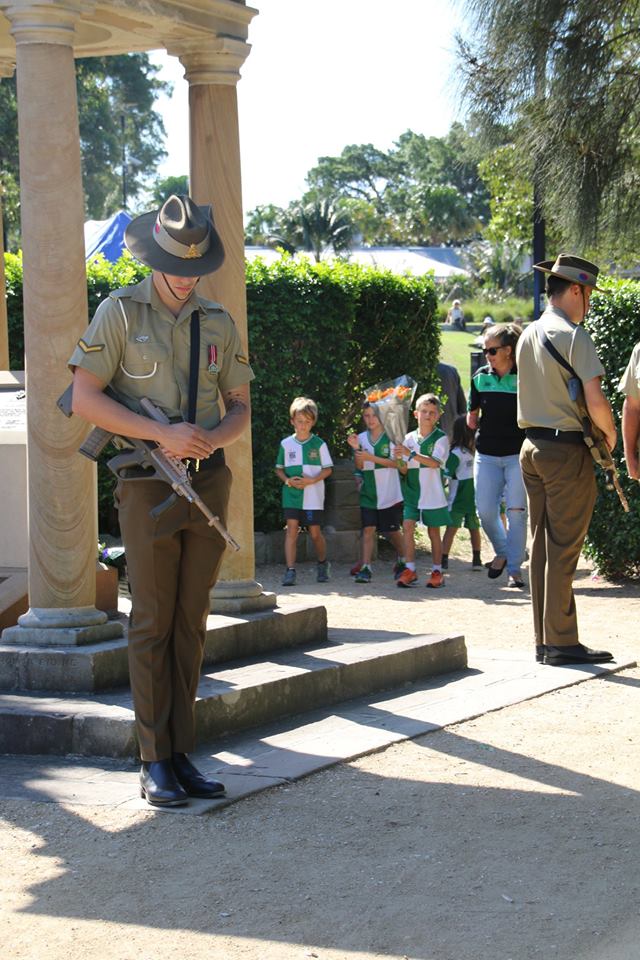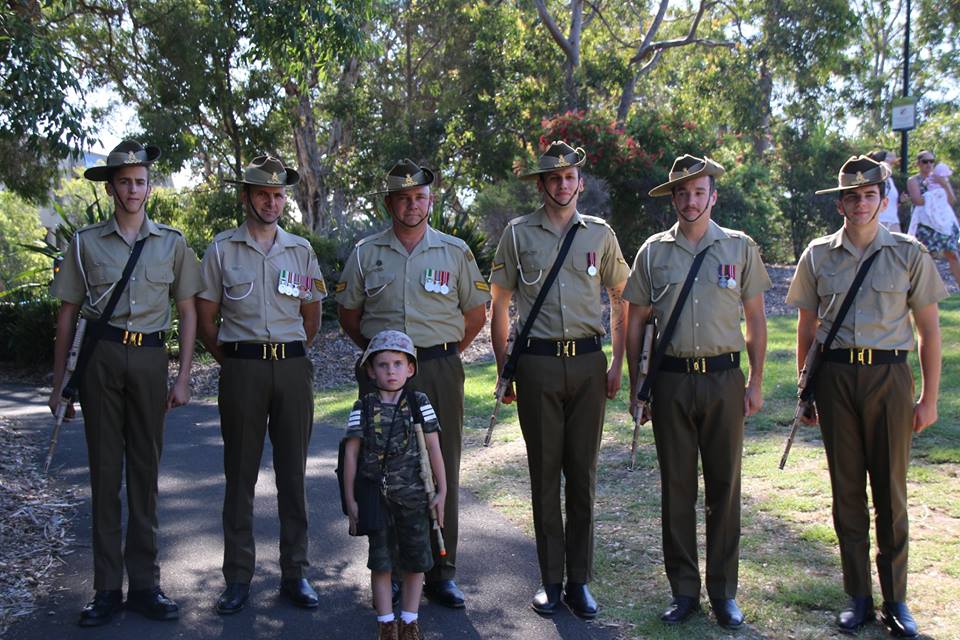 Photos by Pittwater RSL
Pittwater RSL's ANZAC Day Dawn Service, on Wednesday 25th April
was
held
at the Cenotaph located at the rear of Pittwater RSL Club. Members assembled for the March and the Commemorative Service was conducted by
President of the Pittwater RSL Sub-branch, Deborah Carter and Senior Vice President, Michael Carrodus
.
Over one thousand attendees were present to pay their respects, including Pittwater MP, The Hon. Rob Stokes and NBC Councillors Kylie Ferguson and Rory Amon.
Local Military Historian and Sub Branch Member Joe Crumlin OAM gave the ANZAC address.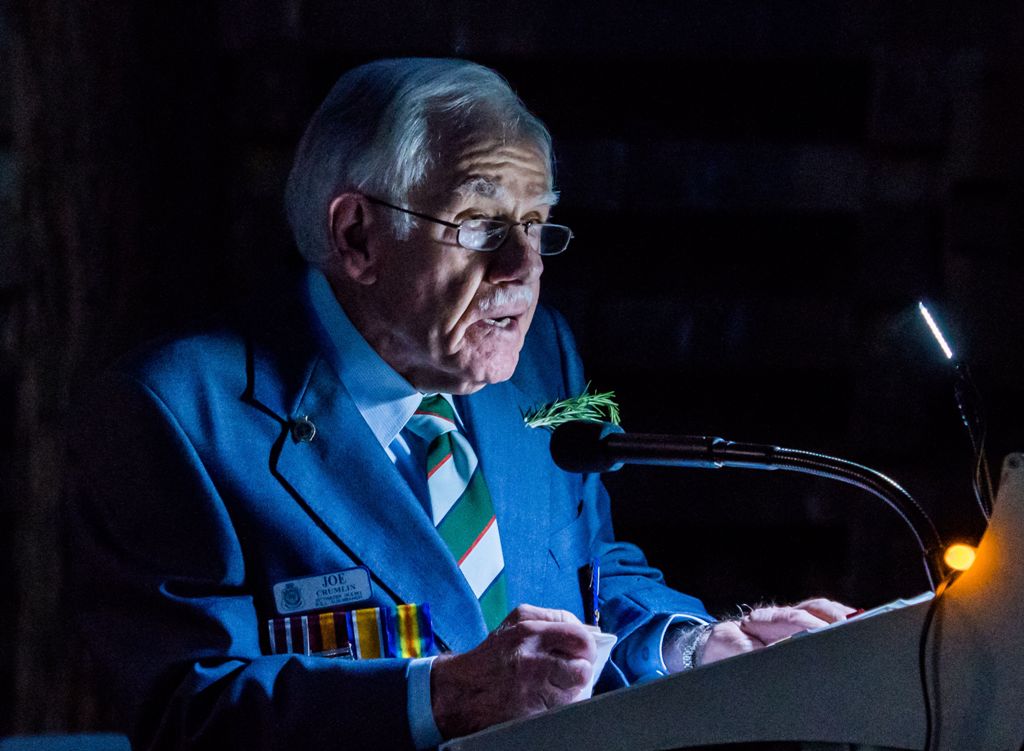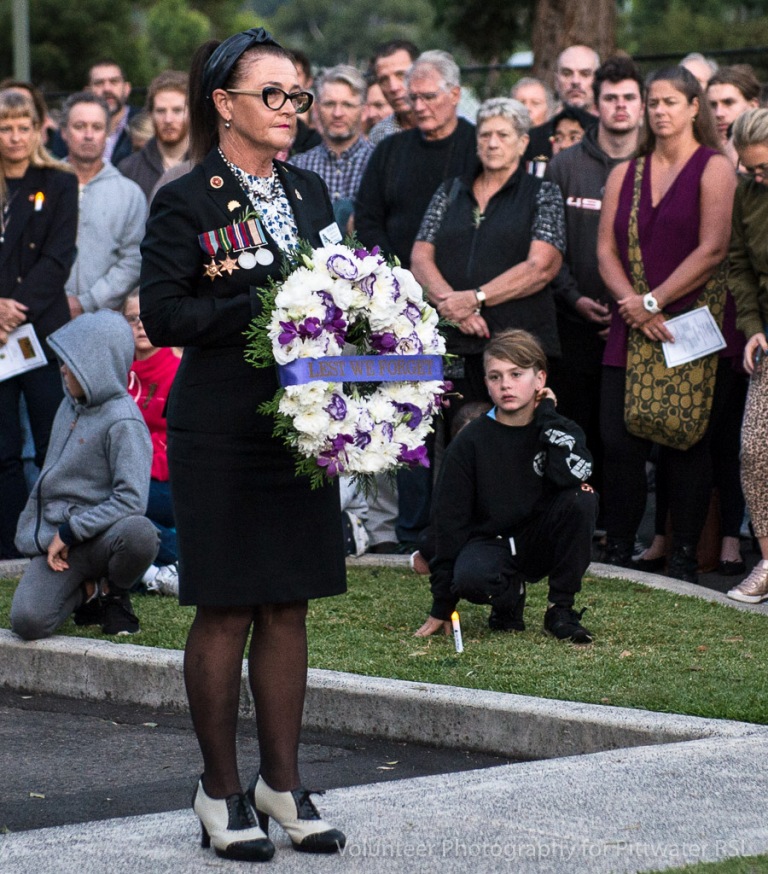 President of the Pittwater RSL Sub-branch, Deborah Carter
Harriet Channon performed the Last Post and Reville on a real bugle, while singer Anna Gebels provided the National Anthem at both the ANZAC Sunday Service at Mona Vale Village Park
Cenotaph
and the ANZAC Day Dawn Service at Pittwater RSL Cenotaph.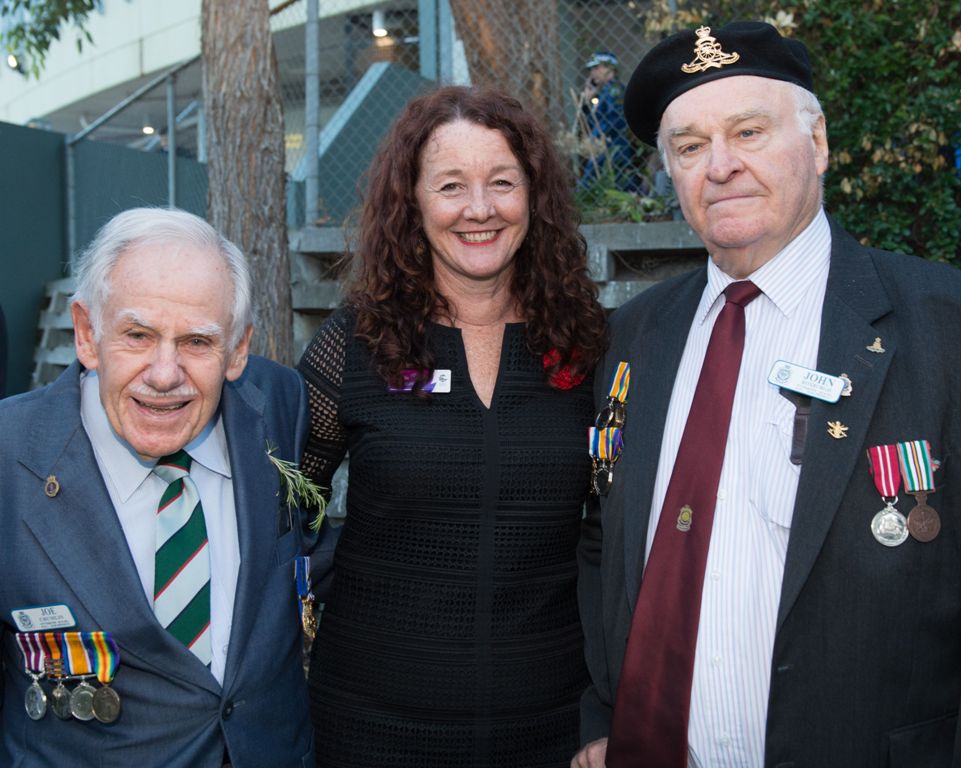 Joe Crumlin OAM, Cr Kylie Ferguson, John Roxburgh
At Newport, Trafalgar Park Cenotpah, an ANZAC Day Dawn Service
conducted by Lt. Col. Matt Stevens CSC was held. The Newport Beach
Cenotaph
is d
edicated to the fallen and was first unveiled by Major General Cullen DSO., ED on the 25th of February, 1962. This was the first time since 1966 an Anzac Day Dawn Service has been held at the Trafalgar Park Cenotaph, Gladstone Street Newport. The Newport community would like to thank Lt. Col. Matt Stevens for helping to put together this very special event.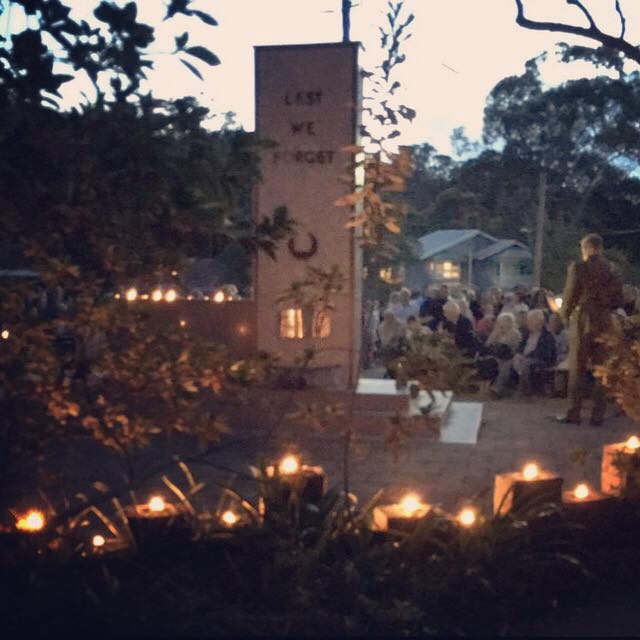 Church Point Residents held a
Community ANZAC Day Service
in
Church Point Reserve at 11 a.m.
Palm Beach RSL held an
ANZAC DAY 2018 March and Commemorative Service on
Wednesday, 25th of April
The March commenced from Pittwater Park (next to Palm Beach ferry wharf)
to Club Palm Beach for the
Commemorative Service outside the Club.
The March was led by students from Avalon Beach Public school. The Service was conducted by Palm Beach RSL Sub-branch President Mark Ferguson and attended by MP for Mackellar Jason Falinski, Club Patron, Bronwyn Bishop,
President of the Pittwater RSL Sub-branch, Deborah Carter
and
Bryan Webster, President of the Directors of Club Palm Beach, LAC Acting Area Commander Robert Beazley and NBC Councillor Alex McTaggart.
Around one thousand people attended the Service.
Every year this club holds a Commemorative service outside Club Palm Beach, followed by an Anzac Day Luncheon for Members and Guests with of course the later entertainment of TWO-UP.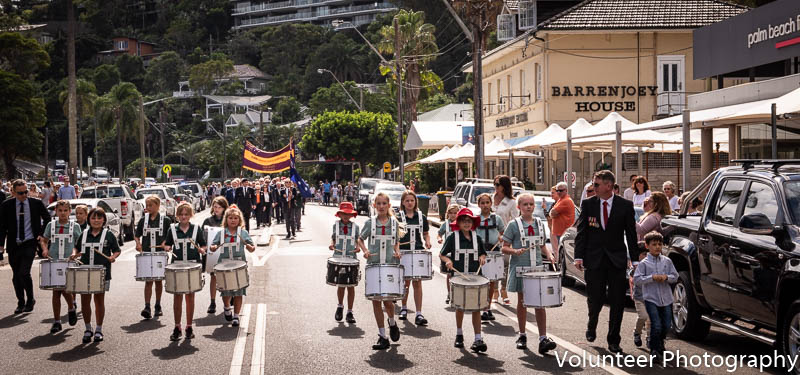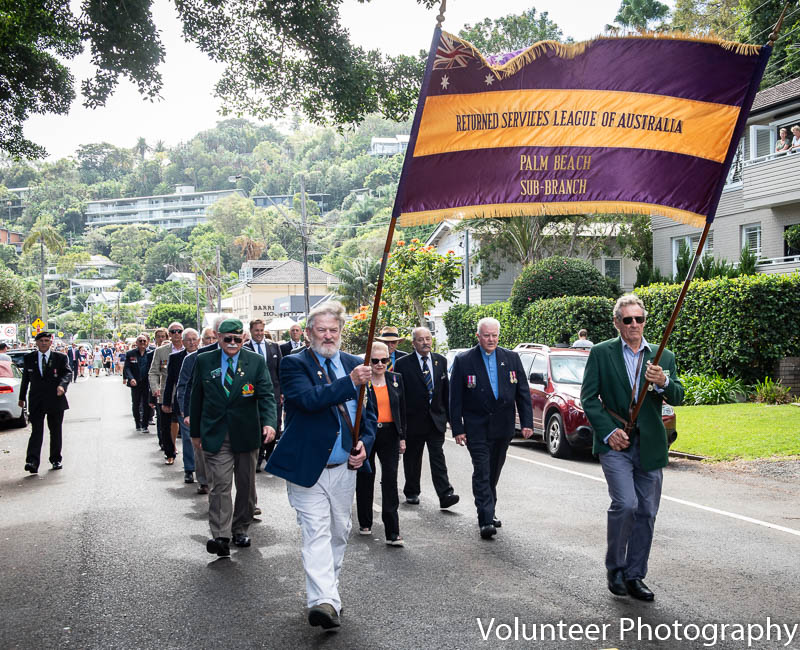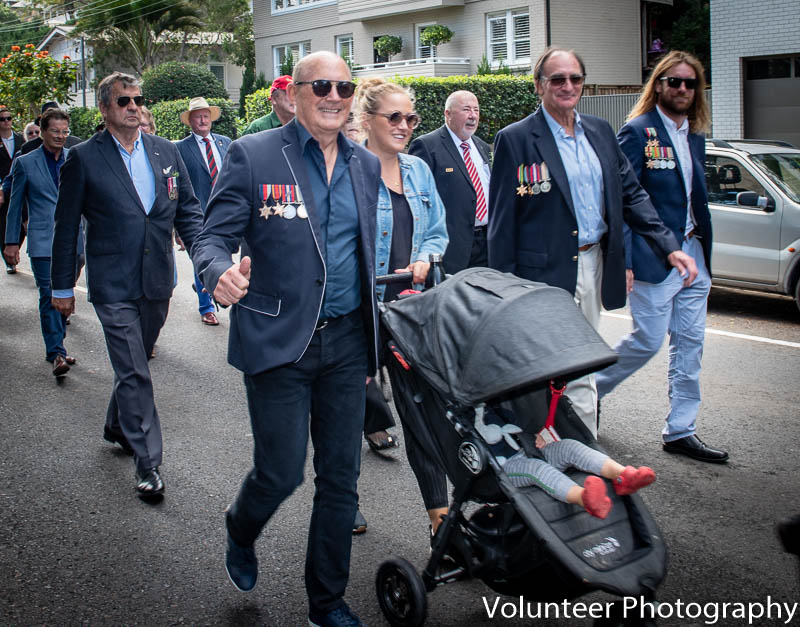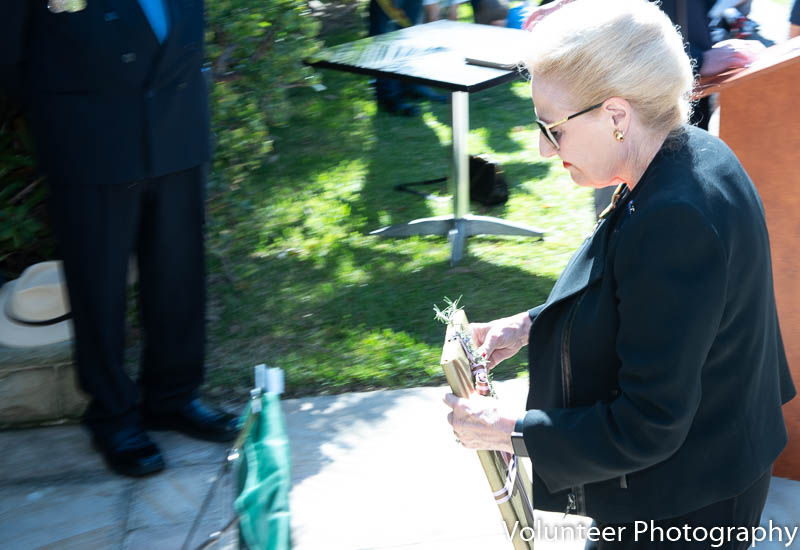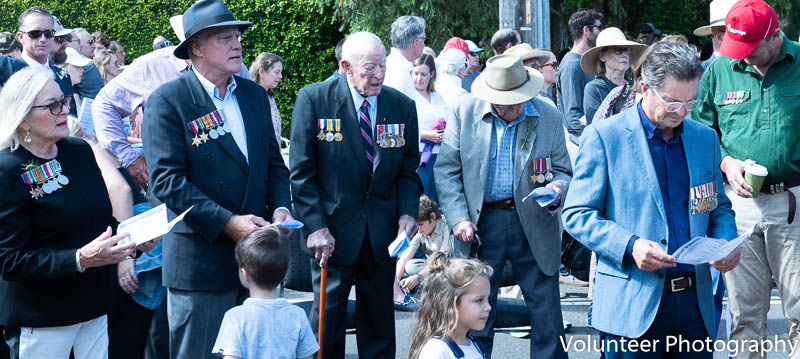 The ANZAC Day 2018 Dawn Service at Avalon Beach RSL Club
had a
round two thousand people in attendance. The
Service was conducted by Captain Michael Maley CSC DSM, President of Avalon Beach RSL
Sub-branch, a
ssisted by Mark Houlder, President of Avalon Beach RSL Club.
Special Guests included
Rear Admiral Michael Van Balen, Deputy Chief of Navy,
Cameron Edgar – Superintendent, Zone Manager and SCAT Helicopter Paramedic, NSW Ambulance and
Ian Bowsher, Principal of Barrenjoey High School
Given by Captain Michael Maley CSC DSM
In the half light of early dawn April 25 1915 thousands of Australia's and New Zealand's finest stormed the beaches of Suvla Bay. Before the first gun shots echoed the world had not really heard the word ANZAC. By nightfall of that day, the world could never forget the name ANZAC and the Symbolism that is contained within it. A symbol of immense loss of life, a symbol of courage in the face of adversity, a symbol of Australian tenacity and most importantly a symbol by which to remember continued sacrifice. A symbol that ensures that we that are left to grow old will never ever forget.
We will never forget the sacrifices of those that fell on the shores of Gallipoli, those that fell on the Battle Fields of the Western Front- Ypres, the Somme, Villiers Bretanneaux. The seeds of Australian sacrifice were sown across the many battlefields of France, Belgium and Germany. And at the end of World War 1 over 60,000 of our finest had paid the ultimate sacrifice. To put that in perspective, the Australian population at the time was approximately four million. Within two years of wars end the same number had died of their war wounds upon return to Australia.
We will never forget those that heeded the call when the world once again went to war in Europe and the Pacific. We will not forget those that perished in aircraft over the Solomon Islands, nor those that went to watery graves entombed in ships or those that slogged it out in Kakoda, never to return home. When the guns fell silent in 1945 another 29,000 had paid the ultimate sacrifice. And for the first time in our history brave men and women were killed on Australian soil, with more bombs falling on Darwin than Pearl Harbour.
As the years progressed Australian Sacrifice continued to be made with the occupation of Japan, the Korean War and the Indonesian confrontation. In my life time alone we have sent brave men and women to Vietnam, the Solomons, Iraq, Afghanistan and Syria. They went, they fought with distinction and sadly many were returned home in flag draped casket.
For those that lay in foreign battle fields we will never forget you. Those that lay beneath the sea will never forget you and those that have been. returned home in flog draped coffins and buried on home soil - we will never forget you. You are all ANZACs to the core.
VALE
Given by Tamara Sloper Harding, Vice president of Avalon Beach
RSL Sub-branch and
Mark Houlder, President of Avalon Beach RSL Club
We remember with deep respect members of Avalon Sub-Branch and the Avalon R.S.L. Club who have passed on since our Dawn Service of last year
Sub-Branch: Doug Hampson, Mick Wales, Paul McKibbin, Warren Park, Wendy Field.
Club Members: Andrew Wiseman, Erwin Burer, Walter Hucker, Michael Katz.
Catafalque Party and Honour Guard: Cadets of 201 ACU and 305 Sqdn. AAFC
Bugler: Robbie Adams
"FLANDERS FIELDS" recited by
Holly Knights. Year 7 Student of Barrenjoey High School.
"AMAZING GRACE" ;
Vocalists: Jess Harris, Joy Yates & Marie Ozaltin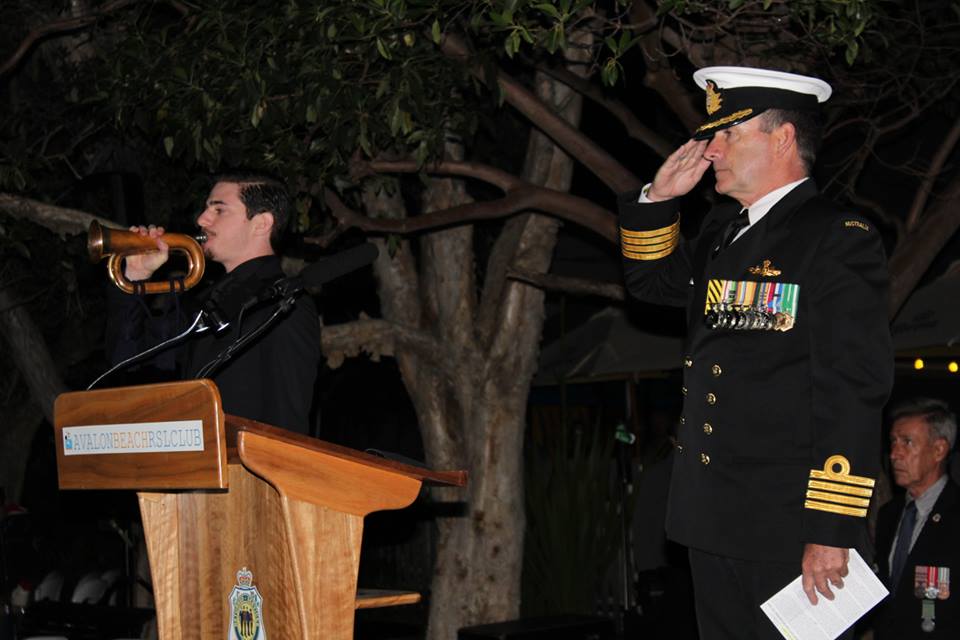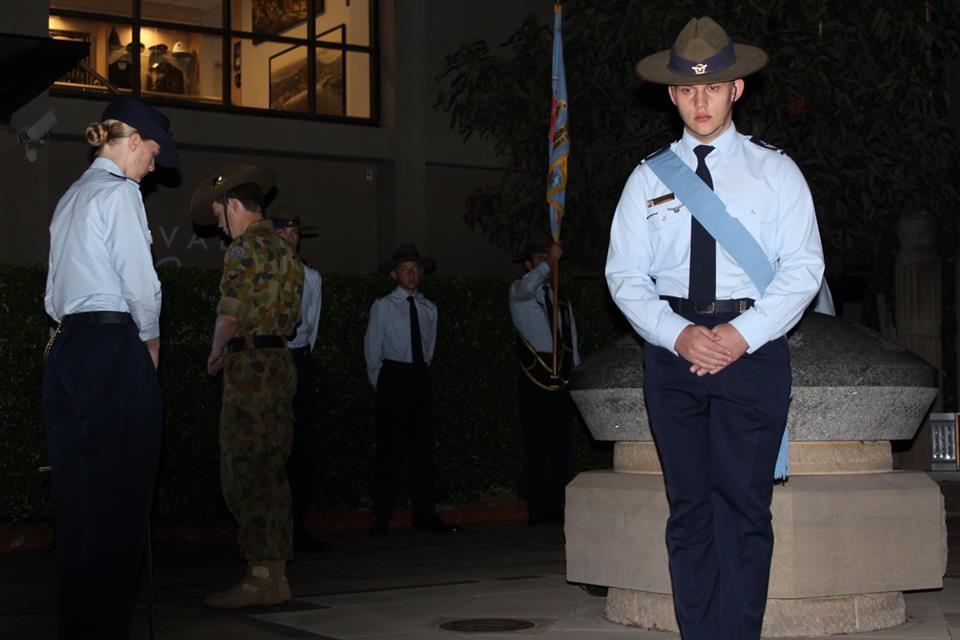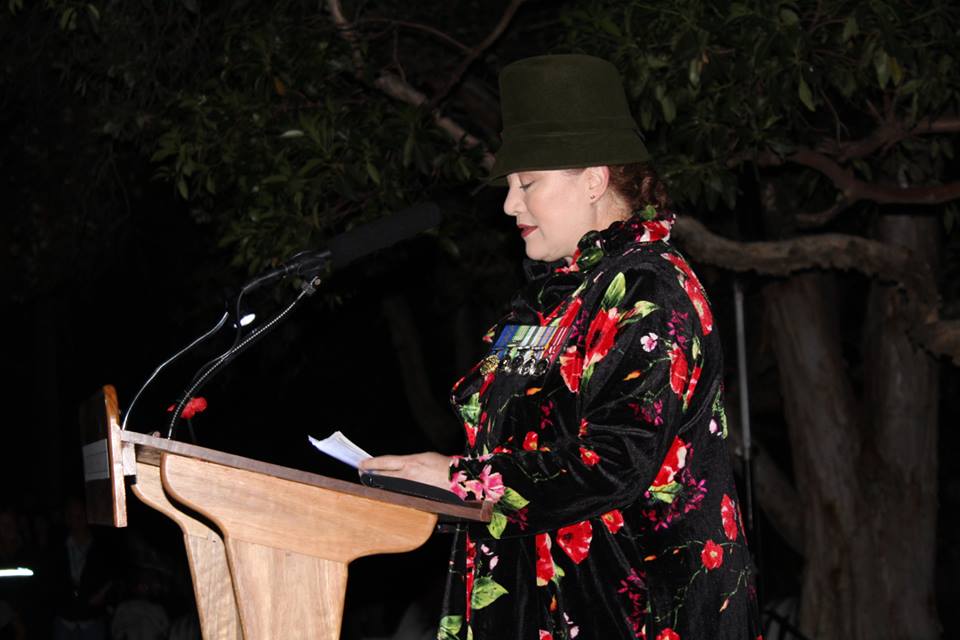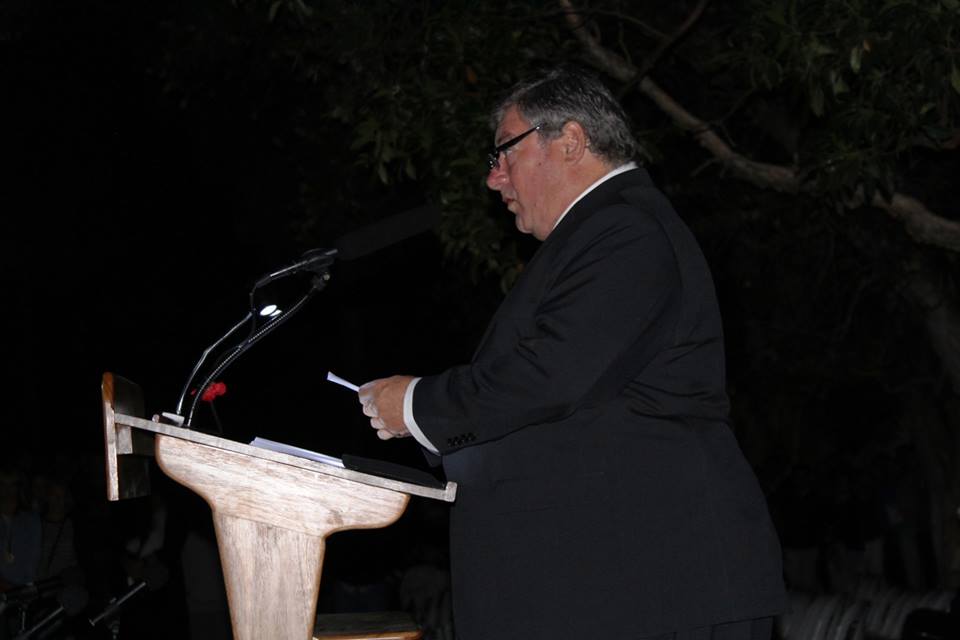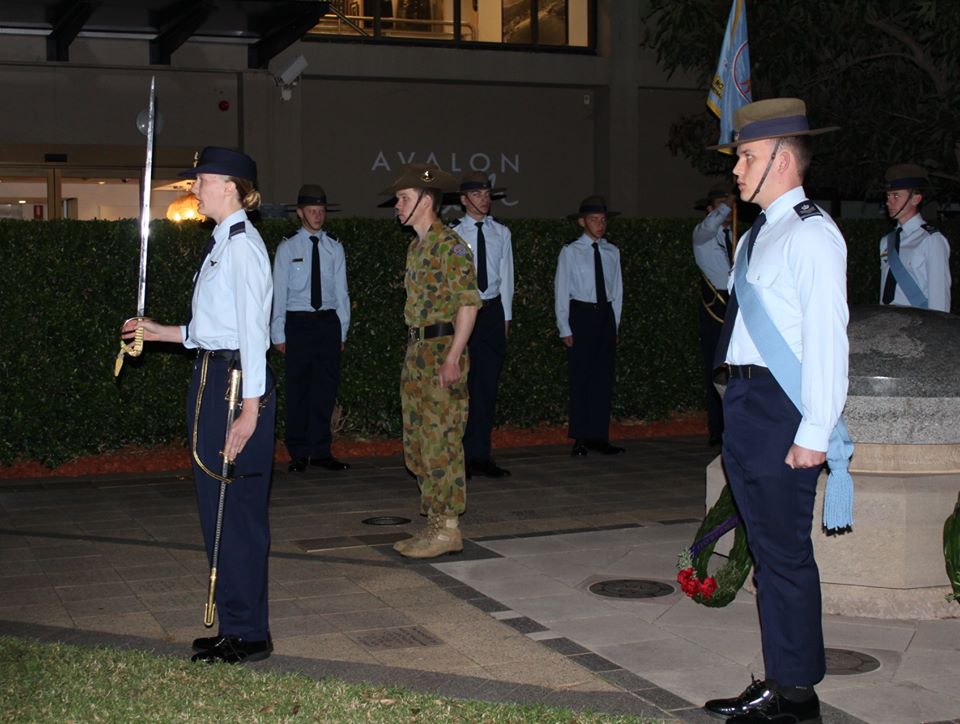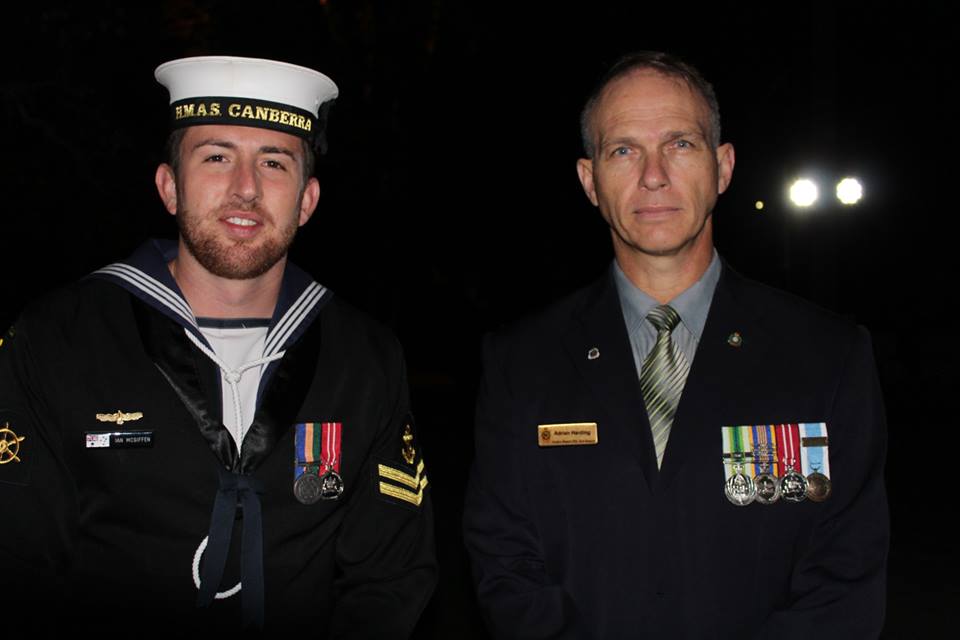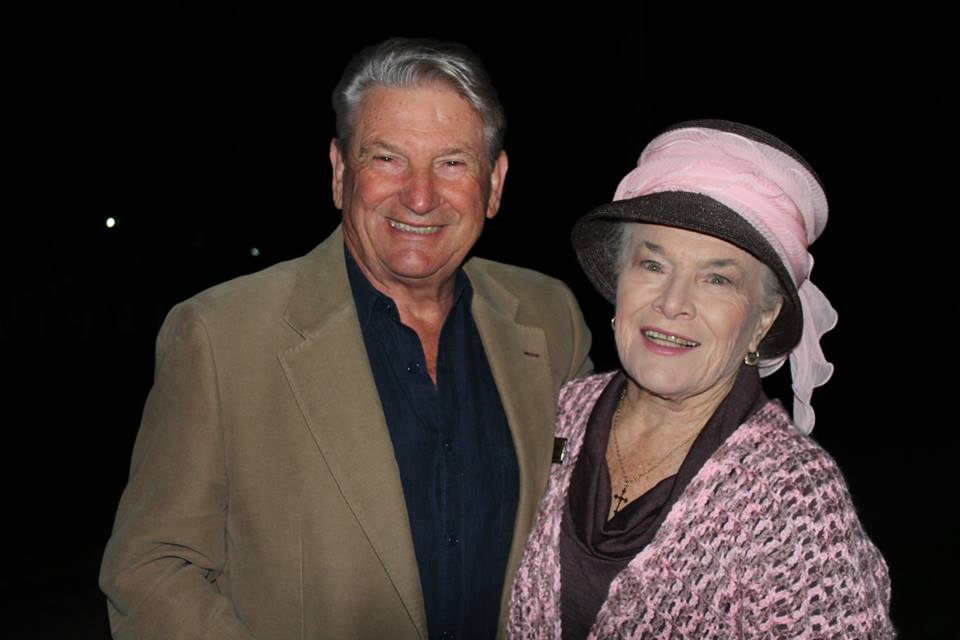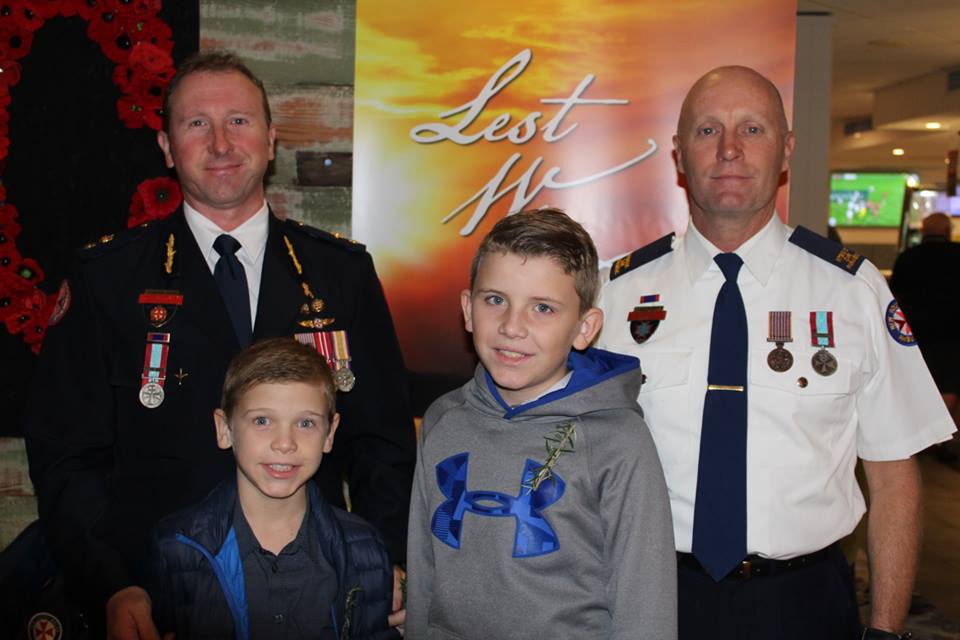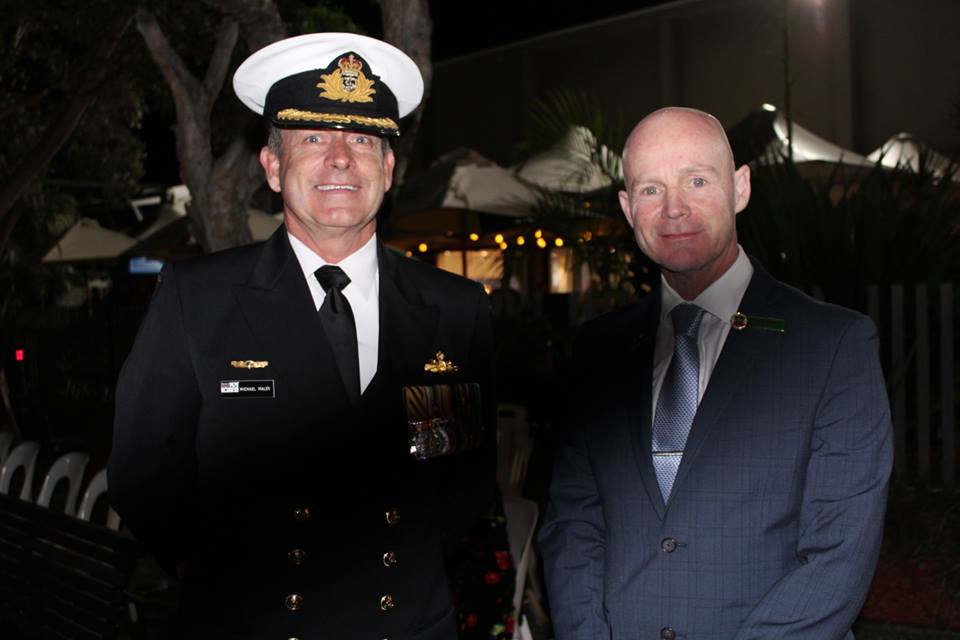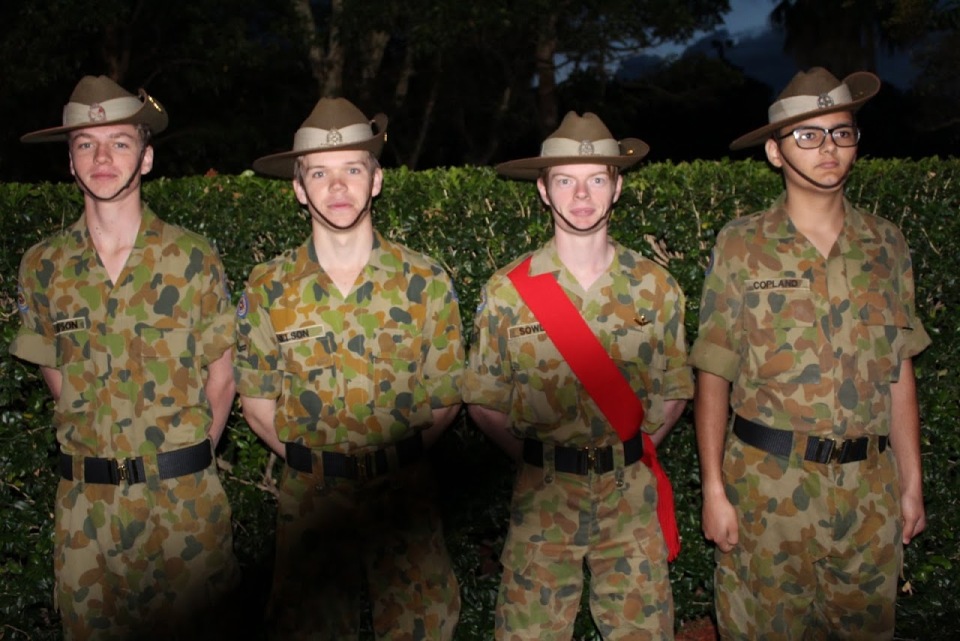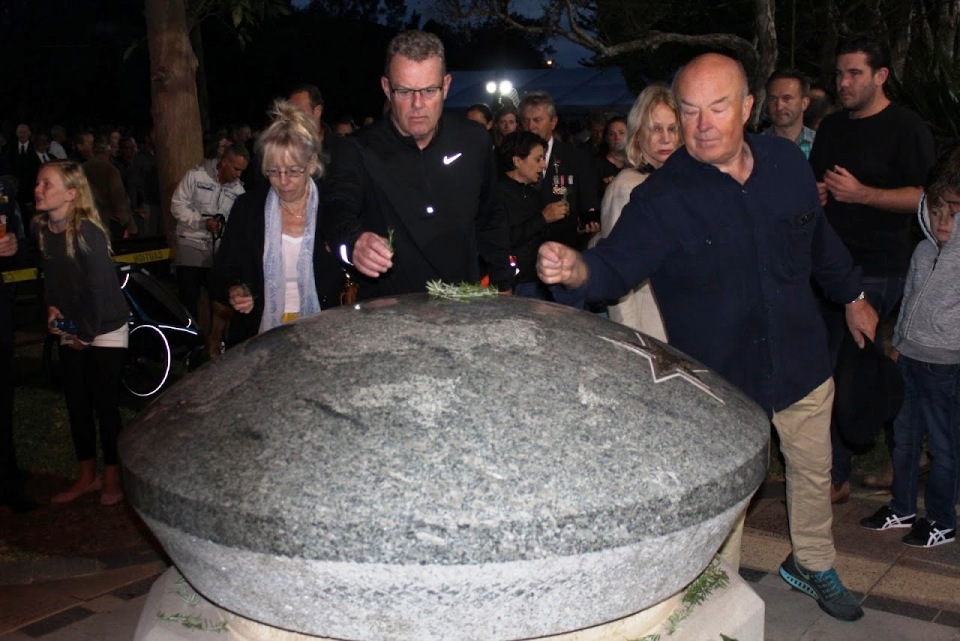 Photos by A J Guesdon, Pittwater Online News

11 am Commemorative March and Service - Avalon Beach RSL Club
was attended by over two thousand people. Local schools; Barrenjoey High School, Bilgola Plateau Primary School, Avalon Beach Public School, Maria Regina Avalon and Newport Public school along with Bayview Sea Scouts, Avalon Beach SLSC, Avalon Soccer, Avalon JRLFC members, the Zonta Club, Rotary, Pittwater Friends of Soibada and the Royal Australian Navy Clearance Divers Association were led in the March by Avalon Beach RSL Sub-Branch members.
The Service was conducted by Captain Michael Maley CSC DSM, President of Avalon Beach RSL
Sub-branch, a
ssisted by Mark Houlder, President of Avalon Beach RSL Club.
Special Guests included
Rear Admiral Michael Van Balen, Deputy Chief of Navy, LCDR Ben Fennel, The Hon. Rob Stokes, MP for Pittwater, Inspector Ellen Kaserman and NC Councillor Rory Amon,
Principal
of Barrenjoey High School, Ian Bowsher.
Catafalque
Party and Honour
Guard
formed from 305 Sqdn. Australian Air Force Cadets.
Colour Party formed by Avalon Beach RSL Sub-branch Members.
Prayers read by Barrenjoey High School Captains Elijah Thomson and Ella Couston
Music provided by Barrenjoey High School Band conducted by Joshua Hughes.
Vocalists: Jess
Harris
, Joy Yates, Marie Ozaltin,
Samantha
Shaw
and the Big Sing Community Singing Group.
Leading Seaman Ian McGiffen gave the Address at the Commemorative Service.
The Hon. Rob Stokes, RADM Michael Van Balen (former deputy Chief of Navy), Captain Michael Maley CSC, DSM President Avalon RSL Sub-branch, distinguished guests, fellow serviceman and women, ladies and gentleman.
Before we begin proceedings, we would like to acknowledge the traditional owners of the land on which we meet and their ancestors past and present.
Ladies and gentleman, it is my high honor and distinct privilege it is to be here today representing the Australian Defence Force in particular the Royal Australian Navy and my unit HMAS Canberra. Like many of you I have stood right here, at Dunbar Park for many years now, accustomed to the fine Commemorative Addresses delivered by our late Sub-branch President CMDRE Graham Sloper. So it is indeed a privilege to deliver the commemorative address for ANZAC Day 2018 up here in Avalon.
For many Australian's the first World War, remains the costliest conflict in terms of deaths and causalities, with a population of fewer that 5 million some 416 thousand men enlisted to serve, of whom 60,000 were killed and a further 156,000 wounded.
In just over two decades later, Australia again saw herself engaged in conflict, the memories of WW1 still firmly entrenched in the hearts and minds of many Australians. As the men and women of Australia again responded, they knew the dangers, the cost and the sacrifices involved. The time was for Australia to fight for her future and her sovereignty.
In 1942 the year began with a growing sense of anxiety as war spread to the Asia Pacific following Japan's attack on Pearl Harbor. The war that had begun in Europe two years earlier had now become a truly global conflict.
As the war raged on and became closer and closer to Australian shores, there are many little-remembered accounts of heroism and sacrifice from the history of the Navy at war which deserve to be better known. The life and death of the light cruiser HMAS Sydney is well known and her 645 dead are now honoured, as they should be. She has been found and the mystery surrounding her last fight and her loss substantially solved. But the battles fought by the RAN's heavy cruisers HMAS Canberra and Shropshire and the story of their tragedy and triumph is much less well known than it deserves to be. It is a very Australian story of loss and pain and disaster followed by recovery, fight back and final victory. It is the substance upon which the ANZAC legend is built.
On 9 August 1942 HMAS Canberra, part of an American task force, was hit by a torpedo at night during the Battle of Savo Island, in the Solomons. Her electrical supply generators were destroyed. Without power she could not train her big guns and fight back against the Japanese ships attacking her. She received 24 hits from shellfire in two minutes from a succession of enemy ships. Her officers and men fought a courageous but losing battle, without power, to control flooding and to put out fires. Young sailors were seen running through flame to throw heavy 8 inch ammunition over the side before it exploded. Eighty four men were killed and 109 severely wounded.
Canberra's wardroom was converted into an operating theatre dimly lit by lanterns. The medical team amputated shattered limbs and treated terrible burns, while the ship's company fought to save Canberra. Captain Frank Getting, Canberra's much loved and respected Commanding Officer, was mortally wounded and was taken below in agony to be attended to. He knew he could not survive his wounds and insisted that the medical officer and his medical attendants ignore him and treat his injured sailors, who might yet have a fighting chance. This was typical of Getting's whole life. He died as he lived, selflessly in the service of his men, the Navy and Australia.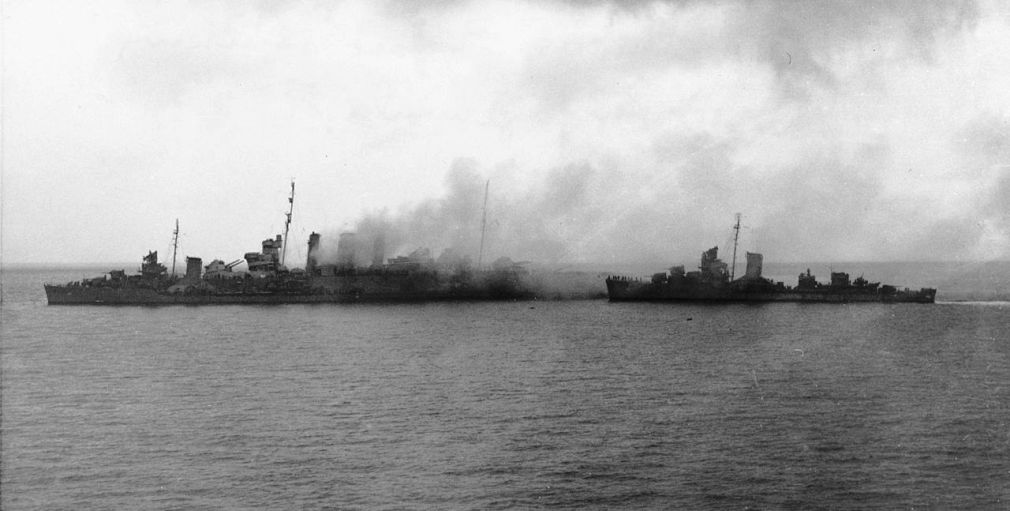 U.S. Navy destroyers remove the crew from the sinking Royal Australian Navy heavy cruiser HMAS Canberra (D33) after the Battle of Savo Island, 9 August 1942. USS Blue (DD-387) is alongside Canberra´s port bow, as USS Patterson (DD-392) approaches from astern. Photo courtesy U.S. Navy - Official U.S. Navy photo 80-G-13488 from the U.S. Navy Naval History and Heritage Command.

His ship could not be saved either. By morning Canberra was beyond repair. Her dead were committed to the deep, her wounded and exhausted survivors were taken off and their ship was scuttled by American torpedoes. It was a traumatic moment in the history of the young RAN. This was the third Australian cruiser to be lost in battle in nine months. The Admiralty in London decided that the Australia should be given a Royal Navy heavy cruiser to replace Canberra. HMS Shropshire, a sister ship to Canberra, was chosen. Canberra's veterans, supplemented by new recruits, were sent to England to pick up their new ship and steam her back to the Pacific war.
All on board were burning for a chance to hit back and avenge their lost comrades and to show what they could do in battle. Inside Shropshire's big 8 inch gun turrets gunners stencilled the word "Canberra" so that no one would doubt that this was now a very personal war.
Her greatest chance to hit back came at the Battle of Surigao Straits in the Philippines in October 1944. As a part of an American task force her target was the massive Japanese battleship Yamashiro, the most powerful battleship Japan ever built.
Shropshire was in a cruiser force that closed the range and her gunners fired thirty two broadsides from her eight guns at a range of as little as 12,700 yards claiming sixteen hits. Yamashiro fired back and straddled Shropshire with massive shells, any one of which could have destroyed her. Shropshire's guns' crews achieved their thirty two broadsides in fourteen minutes - an amazing feat of guts, physical strength, teamwork and discipline. The weary but jubilant gunners stopped firing to witness the sinking of the crippled Yamashiro by HMAS Arunta and USN destroyers. Canberra's 84 dead, including her selfless Captain, Frank Getting, were well and truly avenged.
We remember today the 521 Australians who lost their lives in Vietnam. Recognition and thanks have now been freely given to that generation who went to war when their Government required them to do so. They have paid a heavy price for their service. It is greatly to their credit that with the Army's assistance they found all six of their mates who were still 'missing in action' in South Vietnam and have brought their remains home to Australia. No one has been left behind.
Today I would also like to acknowledge the women's service and the contribution to the war effort they made as we recall the extreme hardship and dedication to duty of all those Australian nurses who served in the wars of the twentieth century.
They gave effortlessly of themselves to keep alive wounded Australians and allied forces. They were critical to the success of the medical teams which saved the lives of wounded civilian men, women and children. These women all deserve our respectful thanks for their service and an understanding of the price some still pay for the trauma they witnessed.
We remember the 52 peacekeepers who are listed in the Australian War Memorial's Book of Remembrance who have lost their lives on duty since 1947. These brave men and women have been largely forgotten until recently but they died while maintaining truces, providing humanitarian aid to victims of war, establishing law and order and removing mines.
Today, a new generation of our soldiers, airmen and sailors are serving in troubled locations, including Afghanistan, Timor-Leste, Egypt, Iraq, the Middle East, Sudan and the Solomon Islands.
This morning we remember not only those who died last century serving our country but those 44 members of the ADF that paid the ultimate sacrifice in Afghanistan and Iraq. They are missed every day by those who loved them.
We remember that they died serving Australia by attempting to bring hope and security to a war torn and ravaged region of the world. Many with young families left behind.
Australia's recent commitments to wars in the Middle East has come at a great cost to our ADF men and women with several thousand of our modern day veterans left with some form of disability or impairment. War is brutal and should never be glorified.
I recall the story from the mother of friend of mine, she works at the War Vets in Collaroy Plateau, she describes the heart break she feels every day at work in witnessing young men, some only in their late 20's, suffering from PTSD, some with young families.
Thankfully today we do not pay this condition off as shell shock any more, our veterans have services available to them such as the Veterans Centre Northern Beaches, Department of Veterans Affairs and others.
This day marks the anniversary of the landing at Gallipoli. Like hundreds of thousands of our fellow citizens, who gather at memorials in cities, suburbs and towns across Australia like this one, we have come here to commemorate one of the most significant events in our national calendar. In recent years some commentators have expressed amazement at the fact that the observance of ANZAC day continues to draw record crowds. So thank you for your attendance today.
Respecting the courage and compassion of those who come when we call for help is a potent way of remembering those who lost their lives far from home in the defence of Australia and our freedom. Our war dead are buried in Commonwealth cemeteries across the world, in the fields of Europe, the sands of the Middle East and in the tropical cemeteries of Asia and the Pacific. But thousands of our dead have no headstone but only an inscription to mark their loss. These are the 'missing in action' whose remains have never been recovered. Wherever they are their spirit abides here with us, in the land they loved, for as long as we remember them. Lest we forget.
______________________________
Captain Frank Edmund Getting, RAN – 1899-1942
Frank Edmund Getting was born on 30 July, 1899, the son of Mr. and Mrs. P.E. Getting of Quarantine Street, Manly, New South Wales.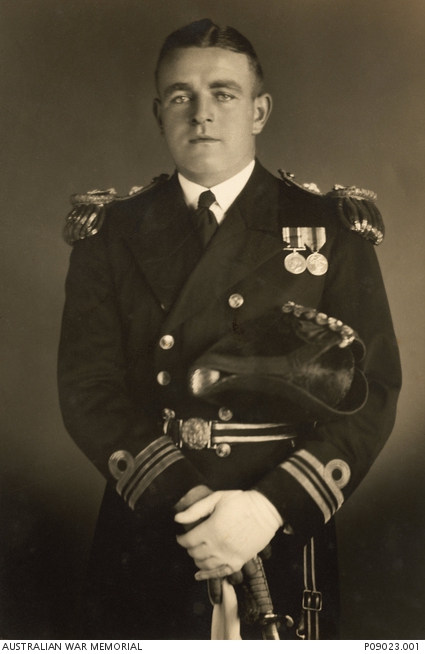 In 1913 Frank applied for entry and was selected to join the first intake of Cadet Midshipmen at the newly established Royal Australian Naval College, located at Osborne House, Geelong, Victoria. In 1915 the College was relocated to HMAS CRESWELL, Jervis Bay. It was from here that Cadet Midshipman Getting graduated in 1916
, with Waller, Collins and other Midshipmen who went on to contribute significantly to the newly formed Royal Australian Navy.
At the completion of his college training, Getting was one of twenty-three Midshipmen posted in January 1917 to the Royal Navy's Grand Fleet in United Kingdom to undergo further training.
On 4 April, 1917 he was appointed to the new "Courageous" class light battle cruiser HMS GLORIOUS.
On 1 September, 1918 Getting was promoted to Acting Sub-Lieutenant and was transferred to the "Iron Duke" class dreadnought HMS BENBOW. It was during the five months on BENBOW that he was confirmed in the rank of Sub-Lieutenant.
Sub-Lieutenant Getting was given his first appointment to an Australian ship when he joined the submarine tender HMAS PLATYPUS on 25 March, 1919. PLATYPUS left Portsmouth on 9 April, 1919 escorting six "J" class submarines being sent out to Australia to set up the RAN's Second Submarine Flotilla. During the voyage Frank was awarded his Bridge Watch Keepers Certificate aboard HMAS/M J1.
In 1926, Getting became the first Australian Submarine Officer to pass the Royal Navy's submarine commanders' course and, in 1928, he was appointed Commanding Officer of the submarine, HMAS Oxley (I). From 1935 to 1939, at the rank of Commander, he served as the Operations Officer to the Fleet Commander.
At the outbreak of war with Germany, Acting Captain Getting was appointed in command of the armed merchant cruiser HMAS Kanimbla (I). In 1940, he was appointed Deputy Chief of Naval Staff, a post he held until 1942, when he was given command of HMAS Canberra (I).
On the 14 July 1942, after extensive refit and change of personnel, HMAS Canberra (I) sailed for New Zealand to form part of Operation WATCHTOWER, the invasion of the Solomon Islands by US Marines. The Solomon Islands campaign was the first offensive action against the Japanese in World War II, and the first opposed allied landing since the Gallipoli Campaign in 1915.
Early in the morning of the 9 August 1942, two days after the invasion began; superior enemy forces surprised the ships of the Allied Task Force screening the troop transports. HMAS Canberra (I), the lead ship of one battle group, in the absence of the flagship HMAS Australia (II), came under long-range torpedo fire from several Japanese cruisers.
HMAS Canberra (I), at action stations and ready to engage the enemy, was hit by 24 enemy shells in about two minutes fired from a range of one nautical mile. HMAS Canberra (I) suffered extensive damage and Captain Getting was severely wounded but remained at his post, refusing medical treatment. He was subsequently evacuated to an American Hospital ship but later died of his wounds and was buried at sea. - From
Captain Frank Edmund Getting, RAN
and
Captain Frank Edmund Getting, RAN, by Peter Smith
, Naval Historical Society of Australia. Photo courtesy AWM.
From the papers of the day:
DYING CAPTAIN REFUSED TO LEAVE THE BRIDGE
Gallantry Of Canberra In Sudden Action
Survivors of HMAS Canberra, which was sunk in the Solomon Islands baffle, paid emotional tribute to the heroism of their dead commander, Captain Frank Edmund Getting, of Sydney, when they reached an Australian port last night. His gallantry was typical of the behavior of all in n the sudden attack.
Although mortally wounded, Captain Getting refused to leave the bridge and protested even as his men carried him below. The commander also was wounded, but was able to carry on until the ship was abandoned.
The scene on the bridge of the stricken cruiser was thus described by Seaman F. D. Mackintosh: —'I saw Captain Getting badly wounded, sitting bent up on a stool, directing the chief telegraphist what to do. The commander, Commander John Walsh, was with him. and wits wounded in the lace. "The doctors wanted' to get Captain Gelling down to apply first-aid to him. He would not leave his post on the bridge. Commander Walsh stayed there with him. "At last they carried the captain down, protesting. They could see that he was in a bad way. He was put on a destroyer, but he died the next day. "Commander Walsh stayed on the bridge. He was there till the last, and he and t'te padre were the Inst of the Canberra men to leave."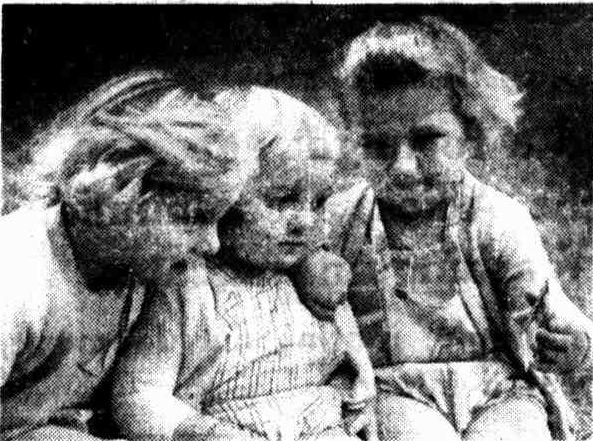 Happy with a picture of their father
. —
Daughters of Petty-Officer John Best at their Ocean Beach house, Manly.
Rhonda (6). Gai (2), and Denise (4). While the children slept, Mrs. Best was sitting up in the early hours of the morning wondering whether her husband was a casualty on the Canberra, when he walked in.
Long distance hugs with a handmade touch for our Australian troops this Anzac Day 2018.
Made with and by 60 children at Treetops Preschool after a
morning spent with Tamara Sloper-Harding earlier this month inspired their craft skills and sparked their curiosity about the true meaning of Anzac Day.
These can be draped around the shoulders, drape to the heart, and give a 'hug of love' from these local children to those currently serving overseas in the ADF.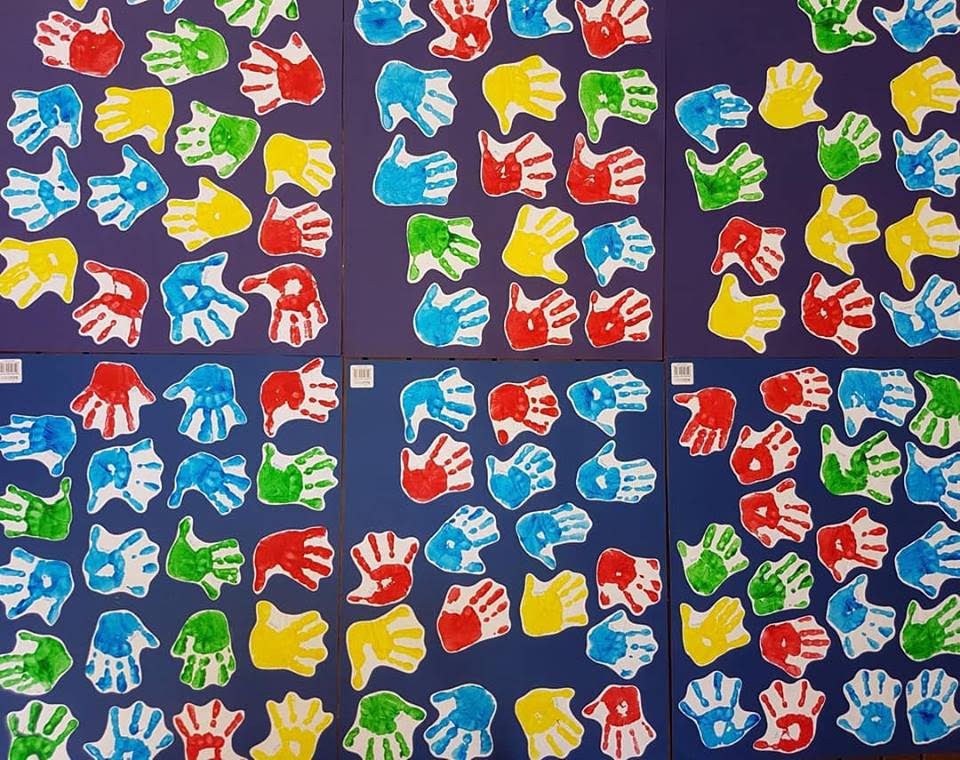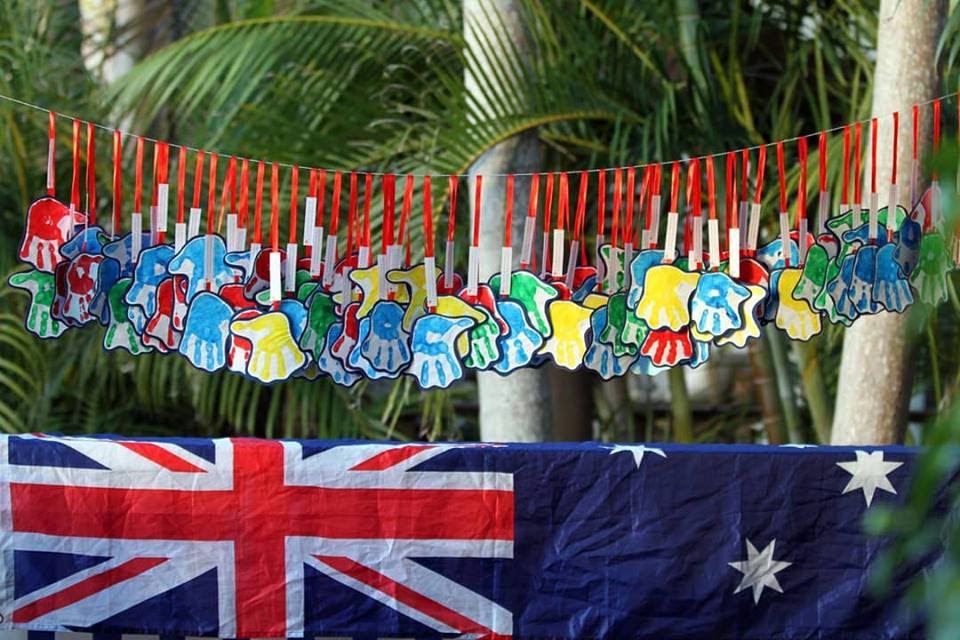 Photos by Peta Wise.
UPDATE: 2018 Remembrance Day Poppy Wall For Avalon Beach RSL
If you liked the display in Avalon Beach RSL foyer yesterday of ANZAC comprised from crocheted and knitted poppies you may wish to get involved with the group that is knitting more of these for a larger display for Remembrance Day 2018 - hopefully enough will be made to fill the garden of the RSL and cover its fences.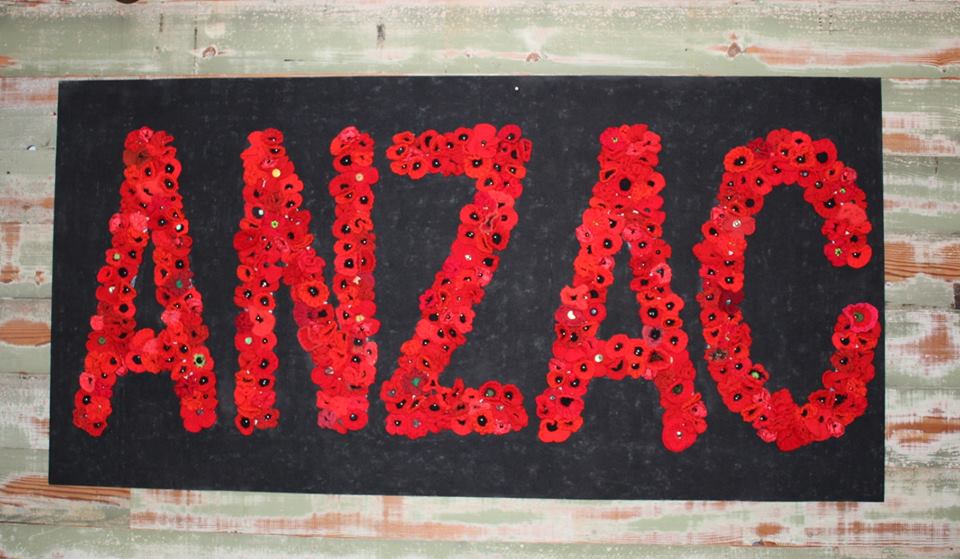 An anonymous donor has committed to providing the wool and another 150 balls have arrived - all you need to do is join in!
Already 12 ladies are busy knitting and crocheting away. You can help by dropping made flowers into the Avalon Beach RSL Club or join the group in the club on Mondays at midday. Just look for Dannie Sloper.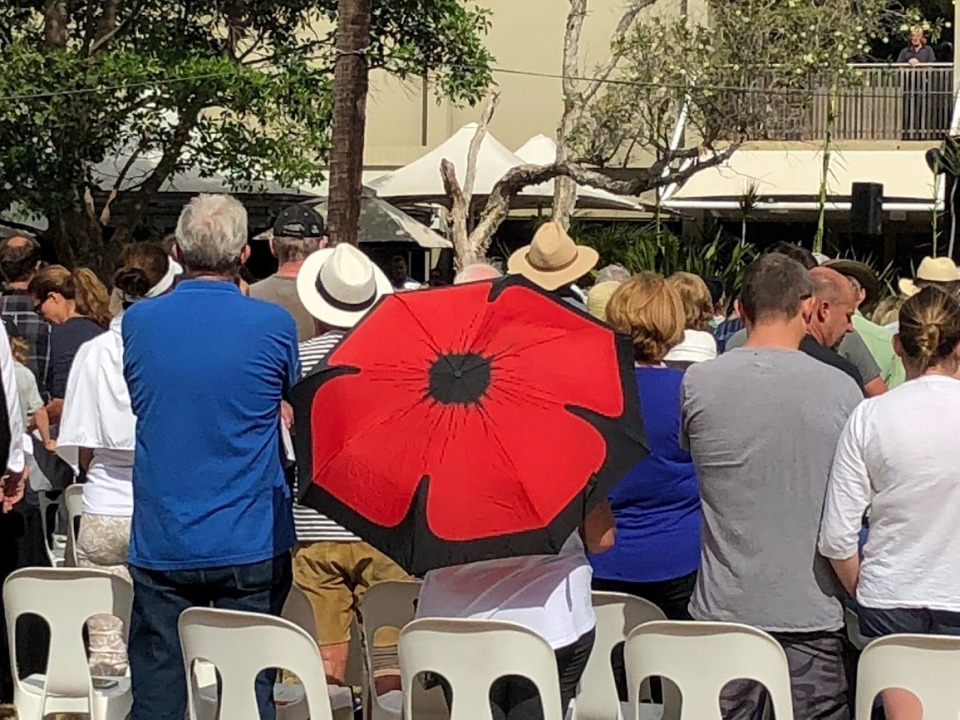 Poppy Umbrella photo by Joann Seve
11 am Commemorative March and Service - Avalon Beach RSL Club
Photos by A J Guesdon, Pittwater Online News