May 31 - June 6, 2020: Issue 452
Avalon Beach SLSC 2020 Awards Presentation
The first of the Annual Surf Club Awards Reports are starting to come in with Avalon Beach SLSC, which has had a BIG year despite having to cancel their annual Ocean Swims, hosting a number community focused Celebrations of Milestones for the club as much as Surf Life Saving and surfing itself within their 2019/2020 Season.
The 50th Anniversary of IRB's in Australia, which was a club initiative through these being developed and introduced via club members, along with a celebration of the 1956 phenomenon witnessed by thousands after an Avalon Beach SLSC Carnival that introduced Mal surfboards to Australia, both featured in the club's 'for the whole community' events. Their Lion Island Challenge and Carols by the Sea were again a very popular feature that brought the surrounding community within the club, providing residents not involved in surf life saving with an opportunity to gain insights into what volunteer members do as well as extend the family feel and care all surf clubs cultivate within over 300 hundred communities.
Surf Clubs annual awards not only acknowledge the work of individuals within their membership they are also a way in which the community can connect with the many roles within a surf club and how they too, could 'give back' and find they have actually enriched themselves by doing so. The range of education opportunities, training, good old Aussie mateship, Nippers connecting youngsters with their peers, out of season adventures and sports fun available are just the 'tip of the iceberg'.
Avalon Beach SLSC has a new Award this year, named for Avalon Beach legend and Life Member Ken Davidson - a great way to honour and keep alive the memory of a gentleman who gave so much and enjoyed himself every minute he was.
Other Awards are named to honour members who got it and then wouldn't get out, of the surf club and all they did there, and in the community, and all they contributed there. These are an indication that vital knowledge such as resuscitation, learning how to use equipment or how to row a surfboat are not all you will find in a surf club - you will also find a depth of history and anecdotes for those who want to know who walked these tracks in their home suburb before them and why and how they kept and keep going. It's very empowering stuff, and also delivered with a smile, a funny story, a pat to the back.
Ashley Cardiff, President, stated in his message to members;
''It was my great pleasure yesterday, along with Director of Surf Sports Nick Sampson, to announce the winners of our prestigious Club Awards in a first ever live-to-air format. Presentation Night, or in this case afternoon, acknowledges and celebrates the many dedicated people in our Club and the difference they make within our Club and community. A special thank you to Sally Macintosh who was our one person IT department and coordinated the live-streaming. Thank you also to our members who tuned in via Facebook and Zoom.
As the Club was still in lockdown and bars and clubs unable to operate, it was a somewhat tamer Awards presentation than normal but we hope to celebrate in Wild West style once the Club reopens. Congratulations once again to all of our nominees and Award winners listed below. ''
CLUB AWARDS 2019/20
Norman Cook Award for the Most Outstanding Club Member of the Year - Col Campbell
Col obtained his Bronze in 1965 and is one of our longest serving, and still actively patrolling, members. He is one of the first to help at Club functions and events and the last to leave. He provides exemplary service around the Club through his general maintenance skills and always lends a helping hand (wearing the yellow) to the community including filling sand bags when the Collaroy beaches were being swept away and more recently door knocking up at Terry Hills and assisting at the Club collection centre during the bush fires earlier this year.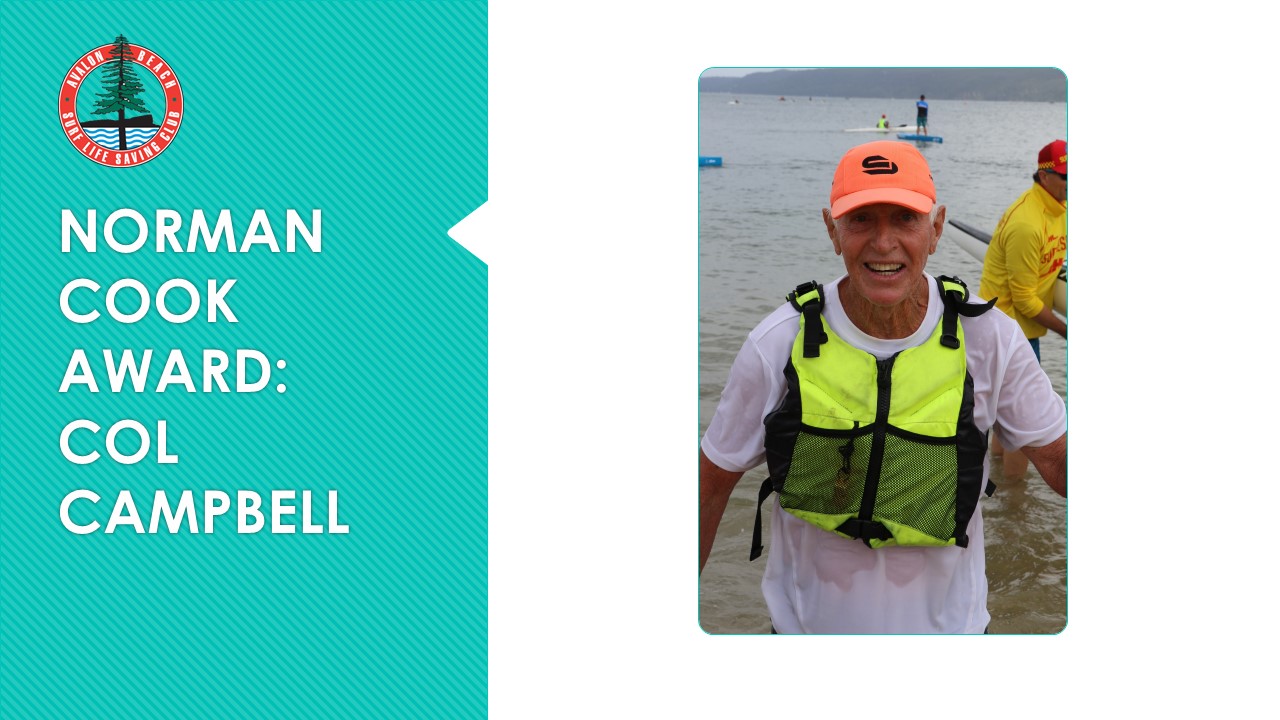 President's Award - Louise Lindop
Louise has served on the Board of Management for the past 17 years and is currently serving as Deputy President as well as assisting with training and skills maintenance (proficiency). In January, Louise was instrumental in organising the food and clothing drop-off centre at the Clubhouse, mobilising well over a couple of hundred volunteers throughout the northern beaches community and coordinating the distribution of goods to the south coast families ravaged by bush fires.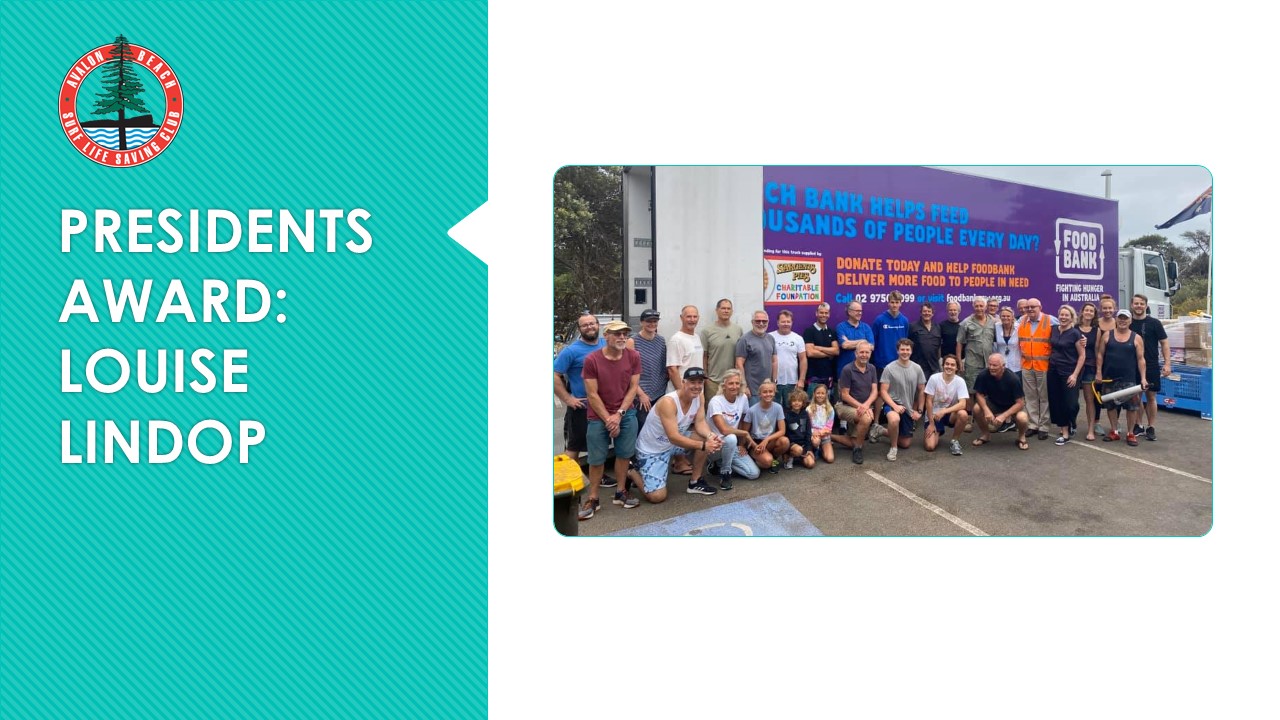 President's Award - Amanda (Gem) Lehmann
Gem is an Age Manager and joint Competition Manager of Nippers who has done an outstanding job managing her Nippers and taking many to carnivals throughout the year. Gem is also a very supportive Masters competitor, a solid patrol member and has encouraged other women to become part of the Ladies Masters Board and Swim team.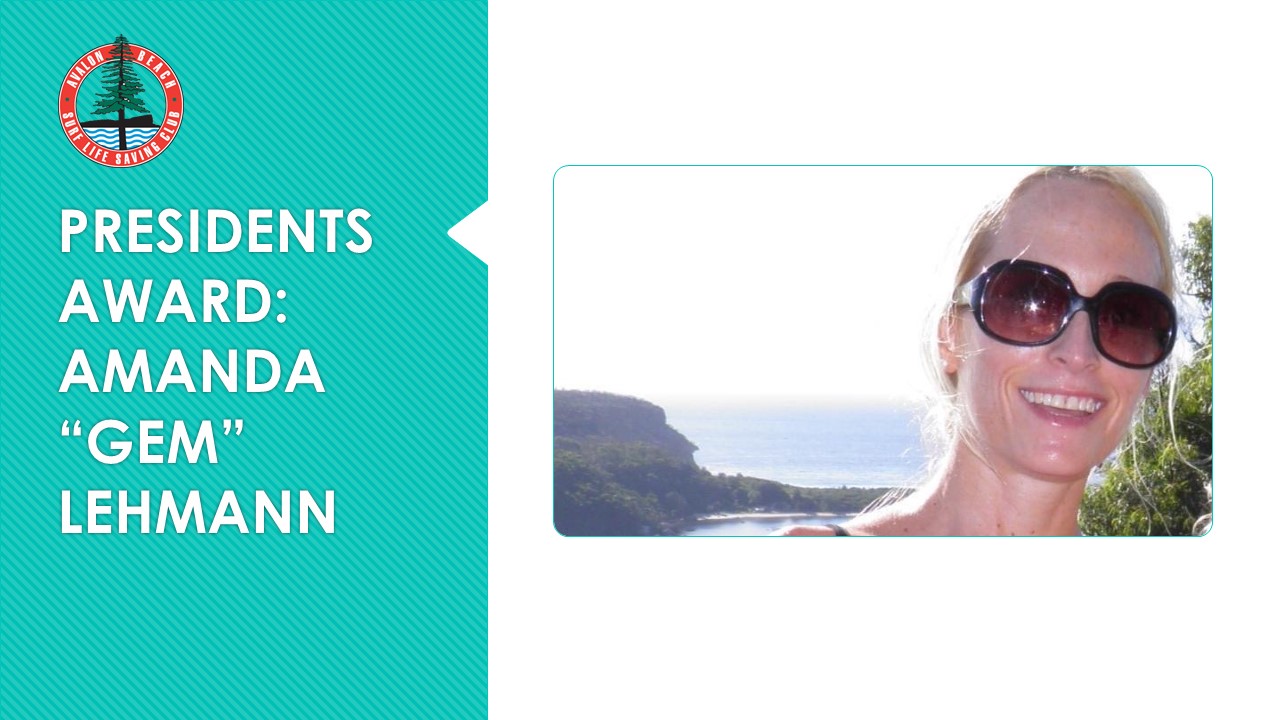 President's Award - Nick Sampson.
Nick is our current Director of Surf Sports, represents the Club on the SNB Surf Sports committee as Deputy and is also Deputy President of the Australian Surf Rowers League. Nick competes in the Pinkies crew, sweeps and helps out at training when required. He is also a current Patrol Captain and mentor for the junior members, manages the Bangalley Bar operations and attends and helps with the organisation of all Club events and functions.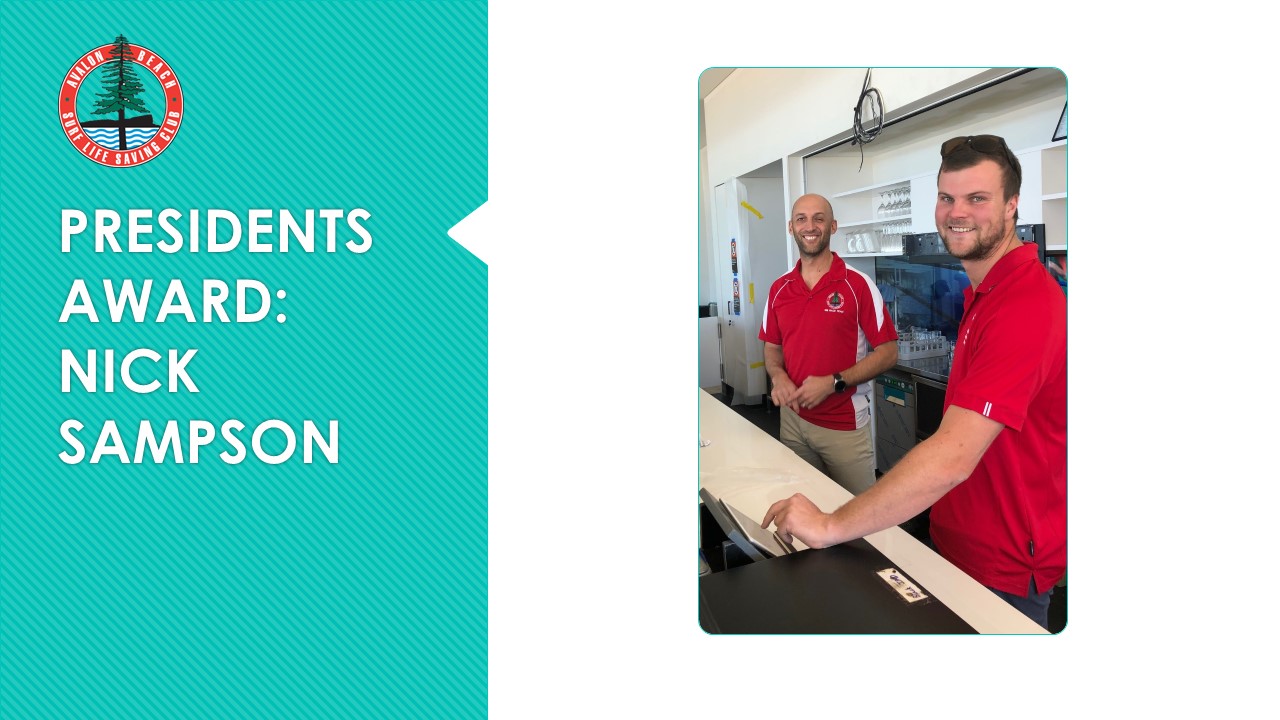 The Steve Parkes Award for Achievement in Lifesaving Education - Dave Roberts
At the beginning of the season Dave began training 27 Cadet Bronze squad members alongside 41 SRC candidates and only finished when the season was suspended due to COVID-19 in March. Dave spent most of the season training the groups on a Saturday and Sunday afternoon and sometimes during the week and attended their many Assessments. Dave still has one Bronze and 13 SRC members to be assessed and will enthusiastically train them again once restrictions are lifted. This was all done in a year that Dave was stepping back for a while! Dave is always involved in Club events, often helping arrange support from the Nippers and their families. He is a great organiser and has a lot of respect from his fellow trainers and Club members.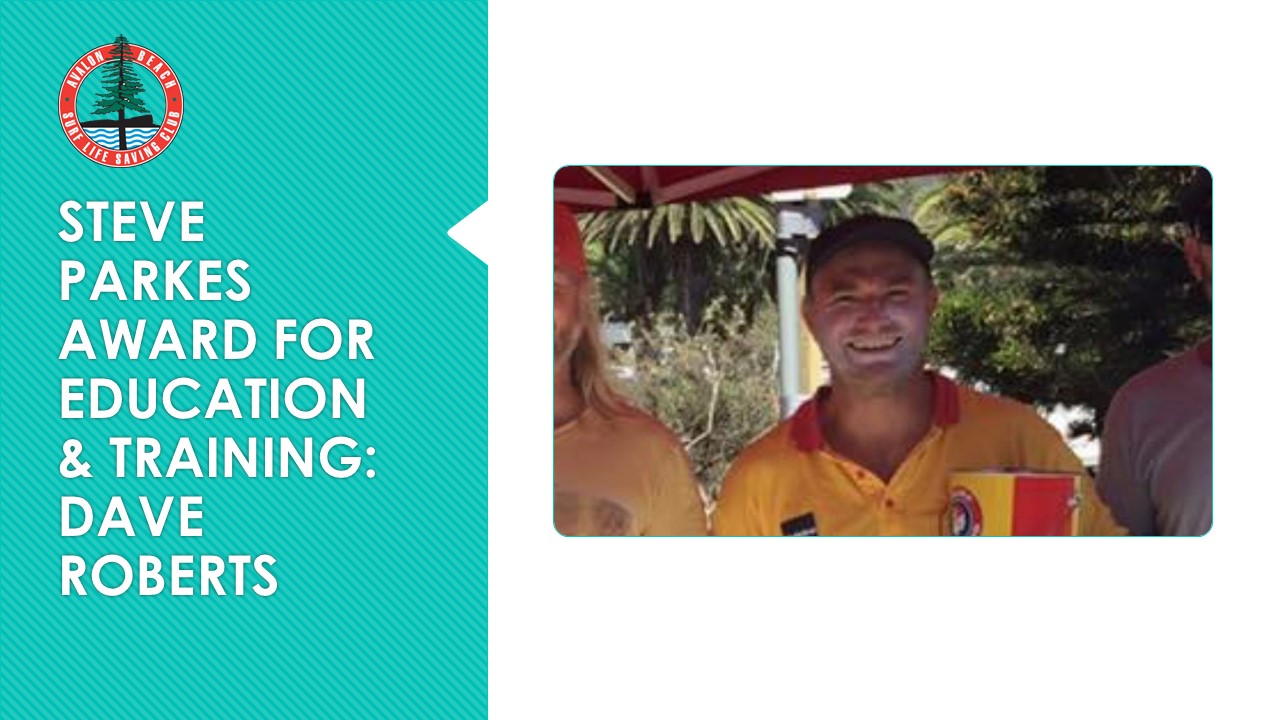 The Warren Mitchell IRB Award - Richard Cole
Richard has been actively involved with the IRB team and recently added Training Officer IRB to his impressive list of Awards. Richard's involved in all aspects of the IRB team, provides water safety at our, and other Club's, events, trains new crew members and drivers as well as competes at carnivals when they have been run. Richard also greatly assisted with the coordination of the 50th anniversary of the IRB celebrations this season.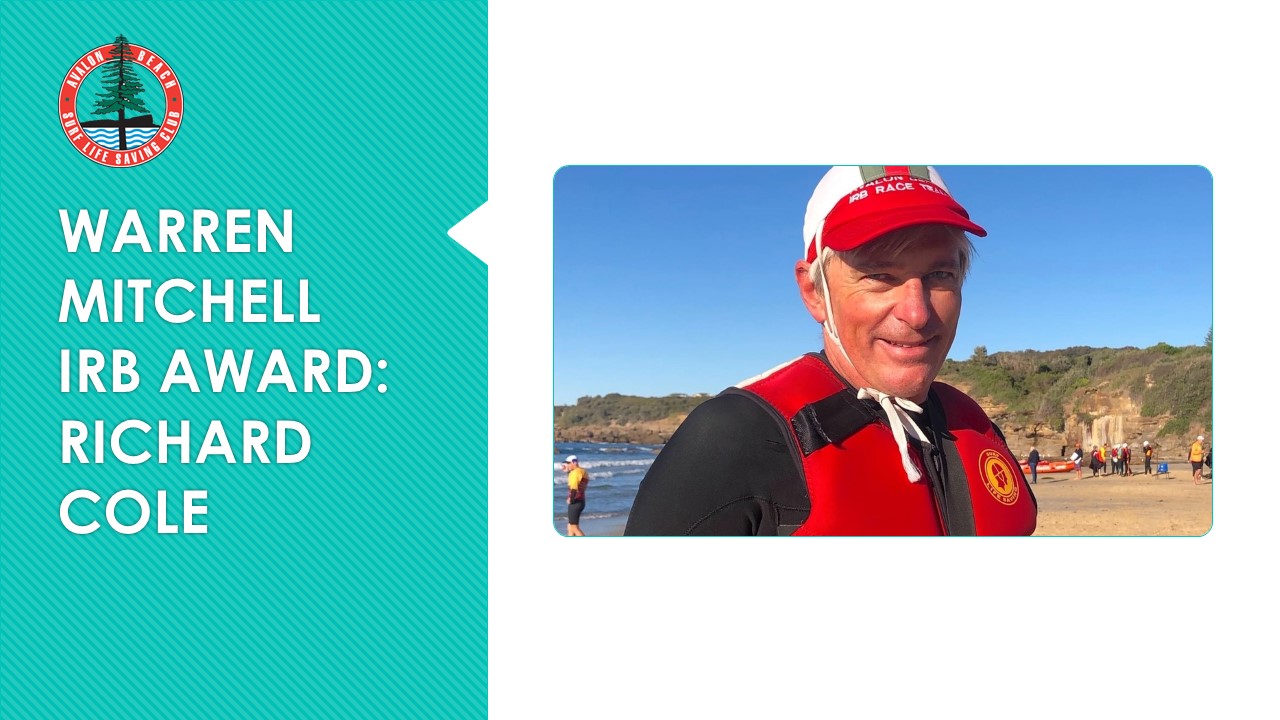 The Ken Davidson Surfboard Rider of the Year Award - Grant Salmon (inaugural winner)
Grant won the Gold medal (50-59 yrs Male Long Board) at the NSW Board Riding championships this year and, as well as being the Club's Masters Captain, has been coaching some new Bronze graduates to build up their board skills and surf awareness with a view to developing more surf board competitors within the Club.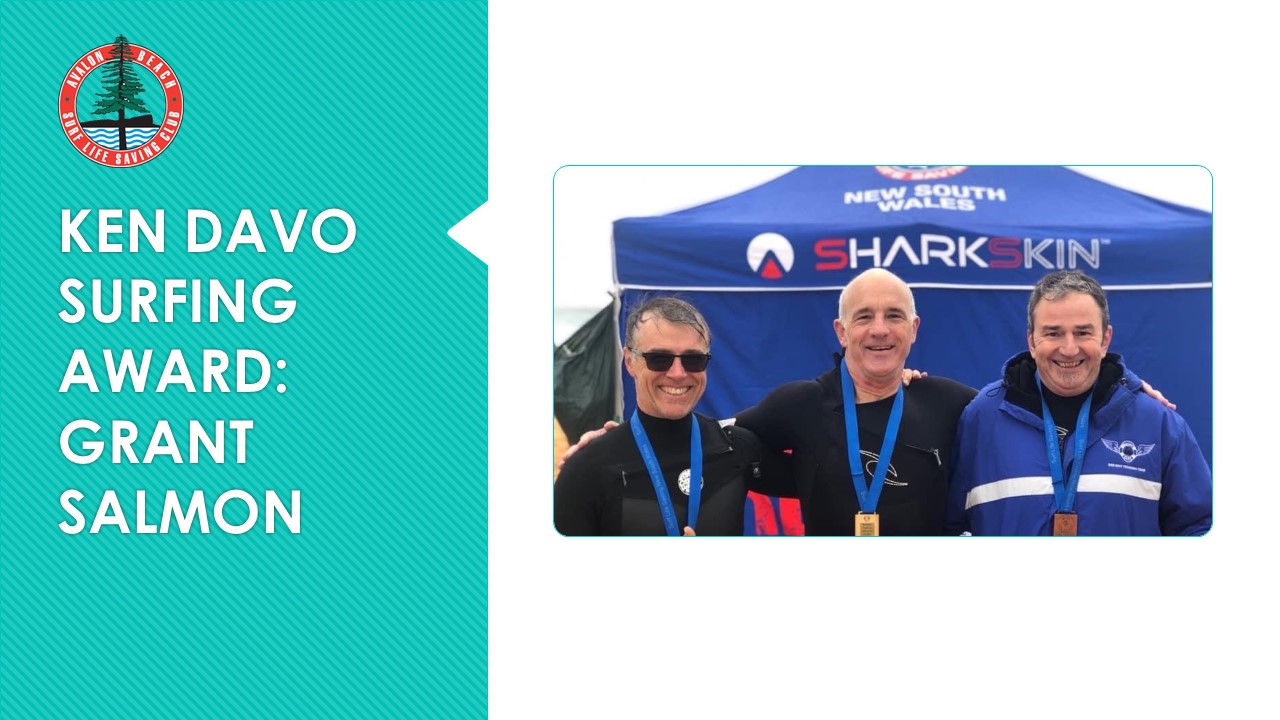 The Max Watt Competitor of the Year - Nathan Wellings
Nathan has won this award previously, but as part of a crew. We felt that his efforts as a sweep, coach, trainer and mentor deserved to be recognised individually. Nathan is a sweep in the Surf Boat section and has several crews under his command; Open Men and Women, Reserve Men and Junior Girls as well as the Antiques and Rockstars in Masters competitions. He trains crews most mornings and afternoons during the season and is also responsible for the ergo training program. He swept with Pete Carter to get Silver this year in the boat relay and took the Open Womens crew to 4th place in the Ocean Thunder series. Together with his wife Mel, Nathan organises the 24 hour row fundraiser for OneEighty and also helps out at all club events and works behind the Bangalley Bar.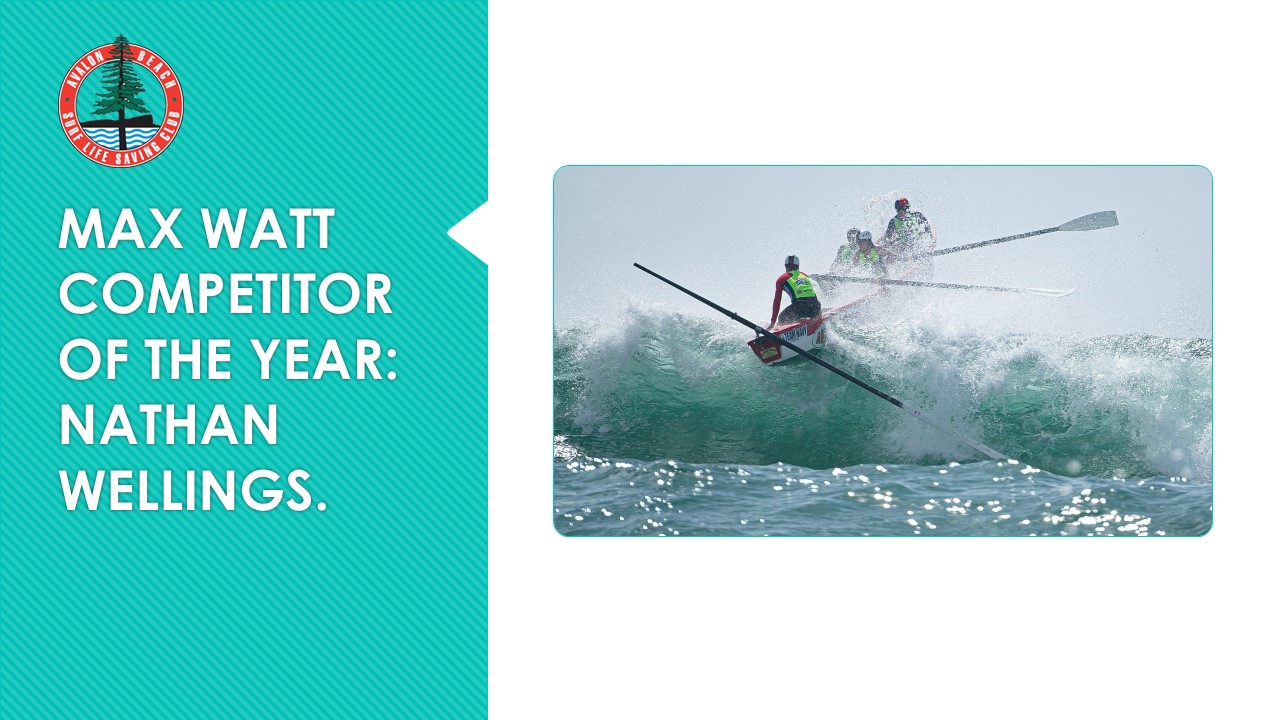 The Chris "Detho" Dethick Boatie of the Year - Matt Mayall
Matt has done a great job and really stepped up this season in the boat section. Matt is Boat Captain and sometimes cops a bit of a ribbing, but has developed into a Sweep that can lift his crews to the next level. He was successful with the DB's at last year's Aussie titles taking the girls to a Gold medal. He is part of the Pinkies crew and, despite some injuries, competed at the highest level. He was part of the relay team winning a Silver medal at State titles this year. Matt has also assisted training Juniors and helping with the Wednesday run, even if it was only as timekeeper!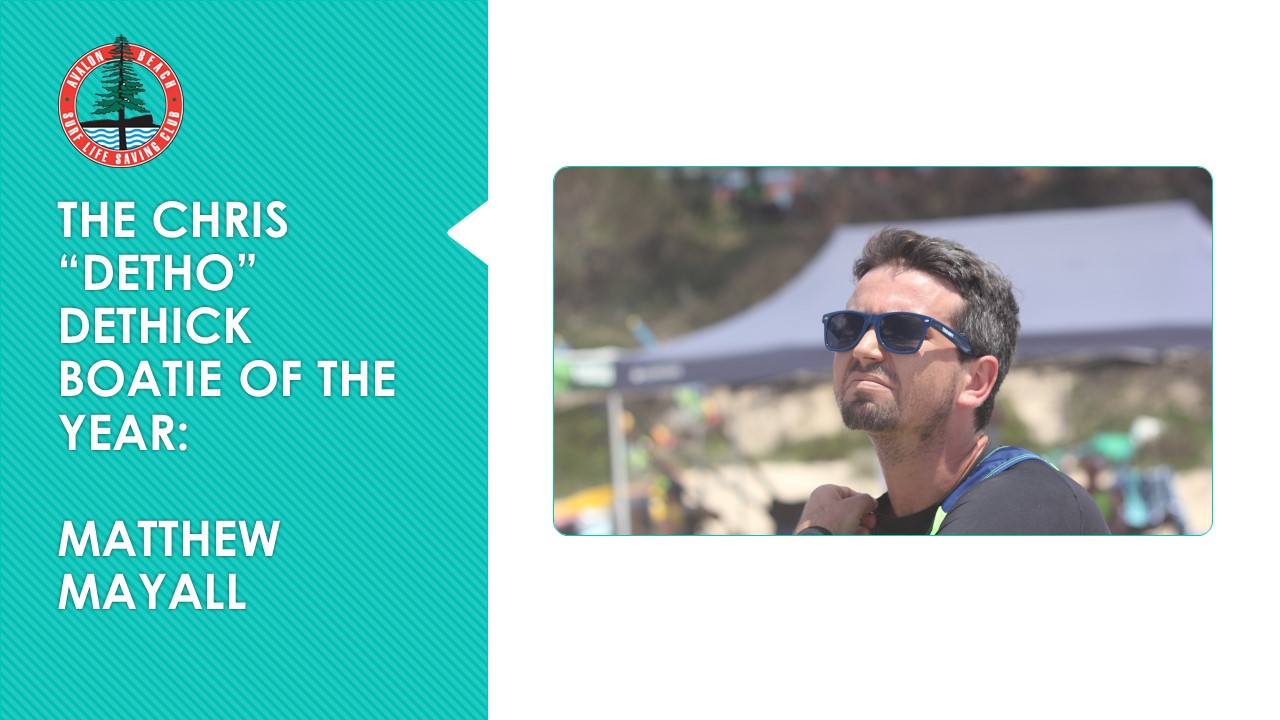 Patrol Member of the Year - Steve Riley
Steve patrols with Michael King's Patrol 1 and has done a great job in the last few years building his skills and knowledge base with Bronze and ARTC Awards and also gaining his IRB crew certification. Steve completed close to 40 patrol hours this season in just over half a year.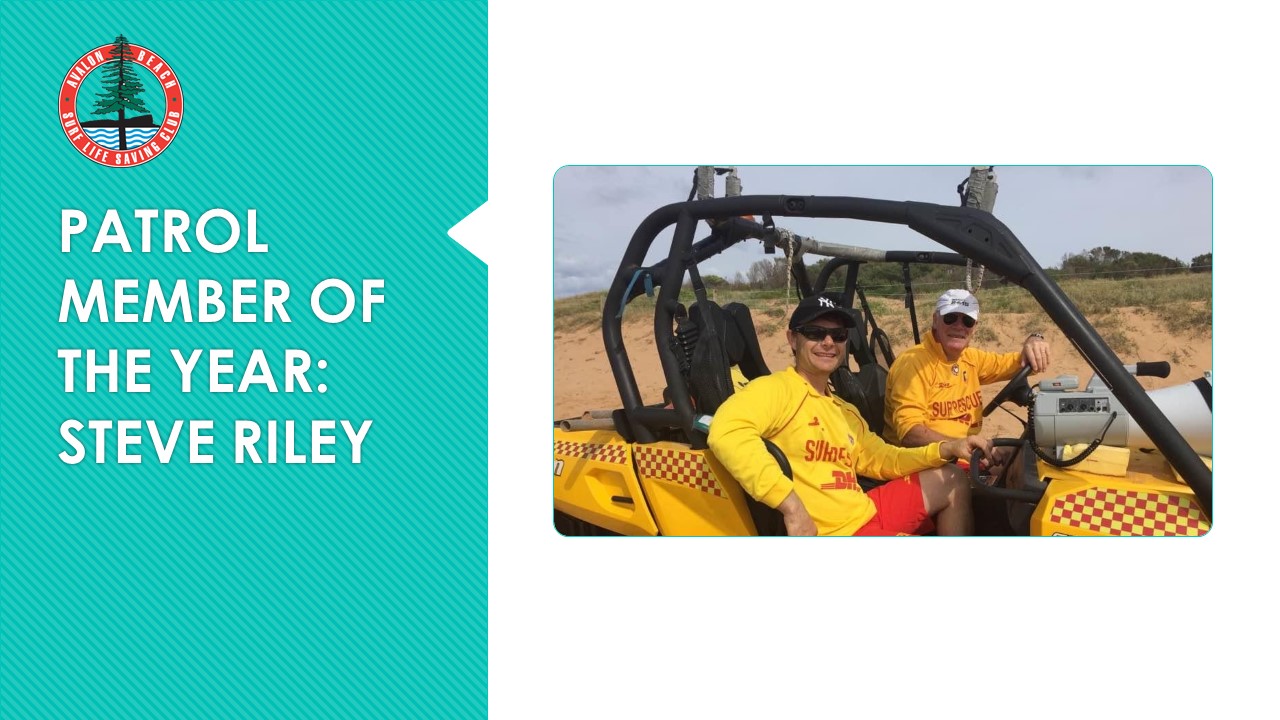 Patrol Captain of the Year - Xanthe Friend
Xanthe has been developing her skills on the beach with co-ordination and beach management after gaining her Silver Medallion in Beach Management last year. Xanthe has close to 30 Awards and patrolled over 40 hours in this shortened season.
Patrol Team of the Year - Emergency Call Out Team
The Emergency Call Out team comprises Mel Akehurst, Terry Barber, Todd Barber, Ash Cardiff, Pete Carter, Richard Cole, Jason Dale, Zach Dale, Xanthe Friend, Jen Harper, Matt Mayall, Alan Moran, Nick Sampson, Chloe Scott, Mike Stanley-Jones, Giles Stoddard and Nathan Wellings. In addition to weekend beach patrols, this team are on call 24/7, responding, usually within minutes, to numerous after hours events this year.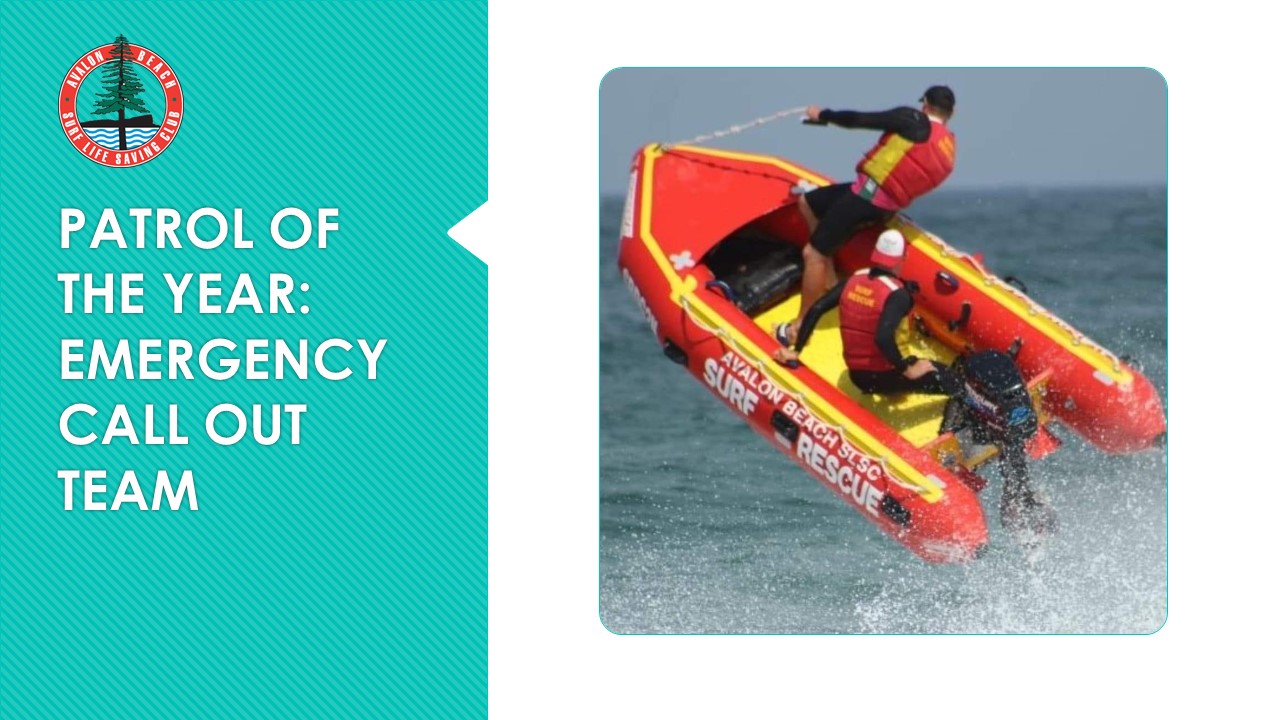 Rookie of the Year - Tegan Scott
Tegan has been such an important part of the Club over the years including being a part of the fabulous "golden girls" relay team that won so many medals at various Branch, State and National carnivals. This year Tegan has been a Nipper Age Manager in the U9s and has been so great with the younger children; they all adore her and look up to her. Tegan also assisted the Nipper carnival team and trained up the U9 and U10 children who were attending their first ever carnivals. The experience Tegan was able to share with them was amazing and inspired the kids way more than the crusty adults ever could!!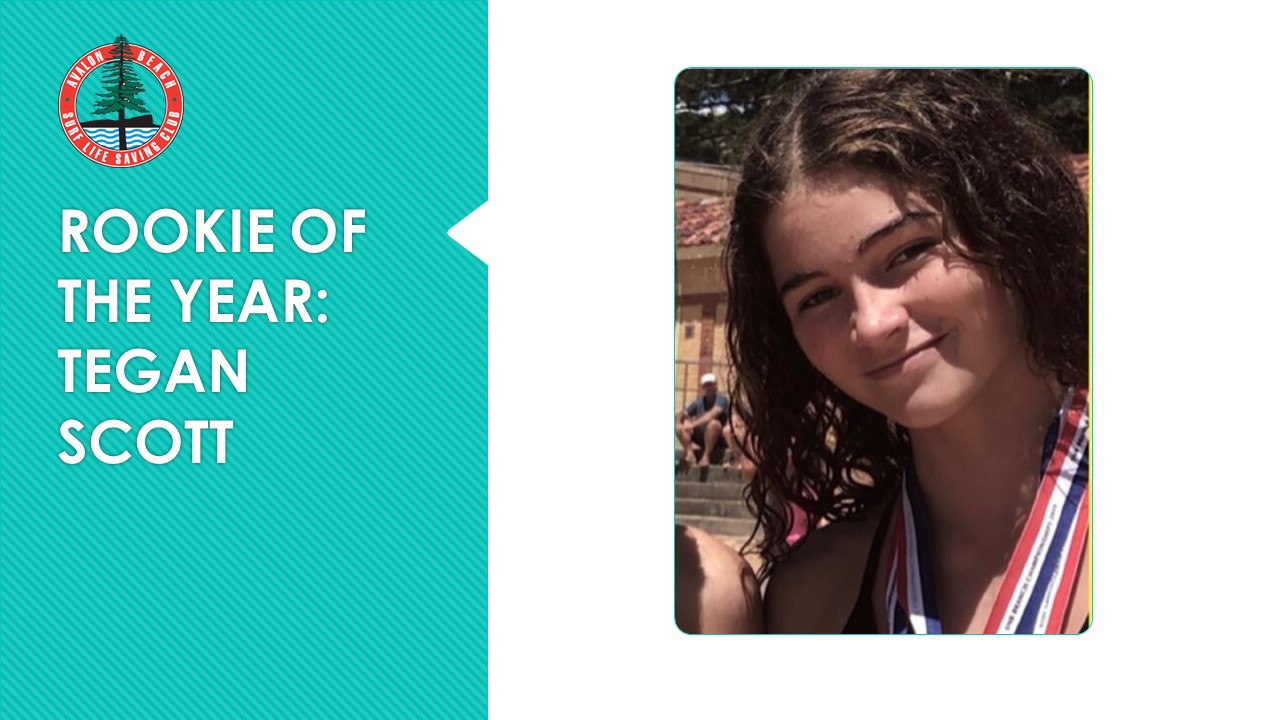 Cadet of the Year - Isla Pegler and Taylor Dickinson
Isla has come into her own as a Cadet lifesaver this season participating in Nipper water safety, helping out at North Palmie, rowing a surfboat and has become an all-round and strong water person.
Taylor gained his Bronze Medallion this year and has volunteered on a number of patrol teams throughout the season achieving a significant number of patrol hours for this age group.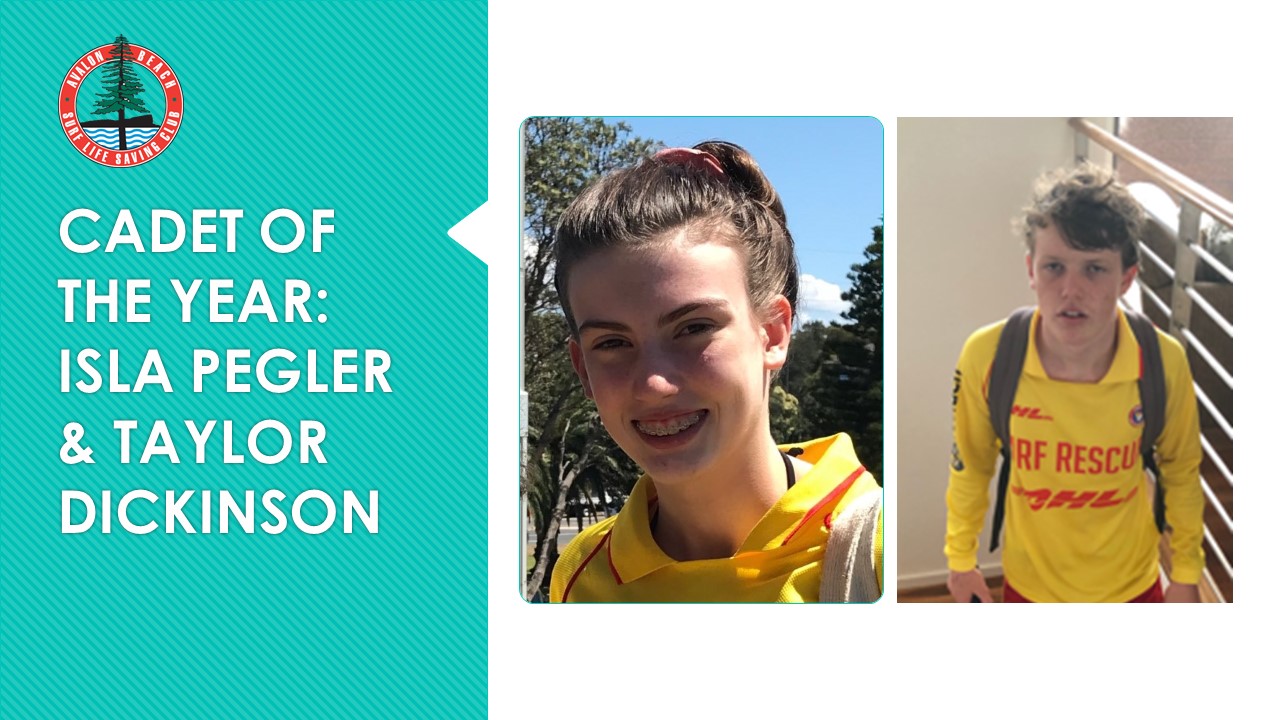 Junior Member of the Year - Sophie Jones
Sophie has recently completed her HSC and did extremely well managing to fit this in around her club commitments. Sophie has also patrolled over 30 hours this season without missing any of her rostered patrols. She also competed in some selected surf carnivals in the Chanels boat crew fitting in her now Uni schedule. Sophie is one of the first to put her hand up to assist at all our Club events.