August 30 - September 5, 2020: Issue 464
24 Hour Row 2020 Raises Over 130K To Invest In Saving Lives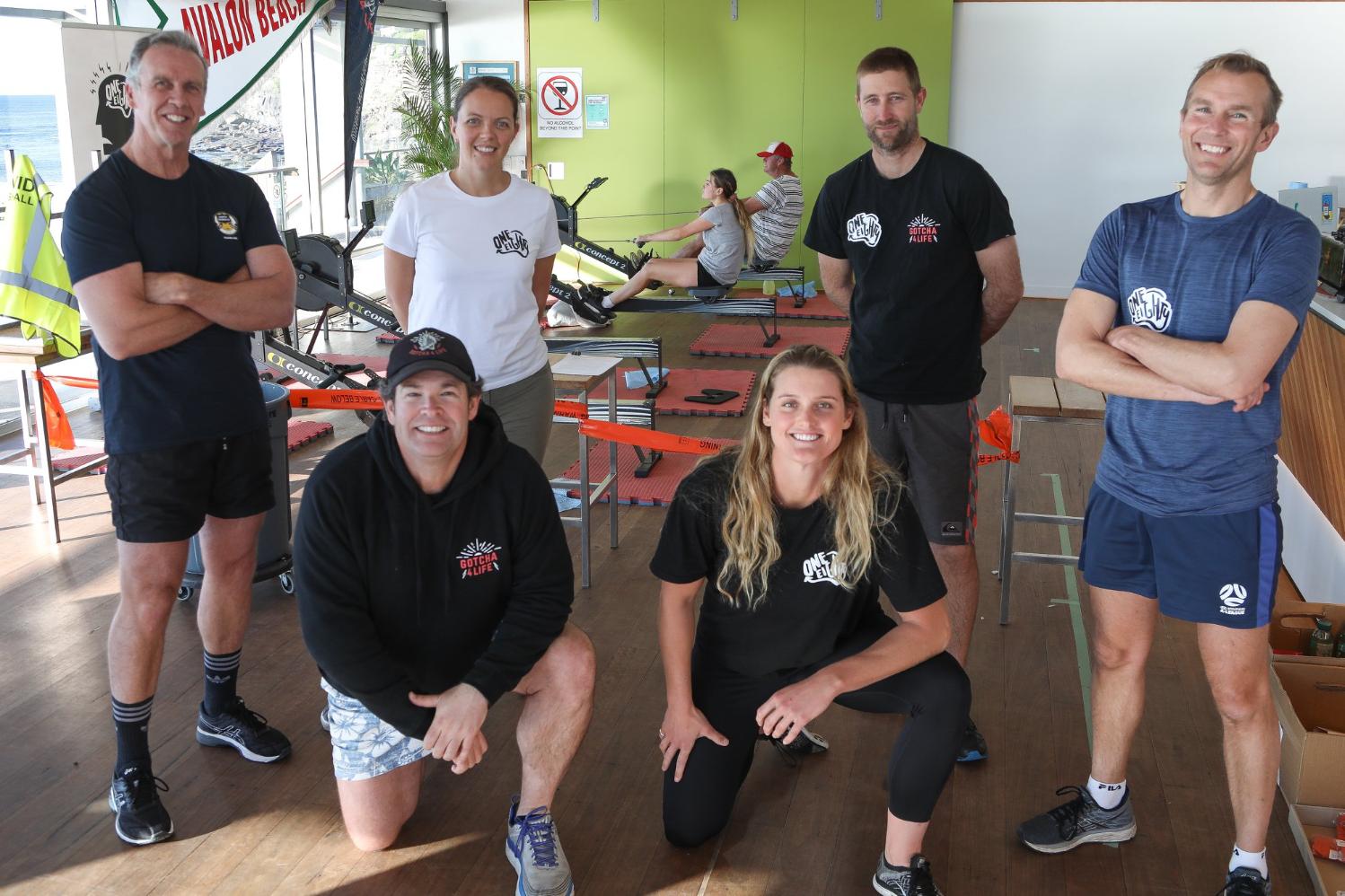 L to R: Surf Life Saving NSW CEO, Steven Pearce, Gotcha4Life Founder Gus Worland, Collaroy SLSC Member and 2021 Olympian Georgie Rowe, The Hon. Rob Stokes, MP for Pittwater and Mona Vale SLSC Member, Back; Mel and Nathan Wellings, Avalon Beach SLSC Members and Founders of the 24 Hour Row. Photo by Surf Life Saving NSW.
The 24 Hour Row for Mental Health has successfully raised $130,000 after a marathon effort by surf clubs throughout the country.
In what was an outstanding achievement, more than 600 surf club and community members from 18 locations across four states kept rowing machines going for 24 hours last weekend. The total distance rowed was over 11,884km.
Funds will be distributed to two mental health charities, Gotcha4Life (all locations) and One Eighty (Northern Beaches clubs) who will rollout mental health support and resilience programs for Surf Life Saving members and their communities during this difficult time.
In its third year, the 24 Hour Row was expanded outside the Northern Beaches area with other surf clubs enthusiastic about the chance to lend their support to the worthy cause.
"Multiple clubs showed interest in taking part after their clubs and communities were impacted by recent suicides," said event founder Mel Wellings from Avalon Beach SLSC.
"We never thought we'd end up having 18 clubs but we were determined to make it work for everyone so we could raise more funds than ever for our charities who will in turn help our friends and family who need support," Mel said this week.
Technology played a big part this year not only allowing teams to drive their own fundraising for the common goal but also to keep connected with each other via the live stream. Through Zoom, all 18 locations as well as a number of Victorian participants were connected for the full 24 hours. The Zoom was then live streamed through Facebook allowing the world to tune in and watch as the rowers kept pace through the night.
The event was embraced by clubs of all sizes, from small country towns like Tathra on the Far South Coast and Moana in South Australia to some of our biggest surf clubs like Maroubra, North Cronulla and Tallebudgera in Queensland. But no matter where the club, each had the same overwhelming enthusiasm and support from their communities.
South Coast club Gerringong had 72 participants row after an outstanding response to the event. Organiser Mitch Payne said even the local football and cricket clubs jumped onboard. The club ended up being the top fundraising team, generating over $21,000.
At Maroubra SLSC, organiser Craig Hawkings shared a special achievement: "One of our Under 23 male rowers took on the Olympic marathon distance in one go and smashed it in under three hours," said Hawkings. "There were a lot of really positive and inspiring moments that came out of the 24 hours and we were so glad to be part of it."
South Curl Curl SLSC participated for the second year. Sally Liebke said it was an amazing weekend with a fun energy for everyone involved. "It was great to see how many people from our club and community got behind the event. We had over 150 people put up their hand to jump on our official rowing machines, however so many more jumped on the spare ones throughout the 24 hours to get involved."
Surf boat sweep Conrad Pearson from Mordialloc SLSC in Victoria rowed two hours from his home in lockdown, but jumped into the live Zoom stream to be part of the event.
"It's good to be able to roll some kilometres out and see everyone else doing the same thing across the country," said Pearson in a live interview with his young sons. "It's really great to watch and good support for everyone. It's a bit strange being down here not being able to be together with your training partners, crewmates and club members but we're trying to stay strong," he said of the state's stage four lockdown.
"It's been difficult because as clubbies and especially surf boat rowers, we rely so much on being together and being part of a crew. There's a lot of withdrawal symptoms but something like this has been a motivator for people all round Australia," he said.
Gotcha4Life founder Gus Worland held back tears on Sunday as the final hour ticked over. "It's unbelievable to see where we are now in the third year. The atmosphere, the attitude and the energy, people just wanting to do well. It's been brilliant to be around it," he said. "There are so many people here that aren't club members and it shows how much of a hub these places are for support and connection, really the perfect place for this event."
As soon as the clock hit midday all venues stopped for a minute's silence to remember those lost and reflect on their own efforts. Worland said it was emotional for everyone, "I've been in tears more often than not seeing the sense of community and knowing that the money will be coming right back here looking after the people who are generating the funds."
The significance of the event is it will save lives, Worland reinforced: "We need to build mental fitness so people aren't worrying alone. If we stand around and do nothing suicide numbers will get worse so that's why this weekend's event is so important, because there are so many people putting their hand up saying they'll do something."
One Eighty's Maddie Walsh was also thrilled the event went ahead this year and noticed a strong sense of community connection. The funds raised for One Eighty will go directly towards their programs based on early intervention and prevention of youth suicide.
"What a fantastic event to be a part of each year," said Maddie. "As a result of the 24 Hour Row we'll be funding Lifeline Accidental Counsellor training and Mental First Aid for free to members of the community as part of our Community Support Program. These training sessions provide participants with the confidence and skills to support someone experiencing a mental health problem and to know where to refer them to additional professional support. We'll also be able to train up more of our volunteer facilitators and continue expanding Open Up, our peer to peer support group."
MP for Pittwater, Mona Vale SLSC lifesaver and NSW Minister for Planning Rob Stokes completed an hour of rowing at both Avalon and Mona Vale clubs. Stokes said initiatives like the 24 Hour Row show the social and cultural importance of Surf Life Saving and the opportunity for communities to feel connected through their local clubs.
"Surf clubs are holistic parts of our communities. Yes, they're focused on primarily making sure that beachgoers are safe on the beach and in the water but it's also vigilance and service wherever we're required," Rob said.
"The training, the education and the camaraderie that's built around Surf Life Saving is really important for everyone in the community. Just such a fantastic group of people and the clubs are the best way to enjoy the Australian lifestyle.
"This is the perfect opportunity to come together as a community to support causes that do great work. We've had a lot of mental health and wellbeing issues during the pandemic and it's been an enduring challenge here and across the world."
The MP for Pittwater, rowing his third year in support of the initiative, was joined by a number of local state MP's; Gurmesh Singh, rowing at Sawtell SLSC, Mark Speakman at North Cronulla SLSC, Matt Thistlethwaite at Maroubra SLSC, Gareth Ward at Gerringong SLSC, Leslie Williams at Wauchope Bonny Hills SLSC, and Kristy McBain at Tathra SLSC.

"This is a fantastic local initiative, for a really important cause, which combines a bit of friendly competitiveness with some inevitable pain.'' The Hon. Rob Stokes said this week
"Every year the pain level seems to increase for me – so I've clearly got a bit more work to do!
"It's was great to see so many people get involved this year and have a go.''
Event organiser Mel Wellings says she is proud of what her local club has been able to achieve from humble beginnings three years ago.
"It's amazing to still see donations coming in, it just shows what an absolutely incredible and far-reaching impact we've had on so many communities this year. We'll be back next year to do it all again and we can't wait!" said Mel Wellings.
Donations are still open via www.24hourrow.com.au
Surf Life Saving NSW supported the 2020 24 Hour Row for Mental Health through its recent Memorandum of Understanding with Gotcha4Life.
Congratulations and thank you to all the clubs and participants involved including; Tallebudgera (QLD), Coffs Harbour, Sawtell, Wauchope Bonny Hills, Port Macquarie, Avalon Beach, Avalon Beach CrossFit, Newport, Mona Vale, Collaroy, South Curl Curl, Maroubra, Elouera, North Cronulla, Gerringong, Tathra, Moana as well as members from the Victoria and Rowing Australia's teams including Geelong Girls Grammar School (VIC) and the Men's National Rowing Training Centre (ACT).
If you, or someone you know, is thinking about suicide or experiencing a personal crisis or distress, please seek help immediately by calling 000 or one of these services:
Lifeline 13 11 14
Kids Helpline 1800 55 1800
Suicide Call Back Service 1300 659 467
NSW Mental Health Line 1800 011 511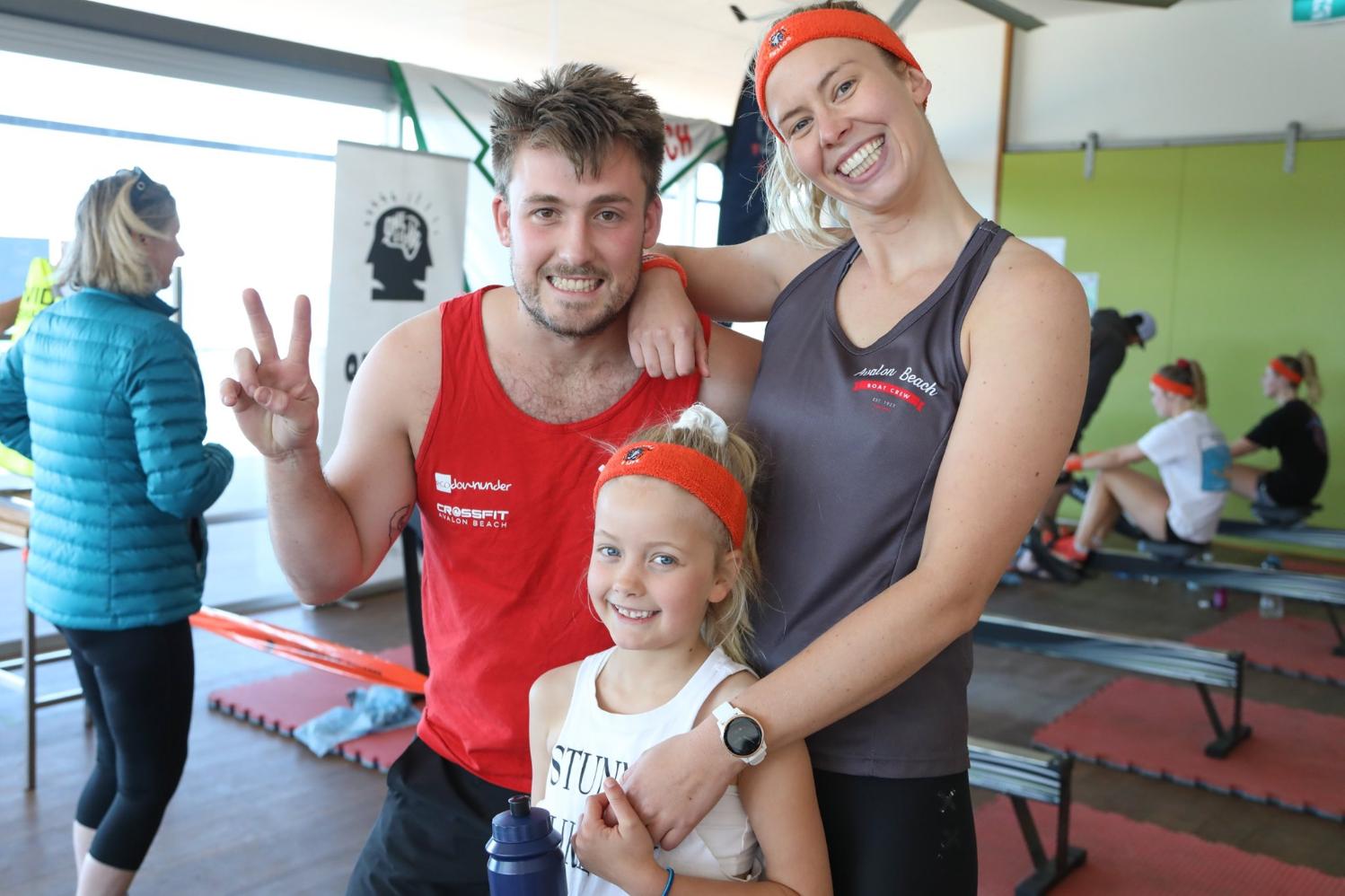 Photo by Surf Life Saving NSW